Wondering which linkedin account type you should go for in 2022?
In this complete guide, we compare linkedin plans and linkedin subscription prices so you can clearly see what is the best option for your business.
Let's dive into the different types of linkedin accounts.
The Different Linkedin Account Types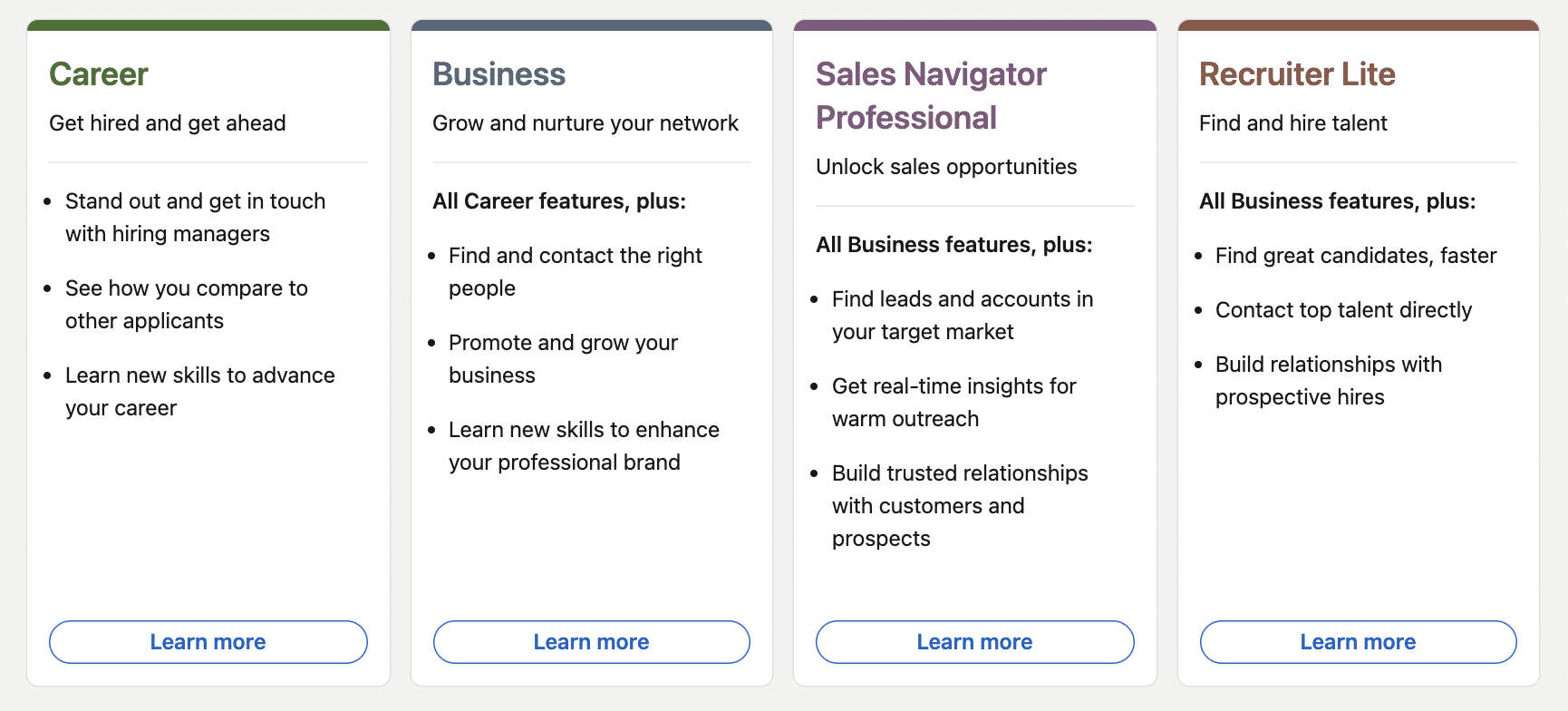 There is 8 linkedin memberships levels. Here is the complete list:
Linkedin Premium Career: $39.99 / month
Linkedin Premium Business: $59.99 / month
LinkedIn Sales Navigator Professional: $99.99/month
LinkedIn Sales Navigator Team: $149.99/month
LinkedIn Sales Navigator Enterprise: Custom Pricing
LinkedIn Recruiter Lite: $2,399/year
LinkedIn Recruiter: $8,999+/year
In this post we won't talk about Recruiter as we are focused on Sales. We are going to cover Linkedin Basic vs Premium and Linkedin Sales Navigator vs Premium.
Linkedin Free Account
Everyone can create free Linkedin accounts. There is few features available but also some limitations.
1.Linkedin Basic Account Features
Among the feature that offer linkedin free accounts are:
Build your Linkedin Profile
Expand your network by sending connection requests
Search for LinkedIn profiles using search filters
Search for Companies using Search filters
Here is a video that shows you how to use Linkedin search to search for leads and companies.

You can also use boolean search on the free search engine to build targeted lead list.
2. Linkedin Free Account Limitations
A free LinkedIn account is a good way to start on Linkedin but you might be frustrated with one of these limitations.
If you are using a linkedin basic account to search for leads and companies, know that your searches are limited to 1000 results (100 pages of 10 results)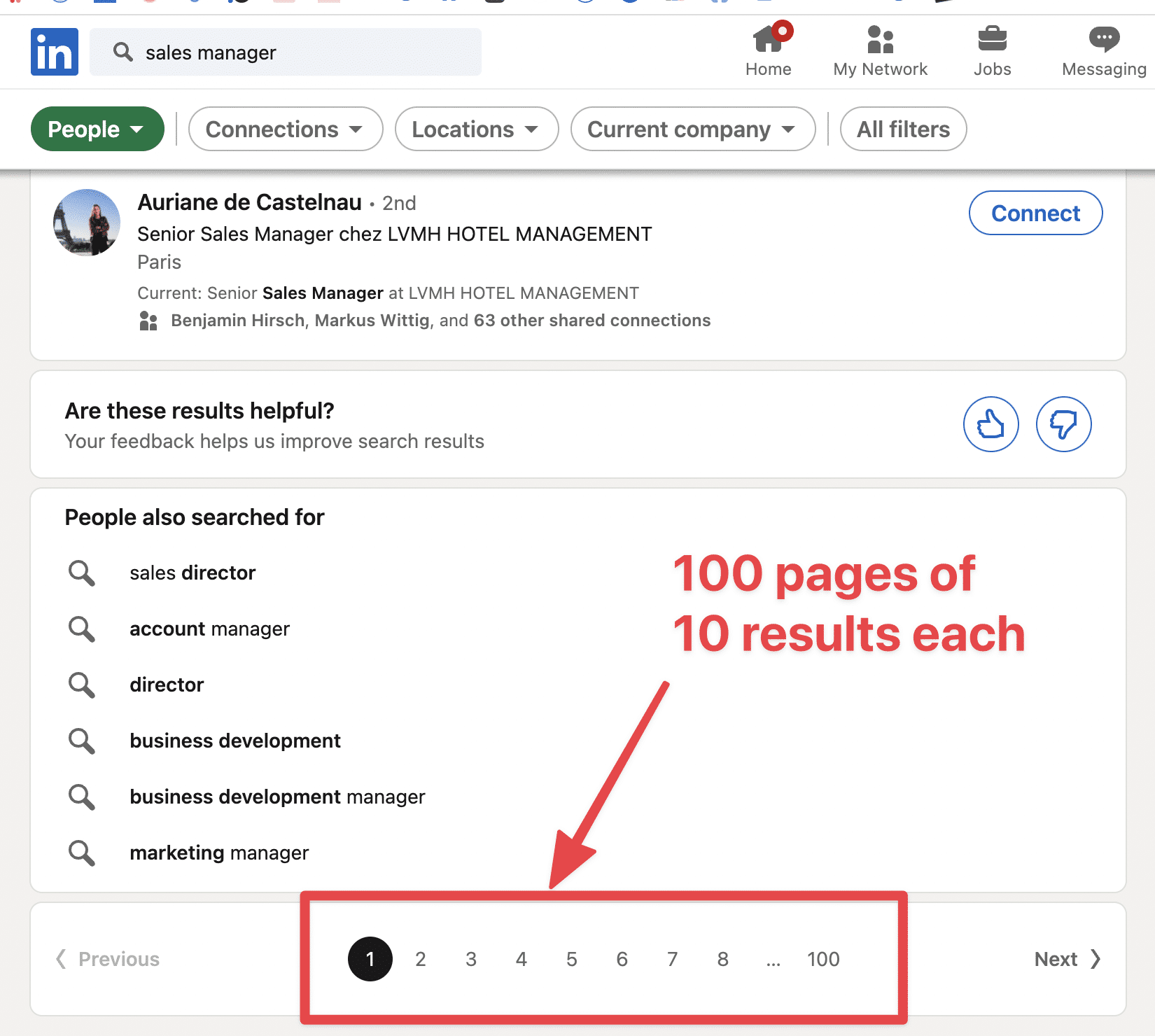 There is also a monthly search limit that depends on your Linkedin activity. This is what Linkedin call commercial use limit.

If you use the Linkedin search a lot you are likely to see this pop up and not be able to perform any Linkedin search until the end of the month.
You don't have InMail credits to DM 2nd and 3rd degree connections without being connected to them.
If you are interested in seeing all the people who visit your profile (recruiters or leads), you are only able to see the last 5 people to look at your profile.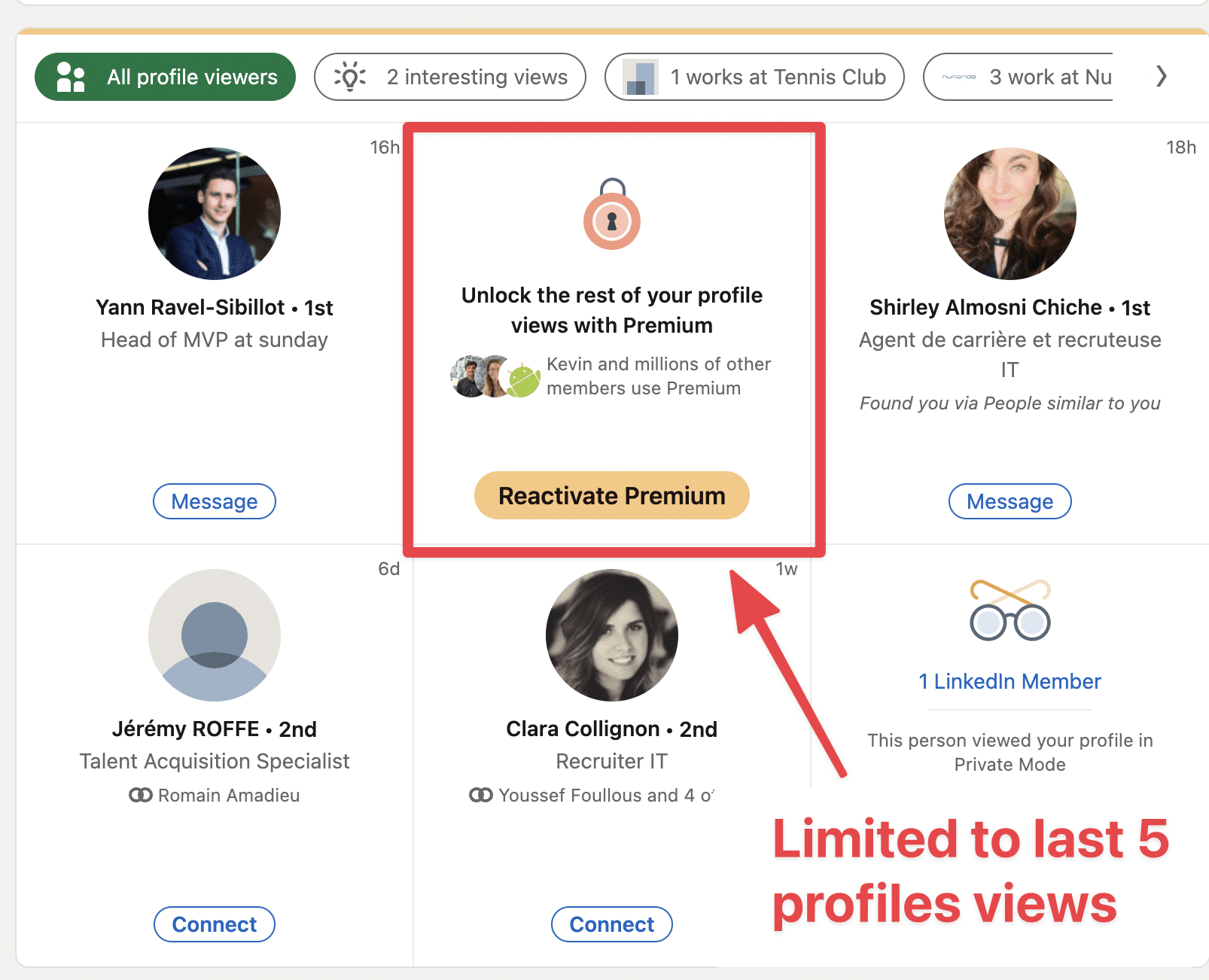 Among the linkedin options that can remove these limitations is Linkedin Premium.
Linkedin Premium VS Free
Here is a linkedin premium plans comparison. There is two Linkedin Premium account types: Career and Business.
1. Linkedin Premium Career
Among the different linkedin plans you can subscribe to is linkedin Premium Career.
Linkedin Premium Career helps you get a job faster.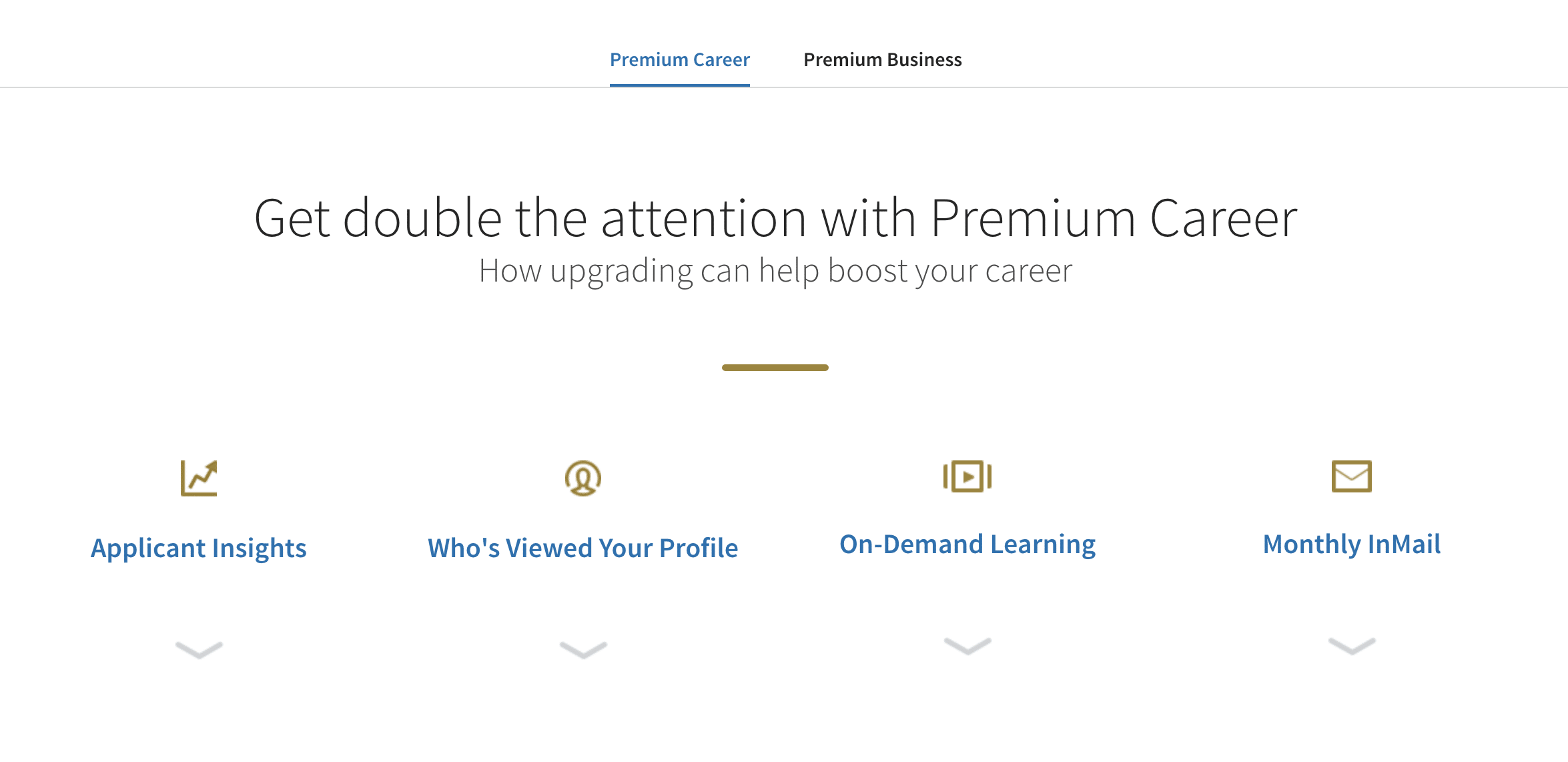 Linkedin claims candidates with Premium Career get hired an average of 2X as fast.

Among the features of Linkedin Premium Career:
5 inmails per month
See Everyone who's Viewed Your Profile from the last 90 days
Open Profile (meaning people can send your message without sending a connection request first)
Job and applicant insights
Top Applicant Job recommendations
Company insights
Salary insights
16,000+ LinkedIn Learning Courses
Full access to Interview Preparation tools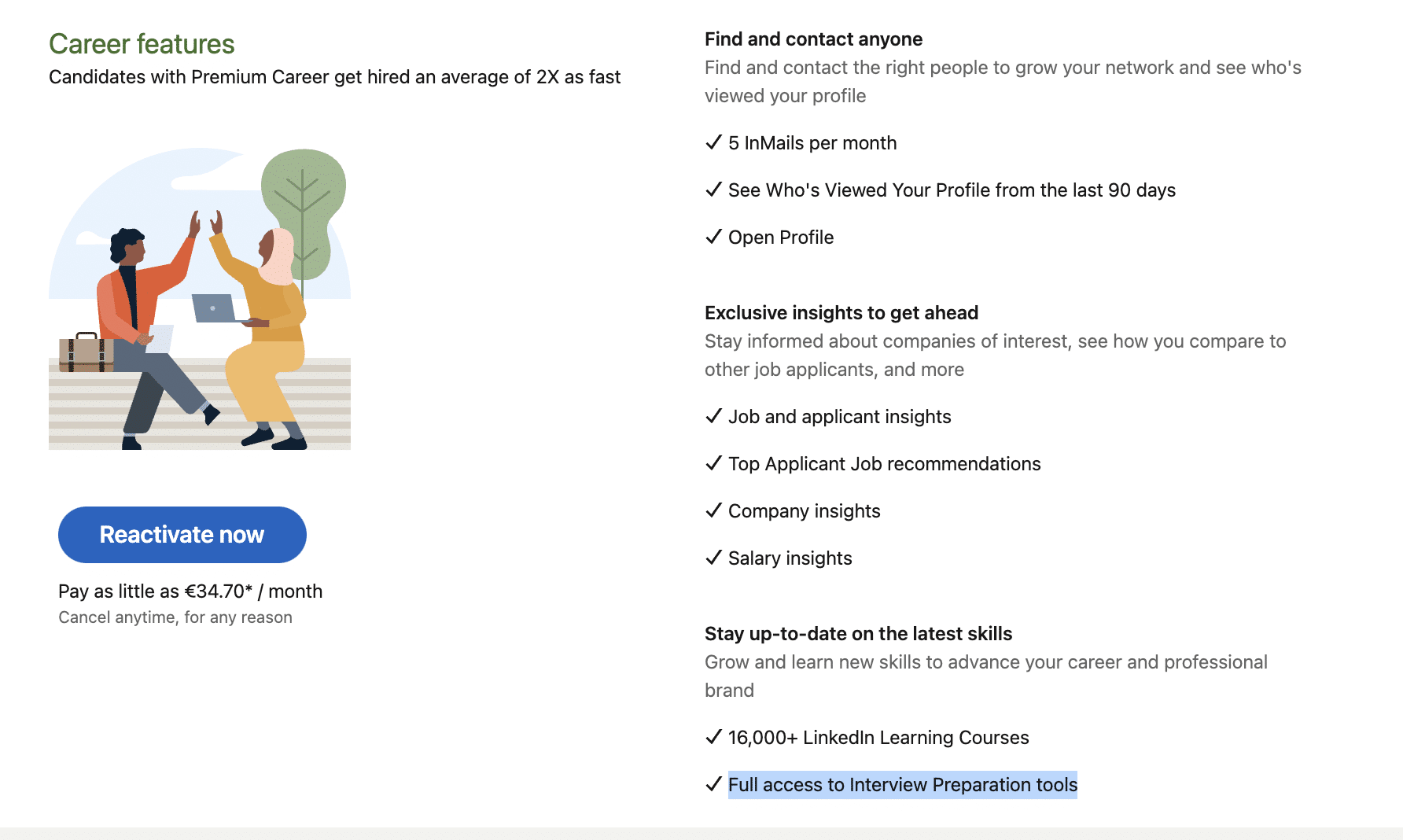 If you're a jobseeker, then Linkedin Premium Career is clearly better than Linkedin Basic to reach your goal.
2. Linkedin Premium Business
Let's continue this linkedin premium comparison with the second offer: Linkedin Premium Business.

This is a linkedin premium for sales professionals who are willing to generates leads with the platform.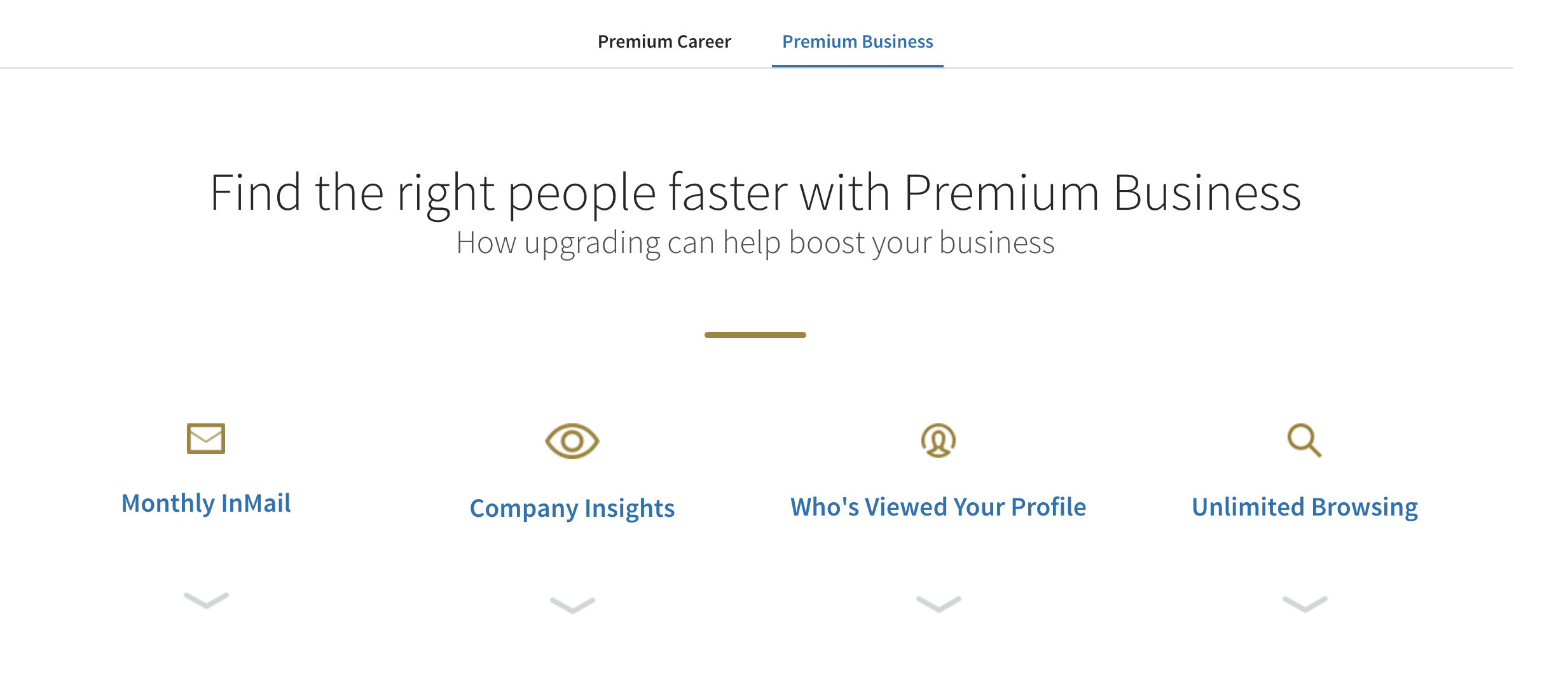 LinkedIn Premium Business claims to helps to grow business at a larger scale by offering the all features in Linkedin Premium Career plus:
15 InMails per month
Unlimited People Browsing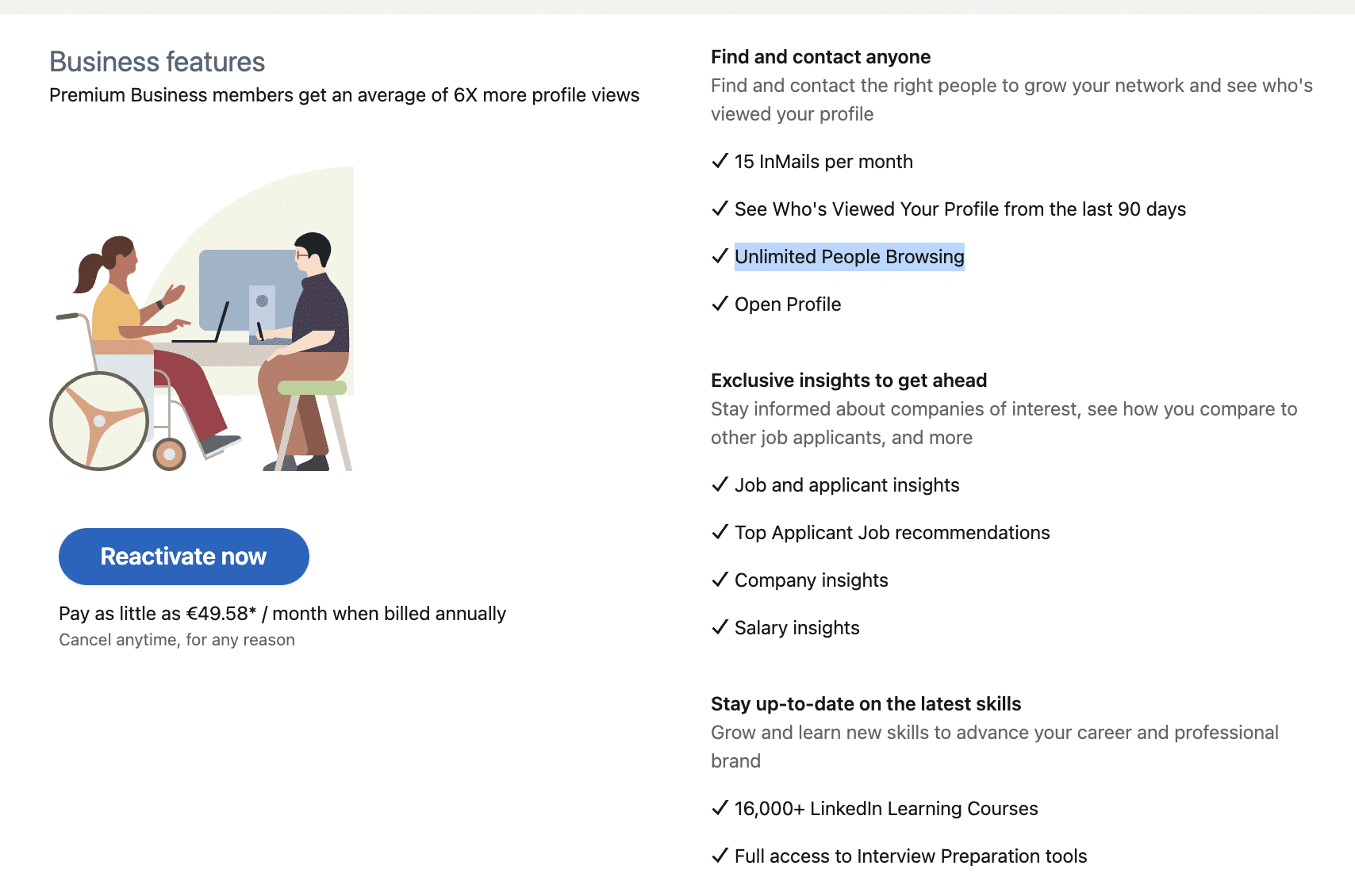 Know you know the two types of linkedin premium accounts.
Honestly, Linkedin Premium Business doesn't worth the cost, especially if you are looking for leads on Linkedin. Sales Navigator is a way better option.

Here is the difference between linkedin premium and sales navigator in terms of lead generation power.
Linkedin Sales Navigator VS Linkedin Premium
What is the difference between Sales Navigator and Linkedin Premium?
First, let's say that Linkedin Sales Navigator offers different plans:
Sales Navigator Professional
Sales Navigator Team
Sales Navigator Enterprise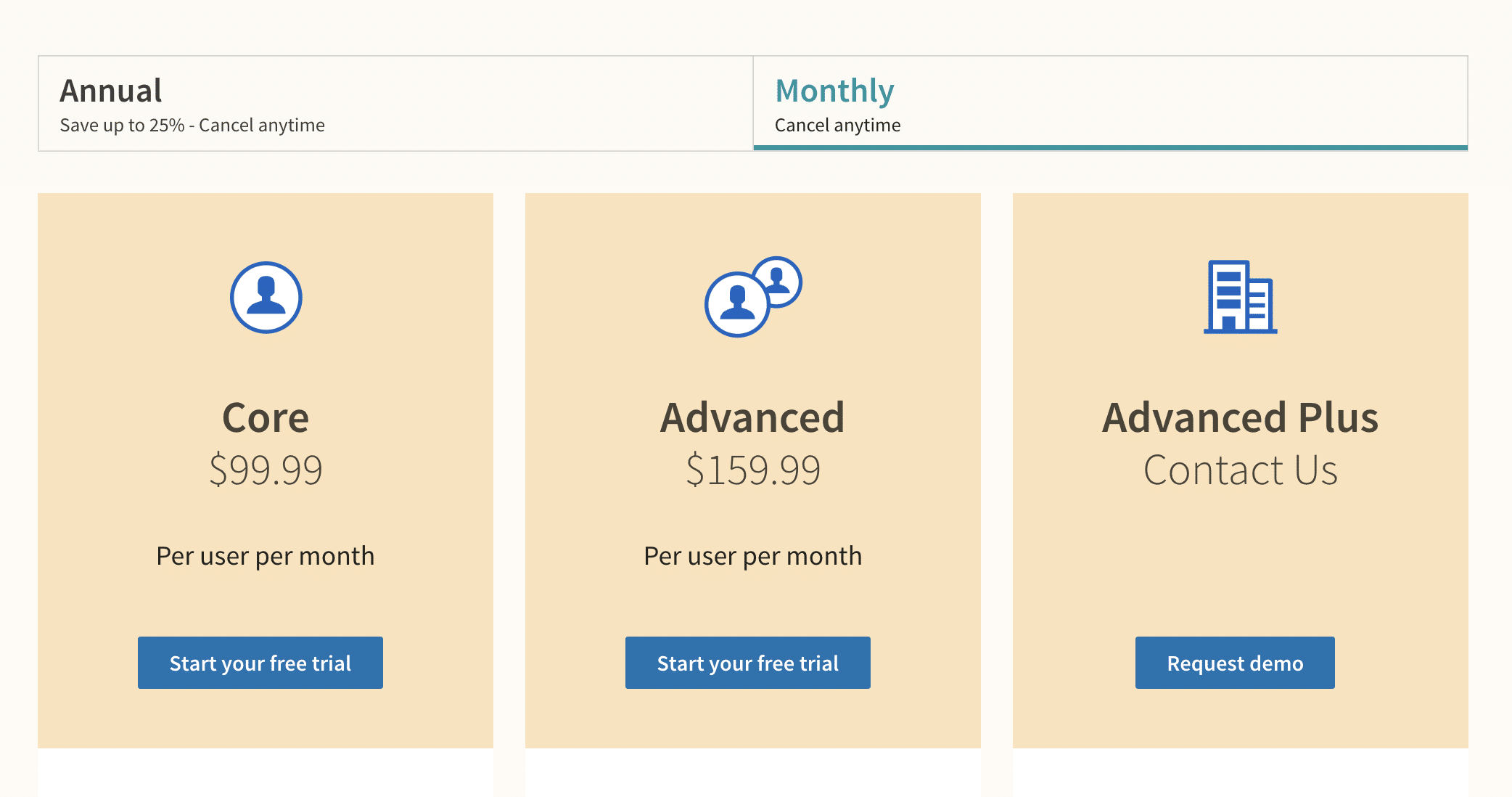 You can see Linkedin Sales Navigator is more expensive than Linkedin Premium Business
However you will get far more value with Sales Navigator if you are looking to generate leads.
Here is a sales navigator comparison of all the plans.
1. Linkedin Sales Navigator Professional (Core)
Does sales navigator include premium ? Yes.

With every the Sales Navigator linkedin paid options you get every Linkedin Premium features.
Sales Navigator Core is the version that is used by 90% of sales and marketing professionals.

It gives you access to the Sales Navigator search engine which is much more powerful than the basic.
Here is a video detailing how you can use Sales Navigator to generate leads.
After watching this you will have no doubt that Sales Navigator is far superior to Linkedin Premium Business in terms of lead generation.
Among the features you get with Sales Navigator Professional:
Unlimited People & Company Searches
See up to 2500 results (Vs 1000 with Premium)
Advanced search filters
Lead & Account List creation
Alerts on Lead & Account activities
Lead Generation Automation with Saved Searches
The only thing that you can't do with Sales Navigator is export the leads into a CSV or an excel file.
You will have to use a 3rd party tool like Evaboot to get the data. Here is a tutorial in this video.
2. Linkedin Sales Navigator Team (Advanced)
With Sales Navigator Team, you get all the features in Sales Navigator professional plus.
Account lists creation with CSV upload
Smartlinks
Teamlink
We have made a video to quickly present this linkedin plan.
For me, the best feature Sales Navigator has to offer is the CSV import.

If you build your account lists using another database (Crunchbase, job boards, custom lists…) you can then upload your file into Sales Navigator to try to find these companies on Linkedin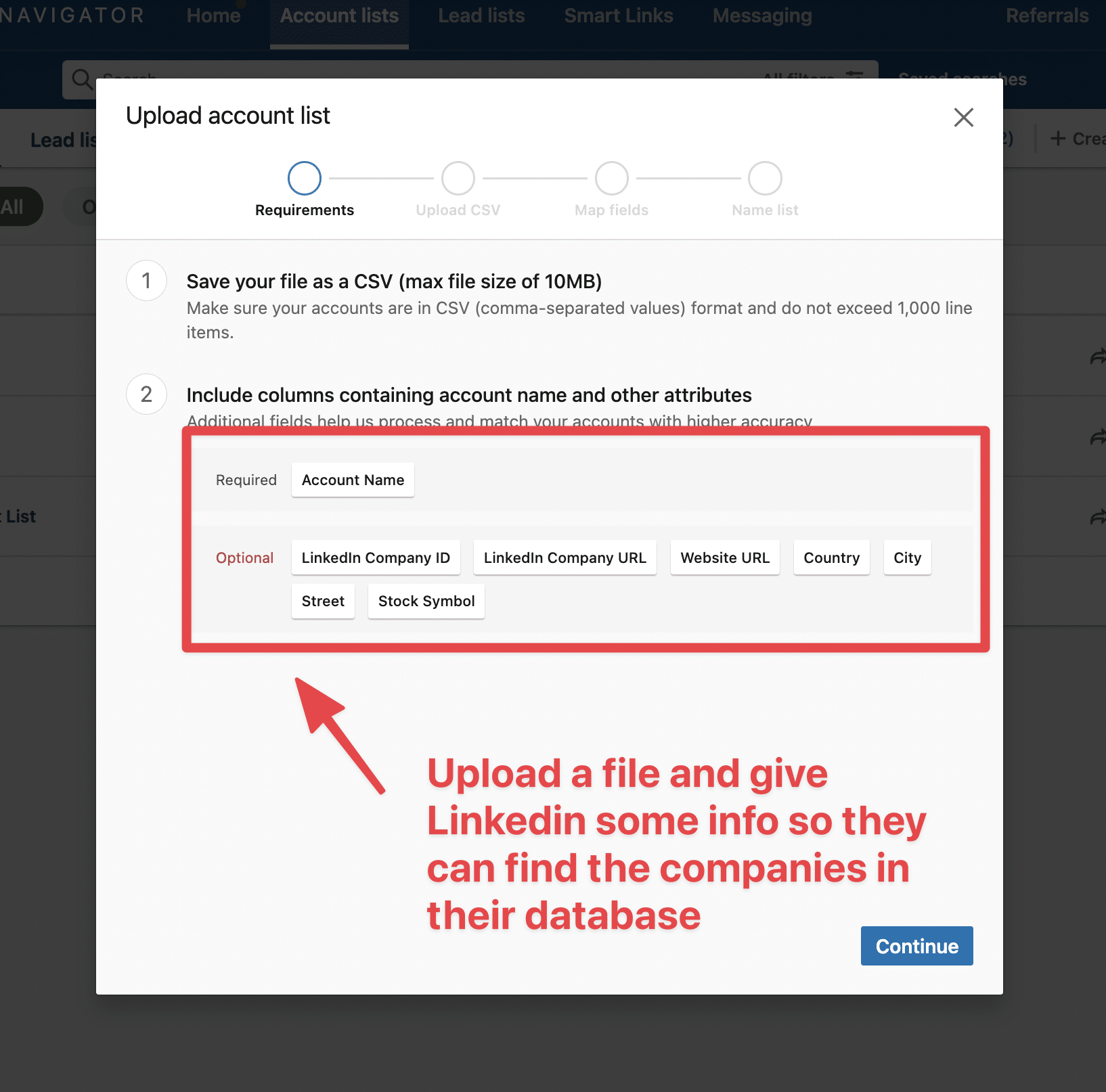 The second feature of Sales Navigator Team is Smart Link.

Smart Links are a way to share PowerPoint like presentation with your prospect and track how they engage with it.
It is really useful to send follow-ups because you can see precisely how much time your prospect spent on the presentation and which pages has been visited.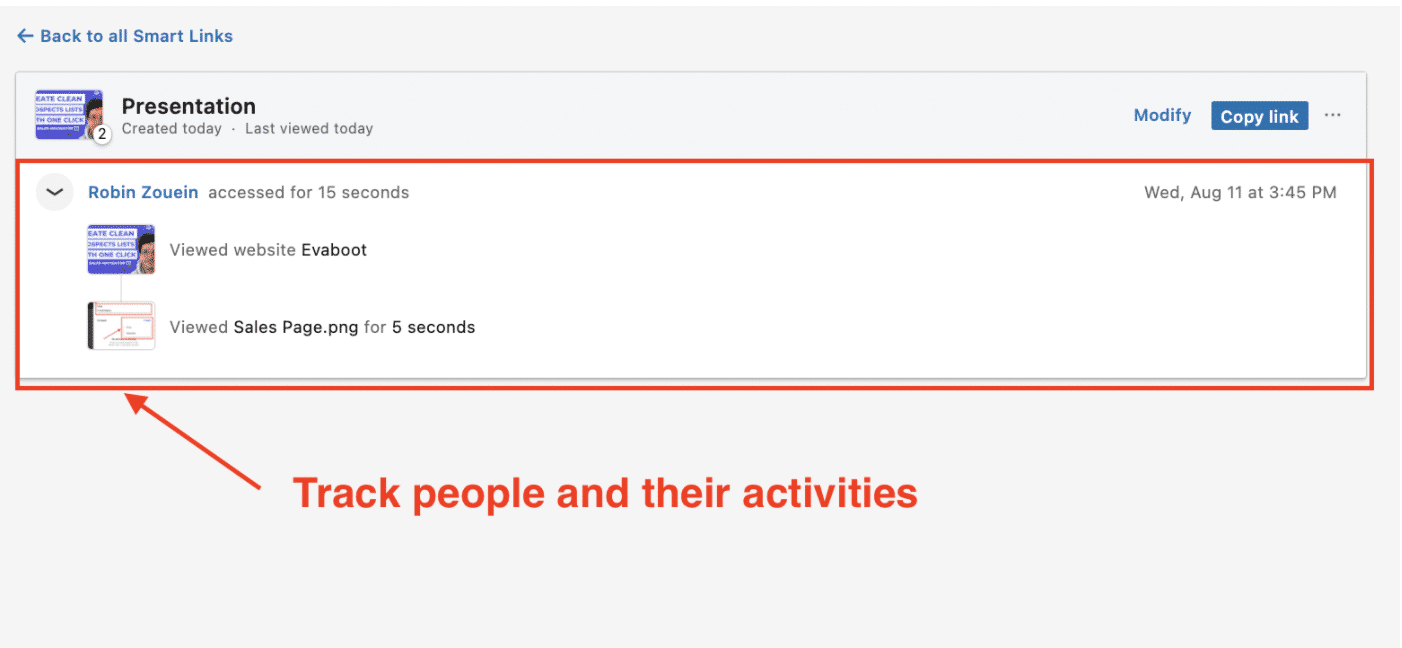 Last feature you can use with this linkedin account type is Teamlink.

Teamlink allow you see to if there is some people in your team who can give you warm introductions to your prospect.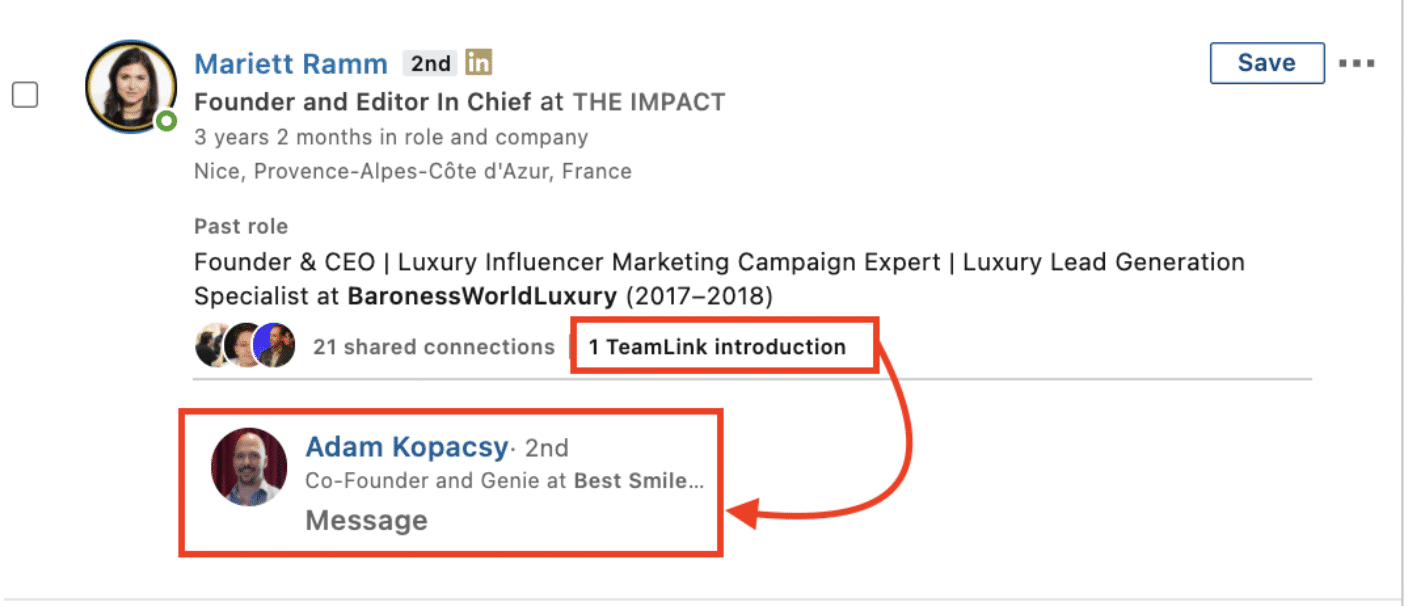 In this case, we can see that Adam can introduce me to Mariett because he's already connected with her on Linkedin.

Asking Adam for an intro will be more efficient than sending a cold linkedin outreach message.
3. Linkedin Sales Navigator Enterprise (Advanced Plus)
With Sales Navigator Enterprise is the most expensive of every linkedin subscription levels. With it you get all the features in Professional and Team plus:
Teamlink Extend which allow you see if your prospects are connected to anyone in your company (not just your sales team mates)

CRM Synchronisation to exclude from your Sales Navigator searches leads already present in your CRM

Real Time Contact Update to be notified when your prospects change jobs or companies.

Advanced Campaigner Manager for Linkedin Ads
This offer is design for large enterprises so very few of you will need it.
To the question is sales navigator the same as linkedin premium? The answer is clearly no. Sales Navigator is much more powerful and should definitely prefer this option if you are looking to generate leads.
Which Linkedin Membership Level Should I Choose?
The only reasons you should prefer Linkedin Premium vs Sales Navigator is if you are a job seeker.
If you are:
Sales
SDR
Marketer
Founder
There is absolutely no question: you should get Linkedin Sales Navigator.

Now you made wonder: should I take Sales Navigator Professional or Sales Navigator Team?

Well if you use the Account upload through CSV feature, Sales Navigator Team is a real advantages that will allow you to go from an account list to a qualified list of decision makers really easily.
The linkedin subscription cost is 50$ superior to Sales Navigator but it worths it.
The is the only game-changing feature for me. Smart Links and Teamlinks are cool feature but to my opinion they fall in the "nice to have" category
Hope this guilde help you discovered the different linkedin subscription types