In this tutorial, you will learn how to build super-targeted Linkedin Ads audience using Linkedin Sales Navigator.
Linkedin Ads are the most expensive ads on the market.
So you better spend some time to building targeted audiences before opening your wallet.
Lucky for you:
I will show you how to target exactly who you want with your Linkedin Ads.
This technique is a game-changer.
Keep reading.
How to Create Linkedin Ads Audience With Sales Navigator
There is 4 steps to combine the power of LinkedIn ads and LinkedIn Sales Navigator.
Extract Account From Linkedin Sales Navigator
Upload Your Sales Navigator Export to Linkedin Ads
Modify your File to Match the Linkedin Ads Template
Add Lead Filters on Linkedin Ads
Let's dive right in with step 1.
1. Extract Accounts From Linkedin Sales Navigator
First thing you will need to do is to extract targeted accounts from Linkedin Sales Navigator.
Data Export is not a native linkedin sales navigator feature, so you will a need a third party tool to do this.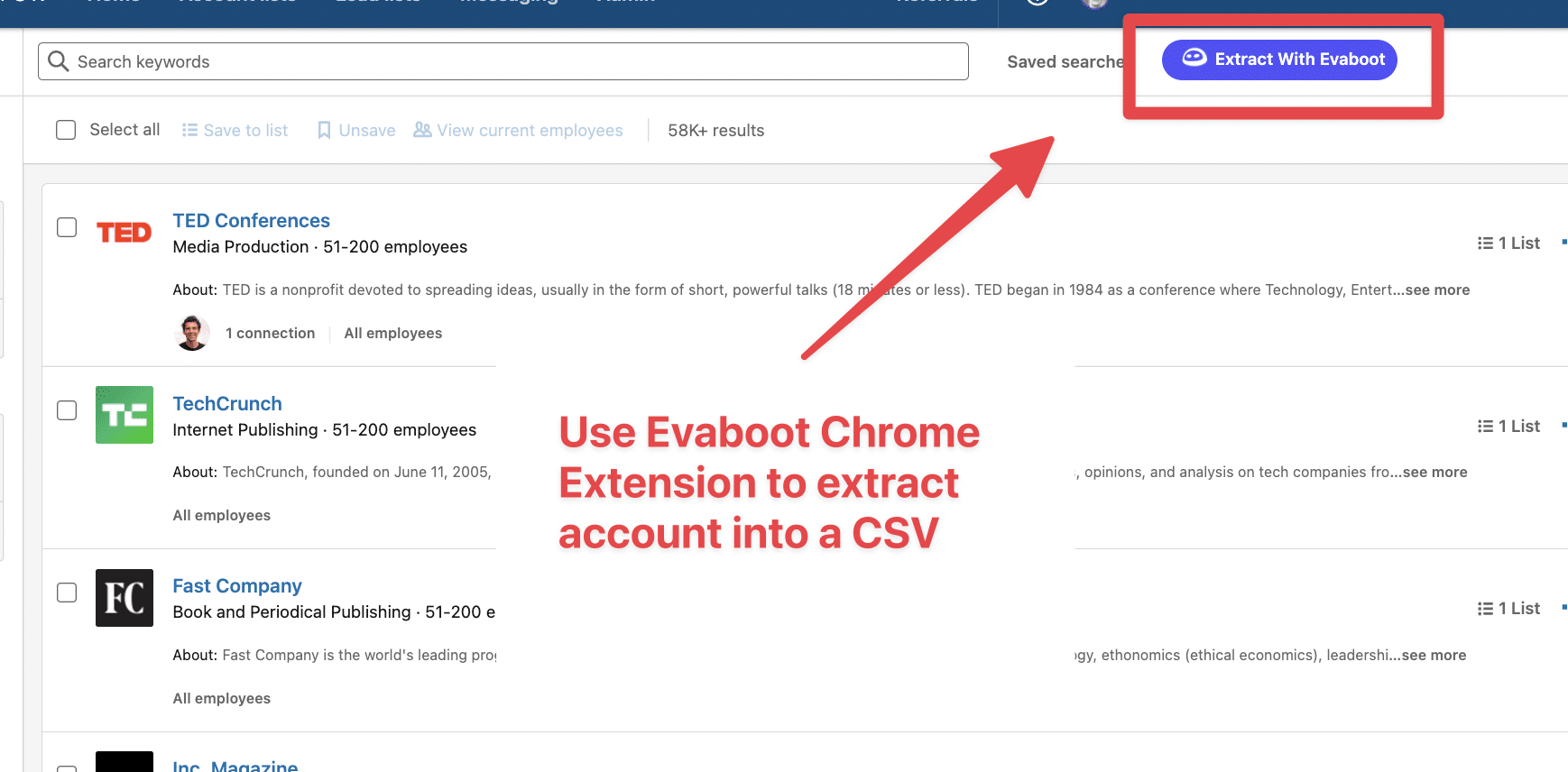 Evaboot is excellent at doing this job.
Here is a video tutorial
You have your CSV ready?
Let's get to step number 2!
2. Upload Your Sales Navigator Export to Linkedin Ads
Next step is to upload the data you just extracted from Sales Navigator into LinkedIn Ads.
For that, you need to click on Word > Advertise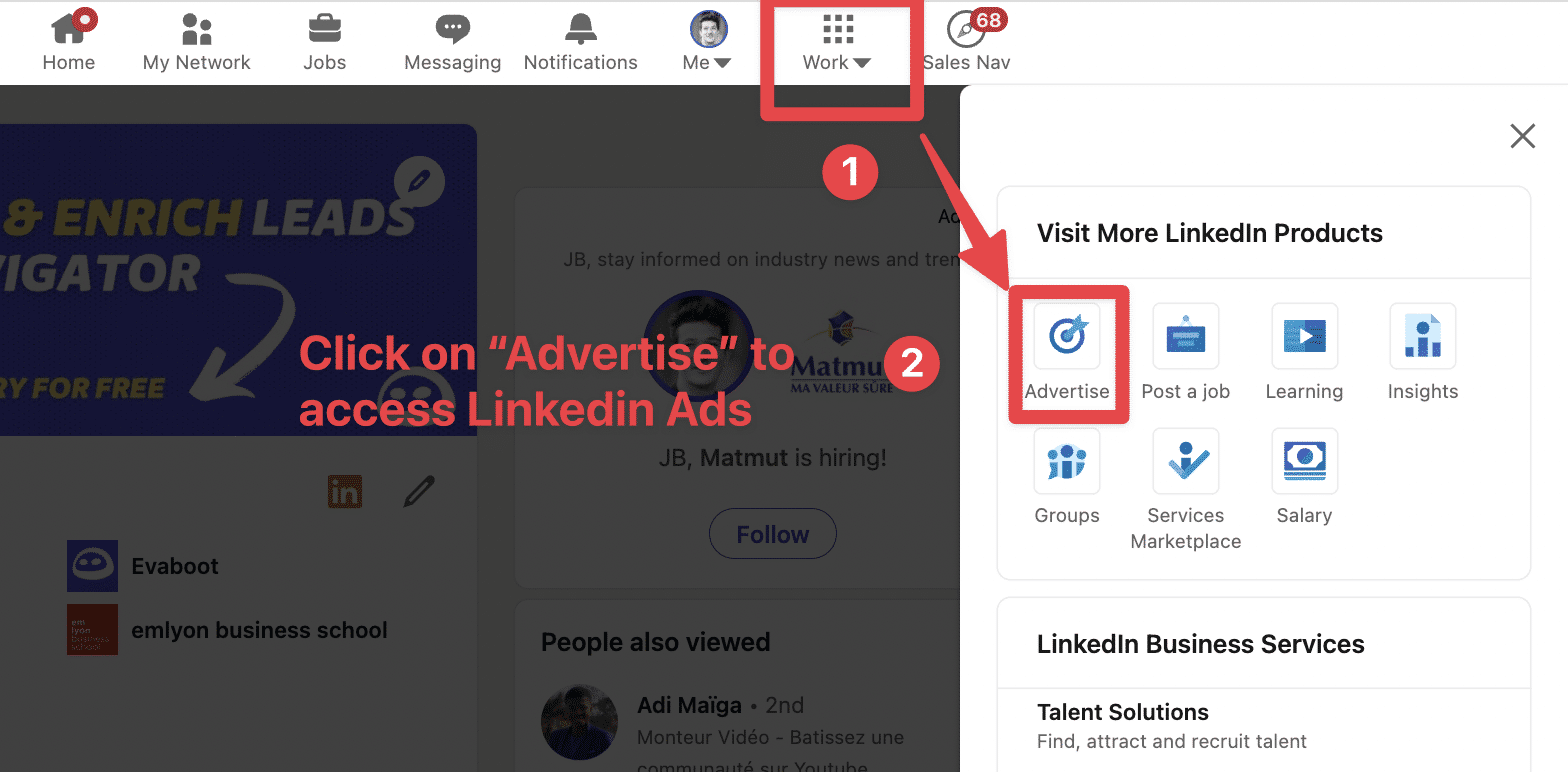 Then, create an add account or select one if you already have created it.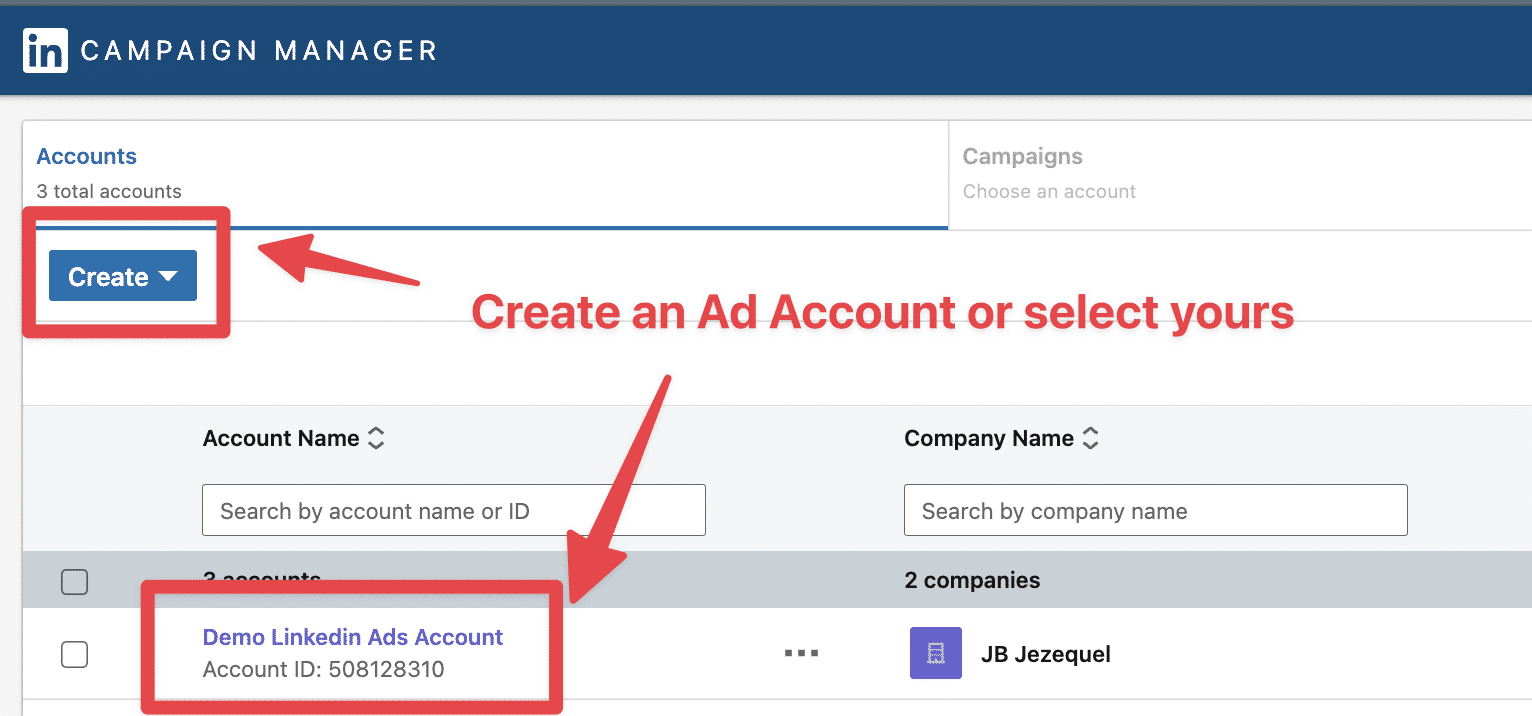 Click on Create > Campaing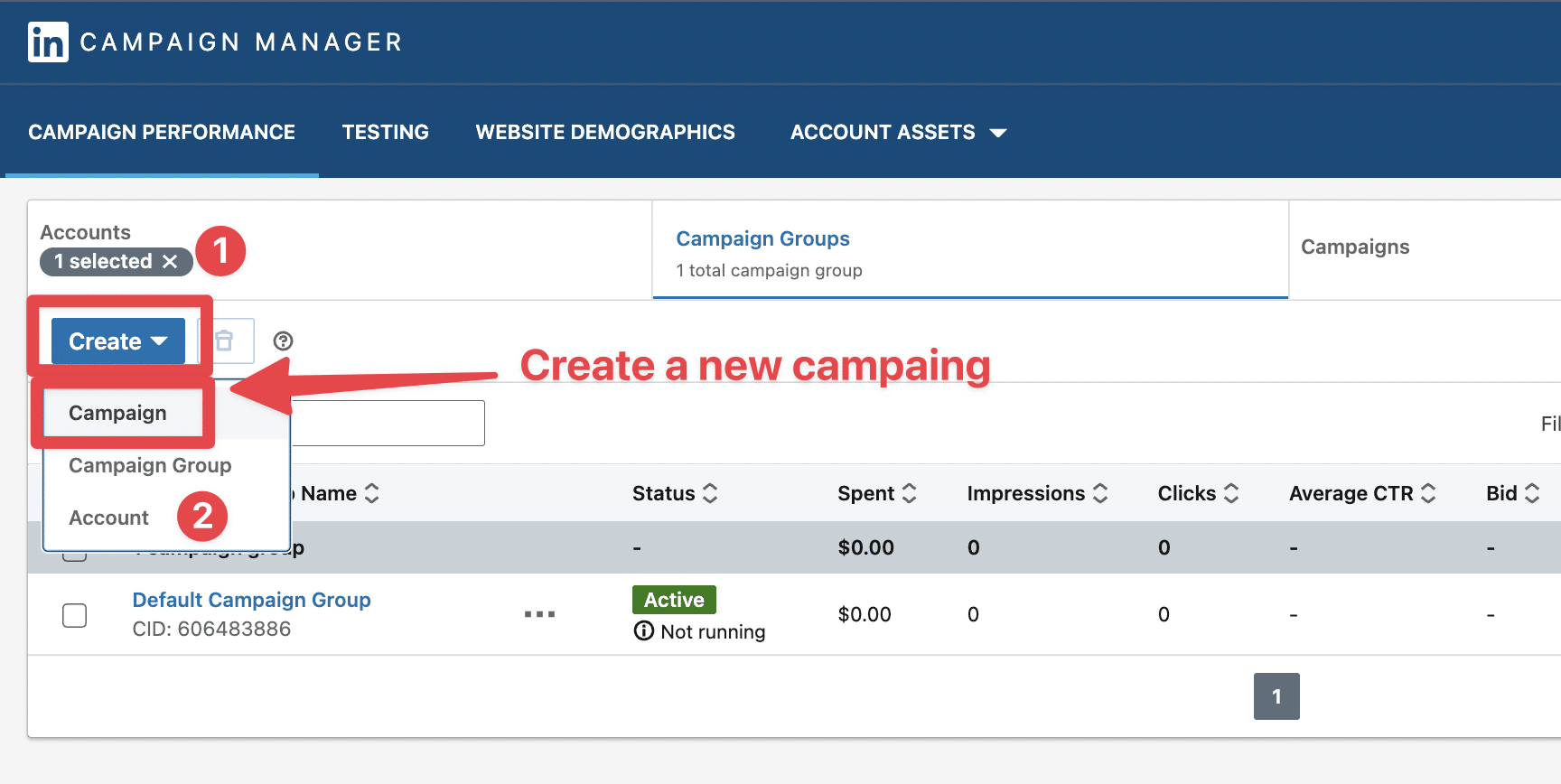 Then select your campaign goal, scroll down a little bit and click on Audience > List Upload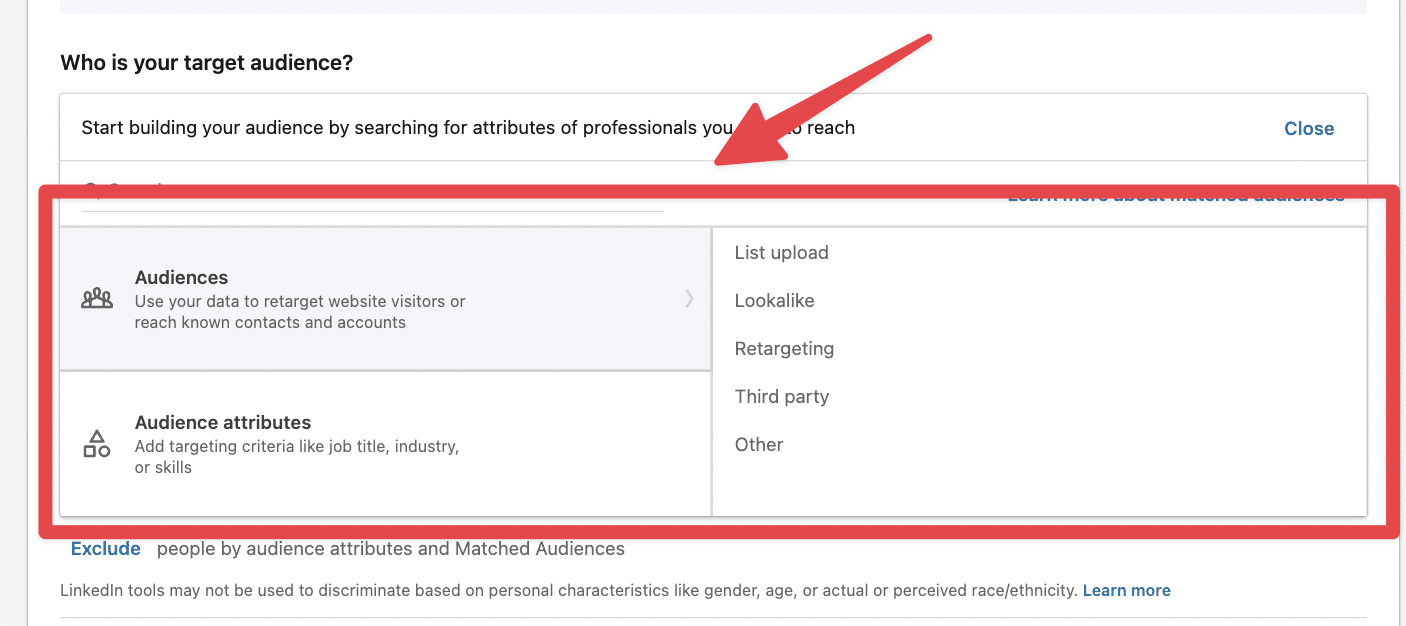 Click on Company List

Then click on Upload a List

You will land on the upload interface of Linkedin Ads.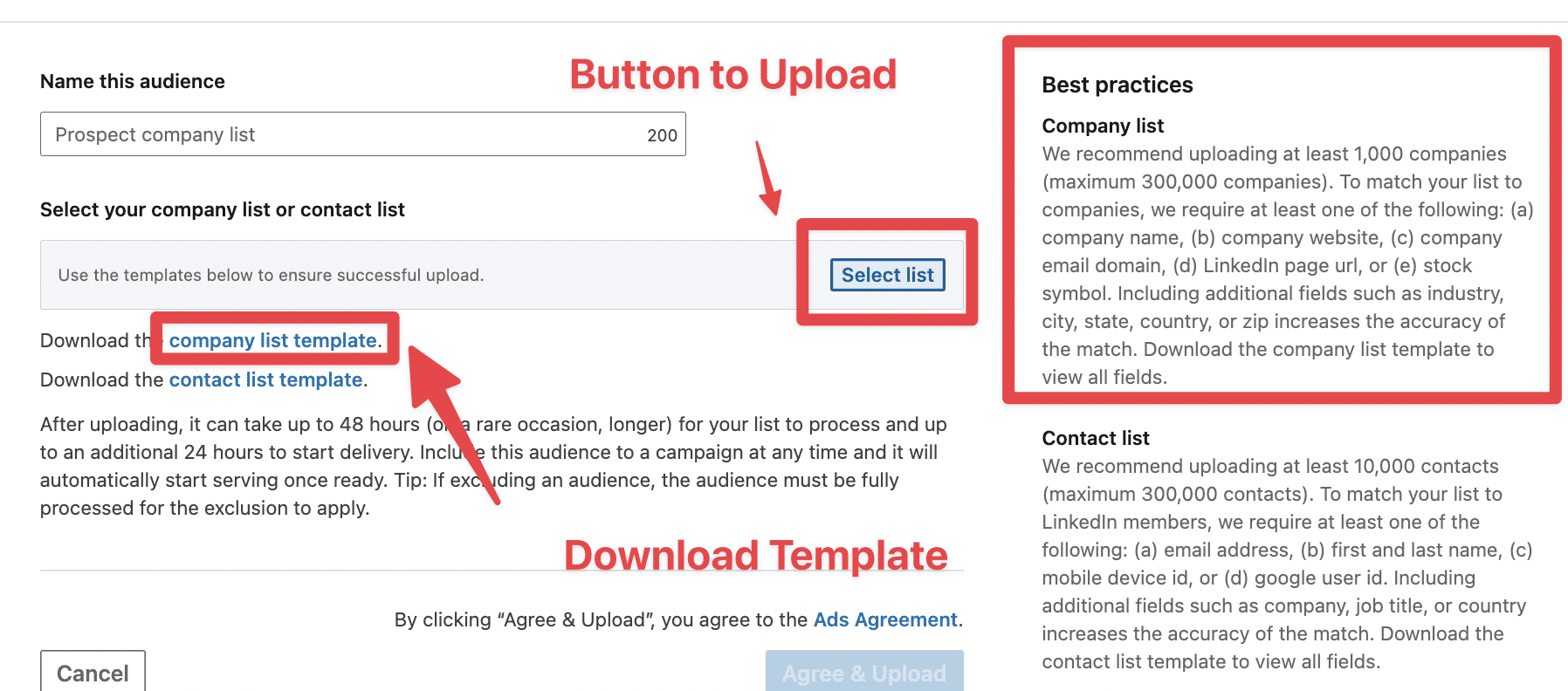 Before you upload your file, you will need to modify it so it matches the templates linkedin is expecting.
That's precisely what I am going to show in step number 3.
Let's dive in.
3. Modify your File to Match the Linkedin Ads Template
Here is the type of file linkedin is expecting to create a Linkedin Ads audience from your Linkedin Sales Navigator export.

Evaboot does not provide the right headers name (as they are not clear and Evaboot is not only used for Linkedin Ads)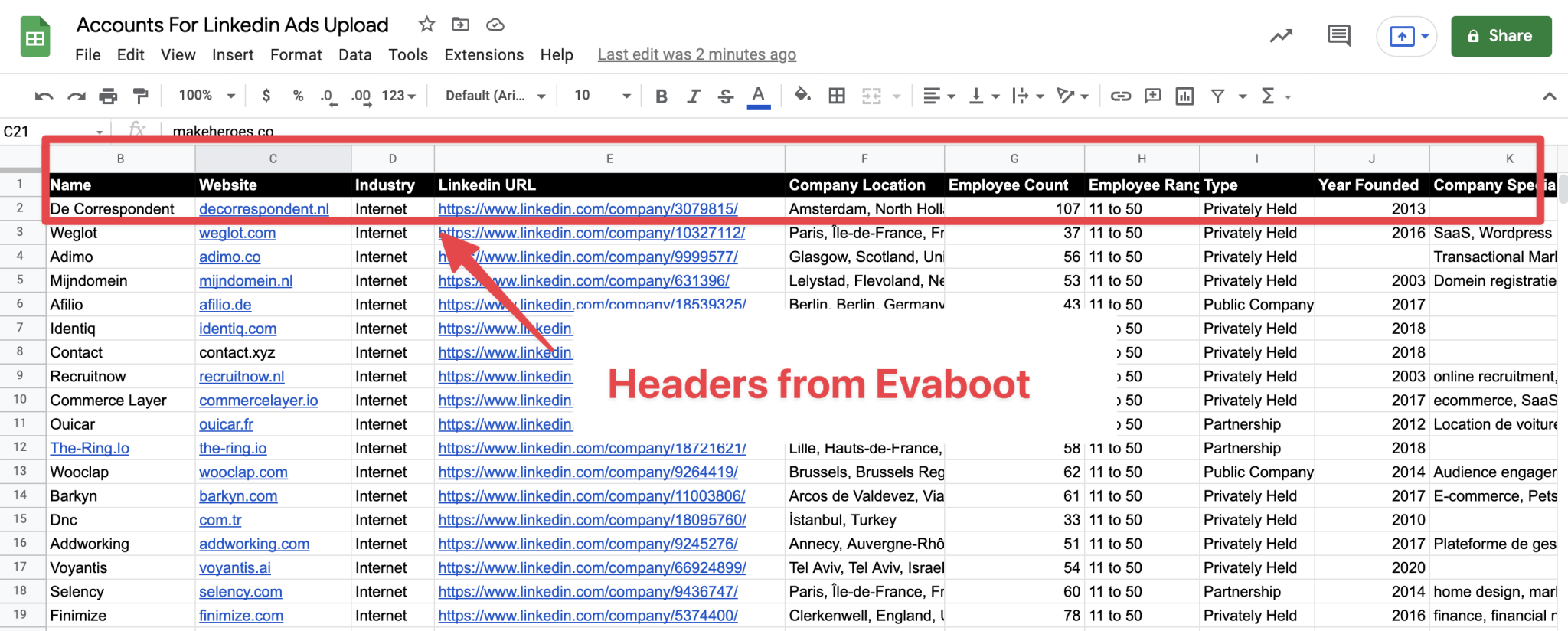 You will need to two things.

The first one is to delete the unnecessary columns.
If you export your data with Evaboot, you can simply keep:
company name
company website
company page URL
These 3 fields are enough for Linkedin to retrieve the companies in it's database (especially the Linkedin URLs!)

Once your file matches the template you can click on Select List and upload your file.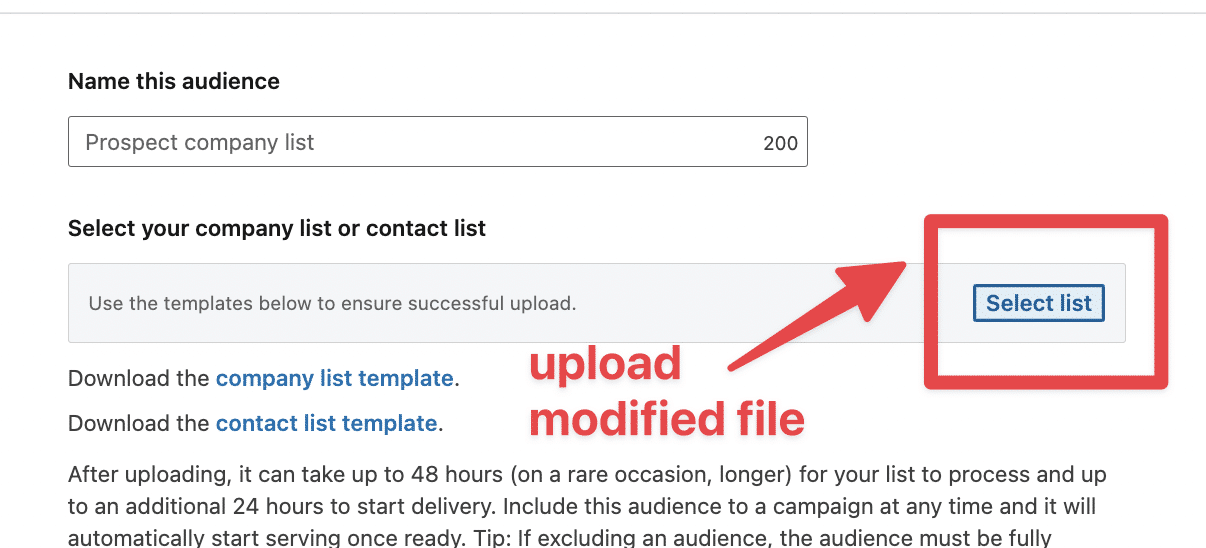 Your list will now appear in the Linkedin Ads interface and you will be able to select it by ticking the checkbox next to the name.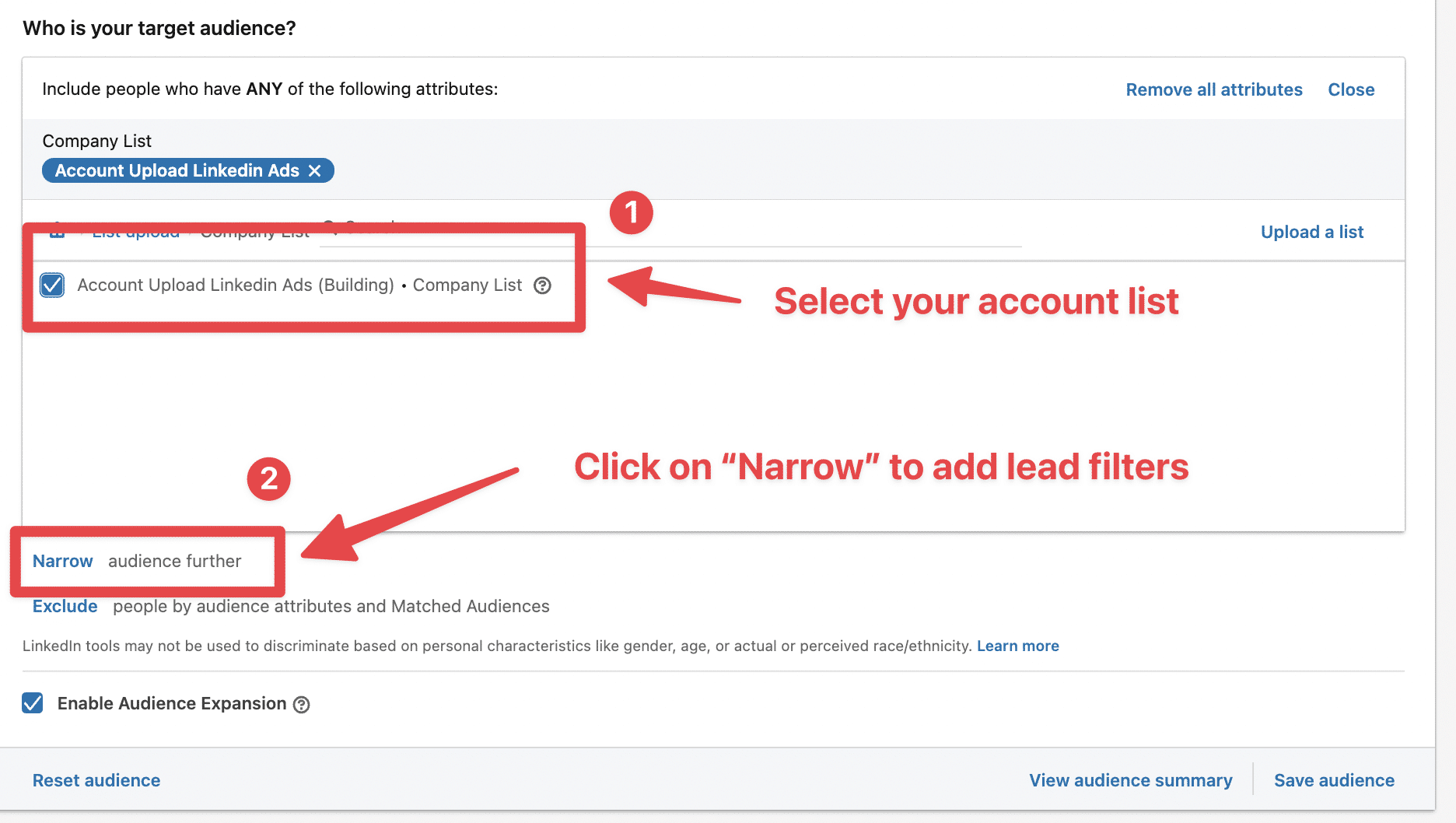 The next step?
Click on Narrow Add some lead filters to target decision makers.
4. Add Lead Filters on Linkedin Ads
You have told Linkedin you want to target people into your account list.
Now, it's time to give the algorithm more precision to help him identify the right decision makers.

For that, click on Audience attributes > Job Experience

Then click on Job Titles

You will be able to precise exactly which job titles you want to target inside these accounts.
DISCLAIMER: you can only add job titles proposed by Linkedin. They are broad categories that regroup variations of the same job title. It works exactly like in LinkedIn Sales Navigator
Like here in this example, the category "Head of Sales" does not include people which position is exactly "Head of Sales" but also slightly different titles like "Head of Digital Sales", "Head of Marketing and Sales" etc…

If you target really specific job titles that are not so common, you may not find what you want with this filter.
But no worries, there is a way get around this if you need to.
5. Upload your Lead List on Linkedin Ads (PRO TIP)
If the job title you are targeting are too specific and you can't find it on Linkedin search engine, you can upload your lead list to narrow down your audience.
DISCLAIMER: for this technique you must upload at least 300 people in linkedin ads.

For that Linkedin ask for:
email of the linkedin account
firstname
lastname
jobtitle
country
As you did for accounts, you can create another sheet and modify the Evaboot file to fit the prospect upload template.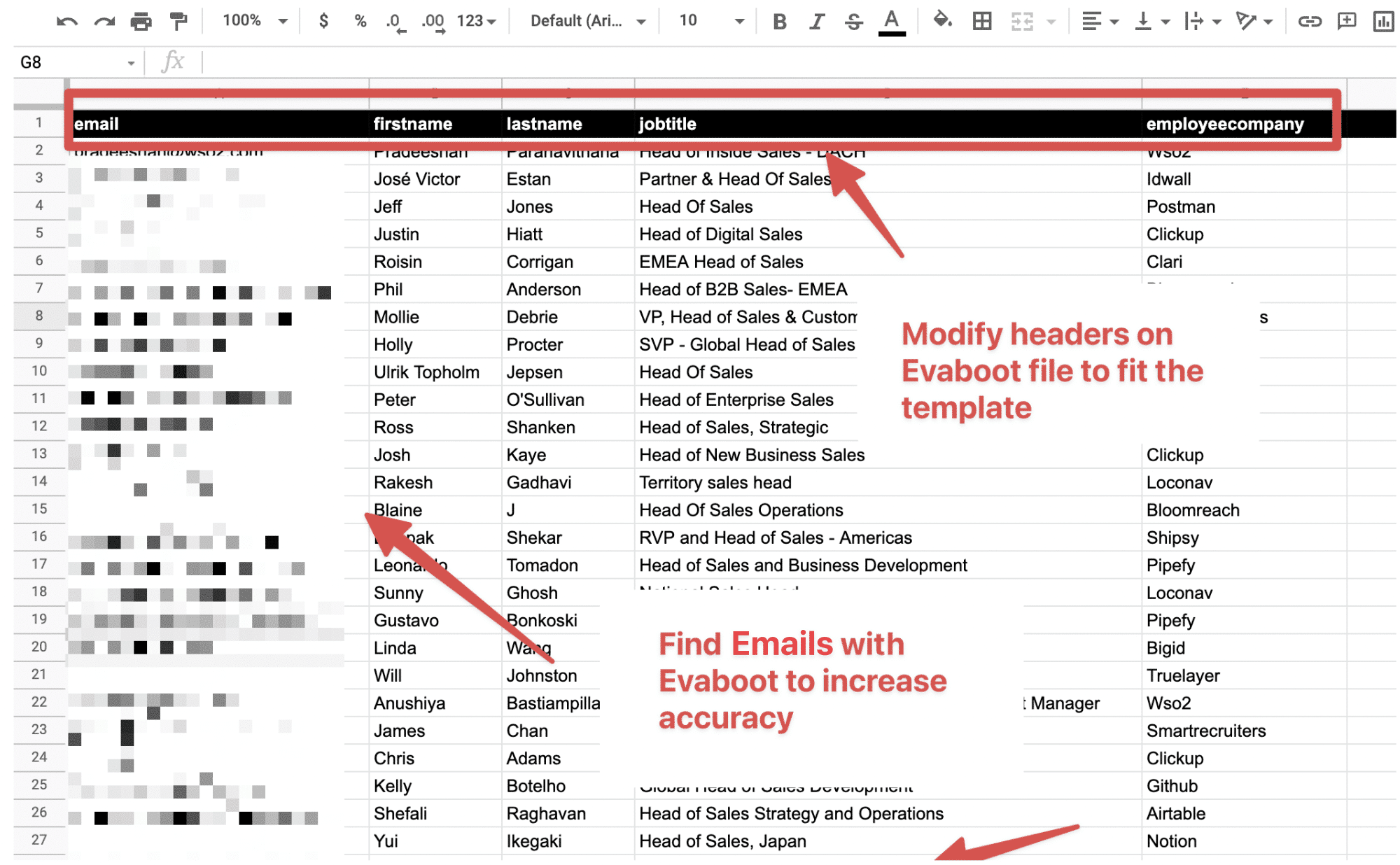 To sum this up, in case you can't find your job titles:
Upload your account list
Click on "narrow" and upload your lead list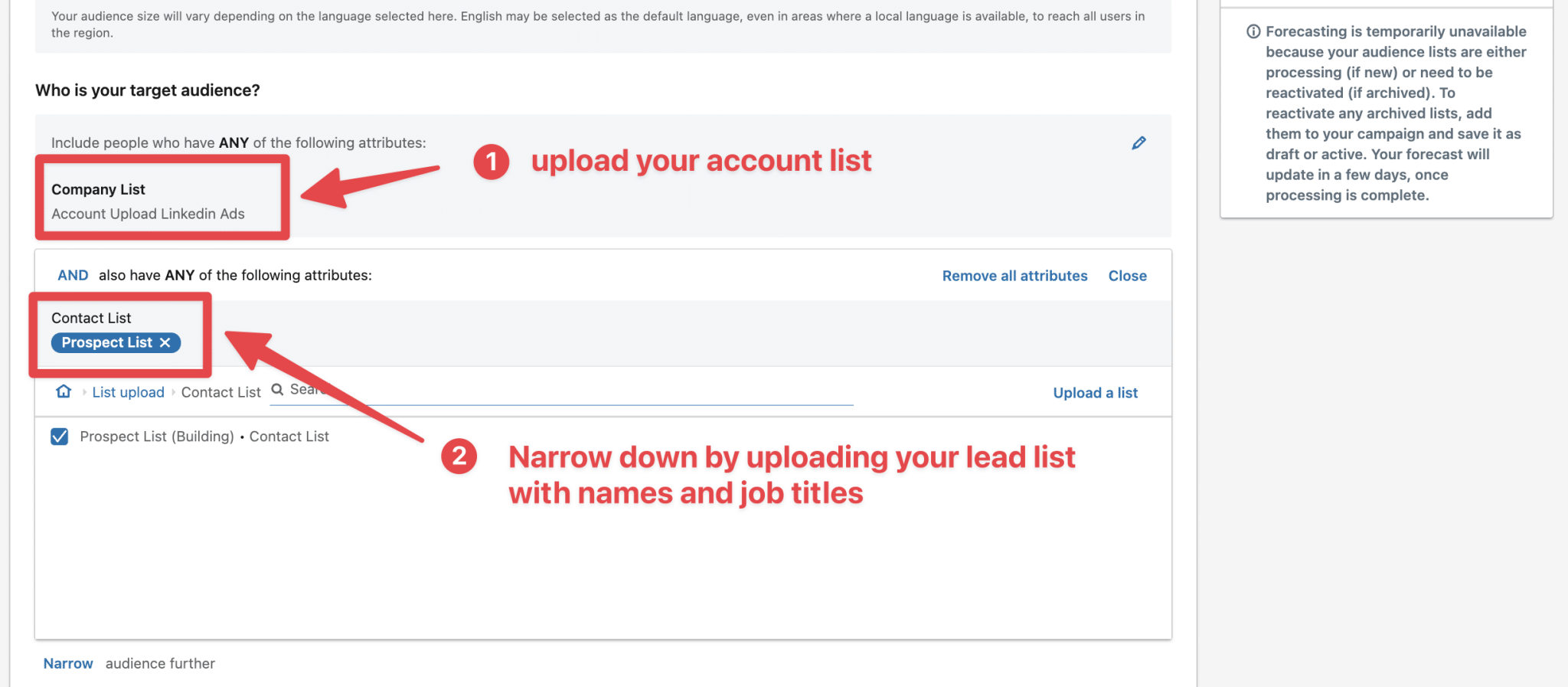 Congratulations!
You have built a super targeted linkedin ads audience with sales navigator in just 5 minutes
But it's not over…
This is was technical part.
Now, you need to learn how to use this technique into a more global lead generation strategy.
That is precisely the goal of the next part: combine linkedin ads and linkedin prospecting.

Increase Closing Rate Combining Linkedin Prospecting with Linkedin Ads
Some people wonder: Linkedin Sales Navigator VS Linkedin Ads? Where Should I put my money.
The answer is: both!
In this part I will show you how to simply target people you are prospecting (with emails or linkedin) to boost your closing rate.
1. Extract the Accounts From your Sales Navigator Lead List
Let's say you have built a lead list or a lead search on LinkedIn Sales Navigator as you want to start prospecting these people on LinkedIn.
The first step would be to extract these leads from LinkedIn Sales Navigator.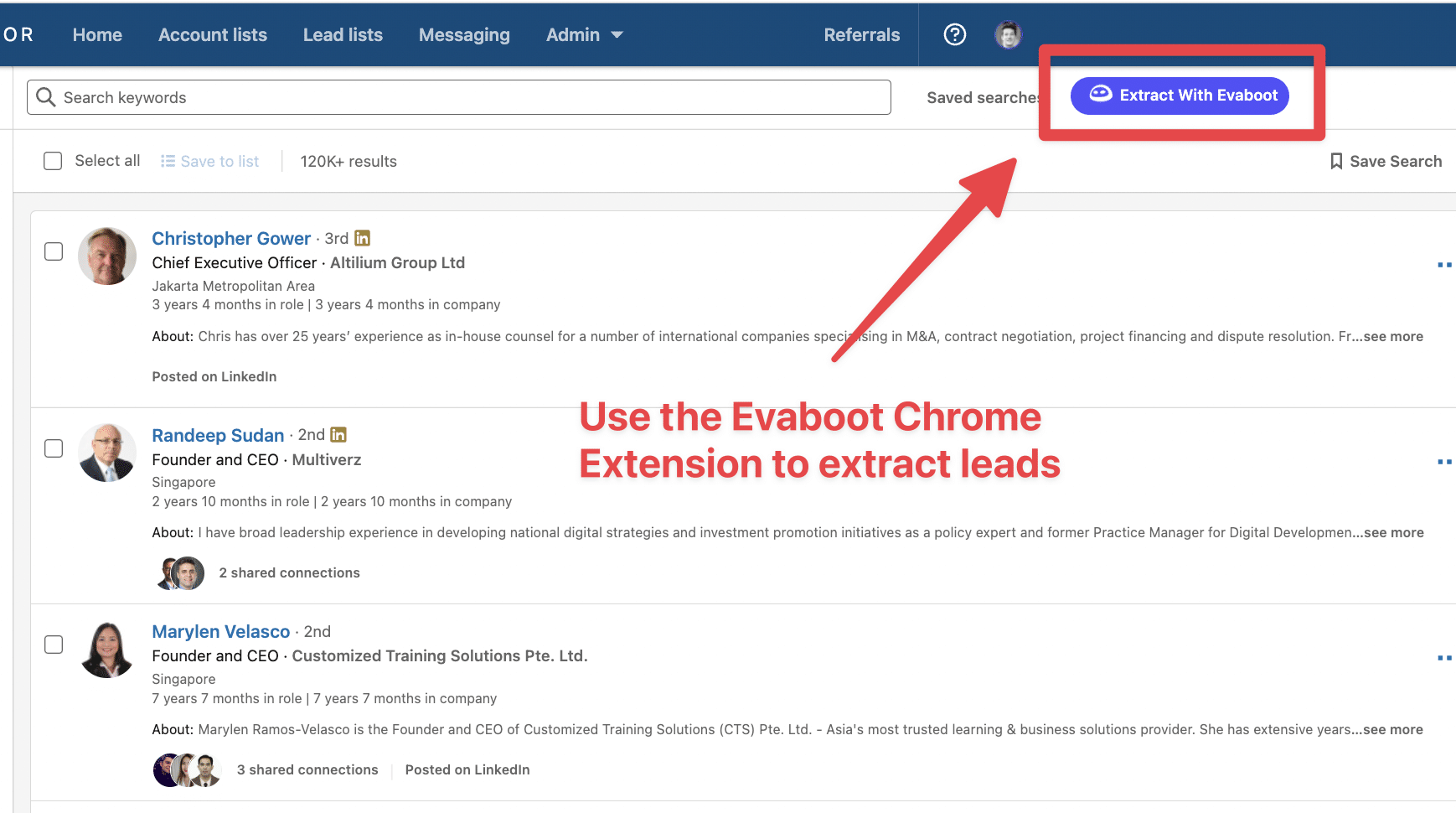 If you do it with Evaboot, you file will look like this: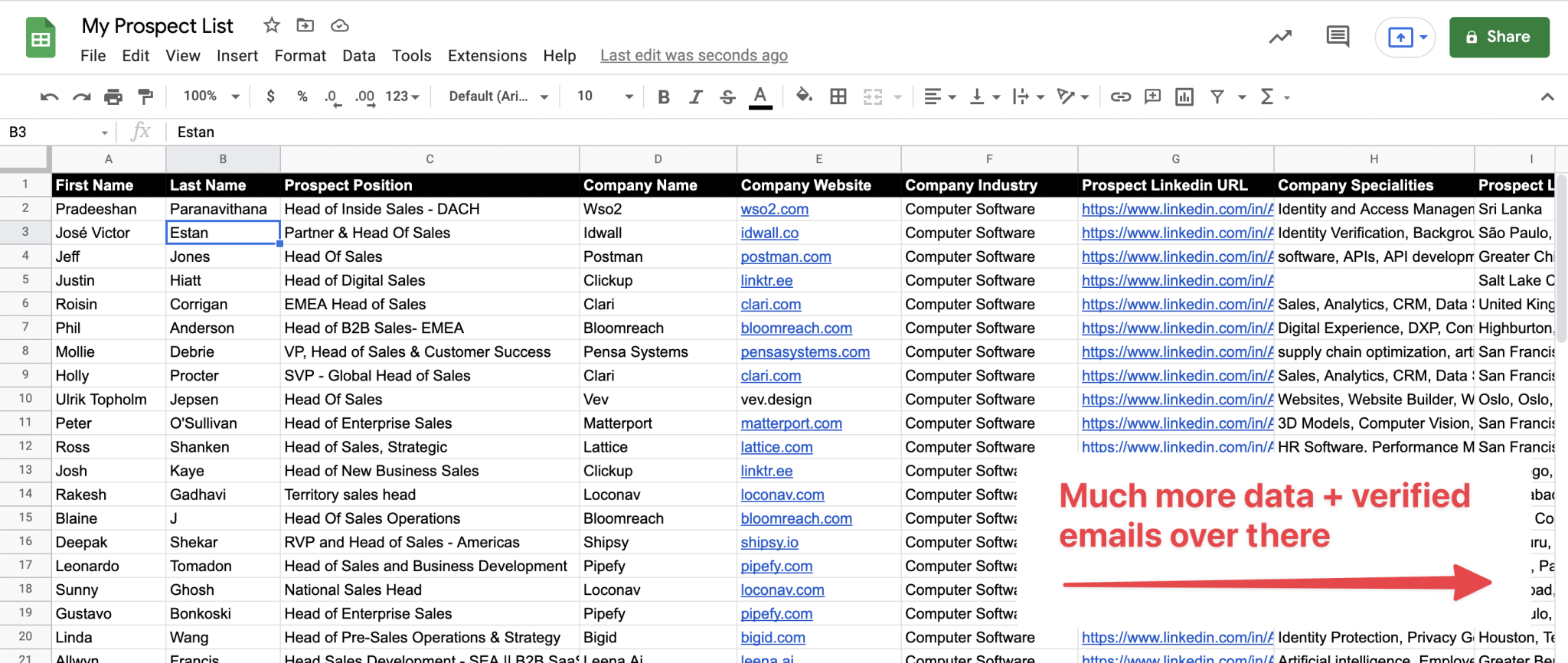 Then you will upload this list into your favorite outreach tool to start your prospecting campaign.
Why don't you target this same people with linkedin ads to increase your reply rate?
To do this, copy past these 3 columns into a new sheet:
Company name
Company website
Company Linkedin URL
And rename them to fit the template
companyname
companywebsite
linkedincompanypageurl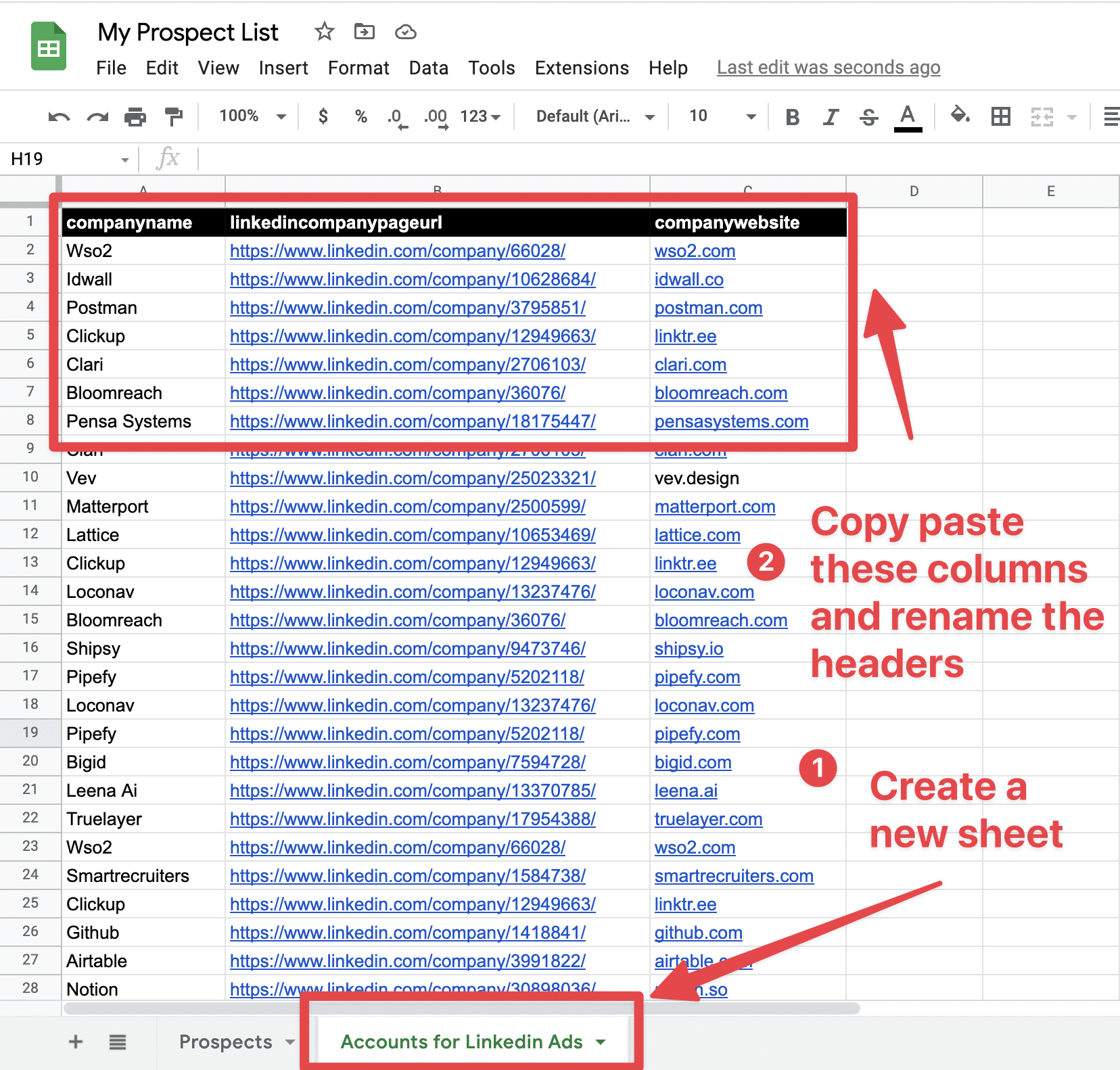 Then upload this account list into linkedin ads like seen in part 1.
2. Add Relevant Job Titles on Linkedin Ads
For the job title part, take a look at the job title you have in your Linkedin Sales Navigator Extract.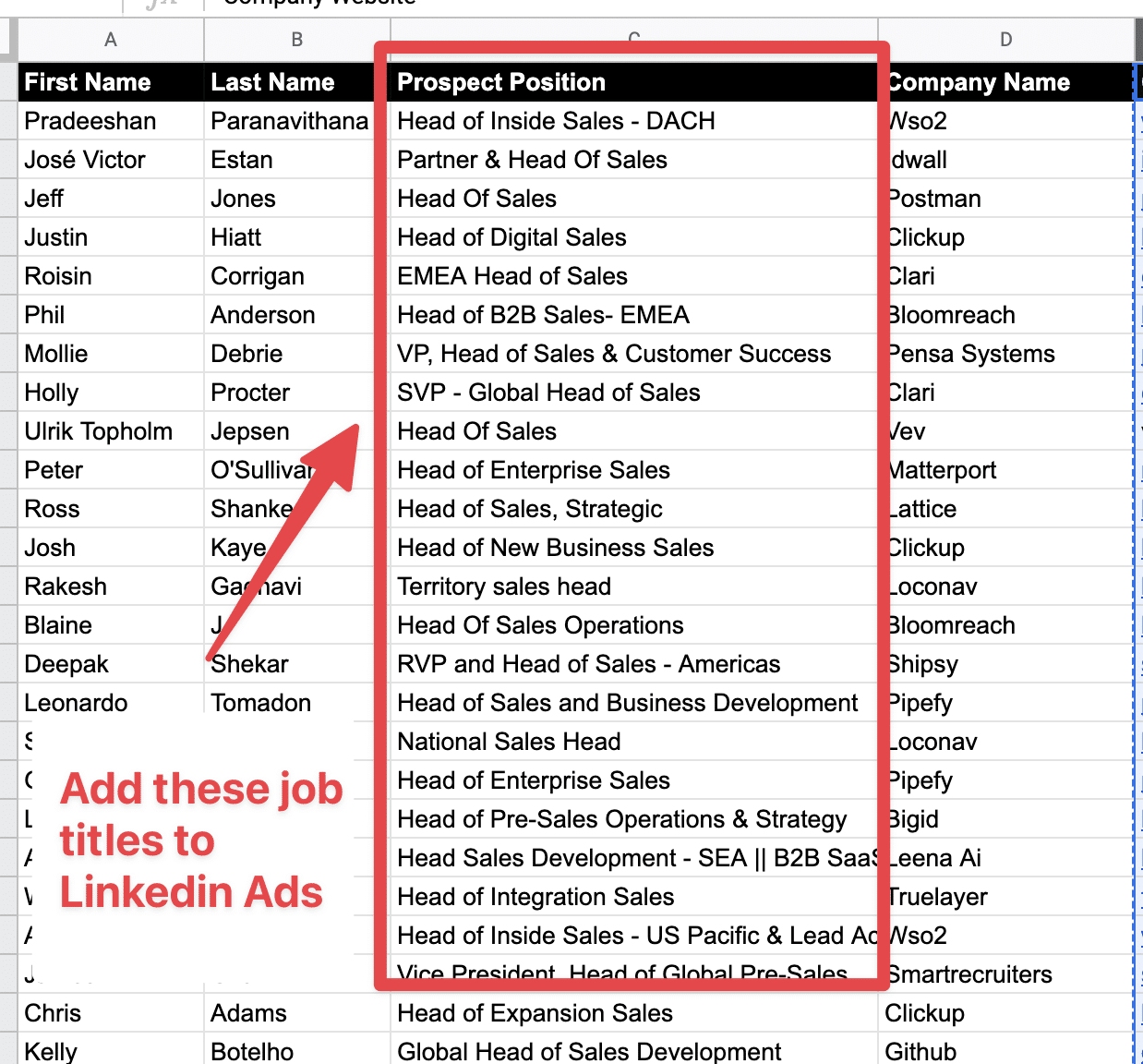 And add them into Linkedin Ads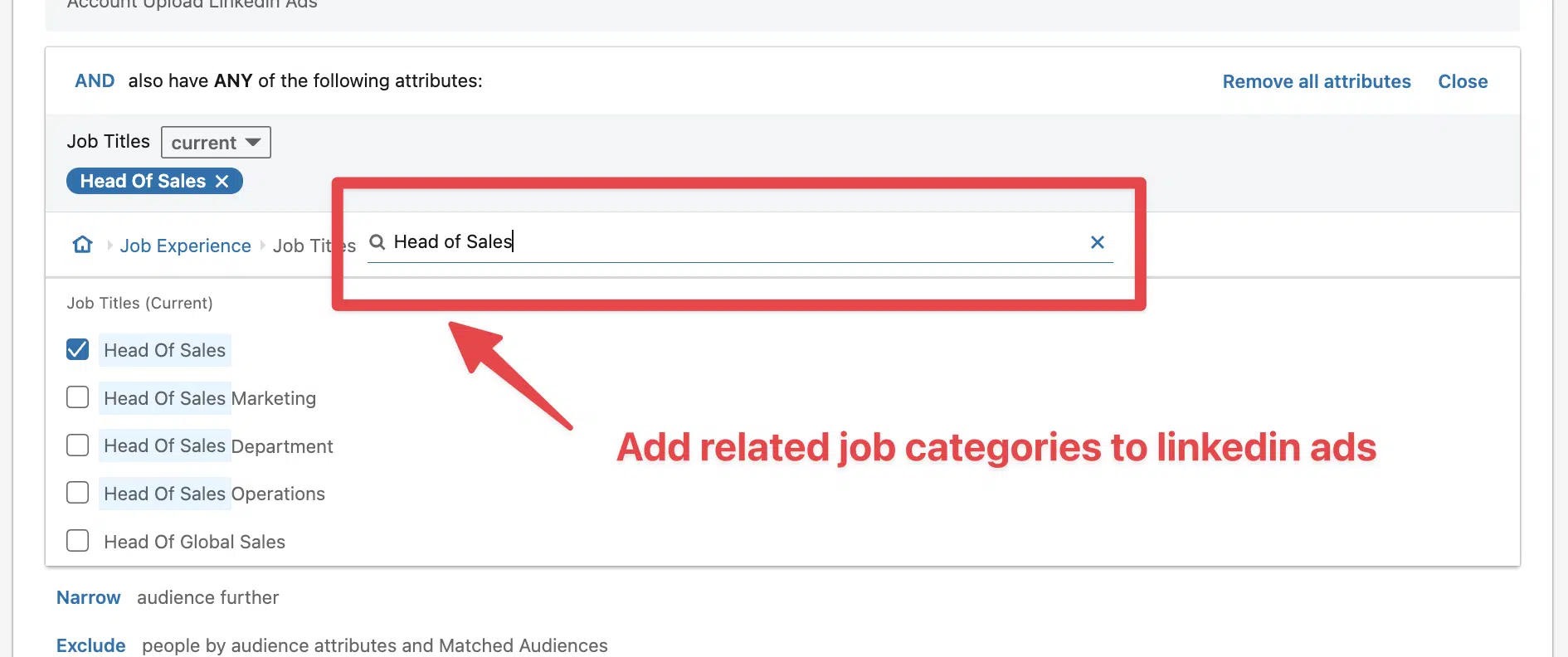 If you can't find them, use the follow technique:
3. Upload Lead List if necessary
Simply create another sheet: "Lead for Linkedin Ads".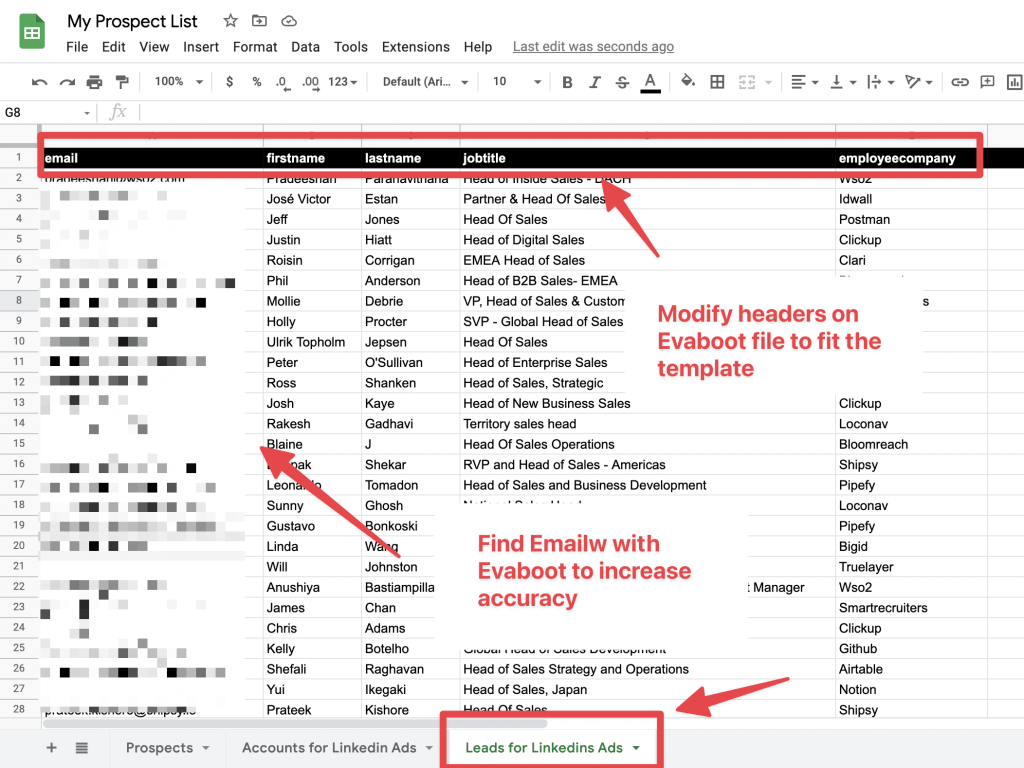 Here you can modify the files so it fits the leads template.
Following this process, you can have:
Your prospects lists for outreach tools
Your account upload for linkedins
Your lead upload for linkedins
In the same Google sheet to stay organized in your prospecting campaigns.
Linkedin Ads + Prospecting Templates
If you want to start using Linkedin Account Based Marketing to generate leads, these strategies are really efficient.
There is basically 3 types of Ads you can use leveraging the Mere Exposure Effect:
Warm-up Ads
Cover Ads
Wake-up Ads
Let's dive into this.
1. The Mere Exposure Effect
The mere-exposure effect is a psychological phenomenon by which people tend to develop a preference for things merely because they are familiar with them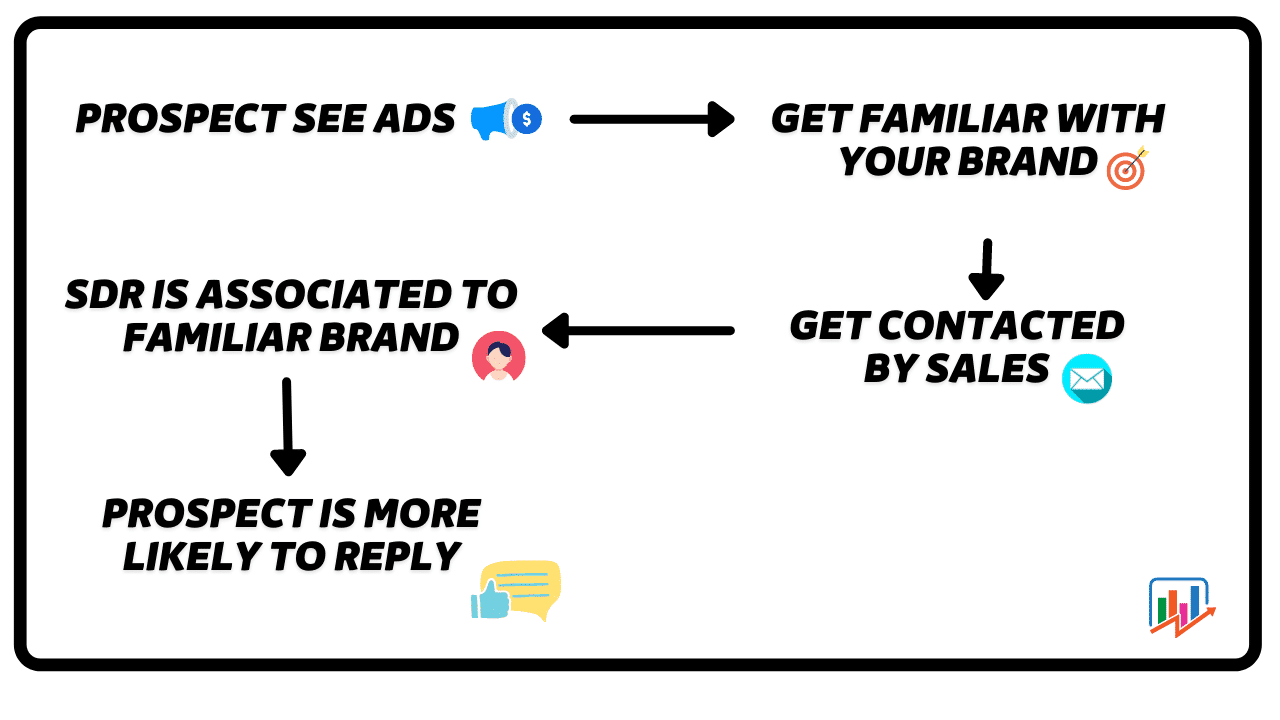 The more your prospect will be exposed to your brand throughs ads or content, the more they will feel familiar with your sales.
The more they will feel familiar with your sales, the more they will be likely to take meetings with them.
2. The Warm Up Linkedin Ads
The goal of this campaign is to slowly introduce your brand to your prospect before your start prospecting them.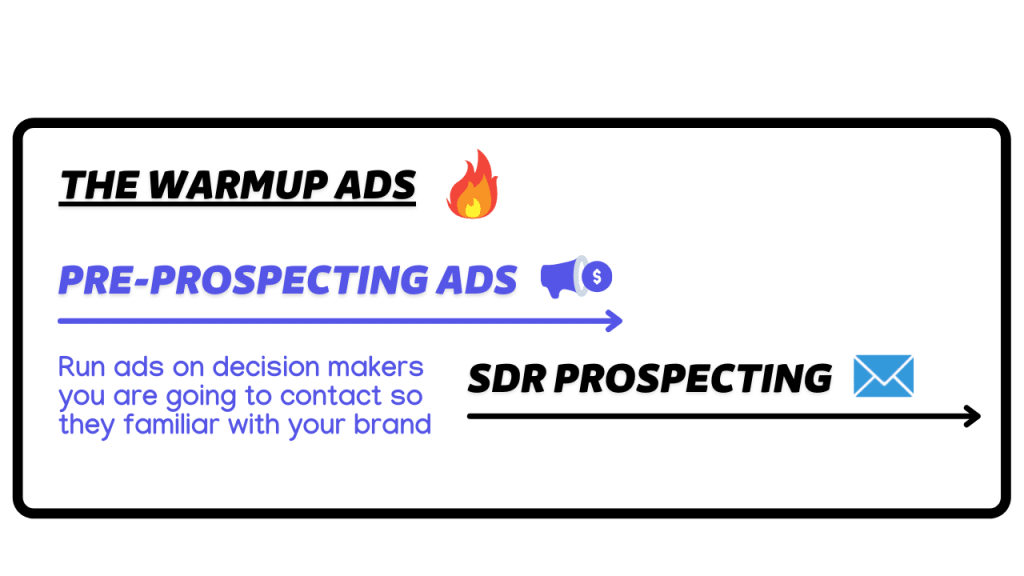 Indeed, if you tickle the curiosity of your prospect before your SDR start contacting them, the reply rate might increase has your prospects might have already thought several times of your offers.
Getting contacted by a Sales is a great opportunity to ask them!
3. The Cover Linkedin Ads
The goal of this campaigns is to stay top of mind while your SDRs are talking with your prospects.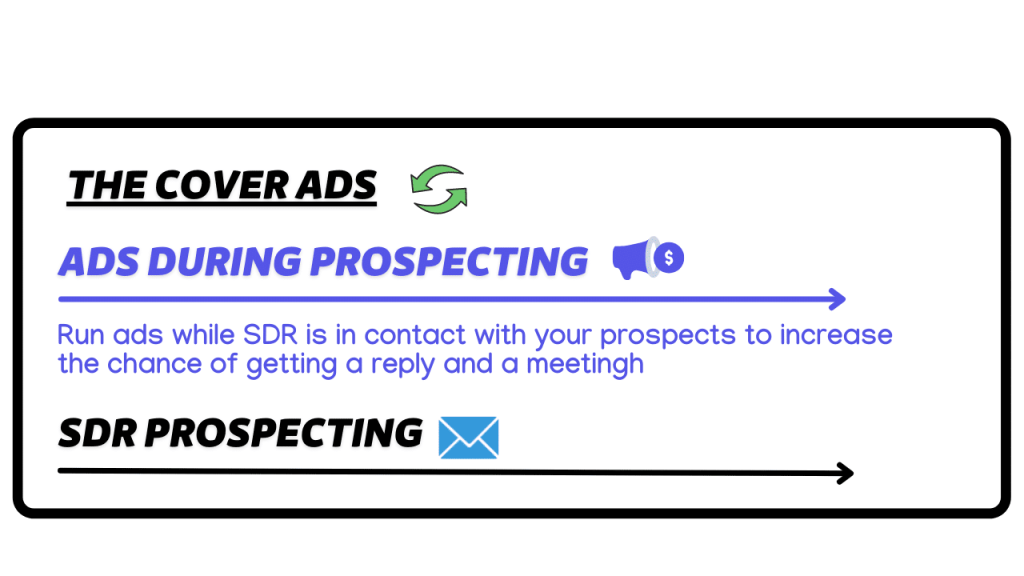 Imagine your SDR send a follow-up and your prospect doesn't reply.
Two days later, he sees your ads on his Linkedin feed and think: "Oh, i've forgot to reply to the guy from this company, let's do it right now"
Running Ads while you're talking to your prospect is a great way to follow-up without sending messages.
4. The Wake-up Linkedin Ads
A good part of your prospects won't reply to your prospecting messages even after 4 follow-ups.
Is it a reason to give them up?
Not at all!
You obviously don't want to seem pushy.

So why don't you retarget them with ads?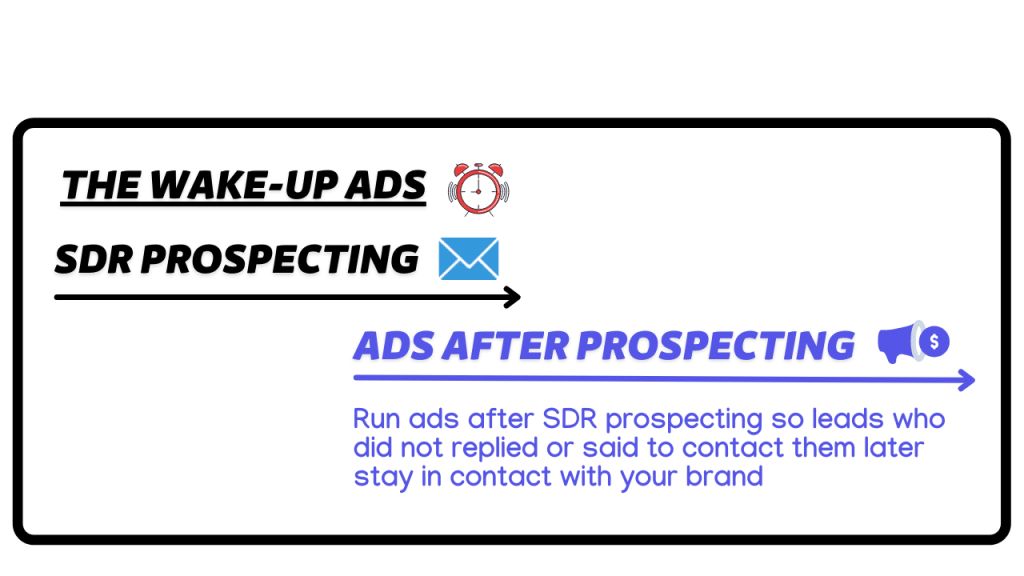 Maybe your prospects just needed time to consider your offer.

By running Linkedin Ads after your prospecting campaigns, you are sure to stay top of mind even if you stop sending messages for a month or two.
Conclusion
Hope you have enjoy this tutorial about how to hack your Linkedin Ads audience with Linkedin Sales Navigator.

Now, I want to hear more from you.

What strategy are you going to implement? The Warm Up, The Cover, or The Wake Up Ads?
Did you know about the Mere Exposure Effect?