You got a CSV of accounts and want to turn it into a Sales Navigator account list?
This is possible using Sales Navigator Advanced (Team).
If you have Sales Navigator Core (Professional), you will need to upgrade your subscription to use this feature.
This feature is really useful because it allows to import data from other B2B databases like Crunchbase, Wappalyzer or job boards into Sales Navigator.

Instead of searching for target companies one by one with the search engine, you can bulk upload your excel and save a huge amount of time.
How To Upload a CSV To Linkedin Sales Navigator?
To upload a CSV to Linkedin Sales Navigator:
Go to the Account Lists tab
Upload your file
Map the data inputs
Let Linkedin do the matching
1. Go To Account Lists tab
Go to Account List > Create an Account List > Upload and Account from CSV
The option will only be visible if you have a Sales Navigator Advanced subscription.
2. Upload your file
When you click on the button. A pop-up will appear. Read the guidelines:
1000 companies maximum
You need at least the name of the company
The more you add details (ID, Website etc…) the more you improve the chances of LinkedIn to match your CSV with the right companies.
So you upload an Account list on Linkedin Sales Navigator, make sure to provide as many data as possible.
The best case scenario is when you have the linkedin URL of the company page. It's obviously really simple for LinkedIn to retrieve the company in its database when you provide this information.
3. Map the data inputs
Once you upload your file, Linkedin will ask you to map the headers of your file with the expected inputs.
Simply associate the right columns with the right data and press launch.
4. Let Linkedin do the matching
When you launch a CSV upload a little tag "CSV" will appear next to the name of the list.
it often takes 5-30 min to LinkedIn to retrieve the companies depending on the size of your file. Once you get the list, you can start the linkedin outreach.
On this example we can see that the matching is perfect only by providing company name and websites.
However, Linkedin can make mistakes and associate companies in your list with the wrong LinkedIn company pages.
2 options here:
You find the LinkedIn URL of all company pages before the upload so you are sure that the matching is perfect
You don't provide the LinkedIn URL and you spend some time double-checking the results
Personally I prefer option 1 as double-checking data is really painful.
Questions About Linkedin Sales Navigator CSV Uploads
Most commons questions are:
Can you import lead lists on Sales Navigator?
What to do after uploading my CSV?
1. Can you import lead lists on Sales Navigator?
You can't import lead lists on Linkedin Sales Navigator. The option is only available for Account Lists. The feature would go against privacy rules so Linkedin can't offer it.
2. What to do after uploading my CSV?
Once you have uploaded your file, the best thing to do is to find the decision makers inside the companies in your list.

For that:
Go to lead search
Find the Workflow Section
Select your list in the account list filter
Add other filter to find decision makers
Here is an example in which I'm retrieving all the CEO's of the companies in my CSV file.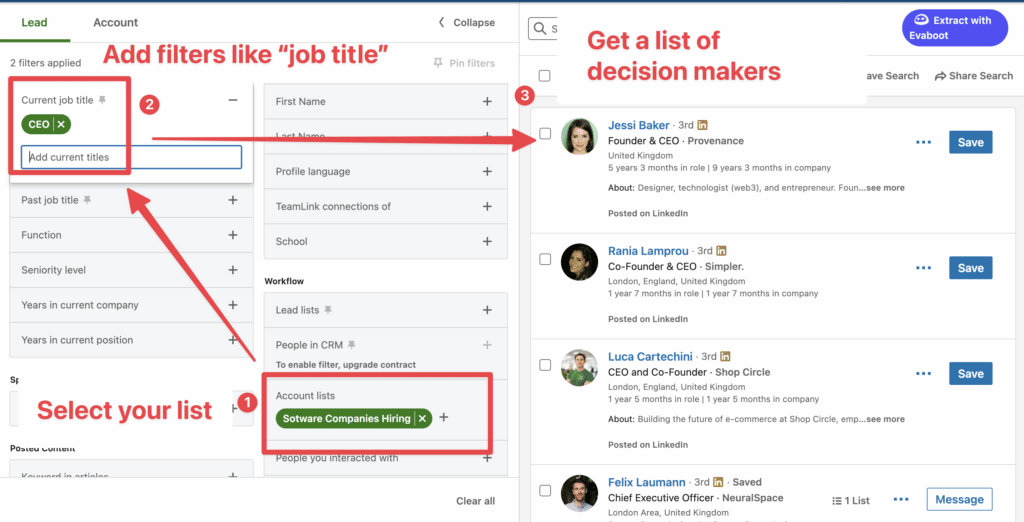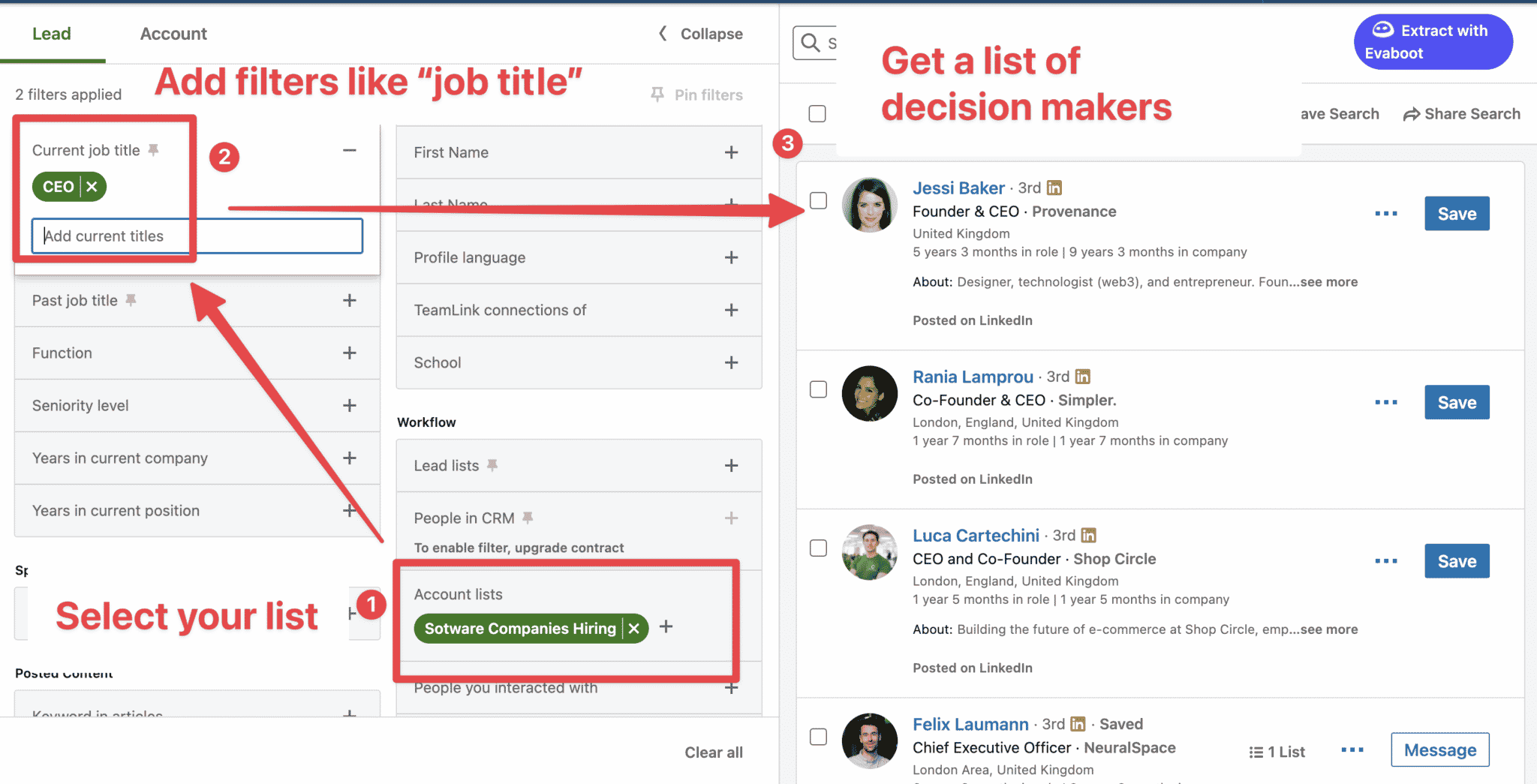 Other Sales Navigator Advanced Features
The CSV upload is not the only feature offered by Linkedin Sales Navigator Advanced (Team). You can see a full comparison of Sales Navigator Advanced VS Core in this video.
It offers other feature that can be useful for linkedin prospecting like Smartlink and Teamlink.
1. Sales Navigator Smartlinks
Sales Navigator Smart Links allows creating Sales presentations aggregating files and websites, and then easily share and track your prospect's interactions with this content.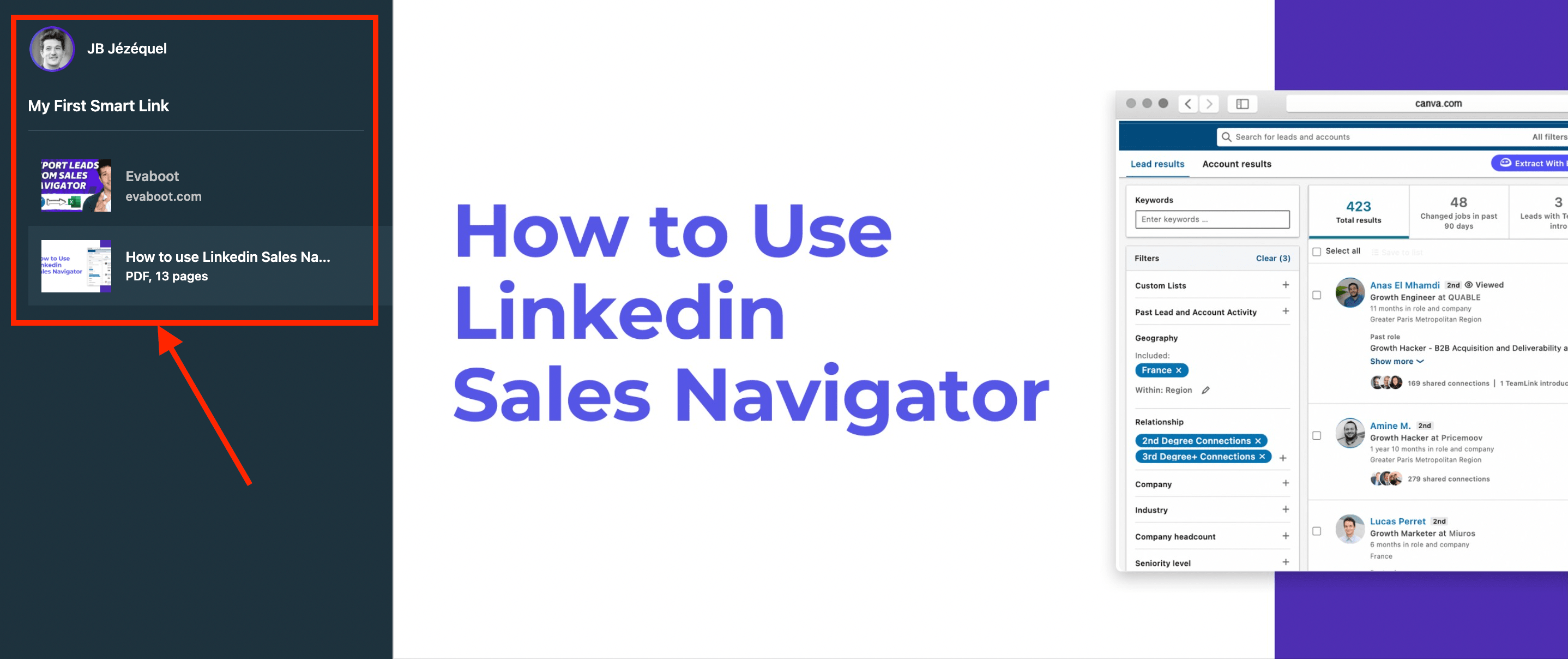 Look at a live example here.
2. Linkedin Teamlink
Linkedin TeamLink helps sales team detect warm introduction opportunities with their prospects. Teamlink is doing that by showing you if people in your search results are among the 1rst degree connections of your teammates.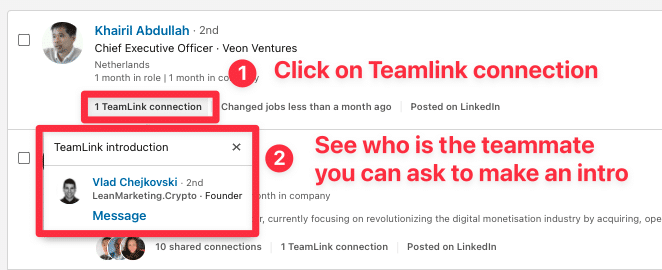 We are sorry that this post was not useful for you!
Let us improve this post!
Tell us how we can improve this post?
Build email lists from
Export clean data and get verified emails in 1 click.