Linkedin Sales Navigator search engine only display 100 pages of 25 results. That means you only get access to the first 2500 results.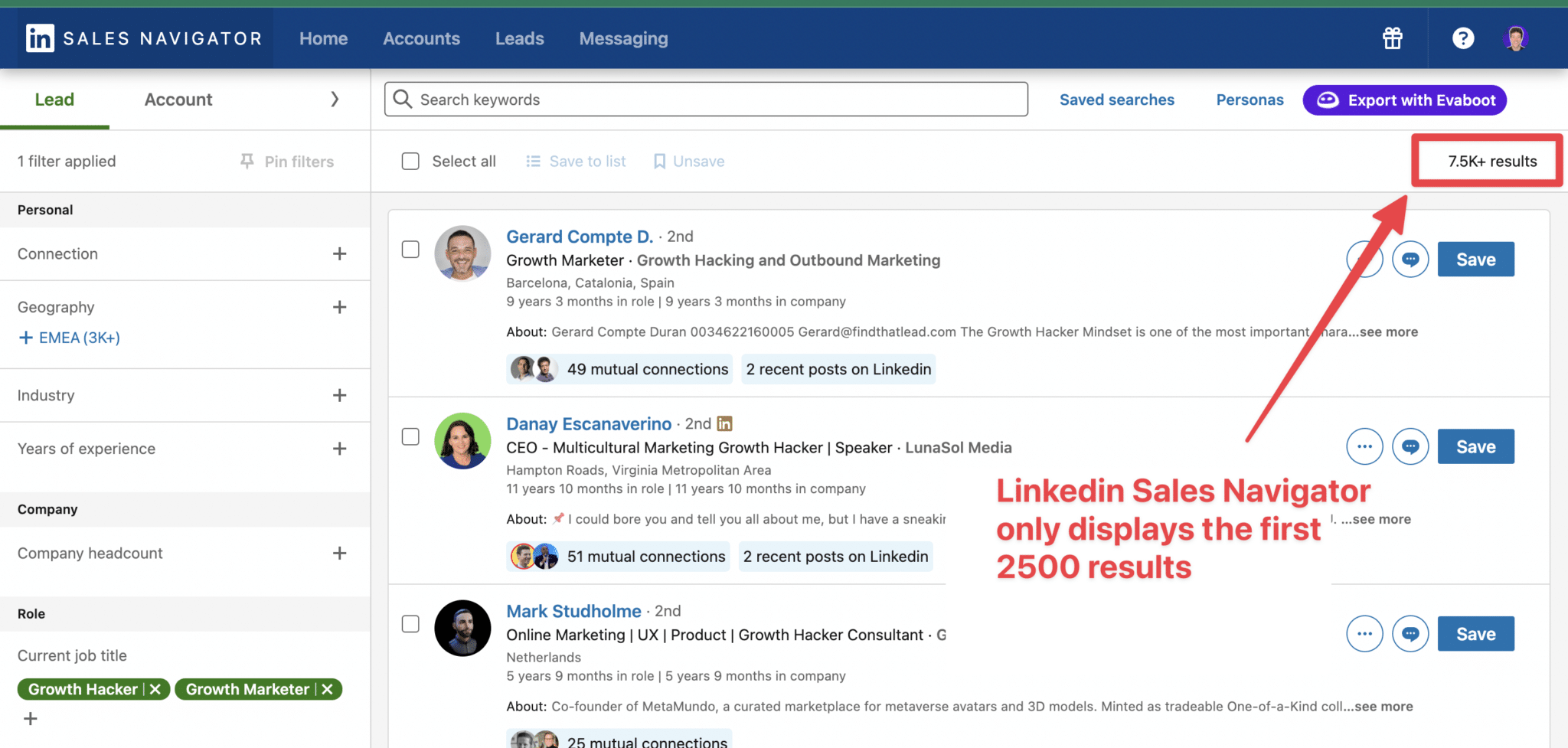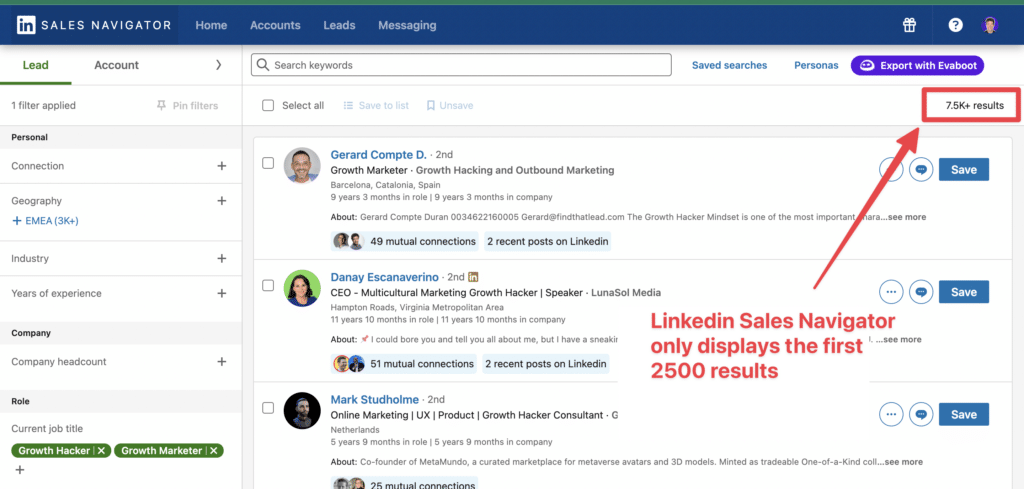 However sometimes your searches are bigger than that and you would like to access all the leads in the list.
So how to do that?
That's exactly what I'm going to show you in this tutorial.
The solution is to split your Sales Navigator searches into several chunks.
How To Split Your Sales Navigator Searches?
Split your Sales Navigator searches in 5 steps:
Use the right search filters
Copy-paste the link into a spreadsheet
Exclude the filters you used
Repeat the process
Export your leads to CSV
1. Use the right search filters
There are 3 filters you can use to quickly split your Sales Navigator searches:
Seniority Level
Function
Industry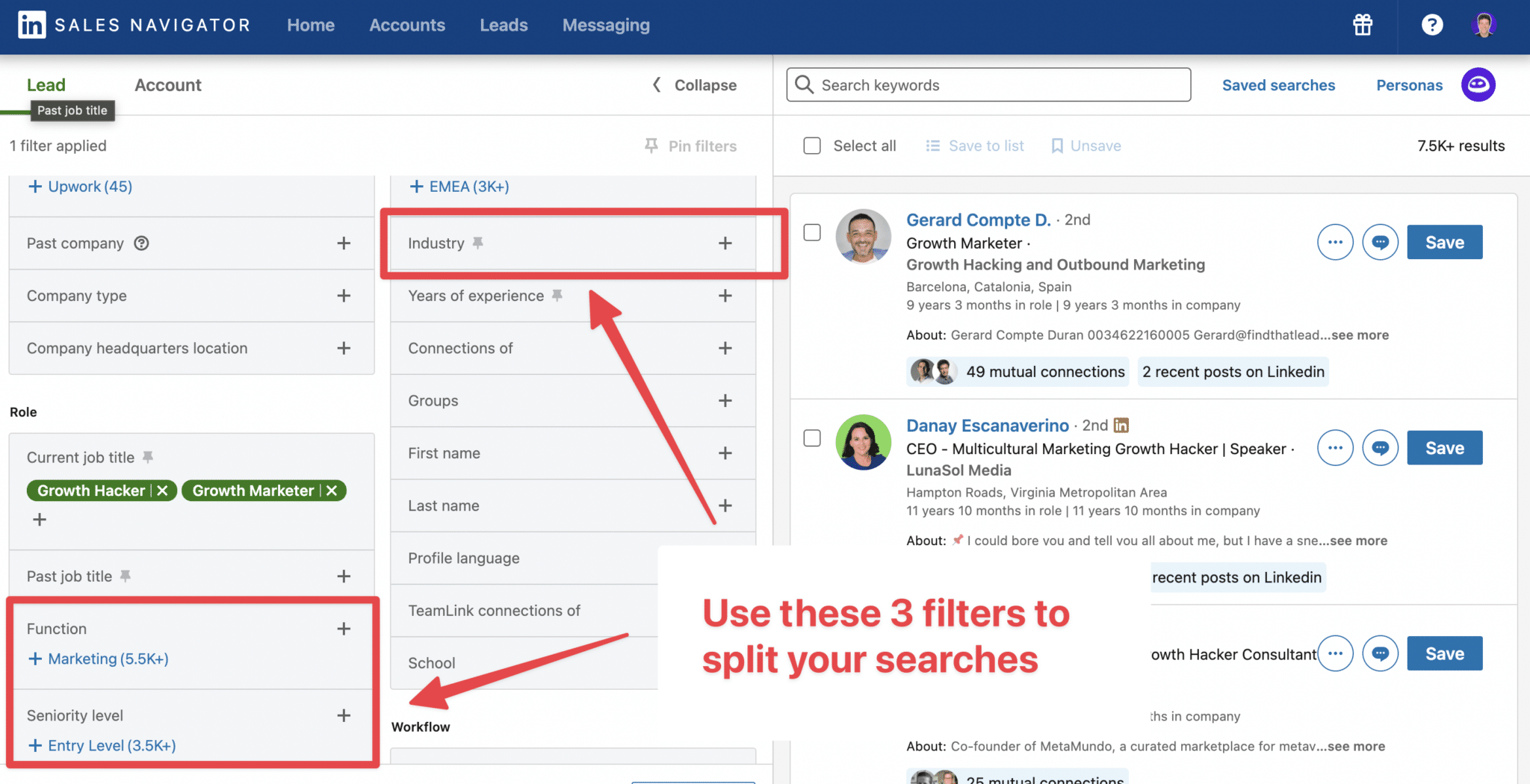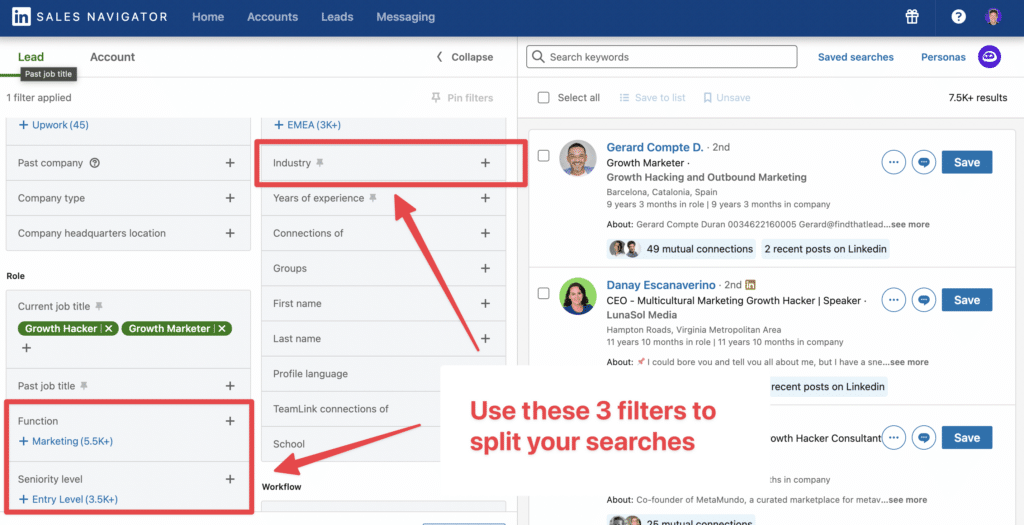 You should use only these 3 and not Company Headcount because that will delete leads from your search.


All the people without company pages attached to their profiles (grey logos) will be excluded from the search. That way you will lose potential good leads.


Here I built a first chunk of 1000 leads selecting seniority level filters.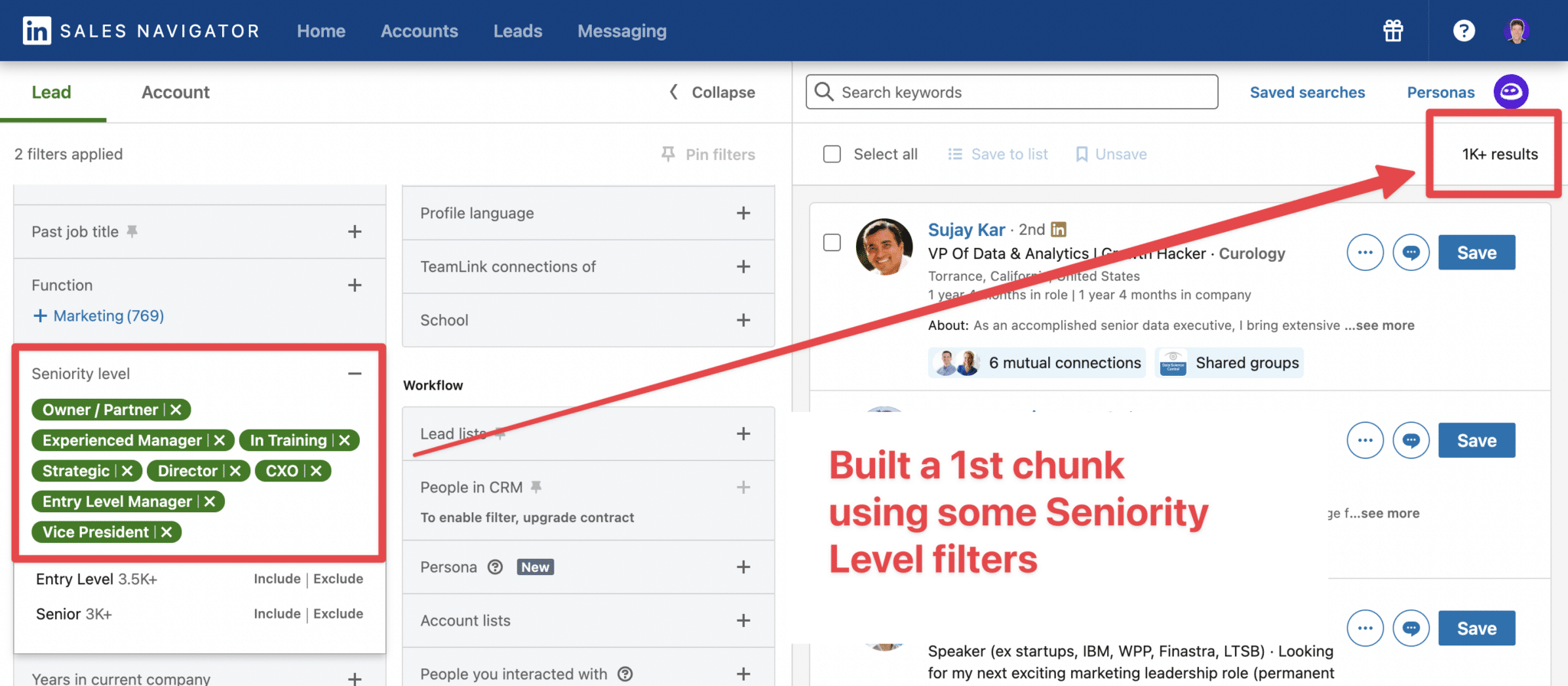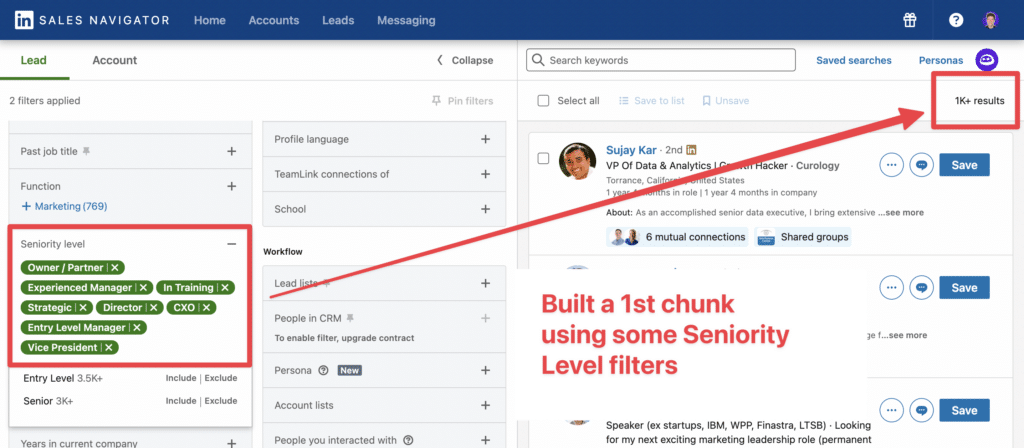 2. Copy-paste the link into a spreadsheet
The second step is to copy the URL of this first chunk and paste it into a Google spreadsheets.


We are going to modify to this search to continue splitting it so you must save the chunks somewhere.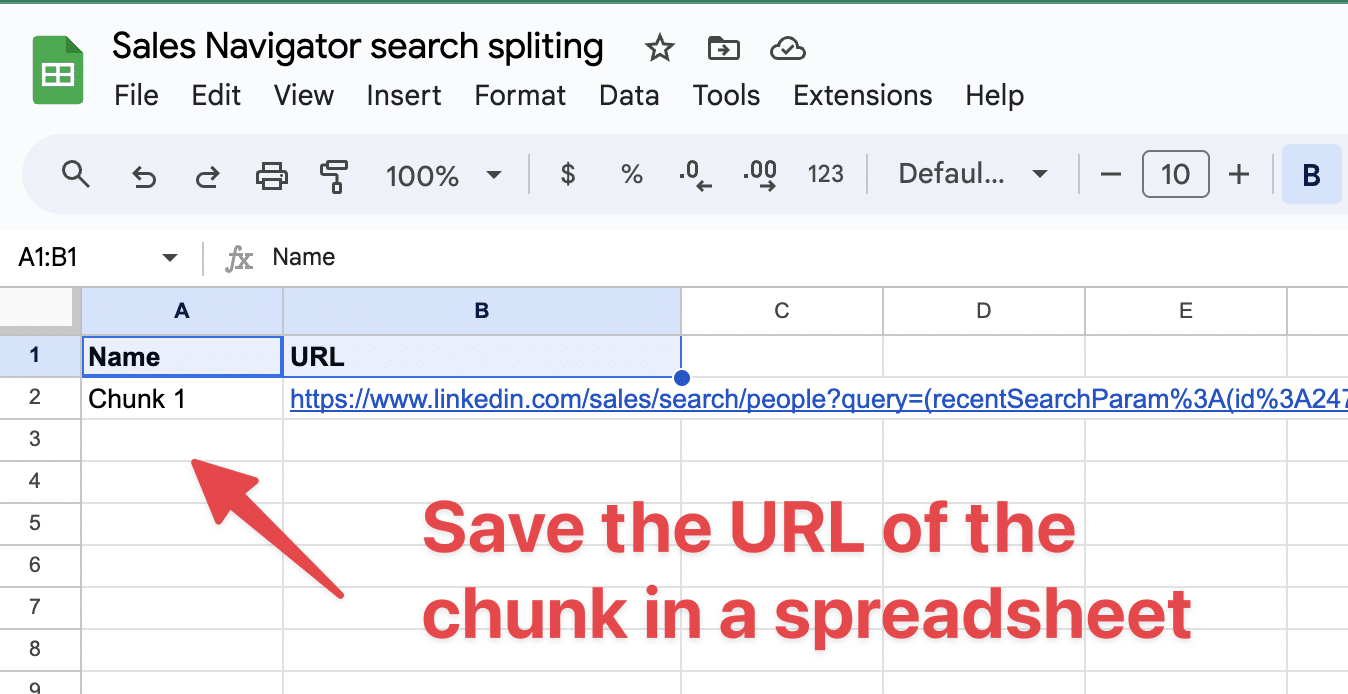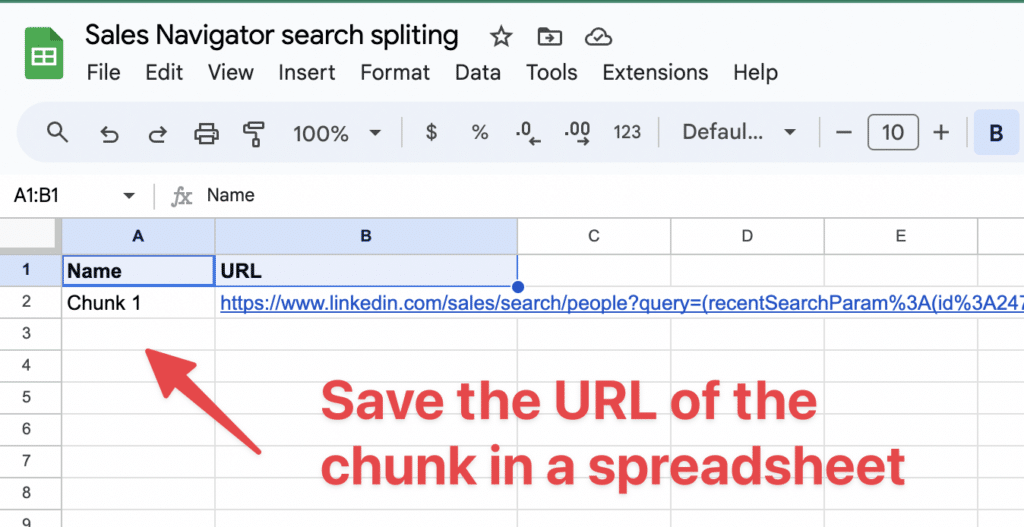 3. Exclude the search filters you used
Once you save the URL you can exclude all the search filters you used.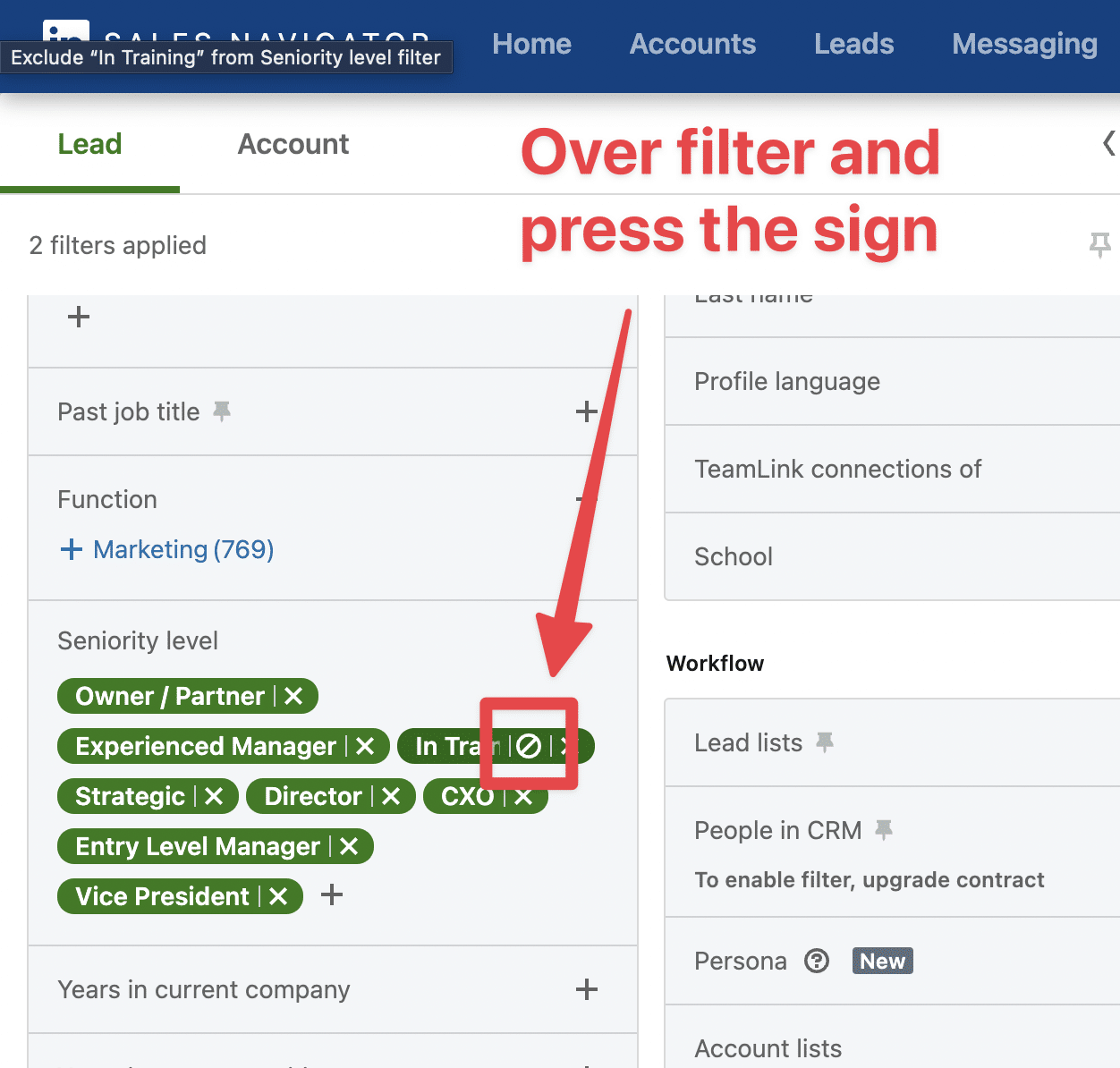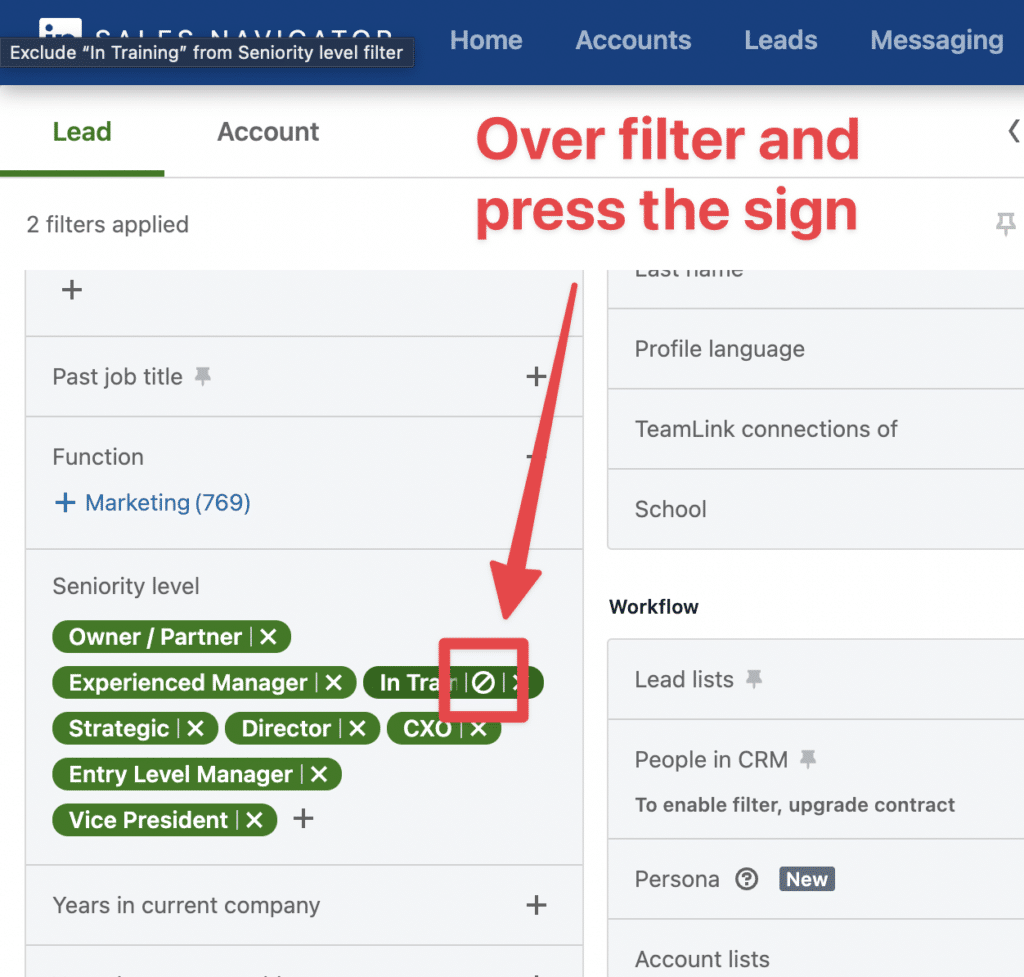 That way you delete from the search all the leads present in the first chunk.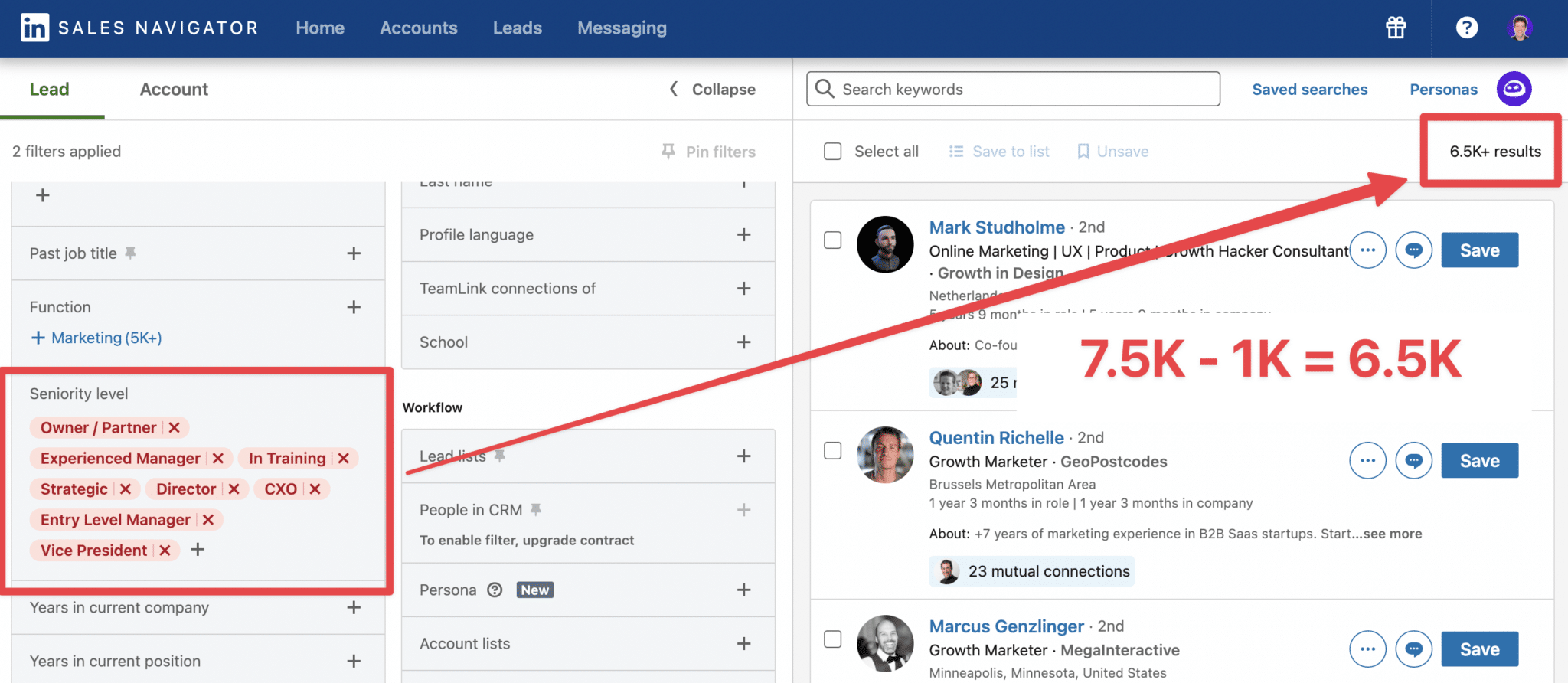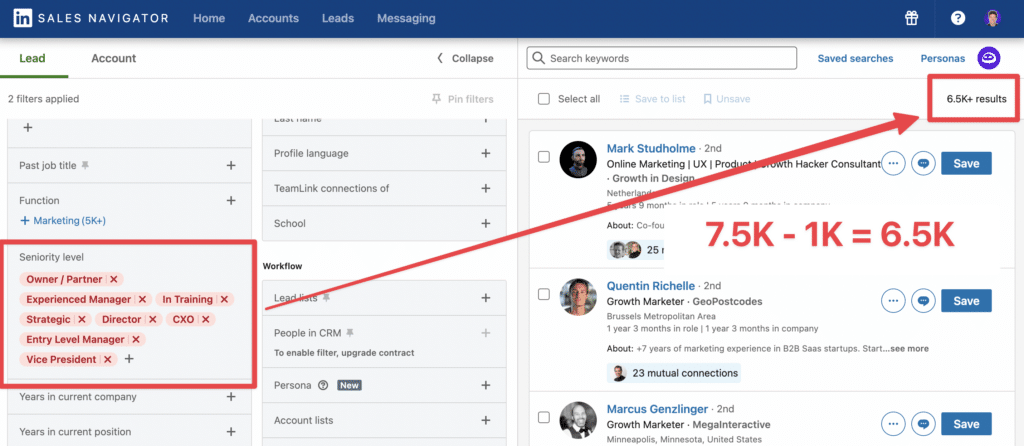 4. Repeat the process
Now you simply need to repeat the process using the filters at your disposal.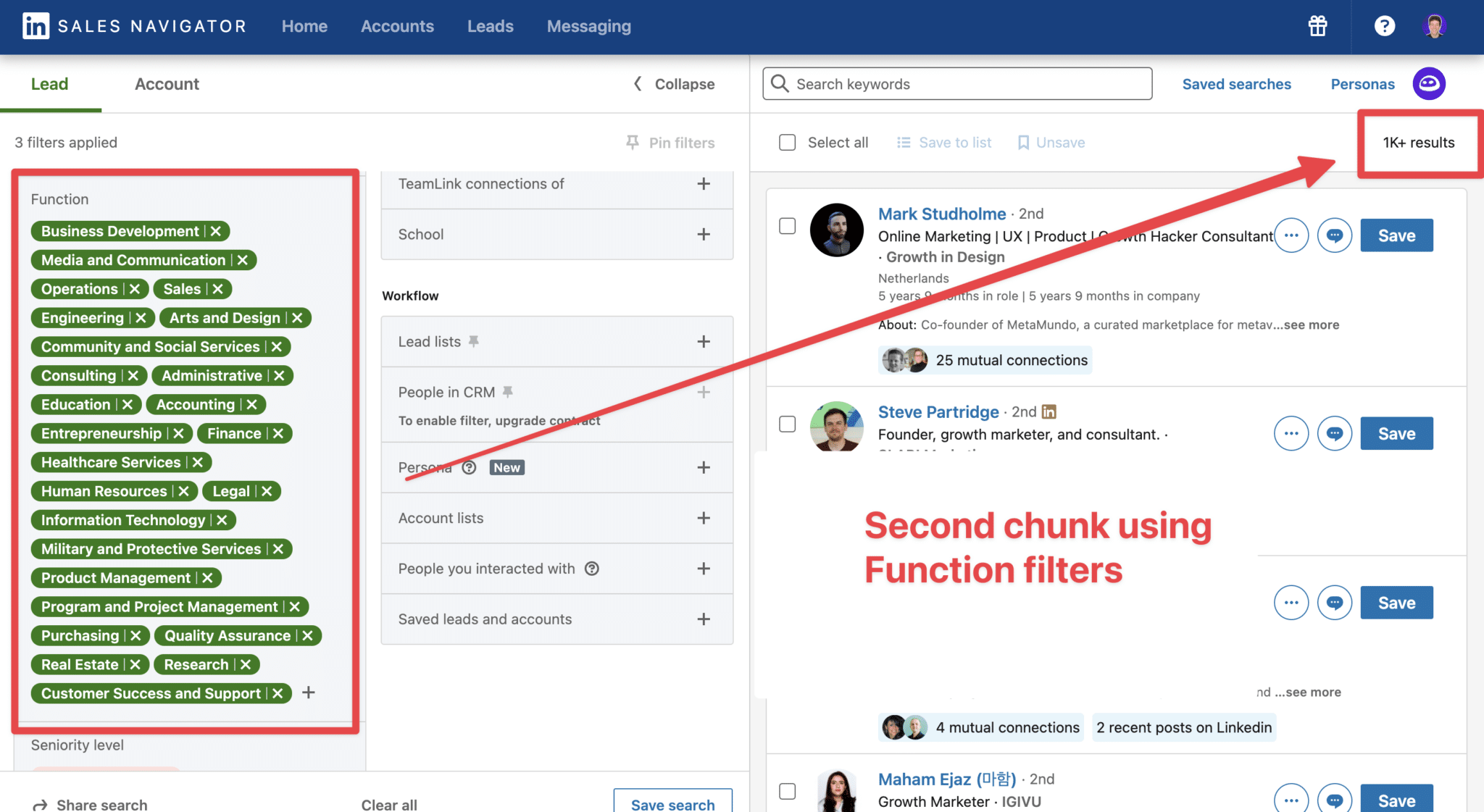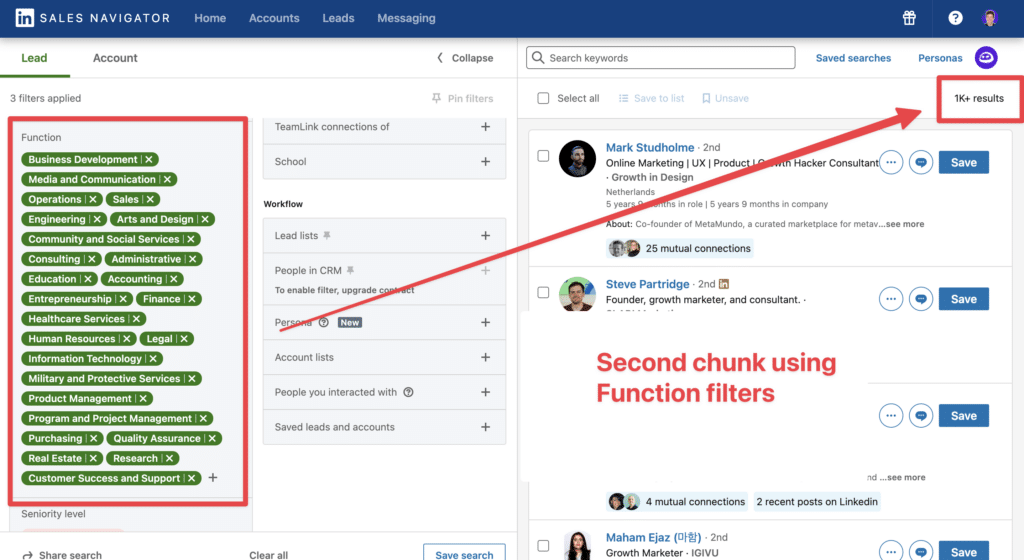 Here I made a 2nd chunk using the Function filters. Copied this URL into the spreadsheet.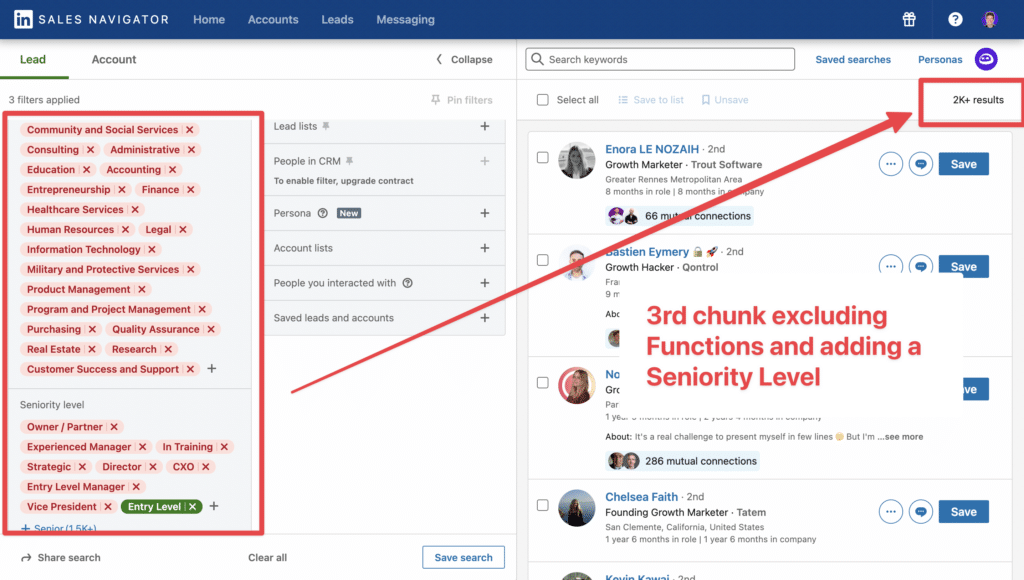 Then I excluded the Function filters I used and added a Seniority Level filters to get a new chunk of 2K.
5. Export your list to CSV
Once you have the links of all your searches into your spreadsheets, it's time to export your leads into a CSV file.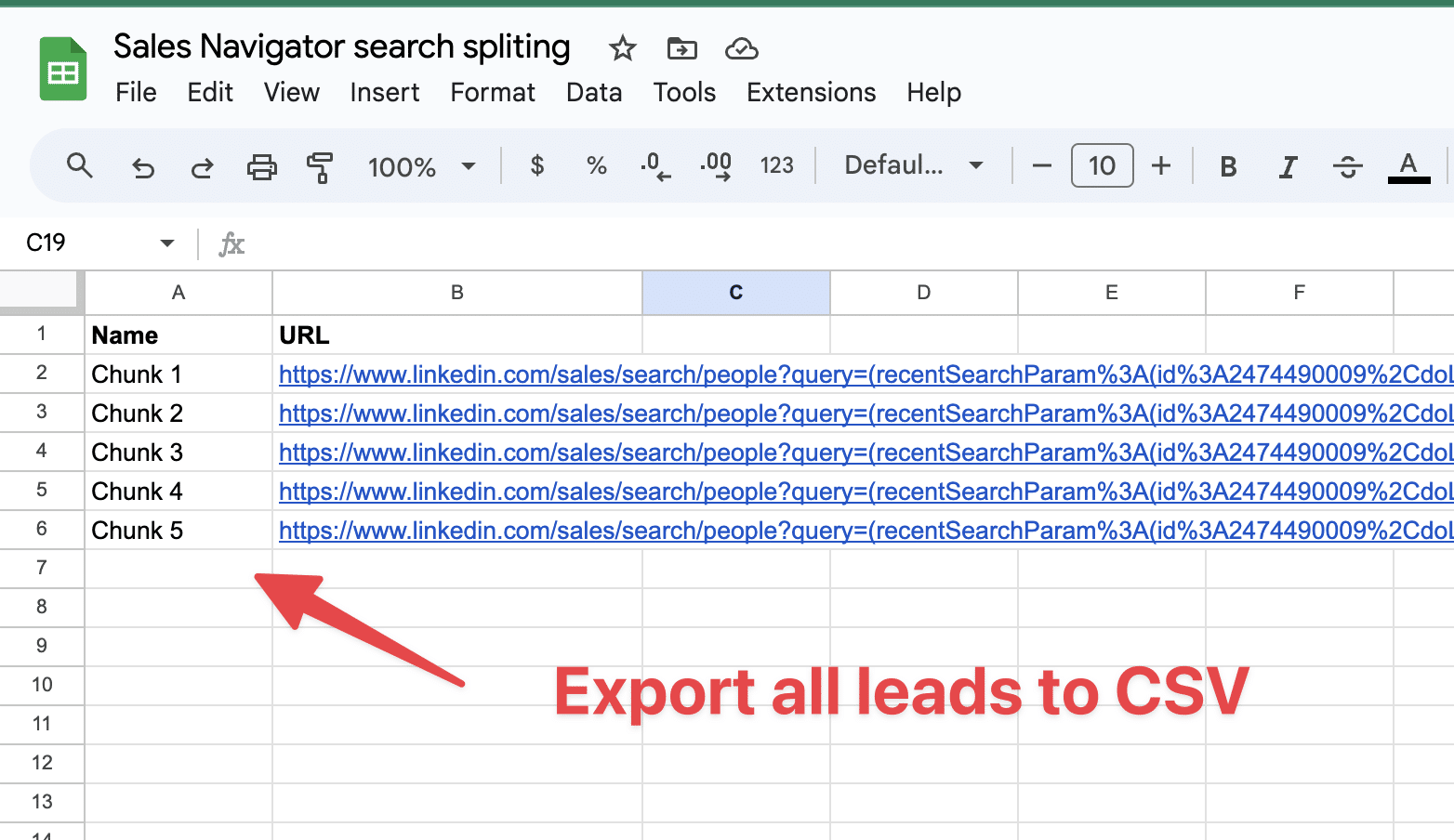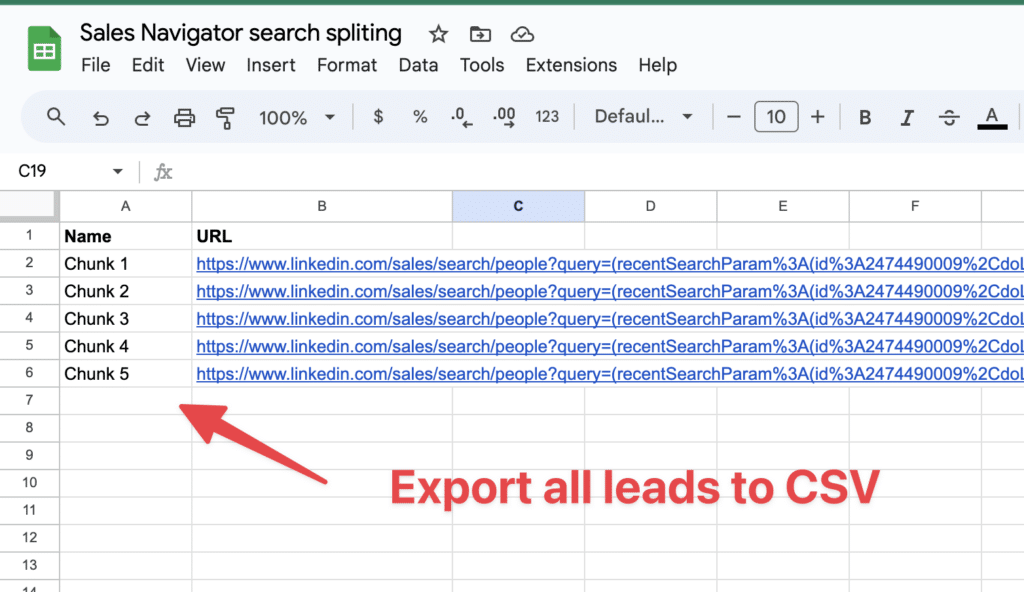 For that you can use the Evaboot Chrome extension. Once installed, it will add a new button "Export with Evaboot" on your Sales Navigator.


Here is a demo of the tool so you clearly see how it works.
---
In this part we talked about lead searches.
But what if you want to export account searches?
The same technique can be applied.
How To Split Account Searches?
Two techniques to split Sales Navigator account searches:
Use search filters
Use account lists
1. Use Search Filters
In this example we will use a 4.5K account search with 3 fitlers.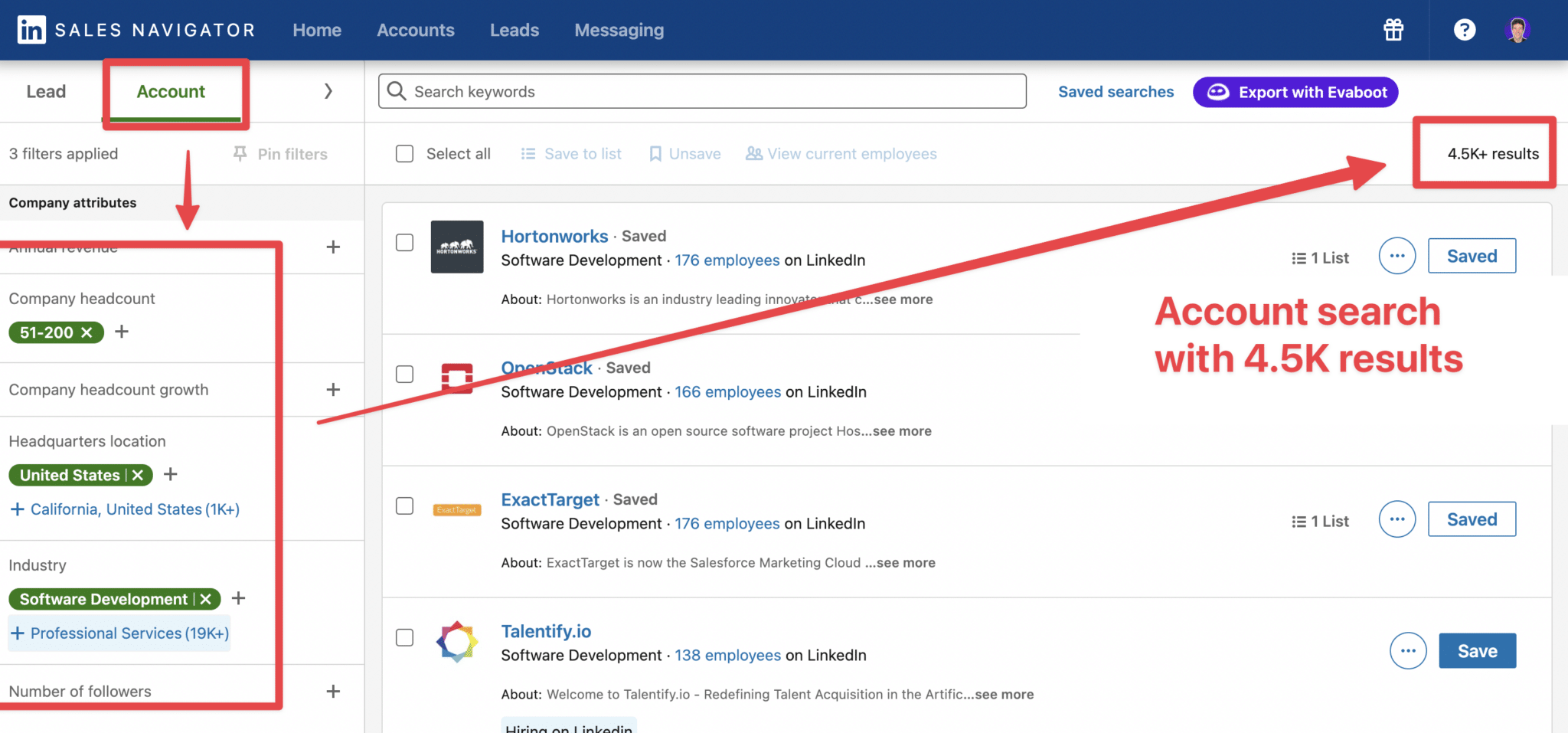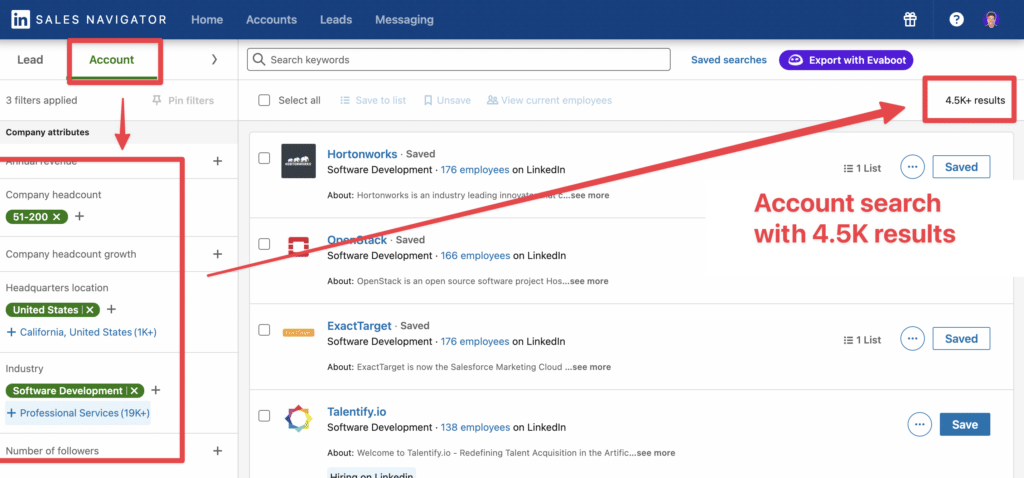 To split Sales Navigator account searches you can use:
Company Headcount
Headquarter Location
Industry
Number of Followers
Company Headcount Growth
In this case, there is a simple way to split the search as the "Number of Followers" perfectly split the search perfectly. Most of the time that will work with small searches.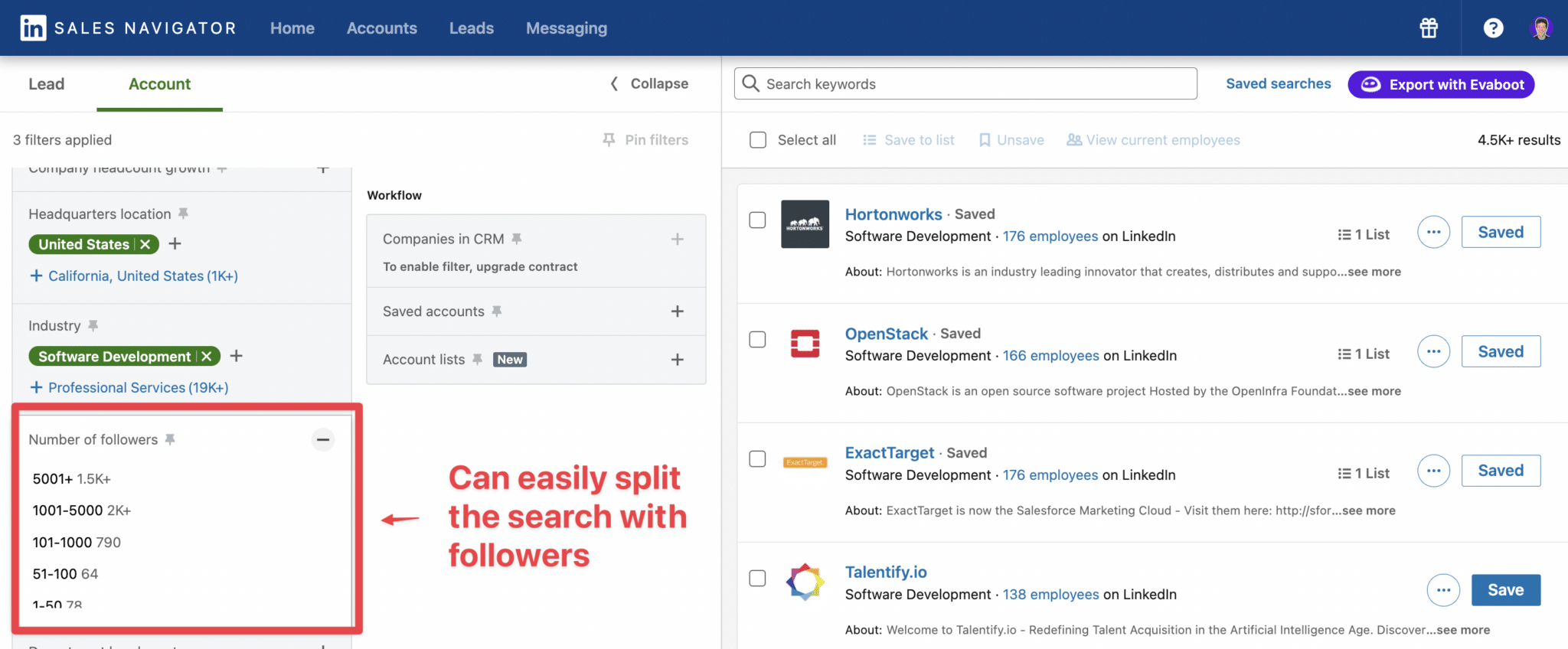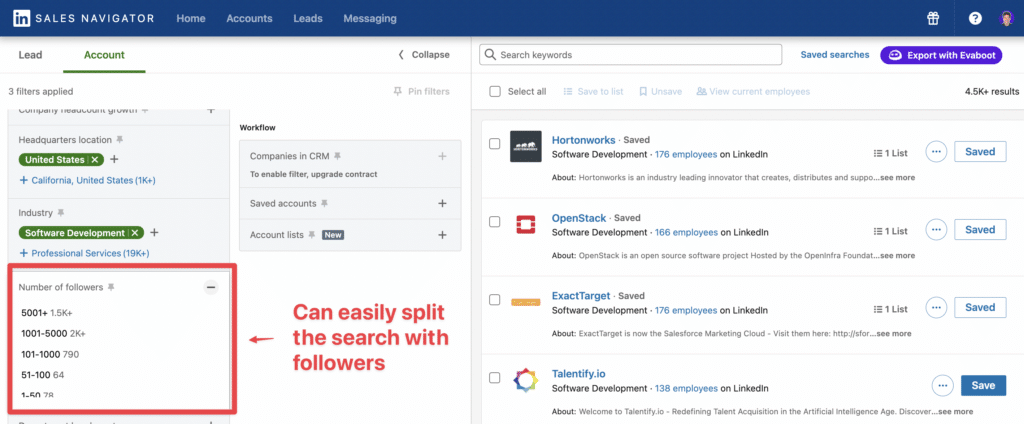 For larger you can use the "Company Headcount Growth" filter that will always allow you to split the search no matter the size.
For example here we can split like this:
All the companies with a negative growth rate (-100% to 0)
All the companies within 1-10%
All the companies above 10% (11% to 100%)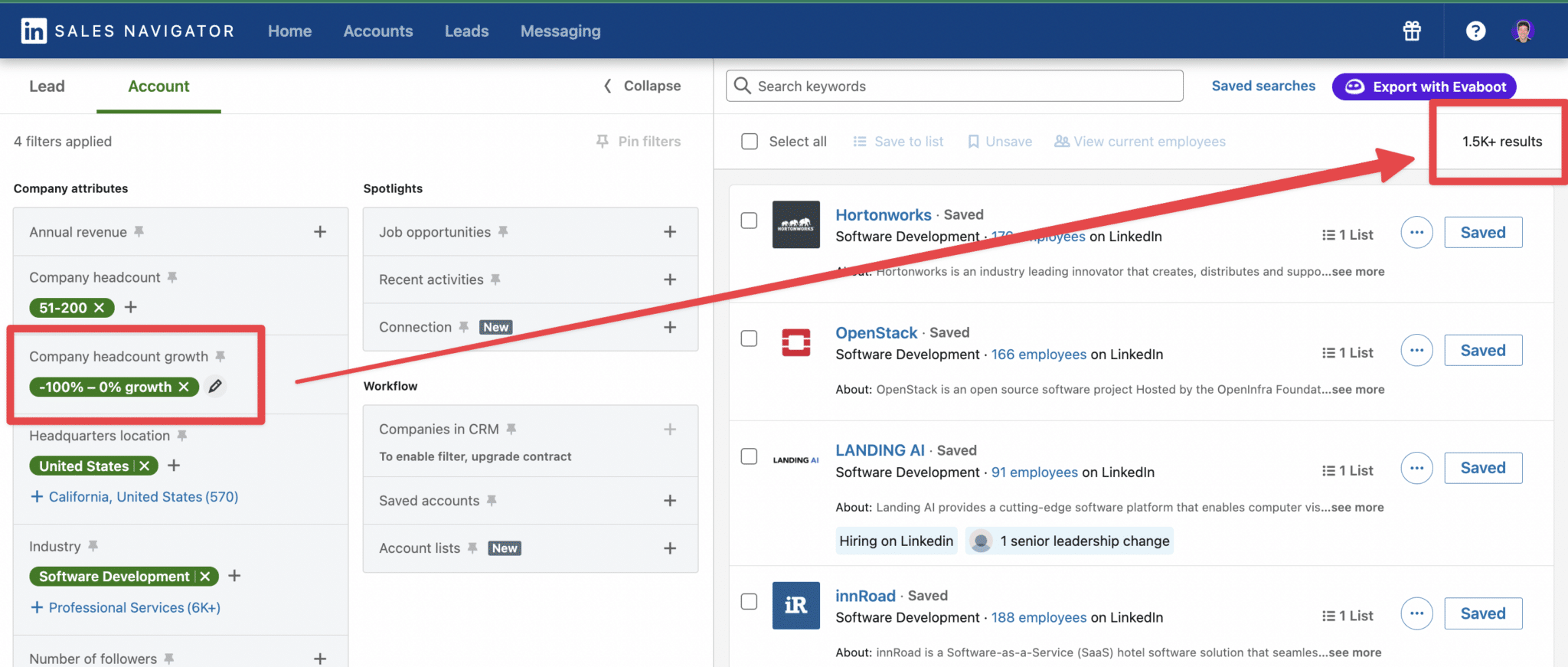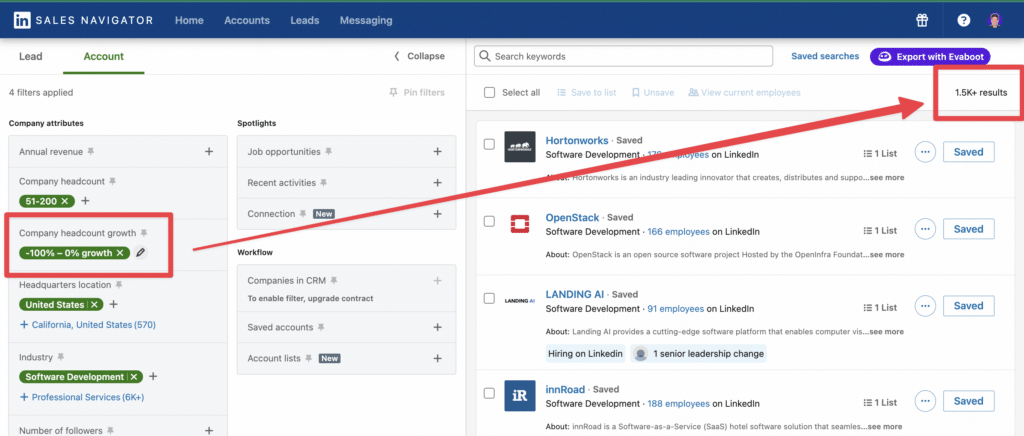 If your list is really large you simply need to split into smaller chunks.
2. Use Account Lists
You can also split your account searches by creating Account list.
The process is simple.
First you add all the available search into an account list. You can add up to 999 account to a list so that's almost perfect.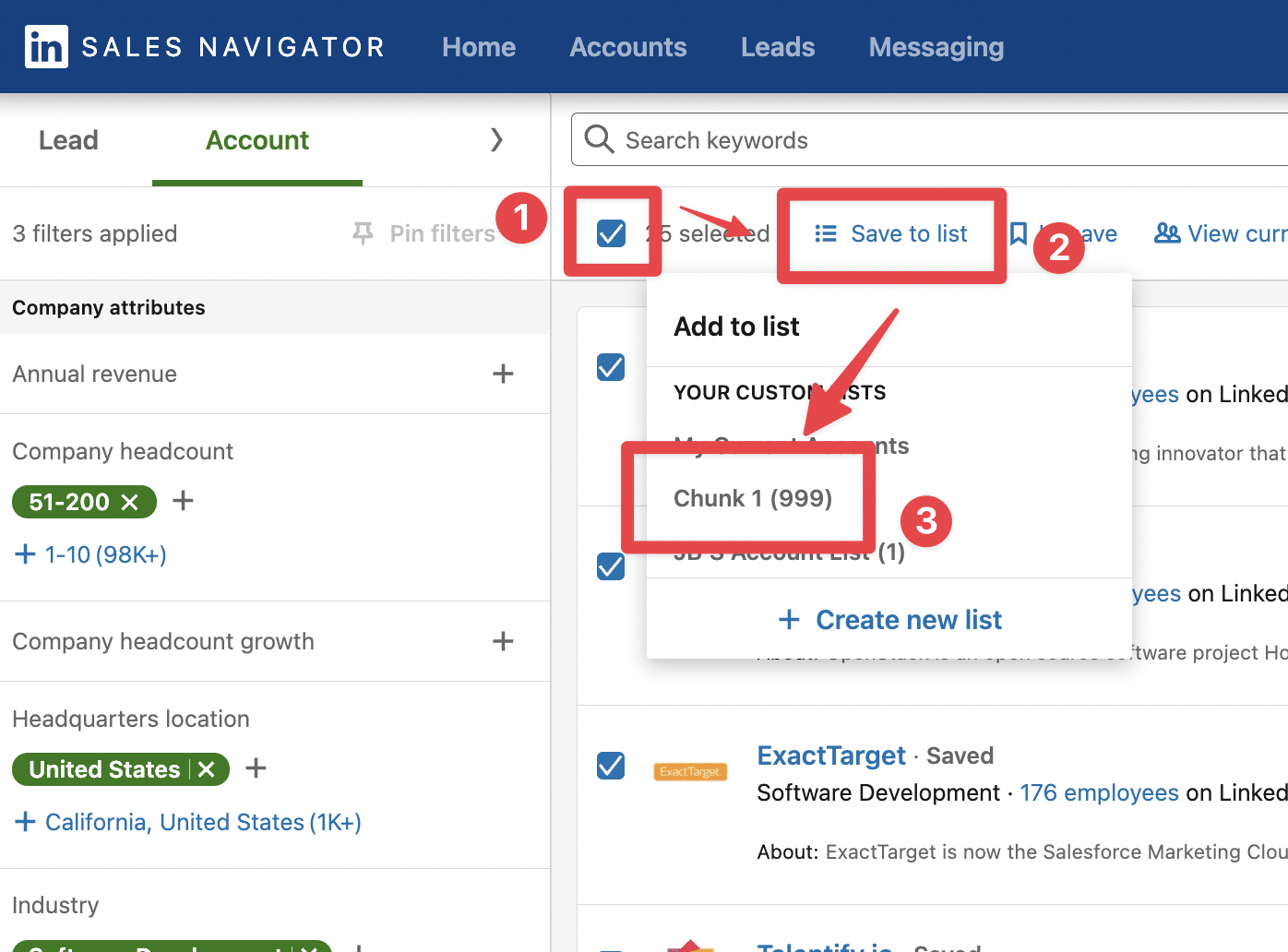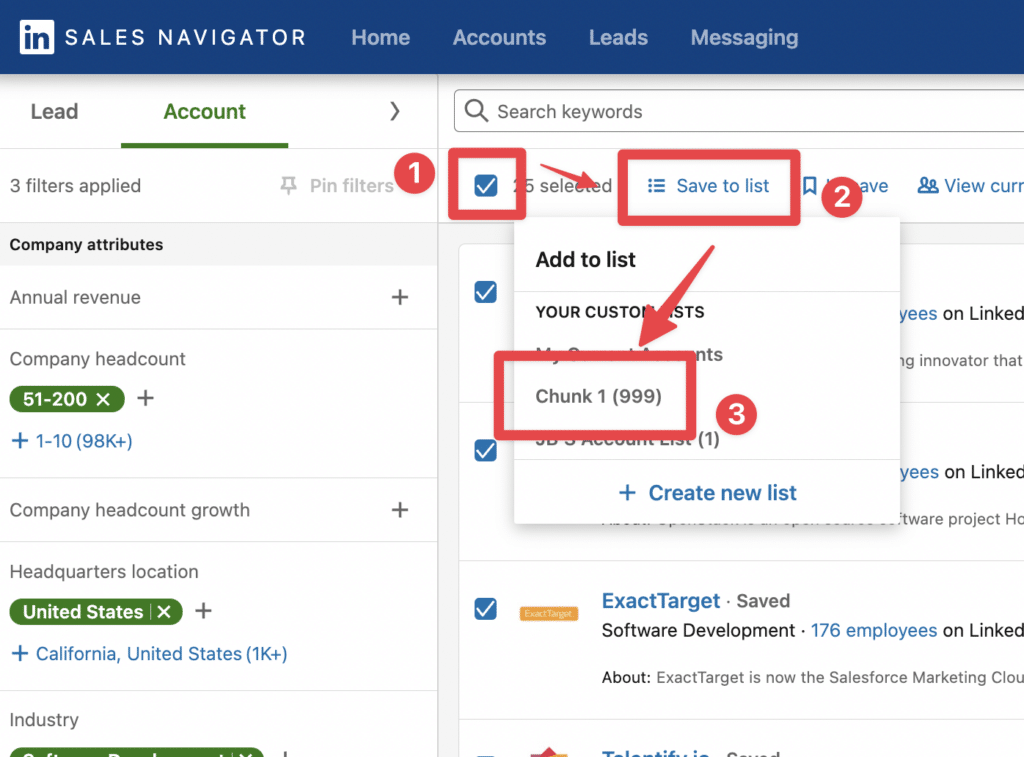 Then exclude the list from your search results using Account Lists > Your List > Exclude.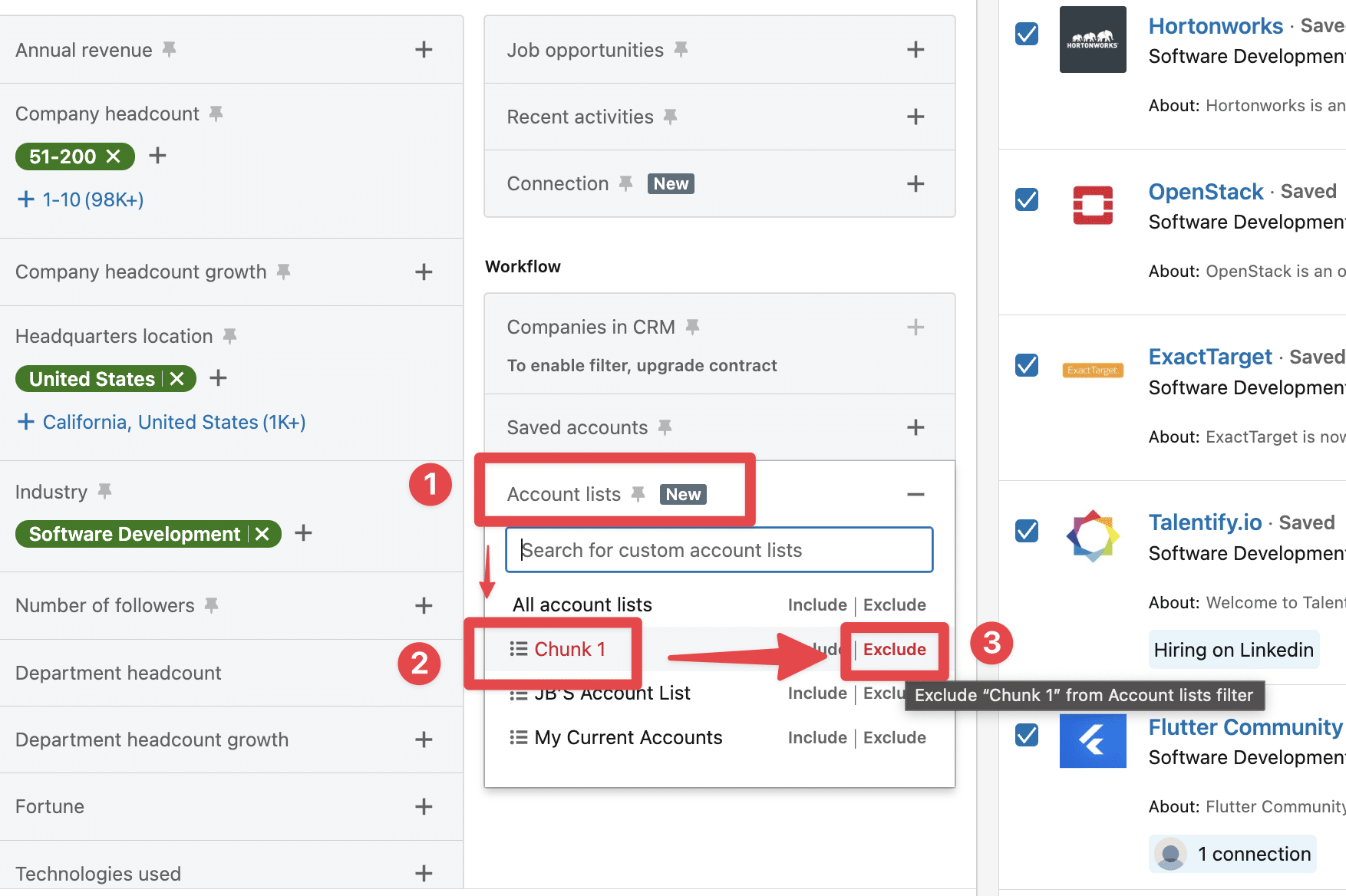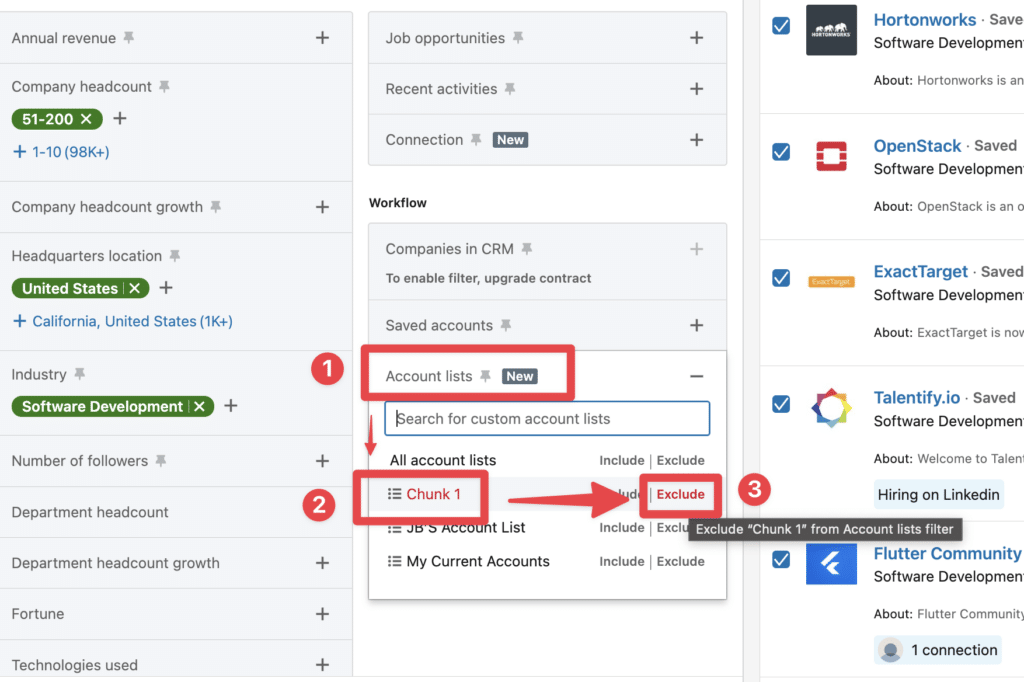 Then build a new list of 999 accounts. Repeat the process until it remains less than 1000 accounts in your search results.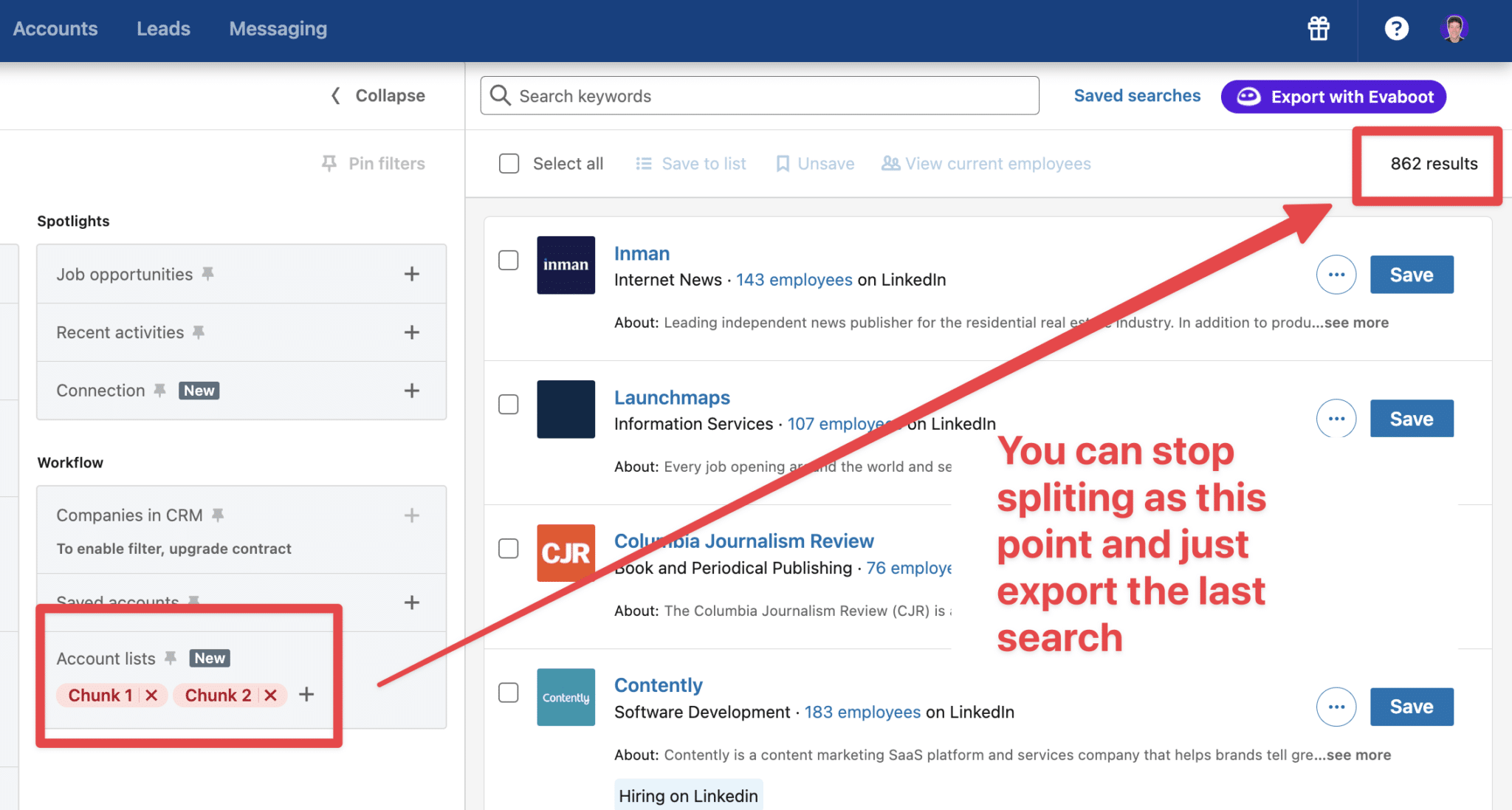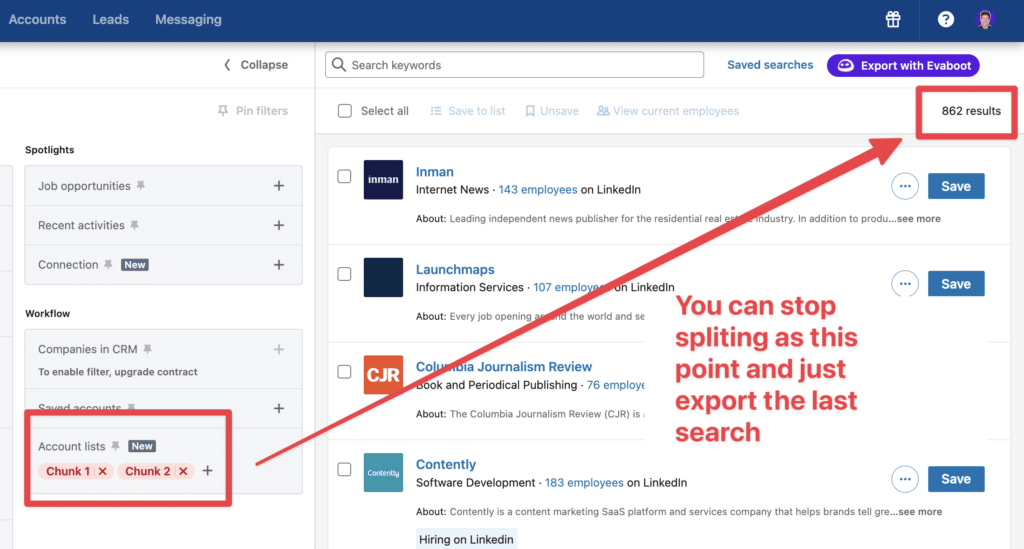 This process is efficient but a bit painful as you need to manually add all the account in lists 25 per 25. Unfortunately there is no way to add 999 accounts in a list in one click yet.
If you want to learn more about how to get the most out of linkedin sales navigator, you can take a look at this video:
We are sorry that this post was not useful for you!
Let us improve this post!
Tell us how we can improve this post?
Build email lists from
Export clean data and get verified emails in 1 click.