Exporting leads directly from LinkedIn Sales Navigator into an Excel file is not a native Sales Navigator feature.
To export your leads, you need a Chrome extension.
In this tutorial, you are going to learn how to:
Export leads from LinkedIn Sales Navigator Searches 🔍
Export LinkedIn Sales Navigator Lead Lists 📜
How get emails & phone numbers from Linkedin Sales Navigator 📧
1. How to export leads from LinkedIn Sales Navigator searches?
Download Evaboot Chrome Extension
Launch the extraction with one click
Here is what a LinkedIn Sales Navigator lead export looks like.
Want to get the same result?
Let's dive in 🤿
1.1. Download Evaboot Chrome Extension
Go to the Chrome Store to download LinkedIn Sales Navigator Chrome Extension.
Then, create an account on Evaboot and click on "Search on Sales Navigator".
2.2 Search on LinkedIn Sales Navigator
Search on LinkedIn Sales Navigator as usual.
Then click on the new button "Extract with Evaboot" on your LinkedIn Sales Navigator
3. Launch the extraction
Give a name to your export.
Click on "Extract prospects".
Wait a few minutes to get the results!
Once the extraction is finished, you will be able to download your results here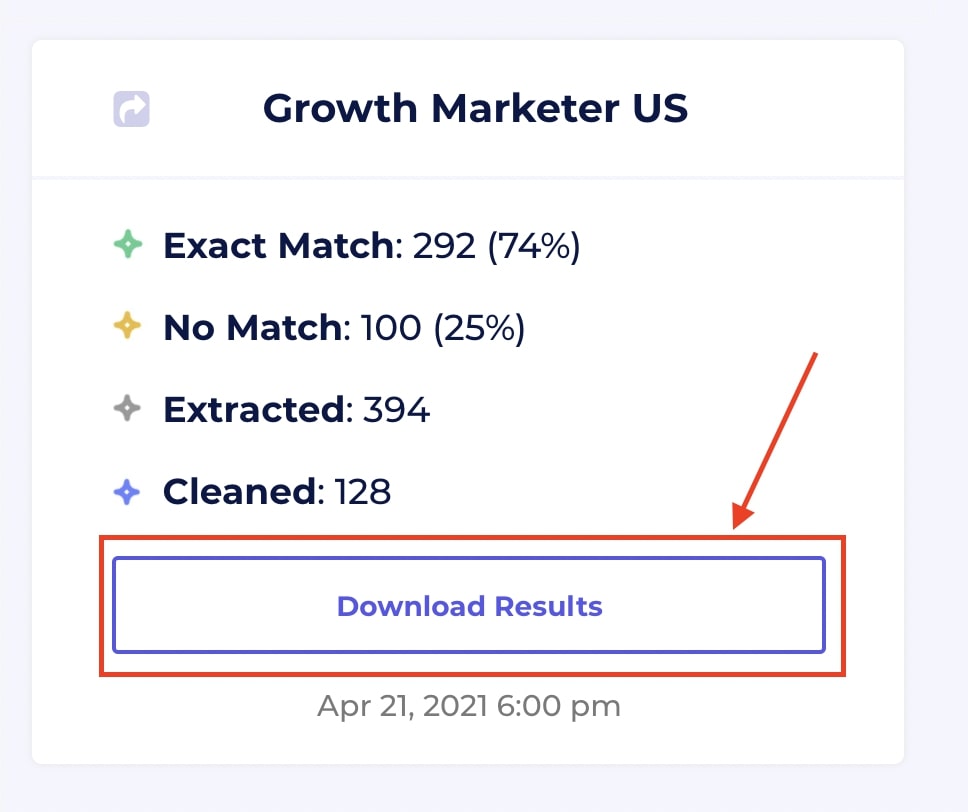 Evaboot will do 3 things:
Enrich your leads with profile and company page information (domain name, industry, etc..)
Double-check your leads to tell you if they really match with you search filters you selected on LinkedIn Sales Navigator.
Clean data: first names, last names, company names of your leads

This way, you can save a huge amount of time on lead qualification & cleaning! 💥
In case you want to export leads from a list you made on Sales Navigator, we got you covered as well 😉
2. How to export lead lists from LinkedIn Sales Navigator?
Sometimes, you want to handpick your leads 🤏
So you're not exporting the search directly, but you prefer to build a list from it instead.
No worries, you still can export this list with Evaboot
Here is how to export your list ⬇️
Go to the LinkedIn Sales Navigator search engine
Open your Lead List in search engine
Export your Lead list into a CSV with Evaboot
2.1. Go to the LinkedIn Sales Navigator search engine
Open the search filters
Click "Search" to get on the search engine
2.2. Open your Lead List in search engine
Go to "Lead results"
Open "Custom Lists"
Click on Leads
Choose your Lead List (here: "My Lead List")
2.3. Export your Lead list into a CSV with Evaboot
Once your list is displayed in the search engine:
You should see a purple button "Extract with Evaboot"
Click on it to export your lead list.
You're done!
You just need to name your search on launching the extraction (as shown above)
You will receive your lead list into a CSV with minutes (time depends on the size of your list)
3. How to get Emails & Phone numbers from Linkedin Sales Navigator
3.1. Make sure you have good data from Linkedin Sales Navigator
Now that you have a clean CSV of leads. You can use an email finder to enrich your leads.
Every email finder needs 4 information to do their job ⬇️
First Name
Last Name
Company Name
Company Domain
Sometimes people forget to add the company domain, but this is a huge mistake because having the domain will increase verified email discovery by 10-20%!
3.2. Use Dropcontact Integration to find emails
You can use any email finder you want.
But if you are using Evaboot, the easiest thing to do use Dropcontact (one of the best email finders on the market)
We have a native integration with this tool that allows you to send your leads to Dropcontact in just one click.
Just copy-paste your Dropcontact Token and click on "Enrich"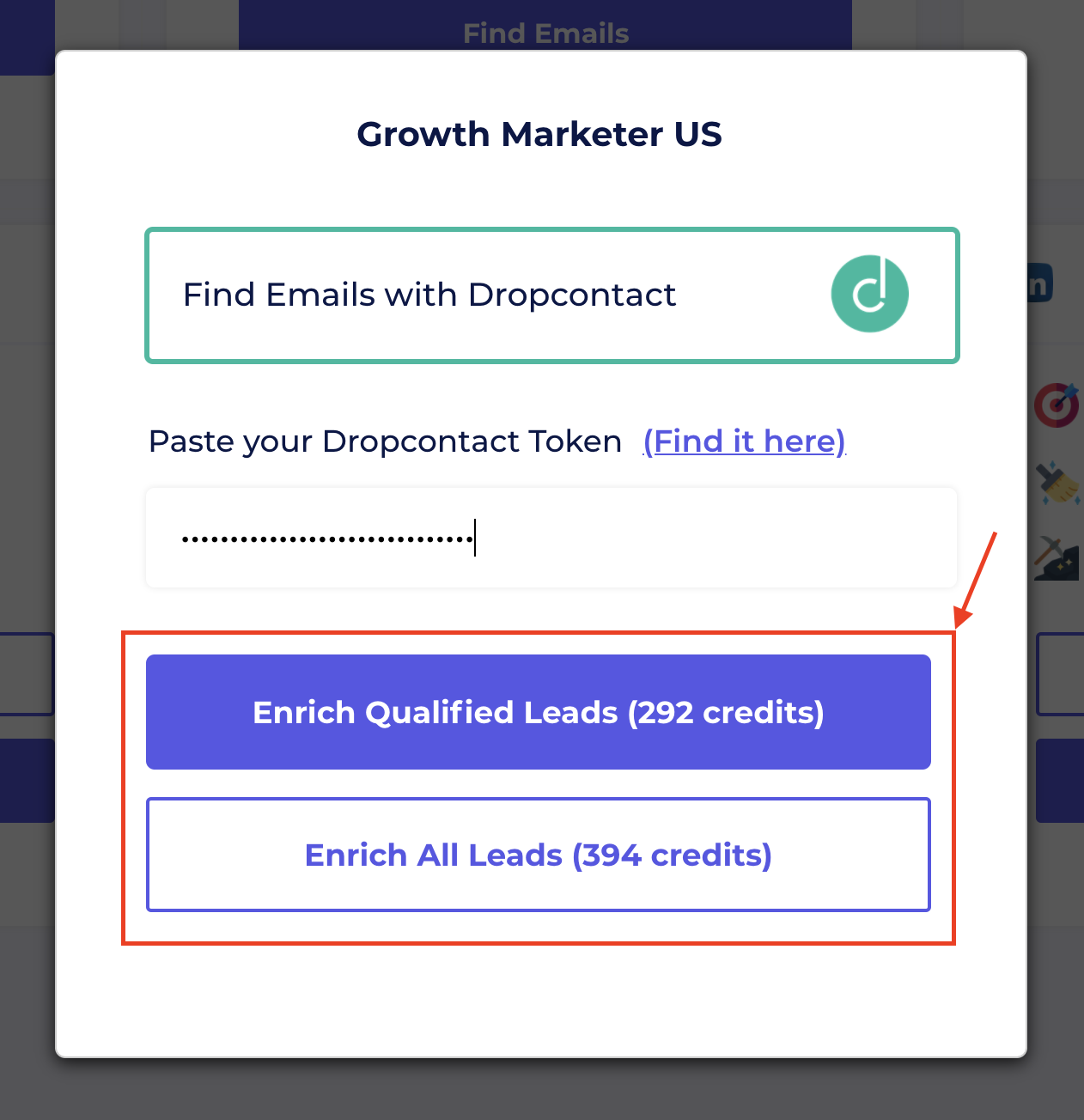 You can choose to enrich either:
the leads that Evaboot declared as Qualified
All the leads in your search
Click on the button and wait a few minutes.
BOOM 💥
You just created a clean email list in 2 clicks with Evaboot & Dropcontact!
3.3. Use Rocket Reach CSV import to find phone numbers
If you need the phone number of your leads, you should go with Rocket Reach.
Dropcontact is good at finding emails but so good at finding phone numbers.
For that, you need to format your data ta respect Rocket Reach requirements. To do that you can upload your CSV to Google Sheet and:
Change "Prospect LinkedIn URL" to "LinkedIn URL"
Change "Full Name" to "Name"
Change "Company Name" to "Current Employer"
Go to Rocket Reach Bulk Upload and drag and drop the CSV you just modified.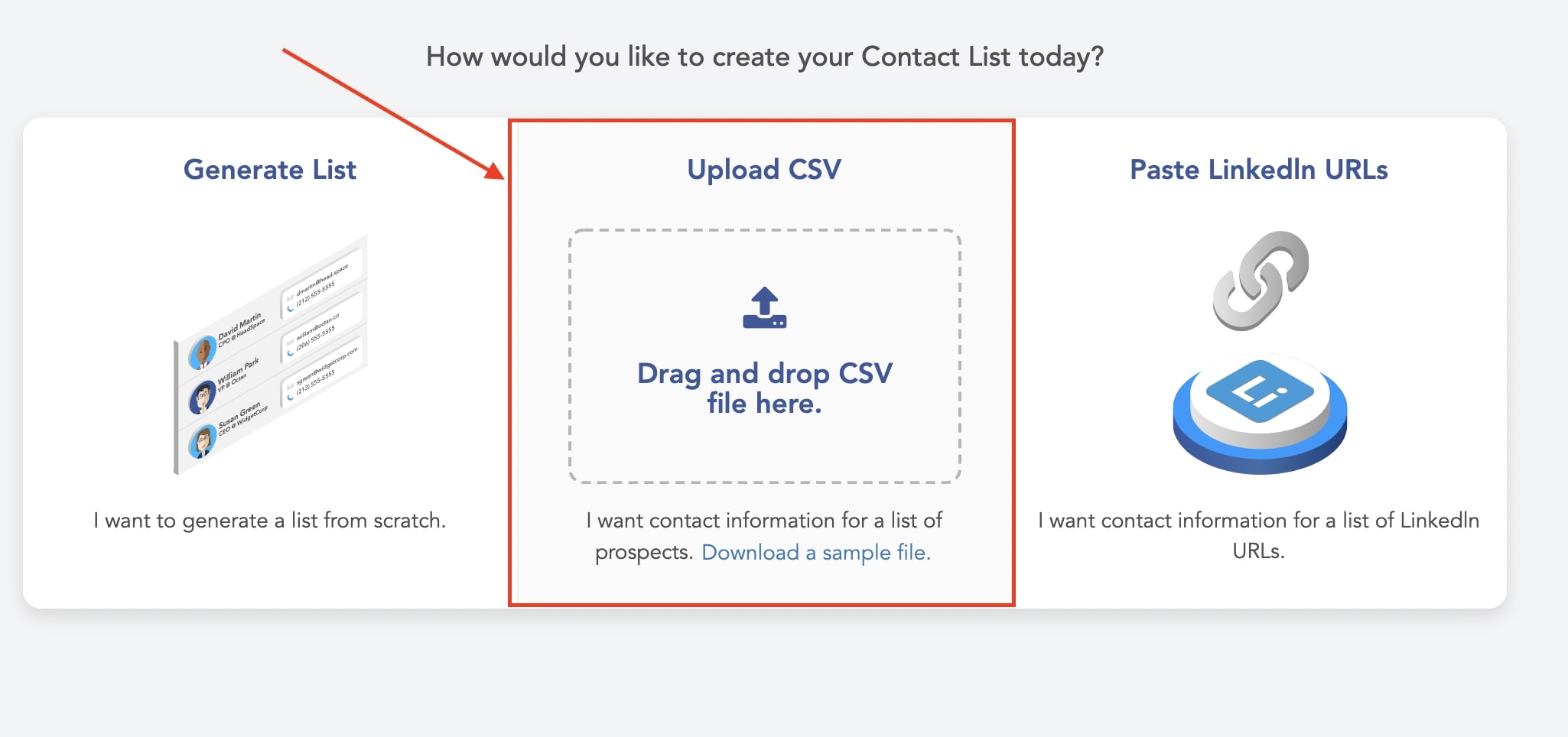 Match the columns ⬇️
The more you give information to Rocket Reach, the more you will increase your chances to find the number
You get tons of information with Evaboot, so you can fill:
First Name
Last Name
Company
Company Domain
Email (if you enriched with Dropcontact)
Launch Enrichment and get your data!
You can now upload this data into your CRM of your favorite outreach tools to launch an outbound campaign.
That's it, guys!
Now let's put this into practice 🚀
First step: extract leads from Sales Navigator
4. Which Data can you export from Sales Navigator?
Evaboot extracts all the data that is displayed on the lead profile and it's company page.
That is to say:
Profile URL (for you LinkedIn prospecting campaigns)
Job title
Job description
Company Website (to find the email of your leads)
Company LinkedIn URL
First name, Last name
Location
Company Industry
Company Size
Exact number of employees in the company
Profile picture's URL (to add them in your cold emails)
Years in position
Number of connection (can be useful to see if your prospect if active on LinkedIn or not)
Company Type
Company creation date
Company description
You can use all this data to build a really complete profile of your lead in your CRM and use it to craft really personalized cold emails!