In this article, I will show you how to get emails from linkedin sales navigator in just few clicks using Evaboot.
You will also learn why extracting emails directly from linkedin sales navigator is not the best option to build email lists.
Using an email finder that get emails with algorithms and testing is in fact a better option.
Where to Find Emails on Linkedin Sales Navigator?
One way to get emails from Linkedin Sales Navigator is to look for them on the contact section of linkedin profiles.
However, it's a different process for 1rst and 2nd/3rd Degree connections.
1. Get Emails from Linkedin 1rst Degree Connections
You can get emails and phone numbers on the contact info section of the linkedin profiles.
You need to be connected to the person to have access to all the info.
It will be only available when your prospects have decided to share them with their connections.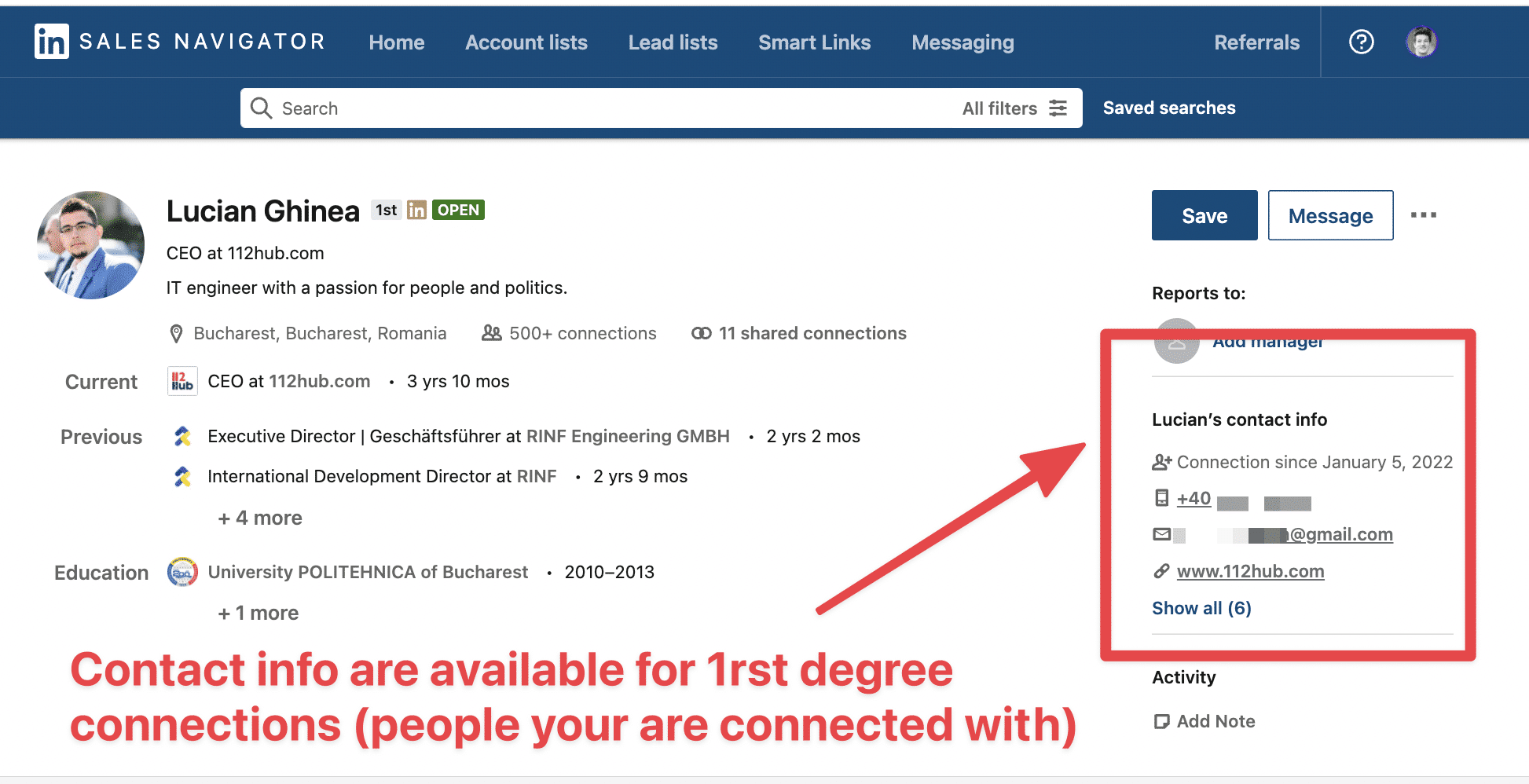 Based on +100K extractions launched with Evaboot, we have some insights on contact info extraction.

For the 1rst degree connections (people you are connected with)
30% of profiles have emails
60% of emails are personal emails
40% are professional emails
5% of profiles have phone numbers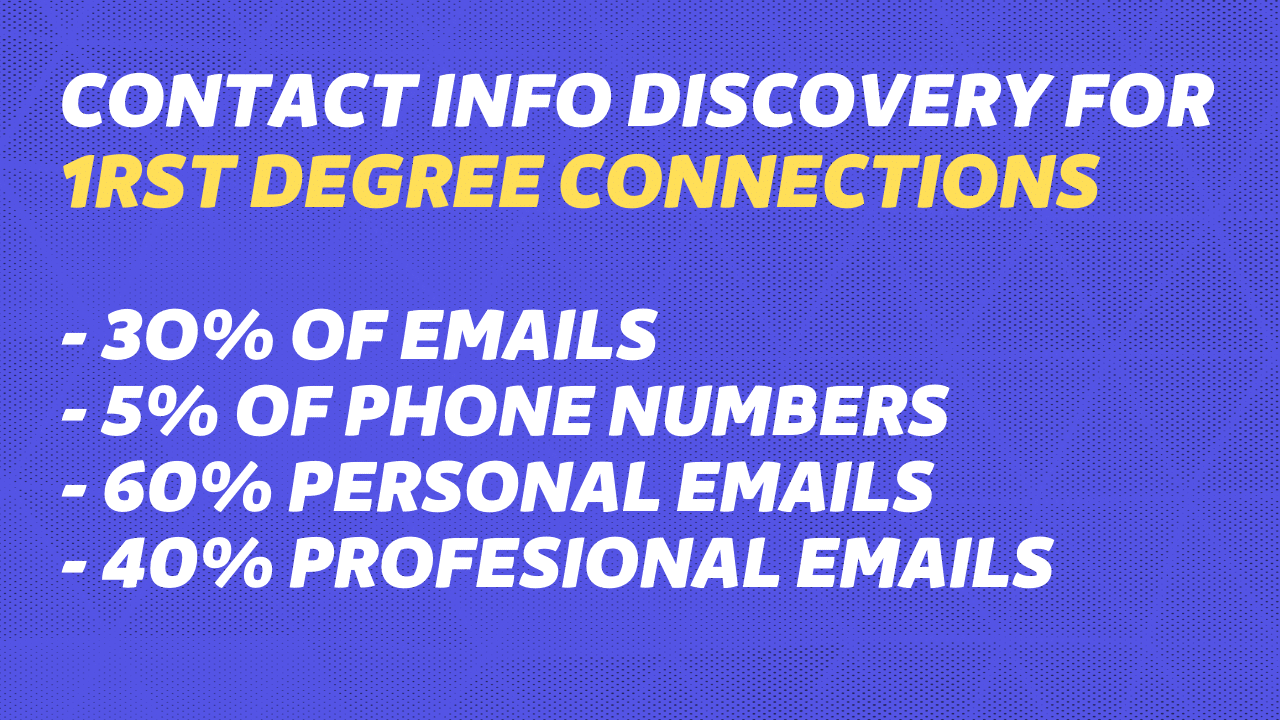 The stats are for 1rst Degree, but when you are doing prospecting on Linkedin, you obviously want to reach out to people you are not connected with yet (2nd & 3rd Degree connections)
2. Get Emails from Linkedin 2nd & 3rd Degree Connections
If you want to do cold outreach on linkedin, you are most likely to contact 2nd and 3rd degree connections. Email discovery rate is much lower for the people outside your network.
You will only see the contact info only if your prospect has decided to make them public.
Obviously really few people do that. Most of them are Sales or Founders that gives their coordinates get business.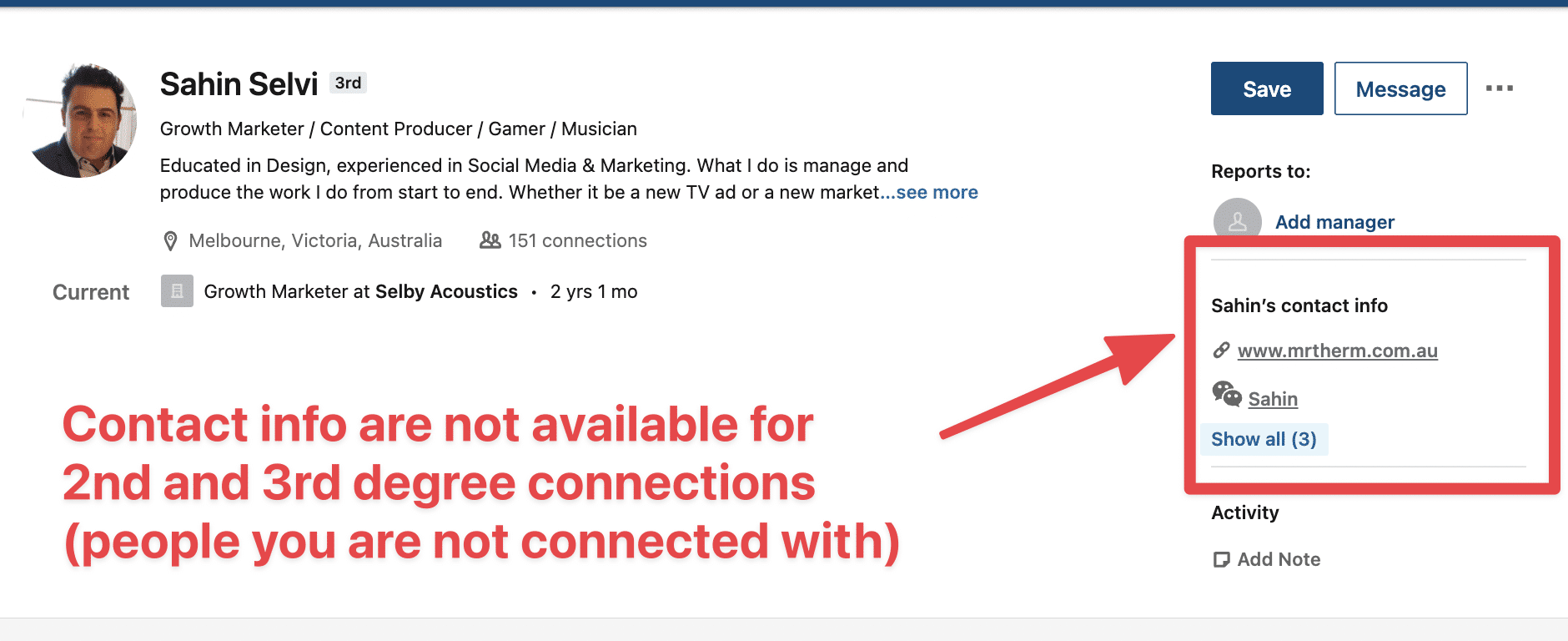 Based on what we found with Evaboot:
5% of profiles will have emails
0.5% of profiles will have phone numbers
60% of emails are personal emails
40% are professional emails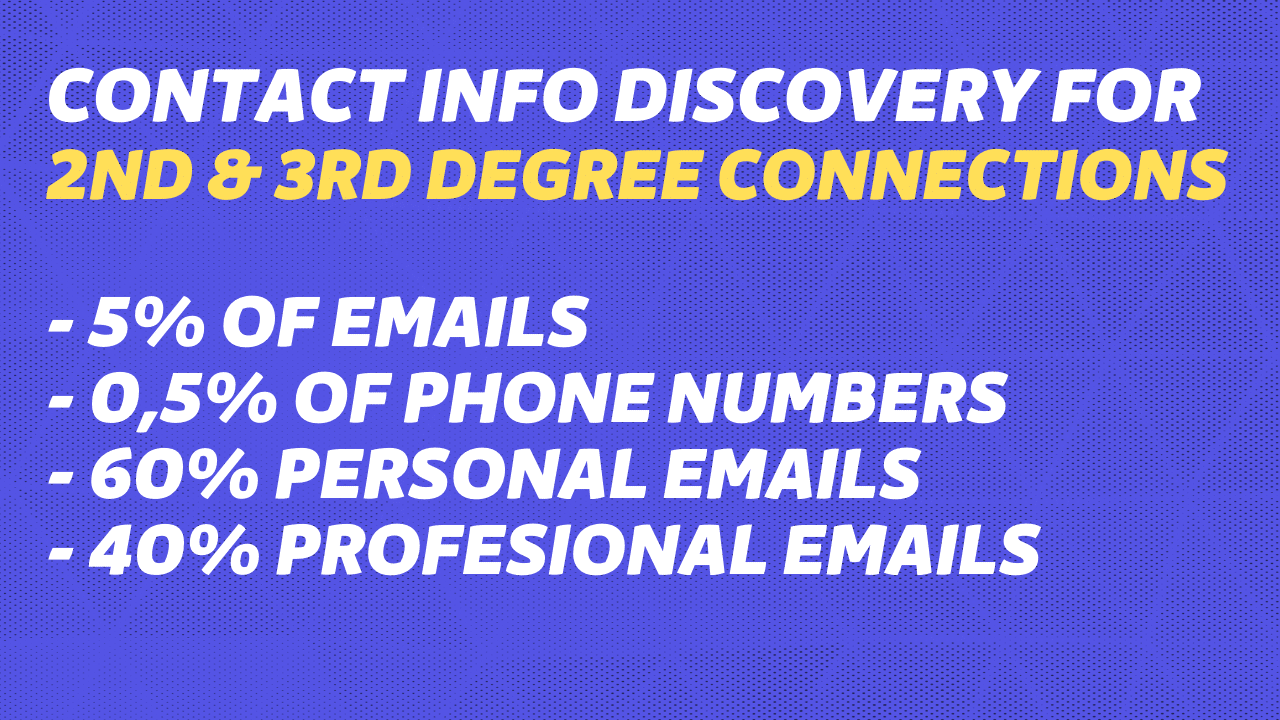 This is way too low.
So how to get the emails that you can't find on Sales Navigator?
You need to use a Sales Navigator email finder like Evaboot.
How To Get Emails From Sales Navigator Using Evaboot
Here is how to get emails from linkedin sales navigator using Evaboot. One one the best linkedin prospecting tool.

To find emails, email finders needs 3 things:
first name
last name
domain name (website)
That way they are able to look for the email pattern and do some tests to find the right one.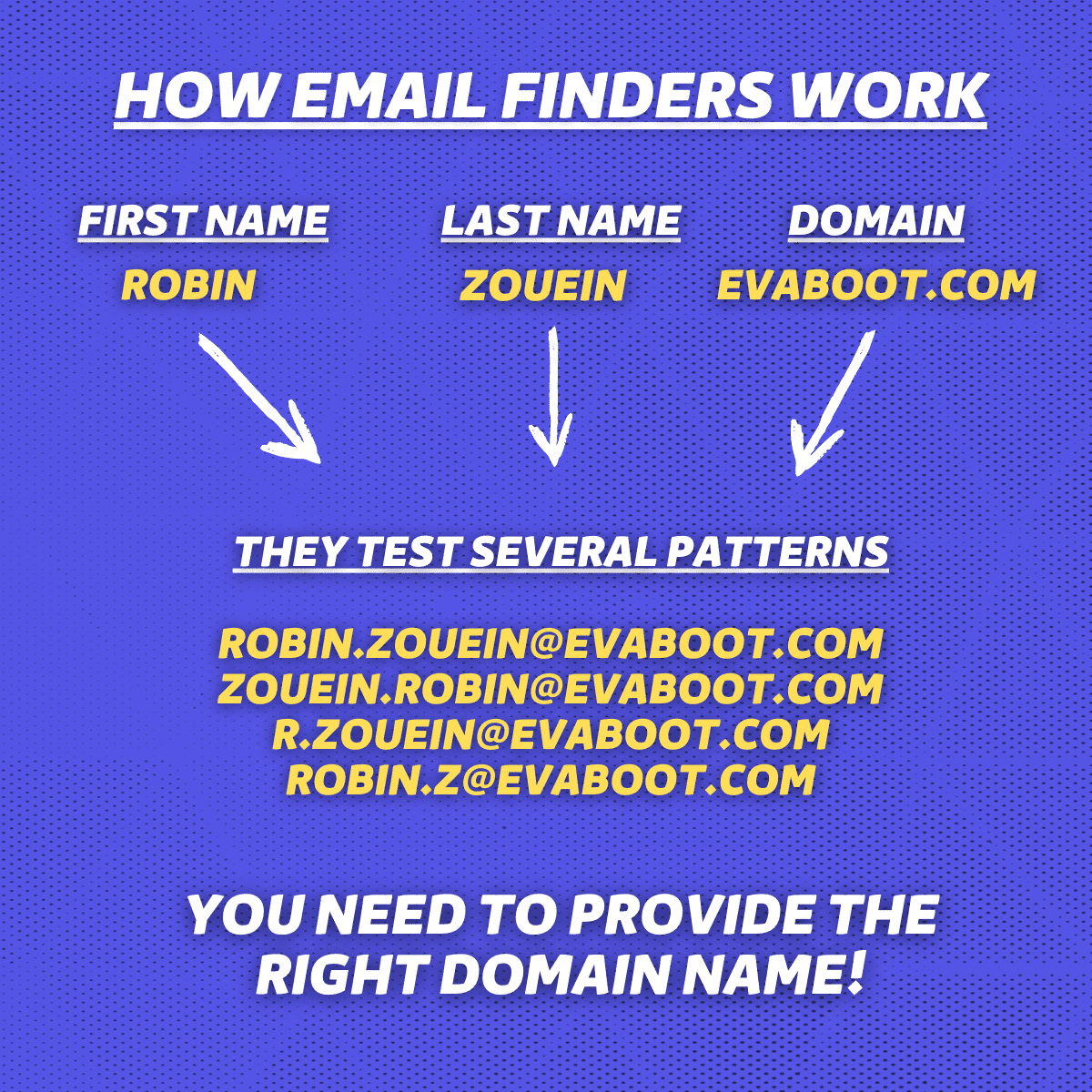 So the first step to get emails from linkedin sales navigator is to find this information on Linkedin.
Let's see how to do this in 2 steps.
Step#1: Export Names and Websites from Linkedin Sales Navigator
Start by download the Evaboot Chrome extension and create an account.

Once the linkedin sales navigator Chrome extension is installed, you will a new button on your Sales Navigator: "Extract with Evaboot"
You can click on it to export your search results.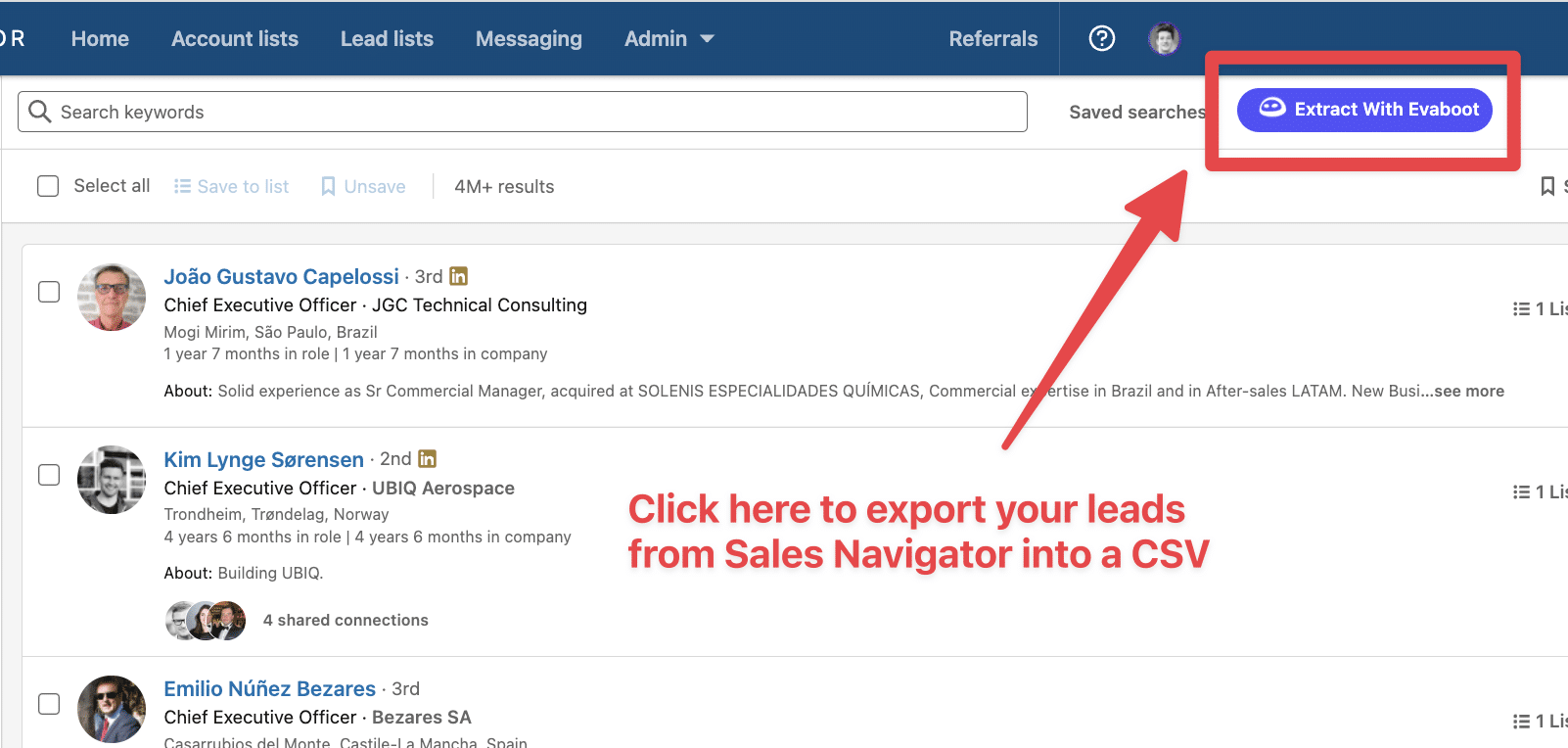 You can use it to extract searches and lists.
The button will open Evaboot.
You will just need to give a name to your extraction and press "launch extract"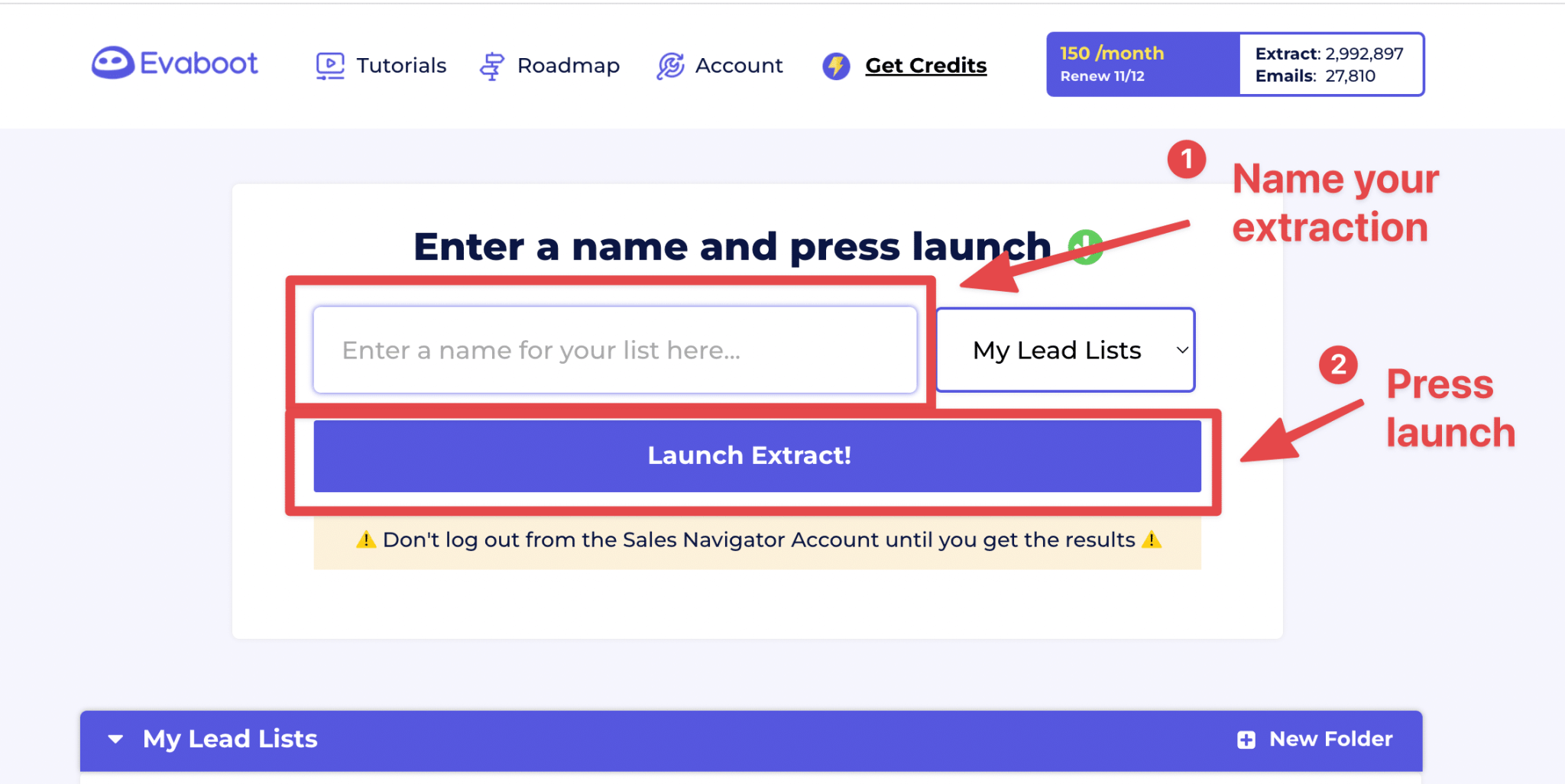 The extraction will launch and will get an estimated end date.
The time will depend on the size of your extraction. It's important to scrape linkedin at a reasonable pace to avoid having your account restricted or banned.

Once your extraction over you will be able to download your file here in just one click.

In the file, you will find all the data the email finder needs to do it's job (first name, last name, domain name)
You will also have useful data like:
Linkedin URL
Job Title
Company Size
Company industry
And much more…



Evaboot will clean all the emojis inside the names and normalize them, so the email finder gets clean data.
This is essential to increase the chance to find the right email.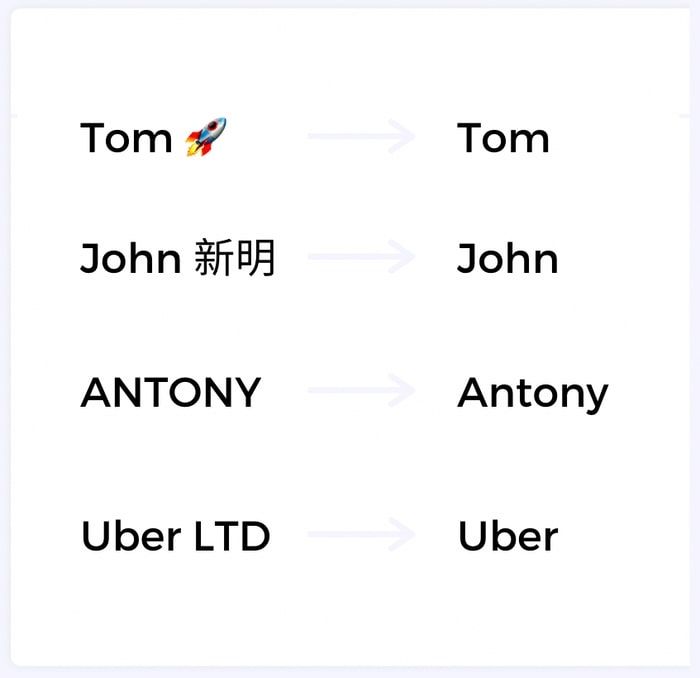 Evaboot will also double-check all your search results to see if they really match your sales navigator search filters.
If you have experience with Sales Navigator you know that there are often irrelevant leads in your search results (20-30%)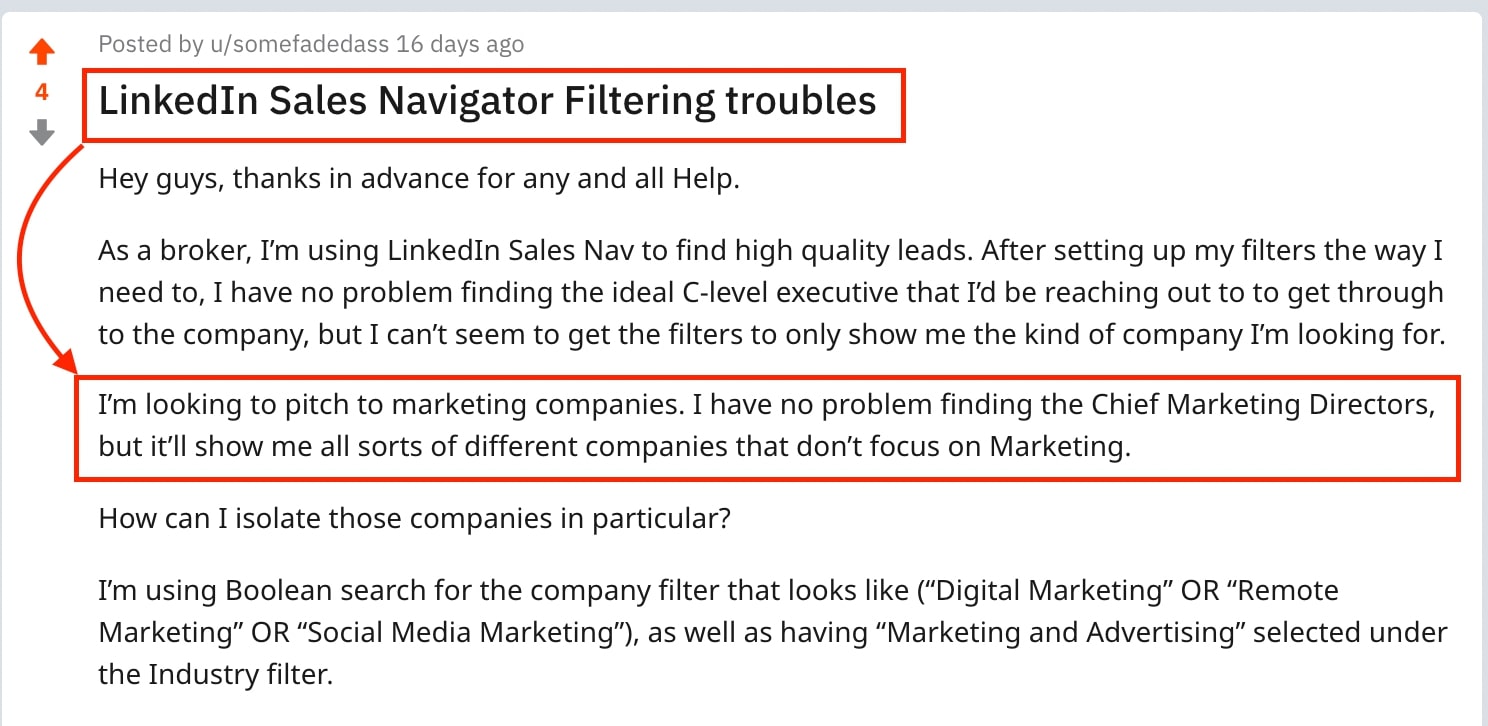 Evaboot automatically detect them so don't have to spend 3h on your excel file double checking every profile yourself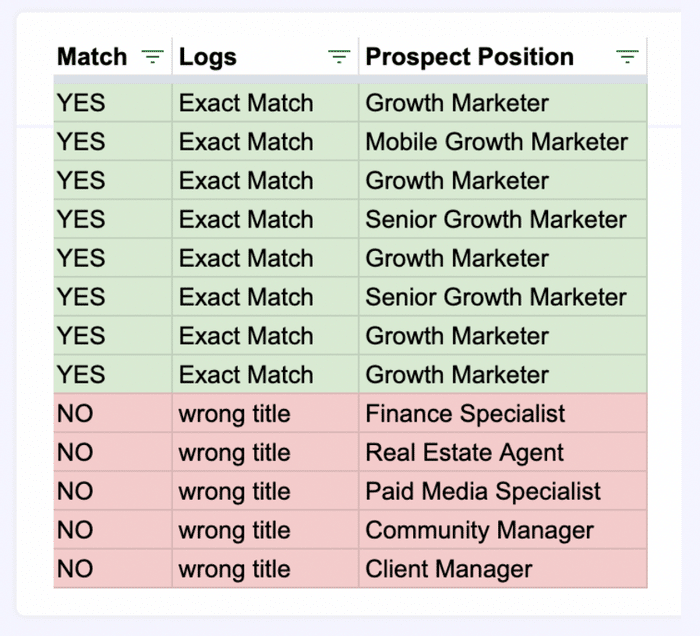 Now let's get emails with the data you just extracted from Linkedin Sales Navigator.
Step#2: Launch Evaboot Email Finder
Once you have the file, you just need to click on "Find Emails"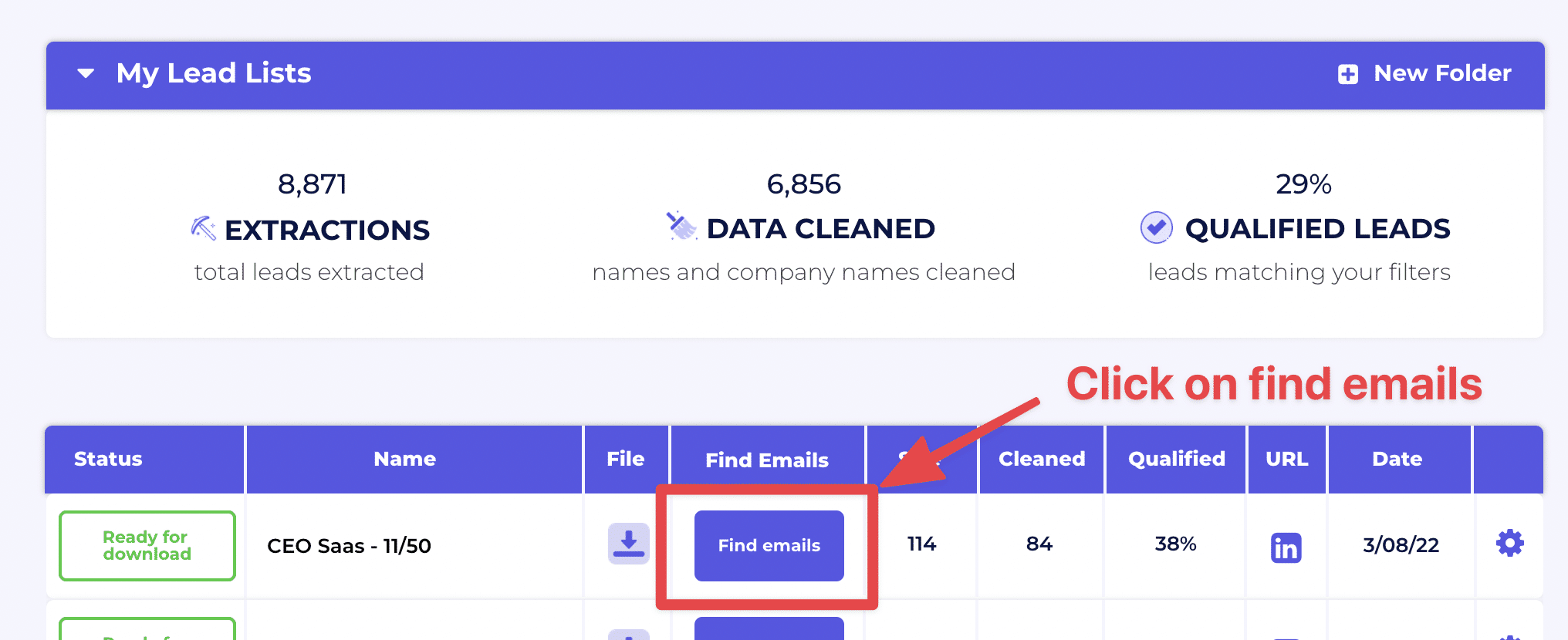 Then click on "Enrich Leads". You can choose to enrich all the leads or only the leads that Evaboot algorithm double checked.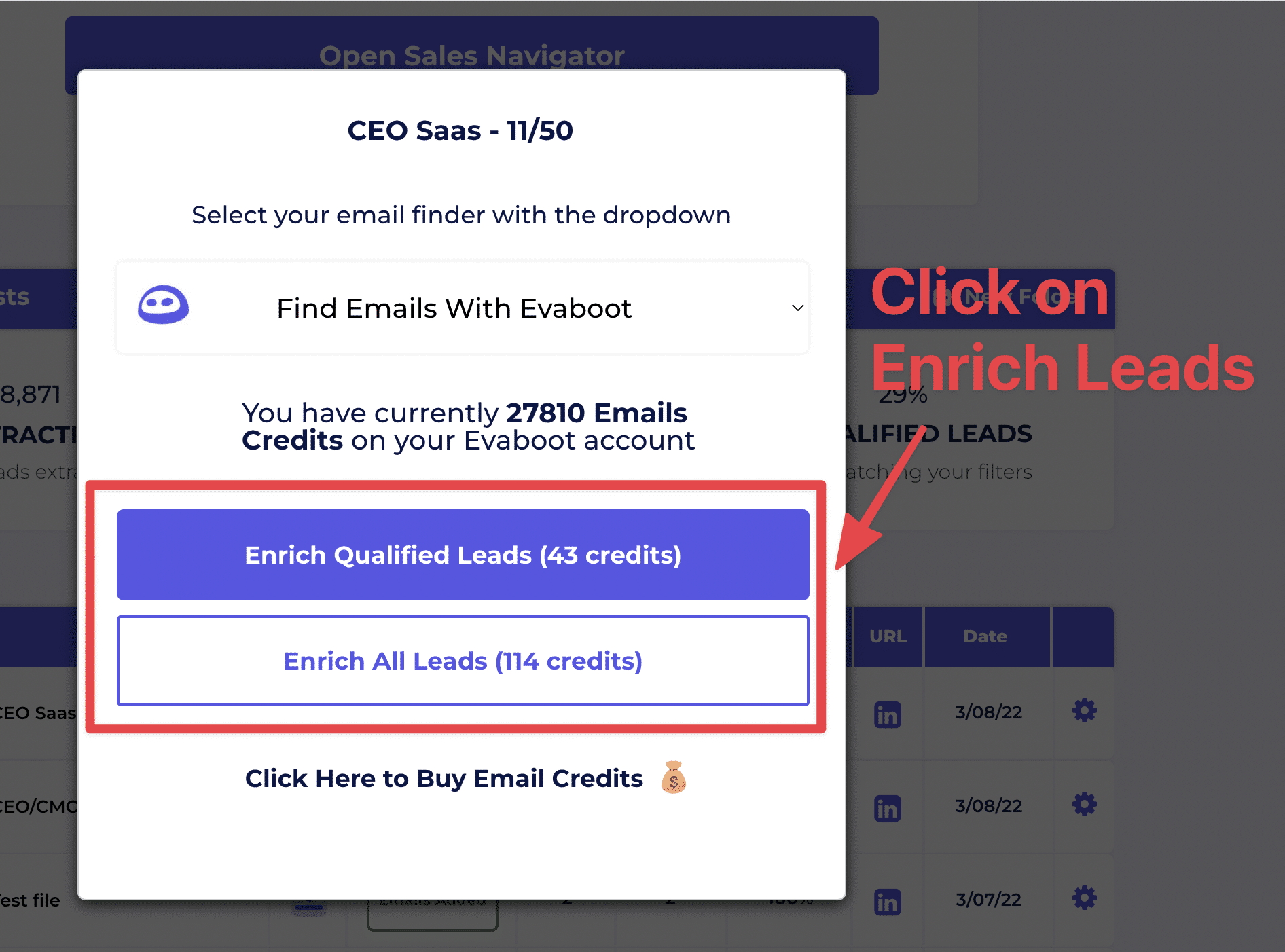 The email will be added directly in your file. Once the process is finished you will find them at the right.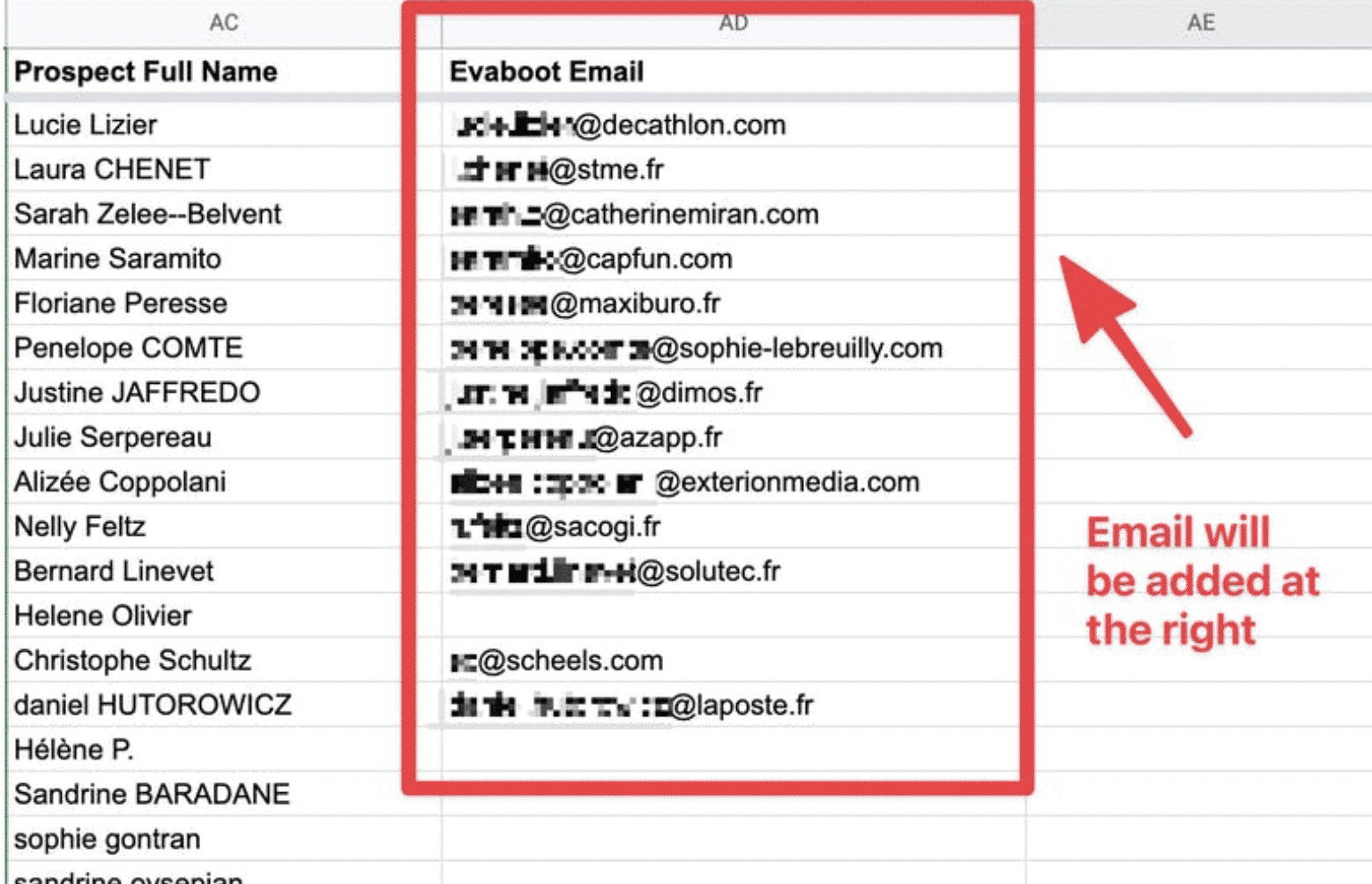 Congratulations, you just built an email lists from linkedin sales navigator in 2 clicks.
Let's see why using the technique described above is a better option than extracting emails from sales navigator.
Why Scraping Emails from Linkedin Sales Navigator is not Always a Good Idea
If you want an efficient linkedin lead generation process, you should use an email finder rather than a scraper to get emails from linkedin sales navigator.
Reason #1: emails are outdated
The email added in the contact details section are often given when you create your linkedin profile.

As the linkedin profile gets older, there are more chances that the email provided is outdated or not from the right company

On this example when it can see the real email address is given in the about section, and it's different from the ones given in the contact details.
Reason #2: there is a majority of personal emails
Prospecting using personal email addresses is not GDPR-compliant.

If you prospect EU citizens using personal emails, you expose your business to a fine that can go up to 4% of your annual global turnover.

Plus your prospect won't appreciate that you used their personal email addresses for business prospecting.

It's an infringement in their personal life.
Reason #3: Emails are not verified
Most email finder will instantly check if the email really exists by sending request to emails servers
The verification step is really important, because if you shoot too many email addresses that don't exist, email providers will think you're a spammer.
You will not land in the main inbox of your prospects anymore.
If you still want to use emails scraped from linkedin sales navigator, make sure to upload them on a tool like Zerobounce that will check the validity of the email addresses.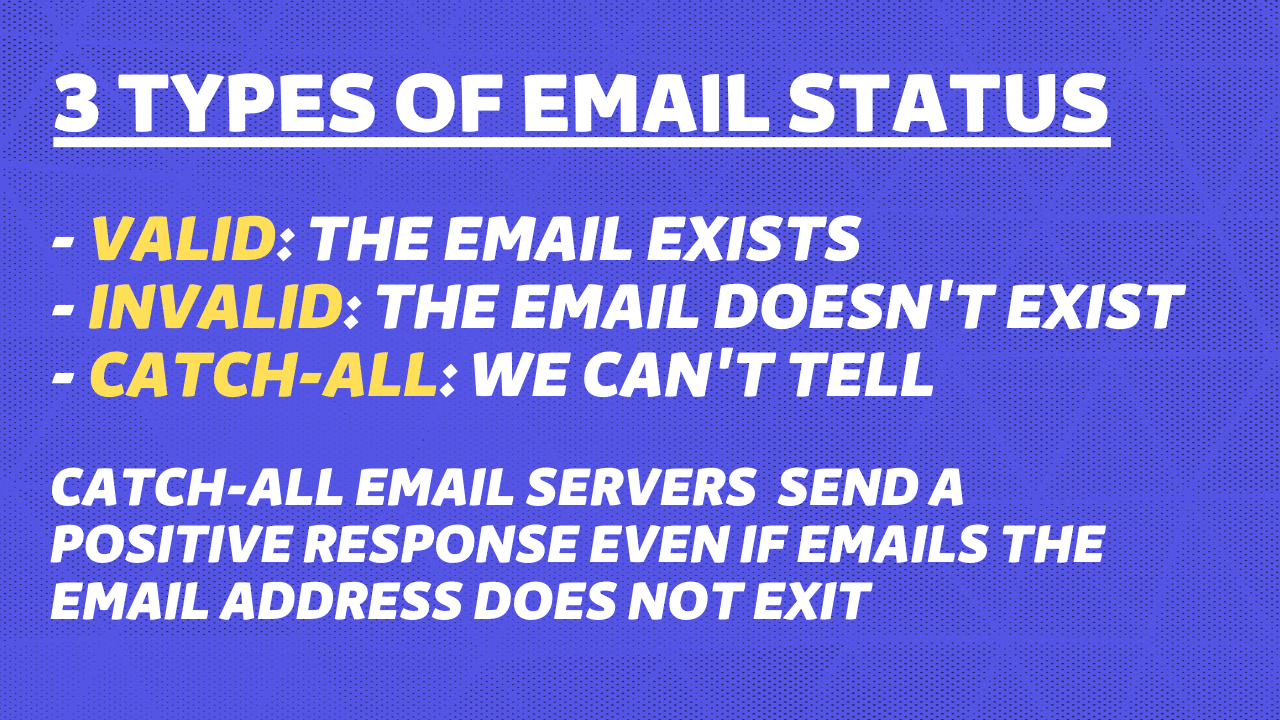 To protect your email deliverability, you must ensure that every email addresses you shoot is valid or catch-all
But what is a catch-all exactly?
A catch-all email is an email server that collects all the emails sent to your domain name. Even if the email address does not exist.
So any emails sent to misspelled recipients at your domain will be "caught" by the catchall account.
That way it's impossible to check if the email really exists.
That's all you need to know to get email addresses from linkedin sales navigator!
If you want to learn how to use sales navigator efficiently to generate leads: make sure to check this video
By the way, if you want to do the reserve process and find linkedin profiles from emails, this is also possible using other tools like Reverse contact.
We are sorry that this post was not useful for you!
Let us improve this post!
Tell us how we can improve this post?