Linkedin Sales Navigator is one of the best tool to generate B2B leads. When you learn how to use effectively, it can put your deal flow on steroid.
This guide contains everything you need to know about how to use LinkedIn Sales Navigator for lead generation.
Let's dive in.
How Does LinkedIn Sales Navigator Work?
Linkedin Sales Navigator helps sales reps find, connect and build relationships with potential buyers by using Linkedin's network data to get all the information they need to better identify and engage with their leads.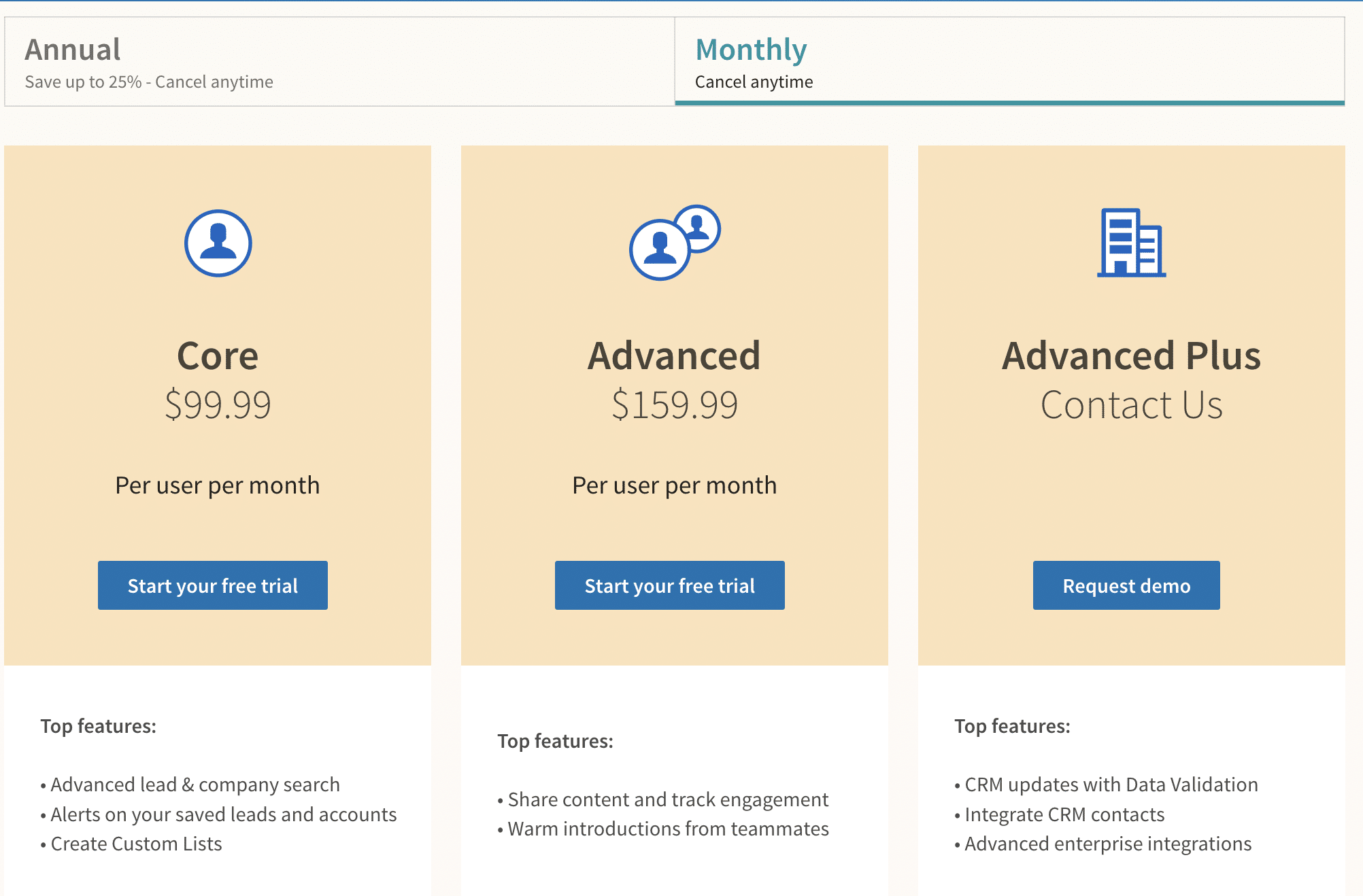 There are several types of Sales Navigator subscriptions:
Core/Professional ($99/month)
Advanced/Team ($159/month)
Advanced Plus/Enterprise (Contact Sales)
In this article we will focus on Linkedin Sales Navigator Core & Advanced as they are the most popular.
You can check this video to know more about the differences between the 2 sales navigator offers.
Now…

Let's see how to use this tool.
How to Use Linkedin Sales Navigator To Generate Leads?
Here is how to use Sales Navigator to generate leads:
Use advanced filters search filters
Create a lead list
Connect and send Inmails
Use alerts to follow up
Export leads to CSV
1. Use advanced search filters
Sales Navigator gives you access to an advanced search engine with more than 30 search criteria to find your ideal customers.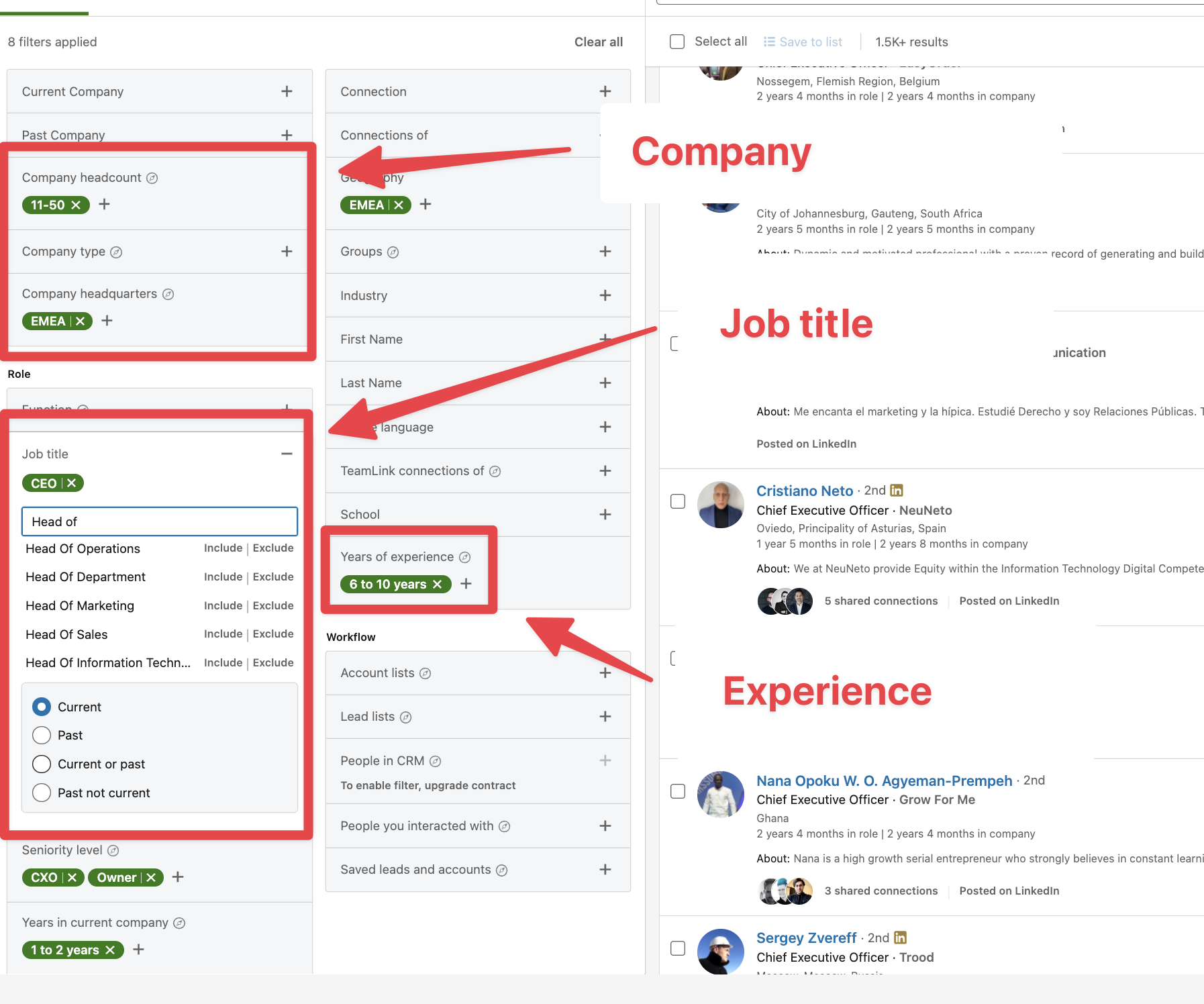 Unlike the basic linkedin search, there are no limitation on the number of searches you can make with Linkedin Sales Navigator.
Filters are divided into several categories:
Company
Function
Personal
Workflow
Spotlight
Posted Content
And much more…
Spotlight category is interesting as it includes dynamic filters that detect job changes, mentions in the news, sharing of experiences etc…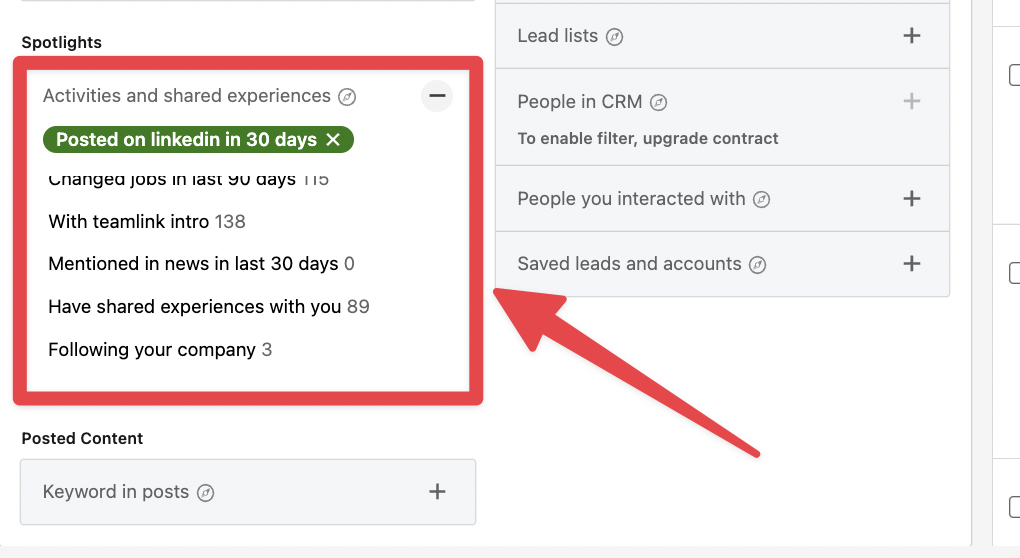 These filters provides good icebreakers for your messages, you can mention:
a post they recently published
an experience you share
a common connection with teamlink intro
a recent job change
All this data is really useful to write personalize sales messages to your prospects.
Another interesting filter is "Posted Content"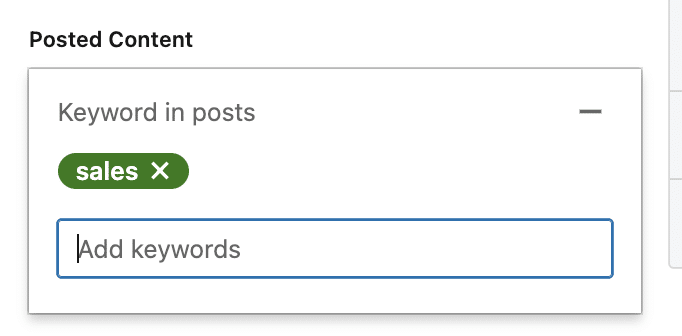 This will give all linkedin profiles that have posted or commented a post containing a specific keyword.
You are able to see the post by clicking on "Posted on Linkedin" below the About section.

If someone is creating or engaging with content related to your niche, it is likely to be a good prospect right?
---
Now you may wonder:
How should I do when I am happy with my search results?
Well…
You can create a lead list with the best ones.
2. Create a lead list
Once your search results are ready, you might want to handpick some leads to save them into a list.
Here is a how to create a lead list on sales navigator:
Select leads with checkboxes
Click on "Save o List"
Click "+"
Give a name to your list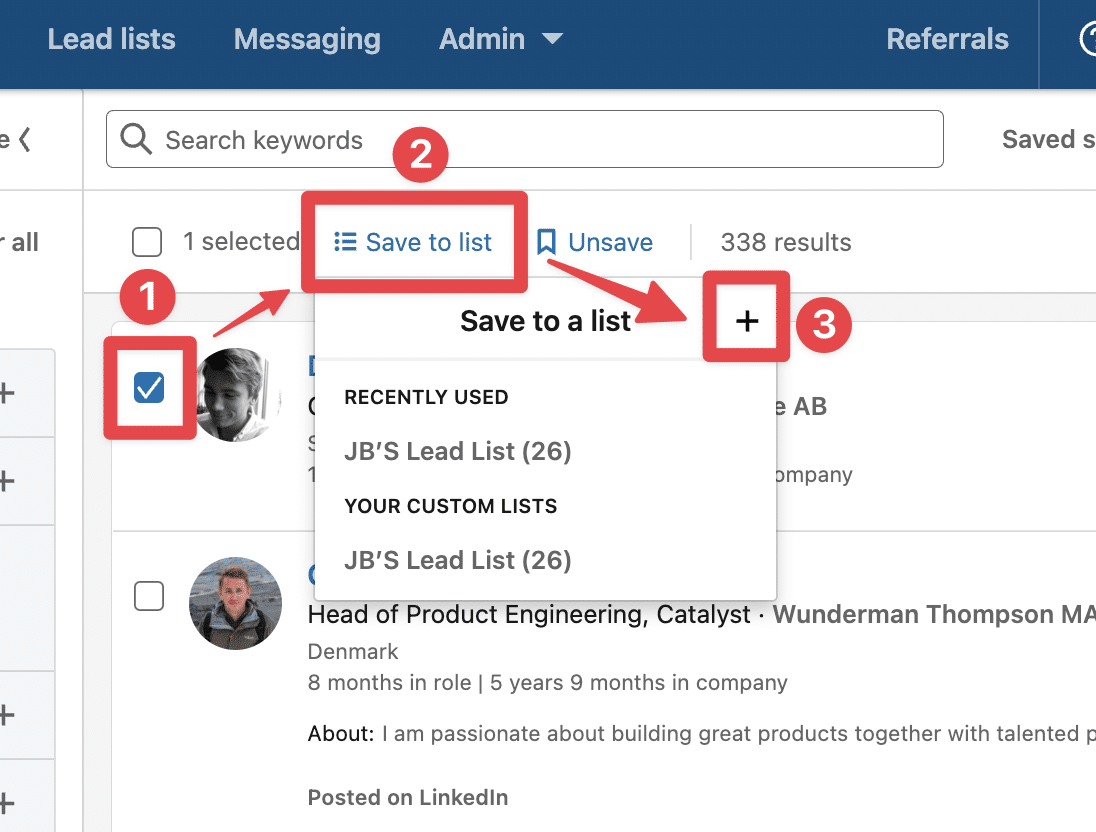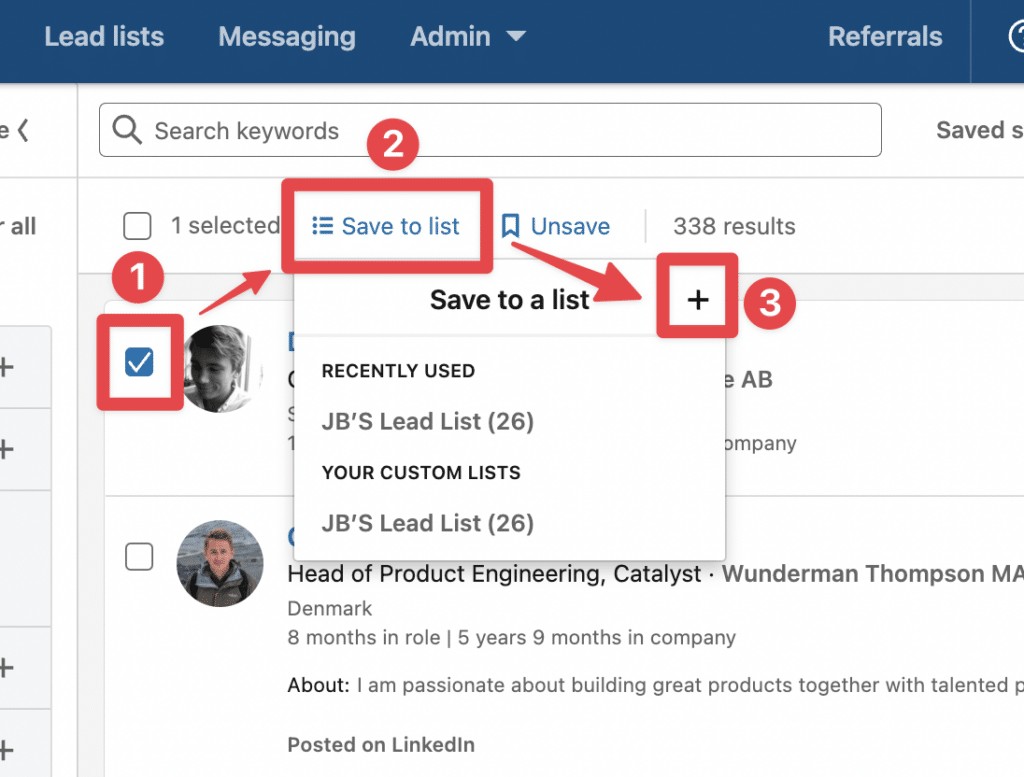 Once your leads are saved into a lead, you will be able to acces them through the "Lead List" tab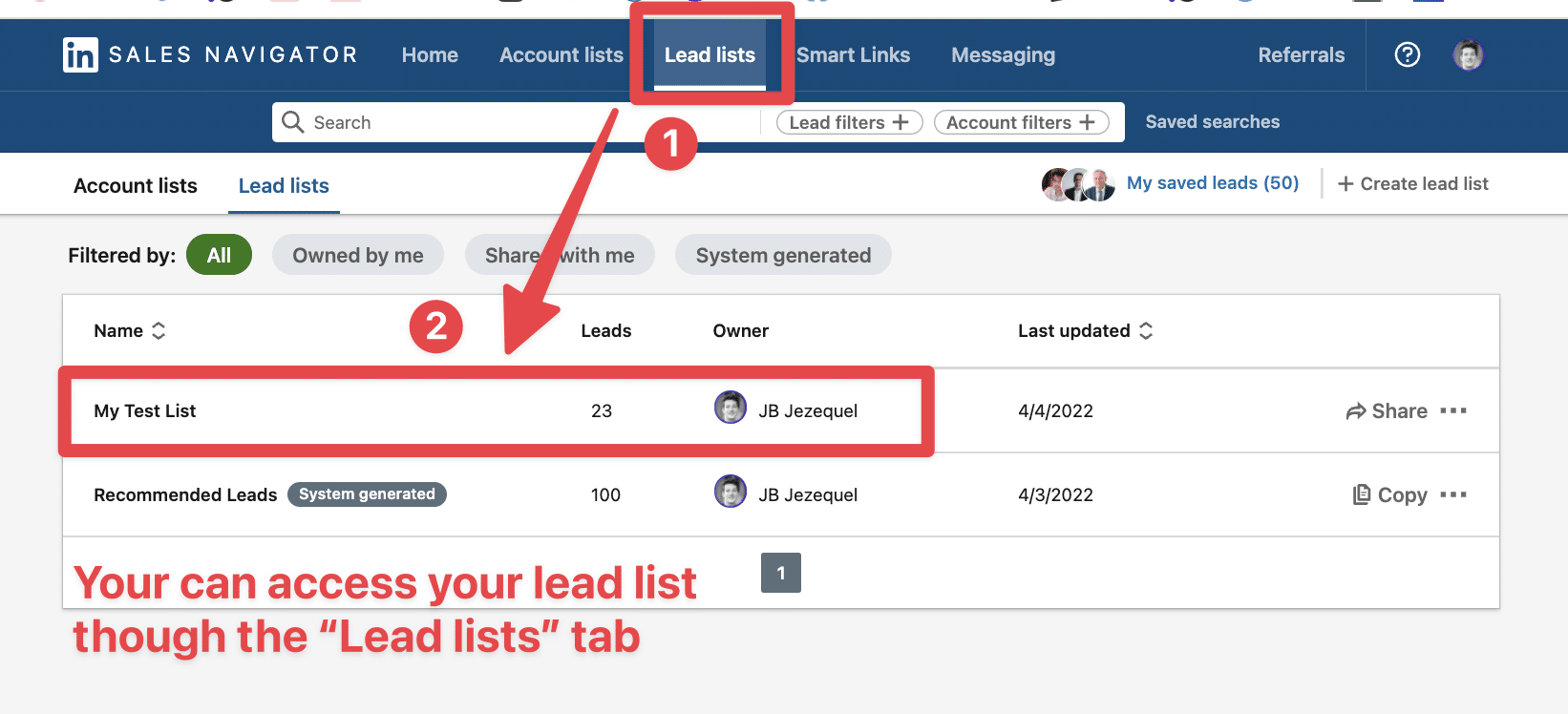 3. Connect and send Inmails
Once your leads are added in a list, you can send connection requests and Inmails directly from the interface.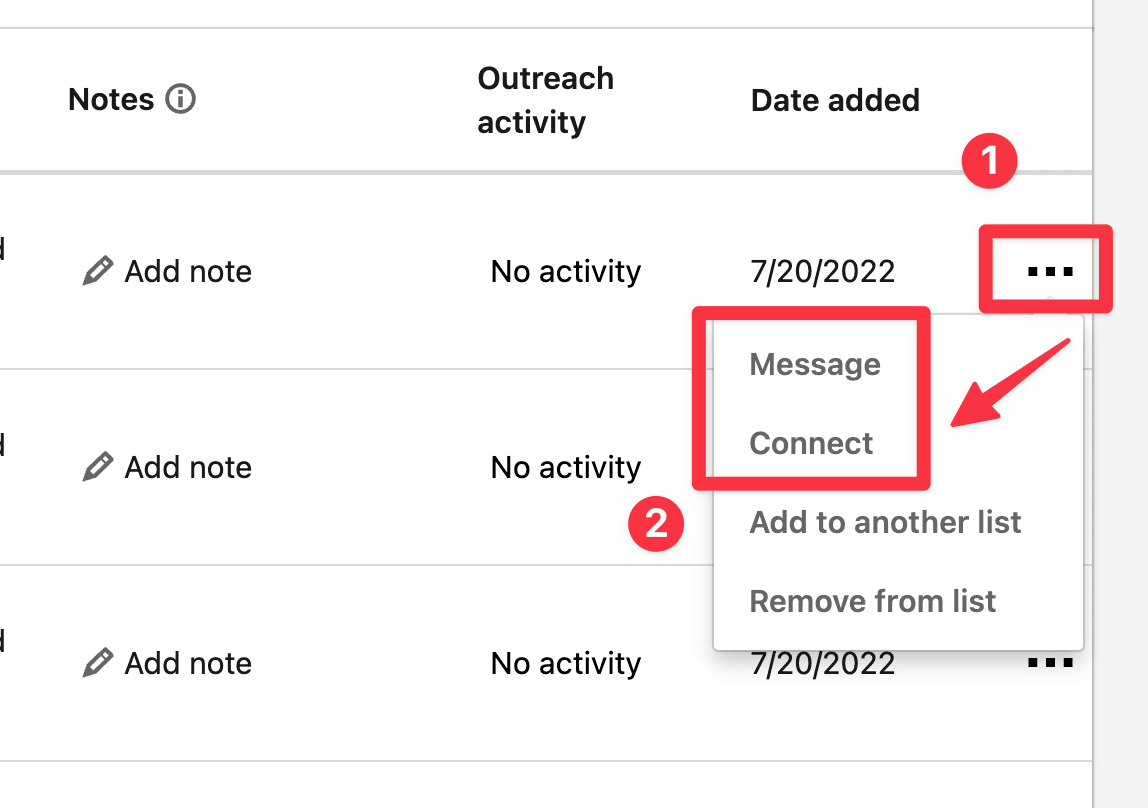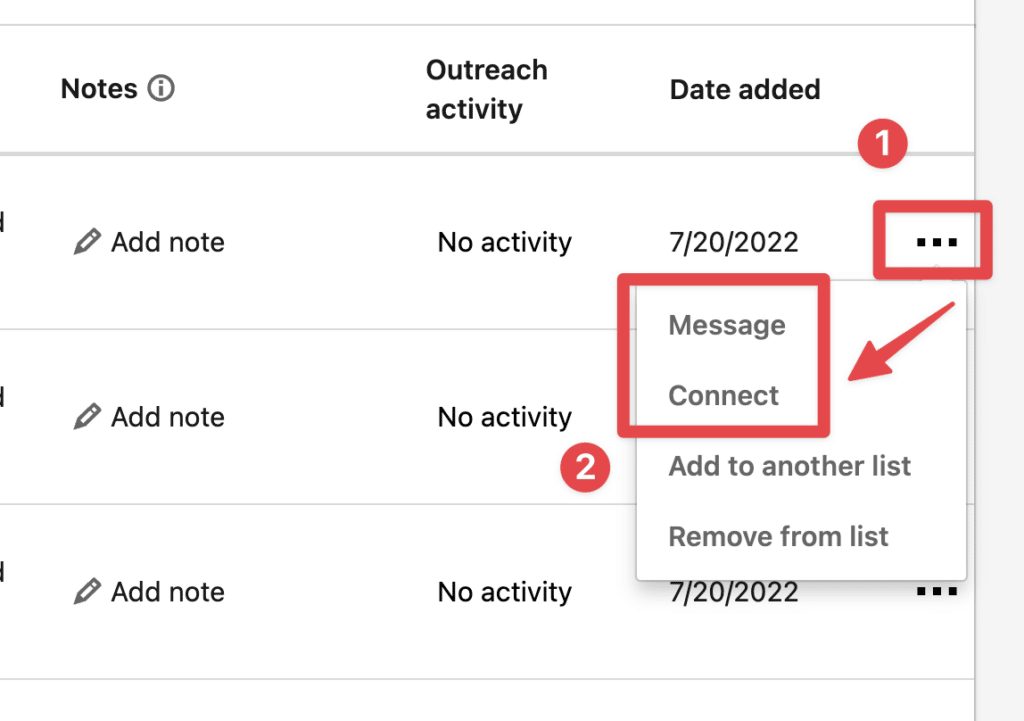 Inmails are premium linkedin messages that allow you to skip the connection request step and land directly into your prospect inbox.
With Sales Navigator, you get 50 inmails credits per month, so you use them carefully.
Send a connection first and use Inmail messages as a last resort if your connection request is not accepted.
The lead list feature allows you to take notes and your leads and keep track of the inmails sent to them.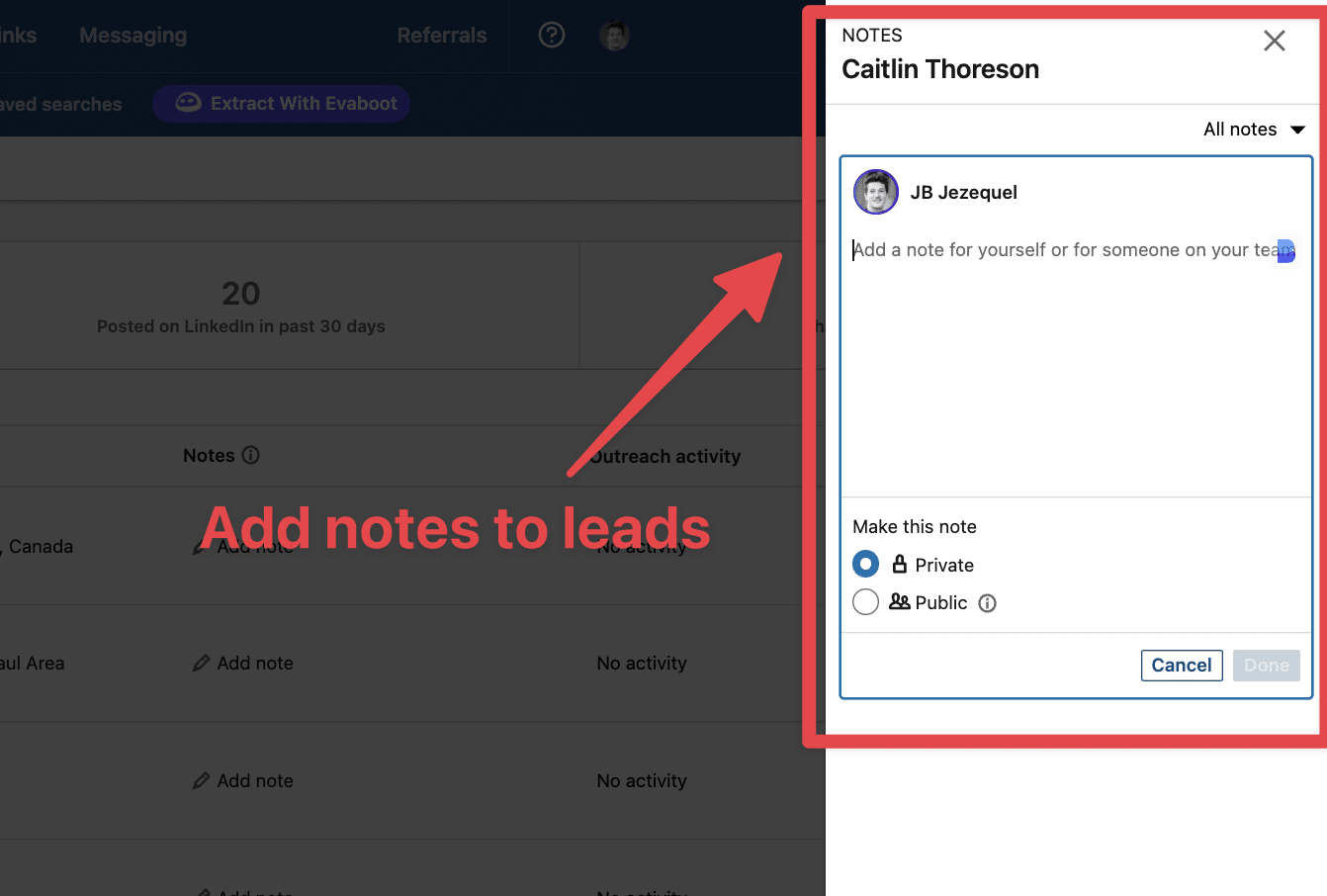 If the vast majority of your leads are on linkedin, your sales team can use this interface as your outreach CRM.
To get the most out of inmails, make sure to check our guide linkedin inmail best practices.
---
Connecting and taking notes is not the only benefits of adding leads into list.

Let me show you.
4. Use alerts to follow up
Once you add a lead to a list, Sales Navigator will track their activity on Linkedin and send you updates like:
the post they publish or share
job change
This social selling feature is really valuable to send personalized follow-up messages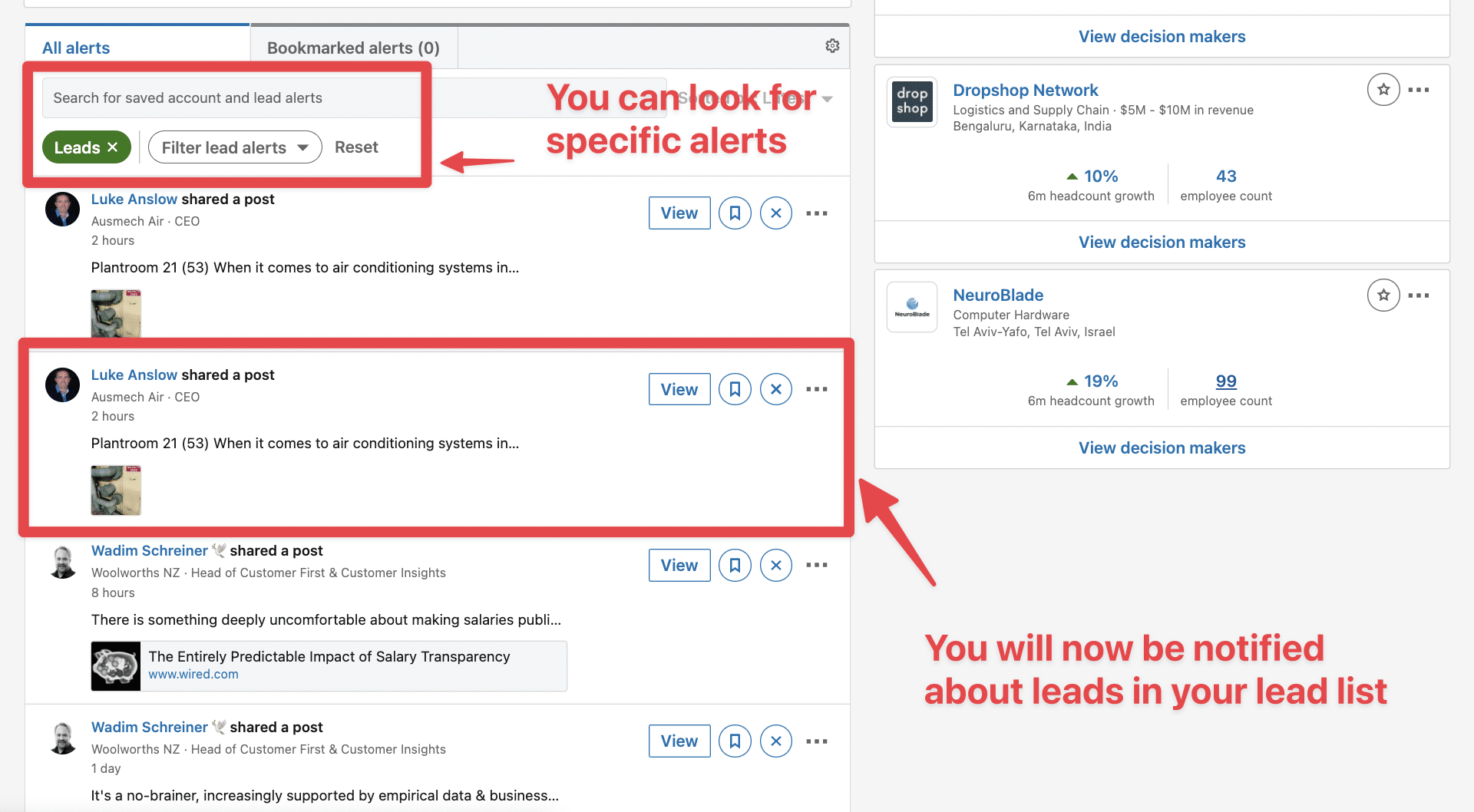 You can bookmark alerts to save them for later.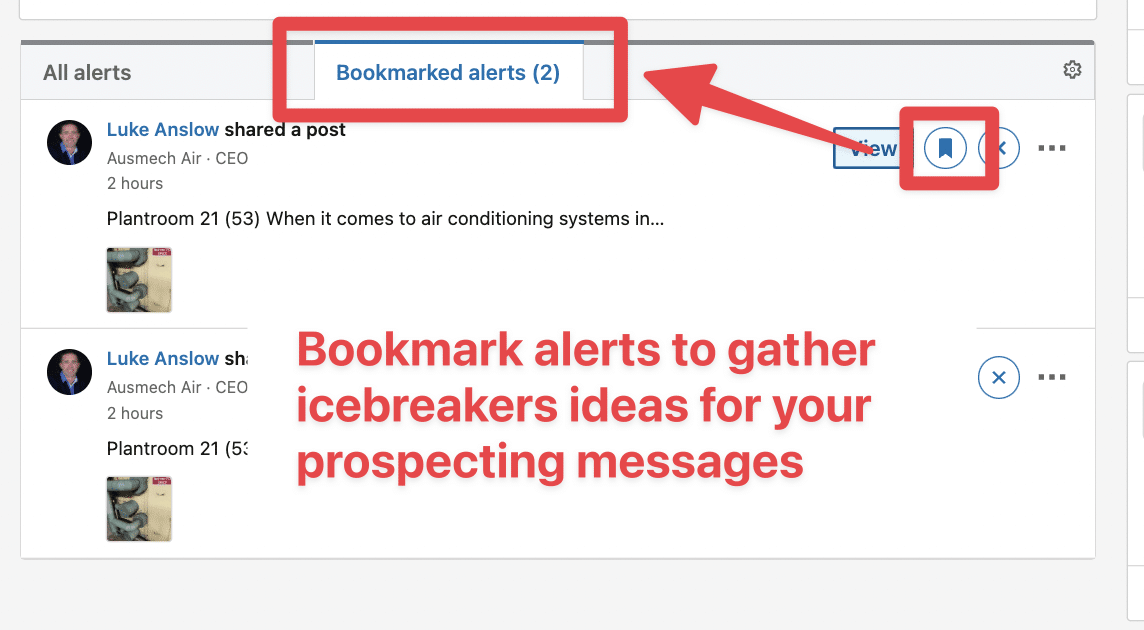 If you click on View, the linkedin post will open on the left, and you will be able to like and comment directly from Linkedin Sales Navigator.
Also a great way to follow-up on a prospect.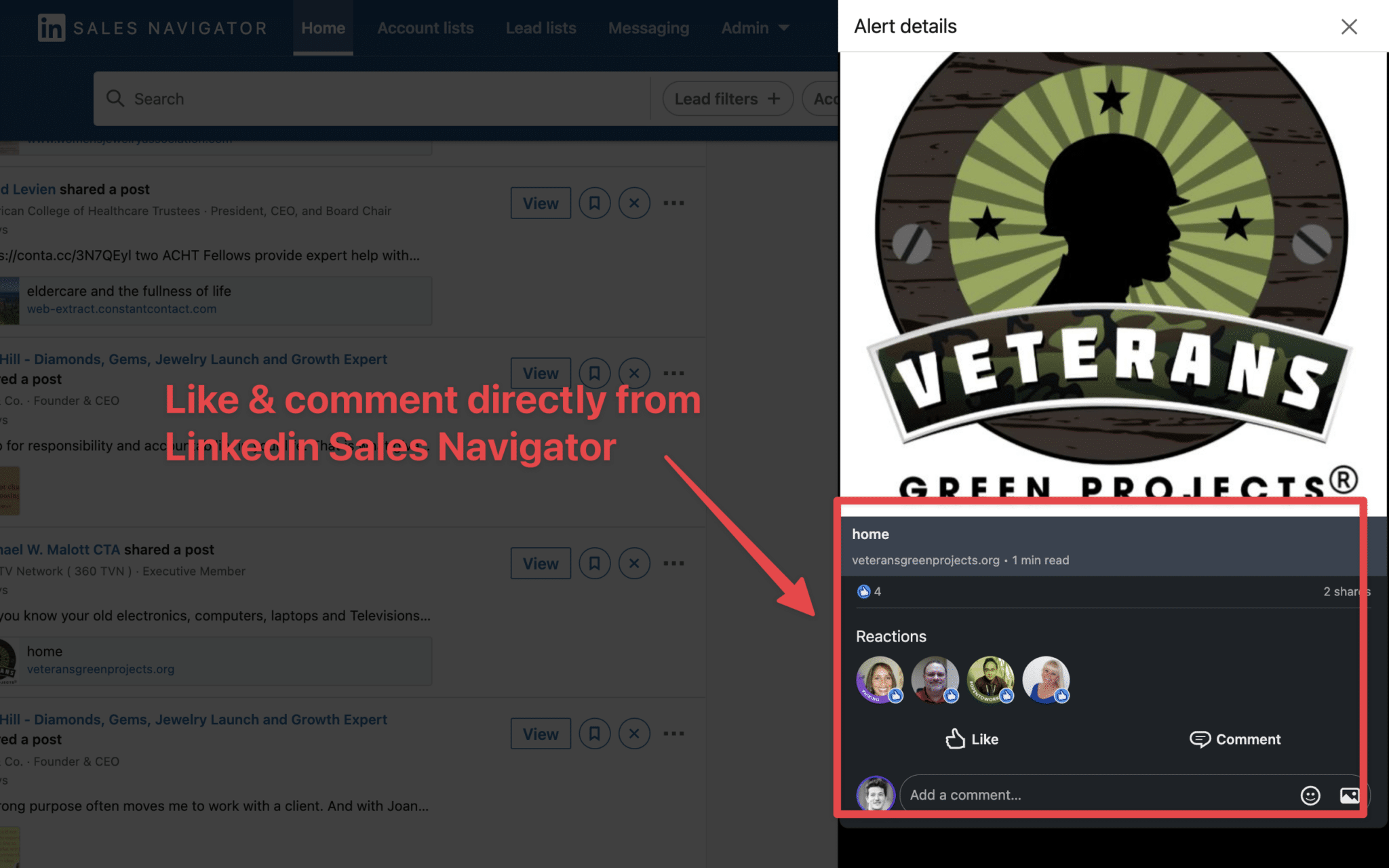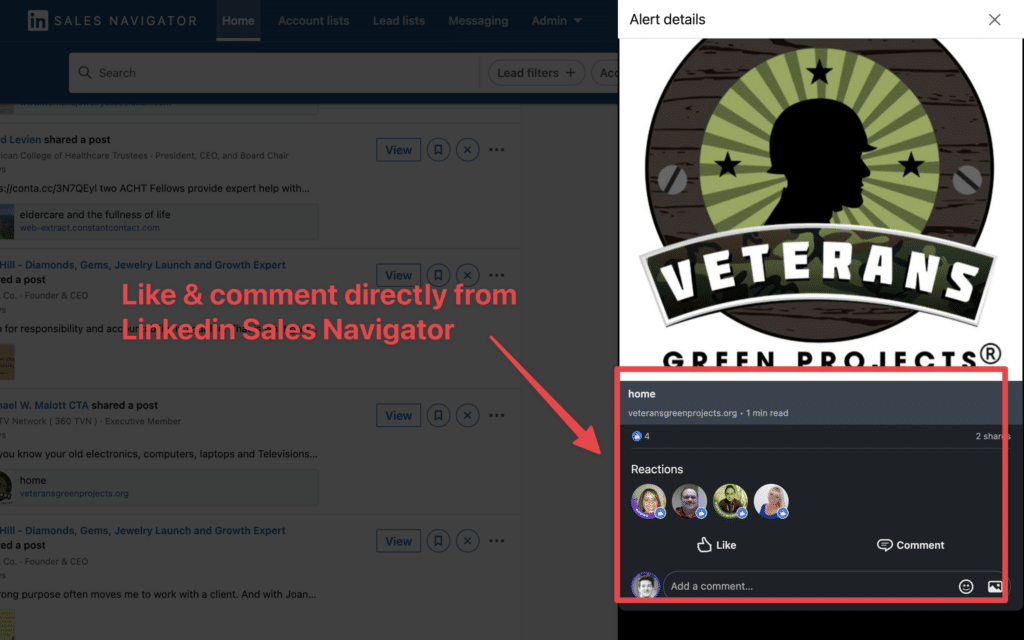 This is really convenient for B2B sales if you want to break the ice or follow up with your prospect by commenting the content they publish.
5. Export leads to CSV
Want to get your lead list into a CSV to upload it to your CRM?
Sales Navigator is a great toot, but it doesn't allow you to export leads to CSV and find their emails.
For that you will need to use a Chrome extension like Evaboot. Here is how it works:
When you make a search, you can see a maximum of:
2500 results for leads searches
1000 results for accounts searches
But sometimes, your search has more than 2.5K leads or 1K accounts in it.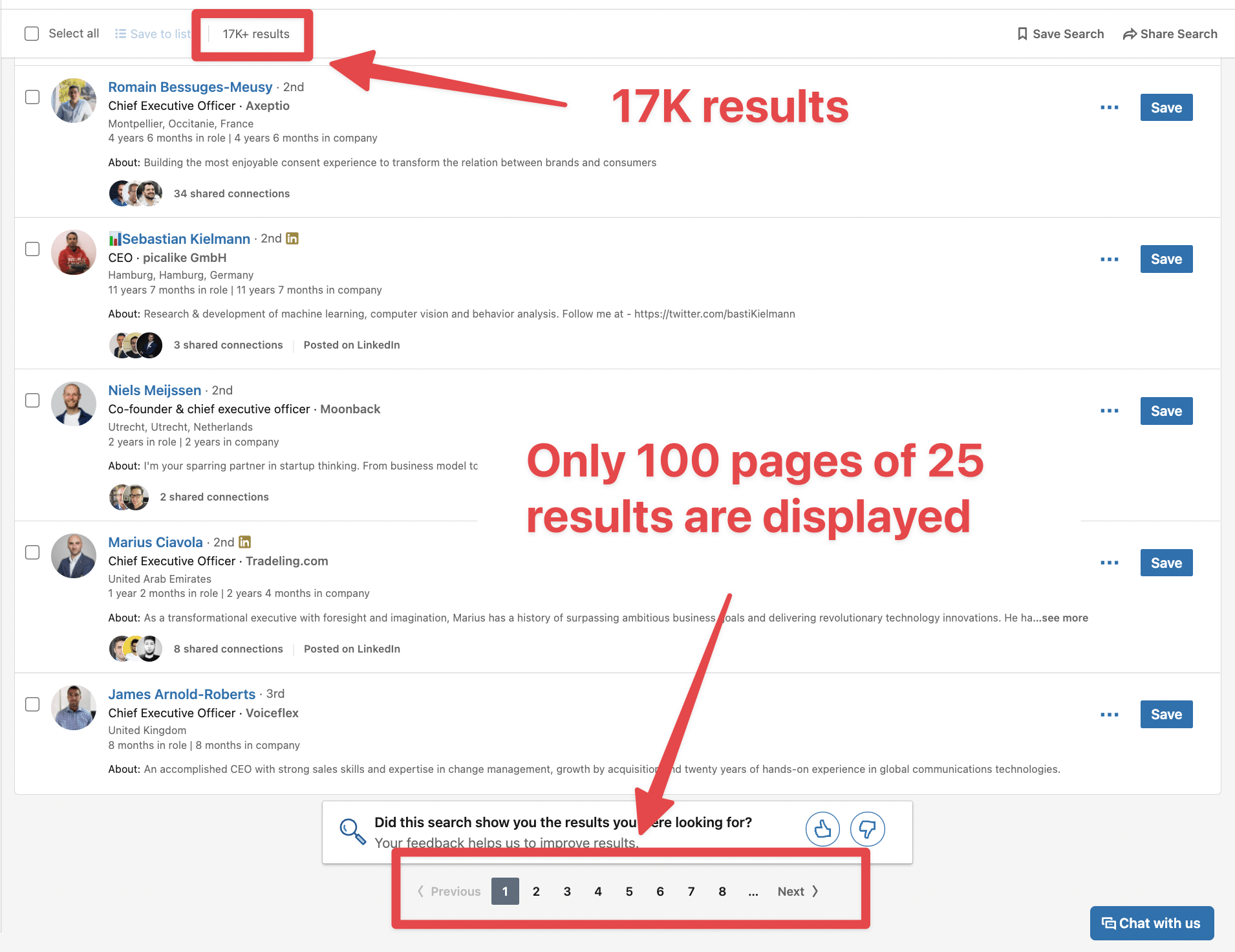 So how to export all the leads?
You need to split your search into several chunks.
Here is a video tutorial that explains the process:
---
You can see that Linkedin Sales Navigator offers many features to find and create relationships with potential customers.
But this no the end…
Sales Navigator is also excellent at targeting companies

Using Linkedin Sales Navigator for Account Based Marketing
Here is how to use LinkedIn Sales Navigator to target accounts:
Search for account with advanced filters
Create an account list
Find the right decision makers
1. Search for accounts with advanced filters
When you do Account Based Marketing on linkedin, you start by searching for companies, then you find the decision makers.
Linkedin Sales Navigator is the perfect tool to do that.
It offers 14 search filters to look for accounts that would be perfect clients for your business.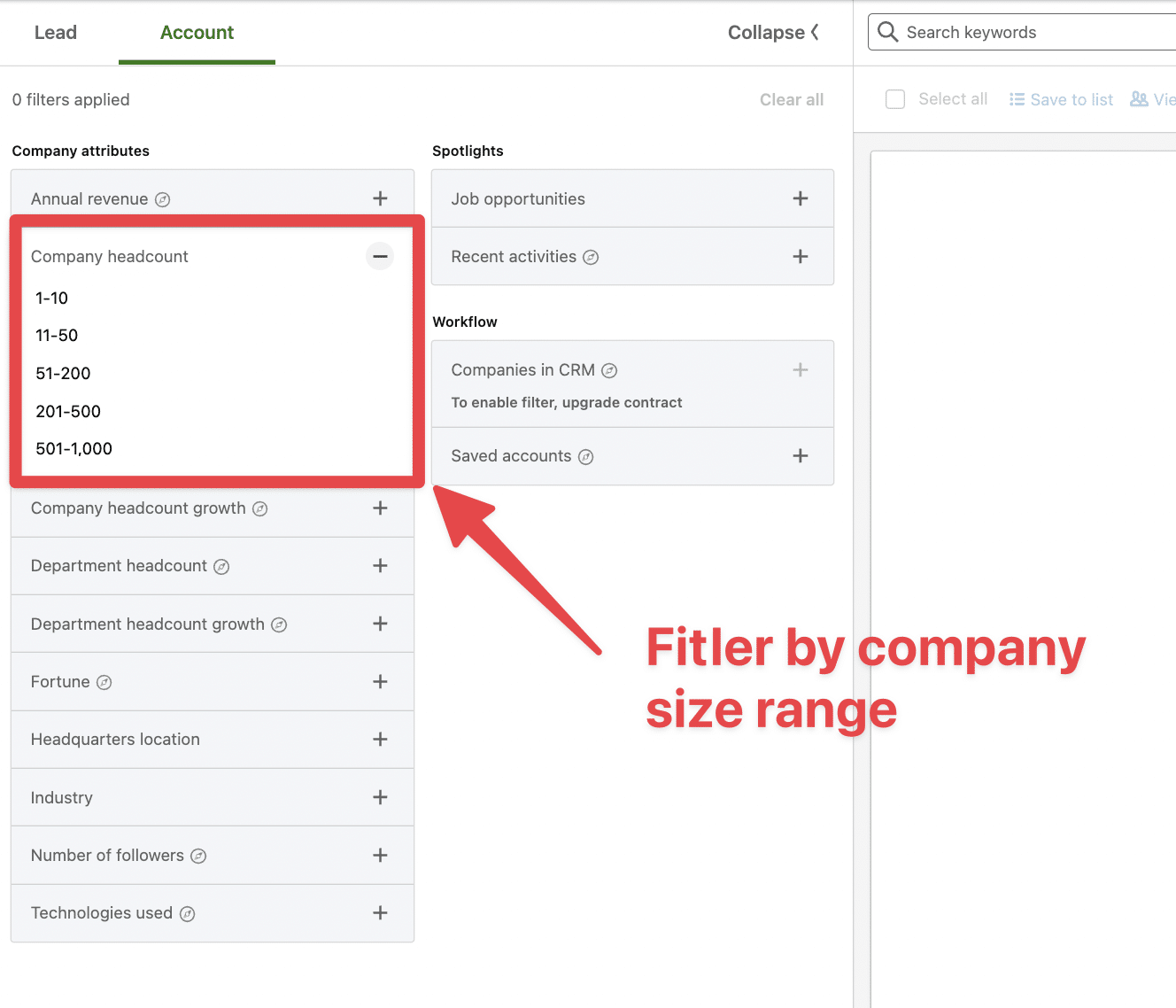 You can filter by:
Company Size
Location
Industry
Global headcount growth
Department headcount growth
Recent activities
And much more…
The headcount growth and hiring filters because allow you to target growing companies.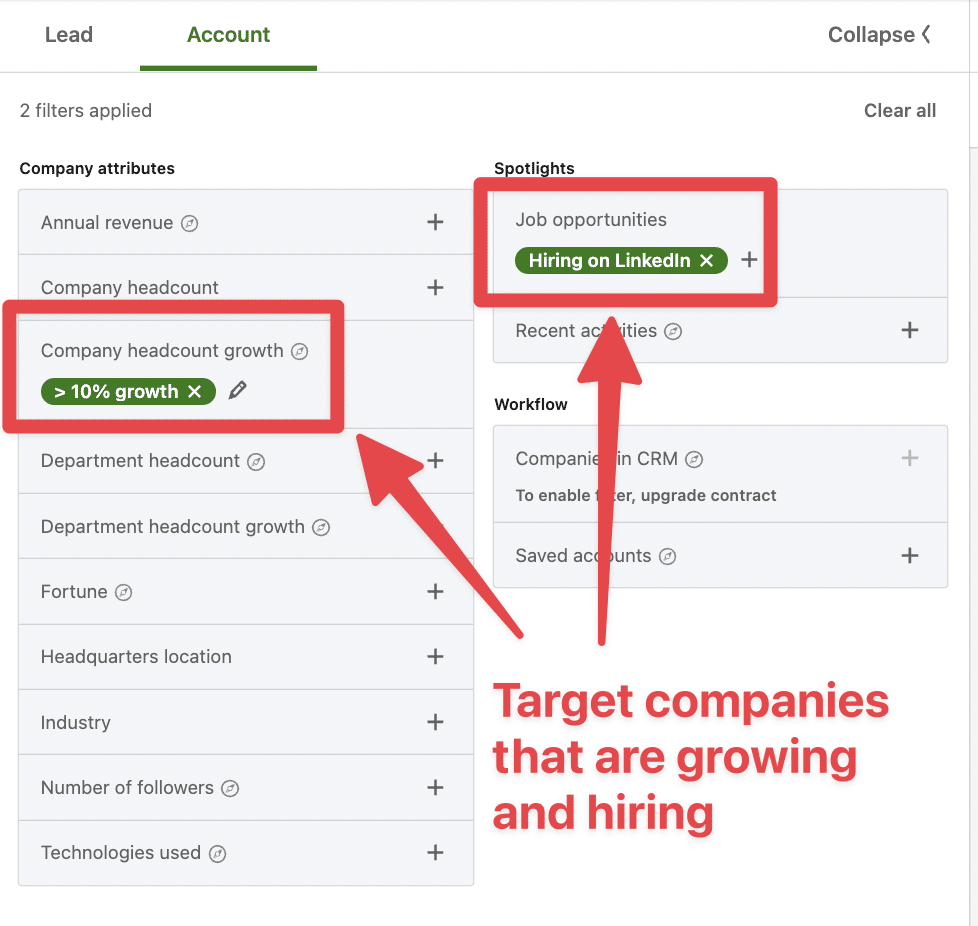 In terms of event detection, Linkedin allows you to detect companies with recent funding events on Crunchbase.

Linkedin also detect when they is Senior Leadership change in the last 3 month in a company.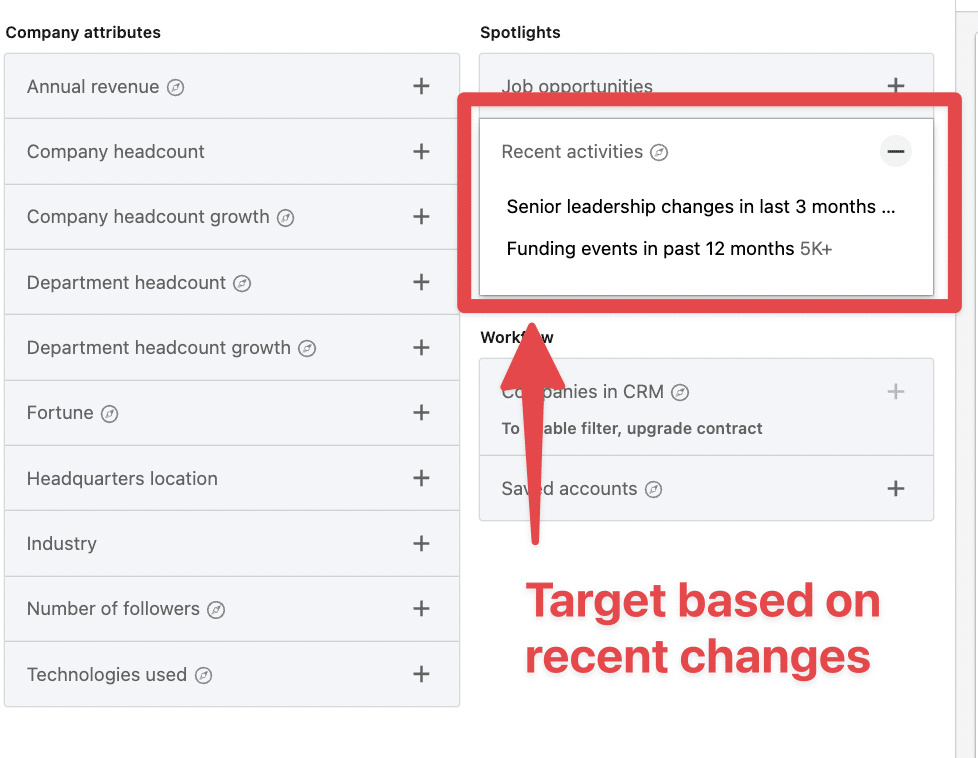 The arrival of a new top decision makers is a great opportunity to launch a conversation with the account.

Newcomers tend to come with new ideas and new ideas requires product and services.
---
The next step?
You guessed it.
It's to create account lists.
2. Create an account list
To create an account list on Sales Navigator:
Ticking the checkboxes
Click on Save to list
Click on +
Give a name to your list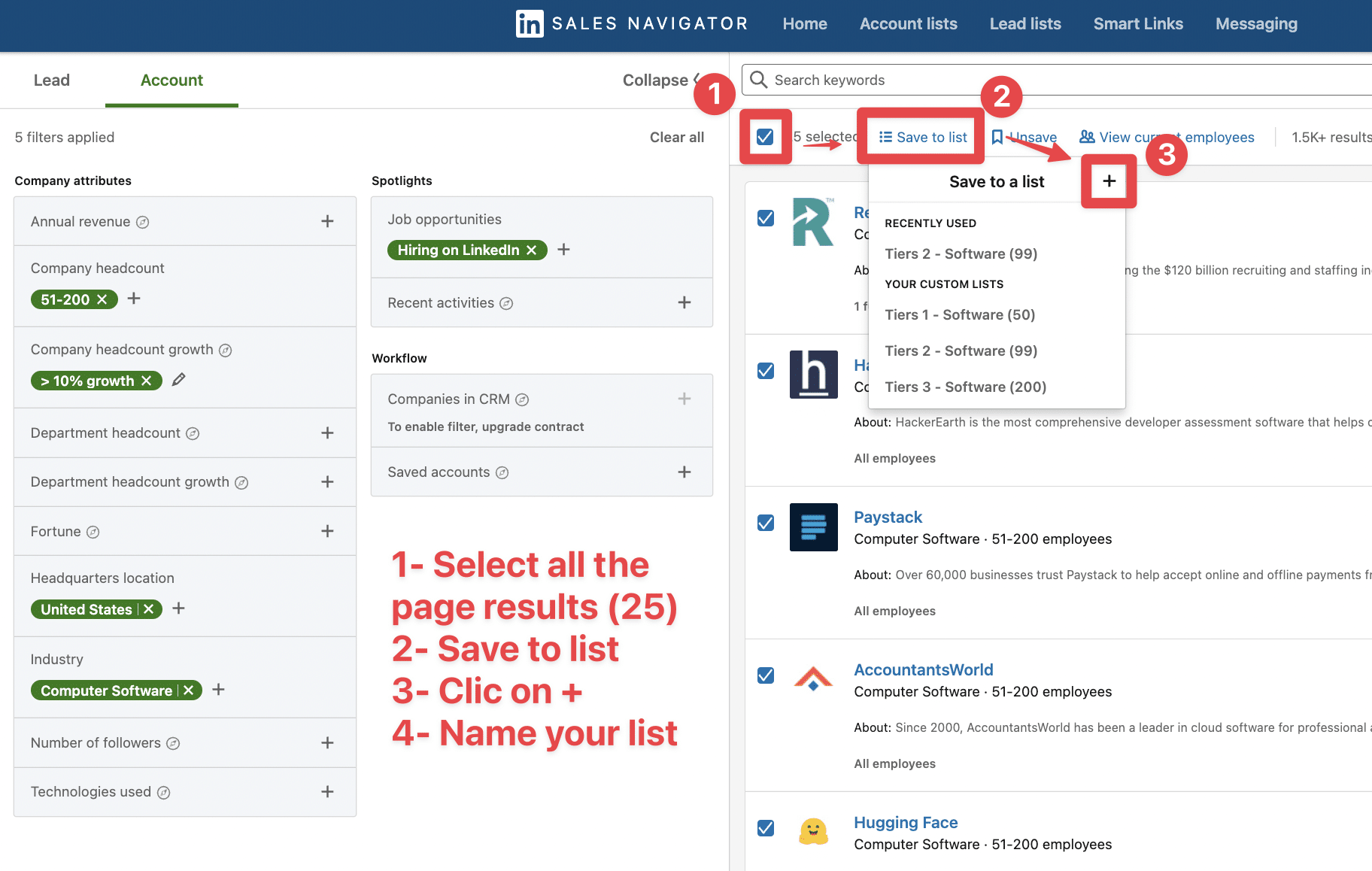 Once the account are added on your list, you will be notified when the company:
Is mentioned in the news
Publishes a post with company page
Has a senior leadership change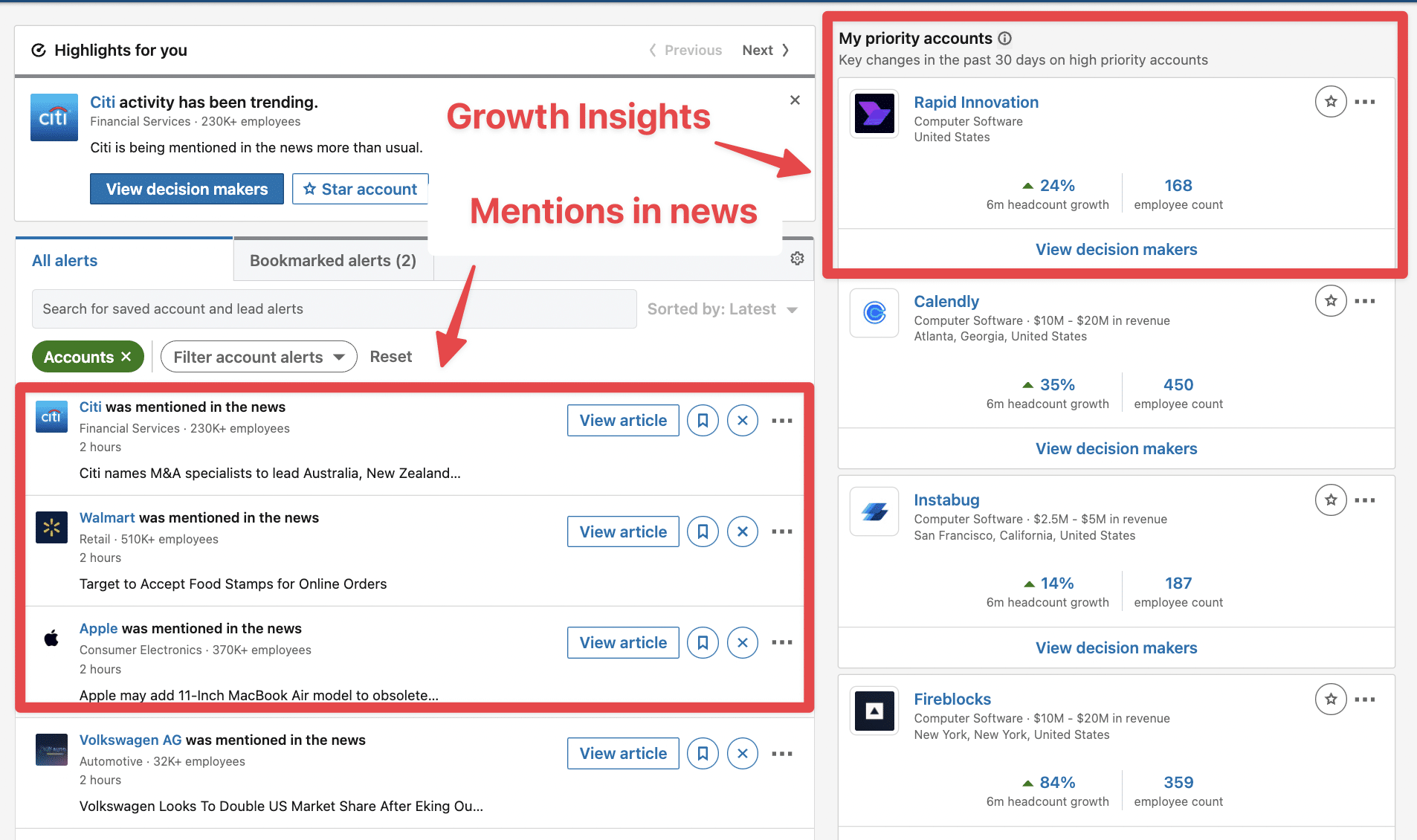 Linkedin will also track your targeted companies on the web and send you the blog post mentioning them.

If you click on View article you will be able to see an abstract and read the post.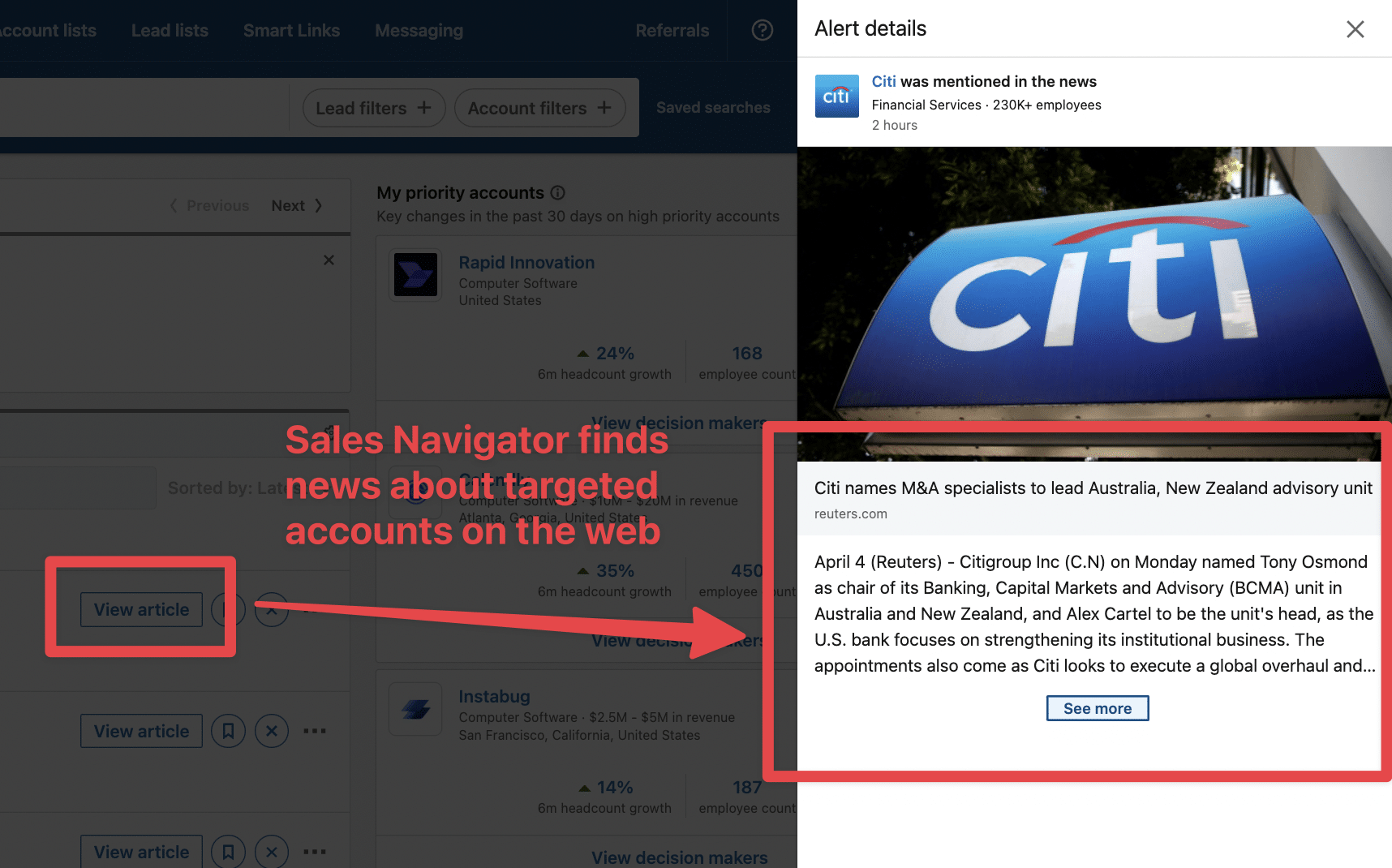 Another super useful tool for Linkedin Account Based Marketing is the linkedin company page.
In there, you can build you account map by drag and dropping leads into several categories (Tiers 1, Tiers 2, Tiers 3).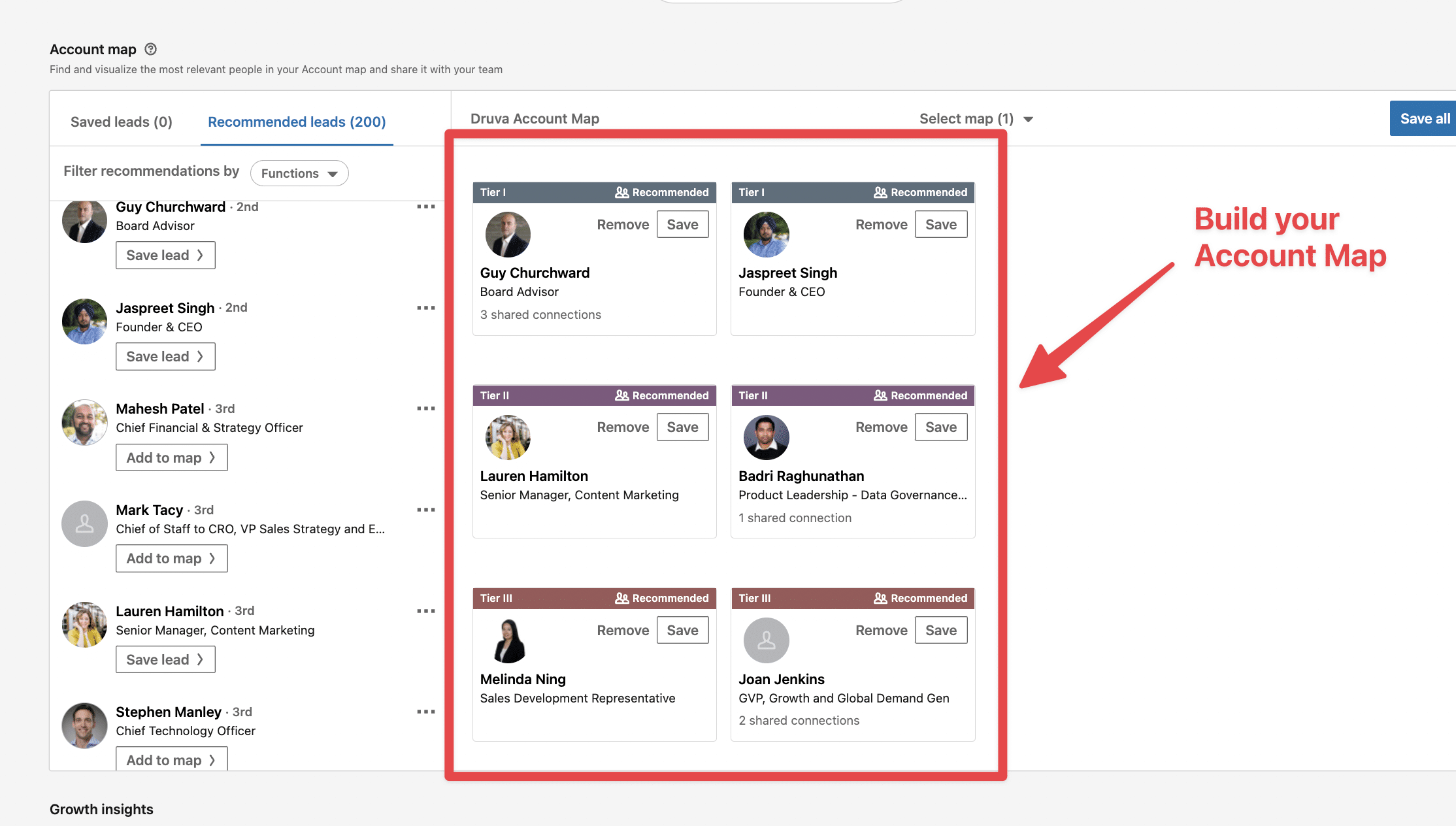 Get some insight about growth, the size of the department, the hires, and job openings on Linkedin.

This is really useful to get to know your account to write super personalized prospecting messages.
---
But to who should you send the messages?
How to find the decision makers?
3. Find the right decision makers
Here is how to find decision makers within an account list using Sales Navigator:
Go to the lead search:
Go to Workflow
Open the filter Account List
Select your account list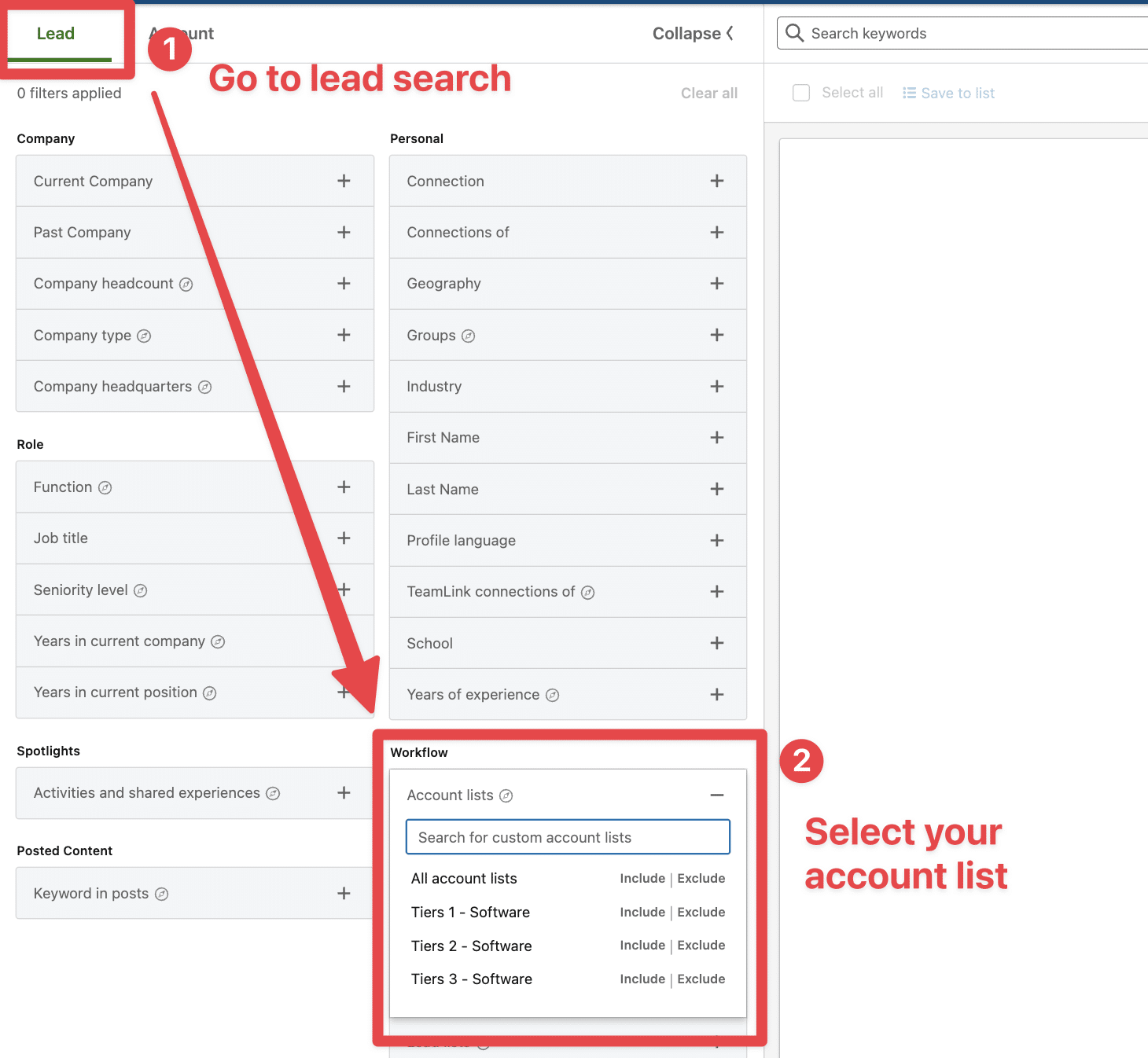 Once you have selected your account list, all the people working at these companies will appear in the search results.
Your job is now to add filters to get the right decision makers. Obviously, the job title filter is a great way to do that.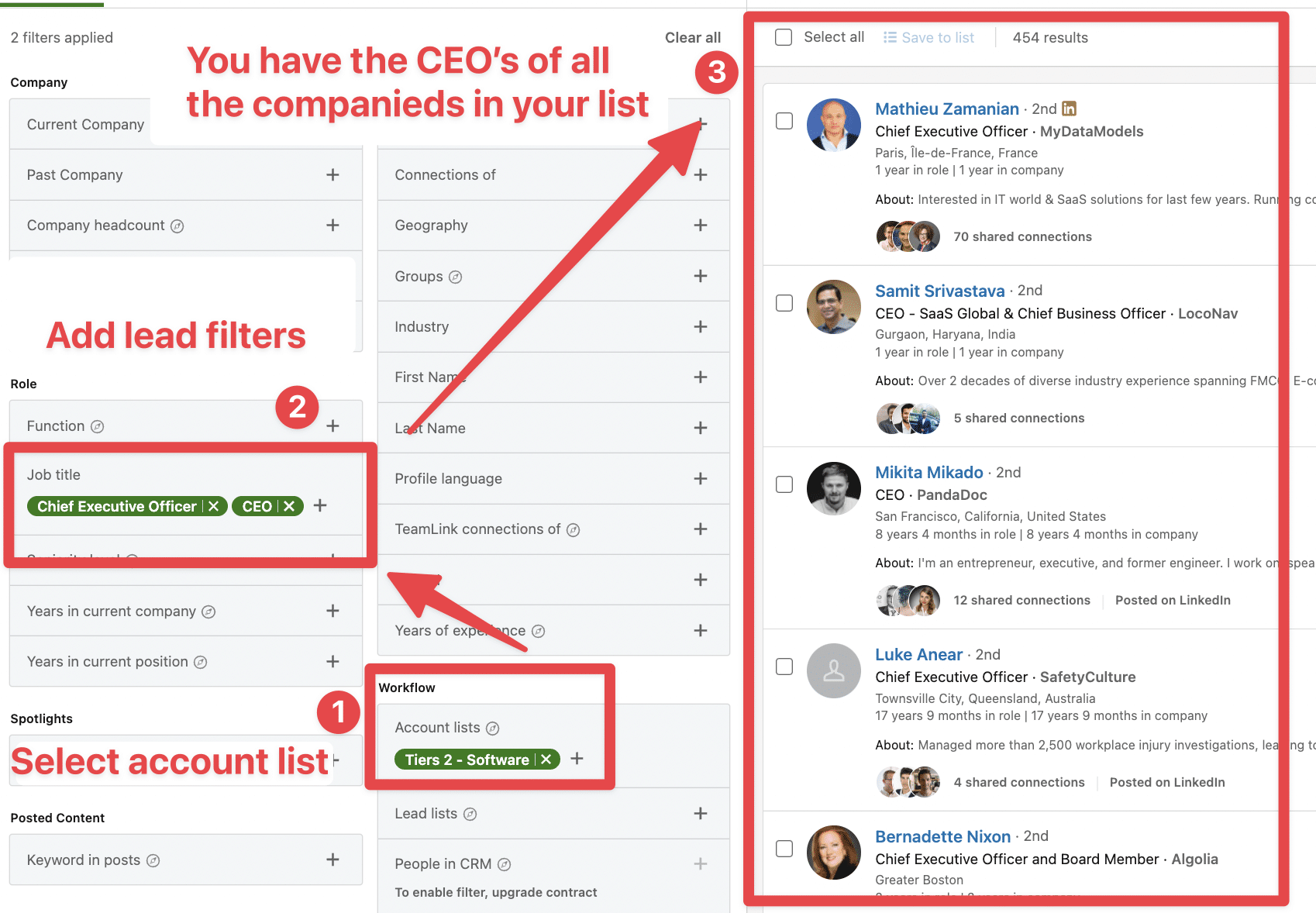 ---
Congrats, you have found the right decision makers inside the companies of your account lists in just 2 clicks.
You now master the basic of linkedin sales navigator search.
Now let's get you to the next level with linkedin boolean search.
How to Use Linkedin Sales Navigator Boolean Search?
Sales Navigator boolean search is really simple programmatic language to make your searches much more precise.

It works with a combination of logical connectors and punctuation:
AND
OR
NOT
Parentheses
Quotes
It has a strange name but it's really simple.
Let me guide you through it.
1. Where to use boolean search on Sales Navigator ?
Sales Navigator boolean search used in 99% of the case in 2 places: the keyword filter and the job title fitler.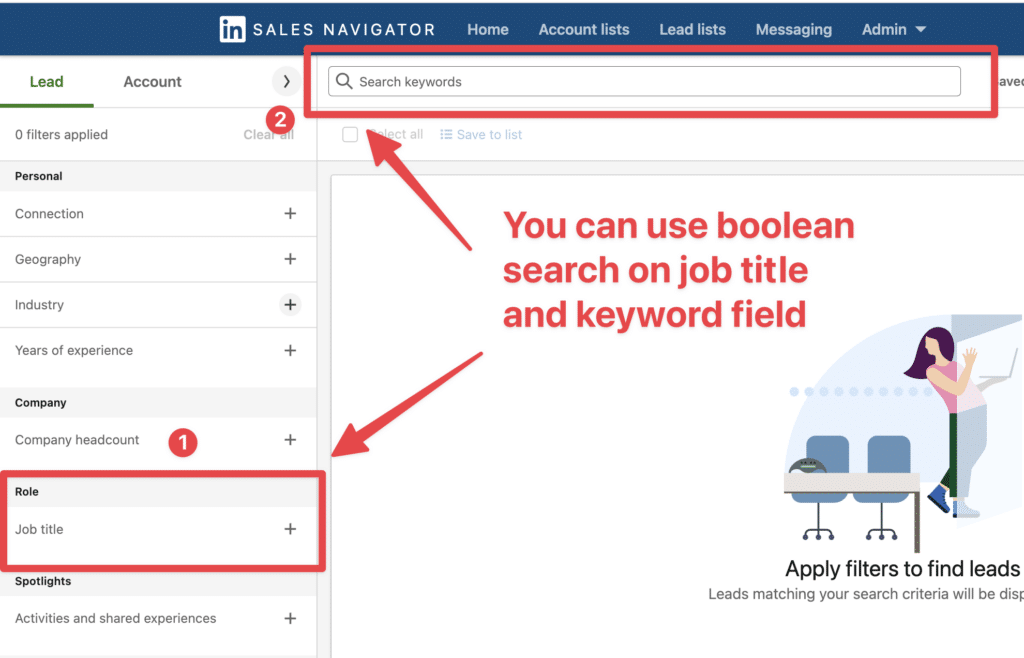 The global keyword search will look for the keyword into the whole profile:
Description
About Section
Job experiences
Education
Skills
Recommendation
in short, everything…
The job title filter will only look for your keywords into the current job experiences of your prospects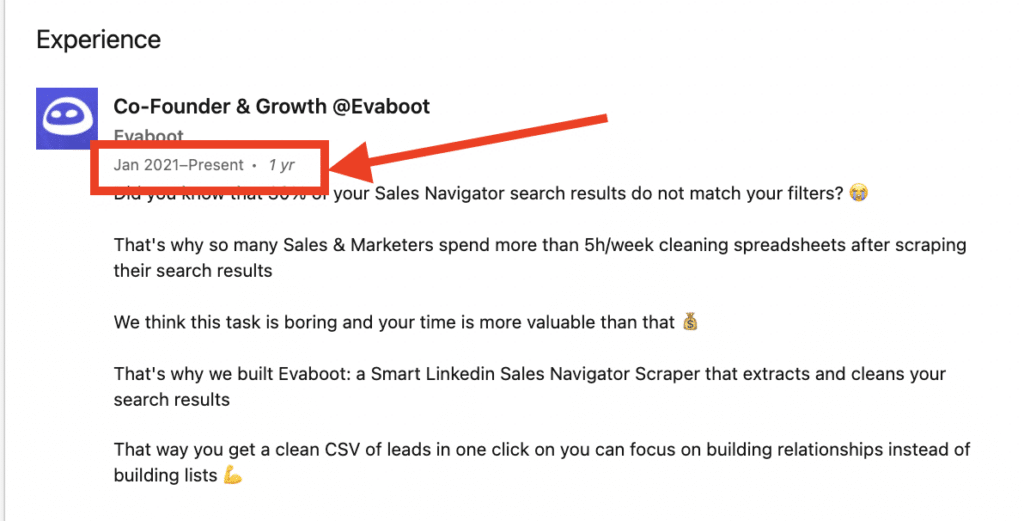 Now let's see how to use each boolean operator
Here are the 5 boolean operators you should know about:
2. Search exact expression with quotes
Usage: If you want to look for an exact phrase or expression, enclose the phrase in quotation marks.
Example: Multi-word title. If you want to look for "Head of Sales", you need to add quotations marks around these 3 words.
If I don't add the quotation marks, linkedin looks for "head" AND "of" AND "Sales"

If you add the quotes, these guys will disappear and will only get people that have the exact expression in their job titles.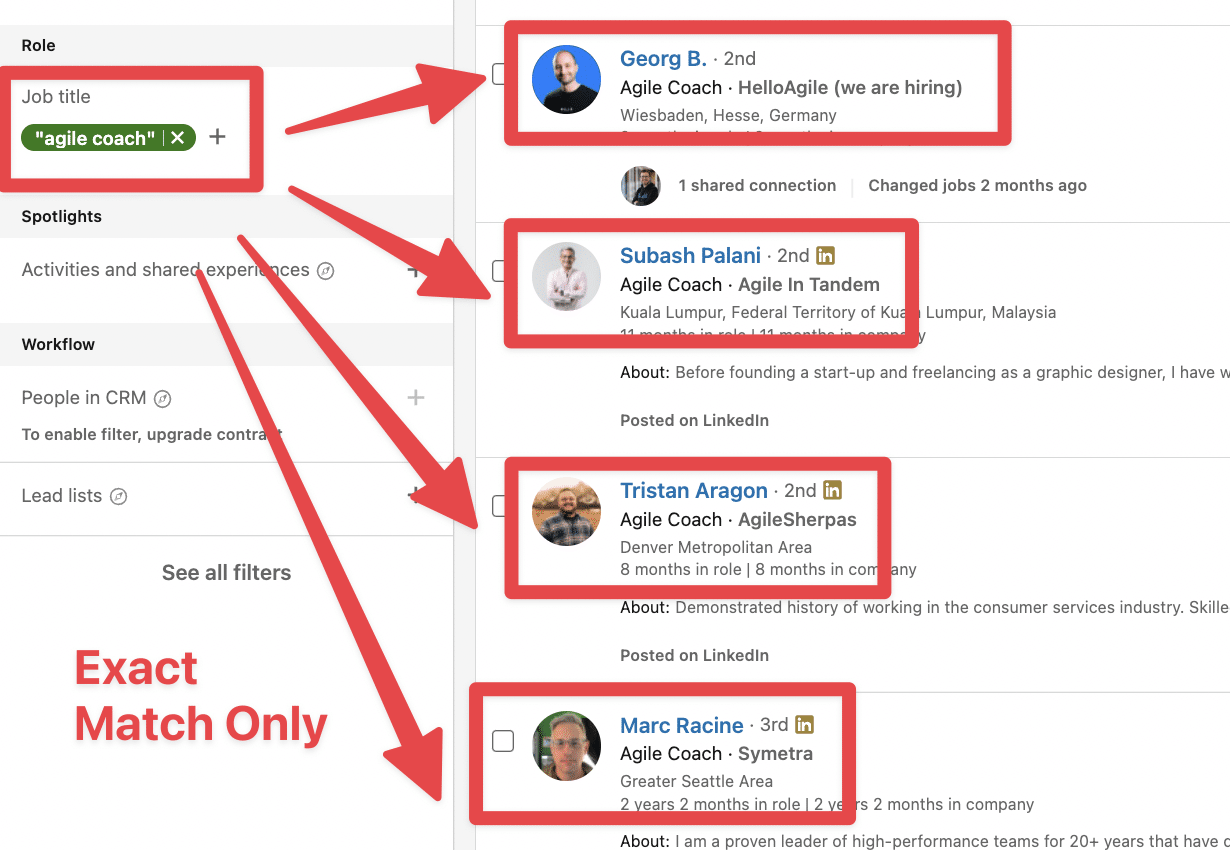 3.Exclude keywords with NOT
Usage: Type the word NOT before a keyword to exclude it from your search results.
Example: CEO NOT Assistant
If I search for CEO's, I get 200O results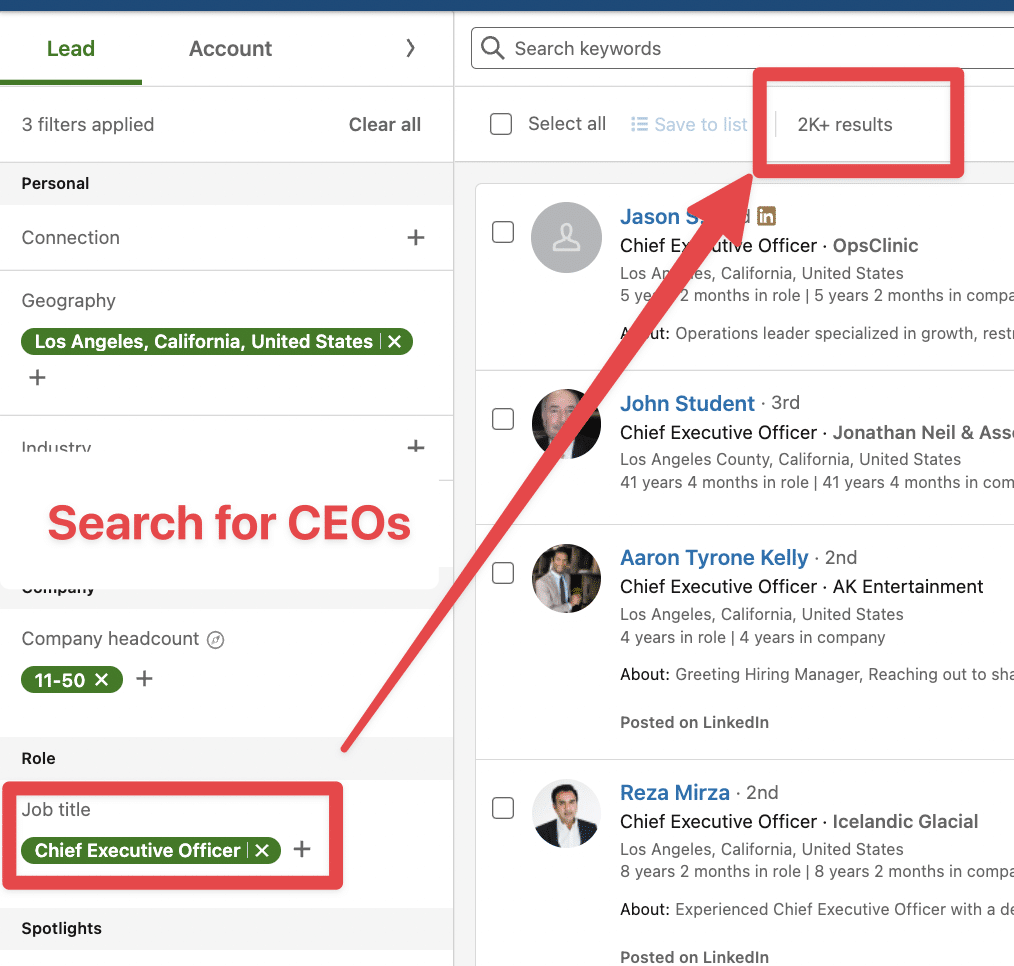 If I add "NOT Assistant", I exclude 500 people from my search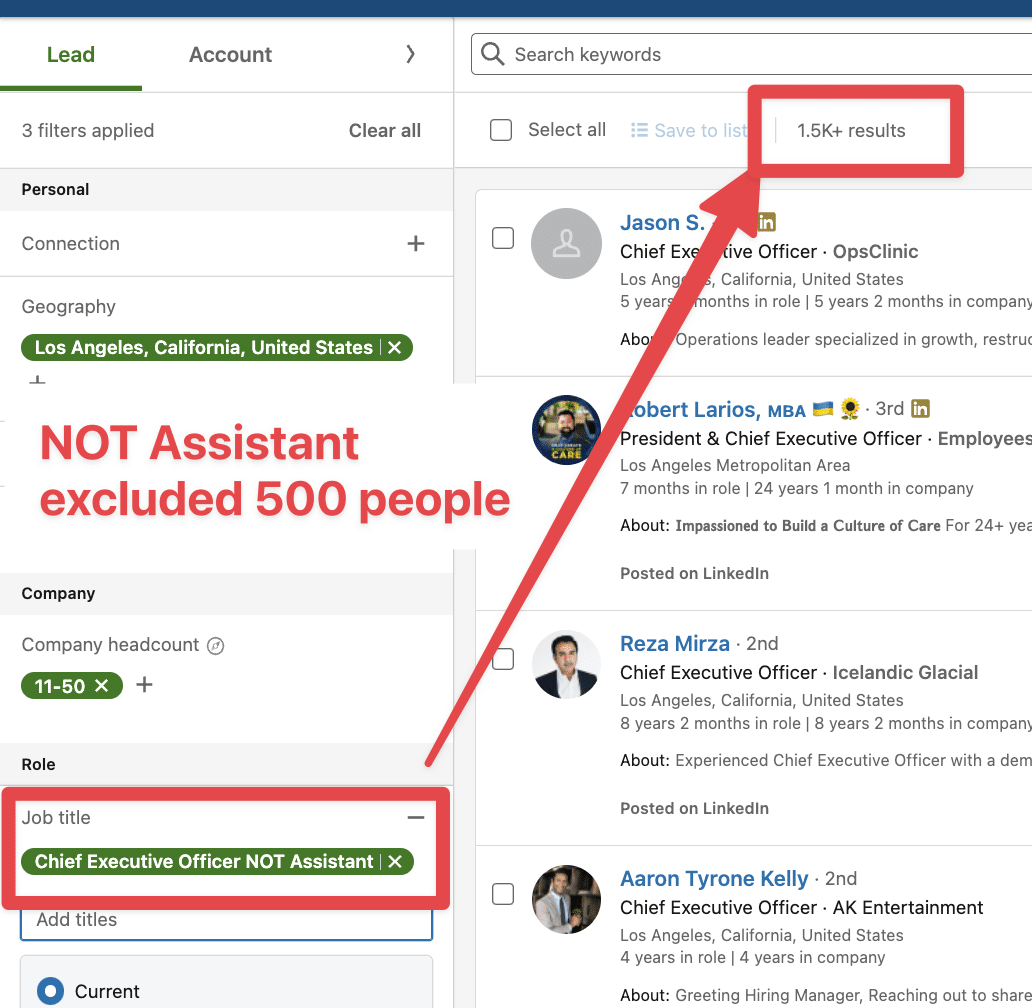 4. List keywords with OR
Usage: See results that include one or more keywords in a list.
Example: I can look for several job titles writing something like "Head of Sales" OR "Head of Marketing"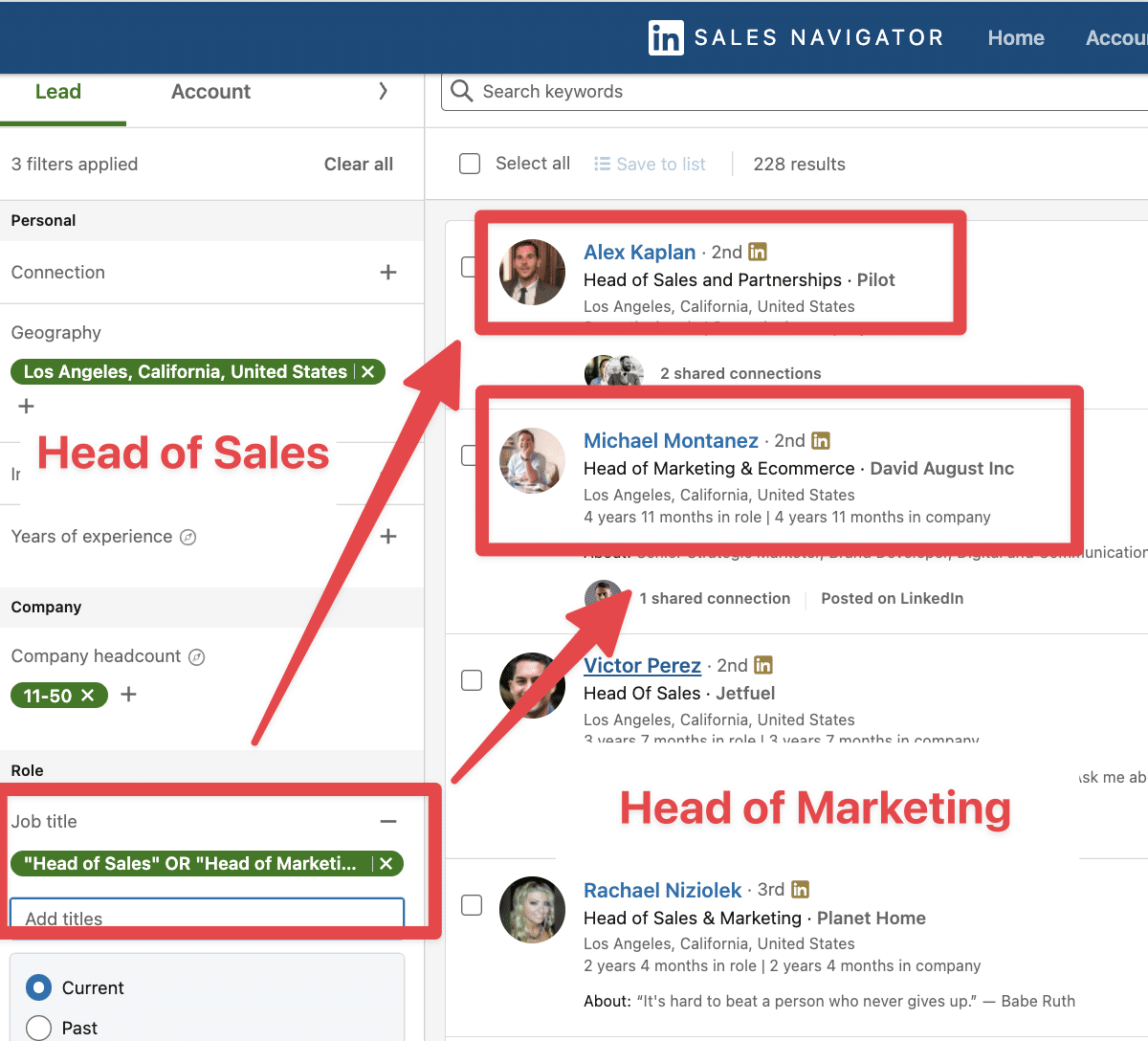 Both job titles appear on the search results
5. Combine keywords with AND
Usage: Look for several keyword in job titles or profile
Example: Sales AND Marketing will show people that have both keyword in their job title.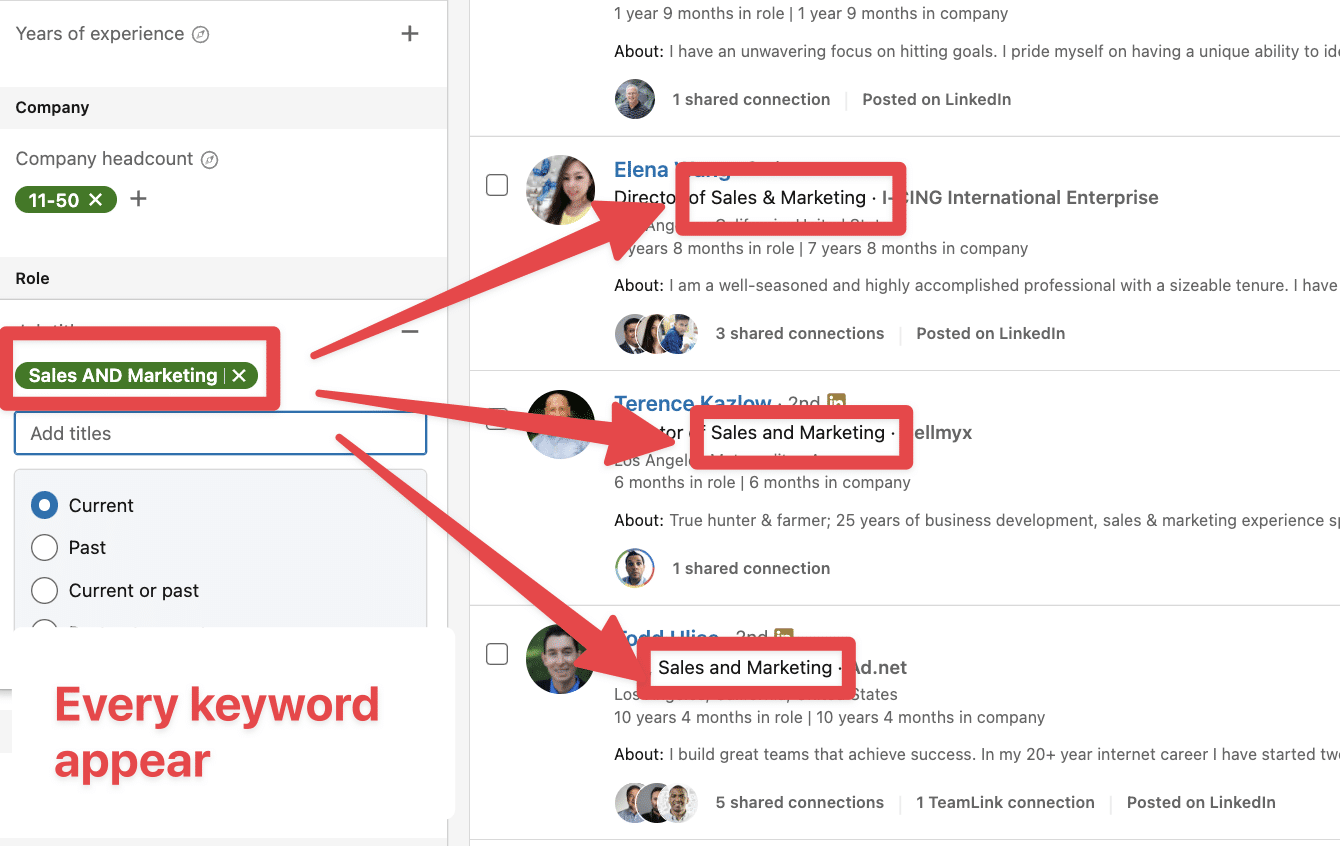 Note: You don't need to use AND. If your search has two or more terms, you'll automatically see results that include all of them.
If you right Product Manager, Linkedin will translate it as Product AND Manager
6. Complex search with parenthesis
Usage: To do a complex search, you can combine several orders using parentheses.
Example: (VP OR Head) AND (Sales OR Marketing) will look for 6 job titles:
VP Sales
VP Marketing
Head of Sales
Head of Marketing
I tell Linkedin I want one of these 2 keywords in the first parenthesis + one of these 2 keywords in the second parenthesis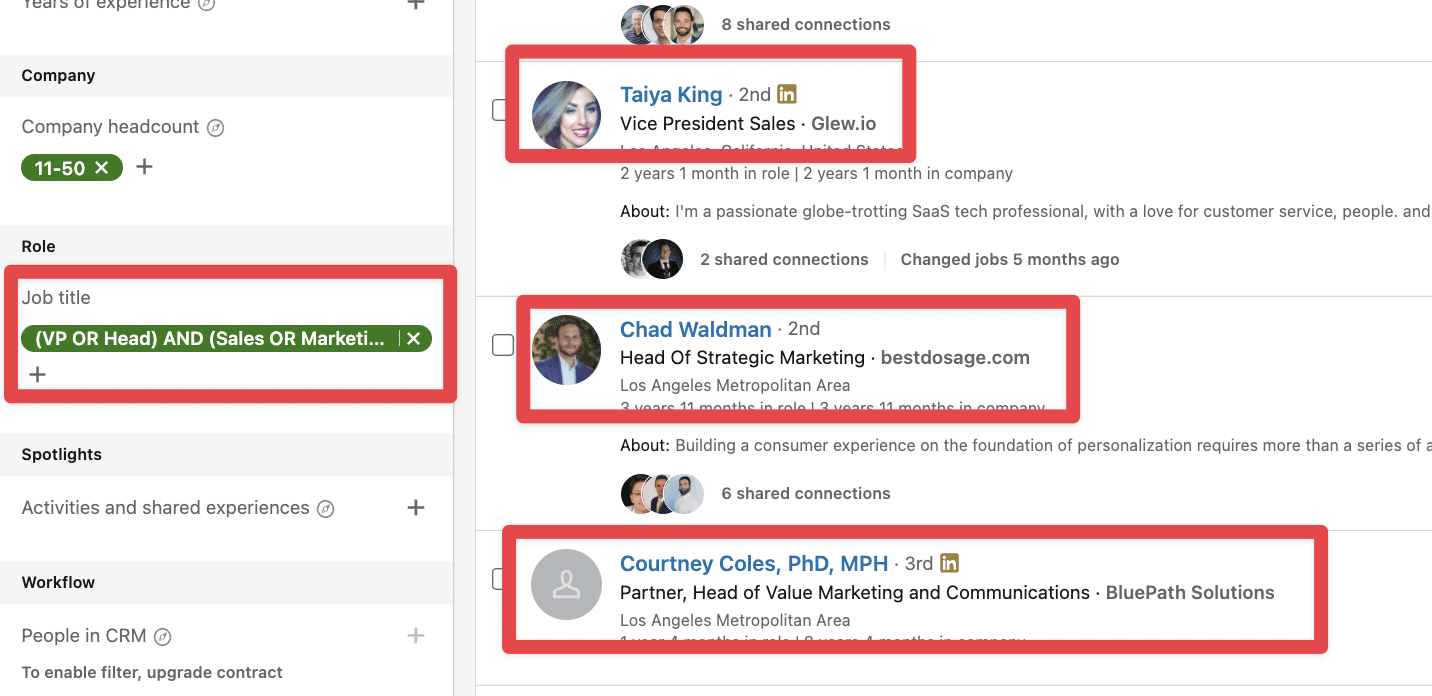 As you can see, the Linkedin search engine allow you to do tons of thing.
However, it's not perfect.
After analyzing 1000's of searches, we spotted some mistakes that Sales Navigator makes.
Here is the list and some tips to avoid them.
Sales Navigator Filtering Problems You Should Know About
Sales Navigator is clearly one of the best tool to prospect on linkedin. However, if you trust it blindly, you will end up reaching out to people that have nothing to do with your client.
We did a study on +100K searches.
On average 31% of your search results don't match with your filters.
Here is a post I've seen on Reddit confirming the study: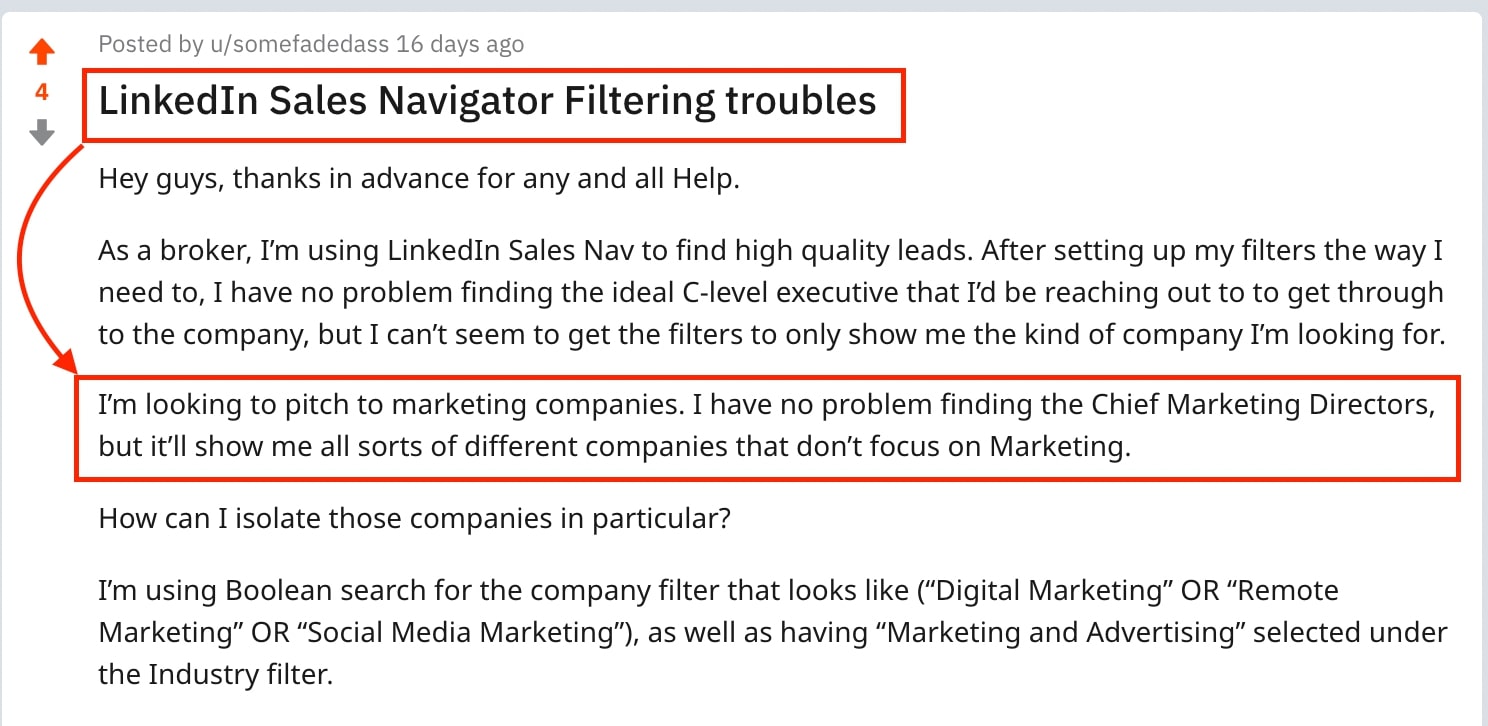 The consequence is that many sales spend hours cleaning lists of prospects.
Still, Linkedin is the best B2B database in the world.
So we have to deal with it.
Let's see all the tips and best practices around sales navigator search filters and how Evaboot can help you with that
1. Keyword filter search into the whole profile
The LinkedIn Sales Navigator keyword search will look into the entire profile of your prospect.

So if you are typing "Marketing'" in your search, you will get every people that have mentioned "Marketing" at least one time in their profile.
Here is an example of a lead that came out on a "Marketing" keyword search: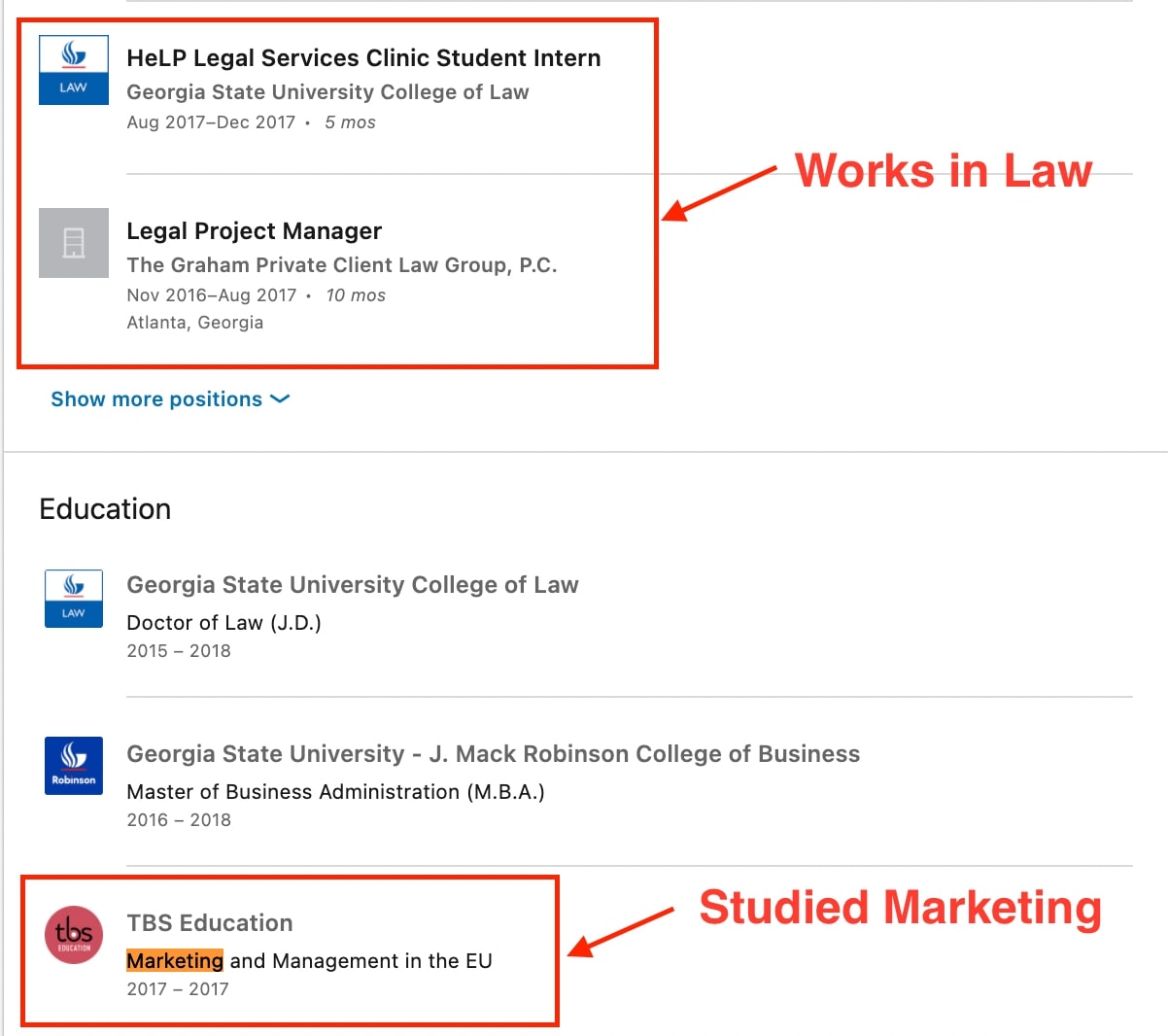 You see that using this filter can bring a lot of irrelevant leads in your search results so you need to use it with caution.
What Evaboot does to fix this

Our double check the profile to see if your keywords are presents in the current job description or job title of your prospects. Using Evaboot, this profile above would have been automatically detected as an unqualified lead.
The most common error is to use the keyword filter to look for job titles.
Keep that for the title filter.
Here is an example.
I have ve compared the results of the same search using the keyword filter and the title filter with Evaboot.
You can see that the error rate is higher with keywords search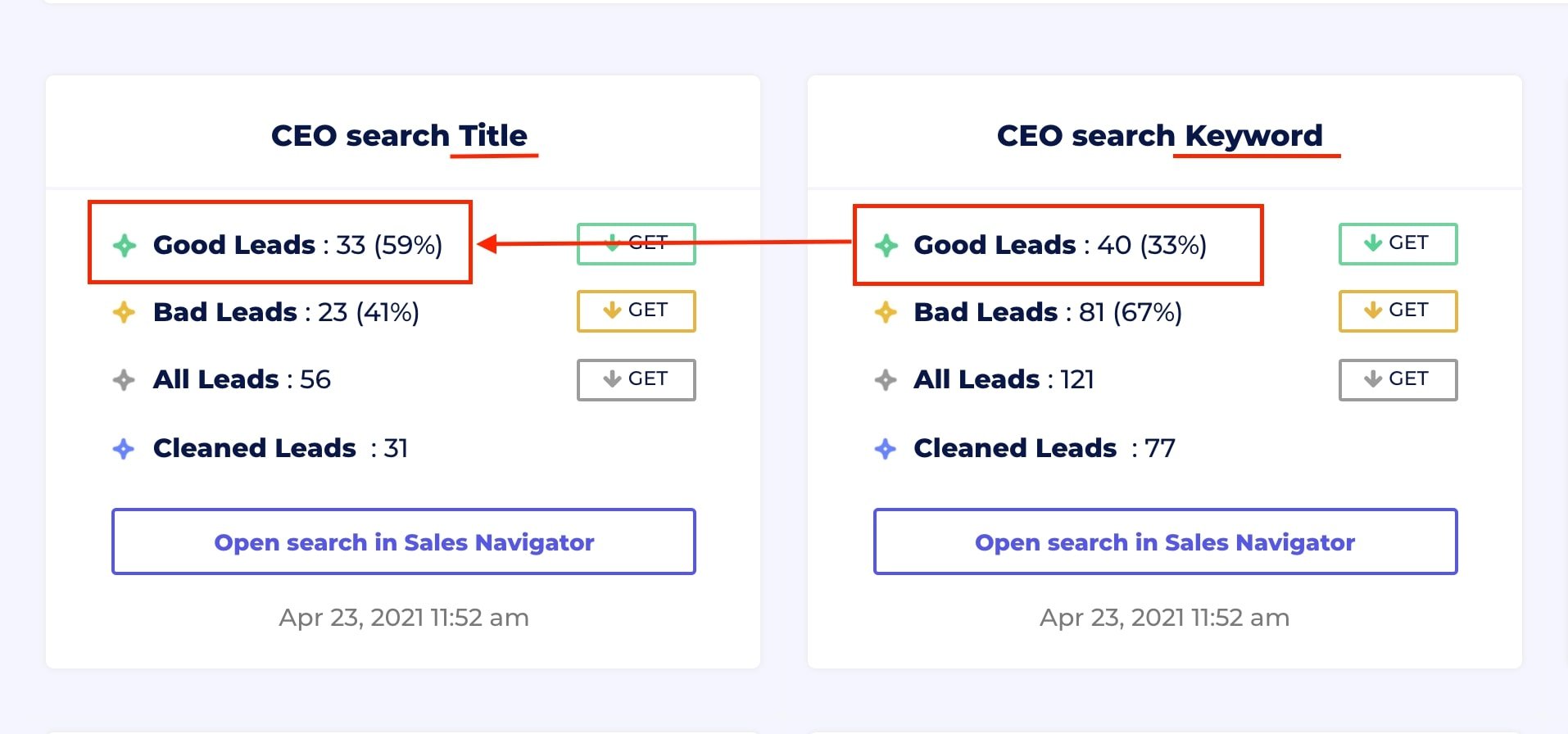 If you are looking for job titles, you should always use the Title filter, forget about the keywords.
So how to use the keyword filter then?
The best way to use it is to look for niche keywords that will not appear on the job title but rather on job descriptions or company descriptions.
Like offline marketing for example.
Probably no one will mention this on their job title, but it can appear on a job description.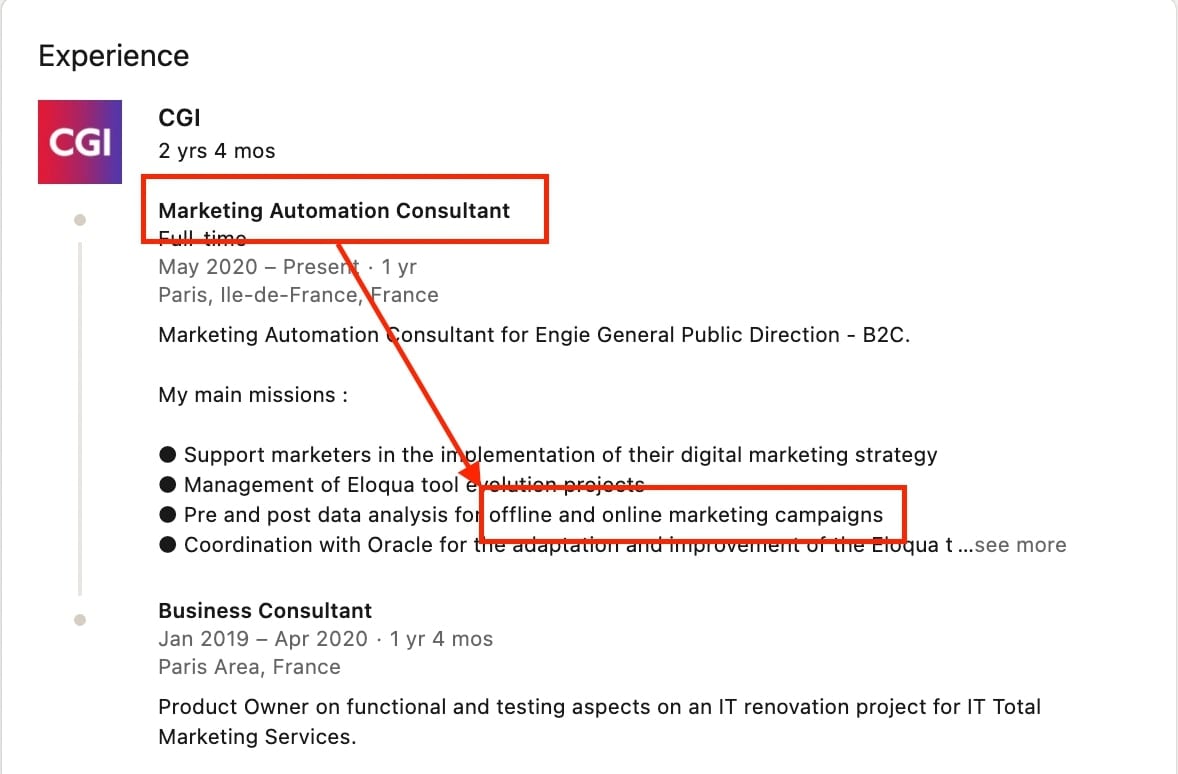 Even you use the job title filter correctly, you may end up with unqualified leads.
This is because don't update their profile correctly.
Let me show you the problem…
2. People have several current job titles
When you use the job title filter, LinkedIn will search within all the job experiences marked as Present.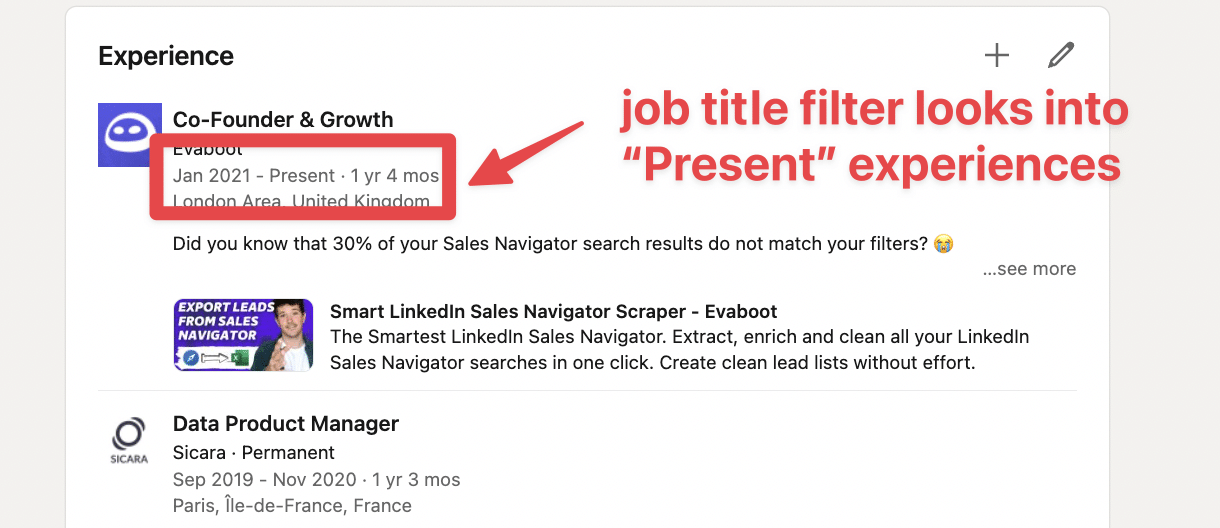 The thing is, many people forget to correctly update their job position when they change jobs.

They create a new experience, but they don't close the previous one, which is still marked as present.
Ex: here is a prospect in a search for the keyword CEO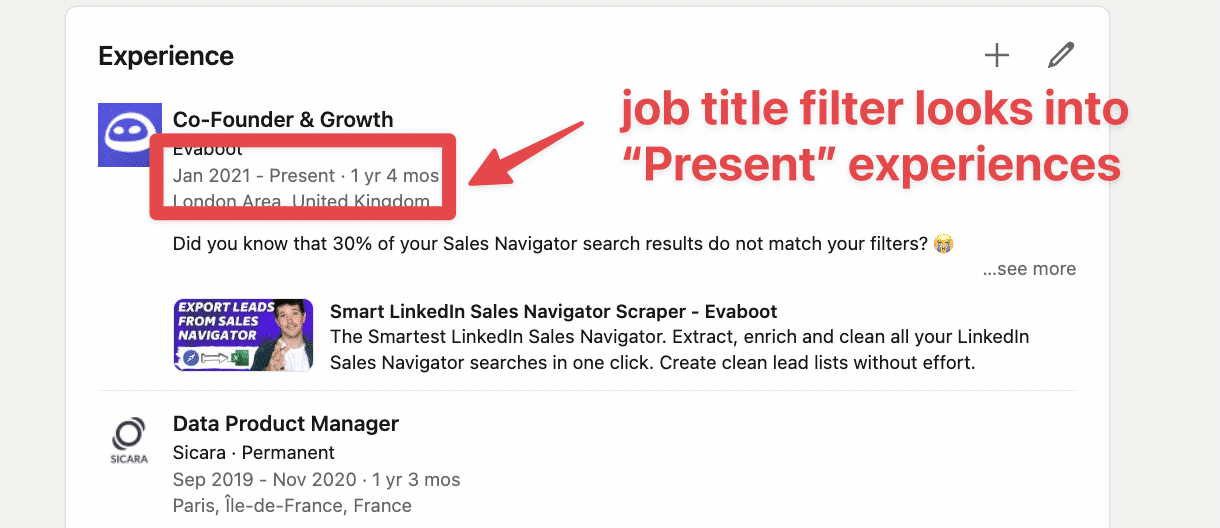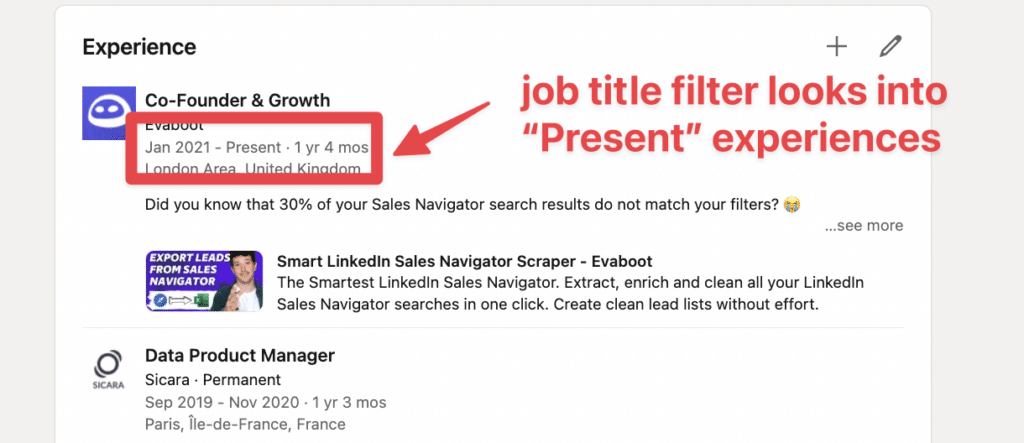 What Evaboot does to fix this 💜

We detect the real current experience of the people and check if this experience match the job titles you were looking for.
3. The lead industry is not the company industry
Many people think the industry filter on the lead search looks for the industry of their company.
But it's looking for the industry of the profile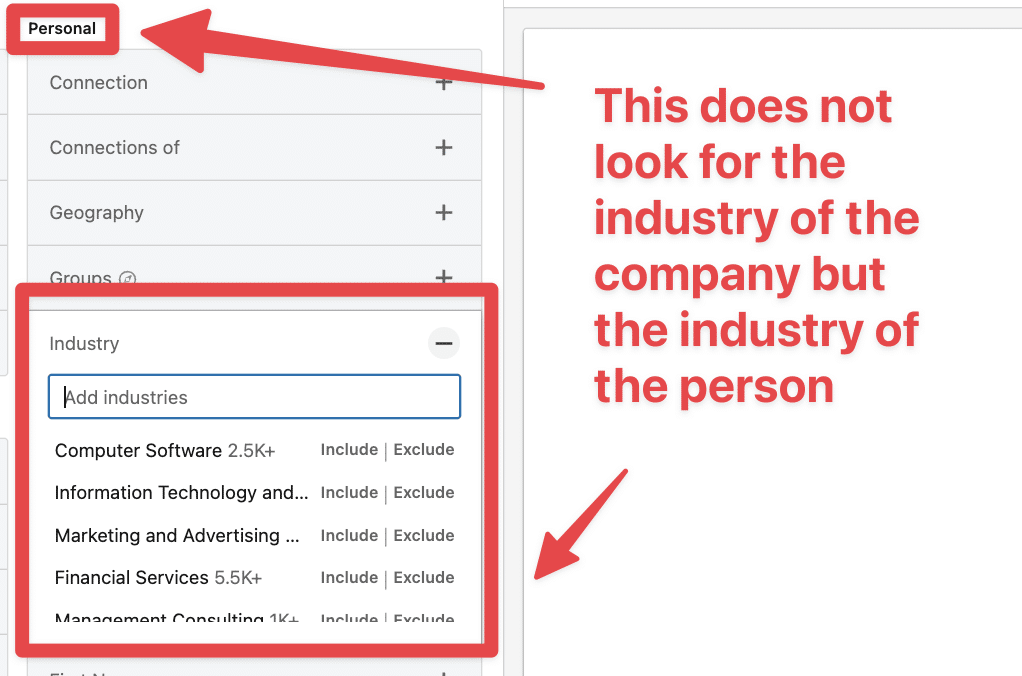 But what's the industry of the profile?
This is the industry you can change here: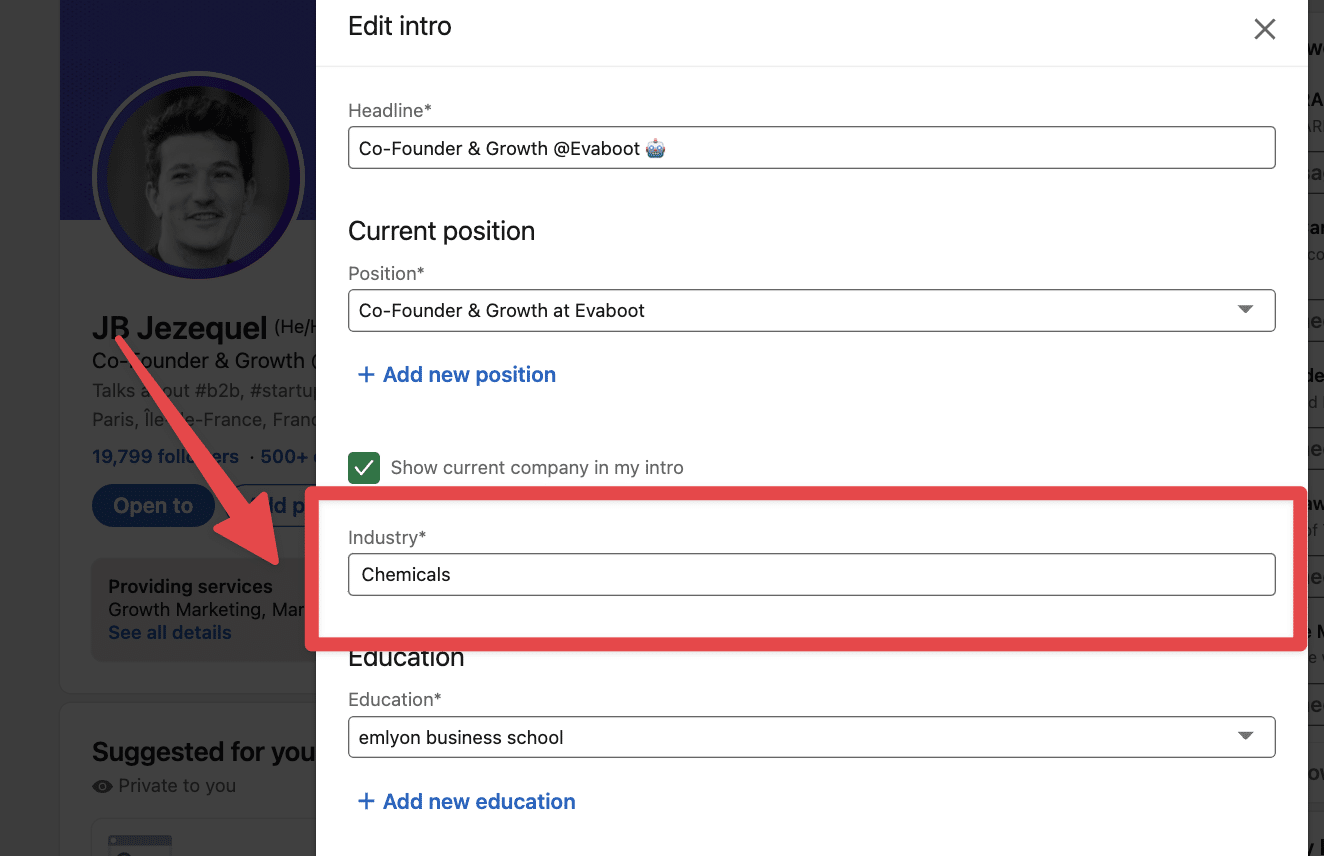 Most users consider this field as Department and enter Sales if they work in Sales, even if they work in a Software company.
Ex: I have ve changed my industry from Computer Software to Chemicals and this is what happens.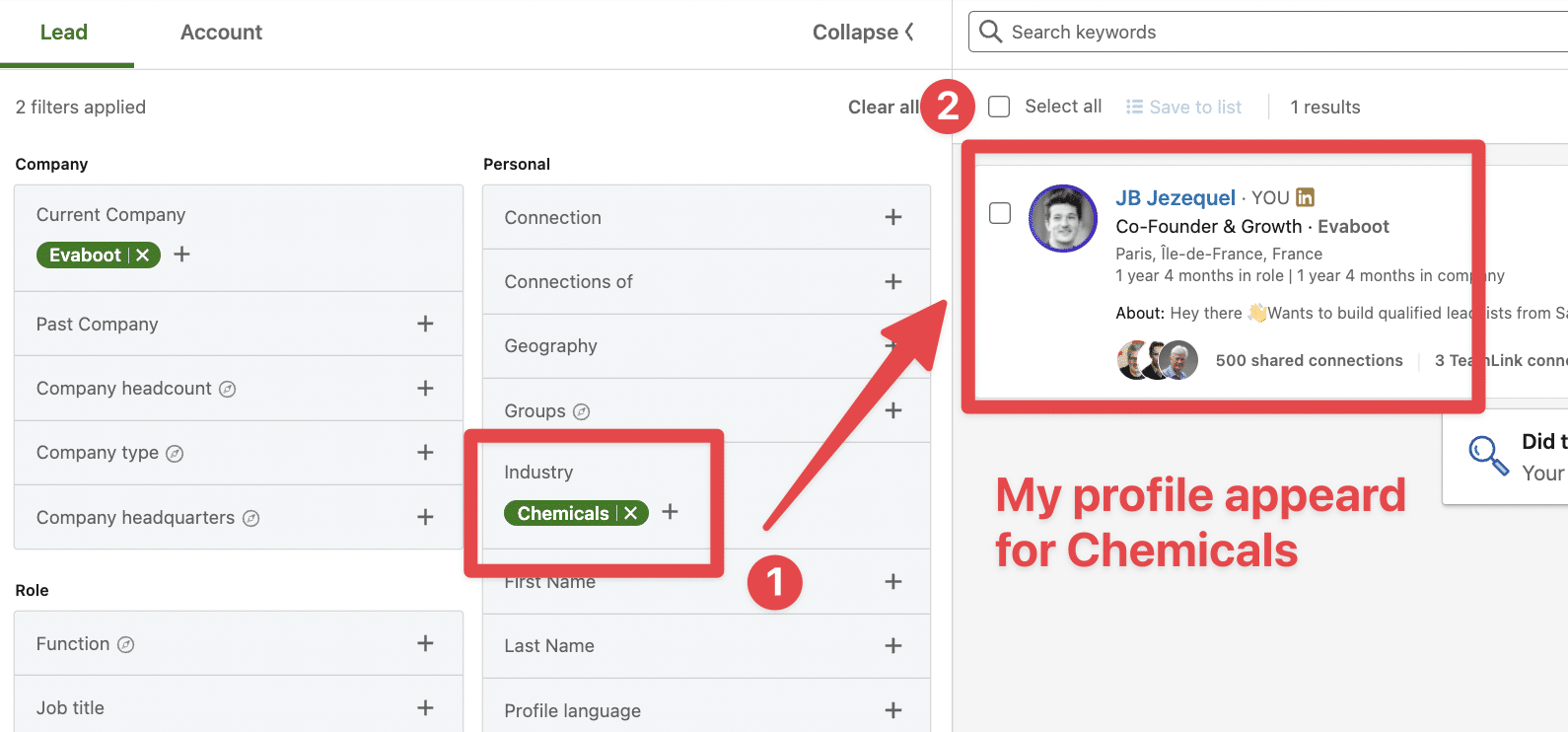 If you use this filter, there will be some garbage in your search for sure, but you can still use it with Evaboot if you want as some people will correctly fill their profile industry.
What Evaboot does to fix this 💜

We extract the company industry on the prospects' company page, and we check if it matches with the industry you selected on your lead search. Basically, we correct this filter to make it search the right information.

4. Avoid using function and seniority level
With the Seniority level filter, LinkedIn tries to guess the seniority level with twi information:
the job title
the hierarchical relations between people.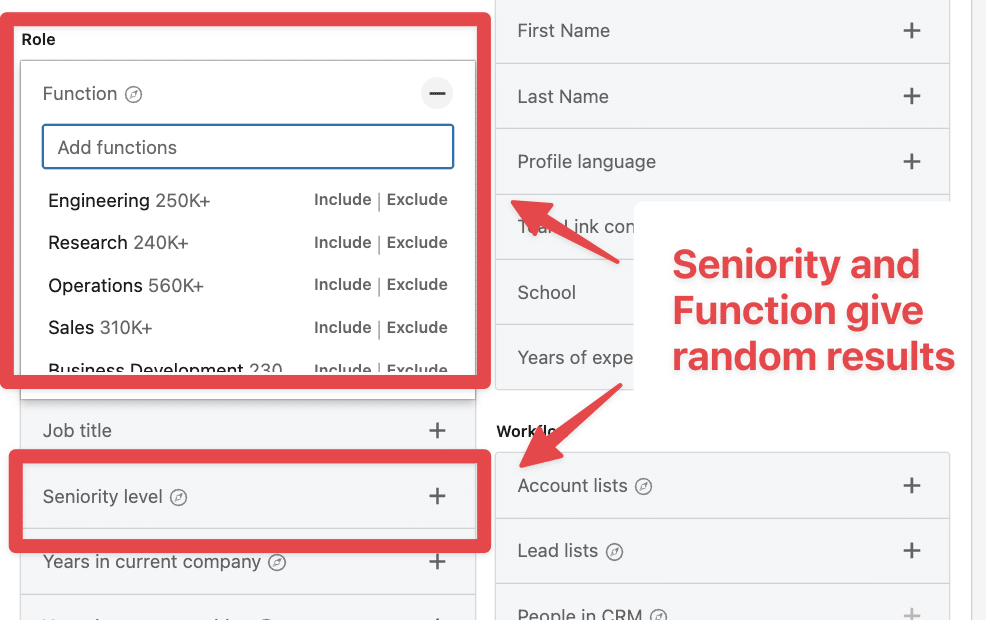 So if you are a CEO, there is high chance that Linkedin classify you as Owner for example.
They will also use the information given by users when they add their managers or add managers for other people.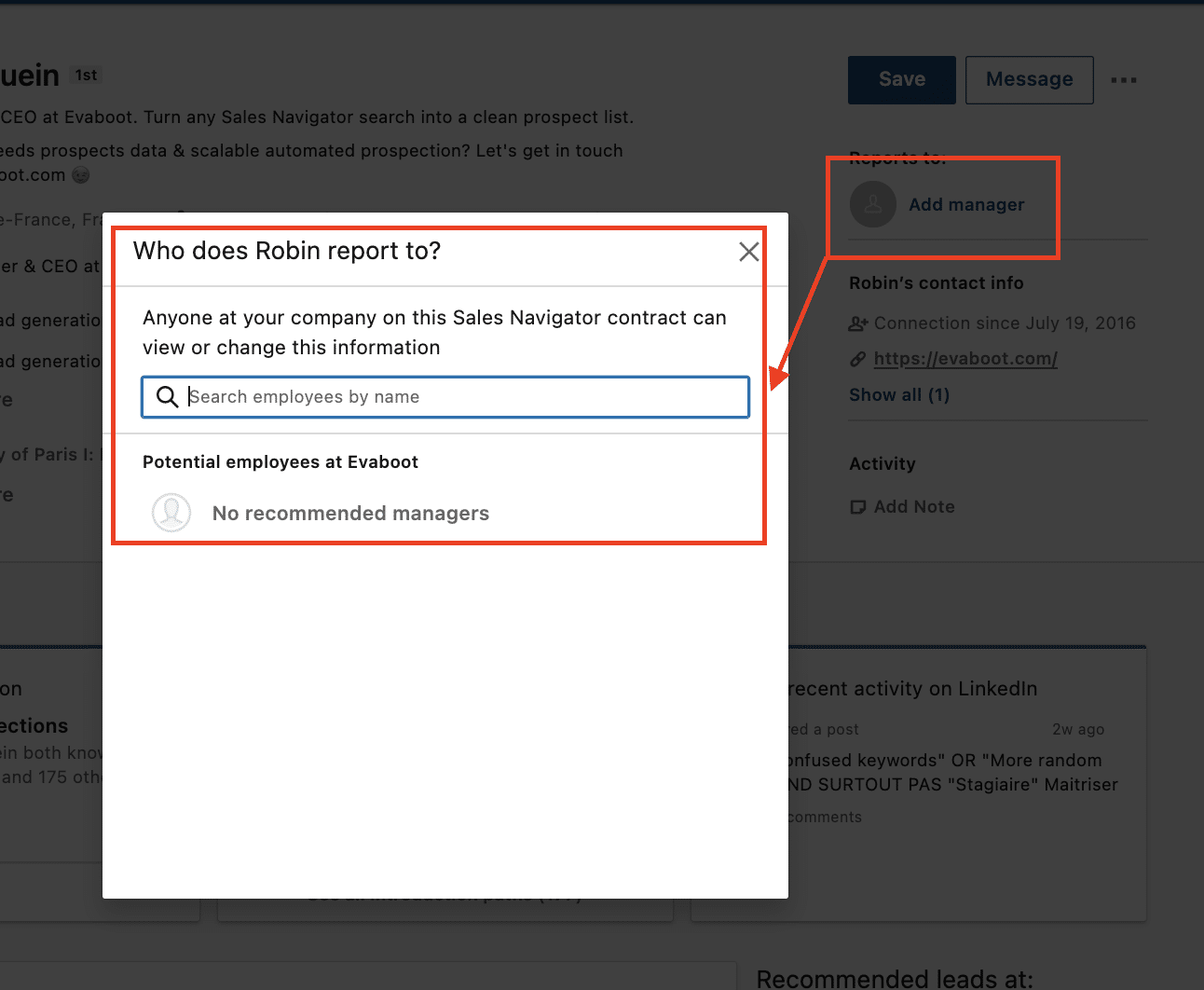 This info is poorly informed, and the algorithm give unpredictable results.
LinkedIn will create a Seniority Level for every current experience on your profile.
So if you have 4 opened experience, you will have 4 different Seniority Level attached to your profile.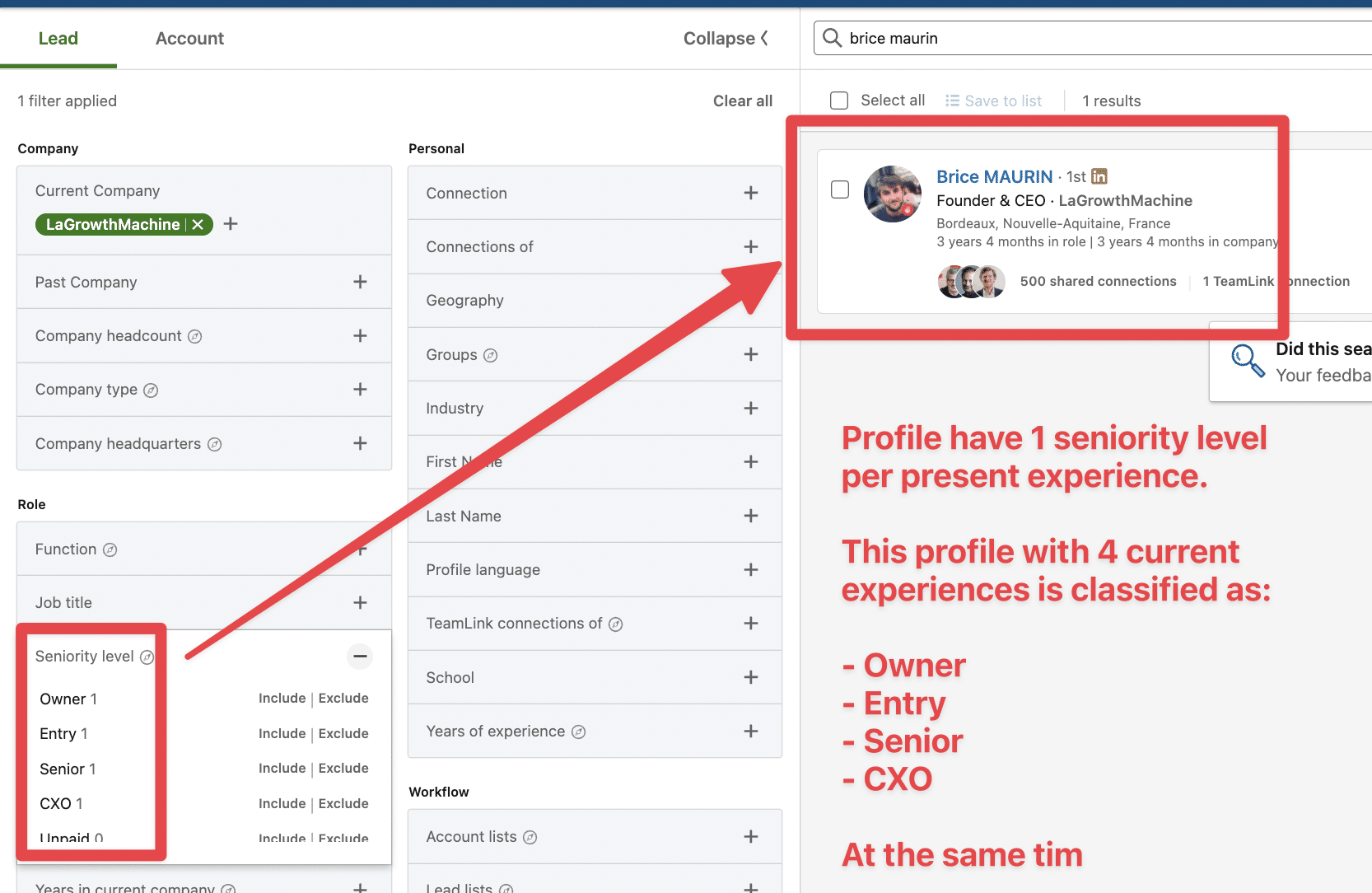 You can see in this example that a CEO can be considered as in intern.
That is why If you know exactly which job title you want to target, our advice is to not use this filter.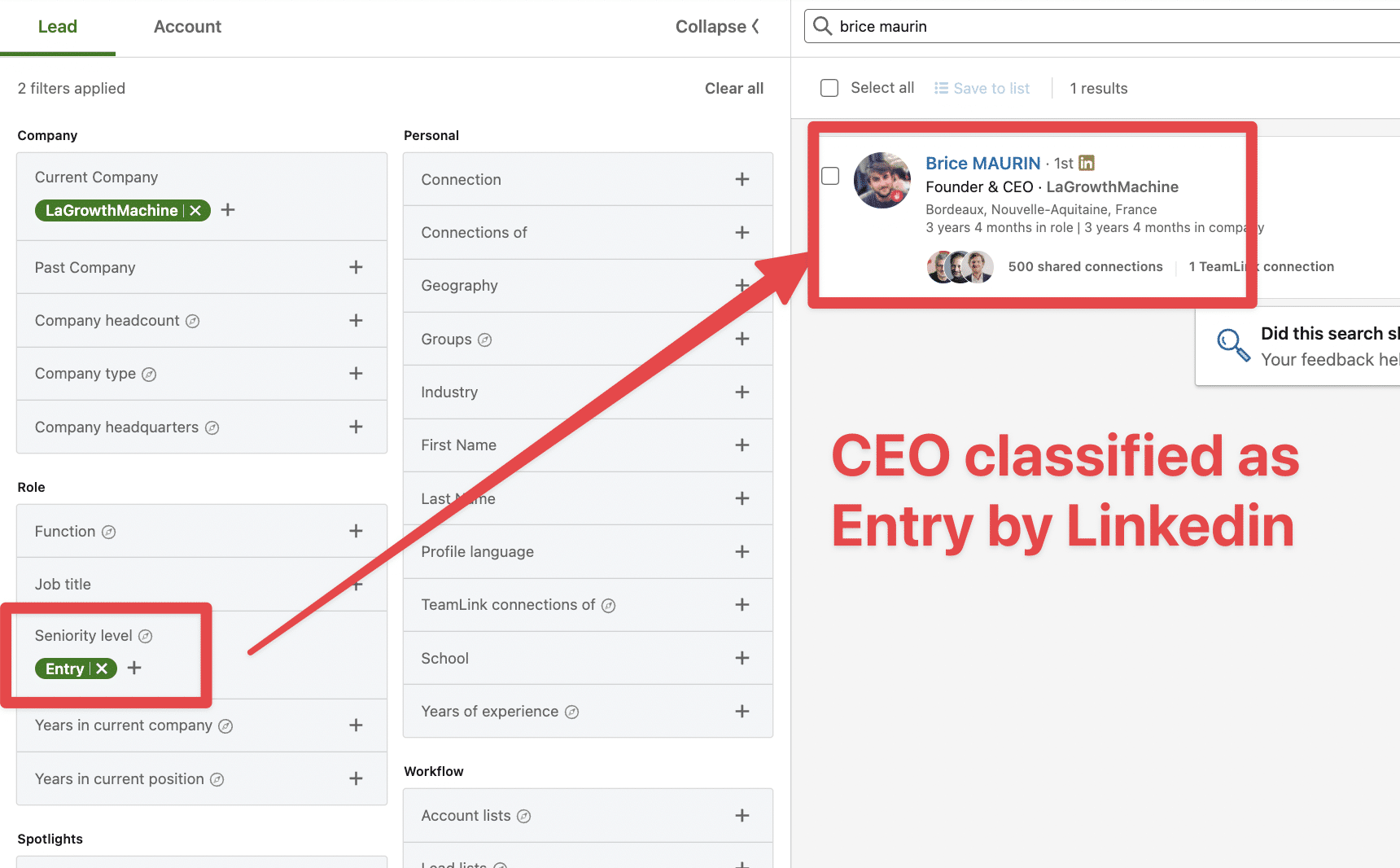 After all, if you know the job titles you want to target, you don't need this filter.
You should use it in only one case: discover new job titles.
Like in this example where I tell LinkedIn: "Just give me decision makers in Sales"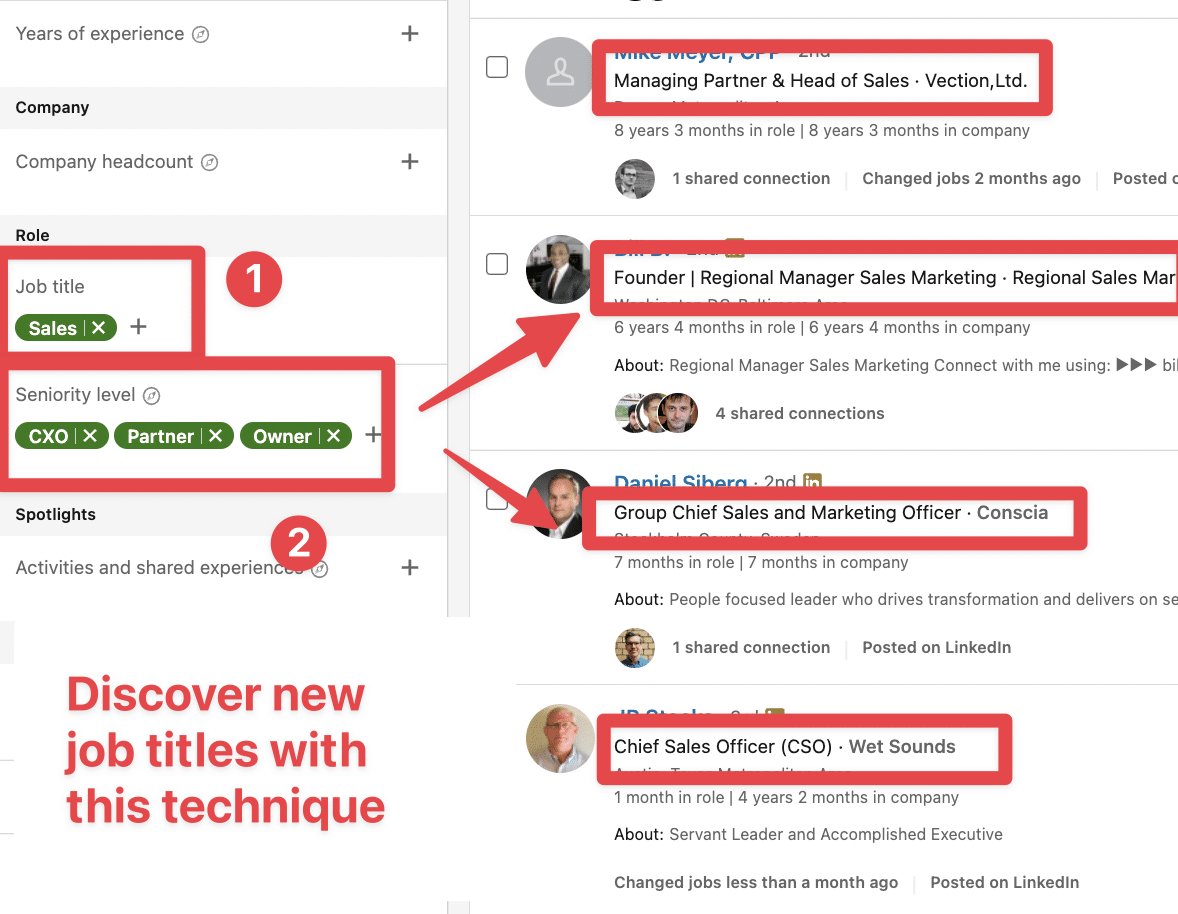 For this, I just enter "Sales" into the job title filter, and I add the highest seniority levels
The function filter has the same problem as the seniority level filter.
With Function, LinkedIn tries to guess your Function with your job titles
This once again unpredictable algorithmic decisions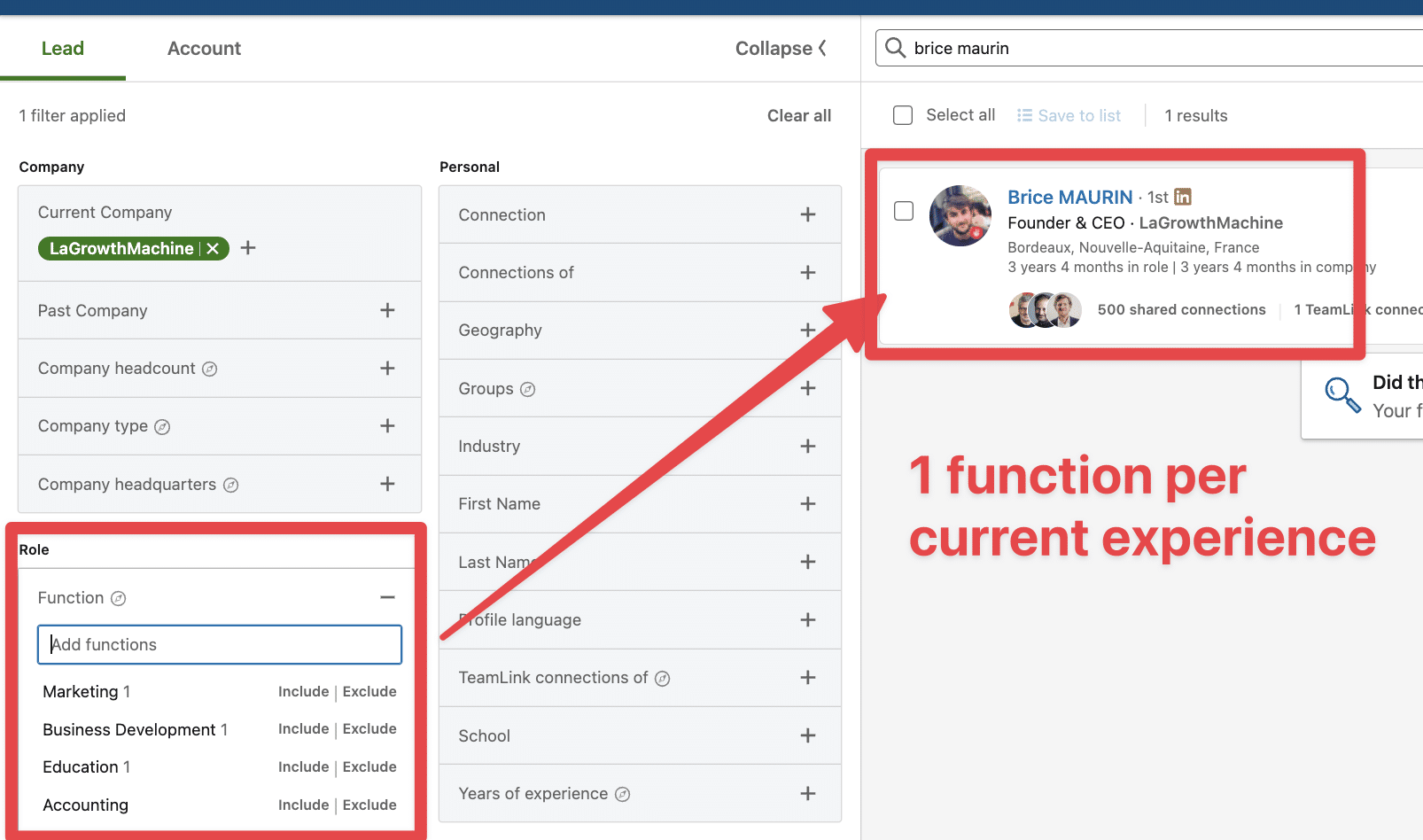 Same as Seniority Filter, LinkedIn will create one function for every current experience you have opened on your profile.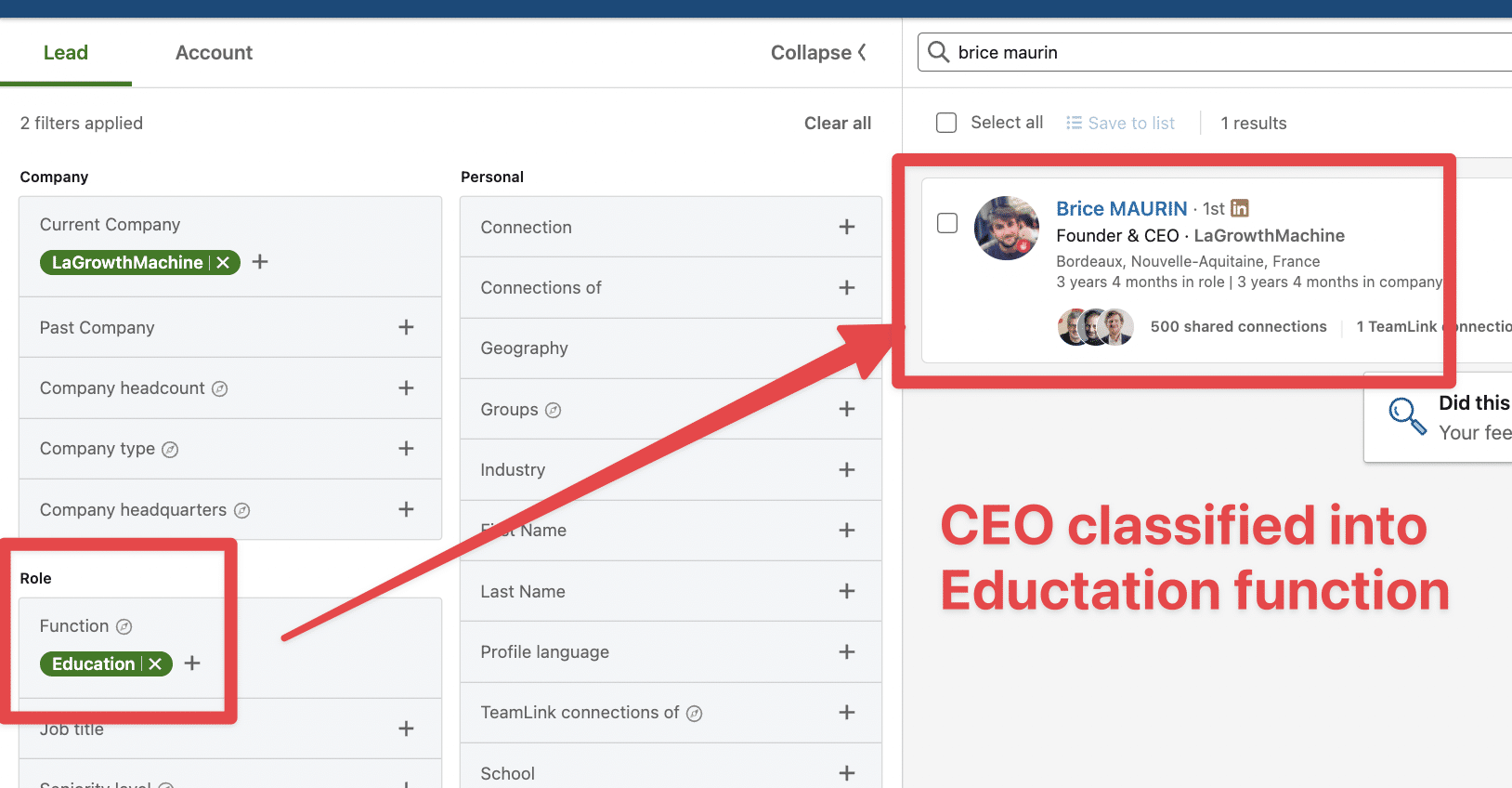 Don't Use this filter at all if possible.
If you really know your personas, you know what job titles they have, and you don't need this filter.
Now lets the worst filter on Sales Navigator:
The technology filters.
5. Technology filter is a blackbox
There is absolutely no information on LinkedIn's documentation about how they find technologies used by companies.

It makes it really hard to trust them on this.

If I use What's Run which is a reliable plugin to find technologies used on a website, it doesn't mention Webflow on the website to detect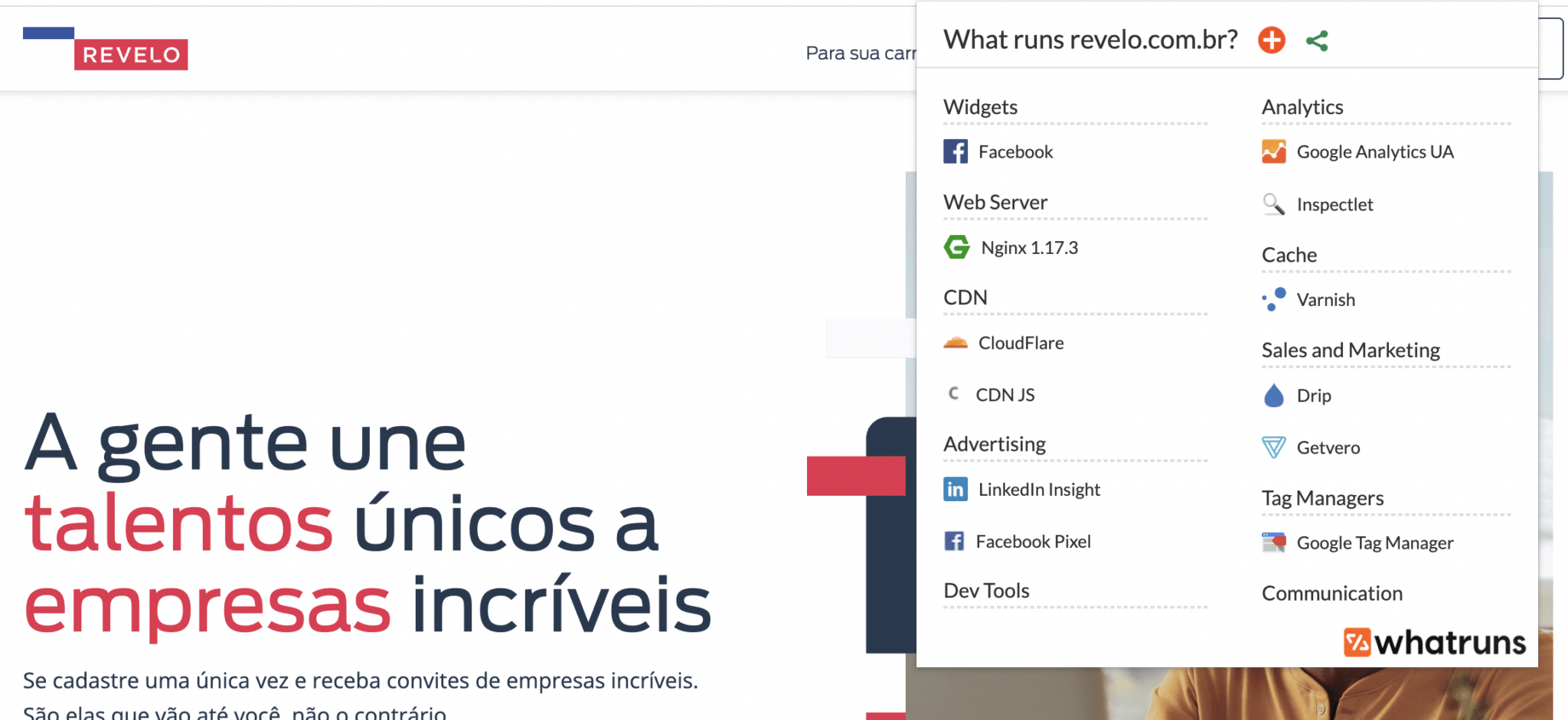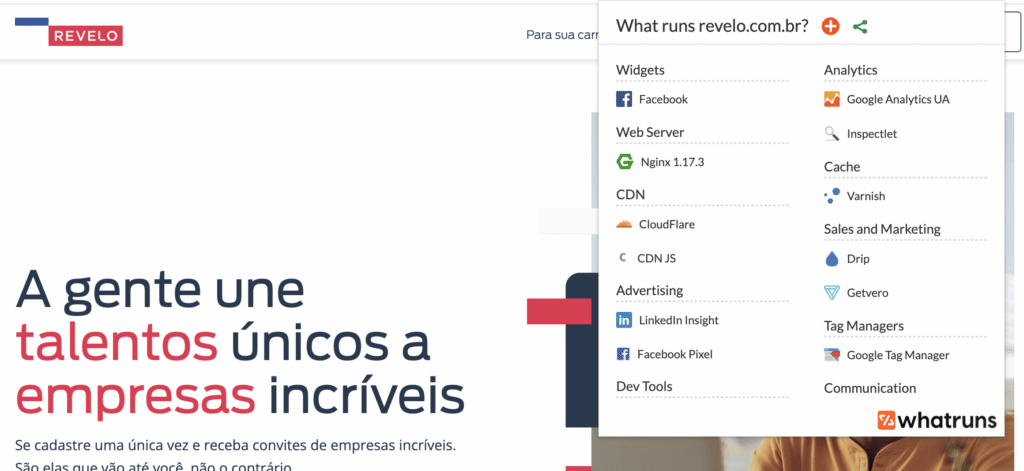 You want to target companies based on which technology they used?
It is much better to use services that have been built especially for that, like Wappalyzer or BuiltWith.

You can see the process un details in the 3rd part of this video
This example is about finding ecommerce using Shopify, but you can apply this technique to any technology.
LinkedIn Sales Navigator Best Practices
Here are 6 LinkedIn Sales Navigator best practices only known by the experts.
1. Automate lead generation with saved searches
Ok so you made your first searches, extracted the results…
Great.
But what happens after that?
People will change jobs, accounts will grow.
LinkedIn database is alive.
You need to do some follow-up on your searches.
And LinkedIn built a tool for that: Saved Searches.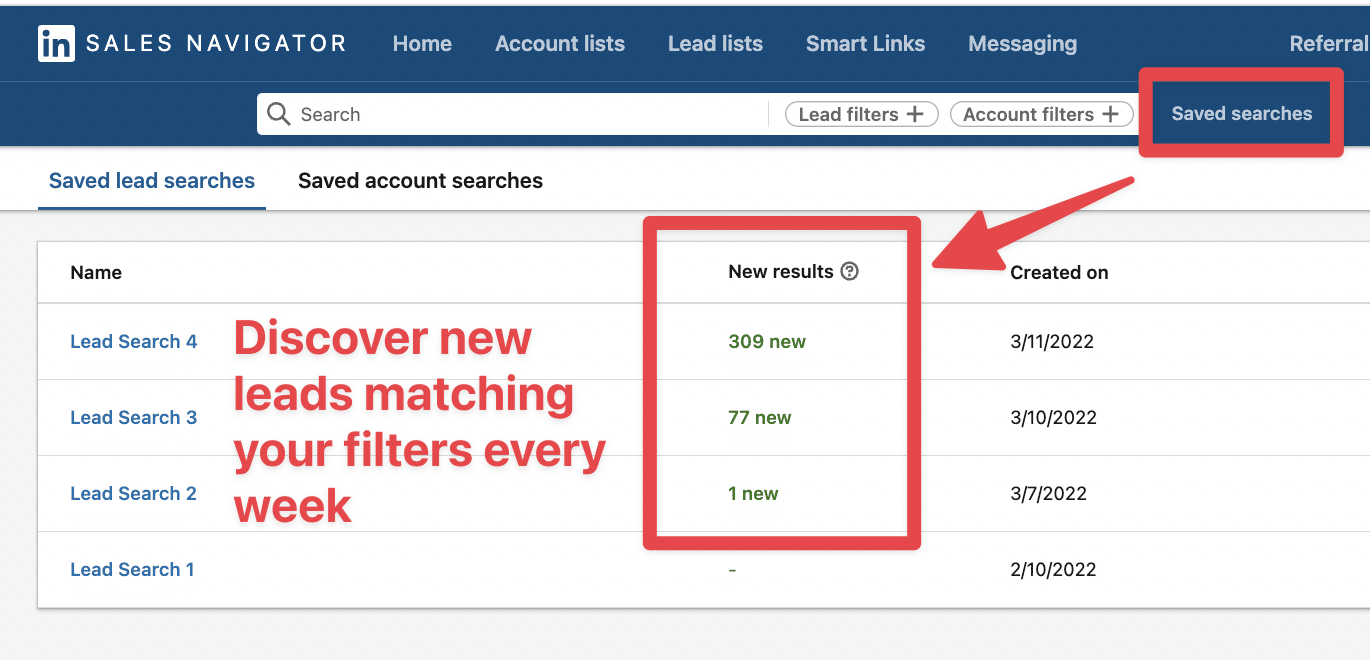 The Save Search feature allows you to get notified when new people match your search results.
It is a great way to identify new opportunities and gets in contact with people as soon as they get into their new position.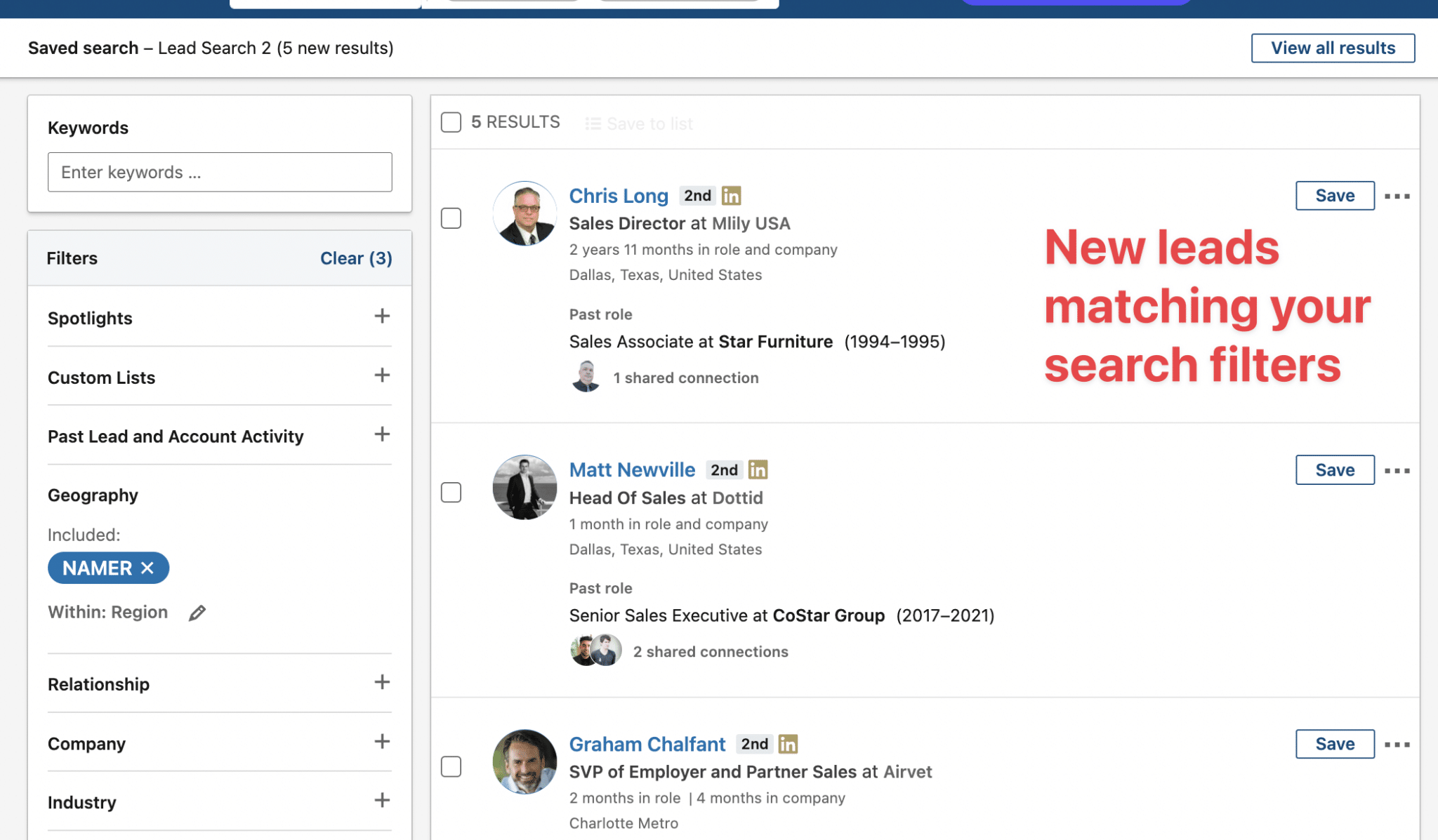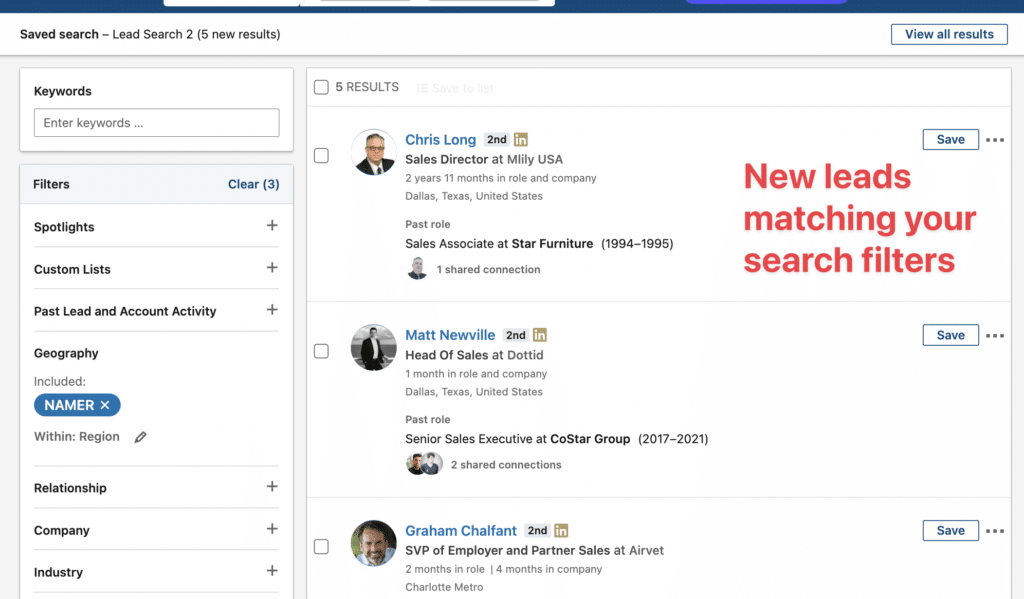 If you click on the New, you will get access to the list of leads that recently matched your search filters.
To save a search, it's really simple.
Just click on "Save Search" on the top right of the search interface.

This feature is so underestimated yet so useful for linkedin outreach. No need to look for new leads every week, they will come directly at you.
2. Exclude clients & competitors from search results
When you are doing prospecting, you want to make sure that you won't contact your past or current clients and your competitors.
To do that:
Look for your clients and competitors
add them into an account list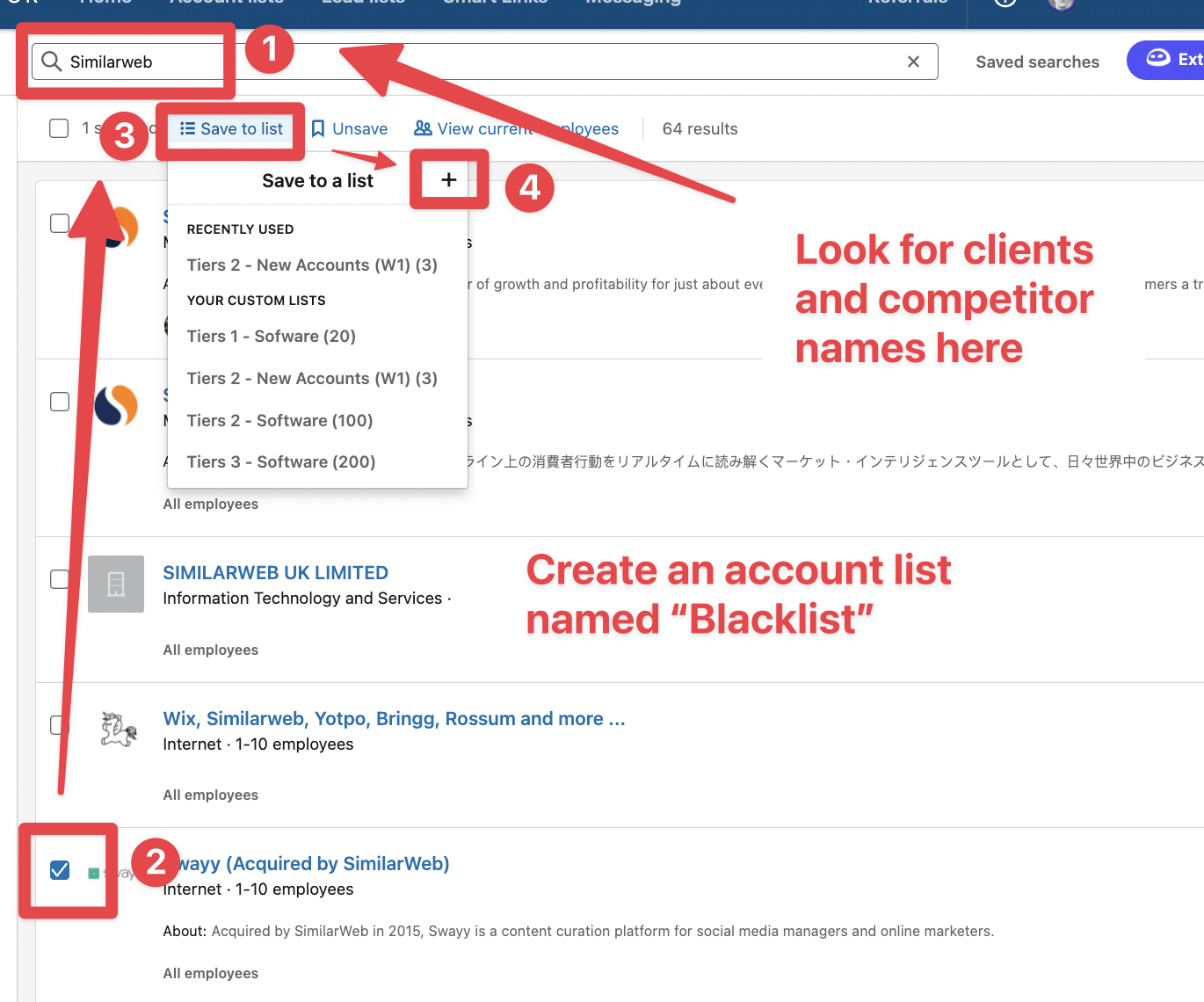 Then, when you are on the lead search:
Go to Workflow
Select the blacklist
Click on Exclude

All the people working in the companies inside your account list will be excluded.
If you already have all your existing client into a CSV file, you can create an account list by uploading your CSV.
Let me show you how:
3. Create account lists through CSV upload
If you're using other sources of data than LinkedIn to identify accounts, this feature can really change your life.
Account upload allow importing CSV with account information, so LinkedIn can try to find these account into its database.
Here is a video tutorial:
This process can automate Account list building and allow to identify decision makers inside companies you have scraped on:
Google
Crunchbase
Madyness
Job boards
If you can get the LinkedIn URL of the company page for every account, the match rate will be 100%!
4. Unlock unlimited inmails
Sales Navigator comes with 50 inmails credits per month.
Inmail are basically messages you can send to people you are not connected with to skip the connection request step.
This amount is obviously way too low if you want to prospect on LinkedIn at scale.
In this video, you will find 3 tips to get unlimited inmails on LinkedIn. One of them is to identity and target open profiles.
5. Use smartlinks to track your prospects
LinkedIn Sales Navigator Smartlink is an underestimated feature for LinkedIn lead generation.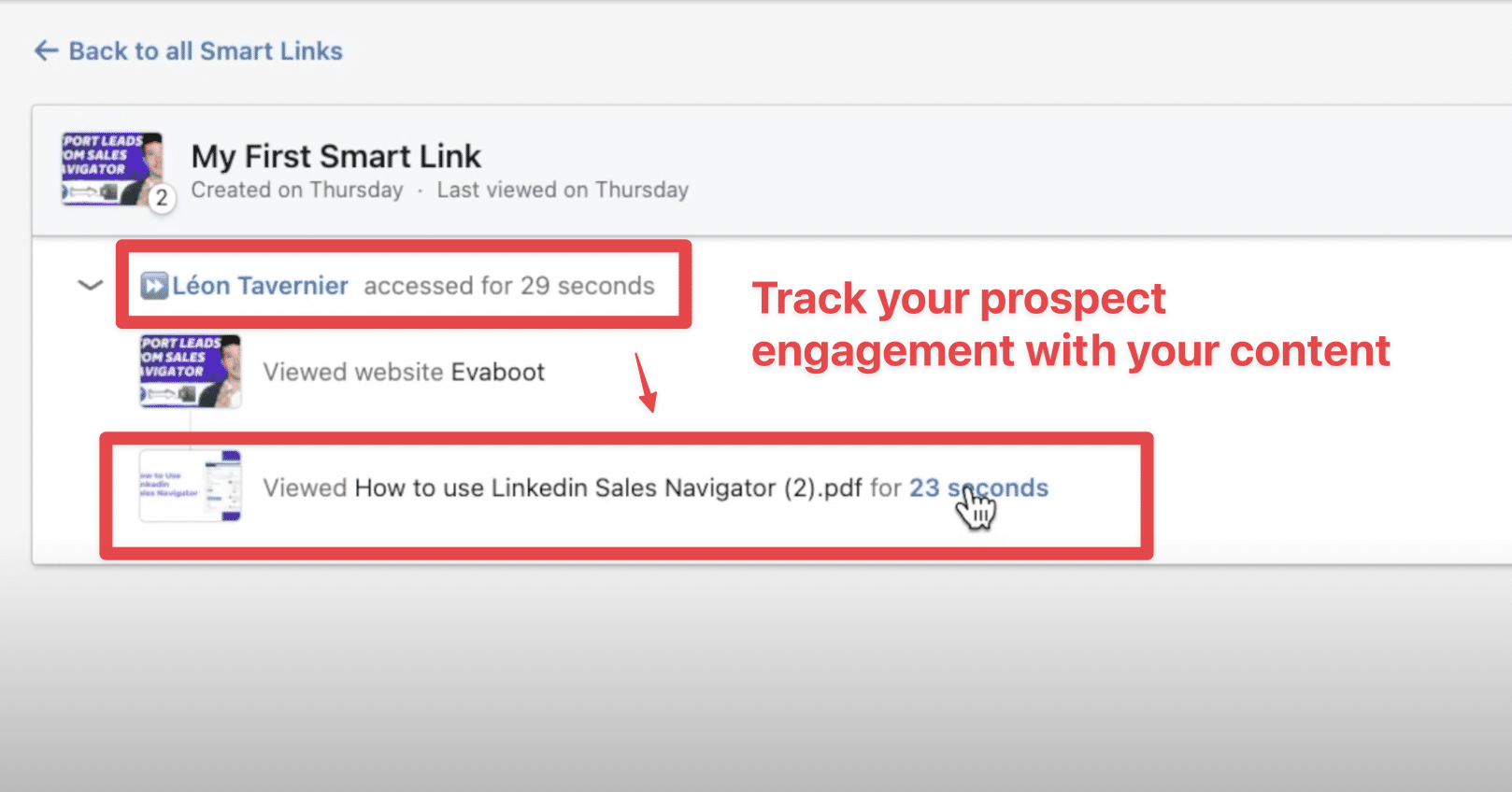 Smartlinks allow you to create PowerPoint like presentation directly from LinkedIn, send them to your prospect and track how they interact with it.
In this video, you will find many tips about how to use smartlinks to generate leads.
6. Combine Sales Navigator and LinkedIn Ads
The efficiency of your linkedin prospecting strategy can be boosted by linkedin marketing using Linkedin Ads.
There is a hack to create super-targeted LinkedIn ads with your Sales Navigator extractions.

Instead of trusting LinkedIn Algorithm, you yell LinkedIn the exact list of people to target.
When you are choosing your audience, click on List upload > Contact List or Company List
I explain all the process in this video!
That way, you can run ads on the same people you are prospecting. That way you multiply the touchpoint your prospects have with your brand.
We are sorry that this post was not useful for you!
Let us improve this post!
Tell us how we can improve this post?