Linkedin Recruiter VS Sales Navigator: What is The Best Tool for Recruiters?
You are a recruiter wondering if you should subscribe to sales navigator vs linkedin recruiter?

Here are some answer:
Sales Navigator advanced search filters are better than Recruiter Lite ones.

Sales Navigator can find candidates AND clients. Recruiter only helps you find candidates.

Recruiter Premium worth it if you value integration and collaboration features, but it's expensive ($835/month)

Even if Sales Navigator has been built for salespeople, the tool can be used to find candidates and clients for your recruiting business.
In this article we compare the 2 basic version of these tools: Linkedin Recruiter Lite vs Sales Navigator Core and also the premium versions: Linkedin Recruiter vs Sales Navigator Advanced.
Let's dig into this.
What is the Difference Between Sales Navigator and LinkedIn Recruiter Lite?
LinkedIn recruiter is mainly for recruiters and hiring managers to find talent on LinkedIn.
The LinkedIn Sales Navigator is made for lead generation. You can easily find potential clients and people within organizations using it.
The branding is not the same for the two products, but they work in really similar ways.
They are both an upgraded search engine that will be much more efficient to the basic linkedin search to look into the linkedin database.
They also offer additional features that make recruiting and linkedin prospecting easier.
Linkedin Sales Navigator VS Recruiter Pricing
Linkedin Sales Navigator and Linkedin Recruiter are two linkedin premium products that both offers several levels of memberships.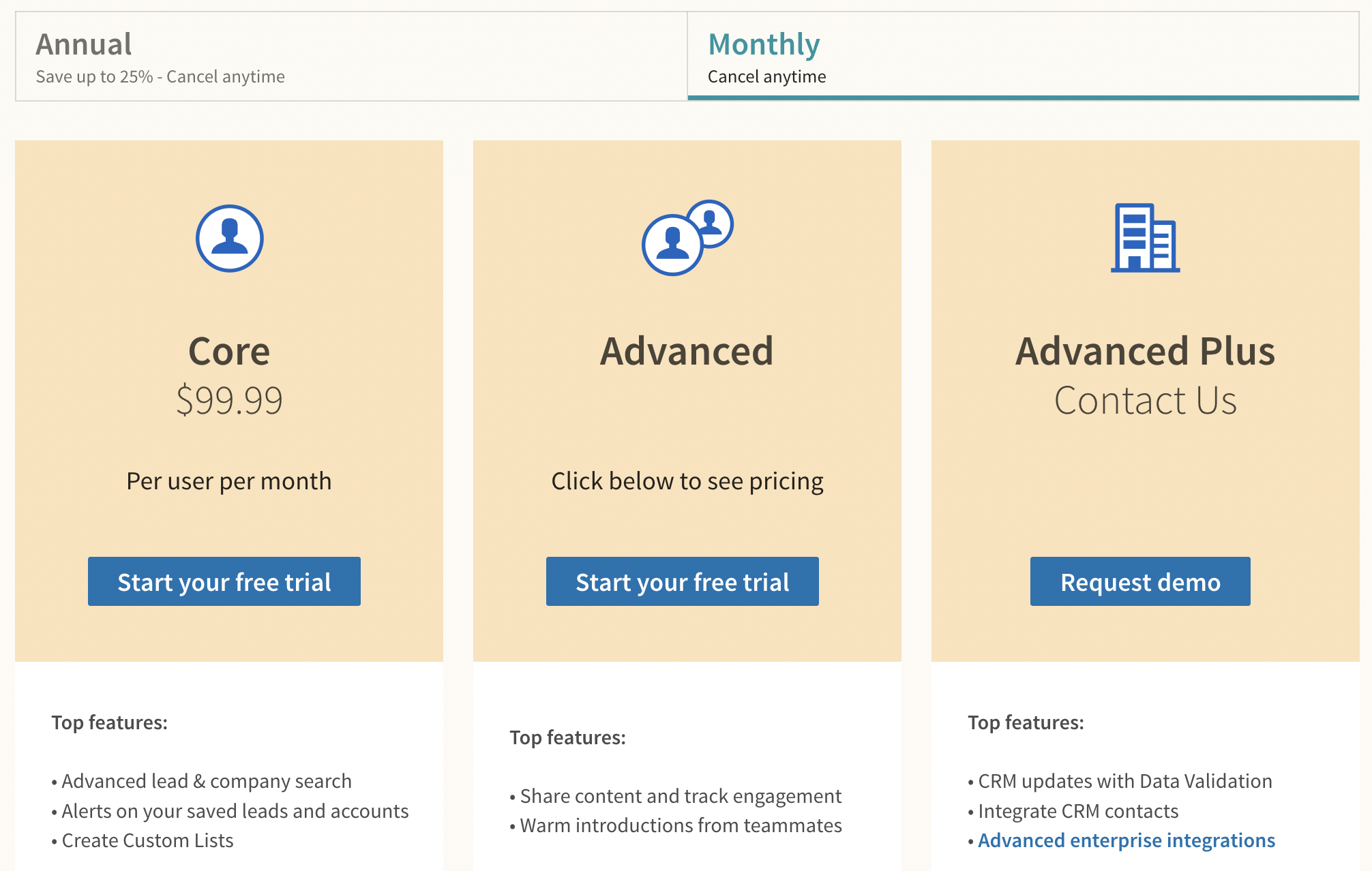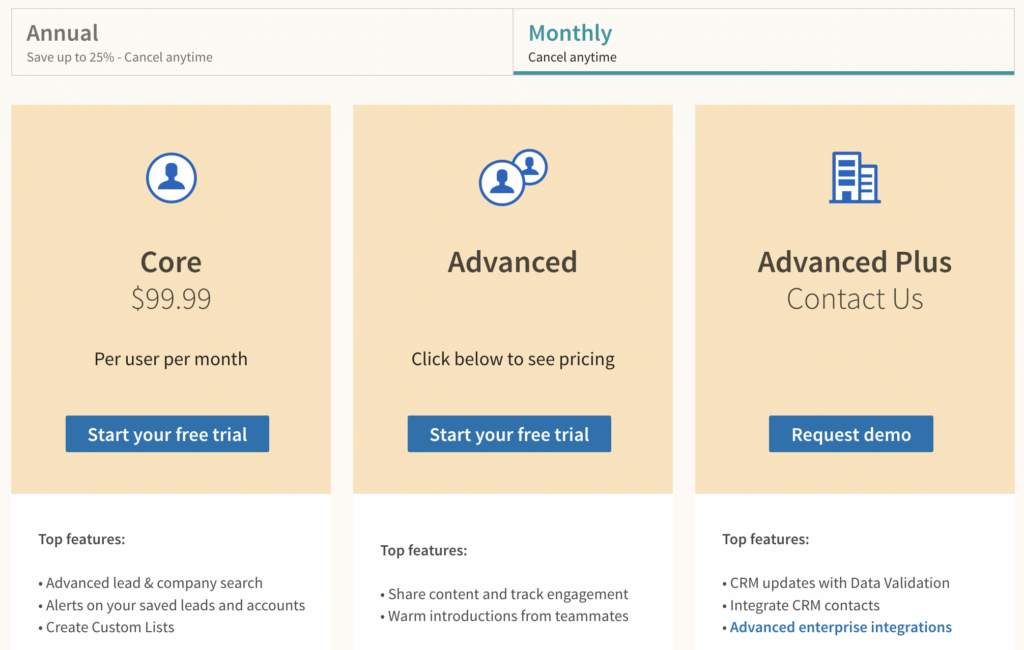 Sales Navigator offers 3 different pricing plans:
Core (Professional): $99/month
Advanced (Team): $149/month
Advanced Plus (Enterprise): starts at $1600/year
Linkedin Recruiter offers two different plans:
Recruiter Lite: $170 per month
Recruiter: $835/month per month
You can see that Linkedin Recruiter is more expensive than Sales Navigator on the basic plans.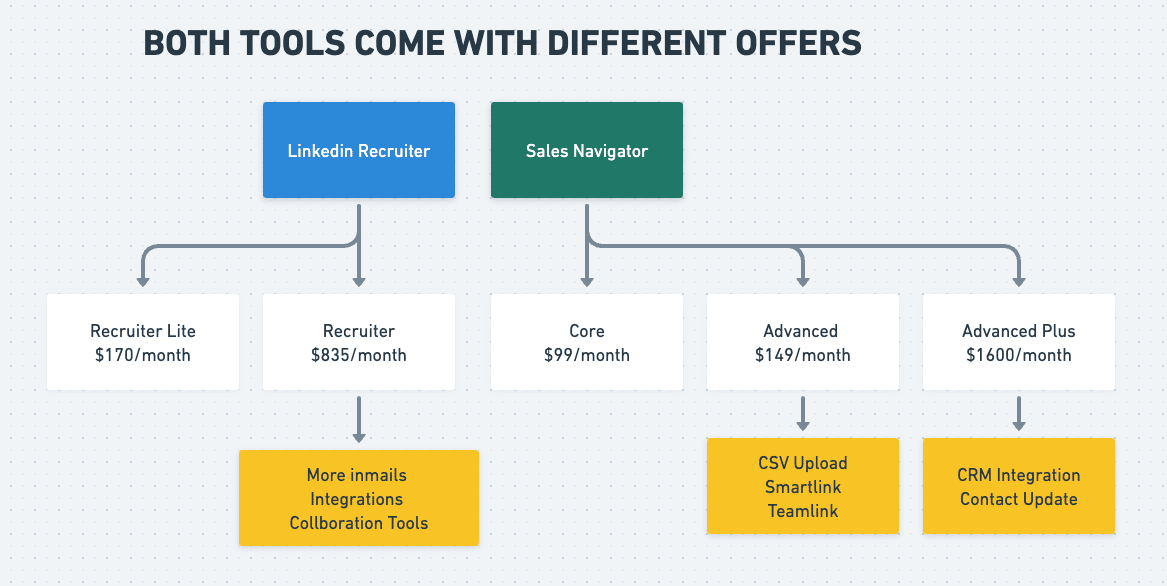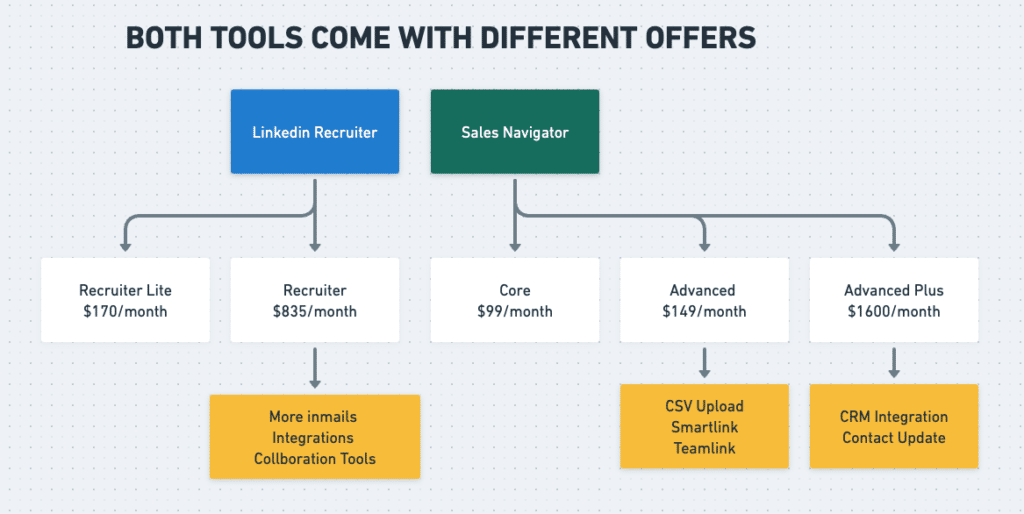 Linkedin Recruiter Lite VS Sales Navigator Core: Advanced Search
Linkedin Recruiter Lite and Linkedin Sales Navigator search engines looks pretty much the same. You can use both to look for potential candidates and clients.
Linkedin Recruiter Lite VS Sales Navigator Search Filters
Linkedin Recruiter Lite offers 21 filters to find candidates.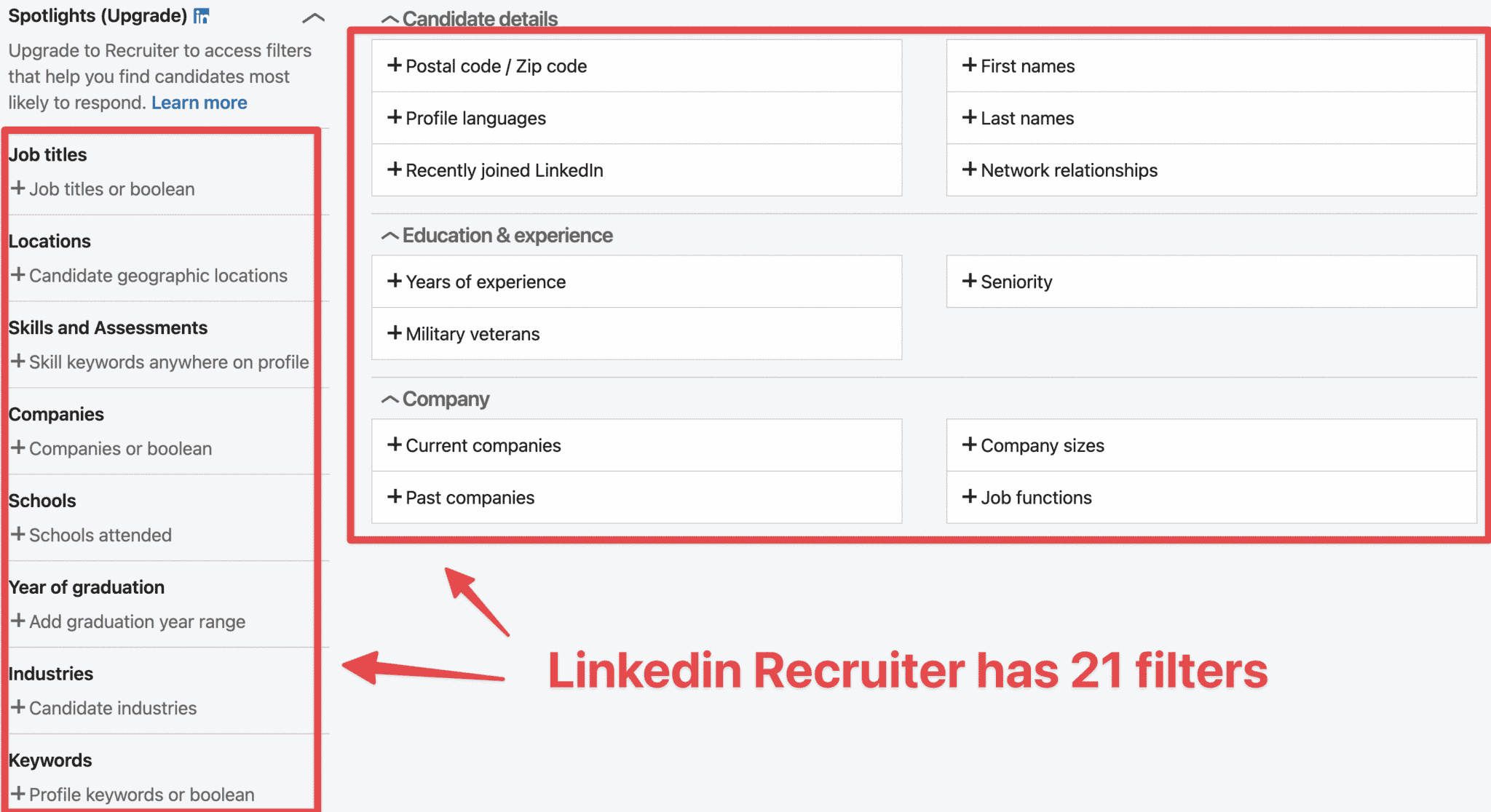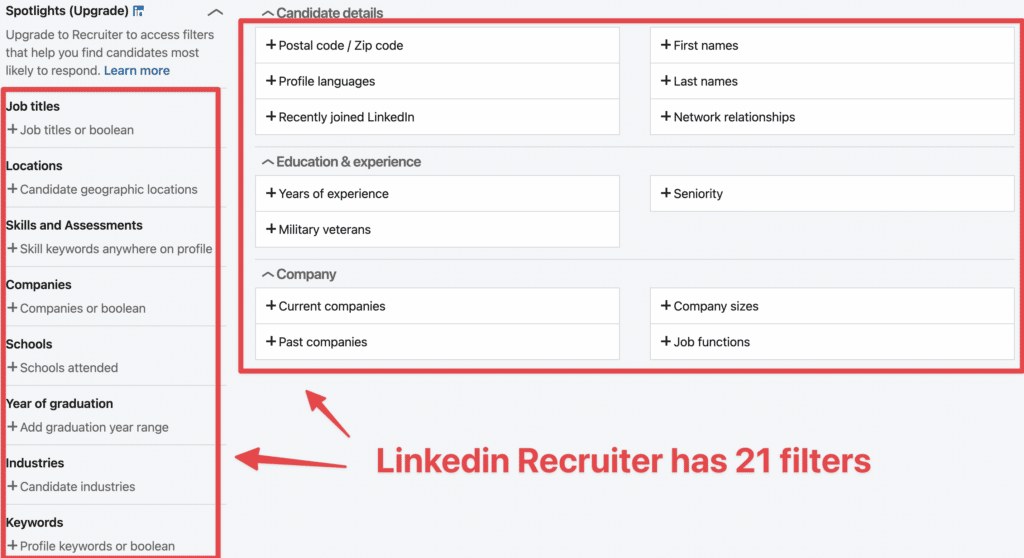 Linkedin Sales Navigator has 29 filters to find people.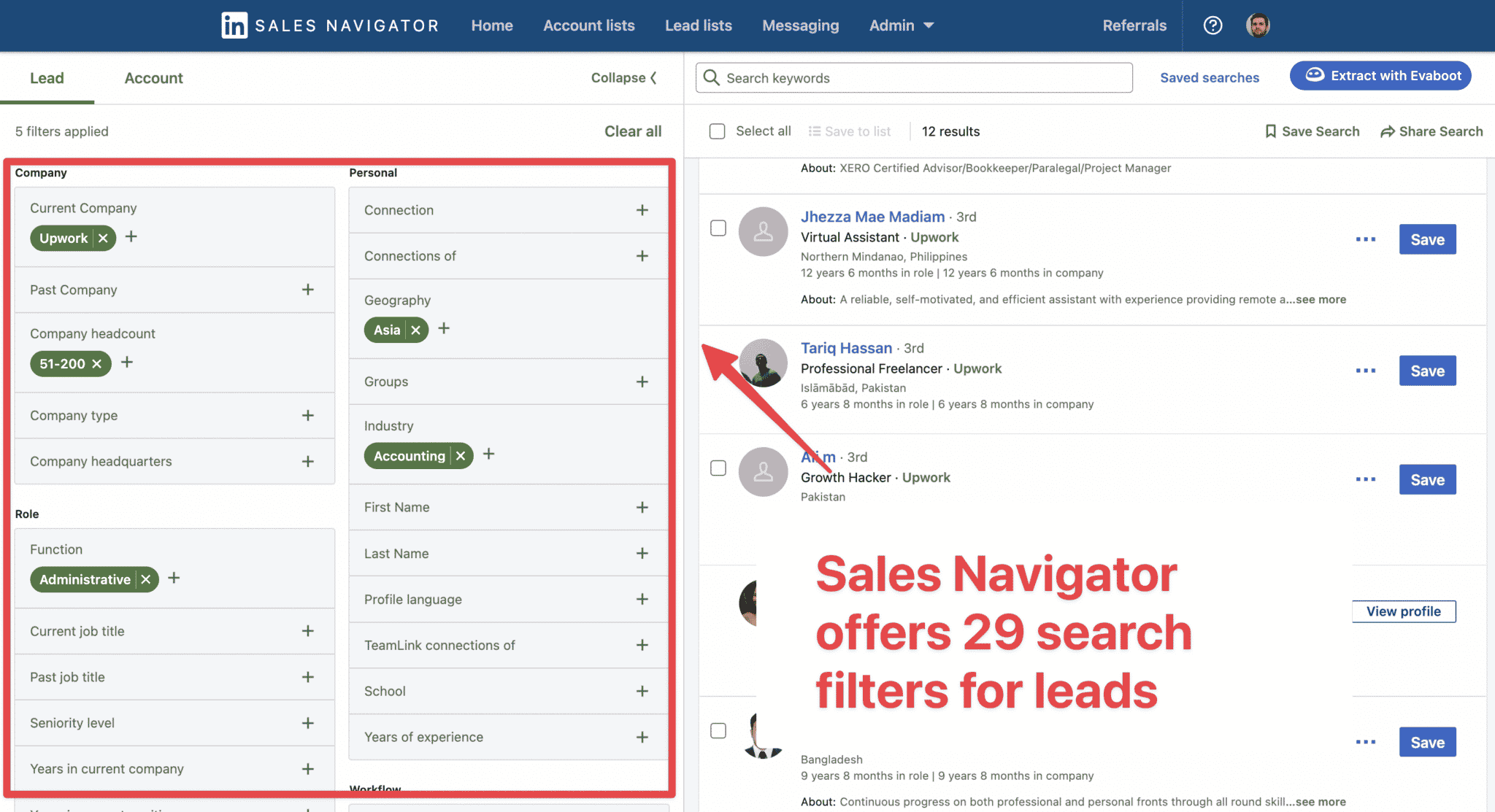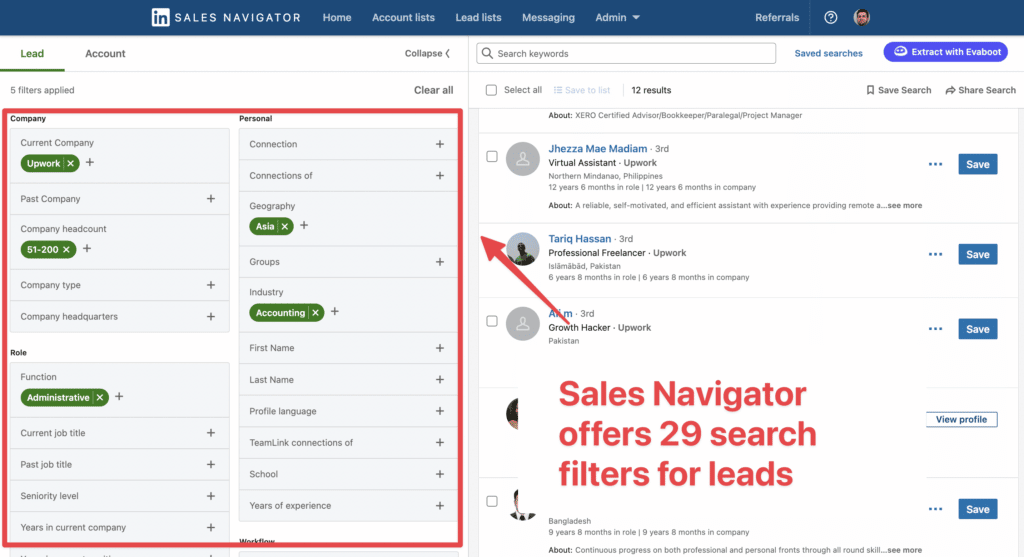 1. Linkedin Recruiter and Sales Navigator have many filters in common
Among the filters Linkedin Sales Navigator and Recruiter have in common there is:
Job Title
Keyword
Location
Current Company
Past Company
Company Size
Schools
Industries
Keywords
Profile languages
Network relationship
Seniority Level
Function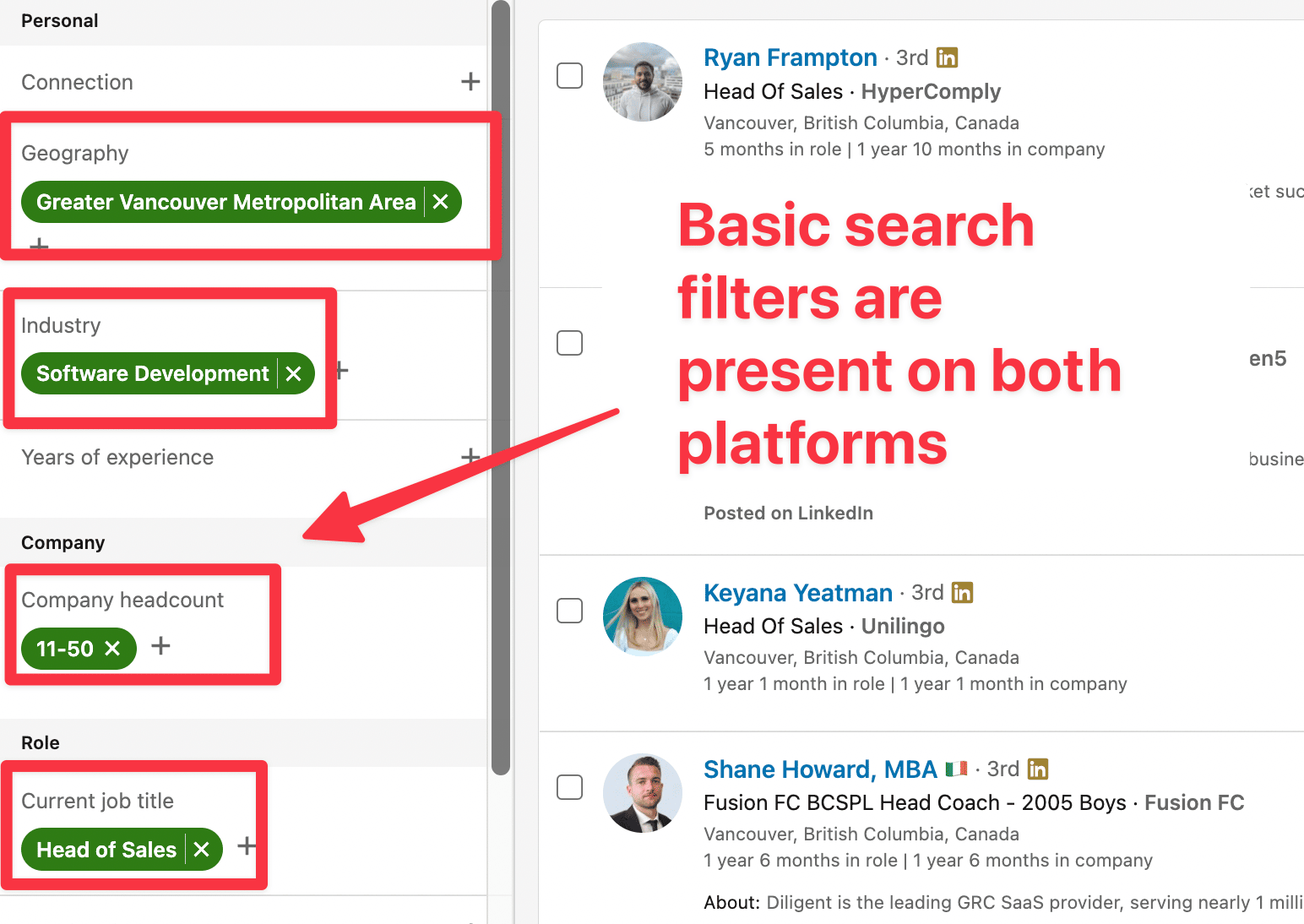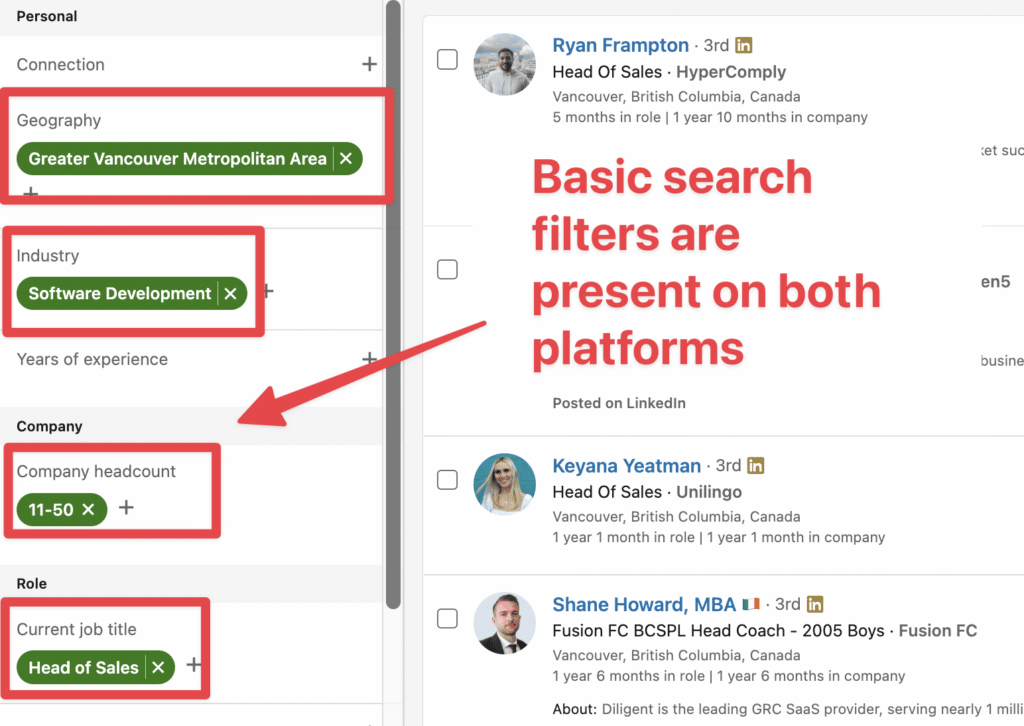 These are really basic search filters that will be really helpful to build candidate or lead lists.
2. Recruiter Lite doesn't give access to +3rd degree connections
This is a big difference between the 2 tools.
Linkedin Sales Navigator let you access the whole linkedin database including +3rd degree connection (people not connected with your 3rd degree connection).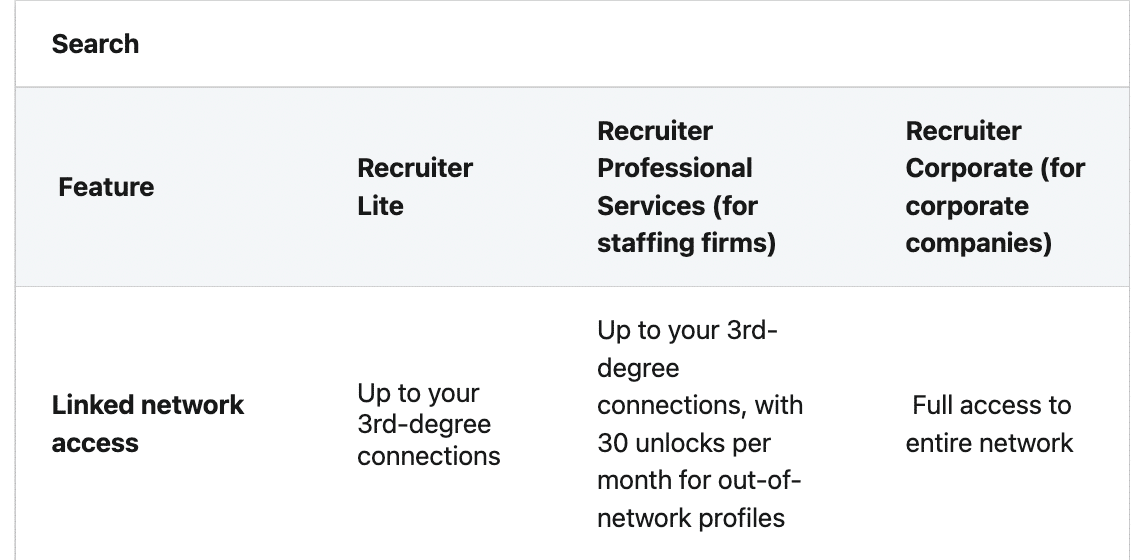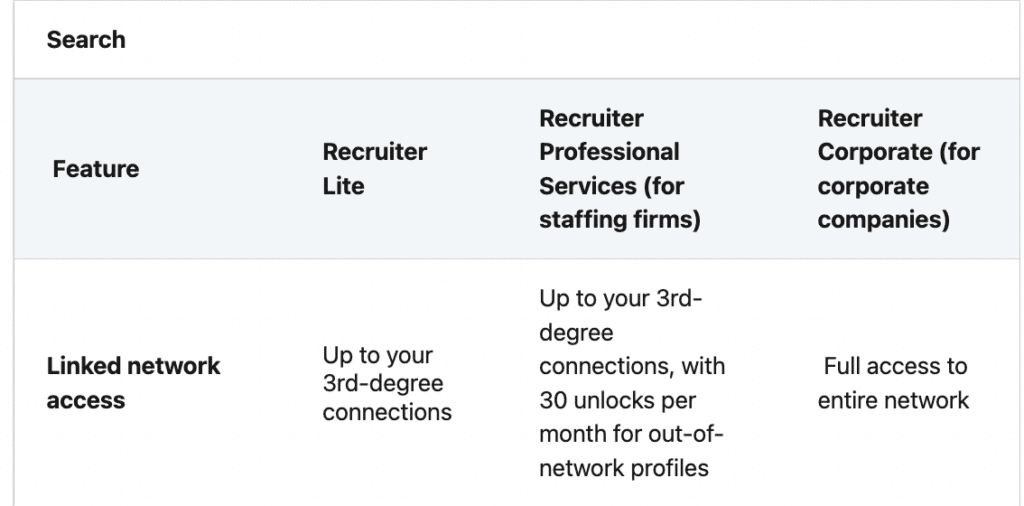 Linkedin Recruiter doesn't.
It means that your candidate searches will be limited to:
Your connections (1st degree)
The connections of your connections (2nd degree)
The connections of the connections of your connections (3rd degree)
No more than that. It considerably reduces the number of people you can search on the Recruiter Lite search engine.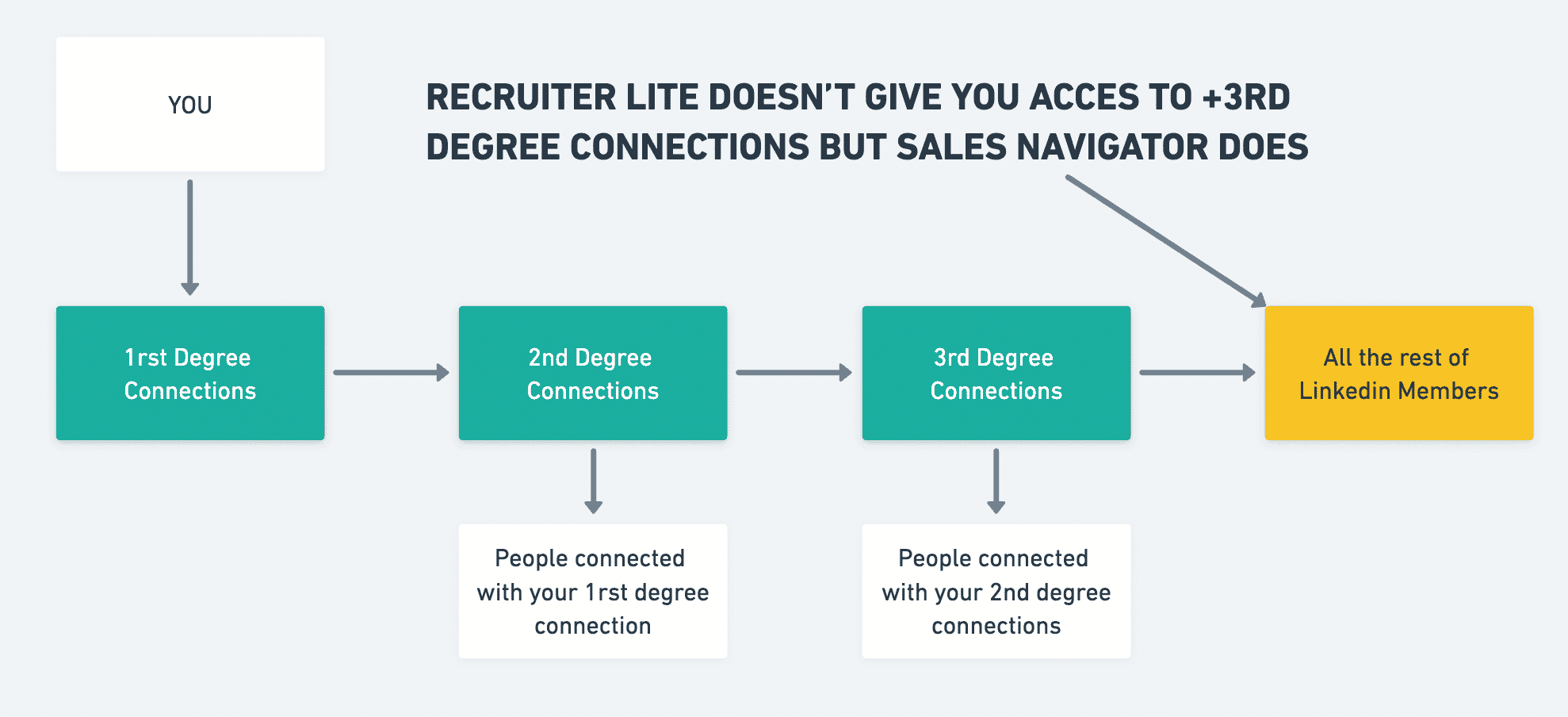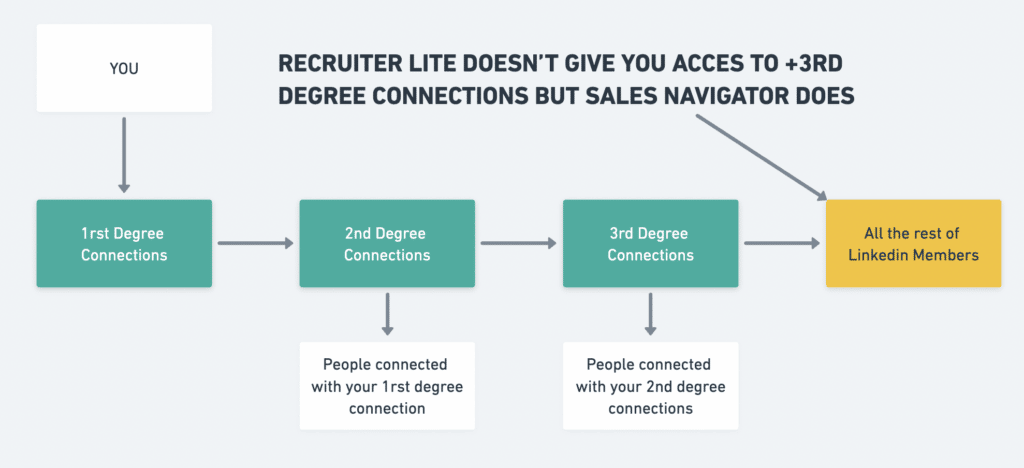 If you want access to the entire linkedin database, you will need to pay $835/month for Recruiter whereas Linkedin Sales Navigator has them for $99/month.
3. Filters Specific to Linkedin Recruiter are not game changers
Linkedin Recruiter Lite has 2 filters that Sales Navigator doesn't have.
The first one is Skills And Assessments. It allows you to look for candidates that display certain skills on their profiles like programming languages for example.


The problem is that this data can't be trusted. The skills section on linkedin profiles is often full of crap.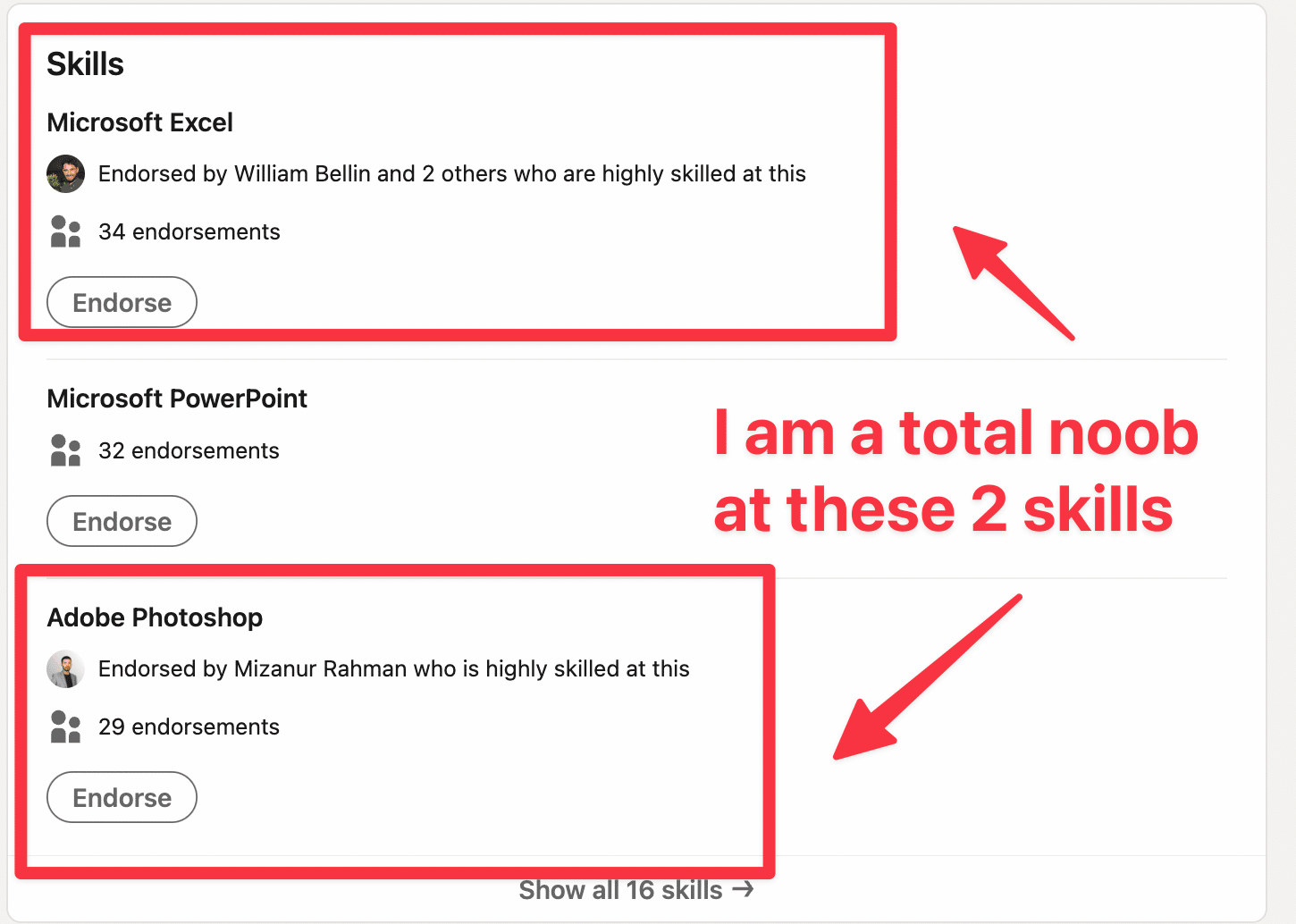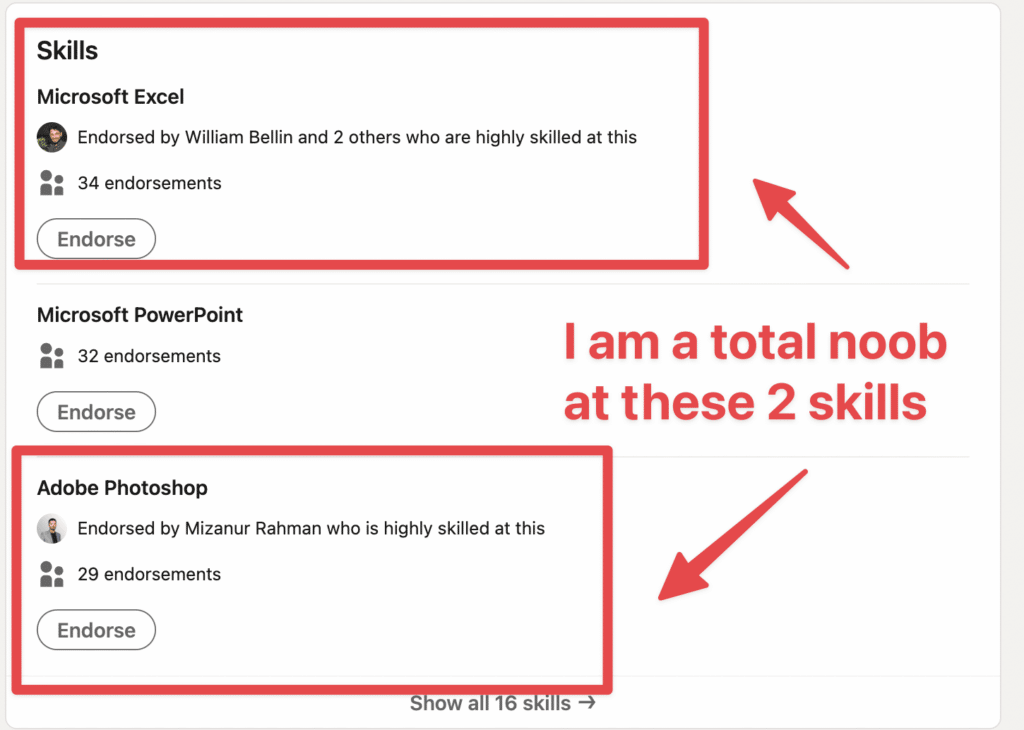 If I take my profile as an example, I'm recommended in Excel and photoshop even if I am a total noob.
The second filter specific to Linkedin Recruiter Lite is Year of Graduation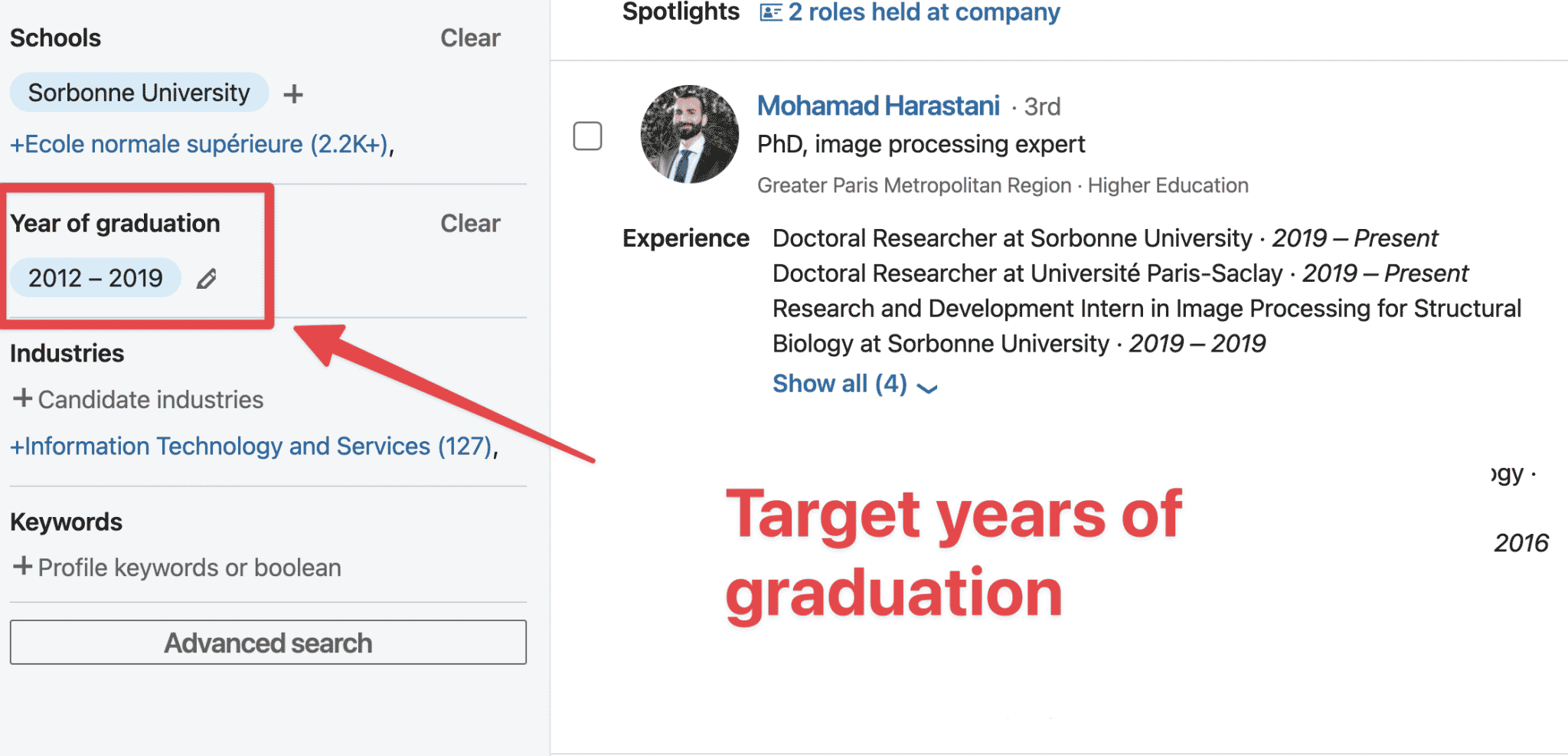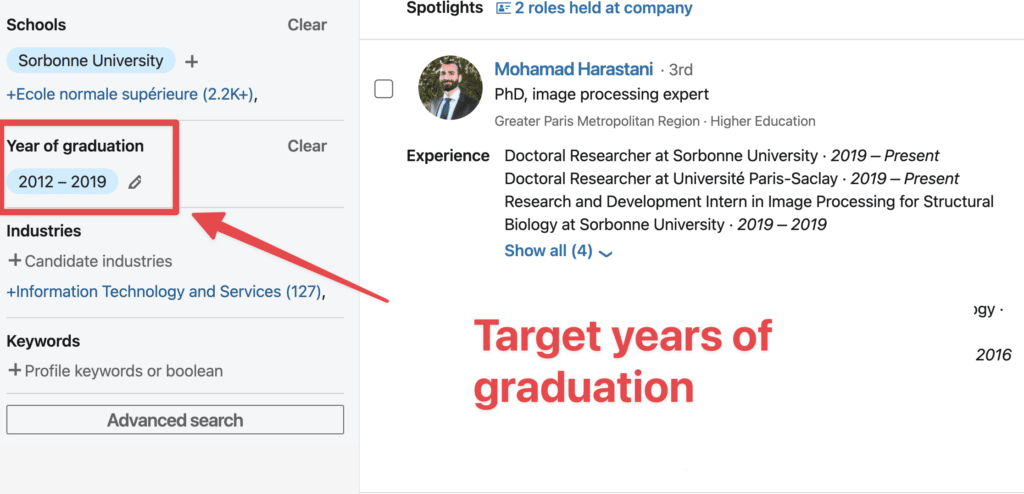 Honestly I don't see any super relevant use cases for this one. It is not a game changer as you also have the "Years of experience"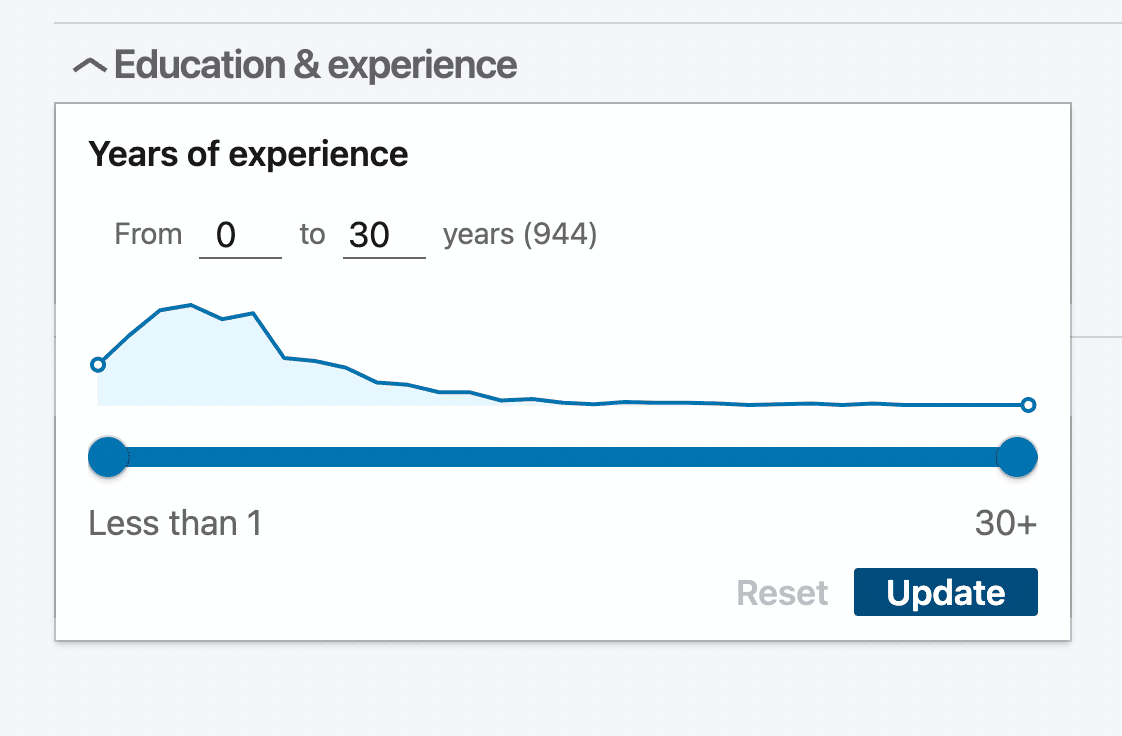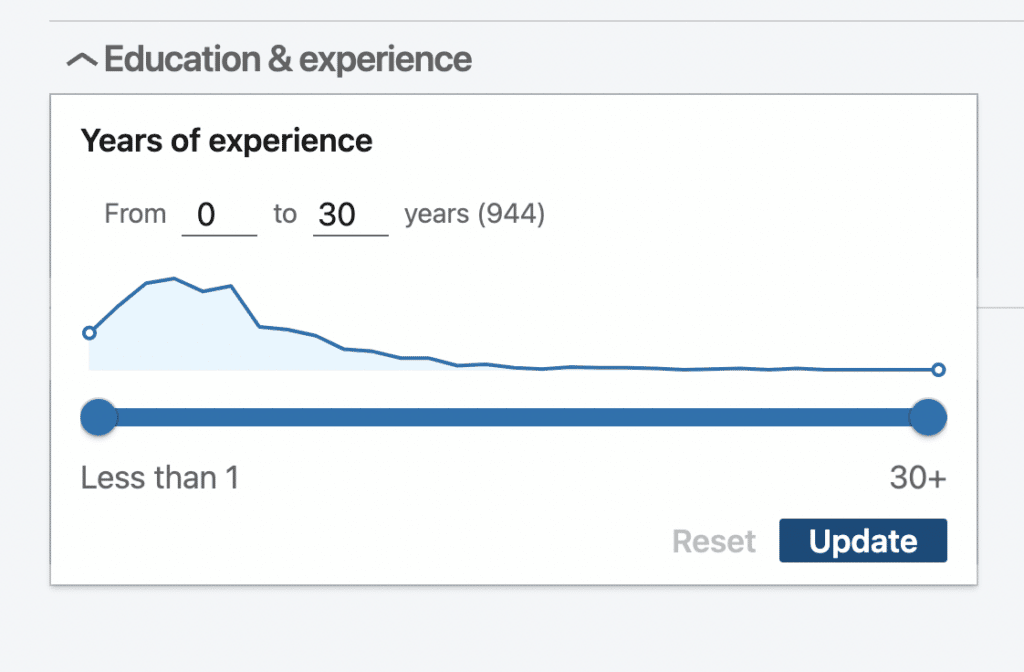 So if you want to know for how much time someone is working, better use this filter that is also present on Sales Navigator.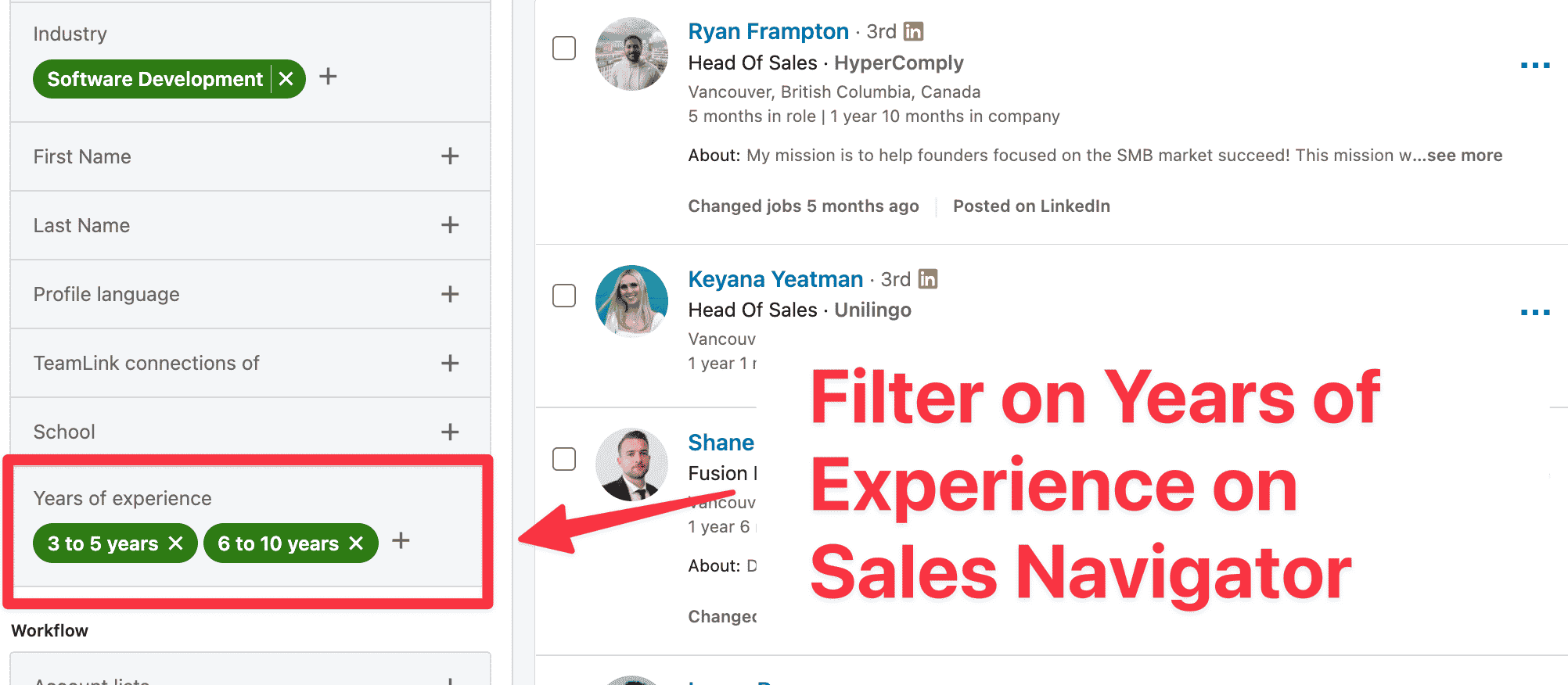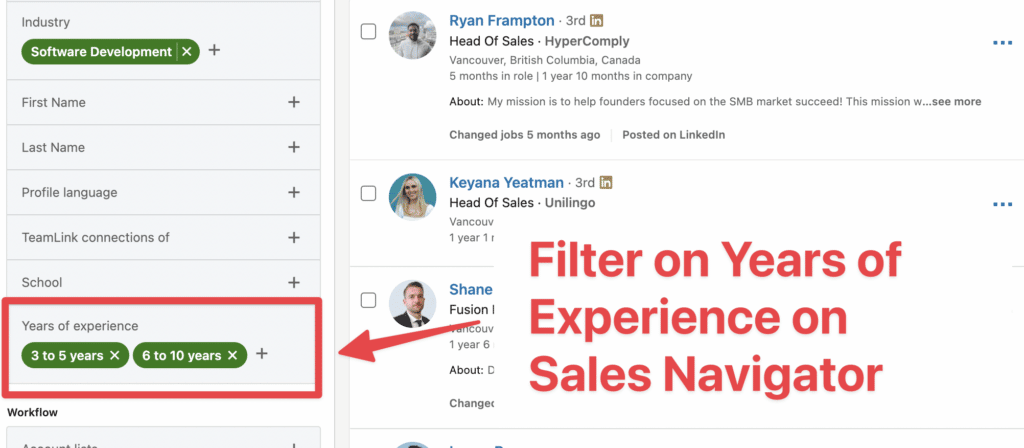 4. Filters Specific to Sales Navigator are game changers
Sales Navigator has more than 5 filters that Recruiter Lite doesn't have:
Year in current company
Year in current position
Company Type
Company Headquarter
Groups
As a Recruiter, it's interesting to know for how long someone is in position.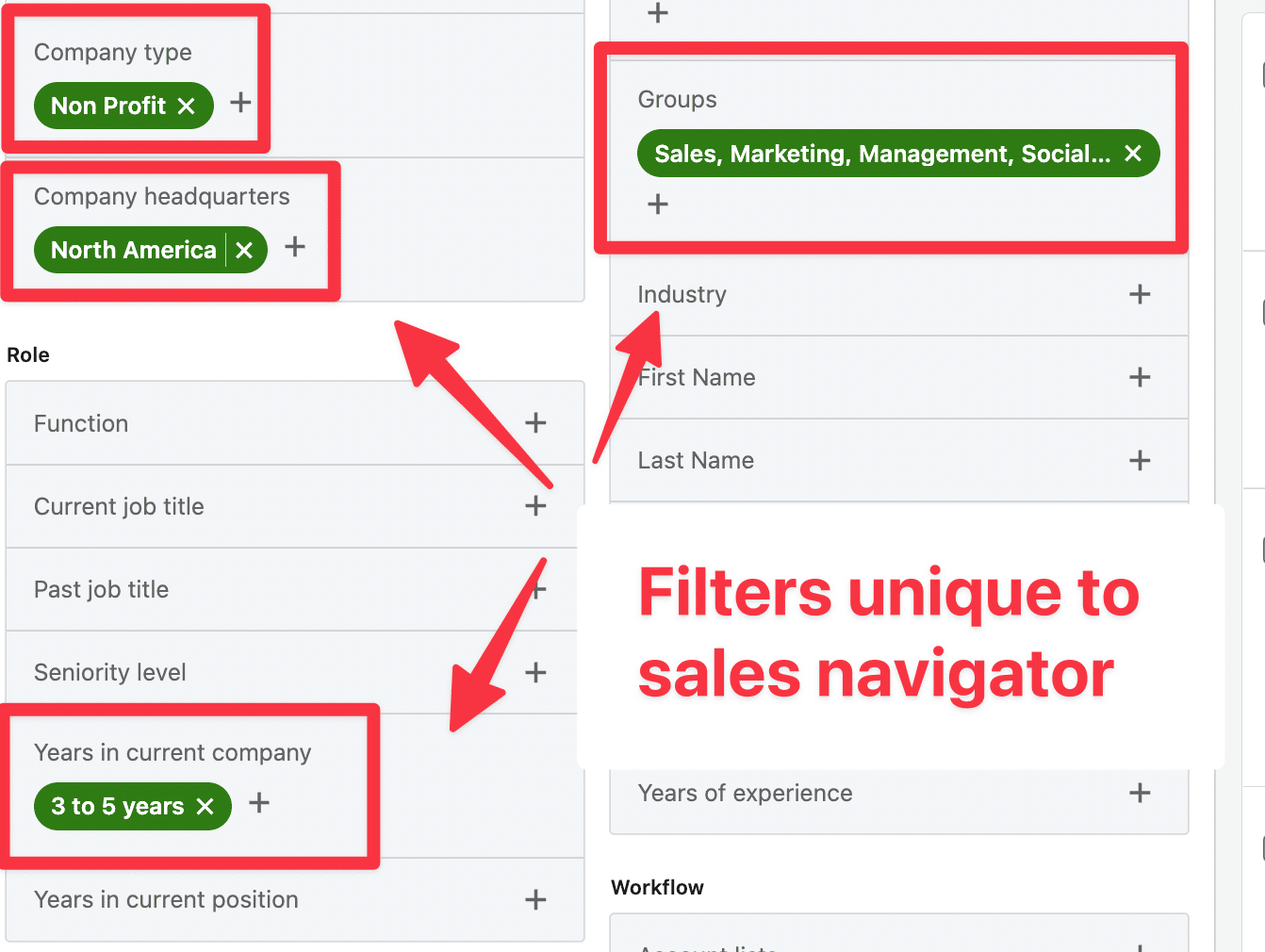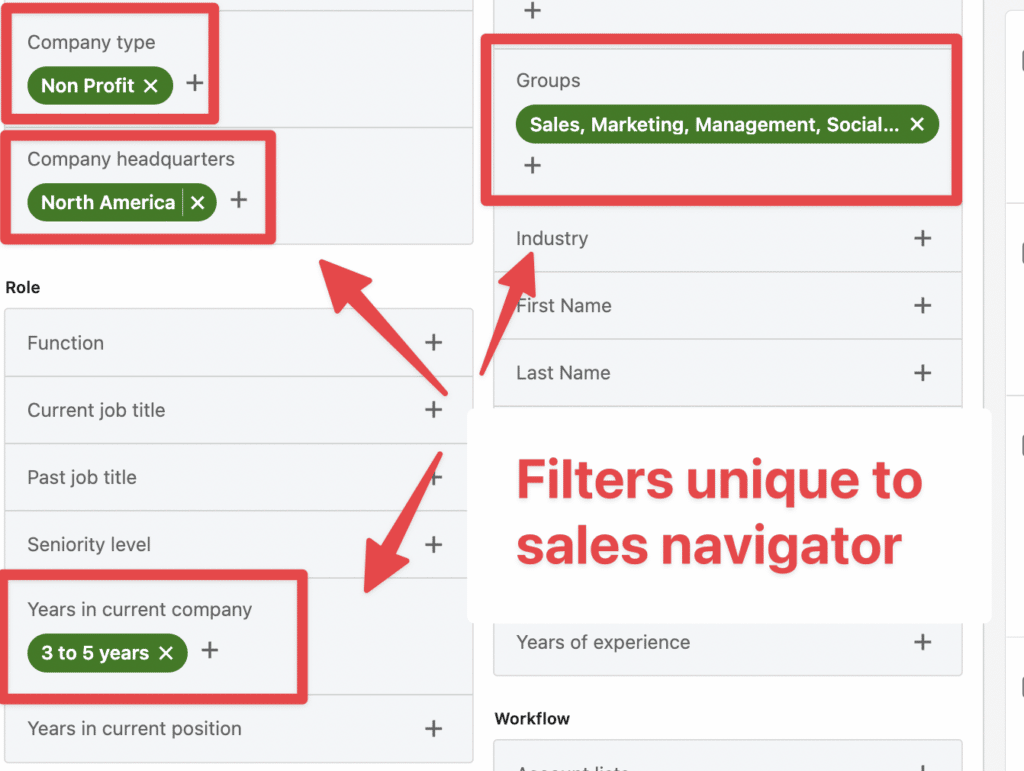 Indeed, someone that is in a company for 6 months – 1 year is way less likely to leave than someone who has spent more than 3 years in a company.
Boolean Search Can Be Used On Both Tools
Linkedin Boolean search is a really simple programmatic language that uses a combination of logical connectors (AND, OR, NOT) and punctuation (parenthesis and quotes) that allow you to run a really specific searches on Linkedin database.
Here is a video describing how to use it on Linkedin Sales Navigator.
The way it works it's exactly the sames on Linkedin Sales Navigator and Linkedin Recruiter


For example writing "Developer AND Python" in the job title field will look for people who mentioned Developer and Python in their job title.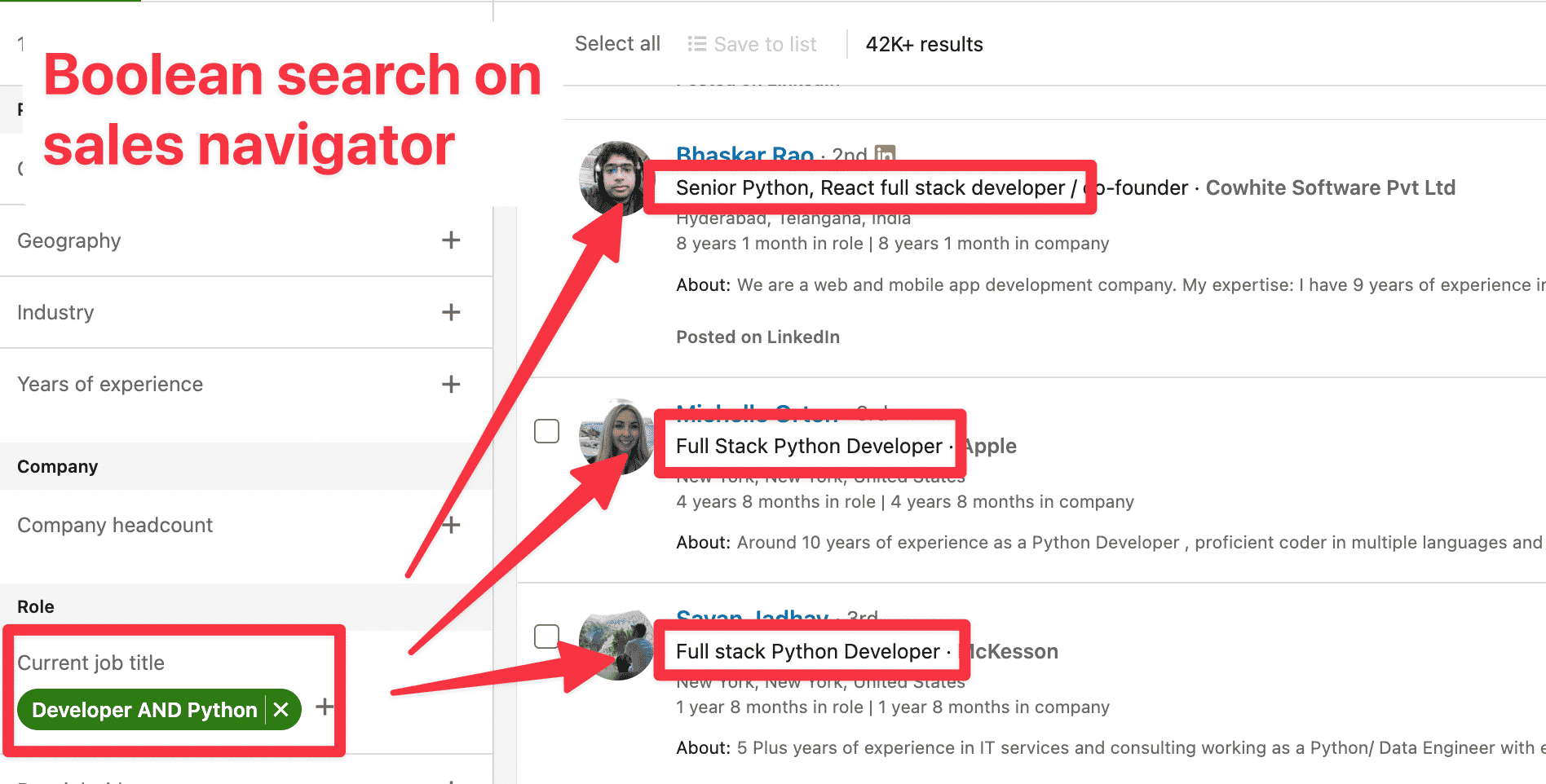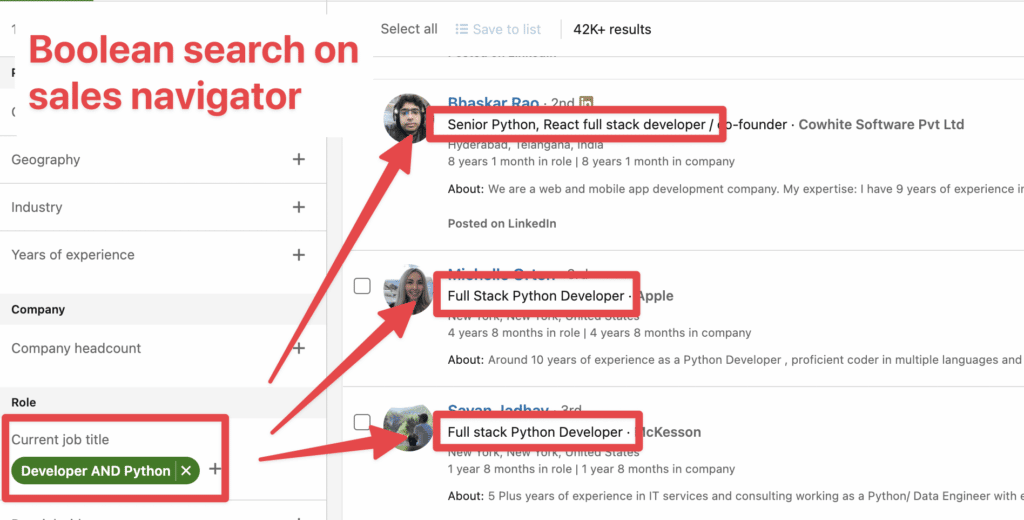 Regarding this feature, Linkedin Recruiter and Sales Navigator are completely equal.
Linkedin Recruiter VS Sales Navigator Advanced Filters
Linkedin Recruiter is the upgraded version of Linkedin Recruiter Lite and gives you access to more search filters.


There are 6 of them but the most 2 important are "Open to Work" and "More likely to respond"
1. Filter on "Open to work" profiles with Recruiter
This filters highlights candidates who match your search criteria and have indicated that they're open to hearing from recruiters.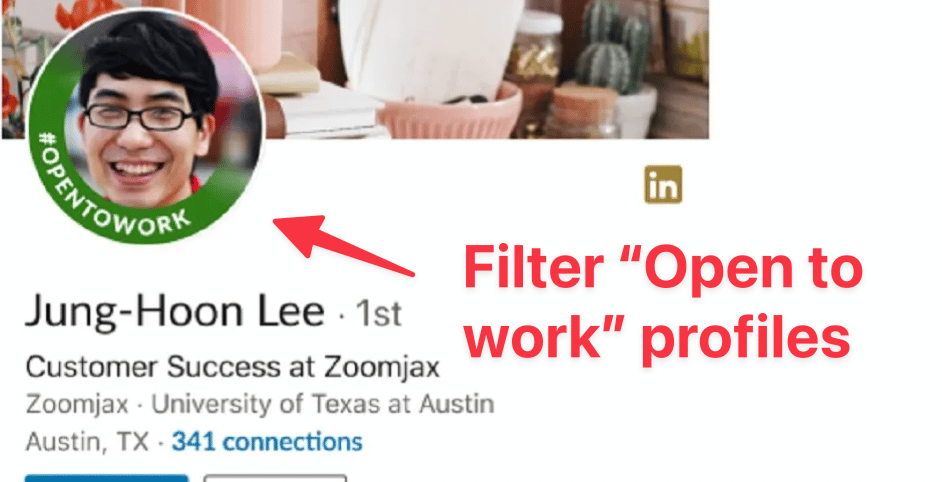 This is obviously a nice filter to have as these candidates are proactively looking for a job.
This can work for a certain type of recruitment, but top profiles rarely display "Open to work" on Linkedin.
2. Filter on "More likely to respond" profiles with Recruiter
This filters will show you candidates that have interacted with your company, and insights from your past recruiting activity. You have to trust the linkedin algorithm on this one.
Now you have yourself, do these 2 filters worth $835/month?
I don't think so.
Moreover, there are some ways to replicate these filters on Sales Navigator.
3. Replicating Recruiter Filters With Sales Navigator
Sales Navigator Advanced and Advanced Plus don't come with additional search filers.
However, there are some ways to replicate the missing filters existing on Recruiter.
Indeed, if you want to filter profiles that have interacted with your company, you can use the "Following your company" filter on sales navigator.
It will show you all the people in your list who follow your linkedin company page.


To find open to work profiles with Sales Navigator, it's a bit more technical.
For that you need to export your leads from linkedin sales navigator into a CSV file.
For that you can use the Evaboot Chrome Extension (demo in the video).
Sales Navigator doesn't allow you to filter on "Open to Work" profiles but Evaboot will detect who are the "Open to Work" profile among your lists.
The extension will add a new button on your Sales Navigator that will allow exporting all your lists into a CSV in one click.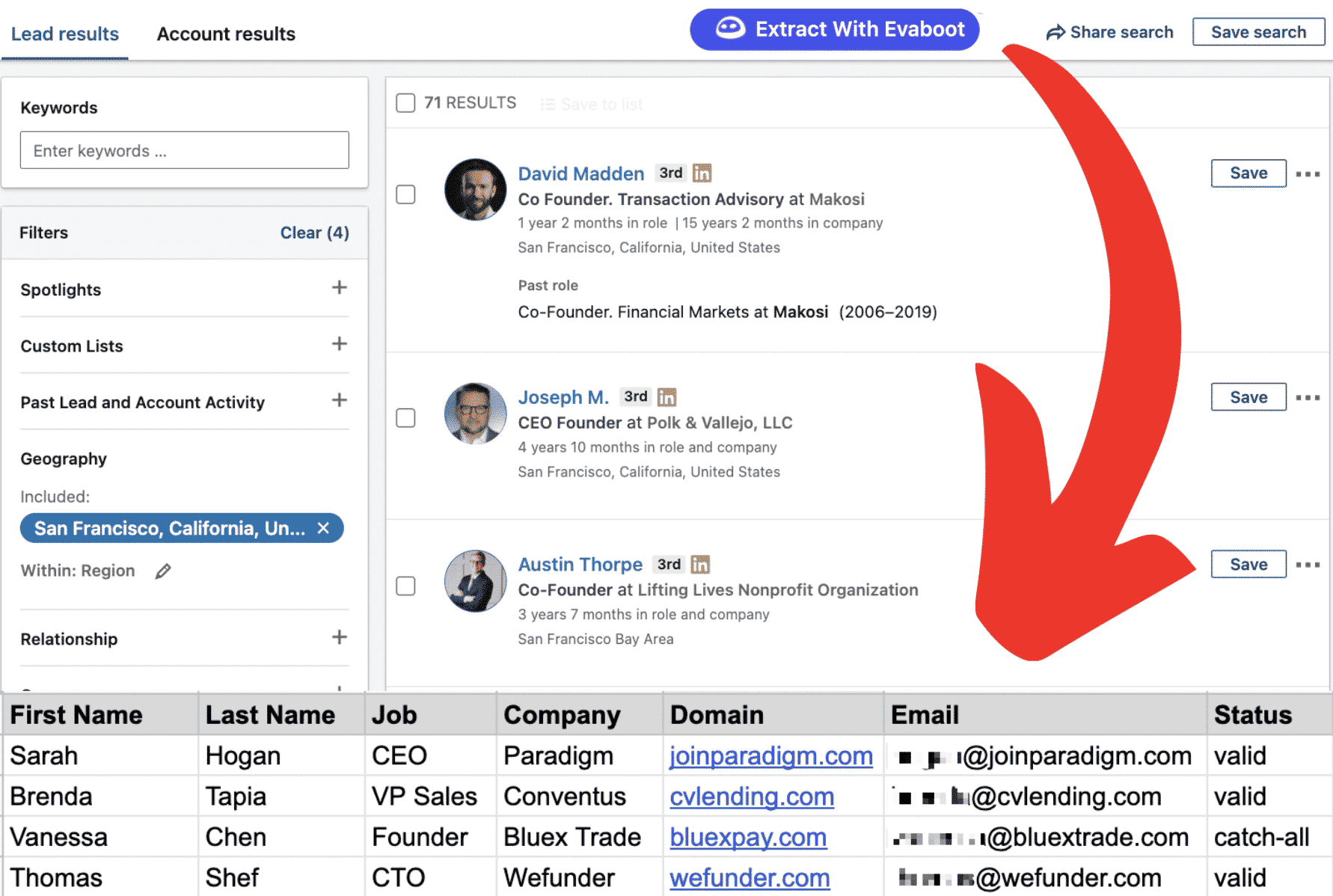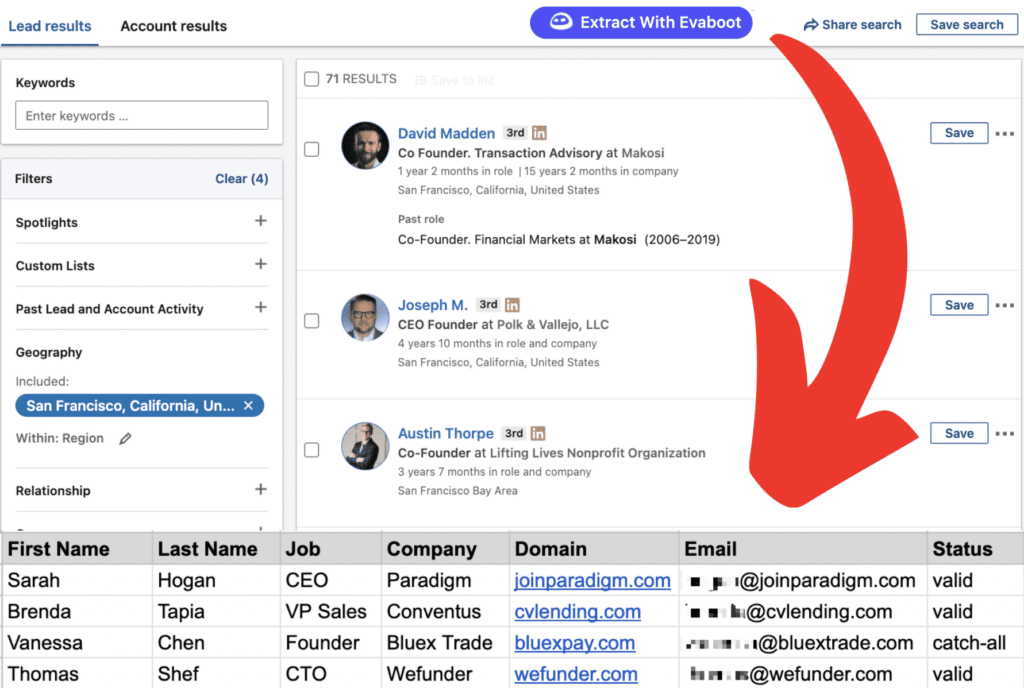 Once you have your file, scroll to the right.
You will find the column "PROSPECT IS OPEN TO WORK" with the mentions "TRUE" OR "FALSE"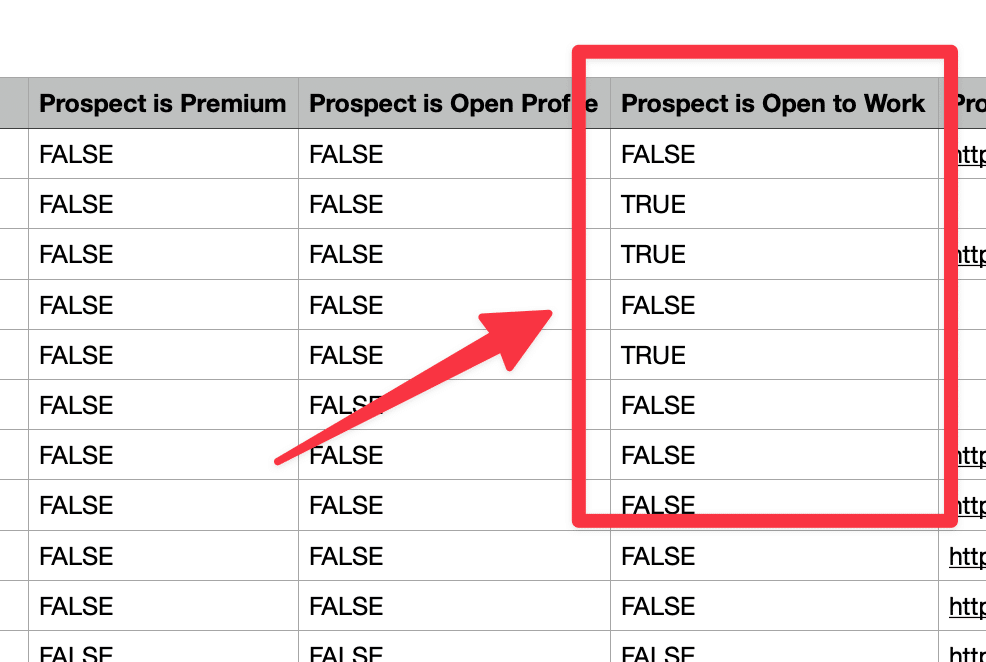 ---
---
Now that we analyzed all the search filters, let's take a look at the other filters offered by these tools.
Linkedin Recruiter Lite VS Sales Navigator Core Features
Advanced Search Filters are not the only feature offered by Linkedin Recruiter and Sales Navigator. They also include inmails, saved searches and more…
Sales Navigator Core offers more Inmais than Recruiter Lite
Linkedin Recruiter Lite comes with 30 inmails per month for one user.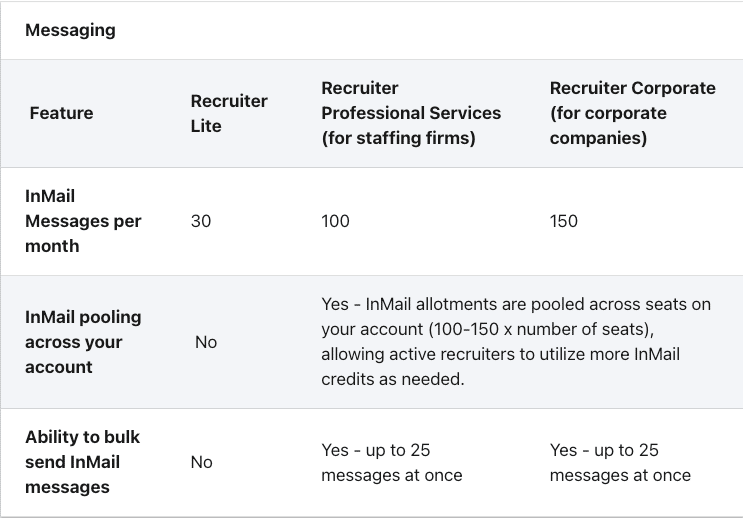 Sales Navigator comes with 50 inmails credits per month whatever the offer chosen.

You don't know what are inmails?
Well, there are premium linkedin messages that allow you to skip the connection request step and land directly into the candidate's inbox. More on that in this video.
Both Tools Offer Saved Search Feature
Both Linkedin Recruiter and Sales Navigator offers the possibility to save your searches.
This feature is really powerful as it allows you to be notified every time a new candidate or a new lead match with your search filters.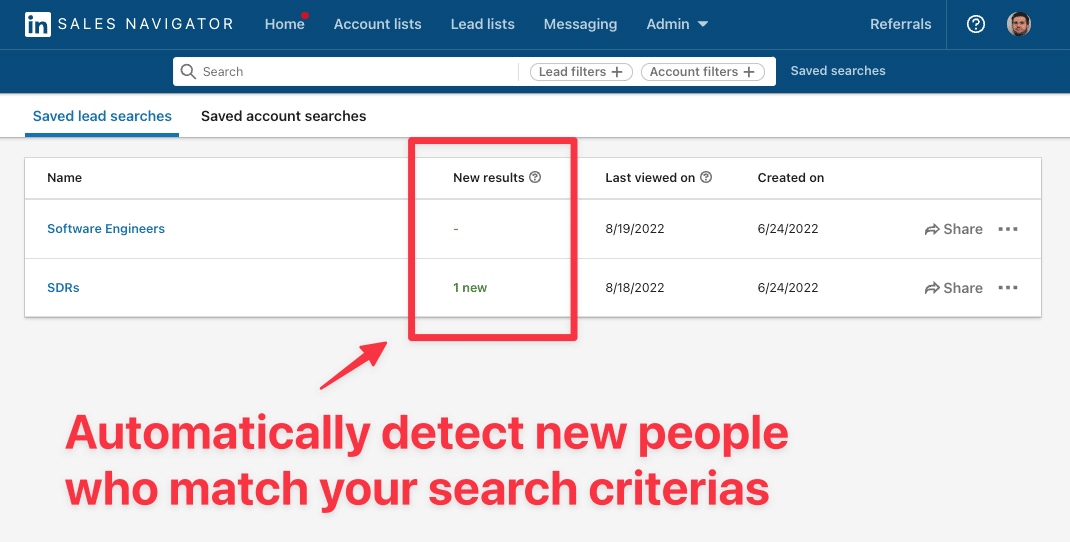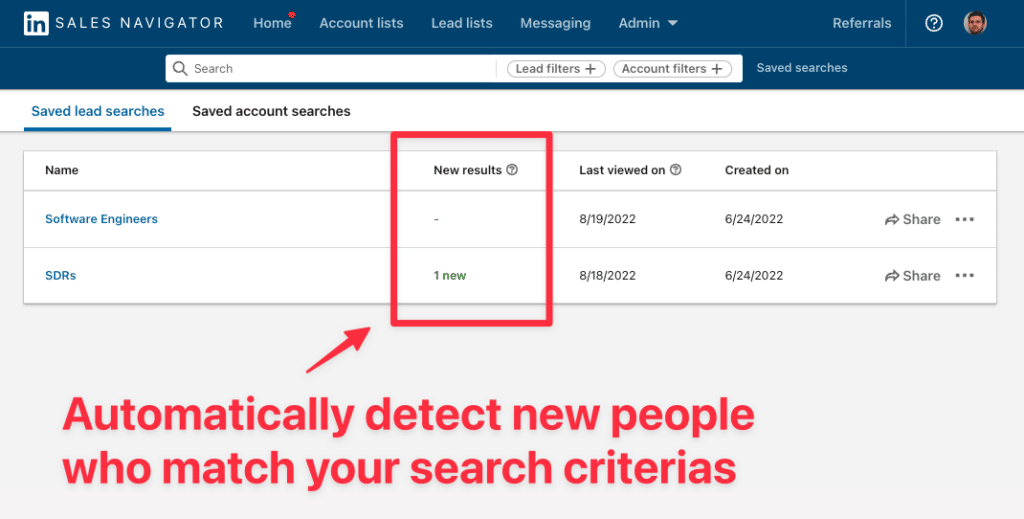 On Sales Navigator, simply click on Saved Searches > New Results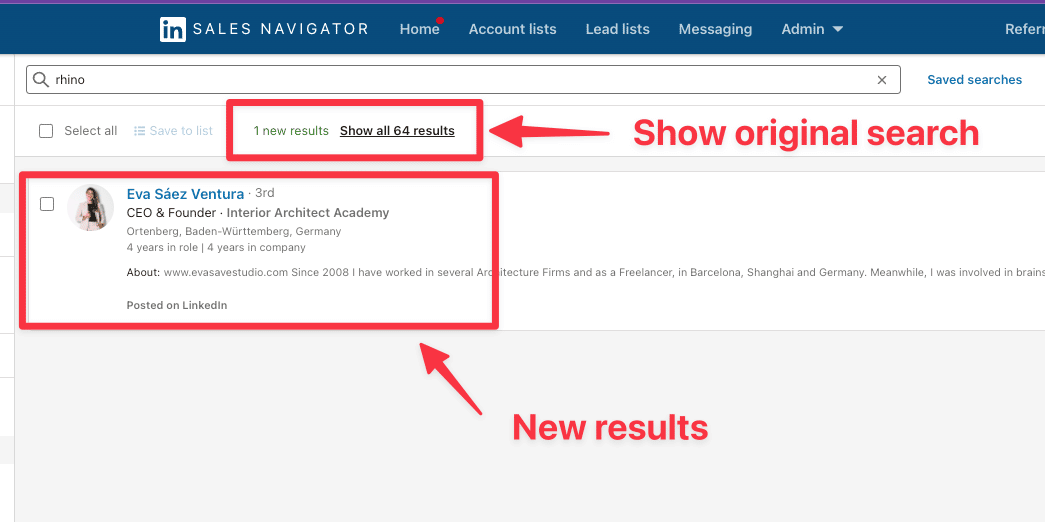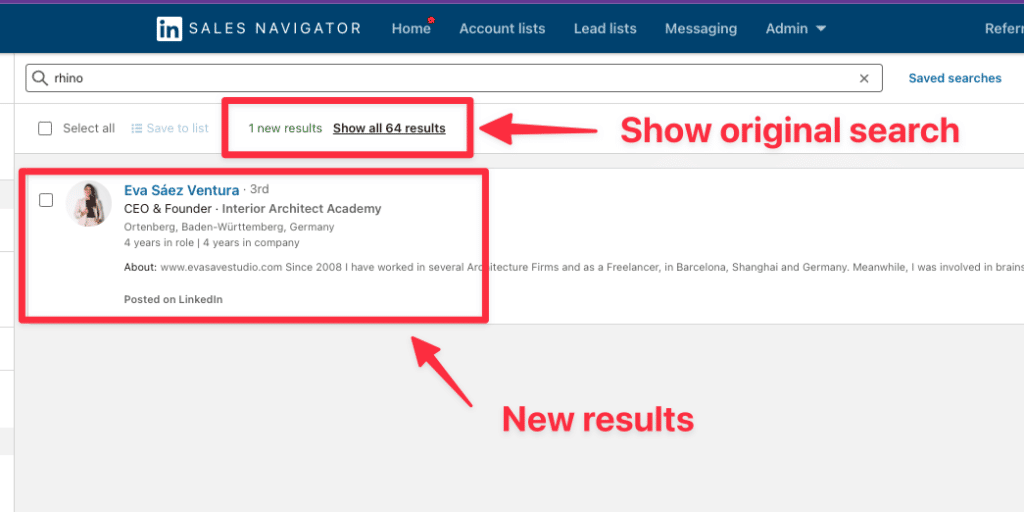 Then you will see the new people matching with your search filters. You can come back to the original search anytime.


On Linkedin Recruiter, the feature works exactly the same way. You can decide to receive your notifications daily or weekly and Linkedin will send you updates automatically.
Linkedin Sales Navigator Helps You Find Clients
The big plus of Linkedin Sales Navigator is that you can use it to find candidates AND Clients.
Indeed, Sales Navigator also gives the possibility to use the search filters to look for accounts.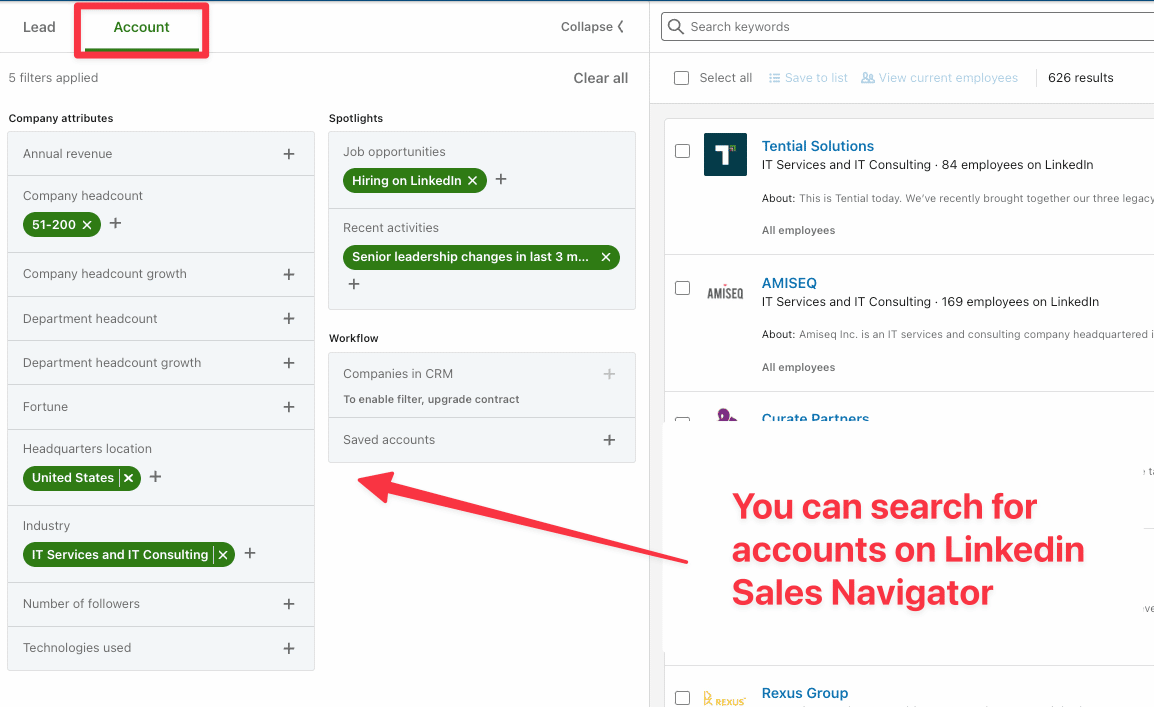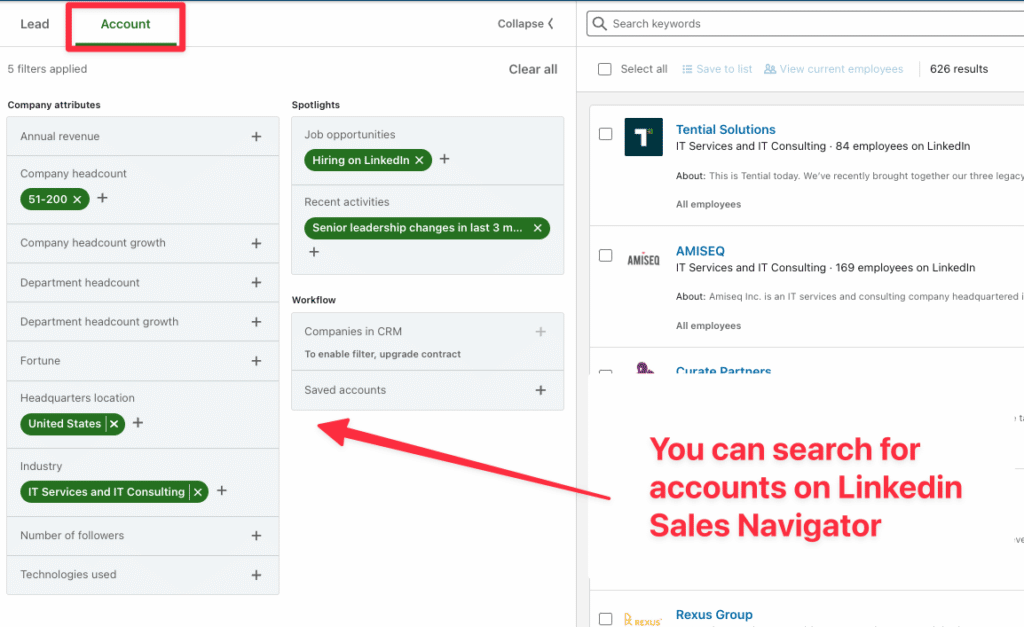 Among these search filters is a game change "Hiring on Linkedin"
This filter is super useful as it allows you to find companies that have at least one job offer opened on linkedin.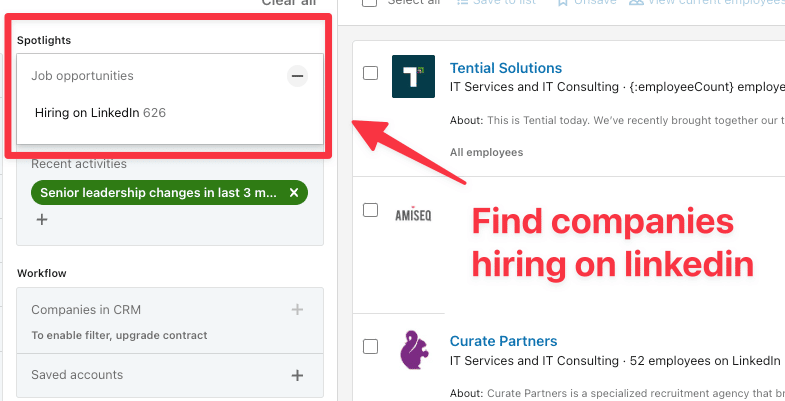 Once you have identified these companies, you can save them into a list and get some insight about them.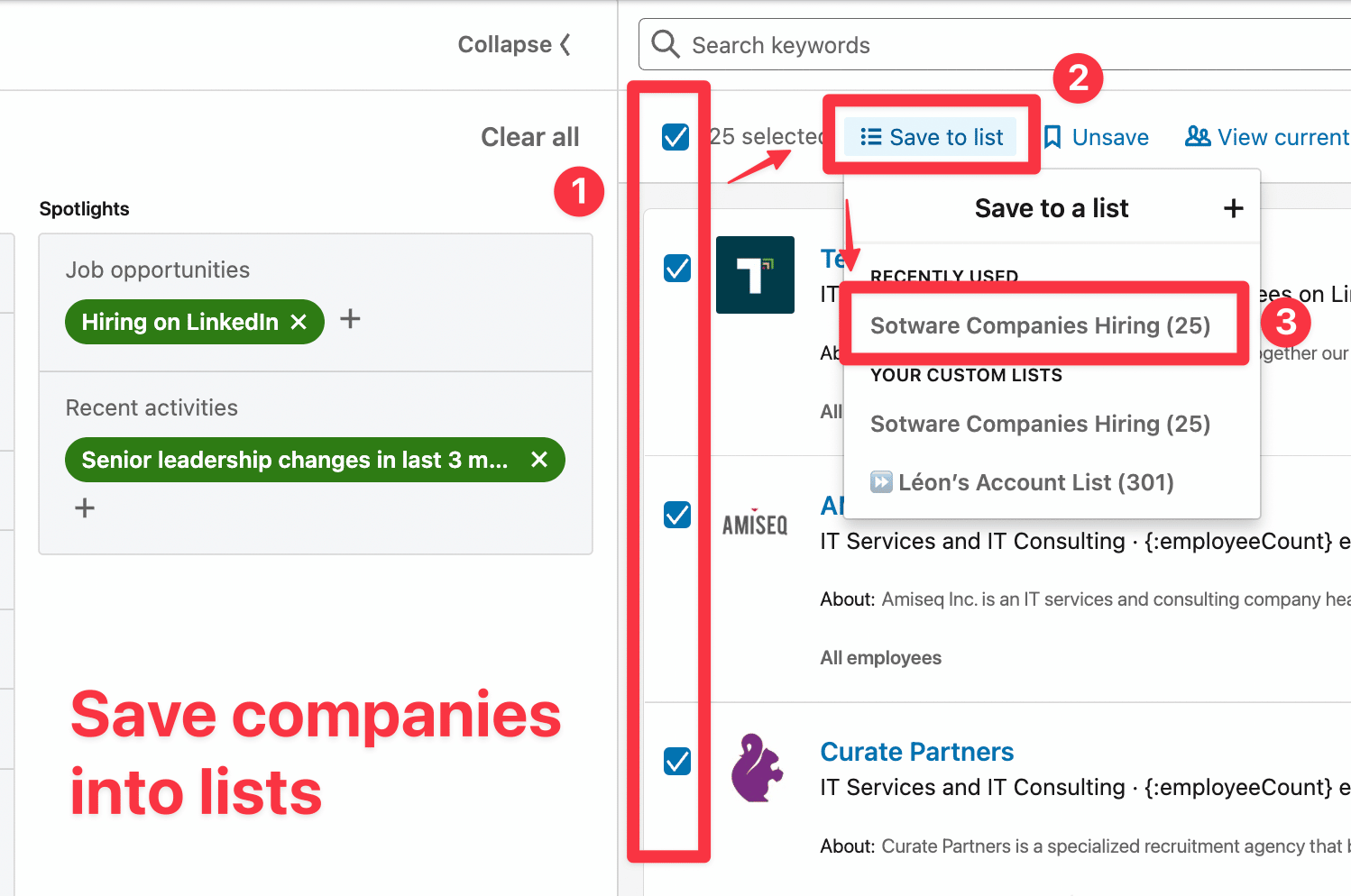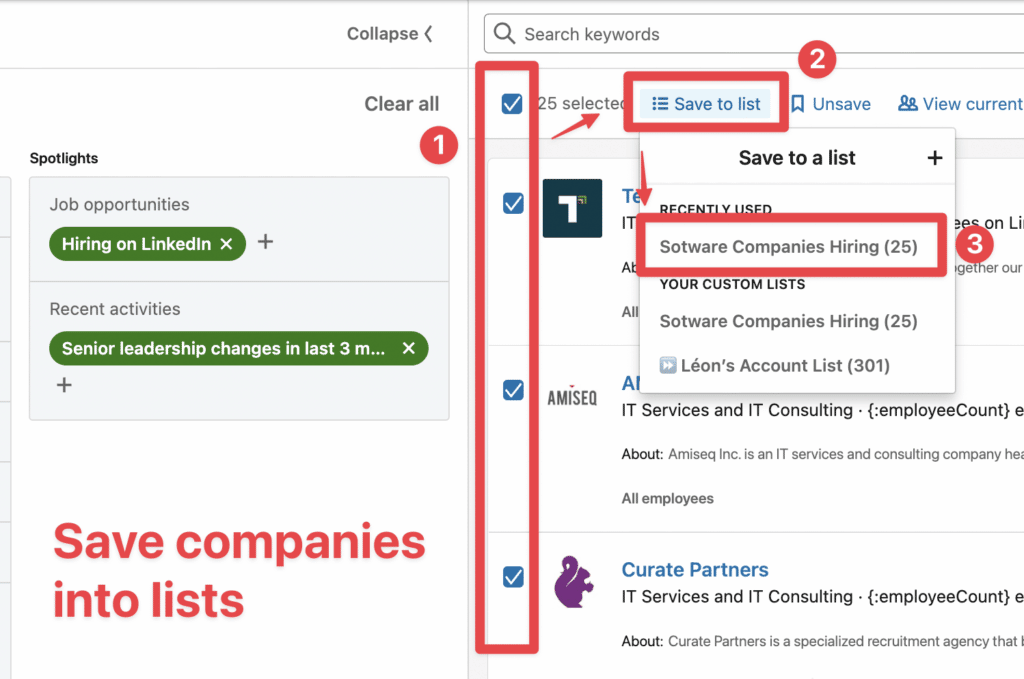 Sales Navigator also makes it really easy to find decision makers inside these companies.
Let's say you spotted some startup looking for developers.
Go on the lead search
Go to Workflow > Account List > Select your Account List
Target a job tittle like CTO
Boom, you have the list of all the decision makers to contact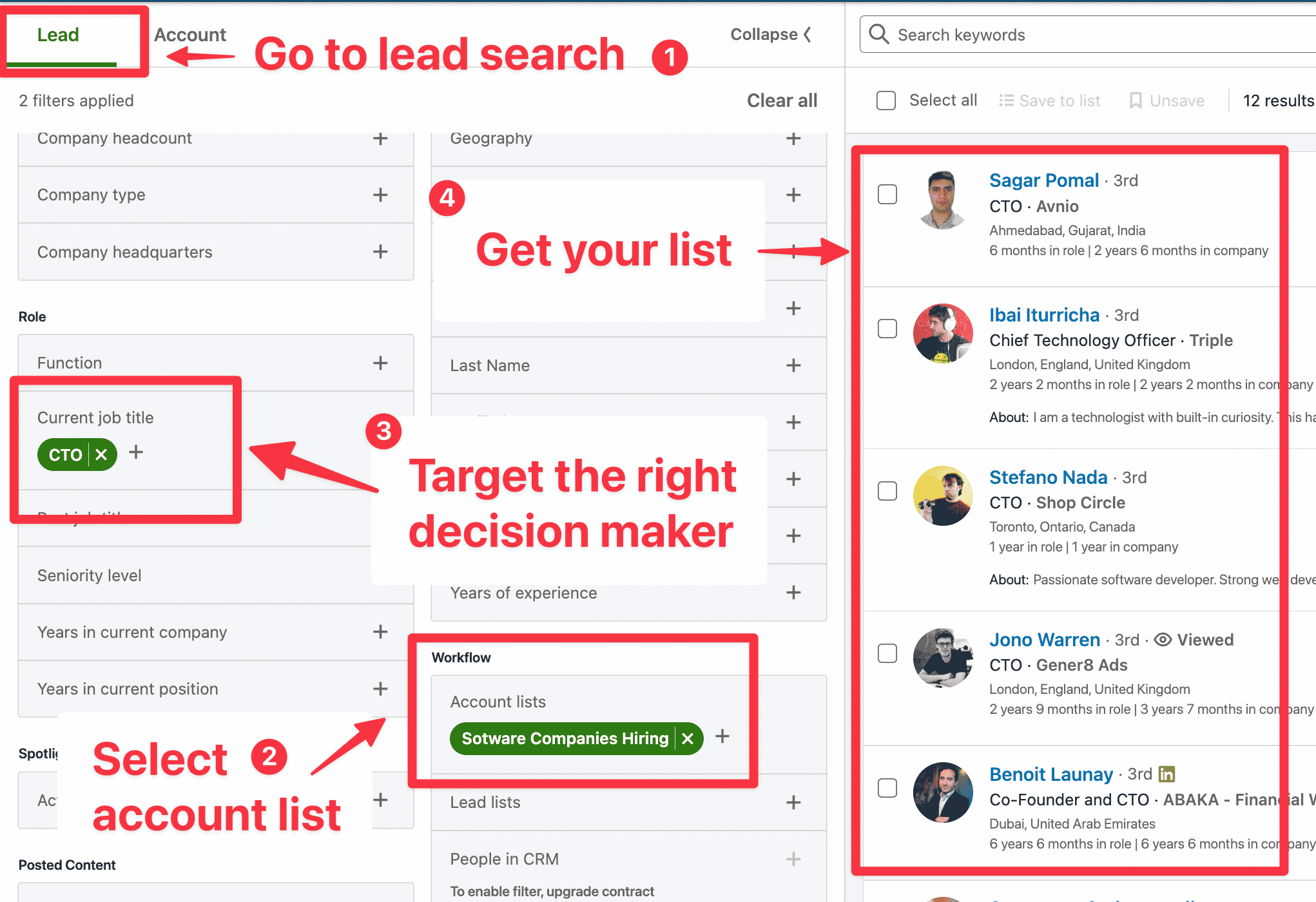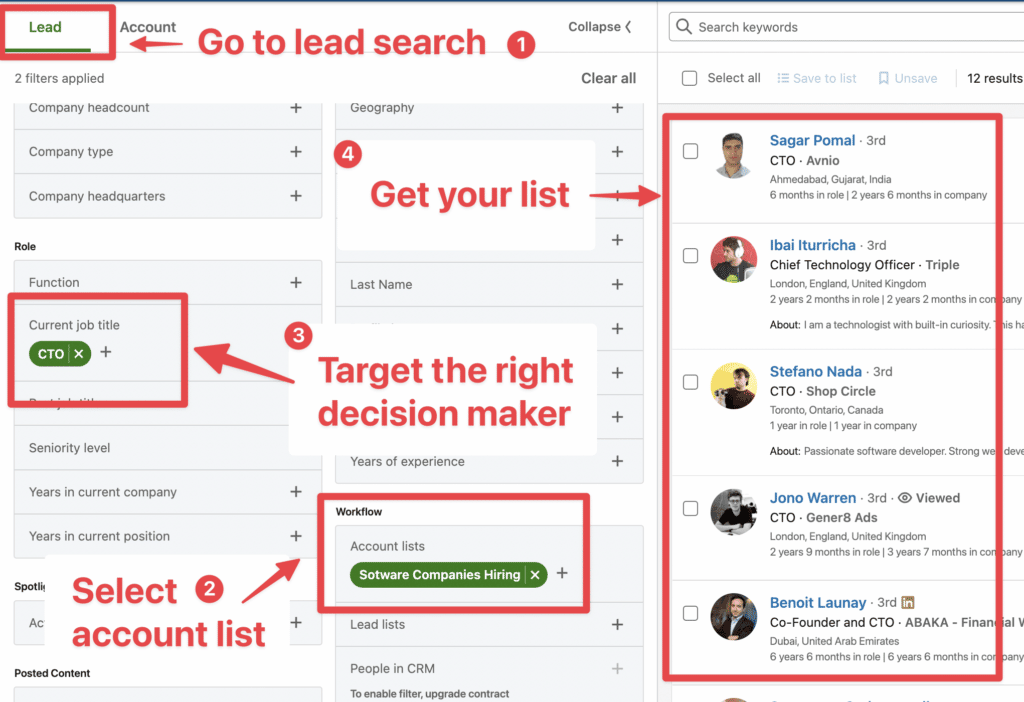 if needed, you can use Evaboot to extract this list into a CSV and get emails.
Linkedin Recruiter Lite include a Recruiting CRM
Linkedin Recruiter is not only a search tool. It also includes a recruiting CRM to manage your candidates pipeline.
Inside this CRM, you can create "Projects" that will centralize 3 sources of candidates:
Candidates you found through searches
Applicants to Job Posts published on Linkedin
Candidates Recommended by Linkedin Algorithm
You can easily access these sources through the "Talent Pool" Tab.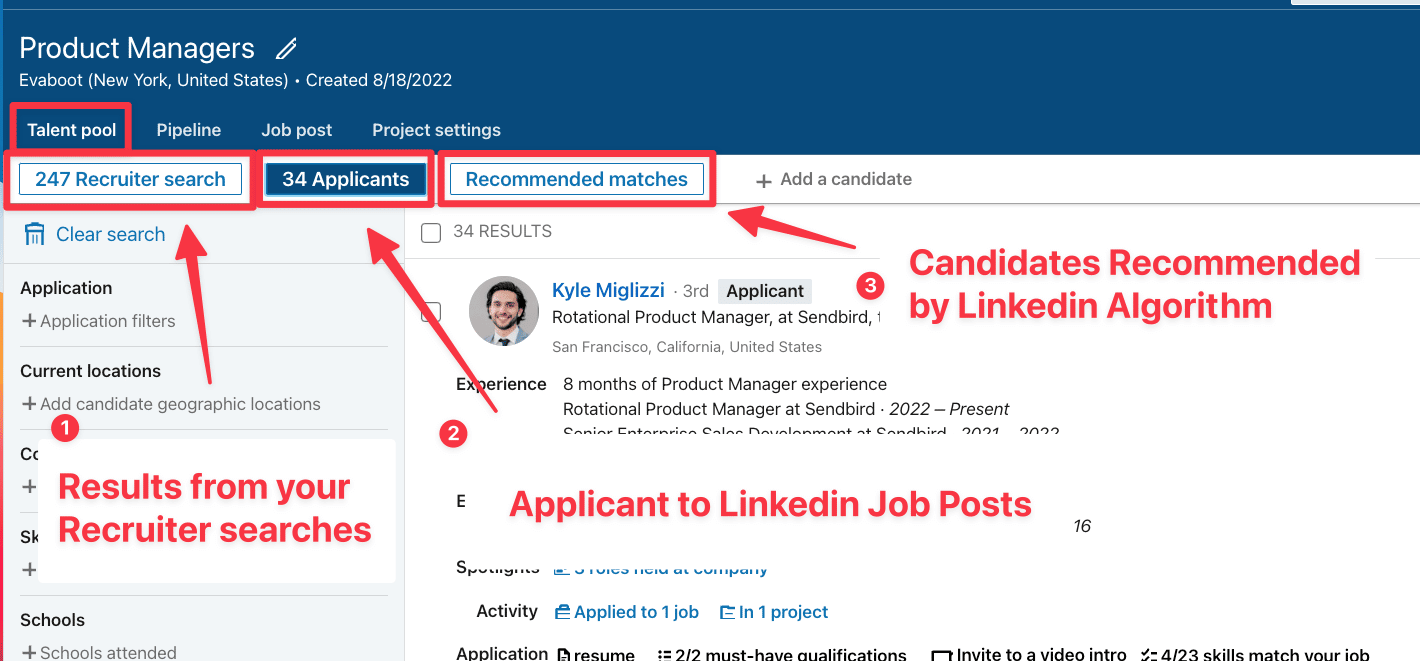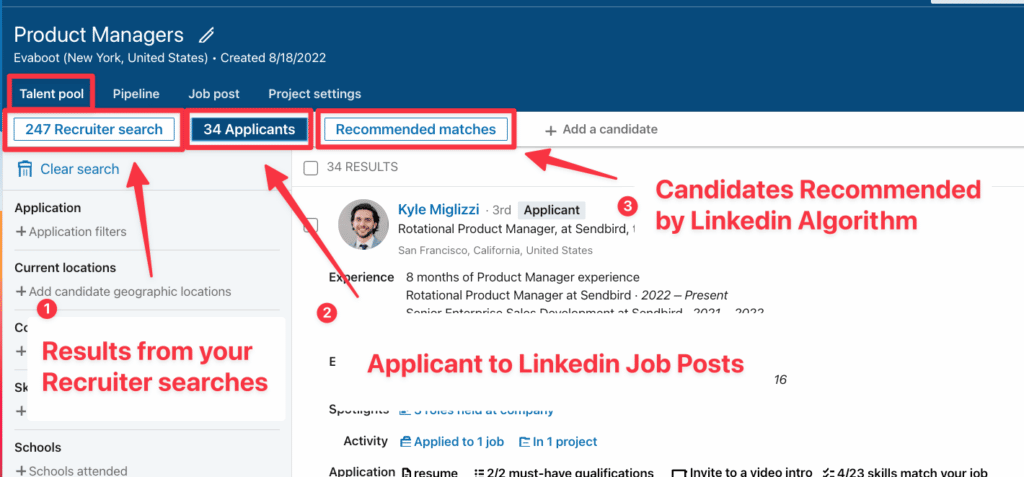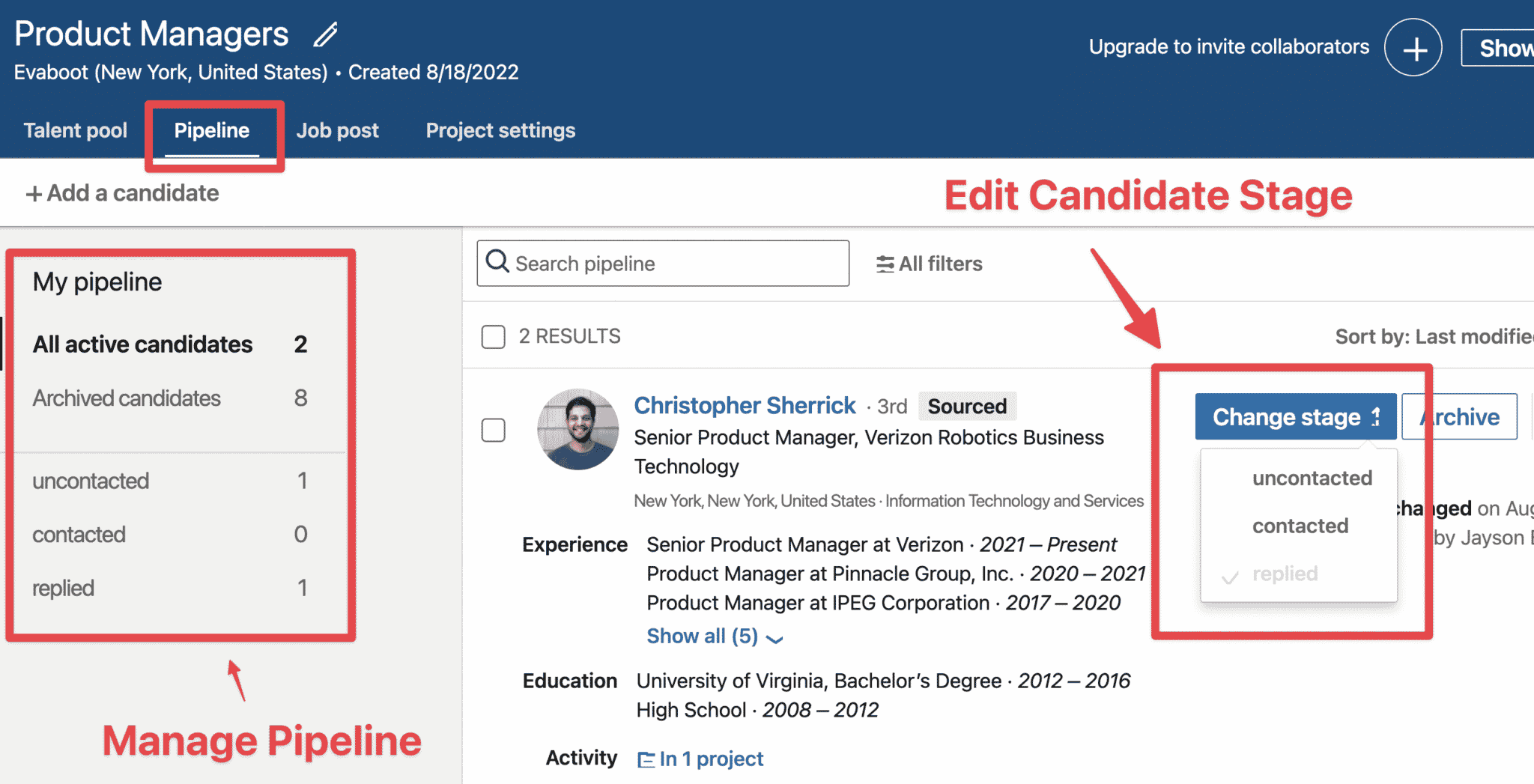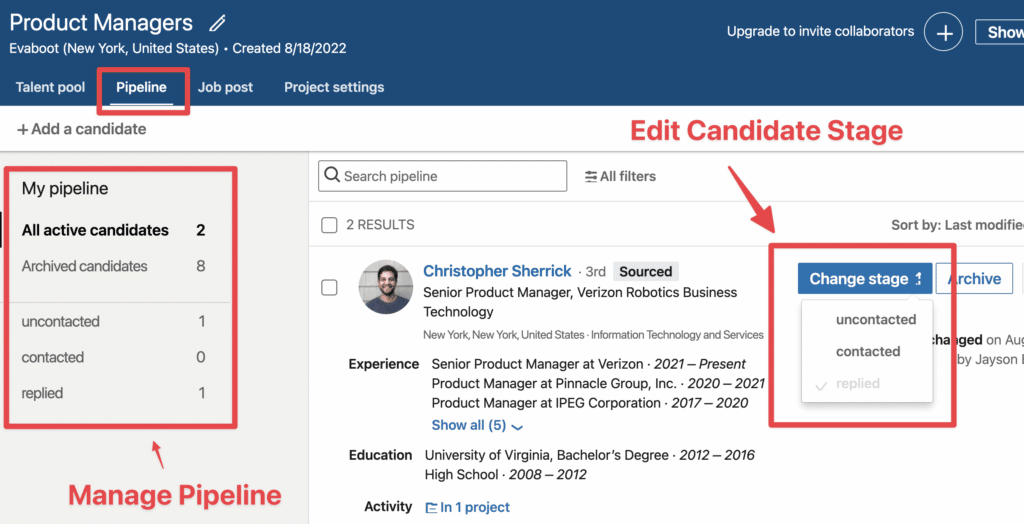 Note that you can also add candidates not present on Linkedin by clicking on "+Add candidate"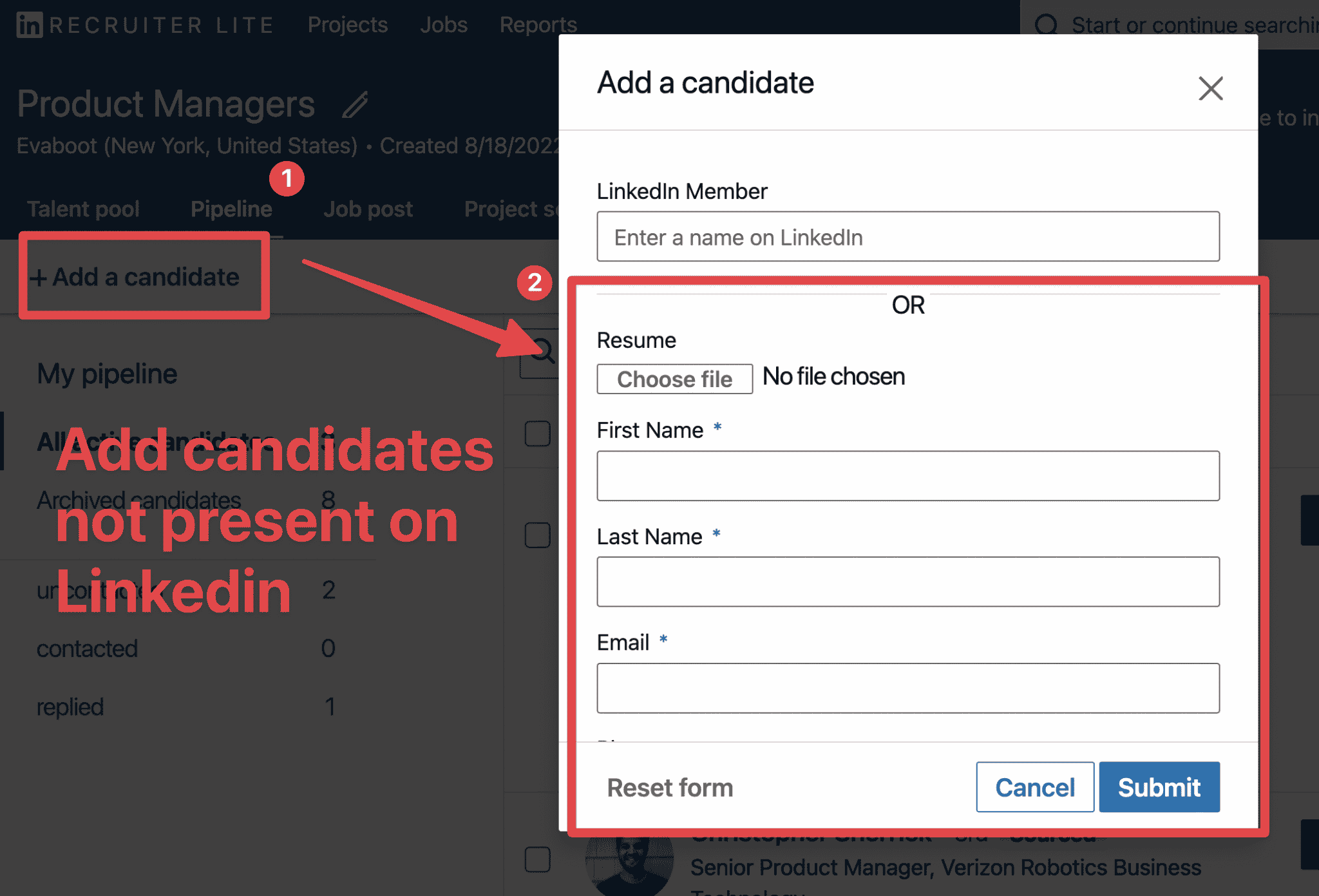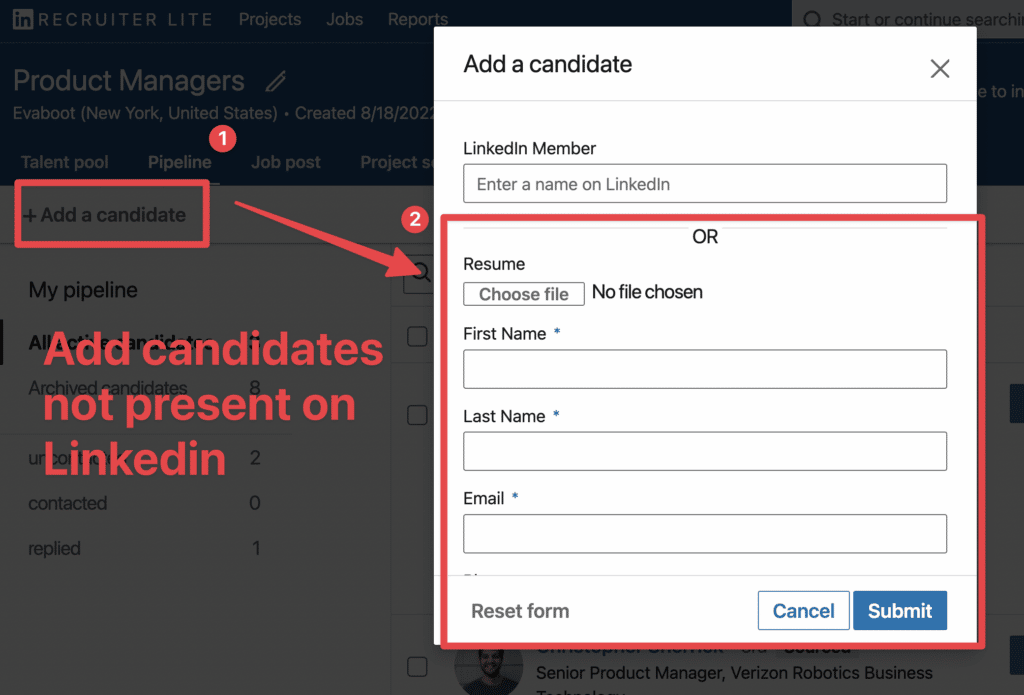 Recruiter CRM also allows you to post job offers direcly from the platform and get some stats about them.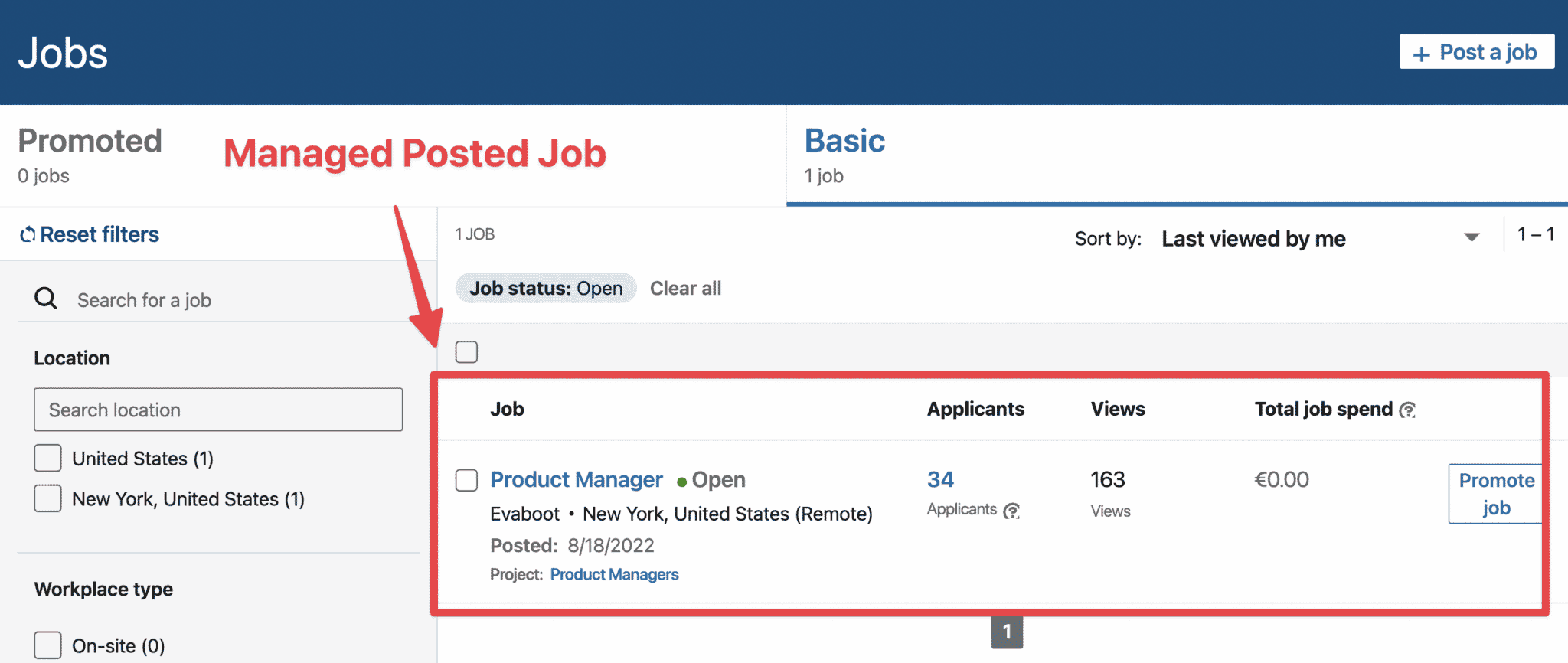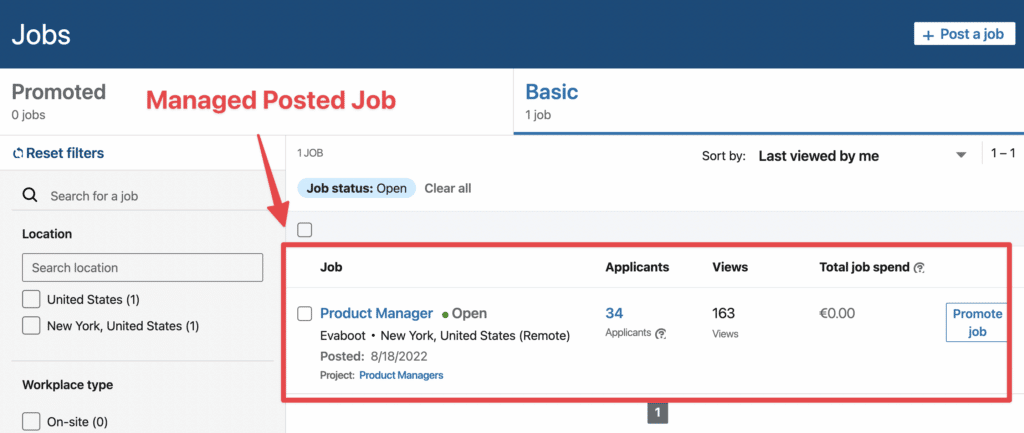 There are also few analytics about Inmails (sent, response rate, replies etc…)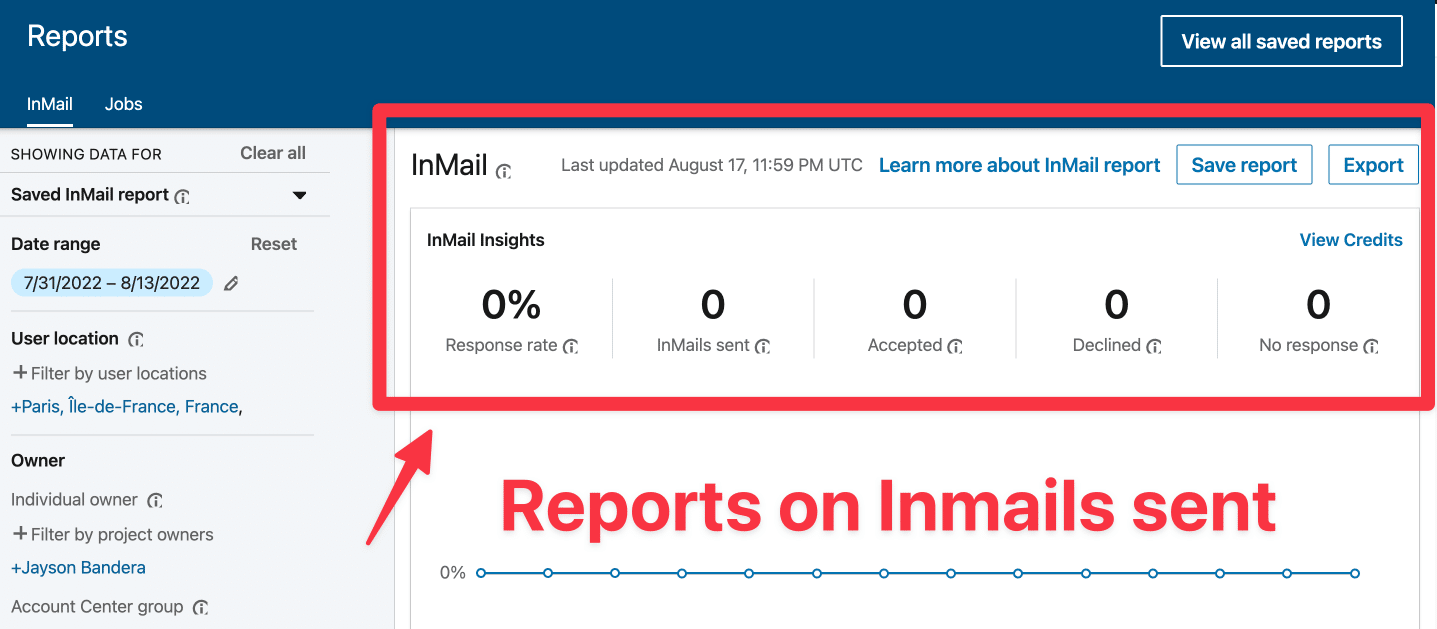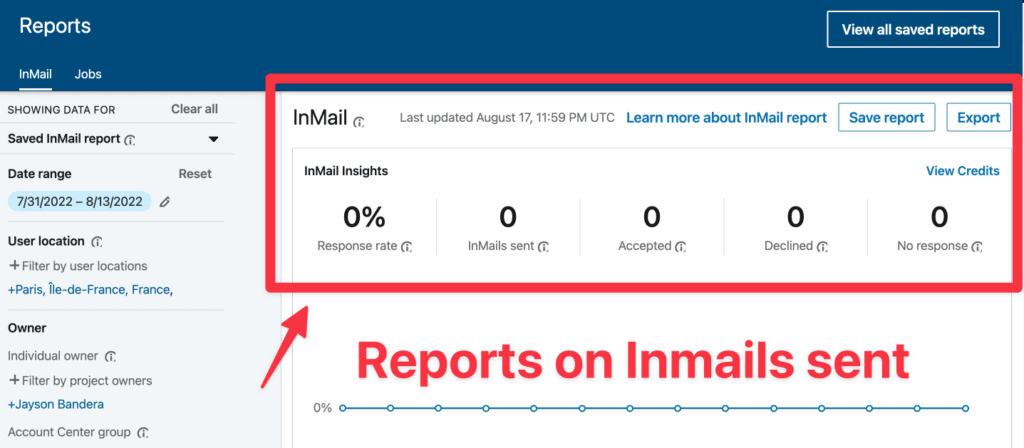 ---
Linkedin Recruiter VS Sales Navigator Advanced Features
Now that we compared the basic offers (Lite vs Core), let's take a look at the other premium offers: Recruiter VS Advanced.
Advanced Recruiter Features to Find Candidates
Linkedin Recruiter offers 3 things compared to Recruiter Lite:
More Inmails
Easier Collaboration
Integration to recruiting CRMs
1. More Inmails
Linkedin Recruiter gives 100-150 per month per team member.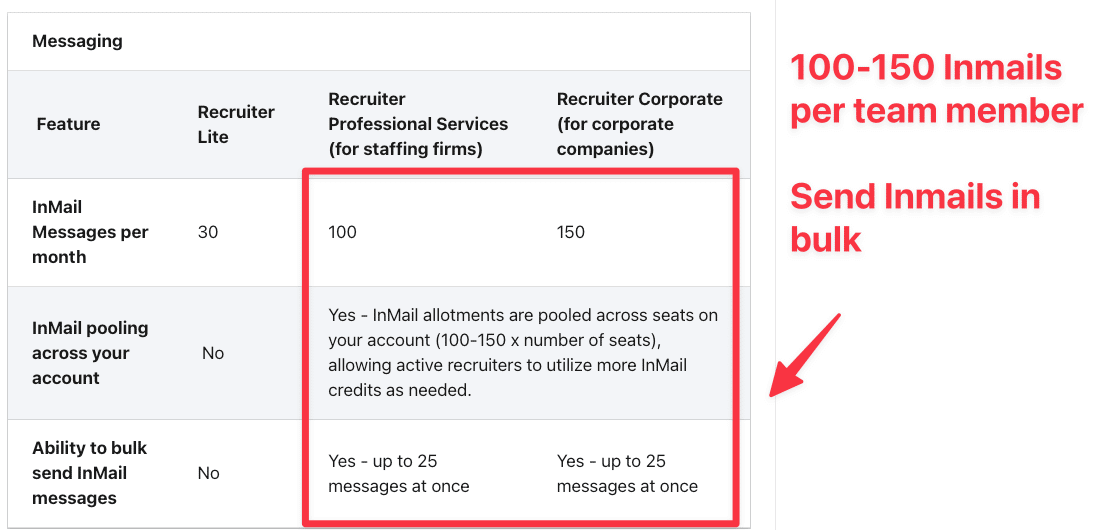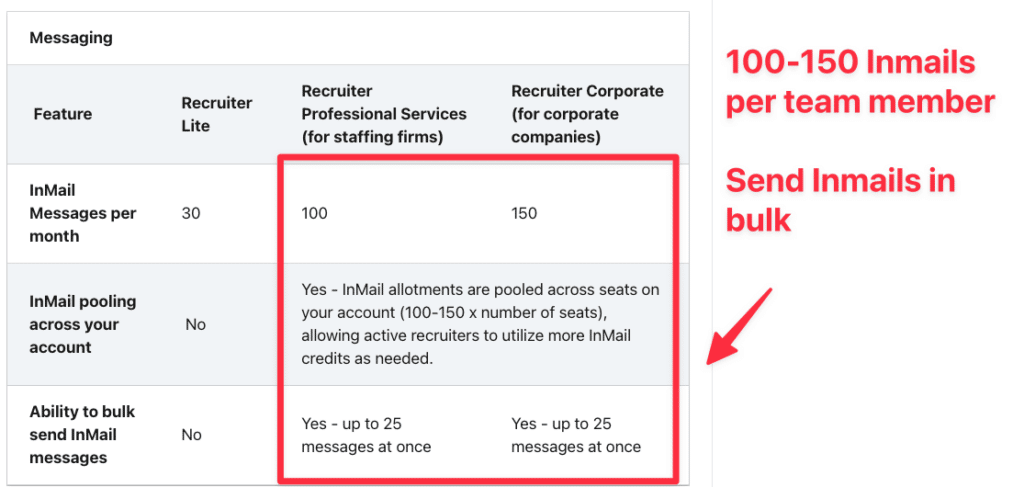 You can add up to 20 team members to your Linkedin Recruiter account so that mean your team can send up to 2000-3000 inmails per month.
2. Easier Collaboration
Linkedin Recruiter add many tools make team work easier like mention, message sharing, activity tracking etc…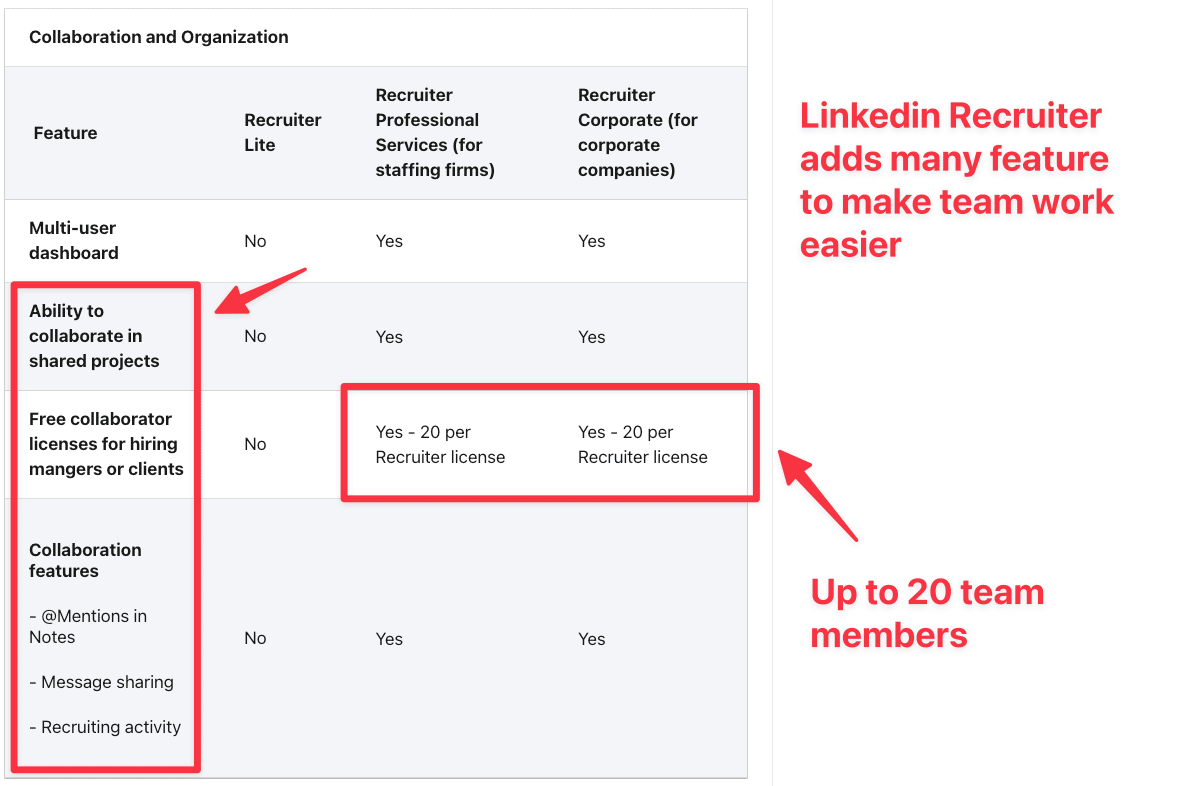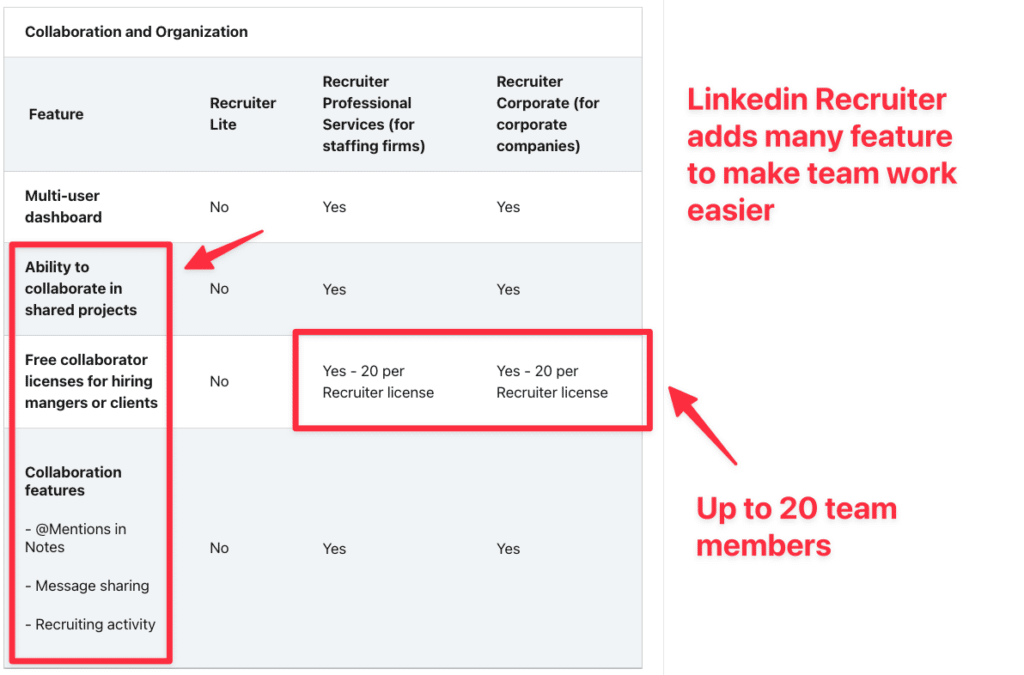 These tools are a great time saver if you need some decision makers or client to be involved in the recruiting process.
3. Integrations
Recruiter integrates with most popular recruiting CRM and Applicant Tracking Systems (ATS) like Workable, Workday or Oracle.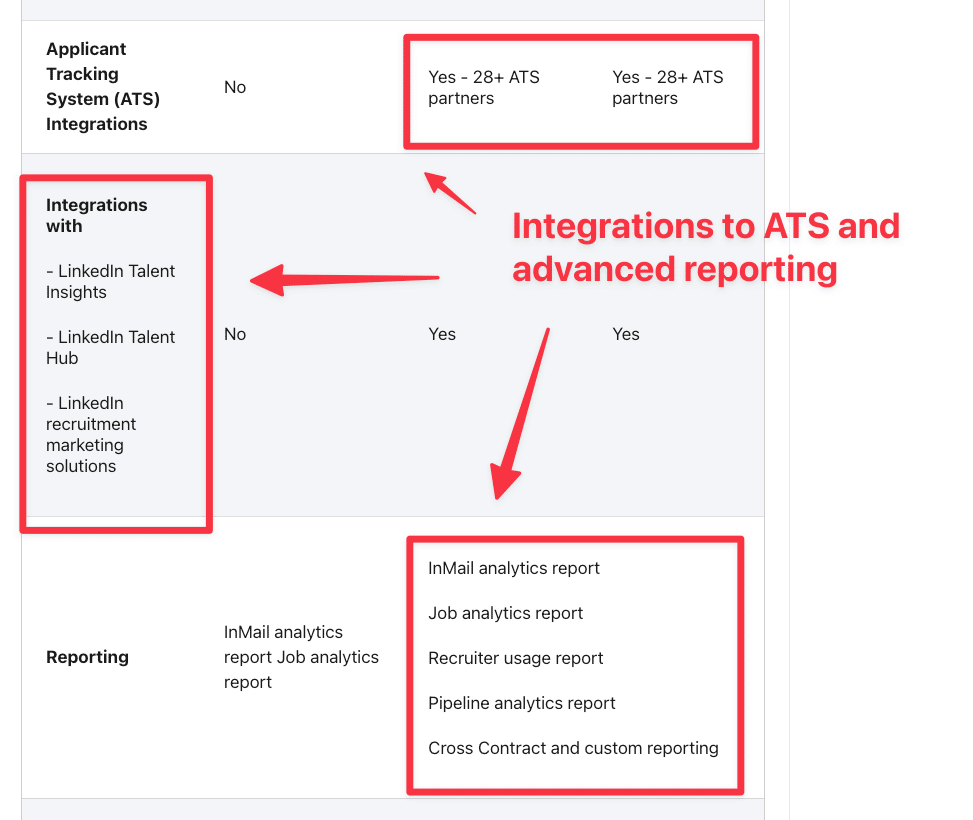 It also integrates with the other Linkedin recruiting products like Talent Insights and Talent Hub.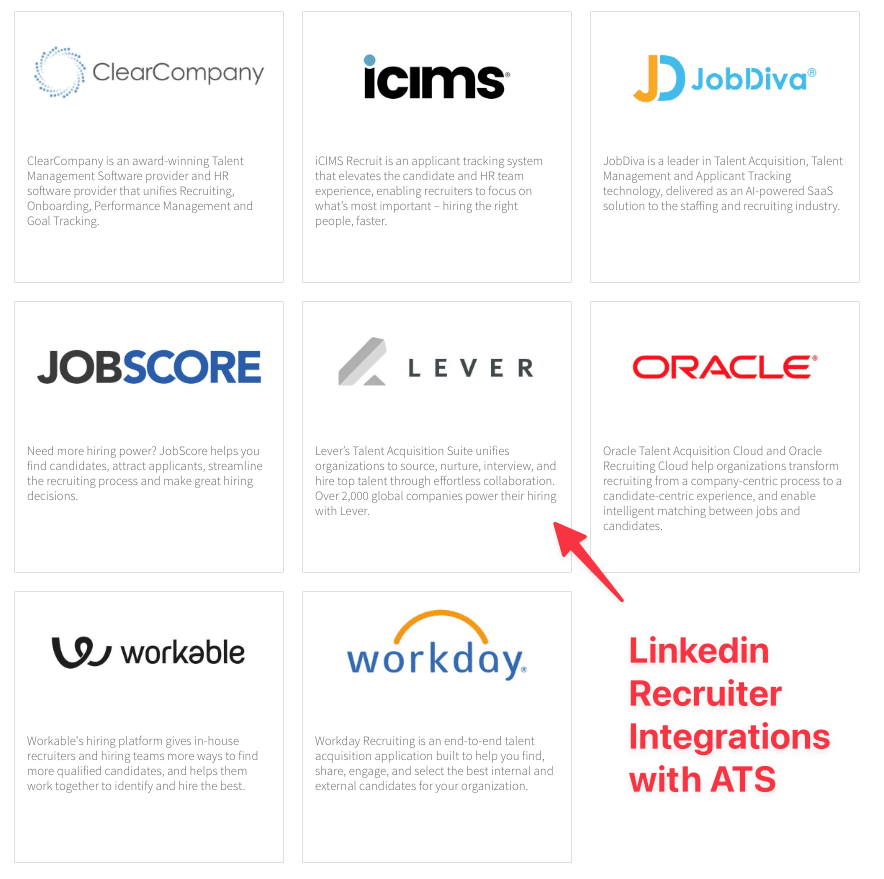 Linkedin Recruiter also propose advanced reporting feature like Pipeline and Job analytics reports.
Sales Navigator Advanced Features To Find Client For Your Recruiting Business
Linkedin Sales Navigator offers 2 premiums plans:
Linkedin Sales Navigator Advanced (Team)
Linkedin Sales Navigator Advanced Plus (Enterprise)
Their additional features are obviously direct to Sales and not Recruiter.
1. Create Account List From CSV Upload
Let's say you identified some companies recruiting on Indeed and you want to find their decision makers on Sales Navigator: no problem.
Extract company names and website from Indeed and upload it into Sales Navigator.
Linkedin will find the companies inside your CSV in it's database and after that you'll be able to find decision using Lead Search > Workflow > Account List.
2. Track Sales Presentations with Smartlinks
Sales Navigator Smart Links allows to create Sales presentation aggregating files and websites, and then easily share and track your prospects interactions with this content.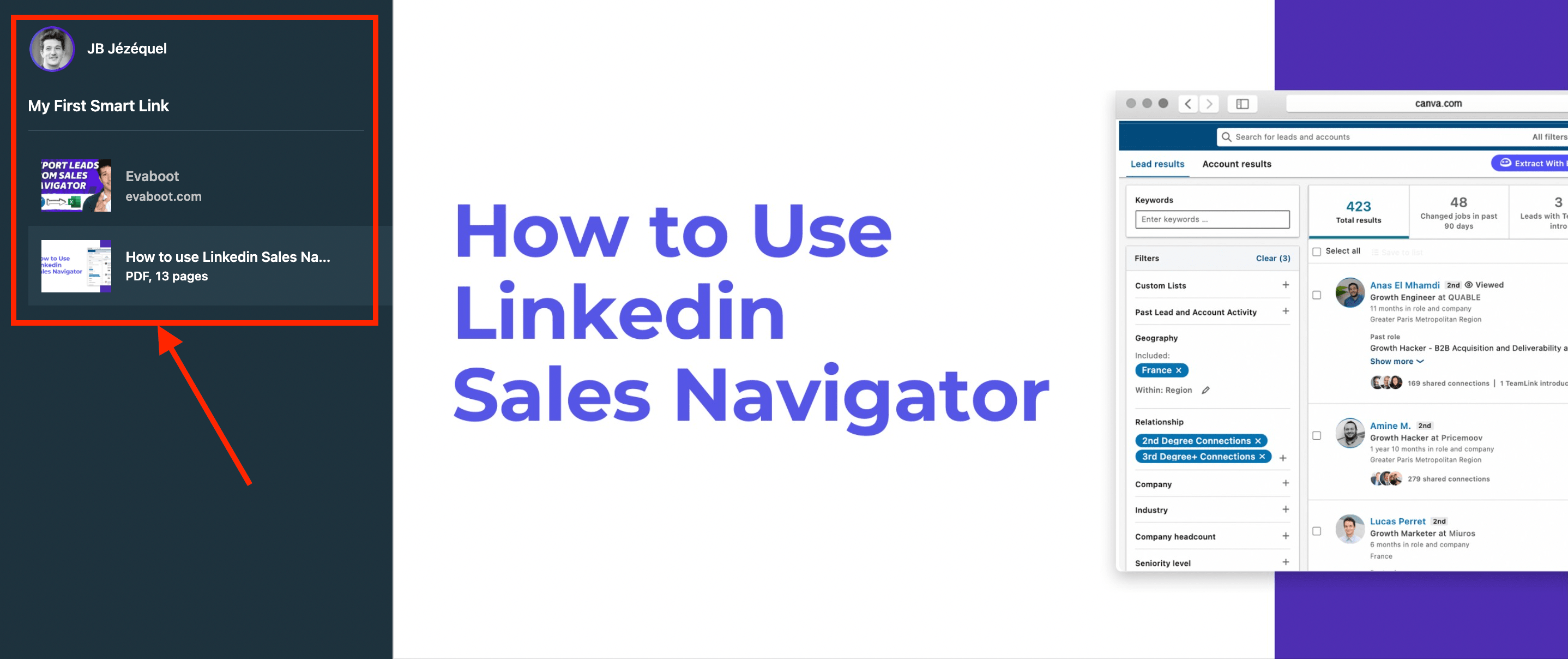 Look at a live example here.
It's really useful to track how your potential clients are interacting with your Sales presentations.
3. Synch Your CRM to Linkedin with Sales Navigator Advanced Plus
Linkedin Sales Navigator Advanced Plus is really expensive ($1600/month) and made for Enterprises with high budget.
It offers advanced features like Advanced CRM Synch, Real Time Contact Update, and chirurgical targeting on Linkedin Ads
If you want your Sales CRM to be perfectly synchronized with Linkedin database, Sales Navigator Advanced plus has everything you need.
Linkedin Sales Navigator Vs Recruiter: Final Thoughts
To wrap this up, here are the elements you need to make your final decision.
1. Can you use LinkedIn Sales Navigator for Recruiting?
Yes. Definitely.
Linkedin Sales Navigator has access to the whole Linkedin database and has better search filters than Linkedin Recruiter Lite.

The advantage is that you can use a unique tool to find candidates and handle sales operations for only $99/month.
By the way, here is a whole article on how you can use Sales Navigator for recruiting
2. Linkedin Recruiter VS Sales Navigator: What's the Best Option?
If you need only Linkedin Recruiter for the access to Linkedin database, you'd better go with Linkedin Sales Navigator.

You will get better search filters and access to +3rd degree connection for only $99/month.

If you have the budget and are interested in the other Linkedin Recruiter features:
CRM
Collaboration and Reporting features
Integrations to ATS
then Recruiter is the best option.
3. How Do I Switch From Recruiter to Sales Navigator?
You can switch directly from Linkedin Recruiter to Sales Navigator. You need to first unsubscribe from Linkedin Recruiter and then subscribe to Sales Navigator.
To cancel Linkedin Recruiter, go to Product Settings and then click on Cancel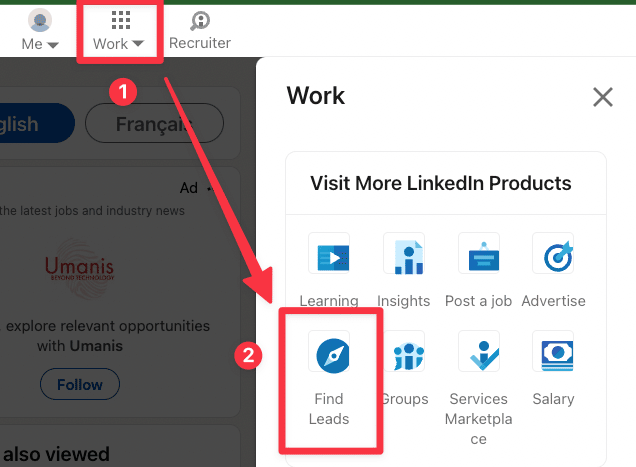 We are sorry that this post was not useful for you!
Let us improve this post!
Tell us how we can improve this post?
Build email lists from
Export clean data and get verified emails in 1 click.