LinkedIn Lead Generation: +19 Best Strategies To Use In 2023
There are 3 types of linkedin lead generation strategies:
Linkedin Ads Strategies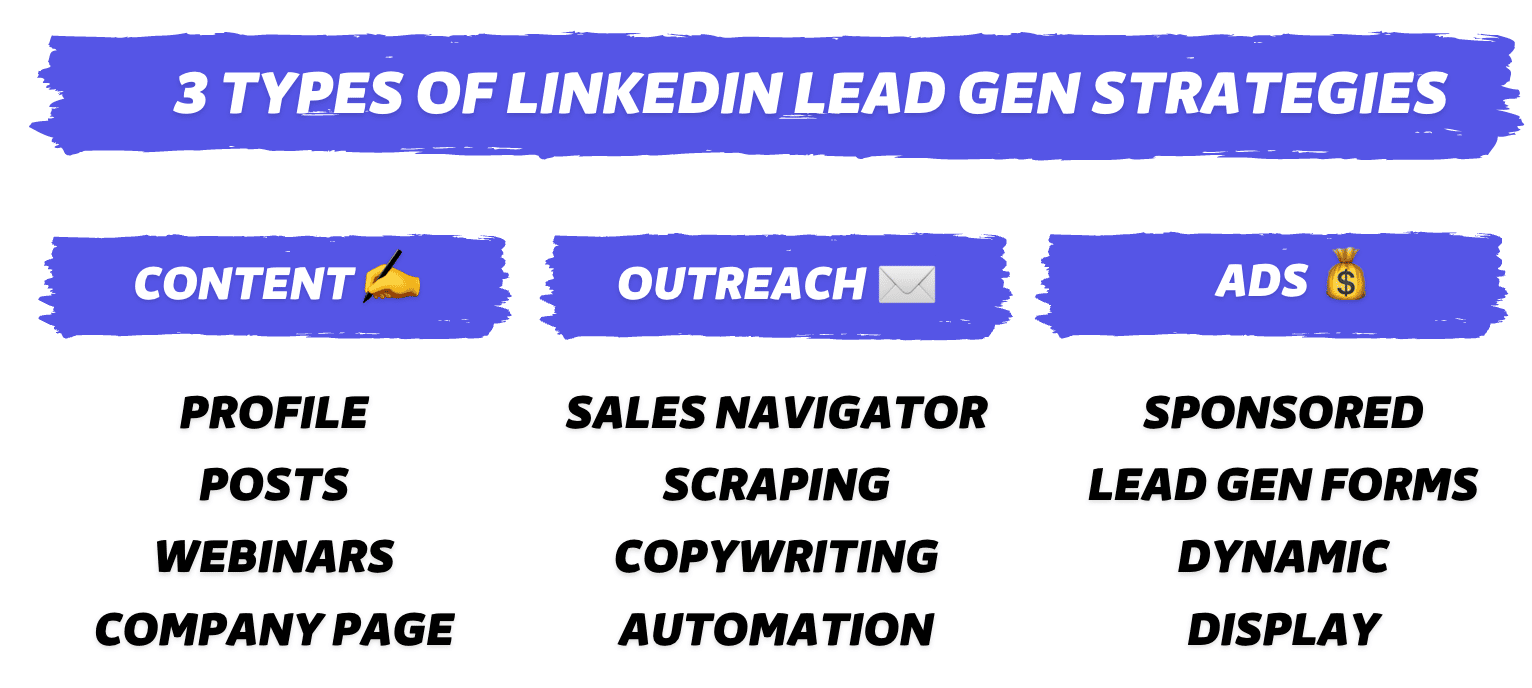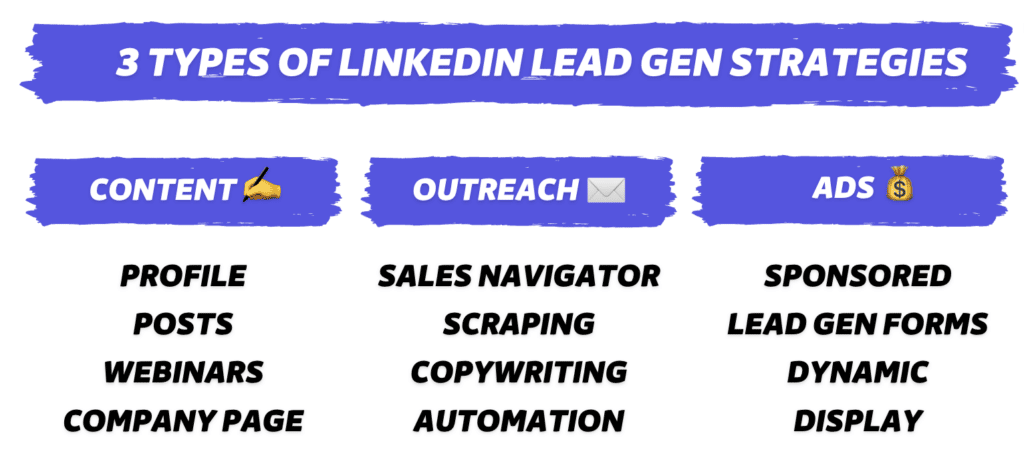 Here is a list of 19 proven strategies including marketing, prospecting and advertising strategies.

What is Linkedin Lead Generation?
LinkedIn Lead Generation describes the process of using LinkedIn to identify and get in touch with potential buyers and business partners. It includes Linkedin Marketing, Linkedin Paid Advertising and Linkedin Outreach. All these techniques can be used on Linkedin to network with people in your industry and to prospect your ideal customers.
Linkedin Lead Generation Strategies To Use in 2023
+19 proven linkedin lead generation strategies you can use:
Optimize your Linkedin profile
Post on Linkedin frequently
Find leads with Sales Navigator
Get emails from Linkedin
Send personalized messages
Send relevant follow-ups
Automate your Linkedin lead generation campaigns
Bypass Linkedin weekly limitation
Use Inmails as last resort
Send unlimited Inmails
Use boolean search
Organize Linkedin events
Steal your competitor's audience
Use Linkedin Account Based Marketing
Track your leads with Smartlinks
Use CSV Upload to build account lists
Leverage Linkedin groups
Run Messages Ads
Run Lead Gen Forms Ads
Run Sponsored Content Ads
Run Dynamic Ads
Hack Linkedin Ads with Linkedin Sales Navigator
1. Optimize your Linkedin profile
Optimizing your linkedin profile for sales is a mandatory step for any linkedin lead generation strategy.
Would you spend money on ads to send traffic to a dead website?
I guess not.
Same rule applies for your linkedin profile.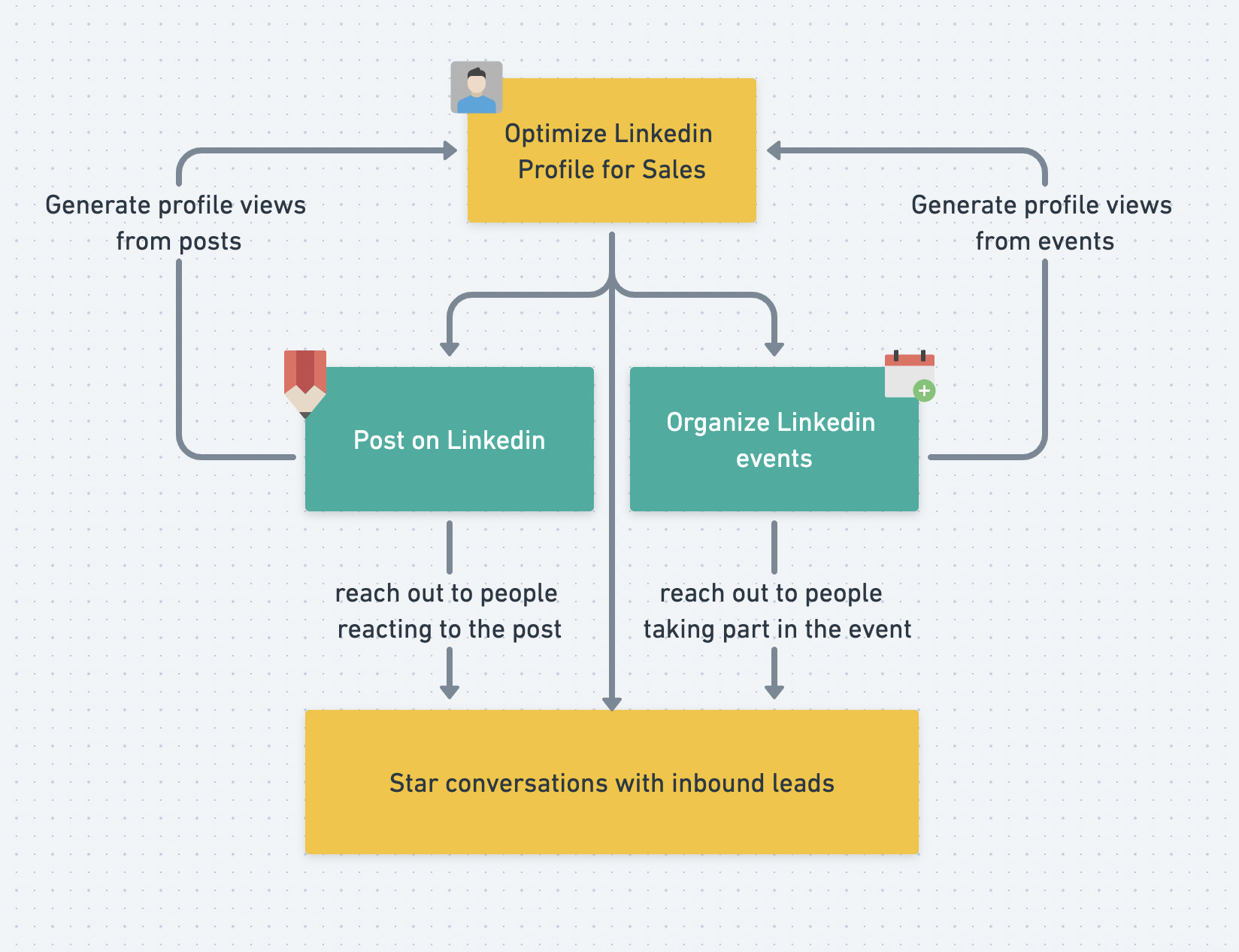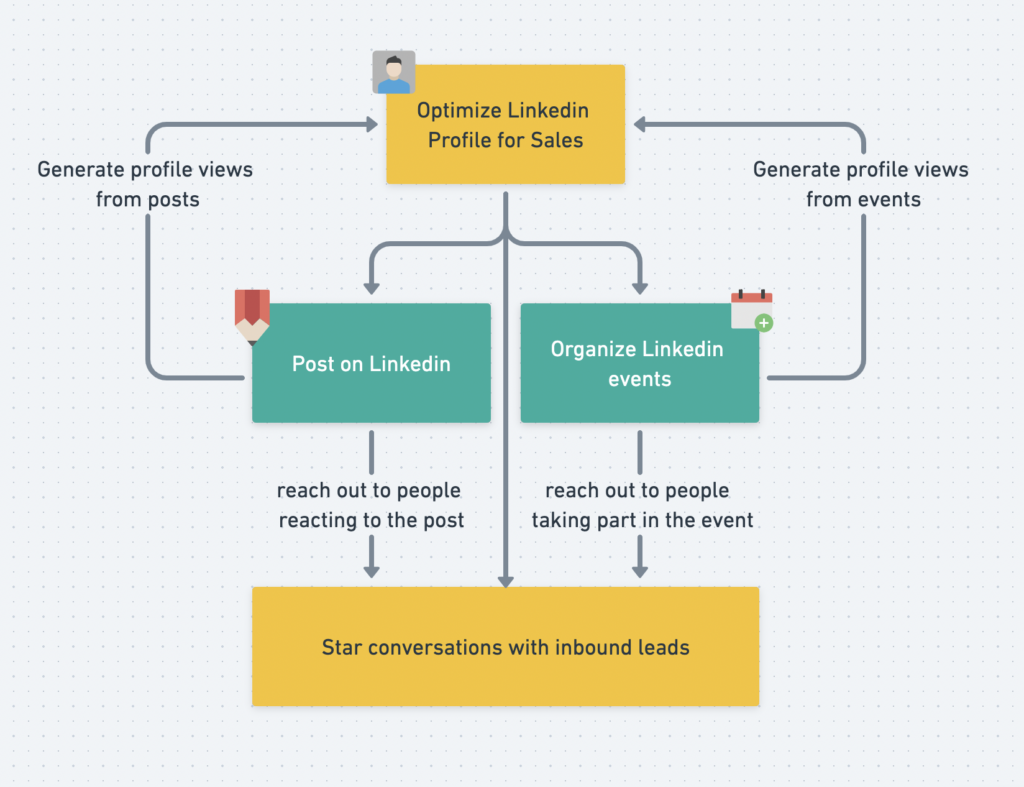 You only have one chance to make a good first impression.

Your profile is the first thing people will see when you send them a connection request

Make sure to optimize at least the elements that are visible on the connection request:
Picture
Headline
The people you want to connect with are really likely to check your profile to dig a little into how you are.
So you definitely want to:
Show your value proposition visually on your banner
Have a nice profile picture
Clear headline
Showcase your best posts
Detail your value proposition in the About Section
Give details about your job experiences
Someone should understand what's your proposition value in less than 3 seconds on your profile.

Optimizing your Linkedin profile is a mandatory step to start getting results with linkedin prospecting. Don't overlook this step or all the following advice will be useless.
2. Post on Linkedin frequently
Unlike Twitter, it's still pretty easy to become a Linkedin influencer. My first post on Linkedin did 50k views:



There is still room for new linkedin influencers on thought leaders on the platform.
You just need to be consistent and post good content frequently.
Posting on Linkedin allows you to get exposed to thousand of people everyday and start conversations with new leads.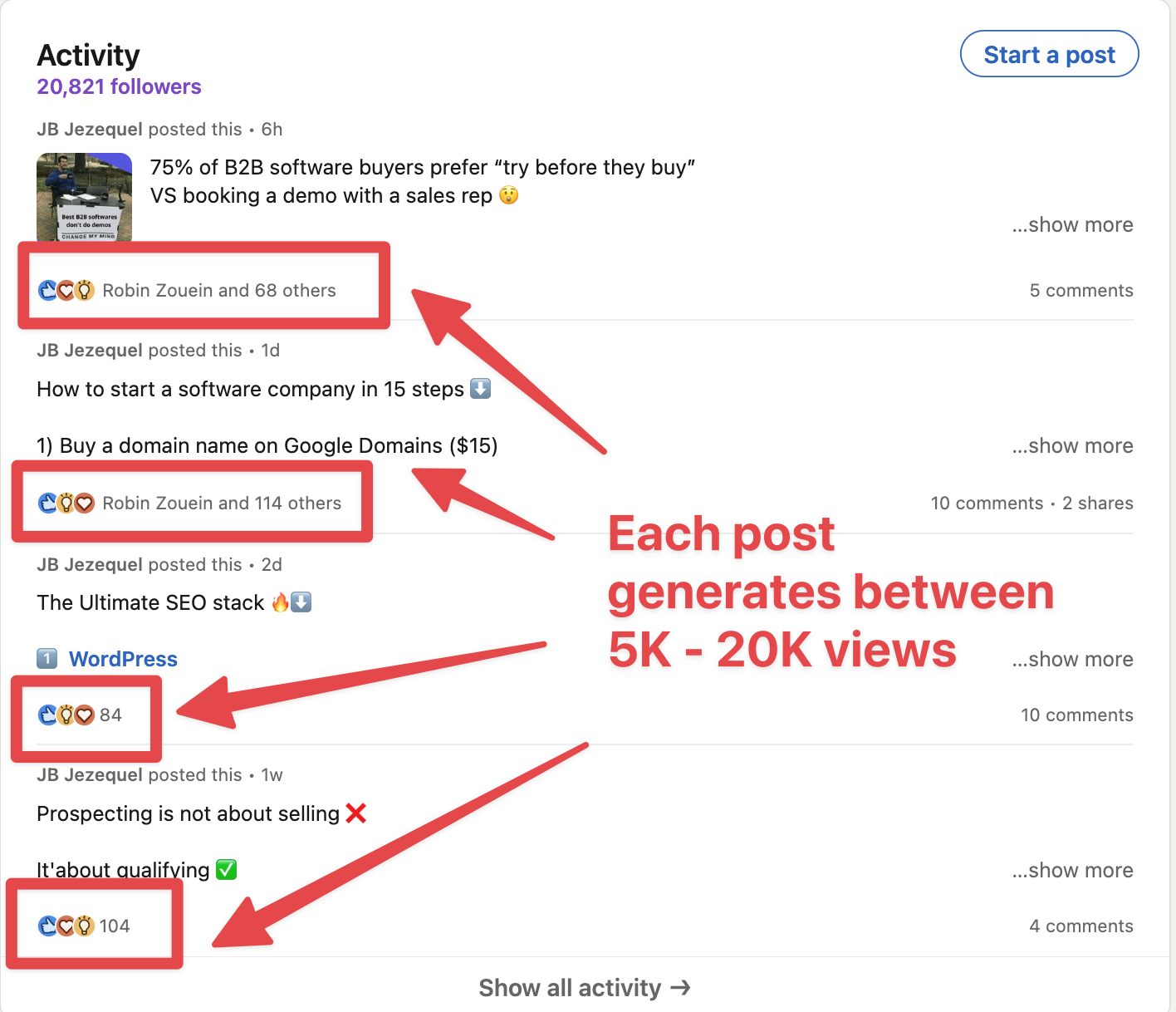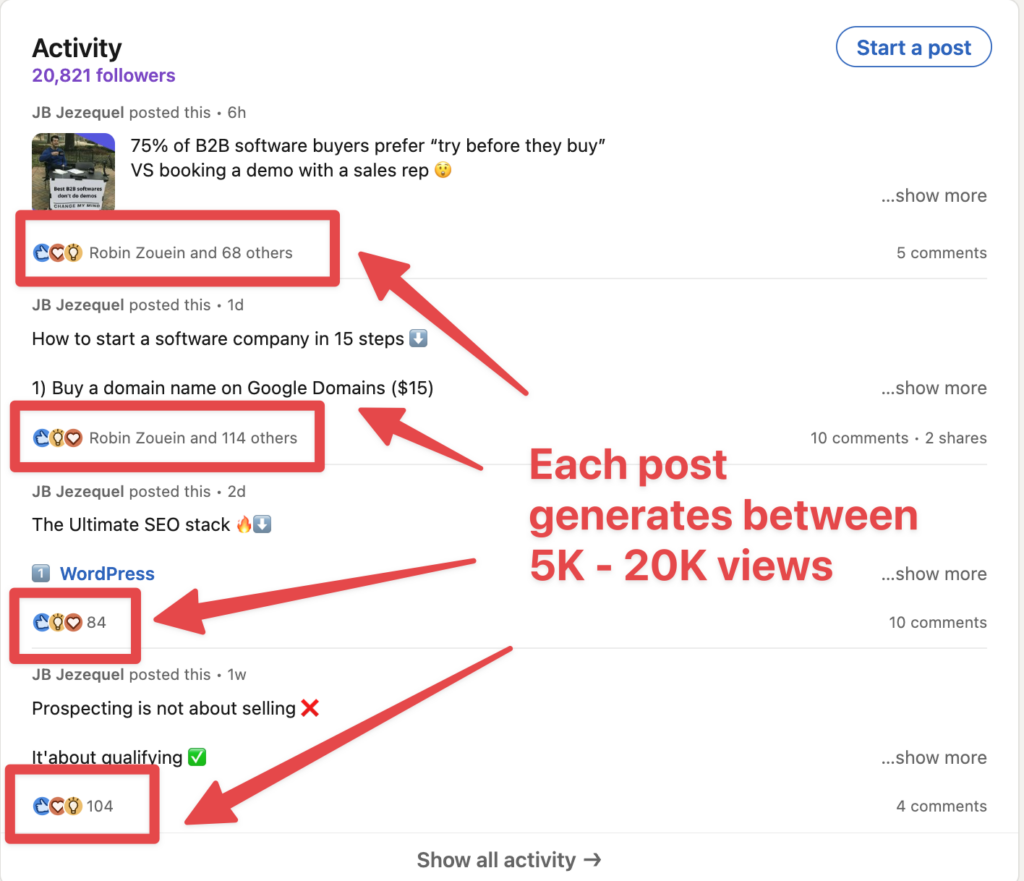 After posting on Linkedin, you can start conversations with people who liked or commented your post.

This strategy generated 150 meetings for us with a single post: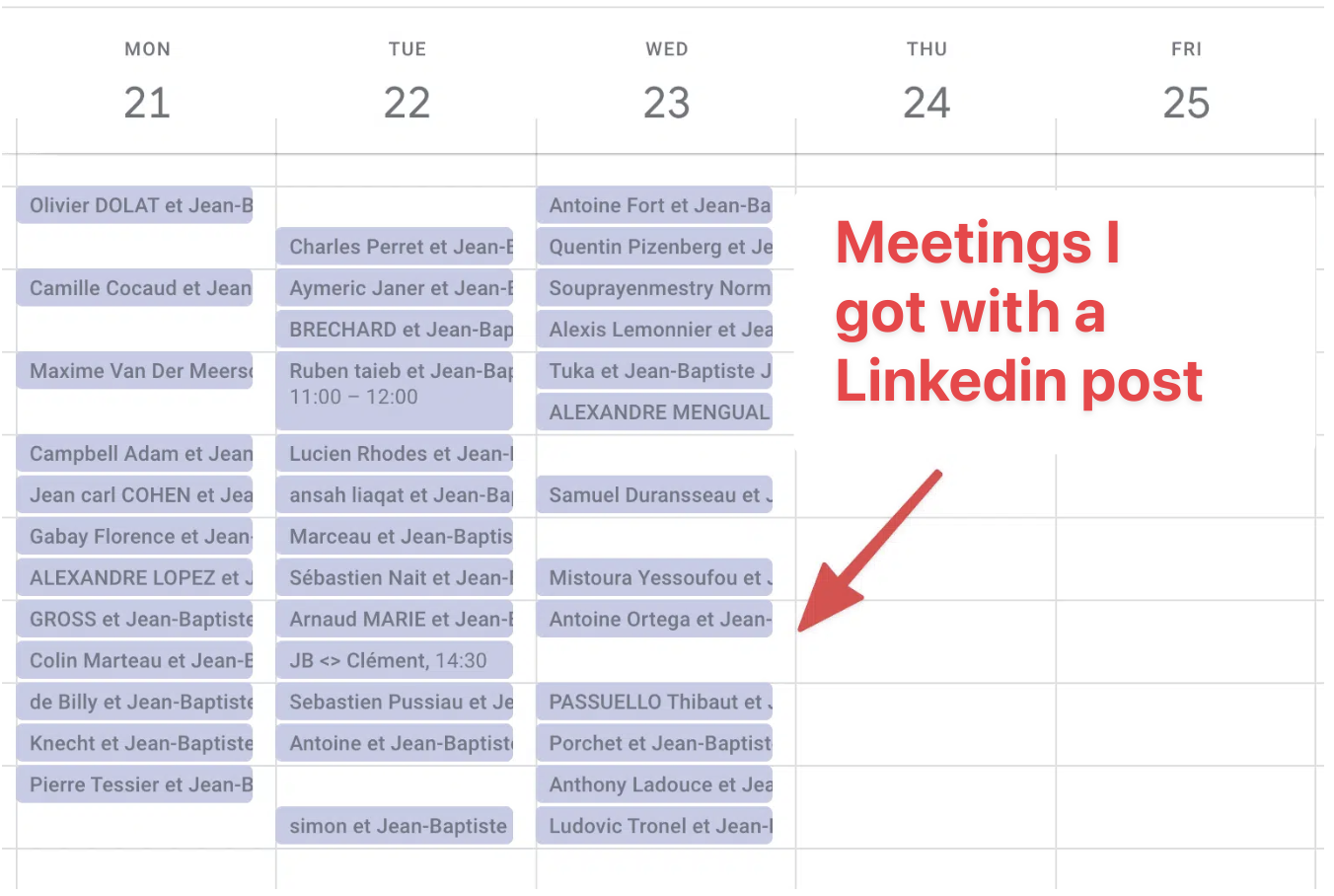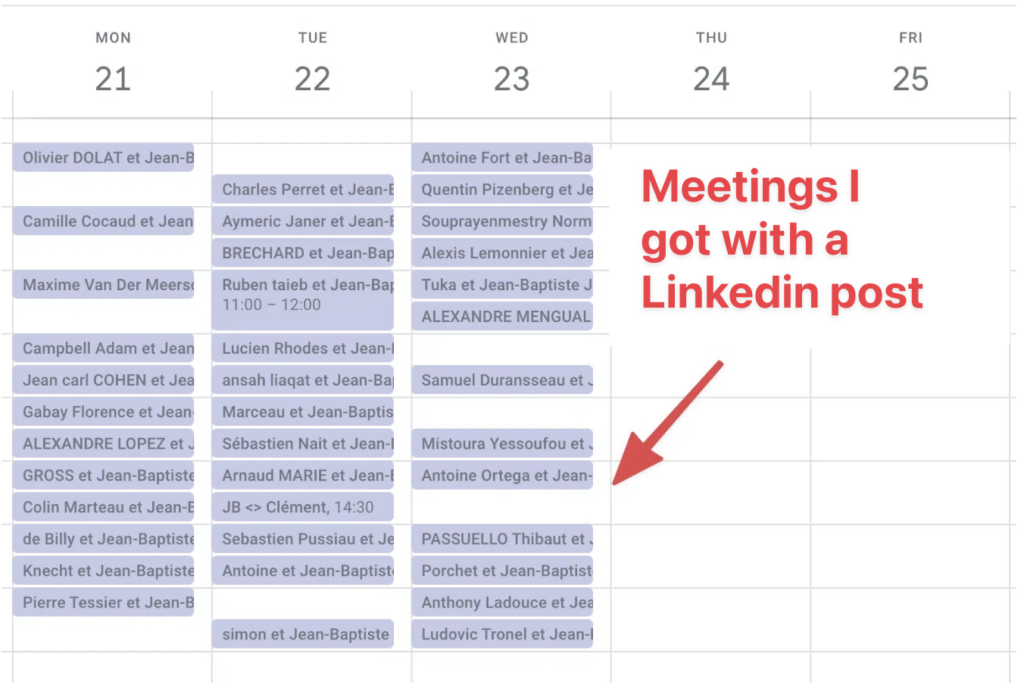 Here a few post types that can transform your linkedin profile into a lead generation machine:
Celebrations: Celebrate a milestone of your company. People love success stories.

How To's: Publish a tutorial with the necessary steps to achieve a specific result

Tell a Story: Describe in details something interesting that happened to you or your business recently

Comments for Content: Ask people to comment your post in exchange for a content (like a white paper for example)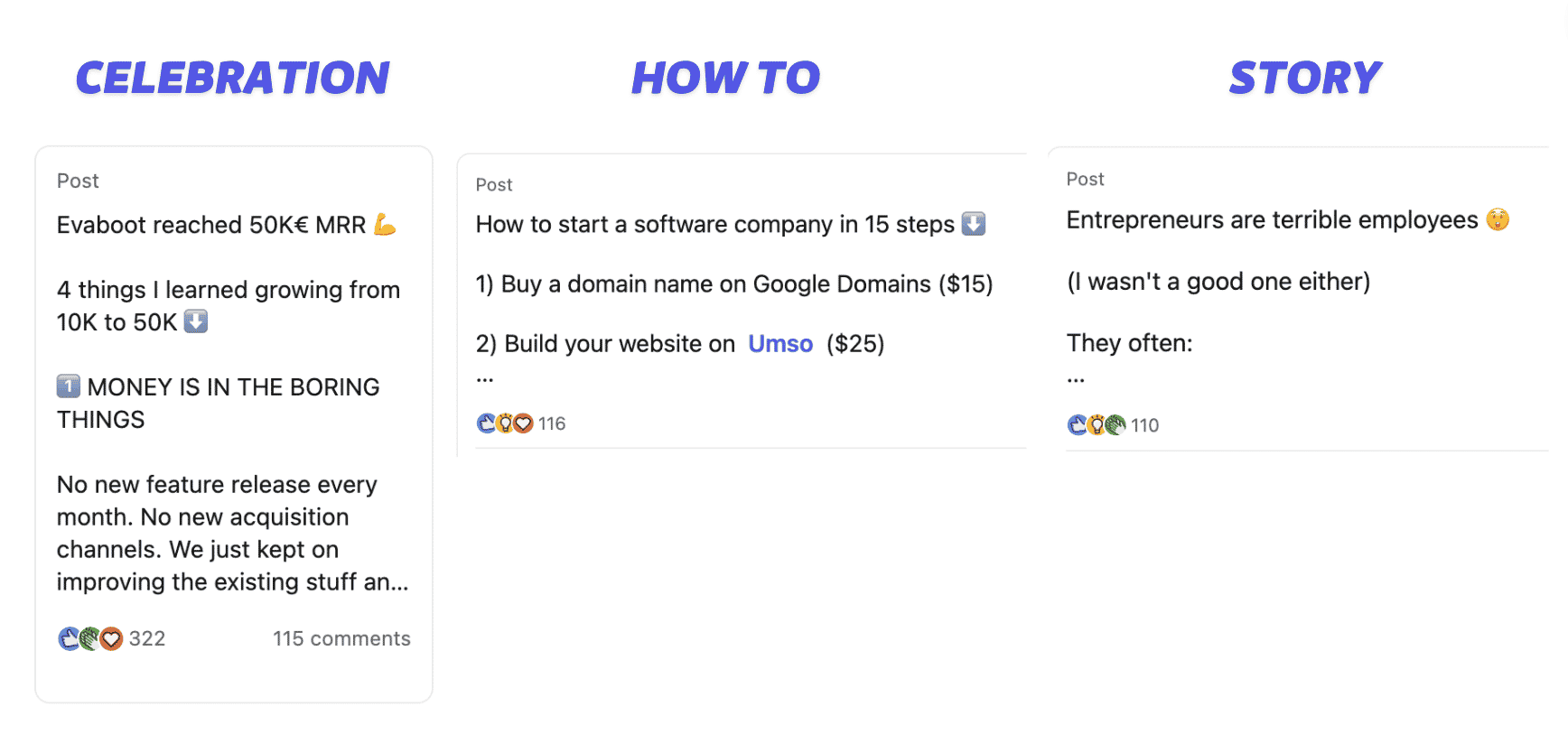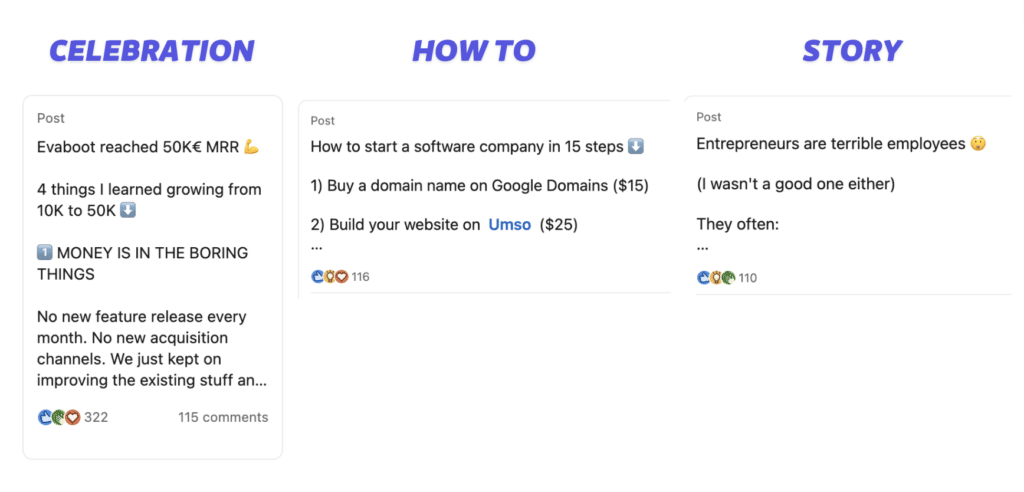 3. Find leads with Sales Navigator
Linkedin Sales Navigator is a must-have tool if you want to start prospecting on linkedin.
It is much more powerful than the basic search engine with more than 30 filters and allows you to easily target your potentials customers using advanced search filters like:
job title
demographics
company siz
etc…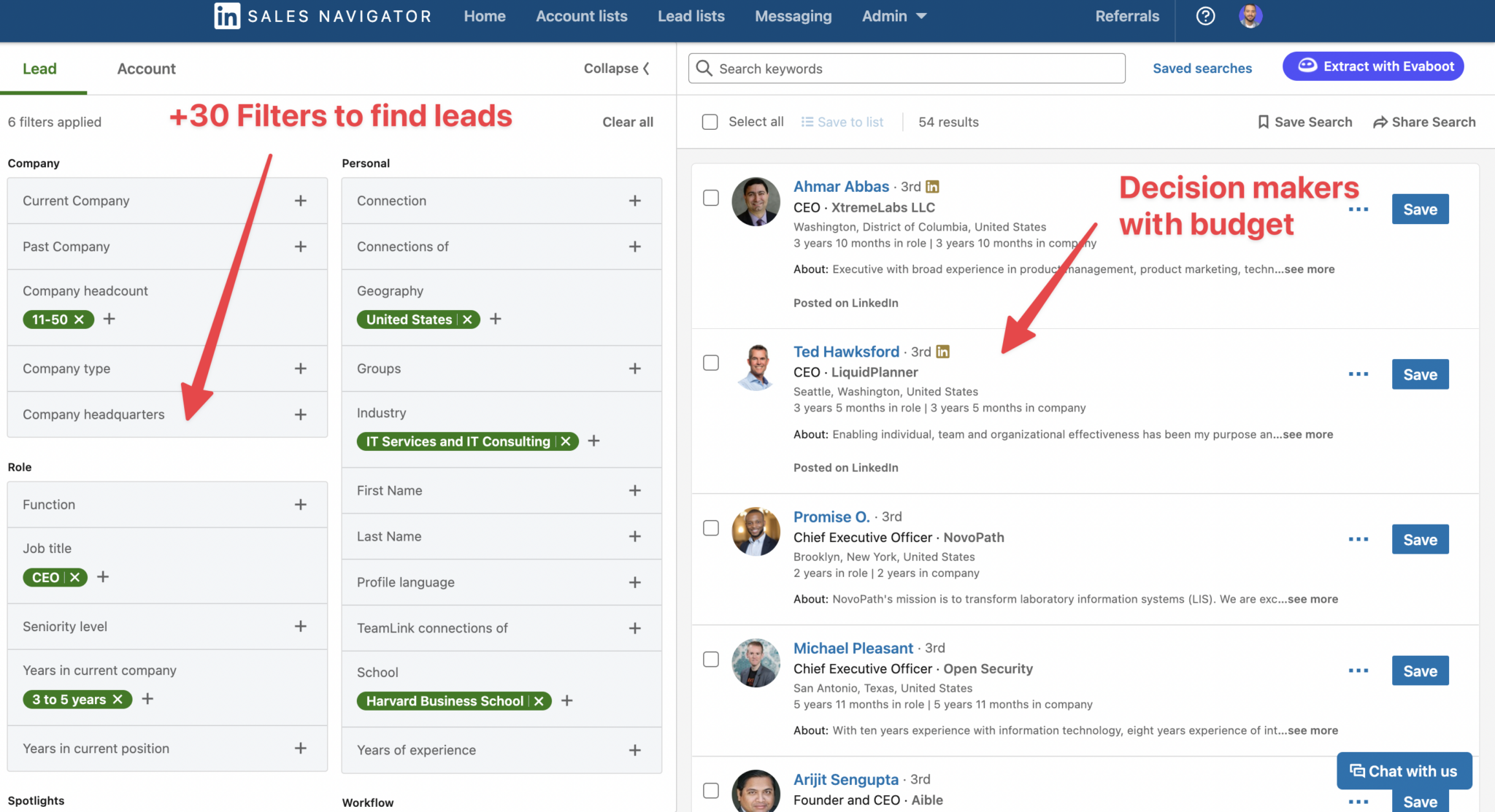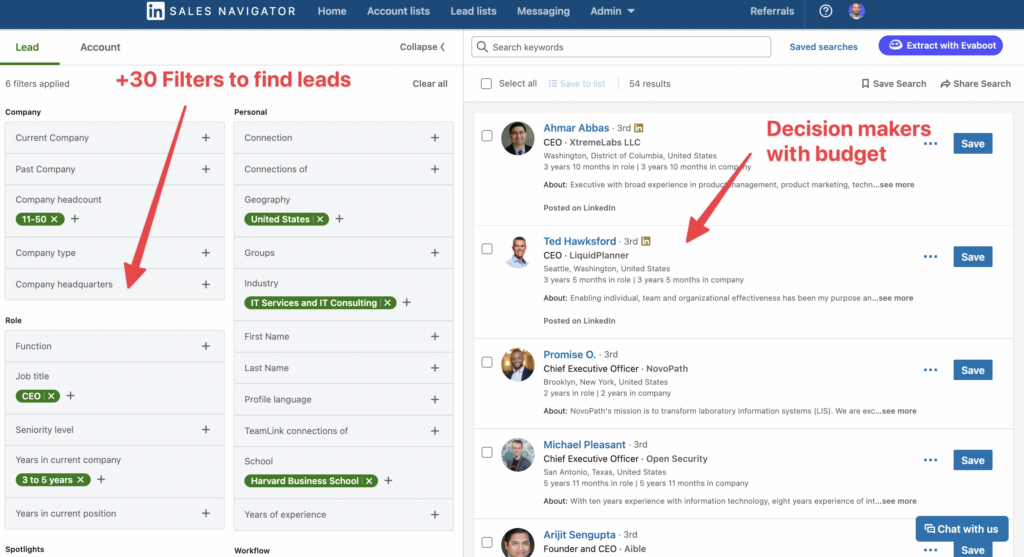 Unlike the linkedin basic search, the number of search per month is not limited with sales navigator.
It makes it really easy to build high quality lead lists and find the decision makers into the right companies.
Sales Navigator many other features that facilitate lead generation on linkedin. If you to dig deeper on how sales navigator works, here is a complete tutorial.
4. Get emails from Linkedin
Once your have defined your target audience and built a list of qualified leads, you need to get the data out of Linkedin Sales Navigator.
If you are using linkedin sales navigator to build your list, you can use Evaboot to extract your leads and find their emails.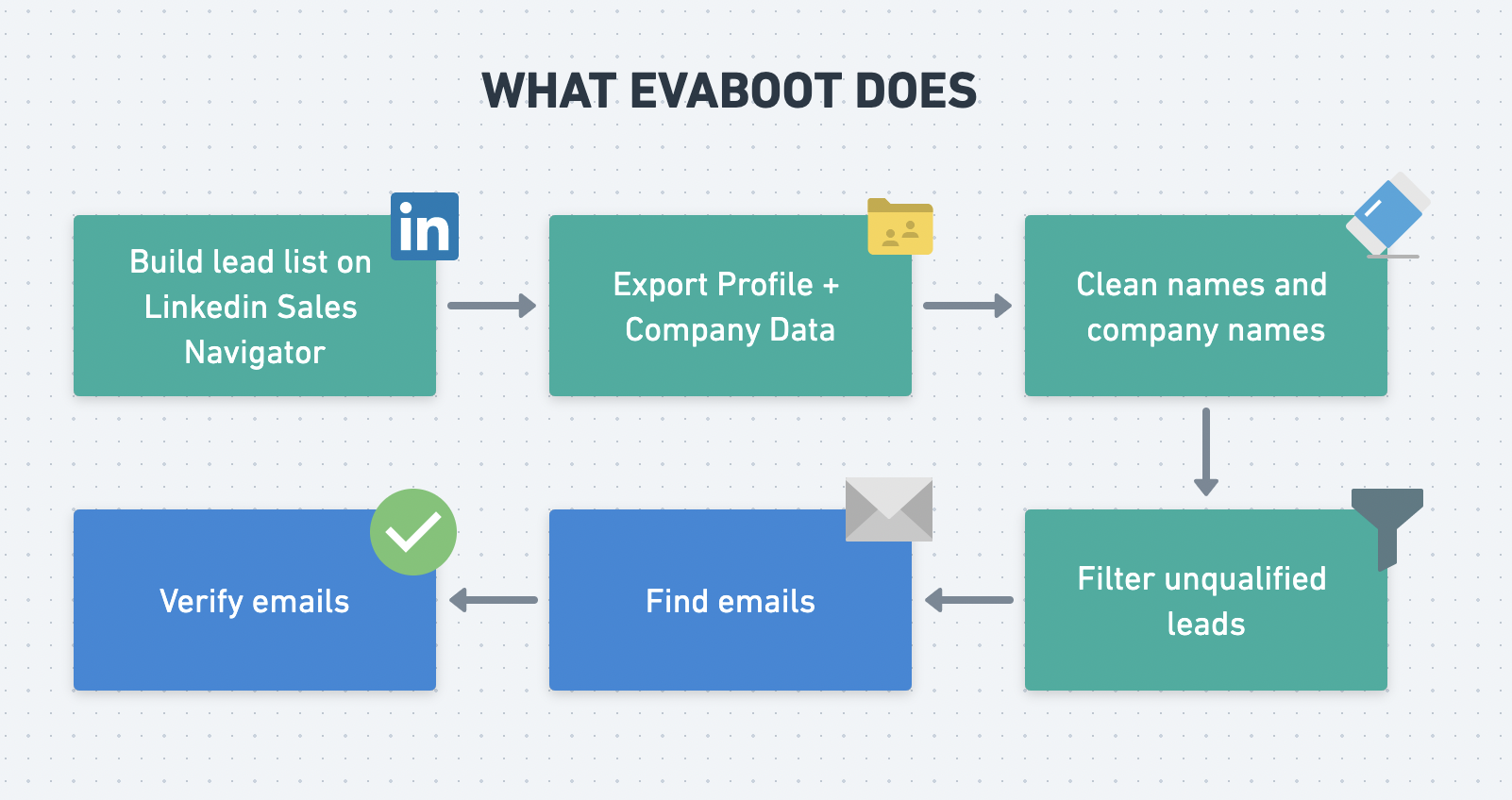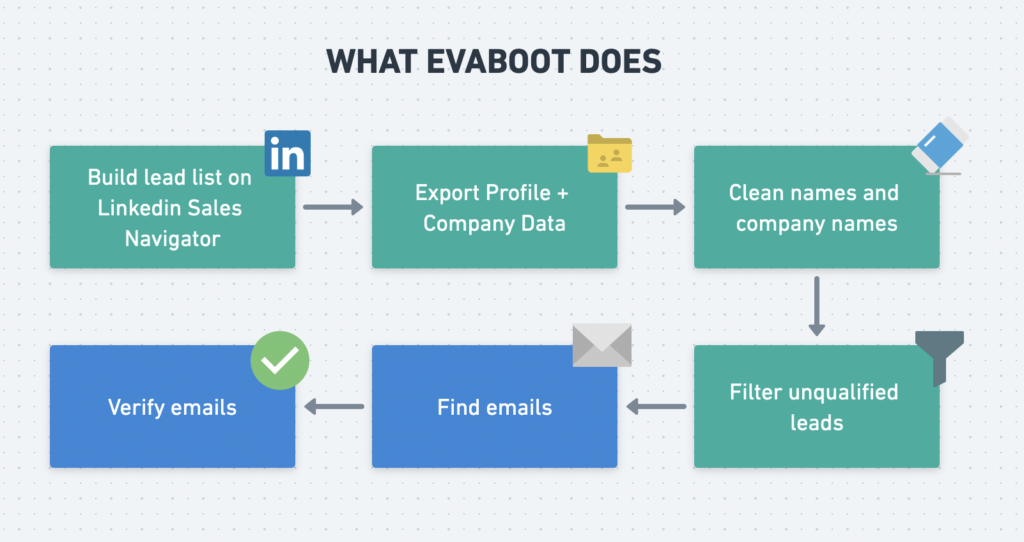 You just need to download the Evaboot Chrome Extension and click on the button: Extract with Evaboot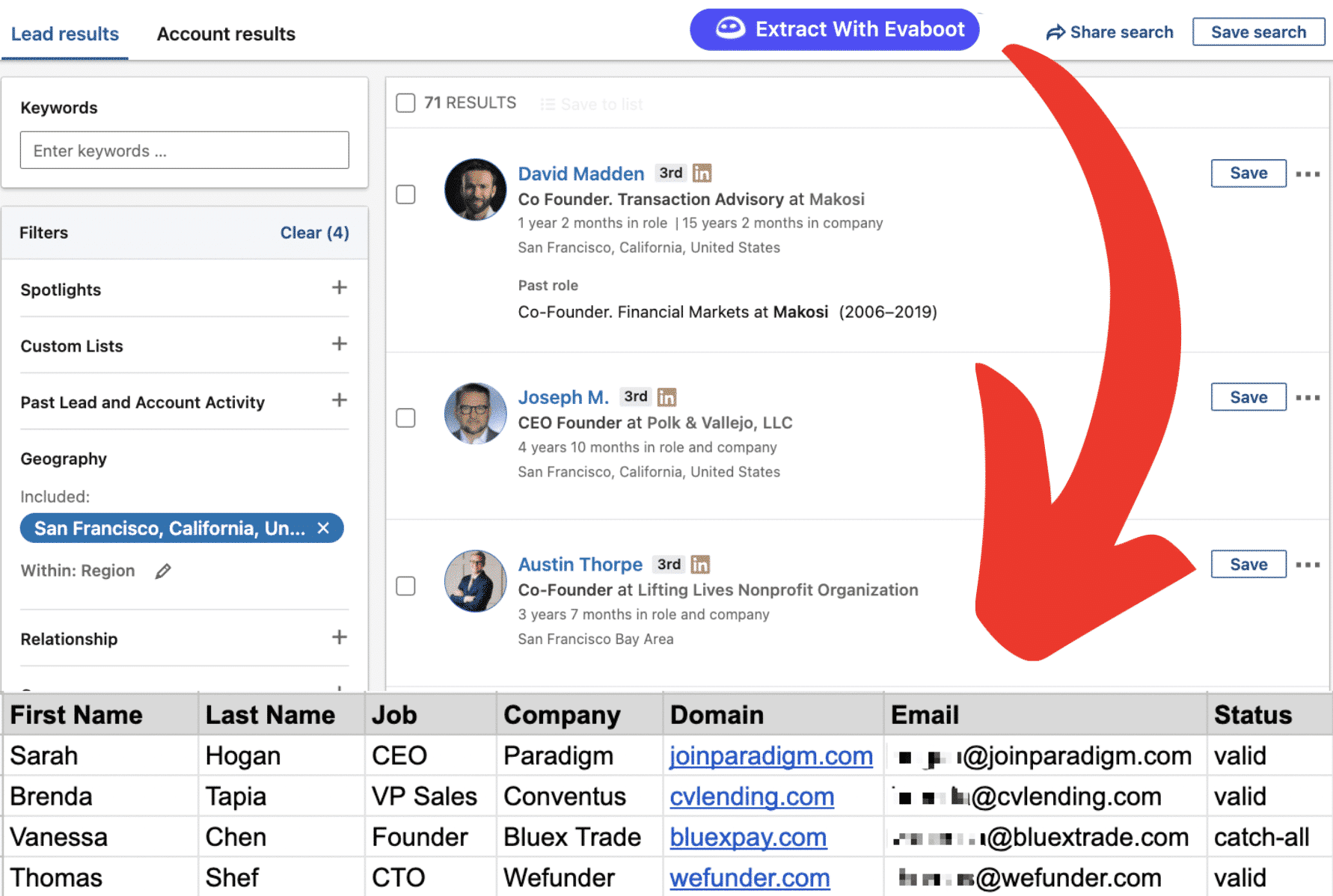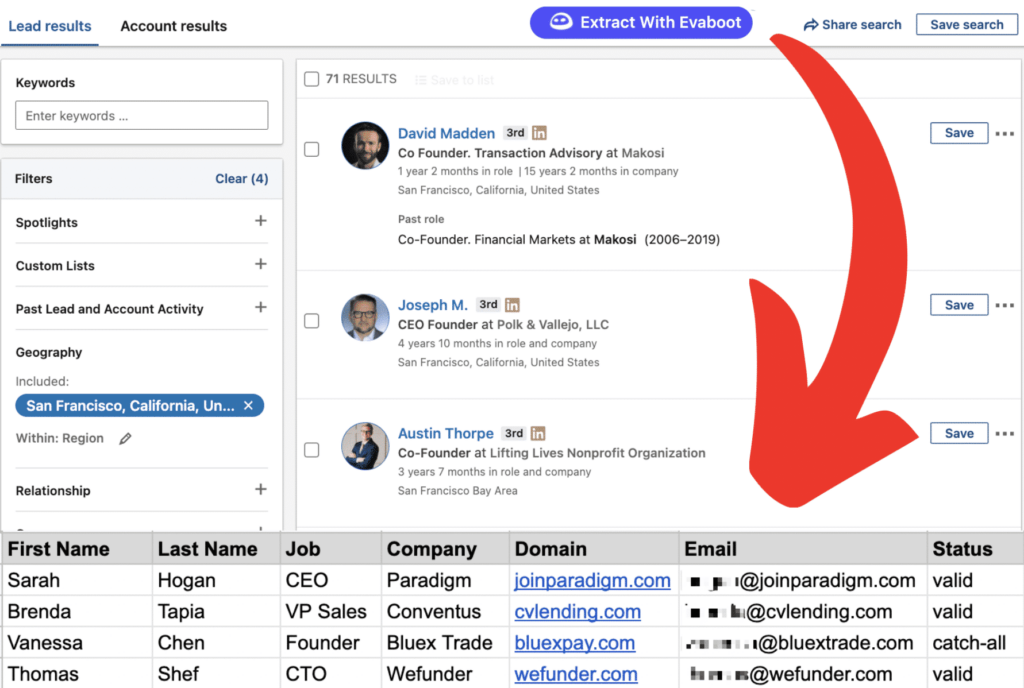 5. Send personalized messages
We all receive terrible linkedin prospecting messages every day.
Here is an example: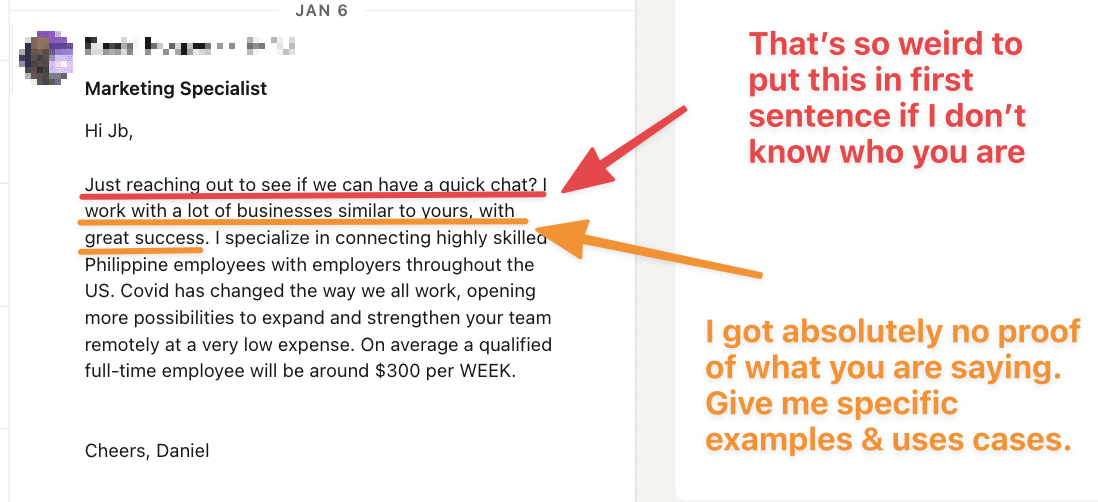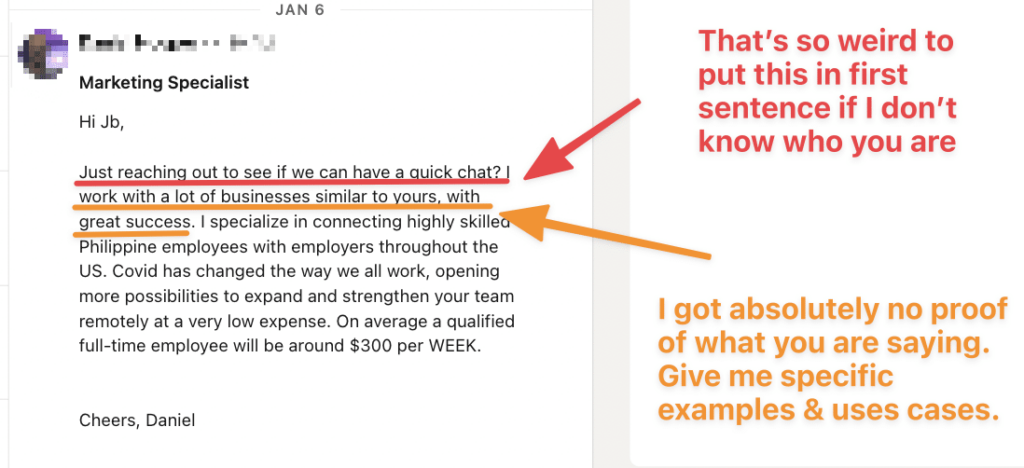 The 3 mains mistakes you should avoid:
Don't try to get a meeting right away. Start a conversation.
Don't talk about you. Talk about them.
Don't bring arguments without concrete backup
Here is a good structure for your linkedin outreach:
Tell the reason of your outreach
Ask if the person has the problem you solve
Backup with data
Give a good reason to reply
This message has an 28% reply rate: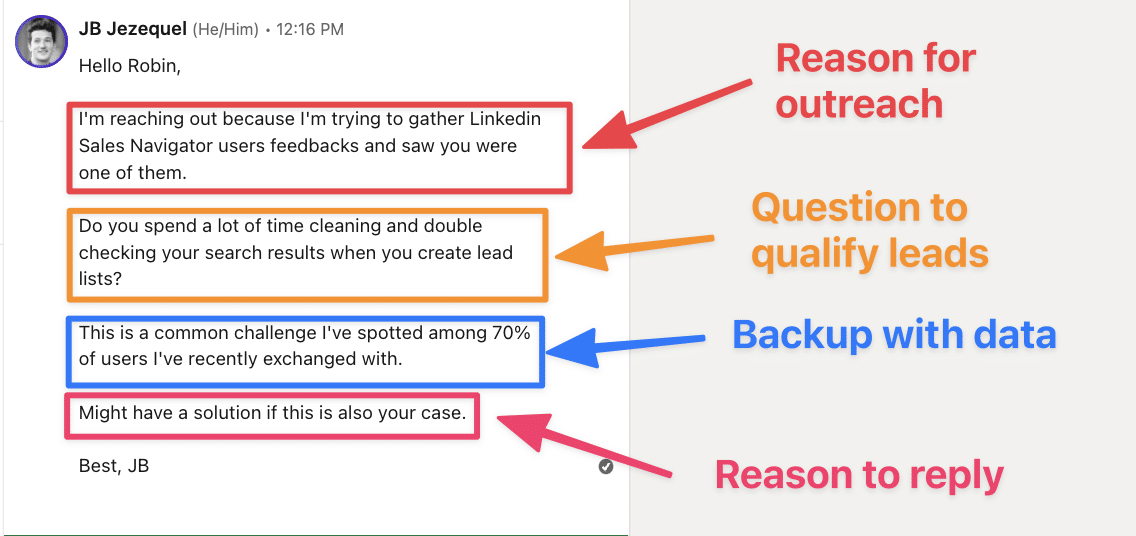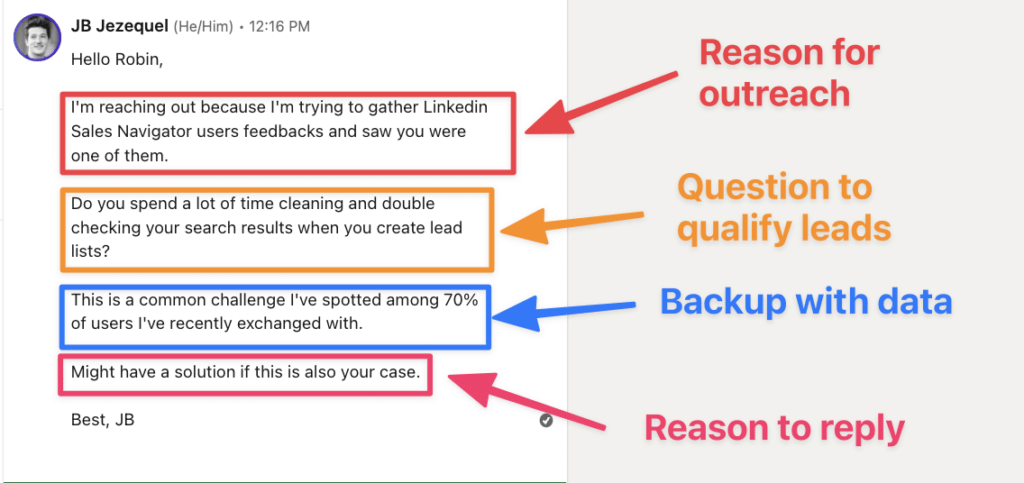 Making contacting is only the first step.
A majority of people won't reply to your first message.

That's why you need to send follow-ups
6. Send relevant follow-ups
Make sure to add value every time you send a linkedin follow-up.

Most people simply repeat their proposition value and ask for a meeting again.
There is no added value for the prospect in this type of follow-ups.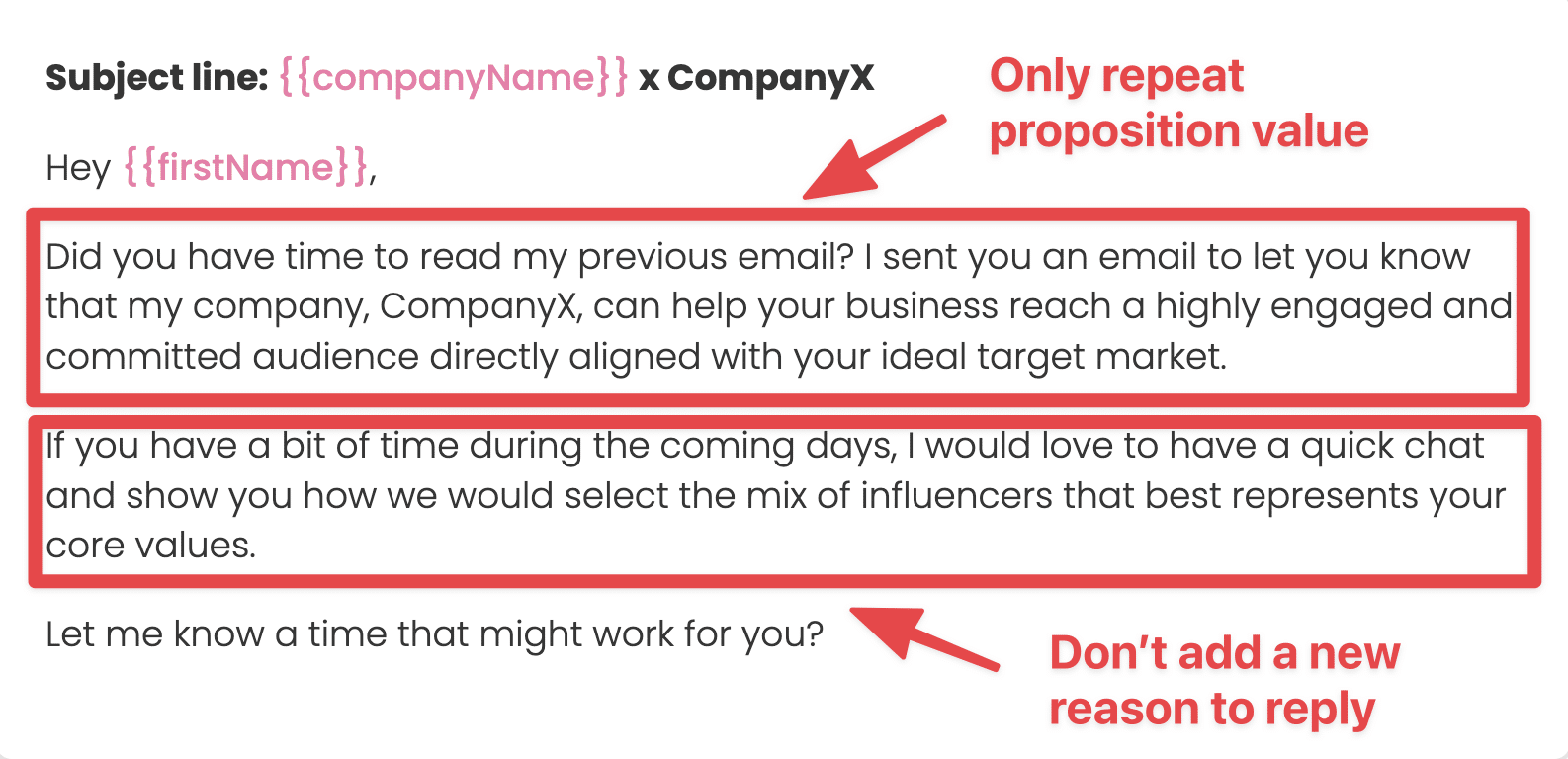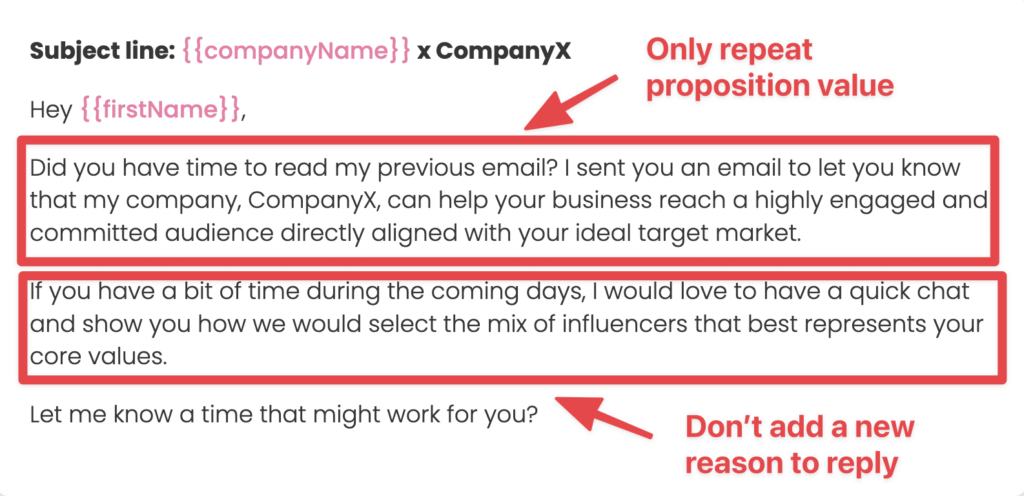 Instead of just repeating your proposition value, bring new arguments on the table.
You can for exemple send:
Contents you created
Client testimonials
Results obtained with similar clients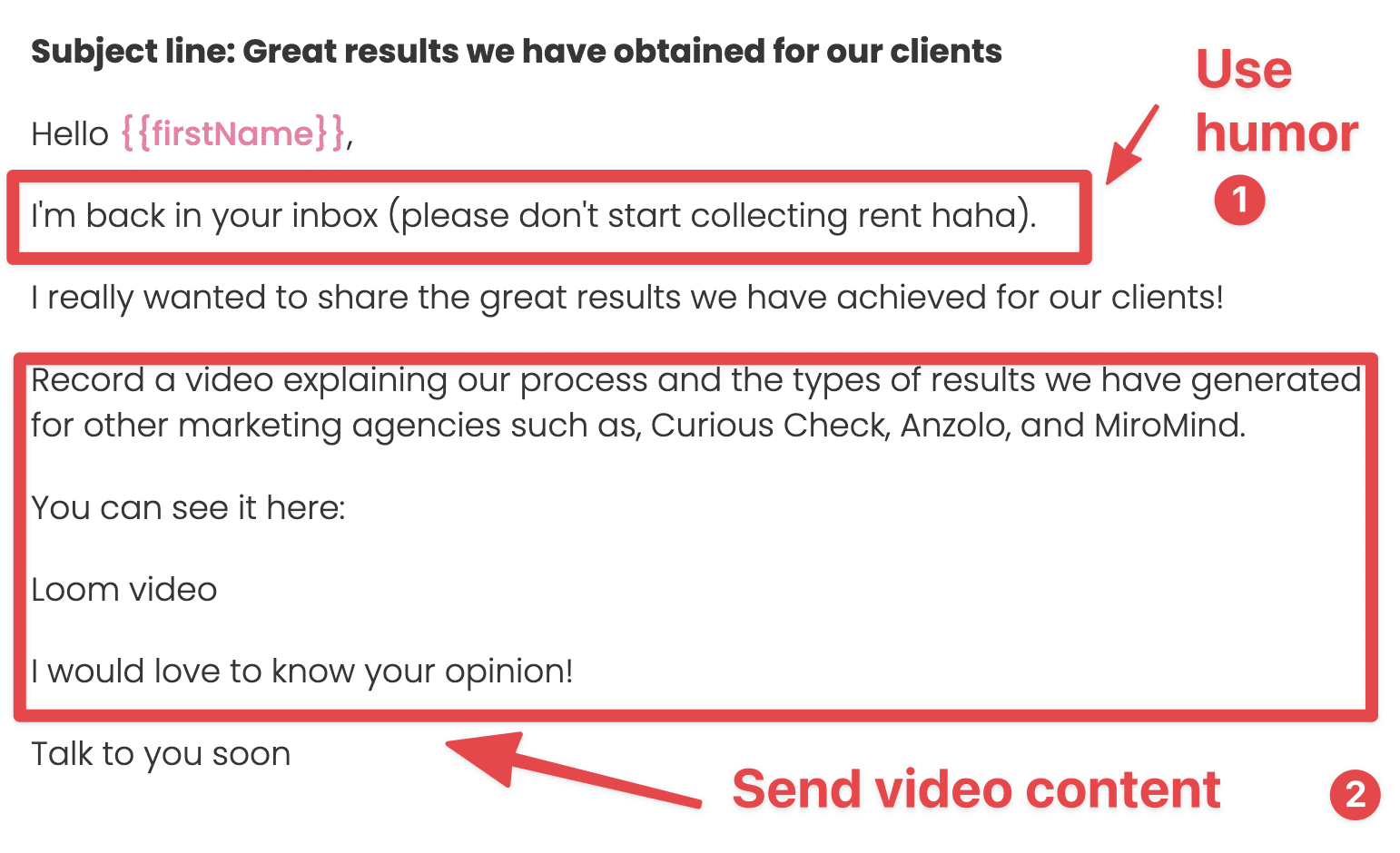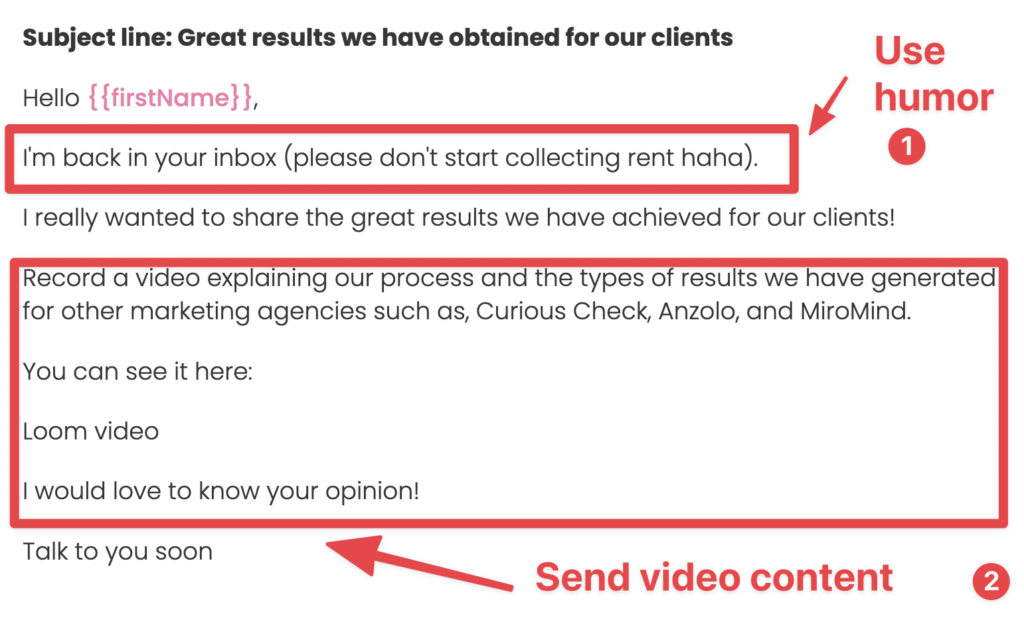 Your follow-ups are on point on your start having results with manual prospecting?

You may want to start using automation tools.
Here is how to do it.
7. Automate your LinkedIn lead generation campaigns
Among the linkedin lead generation tools you can use to automate your outreach are:
I personally use LaGrowthMachine because the sequence builder is really visual and the product is really solid: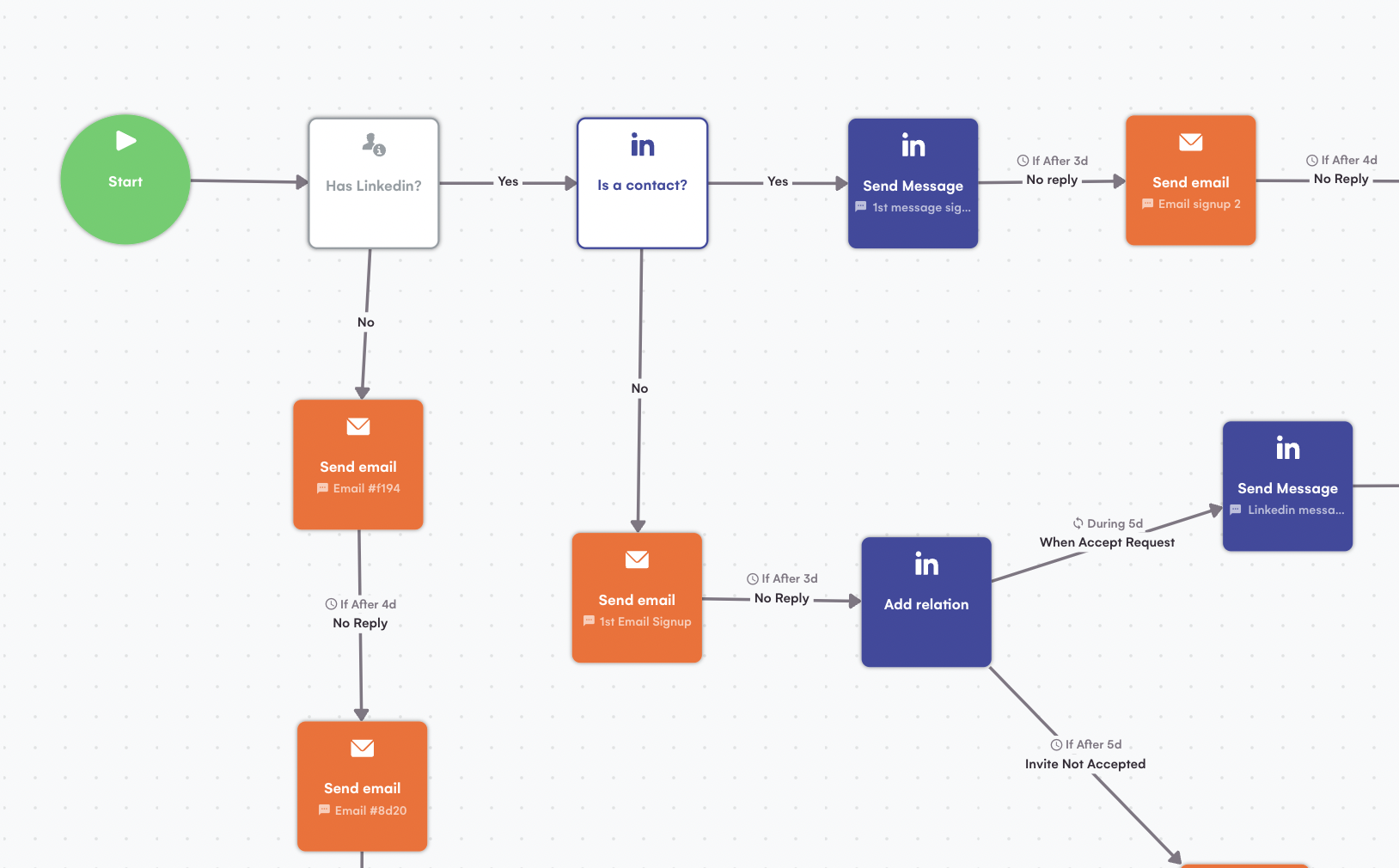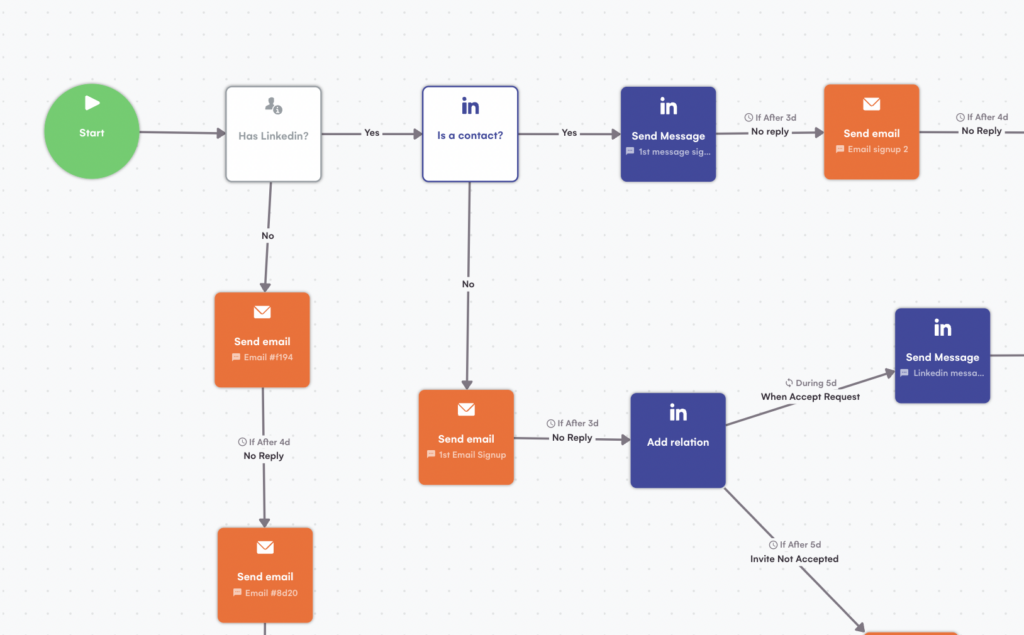 These tools will send linkedin messages and emails on your behalf so you just need to wait for the replies to fall into your inbox.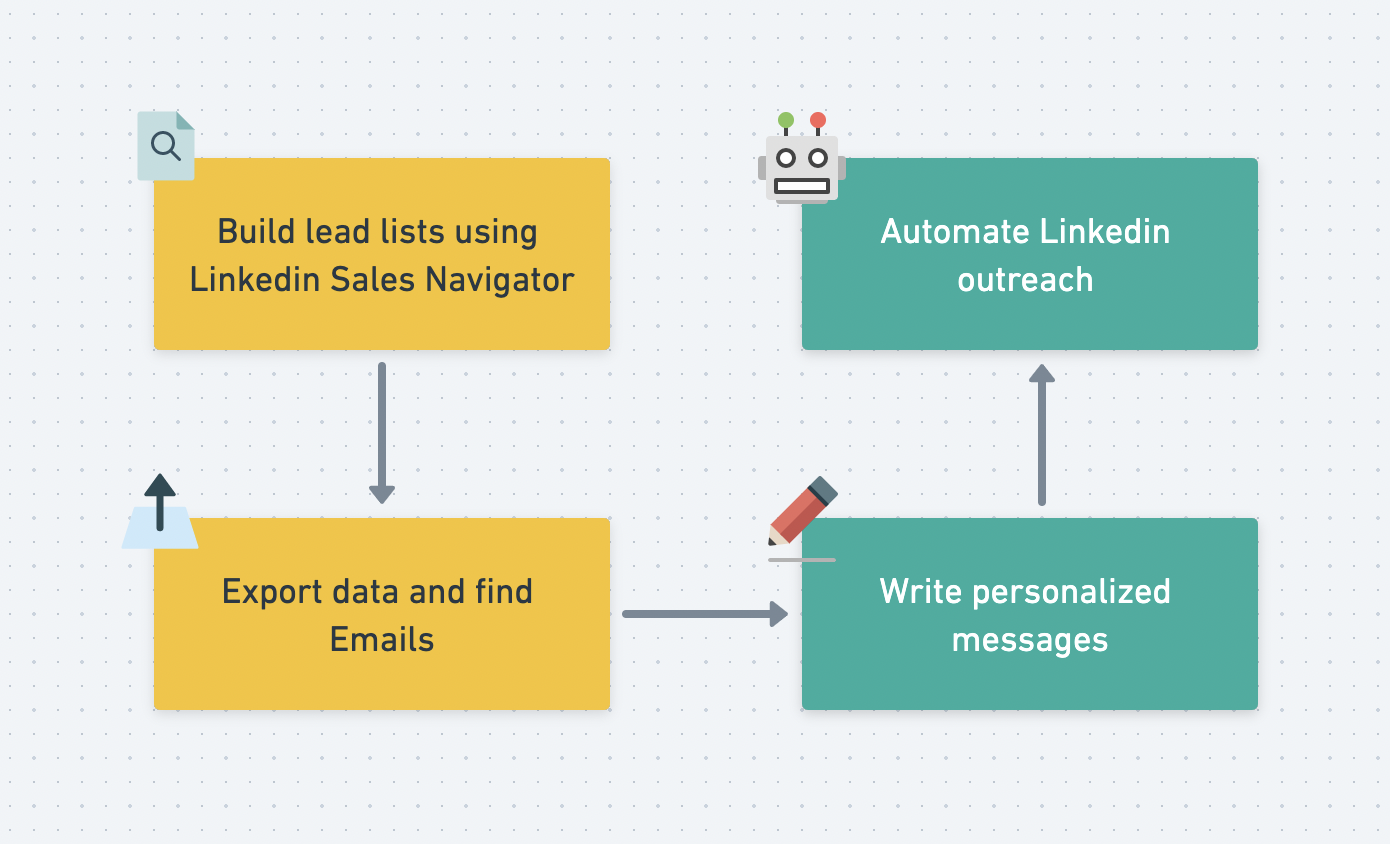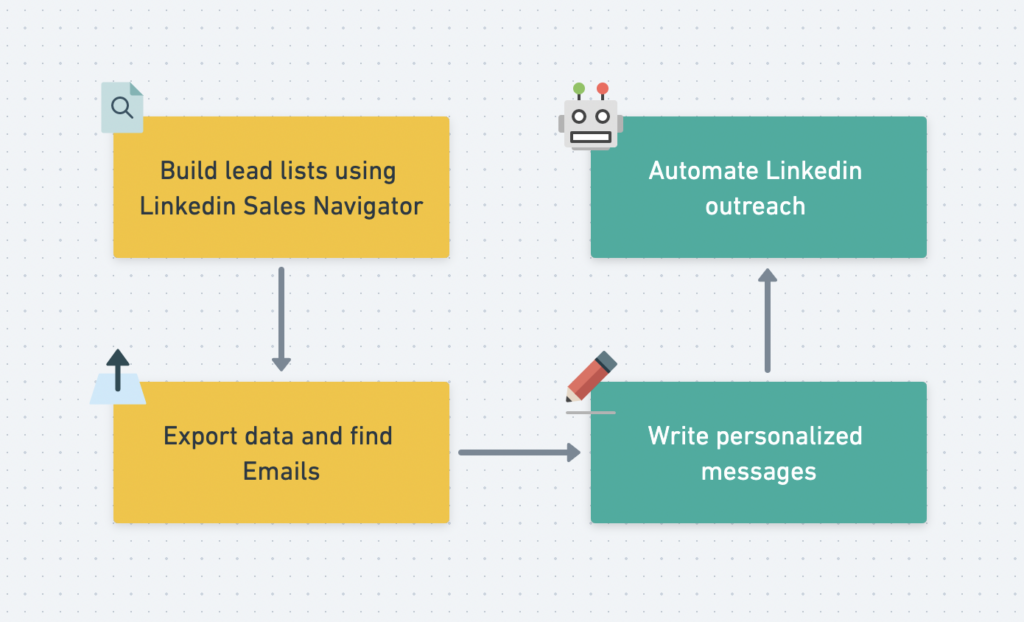 You can follow the metrics of your compaigns and connect your CRM (like Hubspot or Salesforce)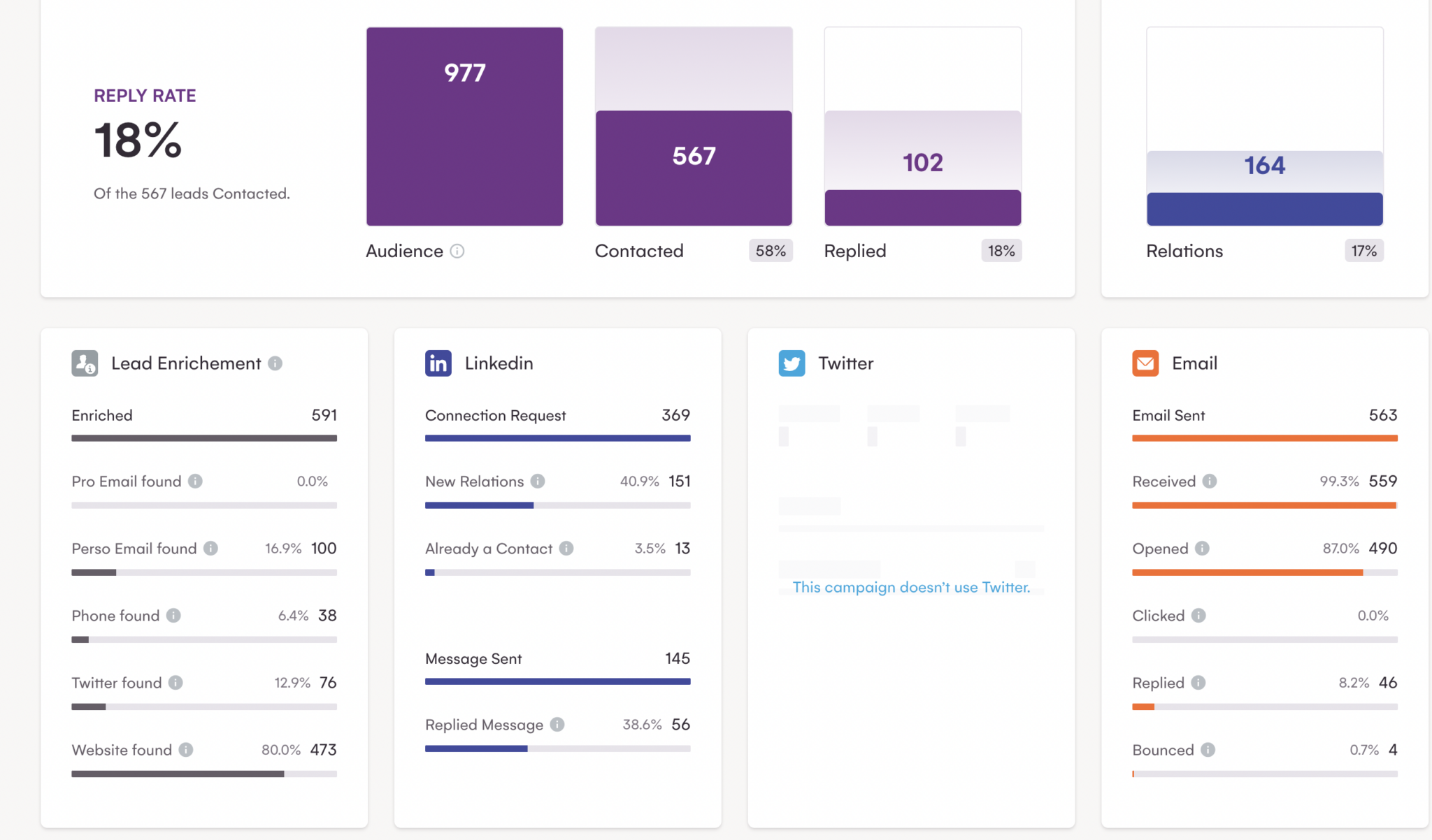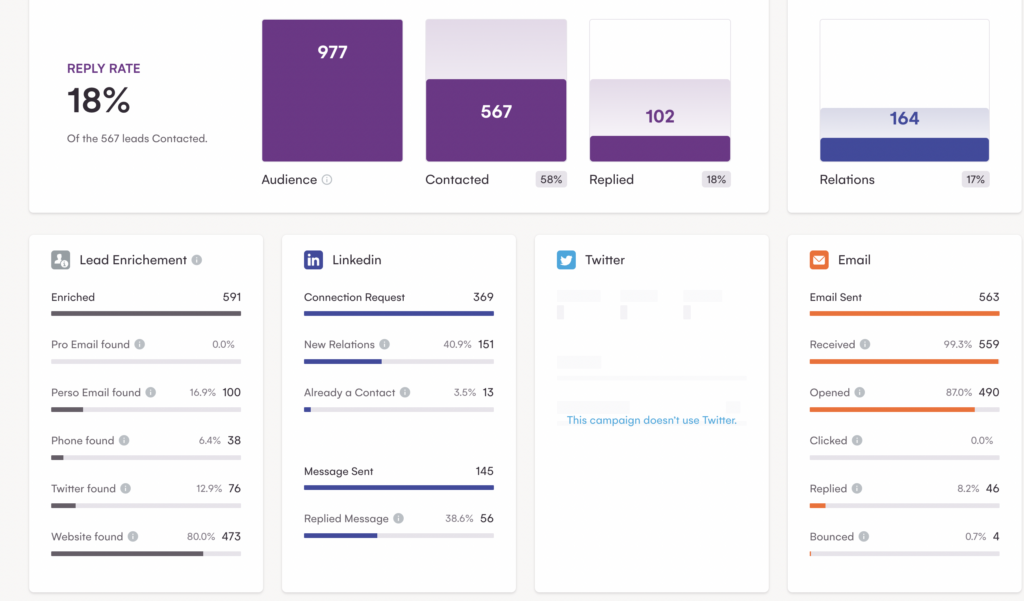 However, don't expect any good results if your messages are not good!
Don't automate anything that did not provide good results when you've done it manually.
Scaling bad practices will only scale bad results.
8. Bypass LinkedIn weekly Invitation limit
In 2022, Linkedin has implemented a new limitation on connection request.
You can now send a maximum of 100 invitations per week (against 100 per day before the update)
This update has a huge impact on the way people prospect on Linkedin as the prospecting capacity has been divided by 7.
Hopefully there are still 3 hacks that you can use to bypass this limtation:
Send invitations vie emails
Contact Open Profiles
Contact Linkedin Group Members and Event Attendees
All the technique are described in details in the video.
9. Use Inmails as last resort
Linkedin Inmails are paid messages that you can use to bypass the connection request step and get directly into your prospect's inbox.
If you are subscribed to one of Linkedin premium offers (Linkedin Premium, Linkedin Sales Navigator or Linkedin Recruiter) you have between 10 and 150 inmails that you can send every month.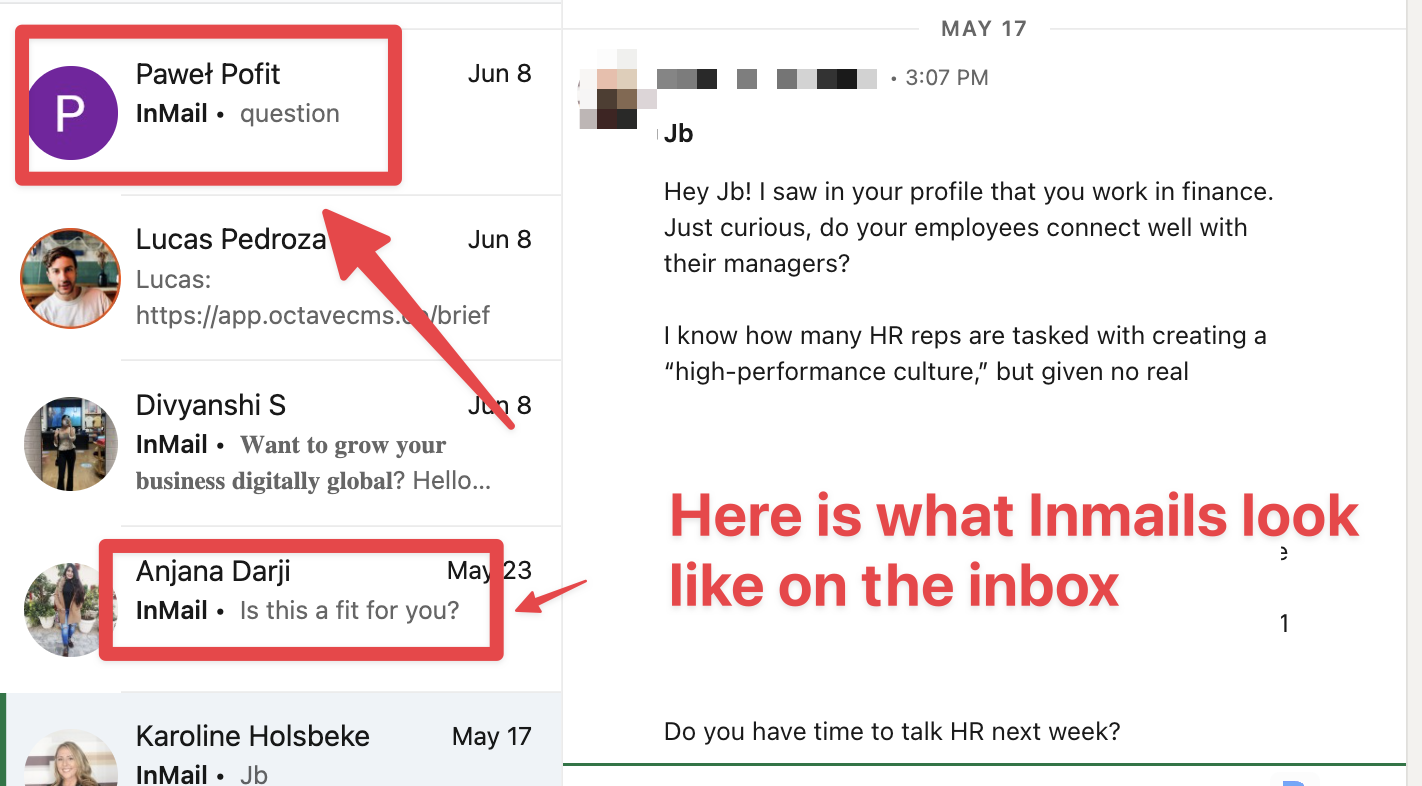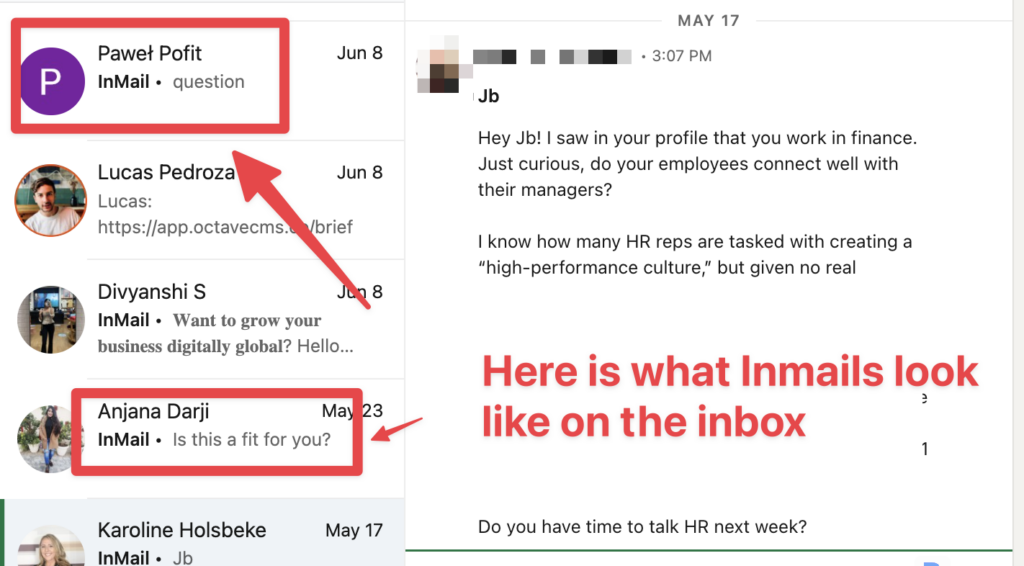 As you can see the amount is really low.

You can't use them as a core tool for your prospecting campaings.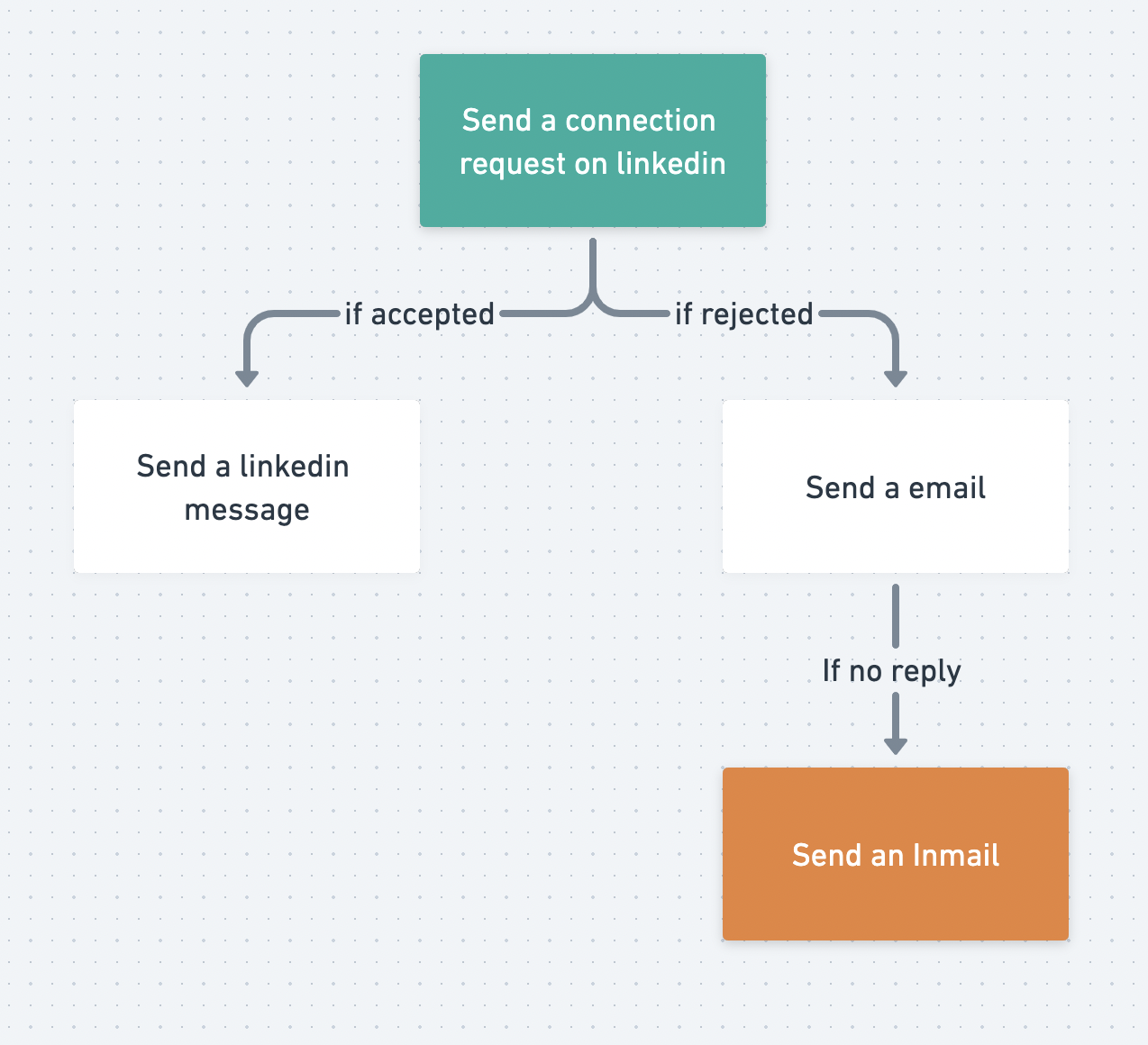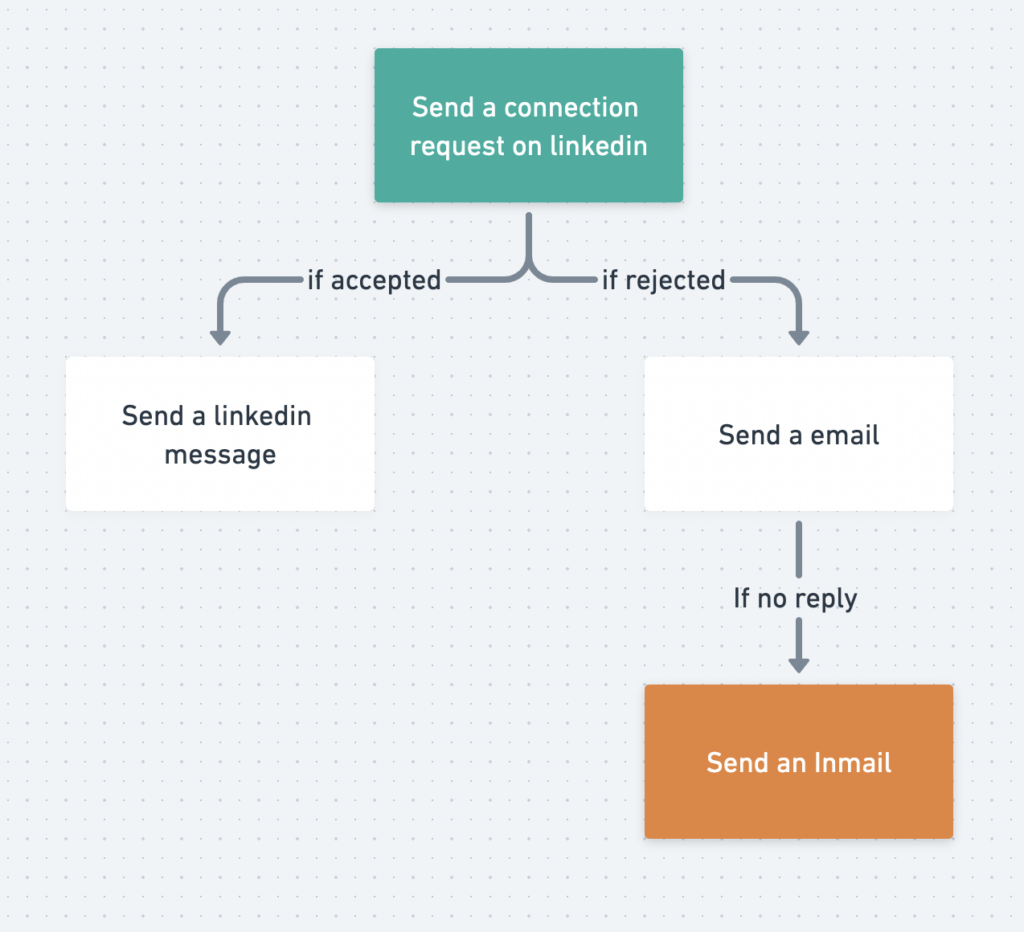 The best strategy is to keep inmail as a last resort if you failed to contact your prospect via email or classic linkedin message.
10. Send unlimited Inmails
If you work in Sales and you are subscribed to Linkedin Sales Navigator, you can only send 50 Inmails per month. So you want to make sure you are following inmail best practices.
That is too low.
Luckily, there some hacks that you can use to send unlimited inmails:
Identify and contact Open profiles
Contact linkedin group members
Contact linkedin events attendees
Open Profiles are people that have declared themselves open to receive message from anybody on Linkedin.
You can activate this option in your profile settings.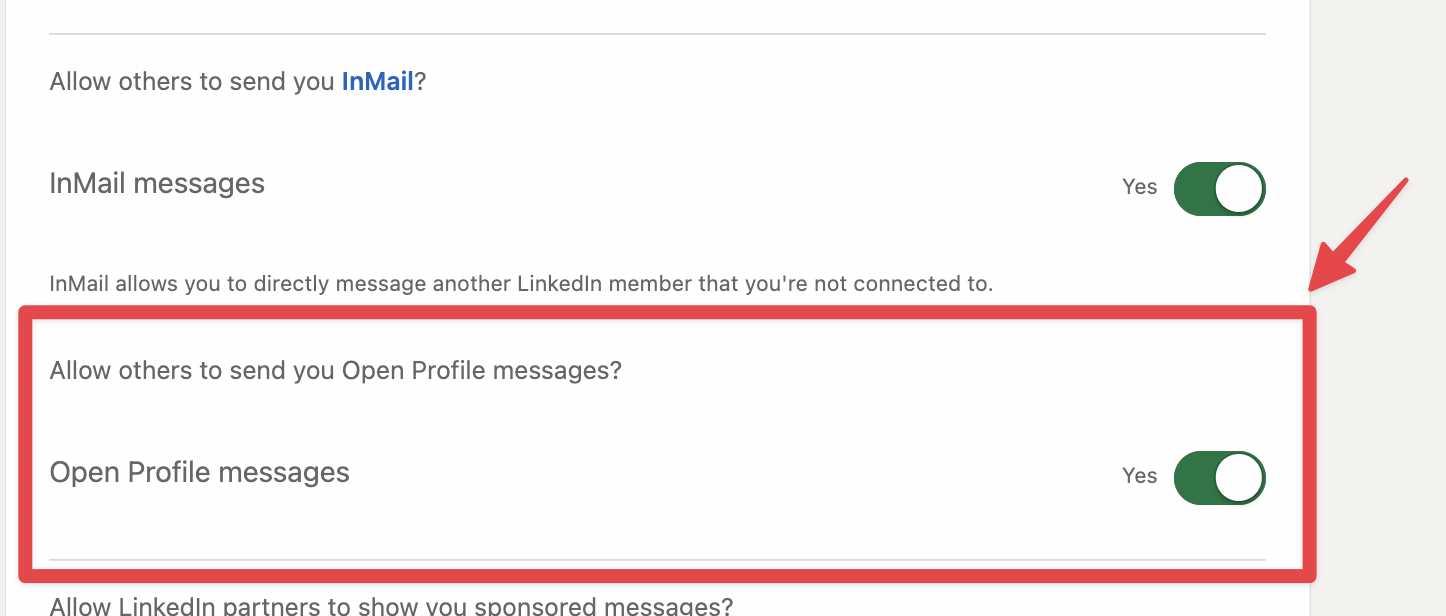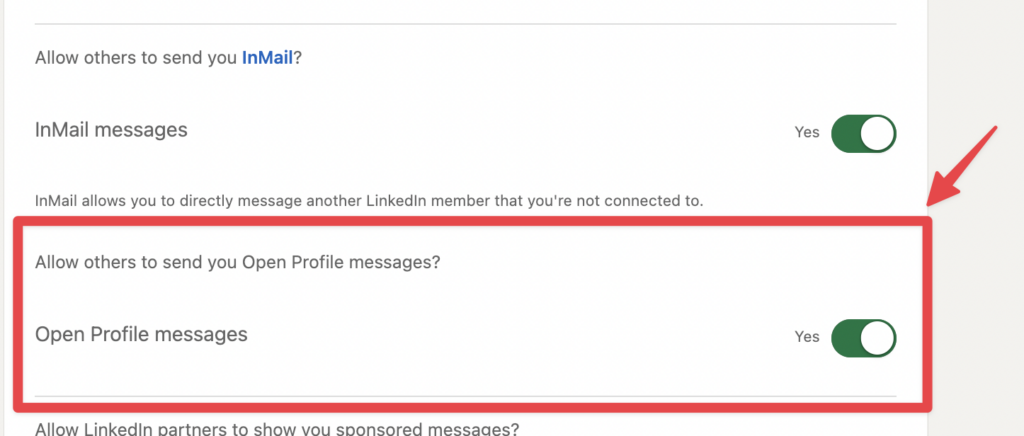 11. Use boolean search
If you want to build super qualified lead list, mastering linkedin boolean search is essential.
Boolean search is really simple programmatic language that works with a combination of logical connectors and punctuation:
AND: look for several keywords
OR: look for at least 1 one keywords
NOT: exclude keywords
Quotes: look for exact expressions
Parentheses: combine boolean orders
For example this boolean expression here:
(Head OR VP OR Vice-President OR "Vice President") AND (Sales OR Marketing) NOT (Assistant OR Intern)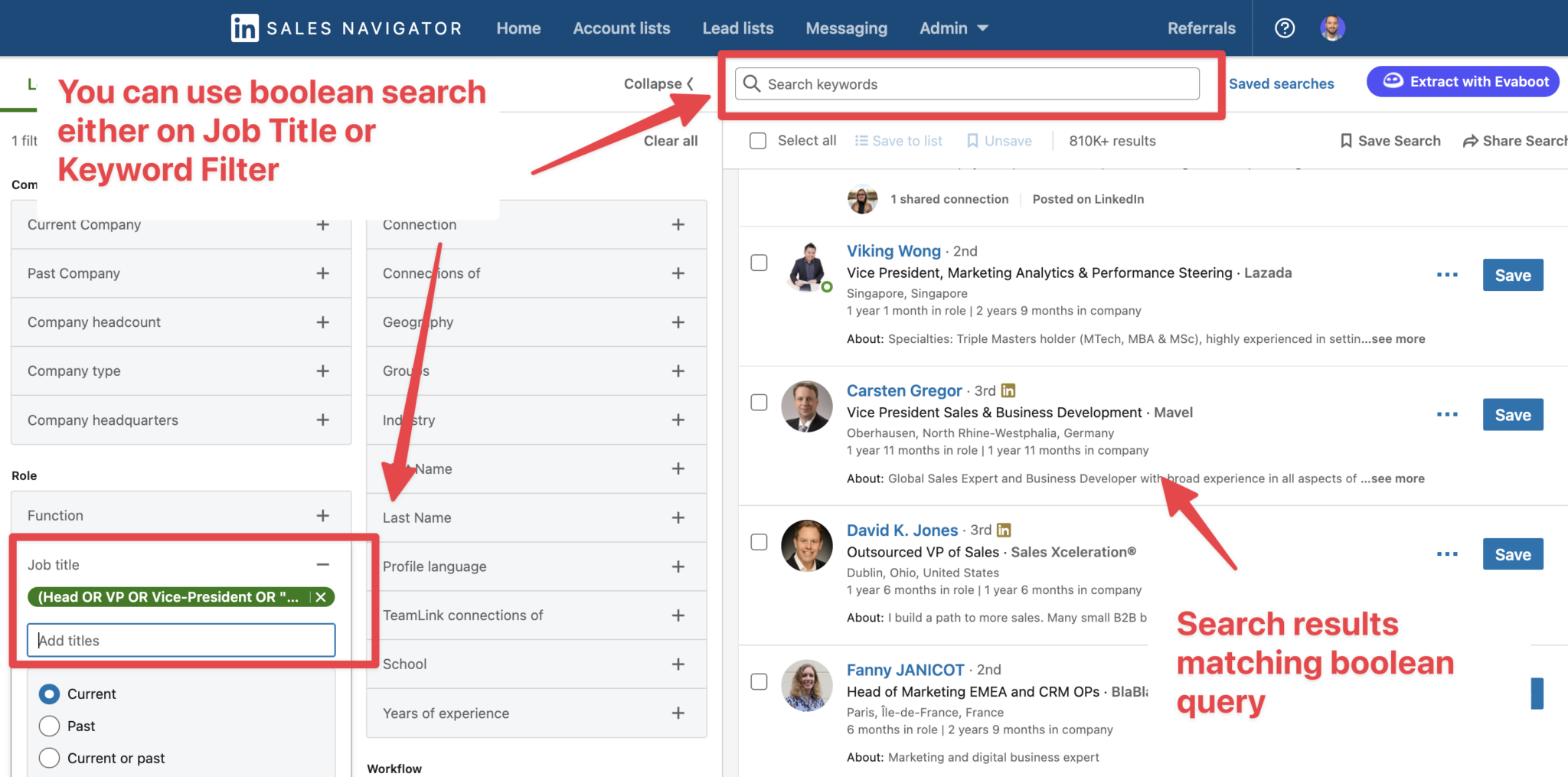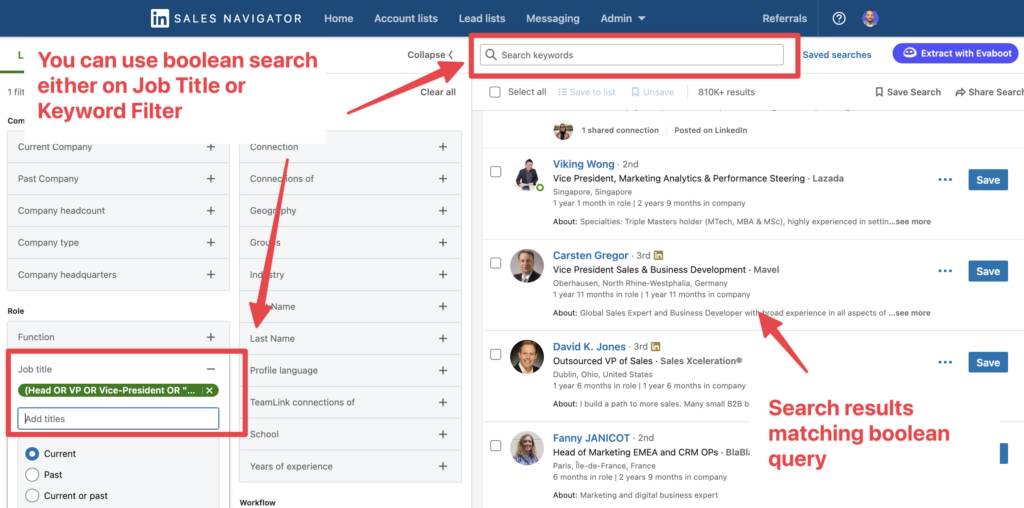 Will look into Linkedin database for:
Head of Sales
Head of Marketing
VP Sales
VP Marketing
Vice-President Sales
Vice-President Marketing
Vice President Sales
Vice President Marketing
And it will also exclude all the people with Assistant or Intern mentioned in their job title.
12. Organize Linkedin events
Instead of using Zoom / Google Meet, Linkedin now let you organize live events and host livestream directly from their platform.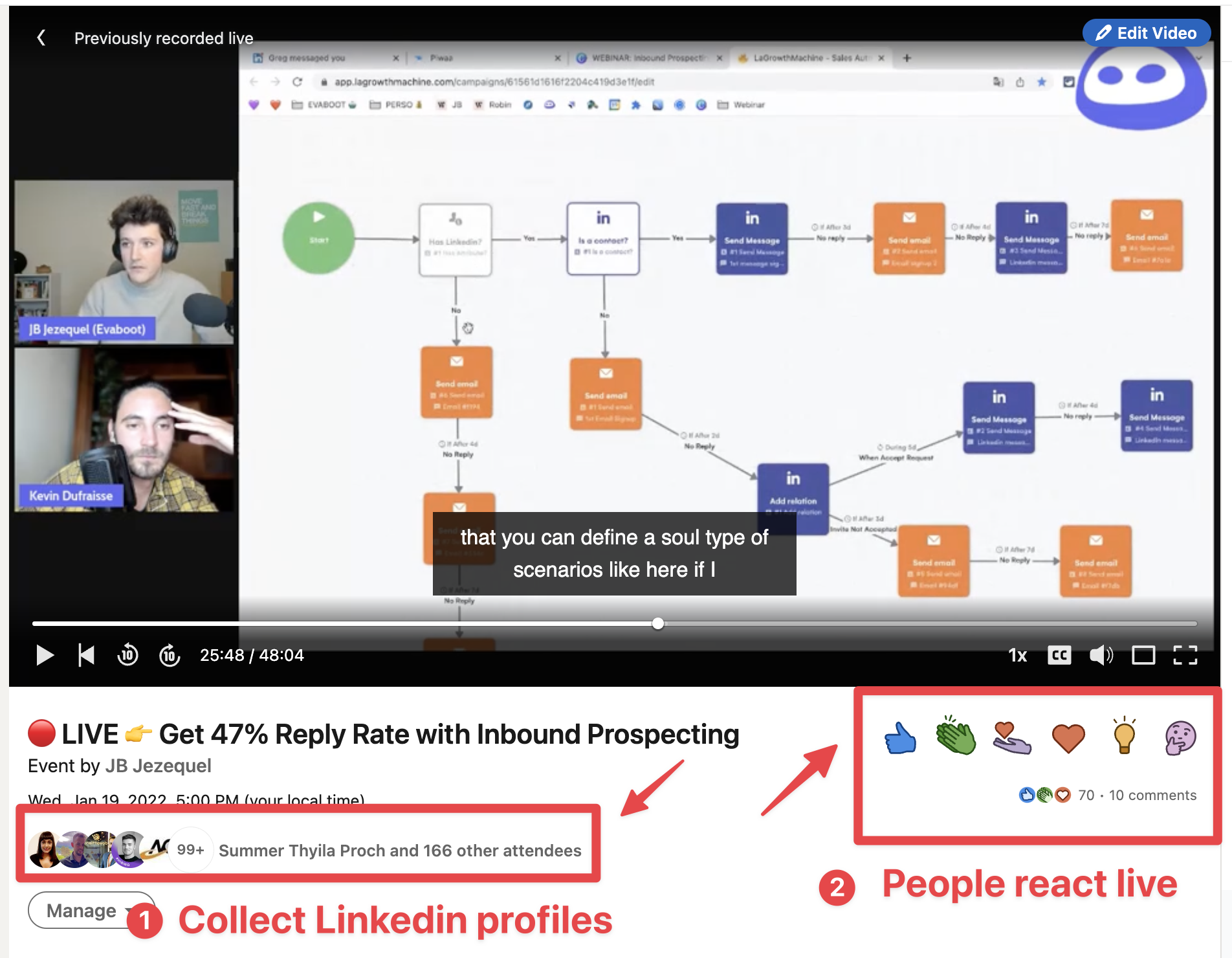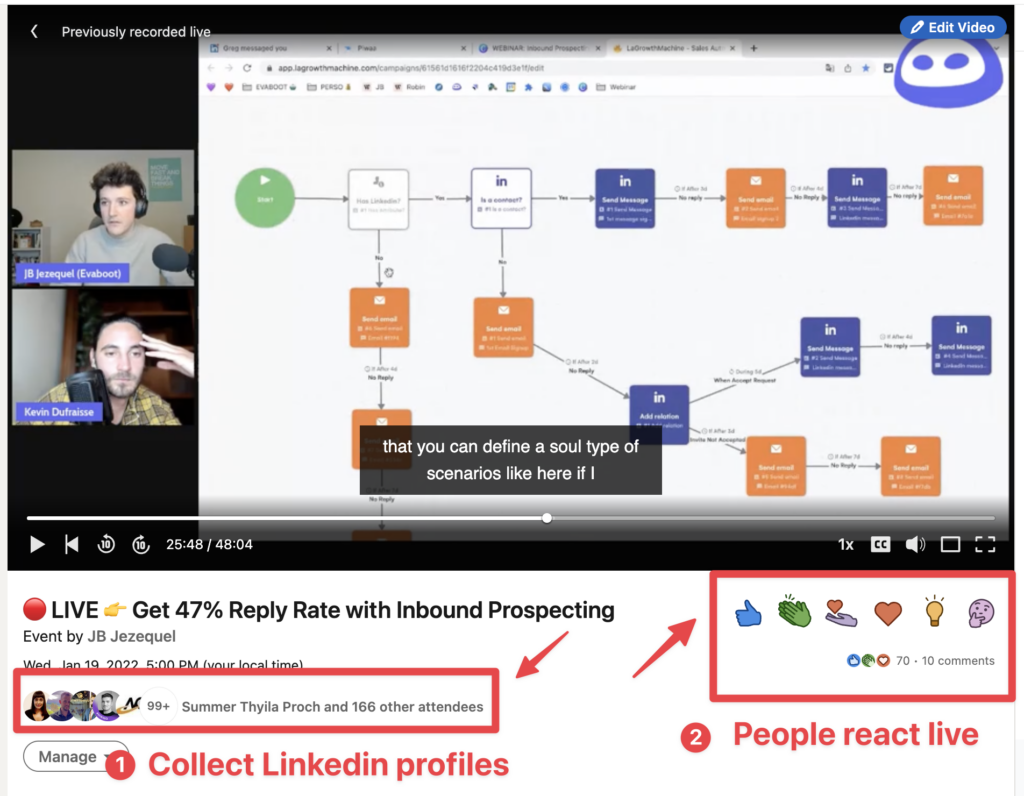 Next time you organize a webinar, try to host it on Linkedin, this allows you to collect the linkedin profiles of your prospects.
After the webinar is over, you can reach out to these people and start conversations to see if you can get some deals out of this event.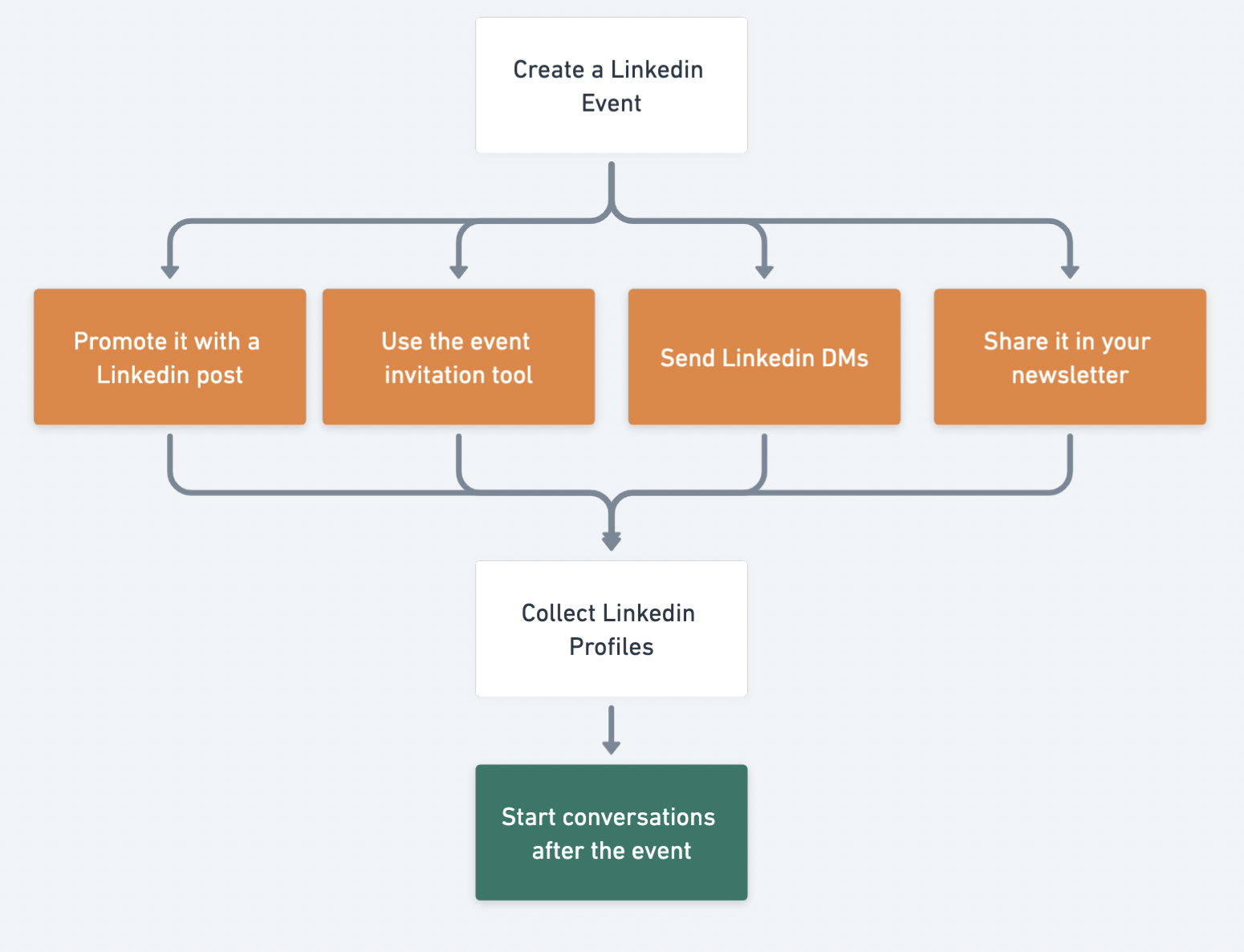 To create a linkedin, go to your homepage, scroll down and click "+Event" on the left.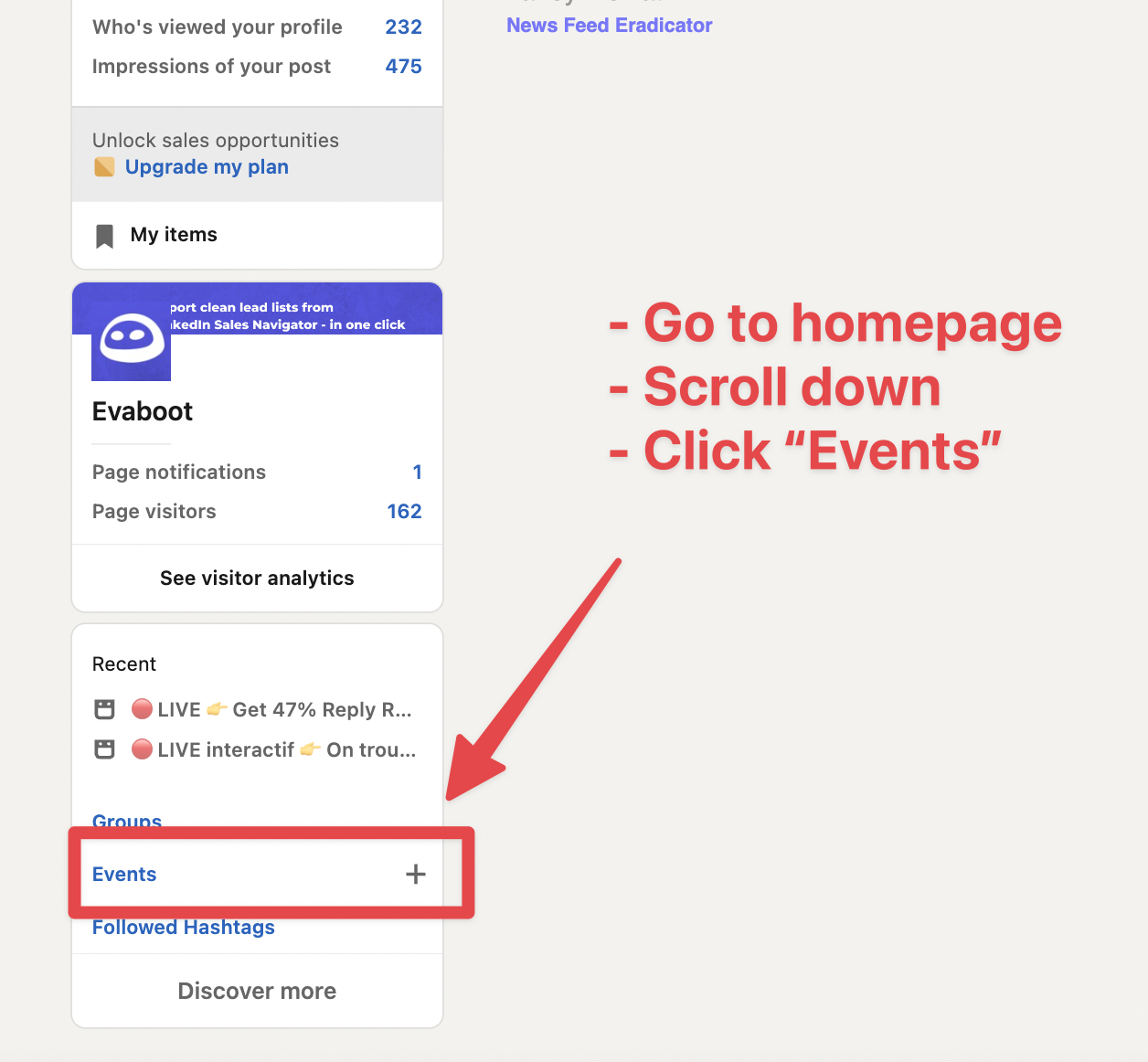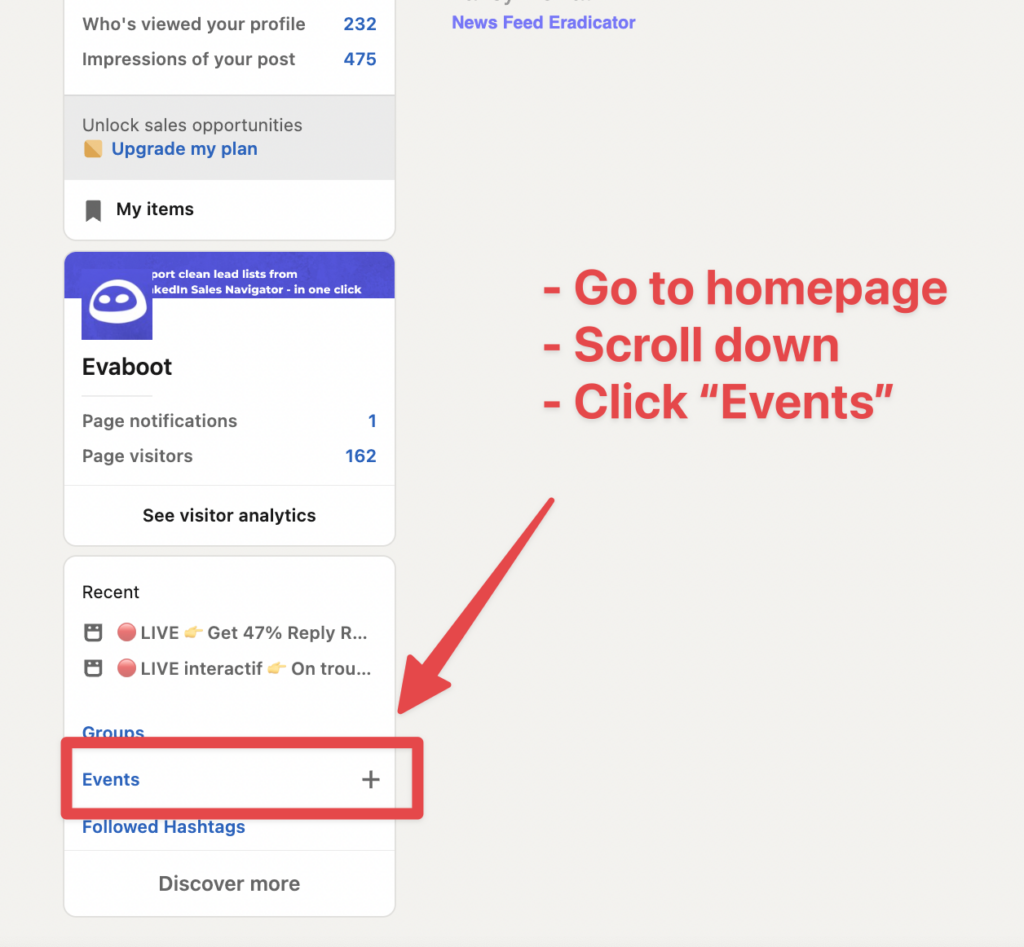 13. Steal your competitor's audience
Interested in contacting your competitors' linkedin followers?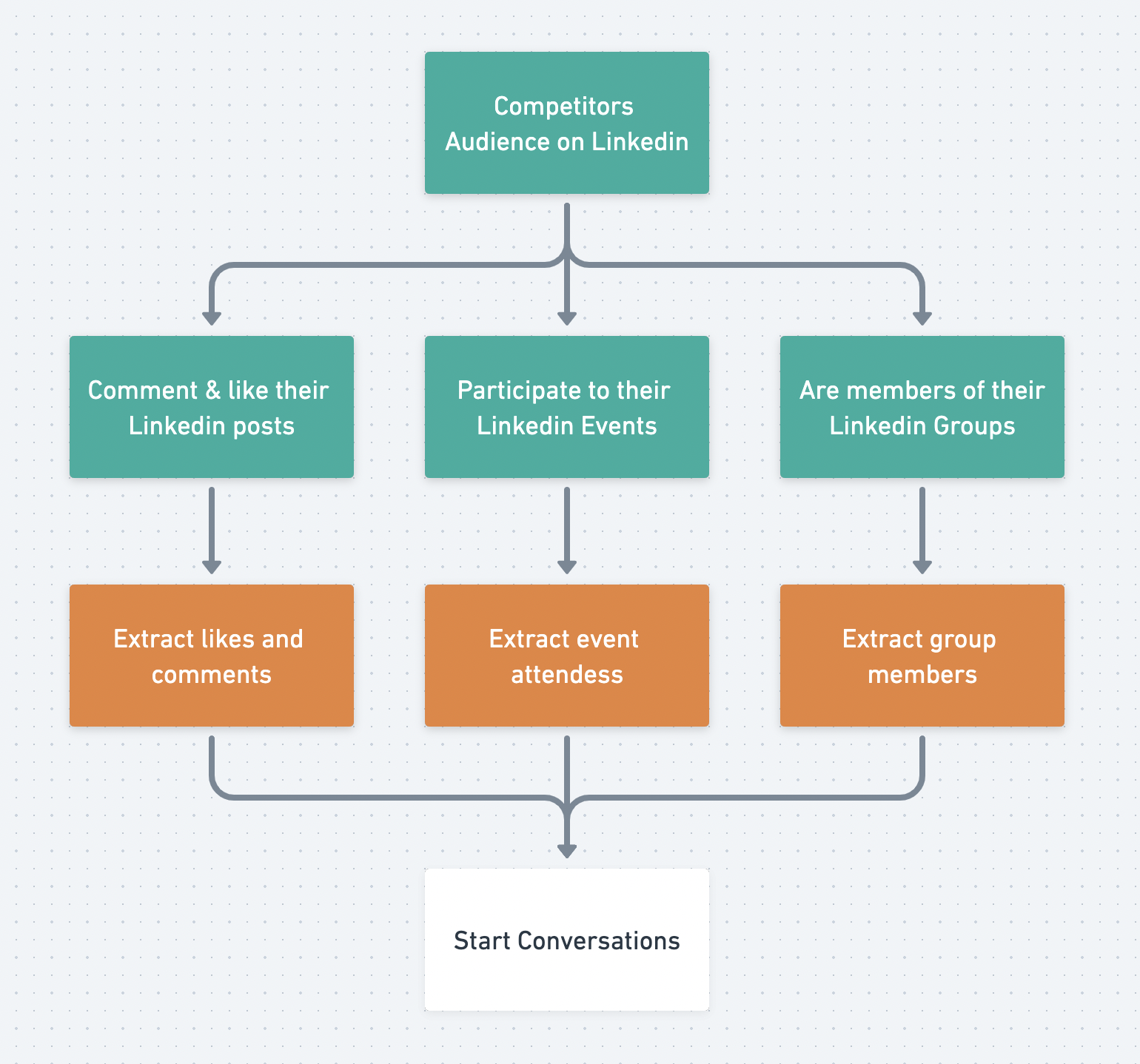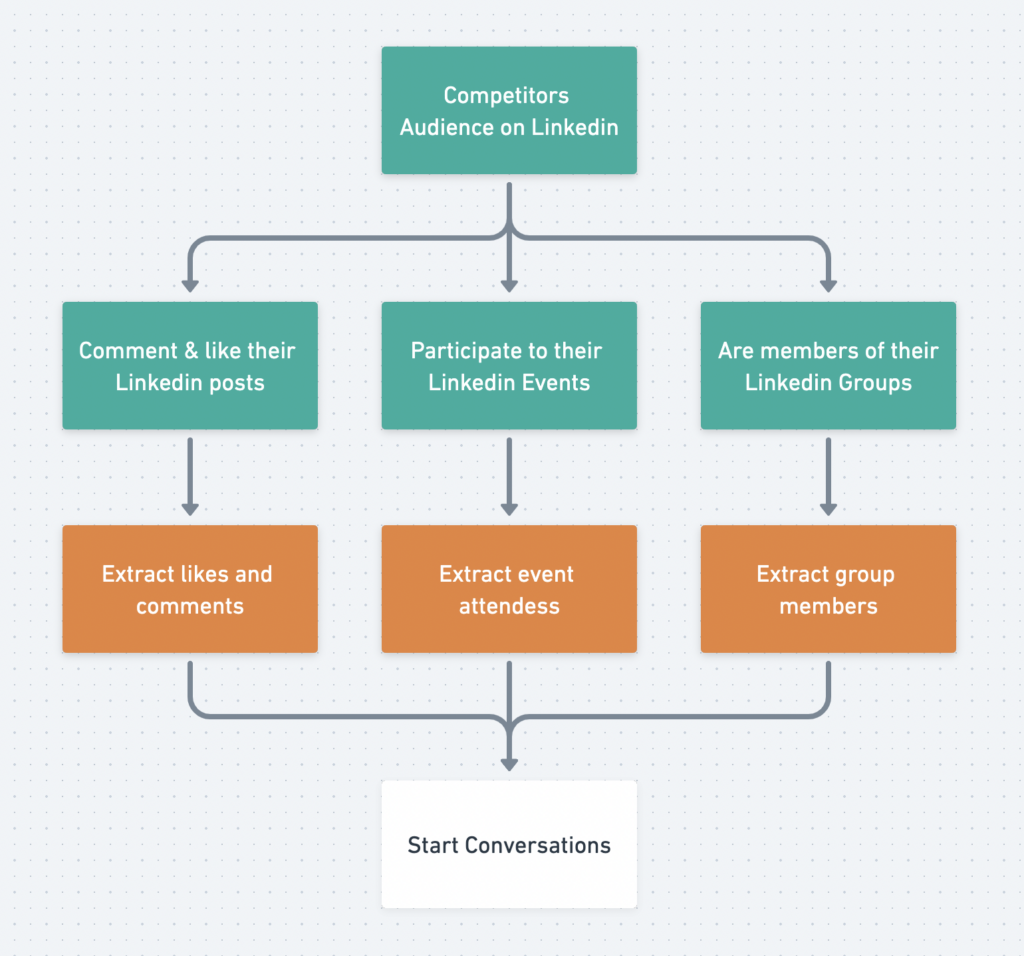 There are 3 ways to do that on Linkedin:
Extract competitors' post commentors
Extract competitors' group members
For this you can use Phantombuster that provides several scraping APIs to do this.
Once you have the list into an Excel file, you can upload it into your favorite linkedin outreach tool to start contacting these people.
14. Use Linkedin Account Based Marketing
Linkedin Account Based Marketing is an advanced linkedin lead generation strategy design to make sales and marketing work hands in hand.
It's a sales-oriented marketing approach that flips the classic inbound Marketing Funnel.
If your Sales complain about the quality of the leads that your Marketing Department is providing, this strategy is made for you.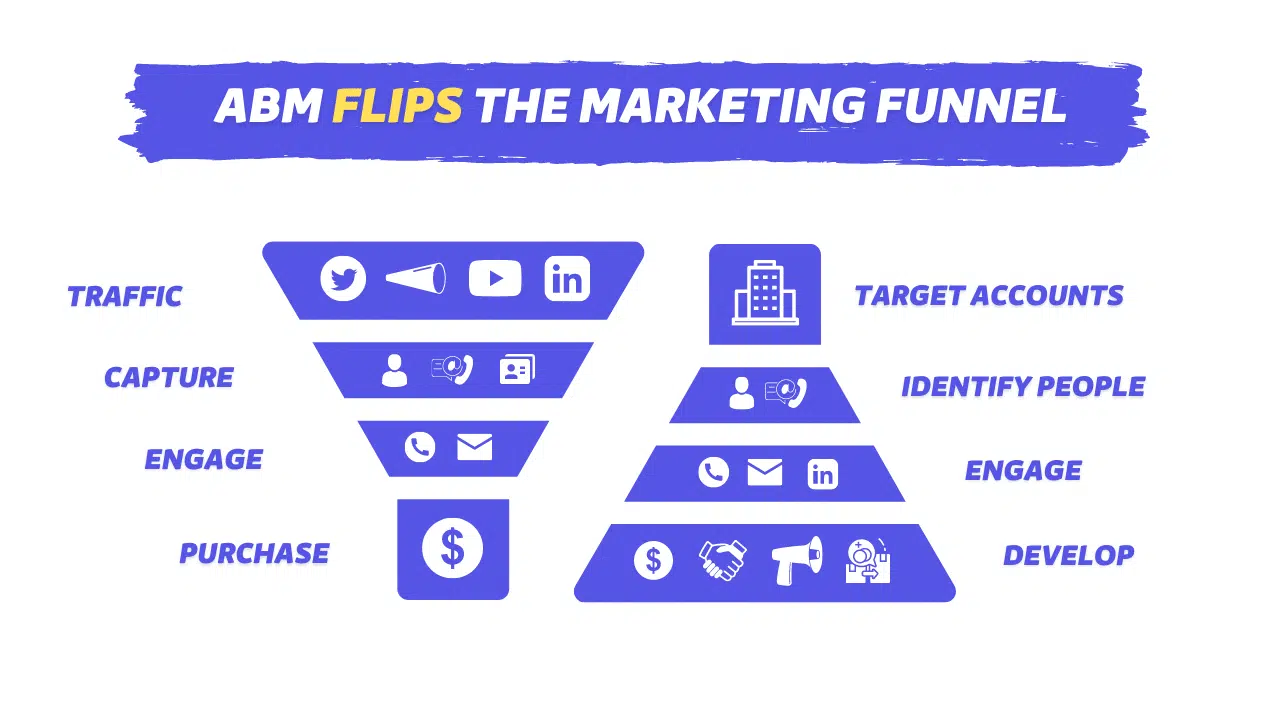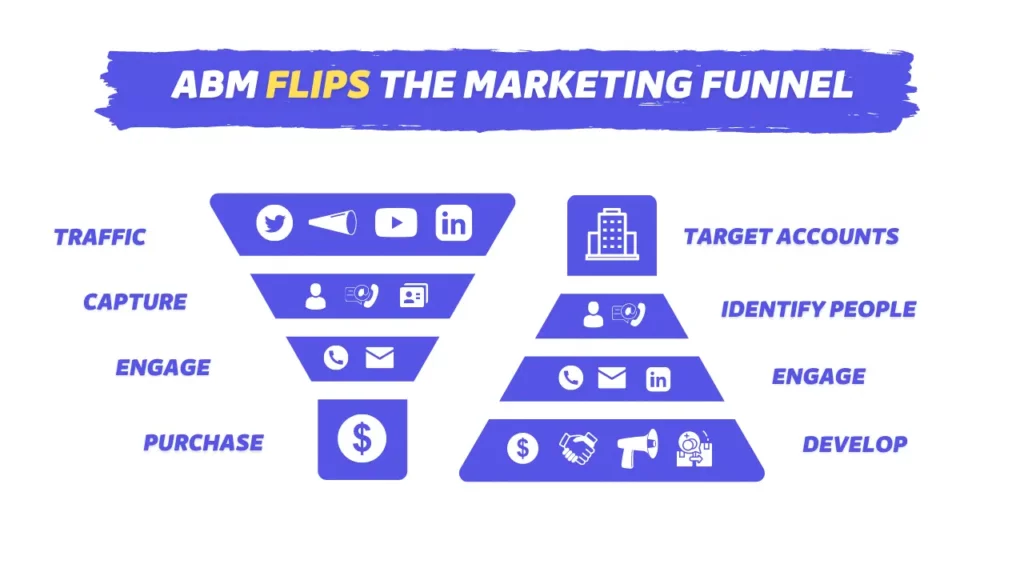 Here is the process:
Marketing & Sales map together the accounts they want to close
Sales and Marketing coordinates their efforts to get meetings
Sales are only getting meetings with qualified leads
Linkedin Sales Navigator provides many tools to help you implement
15. Track your leads with Smartlinks
Sales Navigator Smart Links allow creating Sales presentations aggregating files and websites, and then easily share and track your prospect's interactions with this content.
This strategy has several benefits:
Collect all the linkedin profiles of people who clicked on the link (super useful if you are doing email prospecting).

Shorten your prospecting messages by detailing your proposition value in the smartlink.

Send super personalized follow-ups based on how the prospect interacted with your content.
16. Use CSV upload to build account lists
If you are using several sources of data to build your accounts lists on Linkedin Sales Navigator, this strategy is a game changer.
It basically allows transforming any excel file into a linkedin account list on Linkedin Sales Navigator.
Just provide:
website
name
linkedin URL (in the best scenario)
Then Linkedin will try to find the companies in it's database.
Huge time saver!
To use you will need a Sales Navigator Team (Advanced) account.
17. Leverage Linkedin groups
I'm not a big fan of linkedin groups. I think they don't worth it. They are most of the time inactives and full of spammers.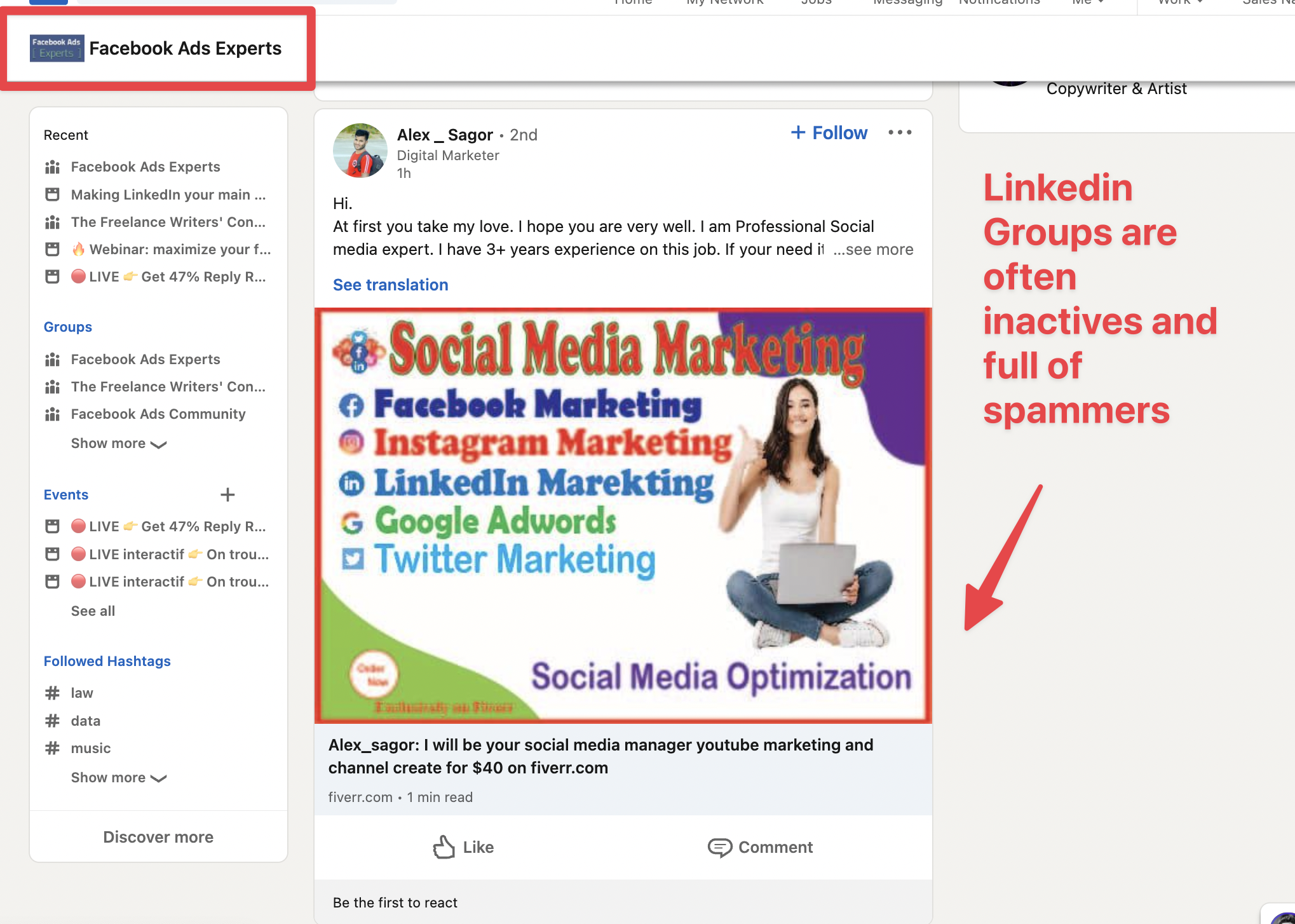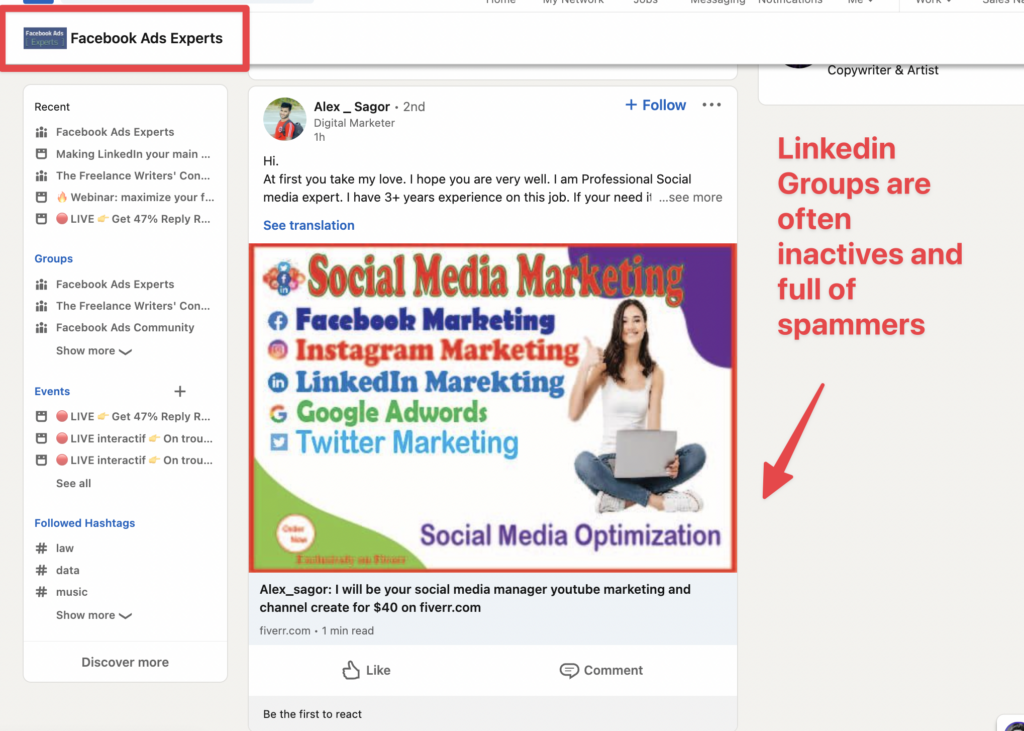 The user experience on linkedin group is really bad.
Nobody has really succeeded in creating a community on a Linkedin Group.

Better use Facebook groups if you are willing to create a community.
The most interesting thing to do with Linkedin groups is to extract the members and contact them using their membership as an icebreakers.
If someone is member of a "Facebook Ads" linkedin group, starting a conversation about a Facebook ads related product or service could worth it.
18. Run Message Ads
Message Ads (or Sponsored InMail) reaches appears directly in your audience LinkedIn Inbox.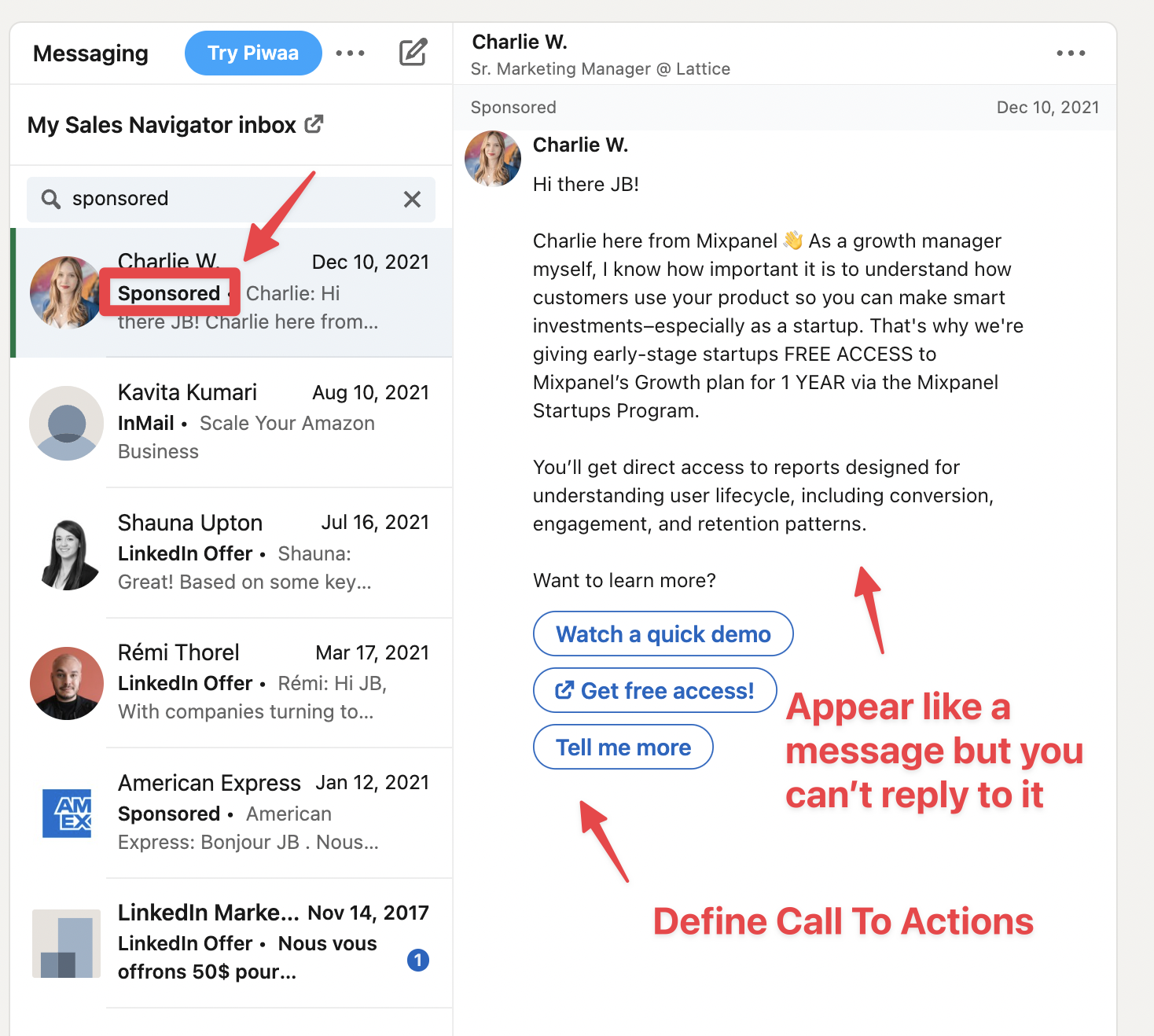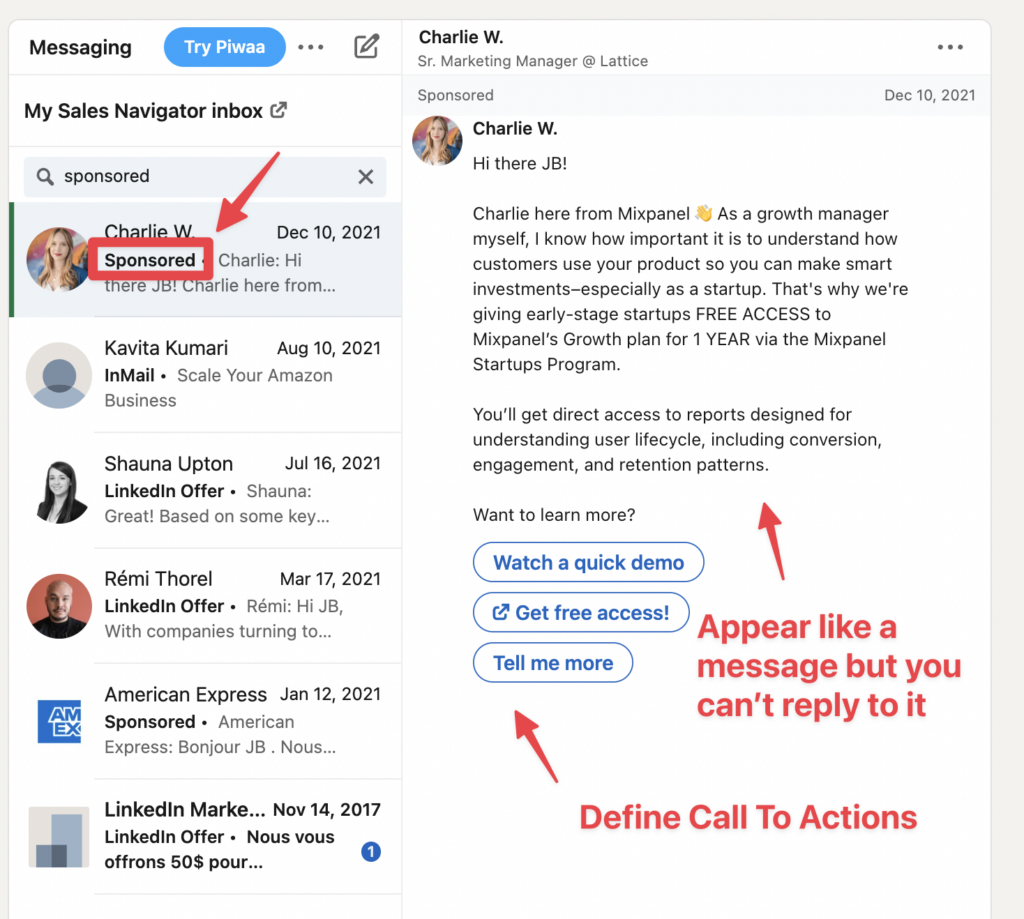 They can be used to:
Invites to webinars or events
Promote products or services
Boost downloads of white papers or eBooks
Message Ads will only be delivered when you target is active on Linkedin to optimize open rate.
According to a Linkedin case study, Blackine obtained 72% open rate and 15% CTR from LinkedIn Sponsored
InMail on a webinar registration campaign.
19. Run Lead Gen Forms Ads
Lead Gen Forms are an add-on that added to your Sponsored Content or Sponsored InMail to collect contact details directly from linkedin.
All the leads collected through your ad campaigns are directly send to the campaign manager.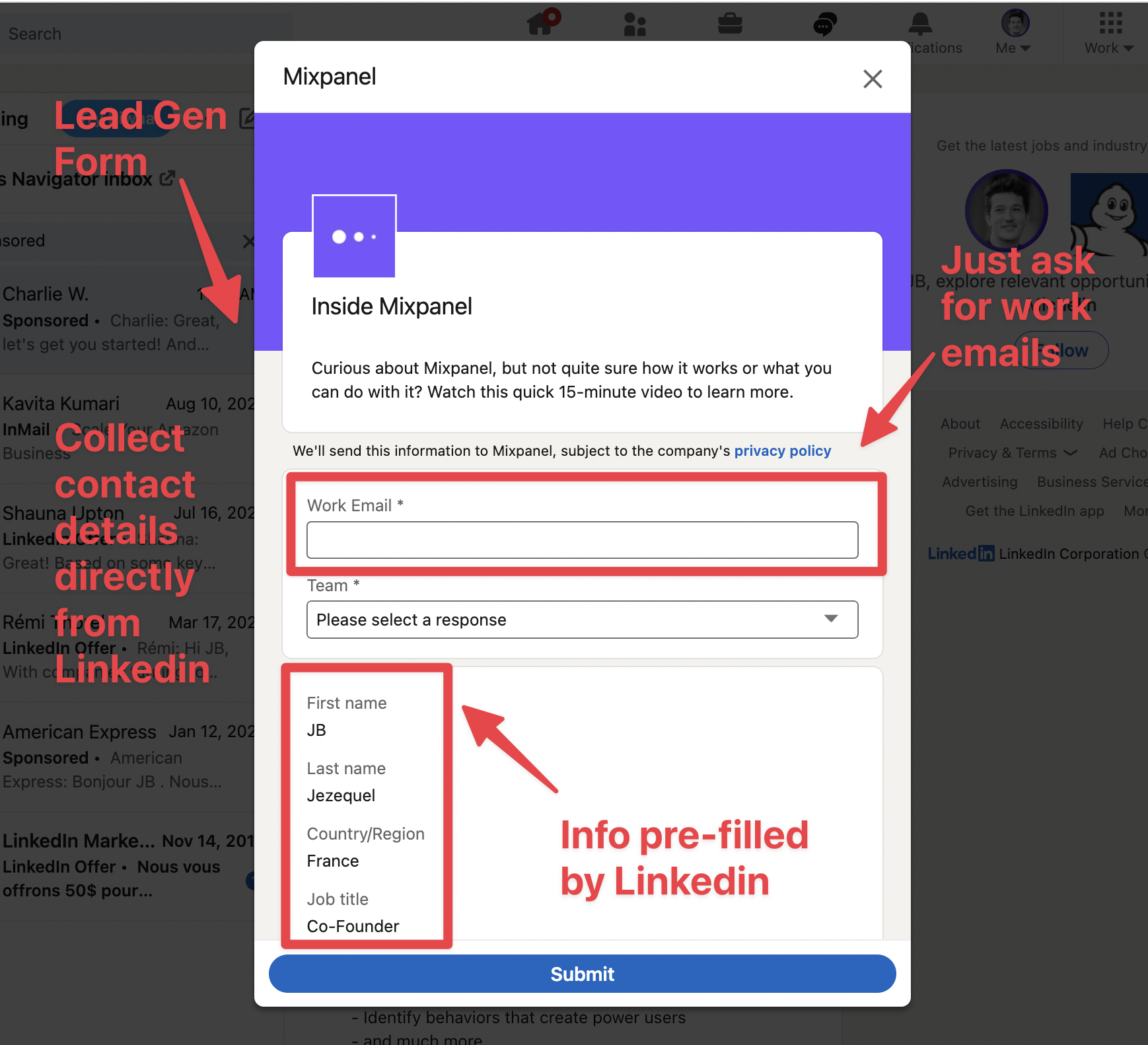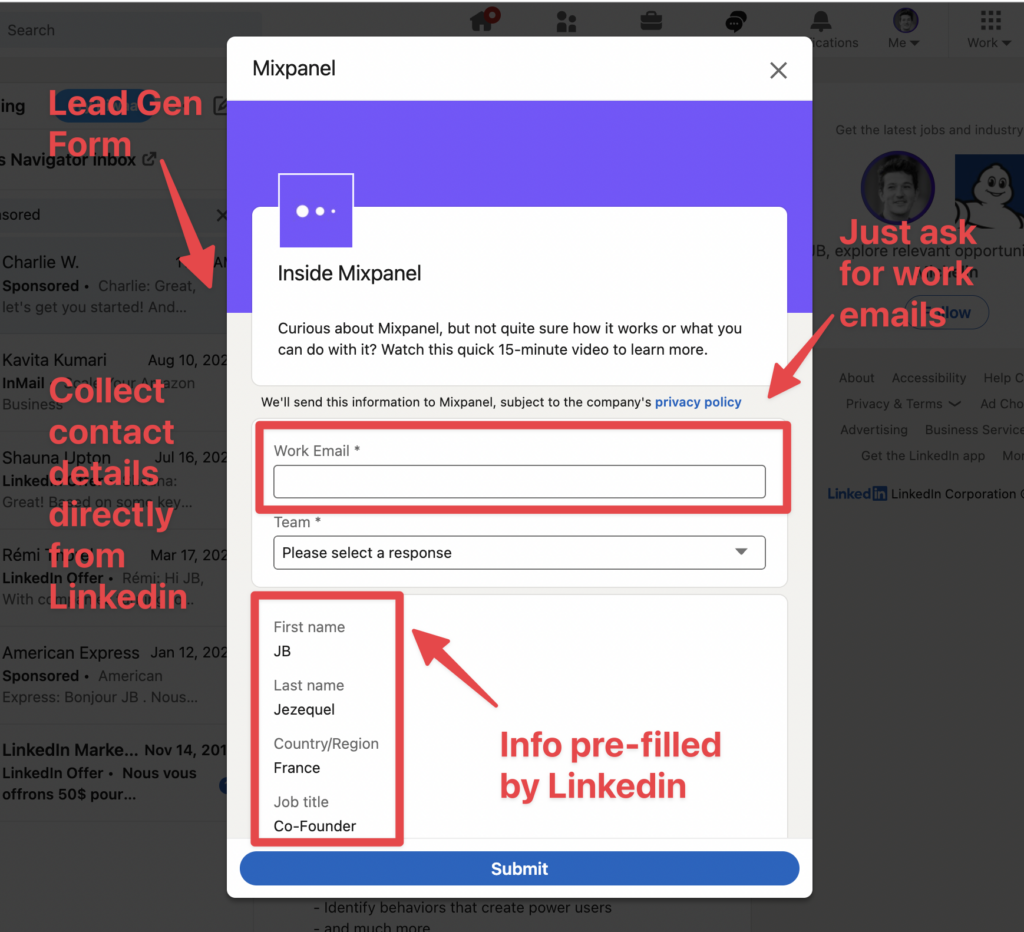 The main benefit of using LinkedIn Lead Gen forms?
LinkedIn fill the form with target's data so only need to click or add their work emails to sign-up. This a huge help to increase conversion rate.
According to a Linkedin case study, Hiredly achevied 2x higher fill rates and 70% MQL-to-SQL conversion rate with Linkedin Lead Gen Forms.
20. Run Sponsored Content Ads
These ads run in the LinkedIn feed on desktop and mobile.
The possible ads formats are:
Single image
Video
Carousel image
You can promote a content that you already have published on your linkedin profile or your linkedin company page. It's simple to create awesome video ads for LinkedIn marketing campaigns with tools like Flexclip.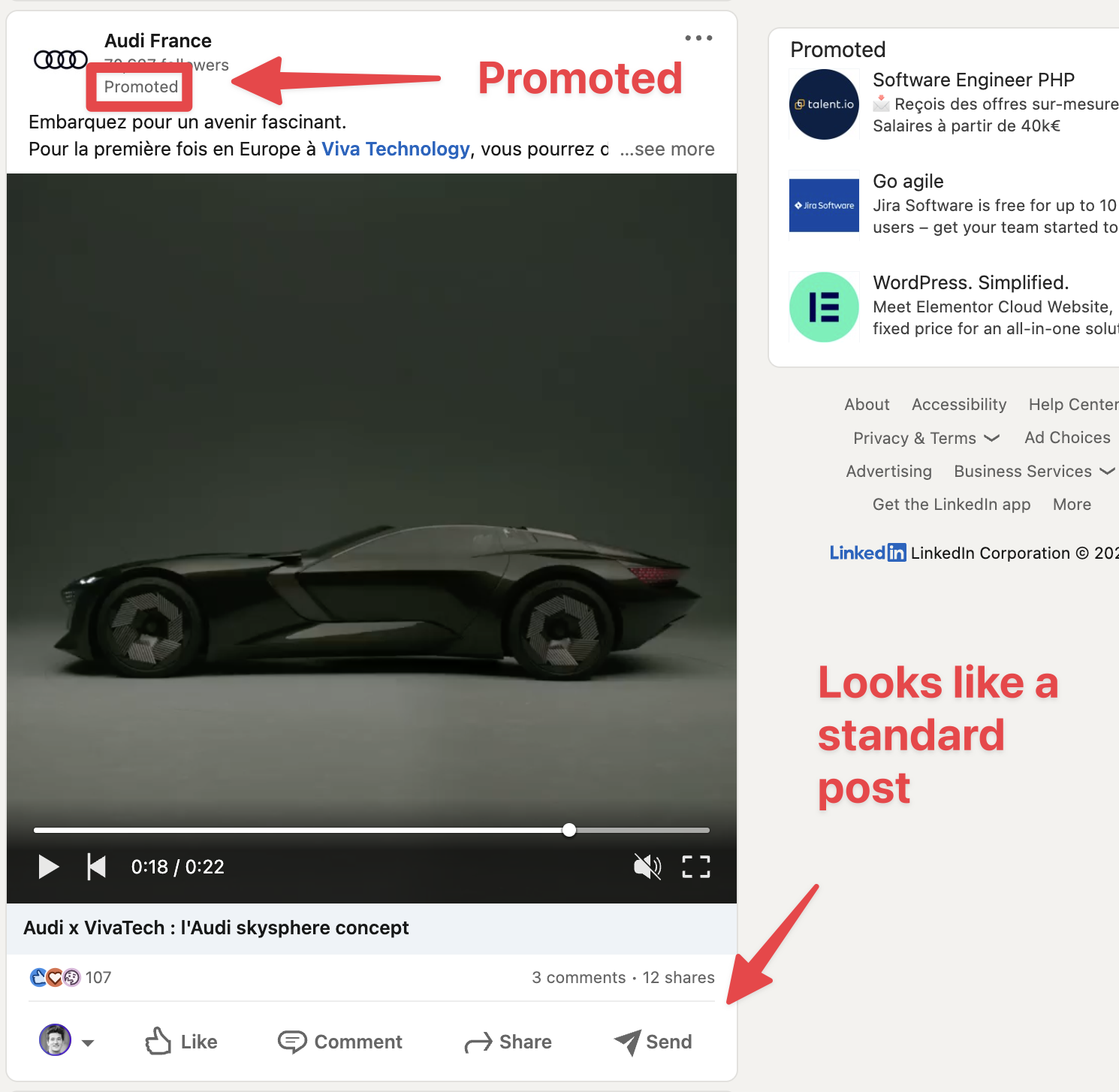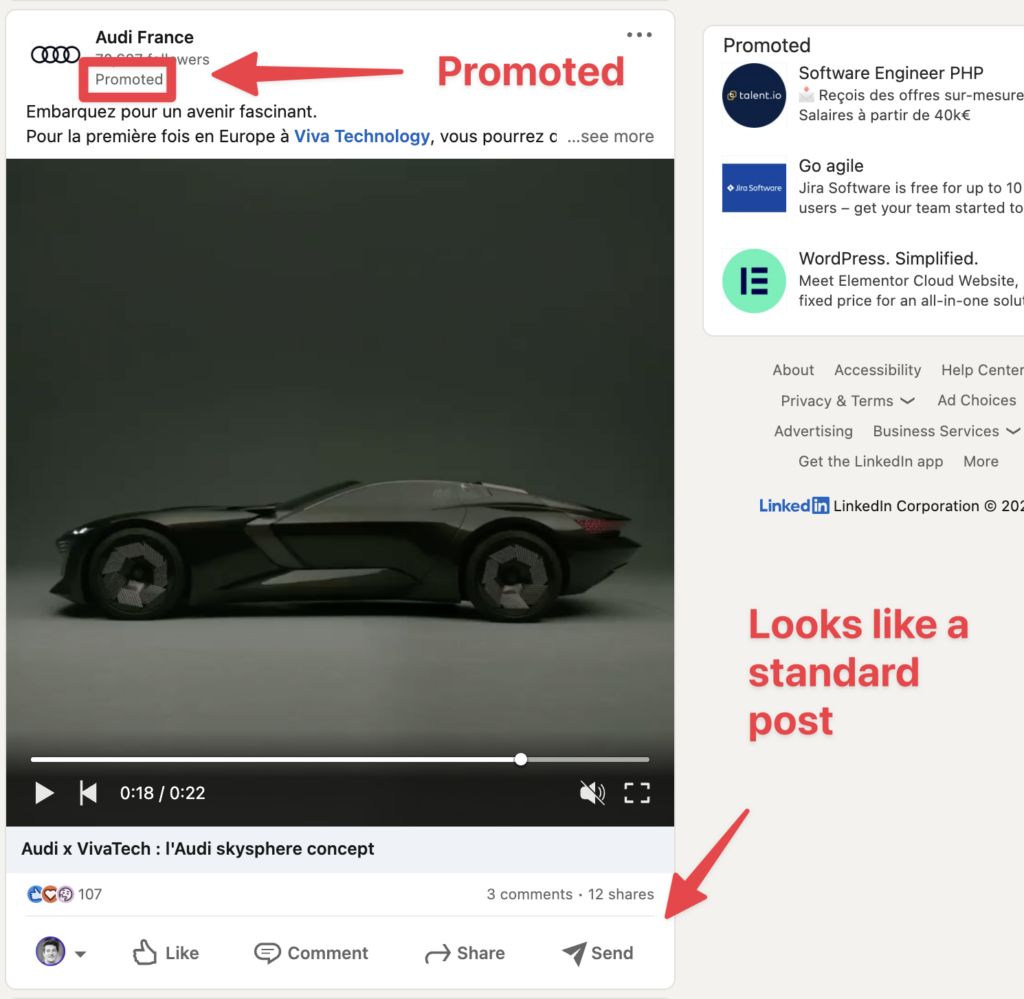 Or you can use Direct Sponsored Content if you want to share content to specific audiences without having to publish the content on your pages.
This is useful if you want to A/B testing on your audiences.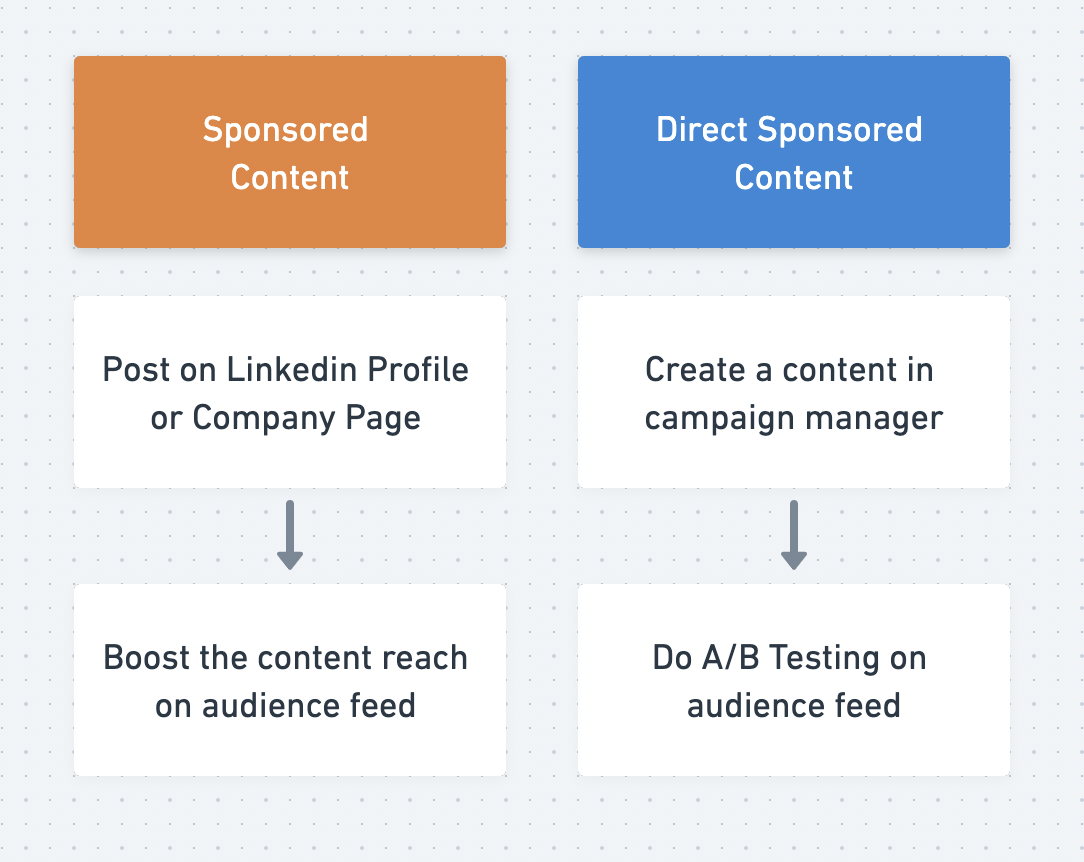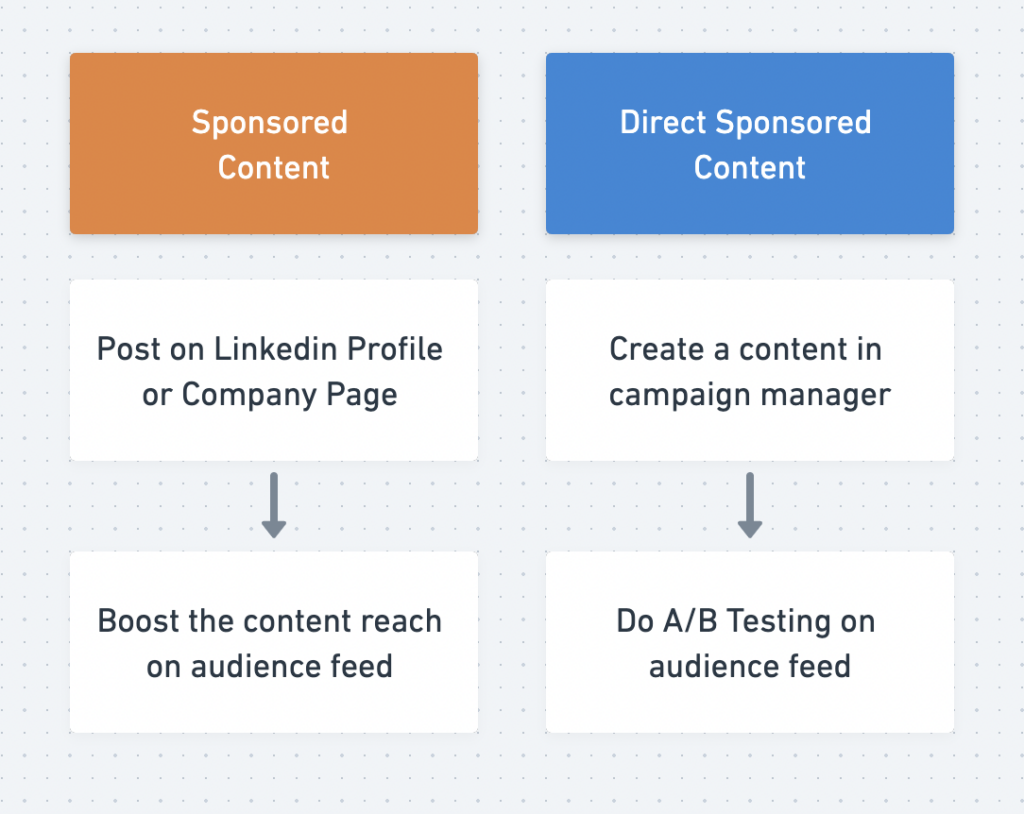 According Linkedin case study, Hubspot generated 400% more leads within their target audience than lead generation efforts on other platforms
21. Run Dynamic Ads
Dynamic Ads appear in the sidebar of your LinkedIn feed and Linkedin Profile.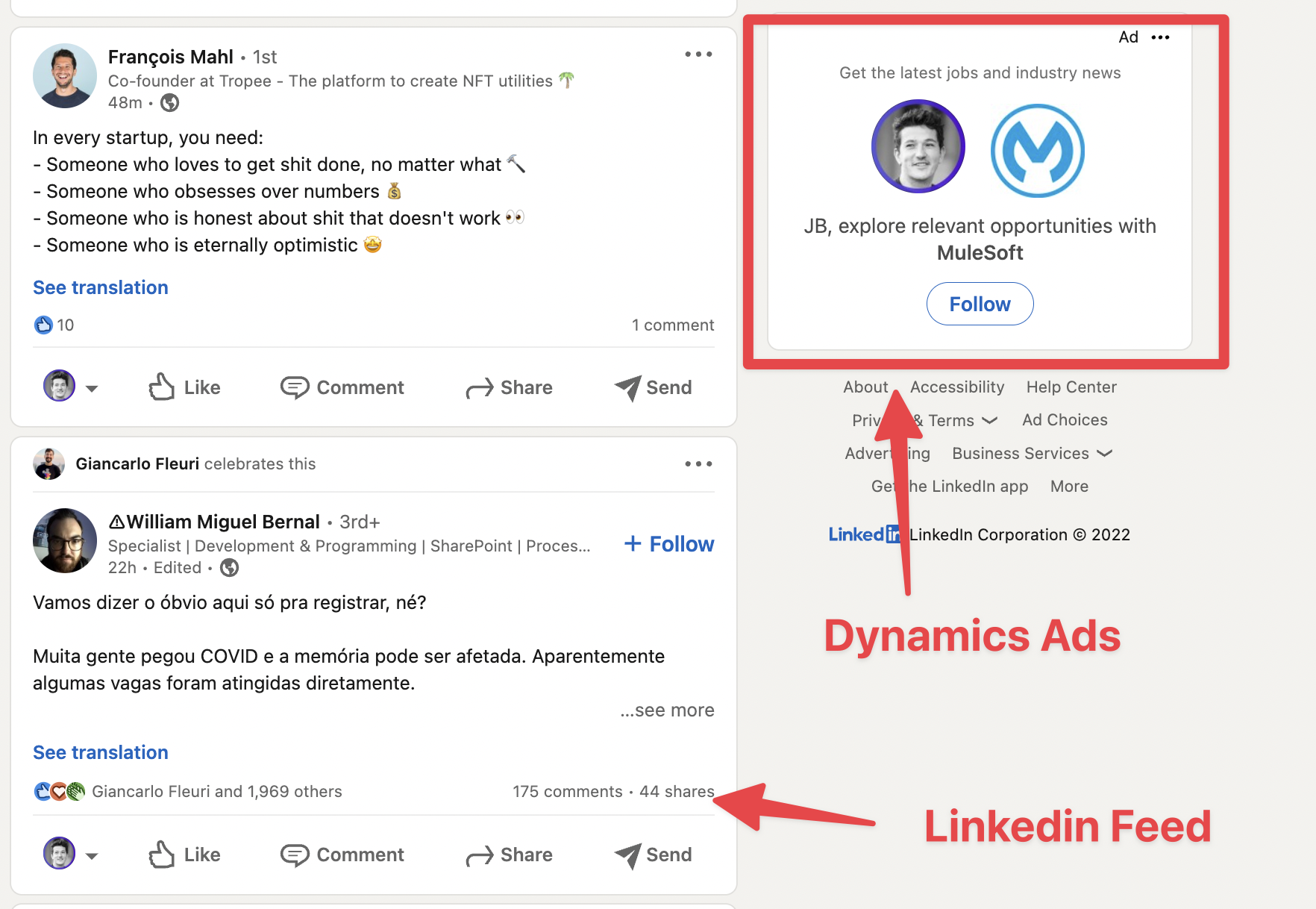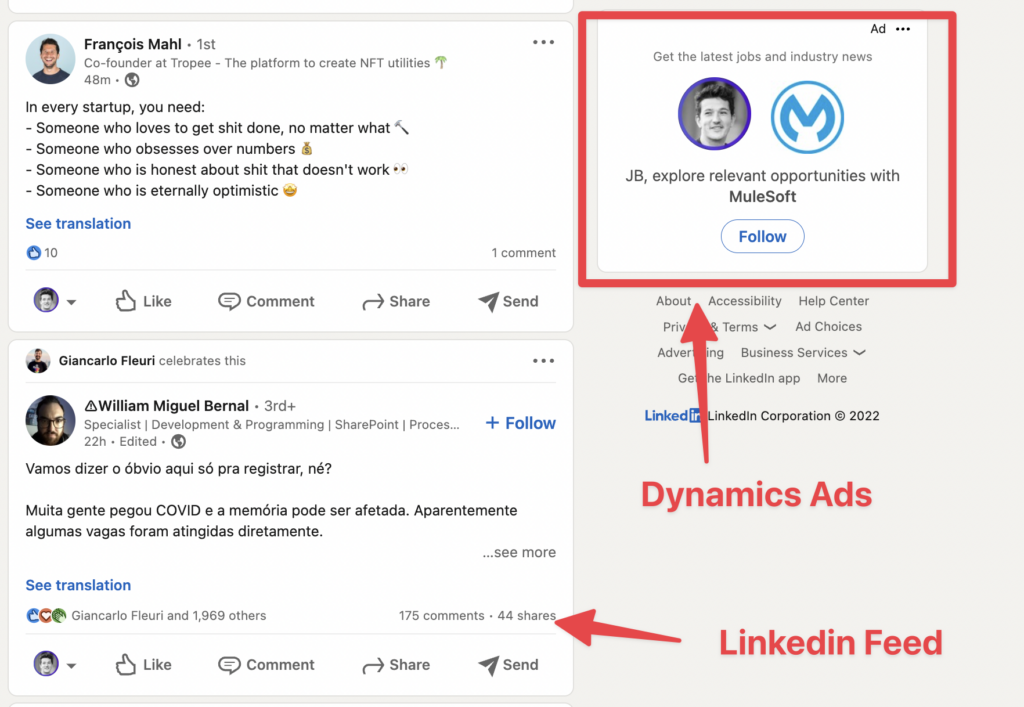 There a severals types of Dynamics Ads that you can use to generate leads:
Follower Ads to boost followers of your LinkedIn Page
Spotlight Ads to drive traffic to landing pages
Content Ads to increase content downloads
According to a Linkedin Case Study, Equity Seed 5X its CTR with Dynamics Ads compared to Google Display Ads.
22. Hack Linkedin Ads with Linkedin Sales Navigator
You create hyper targeted linkedin ads audiences using Linkedin Sales Navigator search engine.
Indeed, Linkedin Ads allow you to import CSV to create audience.
By extracting data from Linkedin Sales Navigator and re-uploading it into LinkedIn Ads, you can decide exactly who is going to see your linkedin ads.

With this technique, you won't spend your budget showing your ads to unqualified pleads anymore.
With the chirurgical targeting provided by this technique, you are sure that every penny is well spent.
Conclusion
Hope you enjoyed this complete guide on how to use linkedin to generate leads.
You now master the 3 types linkedin lead generation strategies:
Linkedin Marketing
Linkedin Outreach
Linkedin Ads
If you have any questions about what you just read, feel free to use the chat to ask your questions!
We are sorry that this post was not useful for you!
Let us improve this post!
Tell us how we can improve this post?
Build email lists from
Export clean data and get verified emails in 1 click.