Inmail Credits on Linkedin: How To Buy and Use Them? (2023)
Here is everything you need to know about inmails credits on Sales Navigator and Linkedin Premium
What are LinkedIn Sales Navigator InMail Credits?
Inmails credits allow you to directly contact someone who you're not currently connected with on Linkedin.
For users on a Basic account, you'll find that you can only directly message those who are already in your network.
However, for Premium and Sales Navigator users, you get a certain number of Sales Navigator inmail credits based on the type of your subscription.
Sales Navigator inmail messages are limited to 200 characters for the subject line.
Messages themselves are limited to 1900 characters (around 350 words).
How many inmails with Sales Navigator?
The number of inmail credits per month depend on your Sales Navigator plan:
If your InMail is responded to within 90 days of you sending it, the Inmail credit will be refunded.

You can also carry over InMails for up to three months.
A Professional account holder can have up to 60 credits to use, while a Enterprise user can have up to 150 credits.
If necessary, you can purchase InMail credits above your monthly usage limit.
They cost $10 each, which can soon make things expensive.
We highly advise you not to do that.
How to Generate Lead with your Sales Navigator InMail Credits?
You could be tempted to use the inmail credits sales navigator gives you to build your lead generation strategy.

The best idea is to focus on email and to keep inmails as a last resort.
1. Send Emails instead of Inmails
You should not focus on Inmails to execute your linkedin outreach strategy.
Why?
Because Inmails are flagged in the Linkedin Messaging interface.
Your prospect will immediately notice that he's receiving a linkedin outreach messages.
Sending an email is equal to write "Hey! I'm here to sell you something" right next to your face.
You should keep Inmails as the last resort if your prospect does not reply to your emails or your linkedin messages.
Make a first contact via email
if no reply: send a connection request and a classic linkedin message
if the connection request is not accepted: send an Inmail
You only have between 20 and 50 Inmails credits per month with your Sales Navigator account.
You can't base your whole linkedin prospecting strategy on Inmails
Compared to Inmails, you can send up to:
150-200 emails a day with your mailbox
100 message a day with your linkedin account
So instead of sending Inmails, you could export lead lists from Sales Navigator into a CSV and find their emails.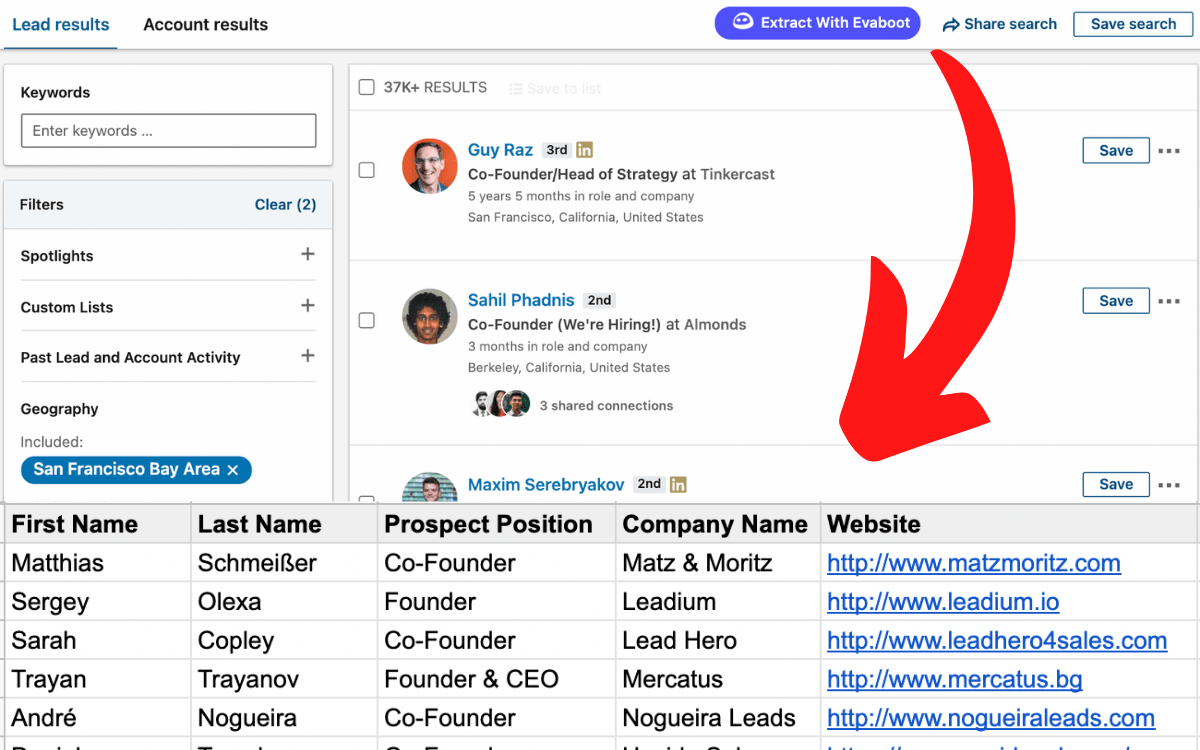 Hence, you won't need Inmails to contact these people and you'll be able to linkedin prospecting messages and cold emails to them.
Keep your Inmails for people you absolutely need to contact, but can't reach out to through Linkedin or Email.
Sales Navigator Inmail credits can indeed be really efficient if you are making enterprise sales and just want to reach for a small group of high touch leads with a high budget.
But if you want to contact dozens or hundreds of leads per week, you won't go far with Inmails.
Another annoying thing is that Sales Navigator inmails are separated from your basic linkedin messages.

No possibilities to merge two conversation with the same prospect.

That complexifies even more the use of Sales Navigator inmails for prospecting
2. How to write Sales Navigator inmails that get replies?
In case you want to reach a few high touch leads with Inmails, here are inmail best practices.
I won't give you a complete course on email copywriting here, my simple is to use one of the many icebreakers offered by Linkedin on the right side of the Inmail interface:
Twitter Profile
Website
Shared Connections
Shared Group
Posts
Articles
Also make sure to make your inmail subject lines short and straight to the point. Your prospects are busy so make sure to be as clear as possible.
This is a goldmine for finding relevant icebreakers and trigger your prospect interest.
It's time to act now!
Learn how to use Sales Navigator to create email lists and start getting more client with outbound sales prospecting.
We are sorry that this post was not useful for you!
Let us improve this post!
Tell us how we can improve this post?
Build email lists from
Export clean data and get verified emails in 1 click.