If you are wondering if you should invest in Linkedin in order to:
Get a job
Find recruiting candidates
Generate more leads
You are in the right place.


In this article, we cover everything that sales, recruiters, and jobseekers need to know about linkedin premium offers and how to get the most of them.
What is Linkedin Premium?
There are 4 different premium plans on Linkedin:
Linkedin Premium Career for jobseekers ($29.99/month)
Linkedin Premium Business for networking ($59.99/month)
Linkedin Sales Navigator to generate sales leads ($99.99/month)
Linkedin Recruiter to find job candidates ($180/month)
They have common benefits, but there are also benefits specifics to each offer.


Here we cover everything you must know linkedin premium offers and the features they are offering.
After reading this, you will be able to offer that better fits your needs.
What are the Benefits of Linkedin Premium?
The benefits common to of all Linkedin Premium offers are:
Inmails
Who's viewed your profile
Access to Linkedin Learning
Unlimited searches
Open Profiles option


1. Inmails
Inmail messages allow you to directly contact someone who you're not currently connected with on Linkedin.
For users on a free account, you'll find that you can only directly message those who are already in your network.
That is really convenient because you can skip the connection request step to directly land into linkedin DM's.


You have a different number of inmails per month depending on the linkedin premium offer you chose:
50 inmails per month with Sales Navigator
5 inmails per month with Linkedin Premium Career
15 inmails per month with Linkedin Premium Business
30 inmails per month with Recruiter Lite
150 inmails per month with Linkedin Recruiter
Pretty simple. The more you pay, the more you have inmails.
2. Who's Viewed Your Profile
With any linkedin premium subscription, you can have access to the entire list of people who visited your profile in the last 90 days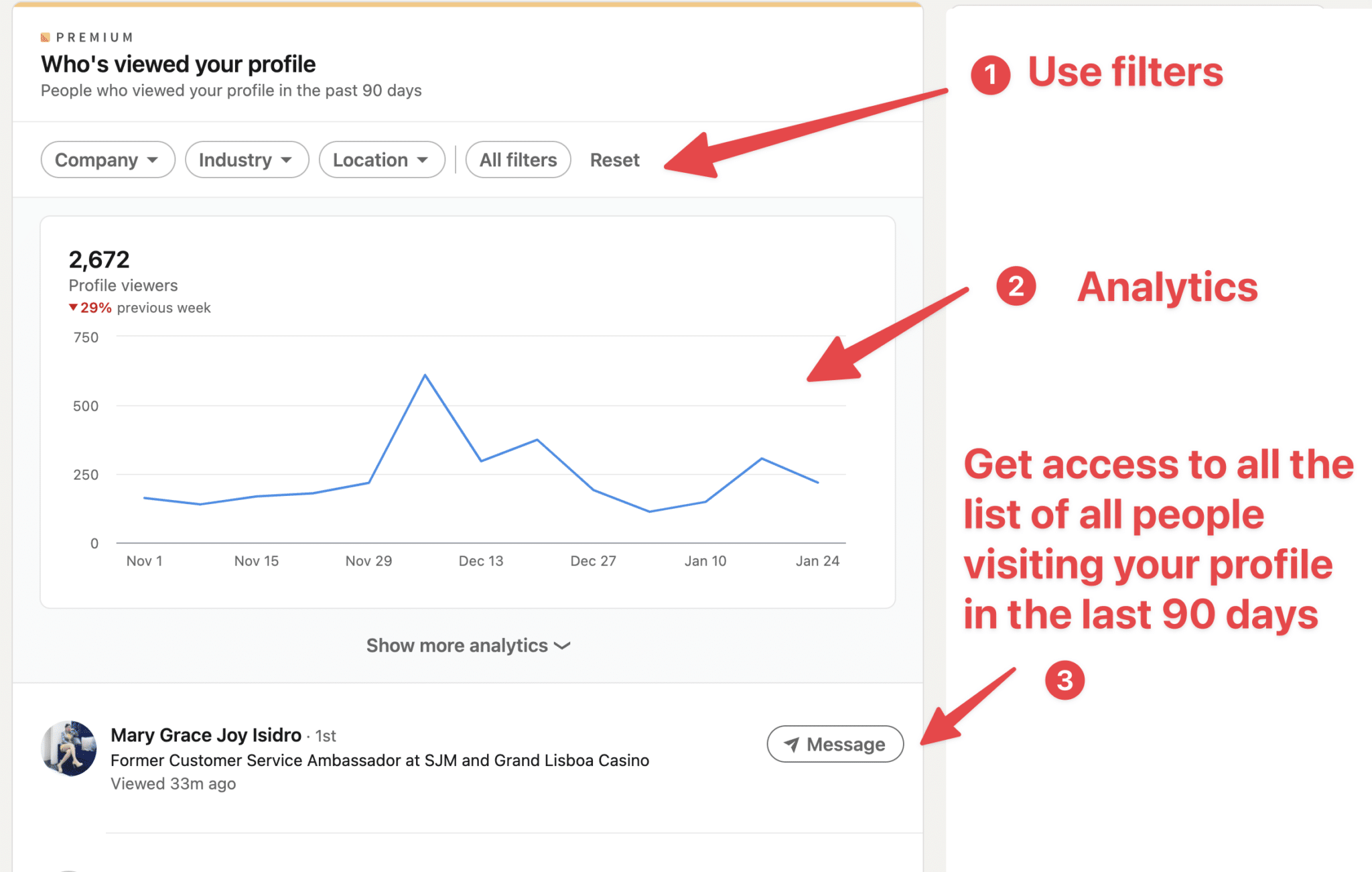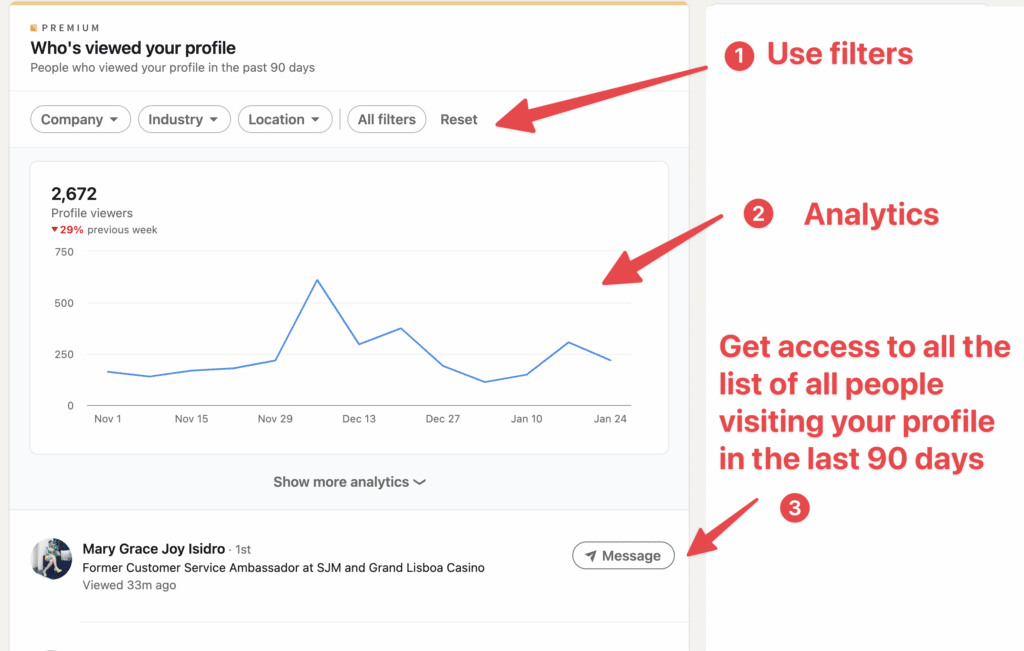 You can even apply filter on this list to search for specific people.
This feature can be useful is you are looking for signs of interest from recruiters, prospects, or candidates.
If these people are visiting your profile, it means they have some sort of interest in what you have to offer, right? So, you can leverage that as an icebreaker for your messages.
3. LinkedIn Learning
With any Linkedin premium subscription, you have access to Linkedin Learning.
It is for sure one of the most underrated source of knowledge on the internet right.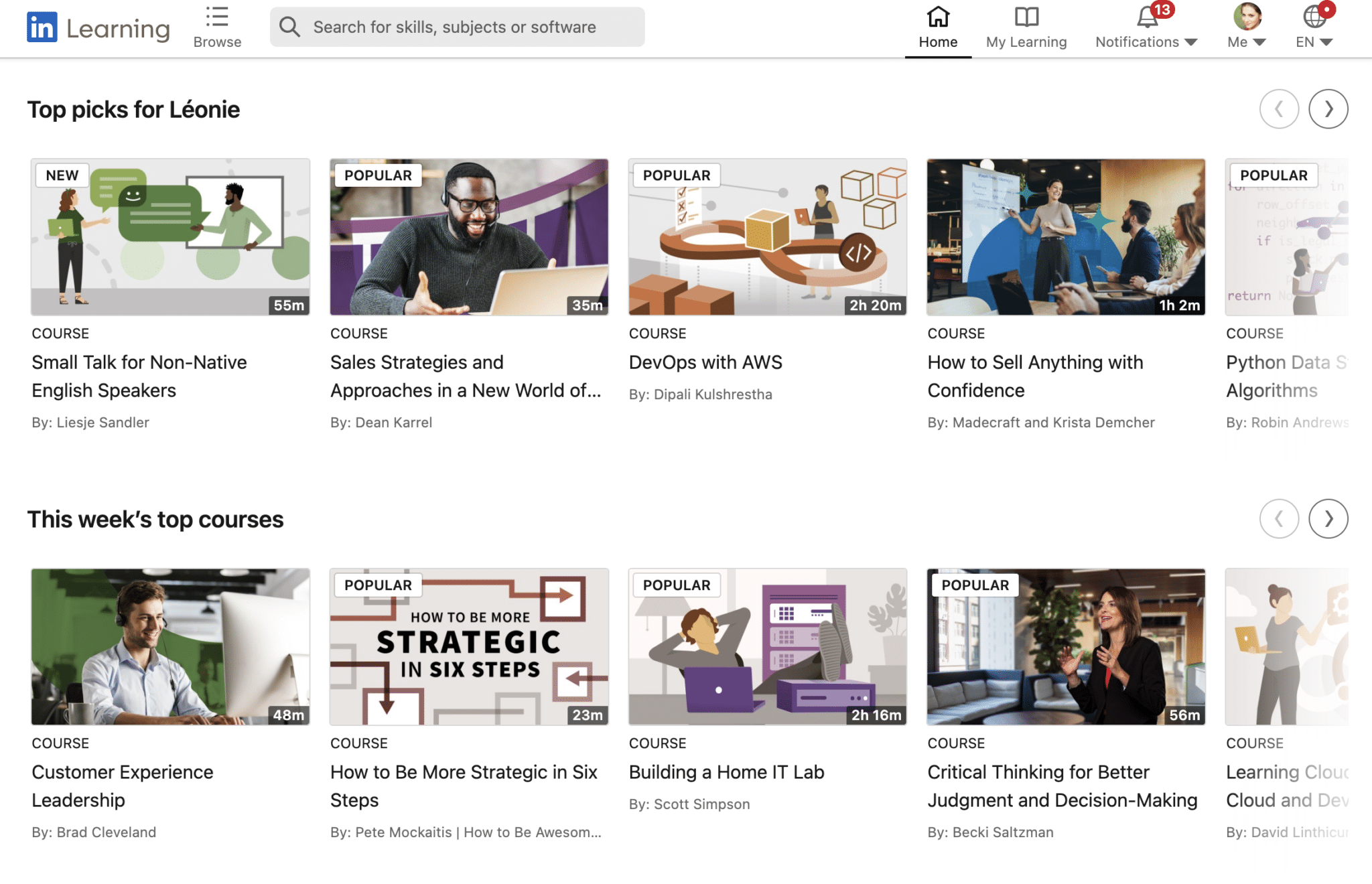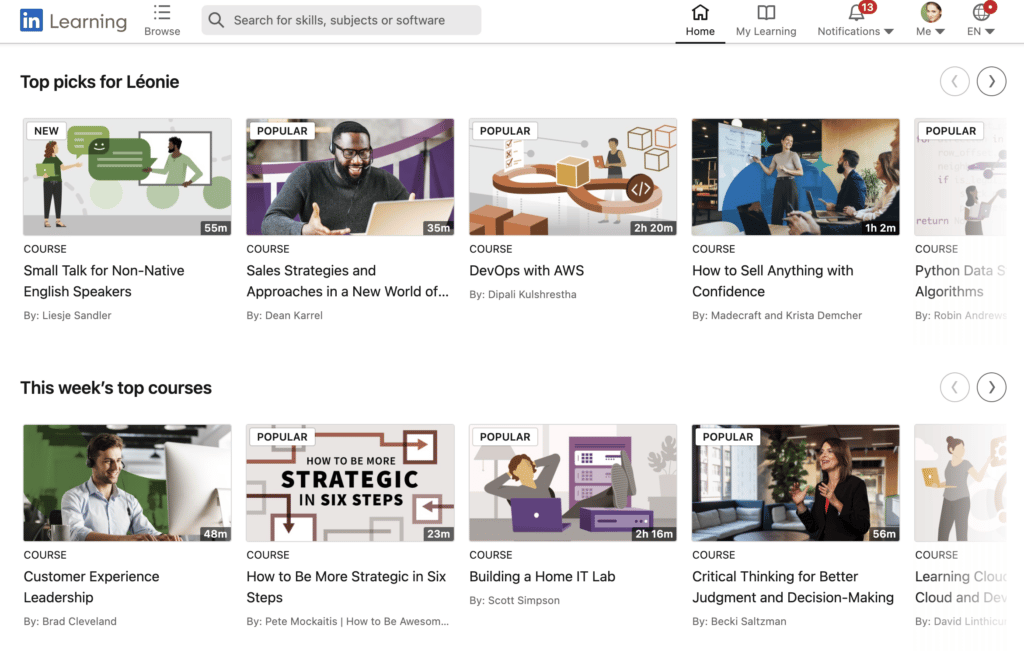 There are tons of high-quality content on:
how to get a job
how to be better at sales
how to be better at recruiting
So if you are willing to learn and grow by learning from industry leaders, linkedin learning definitely is worth it.
4. Unlimited Searches
The number of searches you can do with a free linkedin account is limited by what Linkedin calls the commercial use limit.
It means if Linkedin detects that you are extensively using their free search engine for a professional activity like prospecting or recruiting, they will block you.

If you upgrade to Premium Business, Sales Navigator or Recruiter license, you will get access to unlimited searches and won't get bothered by this limitation.
5. Open Profile option
If you are subscribed to a linkedin premium offer, you can activate the Open Profile option. It means you allow your 2nd and 3rd degree connections to send you free inmails.
Instead of spending an Inmail credit to contact you, the message will be free.
Useful if you are a freelance, a consultant, or your work. This allows potential customers outside your network to send you a direct message without spending any Inmail credit.

By making the contact easier, you increase your chances to get contacted by prospects, candidates, or recruiters.
---
Here we cover the linkedin premium features common to all offers.
Now let's see the benefits specific to each offer:
Linkedin Premium Business
Linkedin Sales Navigator
Linkedin Premium Career
Linkedin Recruiter Lite
Linkedin Recruiter
Let's dive in.
Is Linkedin Premium Worth it For Sales?
Linkedin Sales Navigator is definitely worth it for Sales. Linkedin Premium Business isn't worth it. So, it depends on the product you are looking at.
Is Linkedin Premium Business Worth it for Sales?
No. Linkedin Premium Business is not worth it for Sales compared to what Linkedin Sales Navigator has to offer.


Linkedin Premium Business is actually pretty expensive for what it does.
It costs $59/month for only:
15 inmails per month
Unlimited searches
Linkedin Learning
Who's viewed your profile
Business insights
It can look a good offer at first sight. However, when you compared this to what Sales Navigator has to offer for $40 more, there is no match.
Is Linkedin Sales Navigator Worth it for Sales?
Linkedin Sales Navigator is absolutely worth it for Sales. It's an essential tool to find qualified leads and reach out to them.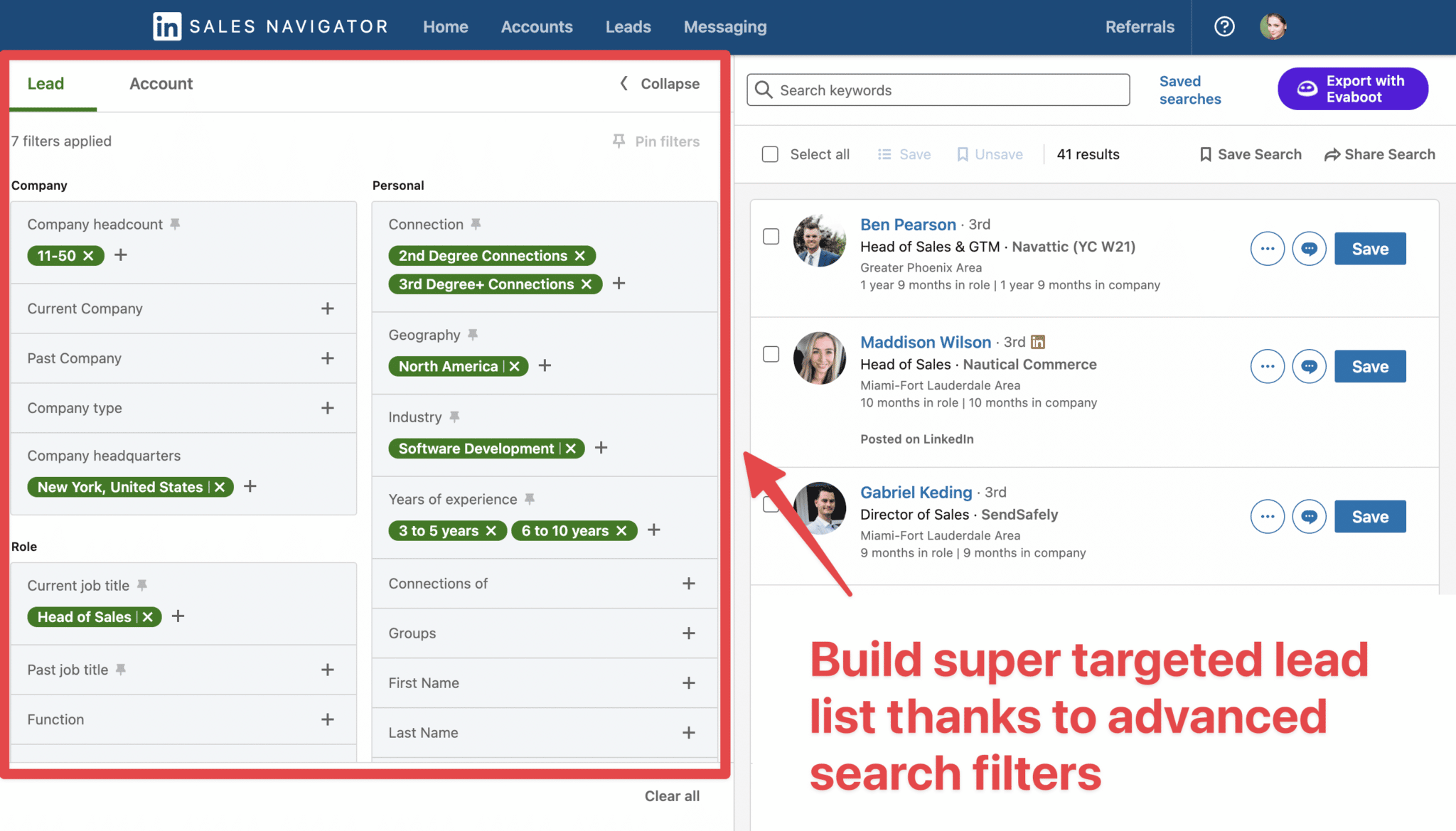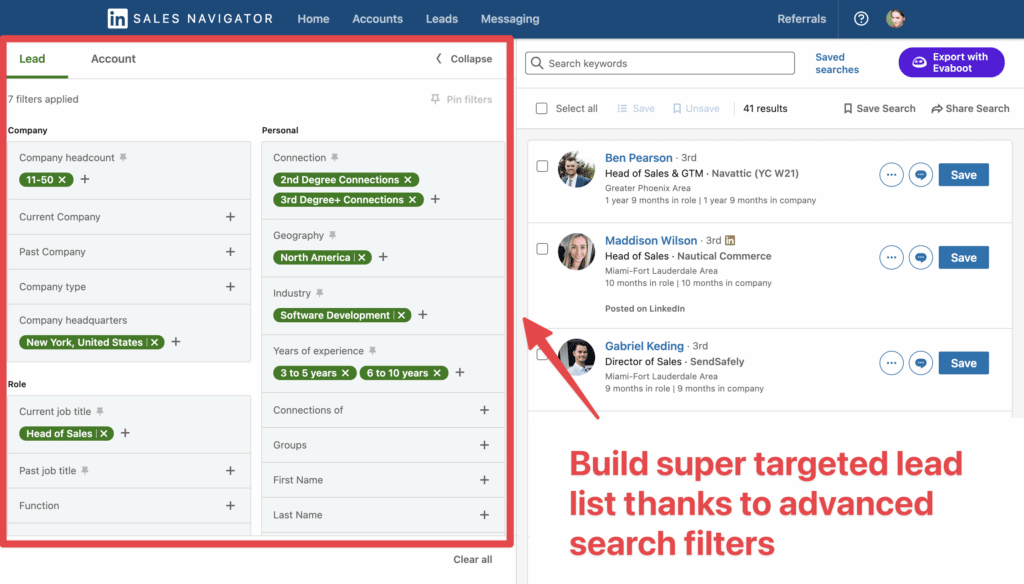 When you buy a Sales Navigator subscription, you have access to:
Unlimited searches
+40 advanced search filters
50 inmails credits per month
Advances boolean search queries
Saved searches to automate lead generation
Custom alerts on leads and account activities
Advanced insights on accounts


Learning how to use linkedin sales navigator is essential to become efficient at linkedin outreach.
Luckily for you, we have a mode a 1h tutorial on the topic:
The only drawback of Sales Navigator is that you can't export your leads to a CSV file, but for that, you can use the Evaboot Chrome Extension.


Is Linkedin Premium Career Worth it for Job Seekers?
Yes. Linkedin Premium Career is worth it for jobseekers. The features it offers can really make you stand out from other job applicants.
Featured applications
Competition insights
Salary insights
Let's dive in.
1. Featured applications
In addition to the other benefits, one big advantage of Premium Career is the Featured Applicant feature. This helps you stand out more in the lists of job applicants by appearing on top of it.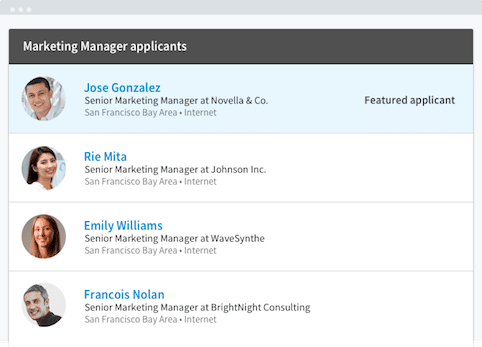 To use this feature, simply check the checkbox "Featured Applicant" at the bottom of the job application page and your application will automatically be displayed in a highlighted row at the top of the list.
A really useful feature to stand out into competitive job offers.
2. Competition insights
Linkedin Premium Career allows you to see how you stack up against other applicants or a company's current employees, based on your LinkedIn profile.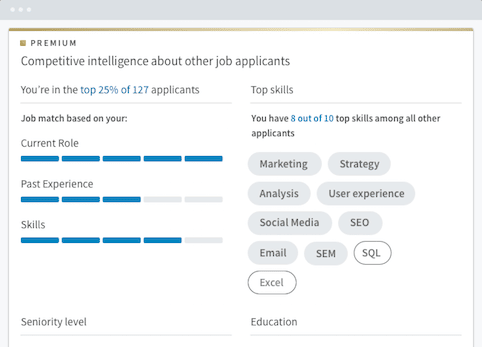 With this feature, you can compare your education, skills with the other applicants to evaluate your chances of getting hired
You can use this information to prepare your speech and answer the question: "why you vs. your competition"
3. Salary insight
Premium Career allow it subscribers to filter jobs by salary and have immediate access to detailed salary information on jobs they are interested in.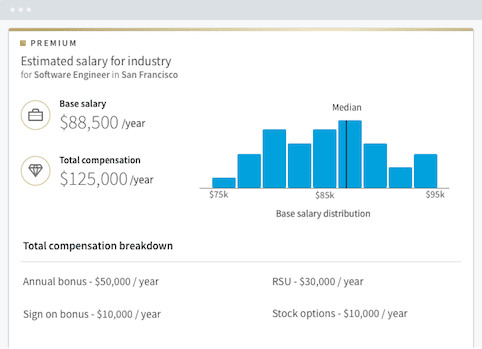 This data brings transparency to the job seeking process and will help you make better informed career decisions.
That way, you don't lose time applying to jobs that don't meet your salary expectations. Note that this feature is only available in the USA, Canada, UK, and Australia.
Is Linkedin Premium Worth it for Recruiting?
Linkedin Recruiter Lite isn't worth it for recruiters.
Linkedin Sales Navigator can do the same job but better.
Linkedin Recruiter is worth it for recruiter as it offers more feature, but it is way pricier : $835/month.
Is Linkedin Recruiter Lite worth it for recruiters?
No. Linkedin Recruiter Lite isn't worth it. Sale Navigator does the job better and for less money. Recruiter Lite costs $180/month and offer less filters than Sales Navigator, which costs $99/month.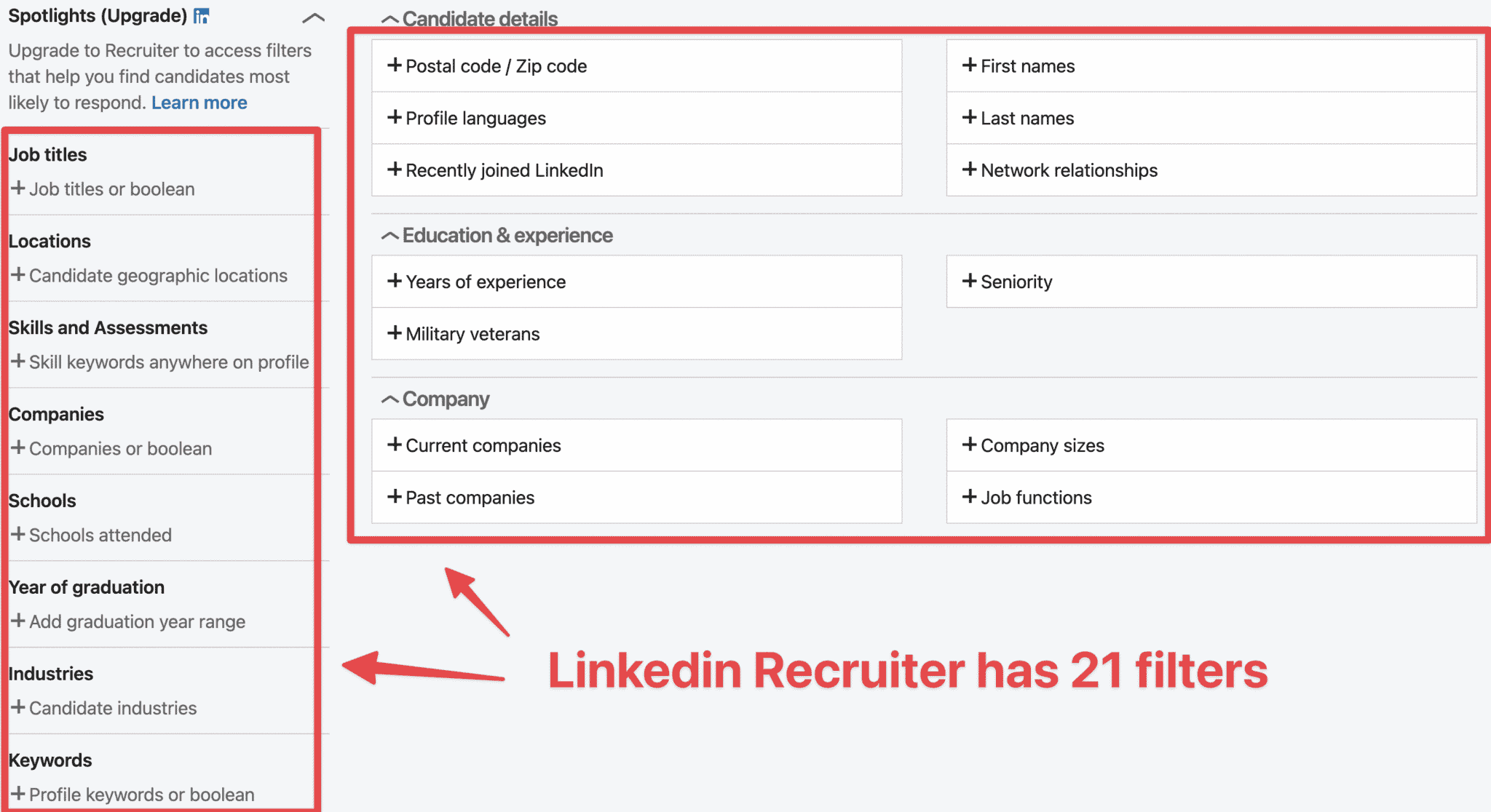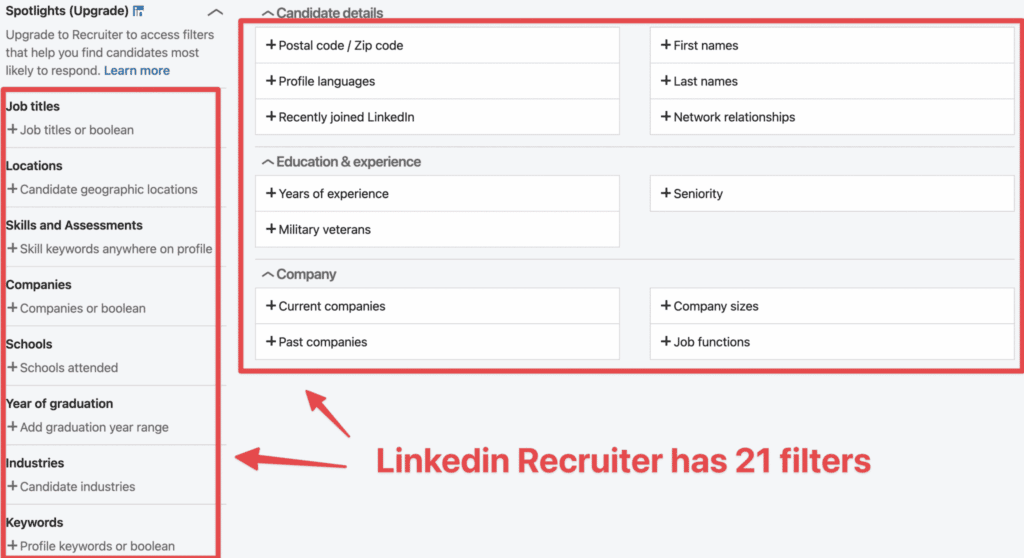 Both tools give you access to the whole Linkedin database, but Sales Navigator is more efficient to build candidates lists.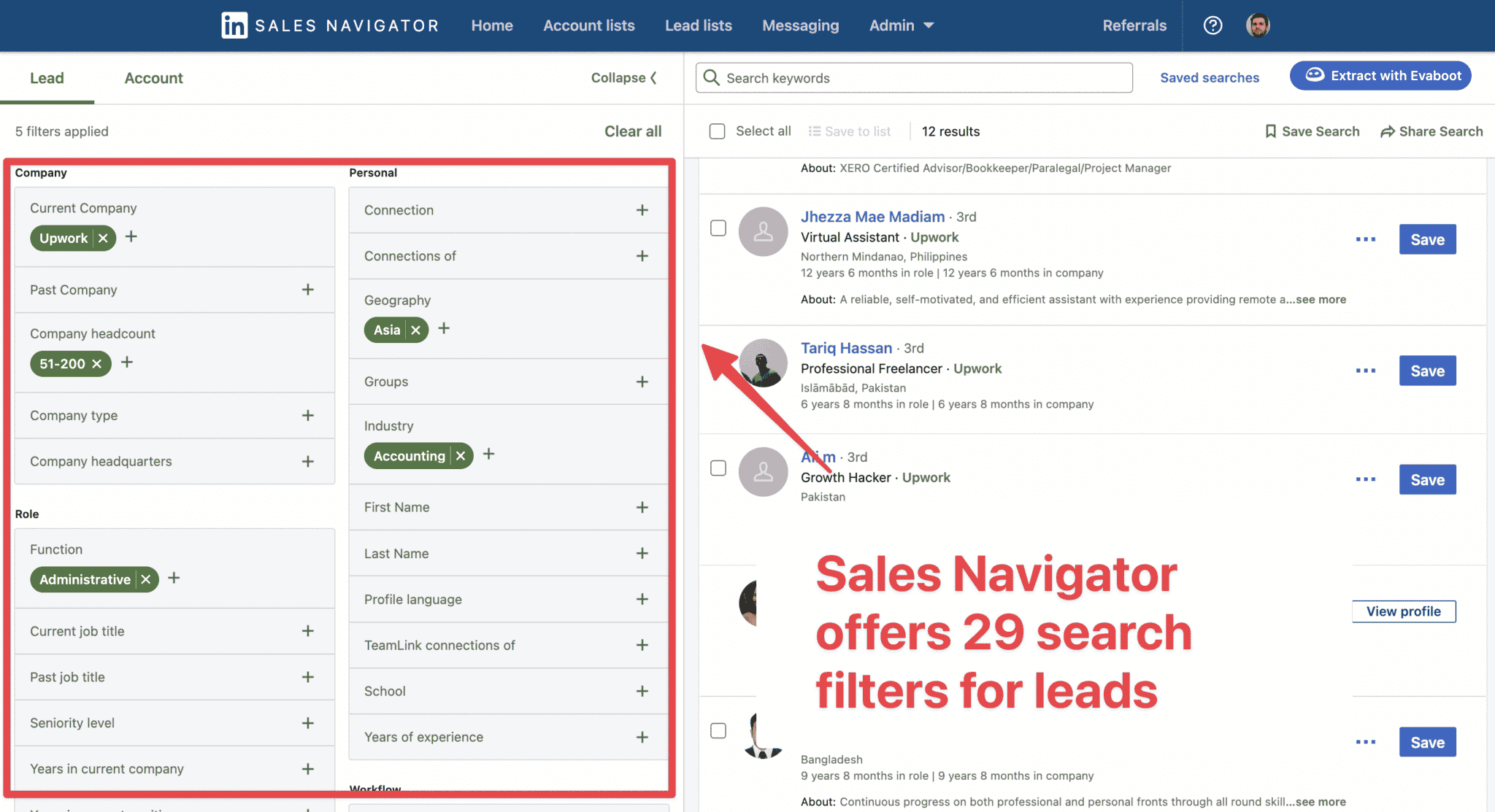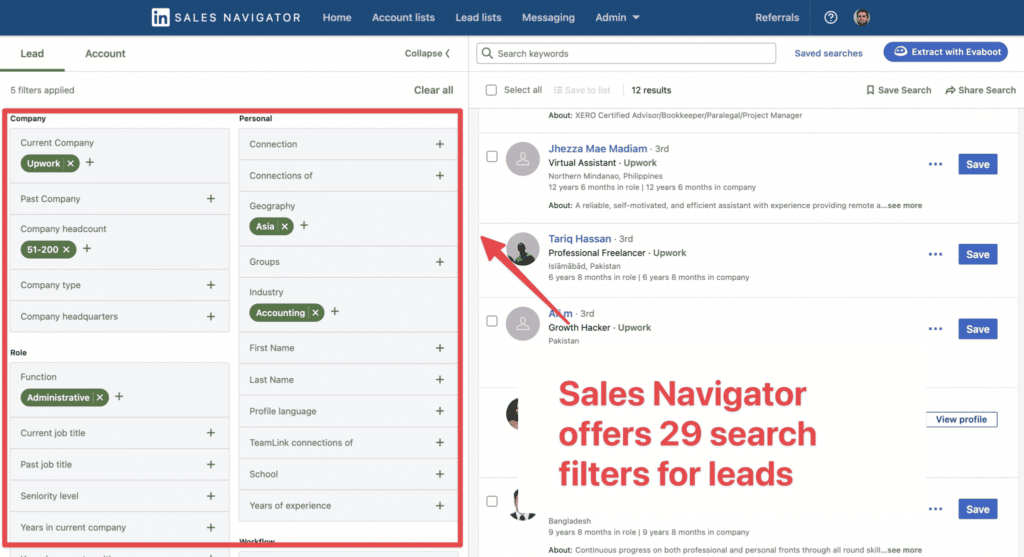 Using Sales Navigator for recruiting is actually better than using Linkedin Recruiter itself.
The cool thing is that you can use Sales Navigator to find candidates and recruiting clients for your business. With Linkedin Recruiter, you can only find candidates.

Why pay two tools when you can only pay one?
Is Linkedin Recruiter worth it for recruiters?
Linkedin Recruiter, the upgraded version of Recruiter Lite, is worth it.
It costs way more money ($835/month) but it offers features that make the life of big recruiting firms easier like integrations to ATS and the Open to Work filter.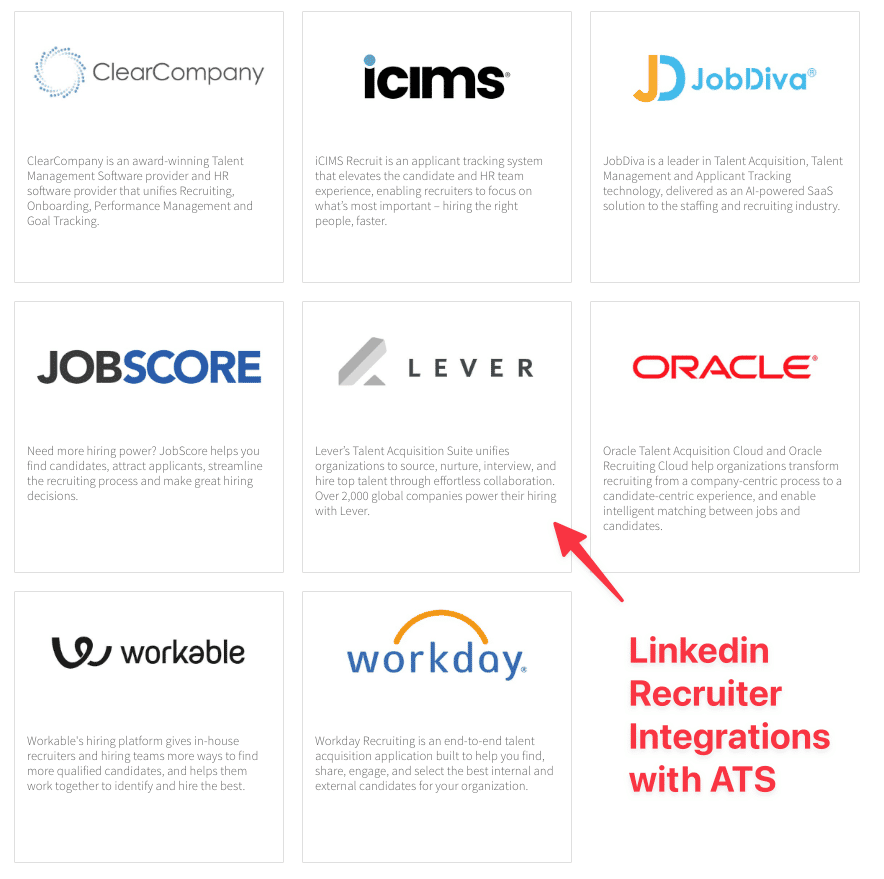 It also offers much more inmails: 150 per month.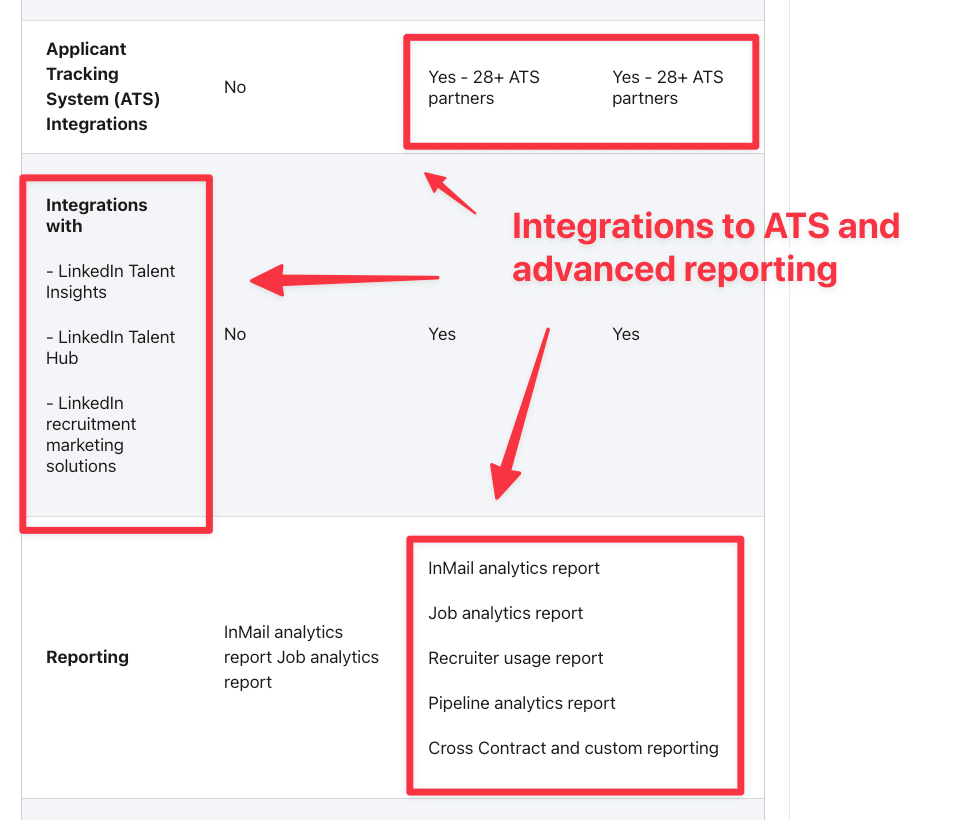 Linkedin Recruiter is worth it if you are a recruiting firm with budget that need to streamline it processes.
We are sorry that this post was not useful for you!
Let us improve this post!
Tell us how we can improve this post?