In order to use Linkedin Sales Navigator for free, you can create several linkedin accounts and take the free trial several times.

However, Linkedin will store your credits cards details, so you will need to switch credits card every time you take a new free trial.

To be efficient, you need an extract a maximum of leads from Sales Navigator into CSV/Excel File during your 1-month free trial.
Use Linkedin Sales Navigator 1 Month Free Trial
Linkedin Sales Navigator cost is pretty high if you are a freelancer, or you are just getting your business started.

Hopefully there is 1 month free trial you can use to get your hands on the tool.
To access just click on Work > Find Leads


Then select Sales Navigator Core and click on "Start my free month"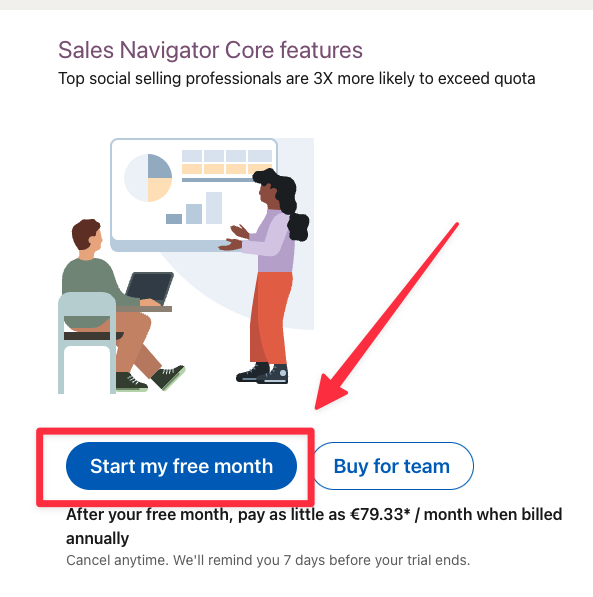 You're in.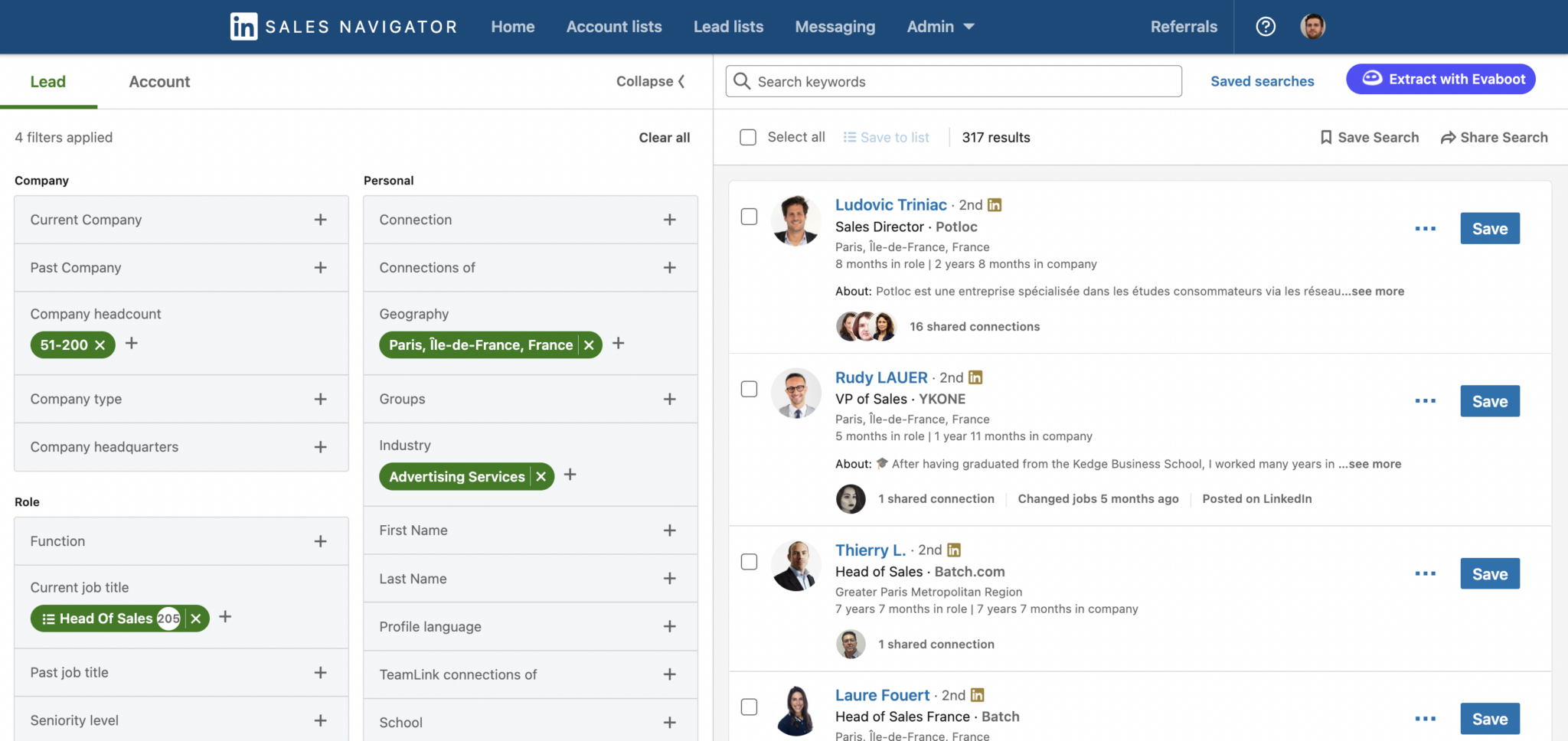 You now have access to all the linkedin database during one month.
The goal now is to get the most out of this month by extracting all the data you need before the free trial ends. That way you can build all the lead lists you require for your linkedin prospecting campaigns.
Let's see how to do this using Evaboot.
Export A Maximum of Leads From Linkedin Sales Navigator During Free Trial
The N°1 why people use Sales Navigator is the data.

However, to get the data from Sales Navigator, you don't need to stay subscribed during several months.
With Evaboot you can export up to 2500 leads per days from Linkedin Sales Navigator.
That makes a total of 75 000 leads for a 30-day free trial if you extract leads every day.
For that you need to install the Evaboot Chrome extension.
Once it's installed you will have a new button "Extract with Evaboot" on your Sales Navigator interface.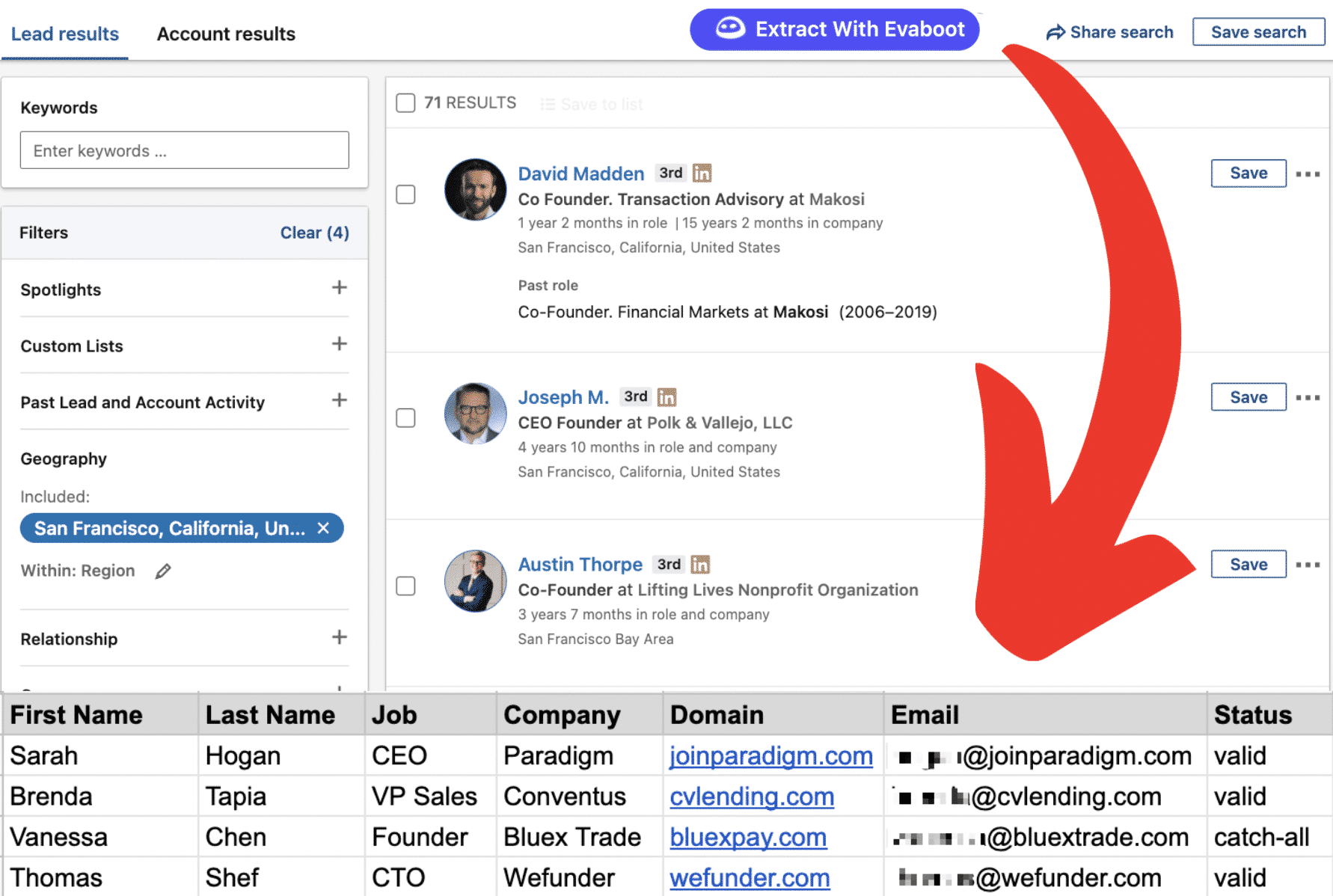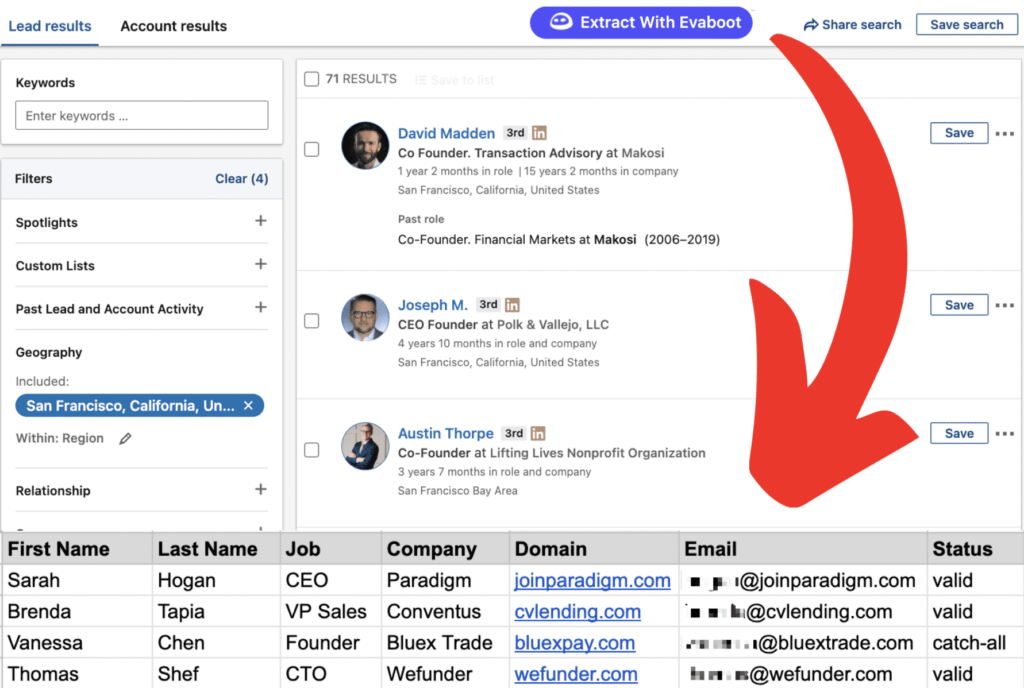 You have one month to extract all the leads you need so make sure to clearly define your target before you take the free trial.
To help you get the most out of Linkedin Sales Navigator, you can watch this complete linkedin sales navigator tutorial.
It will help you improve the quality of your leads lists and use this prospecting tool to 100% of its capacity.
How To Take Several Sales Navigator Free Trials
if 30 wasn't enough to extract all your leads from Linkedin Sales Navigator, you can get another free trial from another linkedin account.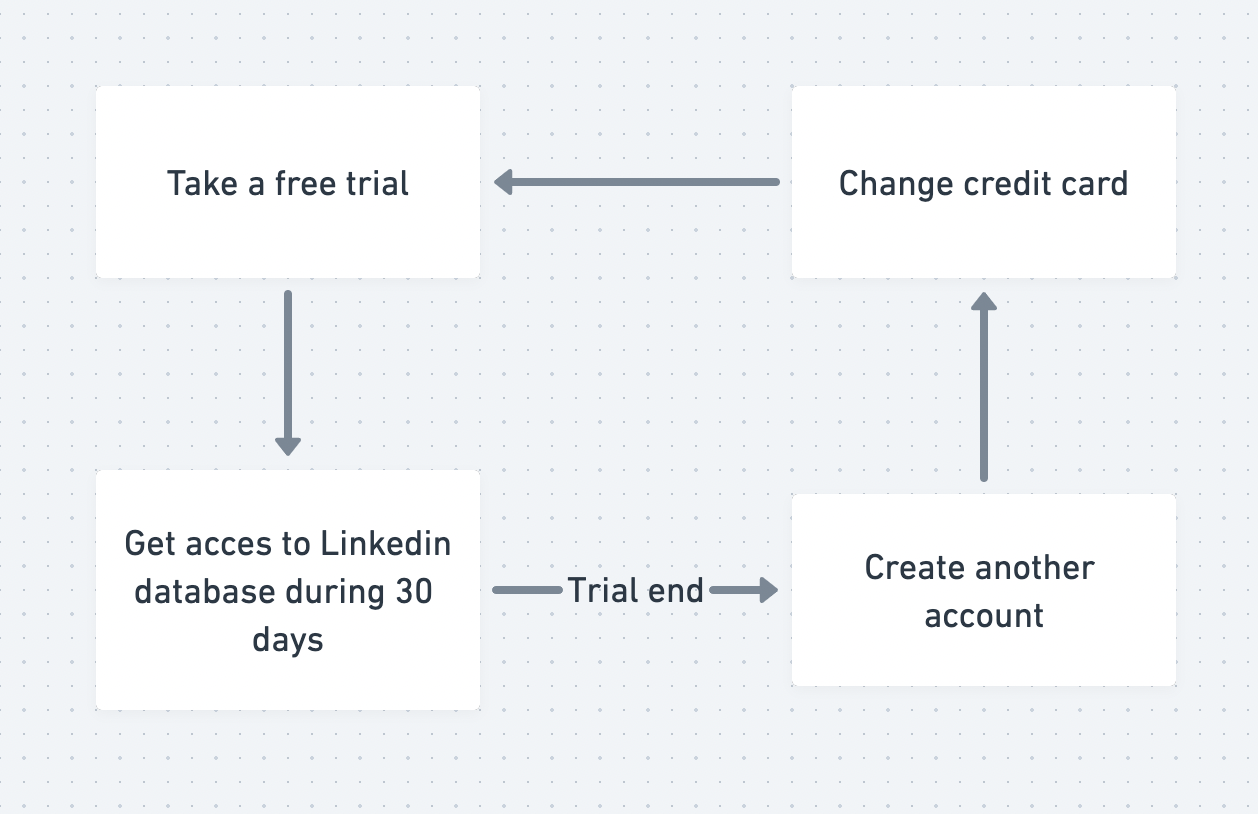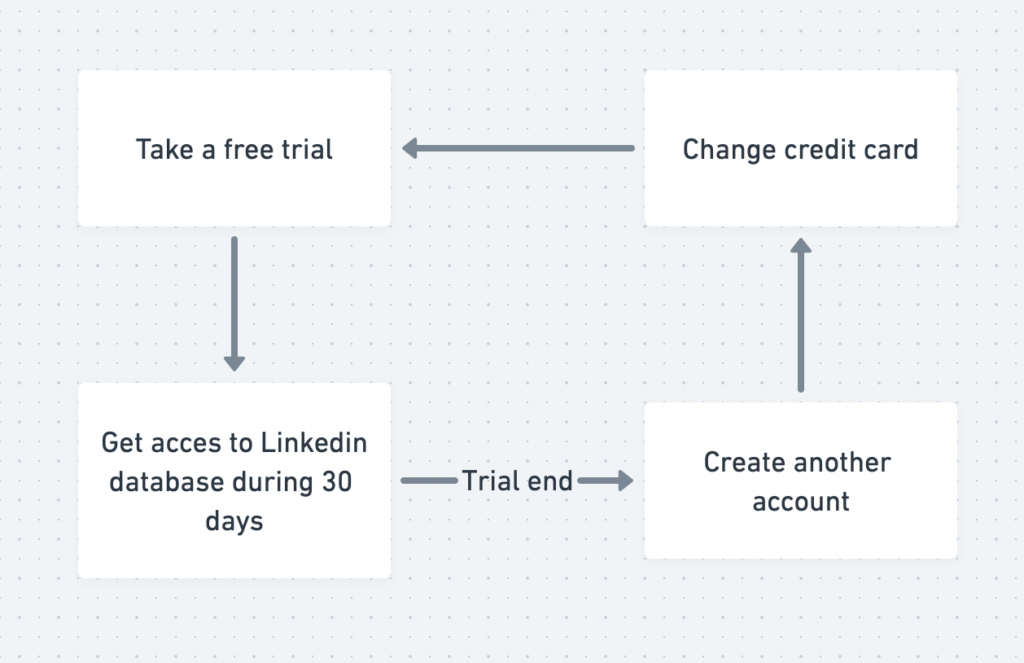 They are 2 things you need to take care of:
Switch credit card as Linkedin will spot that you try to do several free trials if you use the same one

Warm up your new account during a week to avoid your newly created account being restricted.
Linkedin is closely monitoring new accounts to avoid abusive behaviors and Linkedin account farms.
Here is the ramp up we advise you to follow:
Day 1: 100 extractions
Day 2: 300 extractions
Day 3: 500 extractions
Day 4: 800 extractions
Day 5: 1000 extractions
Day 6: 15000 extractions
Day 7: 2000 extractions
Day 8: 2500 extractions (the highest limit)
That's how you can proceed.
But you must know that with this technique, you obviously won't be able to enjoy all the Sales Navigator benefits.
What You Miss by Not Paying Linkedin Sales Navigator
With these techniques, you can use Linkedin Sales Navigator for free to get the data. You will have access to the search filters for a time but you won't have access to the other cool features like:
Lists creation (for Account Based Marketing)
Saved Searches (to generate leads on autopilot)
Smart Links
CSV Upload
All these features can be really helpful to boost your lead generation on linkedin.

Here is an example with Smart Links:
And here is a demo of the CSV Upload feature that can be really helpful if you want to add linkedin data to existing account databases:
Conclusion
In order to use Linkedin Sales Navigator for free, you can:
take several linkedin free trials
extract a maximum of data with Evaboot before the free trials and
However, you'll just have access to the data, not the other features that can also be really helpful for lead generation. Especially Lead/Account Lists and Saved Searches.
We are sorry that this post was not useful for you!
Let us improve this post!
Tell us how we can improve this post?