Linkedin is by far the best platform to generate B2B leads. With the right techniques and the right tools, it's pretty easy to start getting results and get meetings with qualified leads.



In this article, I show you the 5 types of linkedin prospecting tools you can use and a list of the 19 best linkedin tools you can find on the market.
Ready?
Let's dive right in.
The 5 Types Of Linkedin Prospecting Tools
There are 5 types of Linkedin Prospecting Tools:
Linkedin tools
Multichannel outreach tools
Linkedin automation tools
Social selling tools
Linkedin Scraping tools
1. Linkedin tools
Linkedin itself provides a whole set of paid tools to help you generate B2B leads.
The most famous one being LinkedIn Sales Navigator.
Sales Navigator offers 3 different plans:
Core
Advanced
Advanced Plus
The Advanced offering even more lead generation features like Smart Links, Teamlink or CSV Upload.
2. Multichannel outreach tools
These tools are all-in-one prospecting machines that combine linkedin scraping, linkedin automations and cold emails.
The most famous ones are Lemlist, Expandi, Waalaxy and LaGrowthMachine.

On one hand, you can do everything with one tool, on the other hand these tools are not specialized in a specific area, so you could sometimes feel that some features are missing to achieve a specific result.
3. Linkedin Automation Tools
These tools are focused on Linkedin automations and cover almost 100% of linkedin uses cases.
Phantombuster will for example allow you to scrape linkedin post commenters.
Linkedin Helper is also super complete and will allow you to run action as specific as recommending skills on linkedin profiles.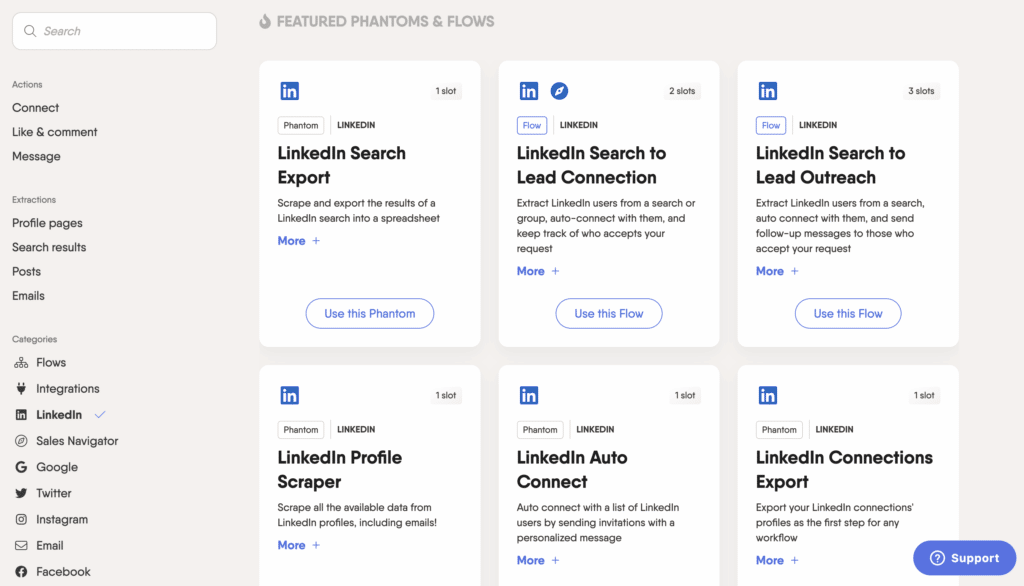 These tools usually do more than Linkedin automations and also offers Facebook and Instagram automations like Captain Data or Texau.
4. Social Selling Tools
These tools focus on the social aspect of linkedin prospecting, which is basically posting on linkedin and leaving comments.
Tools like Taplio will for example allow you to schedule your linkedin posts and easily find linkedin posts in your niche you can engage with.
There are also linkedin engagements tools that will allow boosting your linkedin publications to get more views, like Lempod or Podawaa.
5. Linkedin Scraping Tools
These tools will focus on extracting and cleaning the data you can find on Linkedin.
Evaboot will for example allow exporting your leads from Sales Navigator into a CSV and get emails.
Tools like Datagma will focus on finding phone numbers from Linkedin, but also by crossing linkedin data with other databases to get more results.
19 Linkedin Prospecting Tools To Boost Your Outreach
Here are the 19 best linkedin prospecting tools you can use:
LinkedIn Sales Navigator Core
Evaboot
LaGrowthMachine
Expandi
Taplio
Linkedin Helper
LinkedIn Sales Navigator Advanced
Lemlist
Waalaxy
Phantombuster
Captain Data
Texau
Lempod
Podawaa
Skrapp
Lusha
Surfe (ex Leadjet)
Kasper
Datagma
1. LinkedIn Sales Navigator Core
LinkedIn Sales Navigator helps sales reps find, connect and build relationships with potential buyers by using Linkedin's network data to get all the information they need to better identify and engage with their leads.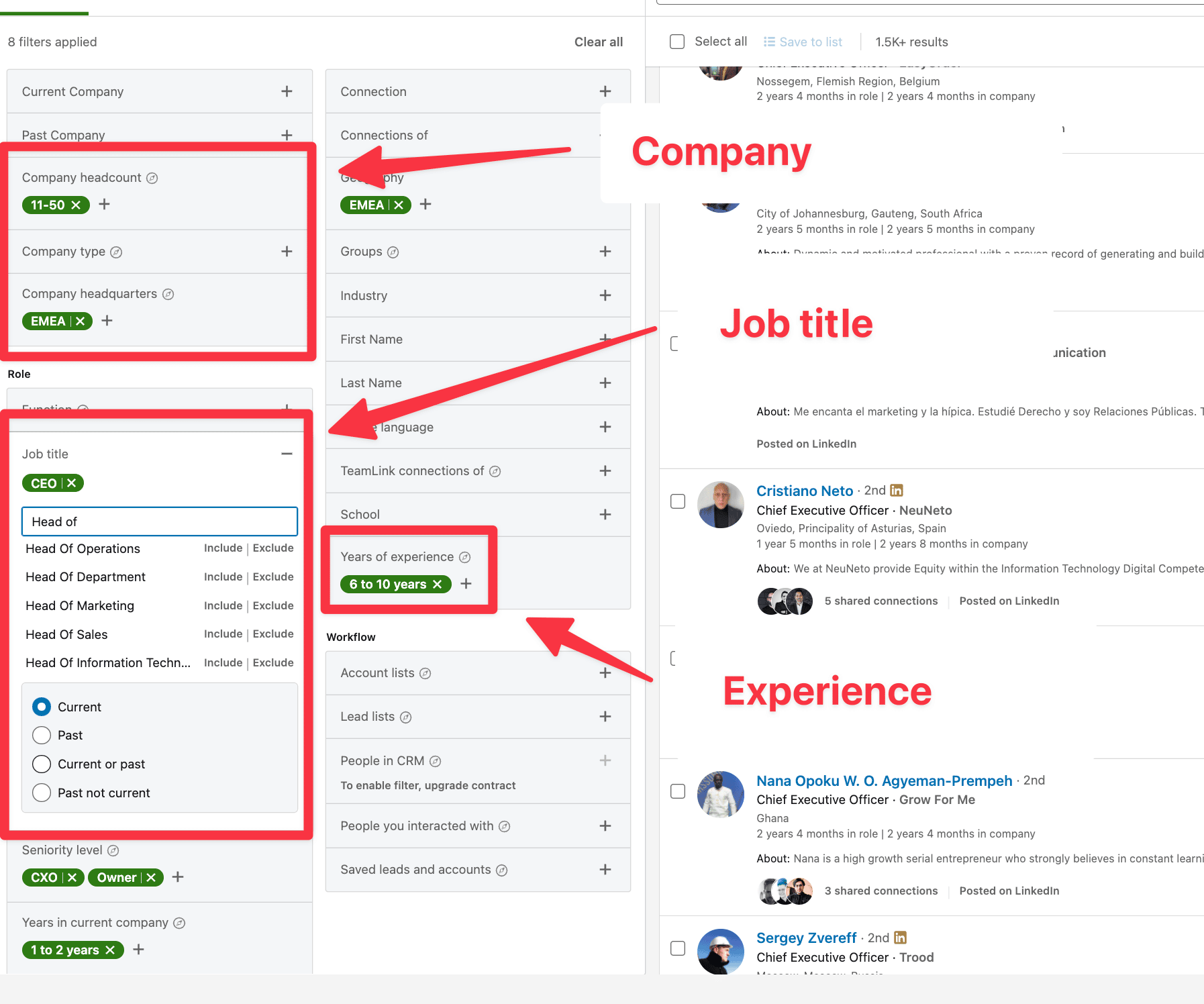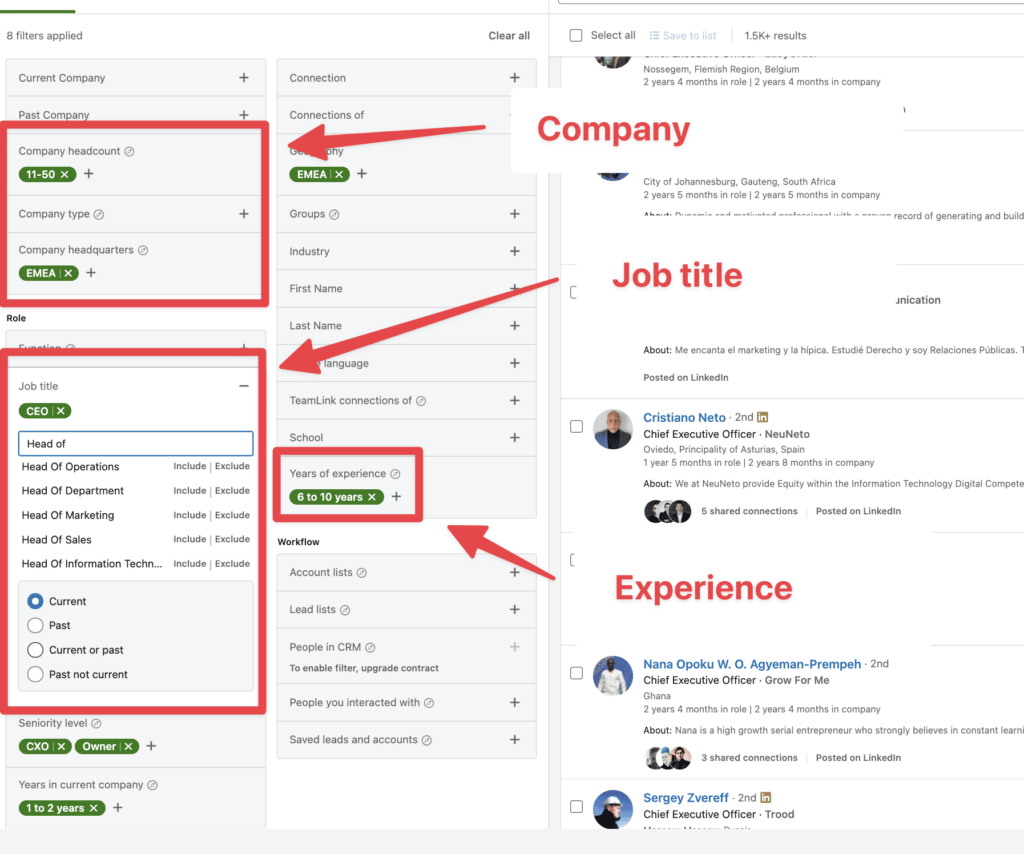 It offers much more search filters and lead generation features than the linkedin basic search engine.
It's a must-have if you want to get the most out of Linkedin database. Here is a complete Sales Navigator tutorial, so you can see what you can achieve with the tool.
Cost: $99/month.
2. Evaboot
The only drawback of Sales Navigator is that you can't export lead lists to CSV.
Hopefully, some third-party tool like Evaboot make this additional step straightforward.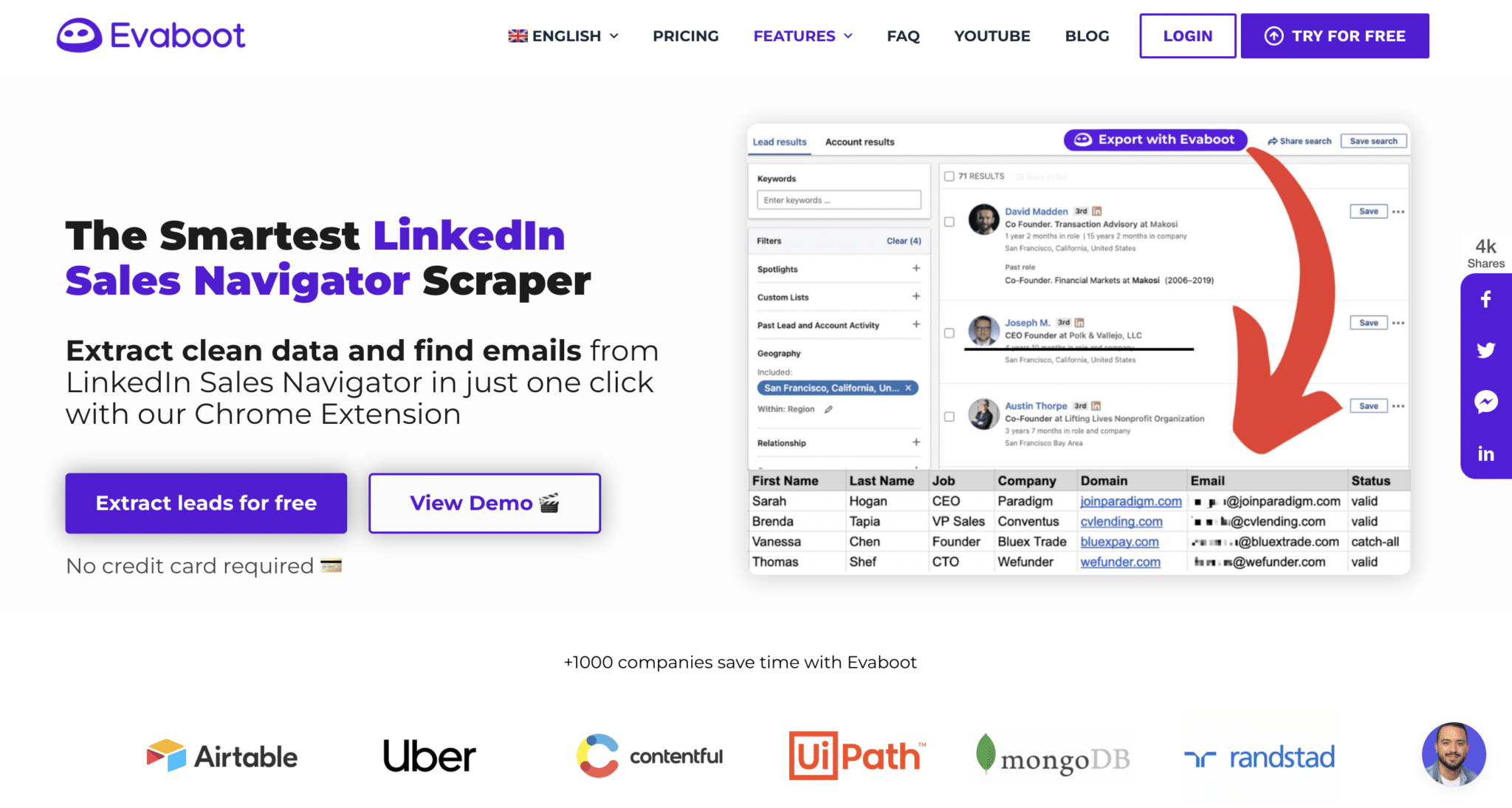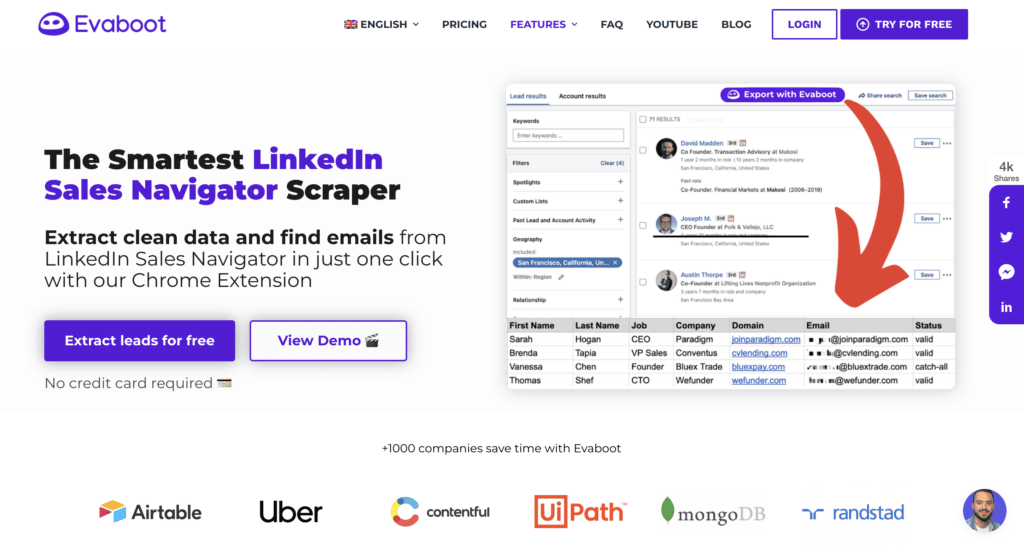 Simply download the Chrome extension, and you will be able to export all your leads directly from Sales Navigator and get their emails.
But Evaboot doesn't stop there, it also cleans your data (names and company names) and detect false-positive in your Sales Navigator search results.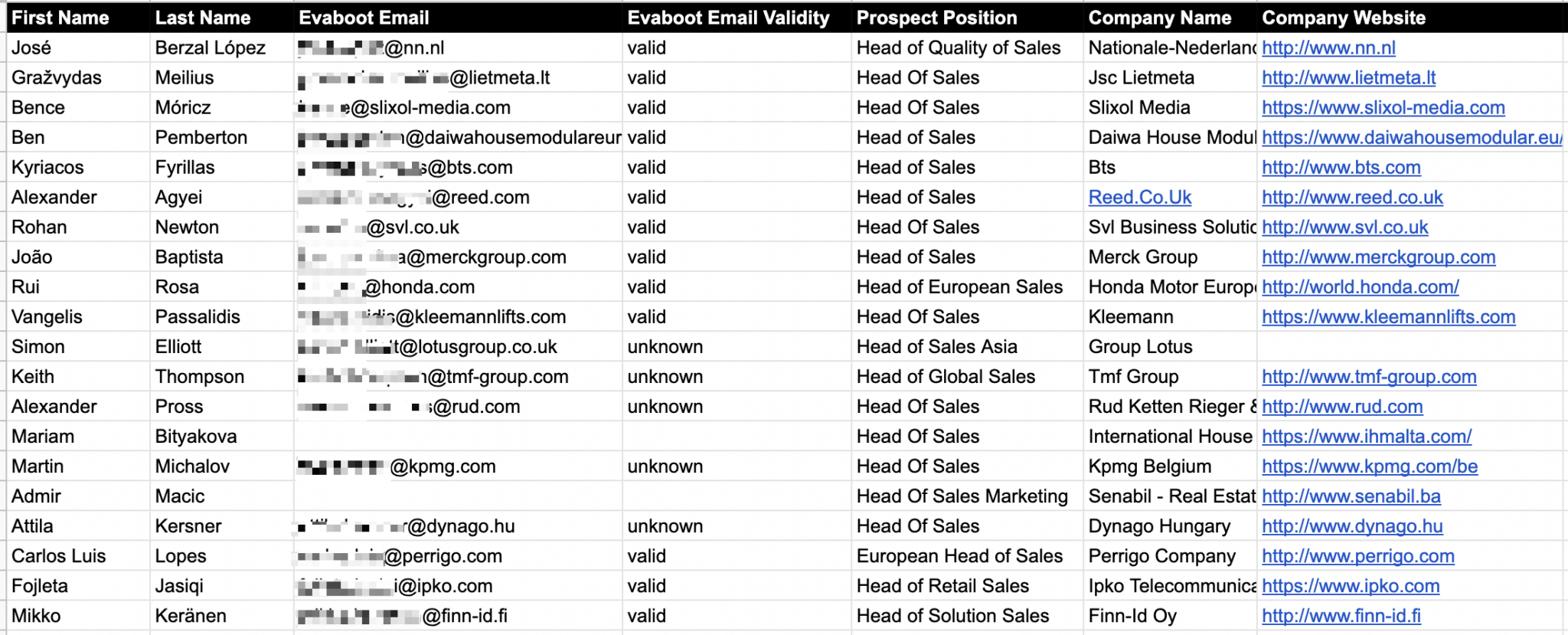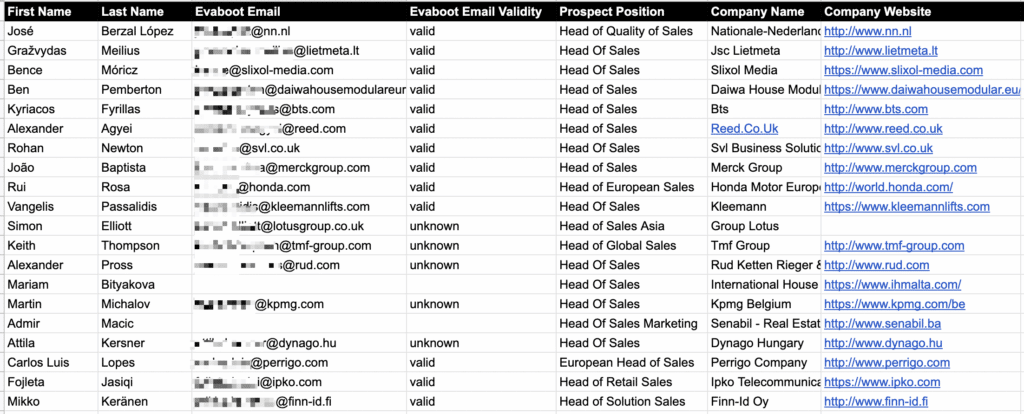 A considerable time saver.
Cost: from $29/month.
3. LaGrowthMachine
LaGrowthMachine is an all-in-one multichannel cold outreach which allow building outreach sequences combining linkedin messages, cold emails and Twitter DMs.
That way you can automate your email and linkedin follow-ups messages and let the replies coming into your inbox.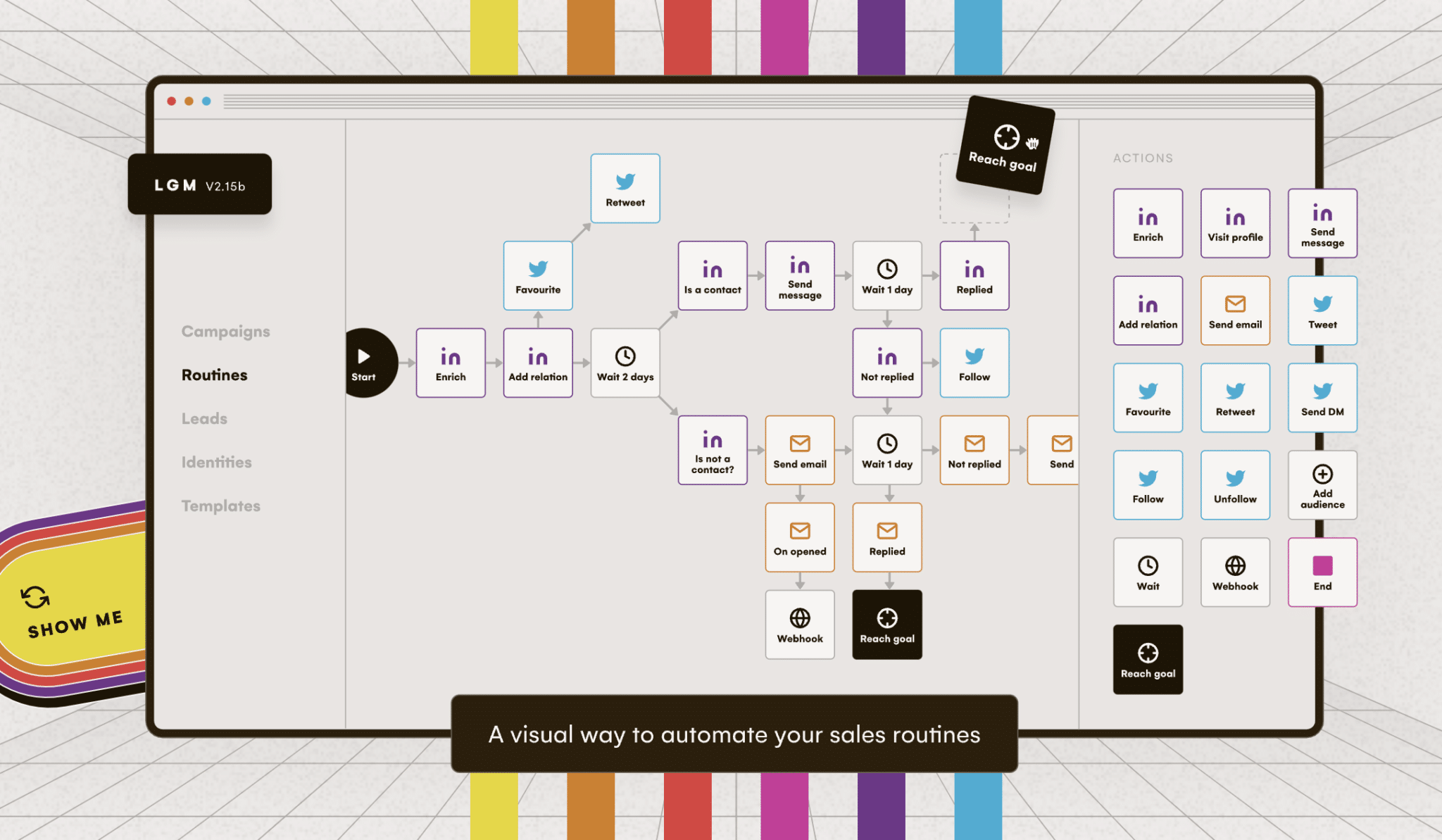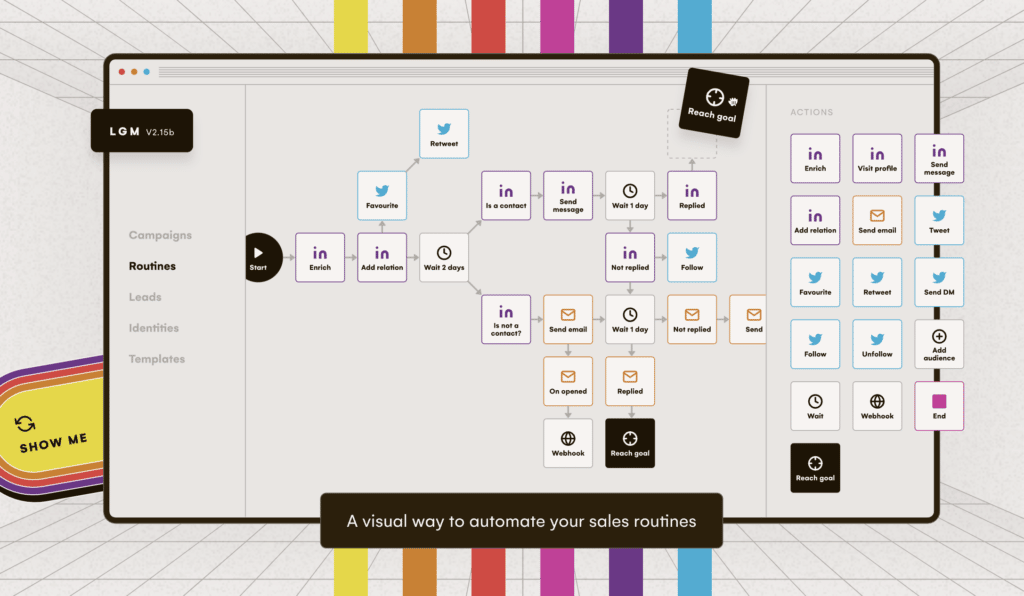 The tool offers a lot of advantages:
UX is dead simple
It's 100% safe
It has an API
You can manage multiple linkedin accounts with it
It can connect to your CRM
The perfect tool to handle all of your lead generation operations in one place.
Bonus: LaGrowthmachine now allows you to automate Linkedin voice message sending.
Cost: from $80/month
4. Expandi
Expandi is another multichannel outreach tool like LGM.
They started with linkedin automation, and now they also integrate cold emails.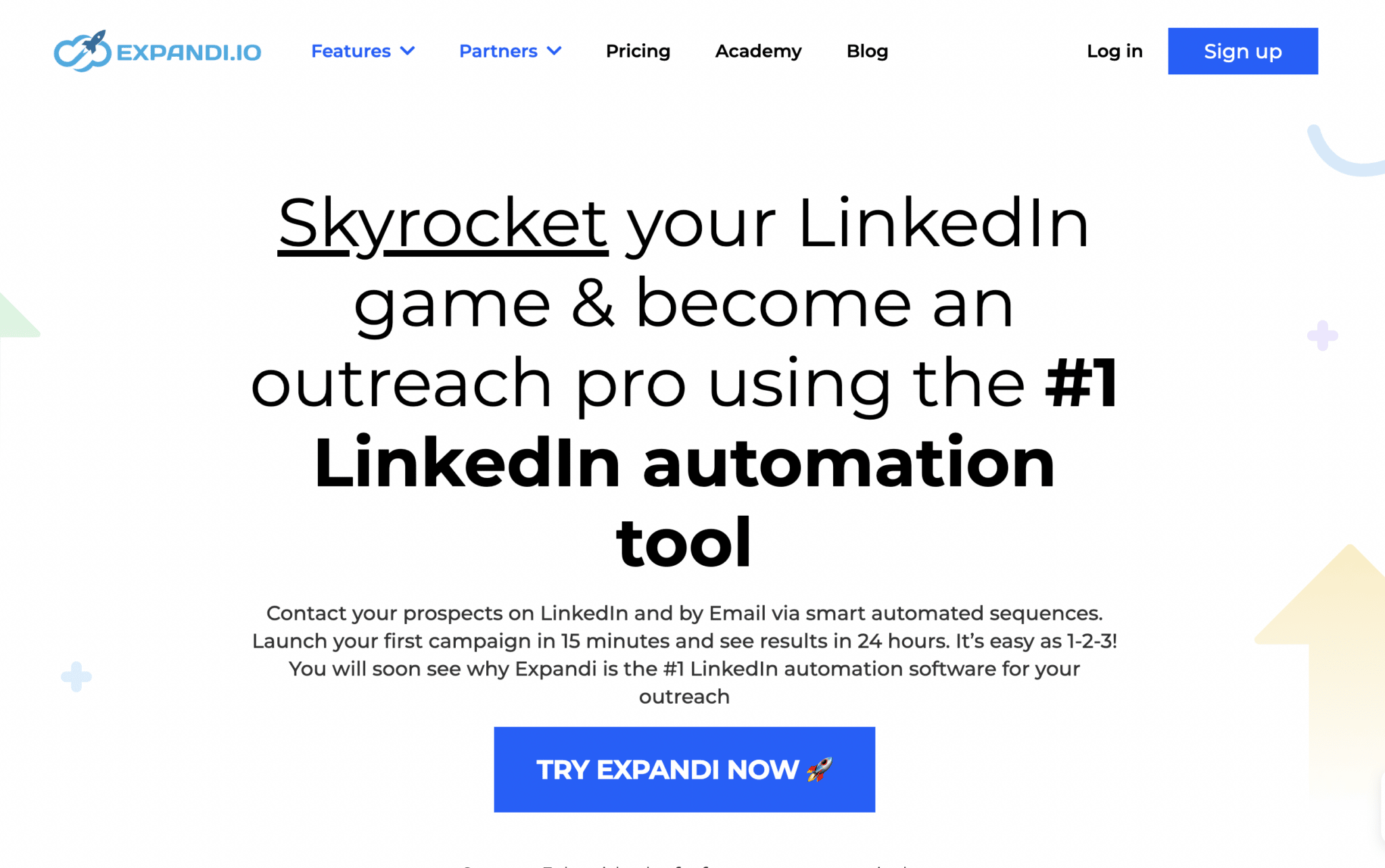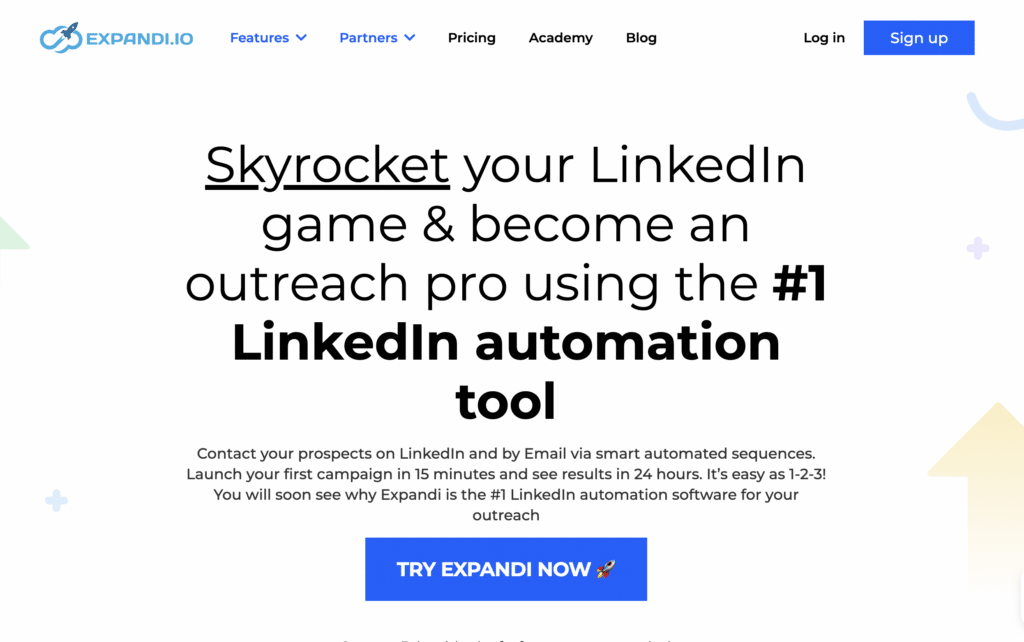 The benefits of Expandi are that they also allow automating Inmail message sending.
This feature is useful is you manage to identify Open Profiles to send free Inmails to them.
Cost: $99/month.
5. Taplio
Taplio is a social selling tools that allow to schedule your linkedin post publications and engage with linkedin posts in your niche market.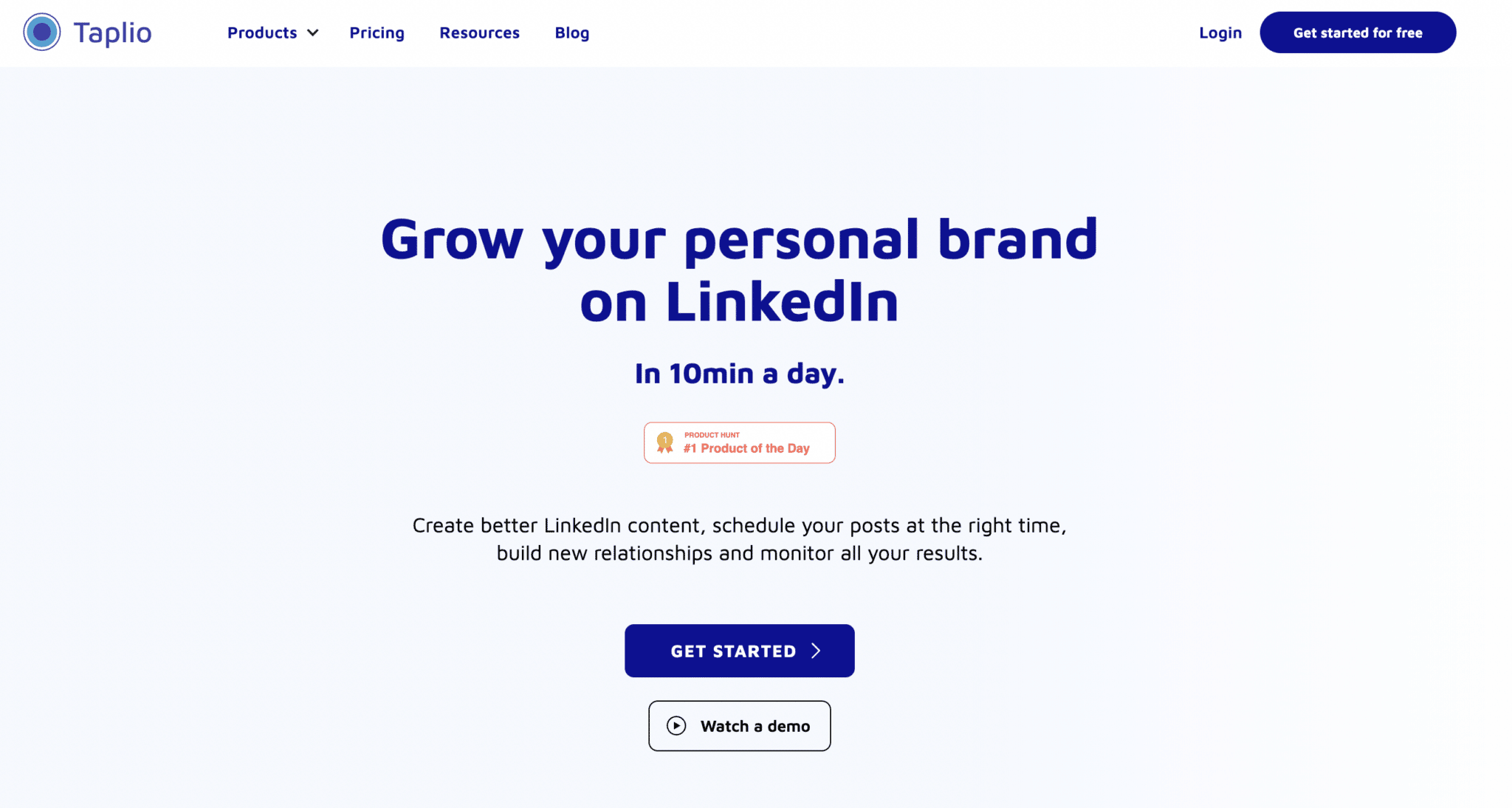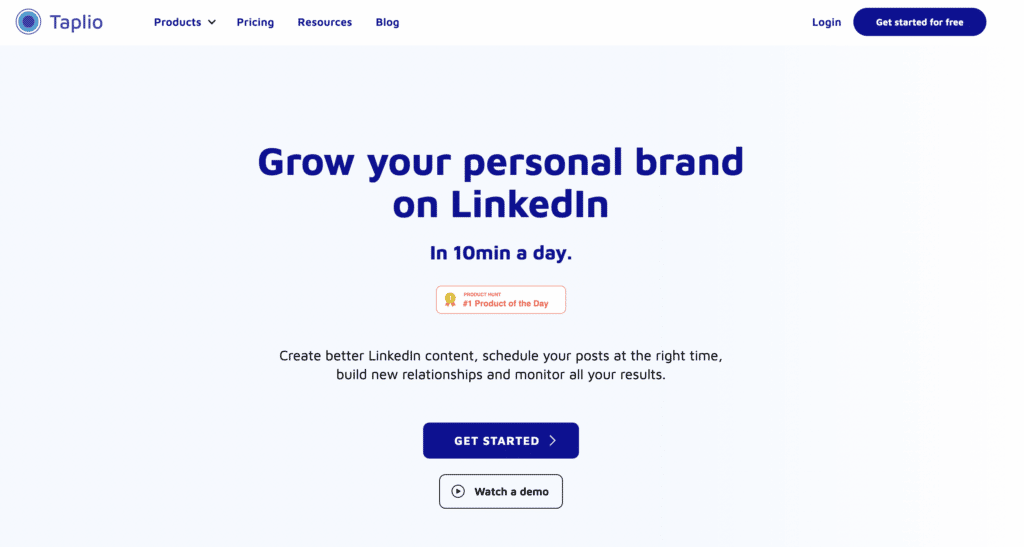 Instead of connecting on Linkedin every day to publish your post, you can simply write and schedule your Linkedin post for all the week/month.
Taplio will then publish his your posts at the right time on your behalf.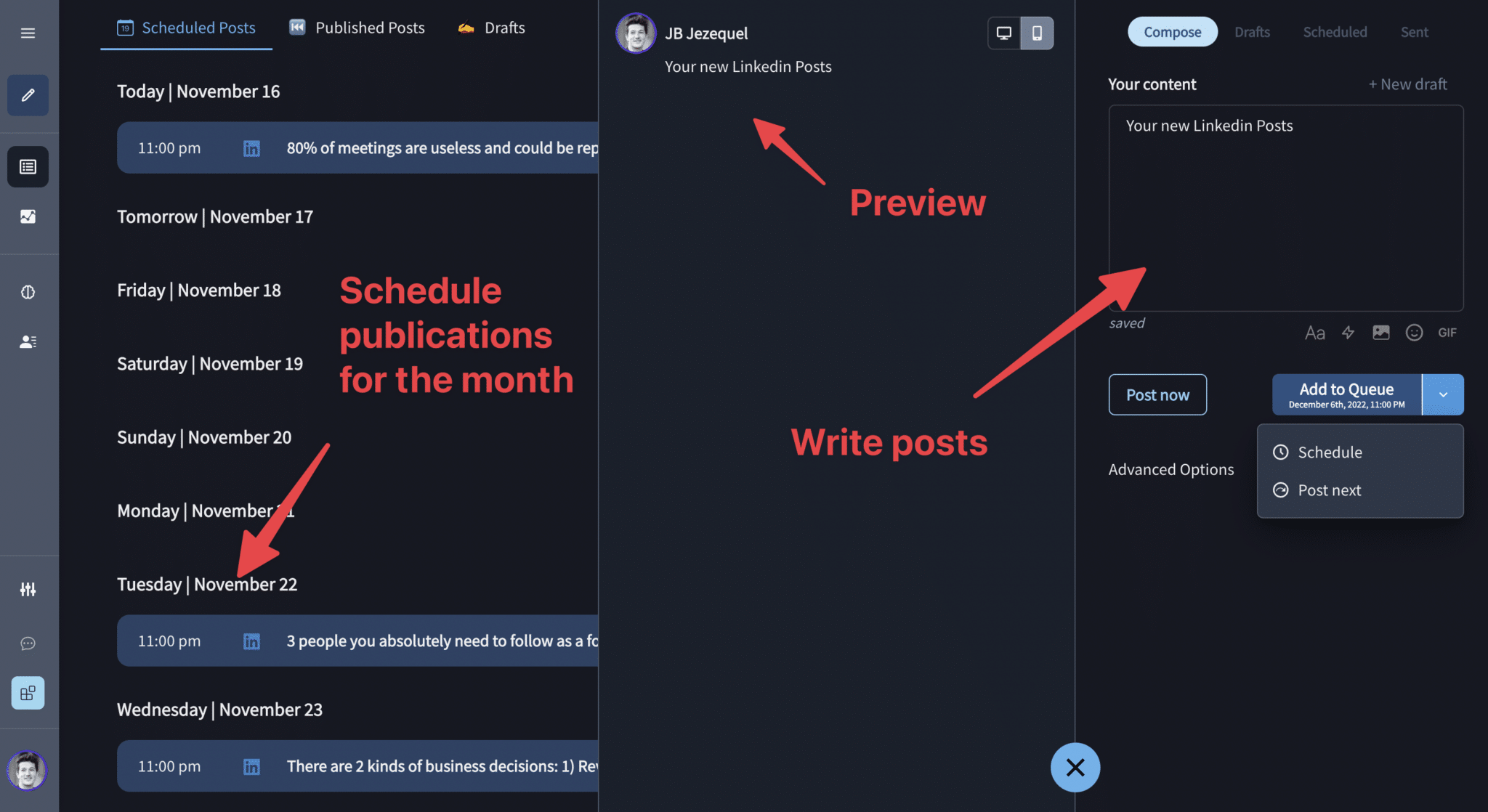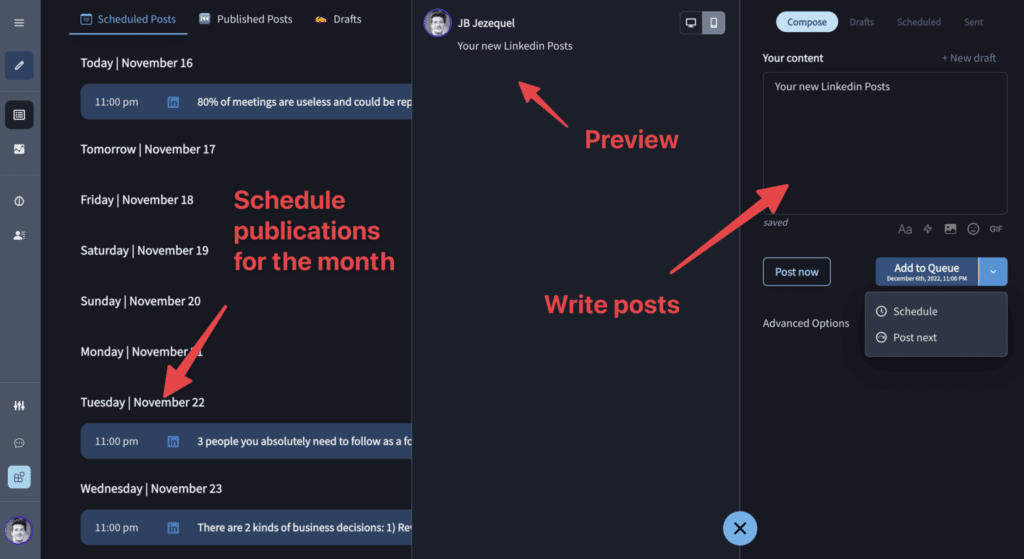 But that's not it.
Taplio also makes it effortless to find linkedin post in your niche and leave comments on them without leaving the platform.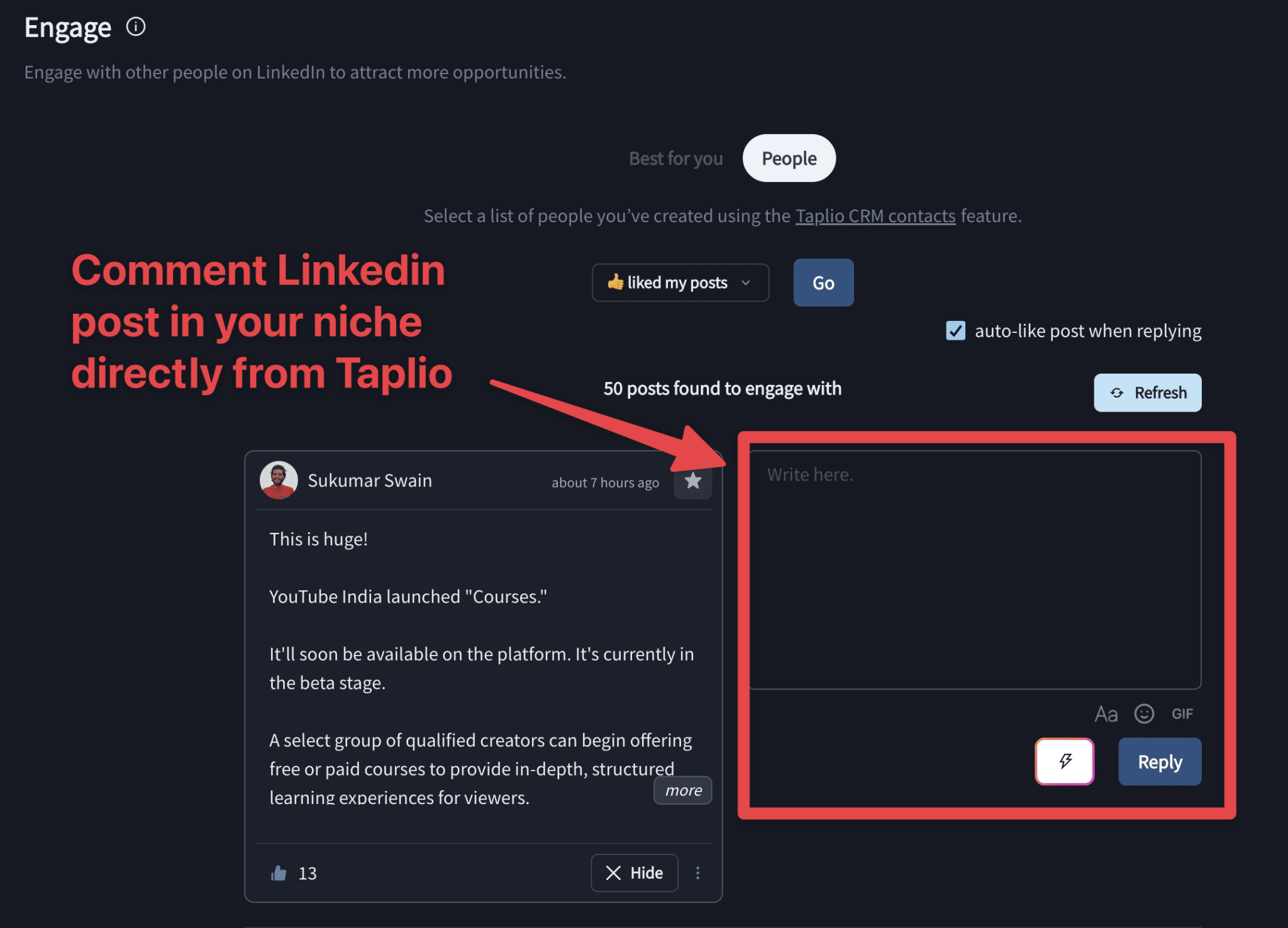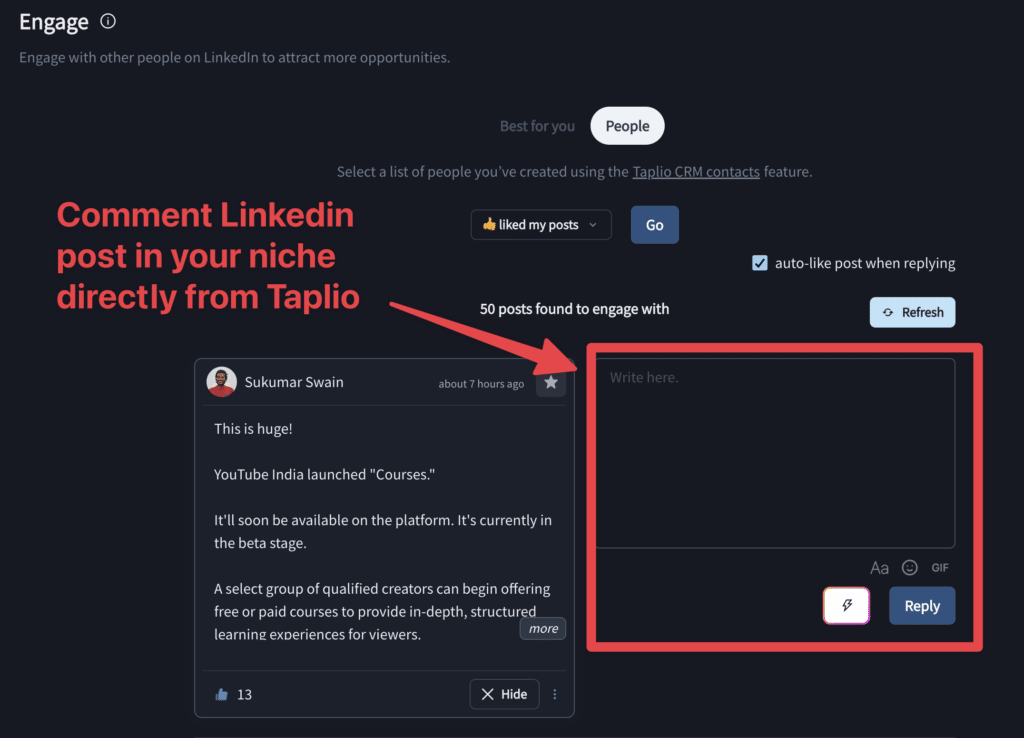 That way, you can engage with dozens of Linkedin posts in minutes without having to scroll linkedin looking for relevant posts.
A really efficient tool to grow your online presence and become a linkedin influencer in 10 min per day.
Cost: $39/month.
6. Linkedin Helper
Linkedin Helper is one of the oldest Linkedin automations tools.
Their V1 has been banned by Linkedin, and they came back with a really robust and much more safe V2.
Automation used to be launched from the cloud, now they are launched from your desktop, which make it safer for your linkedin account.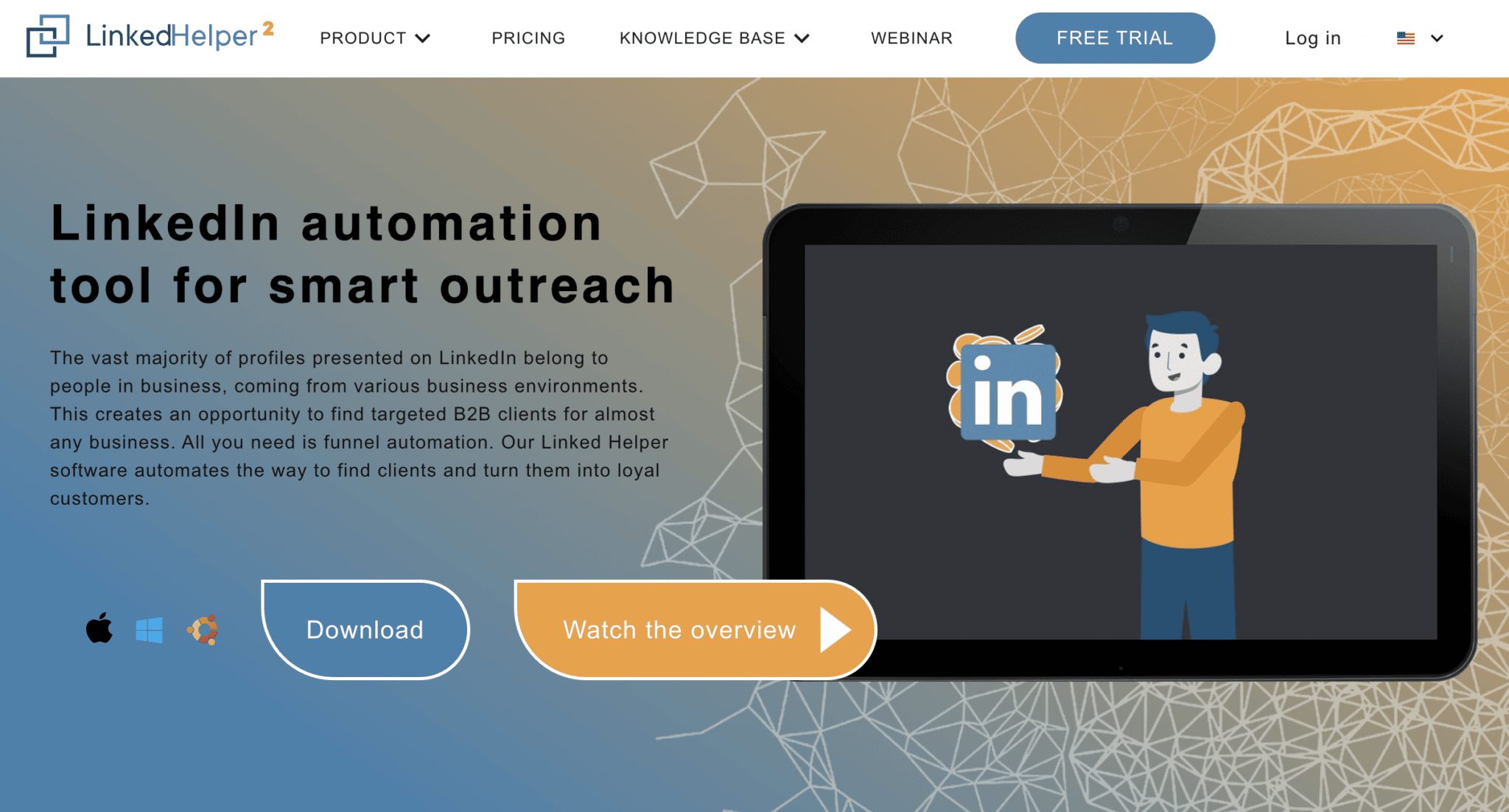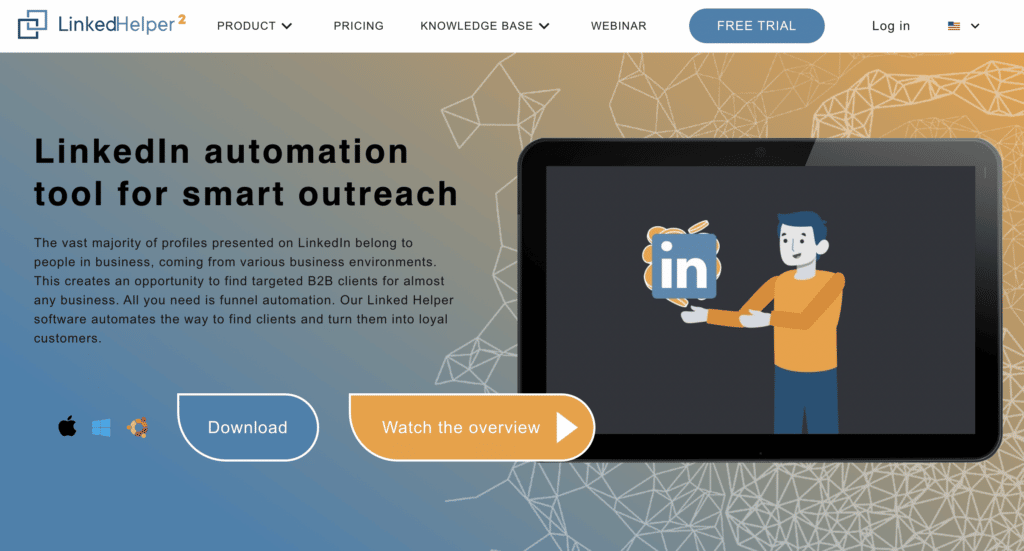 Their offers a lot more automations than other tools on the market like:
Skill recommendation
Invitation to event
Post liking
This is the best tool to use if you want to automate absolutely everything on Linkedin.
The second advantage?
The price. Linkedin Helper is really cheap.
Cost: from $15/month
7. LinkedIn Sales Navigator Advanced
LinkedIn Sales Navigator Advanced is the upgraded version of LinkedIn Sales Navigator Core. It offers additional features like:

Account lists creation from CSV Upload
Smartlinks
Teamlinks
The most valuable feature is account lists creation from CSV upload. It allows importing a list of companies into Sales Navigator and let Linkedin look for them in its database.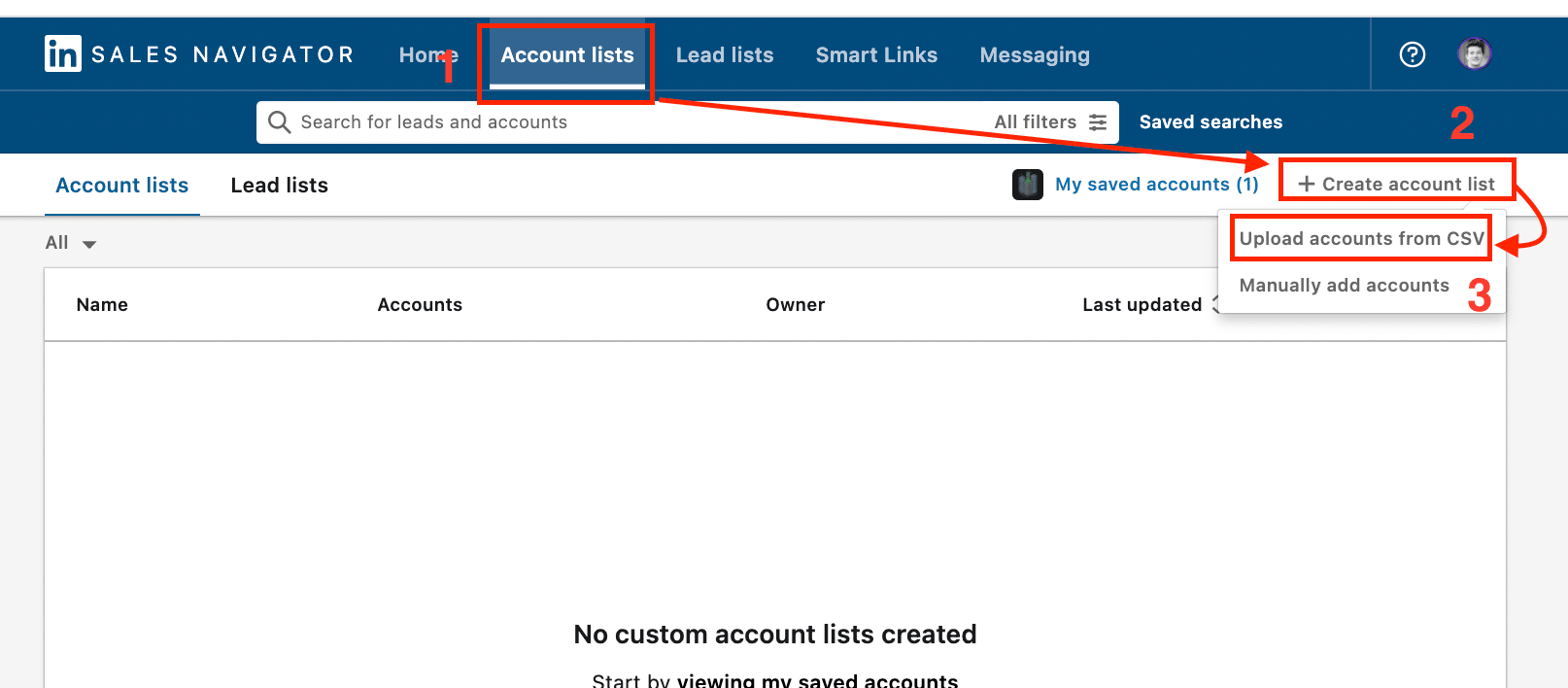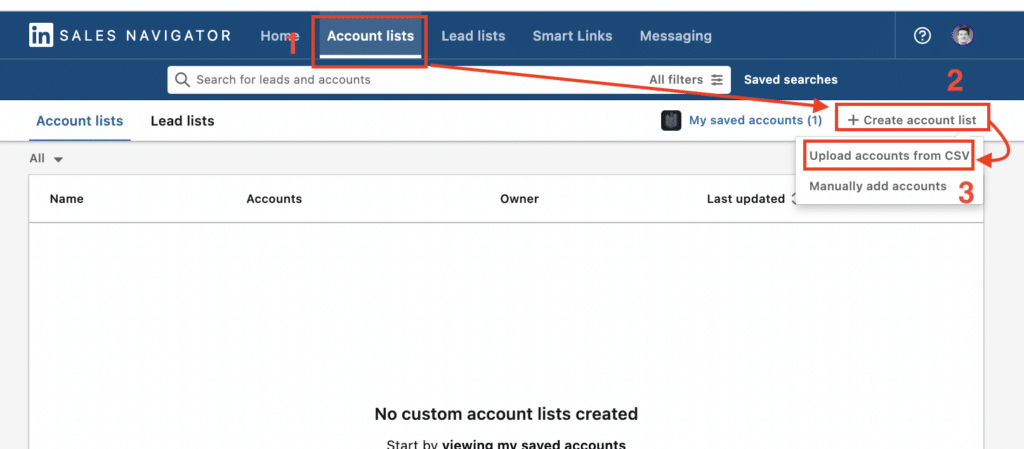 Here is a video tutorial to show you how the feature works.
A huge time saver if you use other databases than Linkedin to build your account lists.
Cost: $149/month.
8. Lemlist
Lemlist started as a cold email automation tool and now also integrates linkedin actions in their sequences.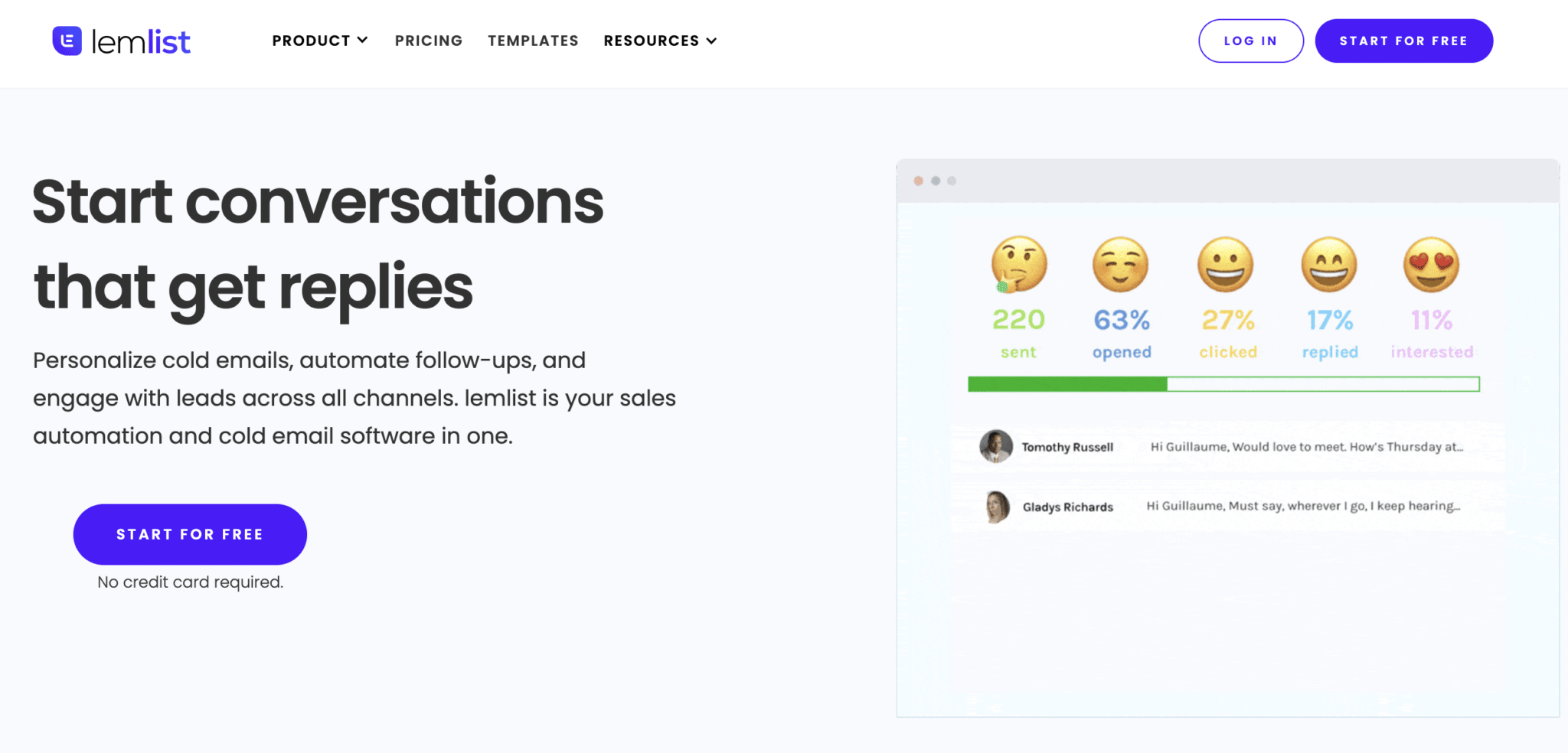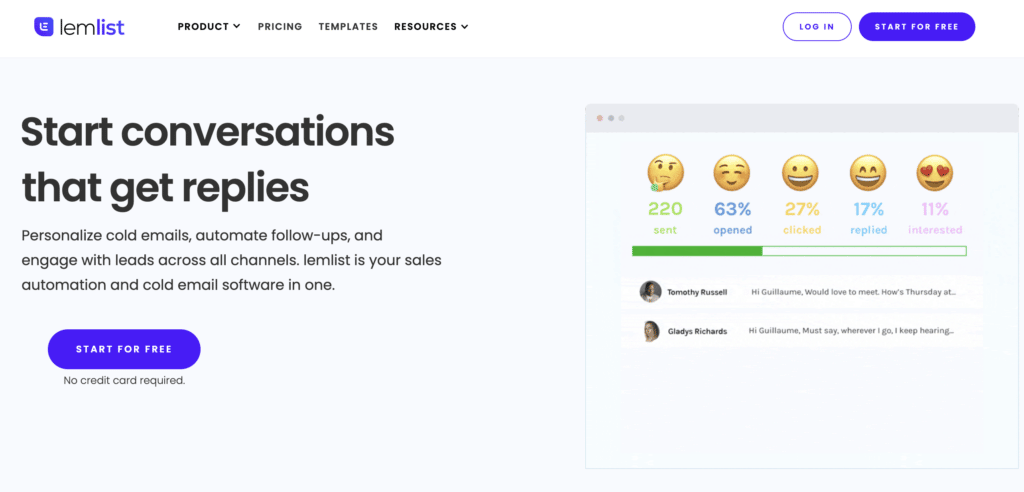 Linkedin actions like:
Profile visits
Connection requests
Linkedin Messages
Are now avaible on the tool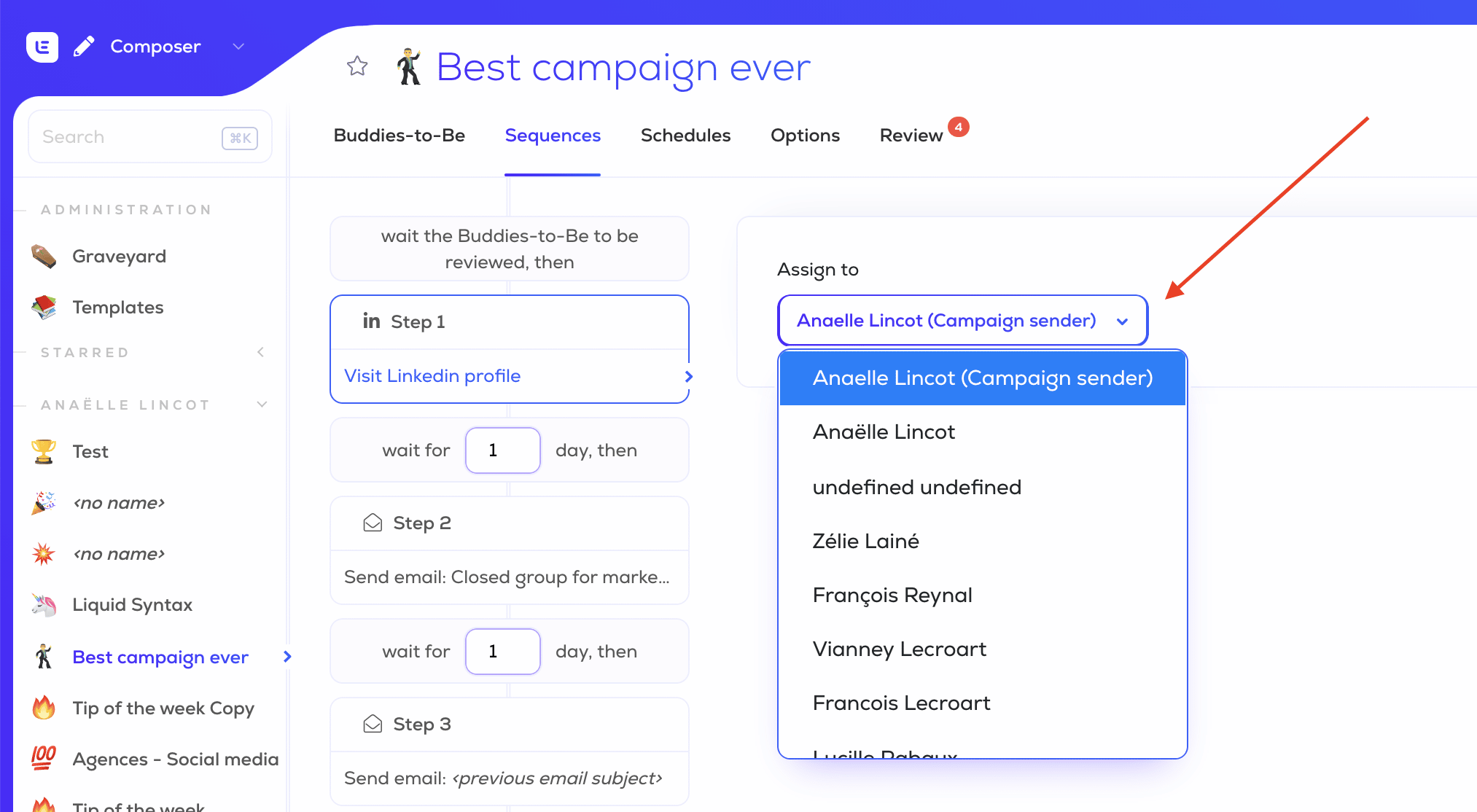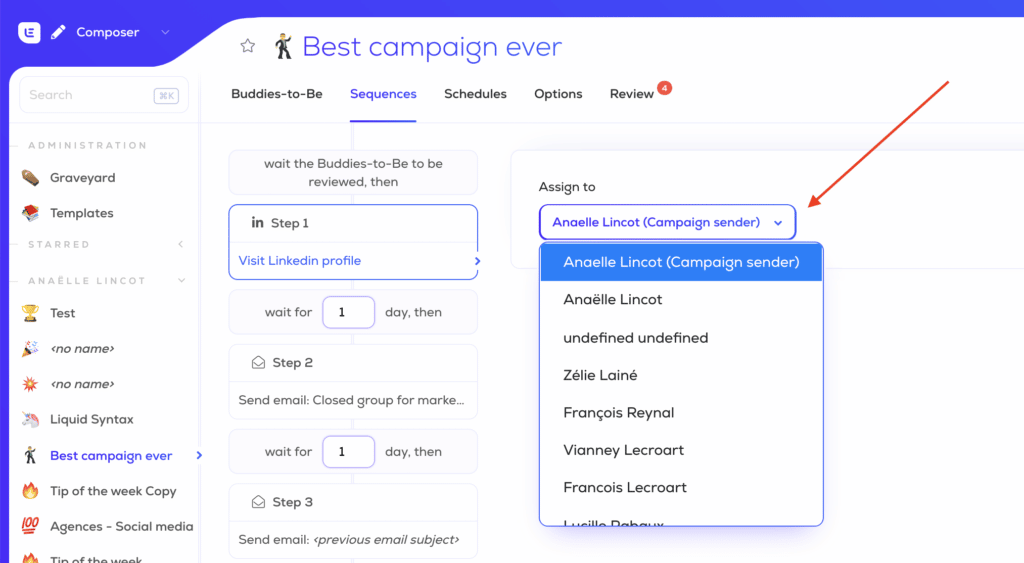 Cost: from $59/month
9. Waalaxy
Waalaxy did the opposite journey, they started as a Linkedin automation tool called Prospectin, and now they also integrate cold emails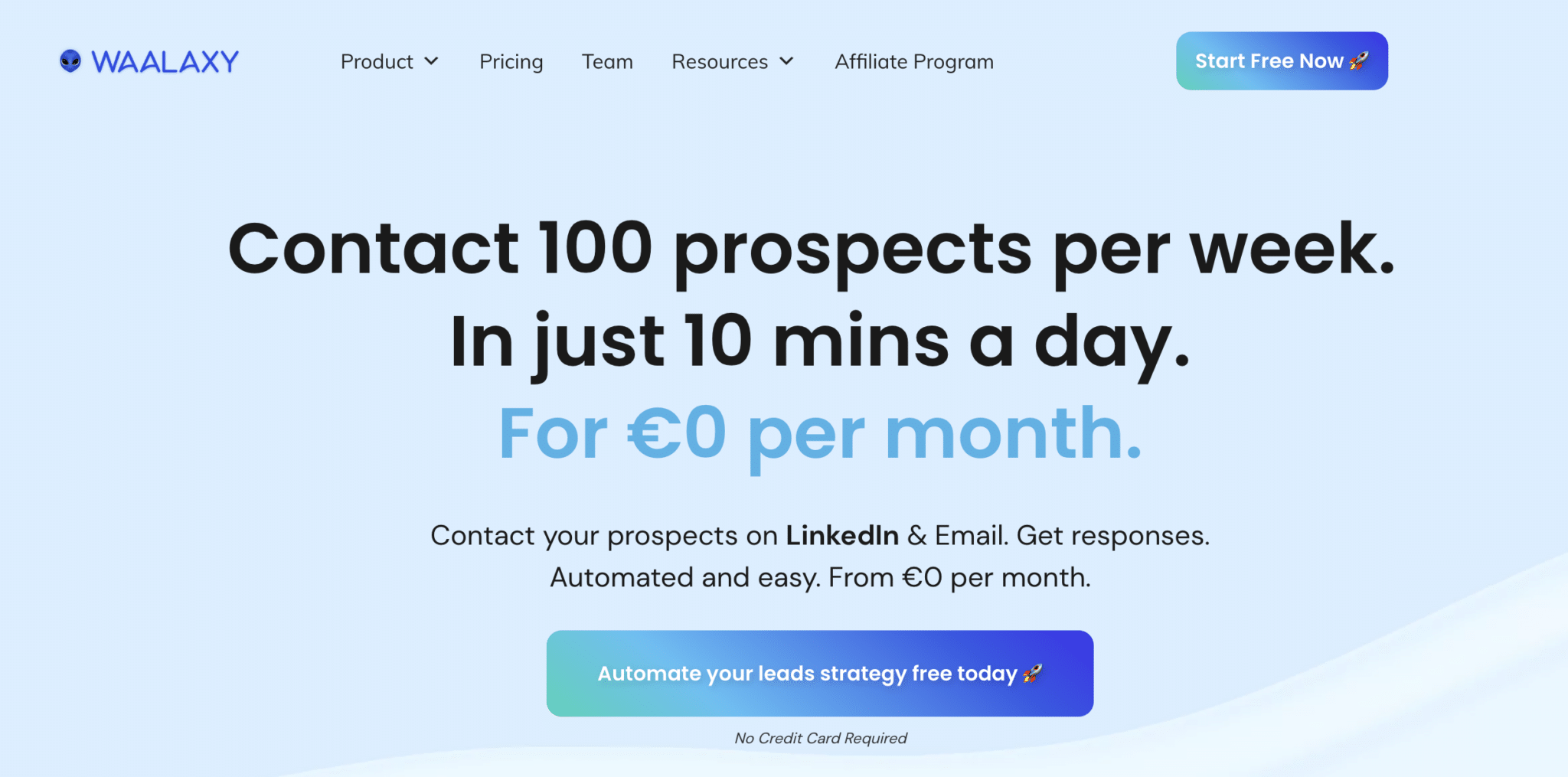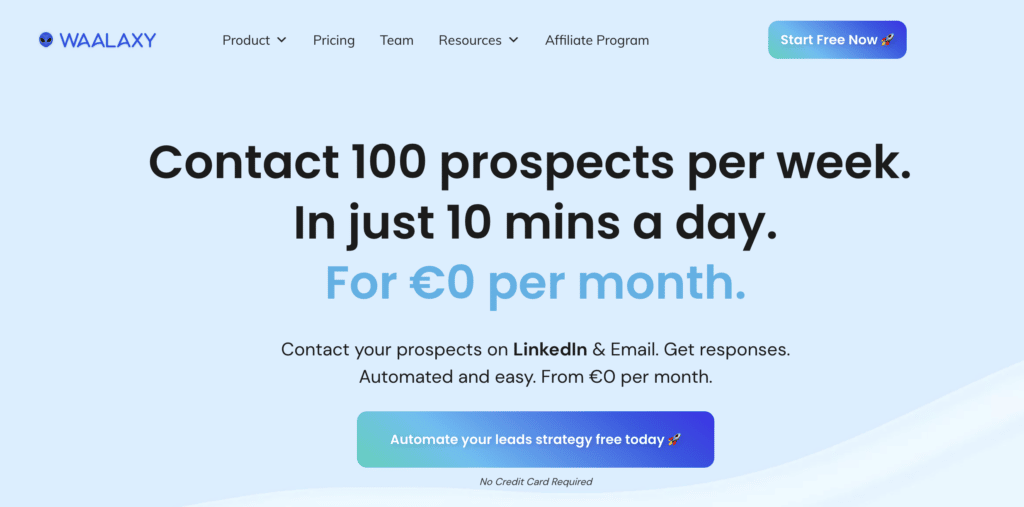 Their strength is the ease of use.
The tool is built for people just getting started with linkedin prospecting.
They offer ready-for-outreach templates you can launch in a few clicks.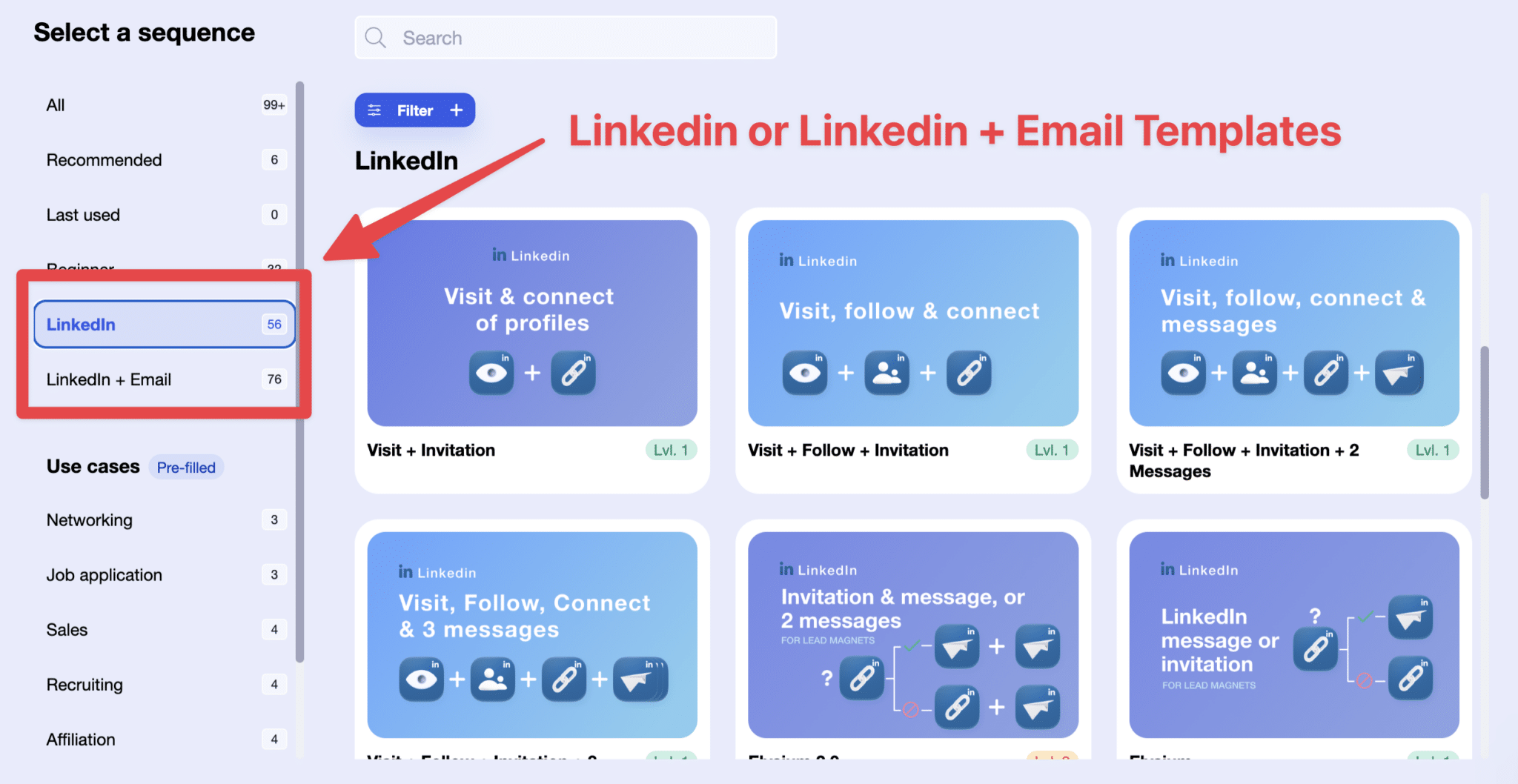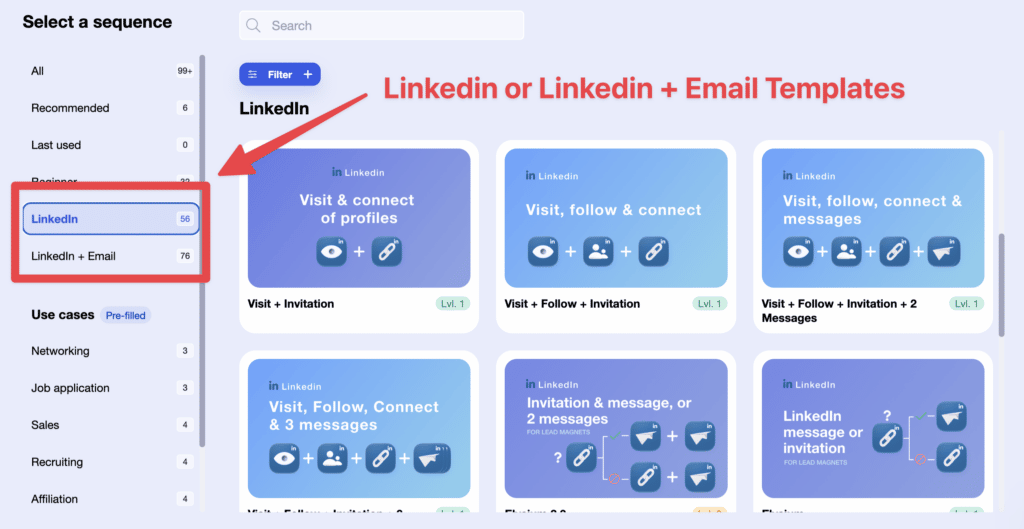 This is the less expensive multichannel cold outreach tool on the market.
Their freemium model is also pretty generous.
Cost: from $35/month
10. Phantombuster
Phantombuster is also one of the oldest linkedin automation tools out there. If you go on their website, you will see a library of all types of Linkedin and Sales Navigator automations.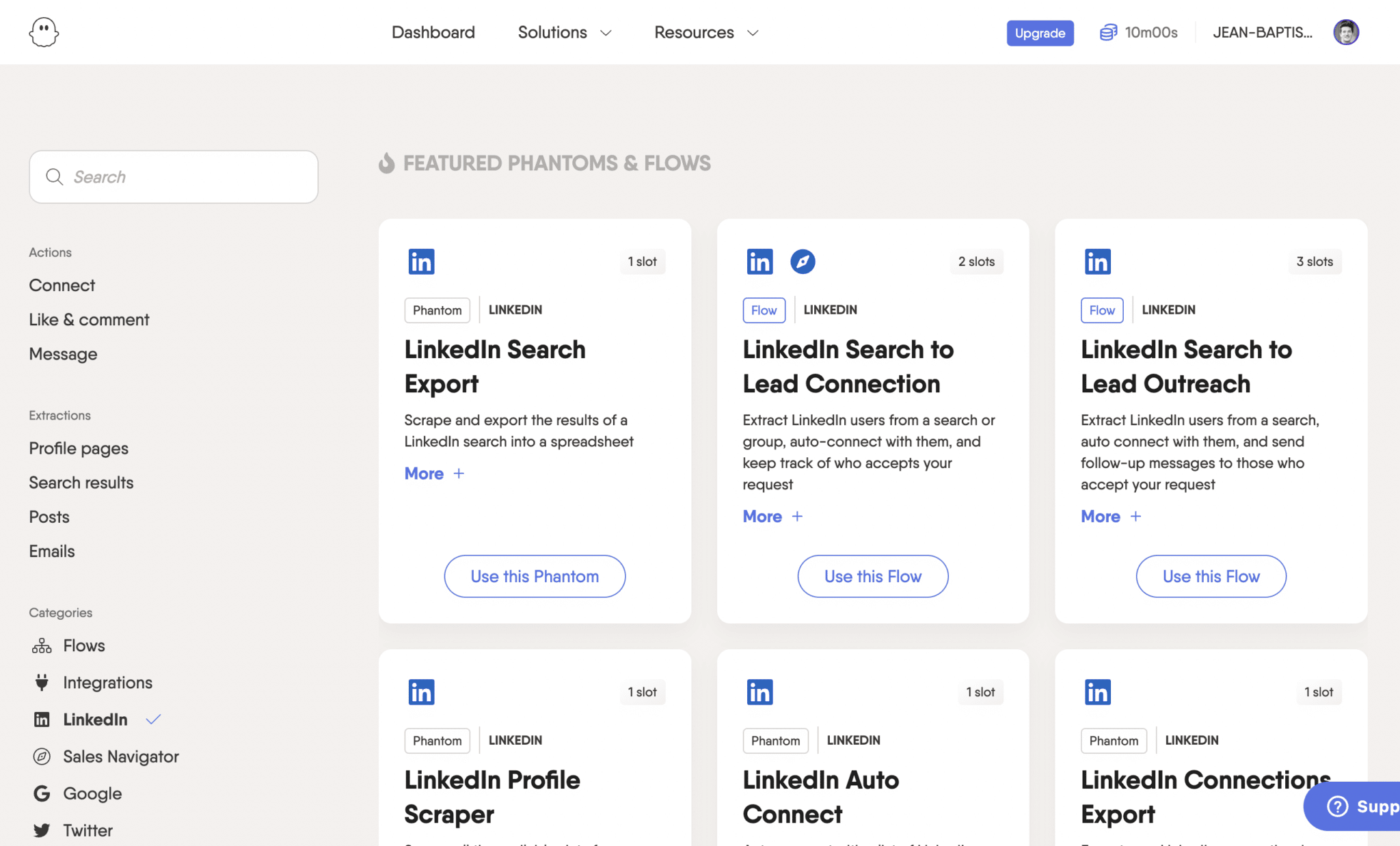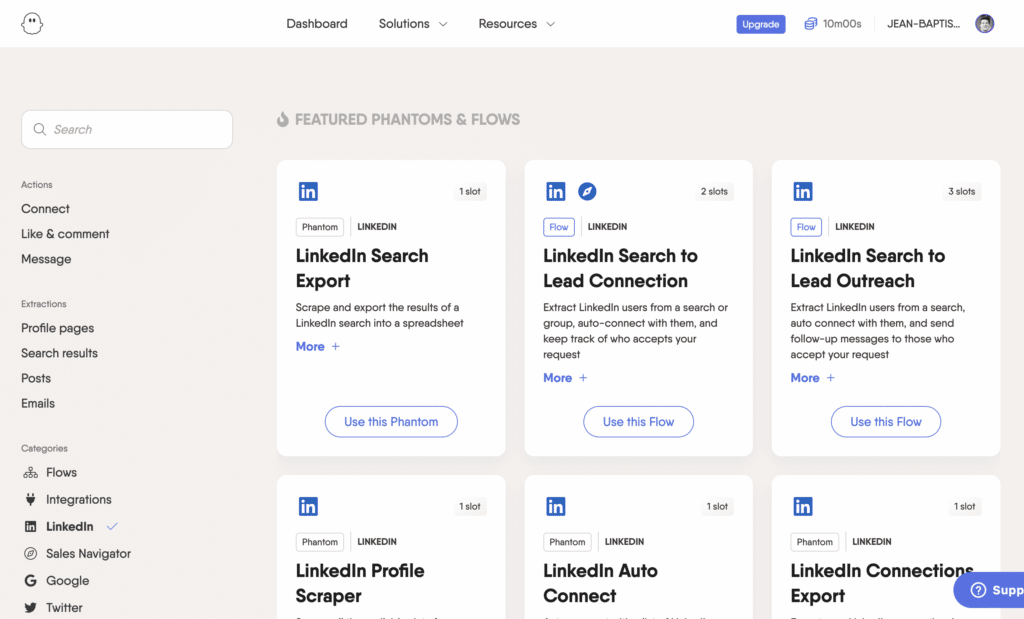 The platform is really handy for one-time project with specific automations like:
extracting event attendees
extracting post commenters
extracting linkedin jobs posts
Their freemium plan is pretty generous, so you can do most of that for free.
Be careful when you use the tool because Phantombuster doesn't have systems to protect your linkedin account from restrictions. You will have to manage the limitations yourself.
Cost: from $59/month.
11. Captain Data
Captain Data is really similar to Phantombuster, but is built for more advanced teams that want to build complex workflows.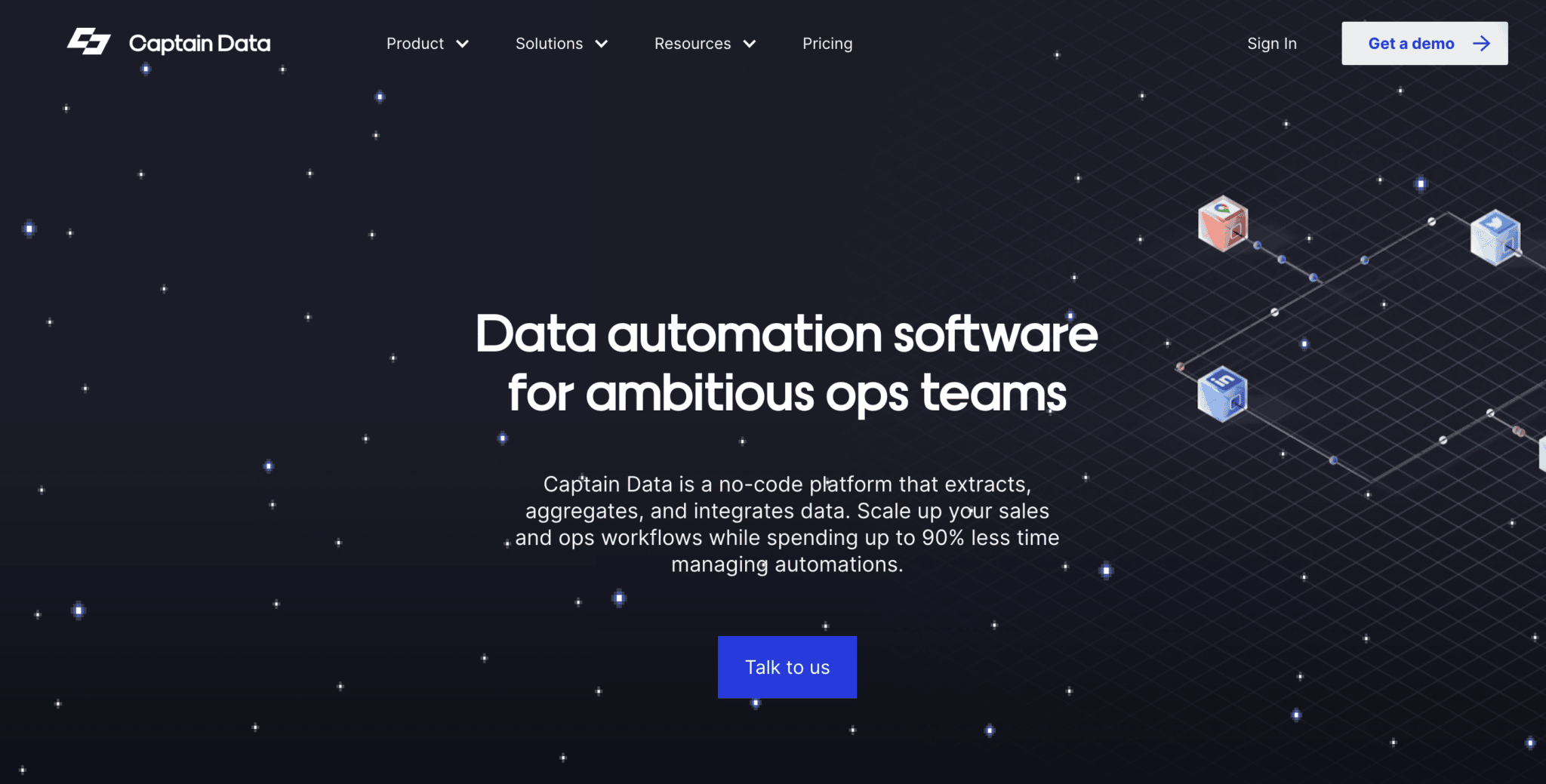 If you are a scale-up which would like to automate it processes, Captain Data is the right tool for you.
They offer a really thorough library of automations you can directly plug in into your CRM.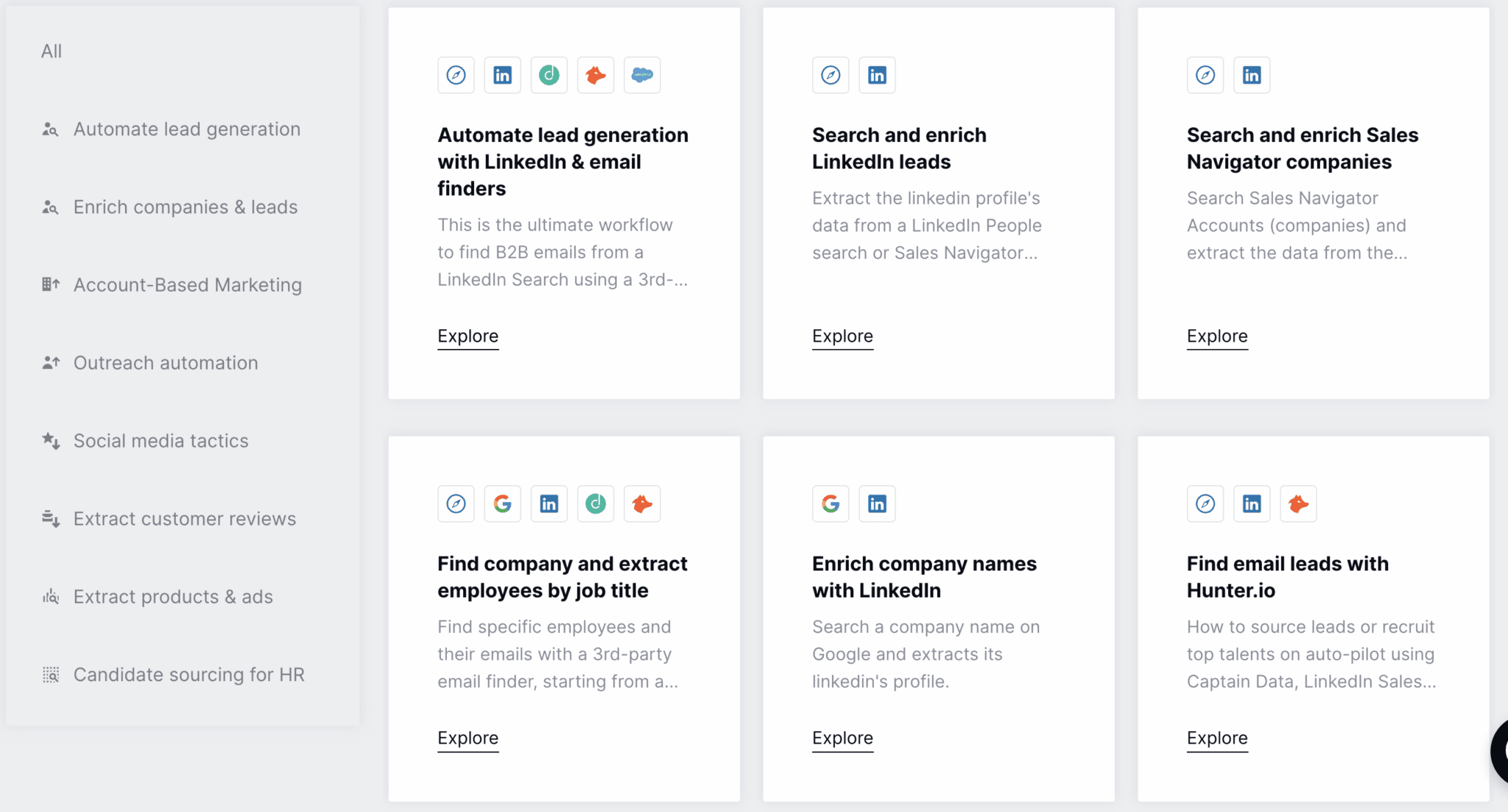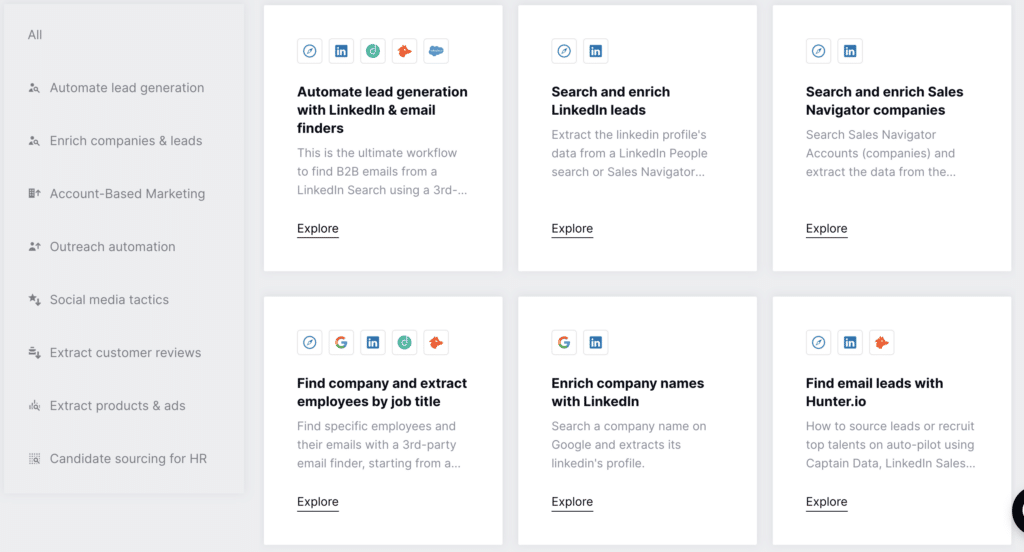 This workflow integrates scraping steps and email finders API like Hunter or Dropcontact.
Cost: from $399/month.
12. Texau
Texau also offers a thorough library of different linkedin automation you can use for prospecting. It's really similar to Phantombuster and Captain Data.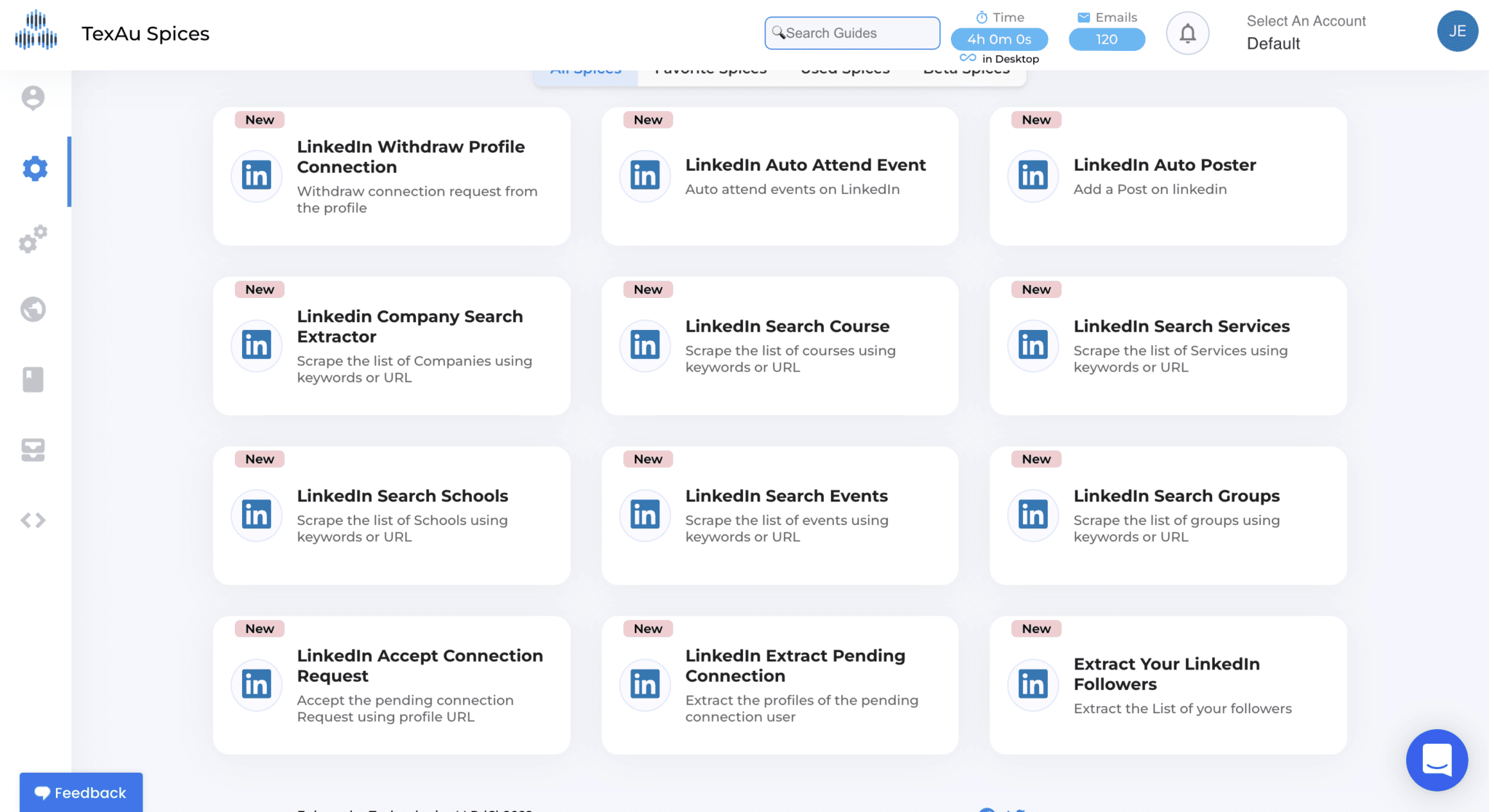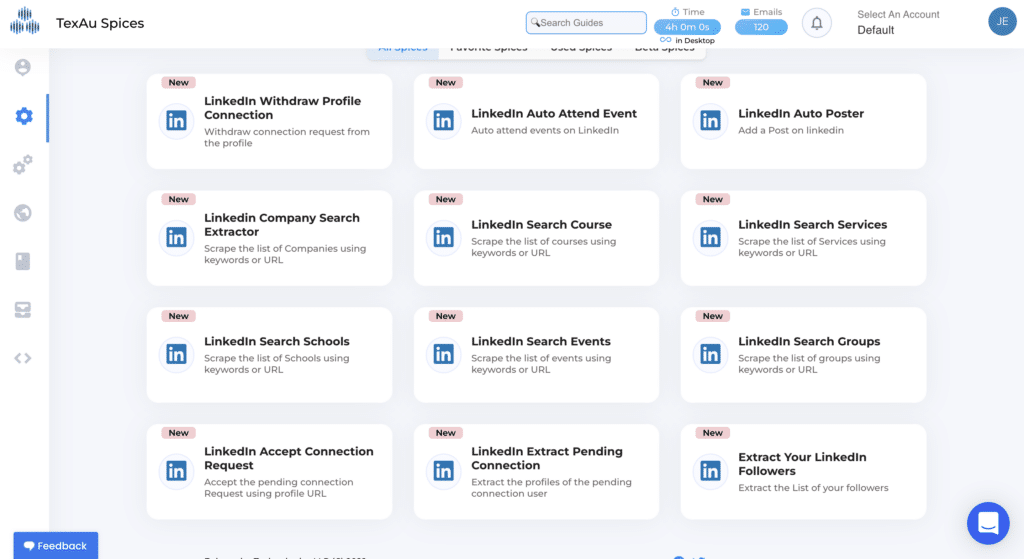 The advantage of the tool is that they also offers automations on many other platforms like:
Facebook
Google
YouTube
Yellow pages
Twitter
Reddit
Instagram
So, you can link Linkedin actions with actions on other platforms.


One of the most common use case is to find the Linkedin profiles of people you find on Facebook groups.
Cost: from $29/month
13. Lempod
Lempod is a linkedin engagement tool that allow you to automatically get likes and comment from members of the pods.
This type of tool is used to give linkedin post an initial boost to increase their chances of getting viral.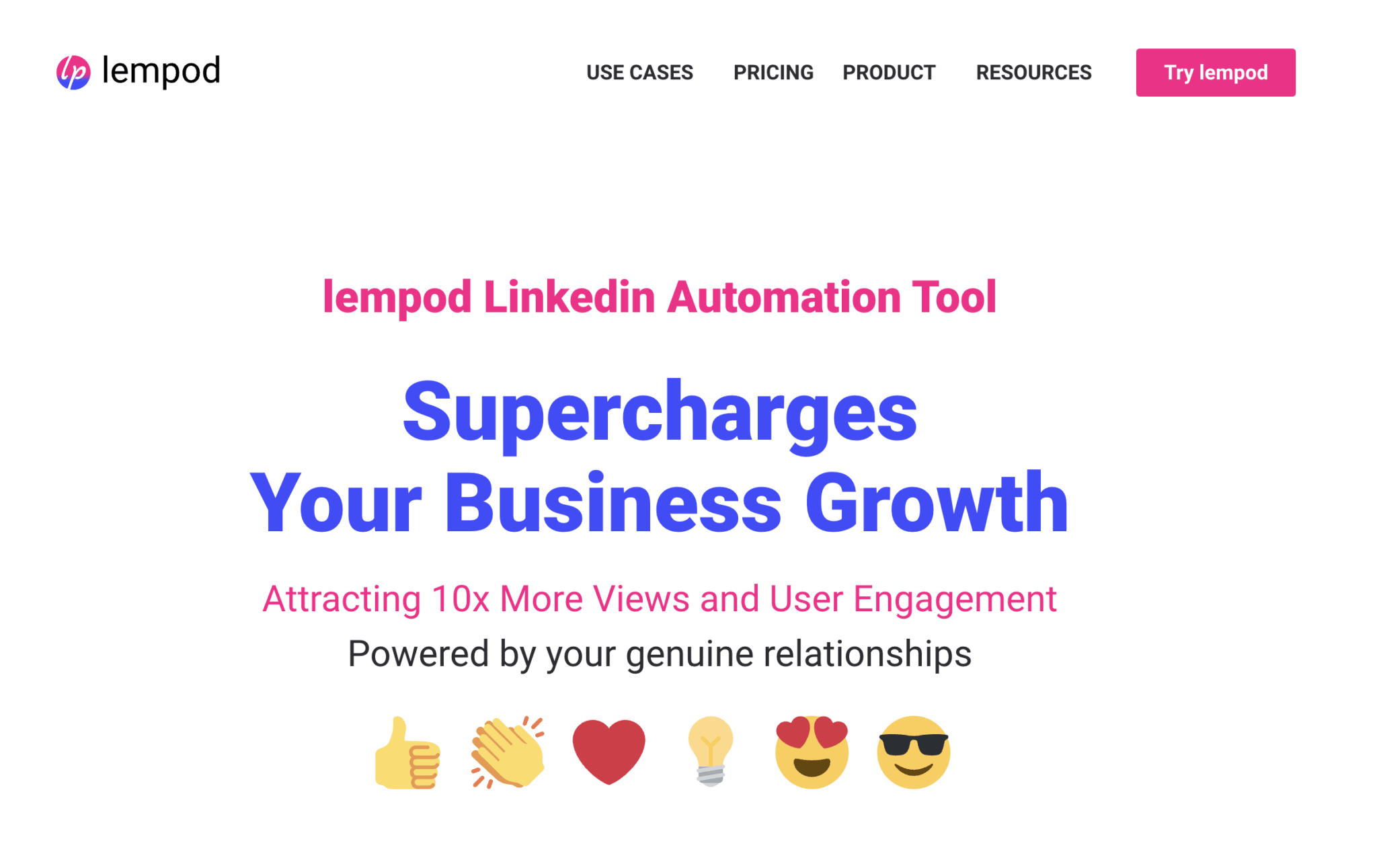 Here is how to process:
Create a pod
Invite your friend and colleagues
Add your linkedin posts link to the pod
Your friends and colleagues will automatically like the post
That way, you don't have to send DM's to all your friends and colleagues every time you publish a new post on Linkedin.
Cost: from $5/month
14. Podawaa
Podawaa is linkedin engagement pod created by the Waalaxy team. It works exactly like Lempod.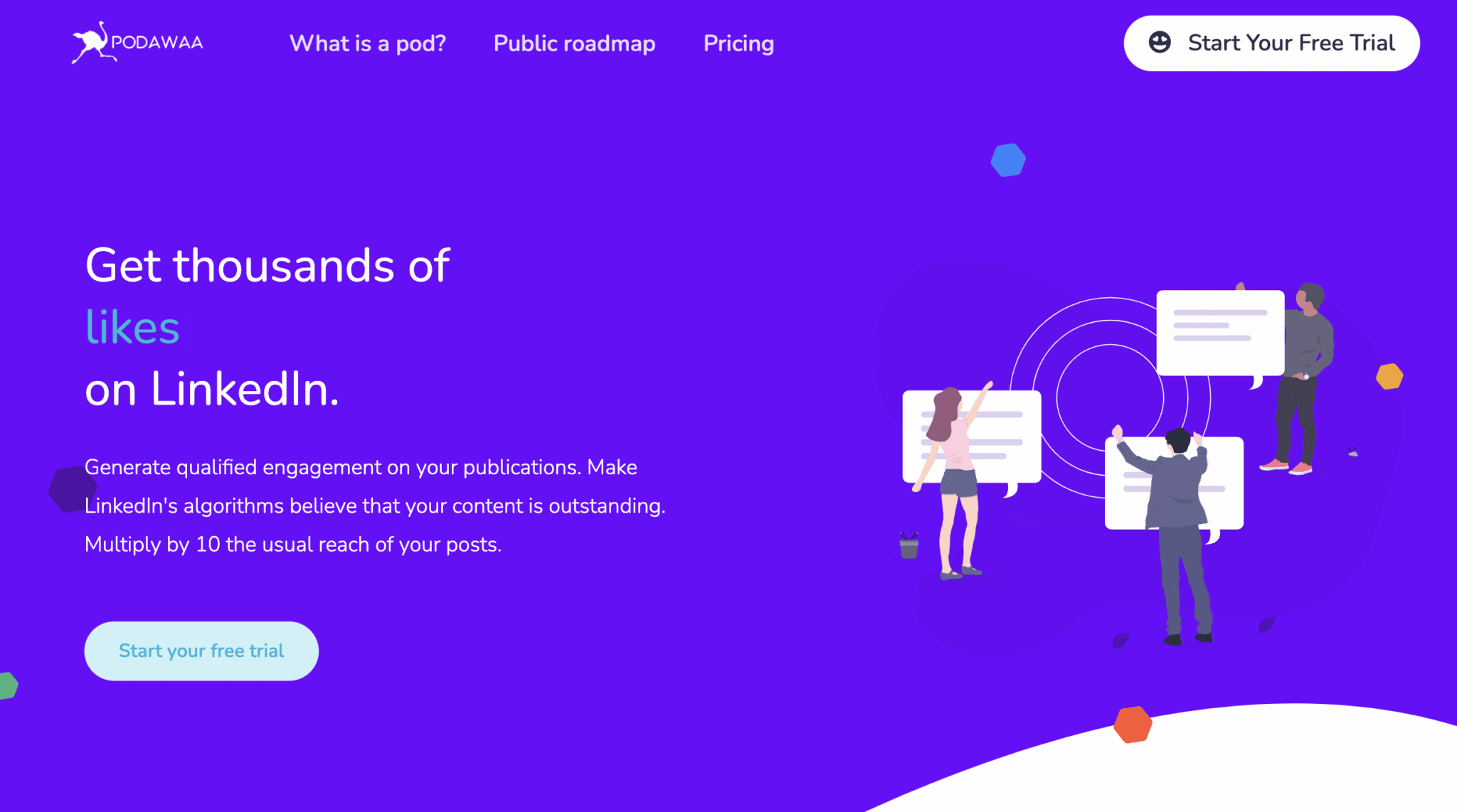 With the free version, your profile will automatically like the publication from every member of the pod.

With the paid version, you can get likes from the members of the pod without having to give the likes back when they publish something.
Most pod users publish terrible content. If you use pods, make sure to take the premium version directly or your profile will end up automatically any sort of bad content.
Cost: from $19/month
15. Reverse Contact
Reverse Contact allow you to find any linkedin profile from an email addresses. Let's say you have an email list, but you want to launch a multichannel outreach campaign using email + linkedin.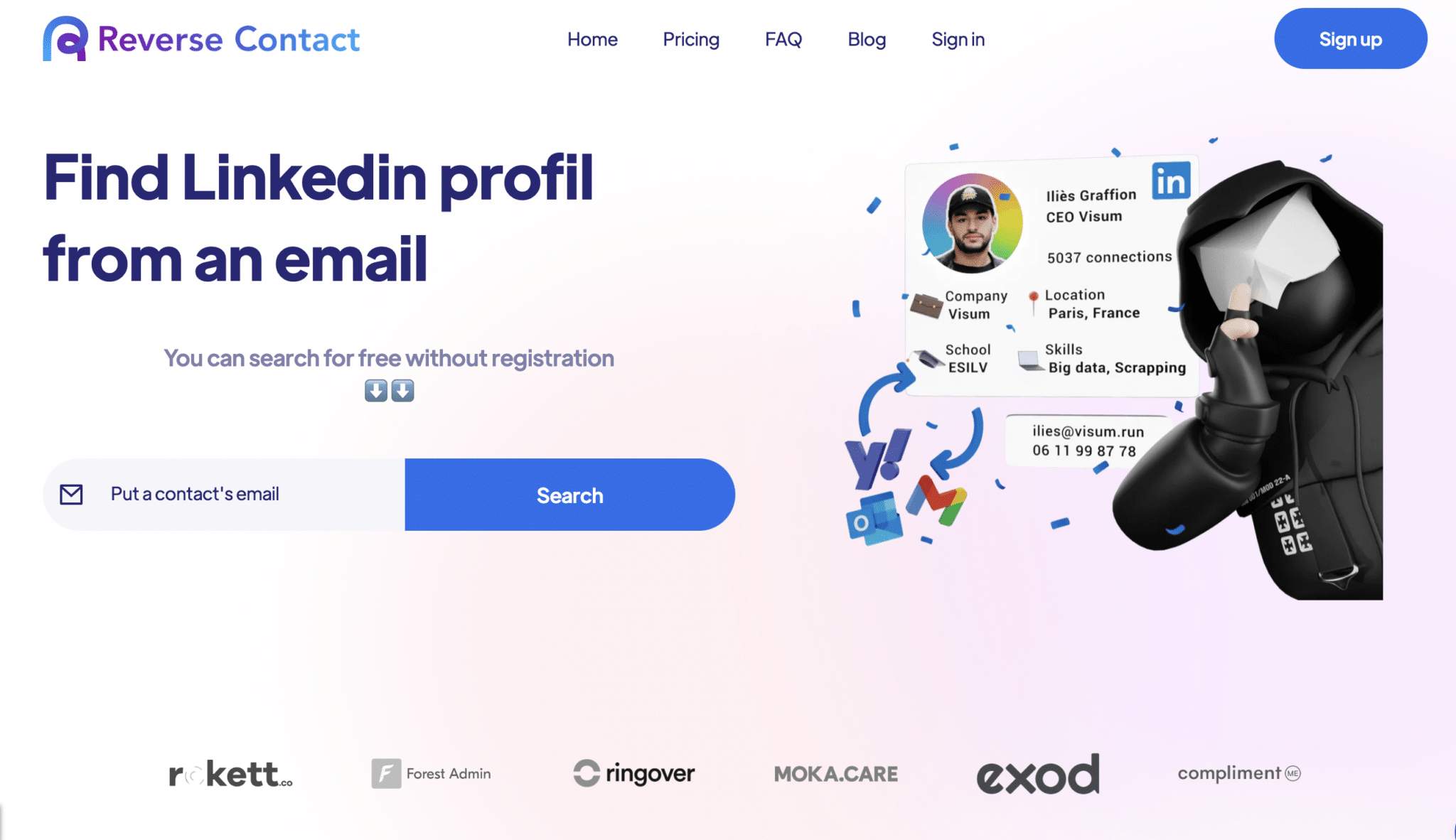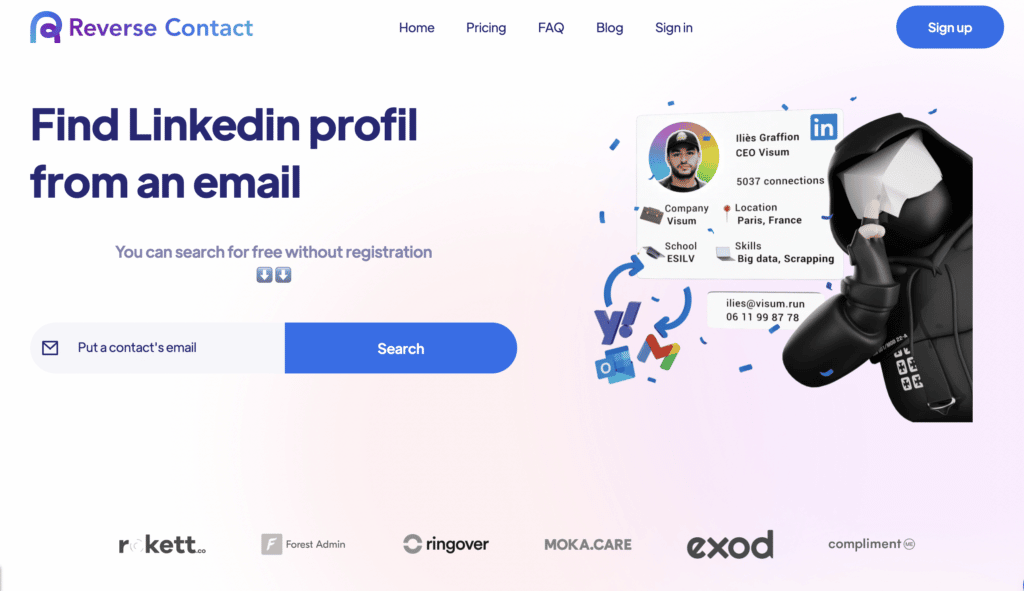 With Reverse Contact, you simply need to upload your CSV into the tool, and they will automatically find the linkedin URLs for you.
The discovery rate will obviously heavily depend on the quality of your emails and your audience presence on Linkedin.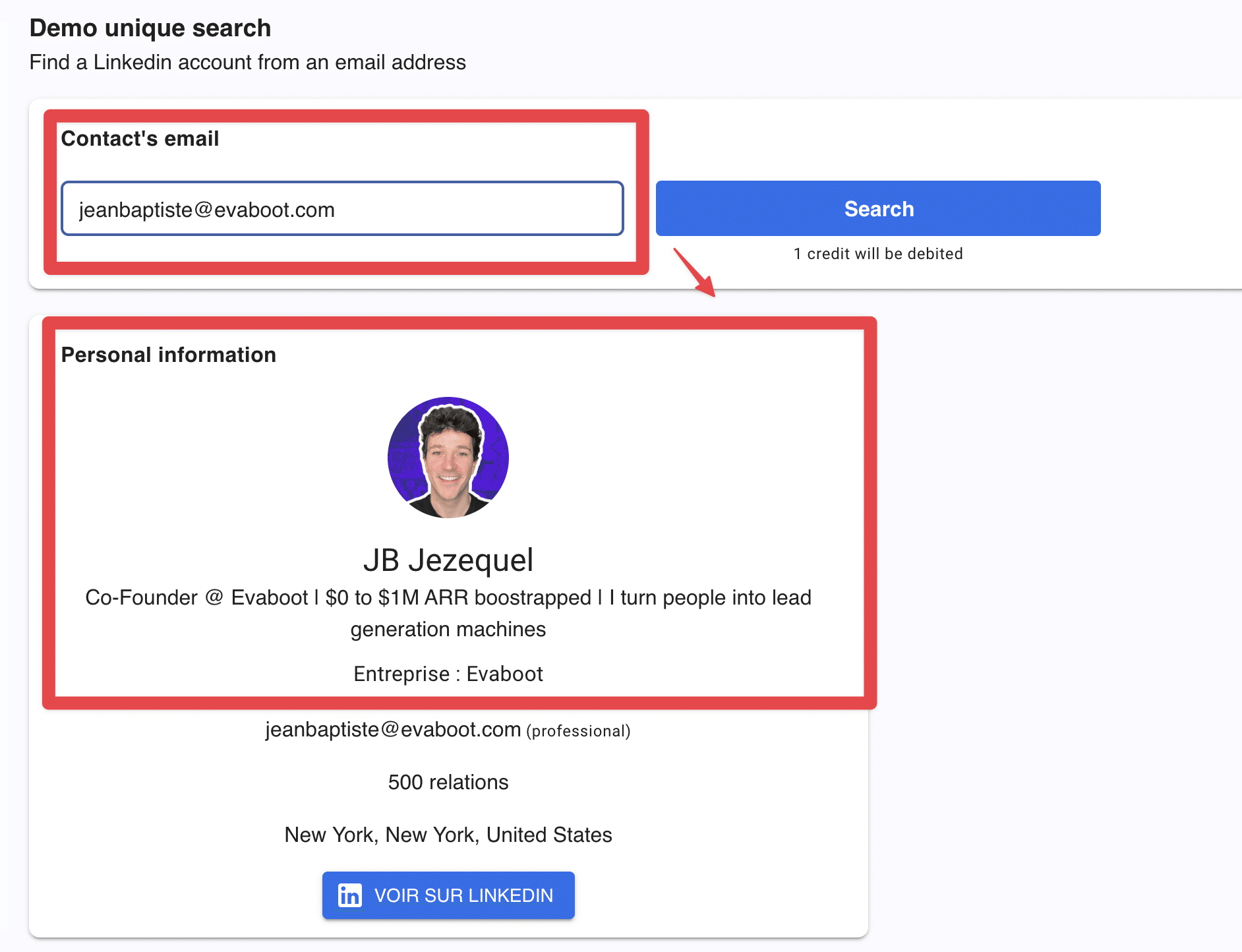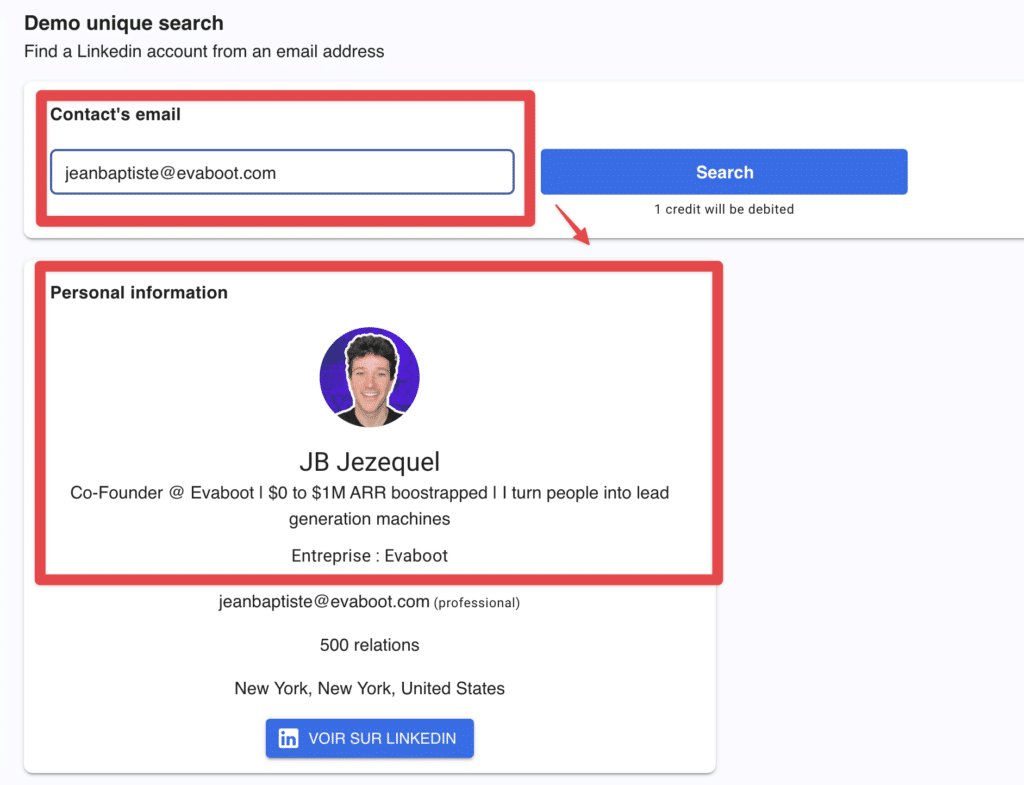 Cost: From $19/month
16. Lusha
Lusha is one of the most famous B2B enrichment tool. Really handy to find professional emails and phone number from Linkedin.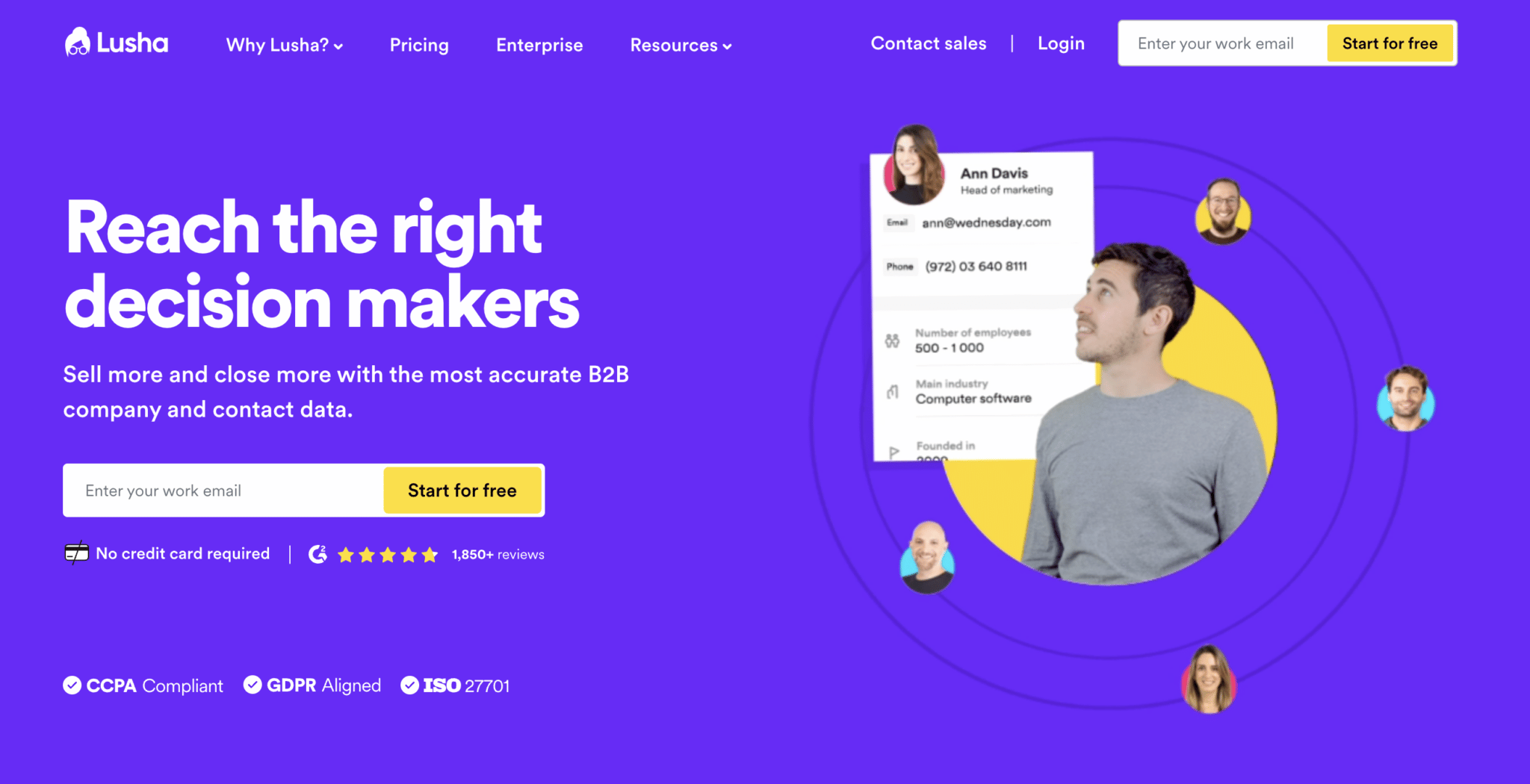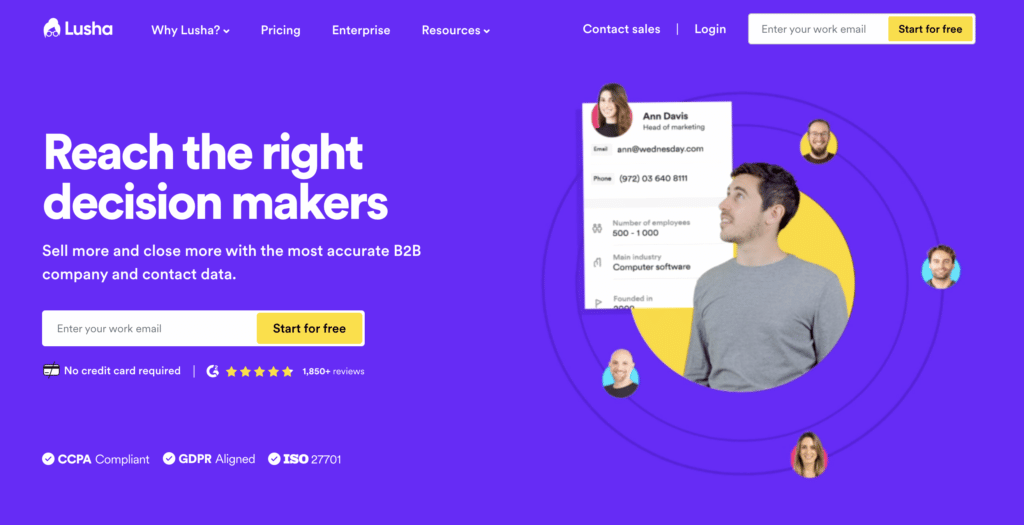 Their Chrome extension allows finding emails and phone numbers in one click from any Linkedin profile.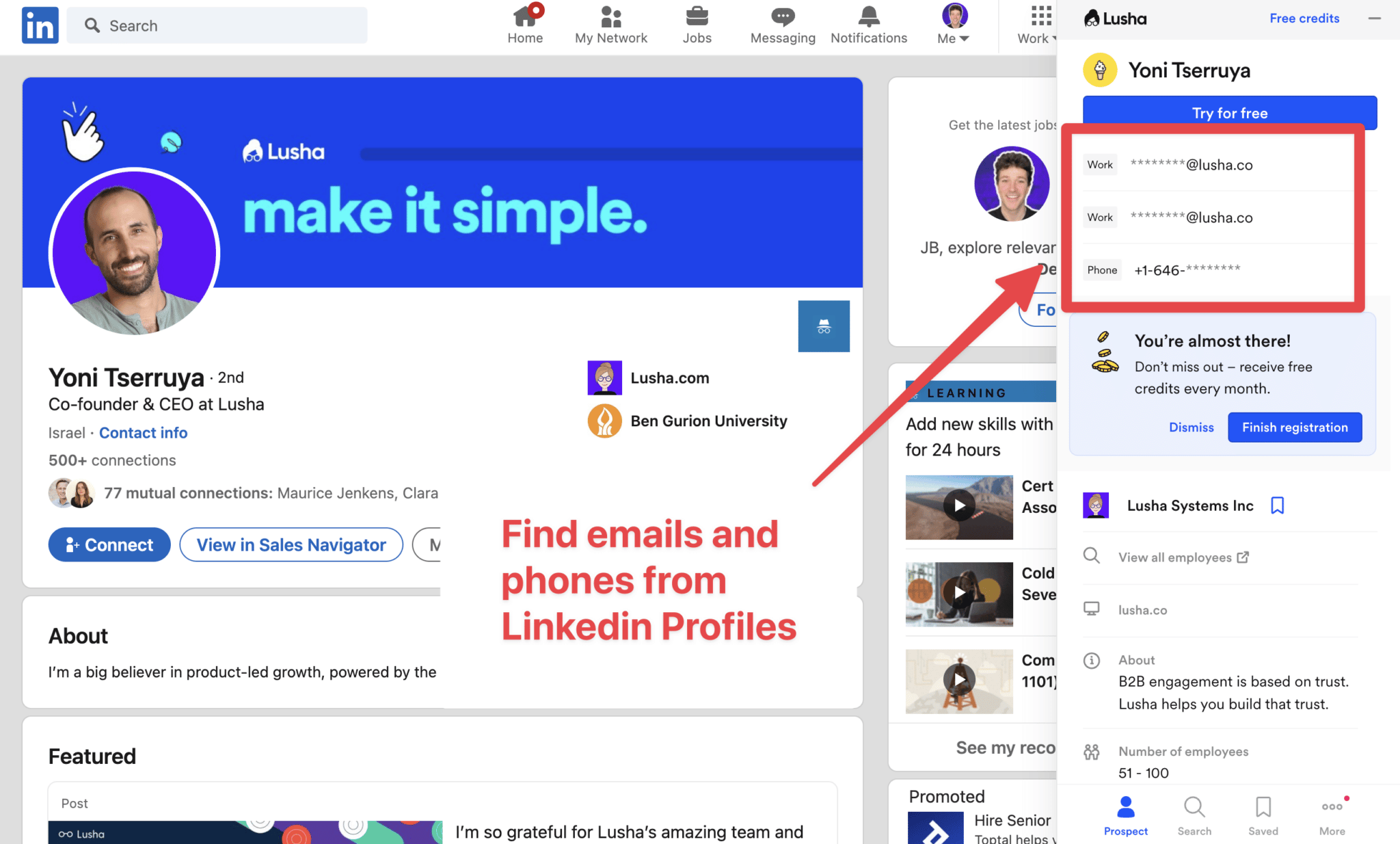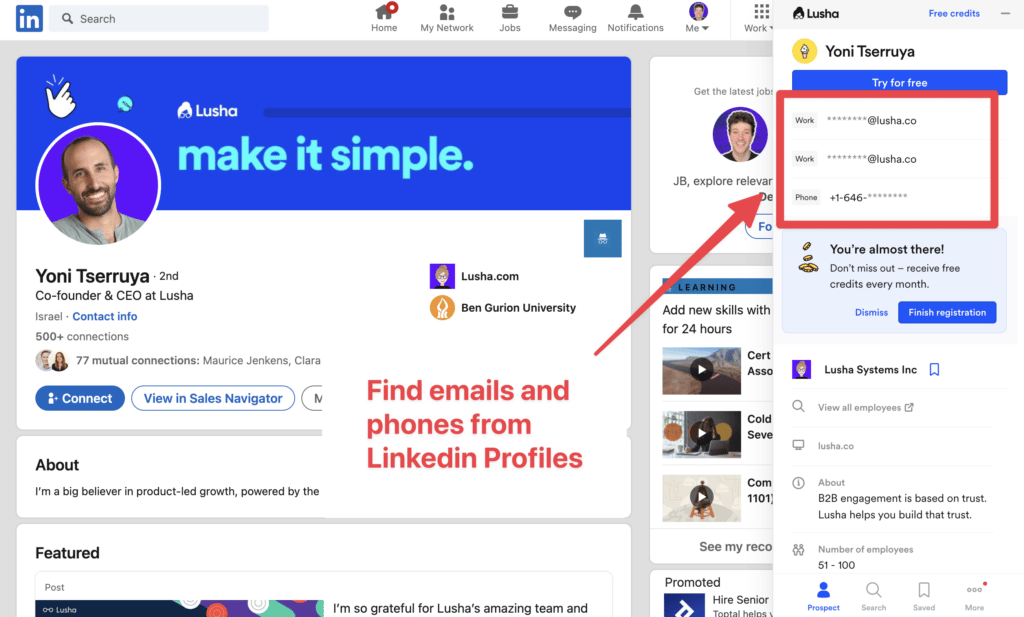 If you spend most of your time prospecting manually, taking the time to look at the profile and do manual linkedin outreach, then Lusha is perfect for you.
Cost: from $46/month
17. Surfe (ex Leadjet)
The promise of Surfe is to connect your CRM to Linkedin.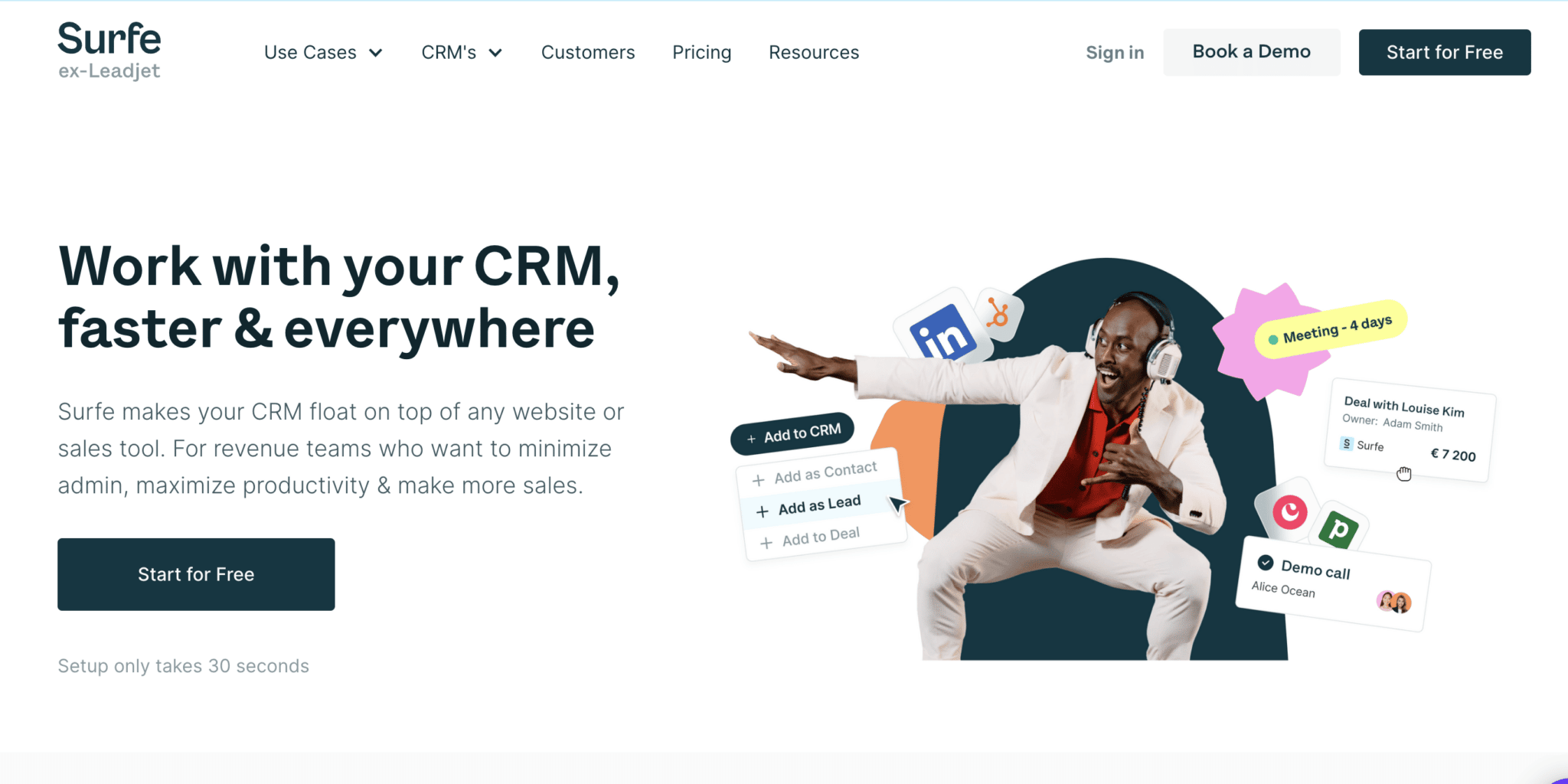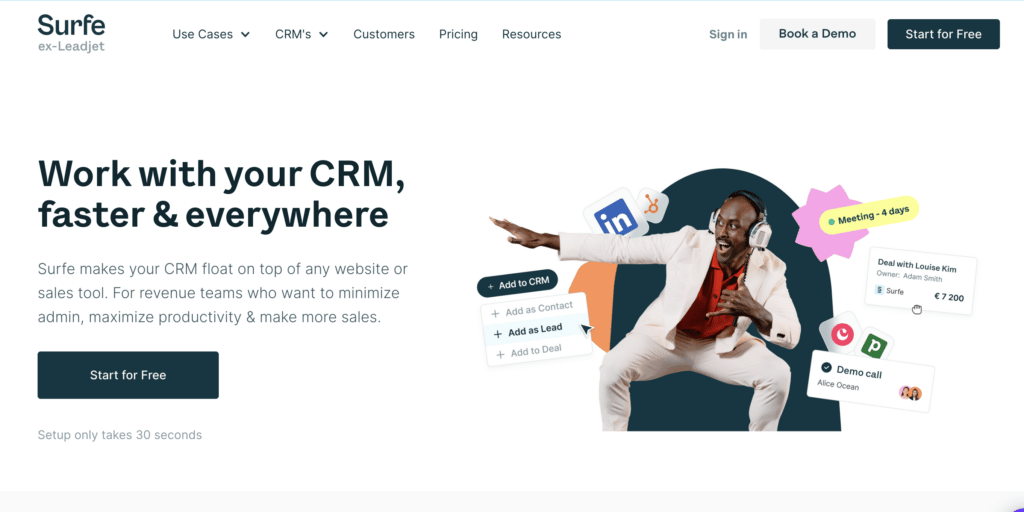 With Surfe, you can add leads from Linkedin to your CRM in just one click. Once the leads are added, all the interactions you have with them will be directly transferred to the CRM.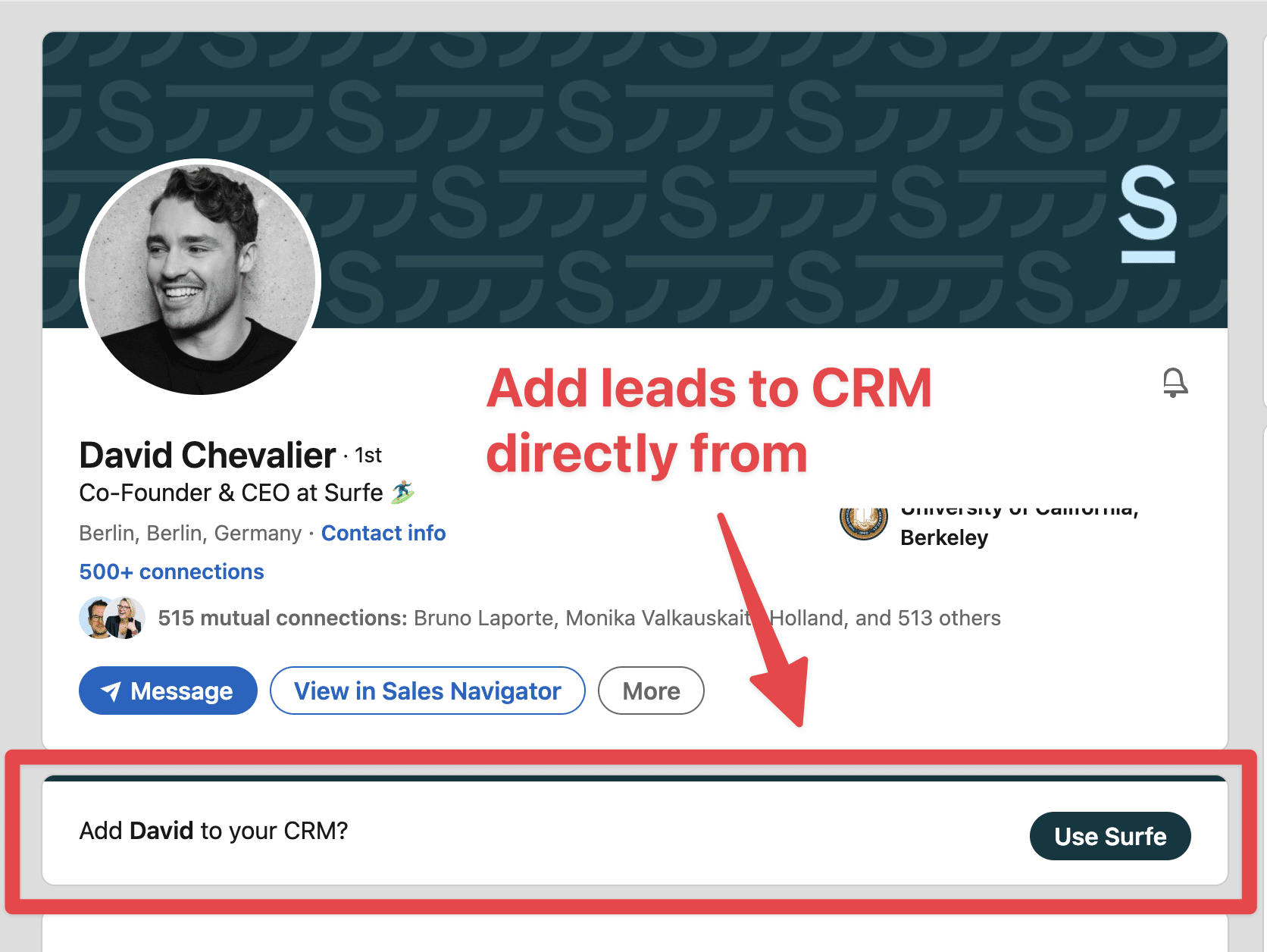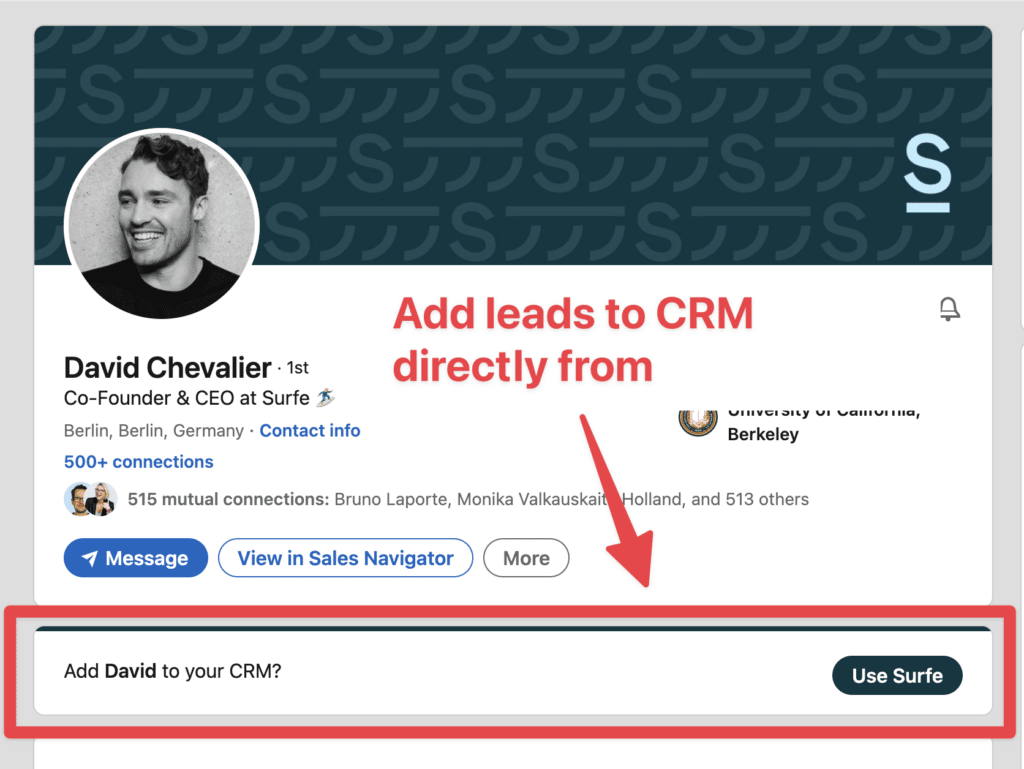 That way, you reduce the need for manual data entry and save time to focus on what matters most: the relationships you build with your clients.
Cost: from $27/month
18. Kaspr
Kaspr is really similar to Lusha. Their main feature is B2B data enrichment with emails and phone numbers, but they also offer linkedin automations (connection requests, messages) and integrations with CRM.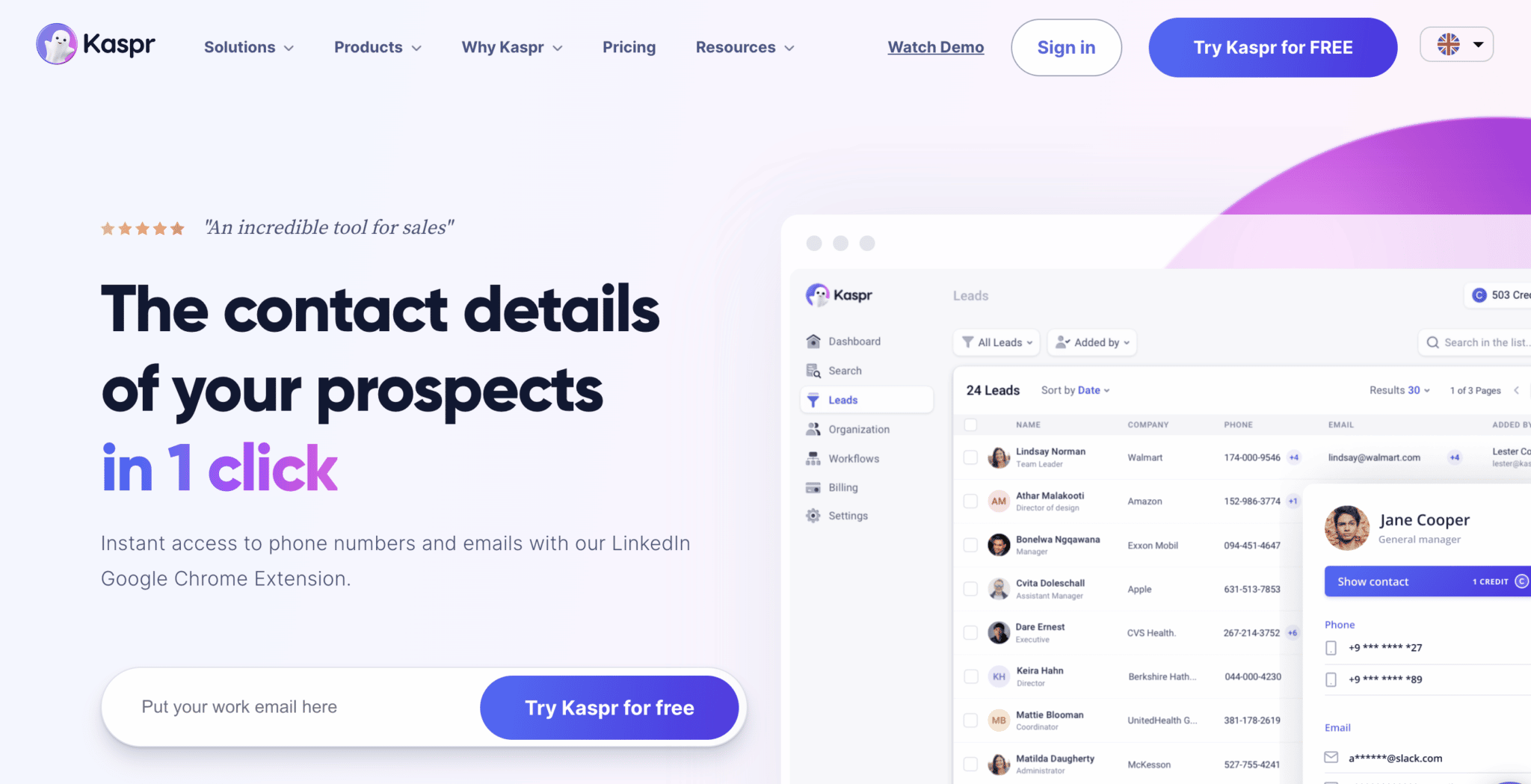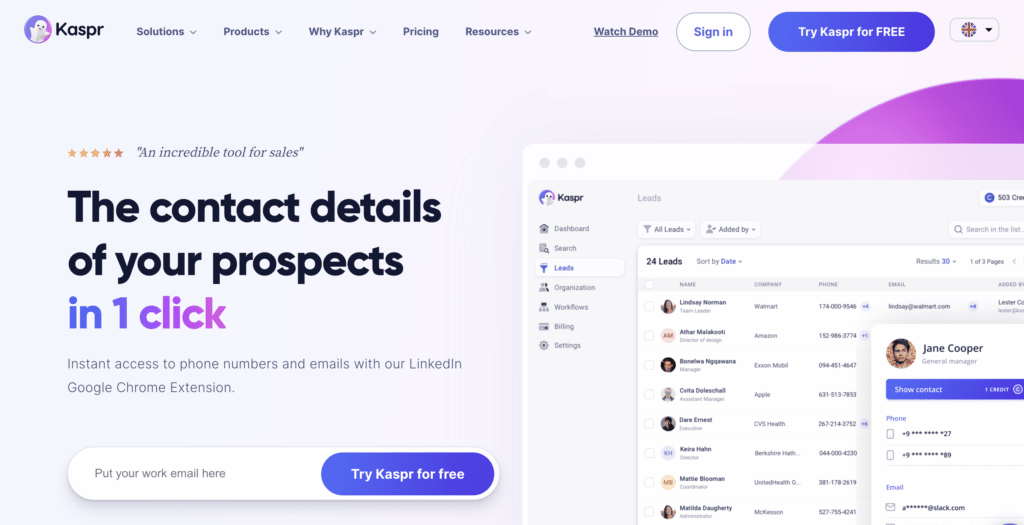 Like on Lusha, you can find emails and phone numbers in one click from any profile.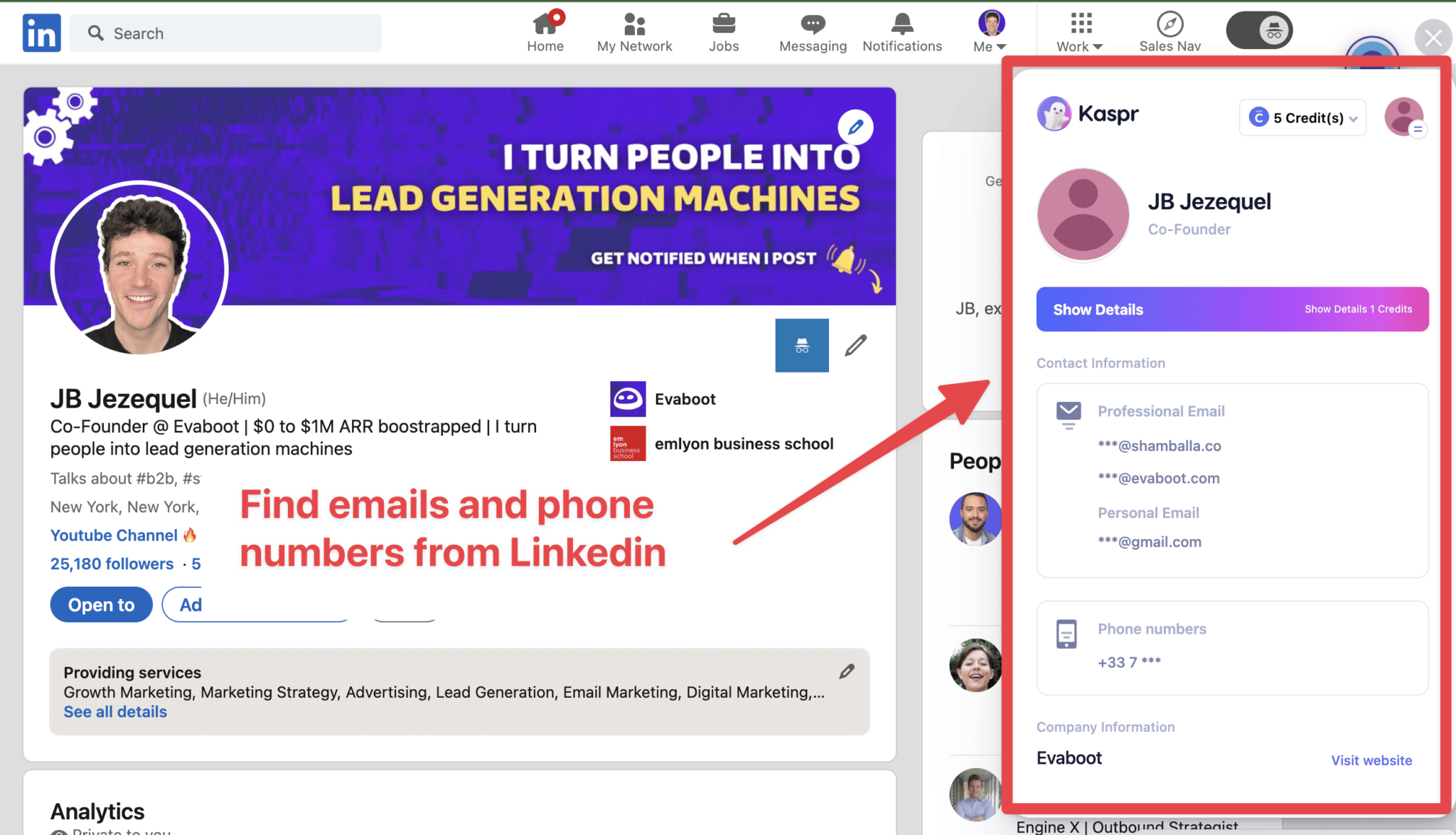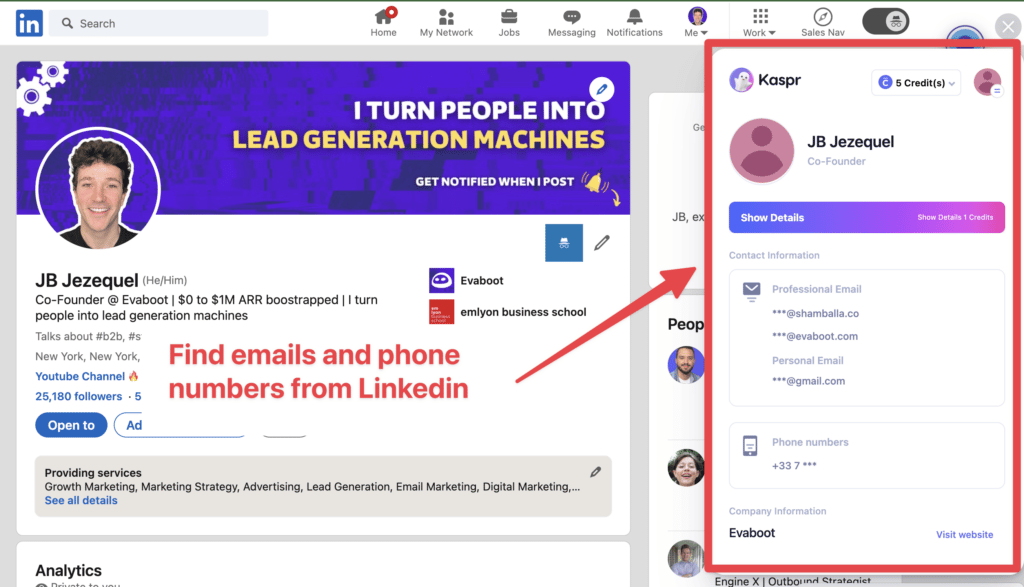 It's difficult to compare Lusha and Kaspr discovery rate.

The best thing is to take the free trial, take a sample of your leads and compare the 2 tools performances on this list.
Cost: from $40/month
19. Datagma
Datagma is another B2B data enrichment tool you can use to find emails and phone numbers. Datagma is particularly good at finding phone numbers with discovery rate up to 85%.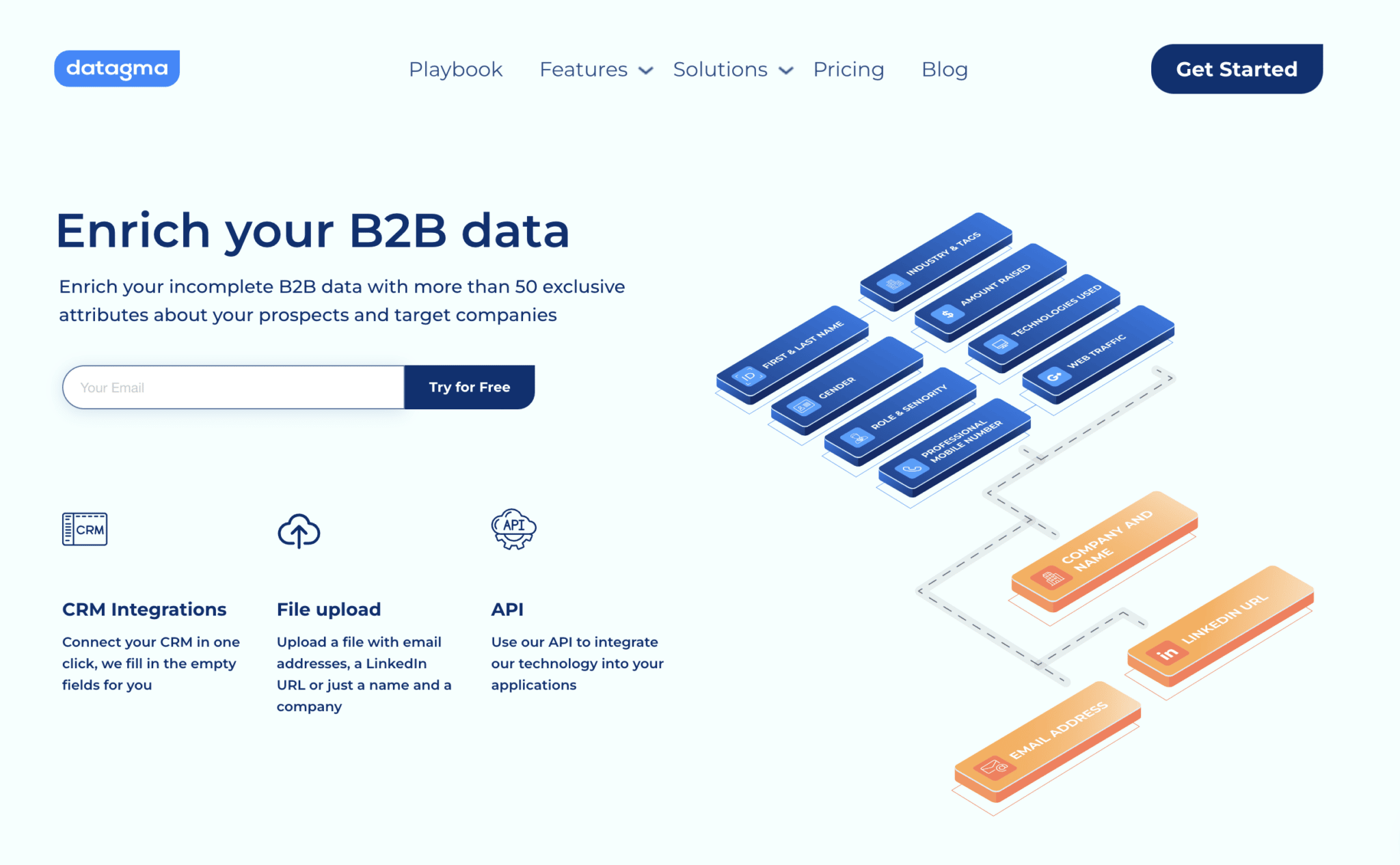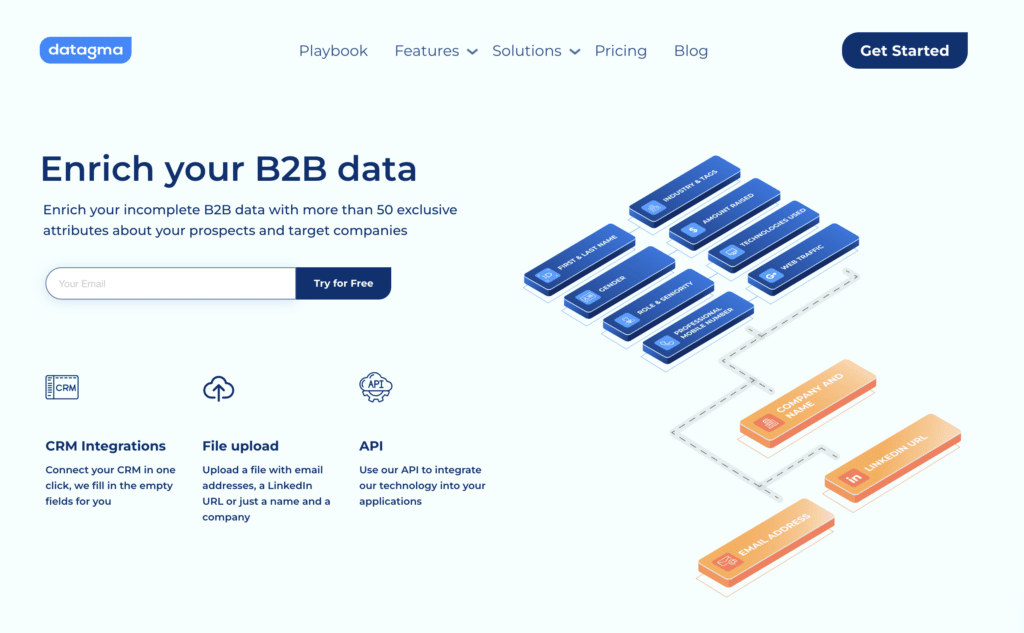 Like on Lusha or Kaspr, you can find phone numbers directly from linkedin.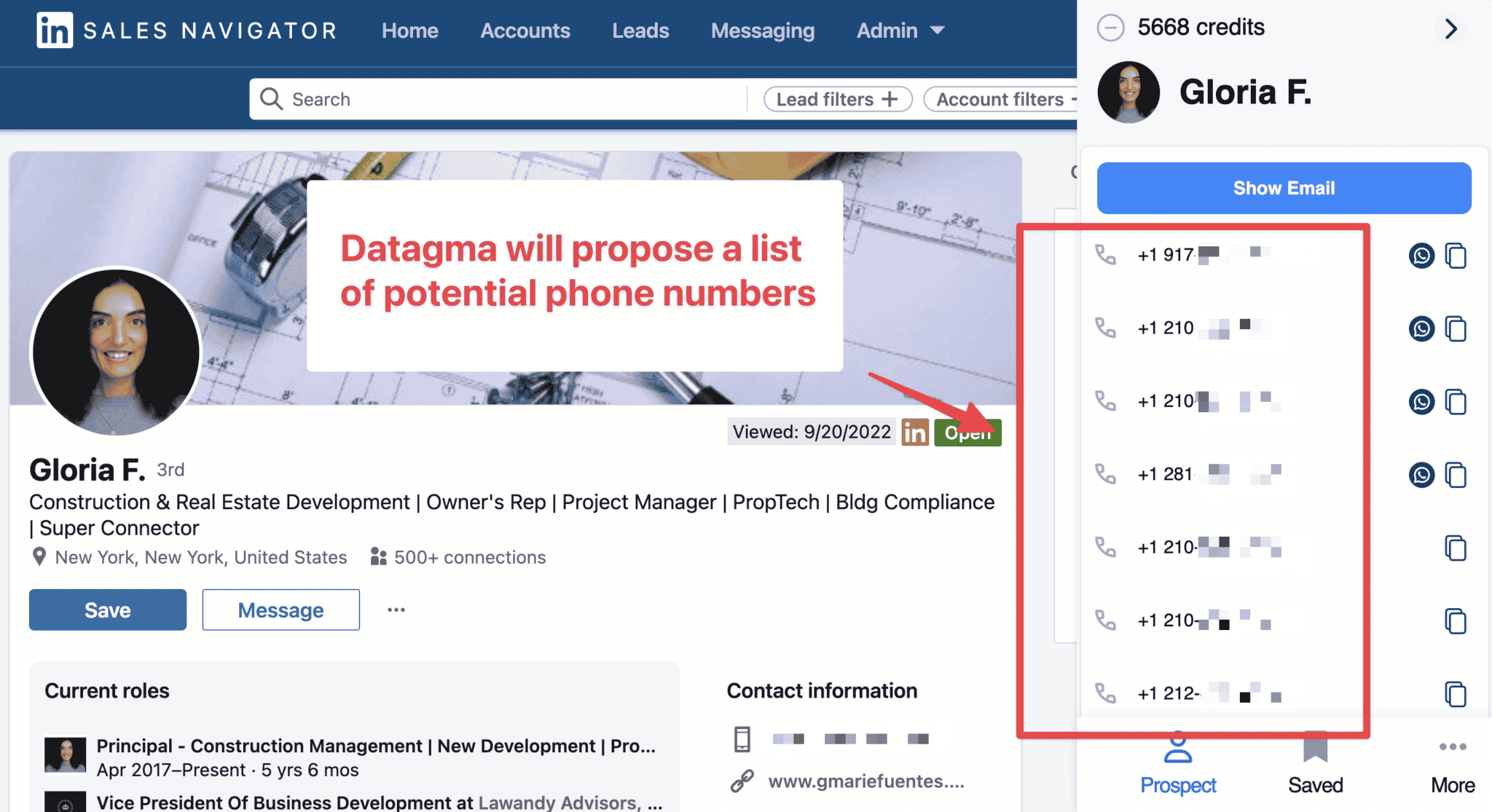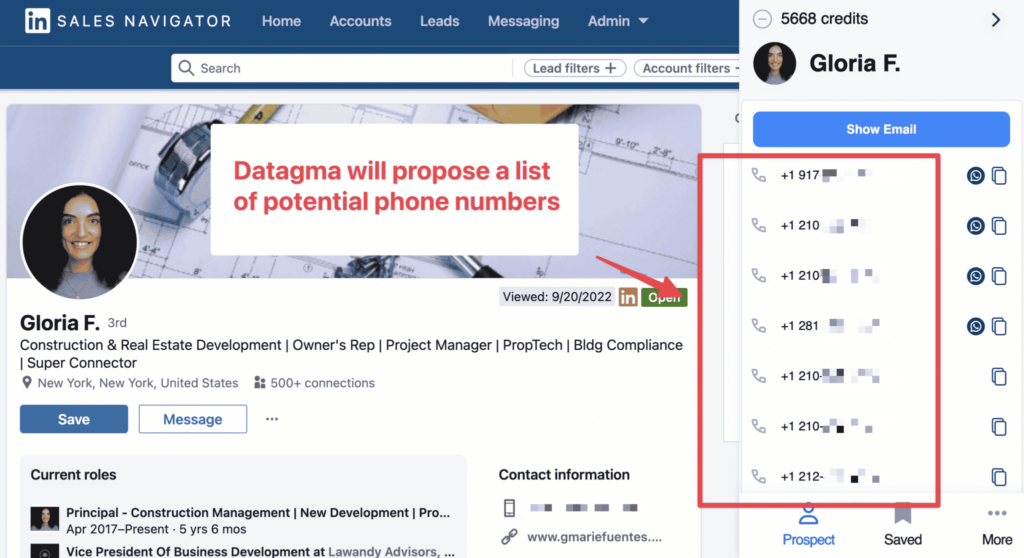 The cool thing about Datagma is that they will display a whole list of different potential phone numbers ordered my match rate. It means if the first one is not the good one, you still have the possibility to try others.
Cost: $29/month.
With the code EVABOOT, you got a 15% discount on your first purchase on Datagma. Combining Evaboot and Datagma is pretty easy.
Here is a tutorial.
We are sorry that this post was not useful for you!
Let us improve this post!
Tell us how we can improve this post?
Build email lists from
Export clean data and get verified emails in 1 click.