Networking is a crucial aspect of business and career growth.
No matter if you're:
a

sales rep

looking to generate sales,

a

recruiter

looking for the next rockstar hire,

a

student

looking for an internship,

or a

job seeker

looking for a career change,
your success lies in who you know and who knows you.
This article is here to help you learn how to network on LinkedIn effectively so that you can supercharge your business or career.

Before diving in, let's highlight the topics that we will cover to transform your LinkedIn experience to a new level:
Why should you

network

on LinkedIn?

Why

LinkedIn is essential

for Networking in 2023

How To Network on LinkedIn

in 2023 (and not 2010)

What to Avoid

when Networking on LinkedIn
Why Should You Network on LinkedIn?
Business networking is about making and keeping professional connections to help each other succeed. LinkedIn is a goldmine for business networking, with its 930 million users in more than 200 countries (2023).

It is by far the best social networking platform to:
Generate Leads, Build Your Brand, and Acquire New Clients
Lead generation is the process of identifying and attracting potential customers who may be interested in your company's products or services.
The goal of lead generation is to convert your leads into paying customers. This makes it a crucial component of digital marketing and sales campaigns for any business.
For your lead generation to be impactful, you must meet your potential customers where they are and connect with them on common ground.
LinkedIn lead generation should be one of the primary tools in your arsenal if you're a marketer or sales rep.
Most LinkedIn users are on the platform for business as the platform makes getting qualified prospects and turning them into paying customers becomes easy.
In the early days, when Evaboot was just a piece of code on my co-founder's laptop, we used smart LinkedIn networking to gain 300 likes, 500 comments, and 150 calls quickly.
These interactions filled our calendars with interviews and helped us understand what LinkedIn users needed. This led to the birth of Evaboot, a powerful tool for LinkedIn networking. Today, it's proof that smart networking can lead to big success.
We learned that cleaning data from sales navigator exports can take hours if done manually. So we developed Evaboot which exports and cleans your lead list in minutes, not hours.
Today we use Evaboot ourselves and still save a lot of time.
You can check out this video on how this process works:
Boost Your Career
Networking on LinkedIn can help you discover new employment opportunities. It can also help you learn new skills, gain insights, and get referrals. According to LinkedIn, 70% of people get hired at companies where they have a connection.
That's not all. Survey results show that 85% of critical jobs are filled via networking.

When I was working in my job before I developed Evaboot, I turned to LinkedIn to network and engage with professionals in my field, engaging in meaningful conversations, and showcasing my skills.
Find a Job or Internship
Growing your LinkedIn network makes finding job or internship opportunities easier, especially those not publicly advertised.
You can also use your network to find mentors, sponsors, and advocates to support your career development.
While I was studying at a Business School for my Master of Science in Entrepreneurship, I leveraged LinkedIn as a powerful networking tool to get a job interview. In 2017, I secured an internship through my LinkedIn connections, which ultimately evolved into my very first job in the field. With the right strategy, you have an edge over other candidates in the job market as the platform makes your job search much easier.
Recruit New Employees
Recruitment is a critical function of human resource management involving identifying, attracting, and selecting qualified individuals to fill job vacancies within an organization.
Knowing how to network on LinkedIn makes this aspect of business growth easy. You can use the platform to attract and vet potential candidates.
This way, you can speed up the recruitment process while ensuring you get candidates that will add value to your organization.
Here at Evaboot, we use LinkedIn to build our team by connecting with professionals who share our vision and skills. This strategic approach has played a vital role in ensuring we have the right talents for efficient growth and customer service needs.

We build candidate lists with LinkedIn search and then export them to a CSV file using Evaboot to upload the cleaned data to an applicant tracking system. This saves us hours and hours of work.
If you're looking for the best business networking platform, LinkedIn is definitely it.

Why LinkedIn is Essential for Networking in 2023
LinkedIn is not just a social network, but a powerful tool you can use to advance your professional goals.

If you're in sales, you can leverage the platform's targeted search and messaging features to identify and connect with prospective clients or partners.
You can create a compelling digital resume to help further your career, connect with peers and industry leaders, and explore job opportunities across 55 million companies.
Plus, you can upskill using the 1000+ courses on LinkedIn Learning that are designed to help you become even more effective in your professional roles.
As a recruiter, you have a massive talent pool you can easily sift through using advanced search criteria to find the perfect candidates for your job openings.
LinkedIn is indispensable for Evaboot in 2023 as we expand globally, connecting us with clients and talents across the world, and transcending geographical boundaries.

LinkedIn was also a small StartUp like Evaboot and began in Reid Hofmann's living room in 2002. It now offers profound benefits for professional networking:
Global reach

in more than 200 countries

Up-to-date profiles

as users update their profiles by themselves

Targeted networking

and advertising

Professional

endorsements

Content

sharing

Groups

and communities

Event

participation

Sales

and

recruitment

synergy

Data-driven

insights

Automation

opportunities
Dealing with outdated B2B data and encountering changed contact persons at companies was a major source of frustration and disappointment for us.
At Evaboot, we think it's crucial that LinkedIn users update their profiles.
Traditional B2B databases are updated by staff, here, everyone keeps their information current.
This makes LinkedIn the most trustworthy source for up-to-date B2B data and the must-have networking tool for your business and professional growth.



How To Network on LinkedIn in 2023
To successfully network on LinkedIn:
Update & optimize your profile
Make your presence felt
Leverage your existing contacts
Join LinkedIn groups
LinkedIn events
Filter the right people
Send personalized connection requests to people you want to connect with
Get more LinkedIn connections through automation
Use email to connect
1) Update & optimize your profile
Your LinkedIn profile is a dynamic representation of your professional identity, skills, achievements, and qualifications. It serves as a digital resume and a powerful tool for networking, driving business growth, recruiting talent, and career advancement.
Keeping your profile picture (headshot) professional and your LinkedIn profile updated and engaging is essential to maximize your presence on the platform and showcase your expertise.
Even as a student, you have more experience than you think.
Think broadly about all your experiences, including summer jobs, unpaid internships, volunteer work, and student organizations. All these carry weight and can be added to your LinkedIn profile.
You never know what might catch someone's eye.
You can also beef up your qualifications by taking online courses and getting certifications from your niche. This gets you extra "points" and shows you're highly skilled and motivated.
As a sales rep, your optimized LinkedIn profile can be the difference between average sales and record-breaking numbers.

Check out my profile and see how I leveraged it to build a 7-figure software startup in 2 years.

Here are 6 tips for optimizing your LinkedIn profile: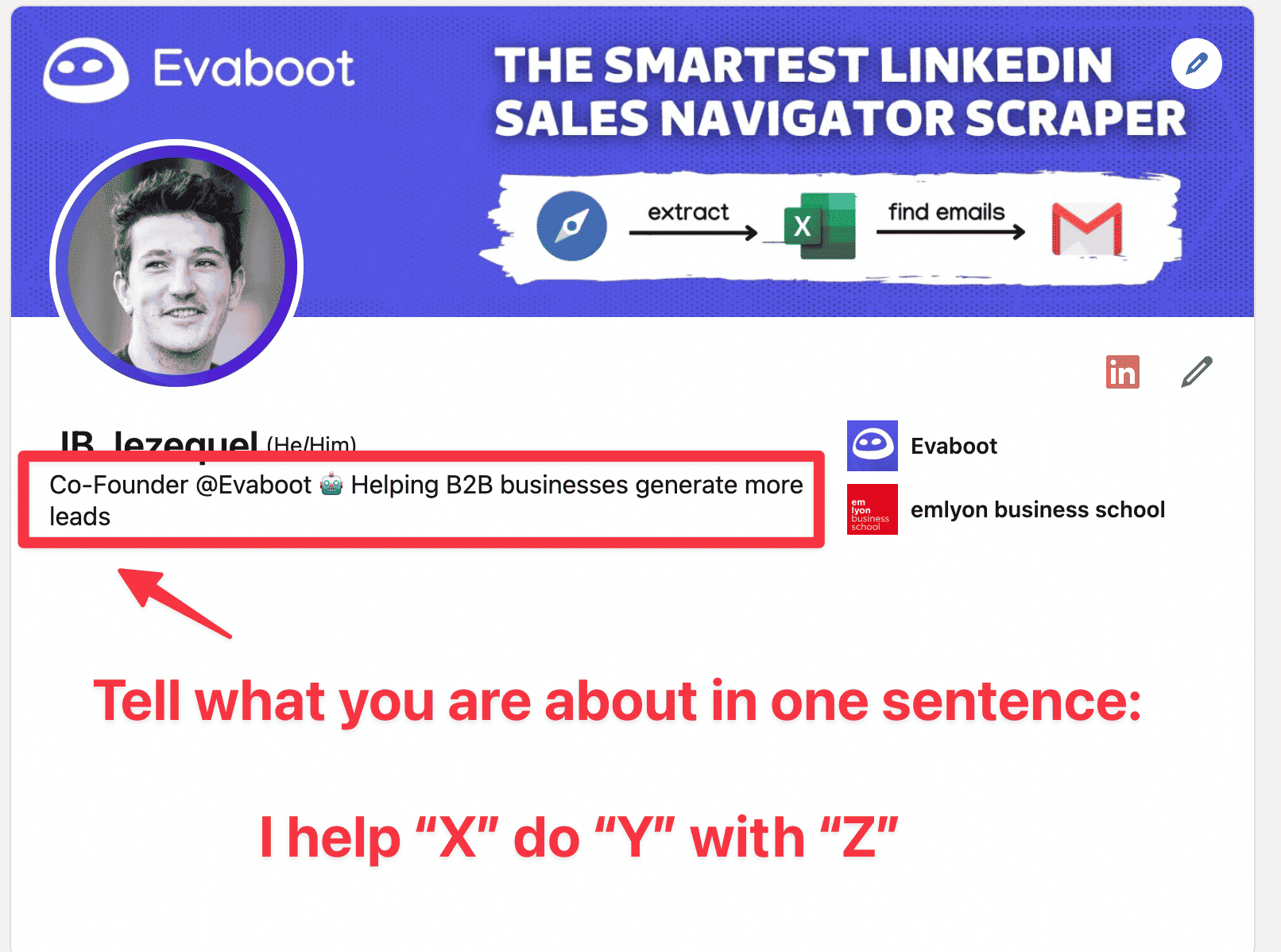 Demonstrate your skills
Ask for Endorsements
Ask for Recommendations
Give Recommendations
Optimize your profile for LinkedIn search
Create a LinkedIn company page
Demonstrate Your Skills
LinkedIn makes it super easy for you to show prospective employers or clients your skills and abilities. Here are a few tips for doing just that:
Use a comprehensive headline
Craft a compelling LinkedIn summary
Detail your work experience
Add licenses and certificates
In our own outreach efforts at Evaboot, we focus on identifying the skills of potential clients or team members and effectively leveraging those skills to build meaningful connections.

If you need to upskill and add more certificates to your profile, consider completing a few courses on LinkedIn Learning.
LinkedIn Learning is an online learning platform owned by LinkedIn and offers a wide range of courses and video tutorials covering various subjects. These primarily focus on professional and career development.
Once you've earned your certificate, LinkedIn makes it easy to demonstrate your licenses and certifications. To do that,

1. click on the Add Profile Section button:

Doing so will open a window with many options for beefing up your profile.

2. Select Recommended > Add licenses and certifications: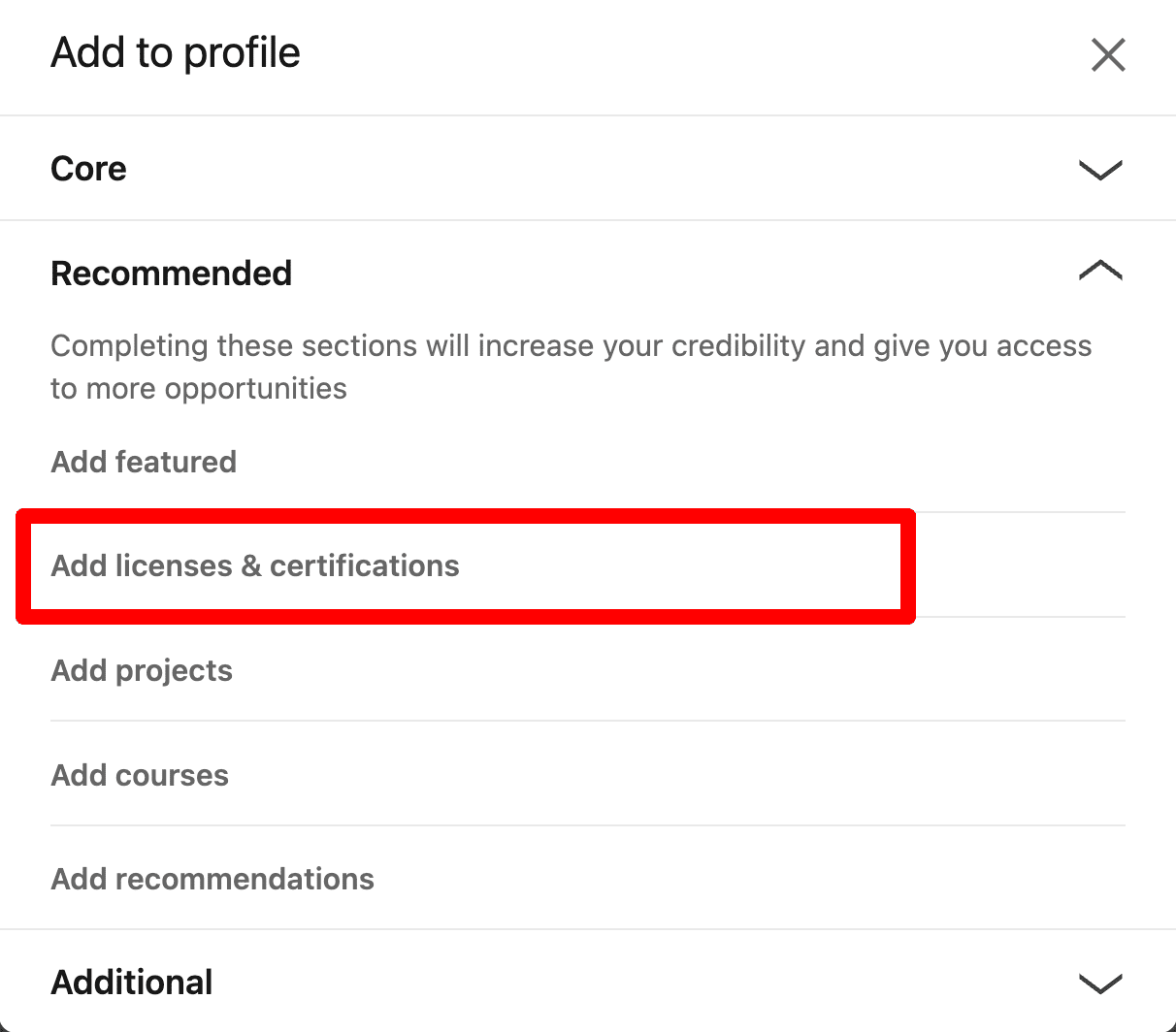 3. Clicking on Add licenses and certifications will open a form where you'll be required to fill in the details of your certification.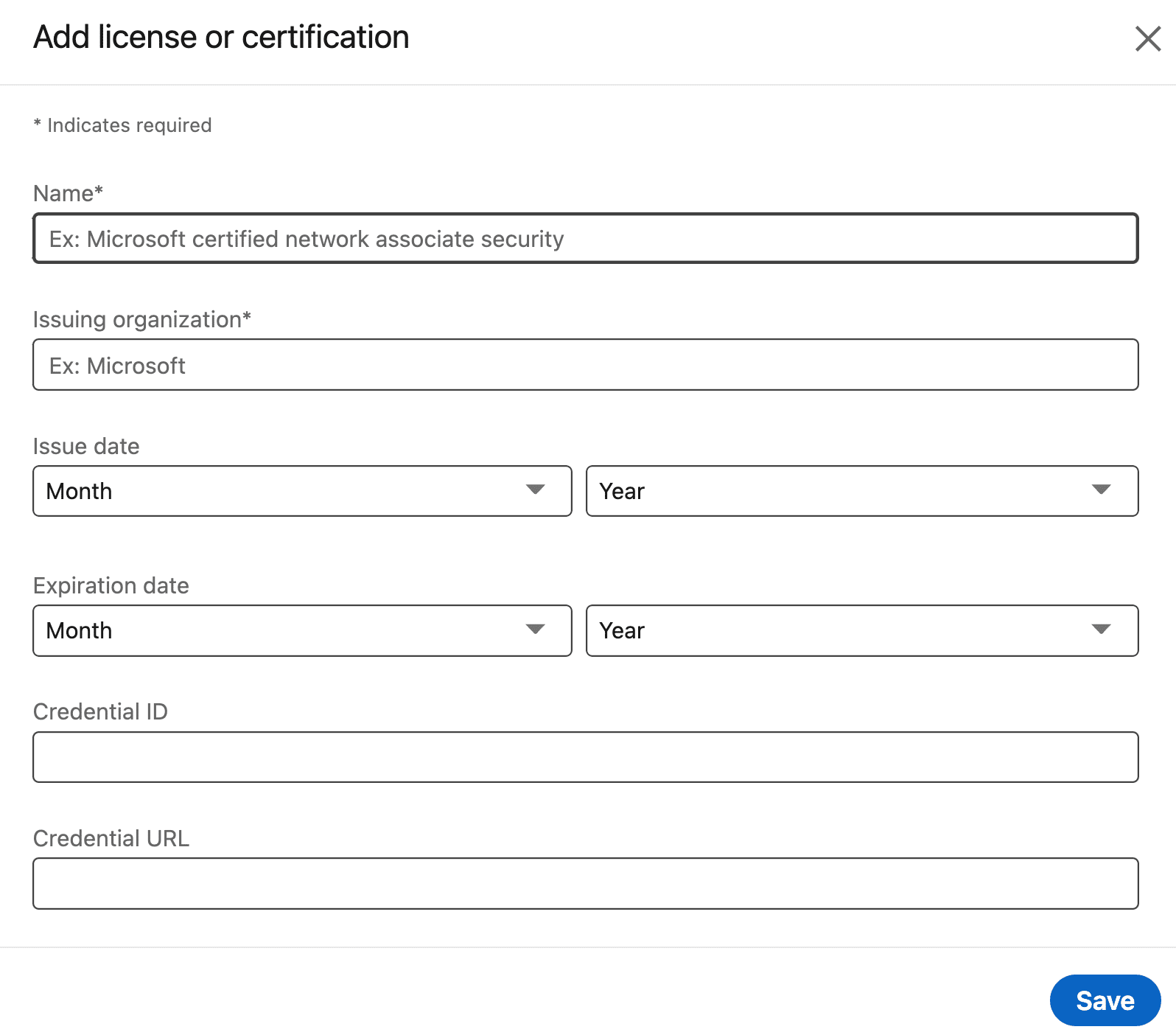 Click save, and your certifications will be displayed on your profile.

This helps verify all certifications and licenses displayed in a LinkedIn profile.
Ask for Endorsements
LinkedIn Endorsements is a feature on LinkedIn that allows members to validate and vouch for the skills and expertise of their connections.
Endorsements are a way for your professional contacts to affirm that you possess the skills or experience you have displayed on your LinkedIn profile.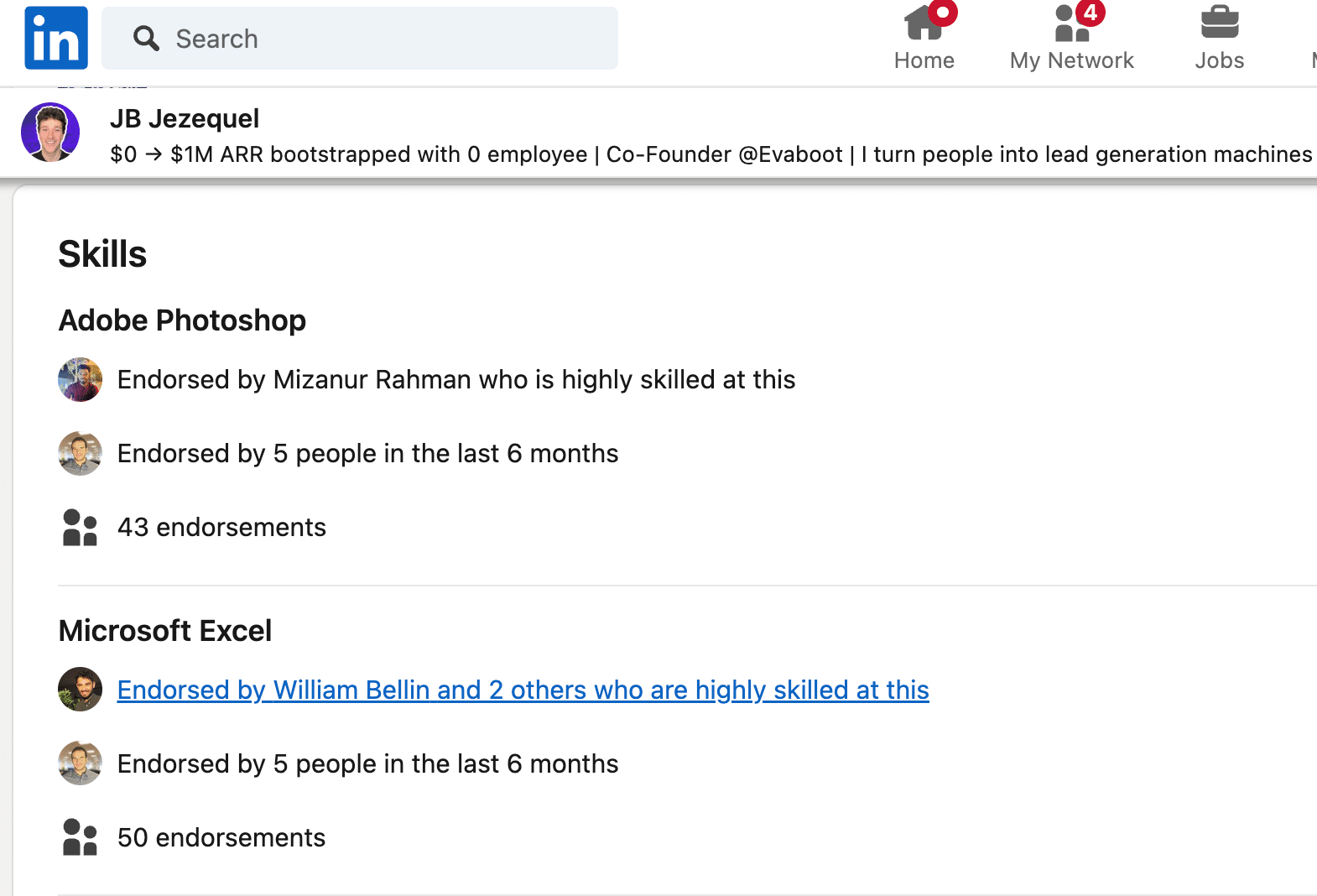 Essentially, they serve as social proof and can enhance your credibility and visibility on LinkedIn.
The easiest way to get endorsements is to ask for them.
Reach out to past employers or clients and ask them to endorse you.
You ask shouldn't be long. Be direct.
Follow these tips when asking for endorsements:

Be Specific

: Specify desired skills.

Personalize Message

: Avoid defaults.

Endorse Others:

Show goodwill.

Offer Reciprocity:

Suggest mutual endorsement.

Thank Endorsers:

Always show appreciation.

Ask for Recommendations
LinkedIn recommendations are written testimonials provided by your professional connections to vouch for your skills, work, and character.
Like endorsements, they are a form of social proof. They provide credibility and validation of your qualifications to potential employers, clients, colleagues, and other LinkedIn users.
You can request other users to recommend you.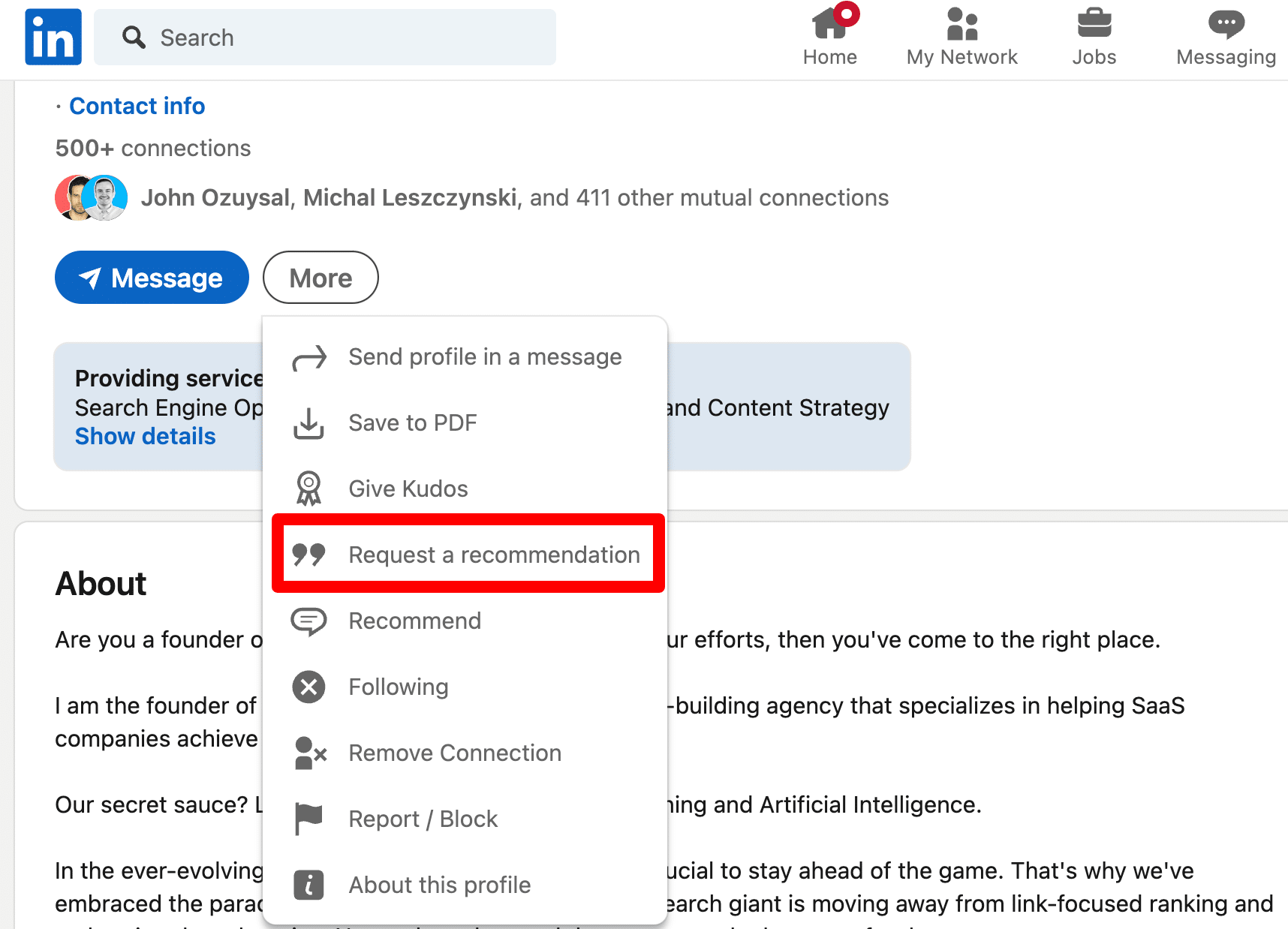 To ask for a LinkedIn user's recommendation:

1. visit their profile
2. click on More > Request a recommendation.
3. Next, fill in the required information and add a short message.
4. Click send, and the recipient will receive a message telling them you've just requested a recommendation.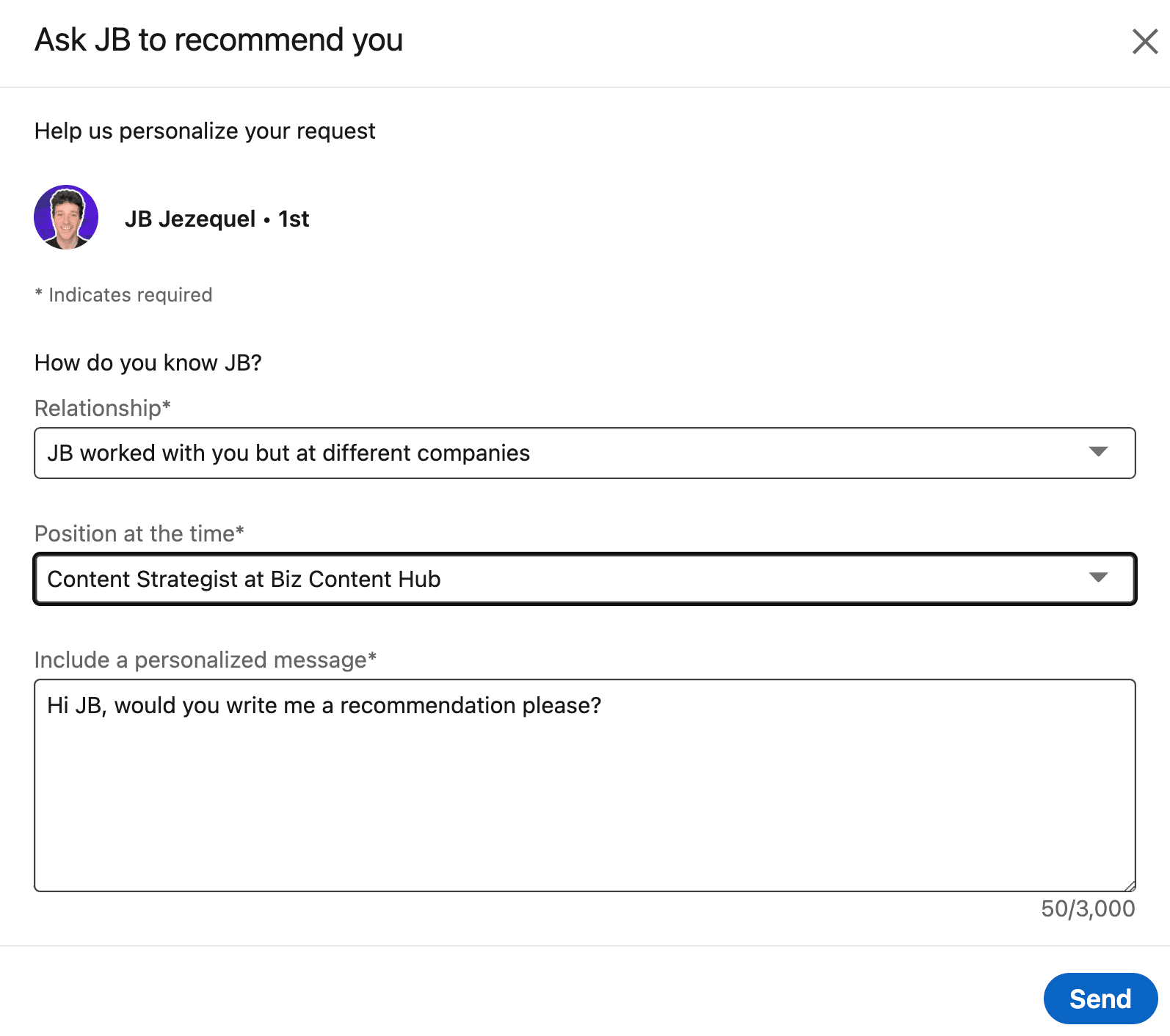 Once you receive your recommendations, you can choose which to prioritize and display on your profile in the Recommendations section.

Consider these suggestions:

1. Personalize Request: Tailor each message.
2. Be Specific: Highlight relevant experiences.
3. Provide Context: Mention the purpose of the recommendation.
4. Offer Assistance: Guide on content, if needed.
5. Express Gratitude: Always thank afterward.

Give Recommendations
Besides asking for recommendations, you can also optimize your LinkedIn profile by giving recommendations.
1. Visit the person's profile,
2. go to the Recommendations section and
3. click the Recommend [Recipient] button.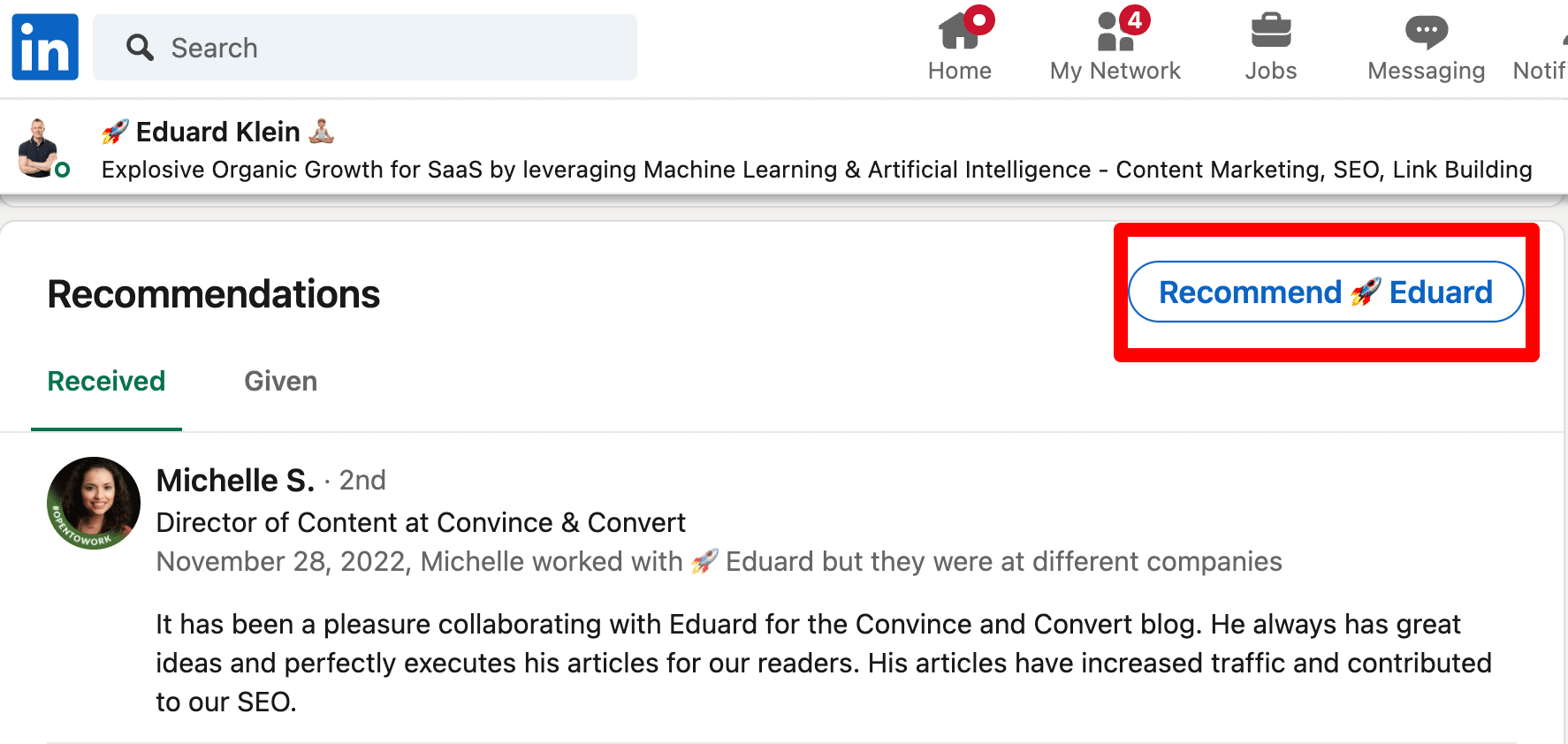 Your recommendations will be displayed in a tab next to your received ones, further boosting your profile.

Keep in mind these tips:
Speak from the Heart:

Be sincere.

Celebrate Qualities:

Highlight shared memories.

Share Stories

: Recall meaningful collaborations.

Keep it Warm:

Use a friendly tone.

Double-Check:

Ensure it feels right.

Optimize Your Profile for LinkedIn Search
LinkedIn search is a powerful feature that allows users to search for people, companies, jobs, content, and more on the platform. It is an essential tool for connecting with professionals, finding job opportunities, researching leads, and discovering industry-related content.
If you want to become visible, then making your LinkedIn profile search-friendly should be at the top of your list.

A few tips for optimizing your profile for LinkedIn search include:
Craft a

compelling headline

Clearly state your

job title

Use relevant

keywords

Write a captivating and

detailed summary

Complete all

profile sections

Highlight your

achievements

and work experience

List your

skills
Use keywords and language your target audience will likely use in search as you fill out your profile. This makes you show up in relevant searches.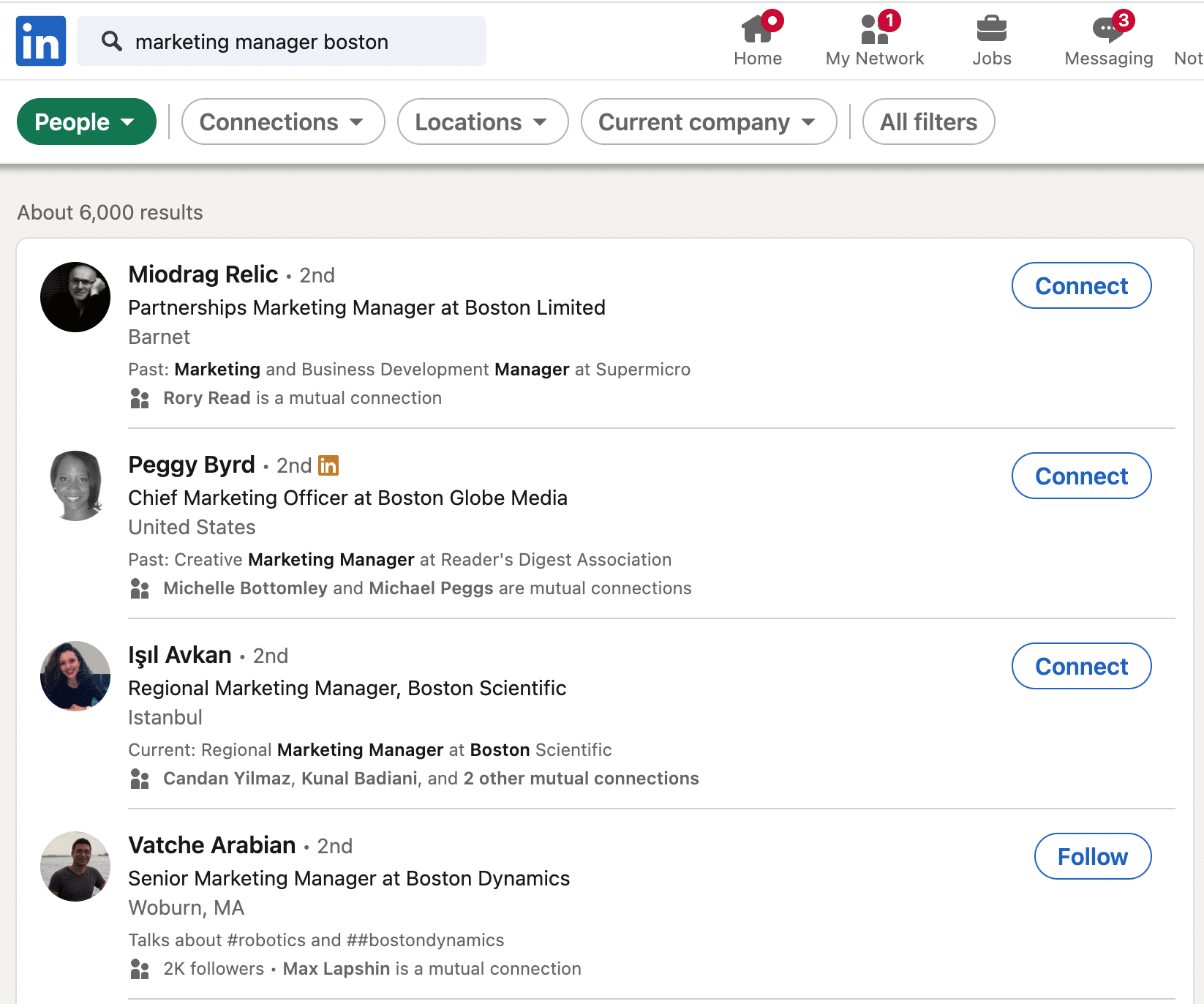 Create a LinkedIn Company Page
Creating a LinkedIn company page is a great way to bolster your presence on the platform if you want to sell products or recruit employees.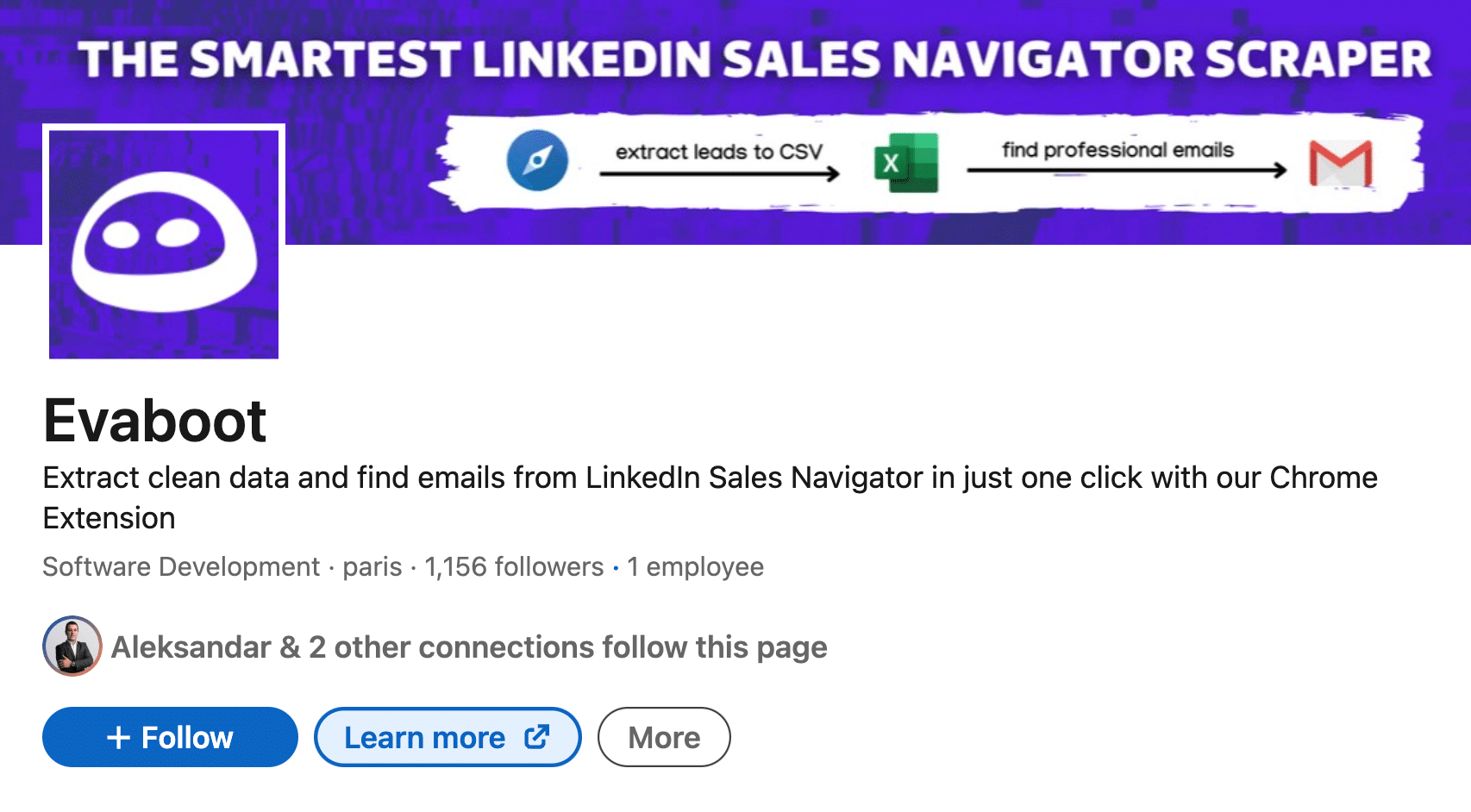 LinkedIn company pages are dedicated profiles for organizations, businesses, and brands. They allow companies to establish an official presence on the platform to connect with clients, customers, job seekers, and other stakeholders.
One of the most prominent uses is the job posting feature.
LinkedIn job postings are listings and opportunities employers, recruiters, and organizations post on LinkedIn company pages.
If you're looking to fill a position, this is one of the best ways to find qualified candidates quickly.
Your job postings will appear on your company page under "Jobs". Future employees can create a job alert and get notified if there is a new position in your company.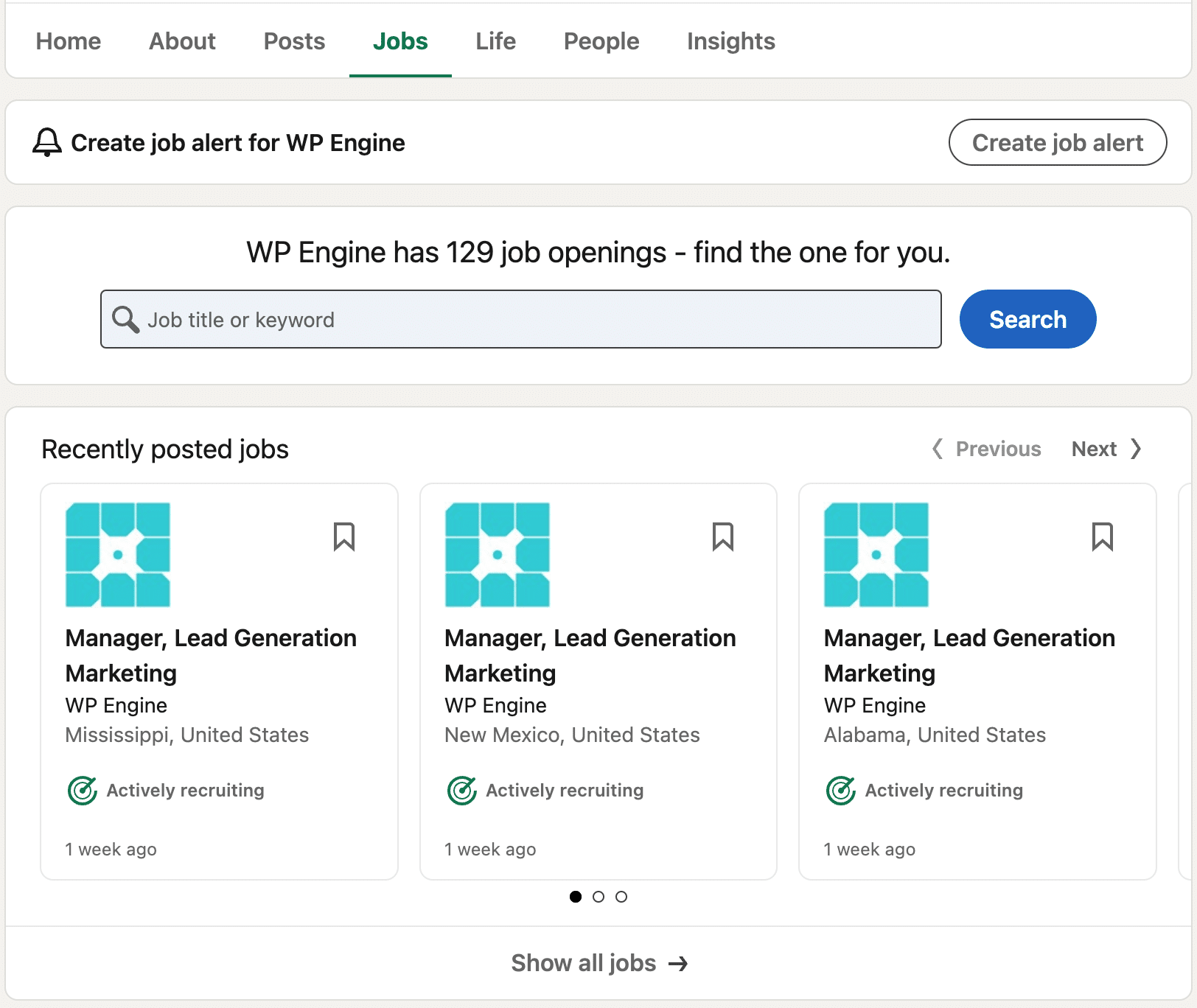 2) Make your presence felt
Networking isn't just about who you know. It's also about who knows you.

You're not just using a software tool, you build connections with real people.
Make your presence felt. Stay on your network's radar and update your LinkedIn status regularly.
It doesn't have to be complicated.
Post what you're reading, or working on, or even a few insights into your personal life.
Once you have set a regular cadence for posting, you can take it a step further and start sharing your knowledge and expertise. Craft helpful LinkedIn posts or articles on your timeline. These will appear in your connection's LinkedIn newsfeed.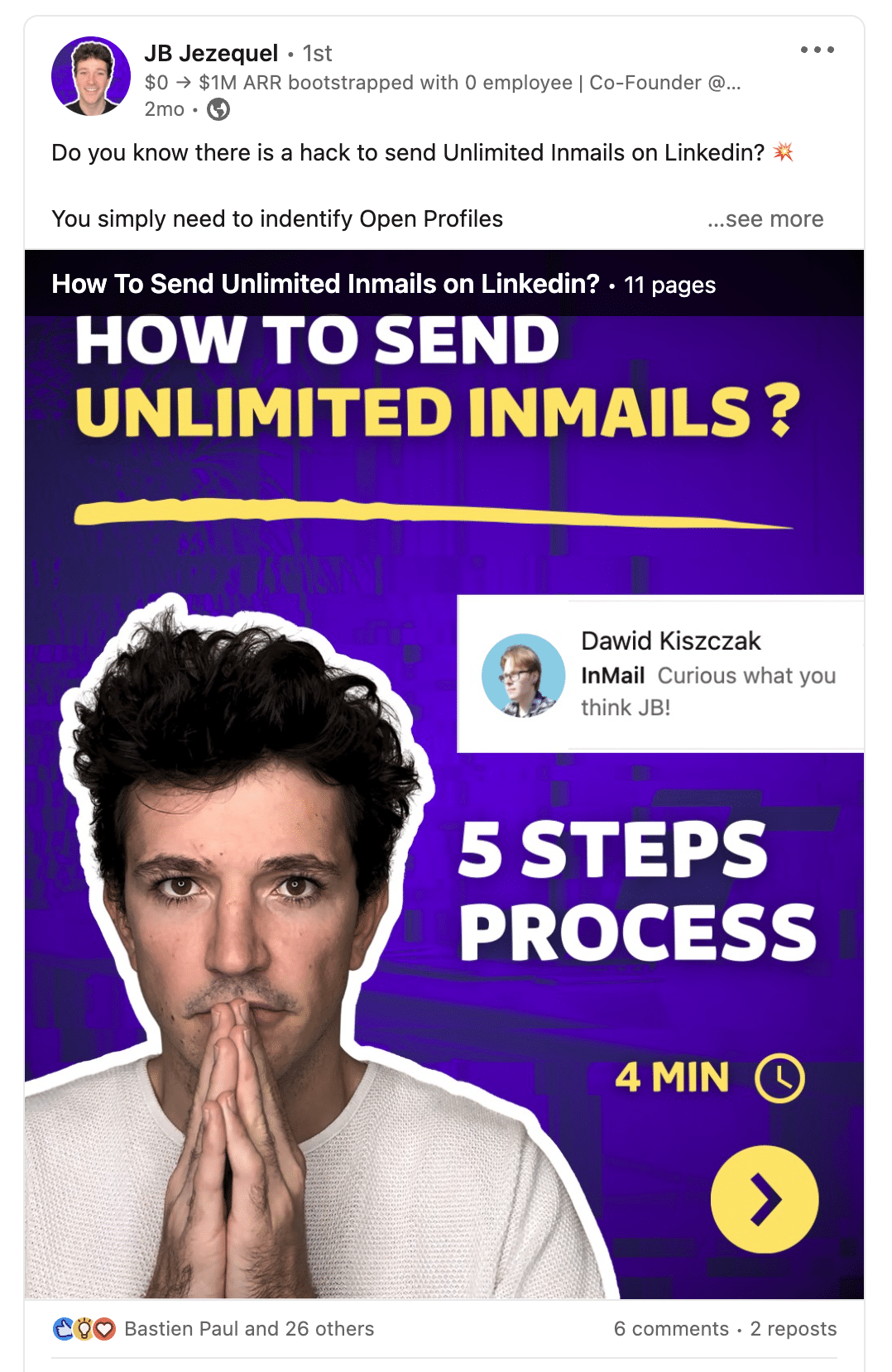 The LinkedIn algorithm favors profiles that regularly create content. Your posts will gradually reach a wider audience, appearing on more newsfeeds.

Here are some ideas on what to post on LinkedIn:
Tips to help your audience

solve a common problem

Trending

topics in your industry

Behind the scenes

looks at your processes

Content to boost your

personal brand

Granted, this can be time-consuming.
Plus, you're never sure if your posts will resonate with your audience.
That's why I recommend using a tool like Taplio.
Taplio is an AI-powered tool that helps you automatically generate viral LinkedIn posts. It analyzes 4M+ viral posts and identifies top-performing content in your niche.
By discovering what's working in your industry, you get inspiration for creating your own viral posts. As a result, your LinkedIn content marketing game will be top-notch.
Besides creating great content, you should also:
Stay active

on LinkedIn by posting updates regularly

Share

your contacts' posts and recommend them

Engage

with other users' content regularly

Mention

and tag others in your posts
Create such a great presence, that people will complain about missing it if you stop creating it.
Follow my LinkedIn profile and see by yourself how I gained 30,000 followers on LinkedIn.
We have been able to scale the company from zero to two million in just two years, making LinkedIn an indispensable part of our acquisition strategy for networking with our target audience.

The content we've shared on LinkedIn played a pivotal role in achieving this milestone by attracting and engaging our followers.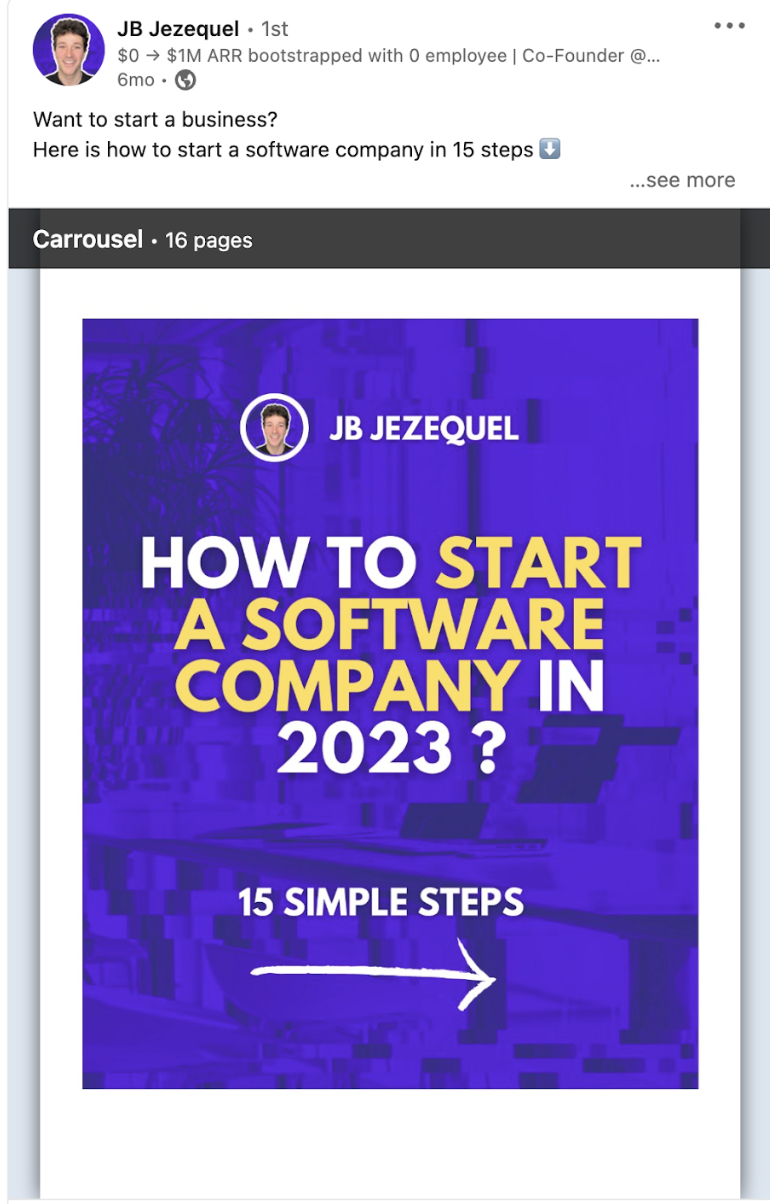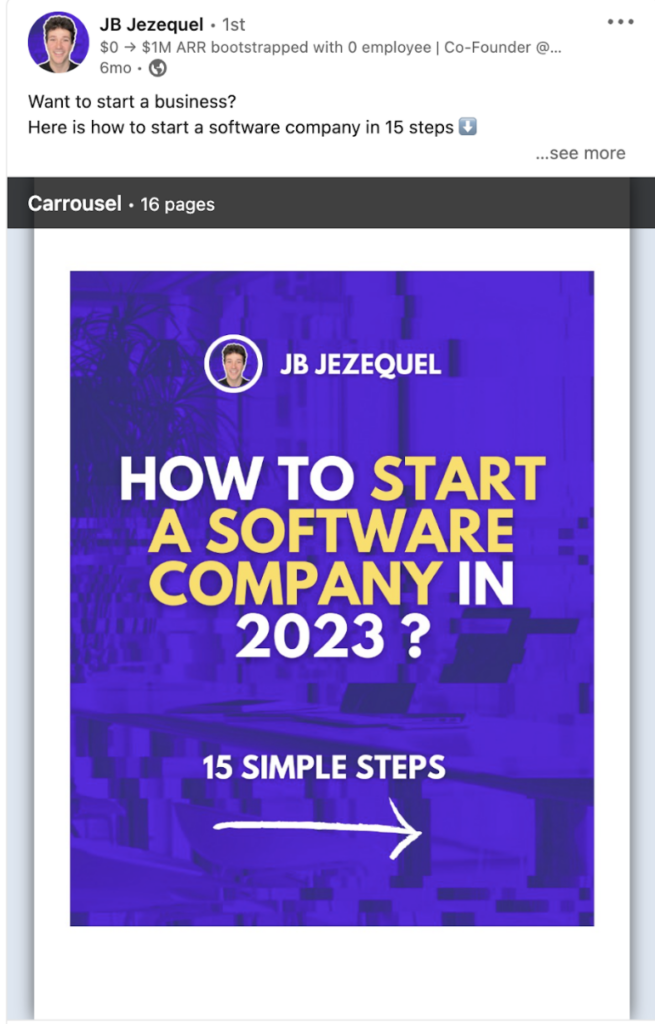 3) Leverage your existing contacts
Networking doesn't just mean reaching out to strangers.
If you're just starting on LinkedIn, build your network by uploading your online address book (email contacts) and connecting with people you already know and trust.
You can also use LinkedIn's "People you may know " section under the "My Network" tab.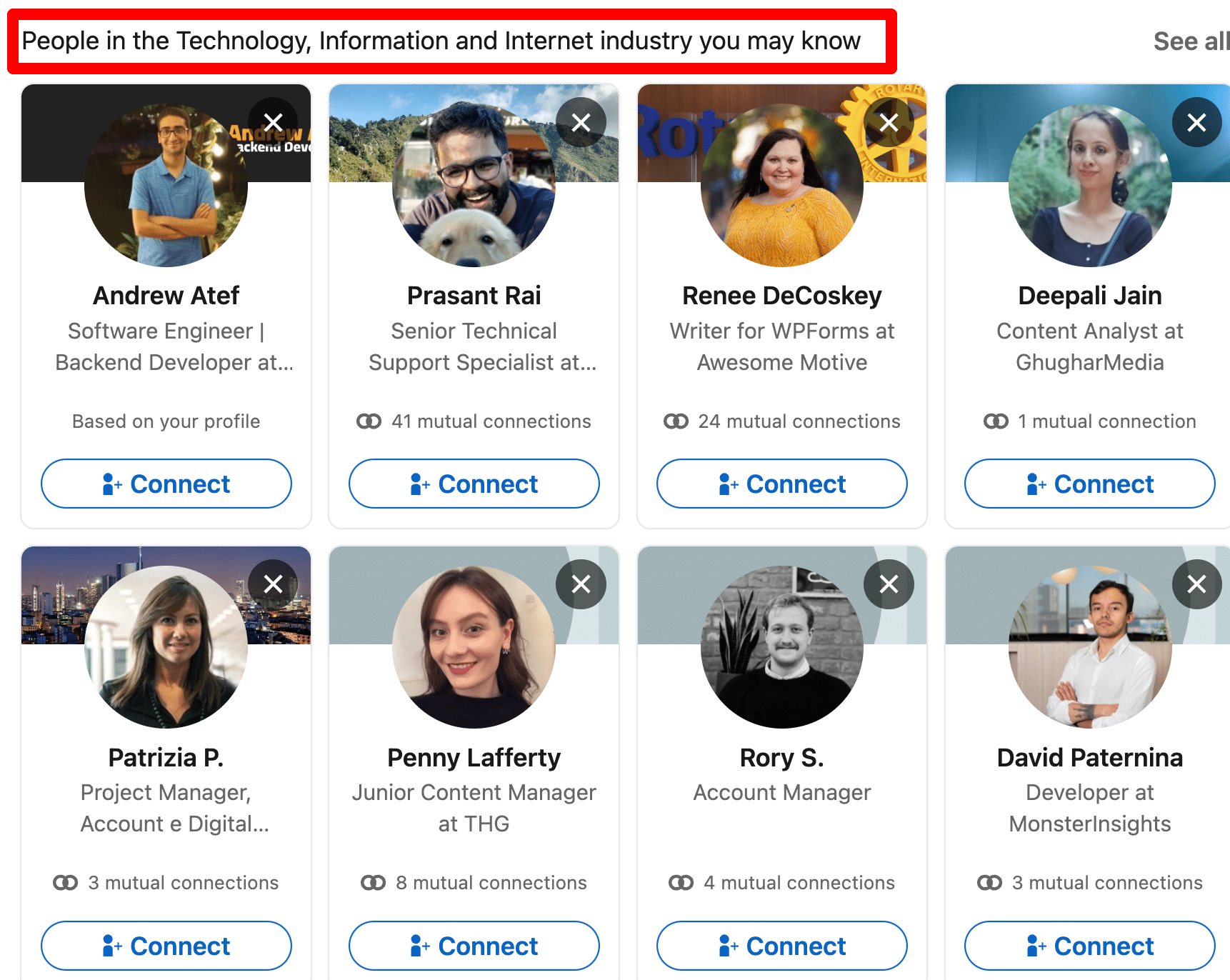 Connecting to people in this section is easier as you have some things in common.
One tip for this is to connect to people you can add value to or those who can add value to your network.
For example, if your goal on LinkedIn is to advance your career, connect to hiring managers, recruiters, or people in the industry you want to work in.
Or, if you're in sales, connect with potential buyers, brands, and anyone who fits the bill of being a lead.
Another way to grow your network fast is to ask your 1st-degree connections to introduce you to their network. All you have to do is send them a simple, short, concise message.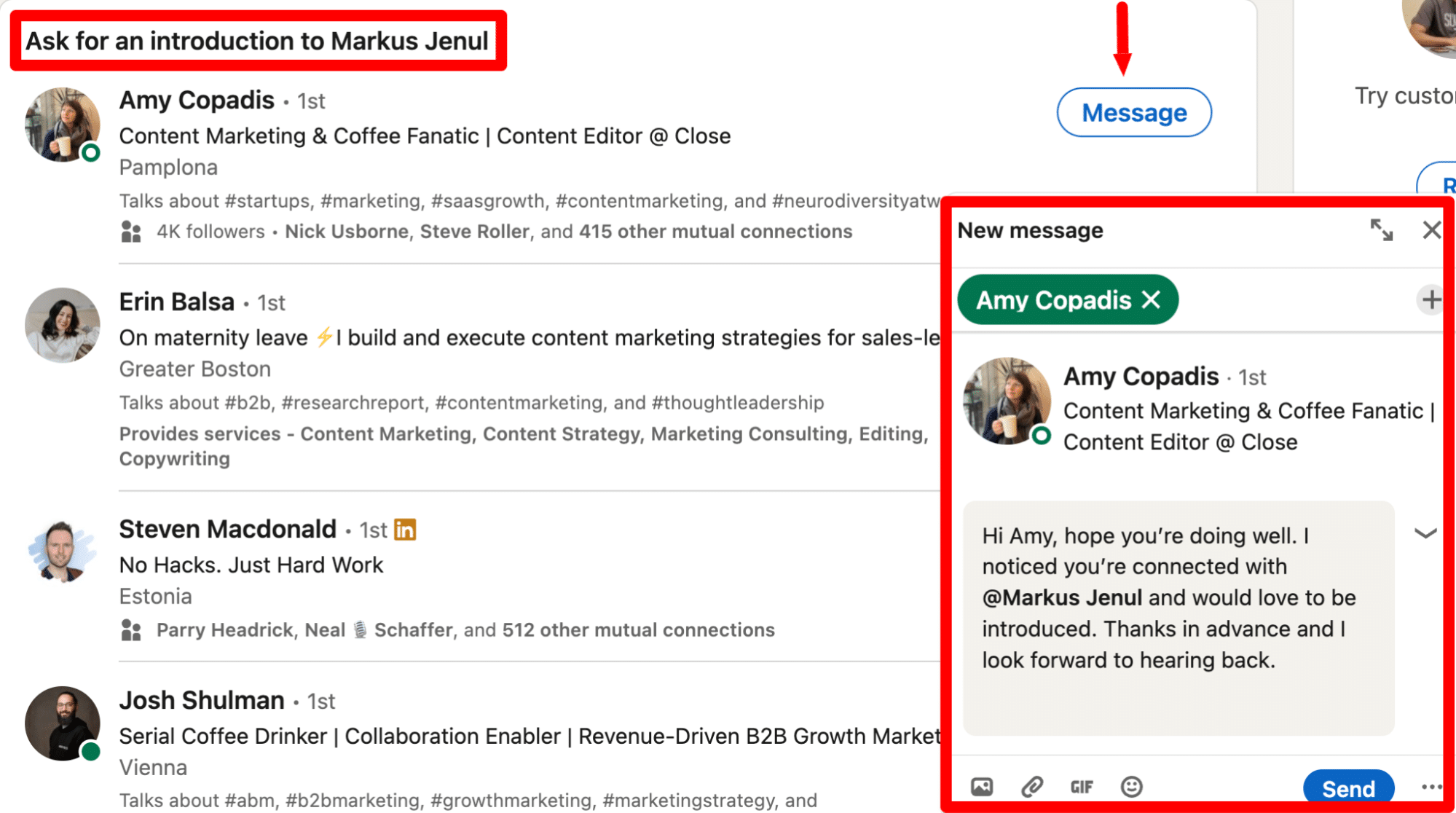 Import Contacts From Email
LinkedIn has a powerful feature that enables you to extract email addresses from your email account and automatically sync them to your LinkedIn network.
Go to your Network tab

and click

Show Less

: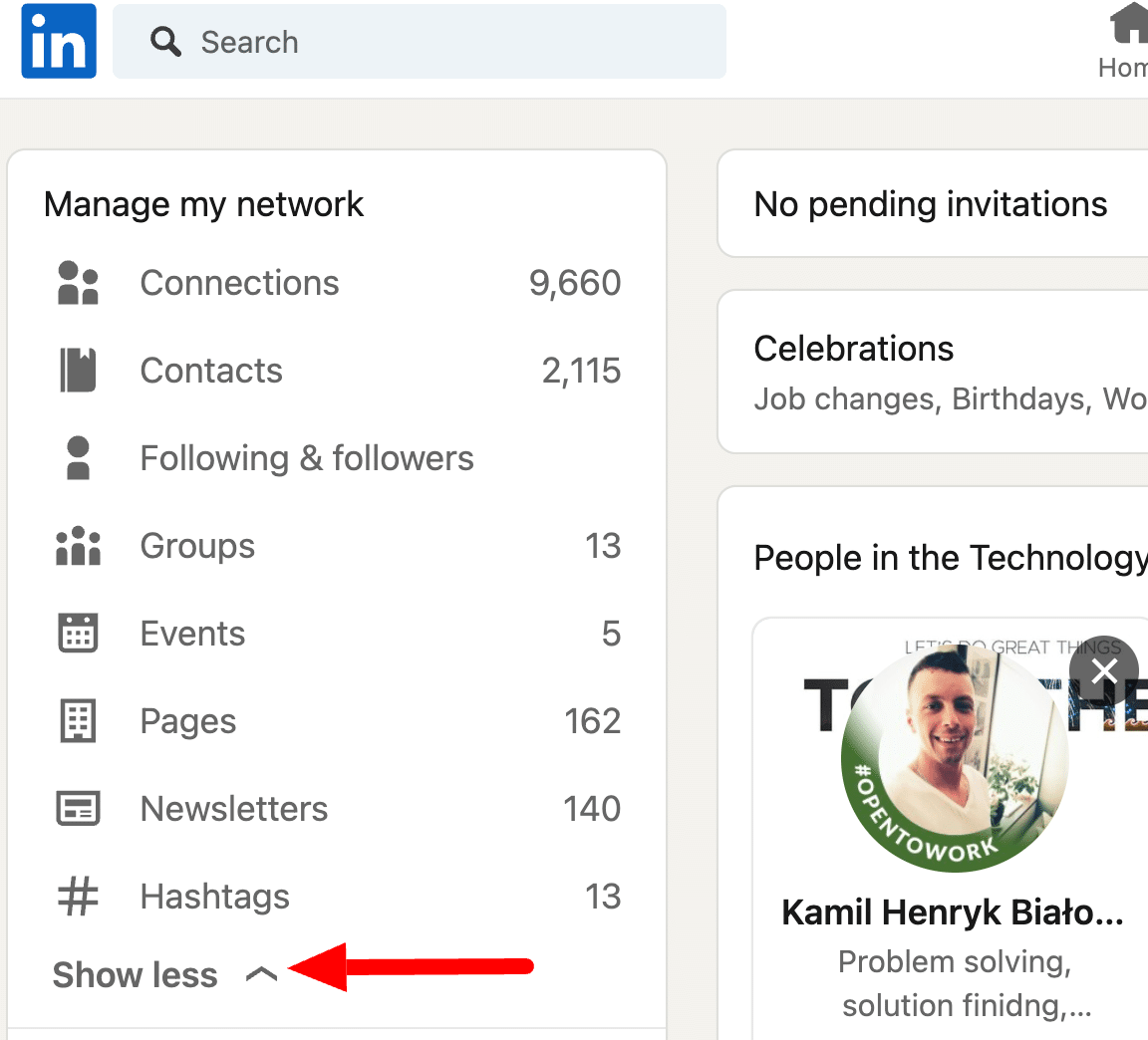 This will reveal a hidden menu. Here, select More Options: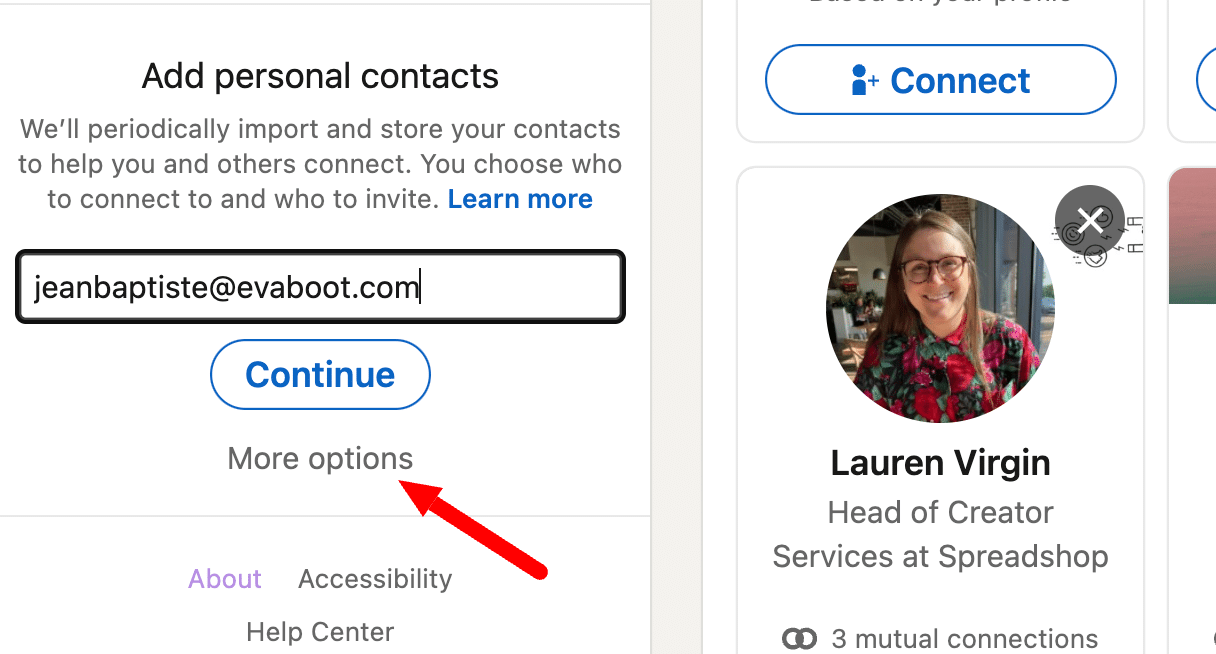 You'll then be taken to a page with options for syncing your contacts. Click Continue.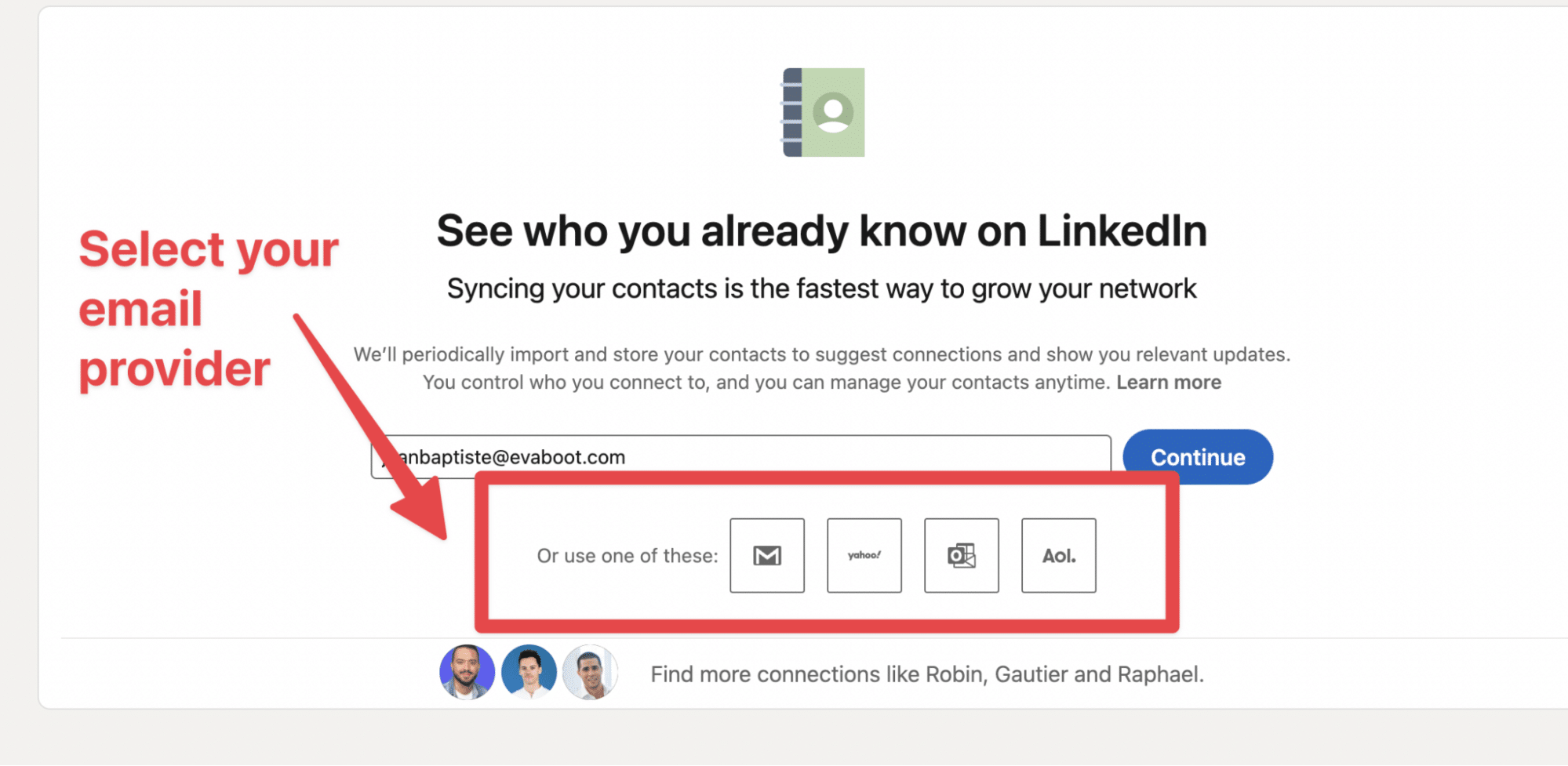 Your contacts will be synced, and you can send invites.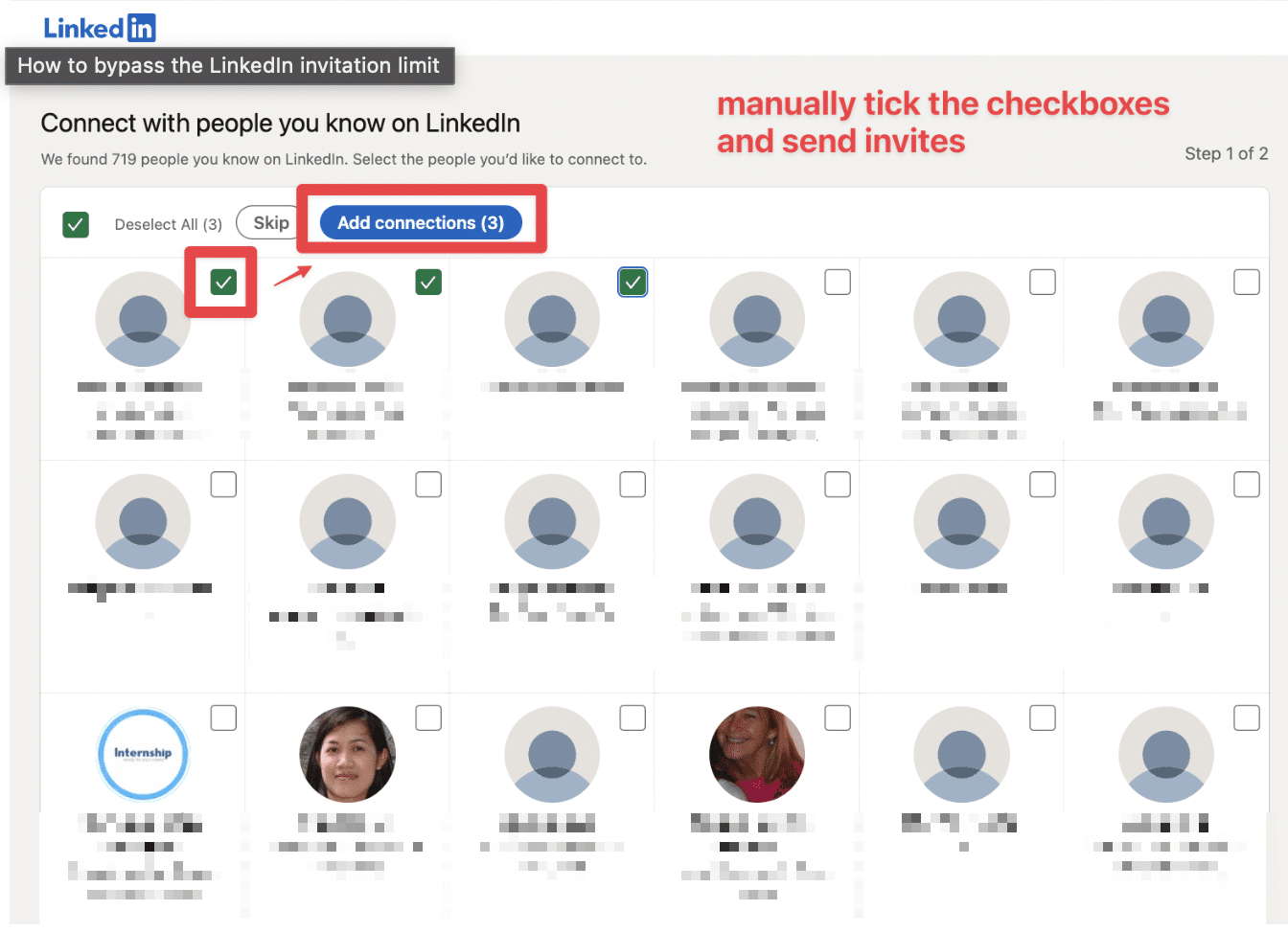 These invites aren't counted toward your weekly limit.
4) LinkedIn groups
LinkedIn Groups are online communities within the LinkedIn platform where professionals with similar interests, industries, or expertise come together to network, discuss industry-related topics, share insights, and collaborate.
LinkedIn groups can boost your exposure and establish yourself as a thought leader.
Your chances of being noticed are increased if you initiate interesting discussions in the groups. Plus, it's easier to make new meaningful connections with group members as you have a lot of common ground.
The best part is that there are groups for every industry and niche.
Plus, anyone can leverage LinkedIn groups to their advantage. For example
Career

: Students can get a leg up by

reaching out to alumni

in their school groups.

Sales

: You can prospect in LinkedIn groups, find new opportunities for collaboration, generate leads and drive sales by strategically connecting with group members.

Recruiting

: Recruiters can spot and vet talent in groups by observing content quality and engagement from other group members. This makes it easy to headhunt and increases the chances of finding reliable candidates.
Finding relevant LinkedIn groups is super easy.

1. Simply search for specific keywords related to your industry, interests, or target audience.
2. Next, click on the Groups option.

This will open a page where you'll find all the groups related to your search query.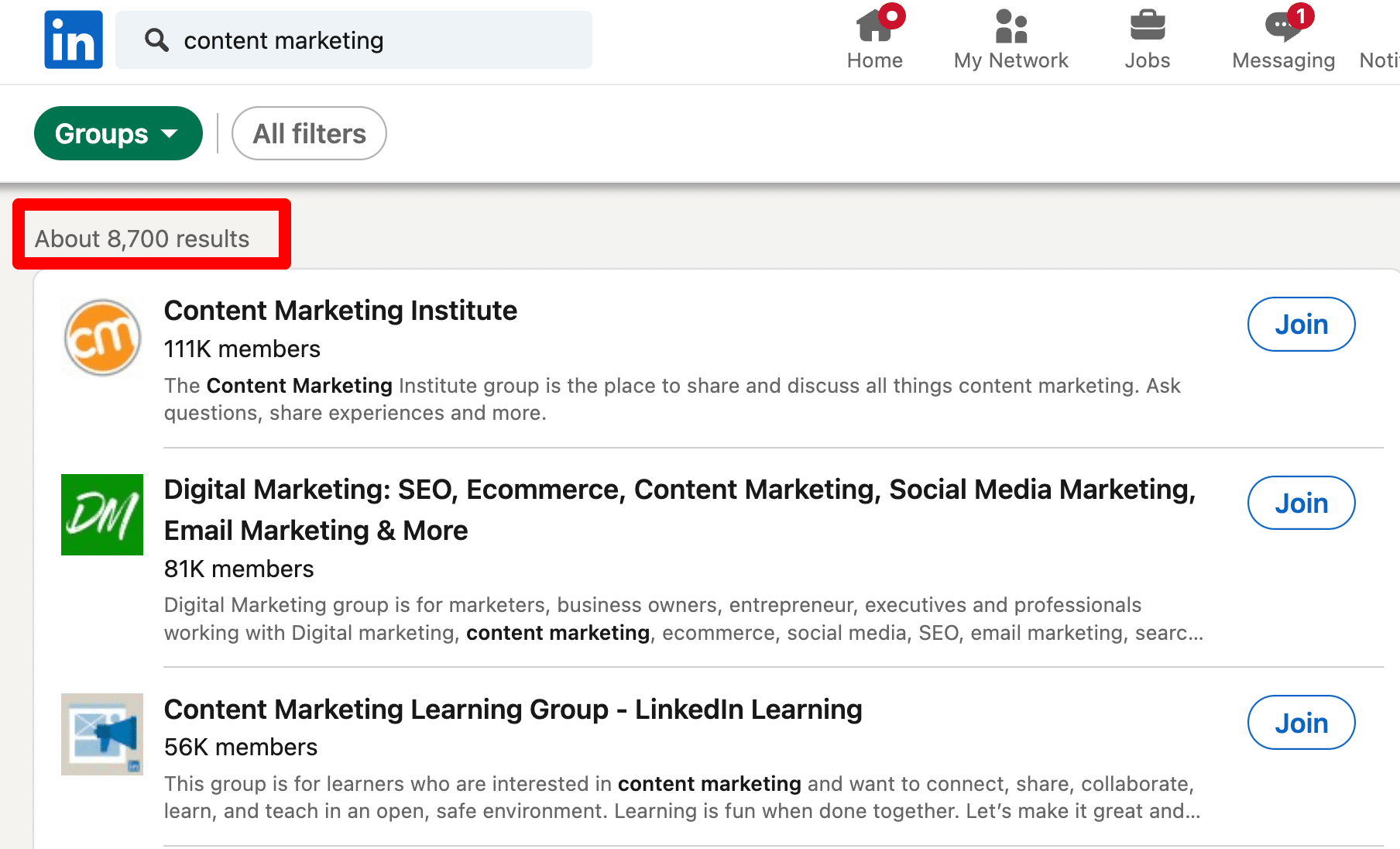 You can also create your own group and build a community. This can be powerful for brands that want to promote their products or events.
Some even leverage LinkedIn groups to build local communities where you can have in-person meetings, further bolstering your networking.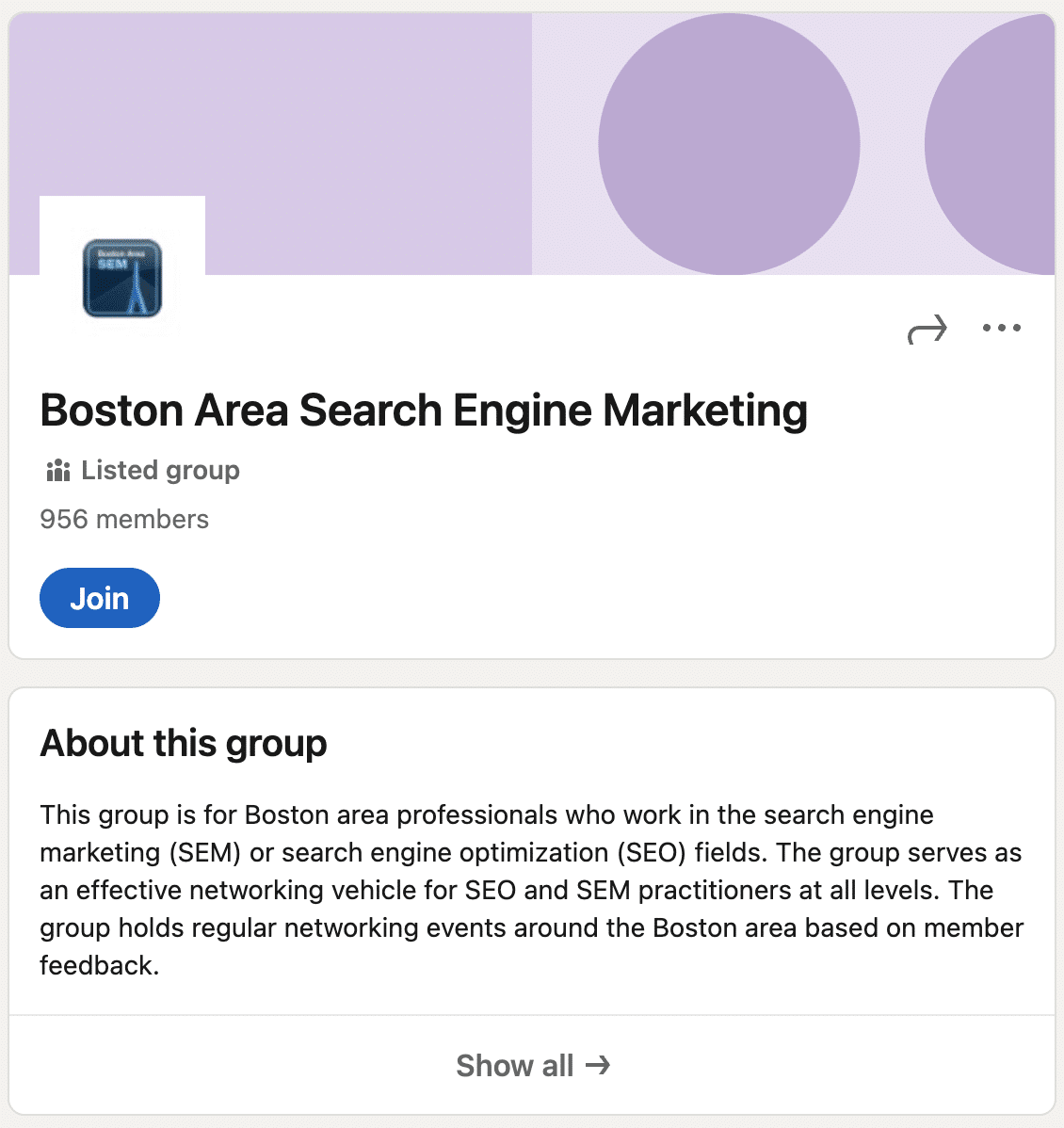 5) LinkedIn events
LinkedIn Events is a feature that allows you to create, promote, and manage virtual and in-person events. Examples include webinars, conferences, workshops, networking events, product launches, and other types of events.
If you're a marketer or sales rep, consider running your own LinkedIn events, as they are a great opportunity to showcase your product and get in touch with warm leads.
To find new clients, we regularly attend relevant events in our niche or of your competitors, then export the LinkedIn event attendee's information and reach out to them.

It's such a simple and effective way to reach relevant people. You can refer to the event, have common ground, and you already know what they're interested in. A no-brainer.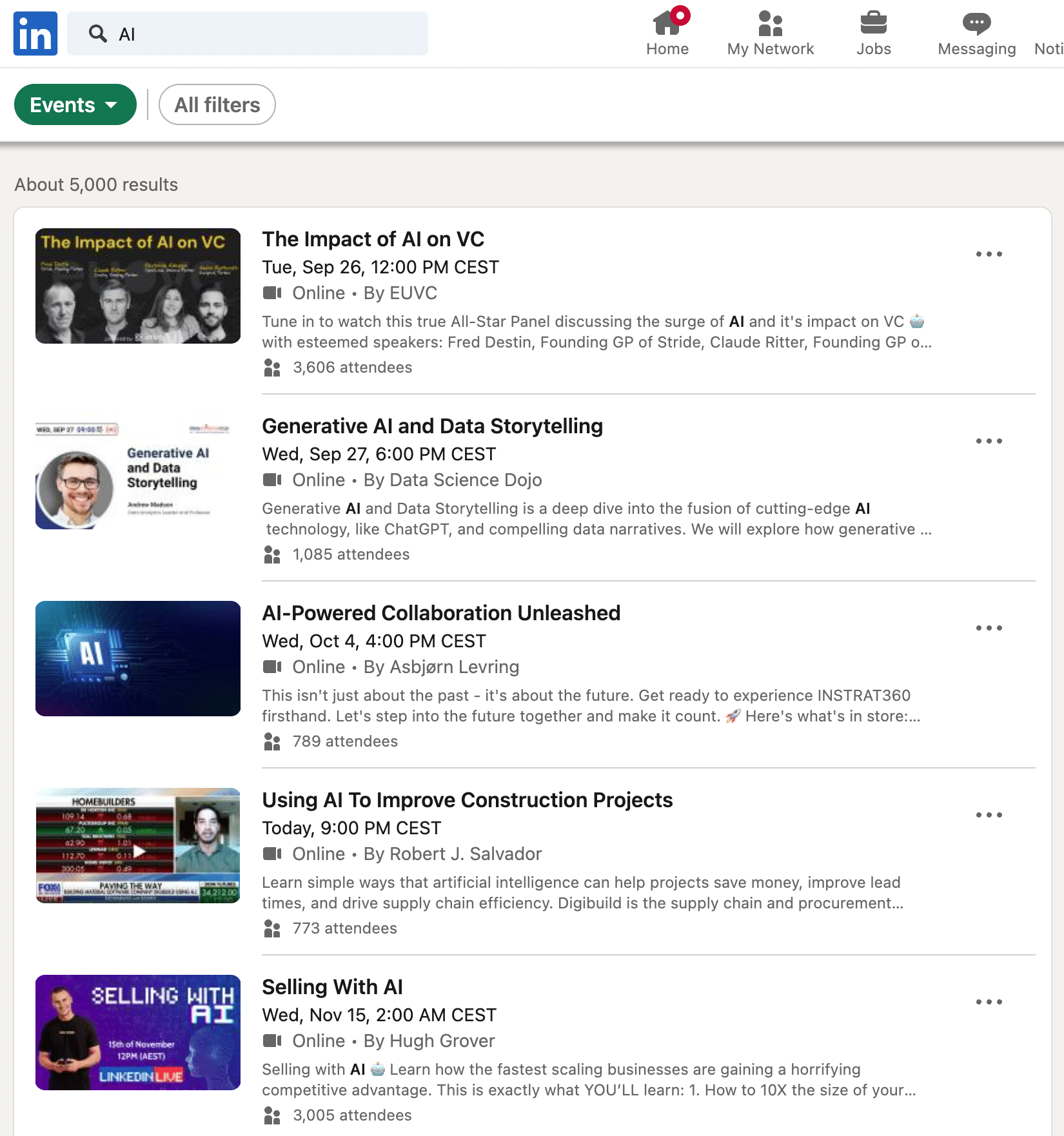 Advance your career and use events to network with people in your field (or future employers if you're a student).
6) Filter the right people
Build your network strategically and find people who share your interests and have something in common.

If you want to create a network for sales, define your ICP (Ideal client profile) first, then use a filter to find the matching prospects.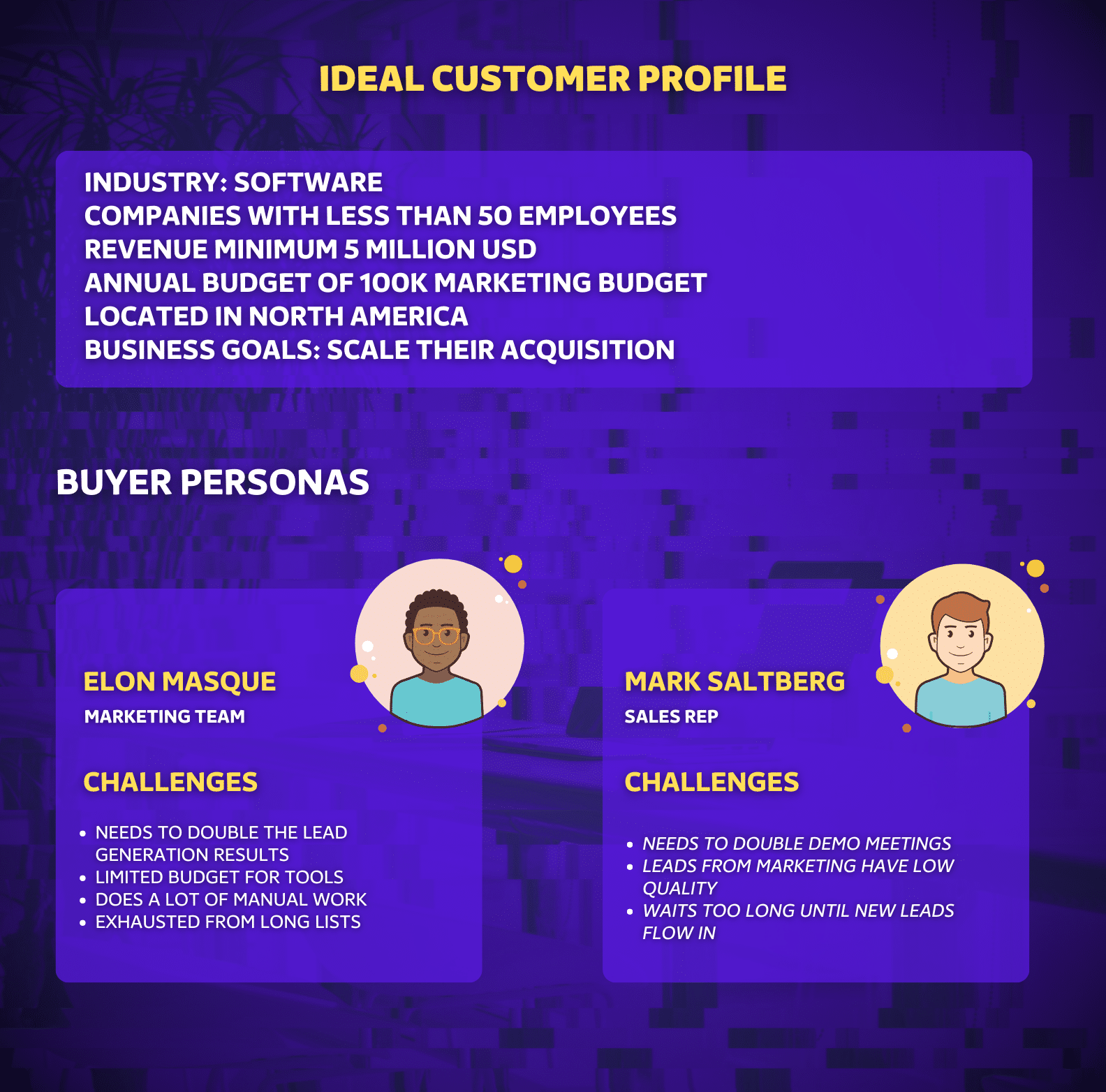 If you're a student or building your professional network, look for people in similar fields.
You can build highly-targeted networks quickly thanks to the powerful tools LinkedIn provides.
First, you can use the standard version of LinkedIn to search for particular types of accounts using the boolean search: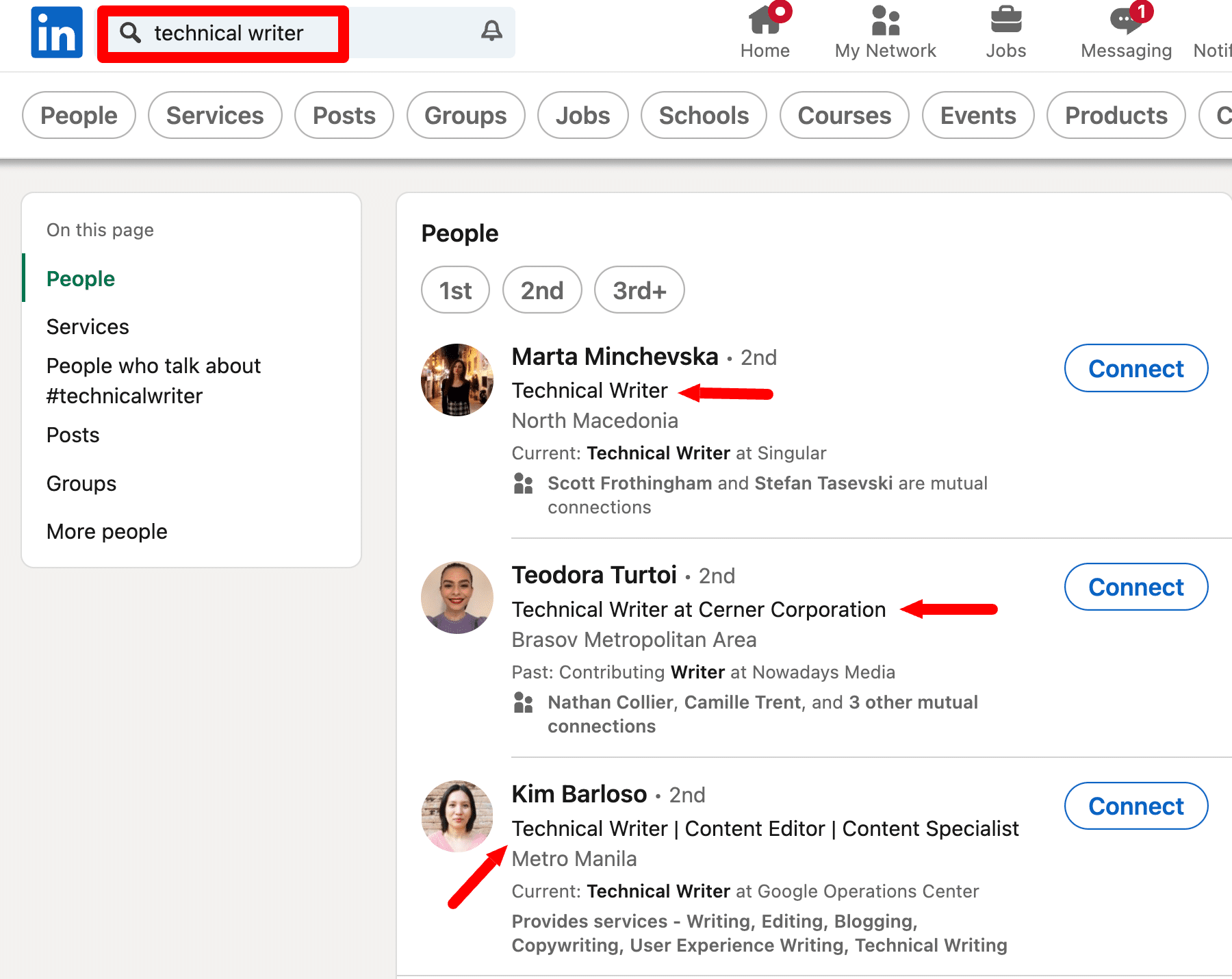 You can then send connection requests to all the profiles that match your preferences.
You can also upgrade to Sales Navigator and unlock more powerful search and filtering features.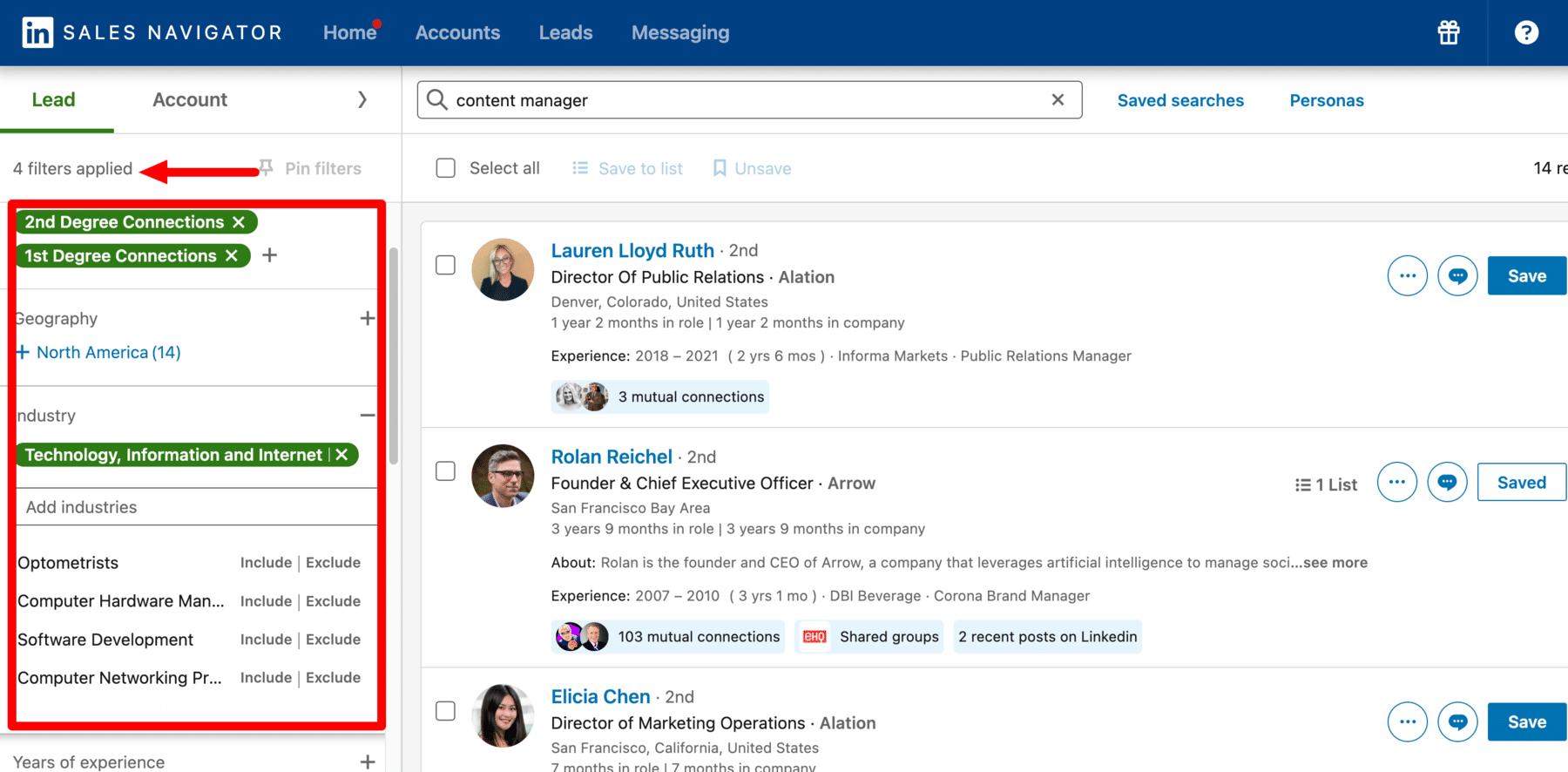 This is especially powerful for sales personnel and recruiters as you can save your connections as leads.
Our experience with Sales Navigator has been transformative, allowing us to pinpoint and connect with high-potential leads and prospects more efficiently
If we were able to find thousands of clients with it, you can do it too!
If you're a recruiter or hiring manager, then you'll definitely want to try LinkedIn Recruiter, a premium subscription service designed specifically for talent acquisition.
It's packed with powerful features to help you navigate the massive talent pool that's on LinkedIn.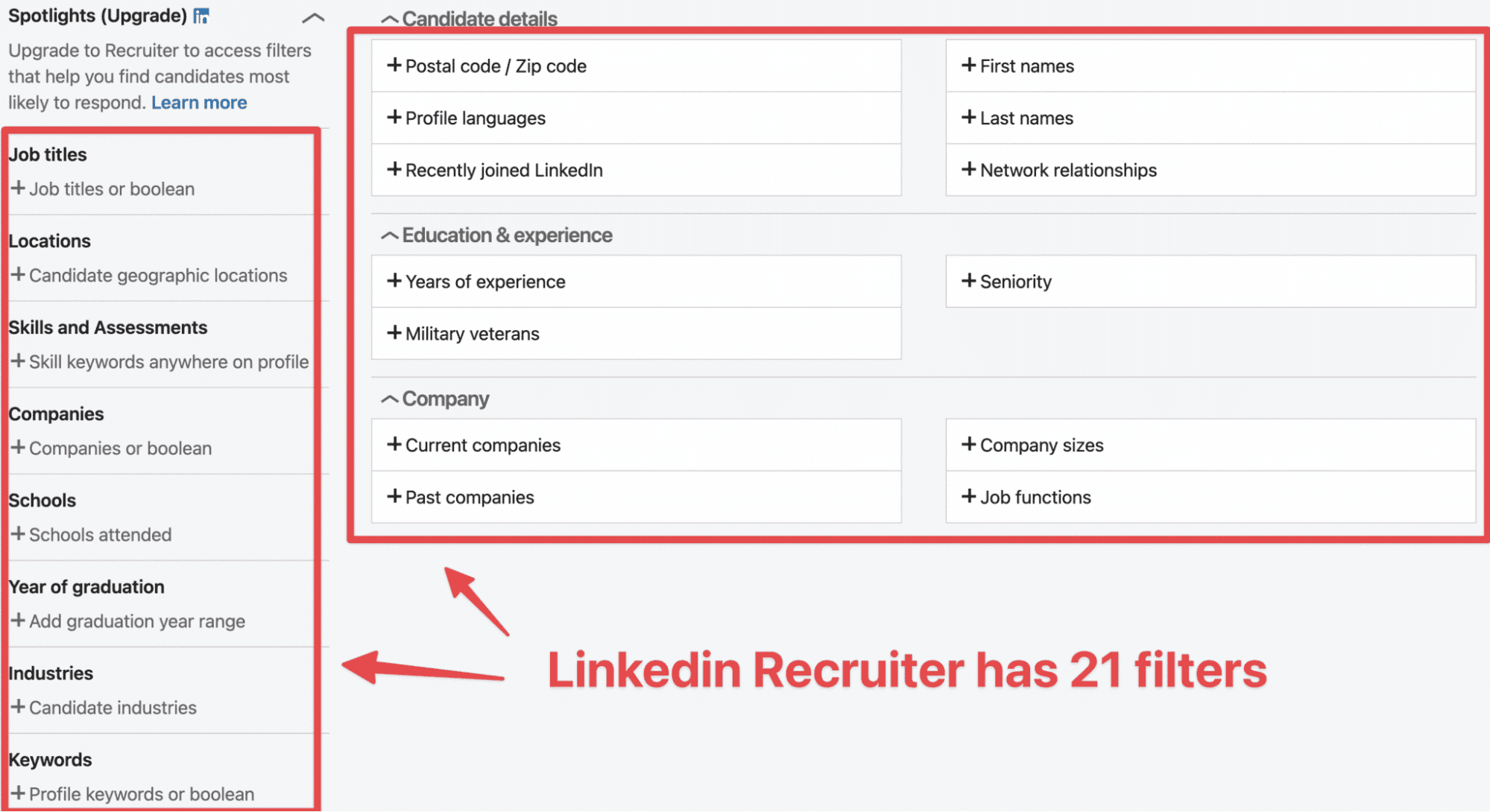 However, if you use LinkedIn for more than just recruiting, I'd suggest you use Sales Navigator, as it, too, works perfectly for recruiting purposes.
7) Send personalized connection requests
If you want to expand your LinkedIn network fast, send personalized connection requests.

1. Open a profile and click on the "More" button, then "Connect."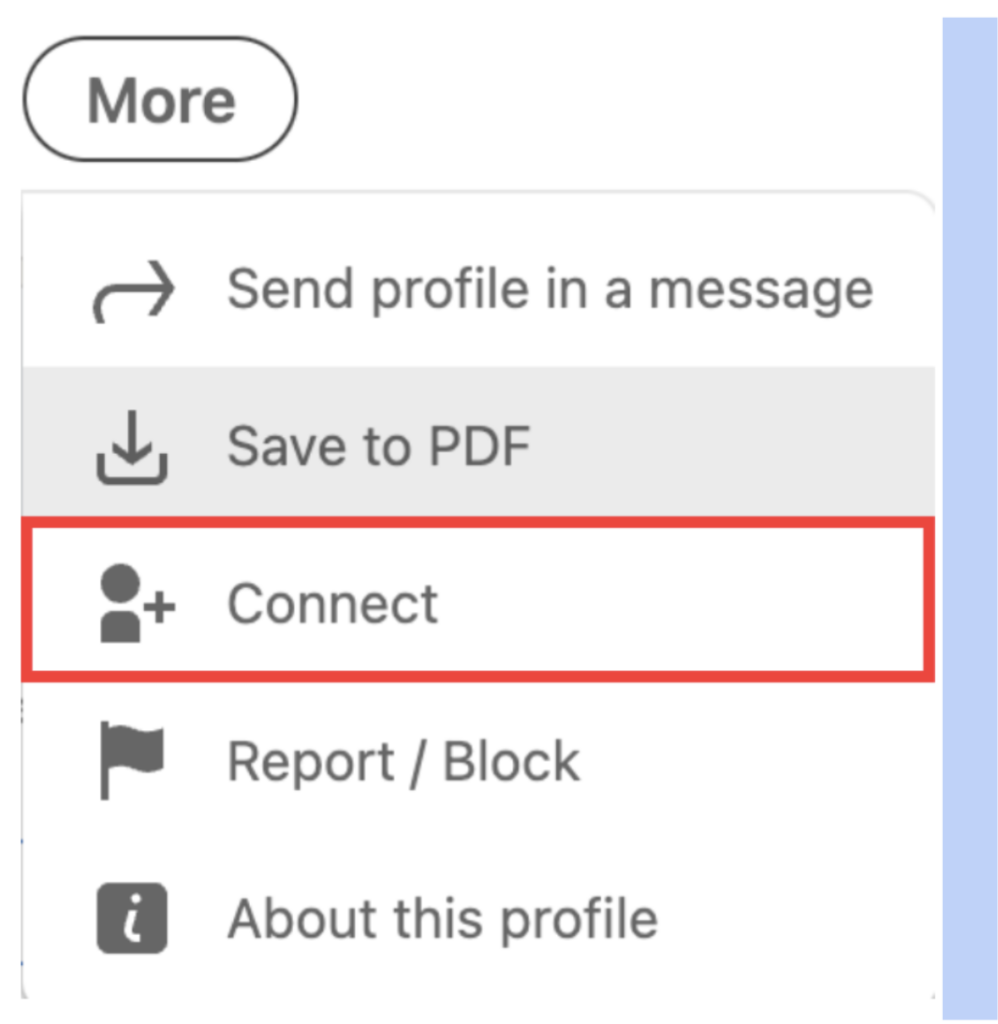 2. You can send a request with or without notes. Just click "Add a note" and add a short connection request with a maximum of 300 characters.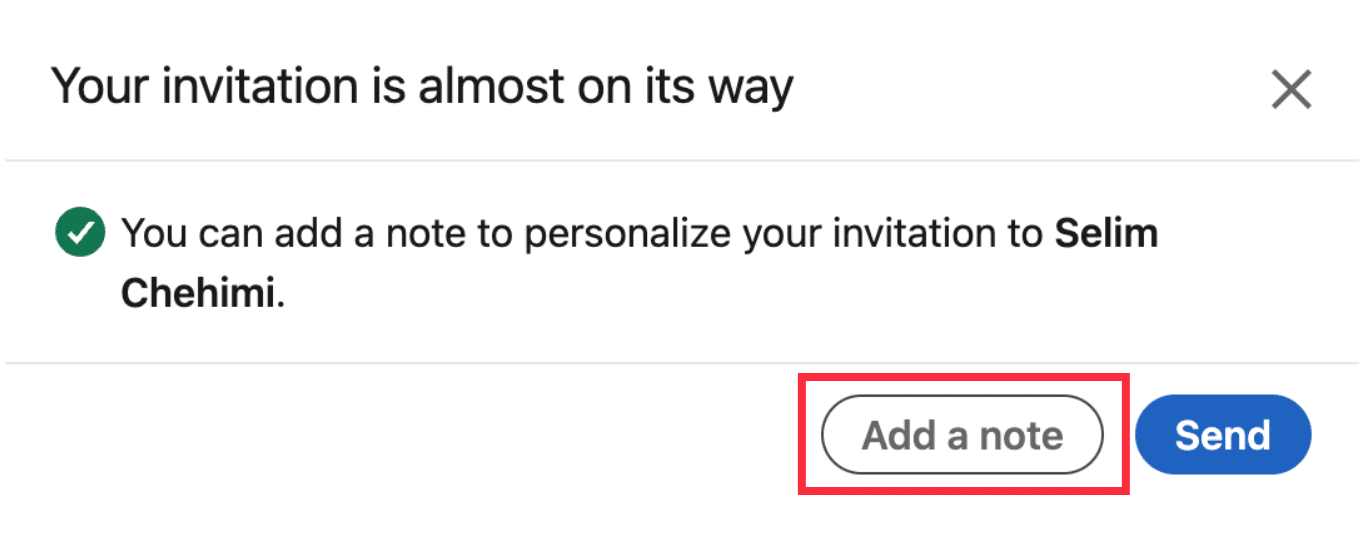 When you add a note to your connection request, it lands in the recipient's inbox.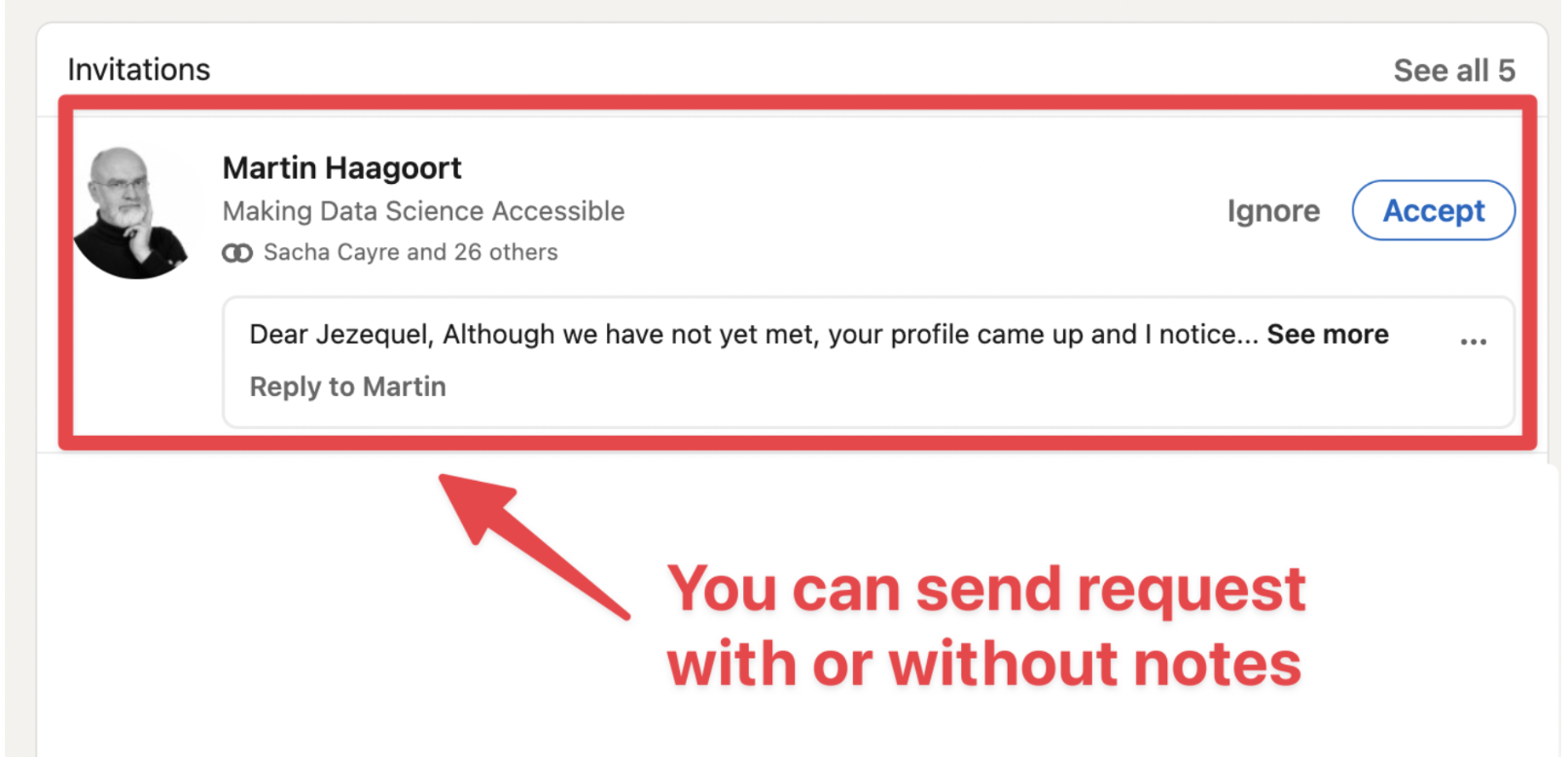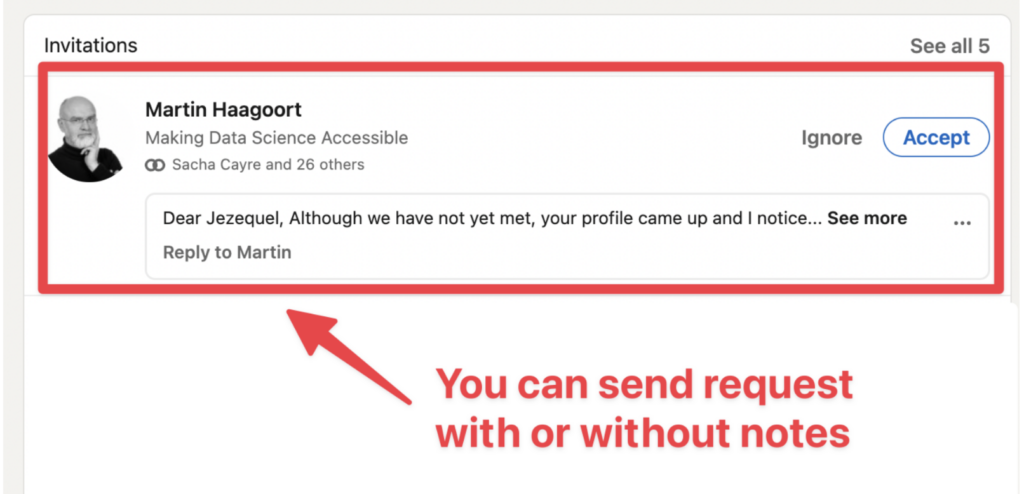 However, only add notes to your connection request when it's relevant.
You can also use Inmail, a premium feature, to send personalized connection requests.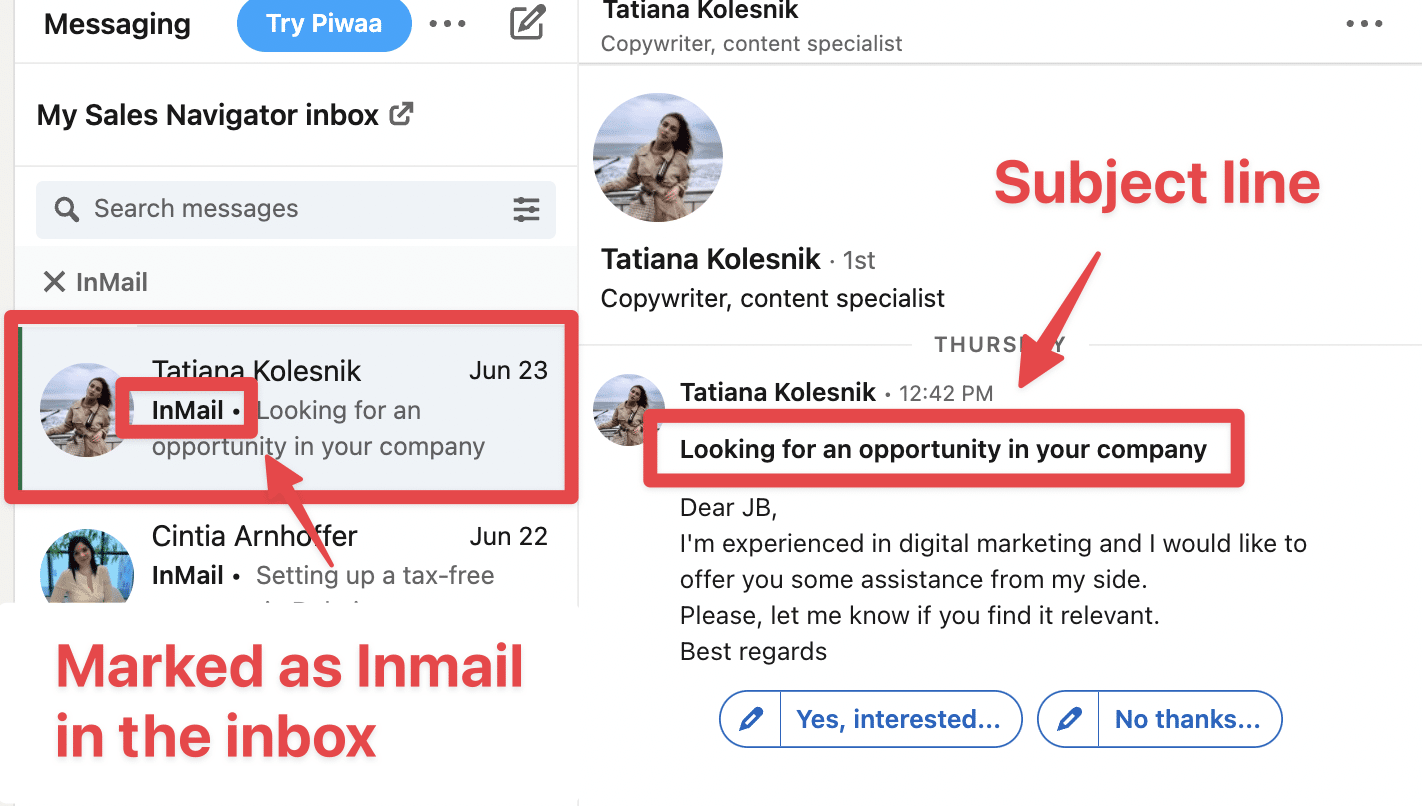 The main difference between connection requests and InMail is that InMail is a premium feature that lets you directly reach out to any LinkedIn user without sending a connection request first.
If your request isn't accepted, you can still send an InMail and bypass the connection request step.
Check out our article on prospecting messages on LinkedIn for more details.
Here's an example of a personalized note you'd send prospecting on LinkedIn using personalized connection requests: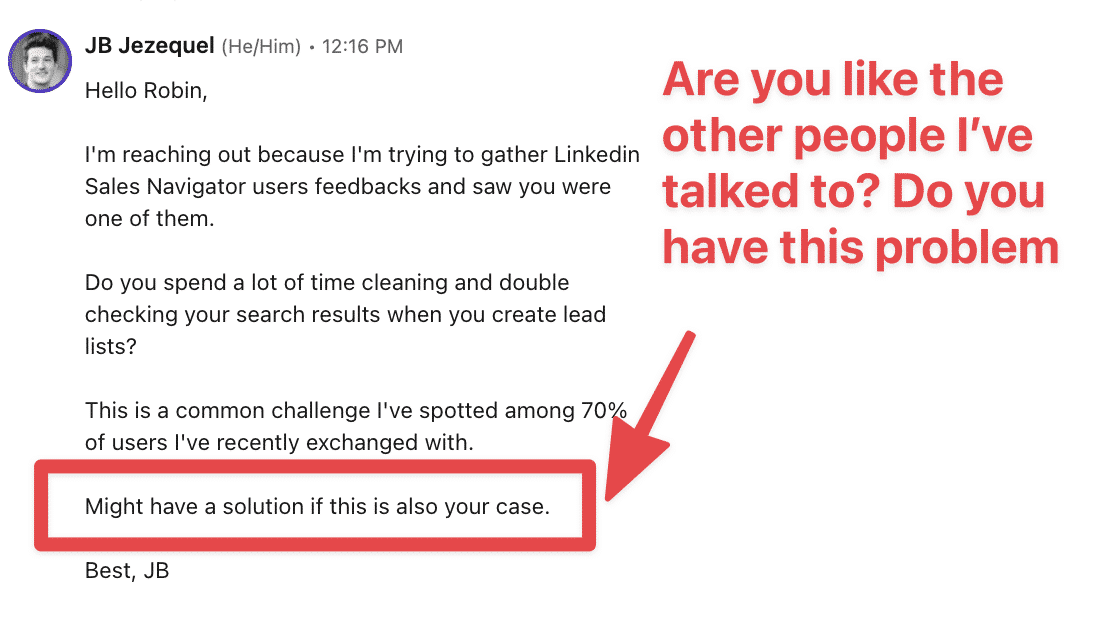 You can tailor this to suit your needs and requests as a student, recruiter, salesperson, etc.
Stuck on what to say in your personalized messages?
Here are a few pointers:



Instead of sending generic connection requests or messages, take a moment to personalize your approach.

View their profile, mention a shared interest or a mutual connection, or comment on a recent post or accomplishment they've shared. By getting personal, you show genuine interest and set the foundation for a more meaningful connection.
Make it About Them
Shift the focus from yourself to the person you're connecting with to build relationships.

People appreciate when you show genuine interest in their achievements, goals, or content. By centering your approach on them, you foster a more authentic connection and lay the groundwork for a mutually beneficial relationship.
Consider how you can support your connections and highlight that in your message. Genuine helpfulness often leads to reciprocity; when you selflessly assist others, they are more inclined to return the favor in kind.
Endorse them
Skill endorsements are a great way to recognize your 1st-degree connections' skills. It's also a great way to encourage new connections to interact with your profile.
Remember, you can only endorse skills already listed on someone's profile.

Just go to their profile, click on "Skills" and scroll through them until you find a relevant one.
Click on "Endorse", it will then change to "Endorsed"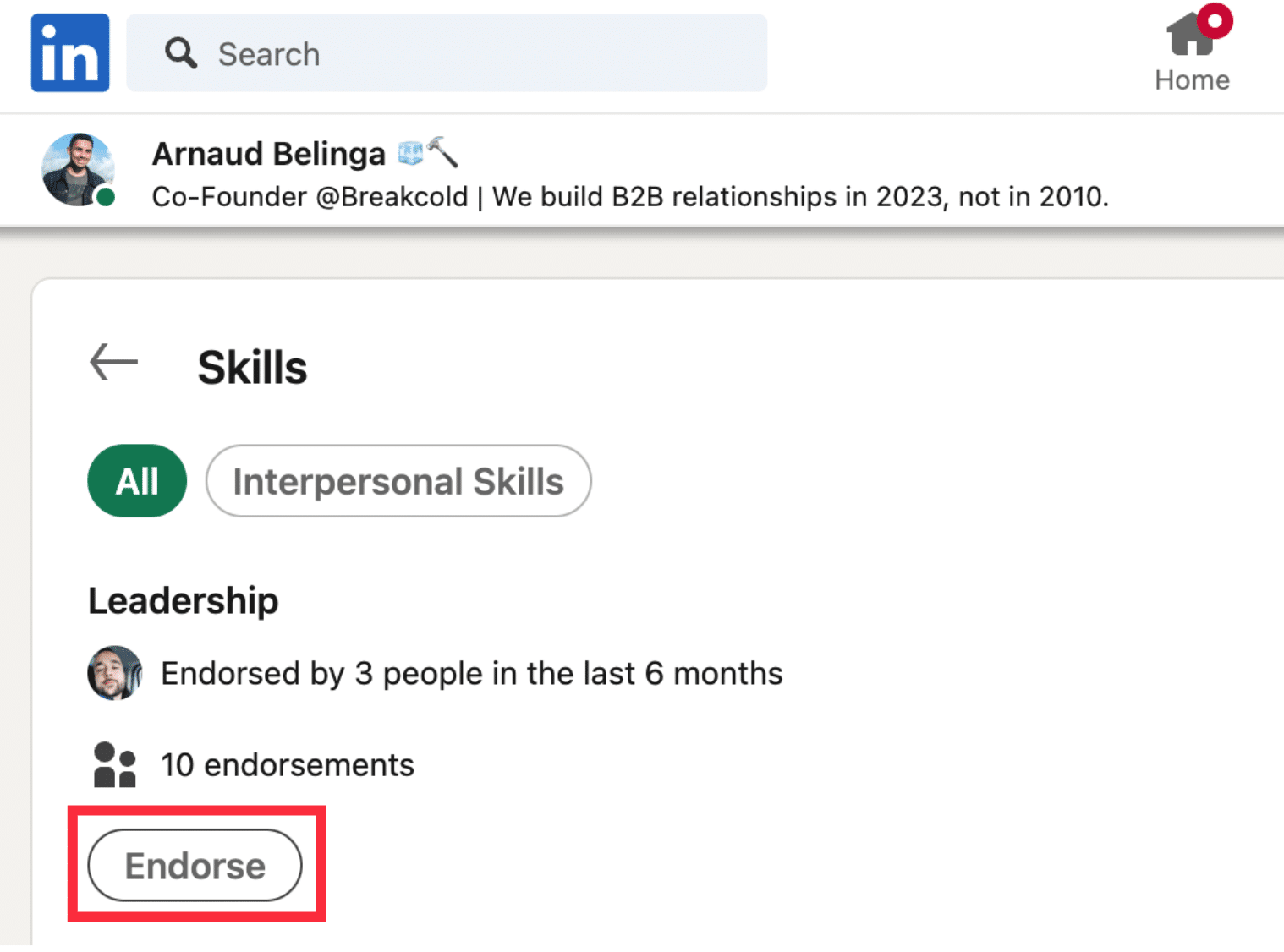 8) Get more LinkedIn connections through automation
Impactful networking on LinkedIn is also a numbers game. The more connections you make, the higher your chances of meeting the right people to further your goals.
If you want to increase your connections exponentially, consider using LinkedIn automation. LinkedIn automation refers to using LinkedIn automation tools to automate various actions and activities.
One tool I'd recommend right away is LinkedHelper. It's one of the oldest LinkedIn automation tools with the best reliability. Plus, it's one of the most affordable, so it won't burn a hole in your pocket.
9) Use email to connect
While LinkedIn is a fantastic networking tool, it does have its downsides. And one of the biggest is that it limits you to 100 to 200 connection requests per week.
For serious networking, that might not be enough.
To scale your LinkedIn networking, simply add email outreach to the mix.
This multi-channel approach works wonders as it makes you hard to ignore, especially when you need to follow up on LinkedIn messages.
It also gives you more flexibility as you can bypass LinkedIn's weekly invitation limit.
In my own multichannel outreach campaign, I successfully reached out to over 2,000 individuals using a structured approach:

First, I Initiated contact with 2 introductory emails.
Then I sent LinkedIn connection requests without additional notes.
And followed up with 2 LinkedIn messages.
The results were remarkable:
An impressive 55.5% of LinkedIn connection requests were accepted.
A substantial 46% of the contacted individuals replied to the messages, highlighting the effectiveness of this outreach strategy.
The best way is to get a LinkedIn scraping tool like Evaboot to export email addresses and other vital data from LinkedIn to an Excel file.

Install the Evaboot Chrome extension and then a button "Export with Evaboot" will appear at the top of your lead lists in Sales Navigator.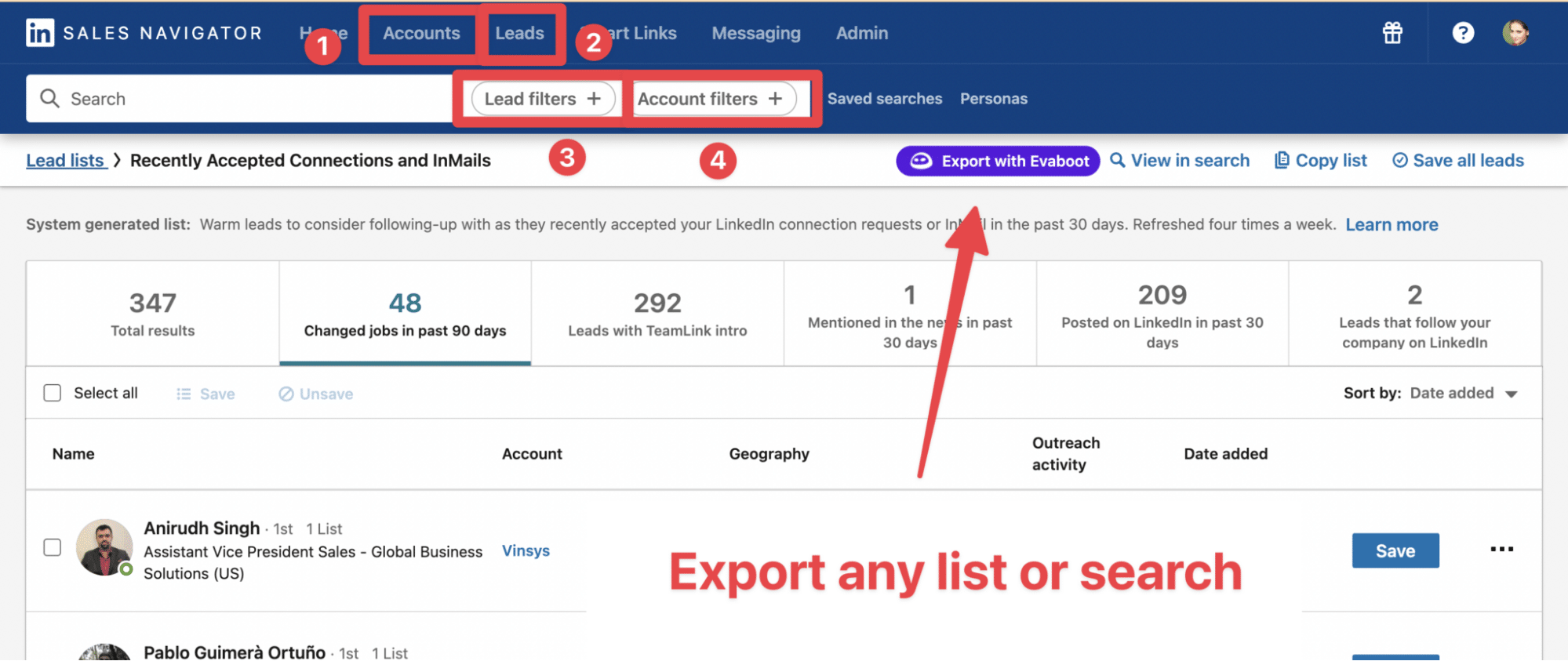 When you click on the button, you'll be directed to the Evaboot app.

Here, name your export and click "Export Leads."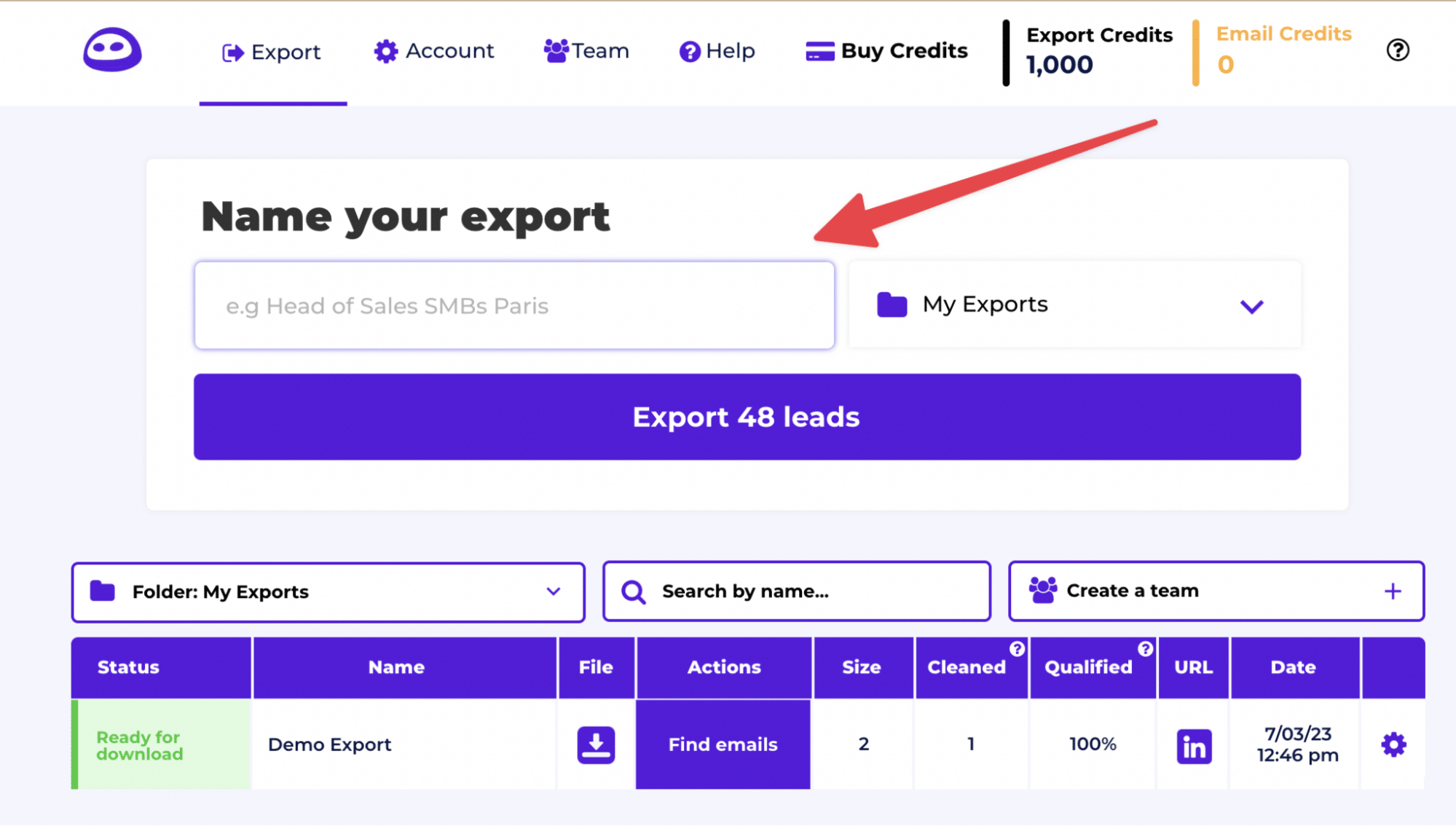 Evaboot will then extract the leads in real-time for you. When the extraction is complete, you will receive an email notification with a download link for the CSV file containing your lead list.
But that's not all!
Evaboot even cleans the data from LinkedIn, making it easier to use.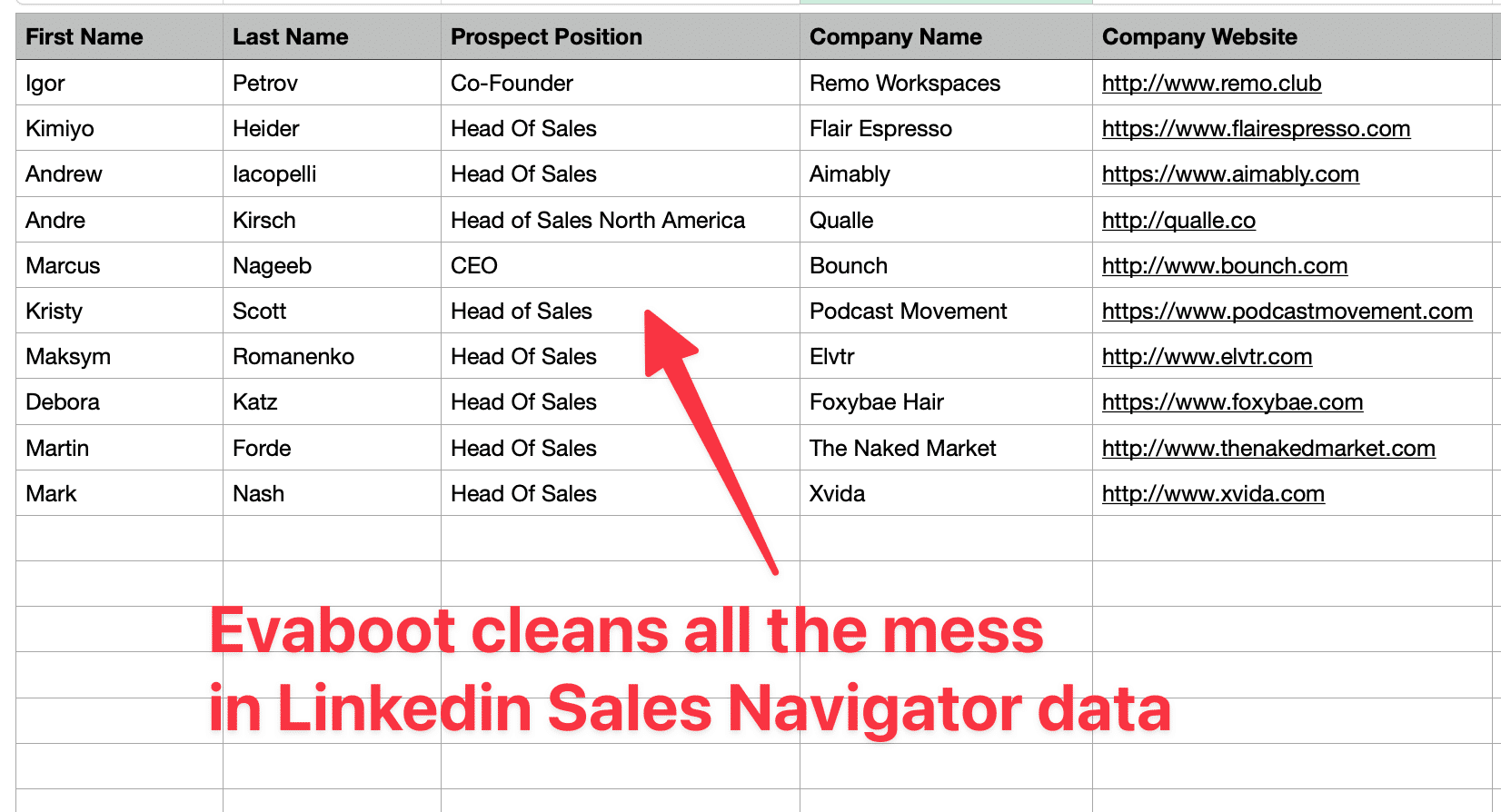 It also double-checks and qualifies the leads for you!

For step-by-step instructions, here's a detailed tutorial on exporting leads from LinkedIn.
Once you have your leads, upload them to an email outreach tool like Emelia. Emelia is an affordable yet capable tool for automating cold email campaigns.
It has an intuitive interface, analytics dashboard, and more.
With your leads uploaded to Emelia (or your outreach tool of choice), you can now ask for a connection via email.
Here's an example:
Hi [First Name],

Your impressive profile on LinkedIn and your expertise in [Job] at [Company] caught my eye.

The reason for my outreach today is to explore [Specific Topic or Challenge] further. In your role, you must have come across various [Related Issue/Interest], and I'd love to hear your insights on this matter.
More than 80% of professionals in your role encounter challenges related to [Related Issue/Interest], and I'm eager to gain your insights on this matter.

I believe that there could be an opportunity to collaborate or exchange ideas. If this resonates with you, I'd be delighted to connect and discuss this further.
Looking forward to hearing your thoughts, [First Name].

Cheers
I created this template on the RABT Formula and achieved a 25% reply rate. Check out my post on multichannel outreach to learn more about this approach and other hacks.

The combination of LinkedIn networking and email outreach will result in the phenomenal growth of your LinkedIn and business network.

Ready to level up your LinkedIn networking?

Evaboot is your secret weapon.

Sign up to Evaboot, download the Chrome extension, and easily export LinkedIn data, bypassing connection limits.

Elevate your outreach today and unlock LinkedIn's full network potential!

What to Avoid When Networking on LinkedIn
With our experience working with thousands of LinkedIn professionals, we've distilled the best tips on what to avoid when networking on LinkedIn.

Here are some things you should never do:
Spamming people
Spamming on LinkedIn refers to sending unsolicited, irrelevant, or excessive messages. It also involves other bad practices like hijacking posts in the comment section.
Spamming can hurt your reputation, lead to LinkedIn jail, or even be banned from the platform.
Not engaging with content
Networking requires effort. Especially putting effort into engaging with others's posts.
Not engaging with content results in you being invisible. It paints a picture of you as being anti-social or bad at communicating.
Not personalizing your connection requests
For better results, personalize messages when sending connection requests. Simply study the user's profile and find common ground. Make sure your message is short and sweet. However, sending a connection request without a message is also okay.

Being too serious
Sure, it's a professional platform. But that doesn't mean you should always be serious. Instead, be humorous. This makes you more approachable.
Over-using automation
Automation is a time-saver. However, don't rely heavily on it, as LinkedIn discourages it. Overuse of automation could land you in LinkedIn jail.
Being to salesy
Avoid being too salesy. Nobody likes being sold to. Instead, put your network's needs and interests first. Let the value you provide do the selling.



Not being persuasive enough
Don't be afraid of being persuasive as you interact with your LinkedIn network. Show them the value and benefits of your offer. Once they see what's in it for them, it becomes easier for you to win them over.
Frequently Asked Questions about Networking on LinkedIn
Is it good to network on LinkedIn?
Yes. Networking on LinkedIn can be highly beneficial for personal and professional growth. With remote work becoming the norm, LinkedIn is taking over in-person networking. Plus, it gives you a wider reach.
Is LinkedIn good for networking?
Yes, it is. With close to a billion users, LinkedIn is the best platform for professional online networking. It's a vital tool for knowledge exchange, getting inspiration, finding new jobs, and achieving your professional goals.
How many LinkedIn connections are ideal?
The average number of connections per LinkedIn profile is between 500-999 mark. Therefore, the more people in your network, the better the engagement metrics. This means to be a cut above average aim for over 1,000 connections.
How to easily get 500 connections on LinkedIn?
Start by connecting with people you already know, like friends, relatives, or co-workers. Then, ask them to introduce you to their network. Consider speeding things up by automating connection requests.
How do I network with someone on LinkedIn for a job?
Optimize your profile and make sure it matches the role you're looking for. Next, target recruiters and hiring managers and reach out to them with a well-written connection message and your pitch.
Is it bad to connect with people on LinkedIn you don't know?
Connecting with people you don't know on LinkedIn is not inherently bad. However, approach such connections thoughtfully and professionally. Vet them and ensure they're genuine.
Should I let random people connect with me on LinkedIn?
Accepting connection requests on LinkedIn should be done with care. First, consider the relevance of the connection. Next, check if you have mutual connections. You should also look out for red flags.
Will someone know if I look at them on LinkedIn?
In most cases, yes. LinkedIn notifies users when their profile has been viewed and by whom. Users can also check their analytics and see who viewed their profile. The only exception is if the user visits your profile in private mode.
How do I network with someone on LinkedIn if I don't know anyone?
Start by connecting with users you know personally. Next, join groups and interact with members. This will help you find and attract connections you can relate with.
LinkedIn is the Future of Networking
With remote work becoming the norm and the ongoing digitalization, LinkedIn is the future of networking.
The platform offers a wide professional reach, allowing you to focus on meaningful and professional connections. Not to mention the thousands of job opportunities that can enhance your career path.
Recruiters can also use the social media platform to tap into the world's biggest talent pool.
As a student, you can use LinkedIn to find internship opportunities, mentors, or even business partners.
Brands and sales personnel can use the platform to scale their lead generation efforts, drive sales, and develop meaningful partnerships.
The bottom line is that if you're a professional, LinkedIn should be your essential networking tool.
However, don't forget to take a step away from your desk and meet some contacts face-to-face.
Don't settle for ordinary LinkedIn networking. Evaboot is here to supercharge your connections. Try it today! Sign up here and try it for free!

We are sorry that this post was not useful for you!
Let us improve this post!
Tell us how we can improve this post?
Build email lists from
Export clean data and get verified emails in 1 click.