7 Linkedin Growth Hacks To Boost Your Lead Generation [2023]
Looking for the best linkedin growth hacks to boost your sales in 2022e

Here are the 7 best linkedin growth hacking strategies you can use to boost your lead generation from today.
These linkedin hacks are really easy to implement and most of them are free.
Hack Linkedin Weekly Limitation on Connection Requests
Linkedin changed the invitation limit from 100 invitations per day to 100 invitations per week.

This change has a huge impact on people prospecting on linkedin as the prospecting capacity of a linkedin account has been divided by seven.

Hopefully there are still some hack that you can use to bypass linkedin weekly limitation on connection requests.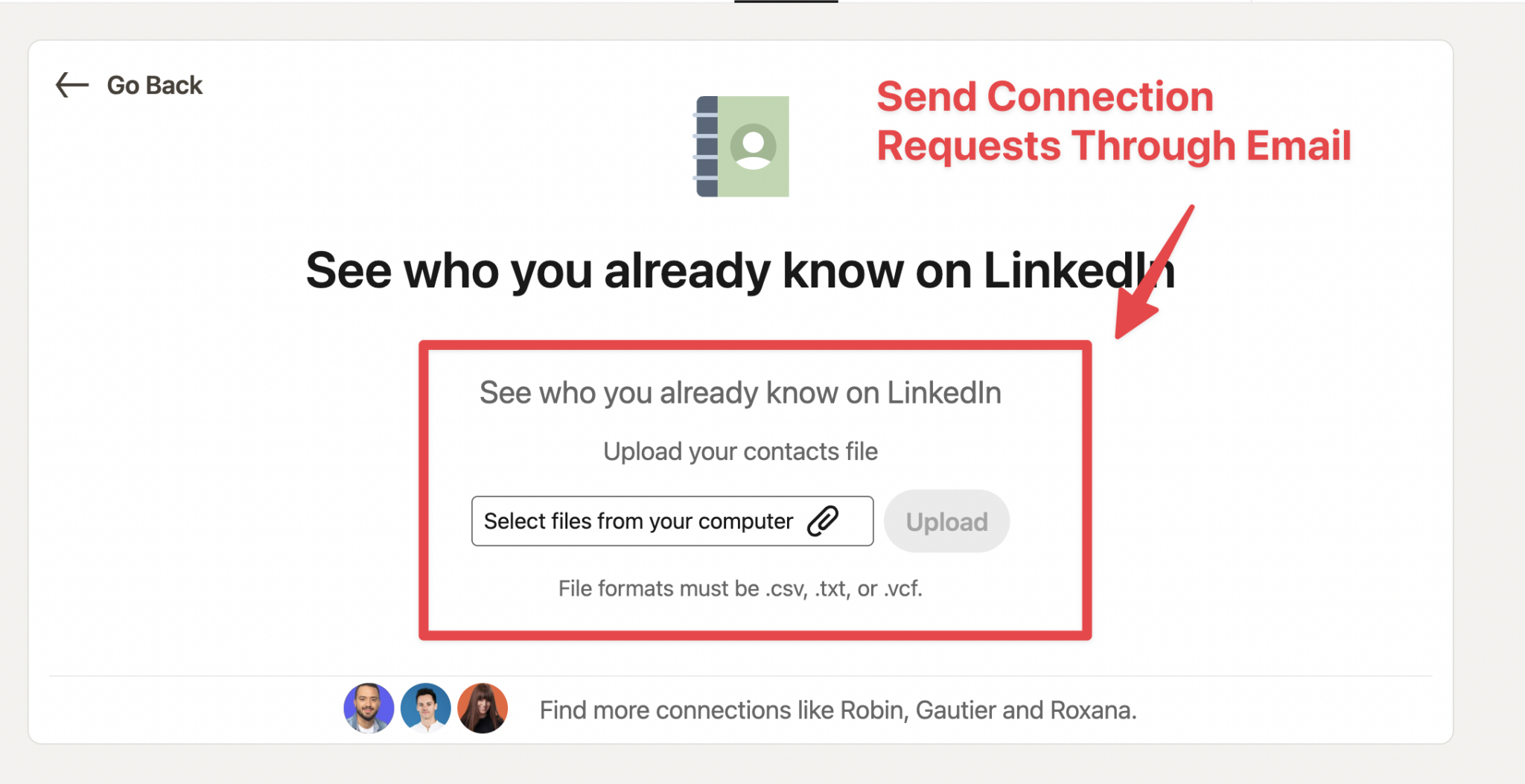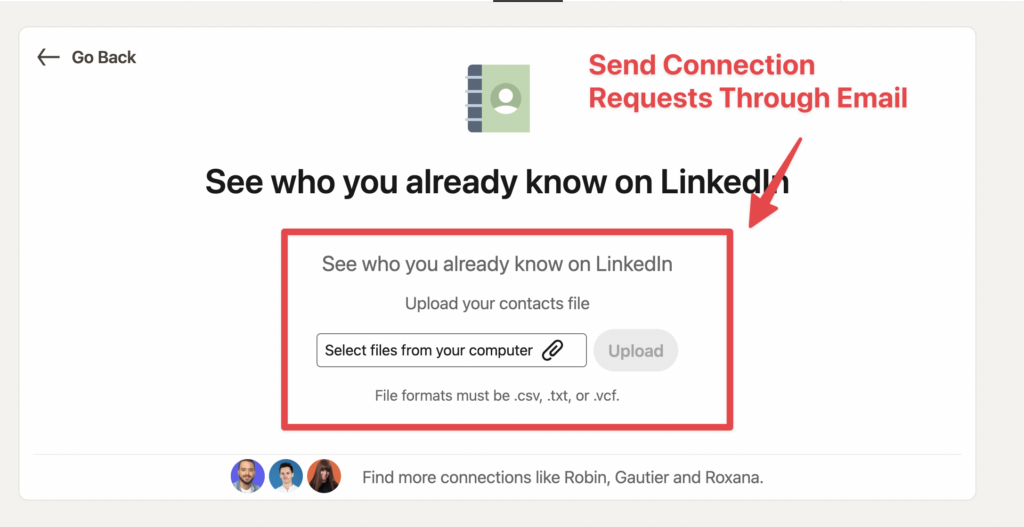 The most efficient is to send connection request through emails. For that you can use LaGrowthMachine.
This tool allows you to automate the sending of connection request through email


With this tool, you can send up to 100 connections request in one day and more than 500 in one week.
The benefit is clear, you can contact 5x more people per week with your linkedin account using this hack.
Hack Your Competitor's Audience on Linkedin
Why bother building an audience from scratch when your competitors are already doing all the work for you?
Stealing your competitors' audiences on Linkedin is pretty easy with the hacks presented in this video.

There are 3 ways to hack into your competitor's audience on Linkedin:
Steal their company page followers
Steal their posts' commenters and likers
Steal their linkedin events attendees
These growth hacks are pretty efficient as you let your competitors do the job for you, and then you can get the results of their work. A good way to find linkedin outreach campaign ideas.
Hack Linkedin Search Limit
There are 2 limitations on the free linkedin search engine.

The first one is the limitation of the number of search results.
You can only get access to the first 1000 results of your search.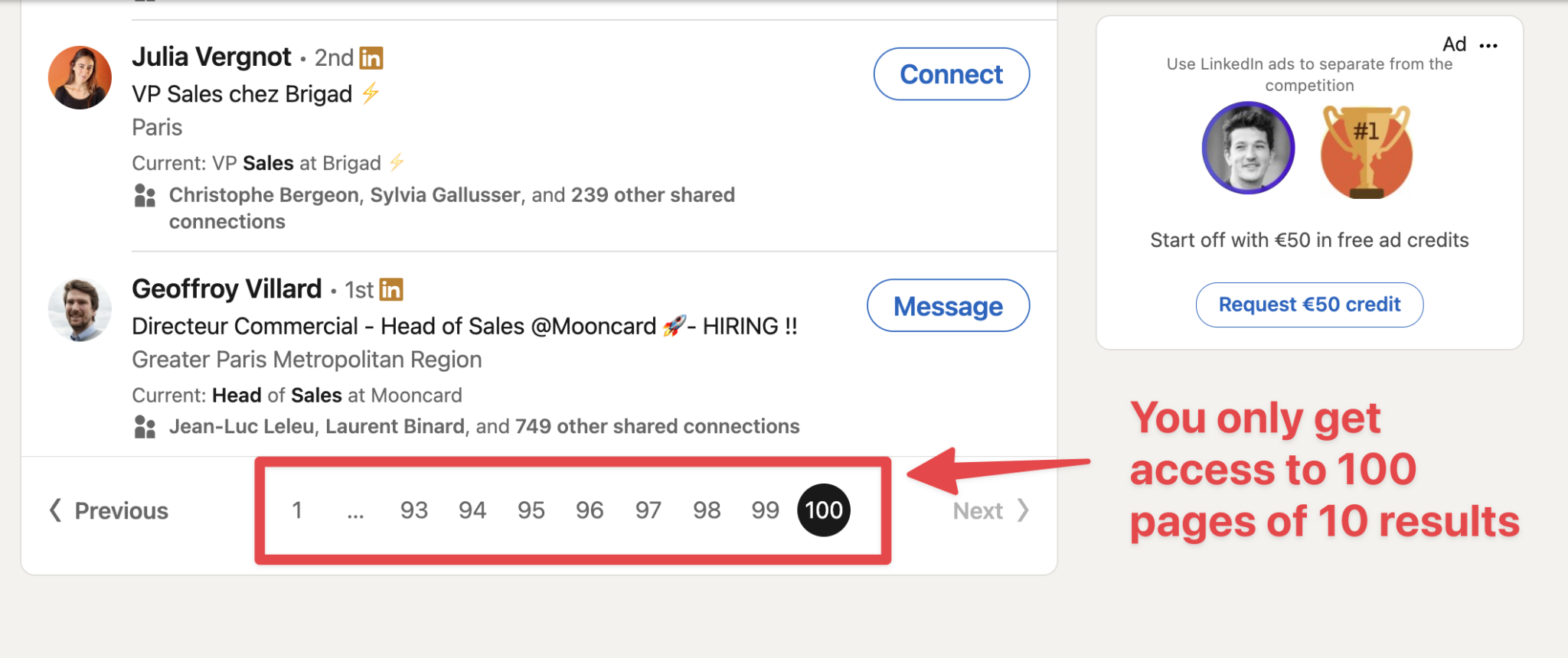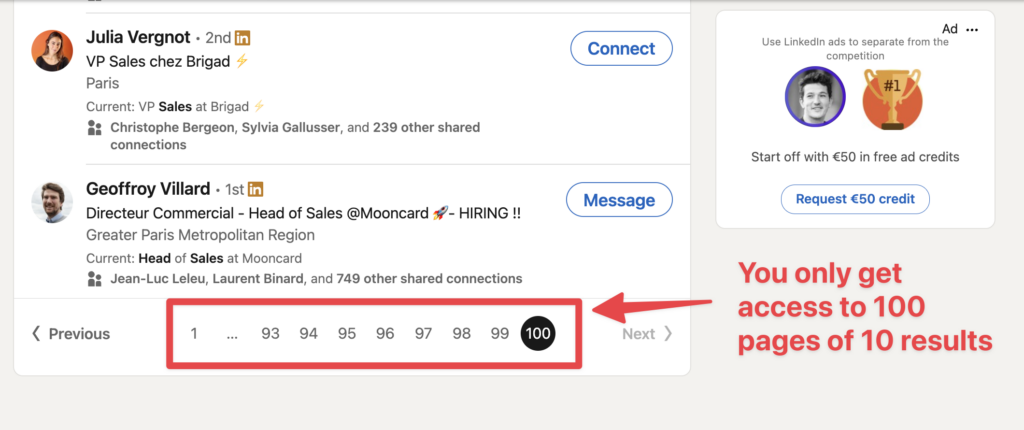 The second limitation is the commercial use limit.

Linkedin will block you after a certain number of searches because they want you to buy Sales Navigator or Linkedin Recruiter.
In this video I detail 3 hacks to bypass linkedin search limit:
Search Linkedin Profiles with Google
Search Linkedin Hashtags followers
With this 3 techniques, you'll be able to search an unlimited amount of linkedin profiles every month.
Hack Linkedin Inmails Credit System
Inmail is the paid messaging service offered by linkedin to linkedin premium subscribers.
They are premium messages that you can use to skip the connection request step and land directly into your prospect's inbox.
Unfortunately, you don't get an unlimited amount of them.
You have:
50 inmails per month if you buy Sales Navigator
10 inmails per month if you buy Linkedin Premium
150 inmails per month if you buy Recruiter
But don't worry, you can hack the linkedin inmail credit system using these hacks:
Send messages to Open Profiles
Send messages to linkedin event attendees
Send messages to linkedin group members
This is what a free inmail looks like: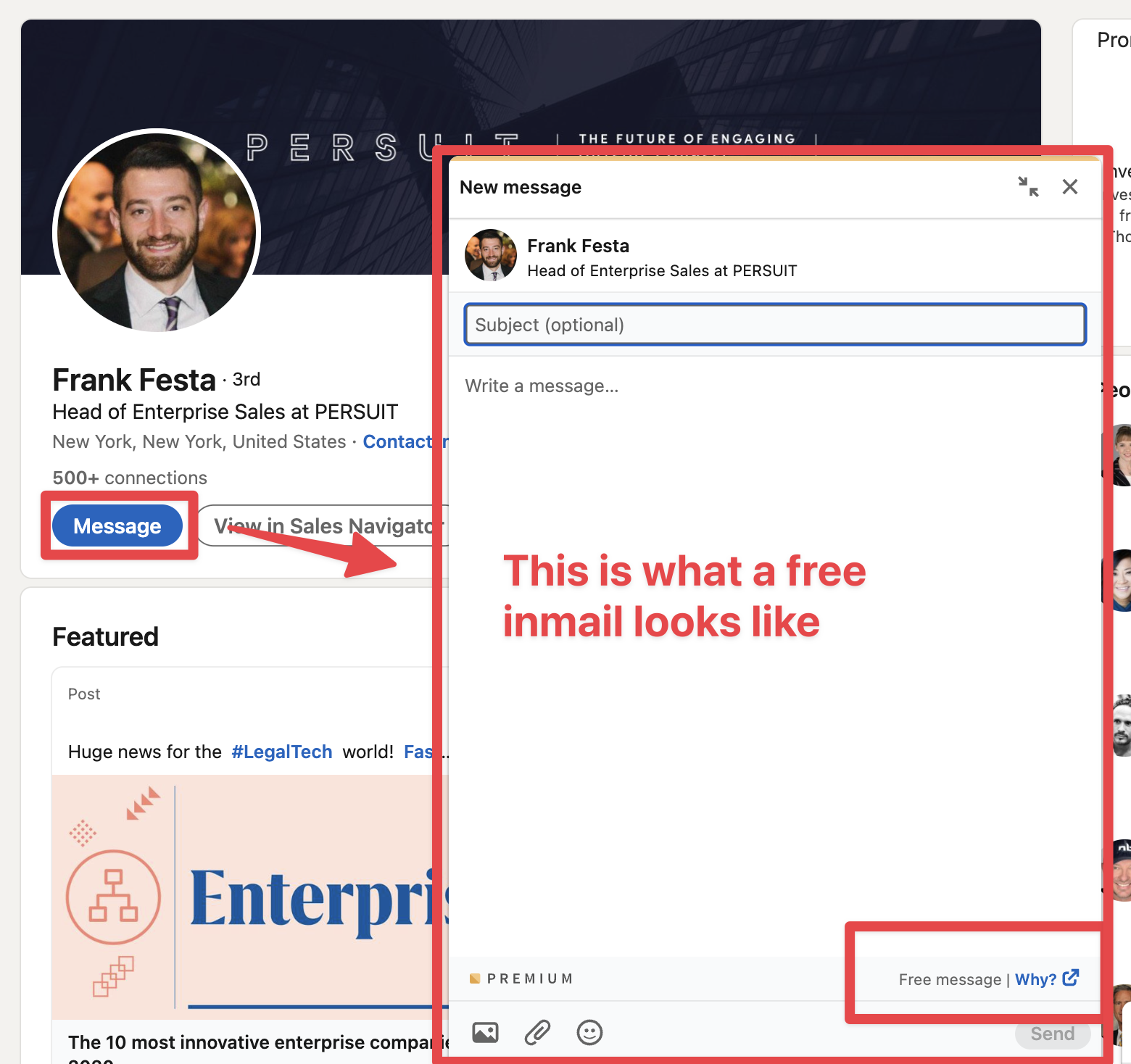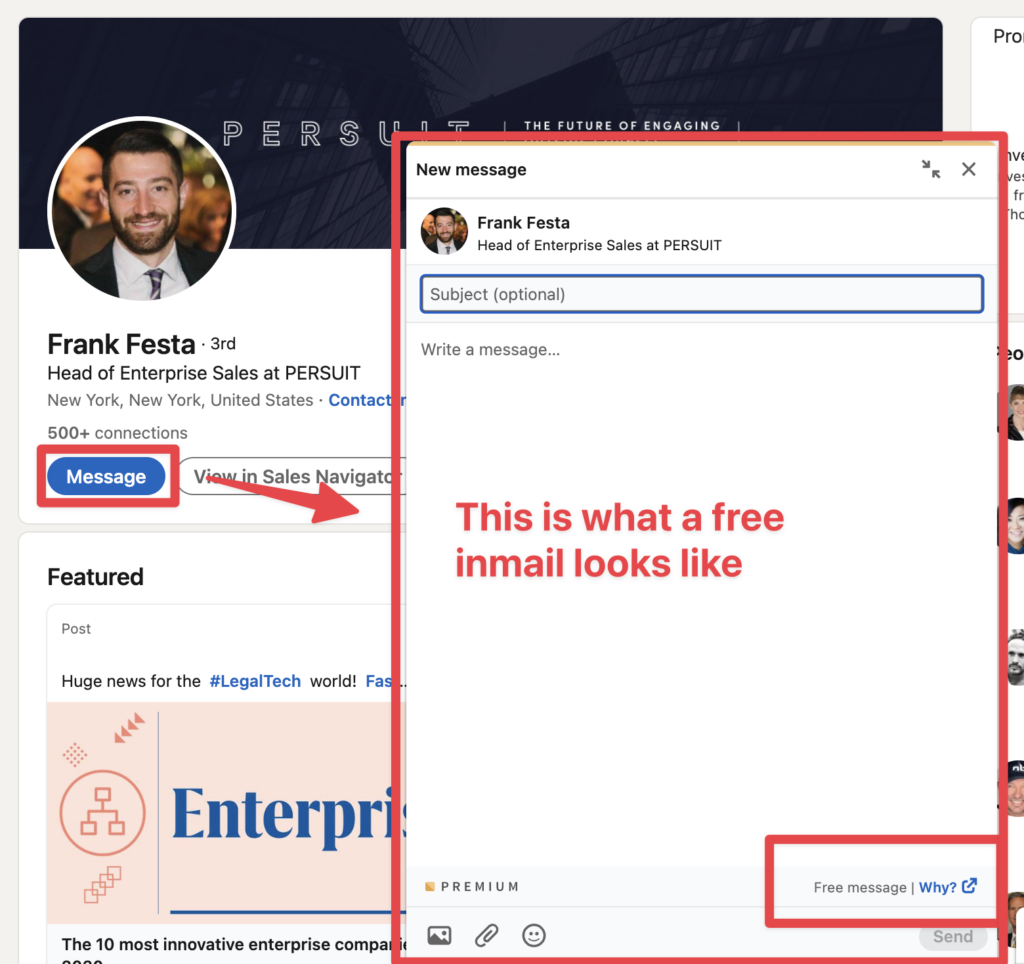 Hack Linkedin Ads with Linkedin Sales Navigator
You can hack Linkedin Ads by building super targeted audiences linkedin with sales navigator.
Linkedin Ads are the most expensive Ads on the market compared to Facebook and Google. So you better spend your budgets wisely.
This hack is really simple.

Instead of trusting linkedin ads algorithm to find good prospects for you, you are telling Linkedin Ads exactly who to target.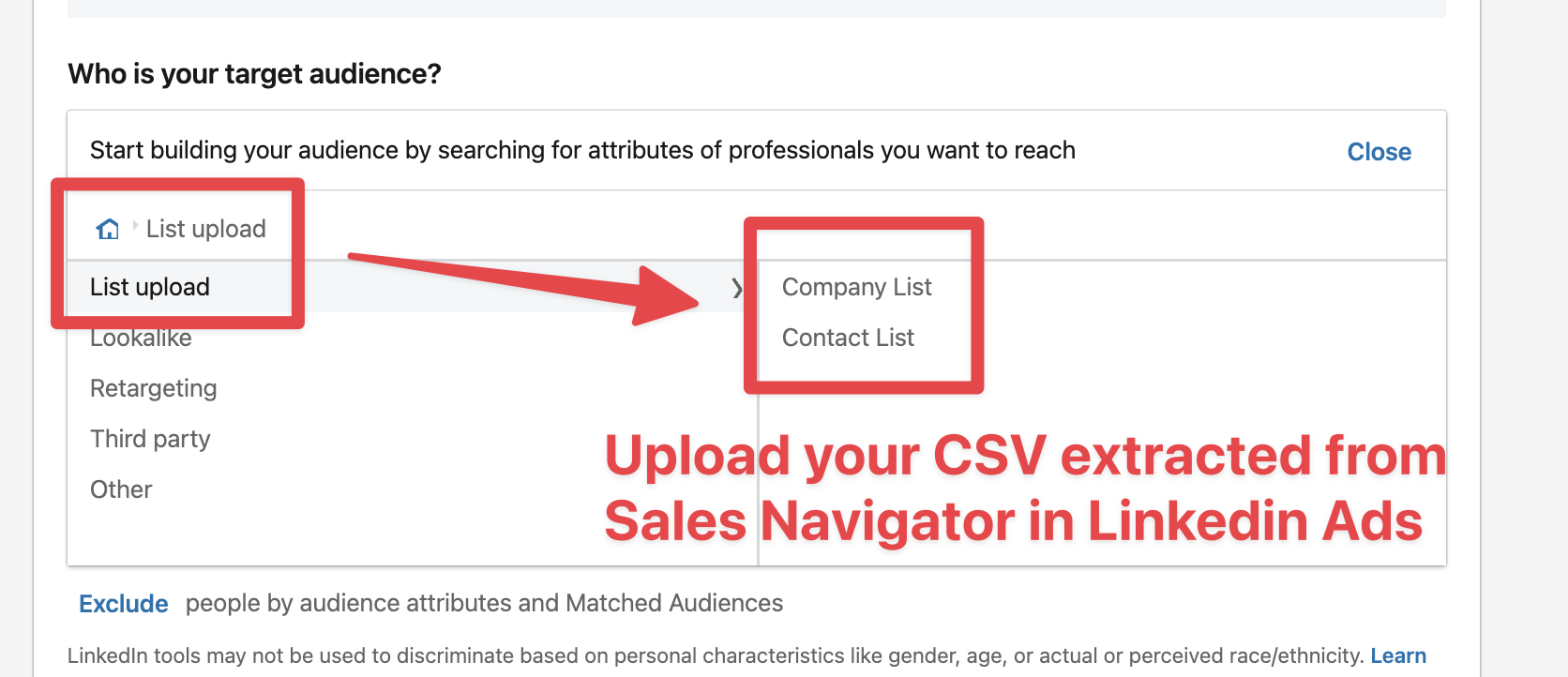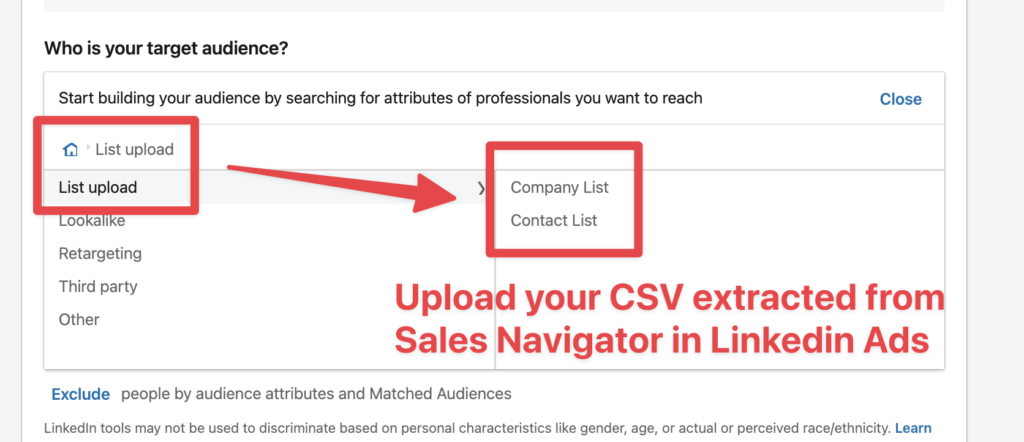 That way, you have 100% control on who is seeing your ads. This a 3 steps process:
Build a lead list on Linkedin Sales Navigator
Export the leads to a CSV with Evaboot
Upload the CSV into Linkedin Ads
Boom.
You just create a super targeted linkedin ads audience in 5 minutes.
Hack Linkedin Algorithm Using Engagement Pods
Getting thousands of impressions on your Linkedin posts can help you generate tons of inbounds leads. Linkedin engagement pods can help you with that.
How does Linkedin Algorithm work?
When you publish something on Linkedin, the algorithm will first make it appear in the feed of your first degree connections.

If they interact with, Linkedin will show your post to 2nd degree connections (the connections of your connections)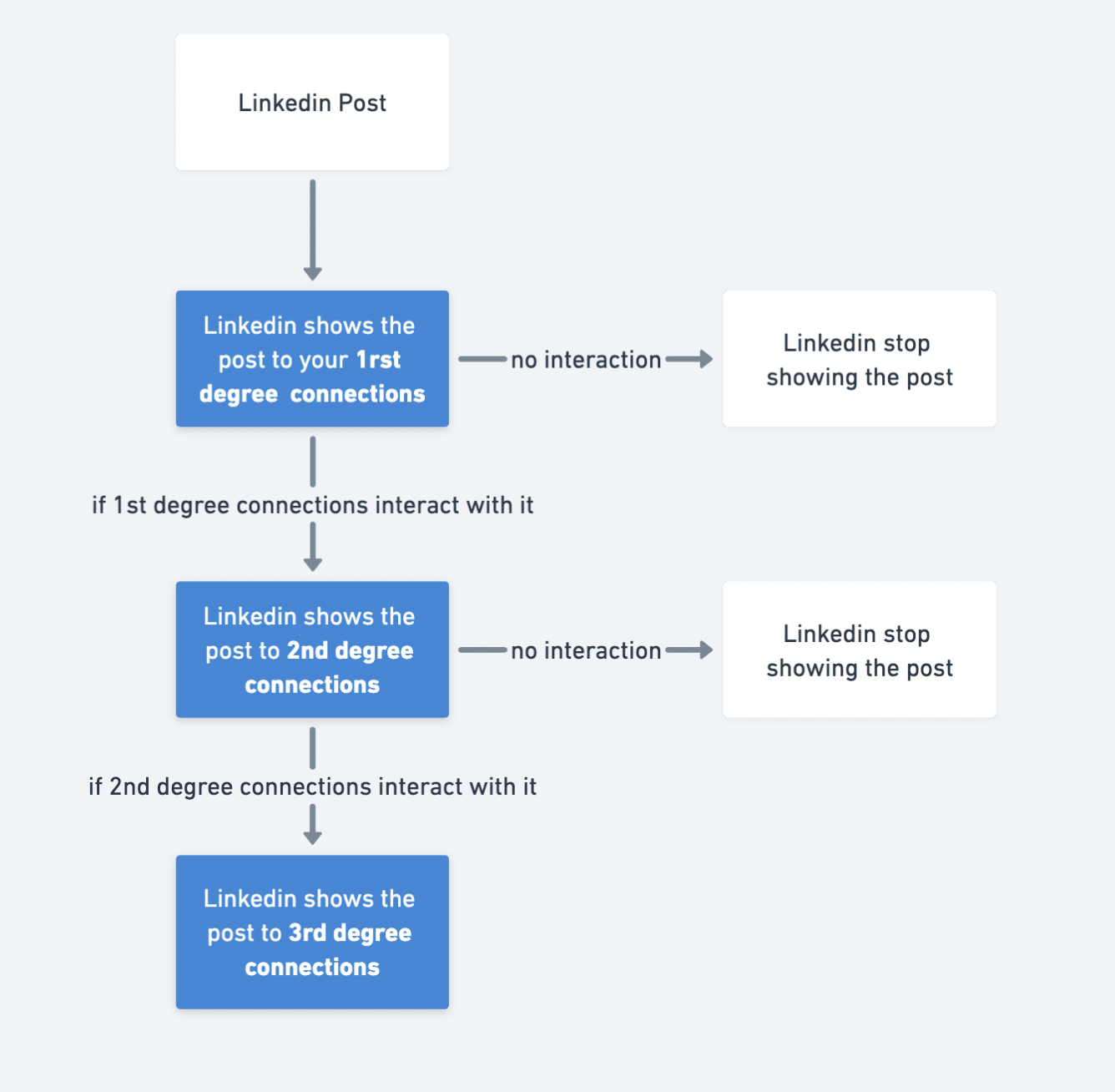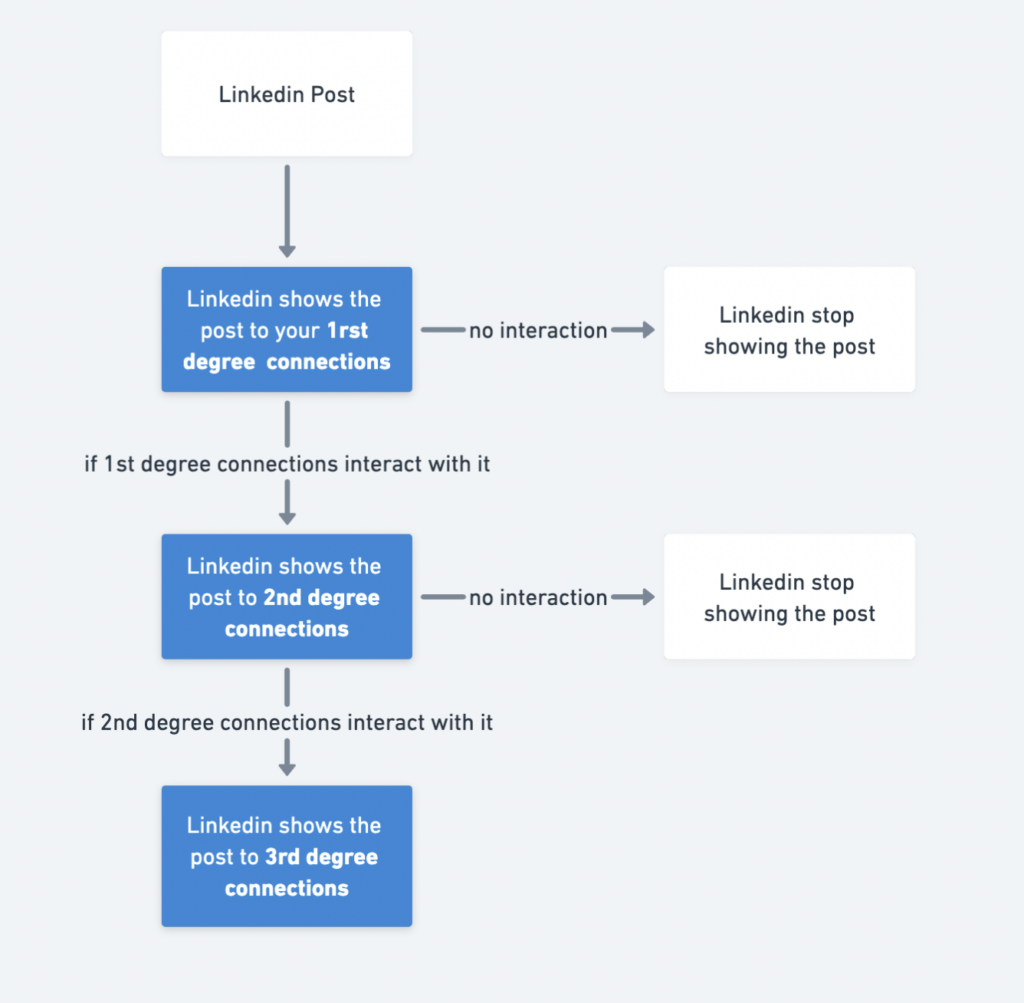 That is why it is key to have likes and comment from your 1st degree connections in the first hours of your publication.
How engagement pods can help you hack linkedin algorithm?
When you publish a post and enter the link into an engagement pod, the members of the pods will start to automatically likes your posts.
Using tools like Linkboost can help you increase your post impression by adding some likes during the first hours after publication.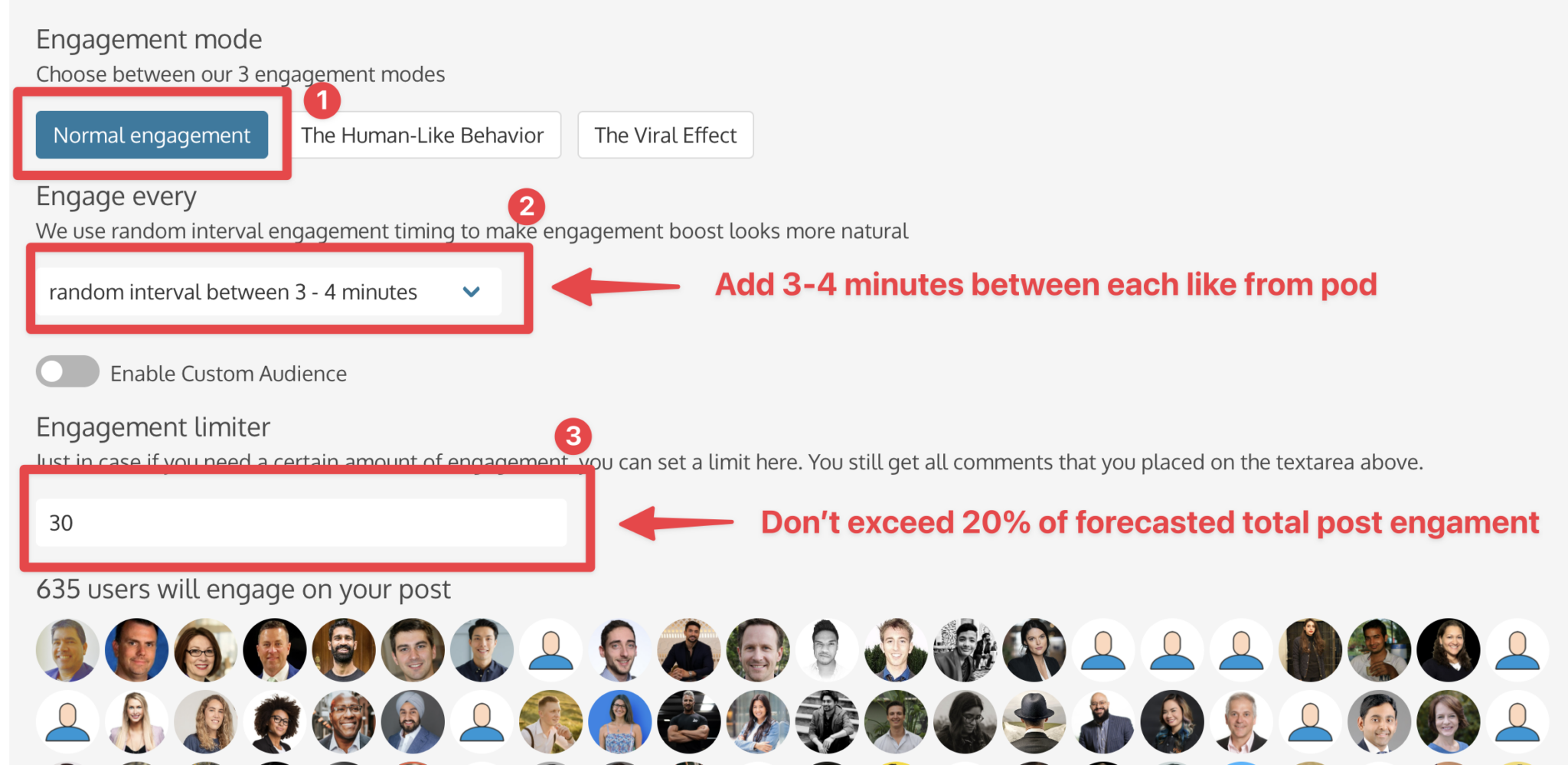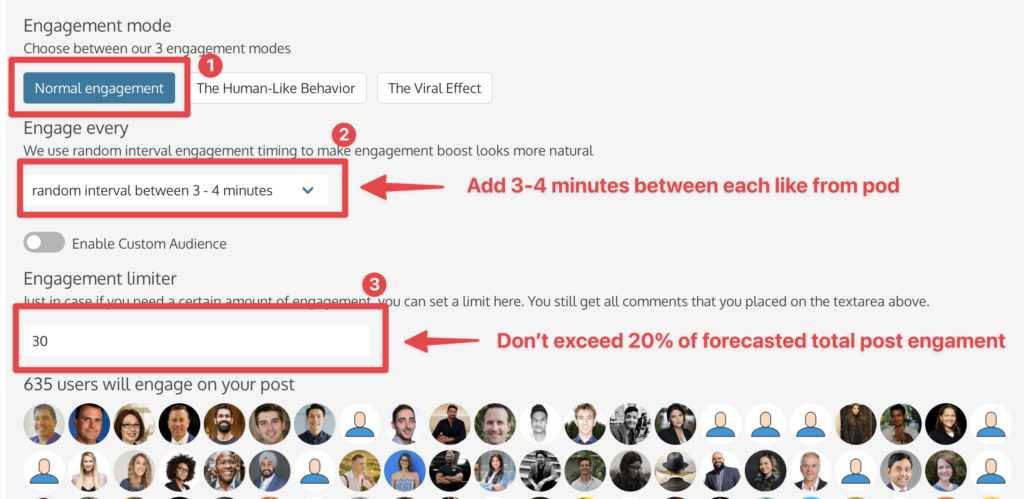 You don't need to send a message to all your friends asking to like the post.
Simply follow these 3 rules:
Limit the number of reactions to 20% of total forecasted engagement
Add 2 – 4 minutes interval between actions
Make sure all the members of the pod are 1rst degree connections
Indeed, if linkedin detects that you get many likes from 3rd degree connections in the first hours, they will detect you are using an engagement pod and will not push your post.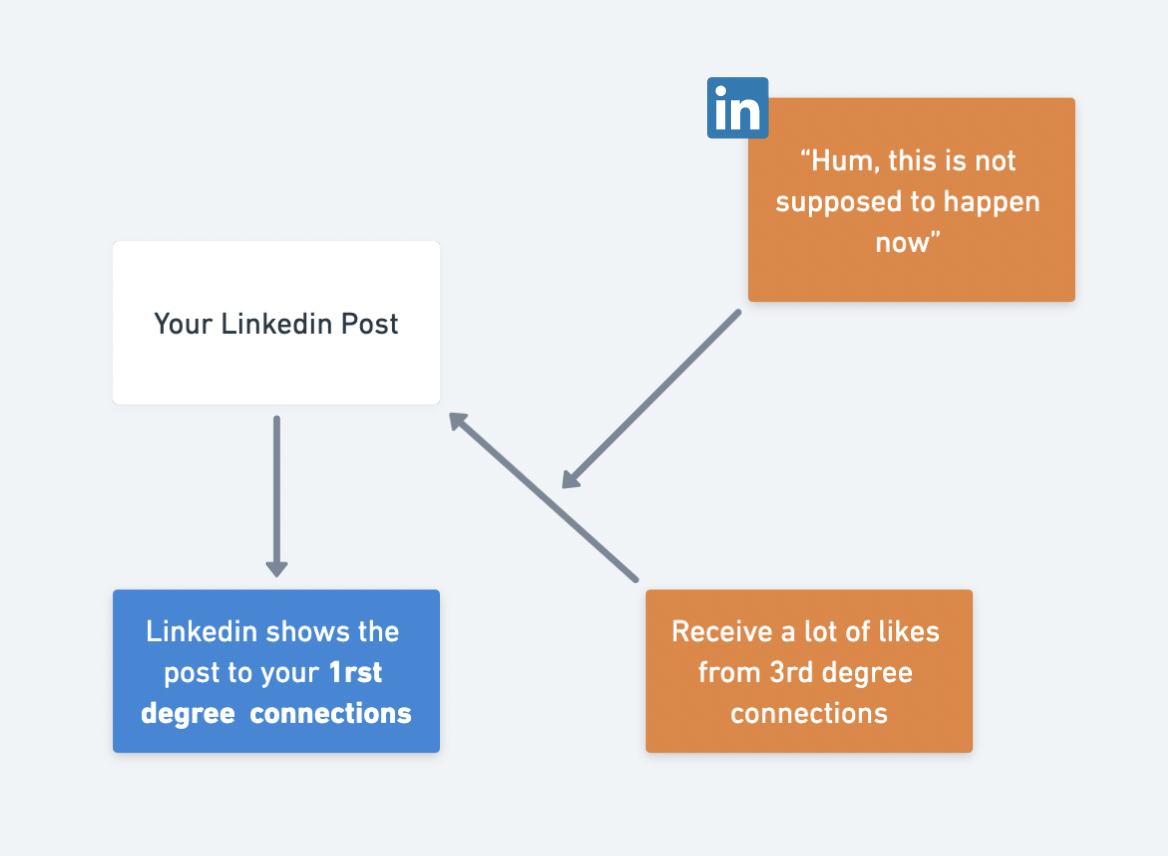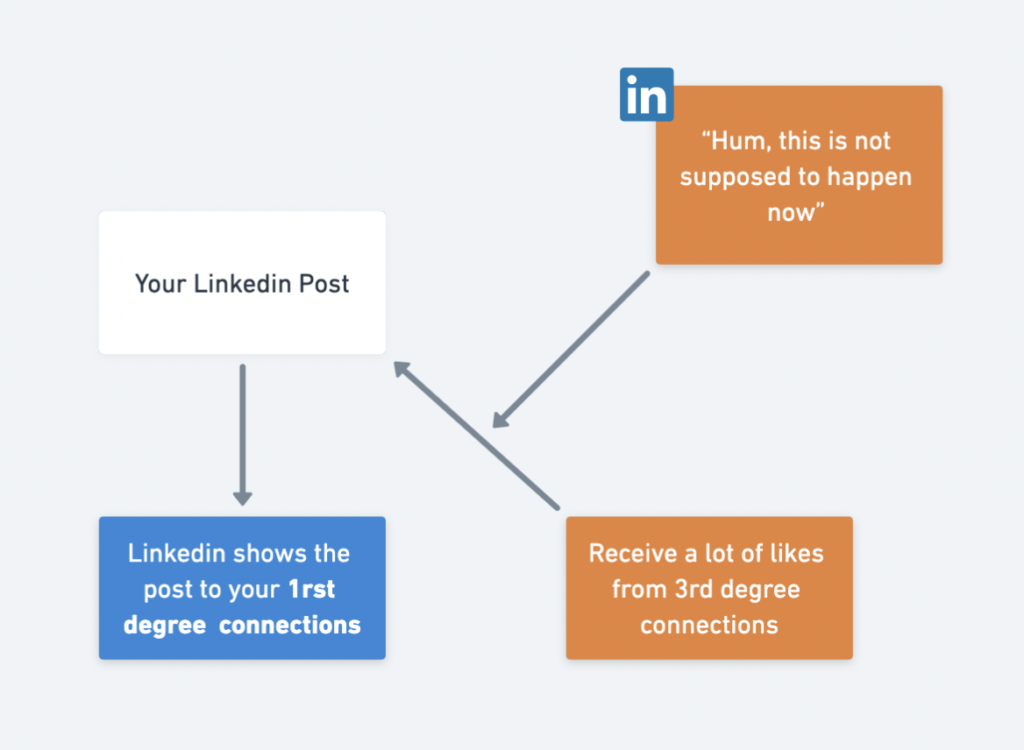 To solve this problem, you can either:
create your own pod and invite your 1rst degree connection
join a pod and invite the members in your network
Linkboost is a good tool because it has an option to this:


If all the members of the pod are 1rst degree connections, there is no way linkedin can detect that the engagement is "fake".
Plus, there is social validation effect involved.
People prefer to like posts when there are already a bunch of likes and comments on it.
Basically, the more you get engagement you get on your post, the more likely you are to get more likes and comment.
Hack Linkedin Algorithm With The "Comment To Get" Technique
There is a well-known technique to maximize the engagement on your post.

The "Comment To Get" Technique.

This technique produced excellent results for me:
50K impressions
+300 likes
+700 comments
Here is a screenshot from a post where I asked people to comment to get access to the Evaboot private beta.

The technique is really simple:
Write a post teasing a product or a content
Ask people to comment to get the access
Reply to every comment
When Linkedin will see your post getting a ton of comments, they will push more and more people feeds.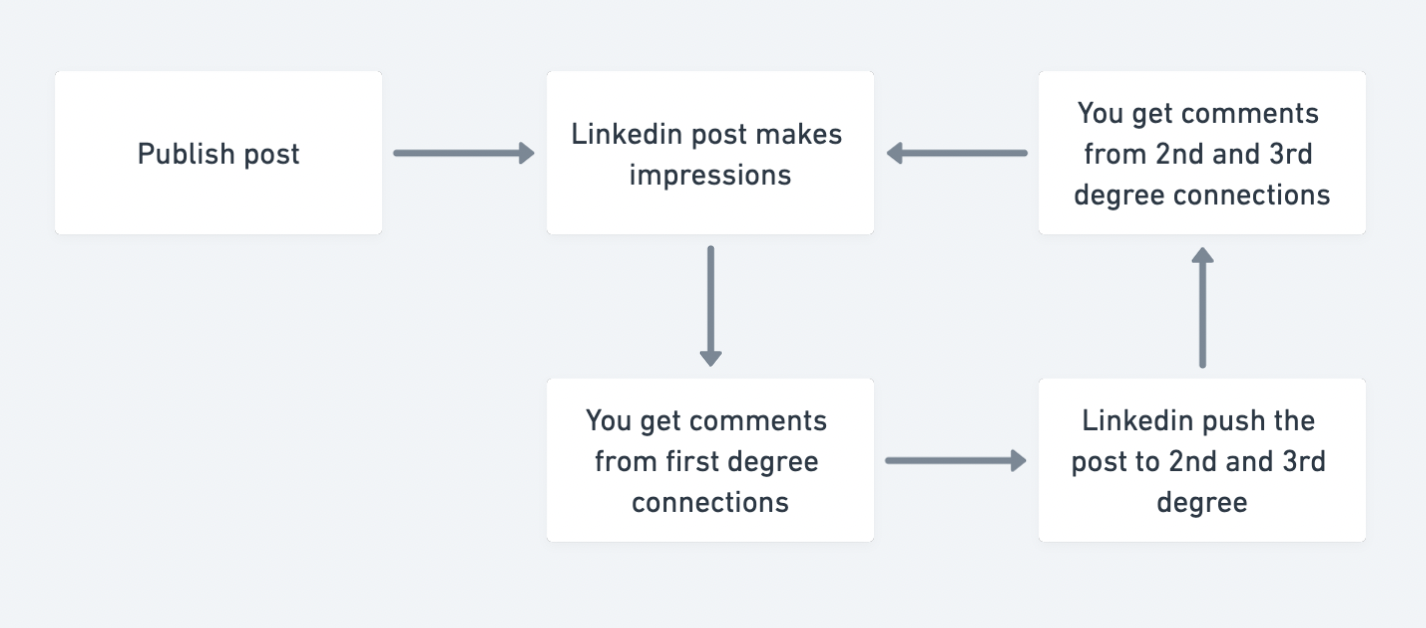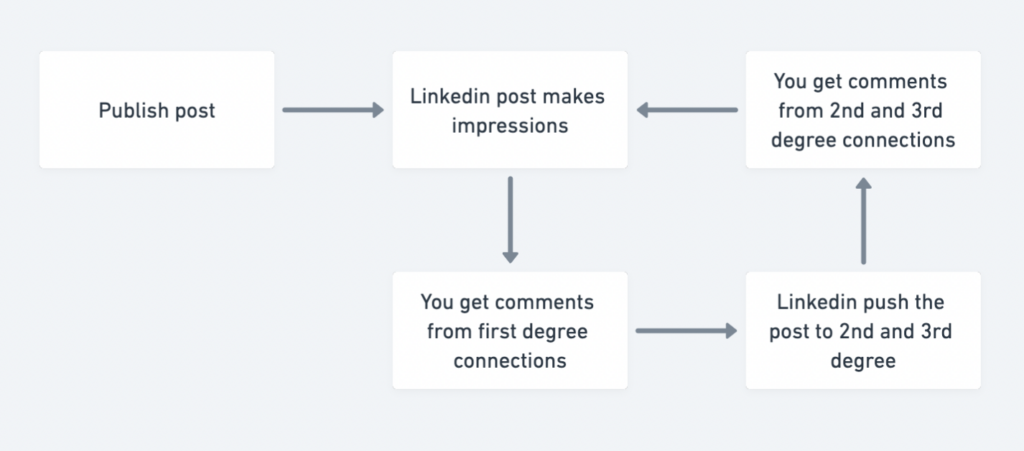 It's really important that you quickly reply to every comment so you maximize the degree of interactions on the post.
Conclusion
Hope these linkedin growth hacks will help you boost your sales in 2022.
If you have any question on how to implement these techniques, feel free to reach out to us using the chat.
We are sorry that this post was not useful for you!
Let us improve this post!
Tell us how we can improve this post?