Is there a search limit on linkedin?
Yes.
There is even 2 search limits on linkedin.
In this article you are going to learn what are these LinkedIn search limits, how do they work and how to bypass them.
What are the Linkedin Search Limits?
There is two types of search limits on a free linkedin account.
The People Search Limit
The Linkedin Monthly Search Limit Commercial Search Limit)
Let's see how they work.
1. What is the Linkedin Profile Search Limit?
When you search for people or account on LinkedIn, LinkedIn only displays 100 pages of 10 results.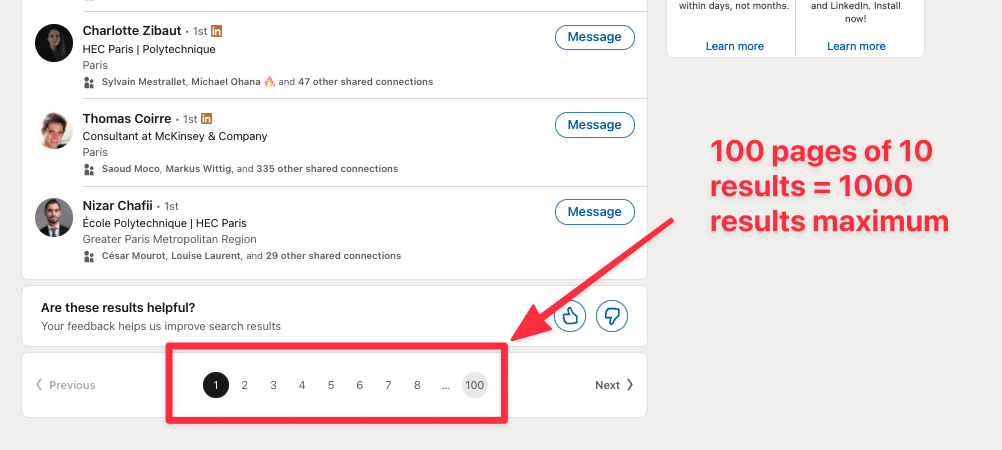 So if you have more than 1000 results in your search, you won't be able to browse or extract them.

That is the first linkedin search limit you will face if you are willing to build large lead list from linkedin
2. What is the Monthly Search Limit on Linkedin?
The second limit is the LinkedIn monthly search limit, also called commercial search limit.
If you have reading this article you came across this pop up.

What is the commercial search limit on LinkedIn?
If you reach the linkedin commercial use limit for searching, it means that linkedin thinks you are using their search engine for commercial activities like hiring or prospecting.
There is no clear explanation on how this commercial search limit is calculated.
The only thing we know is that it changes depending on your LinkedIn activity. The more your profile as active and old, the more searches you are allowed to do.
When does the linkedin commercial limit resets?
Your free monthly usage resets at midnight on the 1st of each month.
Linkedin doesn't show you how many searches you have left on how far you are from the limit before you reach it.
Know that you know how the linkedin search limits work. Let's see some hacks to get around them.
What are The Hacks to Bypass Linkedin Search Limits?
If you have the budget, you can obviously buy LinkedIn premium, LinkedIn Sales Navigator or LinkedIn recruiter to get unlimited people search. But if you are reading, I guess you don't want to do it.
1. How to get Unlimited People Search on Linkedin?
The the best way to have access to more than 1000 results in your linkedin searches is to split your searches into several chunks.
You can do so by using the different filters available:
Geography
Industry
School
Current Company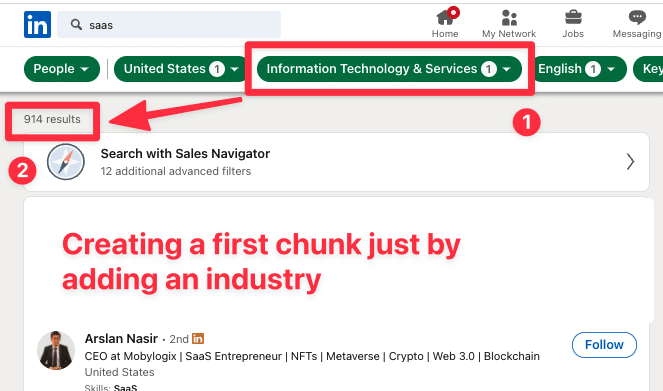 Once you have your first chunk, you add other industries, schools or location to make the second one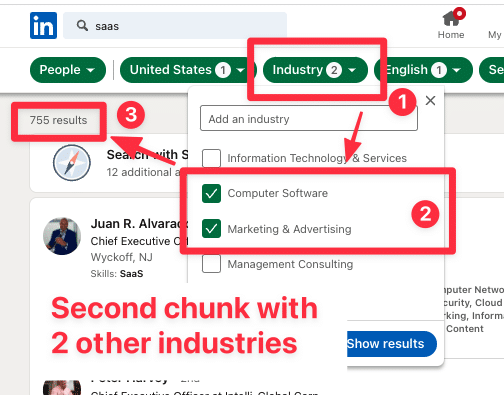 You can repeat this process as many time as you want to be able to browse or extract all your linkedin search results.
2. How to Get Around Linkedin Commercial Search Limit?
The only way to bypass linkedin commercial search limit is to have several linkedin accounts.
Once the linkedin search limit reached on one account, you just need to switch to a new one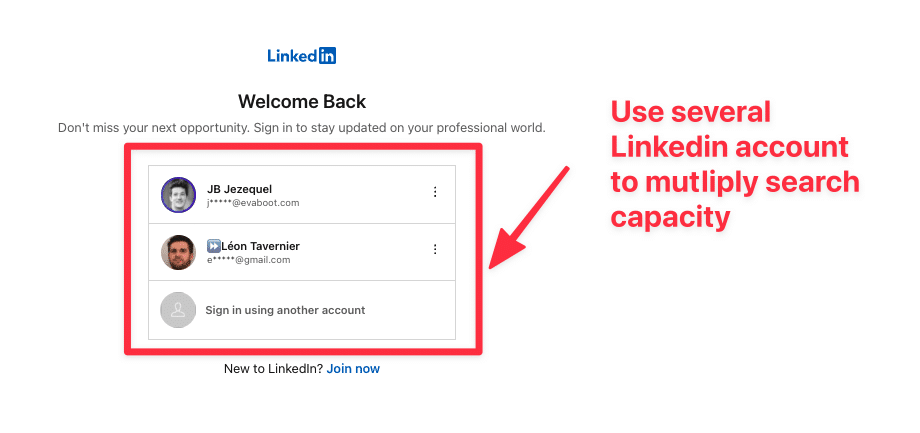 Once you hit the linkedin commercial search limit you can switch account to start making searches with a fresh one.
If you don't wait to pay any linkedin premium subscription, you have to use these tricks.
But if you take prospecting seriously and you have 100 dollars per month to invest, I highly advise you to take a Sales Navigator licence.
How to Get around Linkedin Search Limits with Sales Navigator?
With Sales Navigator, you get unlimited people search and account search. So there is not monthly search limit.
The search results are also limited, but it's higher than linkedin free search limit:
Up to 2500 results for the lead search
Up to 1000 results for the account search
If you want to have access to more than 2500 search results in linkedin sales navigator, you can also use the splitting technique.

Here is a video on how to split your sales navigator searches properly.