Can you boolean search in Sales Navigator?
Of course you can, in every field of the sales navigator keyword search. Meaning the general Keyword filter and the Title filter
In this tutorial, you're going to learn how to use Linkedin Sales Navigator boolean search to find your prospects and reduce the number of unqualified leads in your search results.
Where to use Linkedin Sales Navigator Keyword Search?
There is two places where you can write your Sales Navigator boolean search
The Sales Navigator Keyword Search: this filter will look for the keyword into all the elements in the profile
Description
About Section
Job experiences
Education
Skills
Recommendation

The Sales Navigator Title Filter: this filter will only look for your keywords into the current job experiences of your prospects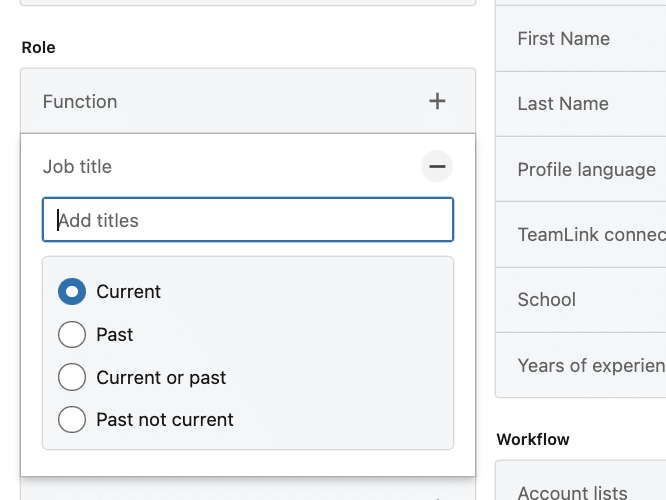 That is too say all the experience with the Present tag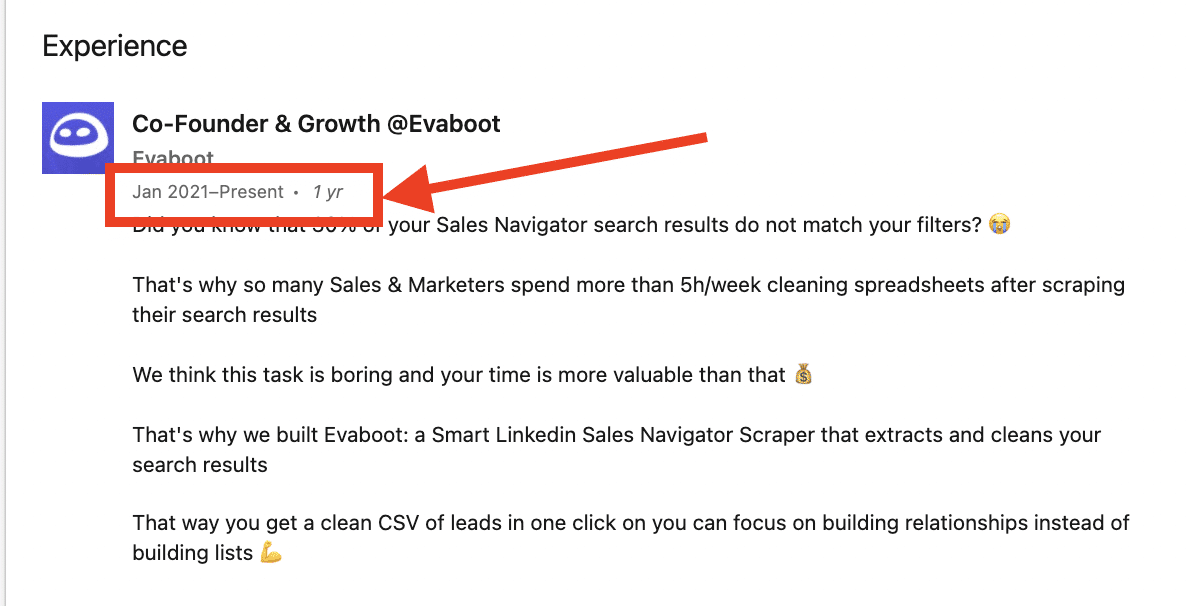 How to use Linkedin Sales Navigator Boolean Search?
Sales Navigator boolean search is really simple programmatic language that work with a combination of logical connectors and punctuation:
AND
OR
NOT
Parentheses
Quotes
1. Search several keywords with "AND "
If you want to search for profiles that include two terms, you can separate those terms with AND. However, you don't have to use AND
Sales AND Director
"Sales manager" AND "B2B"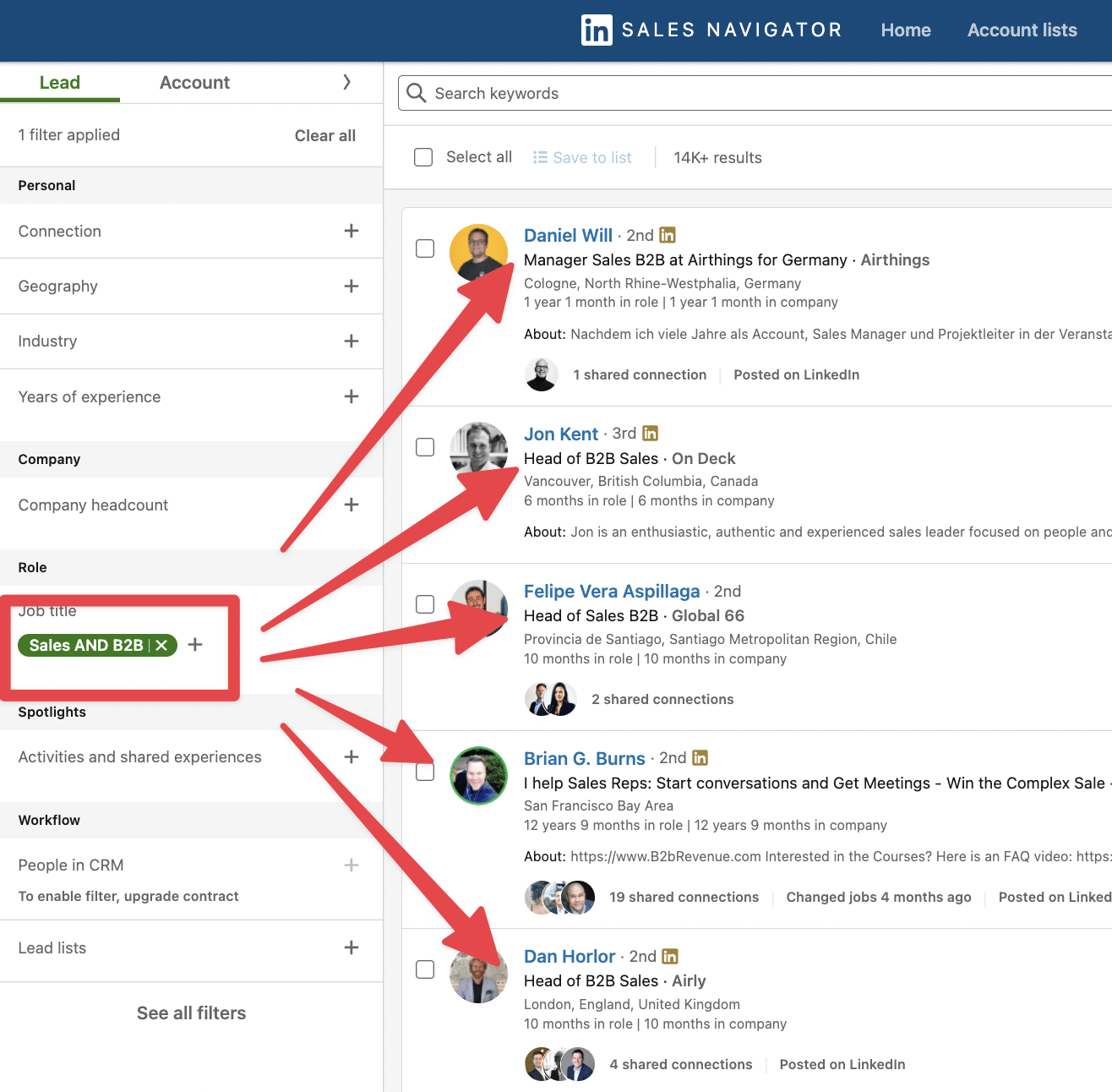 If you enter two terms, the search engine will assume there is an AND between them.
2. Search at least one keyword with "OR"
If you want to broaden your search to find profiles that include one or more terms, you can separate those terms with OR.
OR is most often used to search for alternate spellings, or for terms that mean the same thing.
For example:
"Sales Operations" OR "Sales Ops"
"Vice President" OR "vp" OR "V.P." OR "SVP" OR "EVP"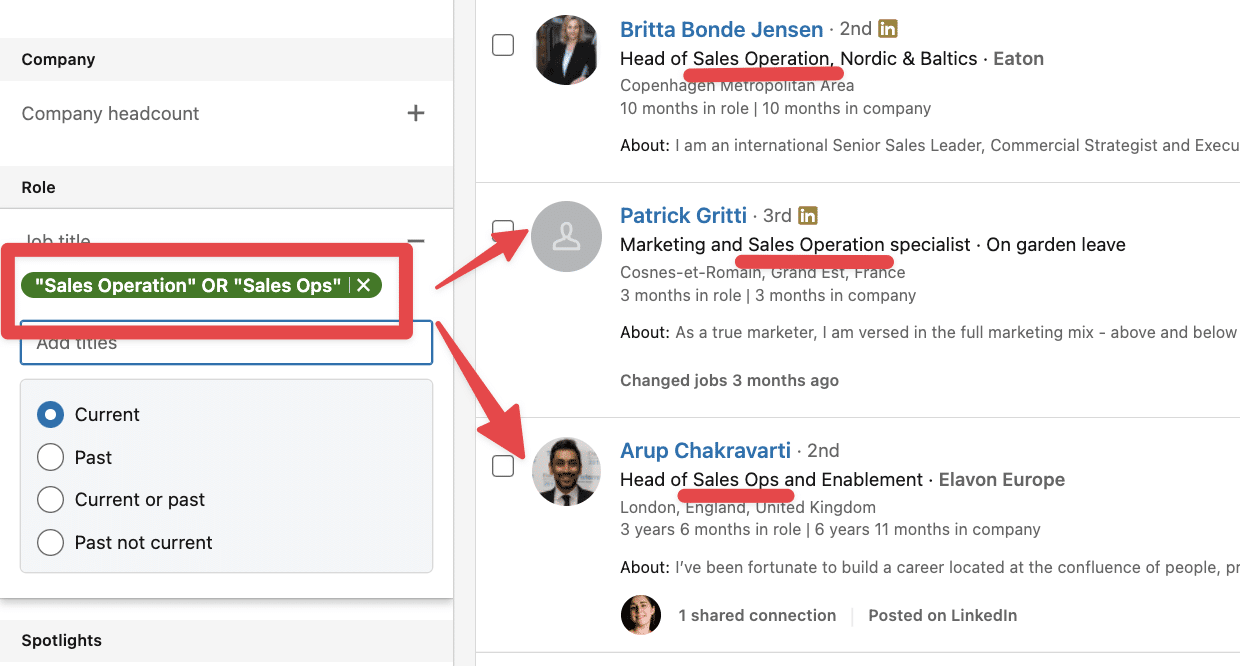 3. Exclude keyword from search with "NOT"
If you want to exclude a particular term from your search, type that term with NOT before it.
Your search results will exclude any profile containing that term.
For example:
Director

NOT Executive NOT VP NOT "Vice President"
Let's see a live example.

Here I added the keyword "CEO" in the title filter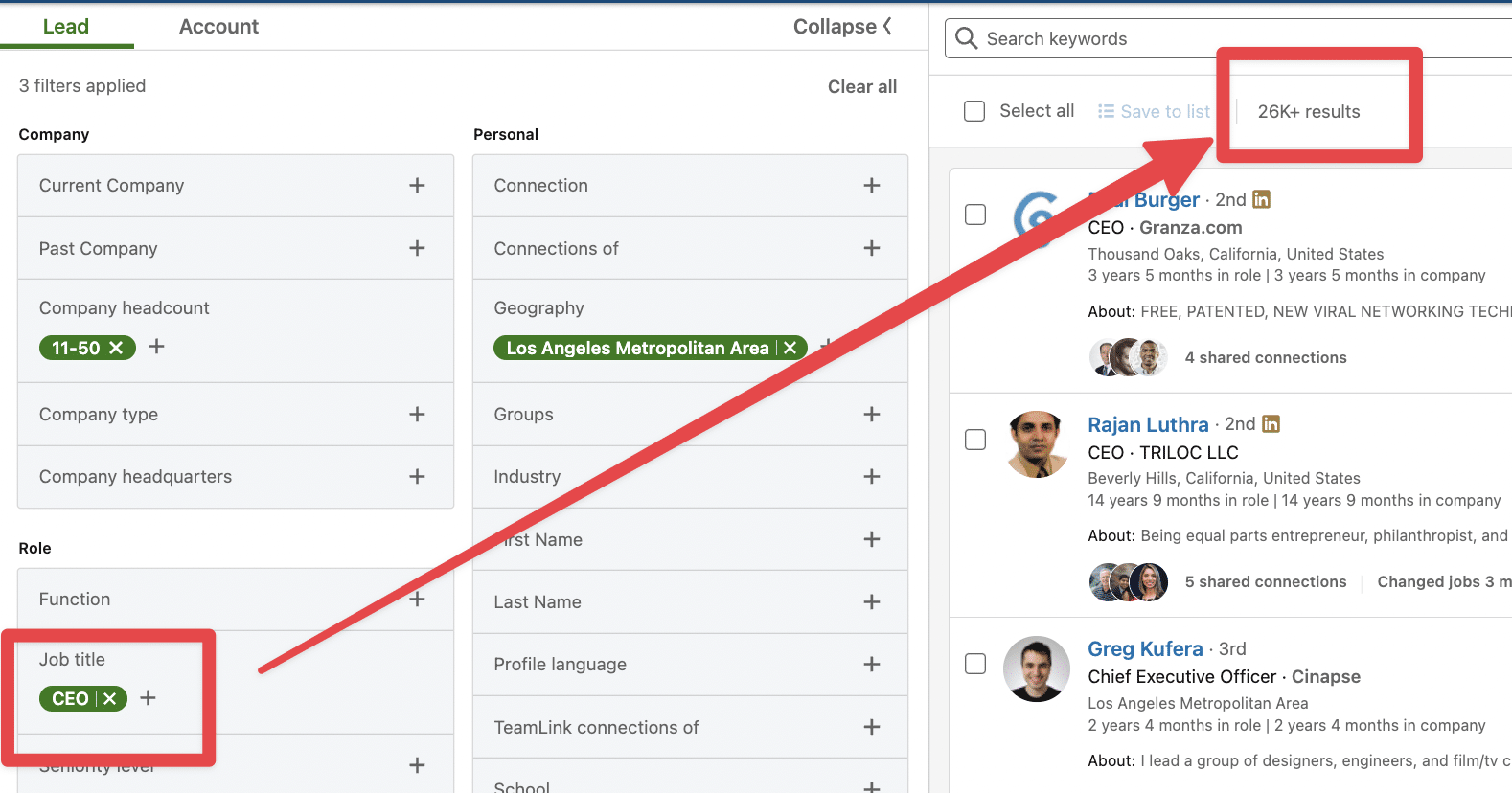 If I change it to CEO NOT Assistant, you can see that I exclude 1000 leads from the search.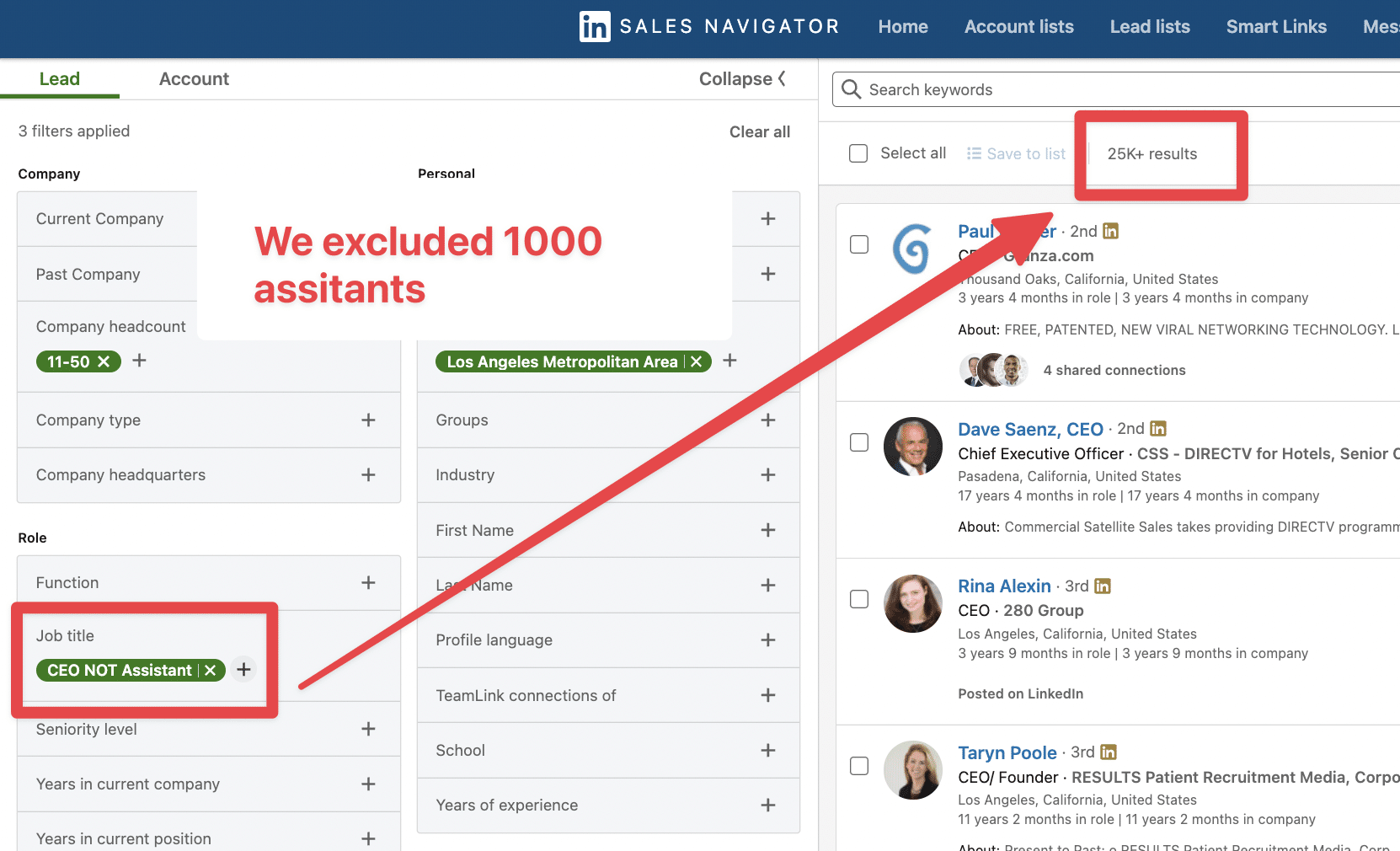 I can do the same thing by adding another keyword and clicking on the exclusion button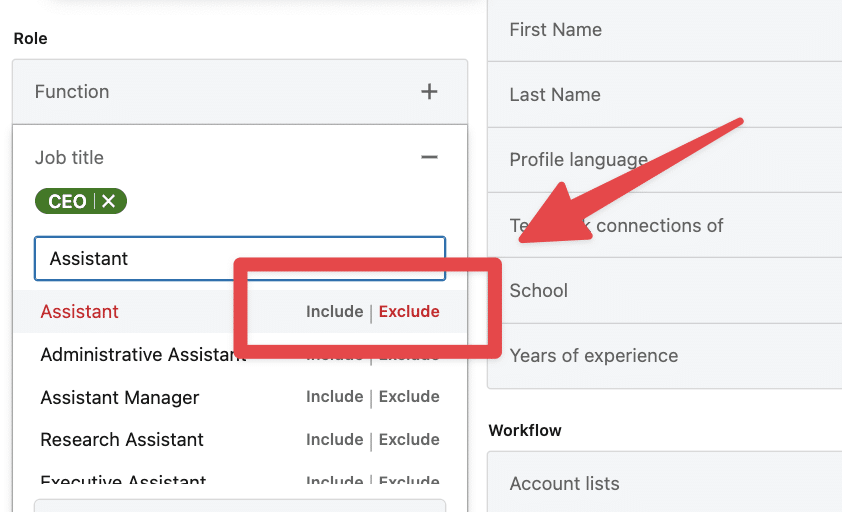 Once you click, the button will appear in red and the exclusion will work exactly like if you had put a NOT boolean operator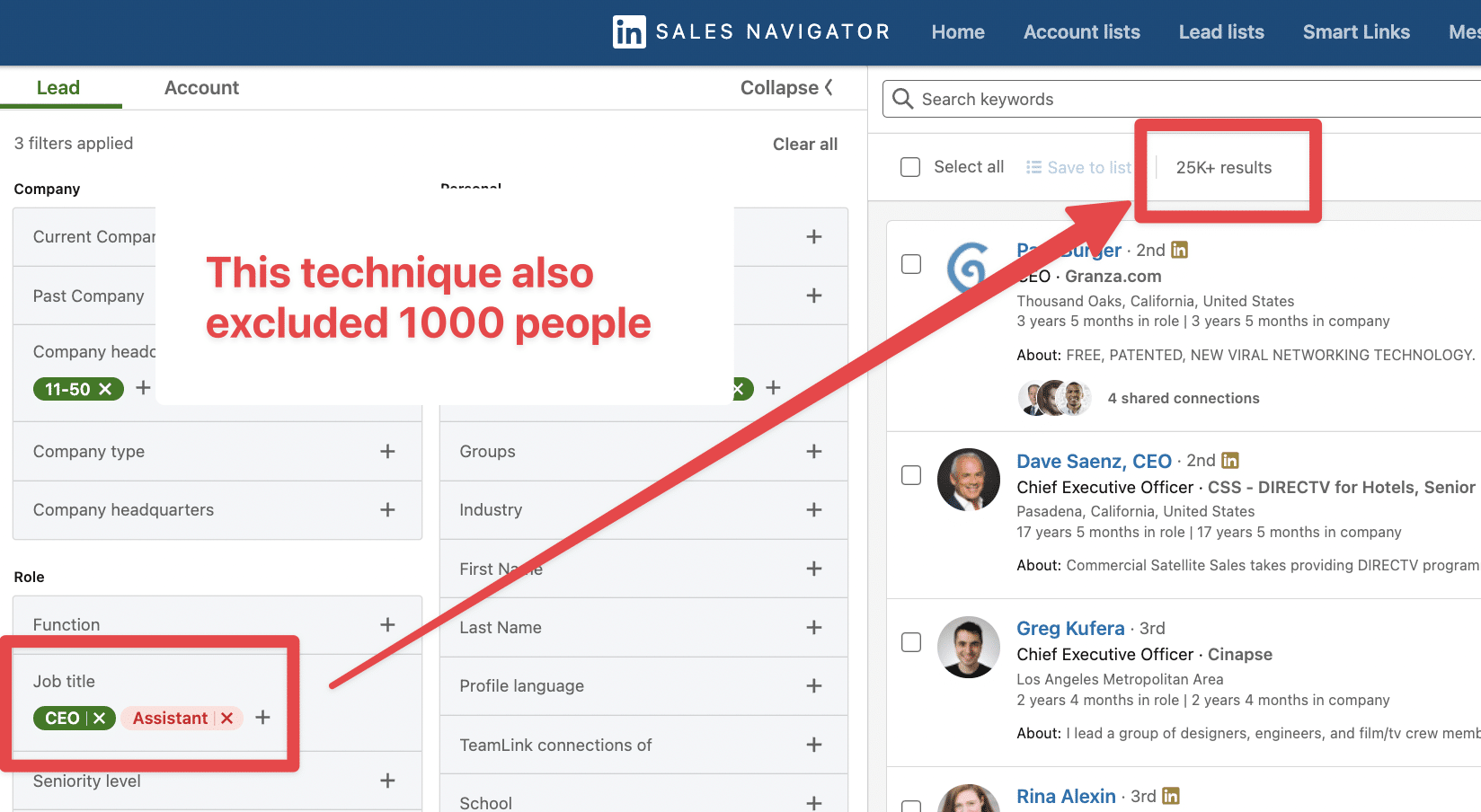 4. Combine Boolean Queries with Parentheses
If you want to do a complex search, you can combine terms and modifiers.
For example:
Marketing AND (B2B OR B2C)
This will look for profile containing Marketing AND B2B OR Marketing AND B2B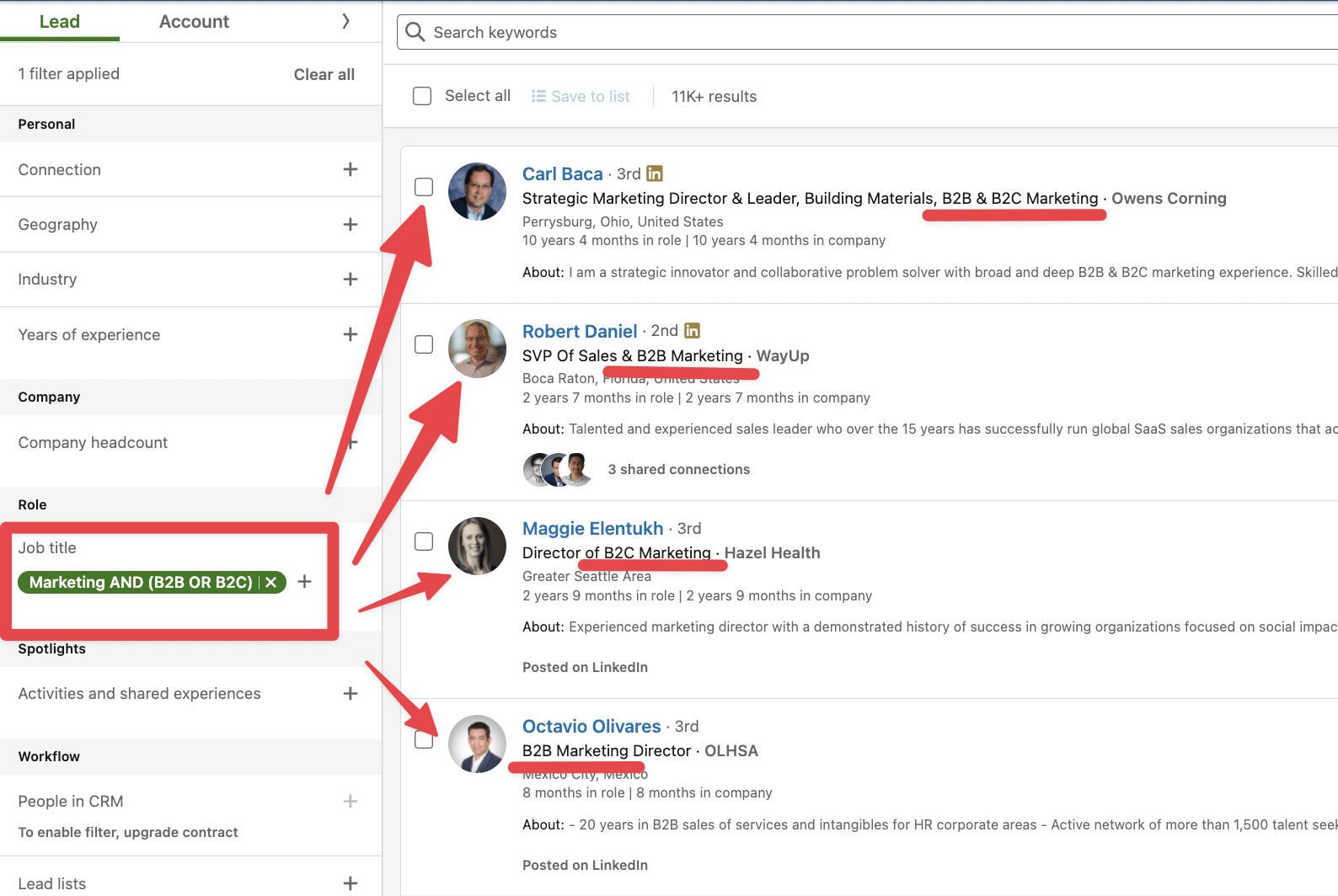 5. Exact Sales Navigator Keyword Search with Quotes
If you want to search for an exact phrase or terms that include:
Enclose the phrase in quotation marks.
You can use these in addition to other modifiers.
For example:
"sales manager"
"V.P"
"account representative"
"human resources manager"
If I forget to add the quotes to sales manager, Linkedin will understand sales AND manager


You see that there is some search results that are not relevant in the screenshot above.

However, if I add quotes aroud "sales manager" in sales navigator boolean search, the results get much better.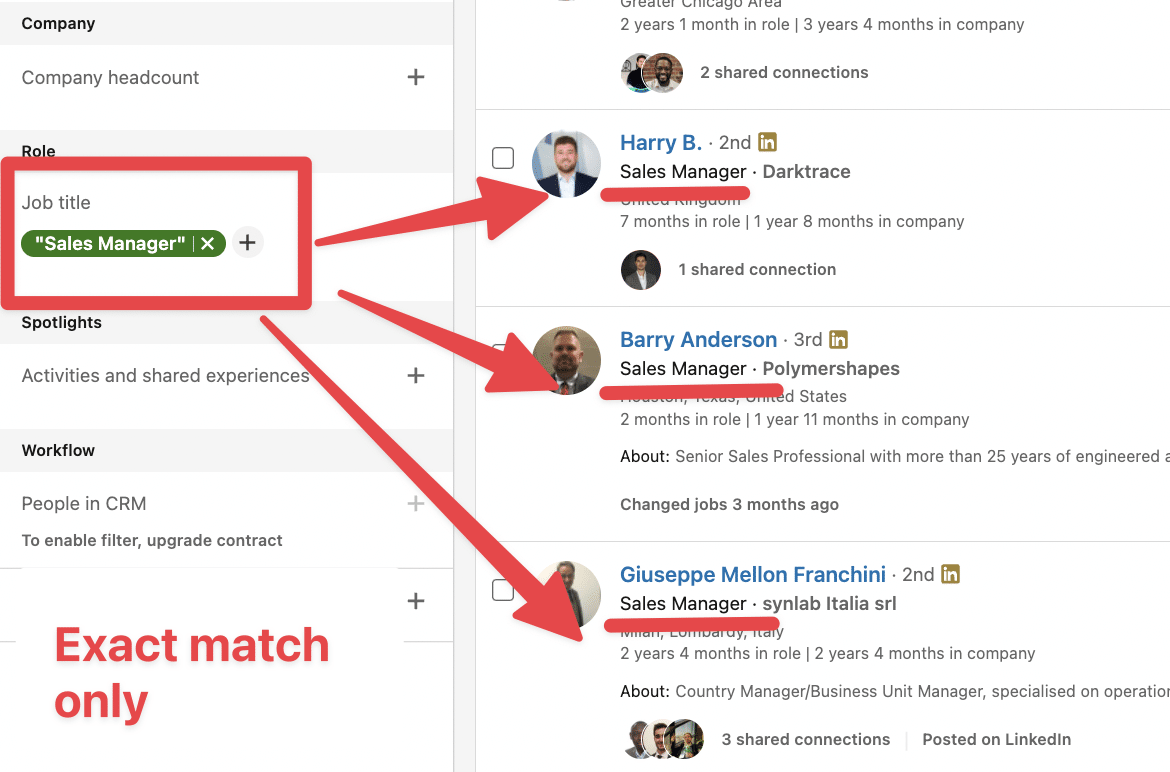 Now, you can see clearly the difference between adding and forgetting the quotes.

This really important if you want to build qualified lead lists and avoid to contact people outside of your target
How to Export your Linkedin Sales Navigator boolean search?
Once your you completed your boolean search in linkedin sales navigator and you got your list of prospect, you can export the leads from Sales Navigator to a CSV with Evaboot.
Evaboot will also:
Double check every profile to see if your boolean has correctly been applied by Linkedin.
Clean the names: people love to add emojis or capital letter in their name. Evaboot clean the rubbish in the data so you can have clean names for your CRM and your cold outreach campaigns.
We are sorry that this post was not useful for you!
Let us improve this post!
Tell us how we can improve this post?