Multichannel Outreach: The Ultimate Guide for Sales (2023)
Multichannel outreach is more and more popular among SDRs and sales reps.
You know why?
Well,

Because you can get amazing results with it: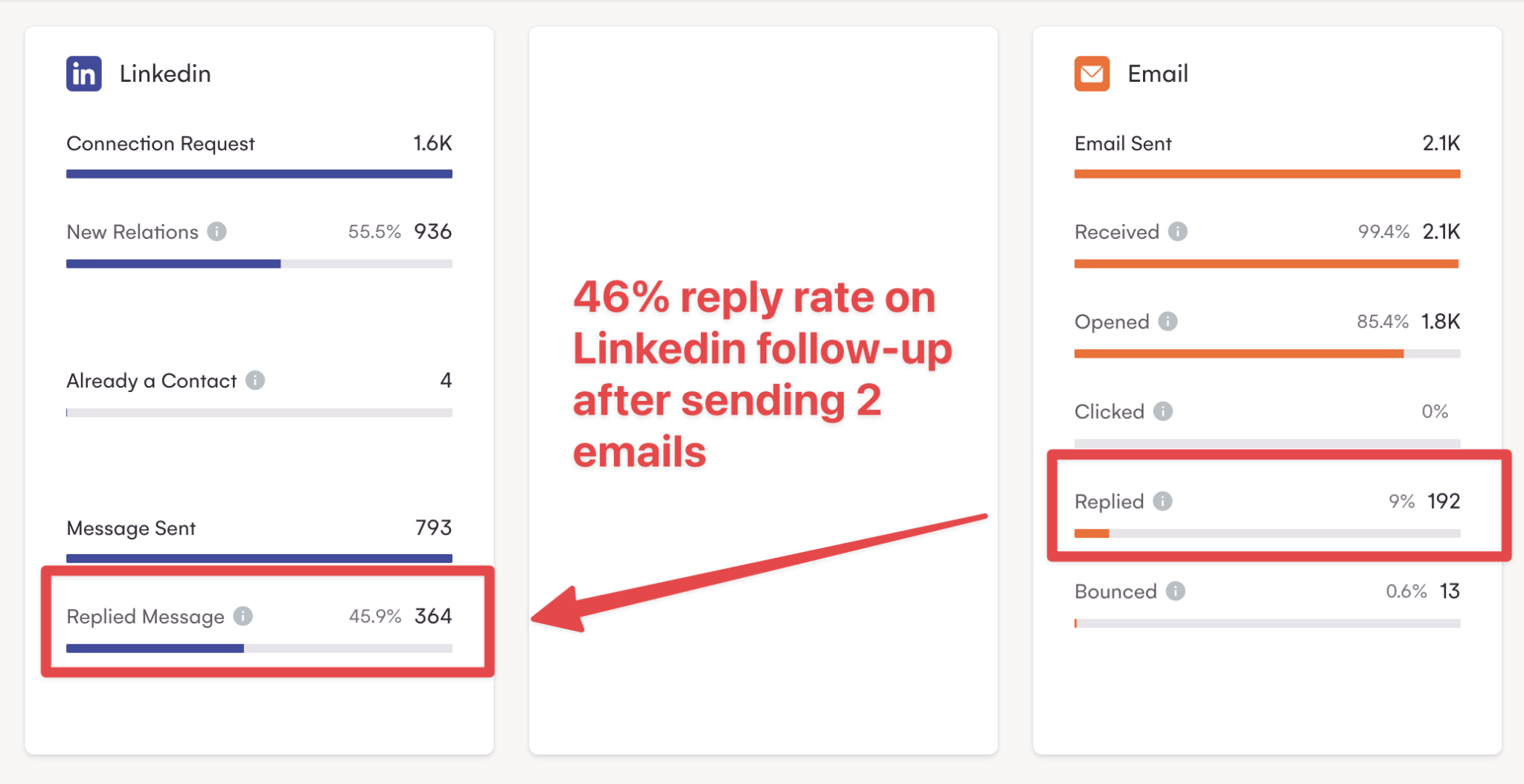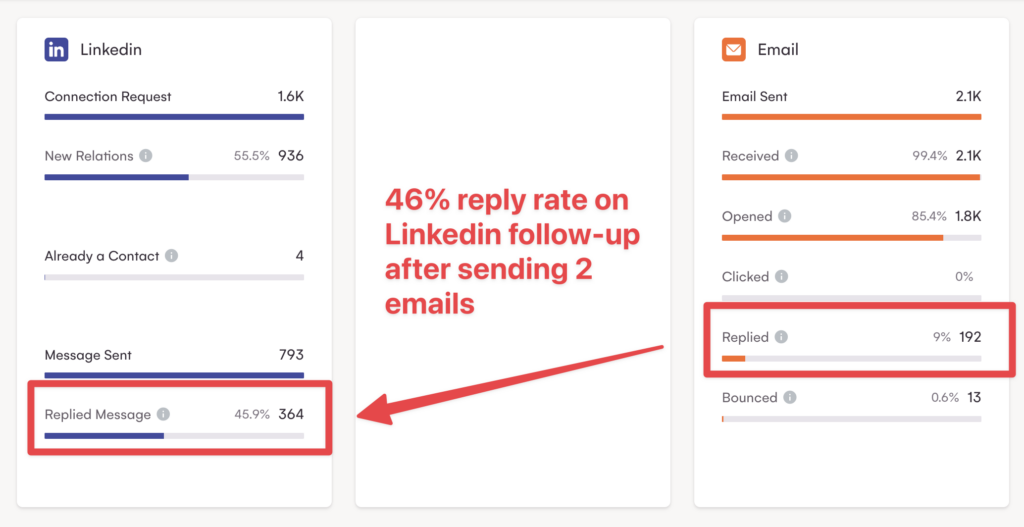 In this campaign, I contacted +2000 people:
Started with 2 emails
Sent a linkedin connection request without note
Send 2 linkedin messages
The results:
55.5% of linkedin request were accepted
46% of people replied to the messages
Want to get the same results?
Read this post carefully.
Let's dive in.
What is Multichannel Outreach?
Multichannel outreach describe the process of using different channels to reach out to your leads.
An example of multichannel sales outreach could be to start by sending emails, then linkedin messages and finally try to call your lead on his phone if you get no reply.
What are the Advantages of Multichannel Outreach?
5 advantages of multi-channel approach:
You can outreach without emails
You don't have single points of failure
Your approach seems less pushy
You activate reciprocity bias
You find your prospect favorite channel


1. You can outreach without emails
If you focus only on email outreach, you will abandon the leads for which you cannot find the emails.
That's nonsense.
Why did you put these leads in your lists in the first place?


Because you thought they were potential customers.
Most email finders will find 70-80% of the emails in your lead list.
You can't abandon 20% of your leads the time you launch a prospecting campaign.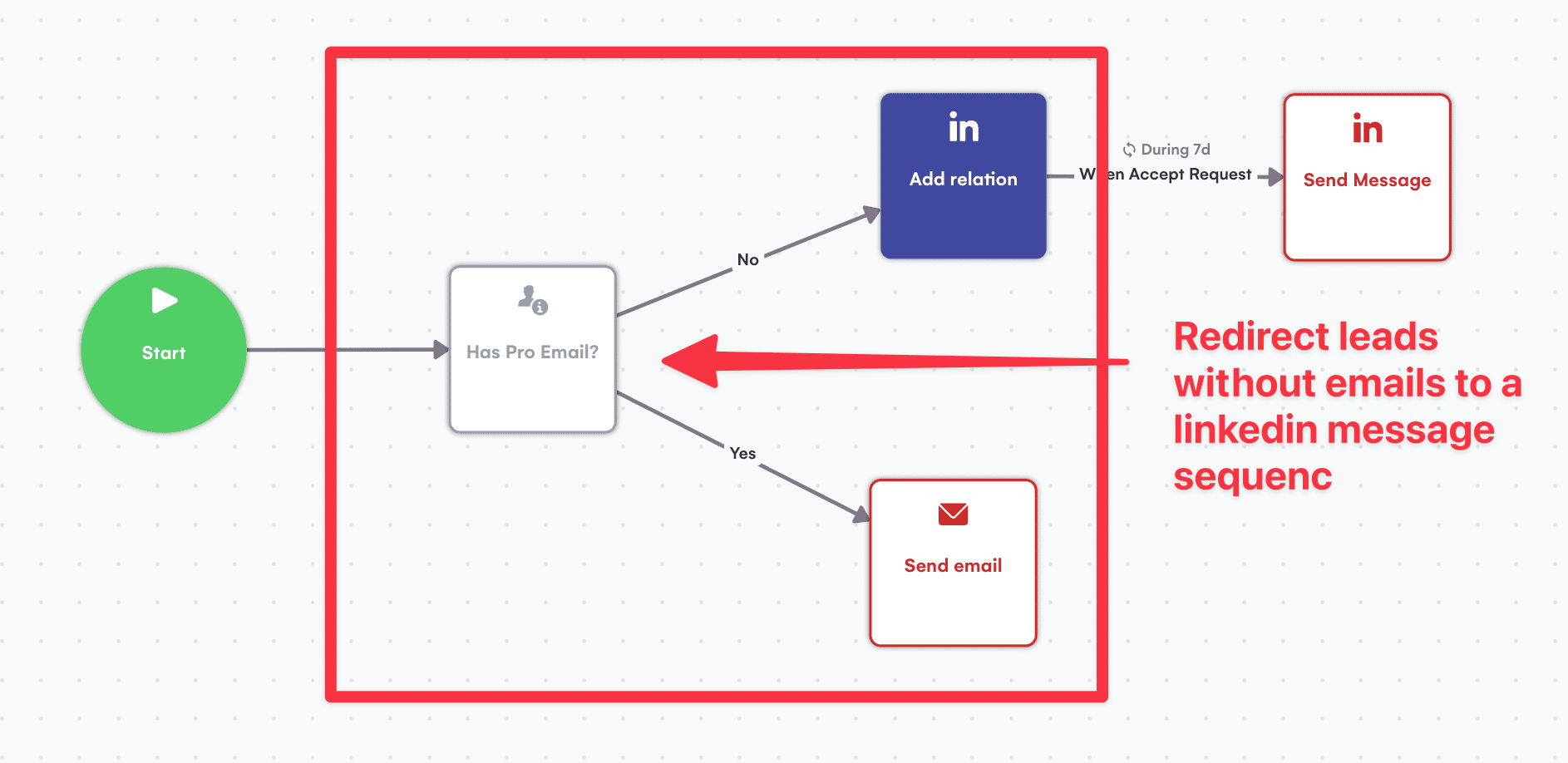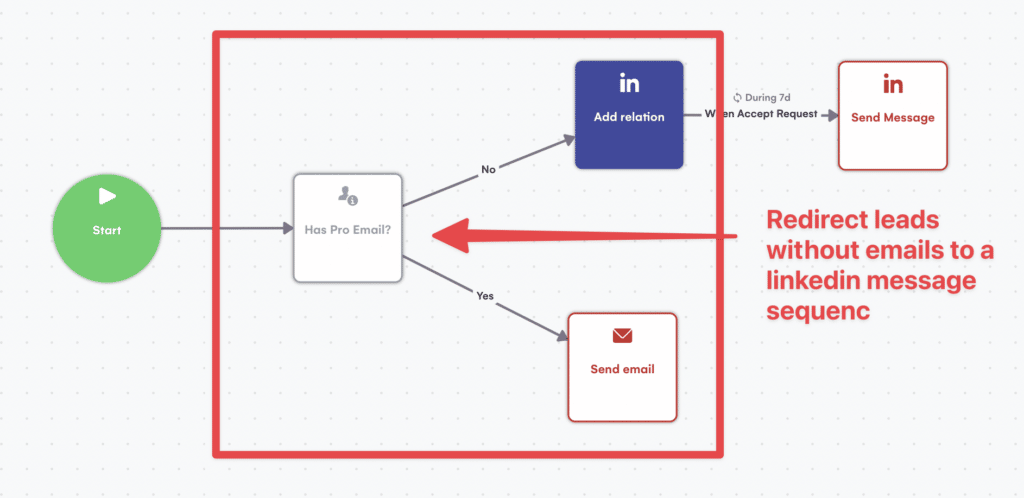 That is why it's essential to have a fallback channel.
It can be Linkedin, cold calling, Twitter. That will dramatically increase sales engagement.
That's up to you.
But pick at least one.
Don't give up on any leads before you get a reply. Whatever the channels you must use.
2. You don't have single points of failure
If you rely on a single channel for your outreach, you have a single point of failure.
If you are only using cold email:
What happens if all your emails start going to spam?


Then your business is at a standstill.
Be aware that your email domain reputation could impact for some day due to technical problems.
Same thing for Linkedin.

If you rely 100% on linkedin outreach:
What happens if your linkedin account gets restricted?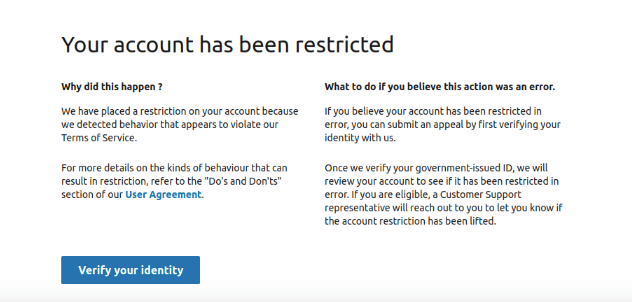 Be aware that might happen if you use linkedin automation tools.
That can also happen on Twitter.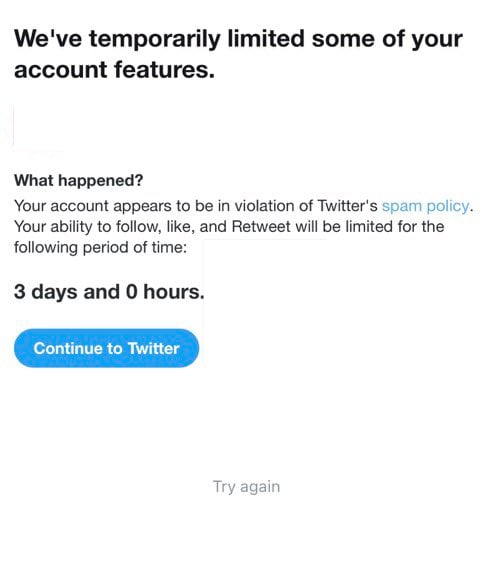 So the point is simple here:
Diversifying your sales channels make your lead generation more robust and crisis resistant.
3. Your approach seems less pushy
When you follow up more than 3 times on the same channels, your approach start to look a bit pushy.
Nobody like to be harrassed by strangers especially if their messages are not personalized.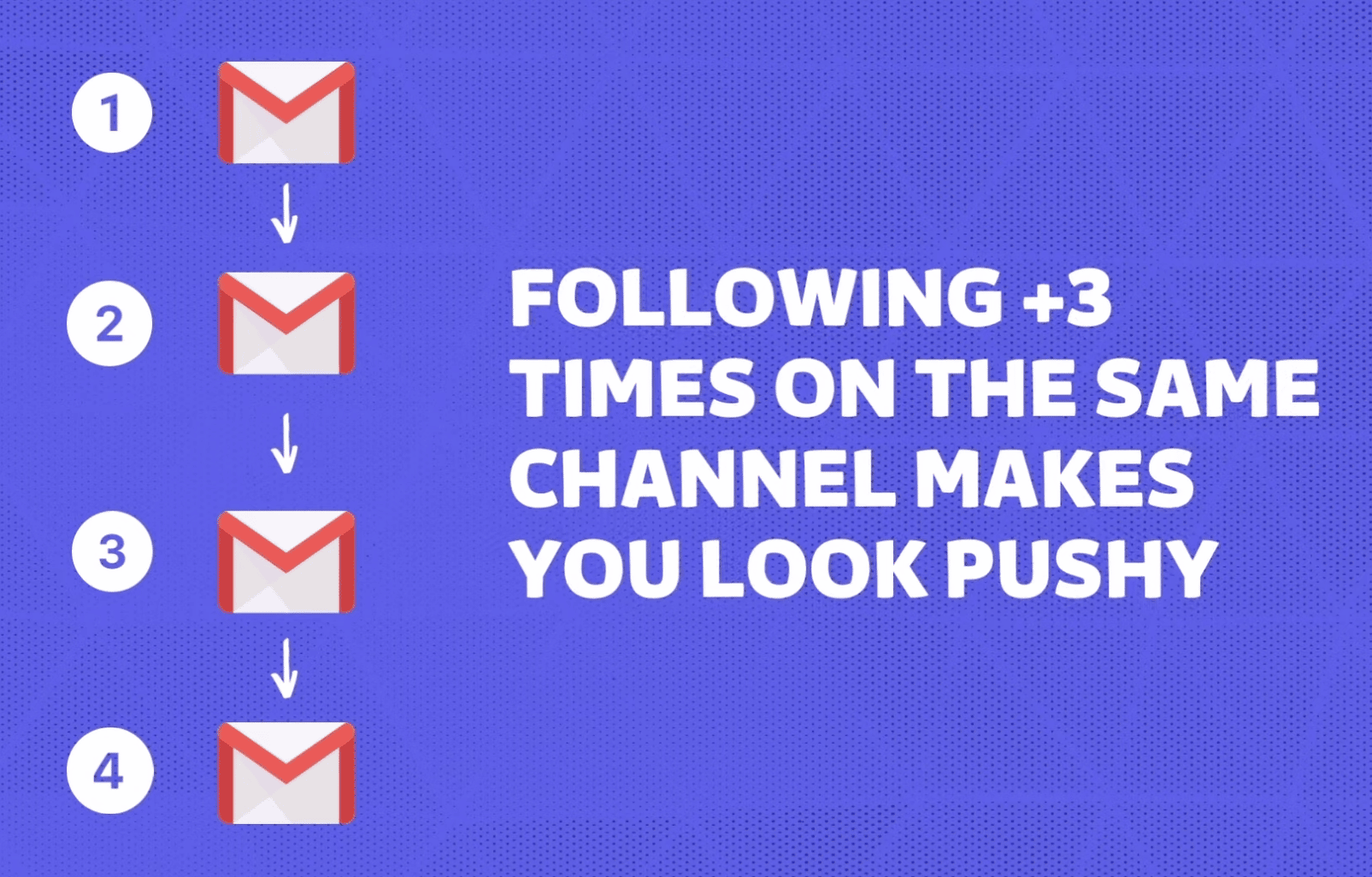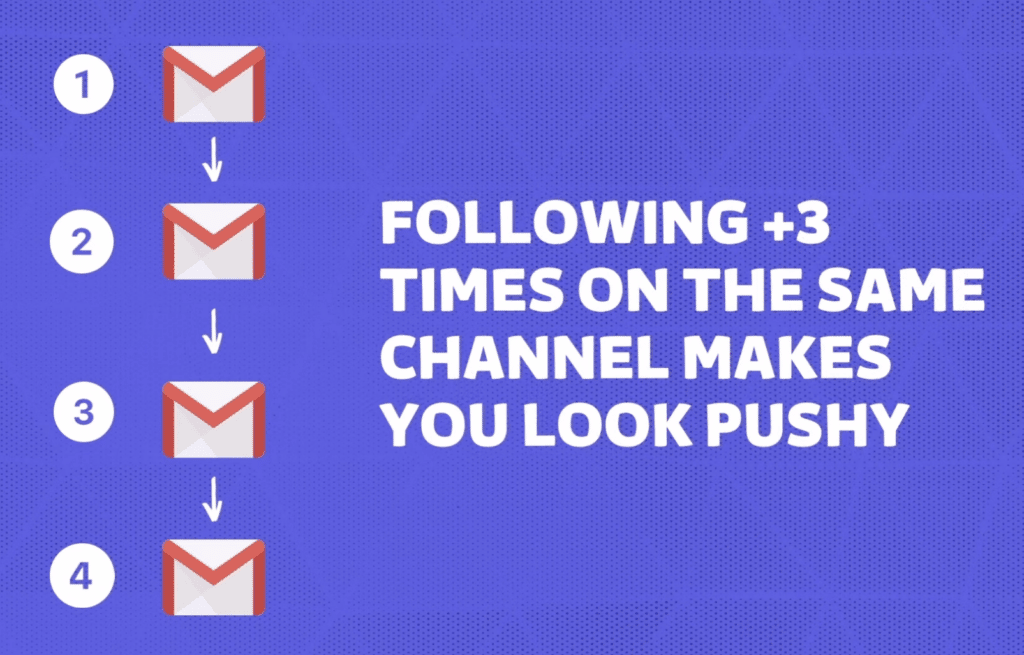 On the contrary if you multiply touchpoints and switch channels while you follow-up, your follow-up messages will look like a brand-new conversation.

That's why the conversion rate and response rate on multichannel campaigns is much higher.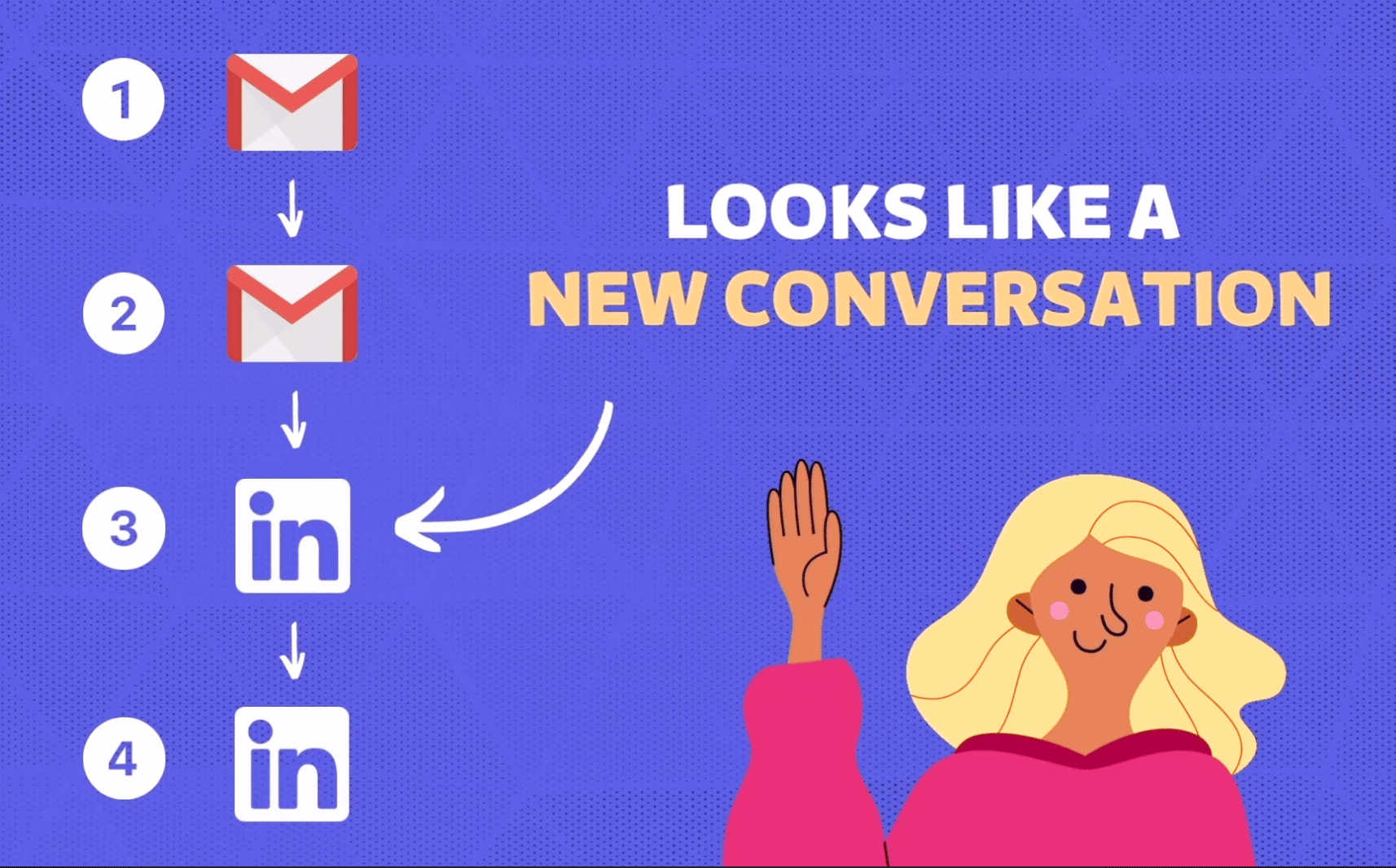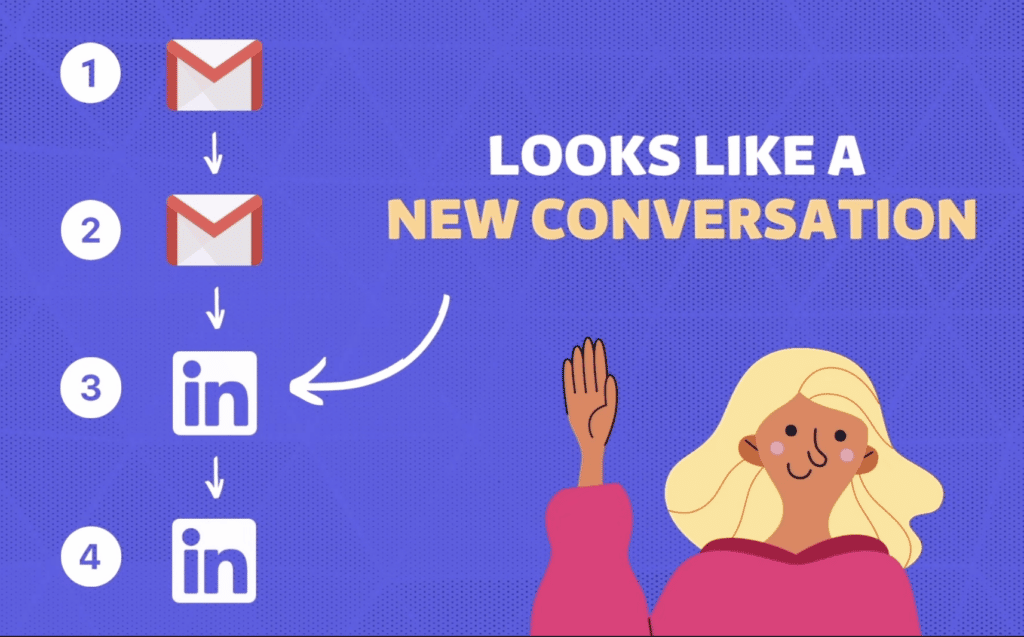 This gives a "fresh start" to your approach and make your prospects totally reconsider your offer as he might not even remember you sent hit an email.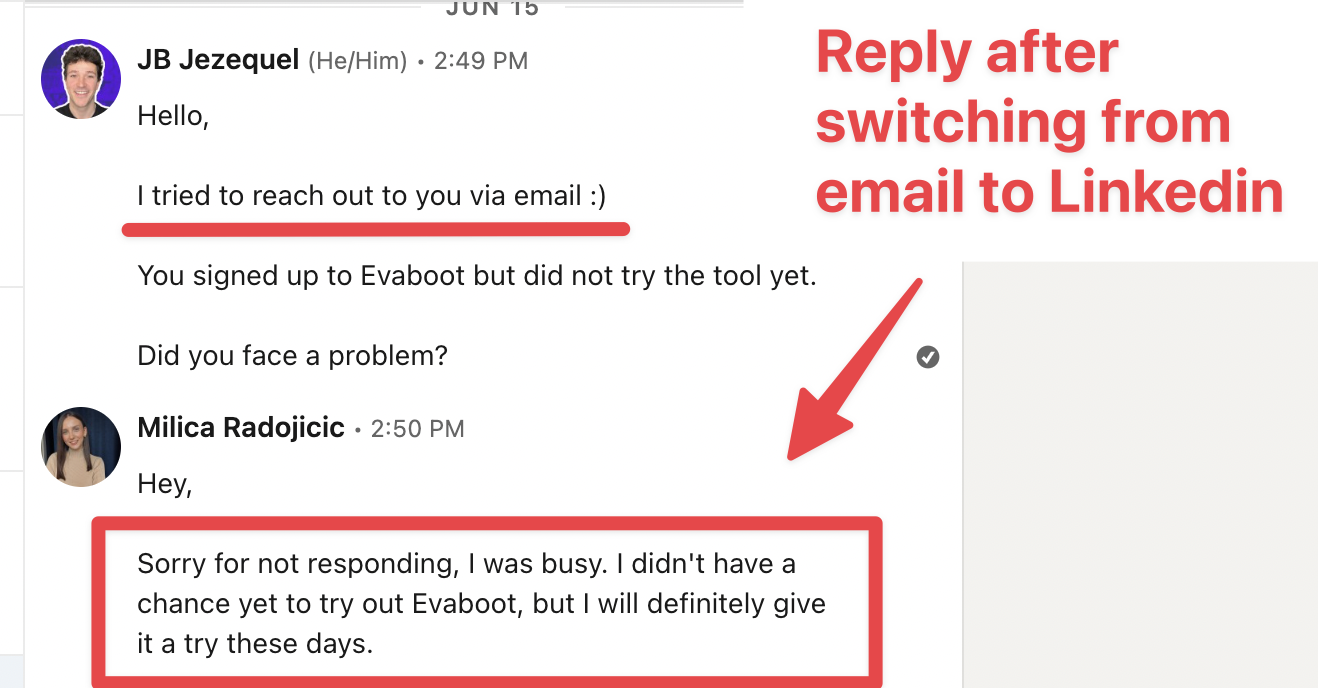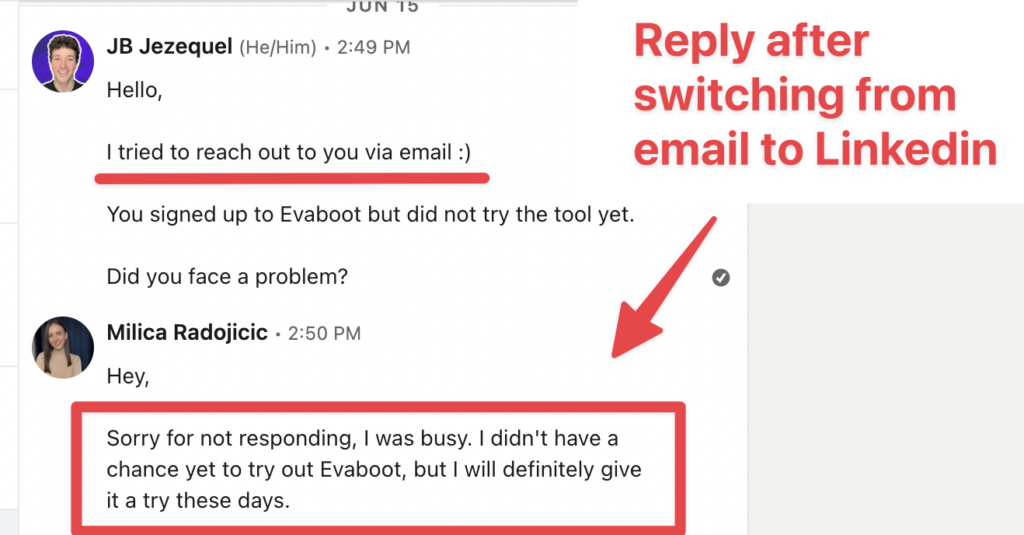 4. You activate reciprocity bias
The fact that you make the effort to do some research and switch channel is really appreciated by your prospects.
By doing that, you differentiate yourself from the competition.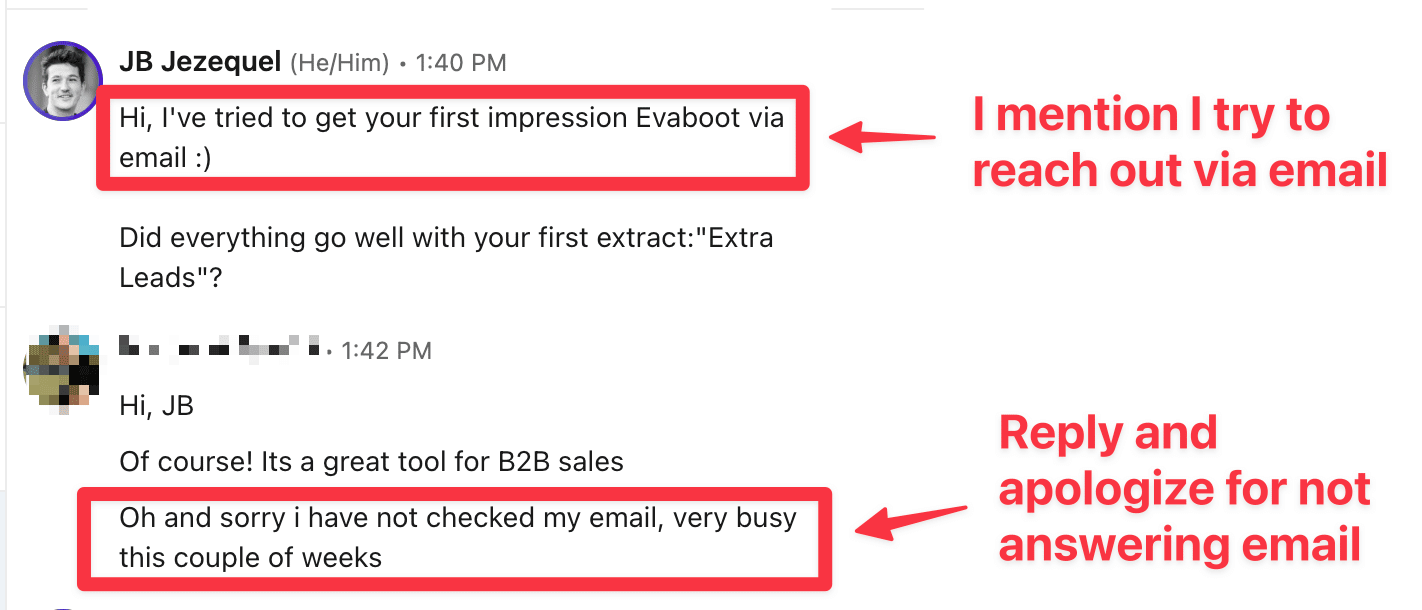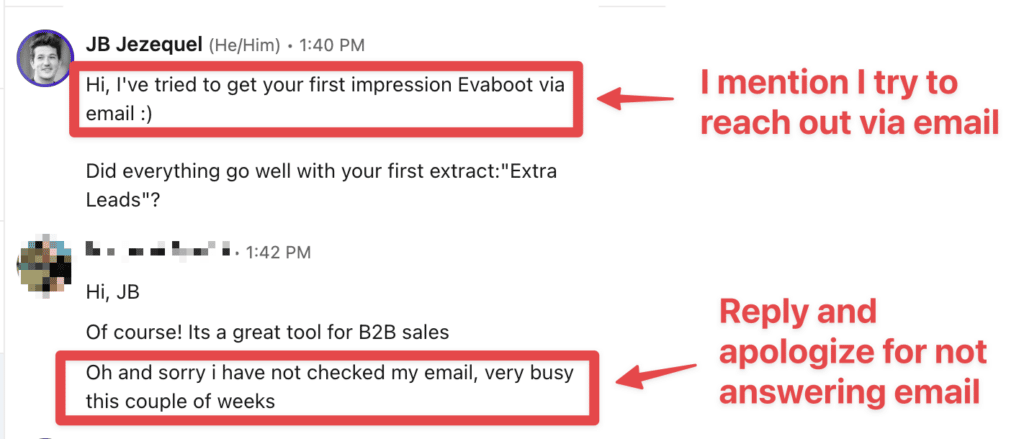 I have noticed that this creates a kind of debt in your prospect's mind.
This is call: reciprocity bias
When someone is making a lot of effort to reach out to you, you feel like this effort should be rewarded.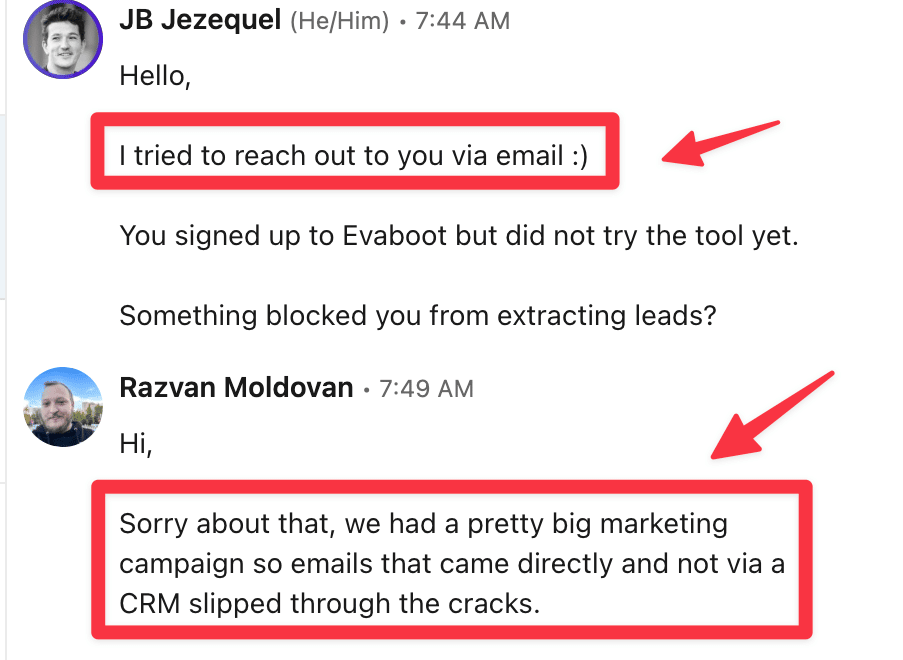 Your prospect know that it's easy for you to follow-up on the same channel.

It doesn't require a lot of effort.
You simply write a few lines and press Send.
On the contrary, most people will value the fact that you switch channels because that is a sign you really want to talk to them.
5. You find your prospect favorite channel
People have different habits.
Some prefer talking on Linkedin. Some prefer exchanging via email. Some prefer to talk on the phone.


That is something you can't guess before getting to know someone.
The best way to discover your prospect favorite channel?
Try them all.
Imagine focusing on Linkedin whereas your prospect only connect to the app once a week.
You don't have much chance of getting an answer.
5 Channels To Leverage For Sales Outreach
5 channels you can use for with multichannel outreach:
Email
Linkedin DMs
Linkedin Inmails
Cold Calling
Twitter
1. Email
Email is the most common prospecting channel.
It's easy to set up and easy to scale, as you can send up to 150 emails per day per email address.
Pros
Cons
Volume (150 /day)
High competition
Easily scalable
Low Reply Rare
Spam Filters
Pay to find emails
However, you need to collect the emails of your leads.
You will never found 100% of them.
You also need to take care of your deliverability to avoid spam. You can even use an AI email assistant to craft engaging emails.
2. LinkedIn DMs
LinkedIn is the 2nd most popular prospecting channel.
You can contact people by sending connections request or Inmails.
The huge advantage of LinkedIn is that all LinkedIn profiles are public.
| Pros | Cons |
| --- | --- |
| Free | Low volume (100 request /week) |
| High reply rates | Hard to scale |
| No deliverability issues | |
It is easy to contact your leads there as long as they have a LinkedIn profile.
However, to be able to send messages, you need your leads to accept your connection request first.
This is the only drawback compared to email, where you can land directly in the inbox.
3. Linkedin Inmails
Linkedin Inmails credits allow sending DMs that land directly into your prospect inbox.
Without having to send a connection request first.
There are really handy has they allow bypassing linkedin connection request step.
| Pros | Cons |
| --- | --- |
| Land directly in Linkedin ibox | Low volume (50 /month) |
| High reply rates | No follow-ups |
| No deliverability issues | Expensive |
However, you must be subscribed to one of the linkedin premium offers to get inmails credits.
With Linkedin Sales Navigator, you get 50 Inmails credits per month.
4. Cold Calling
If your target does not reply to your emails and LinkedIn messages, you might want to try to find their phone number and cold call them.
| Pros | Cons |
| --- | --- |
| Direct line with prospect | Low volume |
| Low competition | Need to find phone number |
| High reply rate | Tools to find phones are expensive |
Here is how to find phone numbers from LinkedIn:
What is nice about integrating cold calling into multichannel sequences is that you can mention your email and LinkedIn messages in the call.
That way, you don't appear like a stranger.
The fact that the prospect didn't reply to your message also gives you a legitimate reason to call them.
5. Twitter
Twitter is not the most popular B2B prospecting channel, but many people are posting and consuming B2B content there.

The good thing is that Twitter inboxes are way less flooded than email and LinkedIn ones.
| Pros | Cons |
| --- | --- |
| Low competition | Not the favorite channel of most people |
| High reply rate | |
| No deliverability issues | |
You might have a good change to stand out and get many replies.

If your potential customers are present on Twitter, it definitely worth a try.
How To Launch Your Multichannel Outreach Campaign?
How to get started with multichannel outreach:
Use a solid multichannel outreach tool
Extract contact details from Linkedin
Warm up your emails and Linkedin account
Write your prospecting messages
Prioritize your channels
Keep track of all interactions in your CRM
Publish on Linkedin
Run Linkedin Ads
1. Use a solid multichannel outreach tool
There are more and more prospecting tools that allow to build multichannel cold outreach sequences now:
Lemlist
Expandi
Waalaxy
And more…
I personally use LGM as they sequence builder is really visual, and the product is really solid.
Your prospecting campaigns can quickly become a mess if your outreach tool is not technically solid and LGM never fails.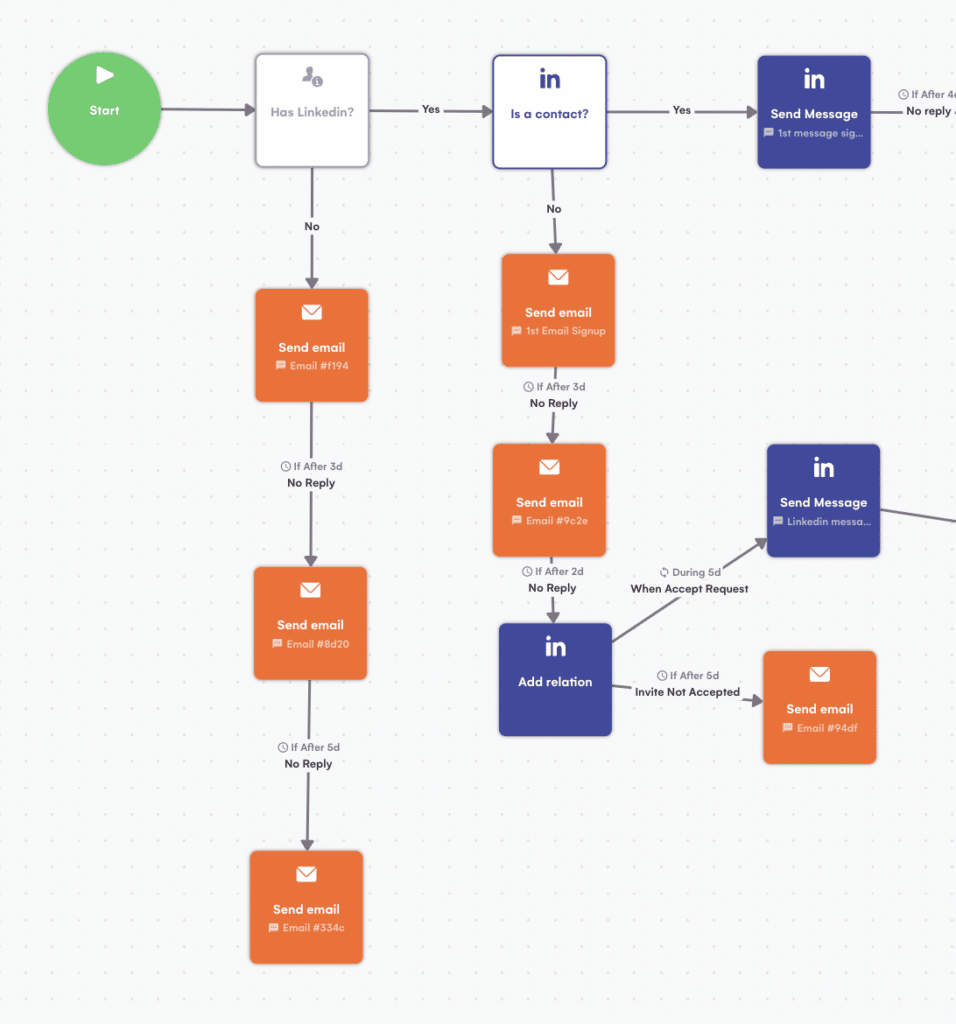 2. Extract contact details from Linkedin
To launch your first multichannel outreach campaigns you will need to build list of prospects and get their email.
It's a mandatory step is your sales process to build email campaigns.
To easily do this the best thing is to use Linkedin Sales Navigator + Evaboot.

3 steps:
Build your lead list on Sales Navigator
Extract the data into a CSV with Evaboot (including linkedin URLs)
Find email with Evaboot
Once you have your lead list enriched with professional emails, you can upload it into your favorite outreach tool.
Here is also a tutorial to show you how to use sales navigator effectively to find your ideal customer profile.
3. Warm up emails and Linkedin accounts
If you are just getting started with linkedin outreach, you need to warm up your email and linkedin account.
If you start sending a lot of messages right away, there is a risk for your emails to land in spam and your linkedin account to be restricted.
To warm up your emails, you can use a solution like Mailreach which is really efficient to avoid spam when start sending cold emails with a new domain.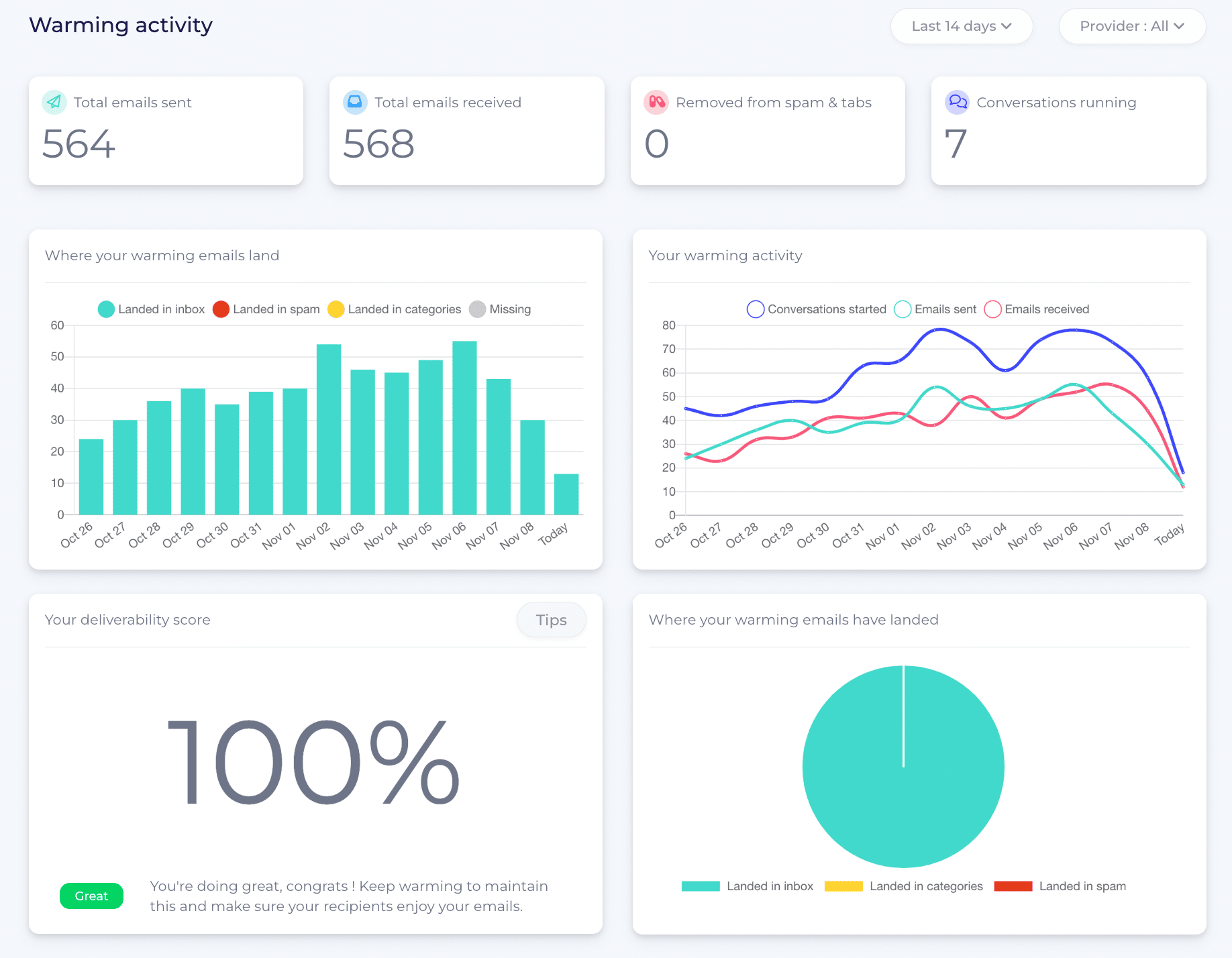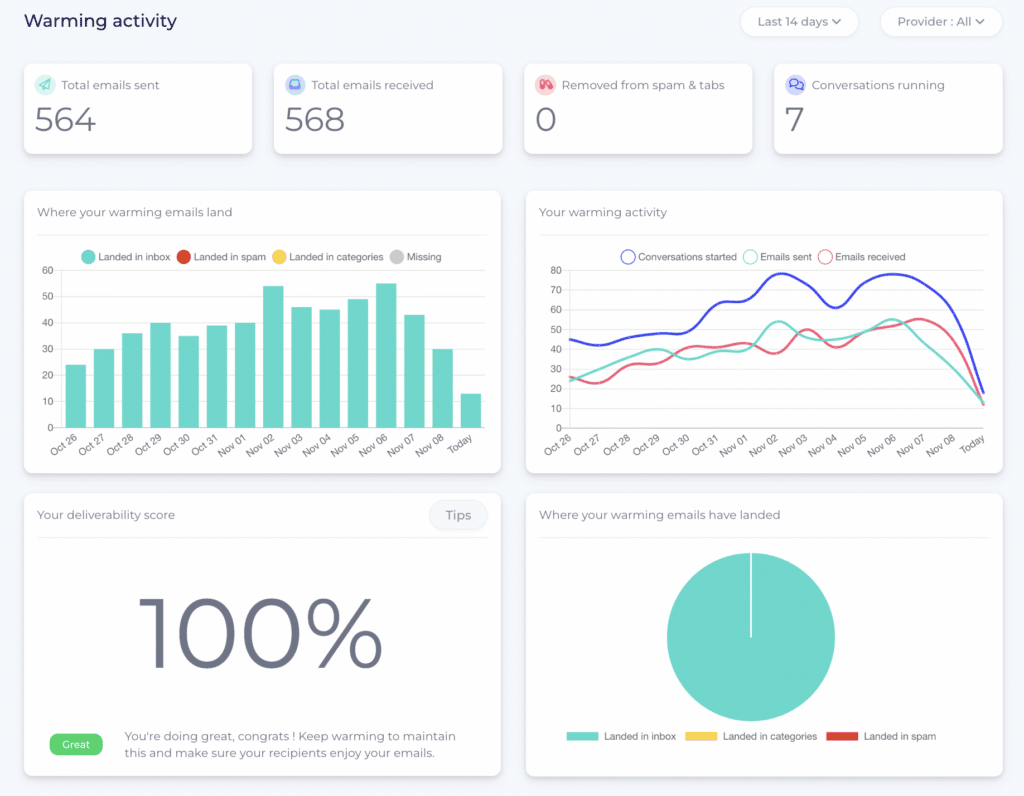 To warm up your linkedin accounts, no need to buy any service. If you Linkedin account is not super active, simply send a few connection request and messages everyday for 2 weeks before starting any automation. You can gradually
4. Write your prospecting messages
You can have 1000's of leads and the best outreach tool in the world, you won't generate meetings with qualified leads if you don't work on the copywriting of your linkedin messages and emails.

Your messages should be:
Short
Personalized
With a clear proposition value
Here is a video explaining how to write cold outreach message that get replies.
Hyper-personalization is the key to increase your reply rates.
5. Prioritize your channels
You got 5 channels at your disposal.

But where to start?


I personally like to prioritize regarding outreach capacity and popularity.
That gives:
Emails (150 per day)
Linkedin (100-200 per week)
Cold Call (depends)
Inmails (50 /month)
Twitter (500 /day)
As you can see, linkedin connection requests and inmails are a scarce resource.
You don't want to waste them.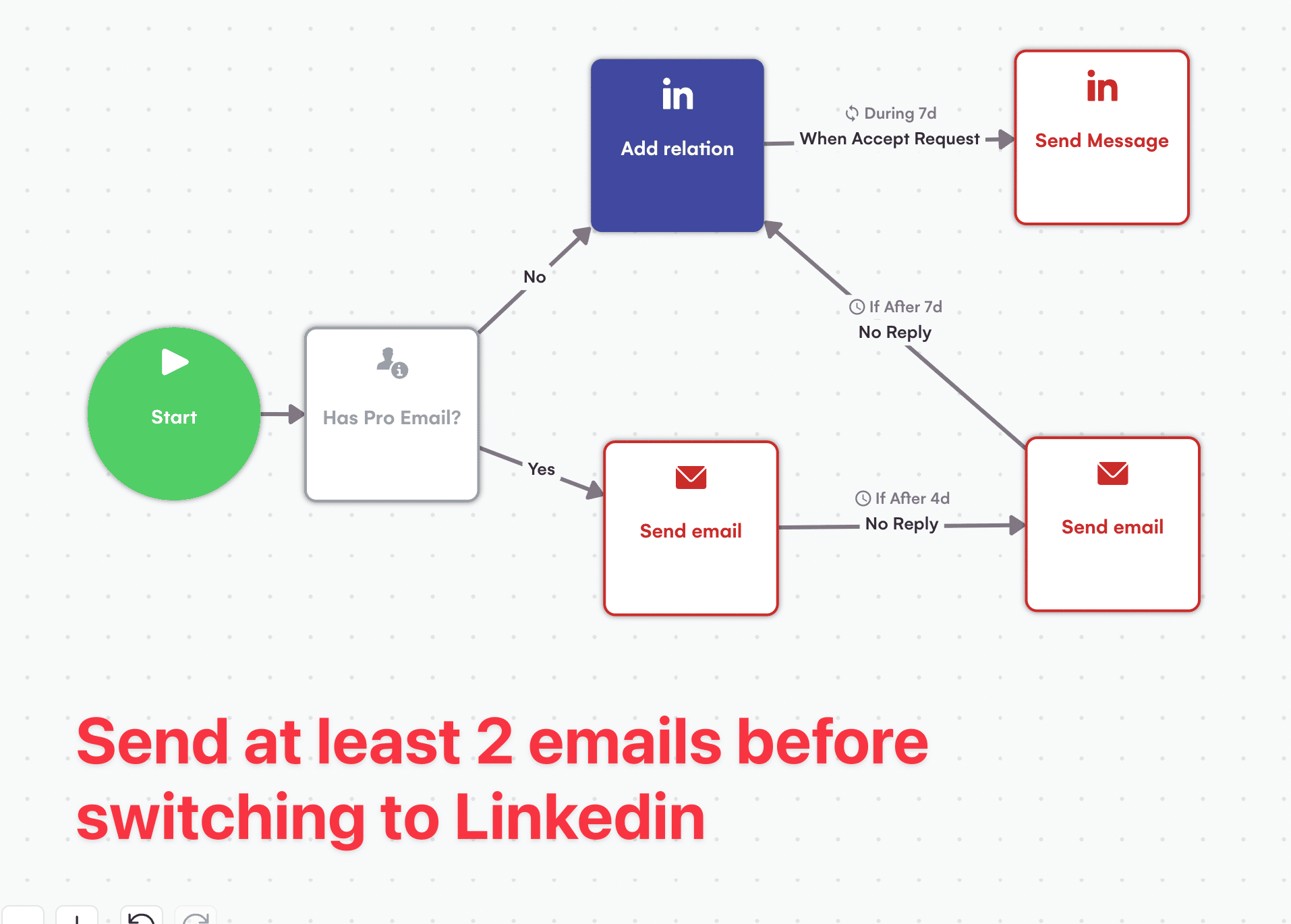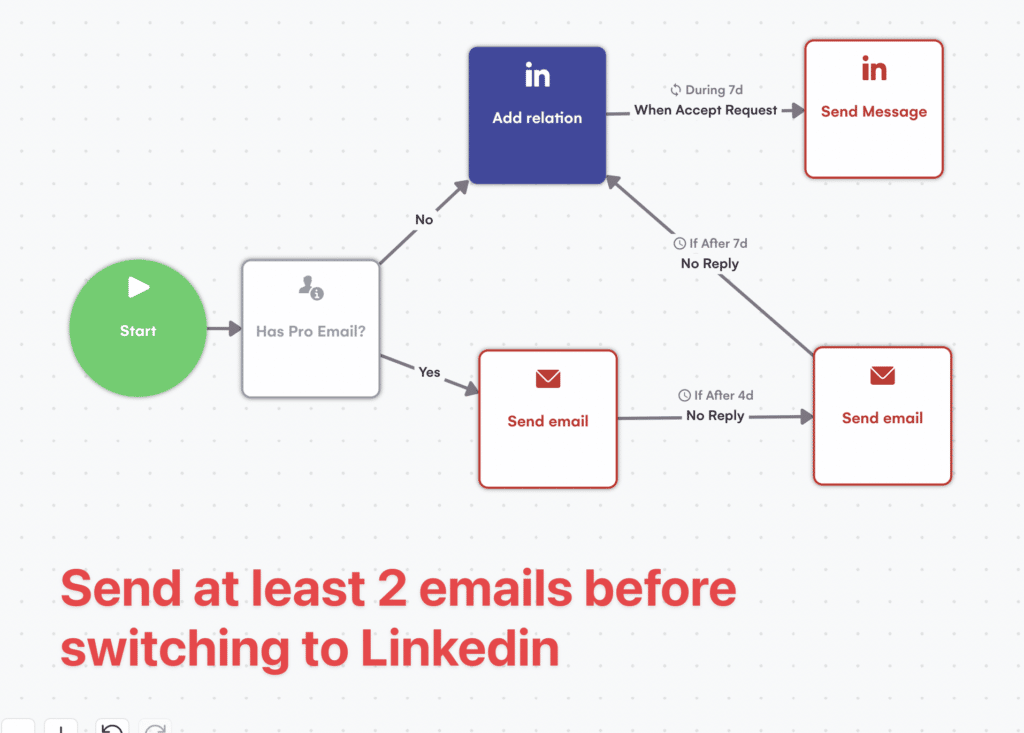 That is why it's better to save them for leads without emails and leads who don't reply to your emails.
Same for phone calls, they are really time-consuming.
So better save them for people not responding to emails nor linkedin messages.
This is a good way to start.
Then you can re-prioritize while you are learning more on your target audience and what they favorite channels are.
6. Keep track of all interactions in your CRM
If you launch multichannel cold outreach campaigns, you absolutely need a place where you can centralize all your interaction with your prospects.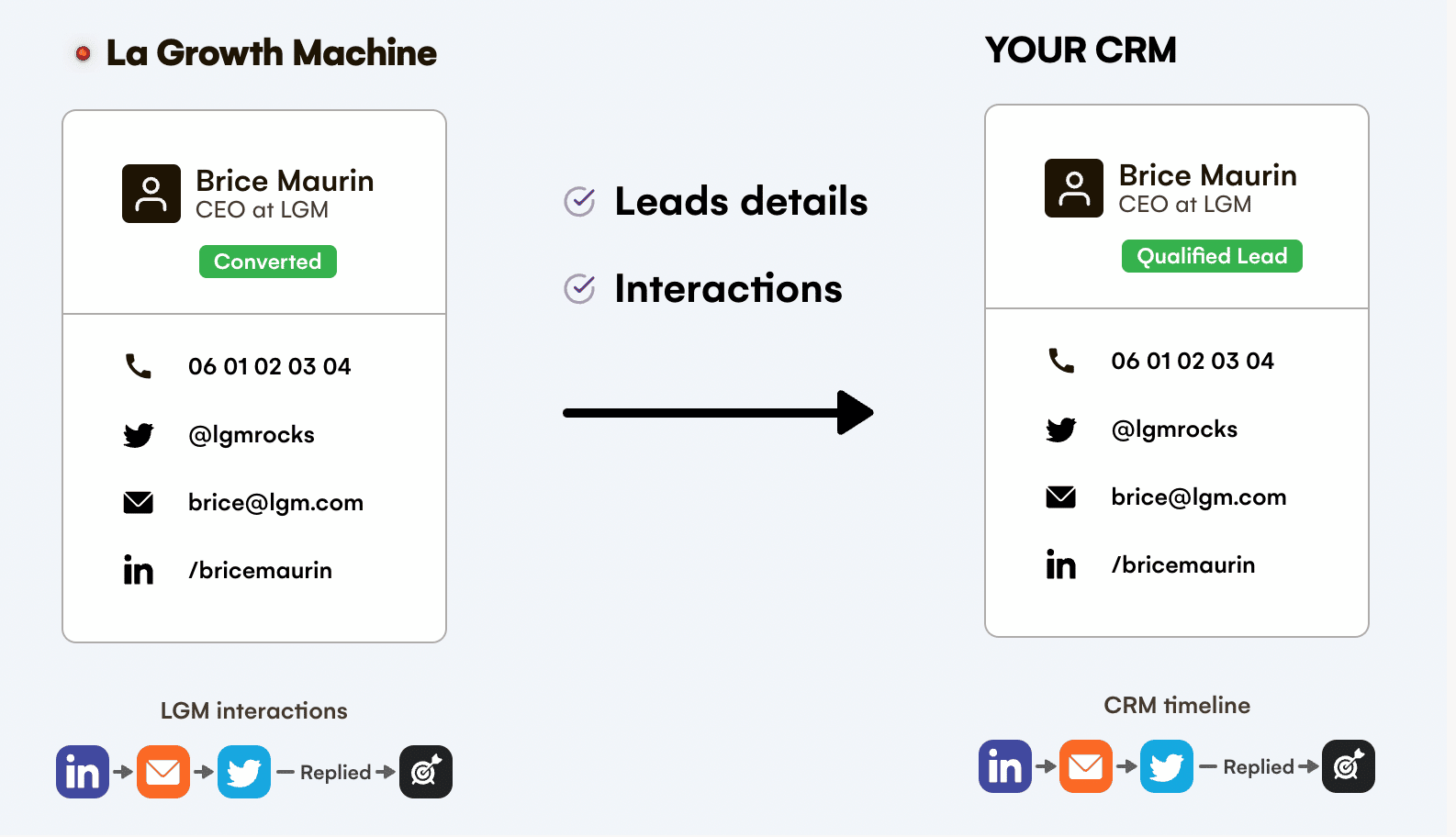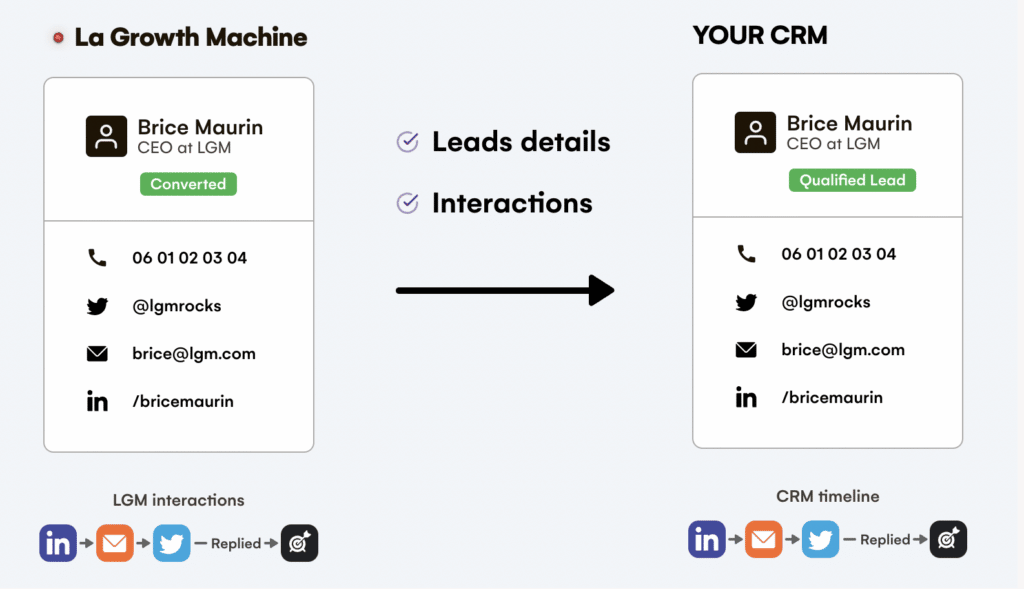 Otherwise, it will be really difficult to remember who replied and where.
LGM offers this functionality.
You can to connect their tool with your CRM.
If you don't have a CRM they also synchronize your email and linkedin inboxes with their tool so you follow all the history of your interaction with your leads.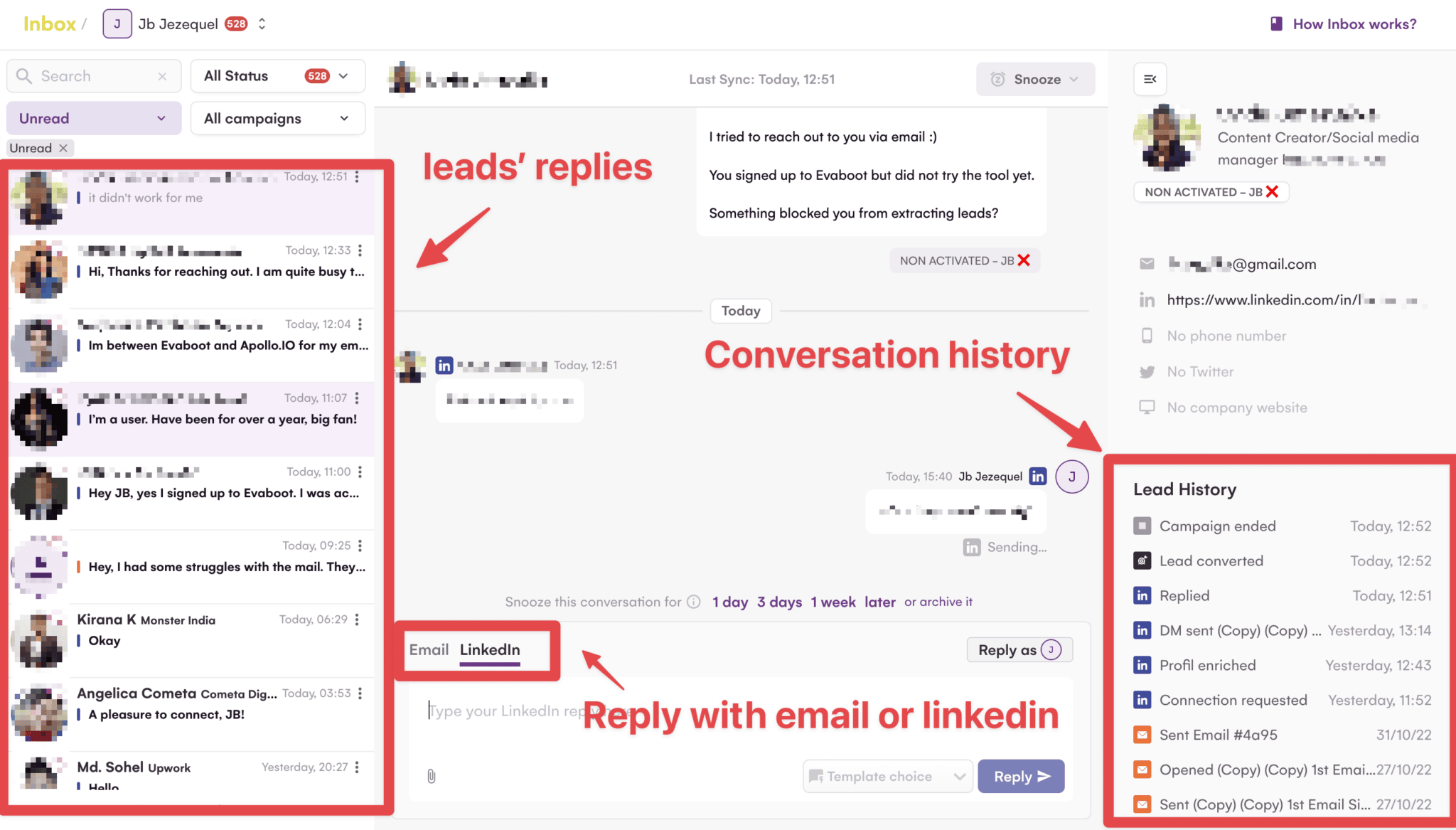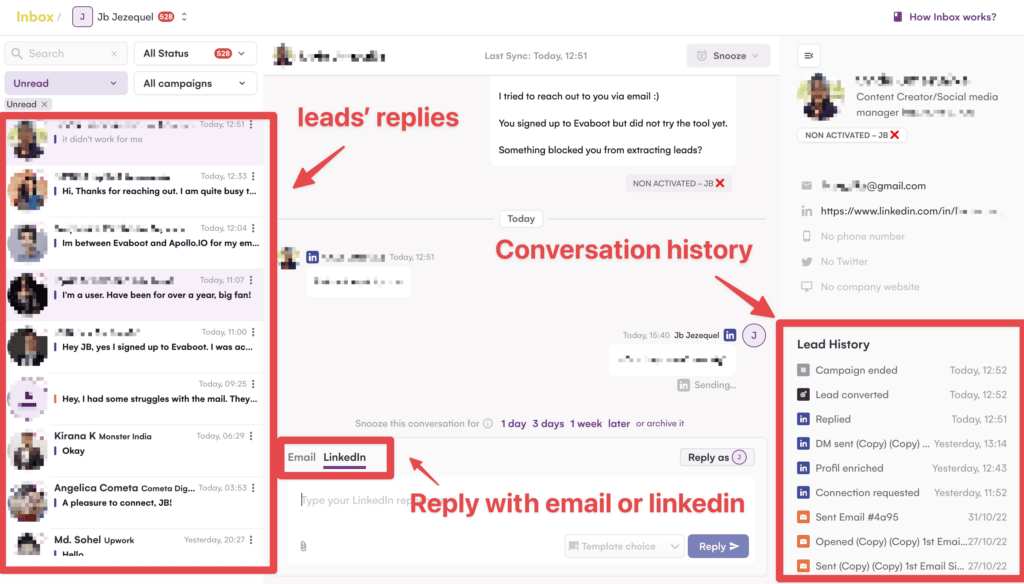 If you have a sales team, LGM also make it effortless to connect all the account of your salespeople and managed all the replies to your campaigns in one place.
Don't need to work for hours on Zapier to build these connections yourself.
That is what makes it a great sales engagement platform.
Note on email tracking

If you know your campaigns are working, and you are sending a lot of emails.
It might be a good idea to deactivate your email tracking tools to increase deliverability.
Indeed, the tracking codes inside your emails can be detected by email servers and decrease your deliverability.
7. Publish on Linkedin
Sending messages is not the only way to follow-up on linkedin.
When your prospect sees your linkedin posts, they can comment them or reach out directly to you.
That's a way of following up.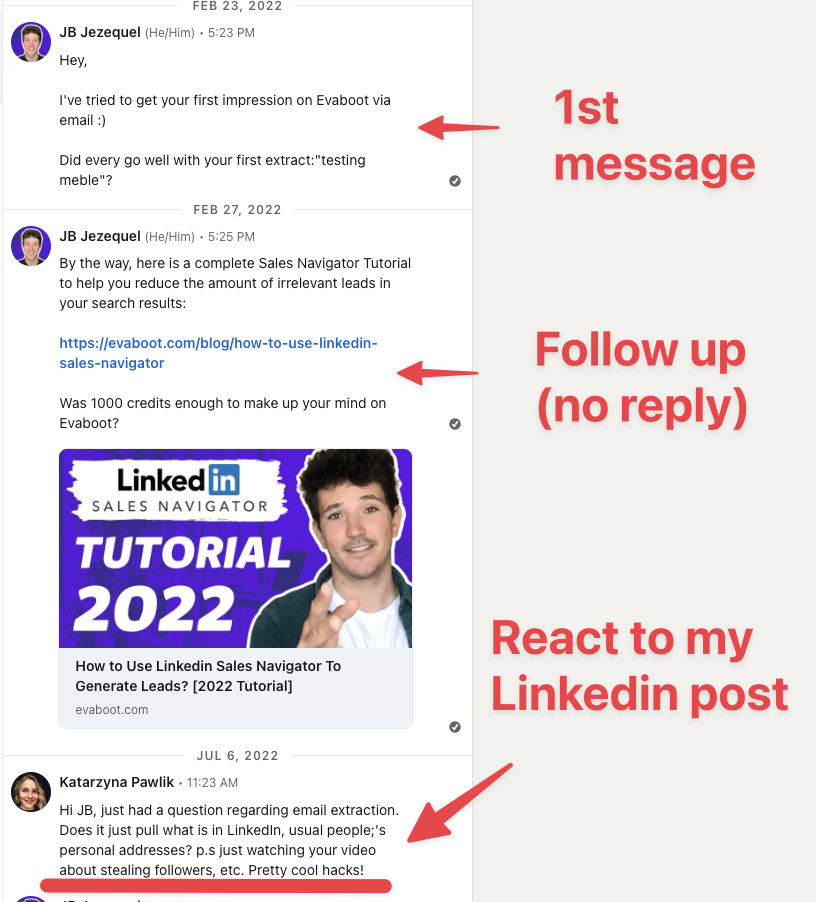 Combining Linkedin marketing and Linkedin outreach is a really efficient strategy.
In this example I:
Sent 2 emails
Sent a Linkedin connection request
Sent Linkedin messages
Publish a linkedin post
You can see that the prospect didn't reply to my messages but reached out to me directly after seeing of my Linkedin post.
When you are thinking about multichannel sales outreach, don't forget content.
Social selling is sales. It can be part of the mix too.
8. Run Linkedin Ads
What if I told you can you target your prospecting audience on Linkedin Ads.
It's possible if you combine Sales Navigator and Linkedin Ads.
That way you can run different types of linkedin ads that can boost your reply rate.
You can run the ads before starting the prospecting campaign to warm up your leads.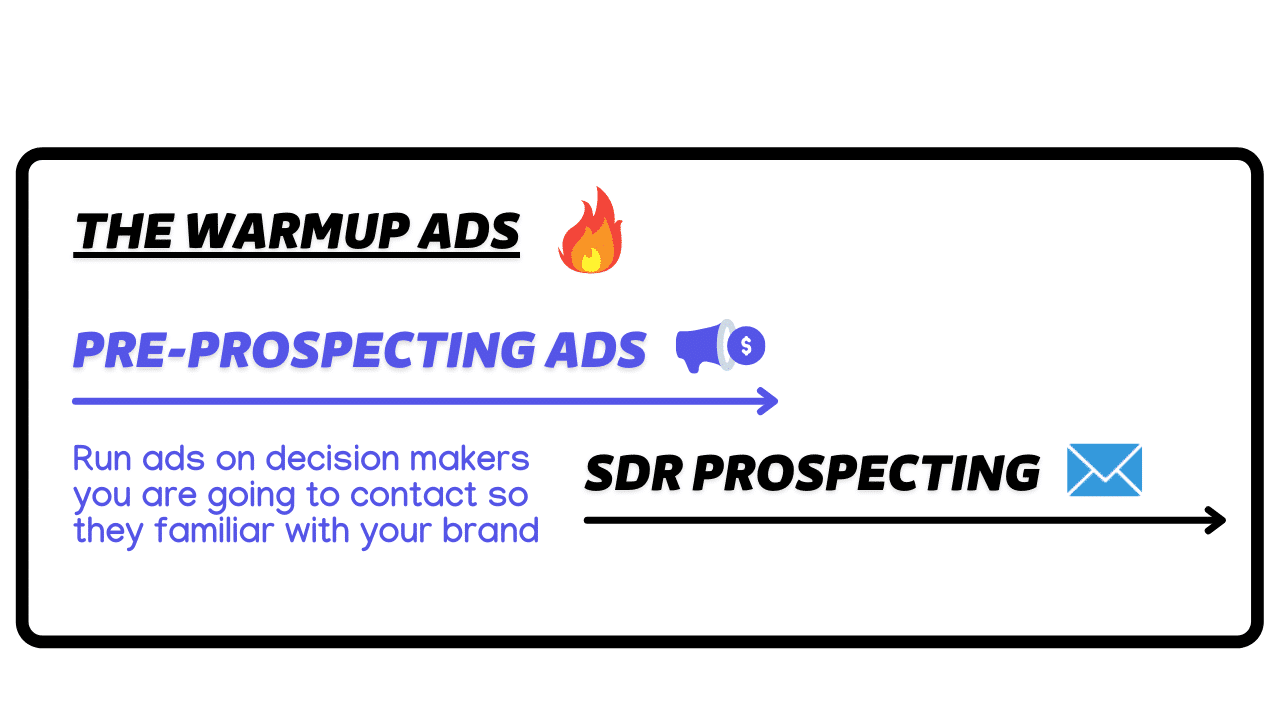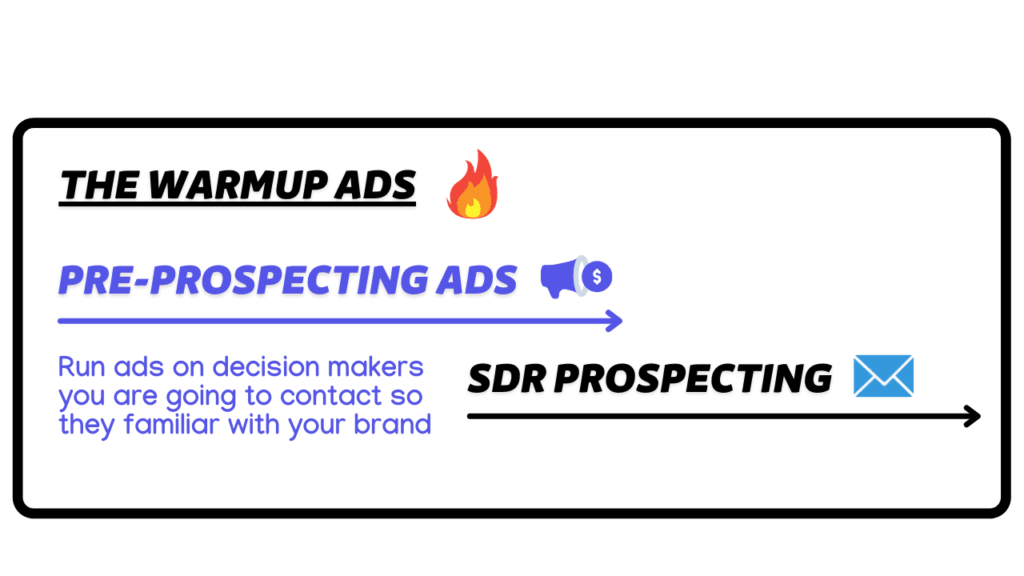 You can run the ads during your prospecting campaign so they can act as a kind of follow-up.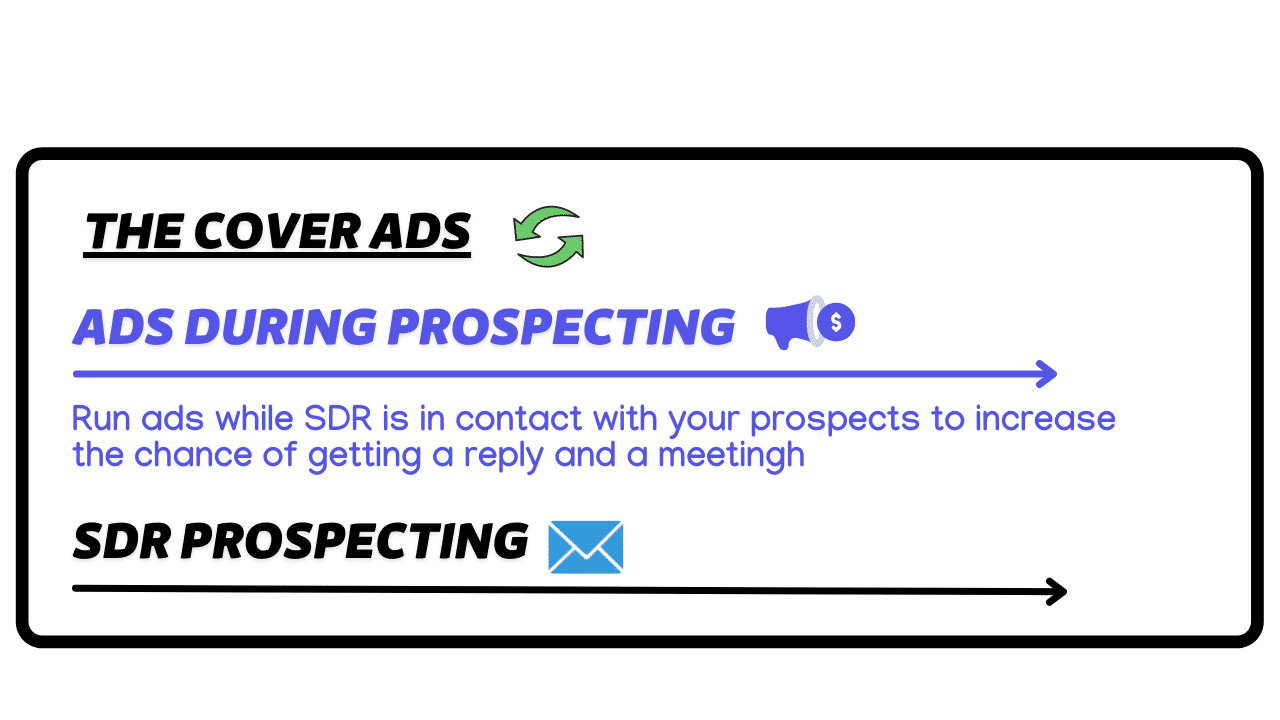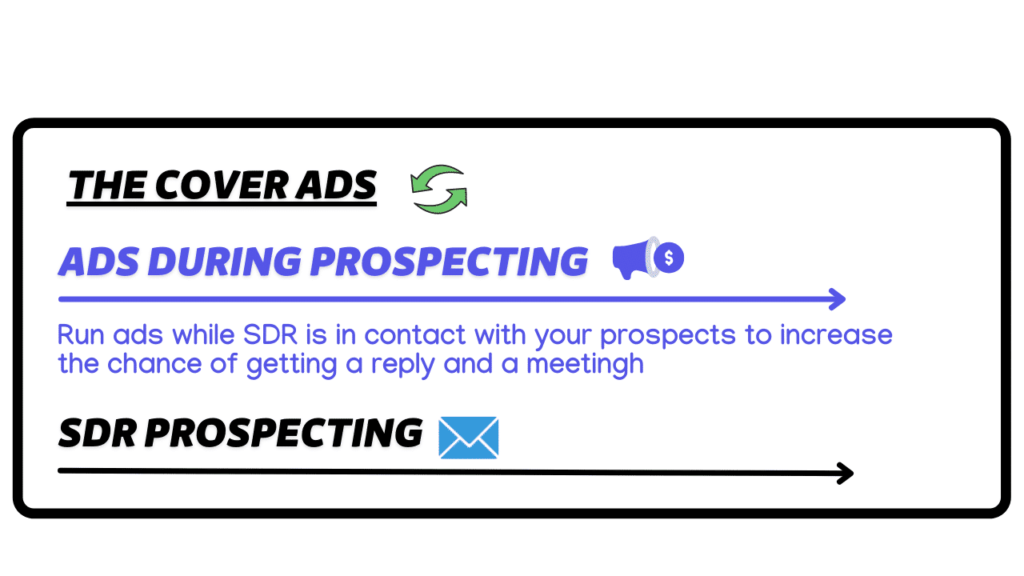 You can also run ads after your prospecting campaign so you continue to retarget potential customers even if they didn't reply to your messages.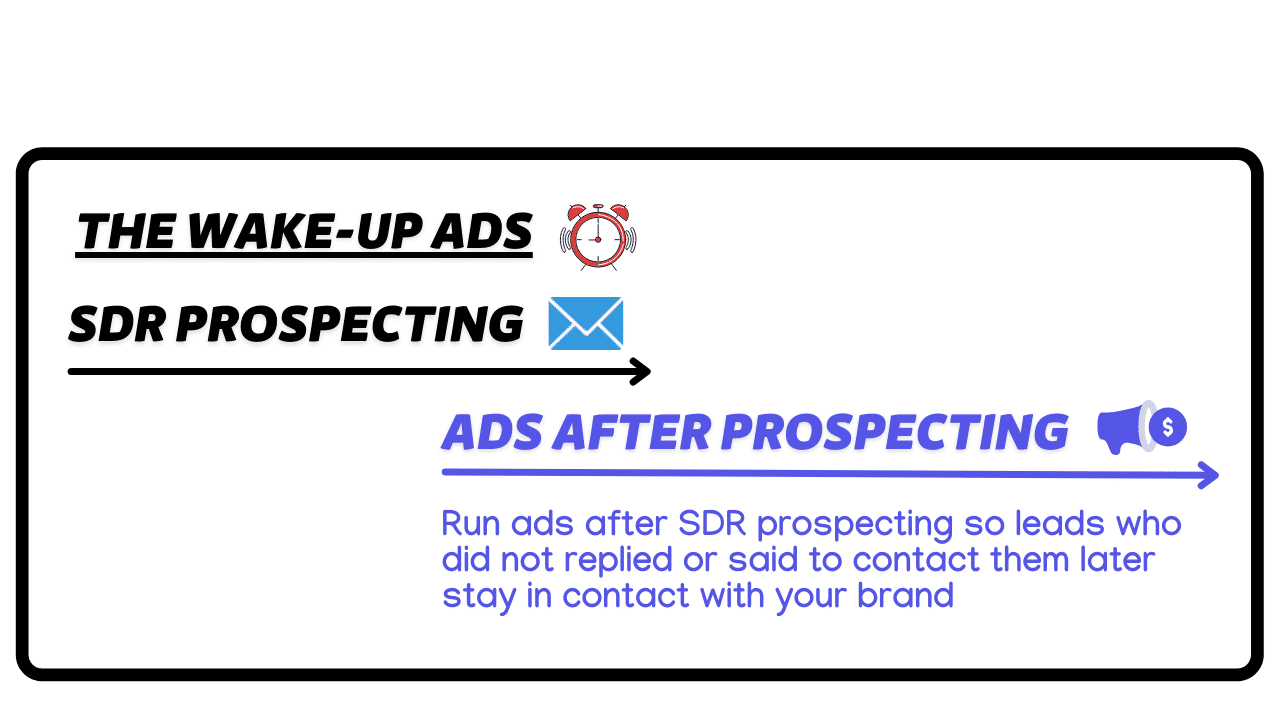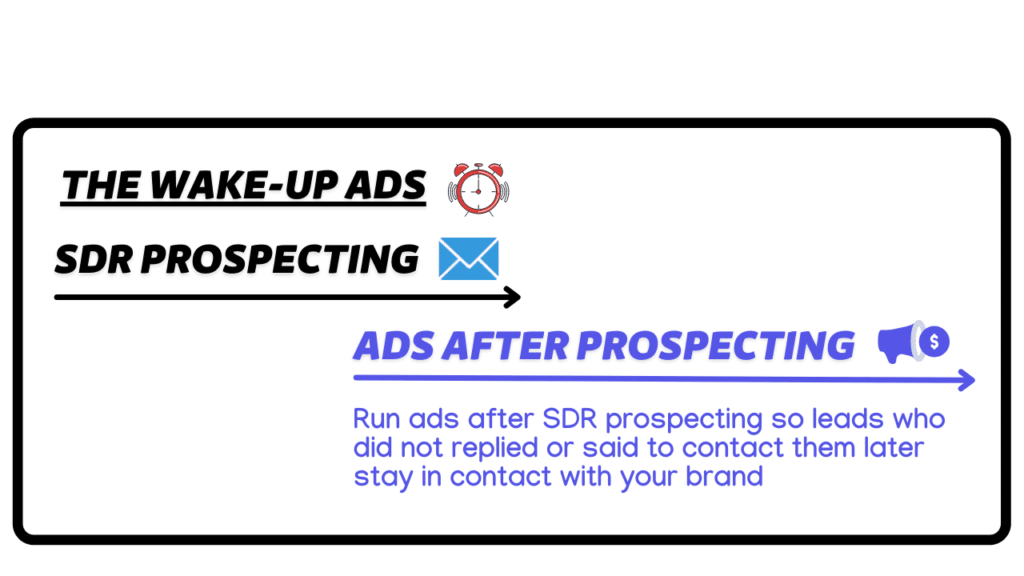 Maybe some of them are interested in the offer, but the timing was bad.

These ads allow you to stay top of mind for these kinds of prospects.
As for content, ads can be part of your multichannel outreach mix too.

Don't forget about them.
The Ultimate Multichannel Outreach Strategy with Message Templates
Here is a multichannel outreach workflow you can use to send your first campaigns.
I also added message templates you can take inspiration from.
The Strategy
Start with 3 emails
Send a linkedin connection request
Send 3 Linkedin messages
Try 3 phone calls
Send a Linkedin Inmails
Send 3 twitter DMs
Add to LinkedIn Ads audience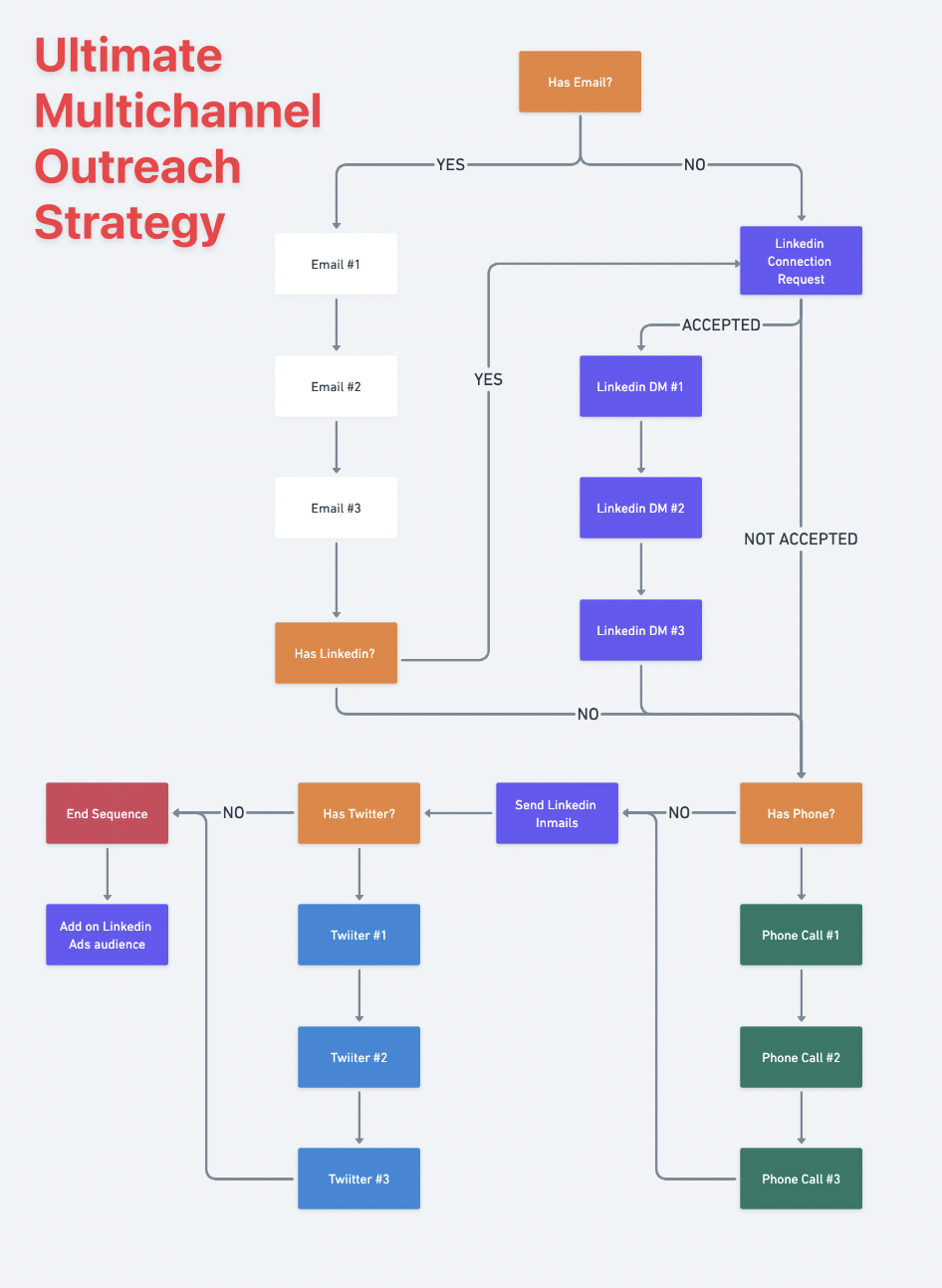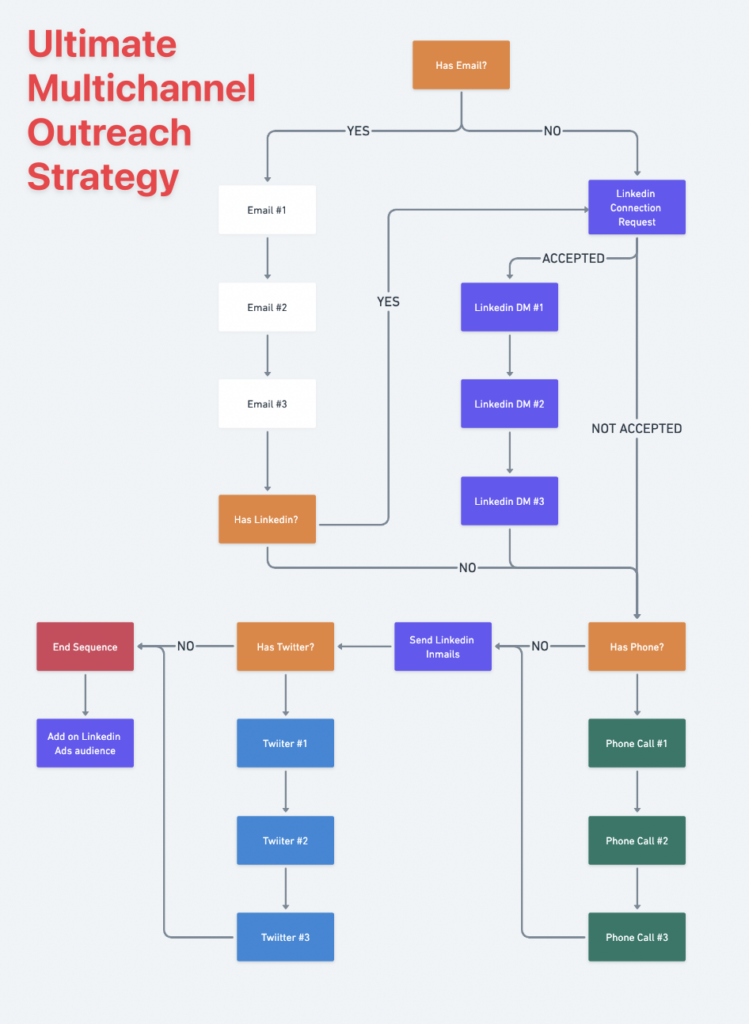 If that seems a lot to you. Don't be afraid to send follow-ups.


A study made by Waalaxy shown that after 4 linkedin messages, almost everybody replies.
A No worth way more than a silence.

With a no, you are 100% sure you can move on to another prospect.
Email #1
For your first email, you can use what I called the RABT Formula:
Reason for outreach
Ask a question
Backup with Data
Tease your solution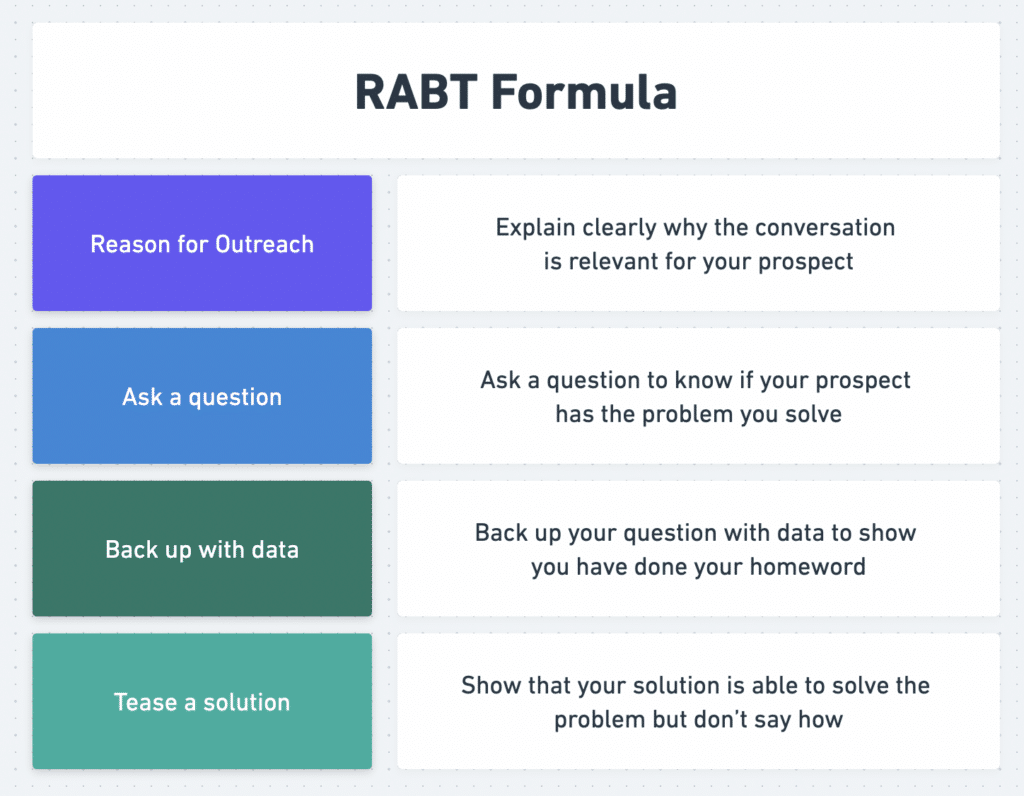 I used it on several of my campaign and it can guarantee a +20% reply rate.
This particular message got 28% reply rate.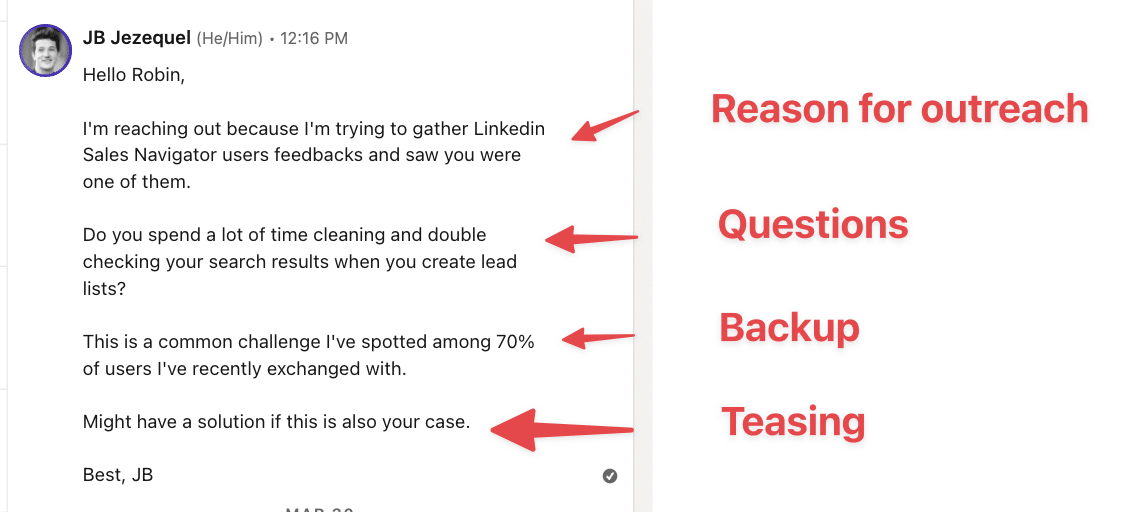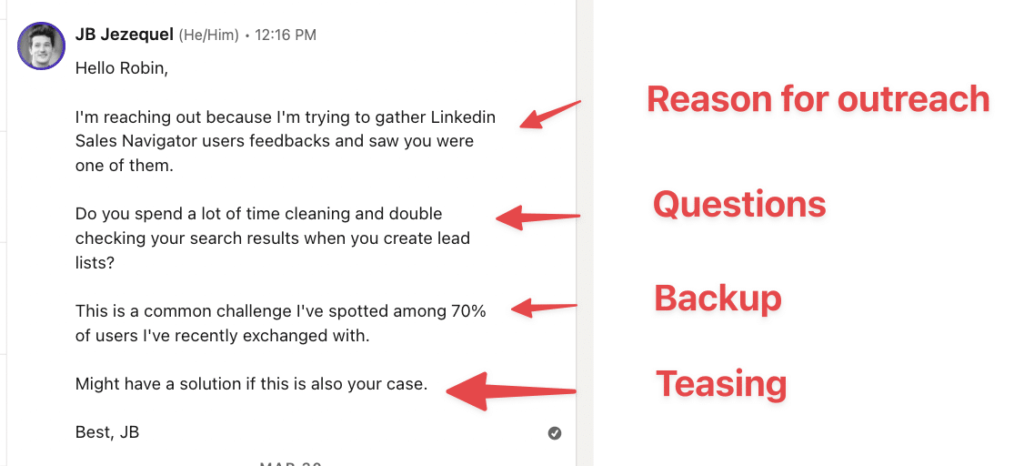 Regarding the subject of the email, 2 rules:
one work
low caps
Make it look like a colleague has written it between 2 sandwich bites.
Email #2

For the 2nd email, you can send a case study your prospect can learn from.
Template


Btw here is a case study about <topic>

Let me know this is of interest to you 🙂

Best, <name>
Email #3

For the 3rd email, you can send a client testimonial
Template

I just found that we helped a company similar to yours.

Here is their testimonial: <link>

They achieve <achievement>

Would you be interested in getting the same results?

Best, JB
Linkedin #1
On your first Linkedin message, it is super important to leverage the reciprocity bias.
Mention that you tried to contact your prospect via email.
Template

Hello,

I tried to reach out to you via email 🙂

Sent some content that I thought might be helpful for your business

Let me know if I'm right
Linkedin #2 and #3
For these message, you can resend the case study and the client testimonial.

There is a high change your prospect didn't read them at this point.
Phone Calls
Make sure to leverage reciprocity bias here.

If your prospect answers your call, start by:

Call Introduction

"Hey, my name is <name>,

I sent you several emails and linkedin messages last week.

Did you see them?

…
Don't forget to leave a voicemail, send an SMS or a WhatsApp message if the prospect does not reply to leave a trace of your action.
Linkedin Inmail
When you send your Linkedin Inmail, mention your phone call in your text message.
Subject: Tried to call you

Hey,

I tried to you join several times on the phone last week.

Simply wanted to know if <topic> is currently a challenge at <company>

Is it?
Twitter Messages
Same thing here. Use reciprocity bias in message #1, send case study and client testimonial in messages #2 and #3
---
Hope this template will help you generate leads. If you want more tips on linkedin lead generation, make sure to check our Youtube Channel.
We are sorry that this post was not useful for you!
Let us improve this post!
Tell us how we can improve this post?
Build email lists from
Export clean data and get verified emails in 1 click.