How To Use Sales Navigator For Recruiting? [2023 Tutorial]
Can you use LinkedIn sales Navigator for recruiting?
Yes.
Sales Navigator is even better than Linkedin Recruiter because you can use the same tool to find clients and to find candidates.
On top of that, Sales Navigator is cheaper than Linkedin Recruiter ($99/month vs $160/month)

In this article, I show you all you need to know on how to use Sales Navigator for recruiting:
How to use Sales Navigator to source candidates like in Linkedin Recruiter

How to use Sales Navigator to easily find client for your recruiting business
Let's dive in.
How To Find Candidates on Linkedin Sales Navigator?
Is LinkedIn recruiter same as sales Navigator? No.
They are 2 different products. Funny thing is that Linkedin Sales Navigator is a better option for recruiting businesses than Recruiter itself.
Let me show you how to fill your pipeline with top profiles using Sales Navigator.
Step #1: Use Sales Navigator Filters to Find Candidates
Sales Navigator has more filters than Linkedin Recruiter.
Sales Navigator offers 29 filters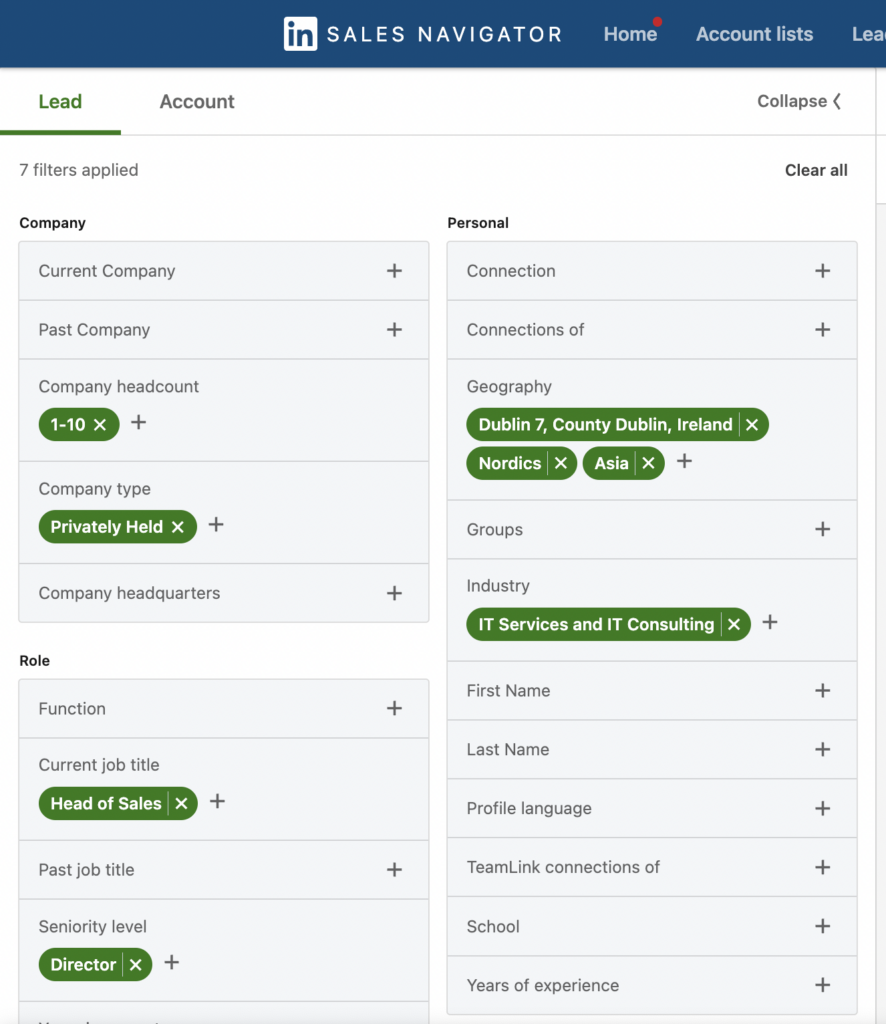 Among them:
Current Job Title
Past Job Tile
Current Company
Past Company
School
Years of Experience
Years in Current Company
And More…
These filters are useful for Sales but also for recruiting.
Linkedin Recruiter Lite has 21 filters.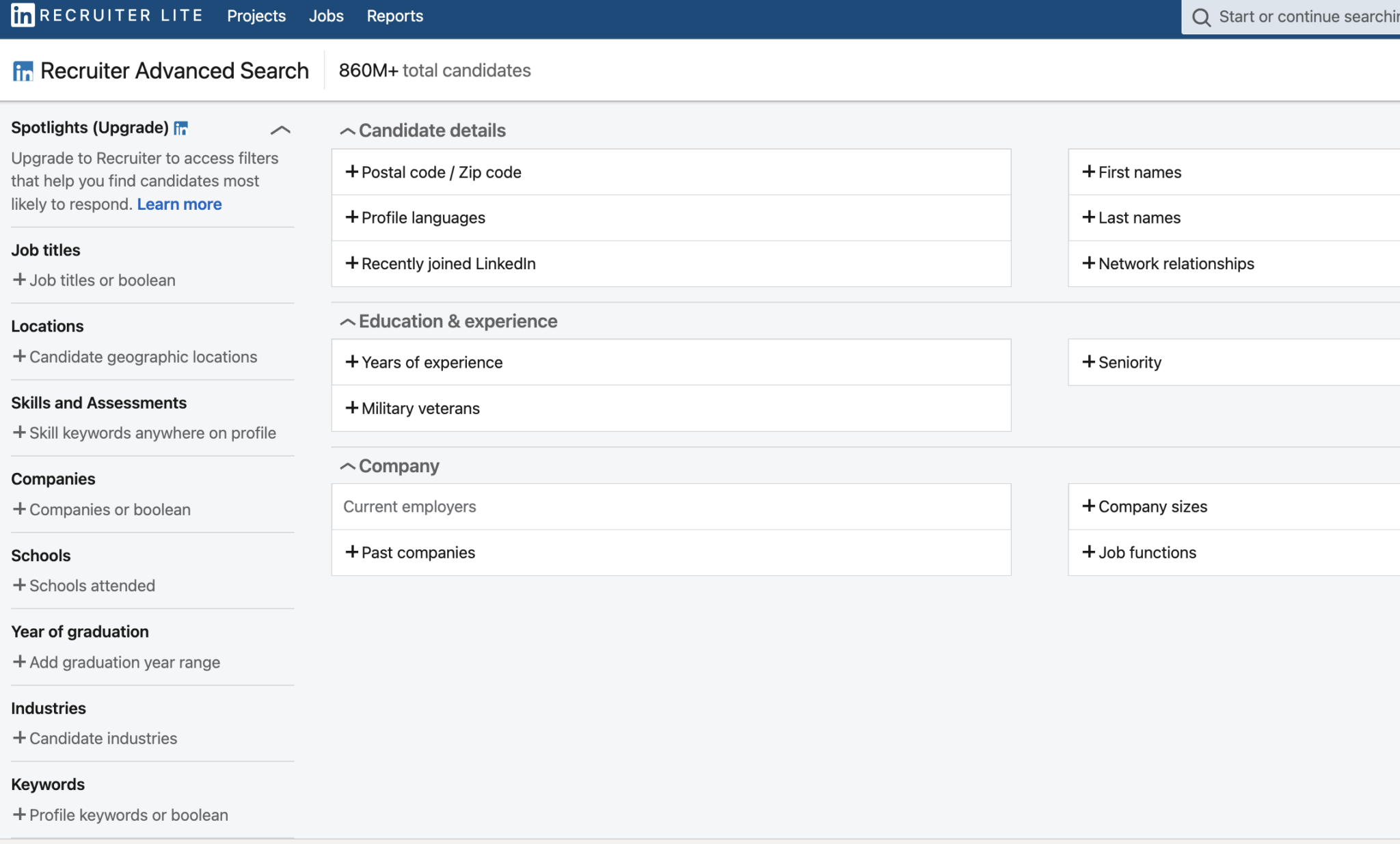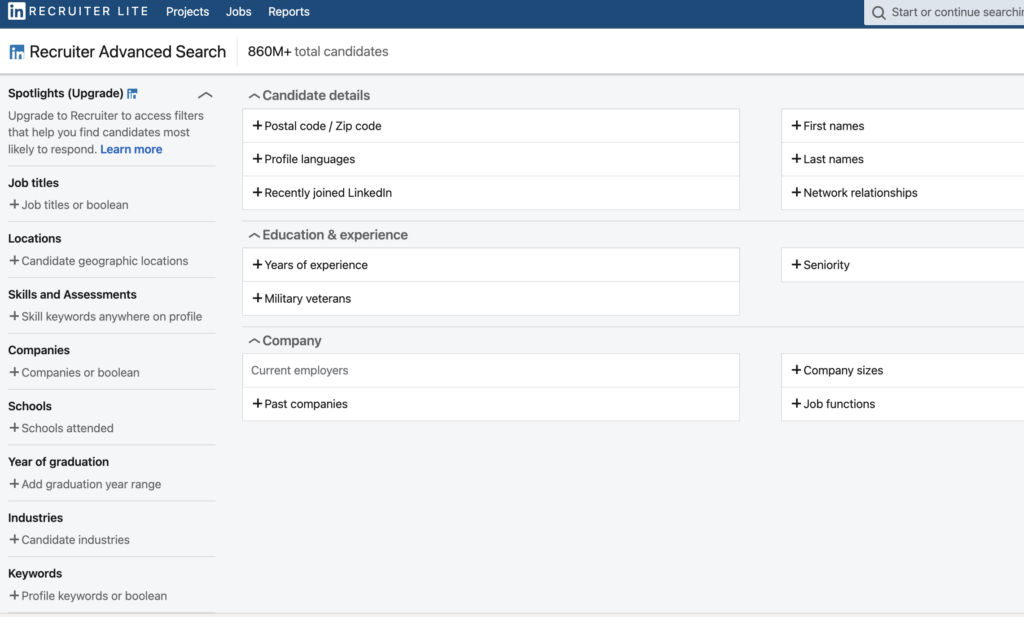 All of them are on Sales Navigator except 2:
Skills
Year of Graduation
You can easily bypass this lack with "Years of Experience" and "Keywords" filter.
Indeed, the Keyword filter will look for keywords in all the profile including the Skills section.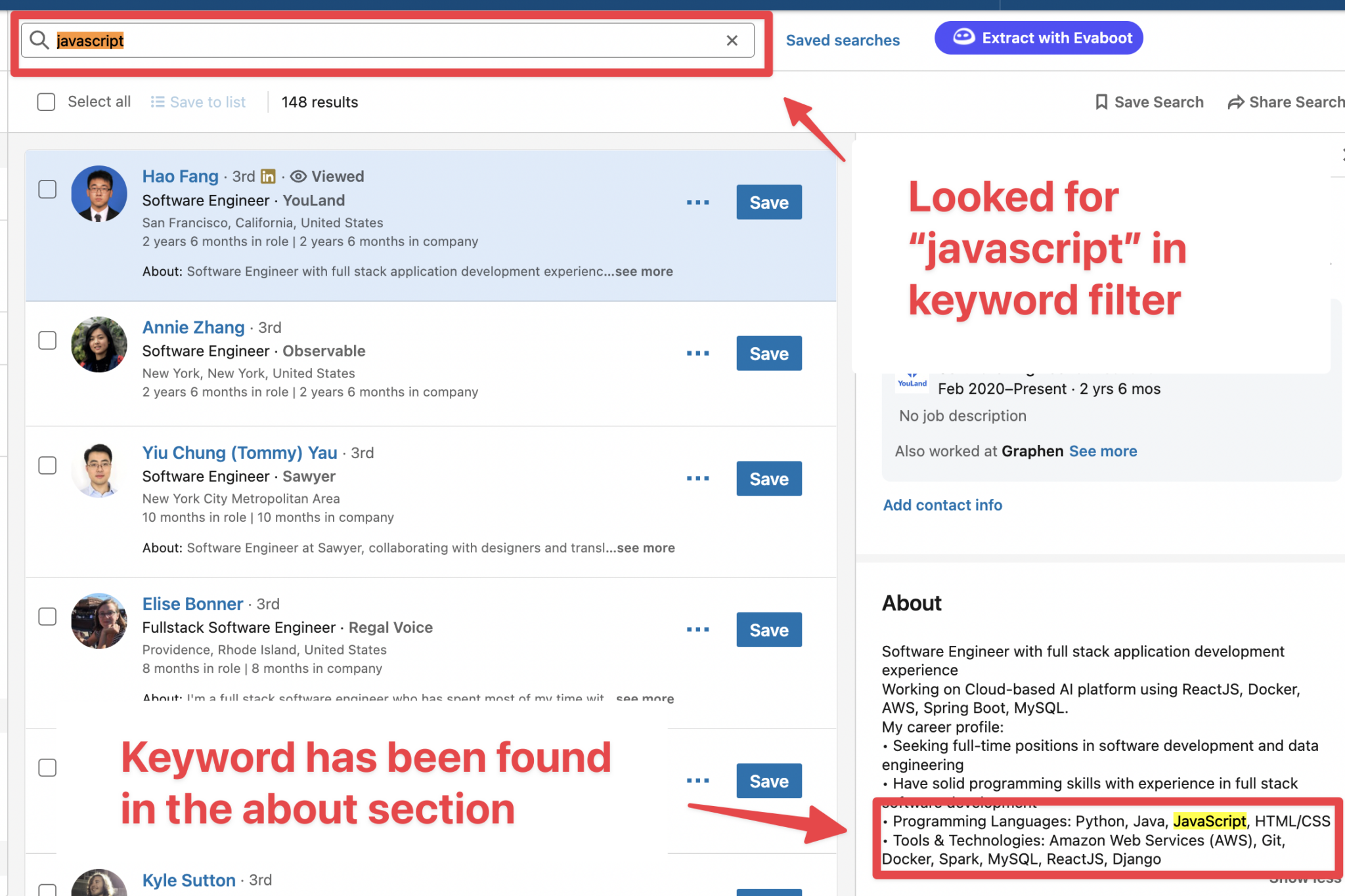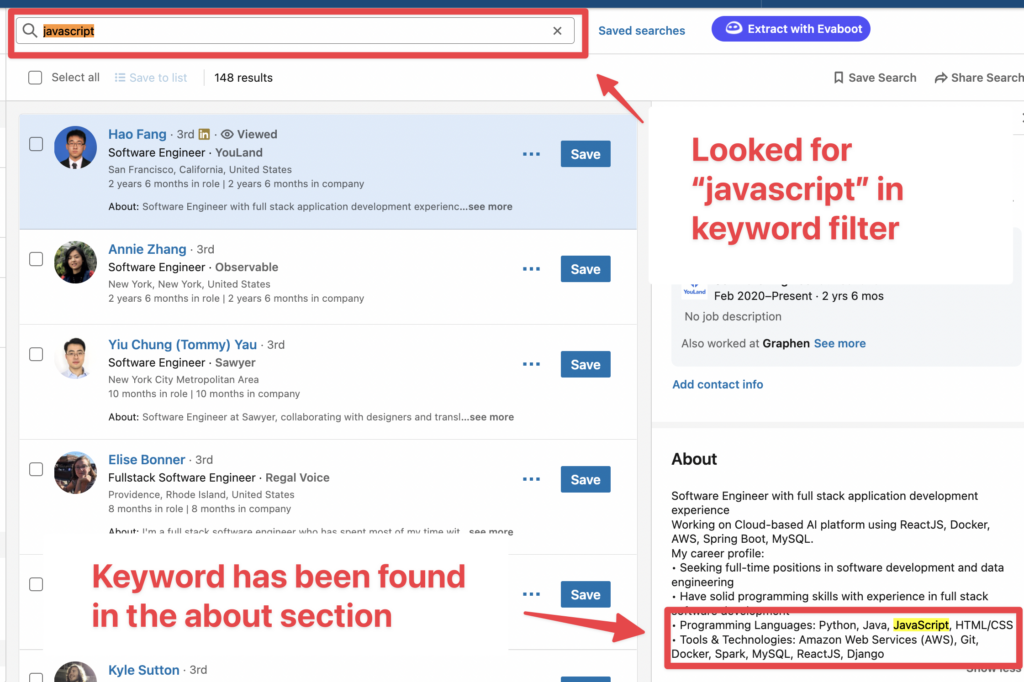 Same thing, you need to know the year of graduation if you know the for how long the candidate is working using "Years of experience"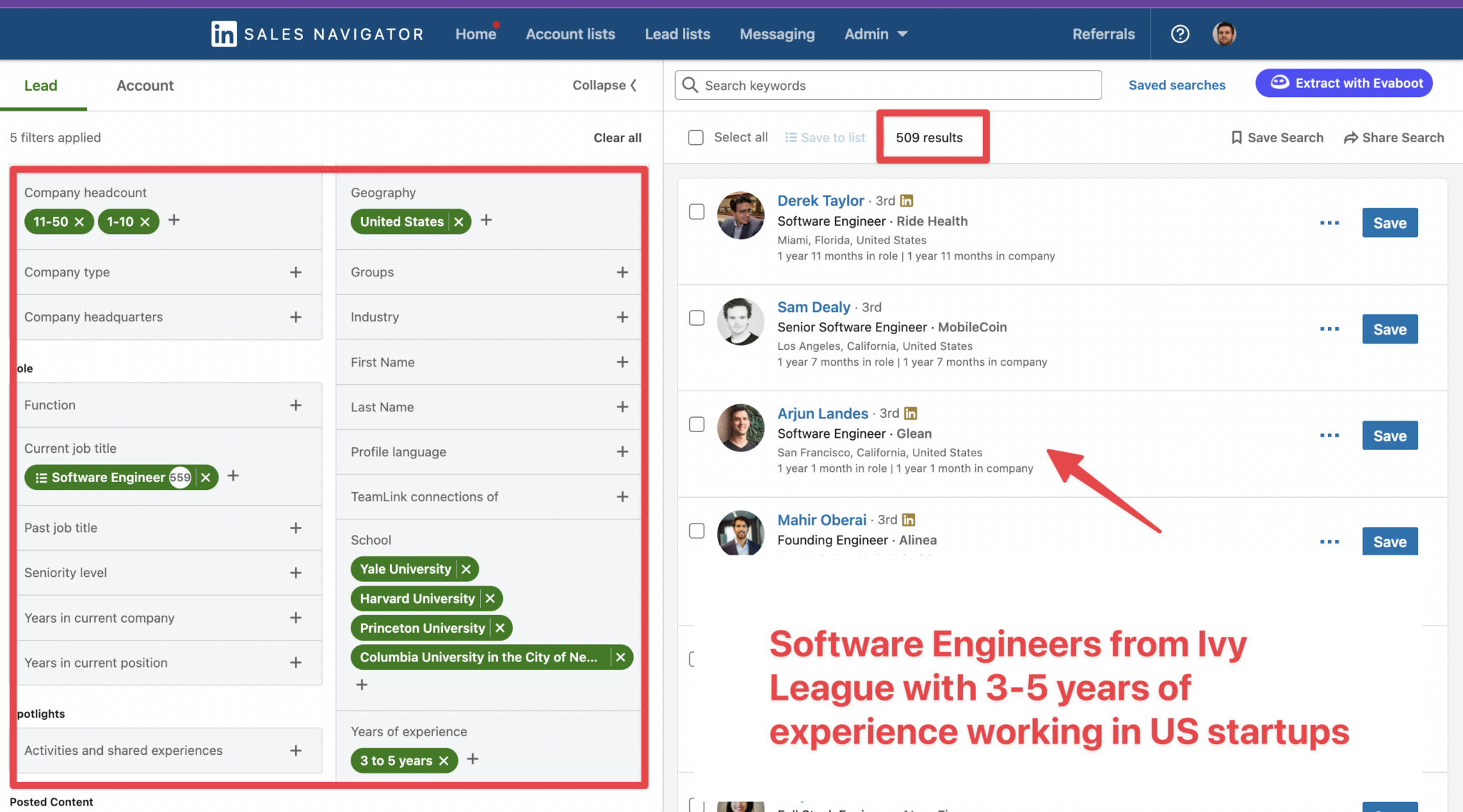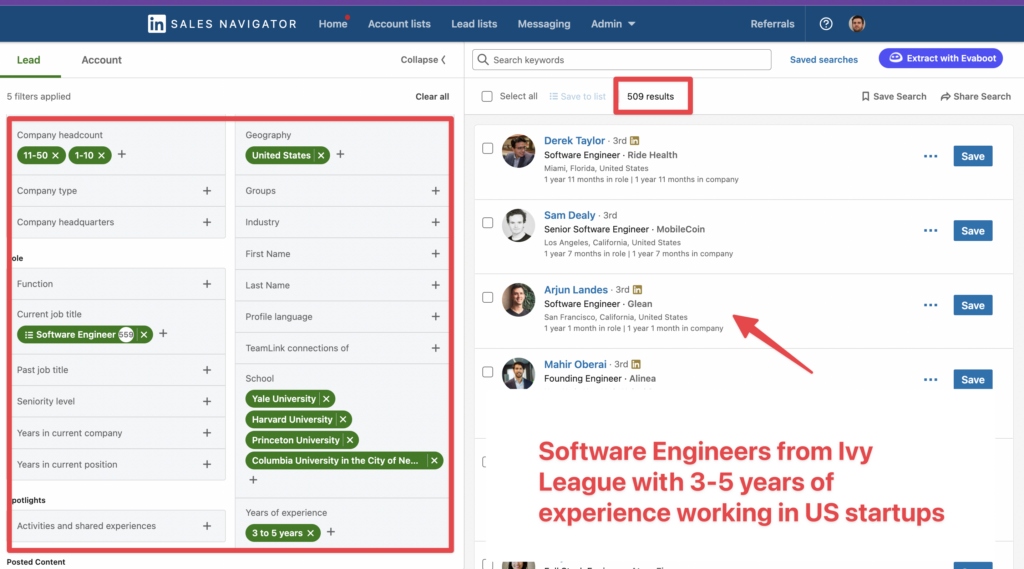 Here is an example of a candidate sourcing you can do with Sales Navigator.
To dive deeper on how to use sales navigator to find candidates like in Recruiter, you can watch this tutorial to learn more about filters and linkedin sales navigator boolean search.
Step #2: Automate Candidate Sourcing With Saved Searches
Once you have finished tuning your sales navigator search filters, you can save your search, so you get notified every time a new candidate match the filters.
For that just click on "Save Search":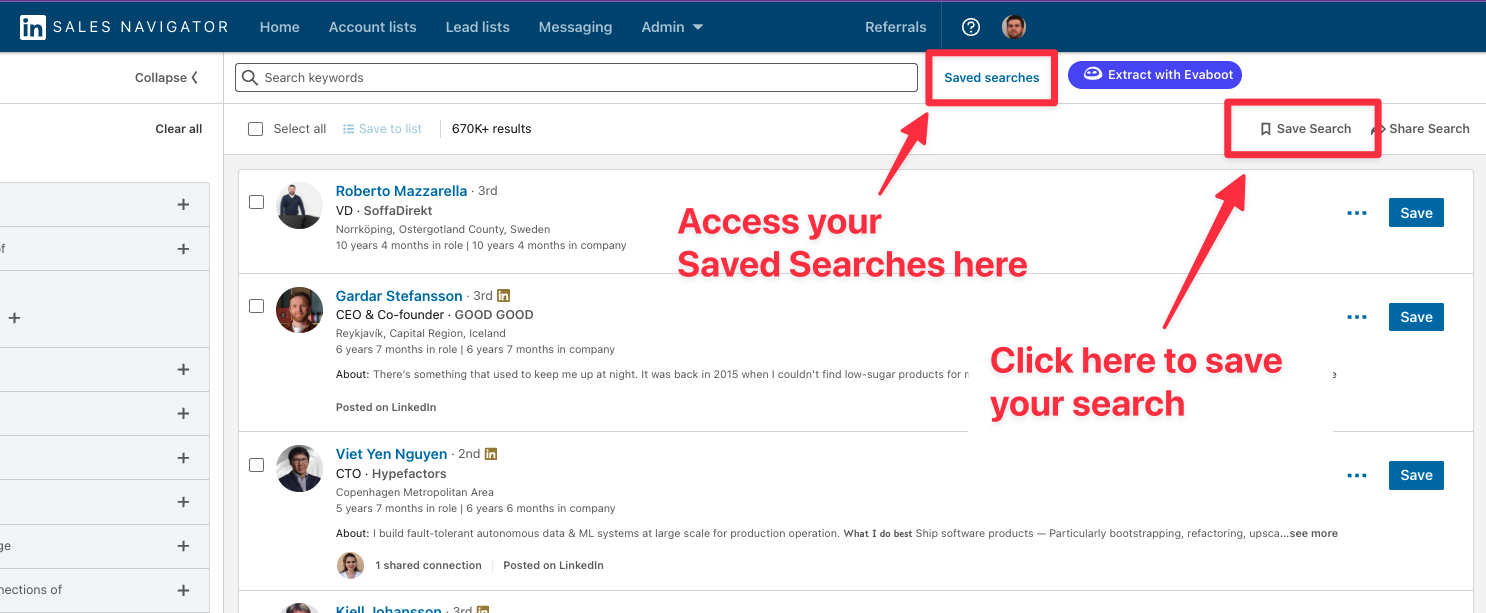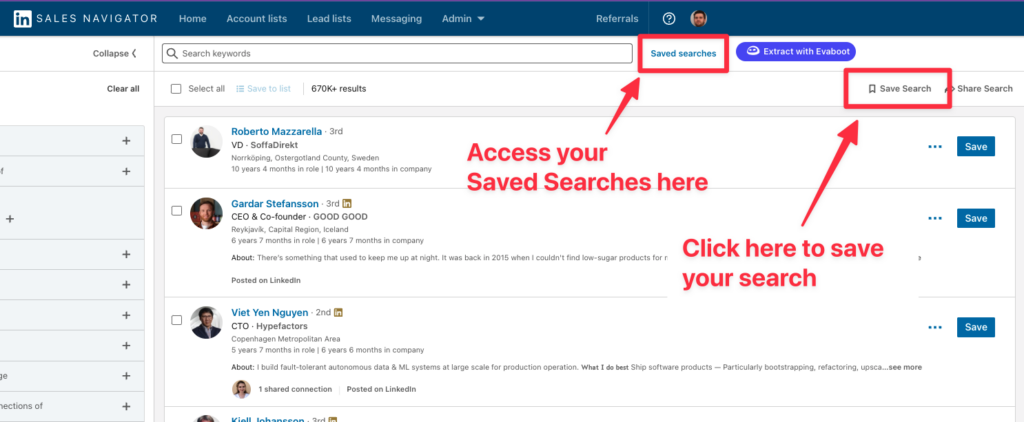 Once your search is saved, you can click on "Saved Searches" to access it.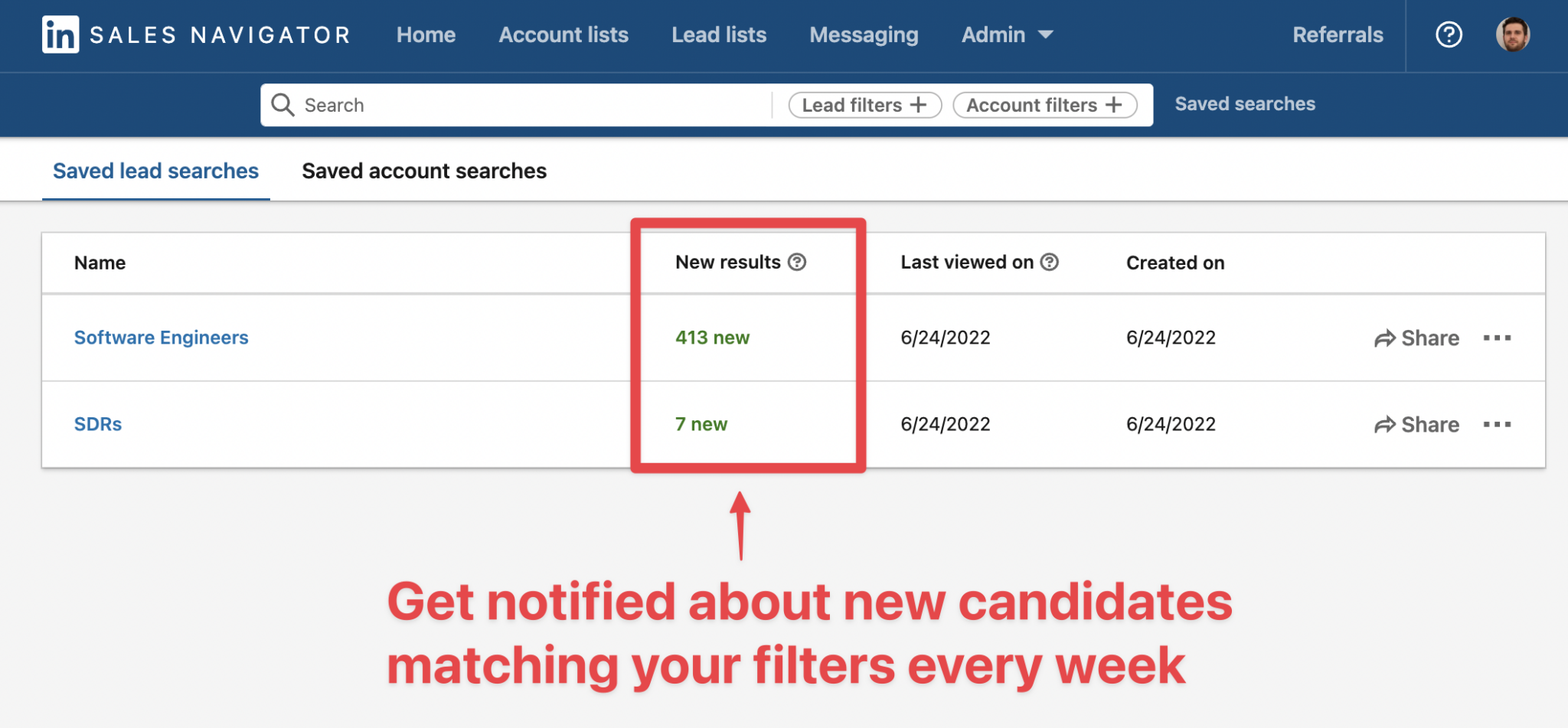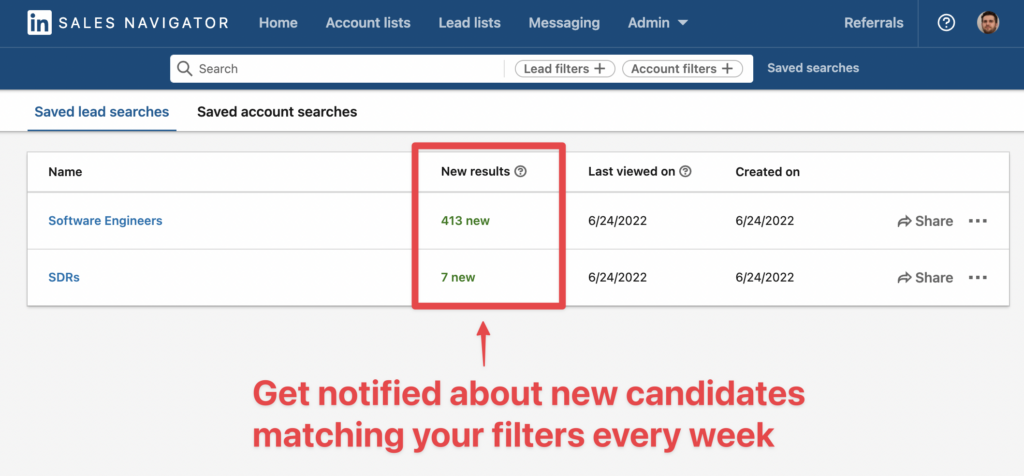 In the column new results all the new candidates matching your filters.

Every week, Linkedin will add new profiles matching your criteria that you can contact right away.
Step #3: Personalize Your Outreach
I've made an experiment recently by creating a fake Python developer profile on Linkedin.
The number of messages and requests the profile receives per day is just insane.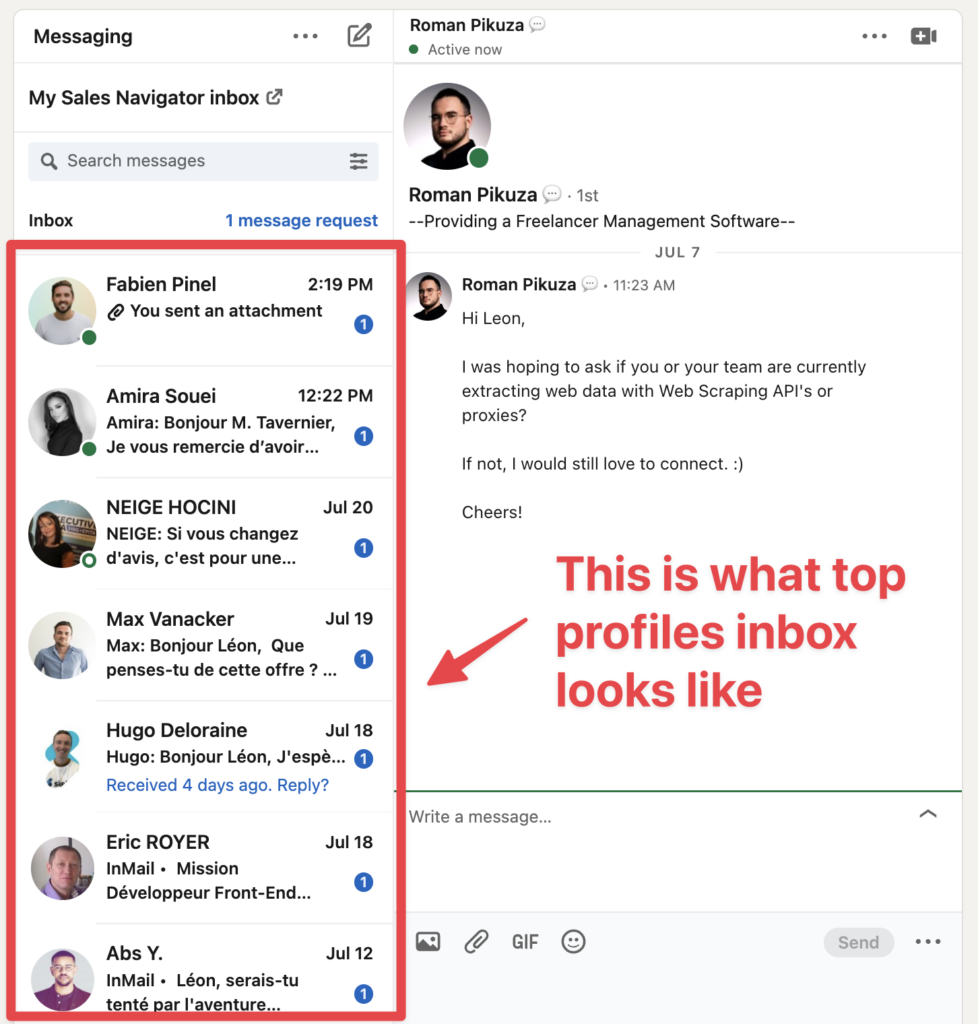 There is absolutely no ways to standout without hyper-personalization. This is the key for successful linkedin outreach campaigns.
Linkedin Sales Navigator helps you personalize your messages by providing icebreakers ideas in the inmail inbox.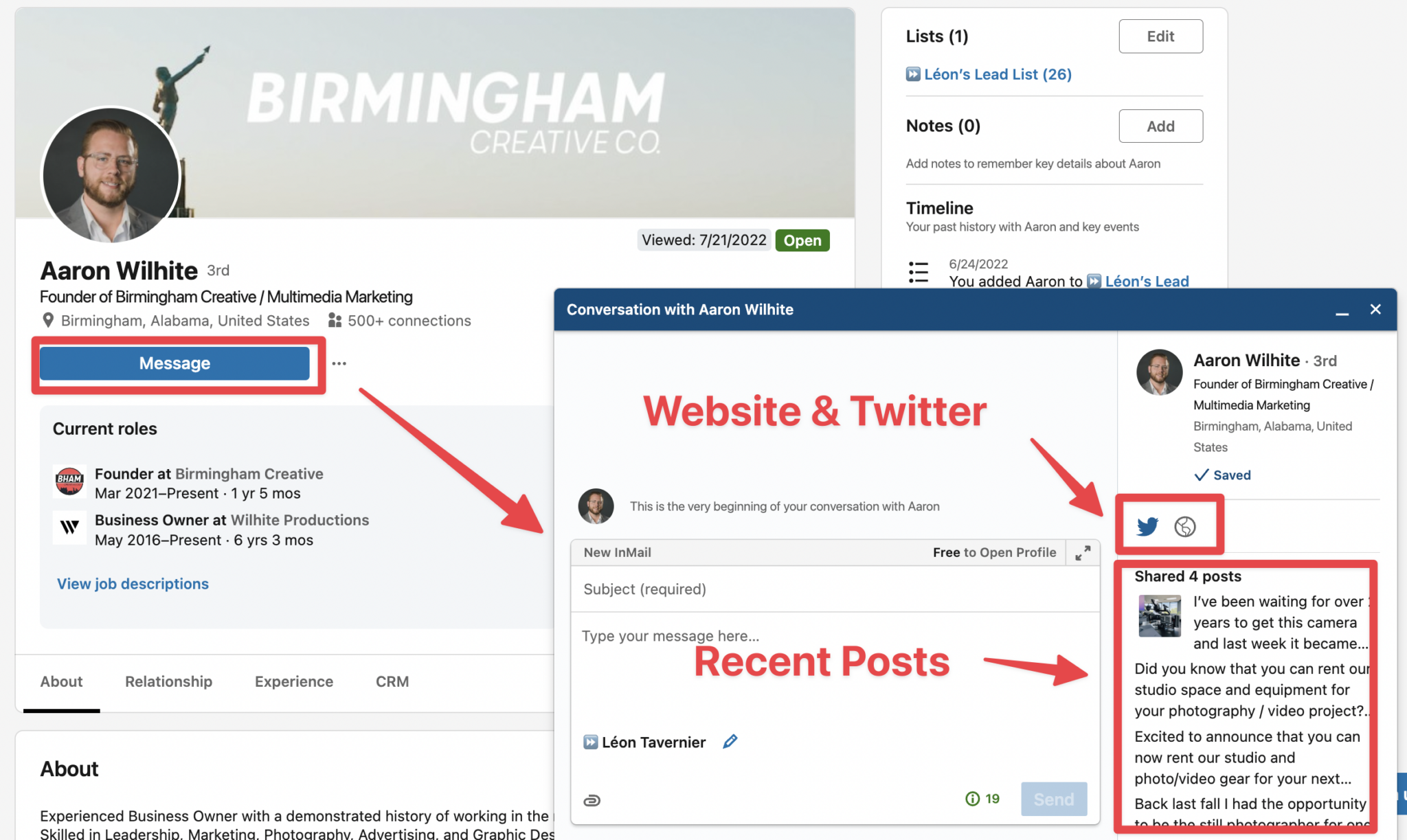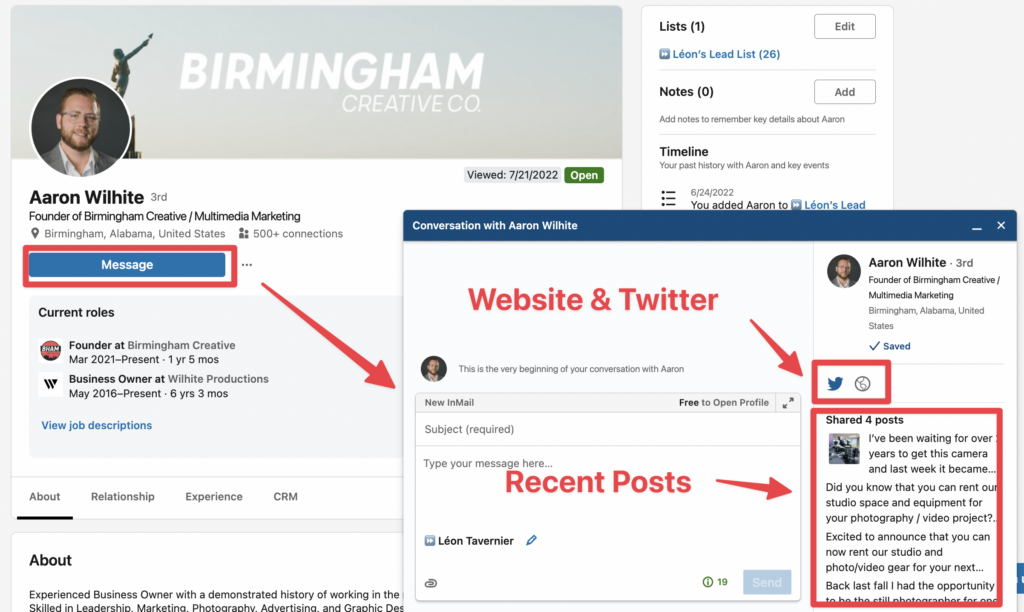 You get 50 inmails credits per month with Sales Navigator.
However, you can send unlimited inmails if you managed to identify Open Profiles.
Here is a tutorial on how to do that:
You can also send a classic connection request to candidates but note that they are not limited to 100 connection per week.
There are also some hack to bypass this limit that you can find here:
If candidates don't reply to inmails nor connection requests, you can try to get their emails to get a reply.
Here is how to proceed.
Step #4: Export Candidates From Sales Navigator and find their Emails
One benefit of using Sales Navigator is that there are many plugins and extension you can add to it (unlike Recruiter).
It's really simple to create emails list from linkedin sales navigator searches and lists with Evaboot.
Step #1: Extract your search using Evaboot Chrome extension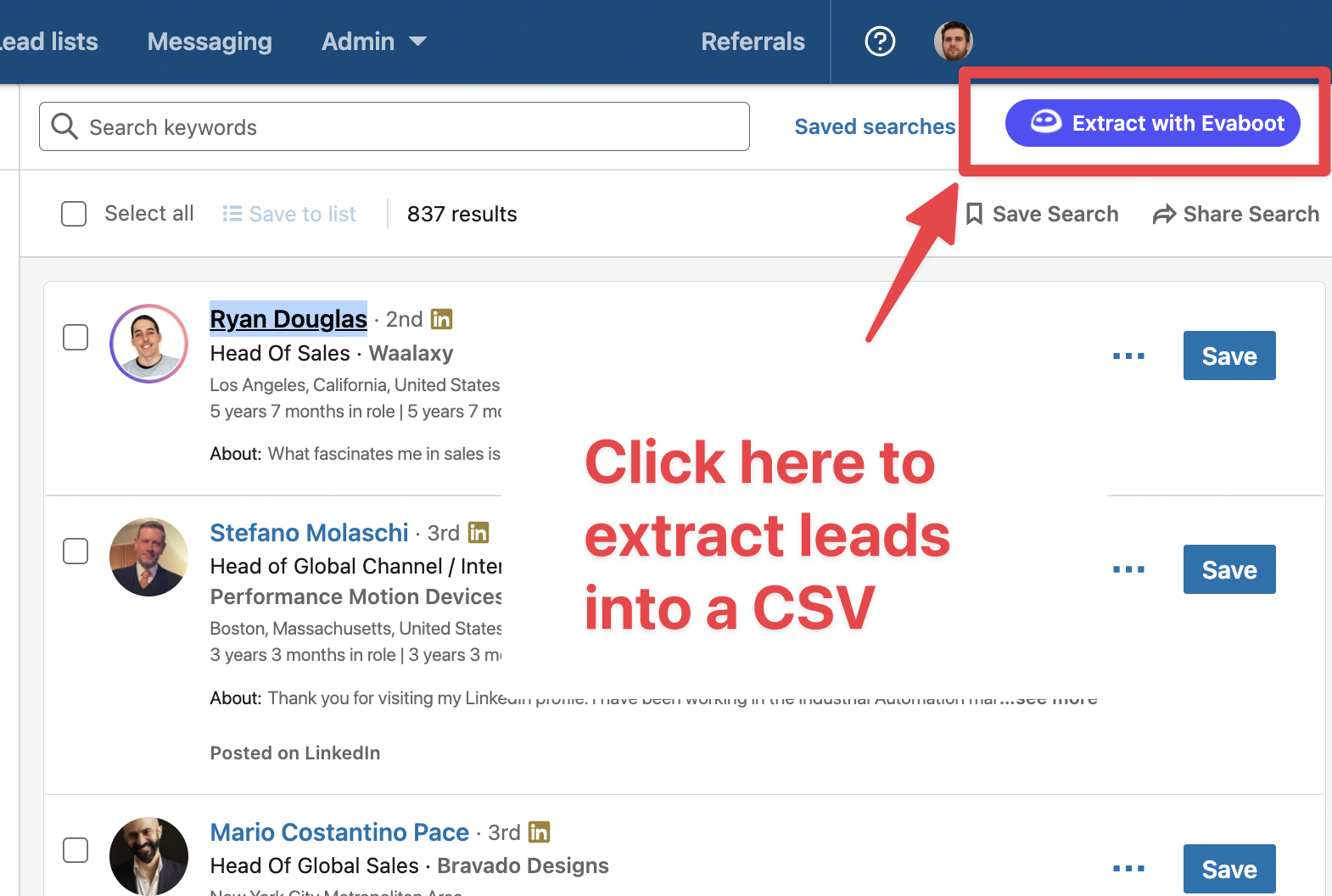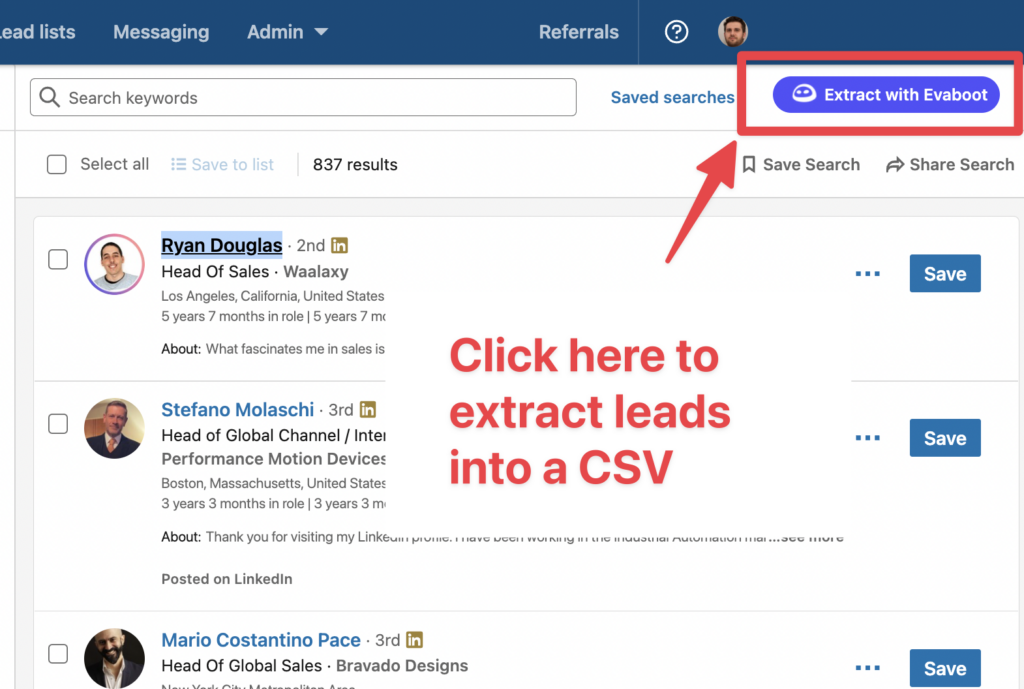 Step #2: Once your extraction is completed. Click on Find Emails to add the files in your CSV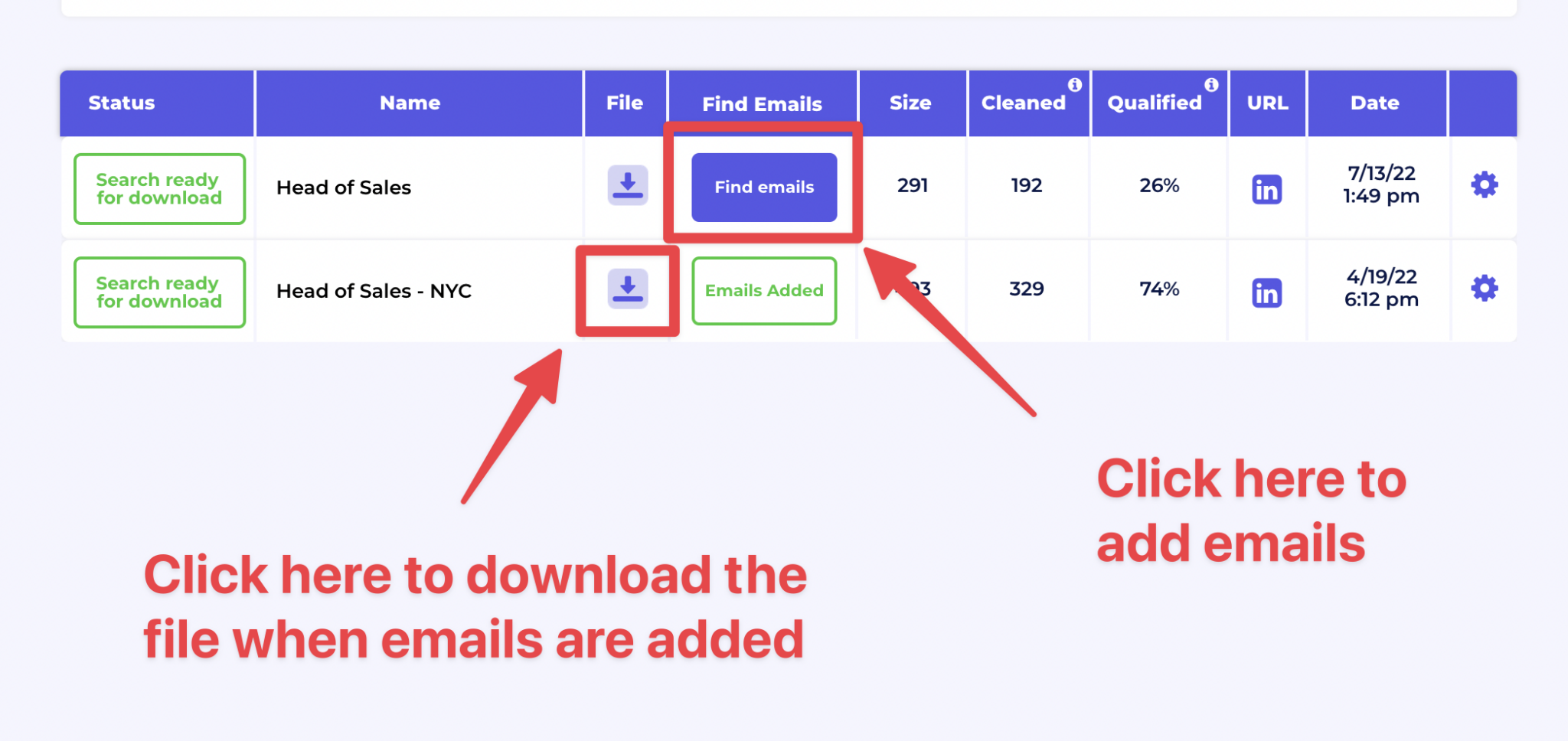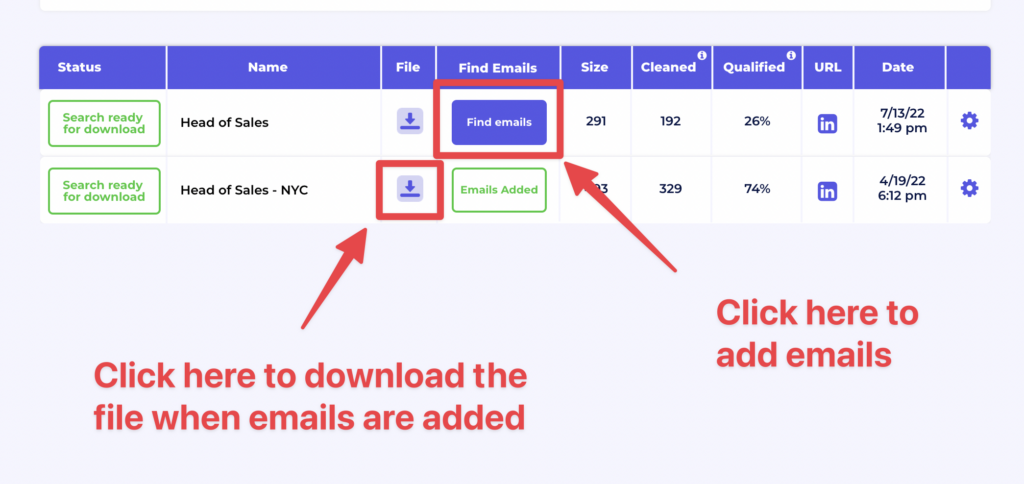 Step #3: Get your file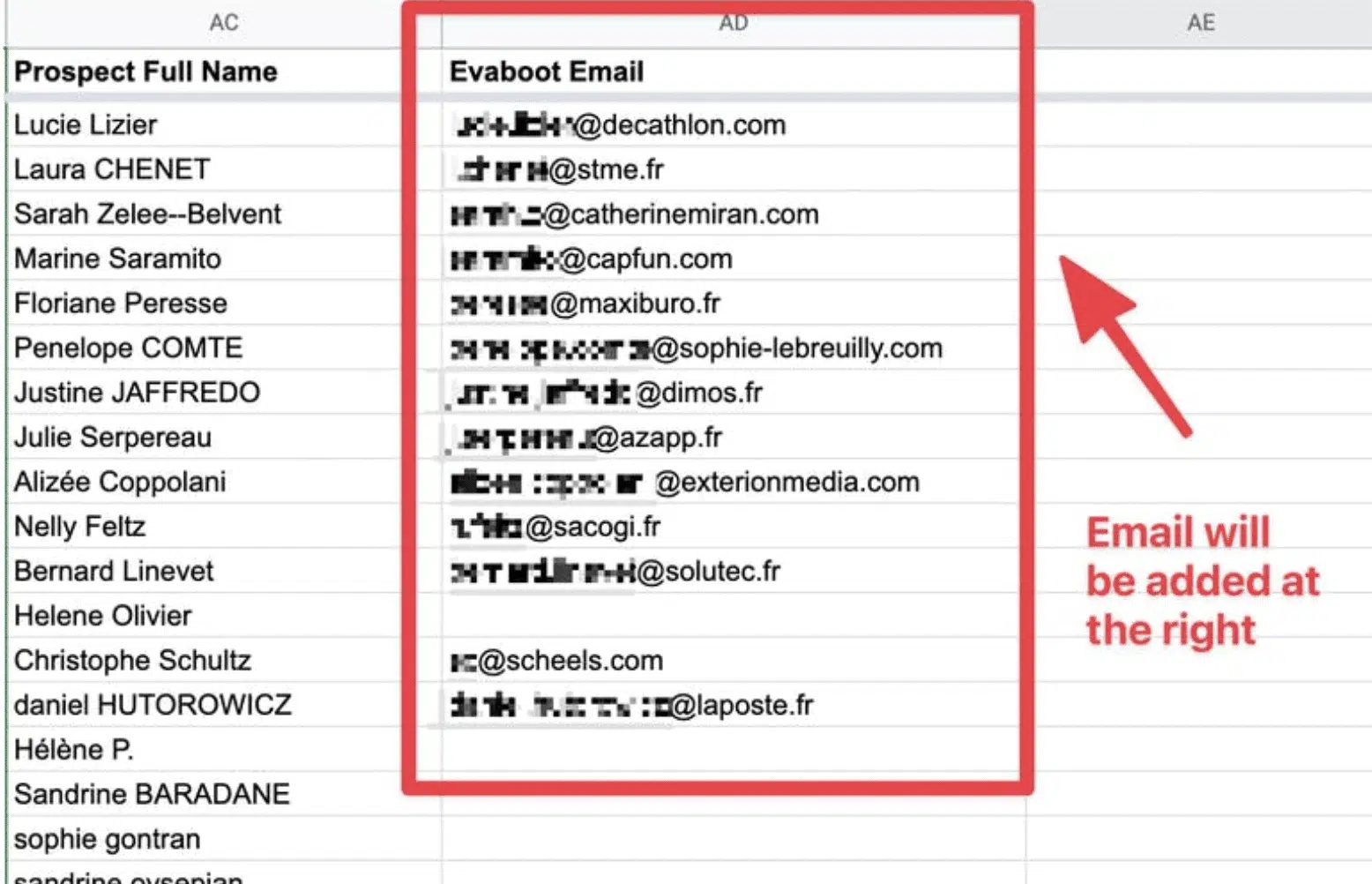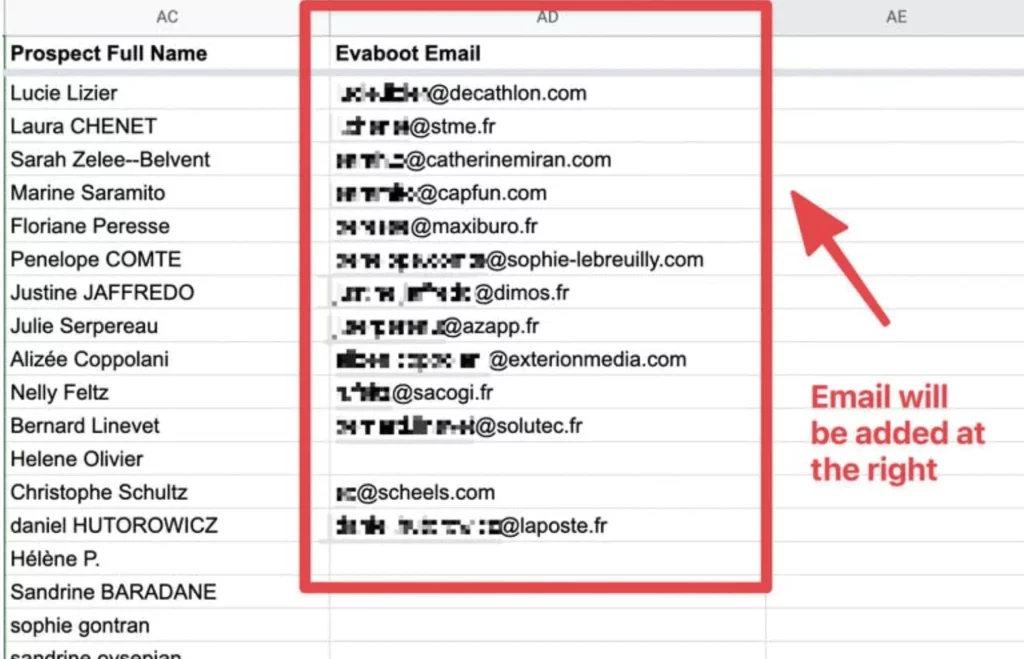 Evaboot will find and verify professional email addresses of candidates and add them at the right of the file
Step #5: Find Open To Work Candidates on Sales Navigator
There is no "Open to Work" filter on Sales Navigator.
Honestly, do you want to pay $835/month just to have this filter?
There is a workaround if you use Sales Navigator + Evaboot
You won't be able to filter on "Open to work"…
But you will be able to find who is "Open to work" among the candidates you extracted.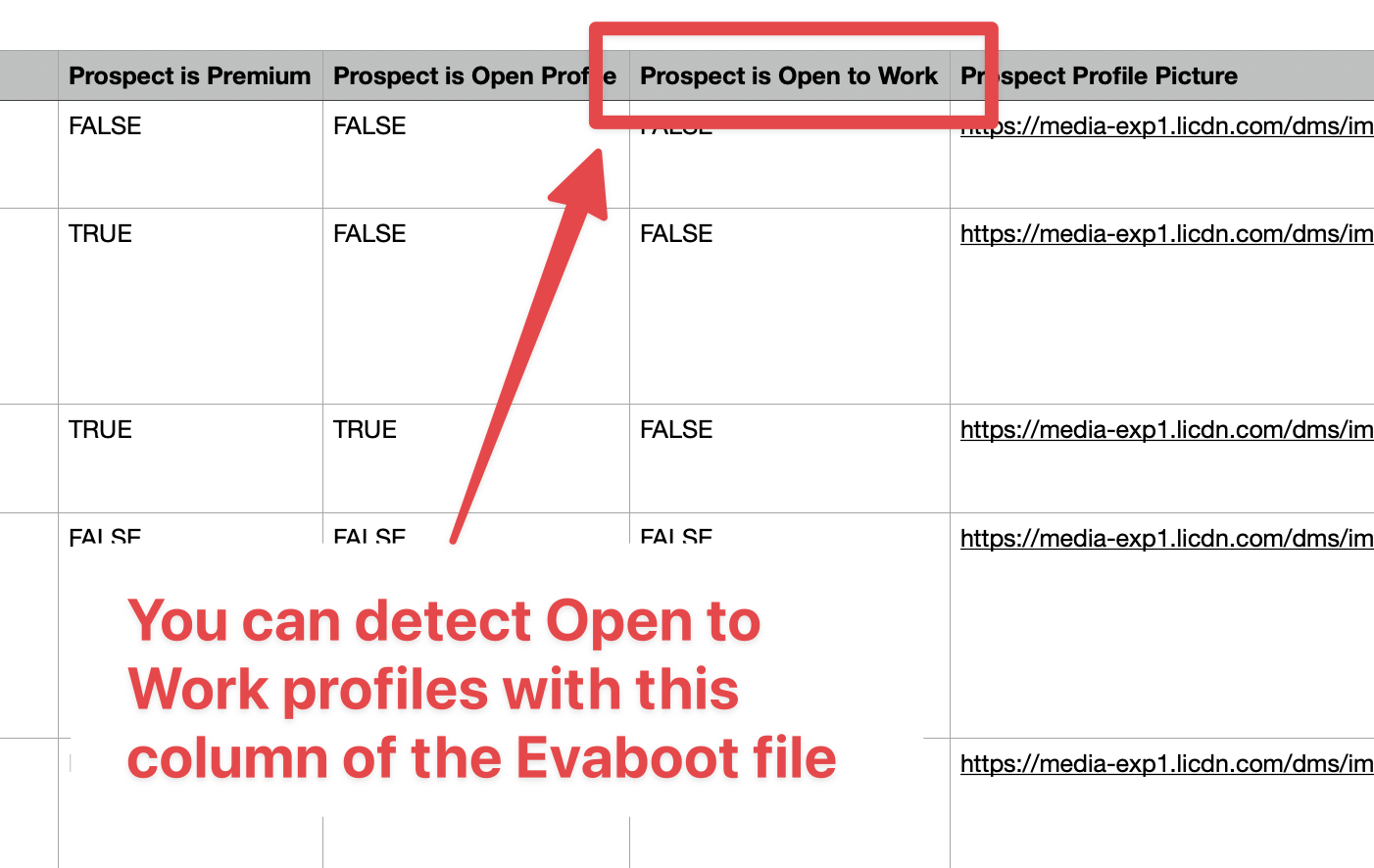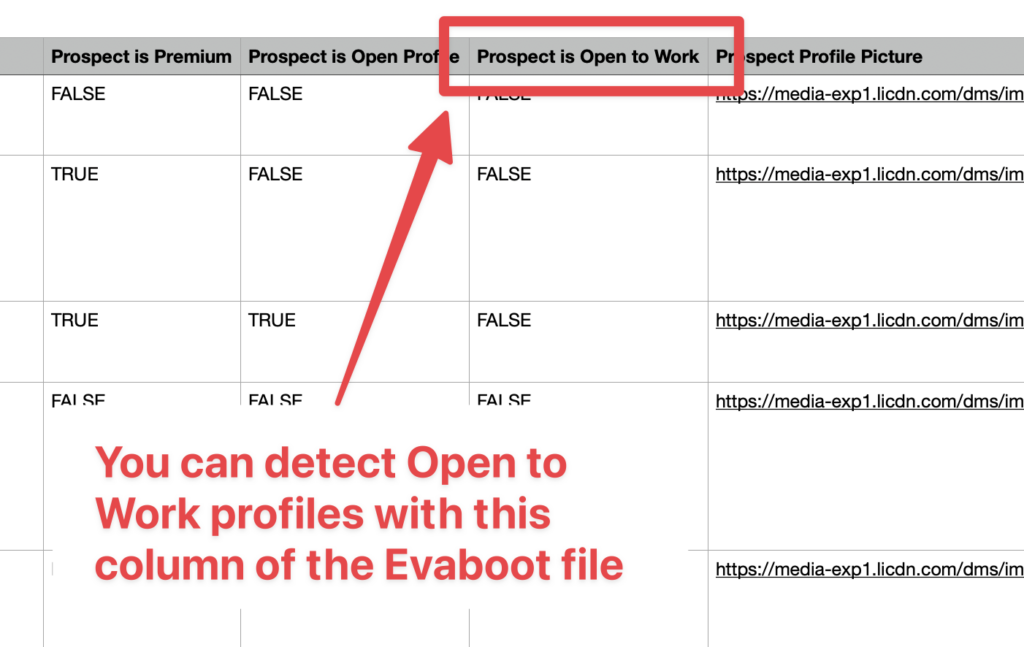 ---
Congratulations. You now know how to find candidates with Linkedin Sales Navigator.
You can do much more than that with this tool.
Why don't you also use it to find clients for your recruiting business?
How to Use Sales Navigator For Your Recruiting Business?
Sales Navigator is a wonderful linkedin prospecting tool if you are a recruiting business.
You can decide to target leads or accounts.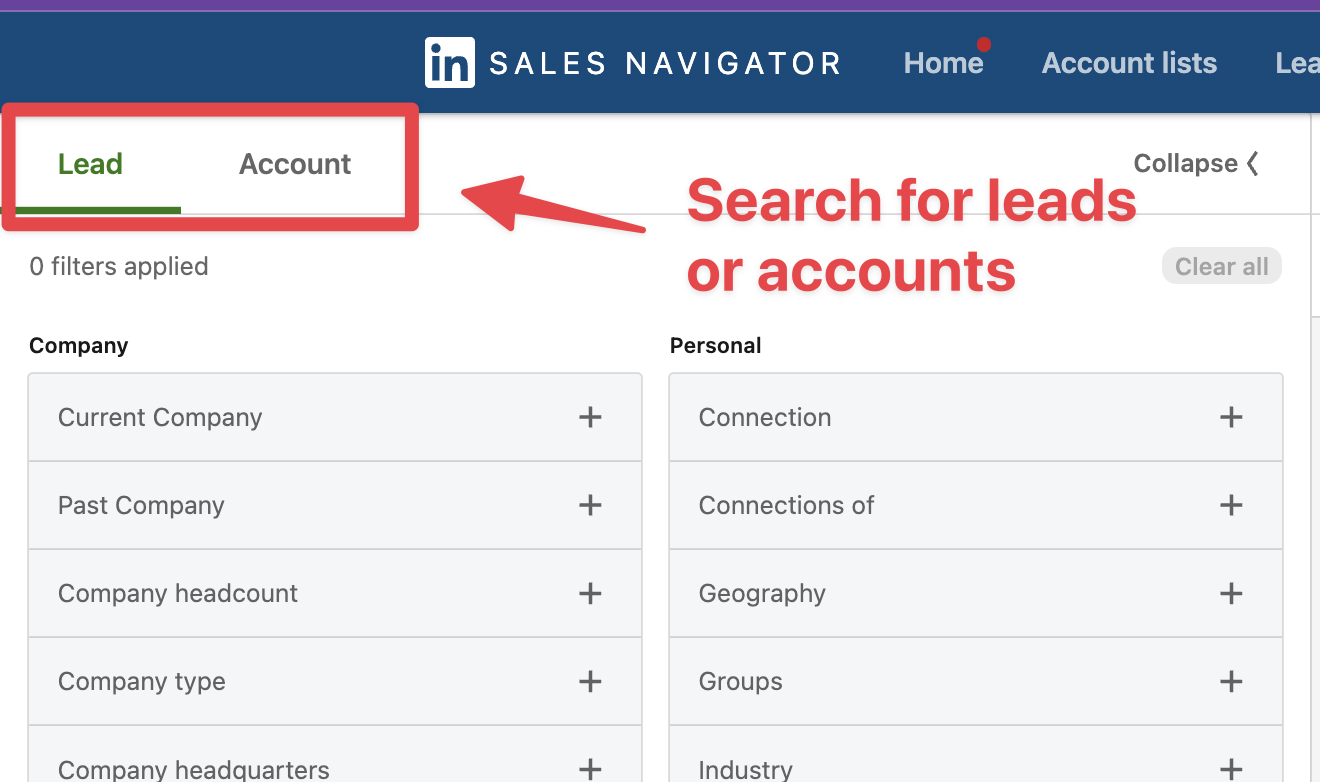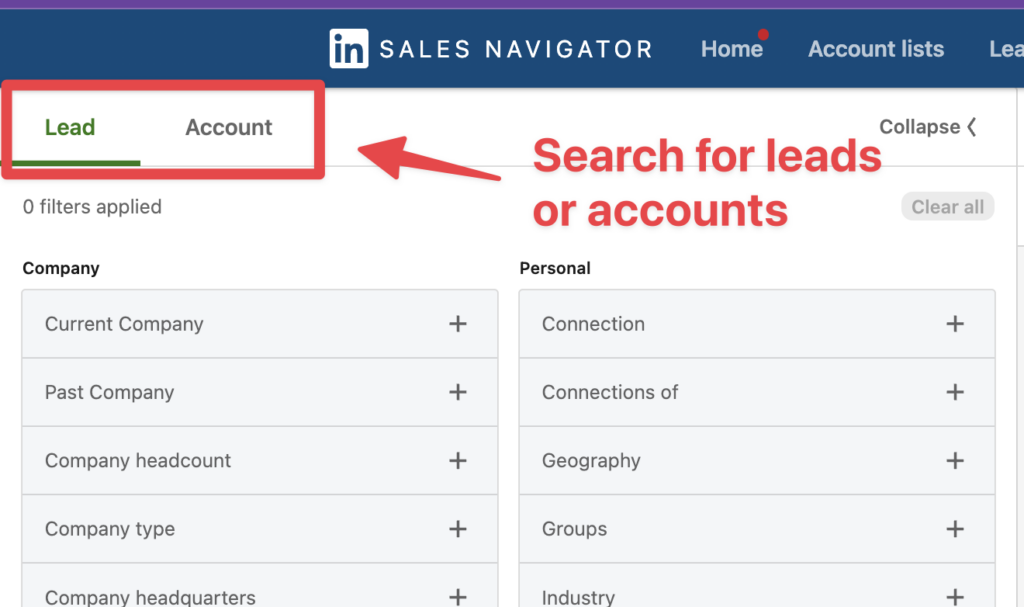 If you are a recruiting business, you should use the account search.
Here is why.
Step #1: Build a list of companies currently hiring on Linkedin
There is a magic filter you can use: "Hiring on Linkedin"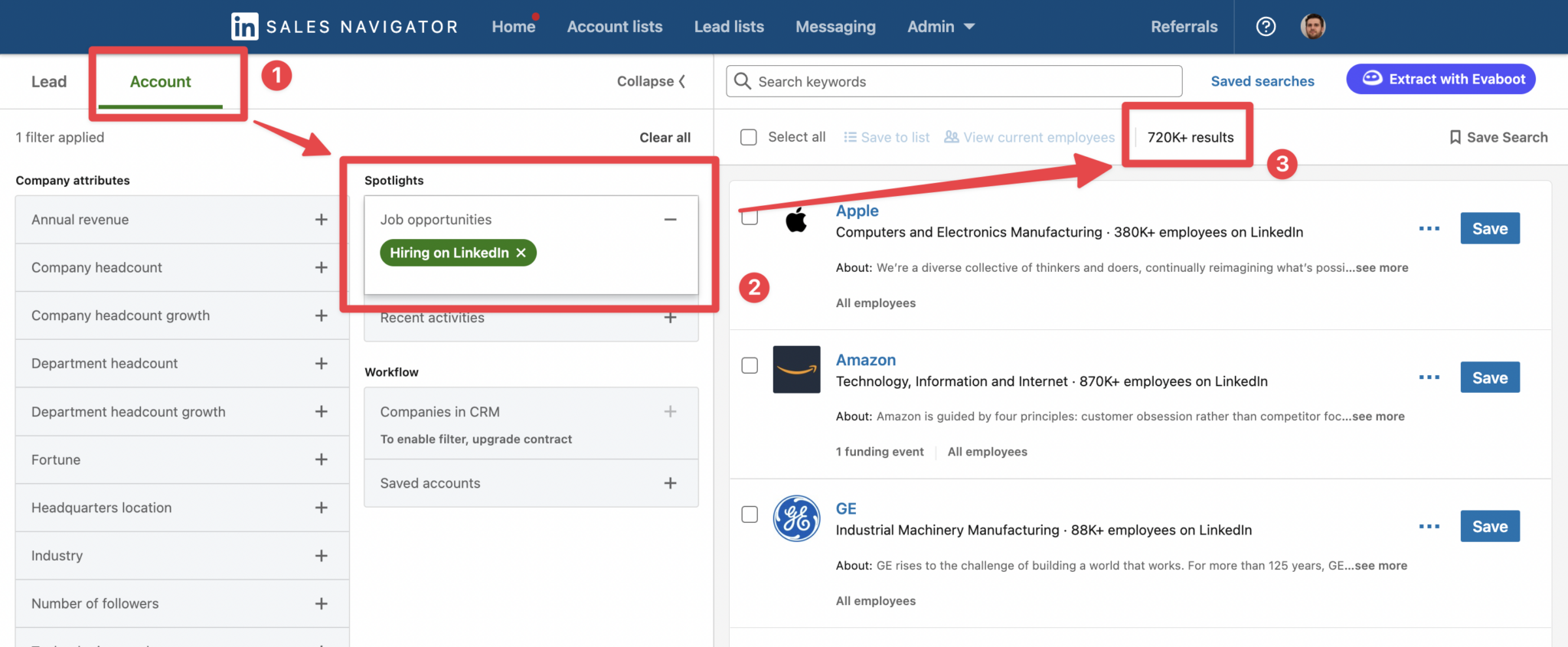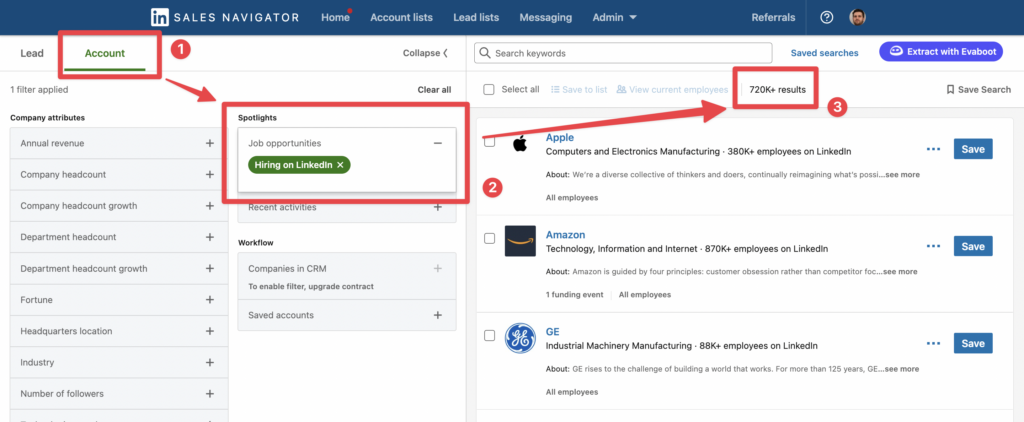 This filter will show you all the companies that have currently one or more job offers opened on linkedin.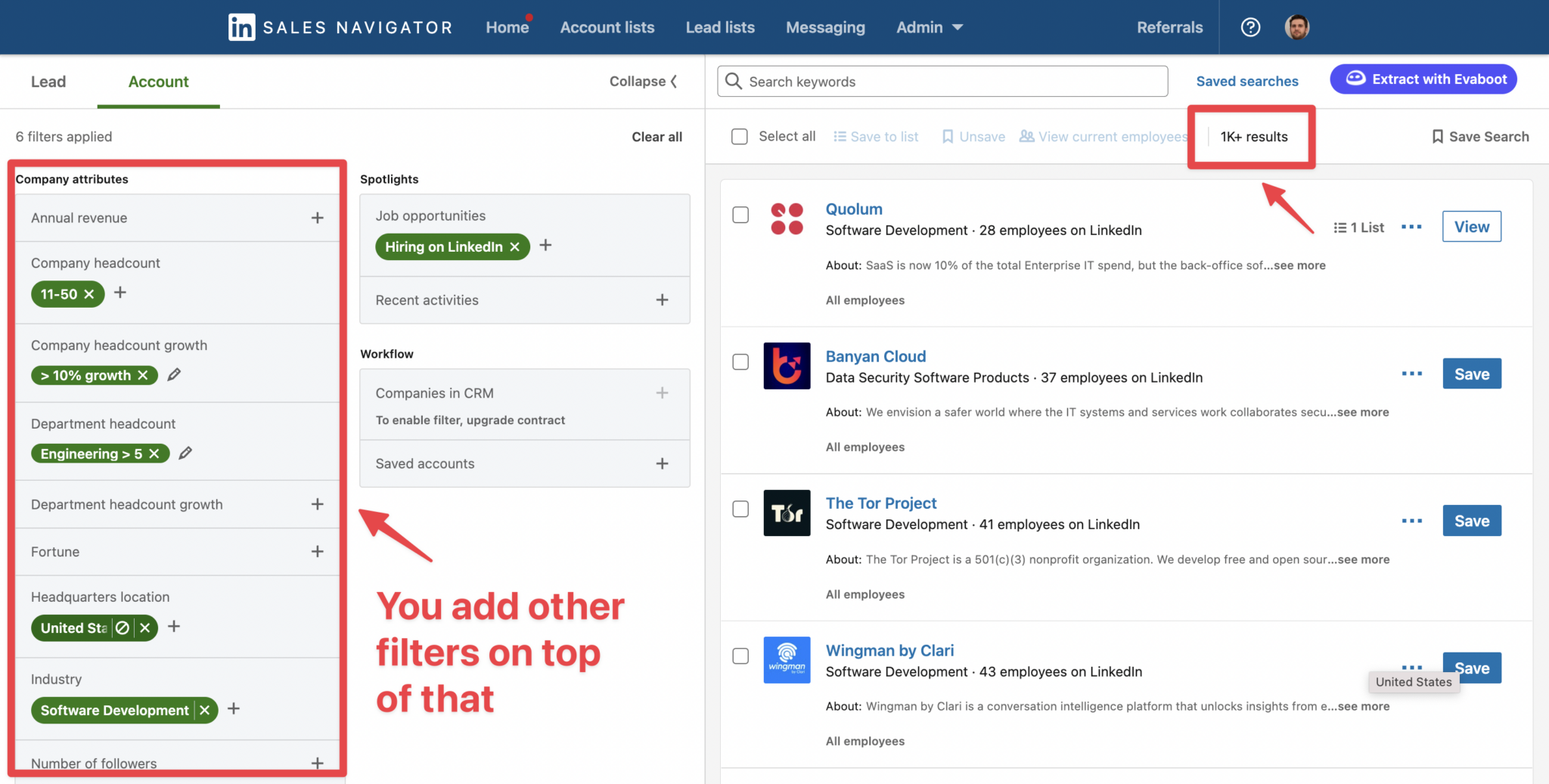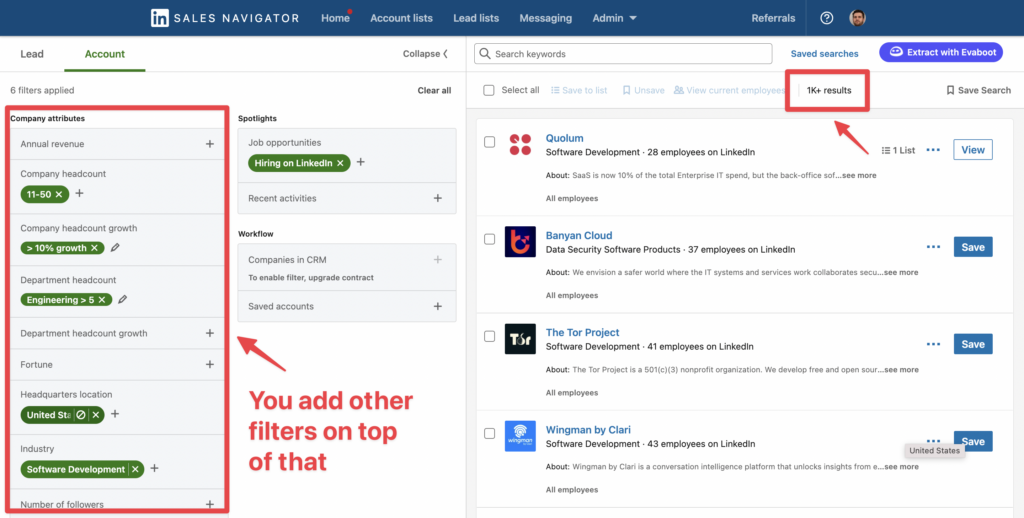 Then you can add other filters on top of that like:
Company Headcount
Growth Rate
Size of Departments
Department Growth
Location
Industry
And more…
This give you the opportunity to build a really qualified list of accounts currently recruiting on linkedin. This is a super icebreaker for the messages you are going to send in your linkedin prospecting campaign.
Step #2: Save The Search To Be Notified When New Companies Start Hiring
You can save your account list to get notified every time a company post a job offer on linkedin.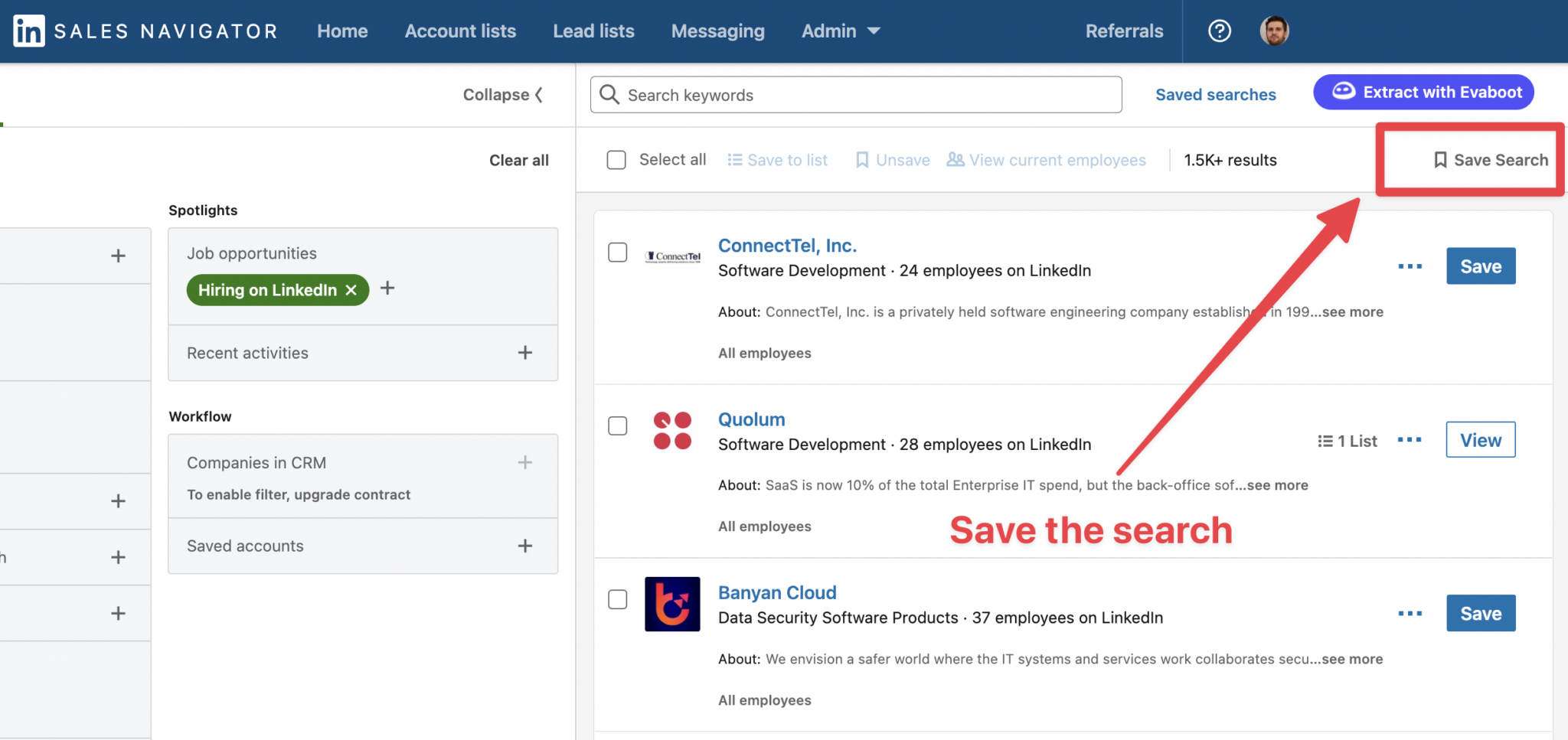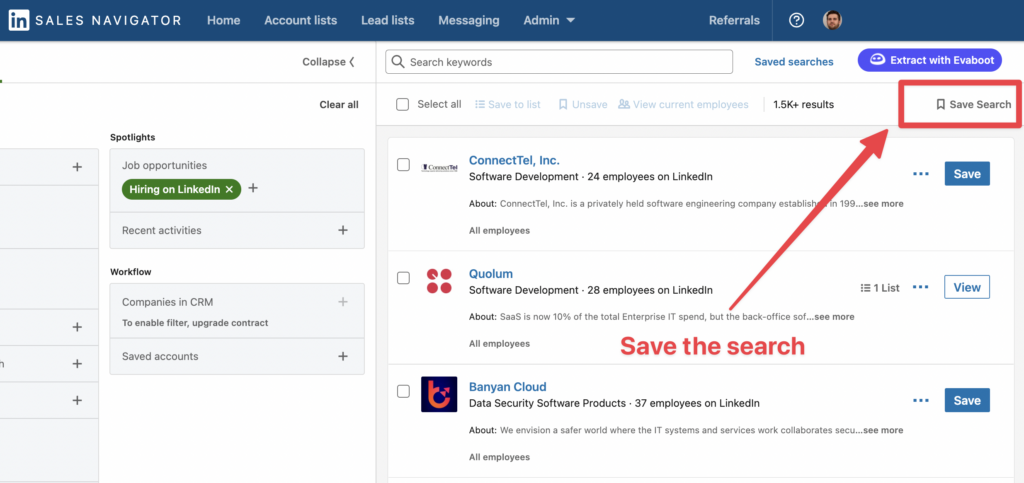 Every week, you will be notified of the new companies that have opened job offers on Linkedin.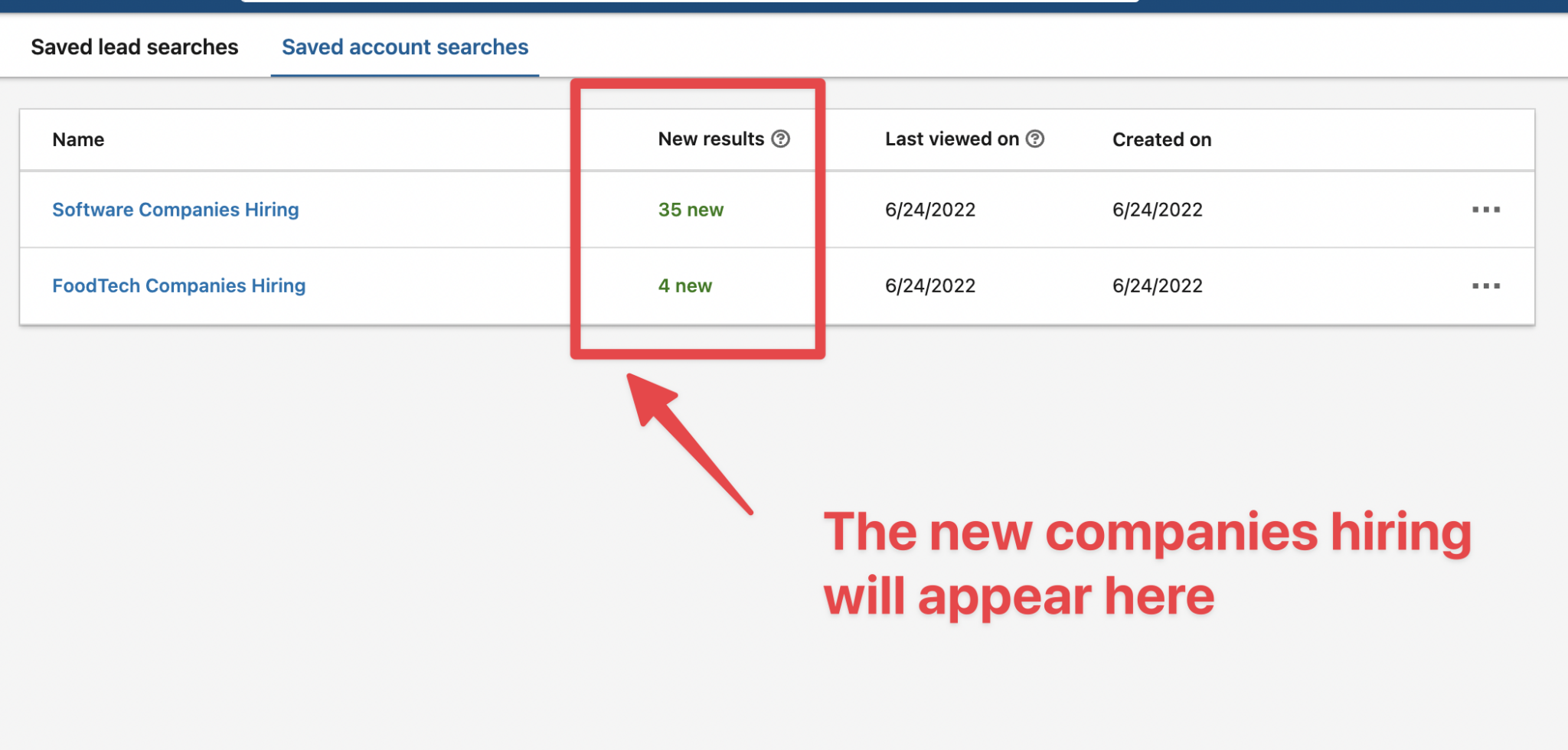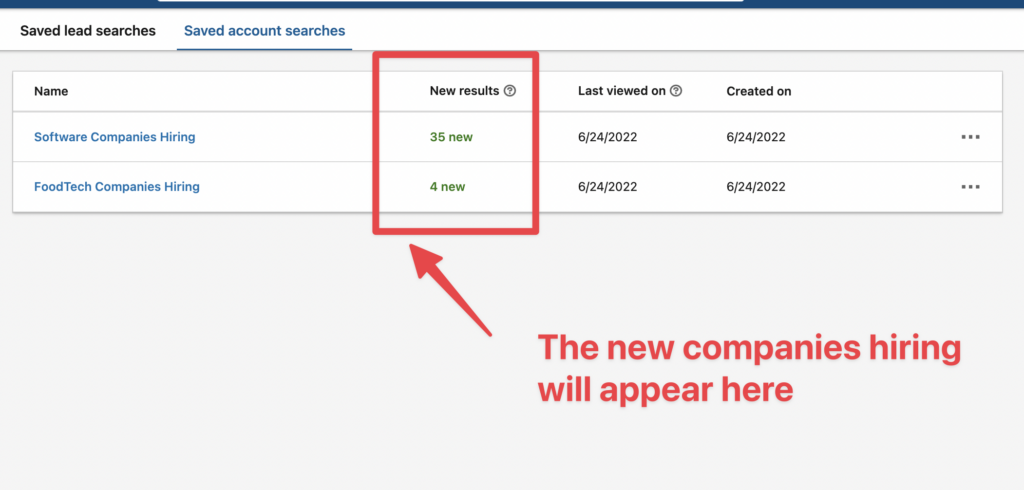 That is a great way to put your lead generation on autopilot as a recruiting business.
Step #3: Analyze Their Needs with Company Pages Insights
Once that have identified a list of companies, you get some insight about their recruiting needs on their company pages.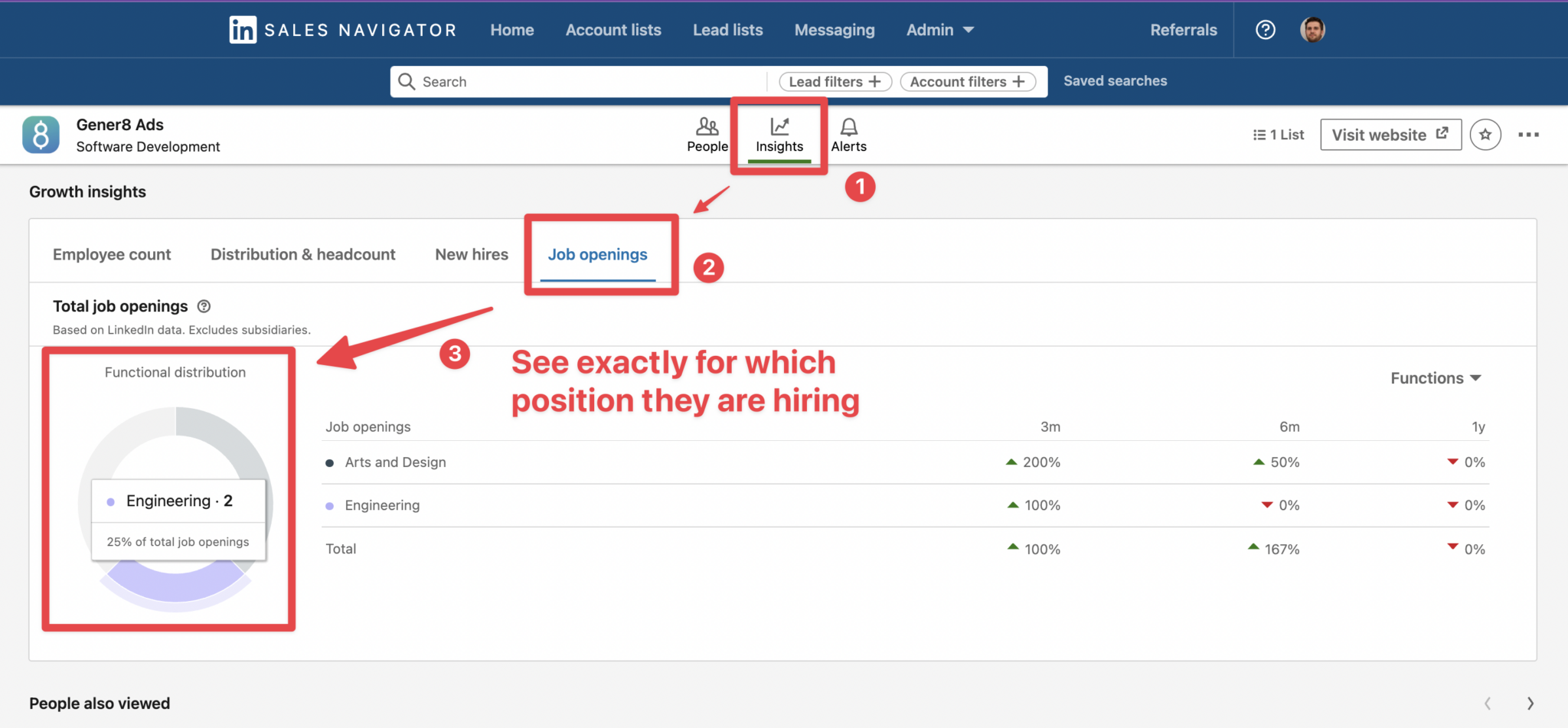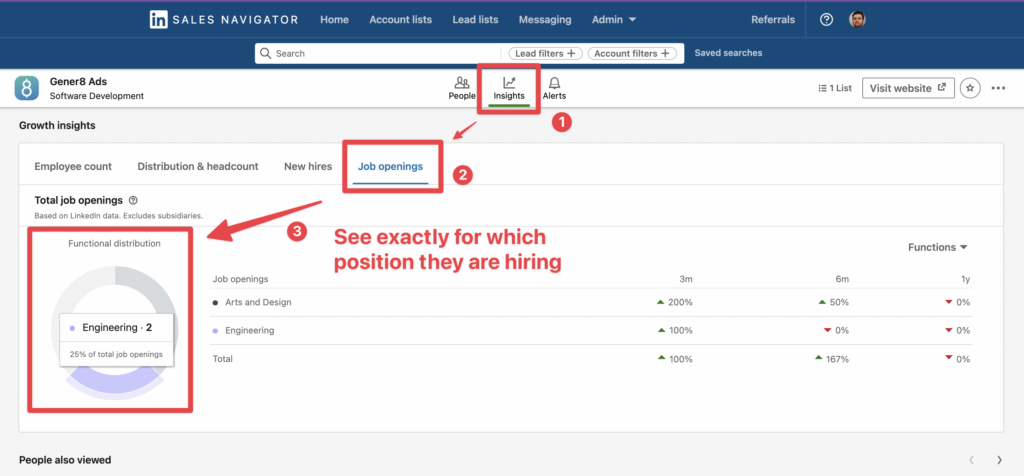 To do this:
Go on the company page
Go on the insight section
Click on Job Openings
You will see how many job offers they have currently opened
And in which department they are hiring
Knowing exactly for which position they are hiring is gold.
If you use this information correctly in your linkedin sales prospecting messages, your reply rates will skyrocket.
---
You have identified the need of your prospect.
Now, let's identify the right decision makers to contact.
Step #4: Find the Decision Makers
To find decision makers to contact you can use the Account Map present on the company page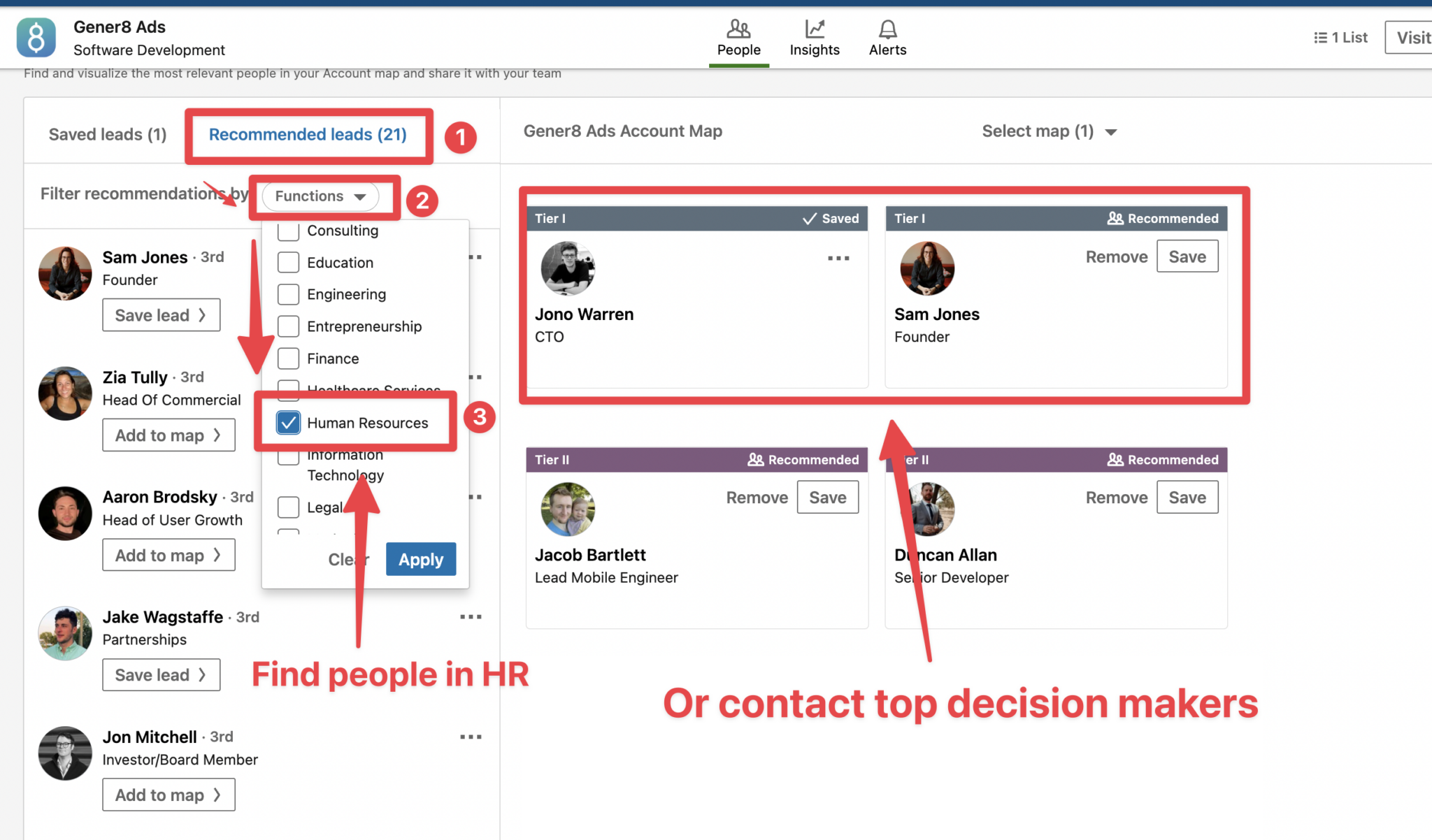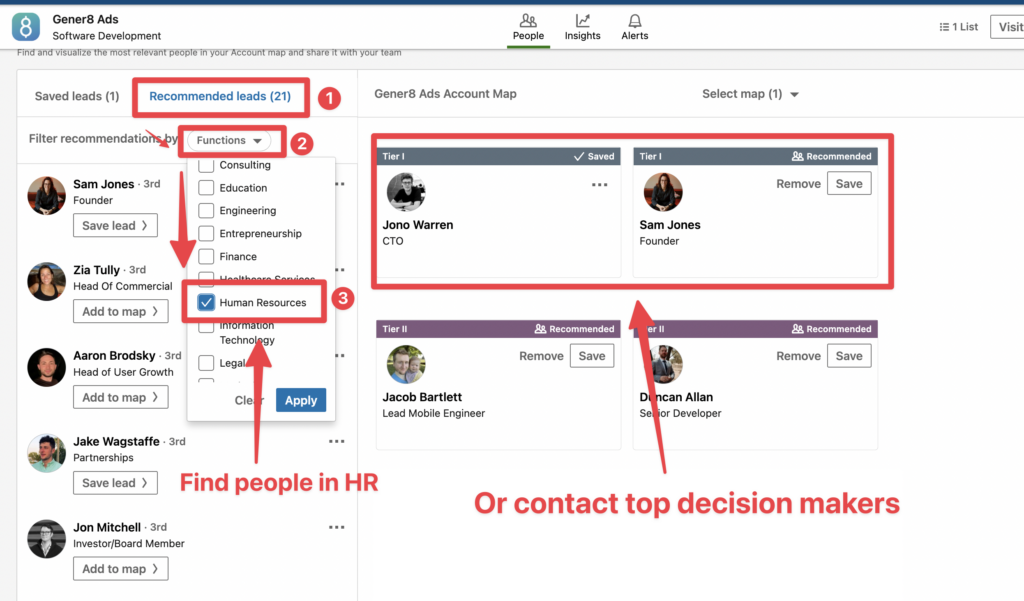 If it's a large company, you can filter Recommended Lead on Functions and selected Human Resources.
Linkedin will show the decision makers inside the HR Department.
If it's a small company, you will see the C-Levels directly in the account map on the right. Often in the small companies, C-Levels will handle recruiting themselves.
---
Great. You have identified the right decision makers.
Now, let's see how to send a message that will 100% get a reply.
Step #5: Send Personalized Messages With Account Alerts
To maximize your chances of getting a reply, you need to send a personalize message.
For that you can use the alert section of company pages.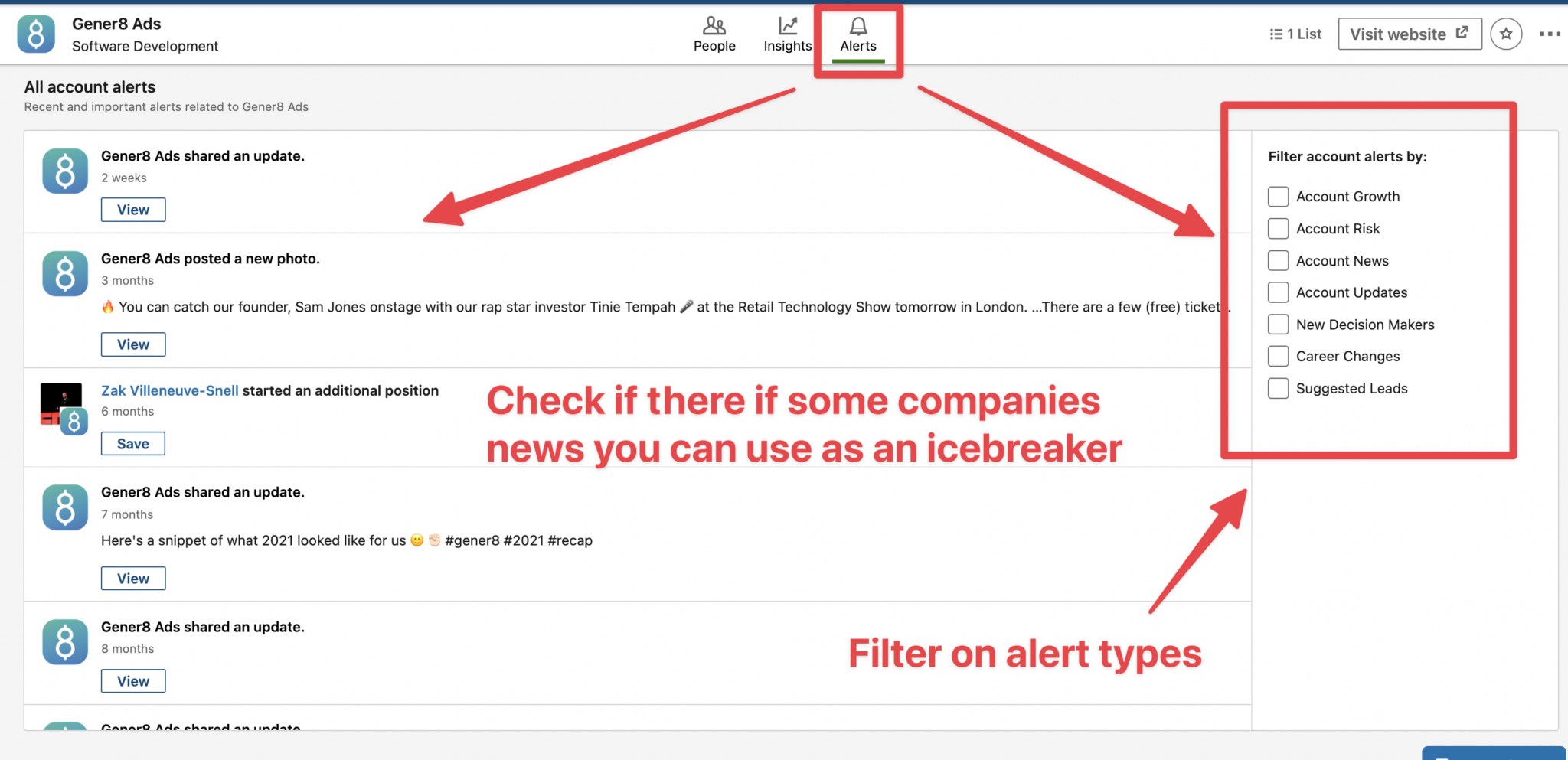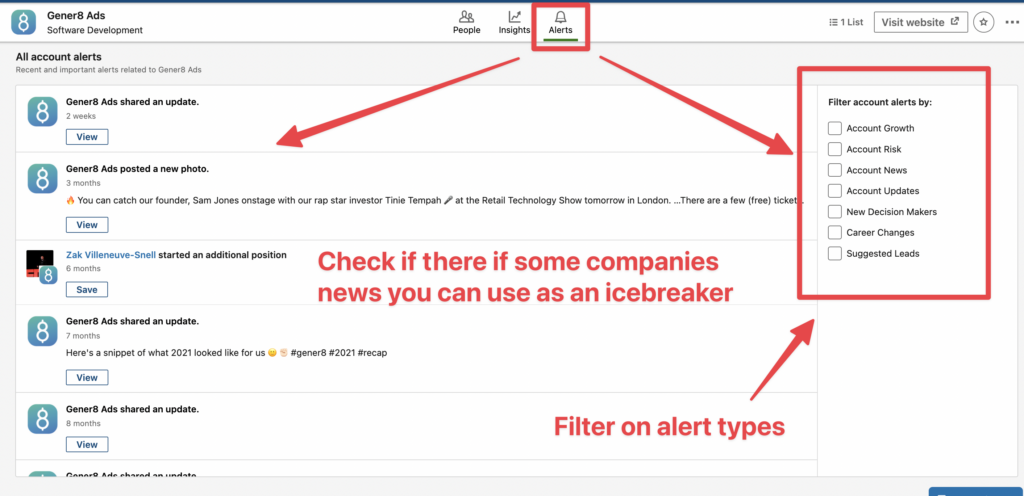 In this section you will find all sorts of company updates:
Linkedin posts shared by the company page
Mentions in the news
New Decision makers
That is perfect material to think about a personalized icebreaker.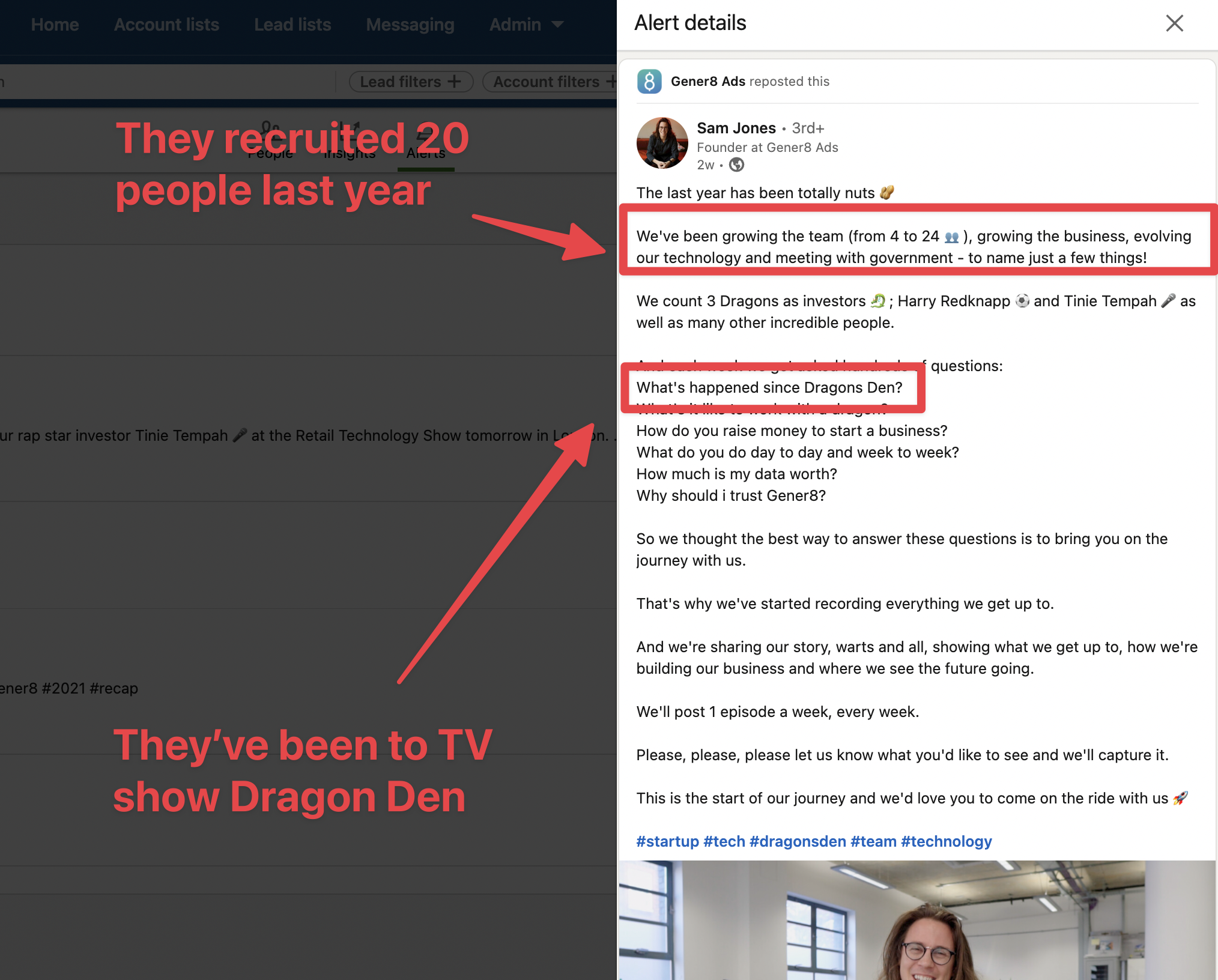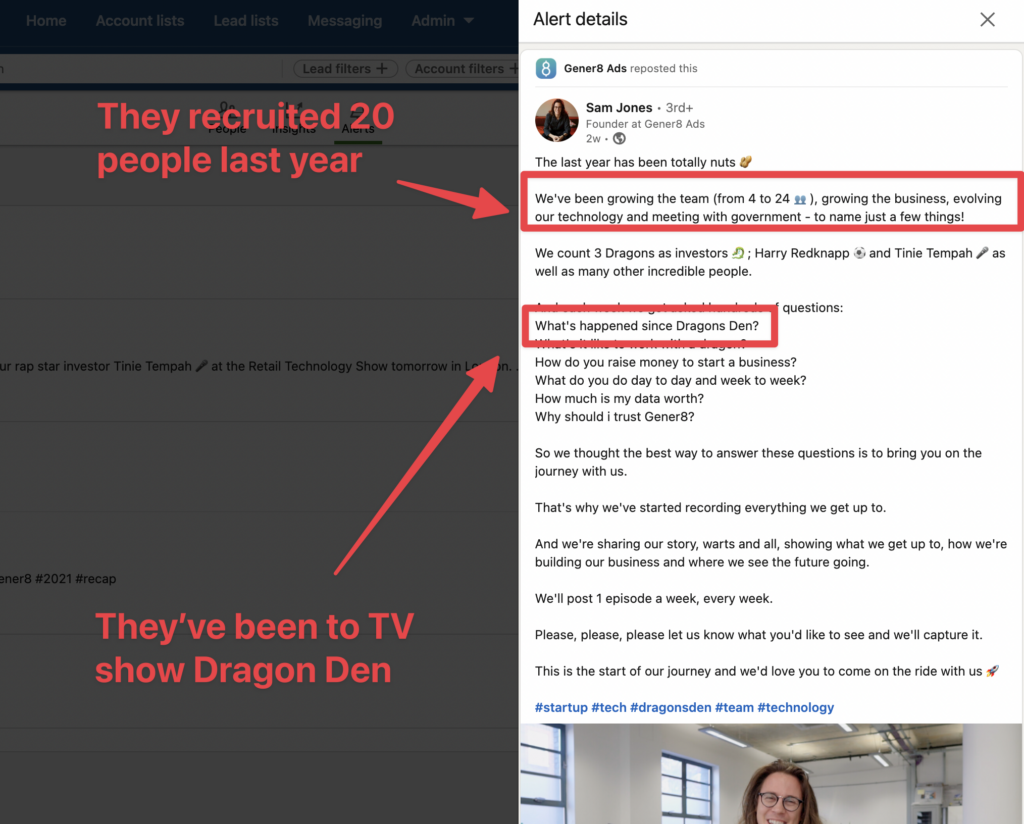 For example here I see that hey appeared on a TV Show recently.

Let's mention that in the message.

It will show that I don't come out of nowhere and I've made some research on them.
Example of a message you could send

Hey Sam,

Heard about Gener8 Ads through Dragon Den. C

Congrats on growing the company so fast this year!

I've seen you're currently hiring 2 engineers.

Are the position field yet?
This message as a high chance of getting a reply as I precisely mention their need and add a really personalized icebreaker.
if you to know more about how to get more appointments with Linkedin, you can check this video:
---
That was the manual way to prospect as a recruiting business on linkedin sales navigator.
Now, let's see how to automate the process.
Step #6: Automate Your Lead Generation Process With Account Lists
If you don't need to check every company page there is a simple process you can use to identify all the decision makers in a list of company.
It's called Account Based Searching.
The first step is to search make an account search on linkedin to build an account list out of it.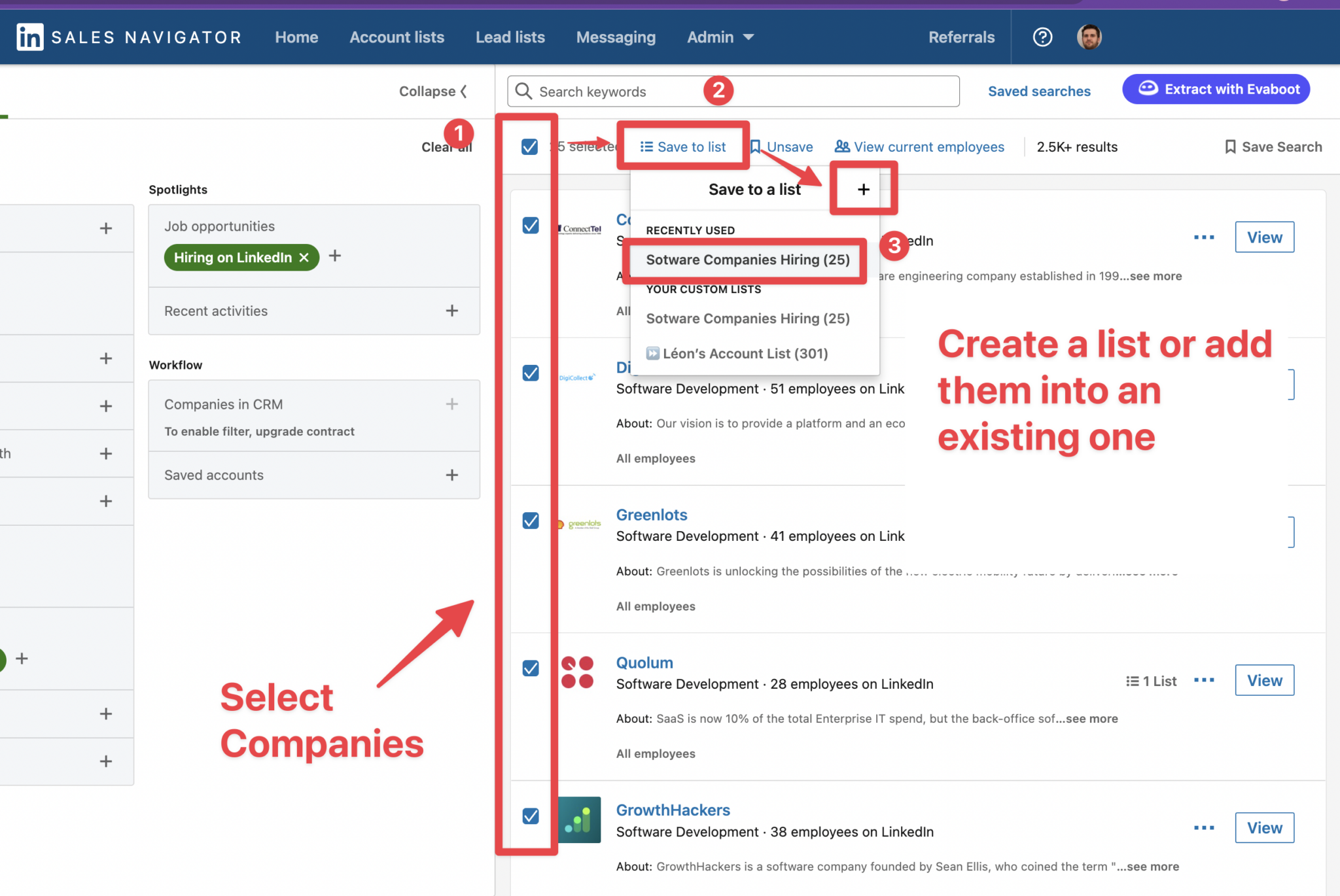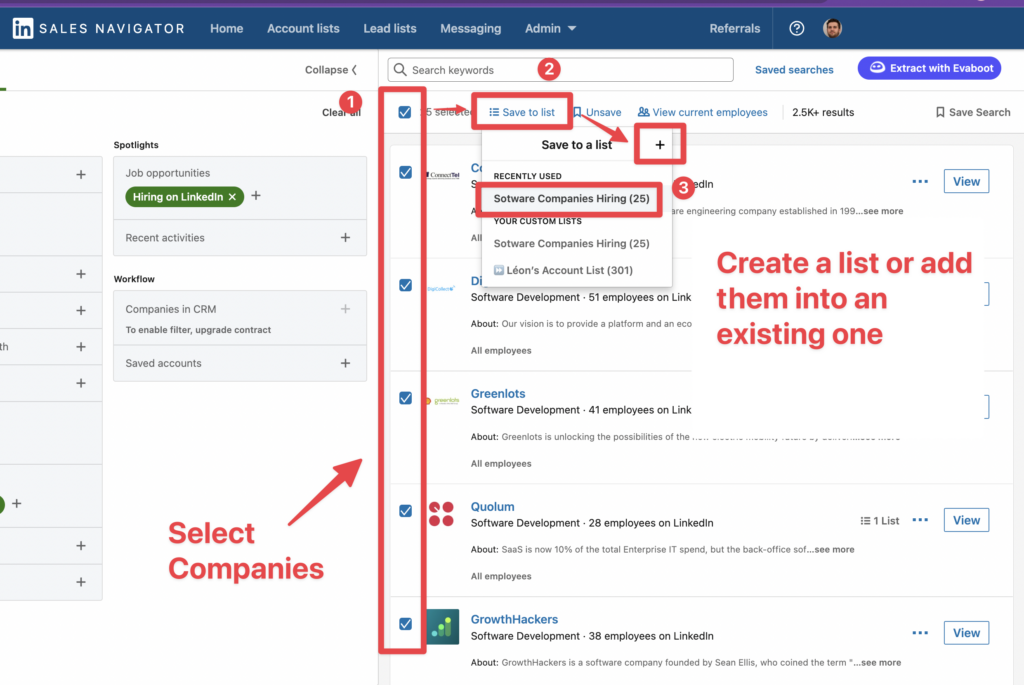 For that:
Select companies using the tick boxes
Click on "save to list"
Create a list or the accounts into an existing list
After that:
Go on the lead search
Find the workflow filter
Select the company list you have just built
Add filters to find decision makers
Boom.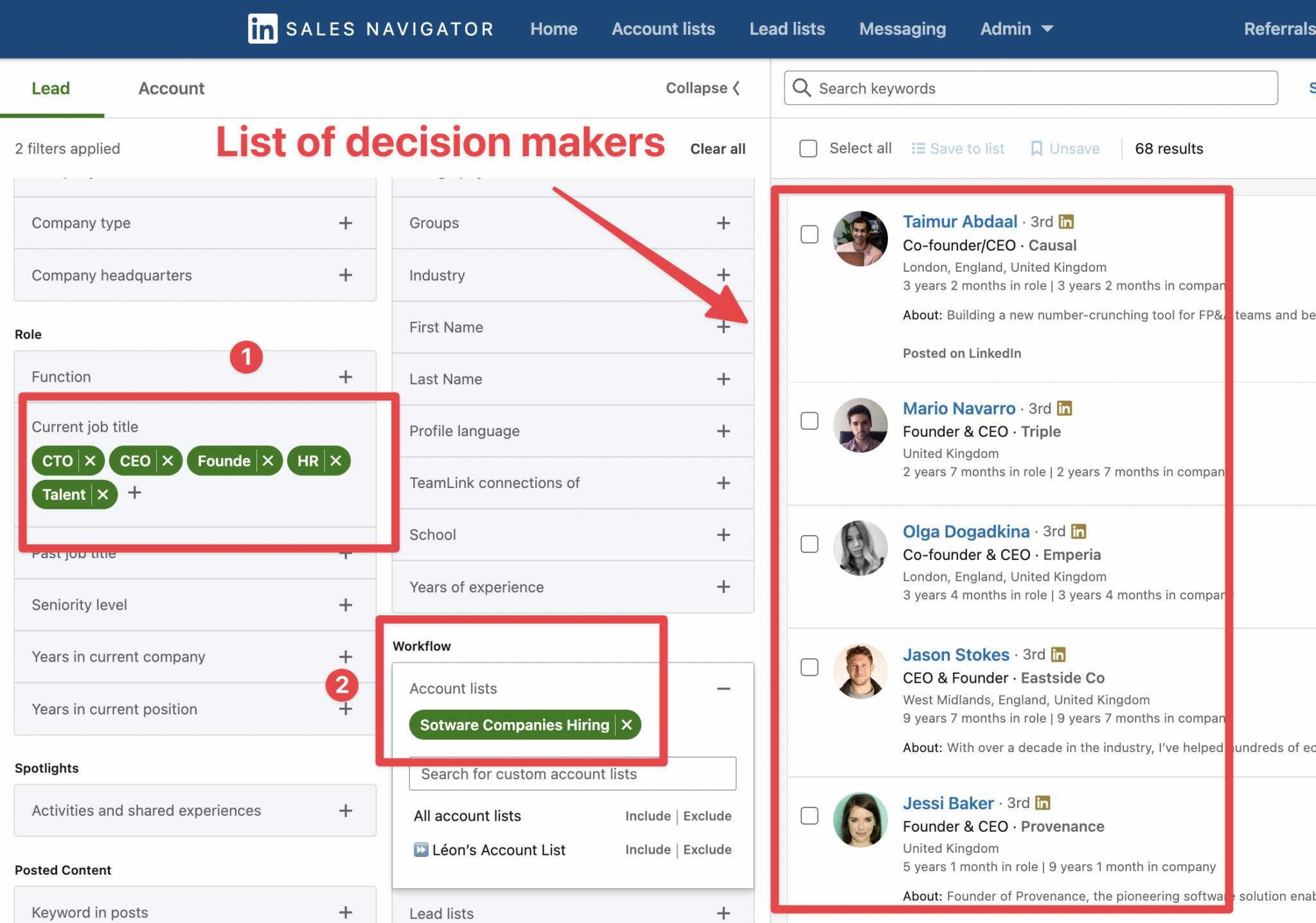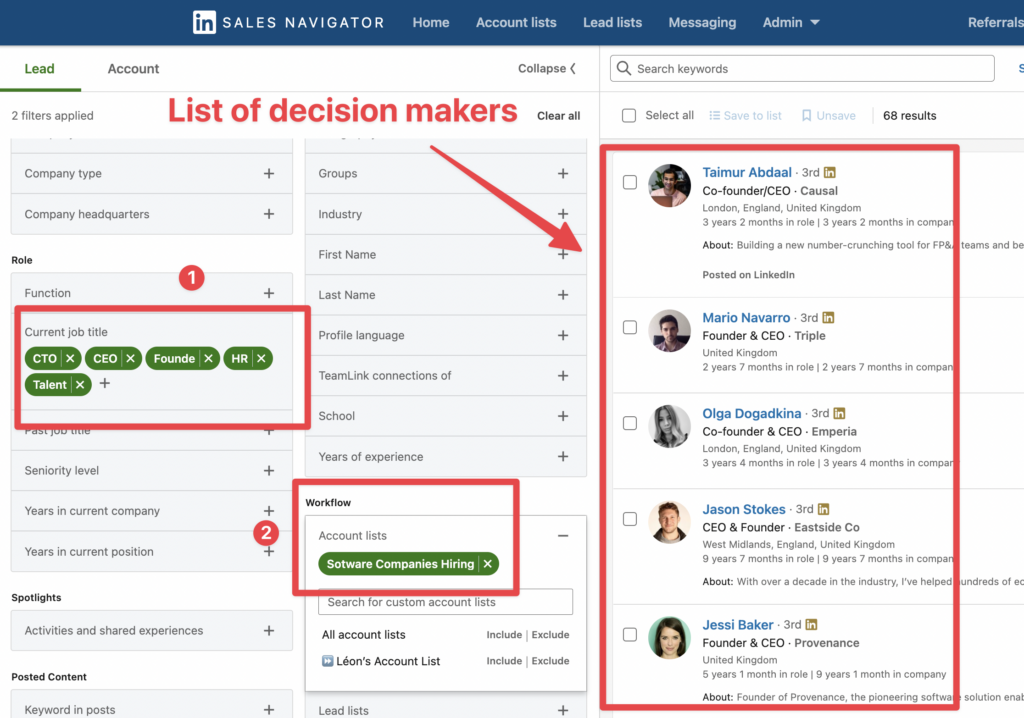 You have just created a super targeted list of decision makers.
You know export your lead list and find emails with Evaboot.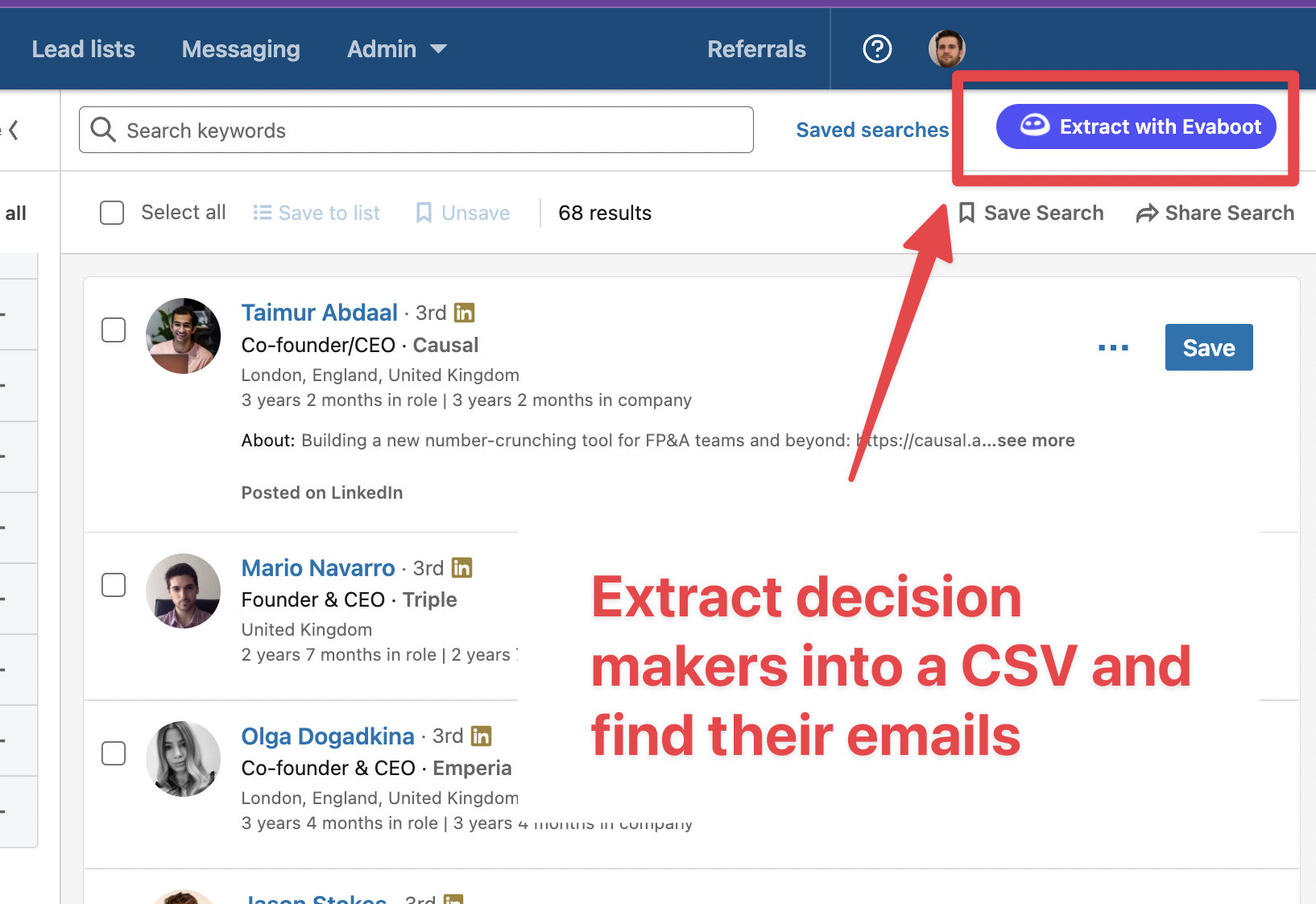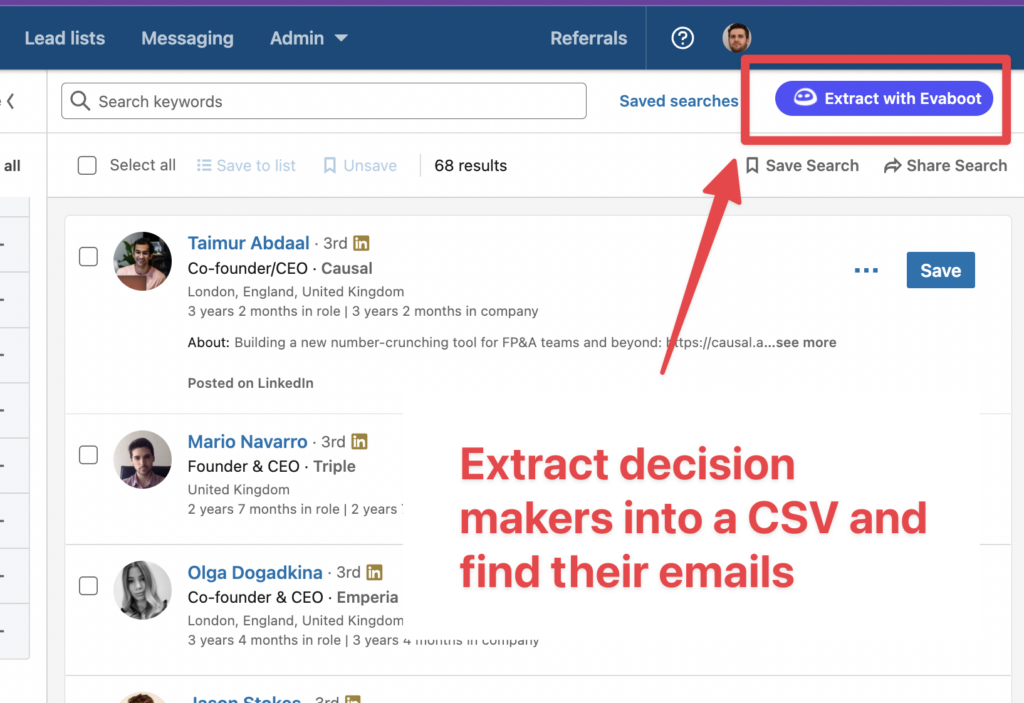 There you go have.
You have now an Excel file with all information you need about your prospects and their emails.
You can decide to contact them manually. Or to use an outreach tool to automate this process for you.
Step #8: Automate Your Outreach With a Prospecting Tool
There are tons of linkedin automations tools out there. I personally use LGM.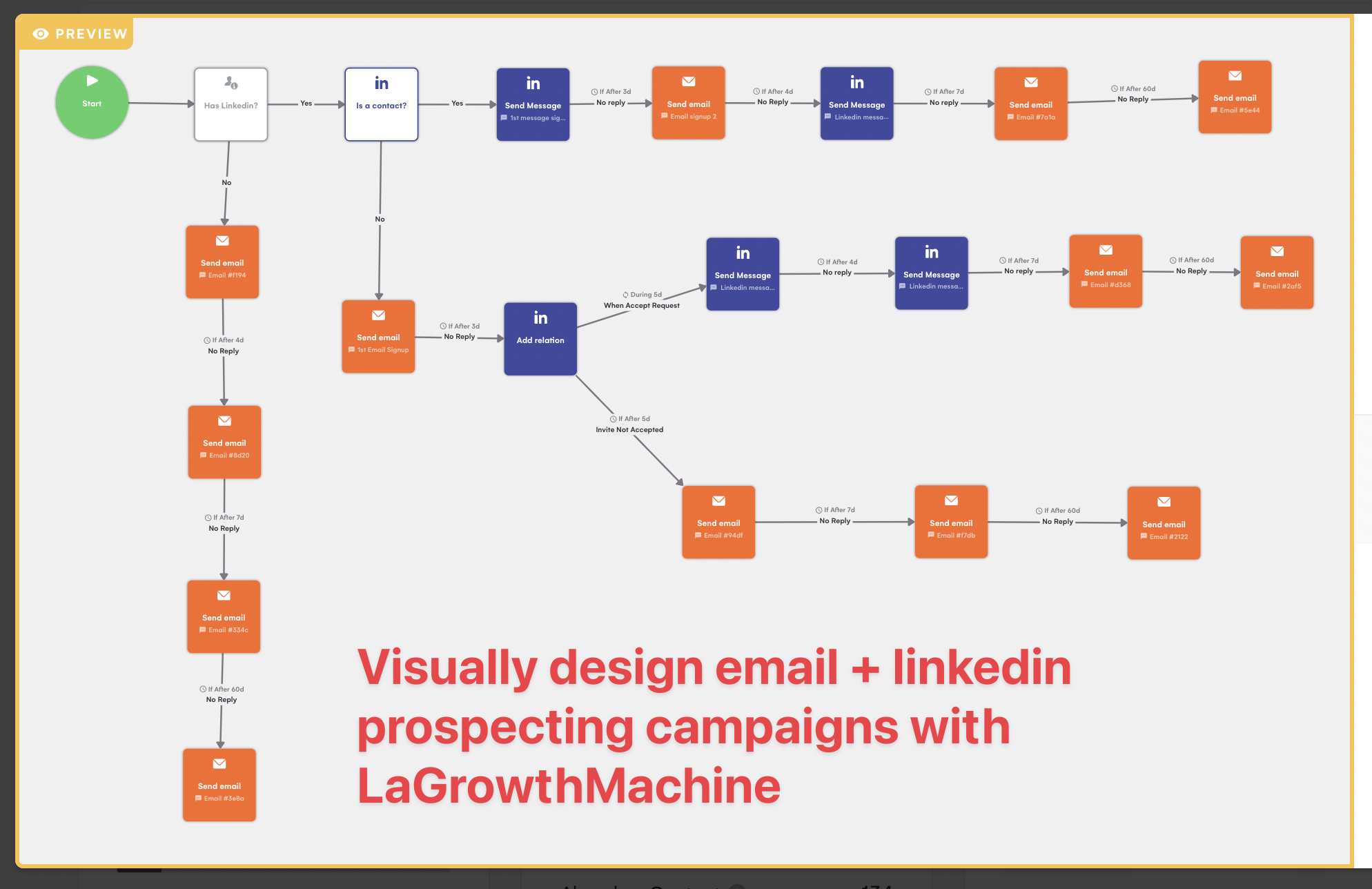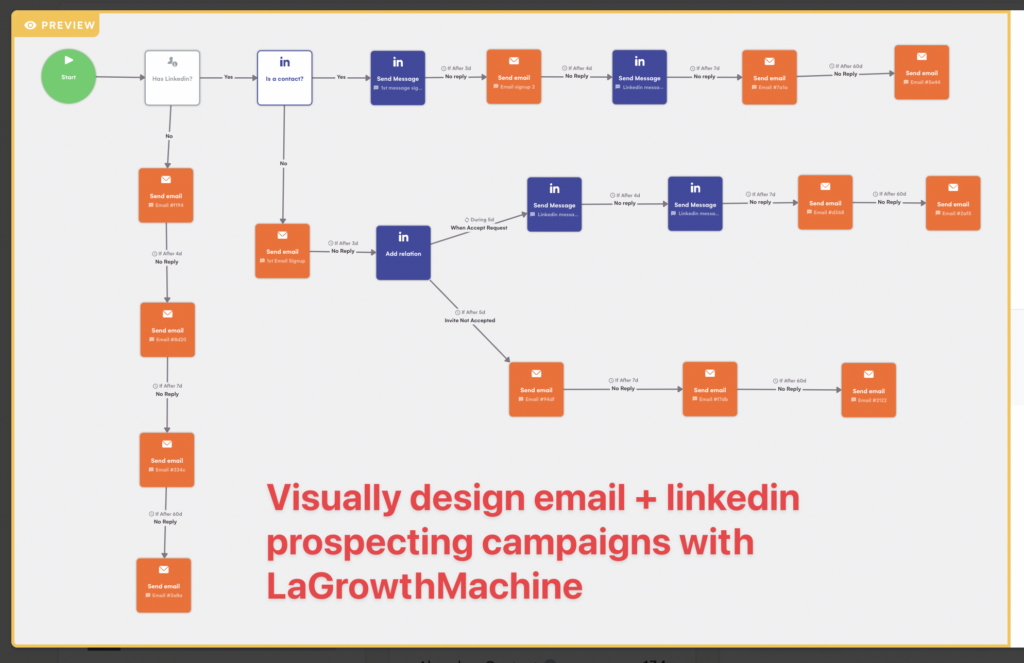 I like it because you can launch multichannel outreach sequences using:
The interface is really simple and allow you to simply visualize how your campaigns looks like.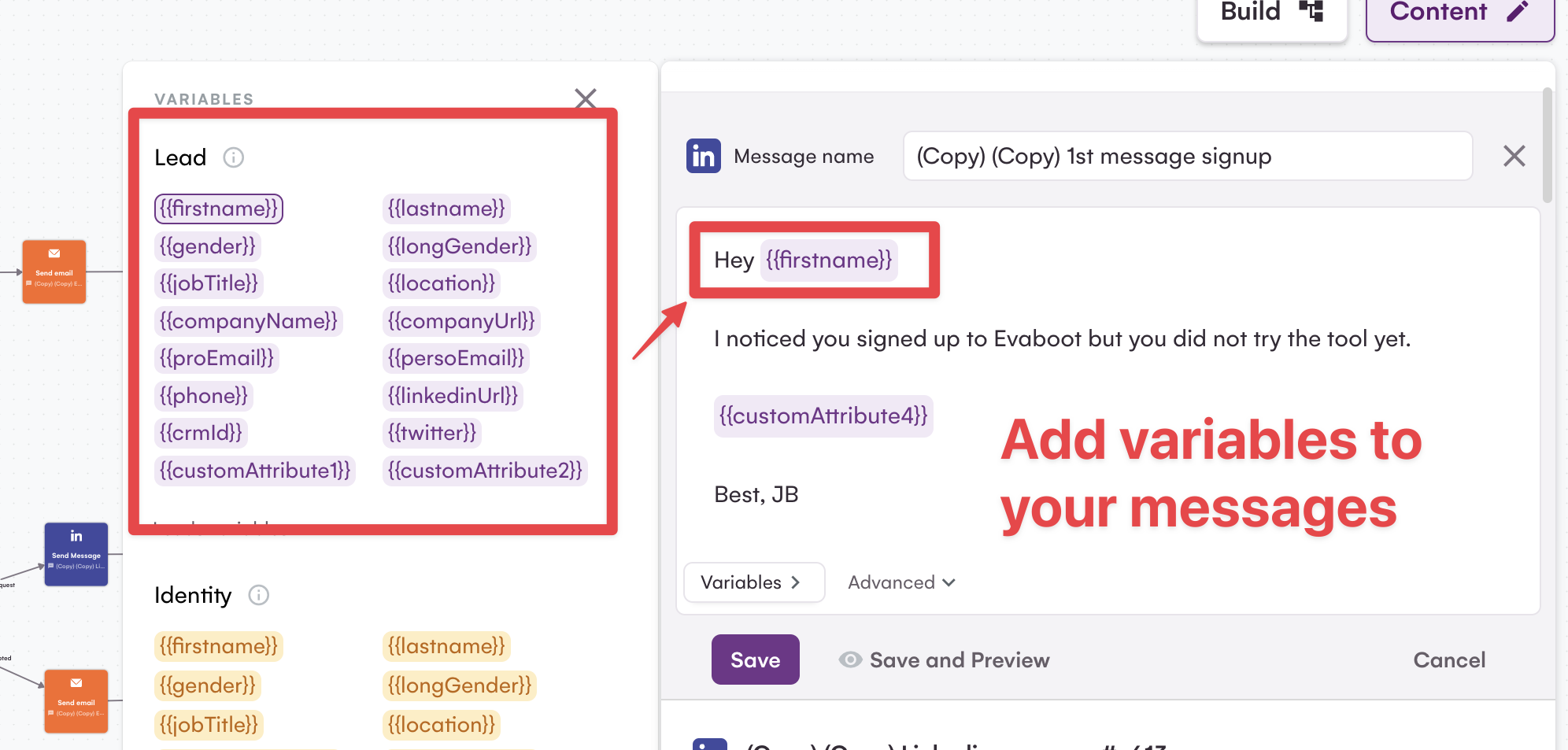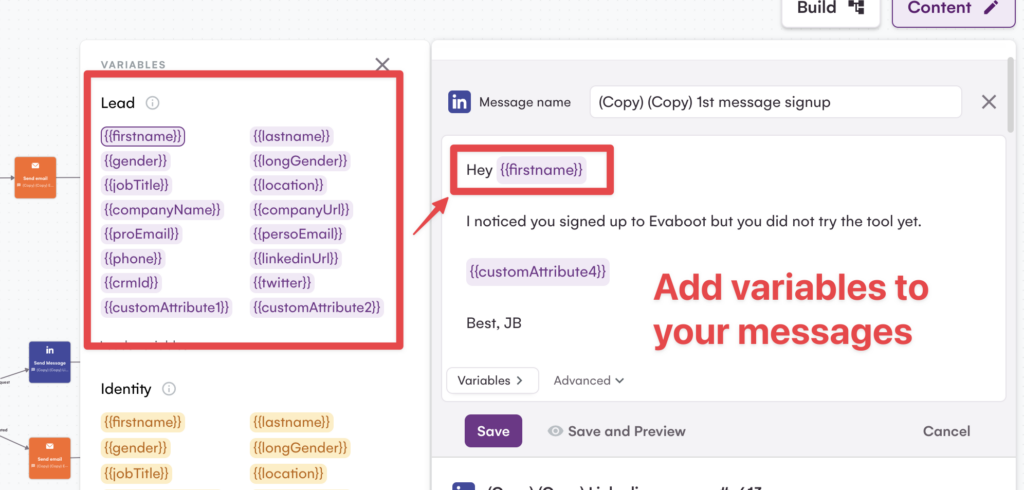 Like most prospecting tools, they allow you to add custom variable to your messages so you can personalize at scale.
Simply import your Evaboot file into LGM and you are good to go.
Linkedin Sales Navigator VS Recruiter: What is the Best Option?
If you are a recruiting business, you should definitely go with Sales Navigator instead of Linkedin Recruiter. Here is why:
A Unique Tool to Find Candidates and Clients
Linkedin Sales Navigator will allow you to find clients and candidates at the same time.
Linkedin Recruiter only allow you to find candidates.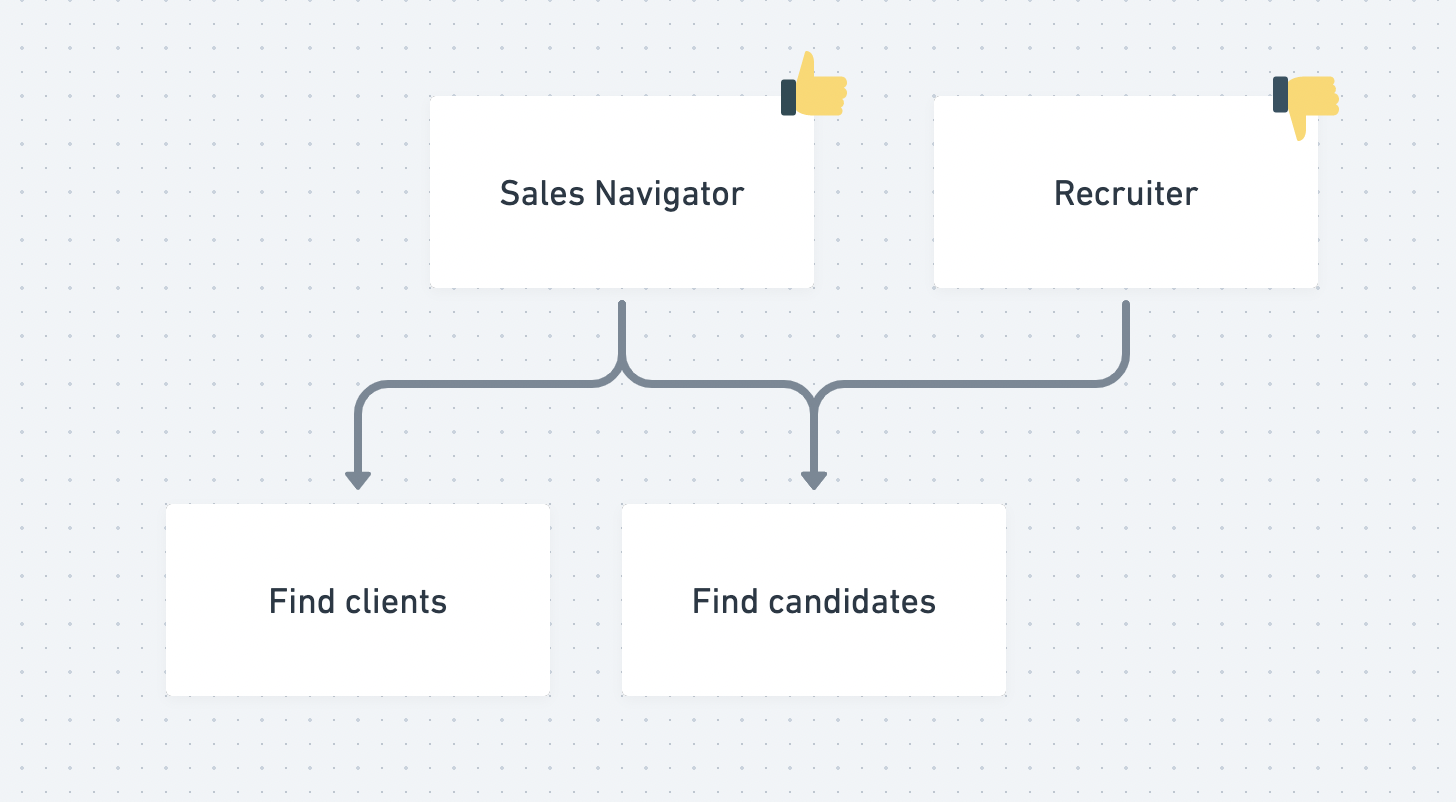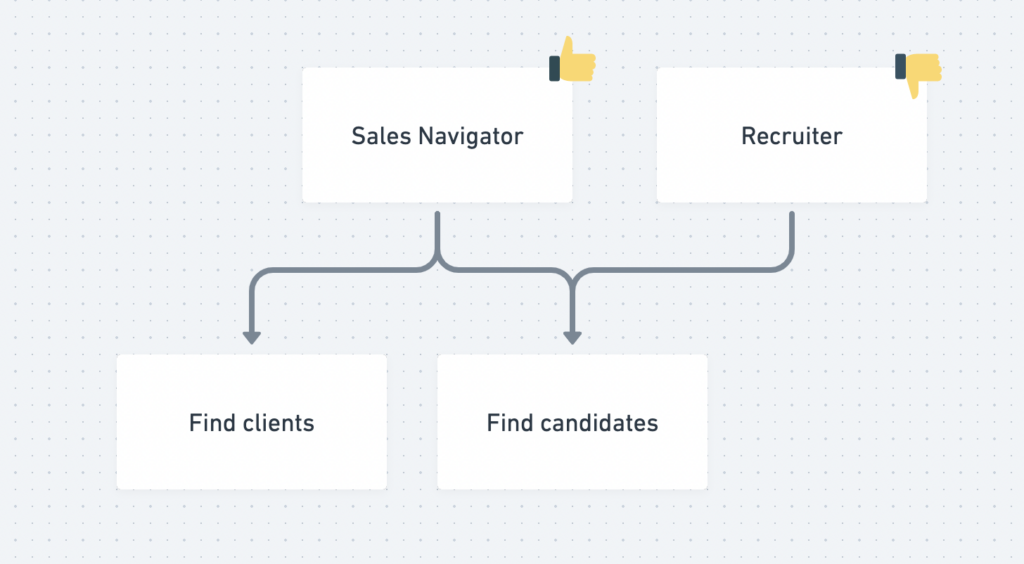 Plus, Sales Navigator is more efficient for finding candidates as it has more filters than Recruiter (29 vs 21 for Recruiter)
Sales Navigator is a Cheaper Alternative
There is huge difference between sales navigator cost and linkedin recruiter cost.
Here are the different pricing (monthly payment)
Sales Navigator: $99/month
Recruiter Lite: $160/month
Recruiter Corporate: $835/month
The ROI on Sales Navigator is 10 times higher as you can also use it for the sales operations of your recruiting business
Conclusion
You go it. If you know how to use linkedin sales navigator for recruiting, this tool will become your best friend.
The ROI you will get on it will be much higher than the one on Linkedin Recruiter.
As a recruiting business: make the right choice and go with Sales Navigator.
We are sorry that this post was not useful for you!
Let us improve this post!
Tell us how we can improve this post?
Build email lists from
Export clean data and get verified emails in 1 click.