LinkedIn is the best place to easily find alumni. Simply use the linkedin alumni tool, linkedin groups or linkedin search and you will get access to hundreds of alumni profiles in minutes.
Let's see how you can leverage your alumni network to get leads from Linkedin.
How to Find Alumni on Linkedin?
3 ways to find alumni on linkedin:
The Linkedin Alumni tool
Search for Alumni Linkedin groups
Search for Alumni on Linkedin Sales Navigator
1. The Linkedin Alumni Tool
Linkedin Alumni Tool is a feature that gives you insight on school alumni and let you search for alumni using filters like job titles, companies, or functions.
To use the LinkedIn alumni tool, Go to a school page and click on the Alumni Tab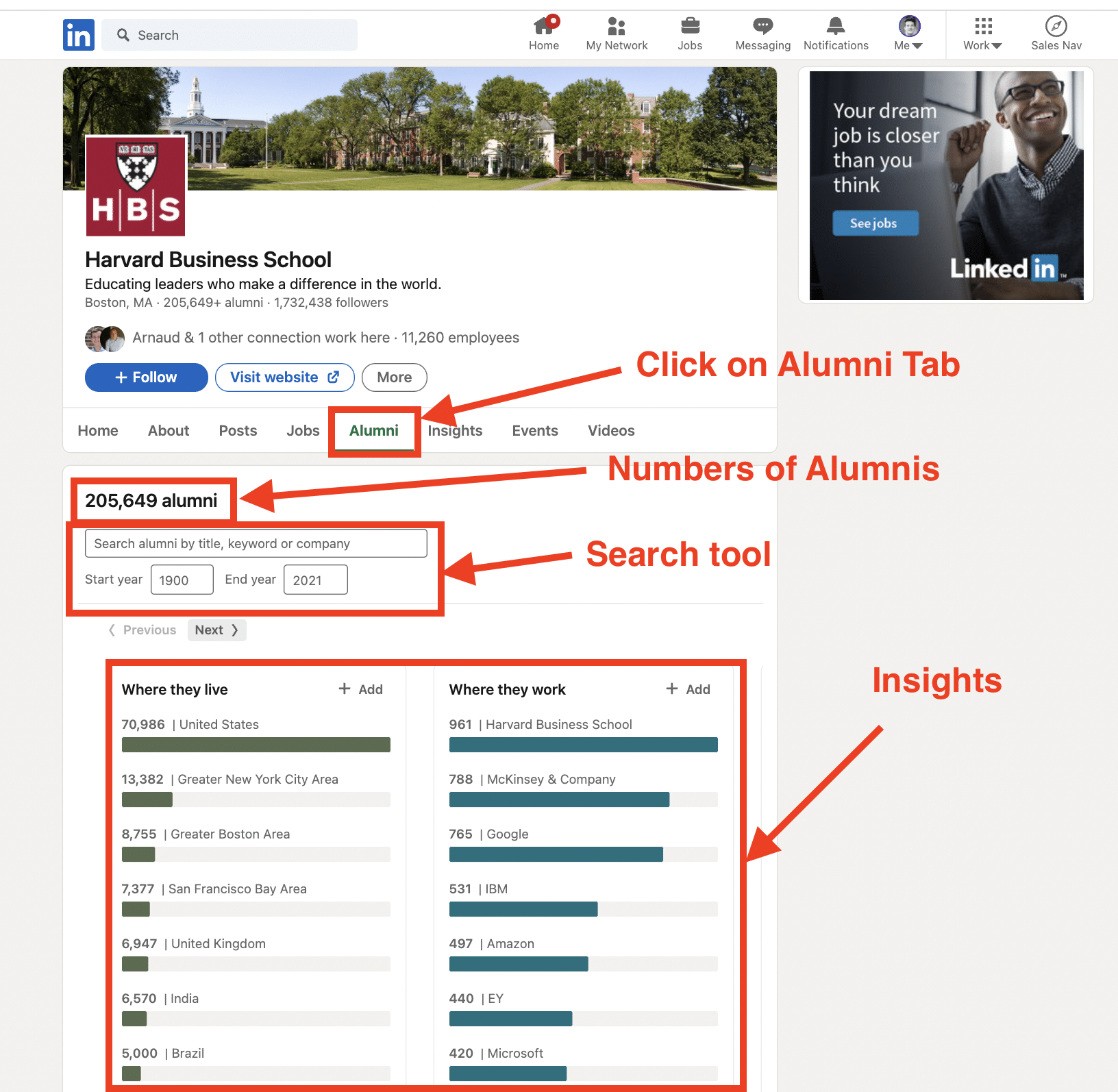 You are going to see a few things:
The number of alumni
Search bar
General insight on alumni (where they live, where they work, what they do, what they studied)
You can search for a specific group of alumni using the search tool:
look for keywords, title, or companies names
the time they graduated

For example, I could look for all Harvard alumni who are CEOs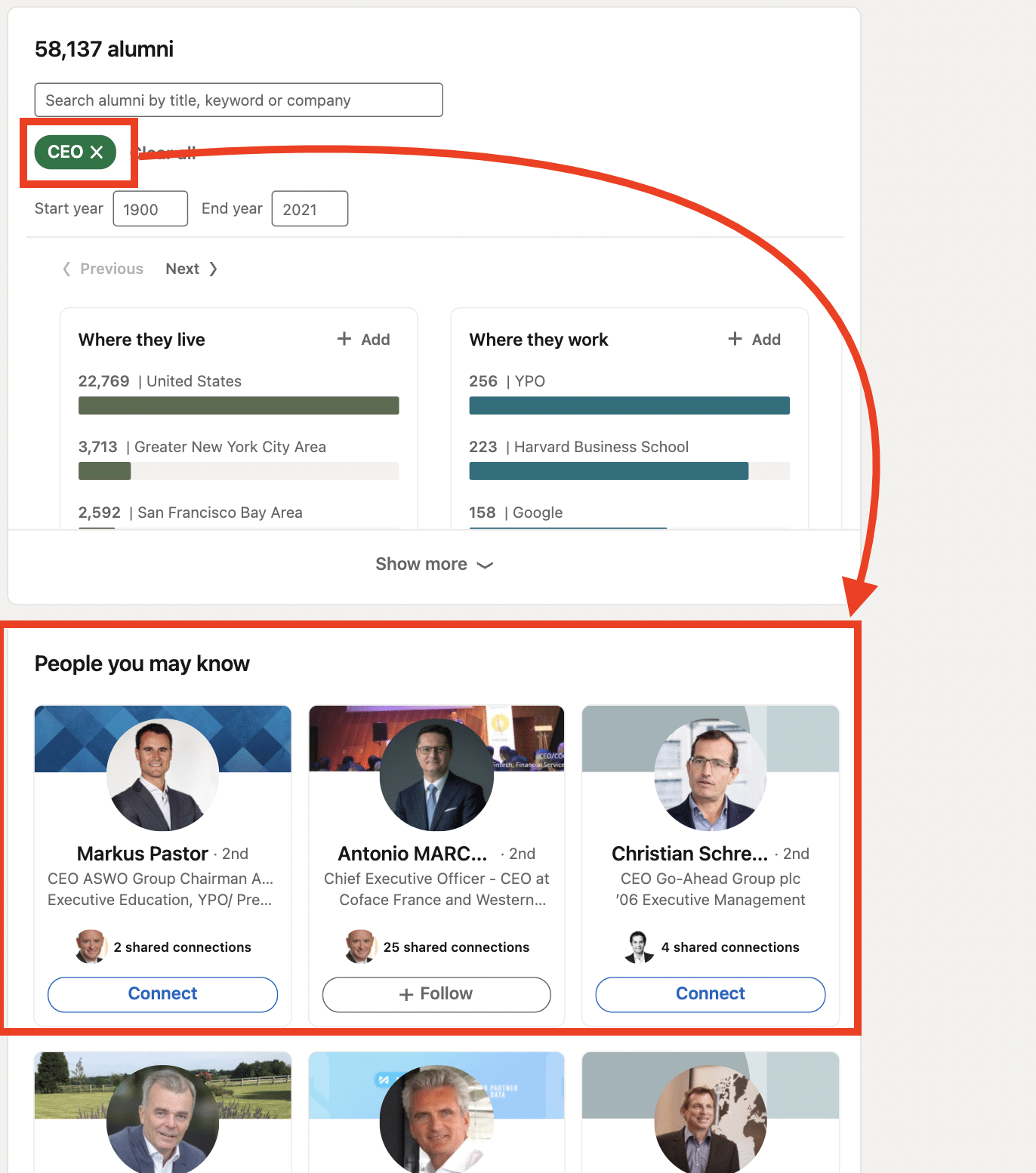 The results will appear at the bottom of the page
2. Search for Alumni on Linkedin groups
There are many alumni Linkedin groups that already exists on Linkedin. It's really easy to find them with Linkedin Search and Sales Navigator.
Step#1: Go to Linkedin search and click Groups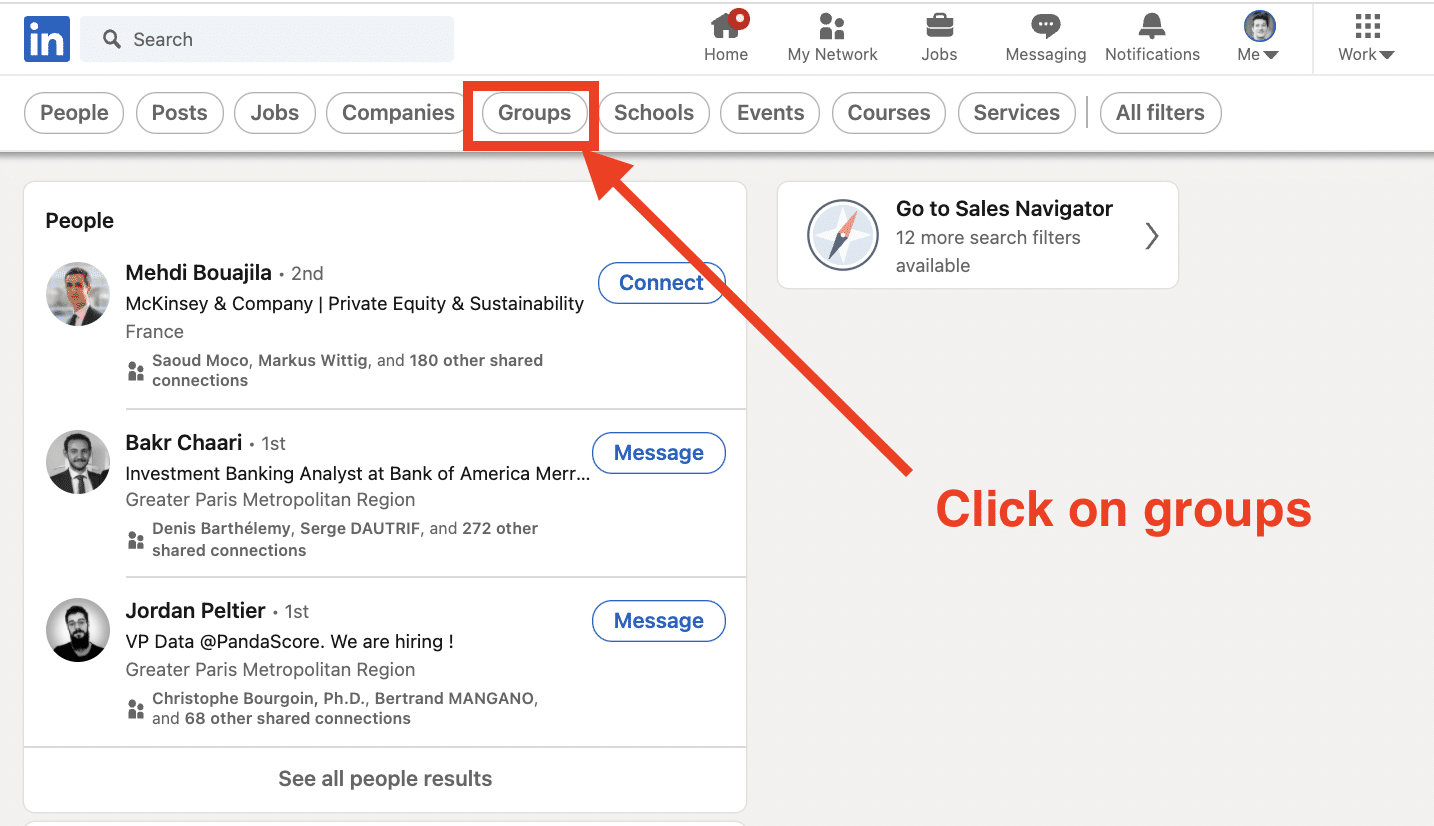 Use linkedin boolean search and writ <"School Name"> AND alumni in the search bar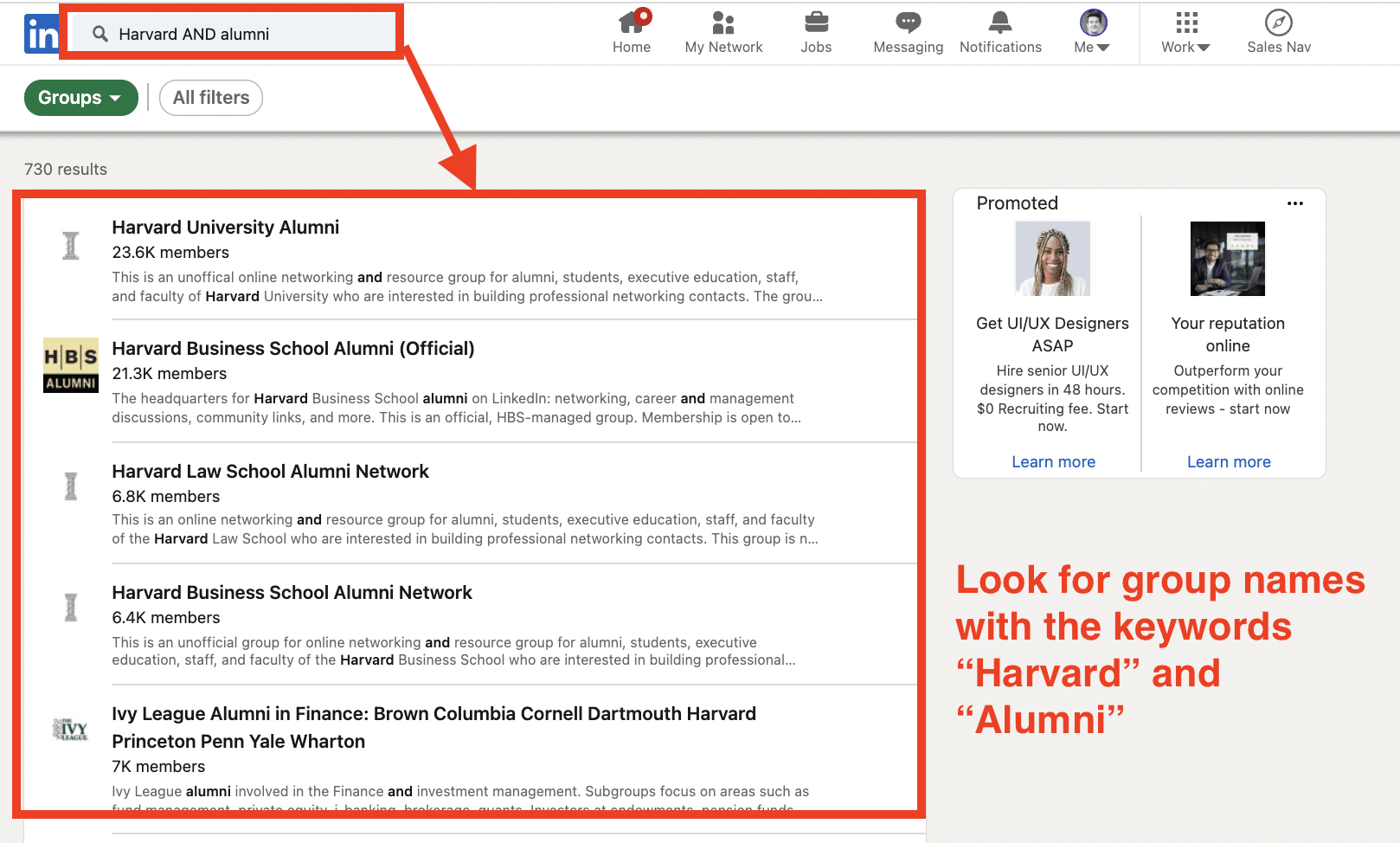 This will look for the groups with the keyword "Harvard" and "Alumni" inside their name.

Once you get these results, you can join these Linkedin group to reach out to alumni.
You can also search for groups on Linkedin Sales Navigator
Go to the Groups filter and enter your boolean search (<School name> AND Alumni"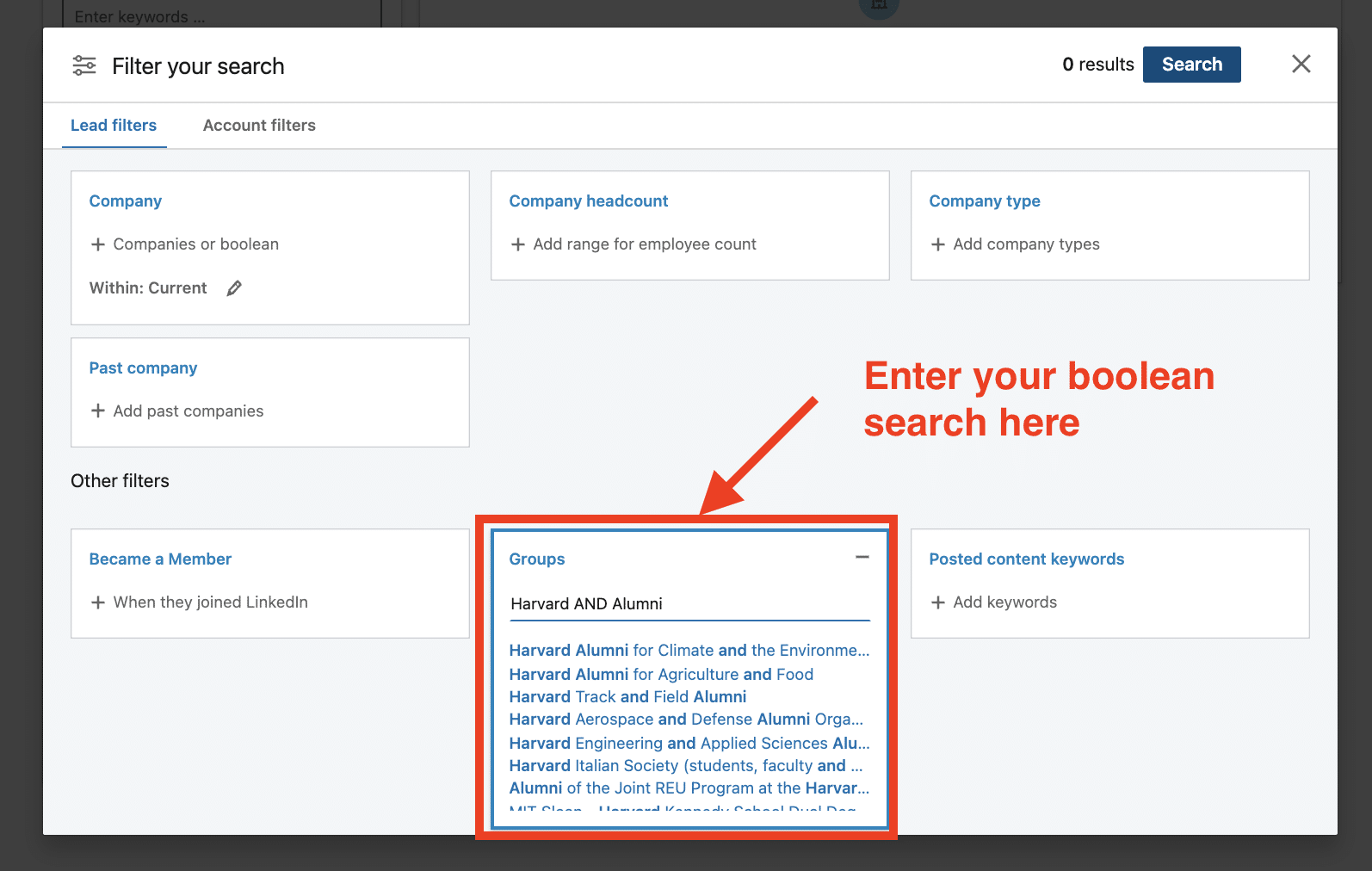 Select the group you are interested in and add other filters if necessary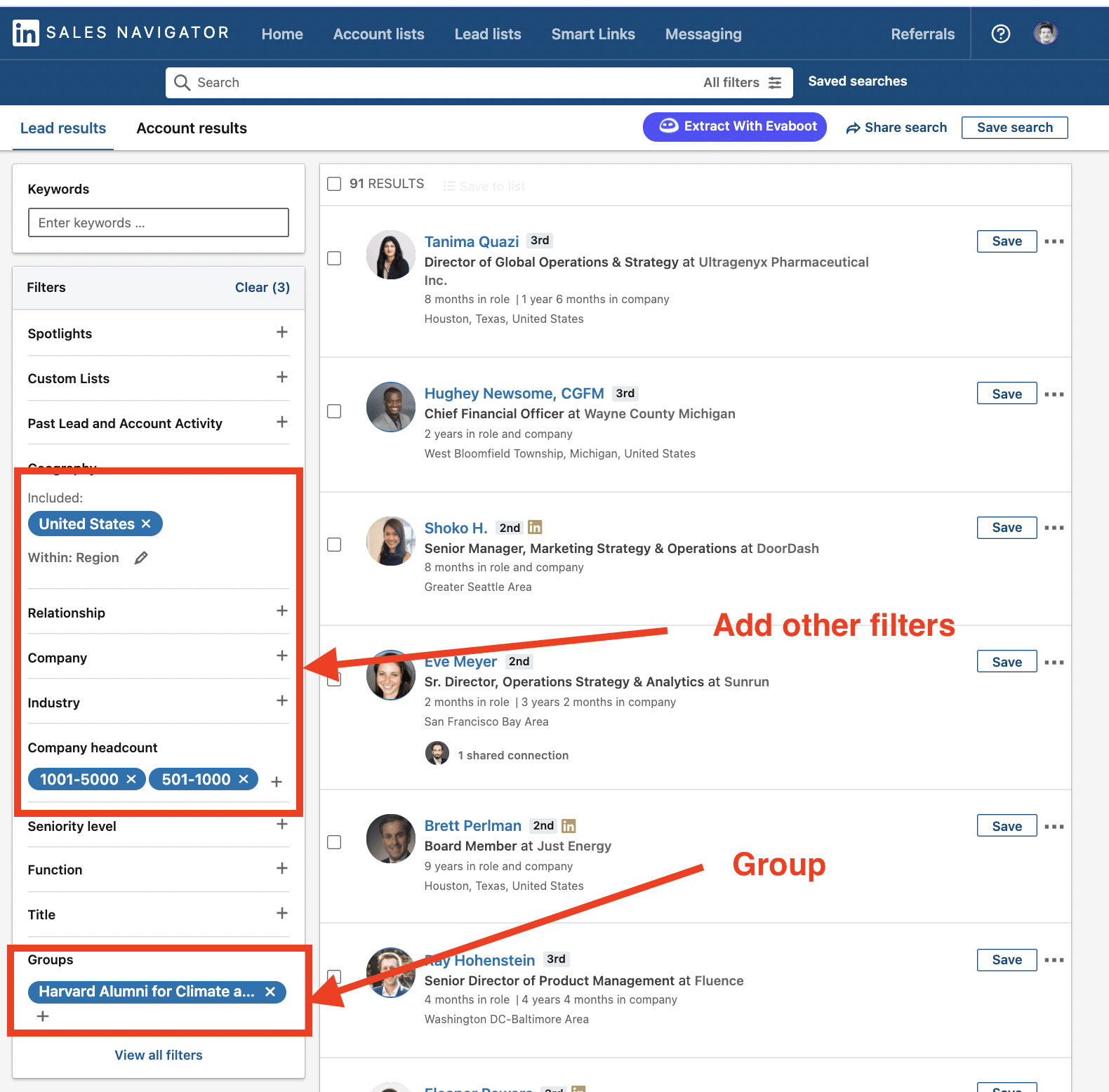 Export groups members in a CSV with Evaboot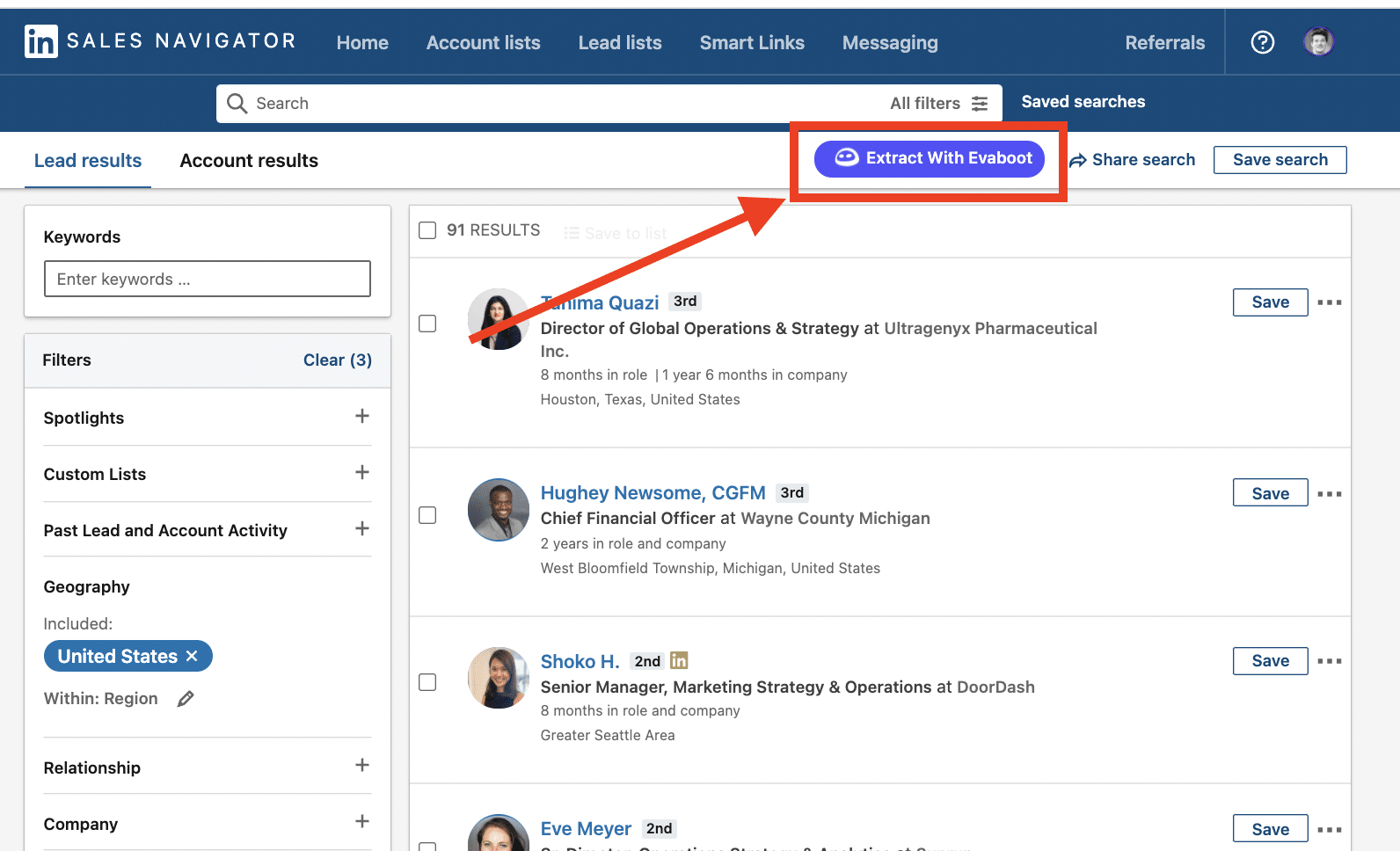 Here is a video tutorial to guide you through the process
3. Search for Alumni on Linkedin Sales Navigator
Linkedin Sales Navigator is powerful tool that allow to explore the whole Linkedin database. It makes it really easy to find the alumni of a school or a company.
If you don't have a Sales Navigator account yet. No problem. There is a free trial you can use:
Open the lead filters
Look for the school filter
Enter the name of the targeted school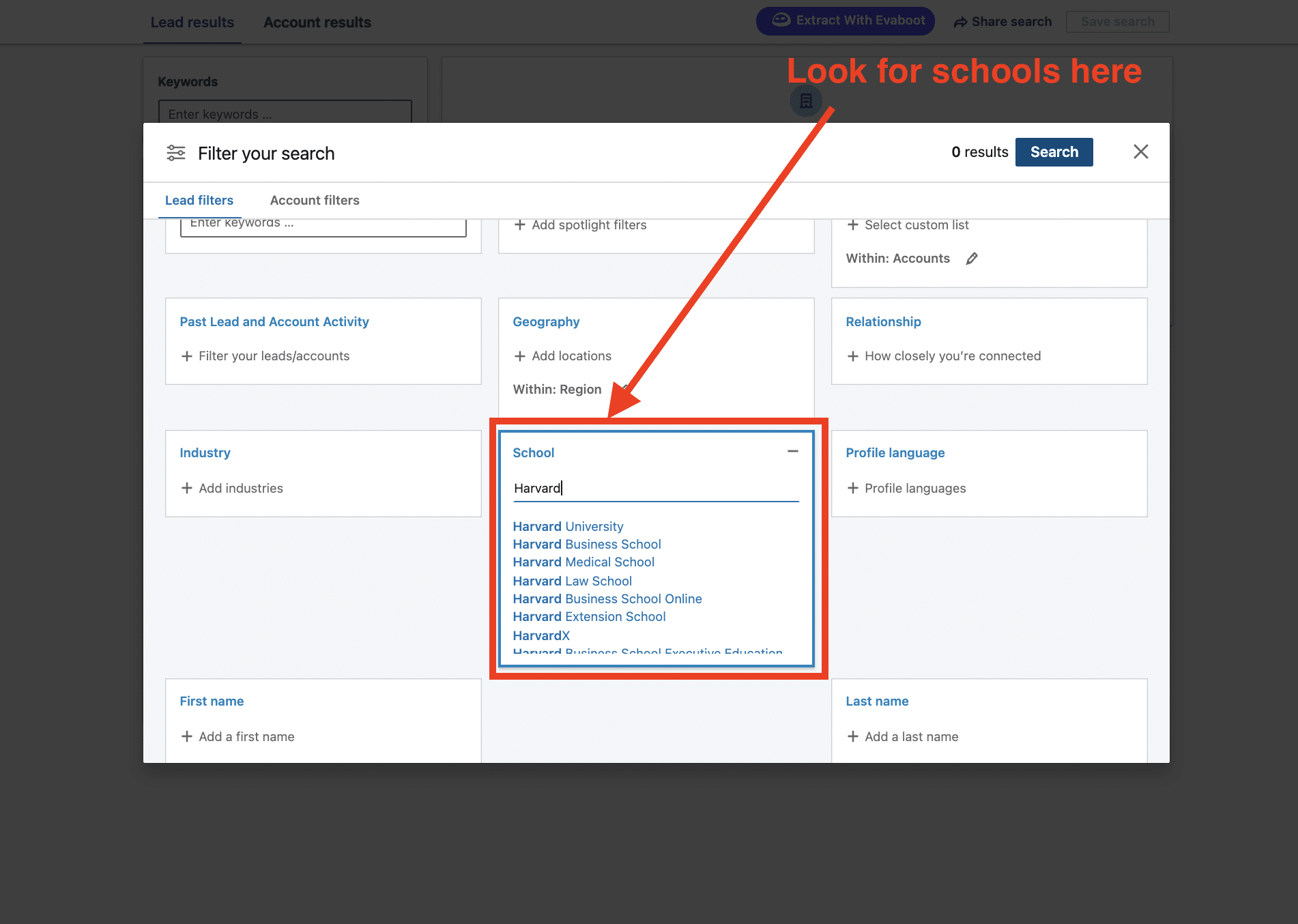 Press "Search" and now you will see all the alumni displayed on the search engine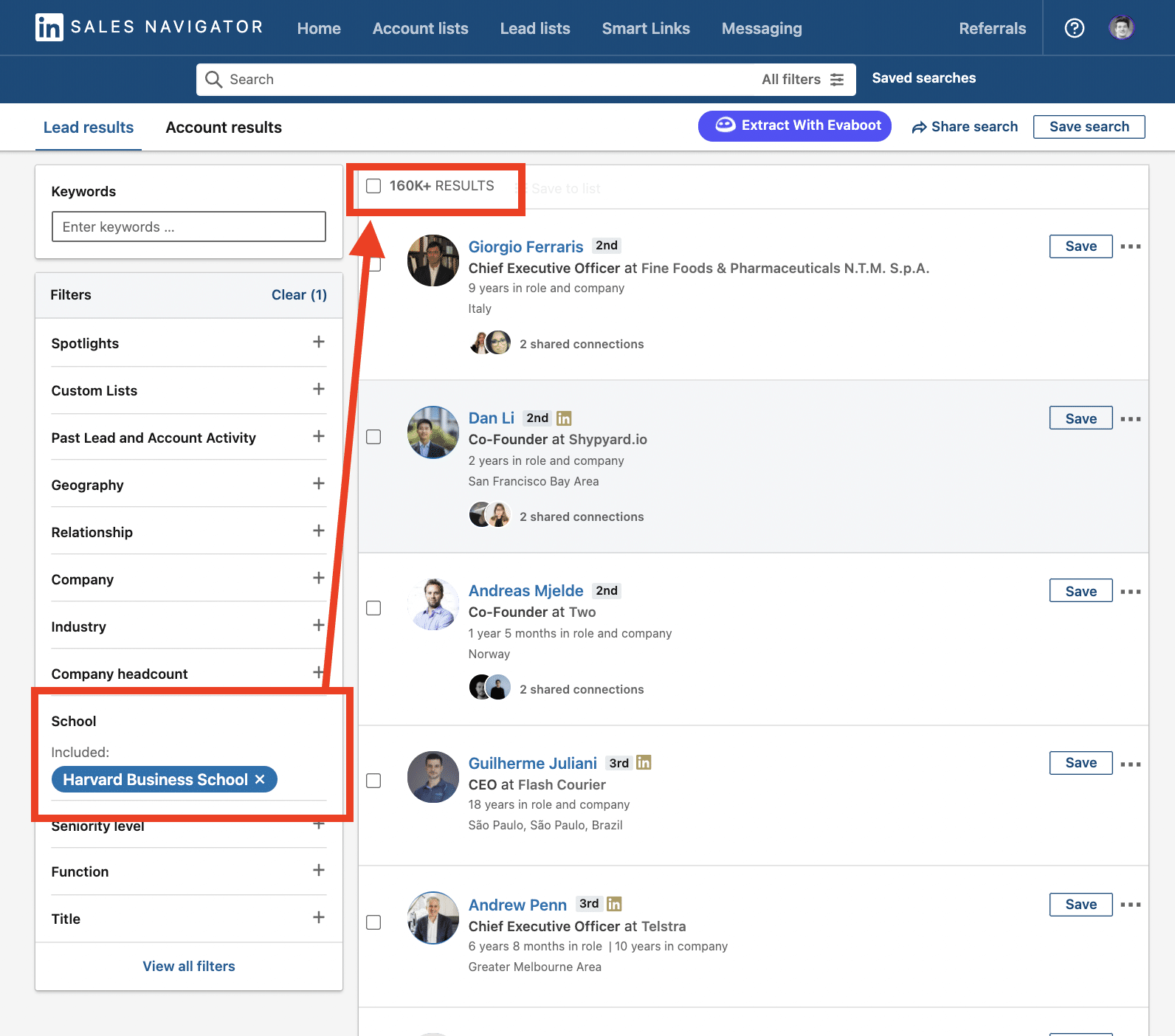 If you are looking for alumni in a particular country or who work in a particular company, you just need to top up your search with other filters like this: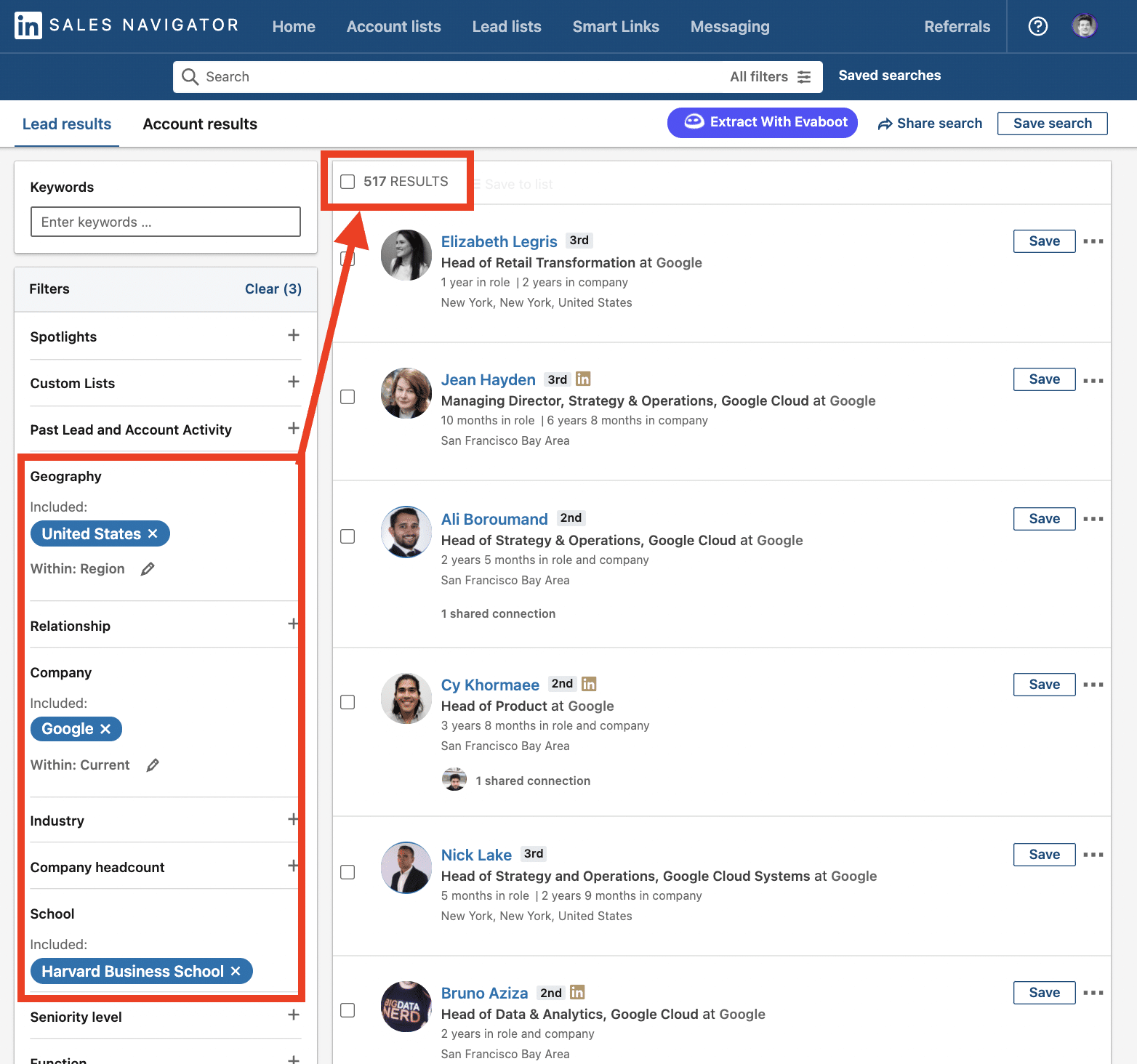 Here I am looking for all the Harvard Business School alumni who live in the U.S. and work at Google.
If you want to reach out to company alumni, the process is the same.
How to see company alumni on linkedin:
Go to the company filter
Select Past not current
Enter the company name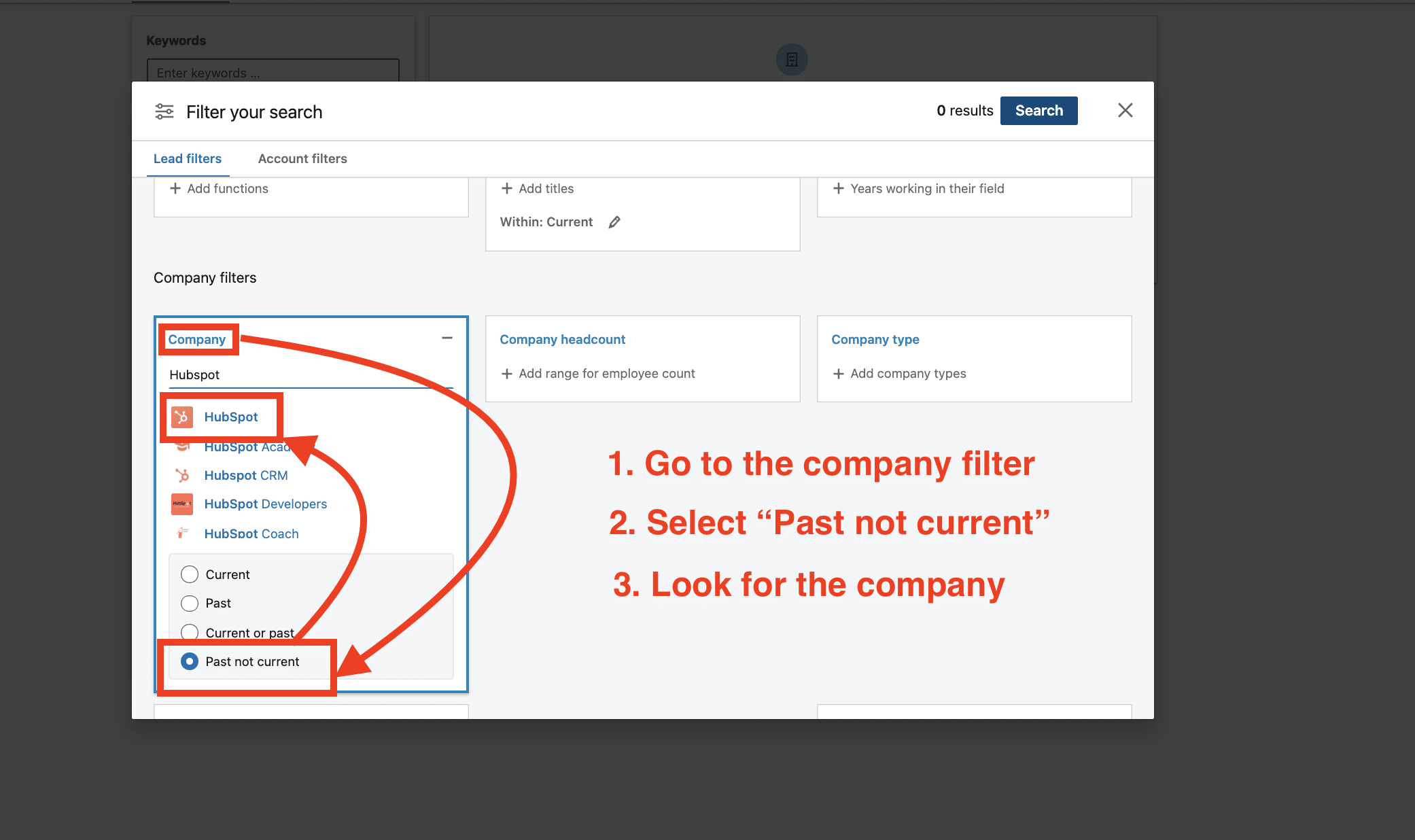 Here I got all the people that used to work at HubSpot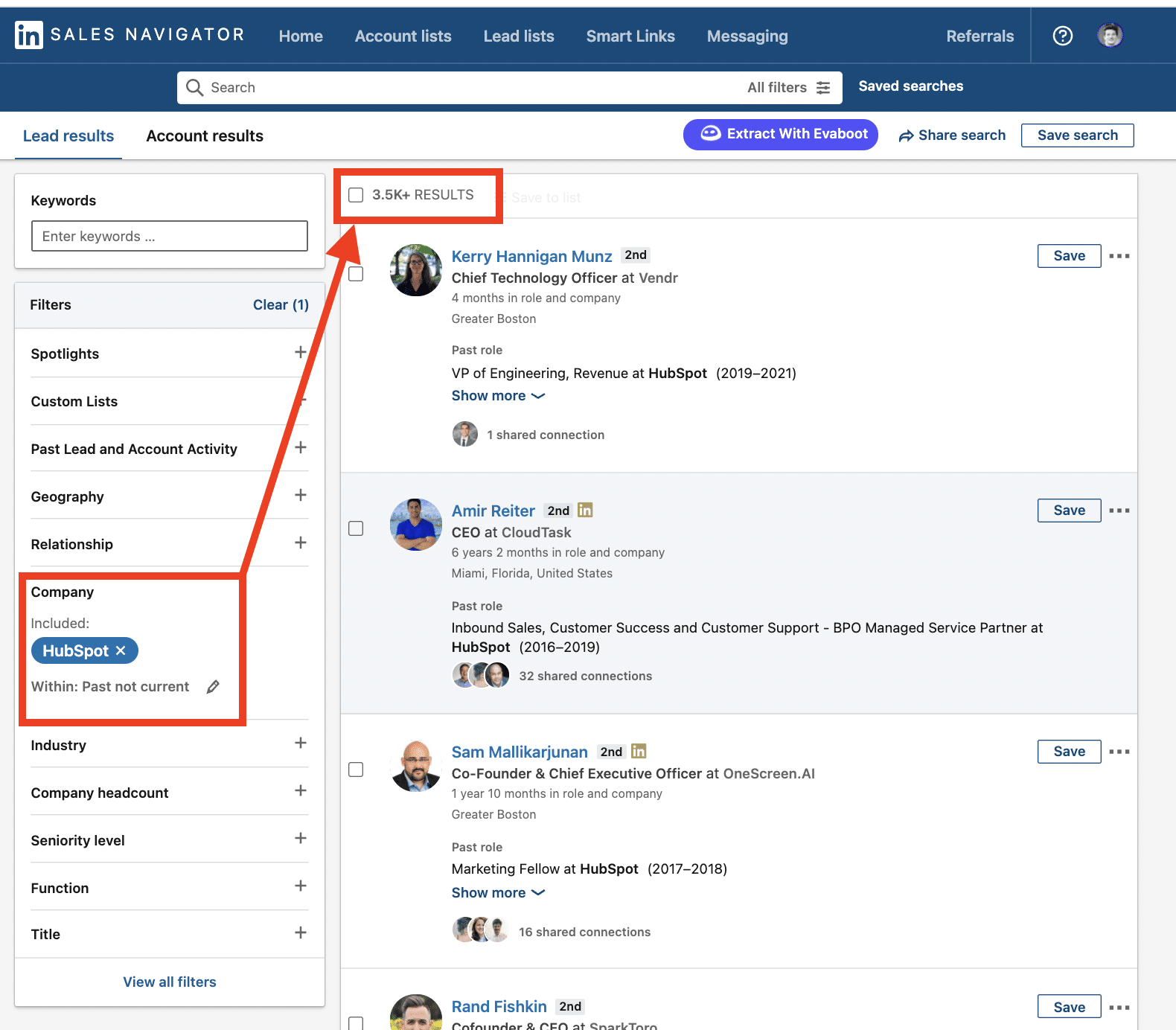 Again if you need to specify my search and look for all HubSpot Alumnis that are now CEOs of their companies, I just need to top up this search with a Title filter.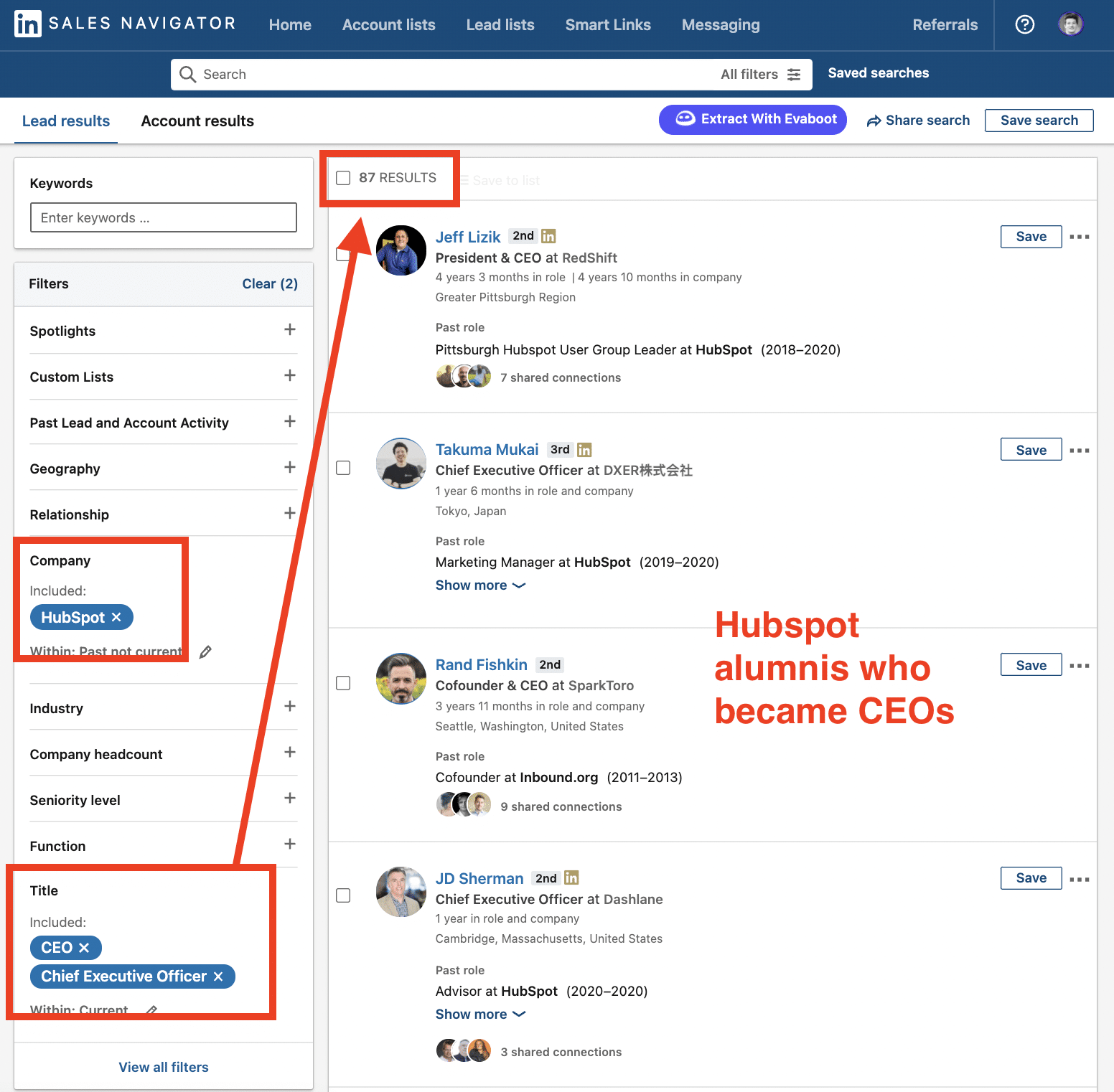 If you want to export your lead list into a CSV, you can use the Evaboot Chrome Extension.
By the way, the option is also available on the free linkedin search engine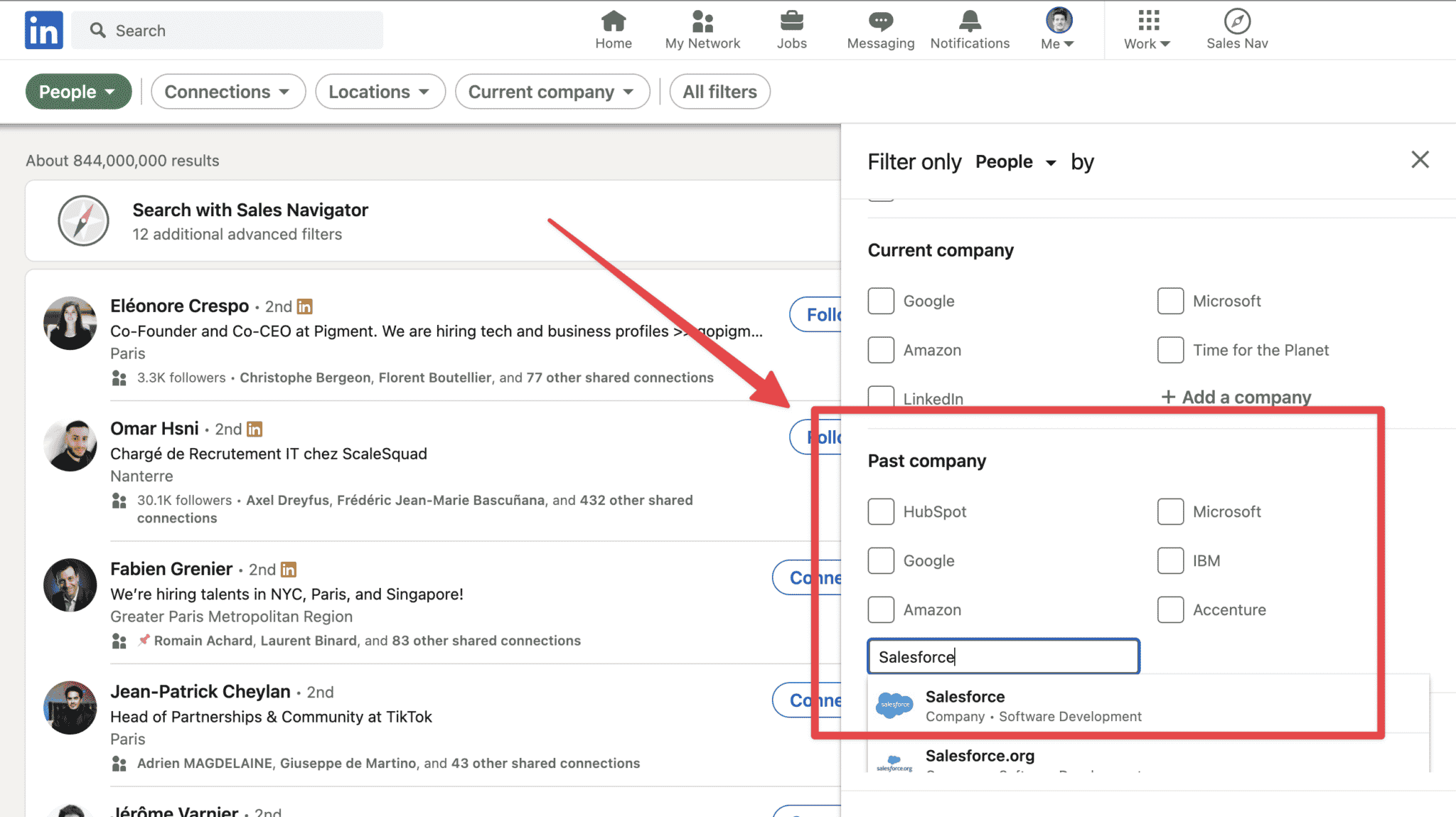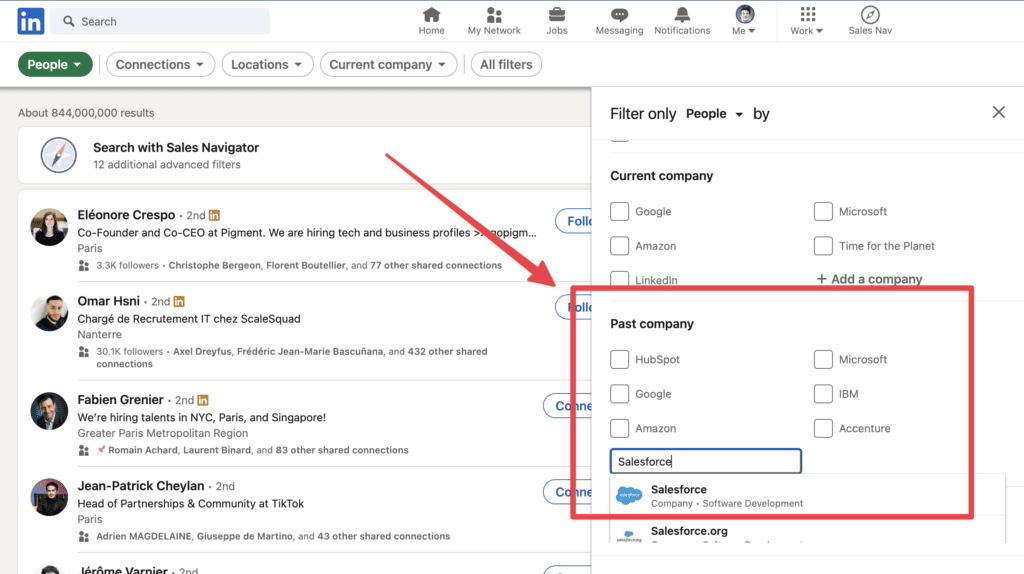 Once you get linkedin URLs and emails, you can start to reach out to alumni.
How to Reach Out to alumni on Linkedin?
3 ways to use linkedin outreach on alumni:
Create an Alumni group
Organize an Alumni event
Simply ask for a catch-up
1. Create an Alumni group
You can try to gather all the alumni of your school/your company into a linkedin group.
Example of Alumni outreach

Hello <first_name>,

I'm trying to gather all the <school_name> alumni into a Linkedin group so we can stay in touch an network: <link of the group>

I noticed you were in <school_name> from <start date> to <end date>. Would you be interested to connect with other alumni of our school?

Best, JB
Alumni will see value here as everybody like to expand their network.
2. Organizing an Alumni event
You could try to organize a physical or a digital event gathering the alumni of your school/company. Just create a Linkedin event and then send the link to fellow alumni.
Example of alumni networking message

Hello <first_name>,

I'm organizing an event gathering <school_name> alumni: <link of the event>

Many people are doing great things but I feel we are not connected enough. I'm sure we could easily help each other if we communicate more.

This happens at <location and date>

Are you interested to join us?

Best, JB
3. Simply ask for a catch-up
If you are not willing to create any linked group or event, your proposition value is poorer. However, you could still try something like this
How to reach out to alumni on Linkedin

Hello <first_name>,

I'm reaching out to <school_name> alumni to see if we could help each other in business.

Our alumni network is really underrated. I think we could all benefits from communicating more.

I've noticed that you are working in <your industry> as well. We got few connections in common from school 😉

If you're willing to talk about the good old time and how we can help each other, you can grab some time in my calendly here: https://calendly.com/evaboot-meetings/discover-evaboot?month=2021-12

Best, JB
How course don't stop after one message, if your prospects don't reply make sure to send them linkedin follow-up messages.
We are sorry that this post was not useful for you!
Let us improve this post!
Tell us how we can improve this post?
Build email lists from
Export clean data and get verified emails in 1 click.