You are prospecting on Linkedin and your profile is not optimized?
Drop everything you are doing and start working on it.
Would you pay Ads to drive traffic to a page that is not optimized for conversion?
I guess not…
Same rule applies for your Linkedin profile.
So let's up your profile so you can nail your linkedin prospecting.
Linkedin Profile Tips For Sales
10 tips to optimize your linkedin profile for sales:
Define LinkedIn profile goals
Design an original picture and banner
Write a Simple and Clear Headline
Detail value proposition in the About section
Display social proof in Featured section
Customize your Linkedin URL
Optimize the Activity section
Detail job experiences and education
Get recommendations
Activate Create Mode
1. Define Linkedin profile goals
Before doing any linkedin outreach, you need to know what action you want the visitors to make when they visit it:
Send you a Linkedin DM
Email you
Directly book a meeting in your calendar
Drive traffic to your website
Drive traffic to your YouTube channel
Make them download a white paper
There are a lot of different Call To Action you can use. Choose one or two and build all your profile around them.
2. Design an original picture and banner
Your LinkedIn profile is your like a website's homepage. You have 3 seconds to:
Convince you are trustworthy
Make them understand your value proposition.
For that you need to optimize the first two elements that will come to your prospect attention:
Your linkedin profile picture
Your banner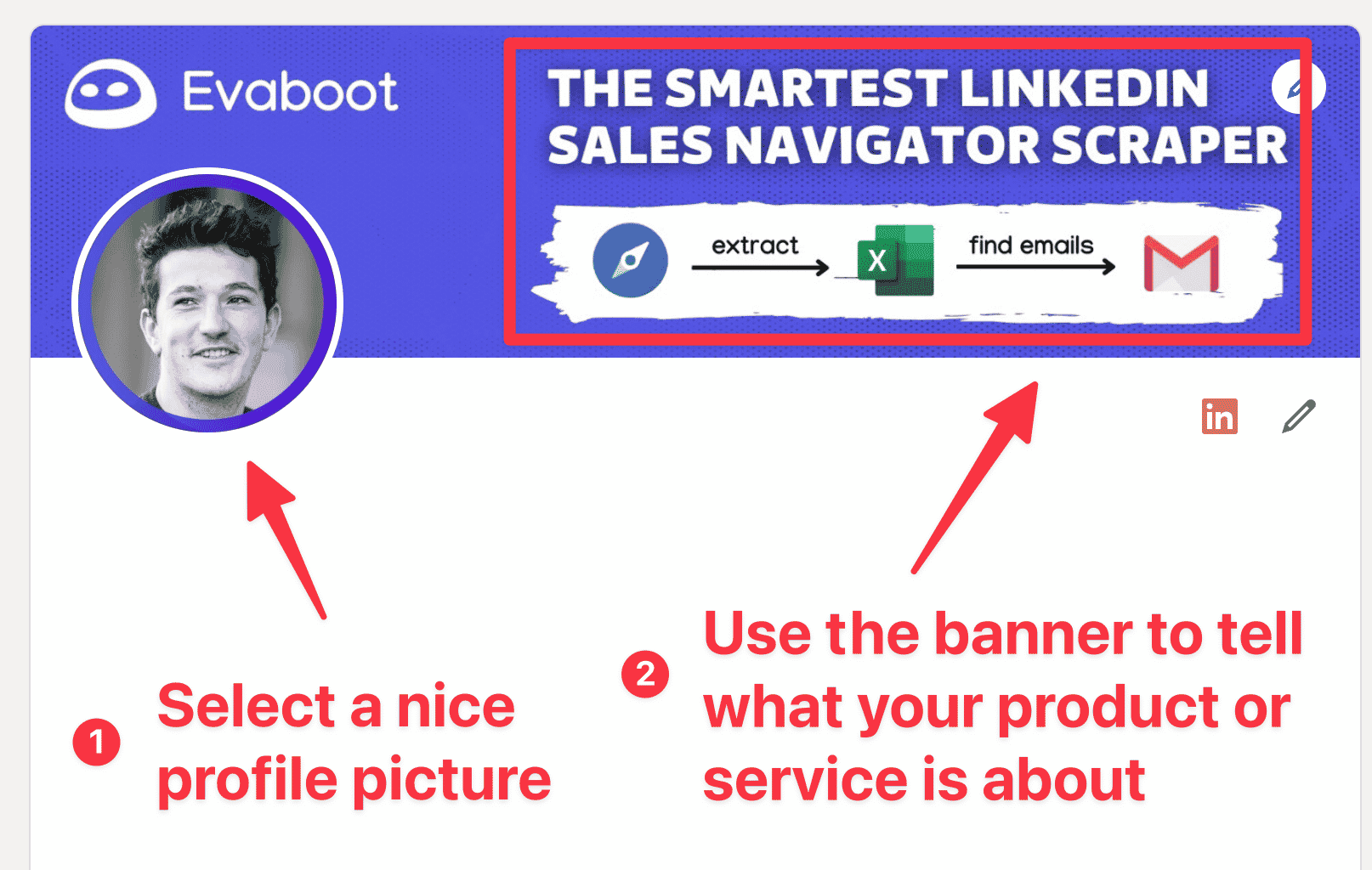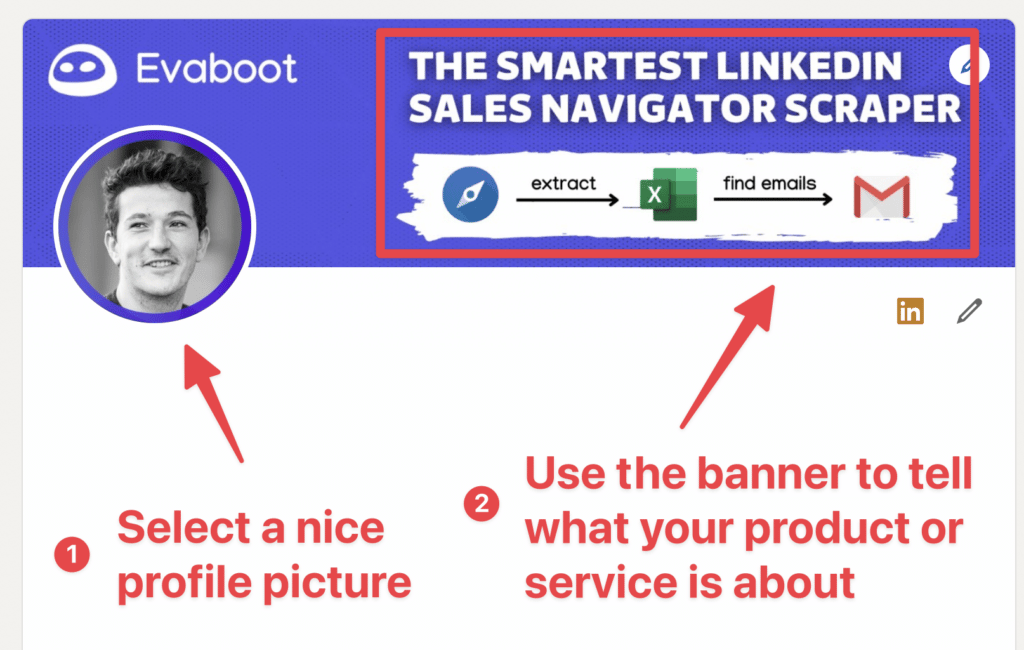 To easily create custom designs, you can use Canva (it's like Photoshop but you don't need to spend 5h hours on YouTube to start doing cool things with it)
Connect on Canva
Click on "Create a design"
Look for "Linkedin Banner"
Canva will automatically a design with right size and show you dozens of templates you start from to design your linkedin banner
Add your value proposition and your call into this design
download the file
Upload it on linkedin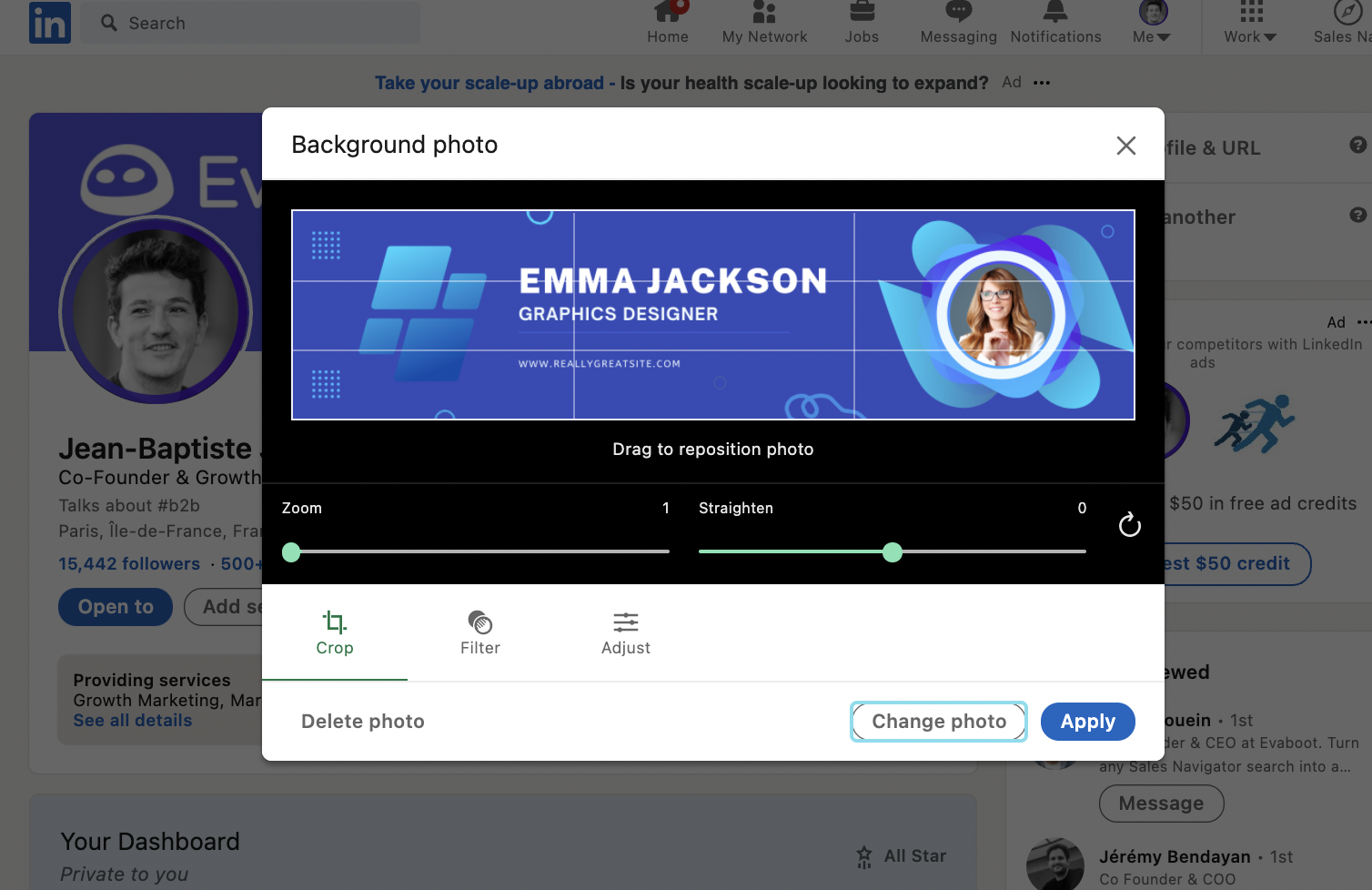 You can do the same for your profile picture.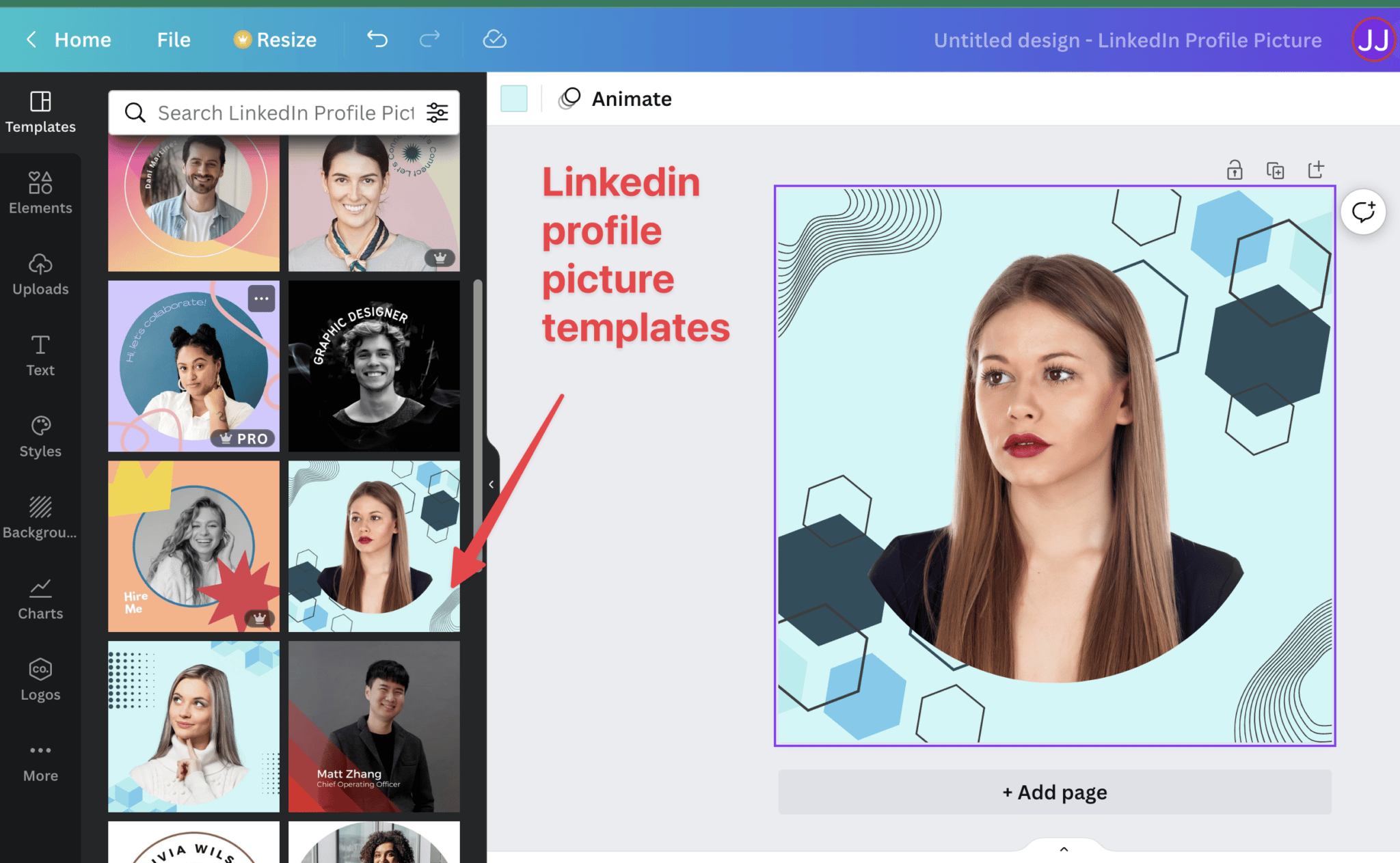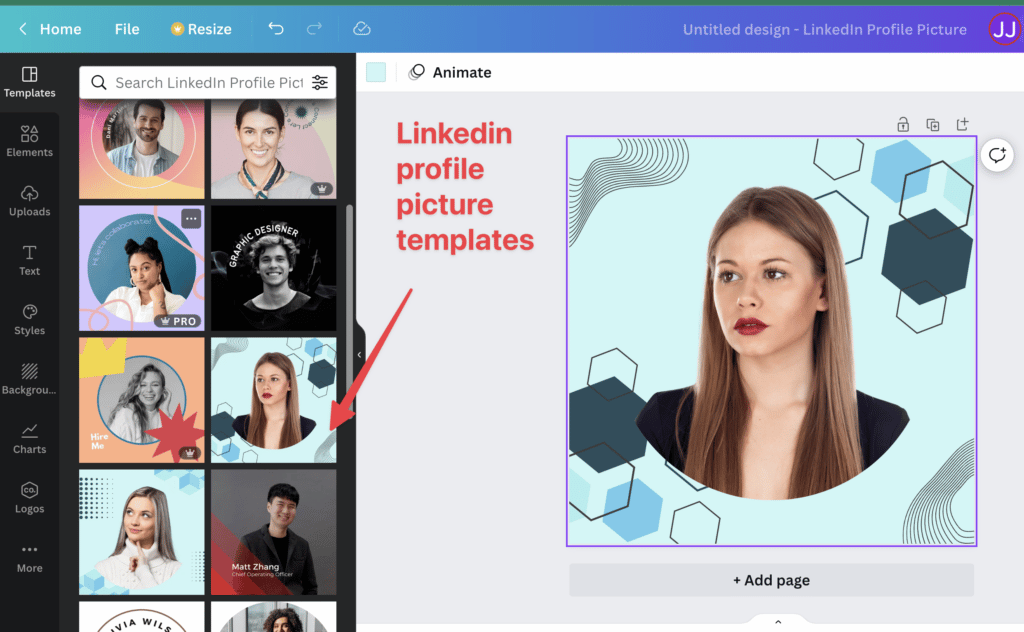 3. Write a simple and clear headline
The second element to optimize is your headline. You have a maximum of 220 characters to say what your profile is about.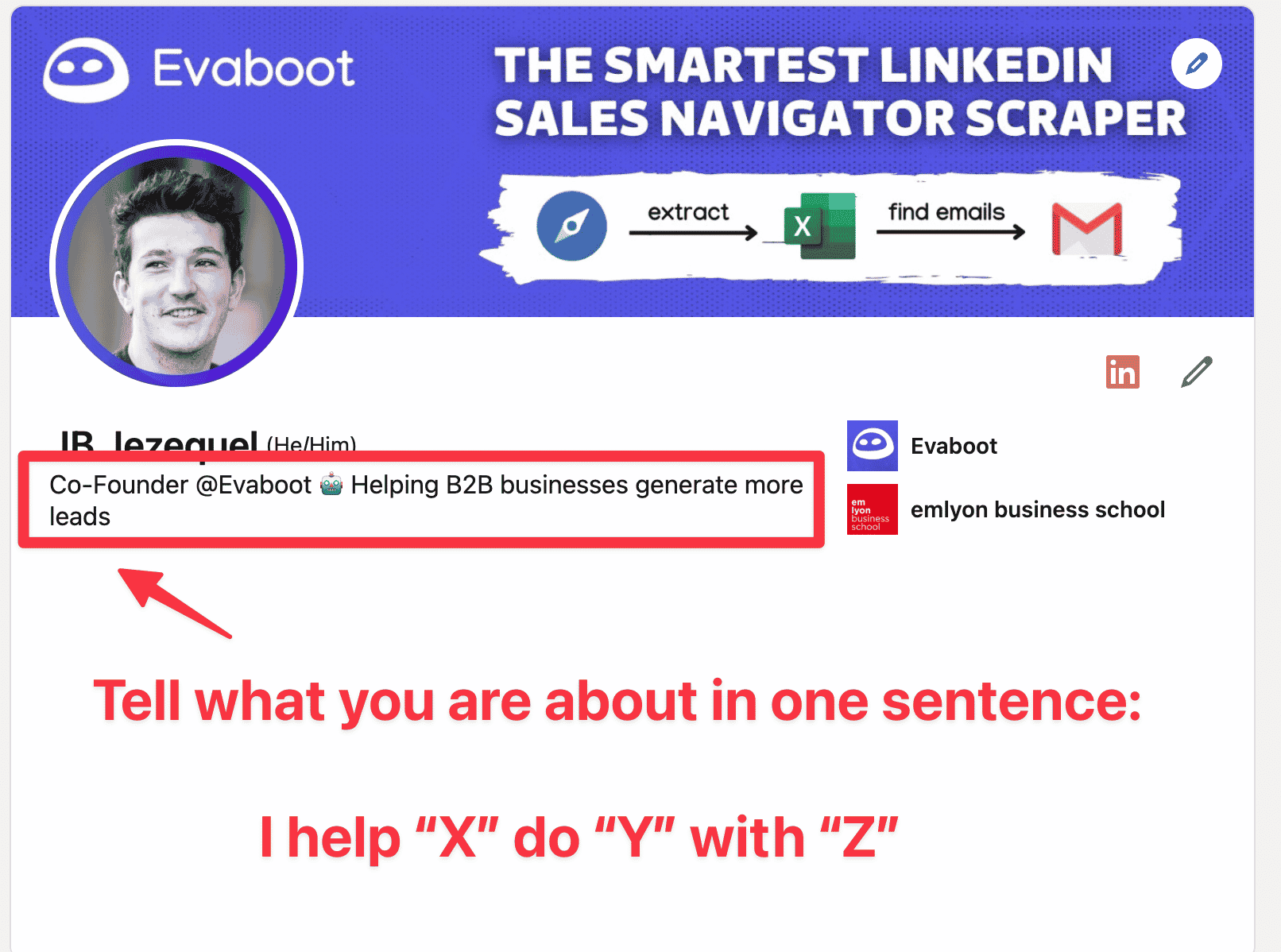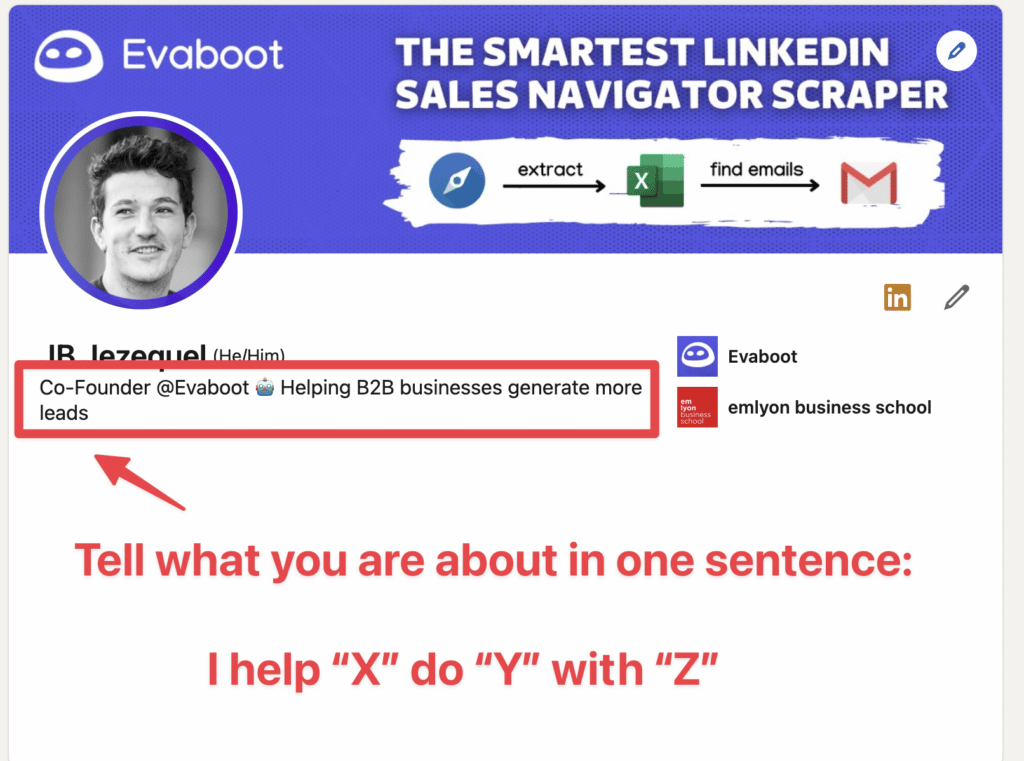 The preview on Linkedin feed is limited to 60 characters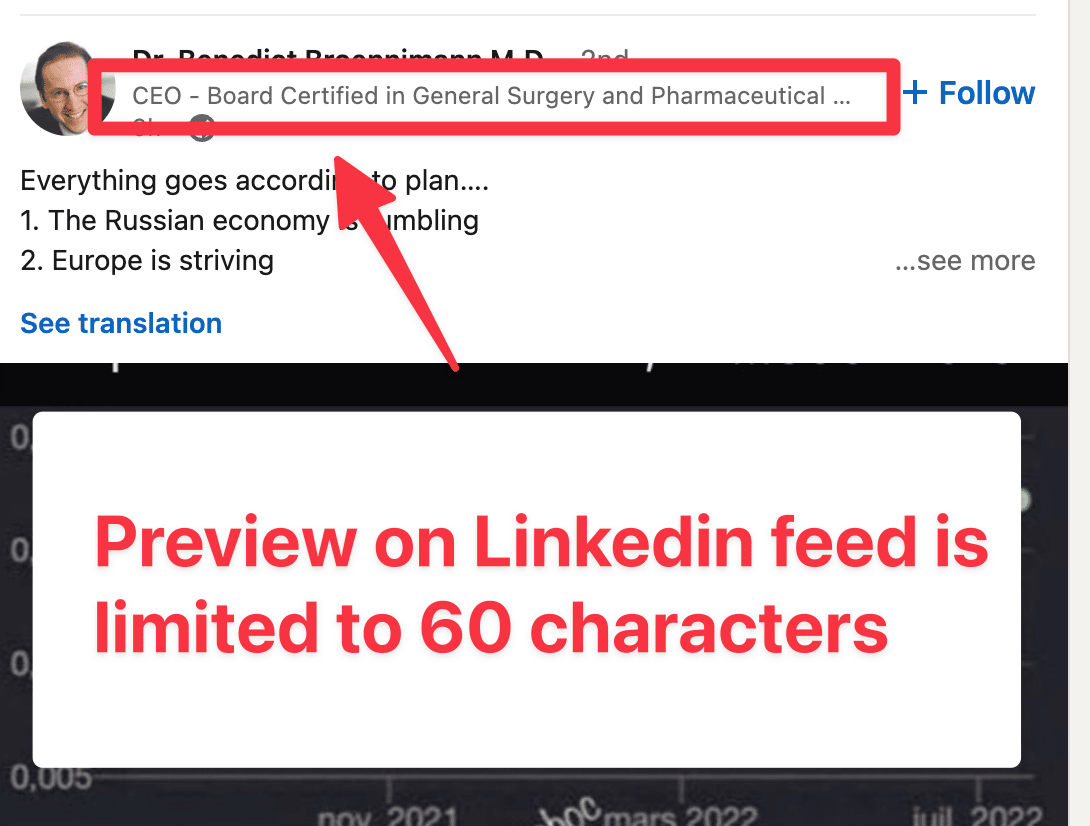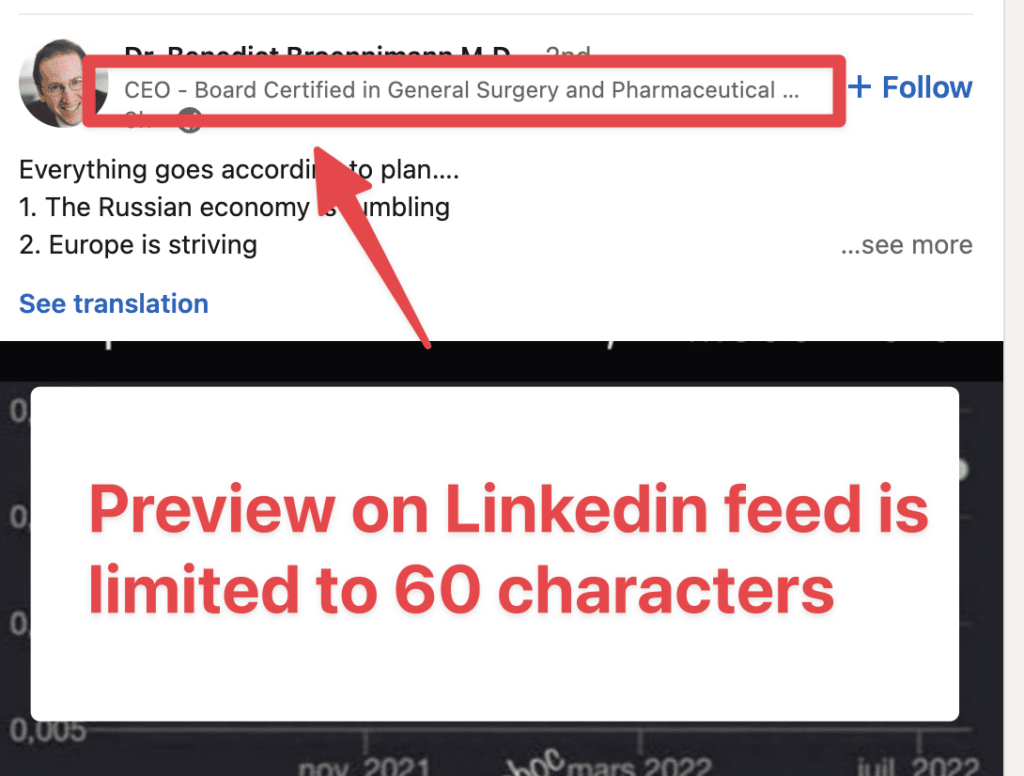 To write a simple and clear you can use this template: 'I help X do Y with Y'.

Like: "I help business owners save time with automation"
That way you describe:
Target (X)
Value (Y)
Expertise(Z)
It's really understand what you are about after reading that.
4. Detail value proposition in the About section
This is the part of your linkedin profile where you can give more details. It provides more context to someone who really wants to know more about you and your business.
The real goal is to make people click on See More… So give them a good reason. Try to make your call to action as appealing and obvious as possible.

Once you've hooked your visitor, you get plenty of space to develop your value proposition.
Stay focused on your call to action
Use storytelling to keep your audience attention
Even if links don't work in the about section, leave your different social media links as people can still copy-paste them to get access to them.
Also remember to leave your email as many people don't like Linkedin Messaging.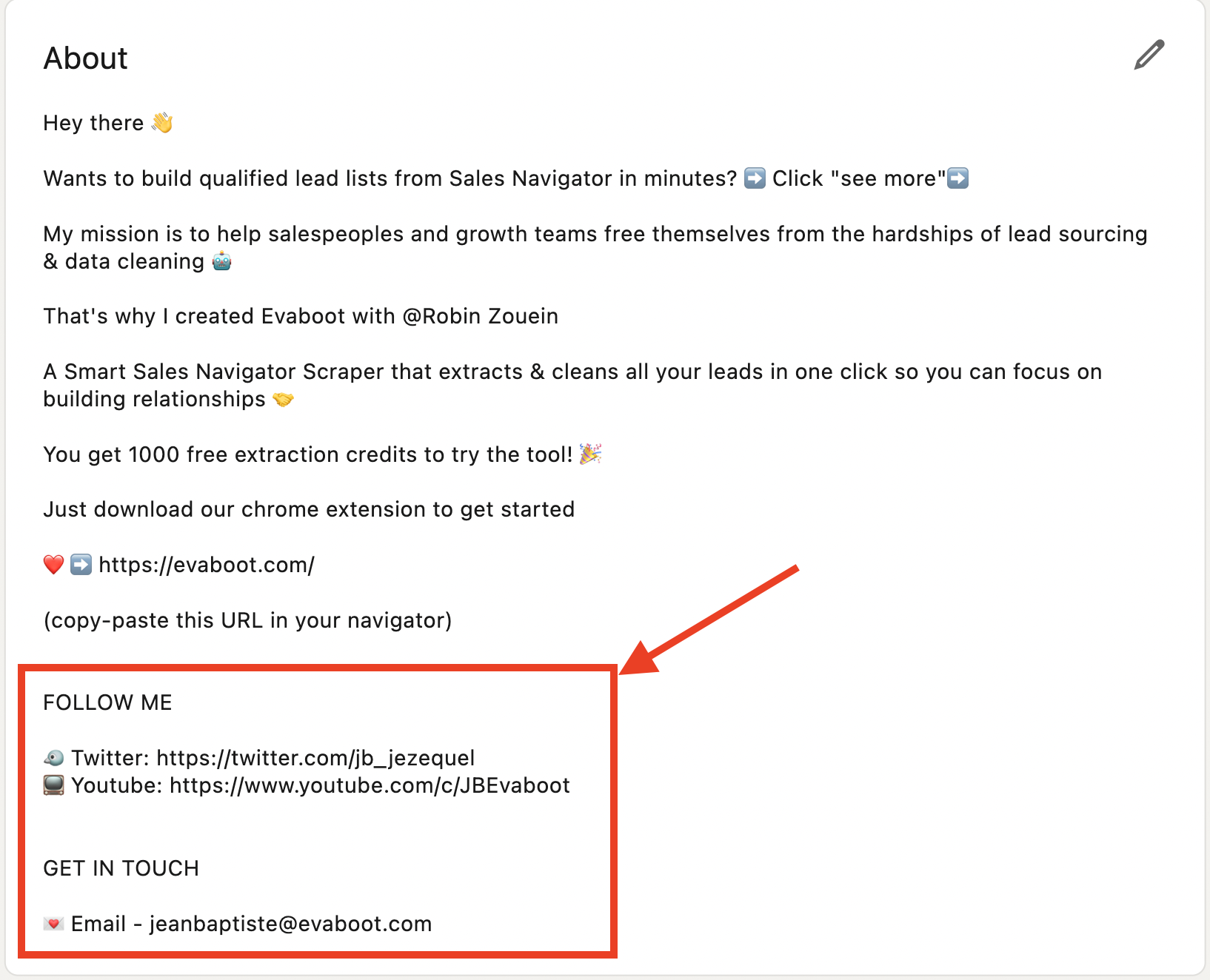 5. Display social proof in Featured section
The feature section is pretty big. You can take advantages of it to add:
Linkedin posts
Blog posts
Links
Media (like PDF Guides, Lead Magnets…)
If you already made some successful posts, just click on Posts, then on Feature to make you Linkedin post appeared on the Featured section of your profile
Your post will then appear on the feature section
That way you show visitors that people value what you have to say (so they must be listened to you too).
You can add your website, your best blog posts, guides or linkedin articles to drive traffic to them.
Some of them might turn into customers.
6. Customize your Linkedin URL
If you need to share your linkedin URL in your email signature or by message, you should customize it so it looks nice.

For that:
Go to this URL
Go to "Edit Custom URL" and click on the pen
Modify your URL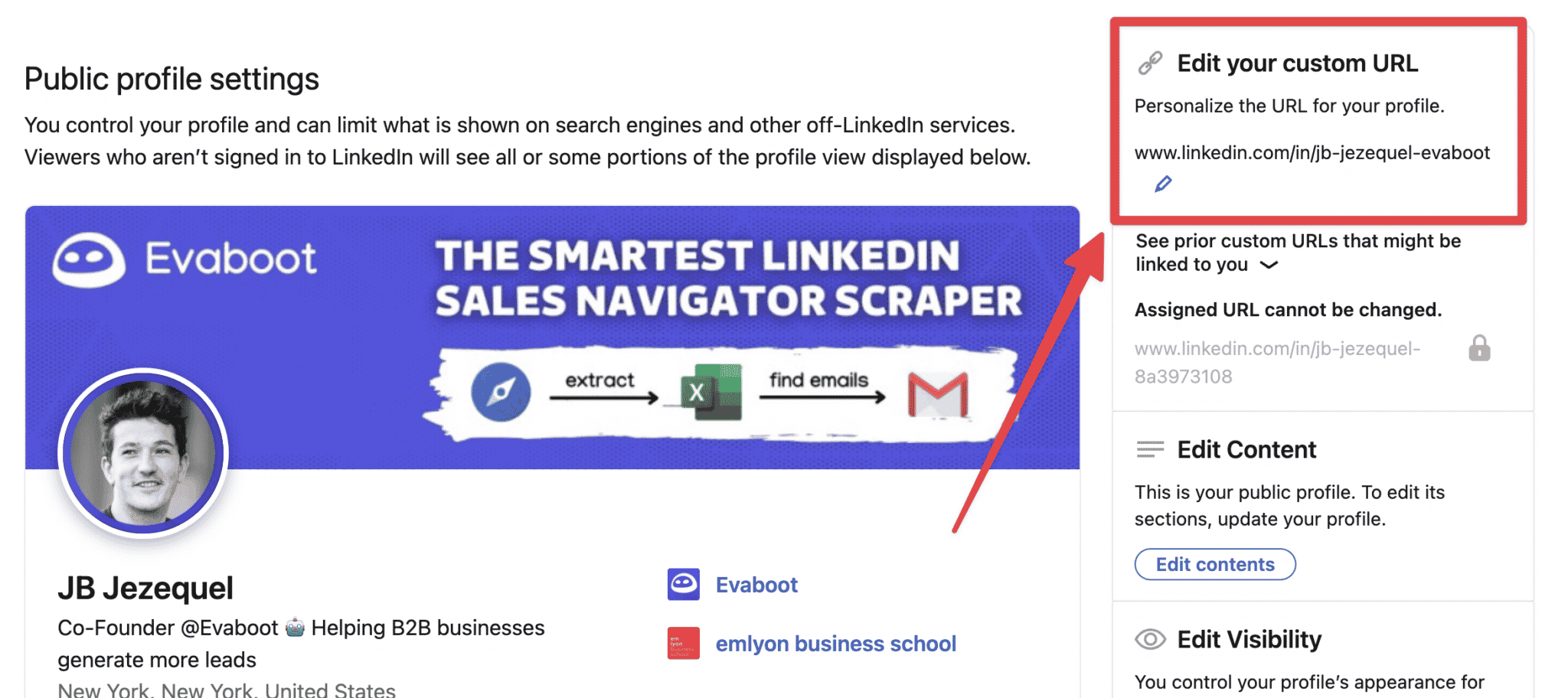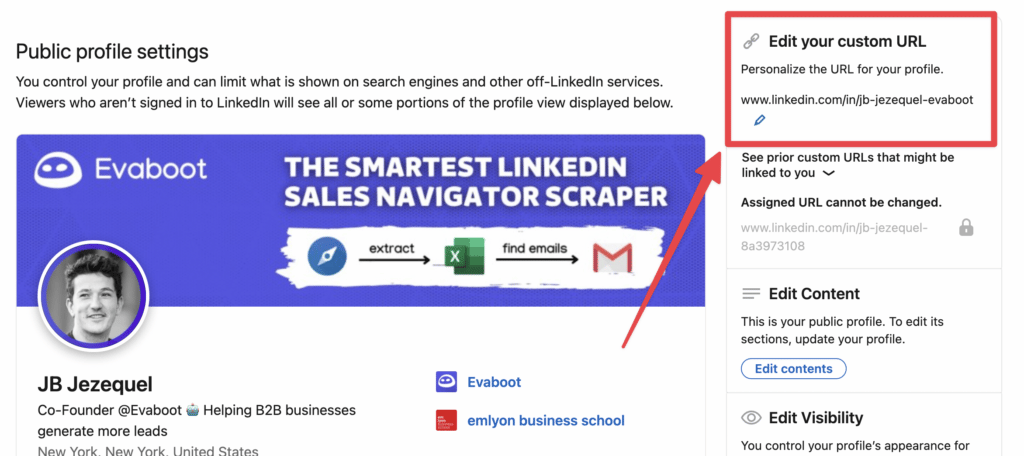 That way you have a professional linkedin URL with random characters in it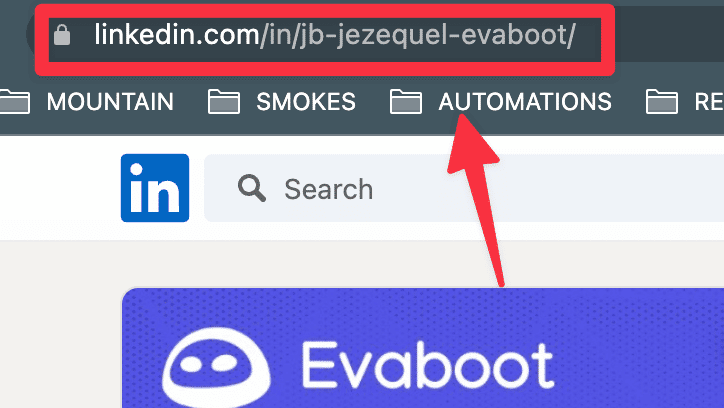 7. Optimize the Activity section
The activity section will display your recent activity on Linkedin: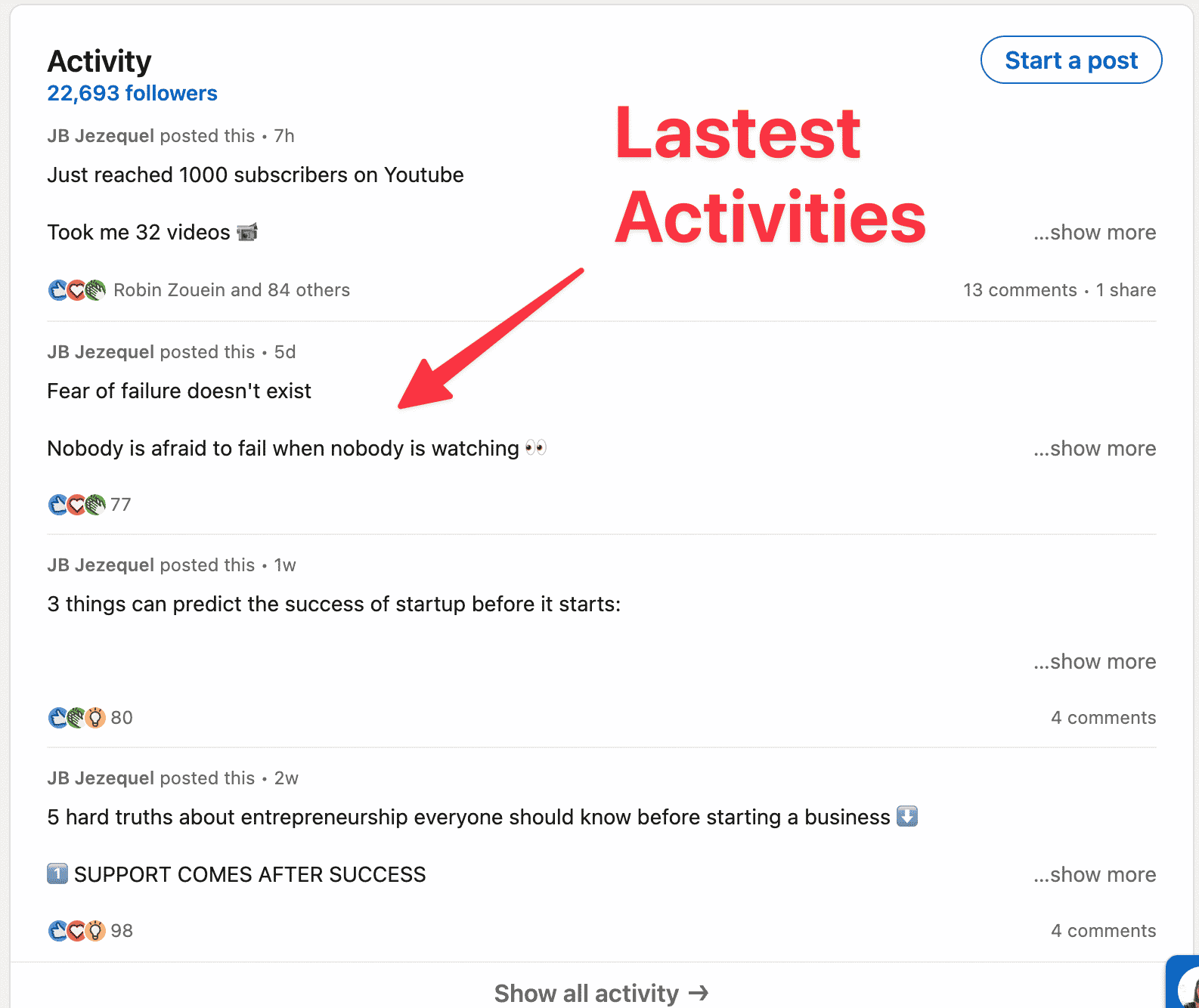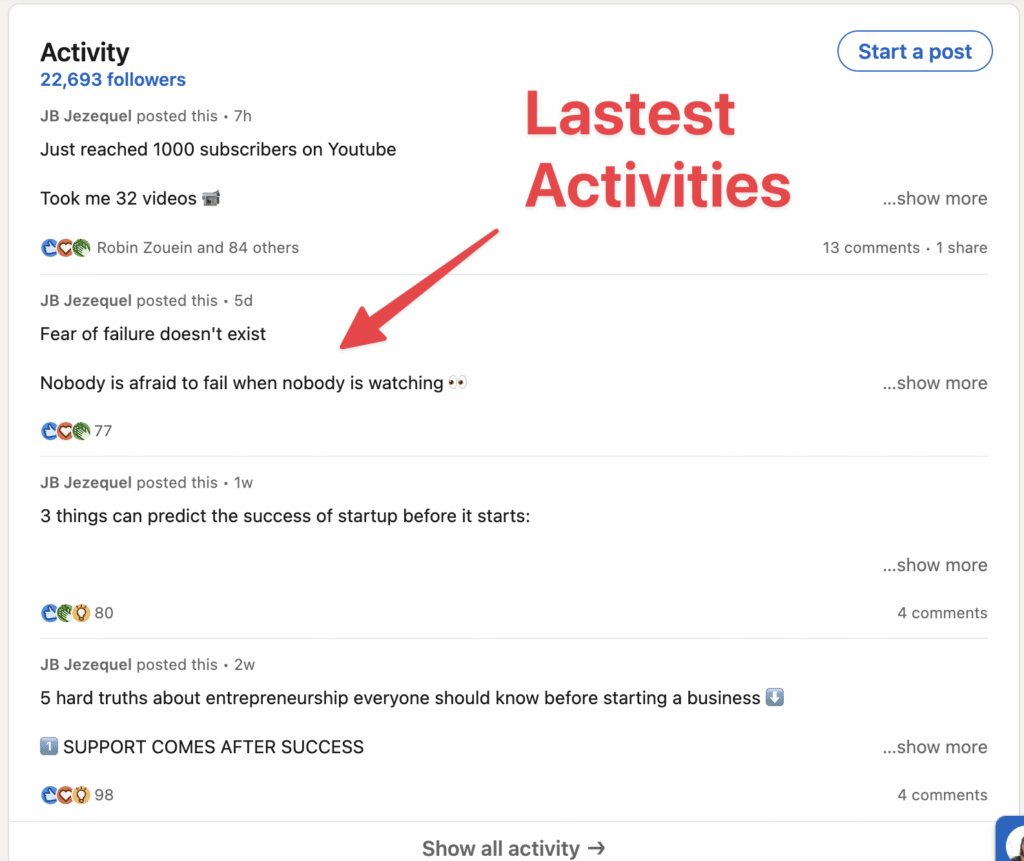 With this section, your profile visitors can see that you have recently posted or commented good content.
Posting regularly and become a linkedin influencer will obviously help this section adn your profile get more appealing.
It's another way to give social proof by giving them food for thoughts and showing you are active on the platform.
8. Detail job experiences and education
Don't make a resume that describes all the work you've done. Instead:
Tell a story
Show your expertise
Stand out
Add figures:
how big is the problem you solve?
what's your quantified impact?
why have you taken this position/started this business?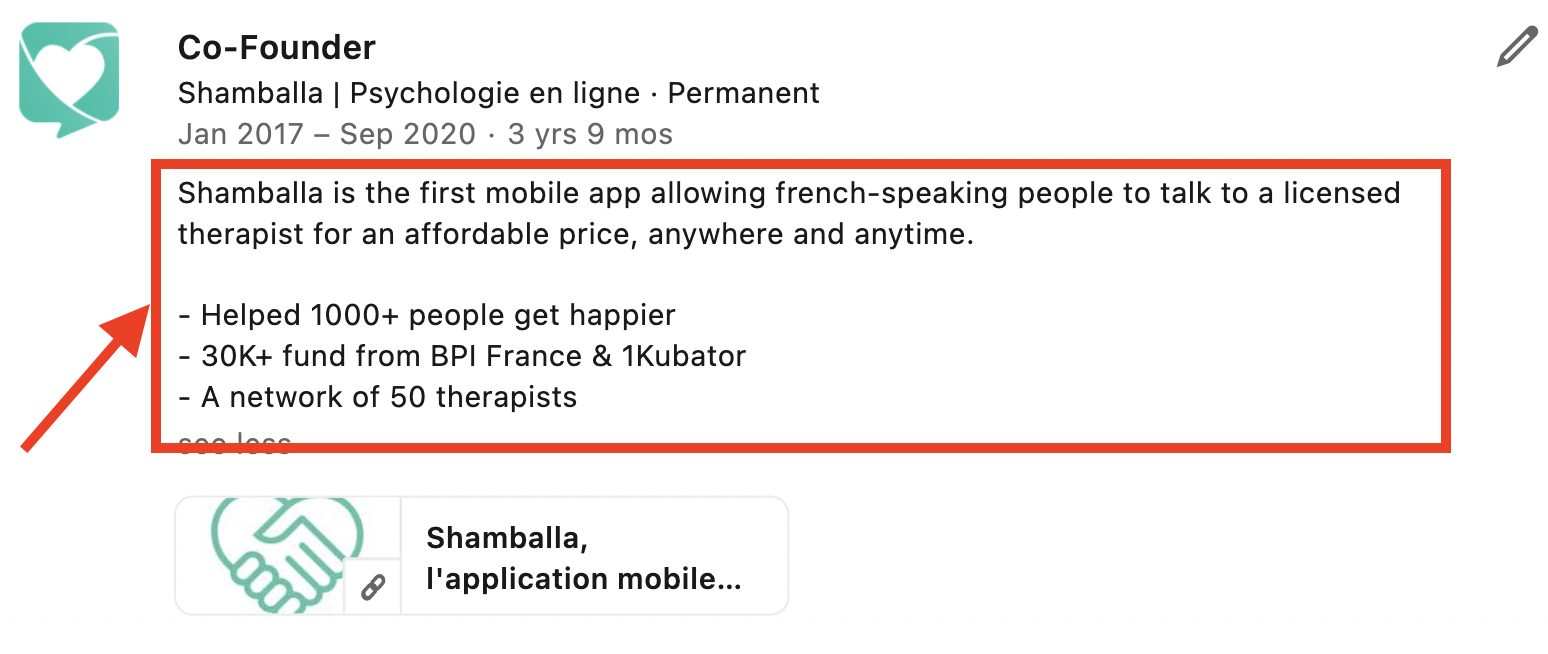 In case people want to make some backgrounds checks, it is pleasant to have direct access to the websites of the companies you worked in. You can also add link to content you created.
9. Get recommendations
If you are for an agency or as freelancer, people mostly value your work through the recommendations and the success stories of your clients.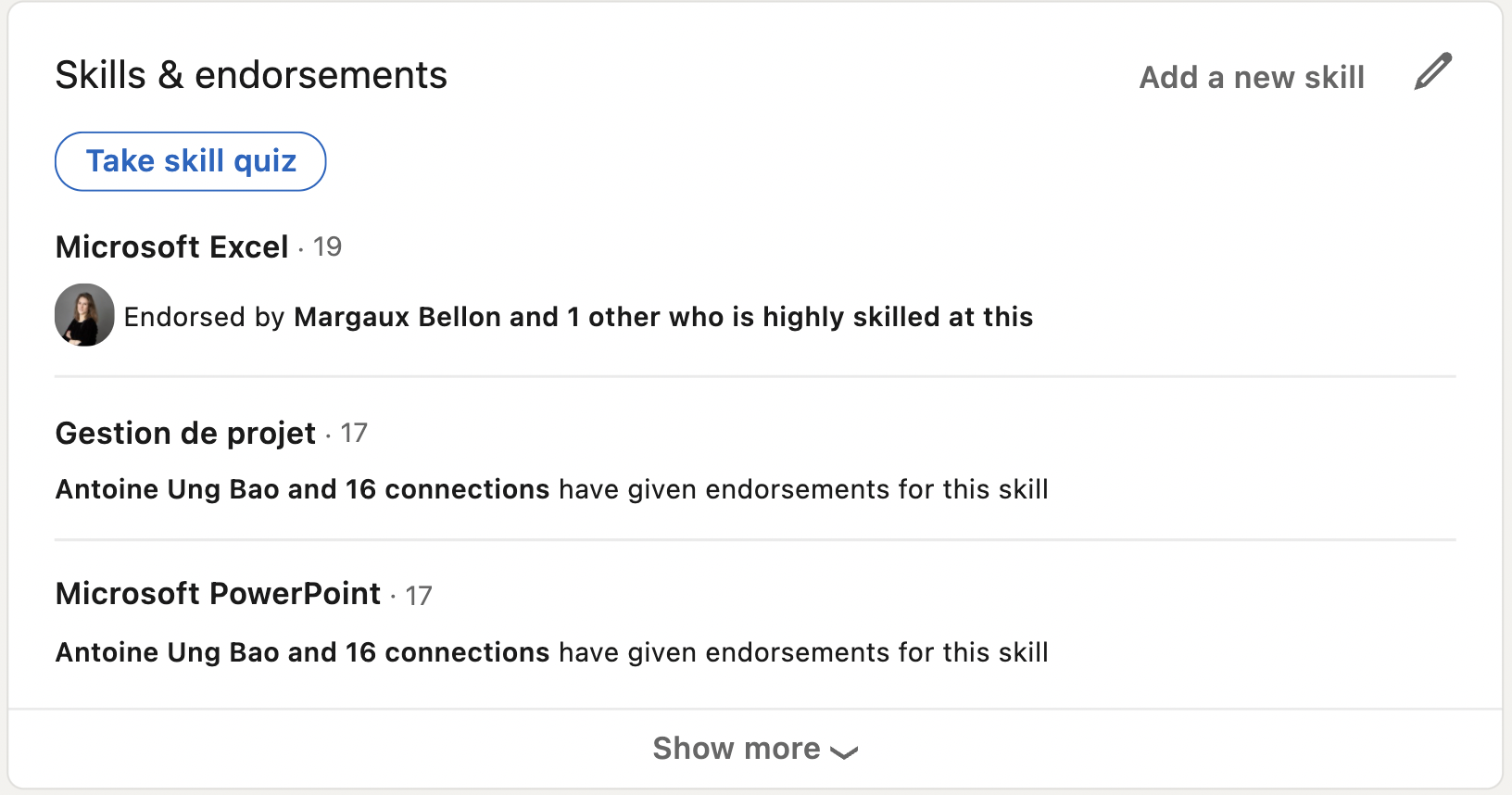 People value the recommendations more than your well-prepared cover letter and resume.
Having skills endorsement is not vital but it will always look good to have some as you want to exploit all the opportunities that linkedin gives you to stand out.
Recommendations on the other hand can be a really efficient leverage if you want to get clients for your consulting business through Linkedin.
Don't hesitate to leverage your:
friends
colleagues
current clients
old clients
To get some cool testimonial about the quality of your work (I'm sure it's amazing)
10. Activate Create Mode
When you are an advanced lead user and want to use it as your main lead generation channel, activate creator mode is a good move.
It allows 2 things:
Display your numbers of followers at the top of the profile
Give you the ability to add a link at the top of the profile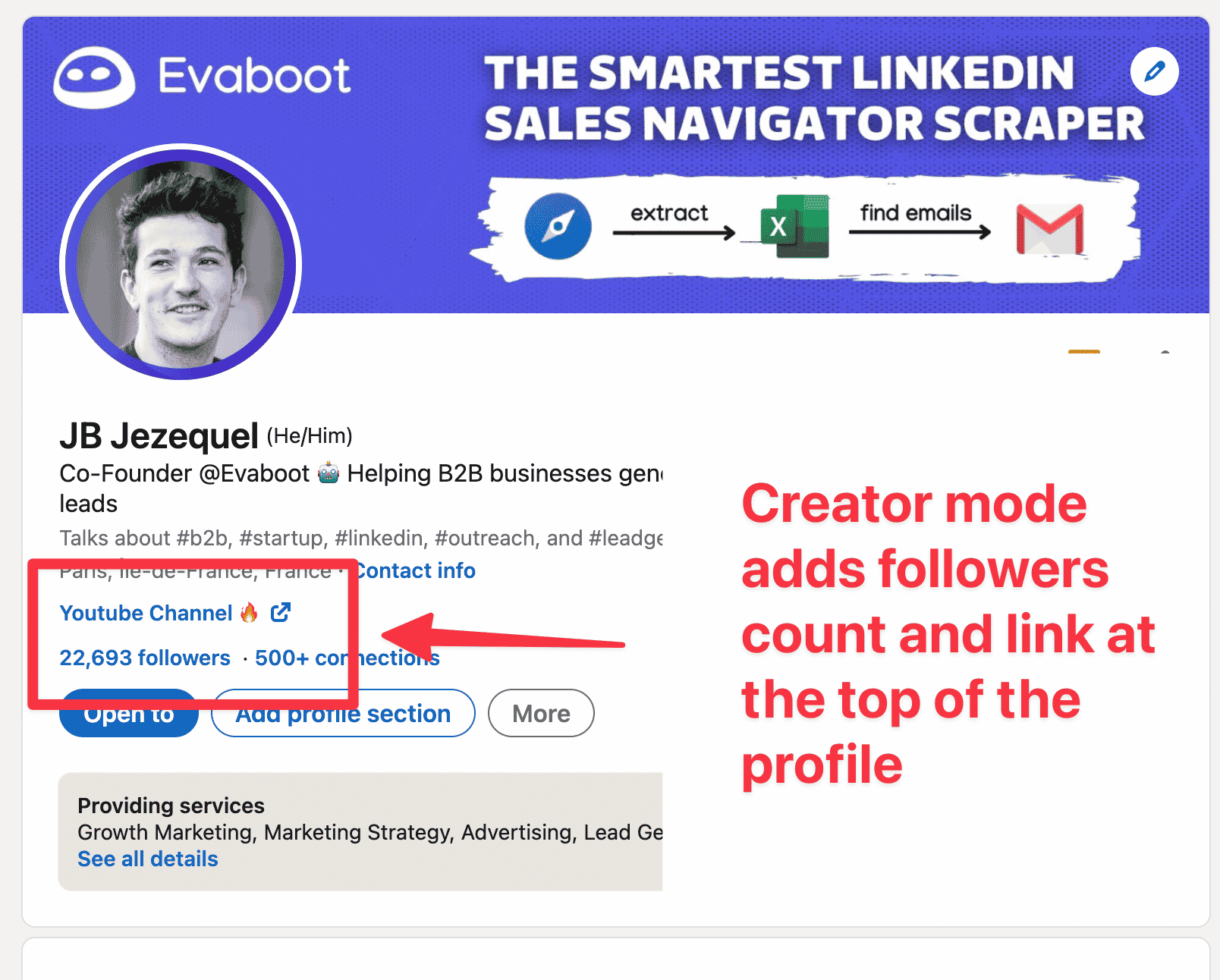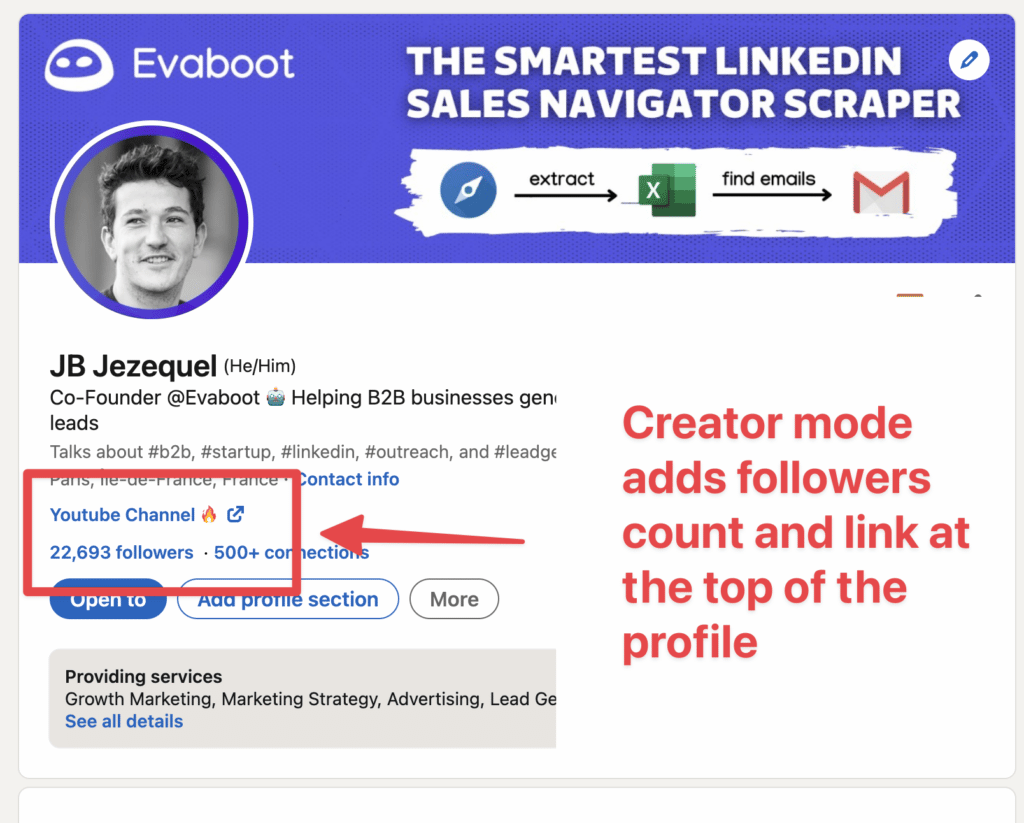 Displaying followers count helps to build social proof and the link is a great way to place a custom Call To Action at the top of your profile.
---
If you want to get the most out of your profile and start generating leads on Linkedin, go check our article on how to use LinkedIn for sales prospecting.
We are sorry that this post was not useful for you!
Let us improve this post!
Tell us how we can improve this post?
Build email lists from
Export clean data and get verified emails in 1 click.