Optimize your LinkedIn profile for sales with these 9 tips :
Either you are prospecting on Linkedin or looking for a job, if you don't have a killer LinkedIn profile, drop everything you are doing and start optimizing it.
Think about what YOU are doing when you receive an invitation
You wonder: why should I accept this person? right?
You need to think of your LinkedIn Profile exactly as a website landing page.
Would you pay Ads to drive traffic to page that is not optimized for conversion?
I guess not…
Same rule applies for your Linkedin profile
In brief:
Make your profile picture stand out. Shoot a high quality picture and customize it with Profile Pic Maker
Optimize your headline. This sentence will appear everywhere on the network
Add a Call to Action to your cover picture. Think about your linkedin profile as a website landing page
Write your About section as a sales page. Make the preview appealing and write it like a cold email
Use the Featured section for social proof. Showcase your best posts and content to show your expertise
Complete Experience and Education. Tell your story and show your impact
Translate your LinkedIn profile. Translate your LinkedIn profile to appear in more search results.
Linkedin Profile Picture Tips
Shoot a high resolution photo
Decorate it with Profile Pic Maker
Don't overlook this point.
1.Shoot a high quality picture
Most of smartphone will do the job these days, you don't need to be a 2000$ camera to get a good result.
If you have a little money to invest, better buy a ring light and a tripod. You can't get some for more than 50$ on Amazon.
You'll be amazed to see what light and angle can do to your face.
Your linkedin profile picture is what everyone sees when send messages or comment posts.
You'll probably keep it for a few months/years so it worth the effort.
2. Decorate it with Profile Pic Maker
Profile Pic Maker is really simple tool to create a really cool linkedin profile picture in minutes
Just drag and drag your picture and Profile Pic Maker will then automatically generate dozens of cool backgrounds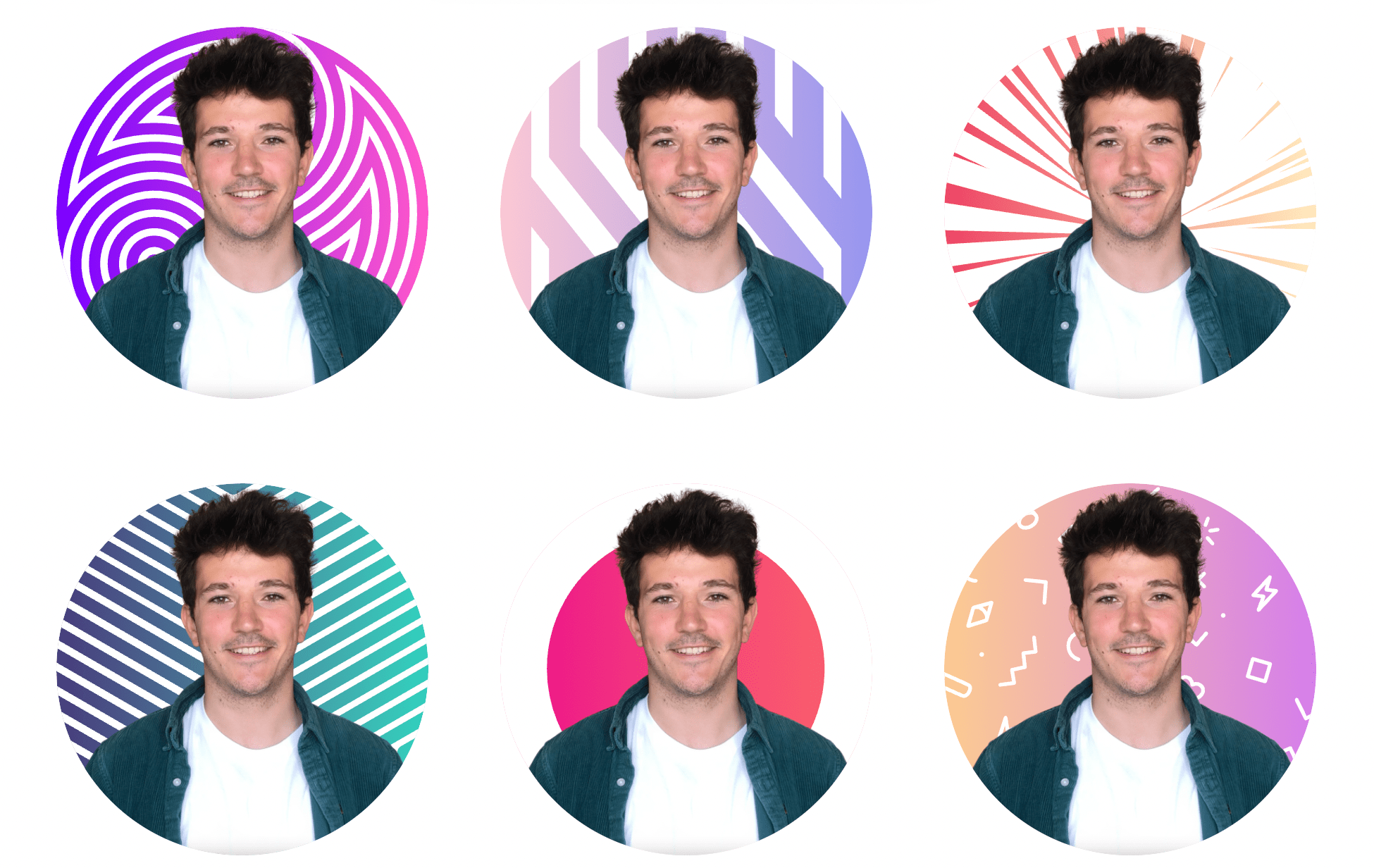 You can change colors, zoom, rotate the photo as you please with the customisation tools
Select the colors and designs that matches your brand and you're good to go!
How to write a good Linkedin headline
Write a short and precise description of your activity
Add an emoji to increase visibility?
1. Write a short and precise description of your activity
The headline is the most important sentence in your profile because it will appear everywhere on the network:
1. At the top of your Linkedin profile:

2. When you publish a post:
3. When you comment a post
4. When you send an invitation

Your profile picture and your headline are what going to make people click on Accept or click on your profile picture to see your entire profile
It must therefore be clear and concise. There is no need to put an long sentence as it will not be fully visible.
If you want to describe your activity in more detail, save it for the About section.
2. Add and emoji to increase visibility?
You can add an emoji in your linkedin headline to increase your chance to catch people's attention when they are scrolling.
It depends on your industry, if you are in tech this really common.
However if you are in a more "formal" business like Investment Banking, you may prefer to keep your headline sober.
Linkedin background photo tips
Think about your value proposition
design your linkedin cover photo with Canva
1. Design your value proposition
Your LinkedIn profile is your like a website's homepage.
When people land on your profile, they must understand in less than 3 seconds what you are about!
Use this space to:
show your value proposition
add a call to action
Your Call To Action can be a free trial if you have a product or a call if you sell services or complex products
2. Wrap it into a good design
Once you have your value proposition on your CTA, you need to showcase them into a appealing design.
For that you can use Canvas (it's like Photoshop but you don't need to spend 5h hours on Youtube to start doing cool things with it)
Connect on canva
Click on "Create a design"
Look for "Linkedin Banner"
Canva will automatically a design with right size and show you dozens of templates you start from to design your linkedin banner
Add your value proposition and your call into this design
download the file
Upload it on linkedin
Congratulations! 🥳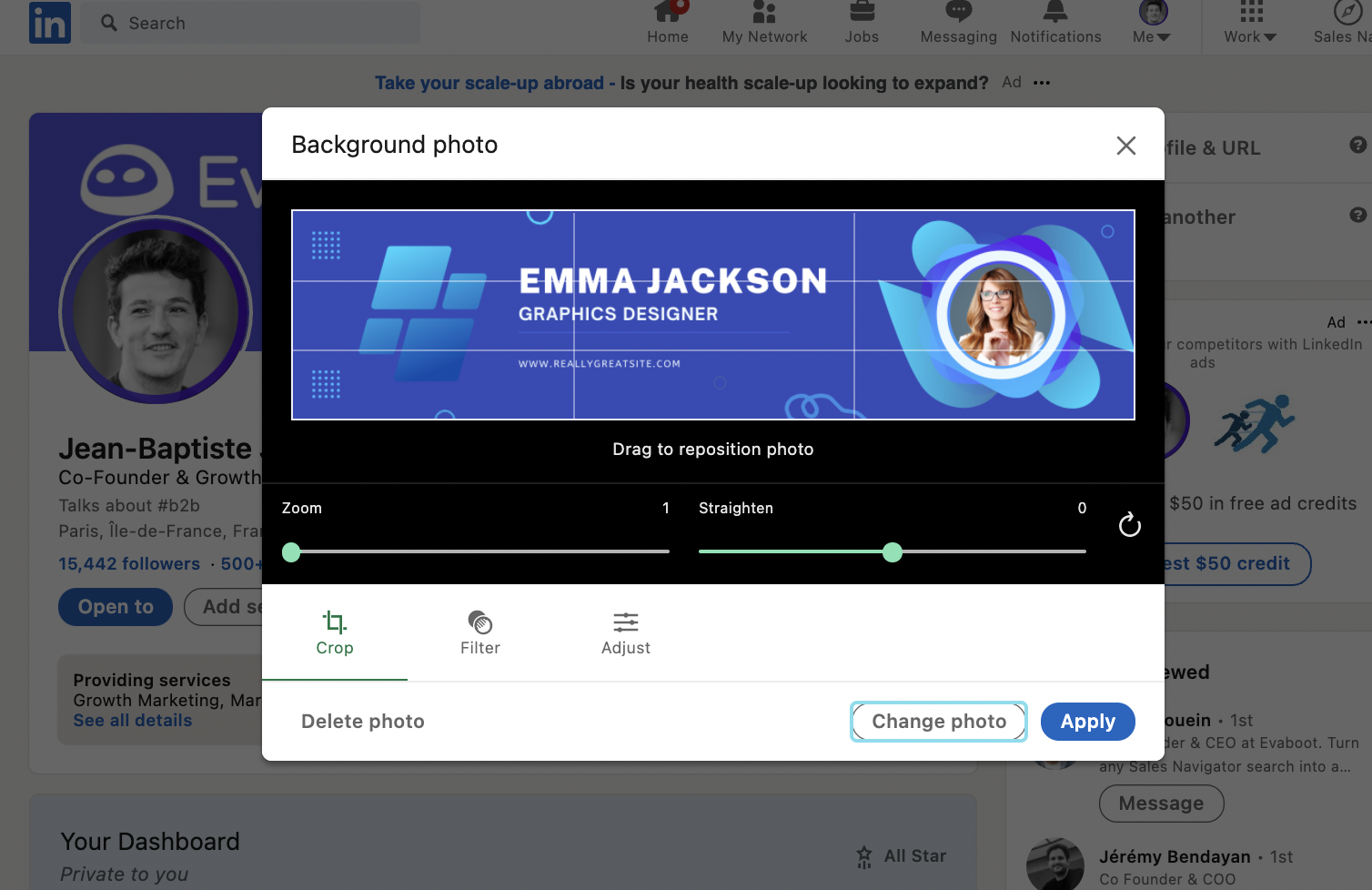 You just designed a killer linkedin banner in 5 minutes
Are you beginning to understand the importance of optimizing your LinkedIn profile?
Let's continue with the about section.
About section Tips: your Linkedin sales pitch
Write your about section like a sales page
Leave contact information in your about section
1. Write it like a sales page
This is the part of your linkedin profile where you can give more details.
It provides more context to someone who really wants to know more.
The real goal is to make people click on See More.
So give them a good reason!
Try to make your call to action as appealing and obvious as possible.
I personally like to directly ask people to click on "…see more".

Once you've hooked your visitor, you get plenty of space to develop your value proposition.
Stay focused on your call to action
Use storytelling to keep your audience attention
2. Leave contact information
Even if links don't work in the about section, leave your different social media links as people can still copy-paste them to get access to them.
Also remember to leave your email as many people don't like Linkedin Messaging.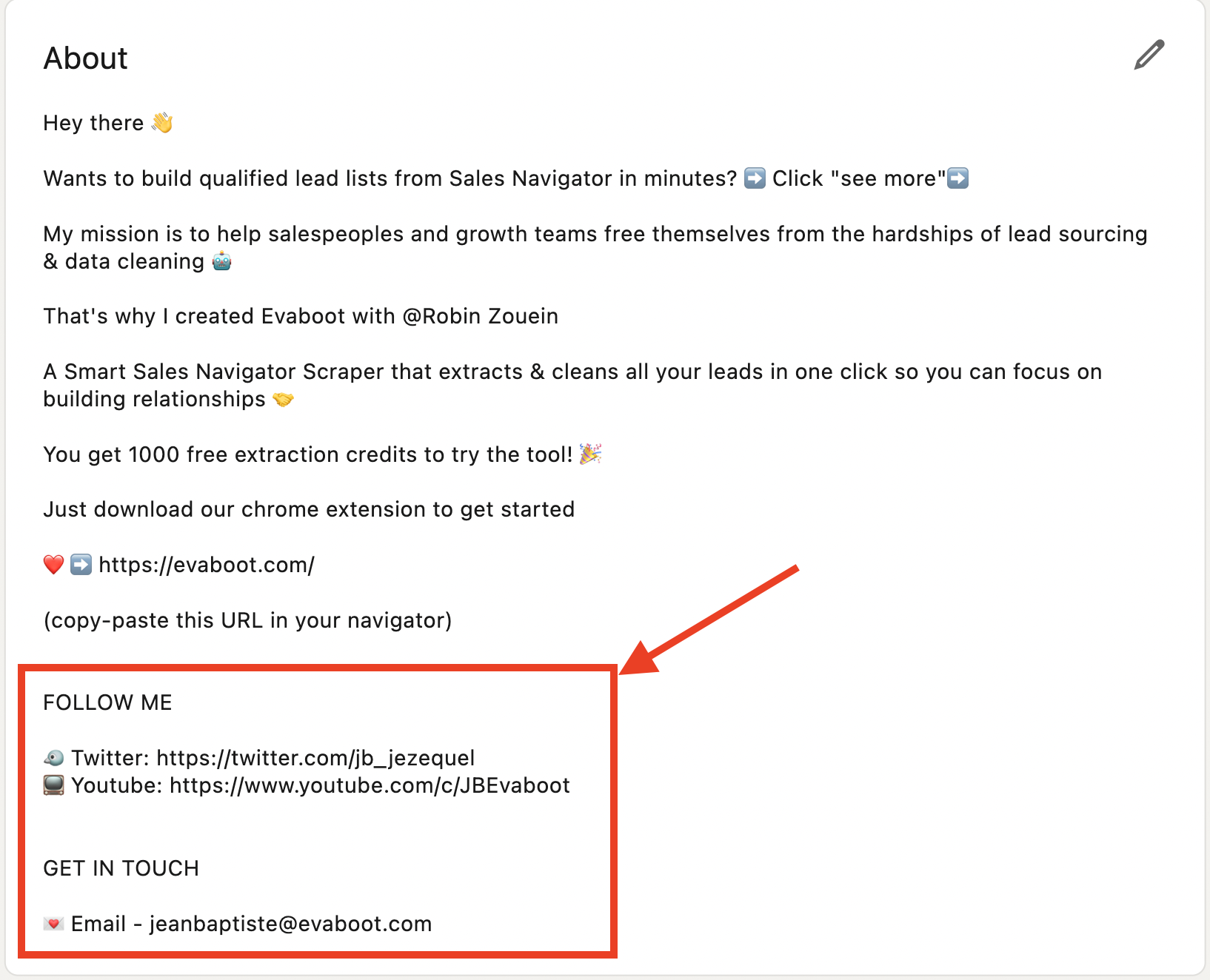 Feature Section: showcase your best posts and links
Showcase your best contents to drive traffic
Showcase your most successful posts for social proof
1. Showcase your links to drive traffic
The feature section is pretty big.
You can take advantages of it to add:
Articles (personal blog post or Linkedin Articles)
Links
Media (like PDF Guides, Lead Magnets…)
So add your website, your best blog posts, guides or linkedin articles to drive traffic to them.
Some of the them might turn into customers.
2. Showcase your most successful posts for social proof
The second thing you can showcase in the linkedin feature section is social proof.
If you already made some successful posts, just click on Posts, then on Feature to make you Linkedin post appeared on the Featured section of your profile
Your post will then appear on the feature section
That way you show visitors that people value what you say (so they must be listened to you too)
Work Experience & Education: show your impact
Tell a story
Add some ressources
1. Be honest, precise and give details
Don't make a resume that describes all the work you've done.
Tell a story
Show your expertise
Stand out
Add figures:
how big is the problem you solve?
what's your quantified impact?
why have you taken this position/started this business?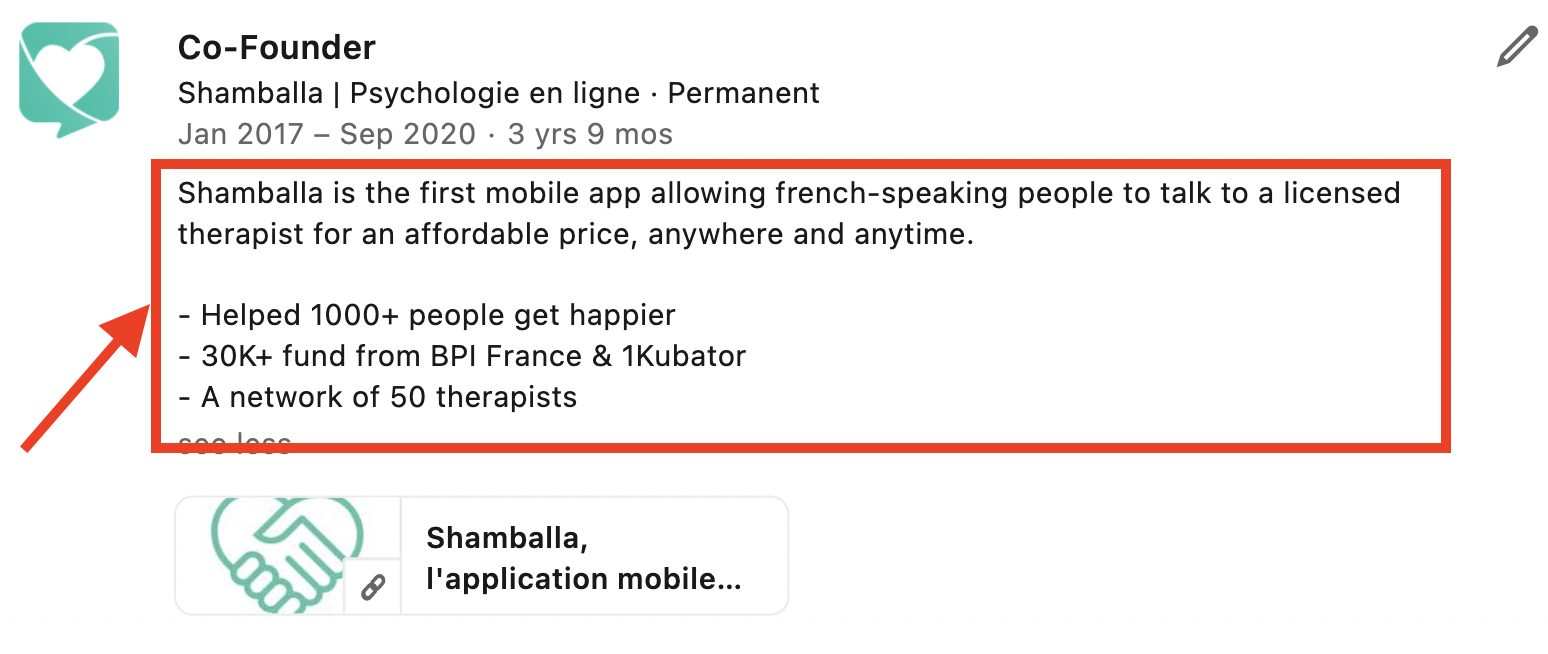 2. Add some ressources
In case people want to make some backgrounds checks, it is nice to have direct access to the websites of the companies you worked in.
You can also link to content you created!
Skills Endorsements & Recommendations: leverage your network
If you are for an agency or as freelancer, people mostly value your work through the recommendations and the success stories of your clients.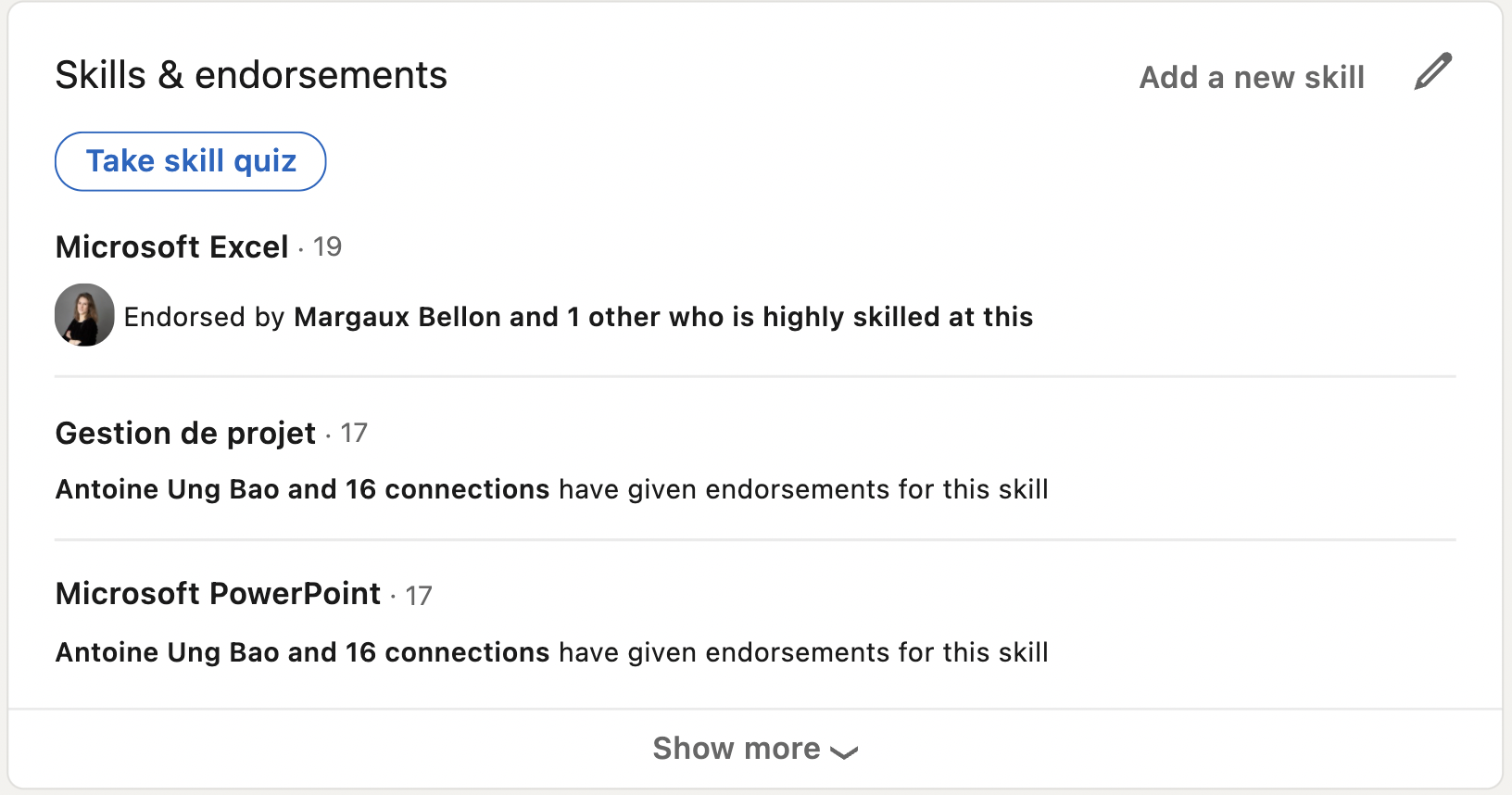 People value the recommendations more than your well-prepared cover letter and resume.
Having skills endorsement is not vital but i will always looks good to have some on you want to exploit all the opportunities that linkedin gives you to stand out.
Recommendations on the other hand can be a really efficient leverage if you want to get clients for your consulting business through Linkedin.
Don't hesitate to leverage your:
friends
colleagues
current clients
old clients
To get some cool testimonial about the quality of your work (I'm sure it's amazing🤩 )
Translate your Linkedin profile to maximise international exposure
It is possible to translate your LinkedIn profile in several languages.
You will appear in more search results if you choose this option.
Having a profile in English is obviously essential if your activity is international!
Select the language of your new profile
You and the people visiting your profile will then be able to switch between languages.

Linkedin Profile PRO TIP for freelancers
Optimize your profile for keyword research
Optimize your Service Page
1. Optimize your profile for keyword research
When your potential customers are looking for a keyword on Linkedin Sales Navigator or with Linkedin Basic Search, make sure they find your linkedin profile!
Imagine someone is looking for lead generation freelancers on Sales Navigator, he will be most likely to contact people that came on top of the list!
It's like Google SEO, if you want to appear in the first results, make sure your keyword is mentioned enough time in your profile (title, about section, summary)
The position of the keyword on the profile does not really matter.
Simply make sure it is present at least in each section of your linkedin profile.
2. Customize your Service Page
Linkedin recently declared they ambitionned to become a freelancers platform like Fiverr or Upwork.
That's why you can now showcase the services you offer on your Linkedin profile.
You even have a linkedin service page dedicated to your freelancer activity with client reviews.
Optimizing this page will allow to optimize your ranking for the Service Search in the the Basic Linkedin Search Engine!
This a great opportunity to get new customer as people will look for freelancers using this feature.
I hope these tips will allow you to find a job or get new clients for your business!
In you want to get the most out of your profile and start generating leads on Linkedin, go check our article on how to use Linkedin for Sales Prospecting!
We are sorry that this post was not useful for you!
Let us improve this post!
Tell us how we can improve this post?