LinkedIn is by far the best acquisition channel for B2B businesses.
82% of B2B marketers & sales report it is the best performing channel in term of B2B lead generation.
Here are some Linkedin lead generation strategies you can use to grow your business in 2022.

Ready to learn how to use Linkedin for Lead Generation step-by-step?
Let's dive in.
What is Linkedin Lead Generation?
Linkedin Lead generation encompasses all activities relating to the identification and outreach of potential customer on Linkedin.
Linkedin B2B Lead Generation is composed of 4 steps:
Find leads using Linkedin search engines
Find contact details (emails and phone numbers)
Copywriting (how you write your linkedin messages)
Linkedin Lead Generation Automation (using tools to automate messages sendings)
In this article, I will show you how to master these 4 steps so can generates sales leads with linkedin like a boss.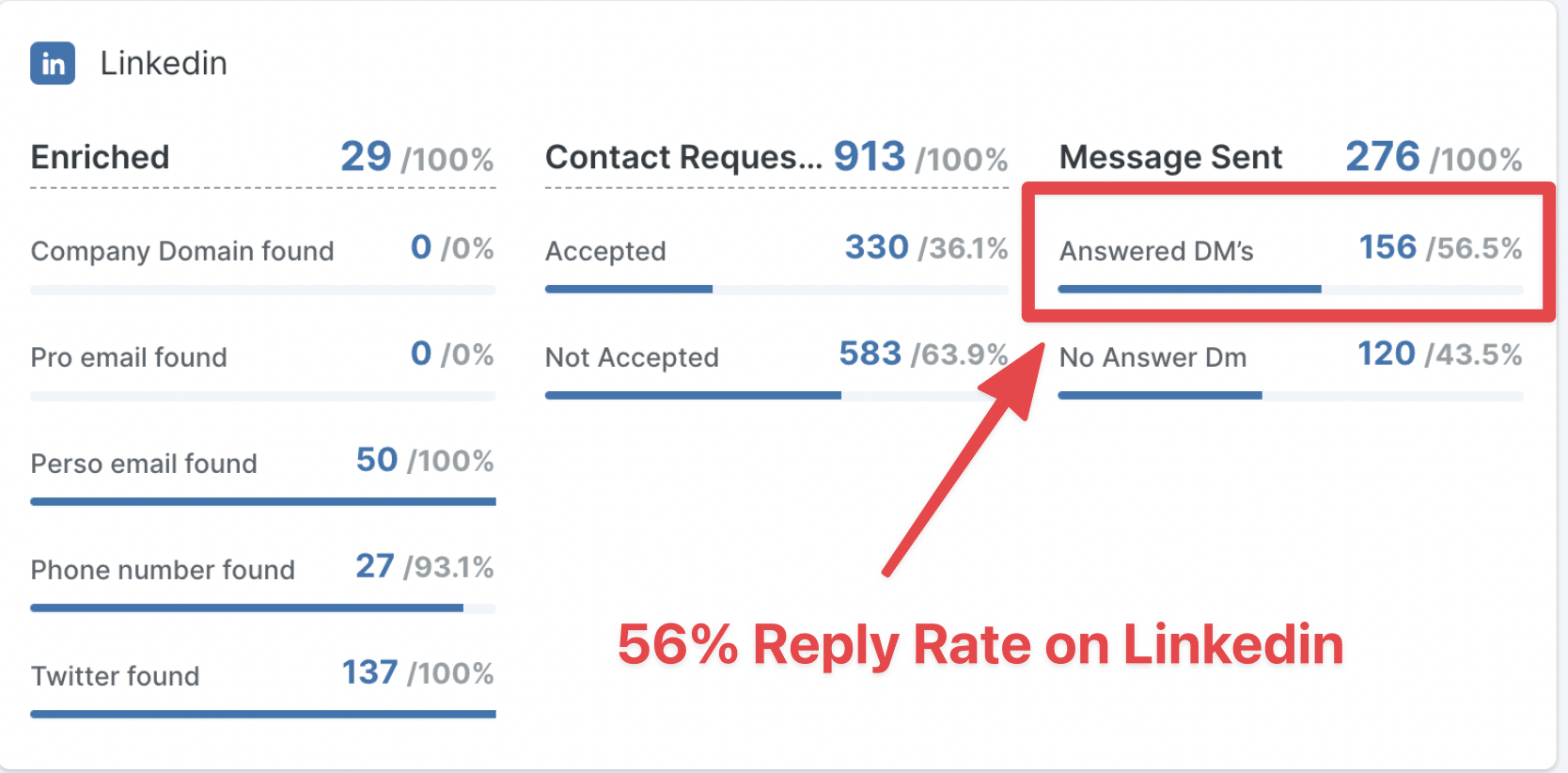 Want to have this kind of result?
Make sure to read this article till the end!
How to Generate Leads with Linkedin Outreach?
If you want to learn how to do lead generation on linkedin, first you need to learn is copywriting.
If you are not capable of writing linkedin messages that get replies, all your effort on lead sourcing and automation will be ruined.
That is why I would like to begin this tutorial the Do's & Don't regarding linkedin lead generation messages.
Linkedin Lead Generation Messages to Avoid
We all receive really bad linkedin prospecting messages everyday. I've made a wrap-up of some of the worst I received to show why you shouldn't do if you want to be using linkedin for lead generation.
2 mistakes I see very often are people who:
wants to get a meeting right away
gives no evidence to backup what they are saying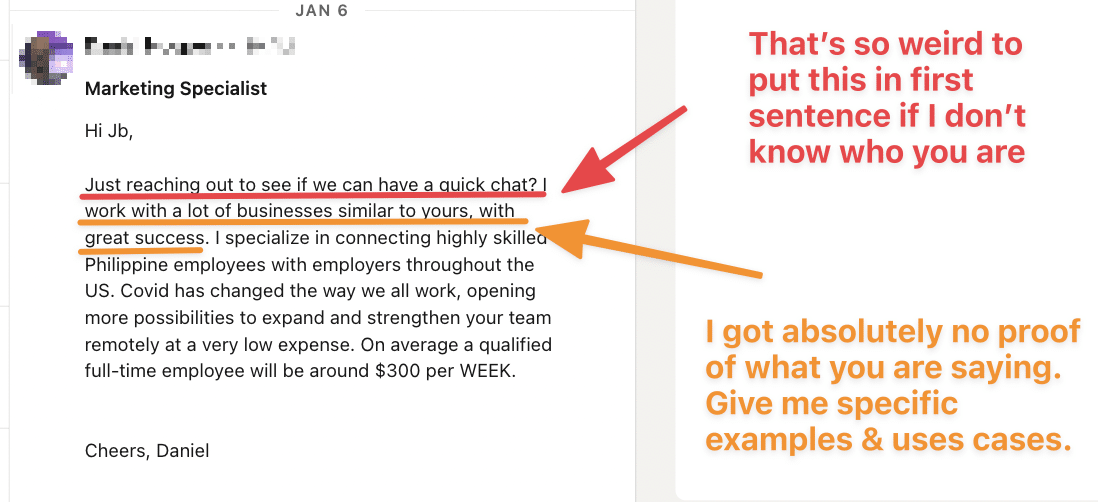 Most of the time it's because they don't even know who you are and got nothing to support their arguments.
Plus, visually this message is not good. It's all packed. It's easier to see the structure if you add some space between you different arguments.
Second mistake I see is people telling me everything about their life but not even talking about me.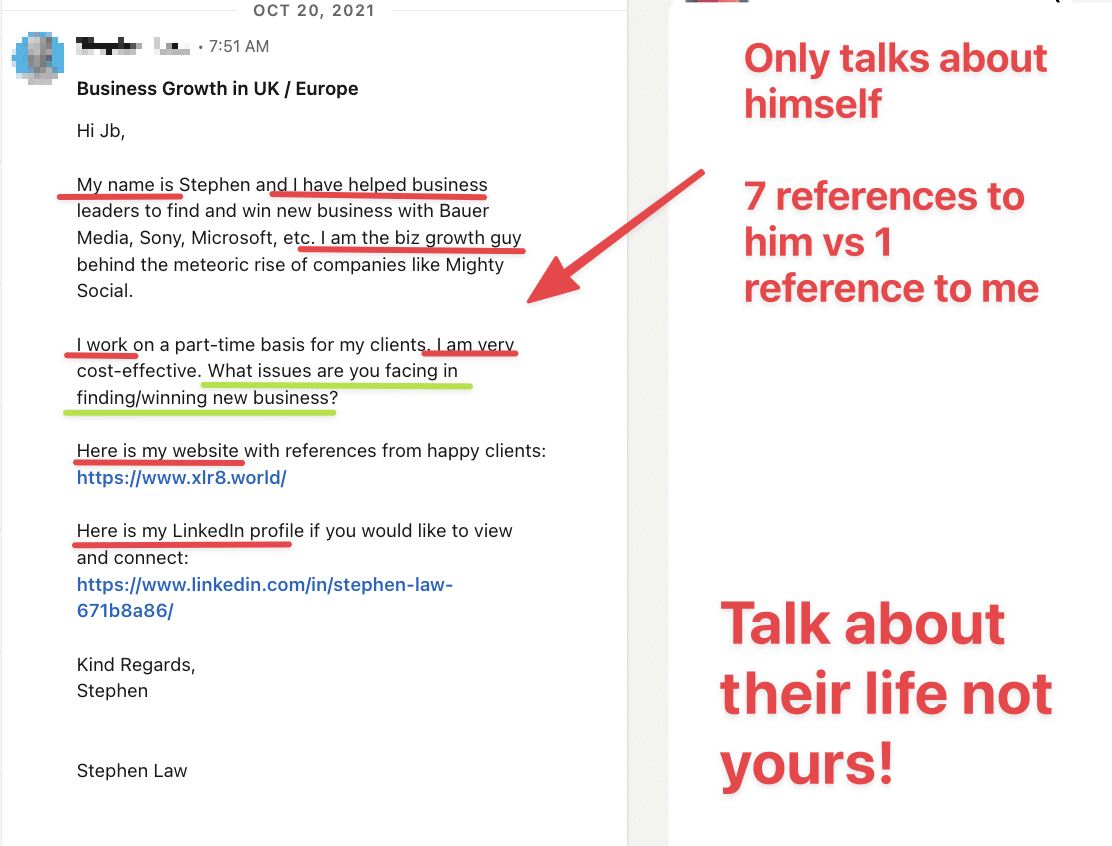 People don't even have enough time to talk with people they like so why they would to talk to stranger if they don't even make the effort to do their homework on them.
If you like to talk about yourself. Go write a book.
Selling is about empathy and making the effort to understand people's problem.
The 3rd most common mistake I see I unclear proposition value.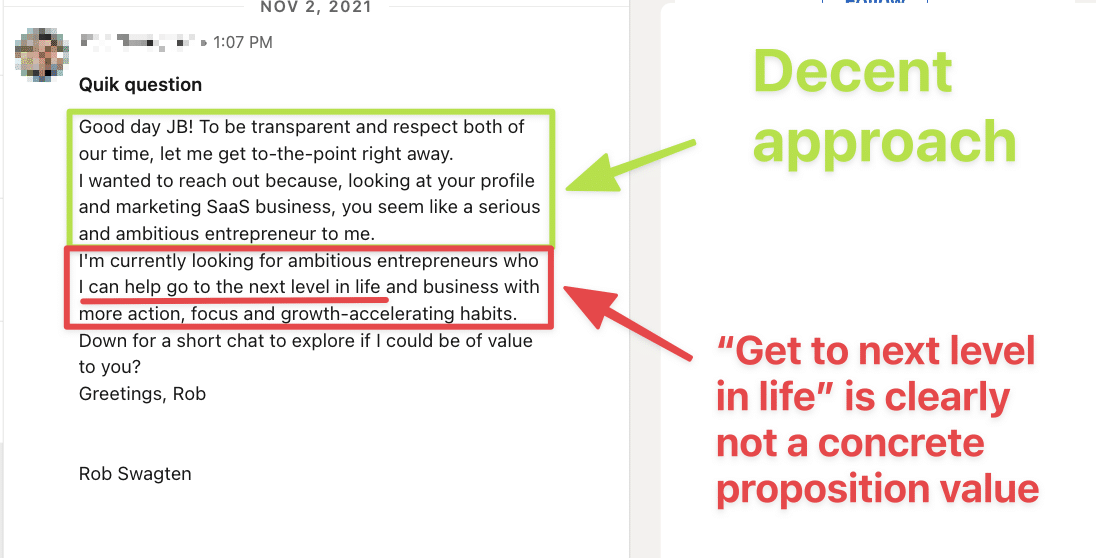 You have to be crystal clear on what you can bring to other people business. Like mentioned earlier, it's even better if you have data to back you up.
To sum this up:
Don't try to get a meeting right away. Start a conversation.
Don't talk about you. Talk about them.
Don't be vague on your proposition value
Don't bring arguments without concrete backup
Now let's see how to use generate leads from linkedin the right way.
Linkedin Lead Generation Strategy Done Right
Here are my best linkedin lead generation tips to write your messages.
If you want to generate sales leads with linkedin, you need to respect 3 rules:
Personalize your message
Be short
Have a clear "Call To Action"
You need to give your prospect a good reason to reply.
This message get 28% reply rate. Here is what I think is a good structure for your outreach:
Give your reason for outreach
Ask if the person has the problem you solve
Backup with data
Give a good reason to reply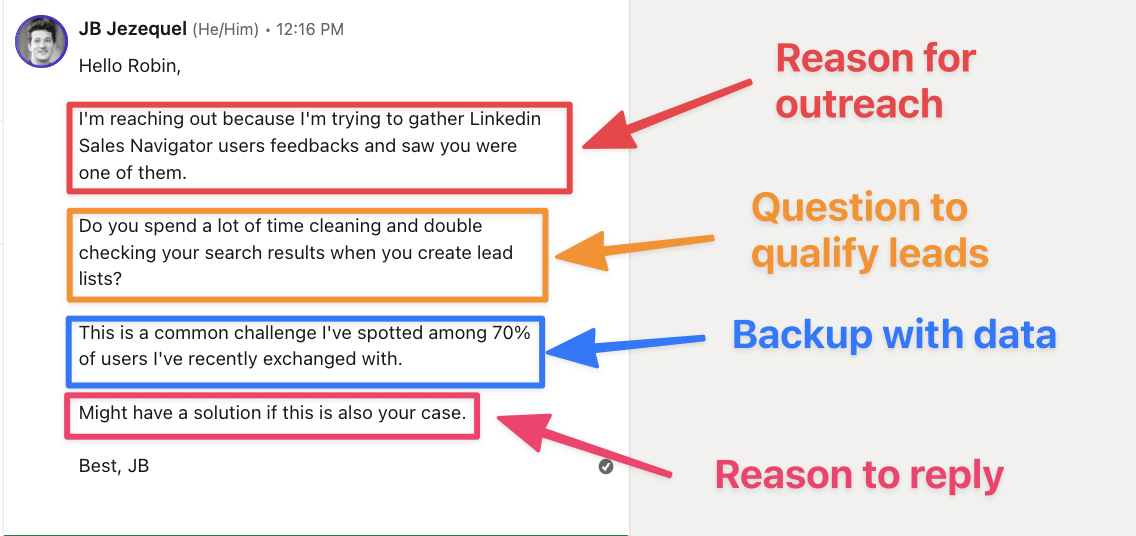 The first goal of a linkedin prospecting messages is not to get a meeting. It's to qualify you leads.
Are you willing to take a meeting with someone not qualified? I guess not.

So separate your Linkedin outreach in 2 steps:
Ask to your lead if he has the problem you are solving
If he does, ask for a meeting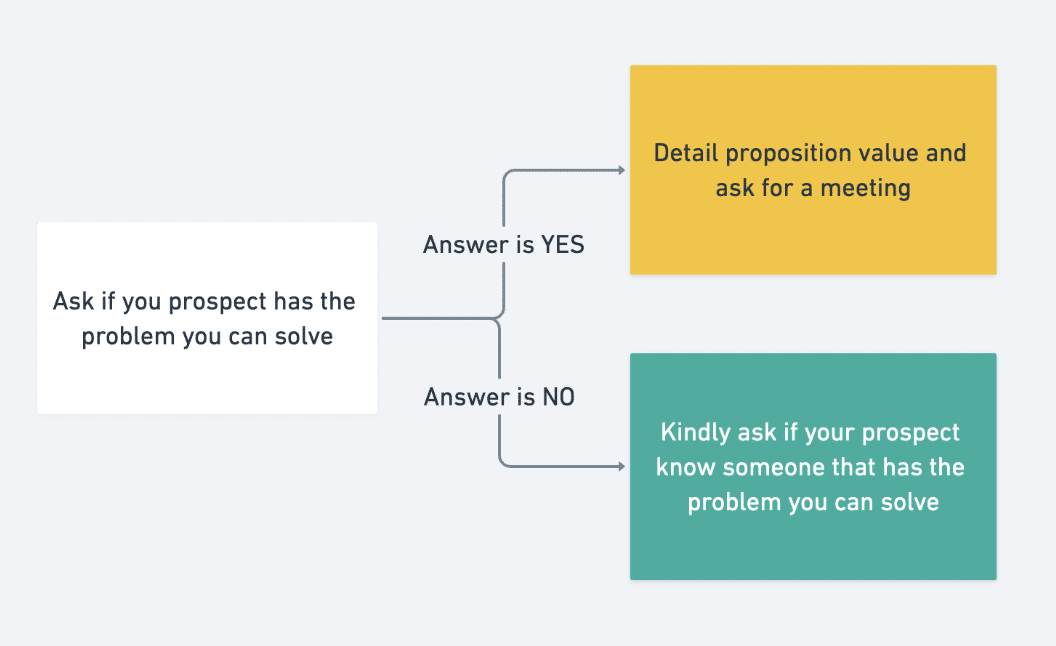 Really keep in mind that prospecting is not seling, prospecting is qualifying.
If you know for sure that your prospect has a problem you can solve, selling will be much easier.
To sum it up, you can structure your message this way:
How to send follow-ups on Linkedin?
When you are using linkedin to generates leads, make sure to add value every time you send a follow-up.

Most of people simply repeat their proposition value and ask for a meeting again. There is no added value for the lead in this type of follow-ups.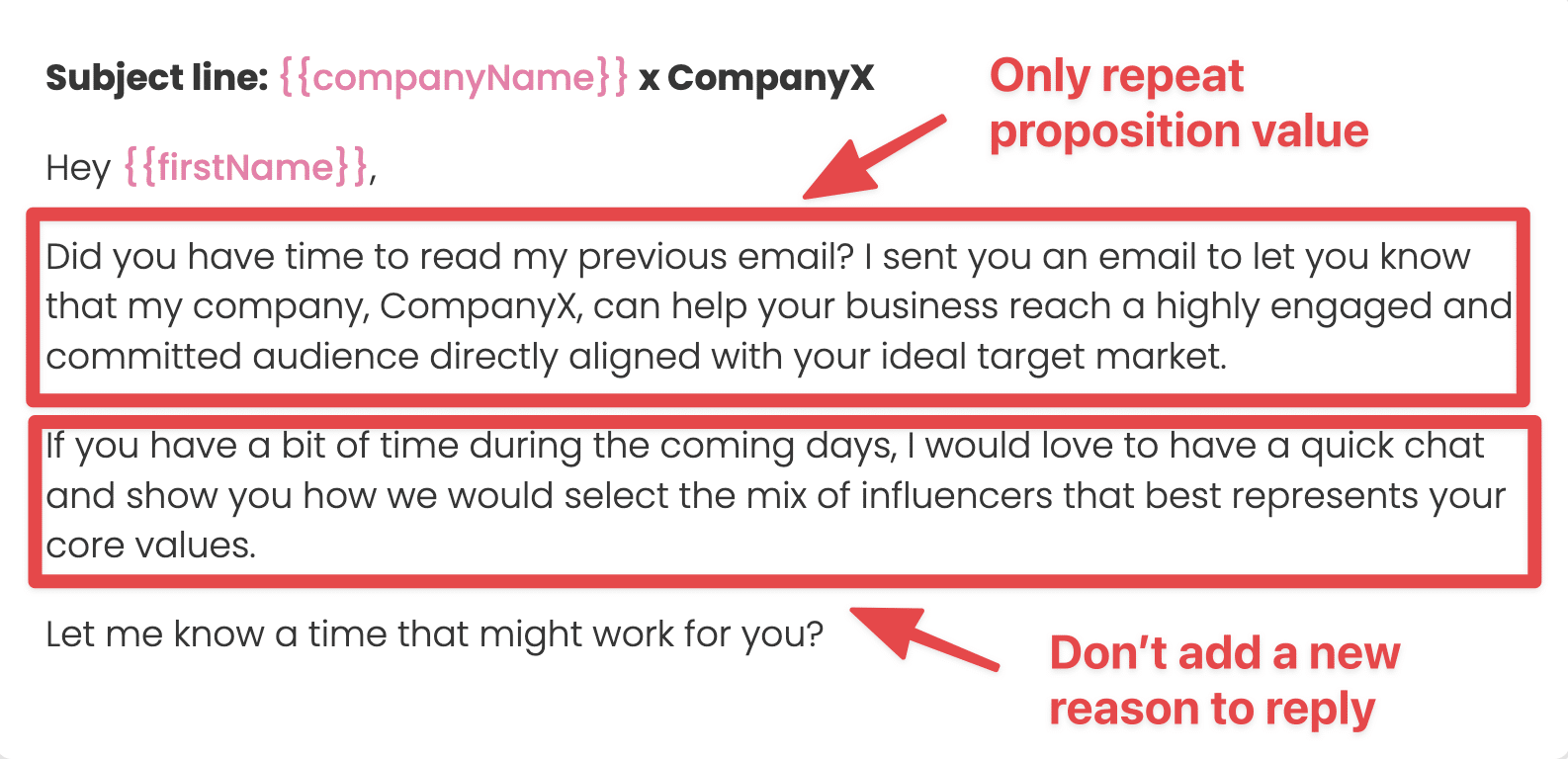 Instead of just repeating your proposition value, try to bring new arguments on the table.
You can for exemple send:
Contents you created
Client testimonials
Results you obtained with similar clients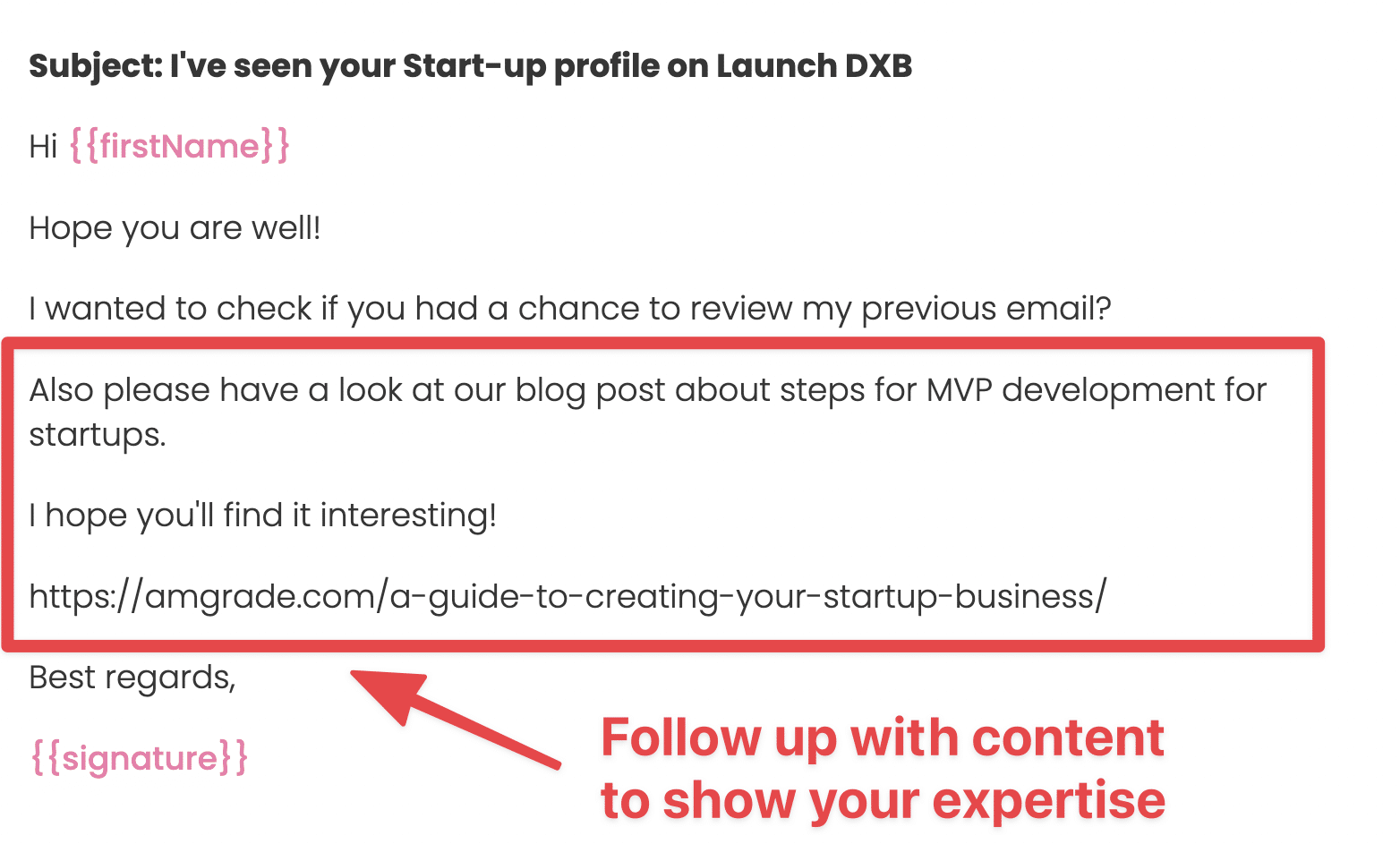 Sending a video is even better because that will allow your prospect to discover who you are and to start creating a relationship with you.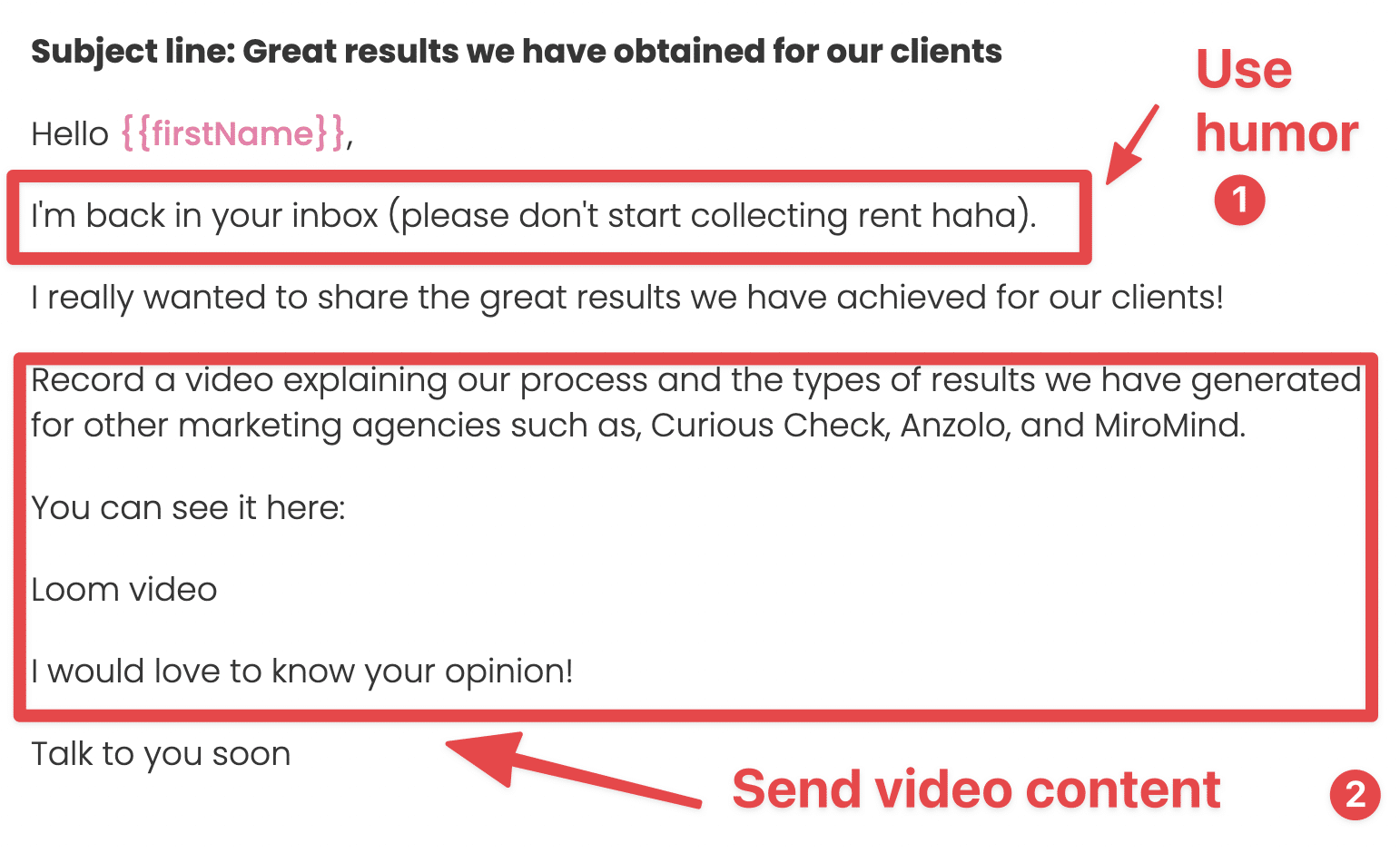 Ok so now you know how to write prospecting messages and follow-ups.

But well written messages won't be enough. You need to send them to the right people.

That's is precisely what the next part is about.
How to Find Leads on Linkedin?
Linkedin is the largest B2B database with more than 700 millions people. To find leads in this database you can use either the Linkedin basic search engine or Linkedin Sales Navigator which is the premium version an is much more powerful.
How to Generate Leads from Linkedin Basic Search?
You can use a big set of different filters to build qualified lead lists on the free linkedin search engine.

Among them:
Locations
Current Company
Past Company
School
Industry
Service Category
Keywords
Title
If you are just getting started with linkedin B2B lead generation, it should be enough to build you first lists.
However with the free version you will be limited to 1000 results because linkedin will only show you 100 pages of 10 results.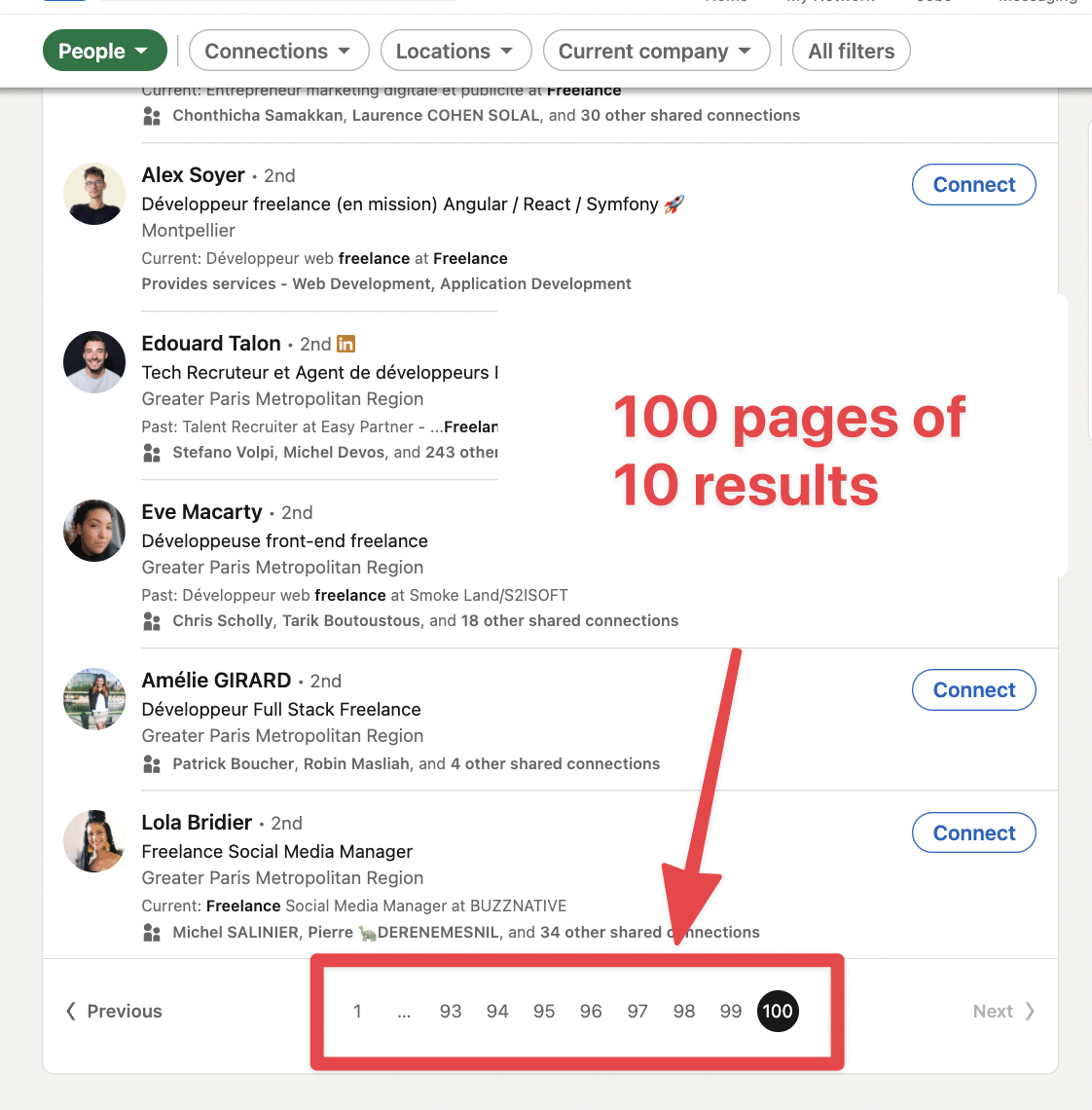 It's quite limiting if you need to build larger lead list for you business.

You are also much more limited in term of filter you can use so we highly advise you to get a Linkedin Sales Navigator license if you are willing to develop lead generation through linkedin.
If you are willing to get your linkedin marketing lead generation to the next level. I highly advise to use Sales Navigator.
How to Generate Leads Using Linkedin Sales Navigator?
Linkedin Sales Navigator is much more powerful than the classic Linkedin search engine.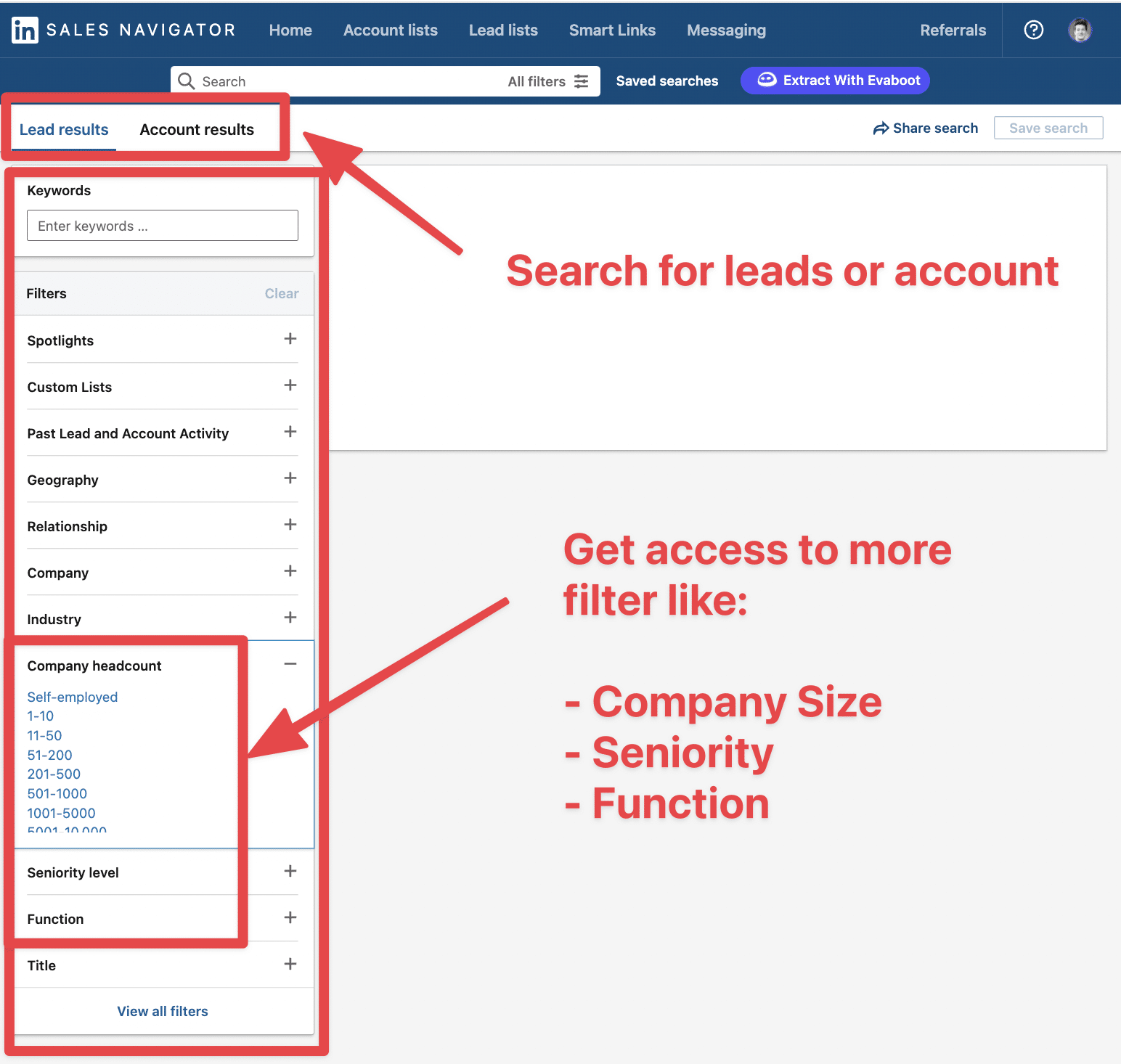 It can display up to 2500 for leads search results and up to 1000 results for the account search results.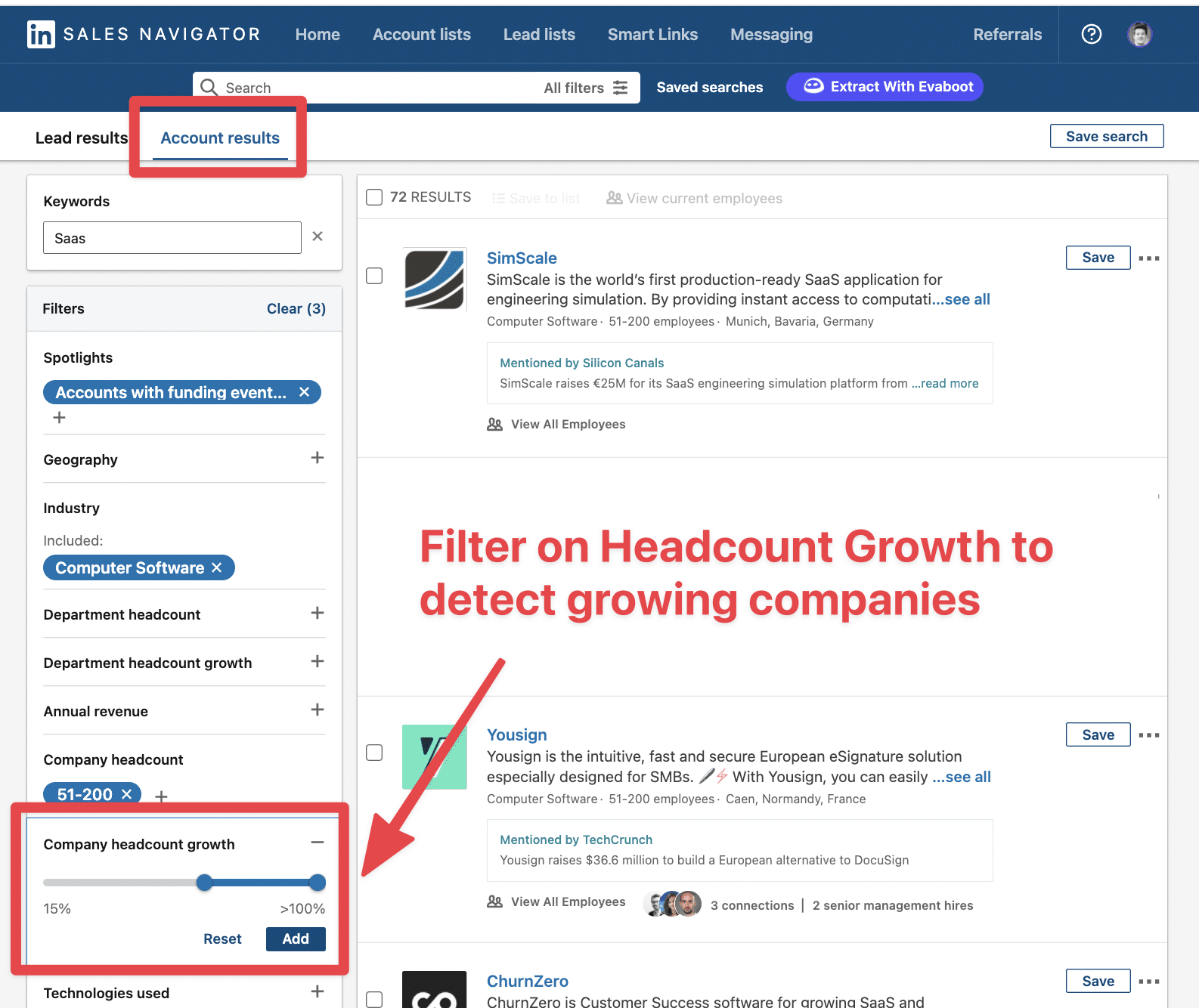 It has offer much more filters to ease lead generation via linkedin.

I have a made complete tutorial on how to generate more leads with linkedin sales navigator.

I highly advise you to watch it if you want to deeply understand the way the search engine works.
Linkedin Lead Generation Strategies to Find Emails & Phones
Once you have built your lead list on Linkedin basic search engine or Sales Navigator, you need to get contact details like emails and phone numbers.
This feature is not integrated into Sales Navigator so you will need to use third party tools.
Using Linkedin for Sales Leads Contact Details
Doing linkedin sales lead generation on your first degree connection is really easy because you have access to their contact details.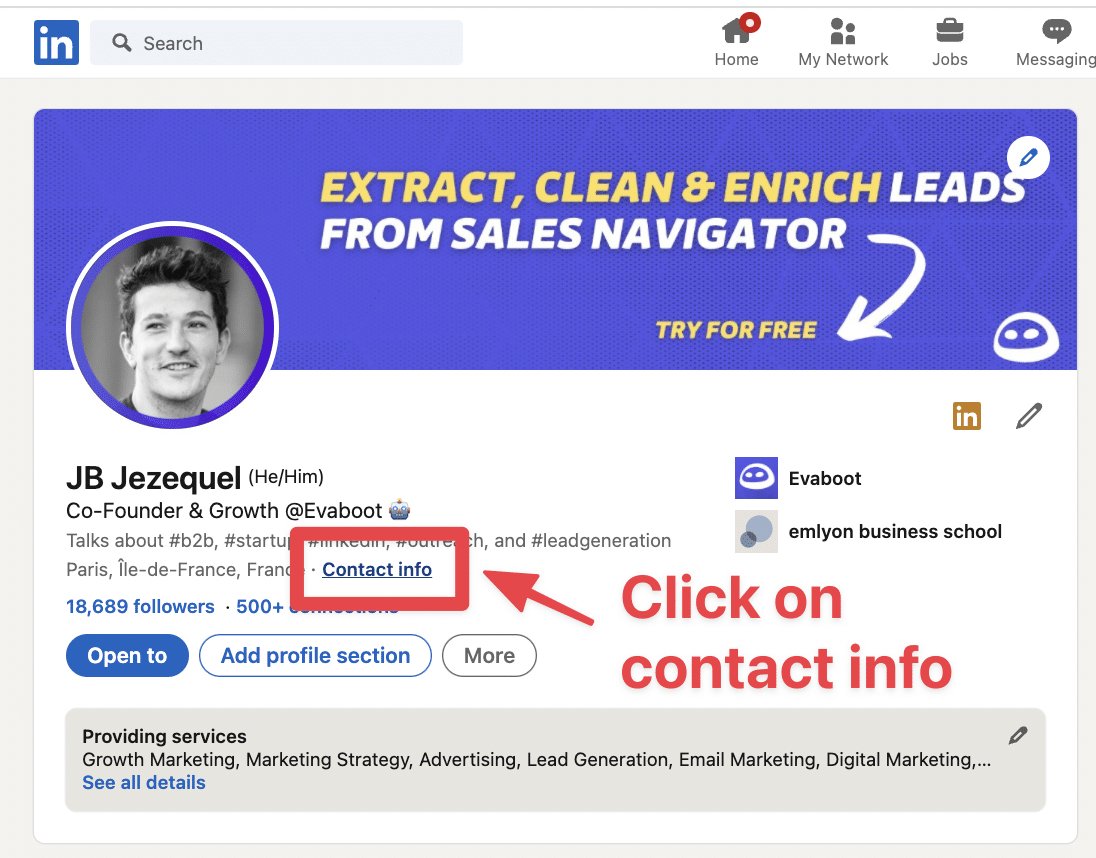 Simply go on the profile of your connections, click on contact info and you will be able to get emails and phone numbers if your connection have added them to their Linkedin profile.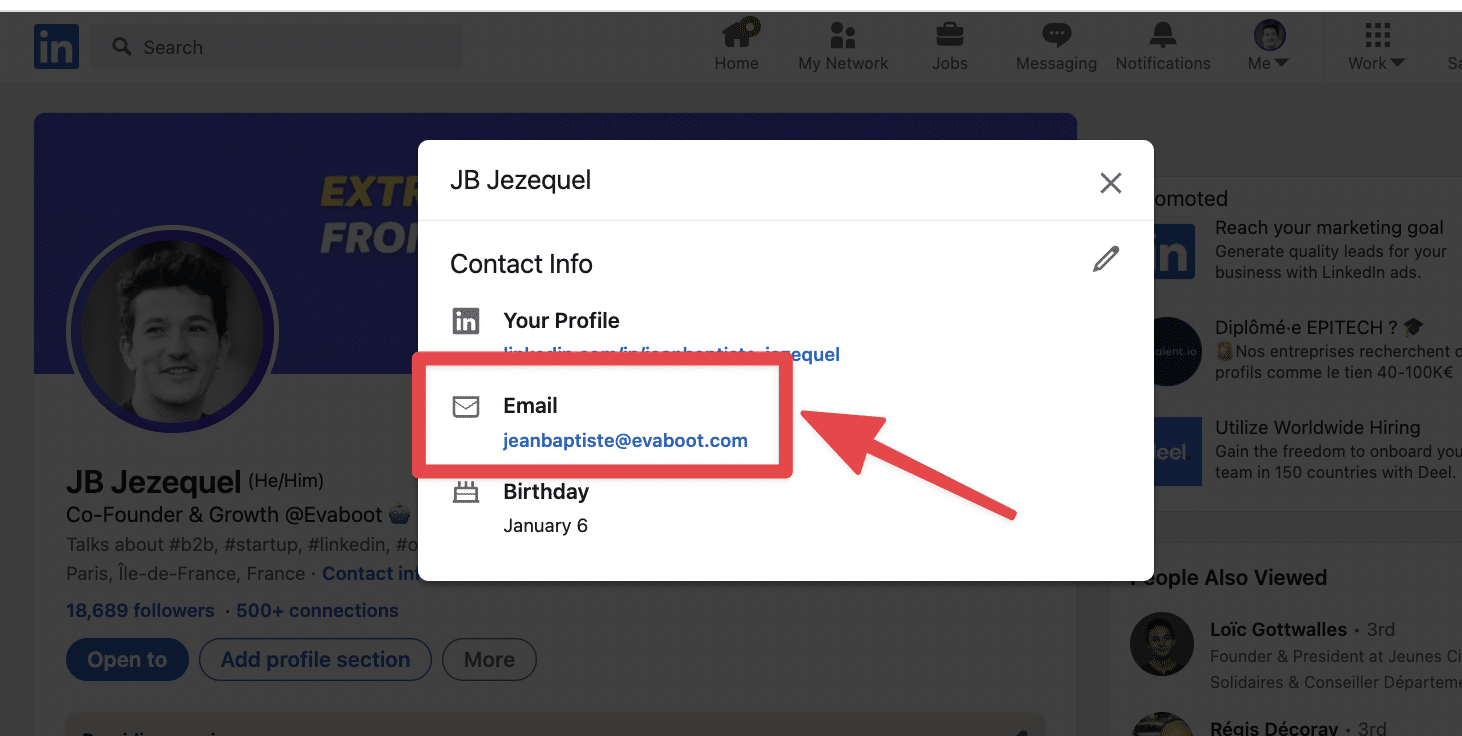 But for your 2nd & 3rd degree connection, you won't have access to this information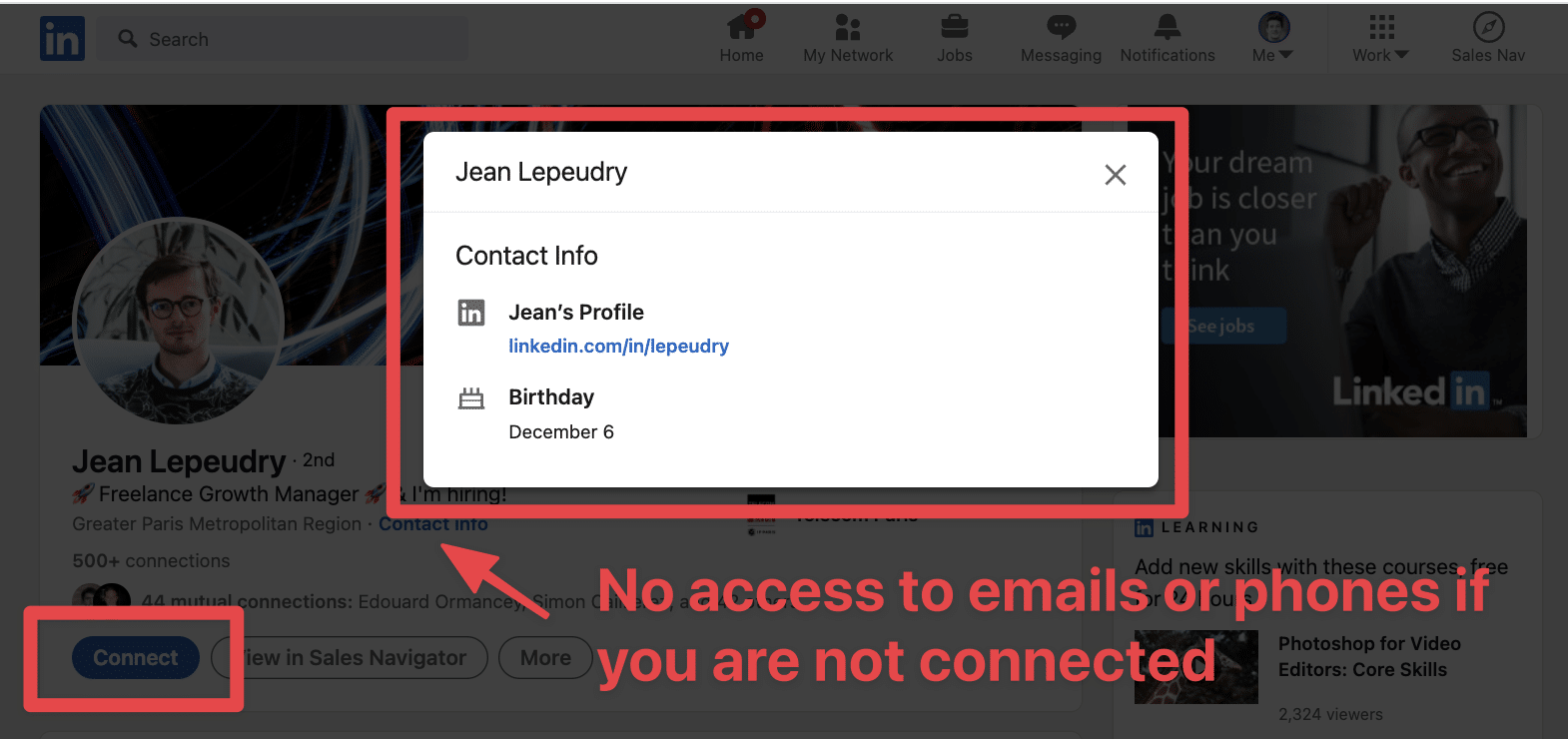 You are going to need some tools to find the emails and phone numbers of your prospects.
If you are using the basic linkedin search engine, you can't use Phantombuster and Dropcontact to extract the leads from your Linkedin searches and find their emails.
They are two really good lead generation tools for linkedin.
If you also need phone numbers you also can use Kasper:
How to Get Leads on Linkedin Sales Navigator with Emails & Phone Numbers
If you are using linkedin sales navigator to build your list. You can use Evaboot to extract your leads and find their emails. The process is detailed in this video.
You just need to download the Evaboot Chrome Extension and click on the button: Extract with Evaboot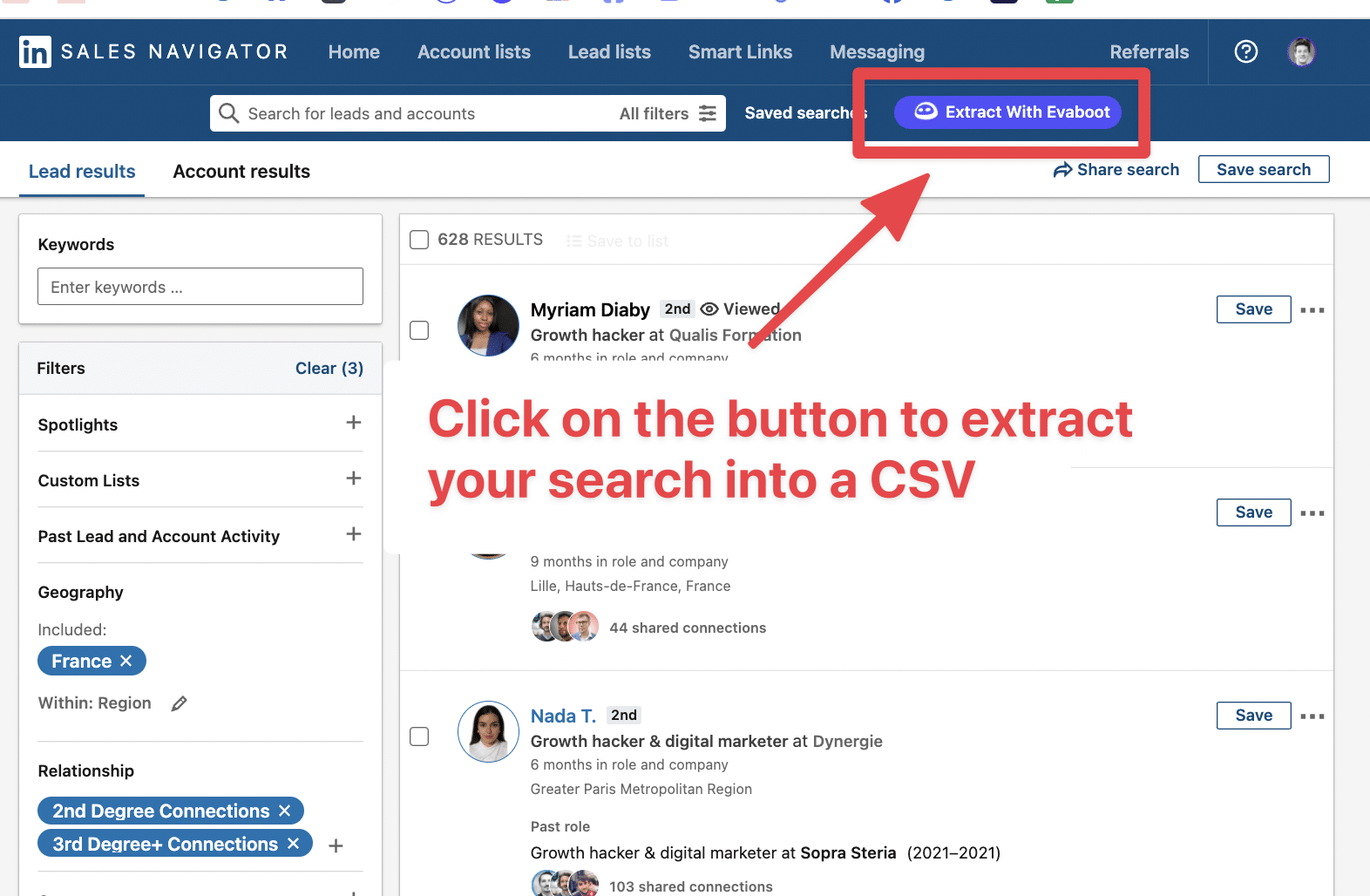 Then you will get all prospect and company information from Linkedin into a CSV.

Once the extraction is finished. You can click on "Find Emails" to find the emails of your prospects.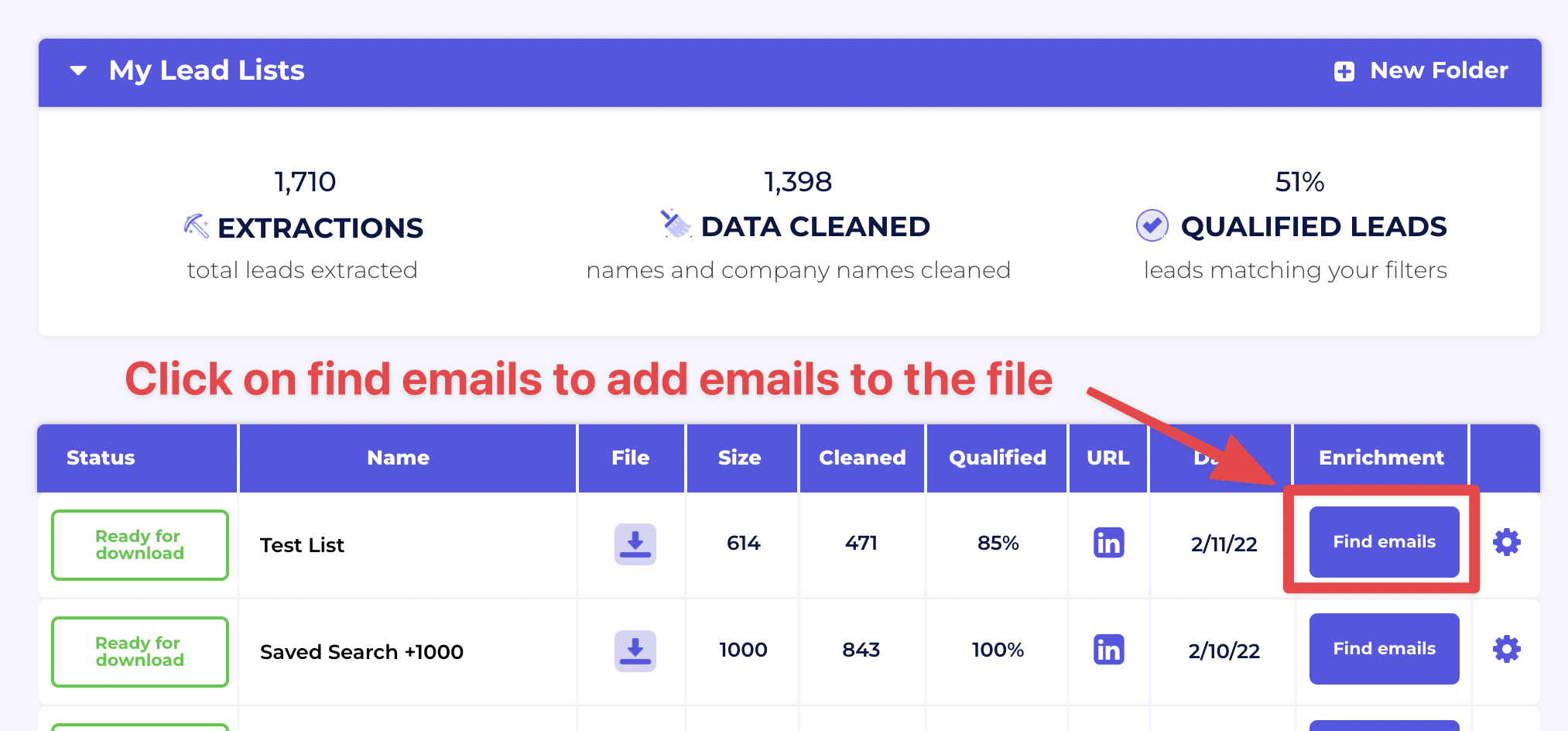 If you need phone numbers, you can take the Evaboot fill and use the import function of Rocket Reach.
How to Generate Leads using Linkedin Automation
Among the best linkedin lead generation tools you can use to automate your outreach are LaGrowthMachine, Waalaxy & Lemlist.
These tools will send linkedin messages and emails on your behalf so you just need to wait for the replies to fall into your inbox.
However, don't expect any good results if you messages are not good! That is why this is the first thing we talked about in this article.
Rule of thumb: don't automate anything that did not provide good results when you've done it manually. Scaling bad practices will only scale bad results.
How to Launch a Linkedin Lead Generation Campaign
I personally use LaGrowthMachine so I will make a demo using this tool. It is for me one the best tool you can on linkedin for B2B lead generation.
To launch a linkedin lead generation campaign with LGM, this is pretty simple.
Click Import Leads > CSV and upload your Evaboot CSV
Match the column with the right fields in the software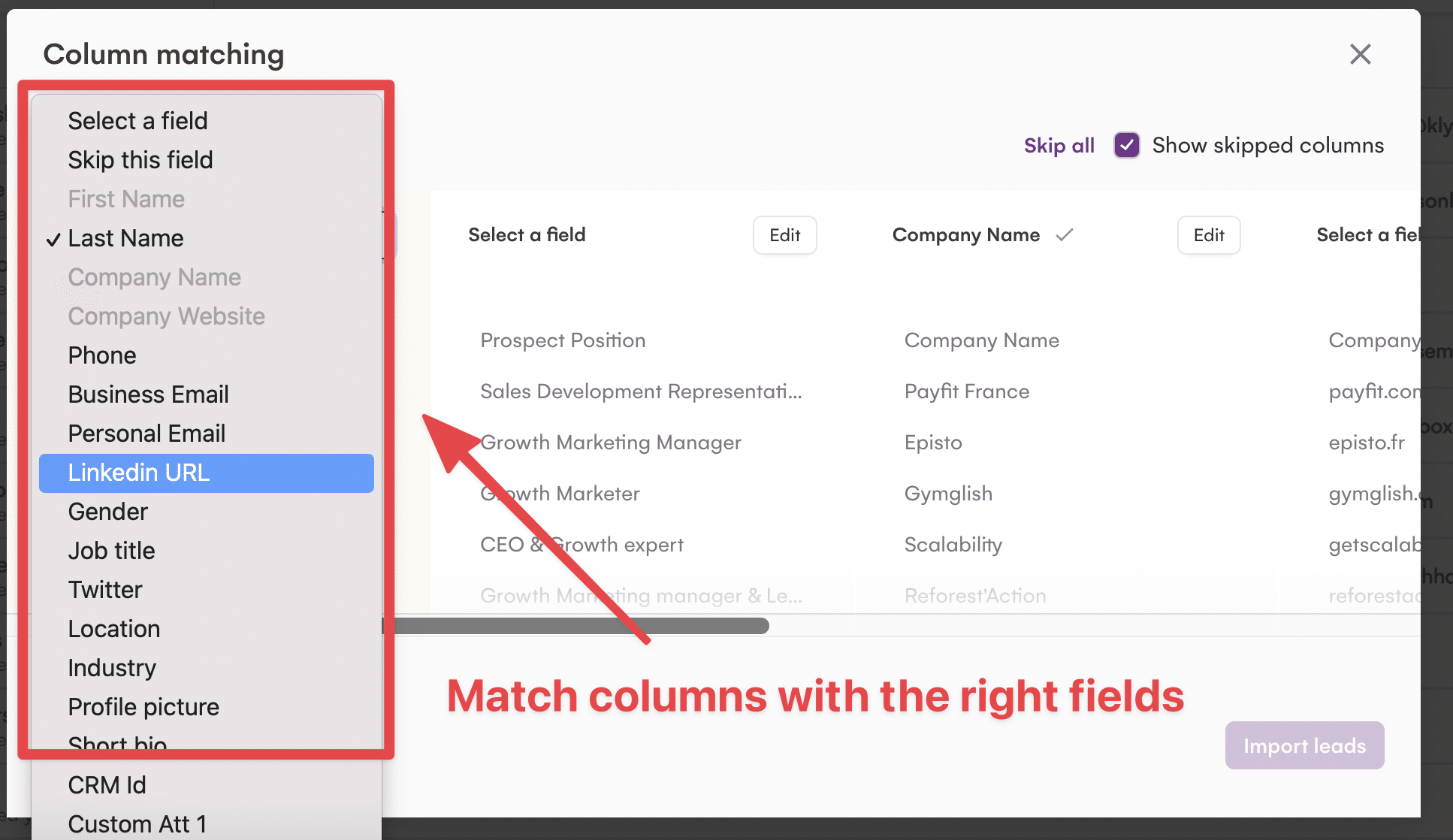 Give a name to your audience and give a description if necessary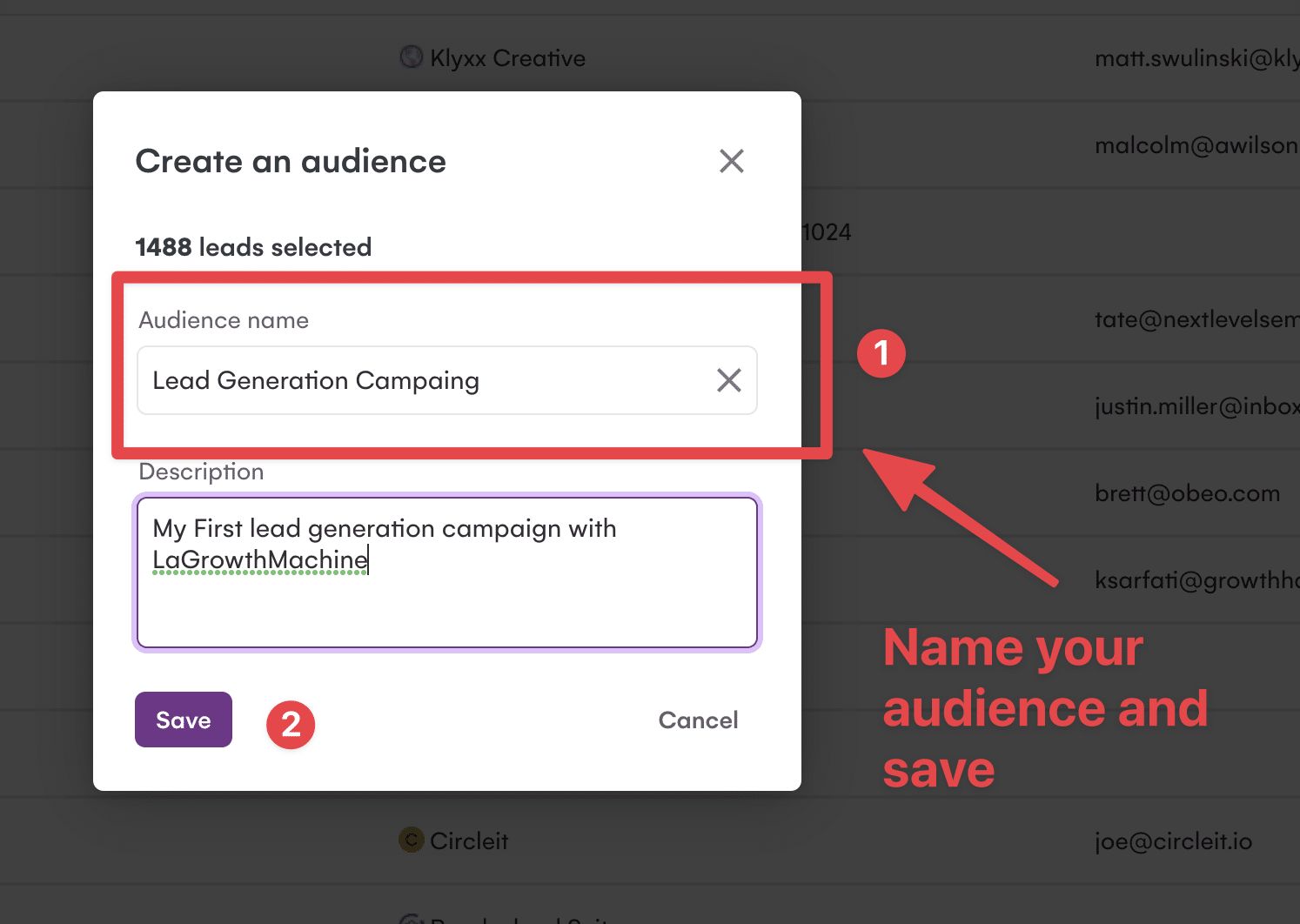 Go on Create Campaign > Select Linkedin and choose a template with 2 or 3 follow-ups.
Click on the squares to write your messages. You can add variables like firstname and company name to personalize your messages at scale.
Once your message are written. Select the audience you just uploaded an click on "Save & Launch"
Once Linkedin lead generation campaign is launch, you can follow the stats in the Engagement tab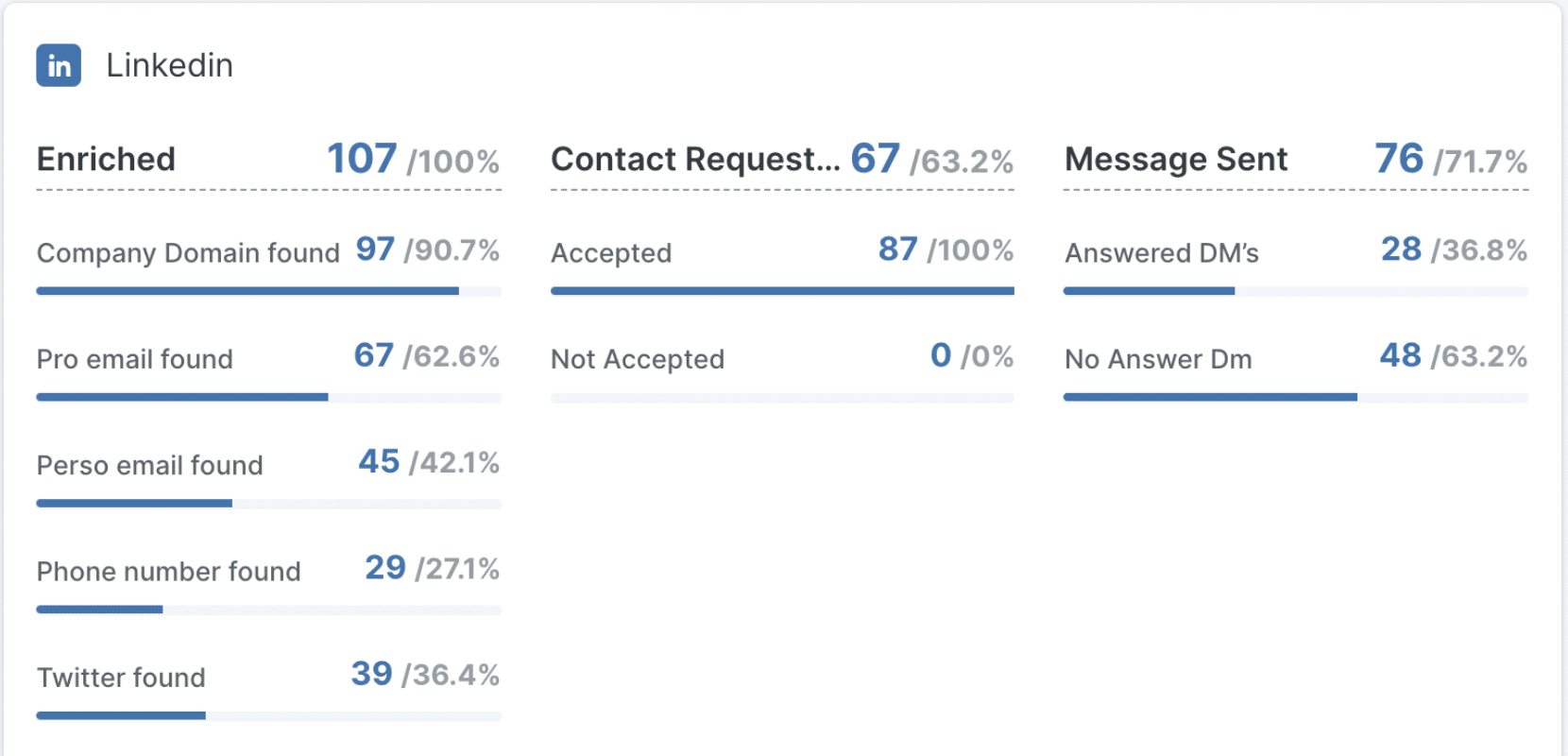 That's how you created an automated linkedin lead generation campaign.
If you want to launch a lead generation campaign on linkedin using Linkedin + Email + Twitter, you can take a look at the multichannel feature of LaGrowthMachine.
How to Generate Leads on Linkedin with Multichannel Outreach?
What makes LaGrowthMachine one of best linkedin tools for lead generation is the multichannel feature

The features allow you to contact your prospect using Linkedin, Email and even Twitter.

Here is how to create lead generation campaign in linkedin using multichannel outreach.

If someone is not accepting your invitation on Linkedin, you can change channel and send an email so he can see your message.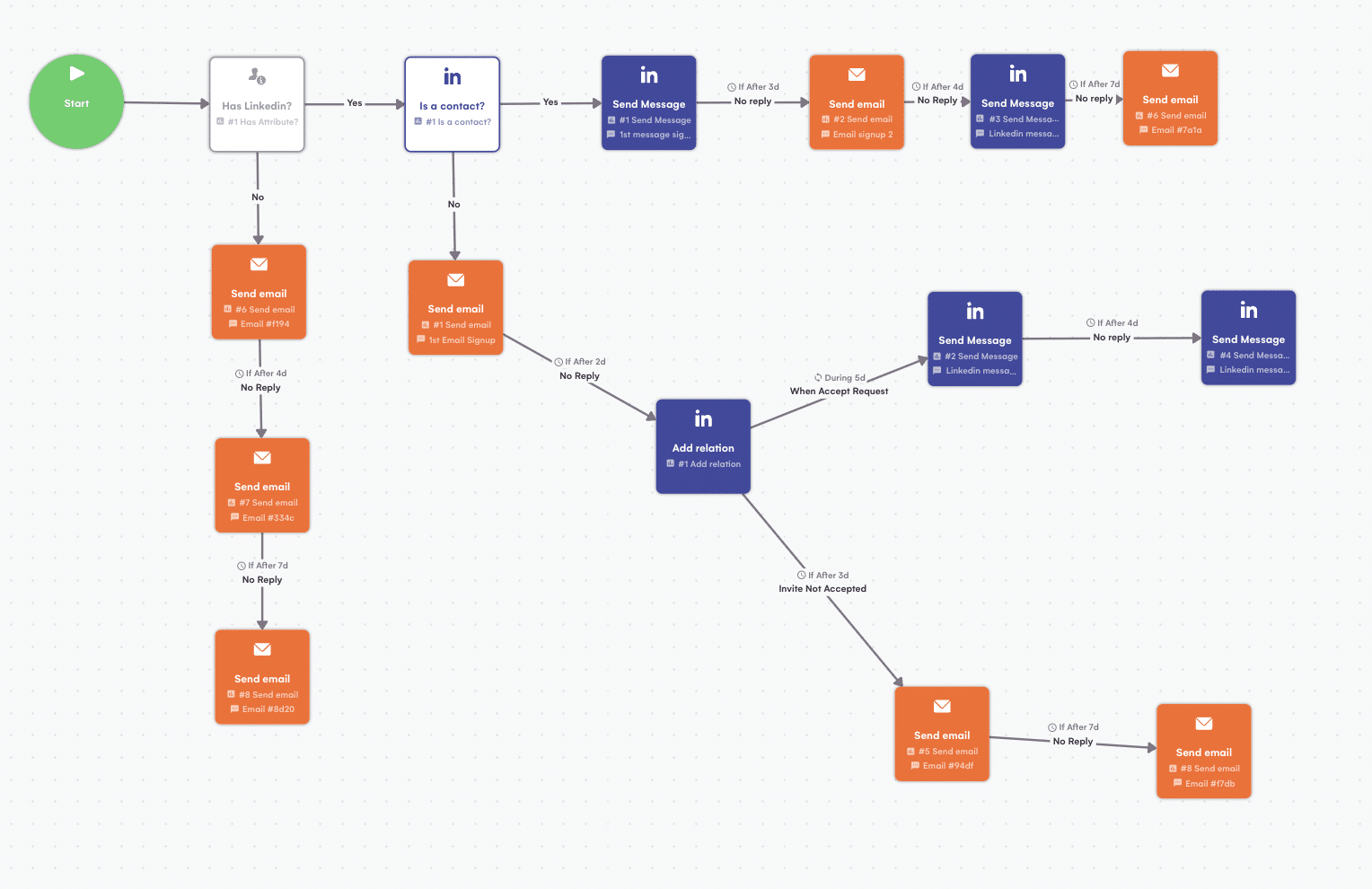 Here is a video explaining how the multichannel system works
Multichannel really increase reply rate. Here is an example of an email campaign with linkedin follow ups.
You can see that the Linkedin reply rate is much more higher than the email reply rate.