LinkedIn is the biggest B2B database you can find and allow to easily make contact with any decision maker 📧
There is so much possibilities that it can be hard to know where to start
It's better to begin with best practices in mind so you don't waist your first weeks of prospecting doing the basic errors 🤦‍♂️
If you're looking for LinkedIn sales prospecting tools and tips you can start using to get results from today...
You are in the right place 🎉
Here is everything to know to start your prospecting journey on LinkedIn ⬇️
5 Best Practices for LinkedIn Sales Prospecting
How to optimize your LinkedIn Profile?
How to target leads on LinkedIn?
How to write personalized LinkedIn messages?
What are the best LinkedIn Automation Tool?
PRO TIP: Publish Content to increase acceptance rate
1. How to optimize your LinkedIn Profile?
 If you don't have a killer LinkedIn profile yet, drop everything and complete it.
Think about what YOU are doing when you receive an invitation
You wonder: why should I accept this person? right?
You need to think of your LinkedIn Profile exactly as a website landing page.
Would you pay Ads or invest in SEO to drive trafic to page that is not optimized for conversion?
I guess not
Here is what you need to do transform your LinkedIn Profile into a high converting landing page.
1.1. Optimize Profile Preview and Notes
The preview of your profile must make your prospects click on Accept or on your profile picture to see your entire profile
To optimize that you need:
A professional profile picture
A well written heading showing that you can bring value to this person
A quick note if it's relevant

There is still debate on wether or not you should add a note to your connection request.
My advice here is: only add a note if it is super relevant
We all received stuff like: "I'd be happy to be part of your network!"
That is to say: "I don't know you but I'd really like to sell you something, hit my quota and have a promotion next year"
Don't pretend
Be direct about what value you can bring
Try to build a relationship instead of selling right away
People are exhausted to receive notes like this.
It will trigger a HUG RED FLAG if you send this type of notes 🚩
1.2. Optimize your profile as a Landing Page
If your prospects does not accept your invitation right away, it will check your profile to dig a little bit into who you are.
That's why you need to build trust and be clear on what you have to offer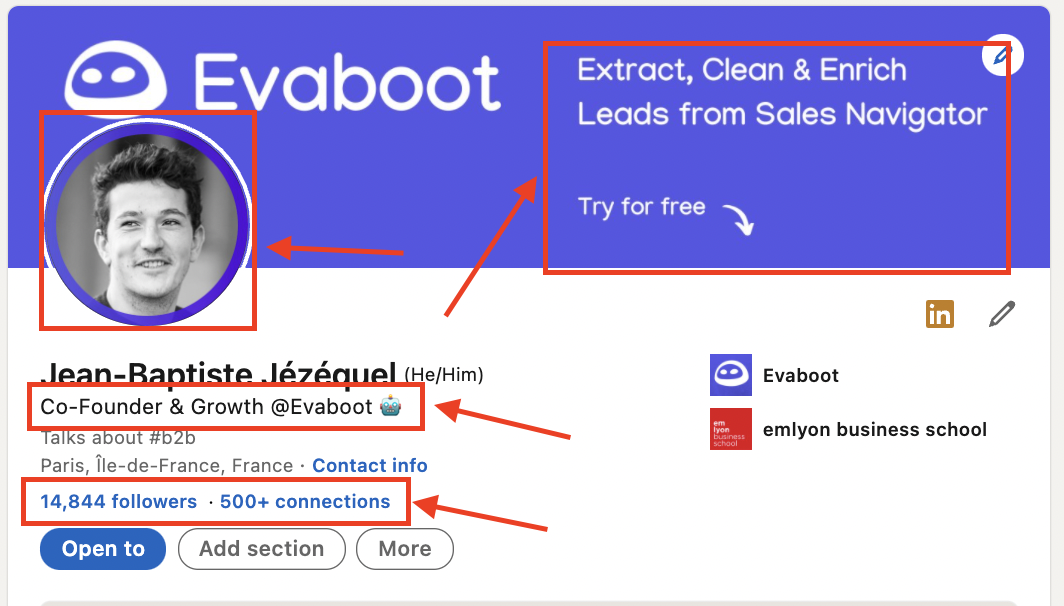 Here a the weapons you can use:
Professional profile picture
Banner with a description of what you do or a call to action
Catchy Headline
A decent amount of follower/connection so we know you are not a fake profile (you'd surprised of many they are out there)
Featured & Activities
Show your visitors that you bring value to people and you are active on LinkedIn
If you already posted some stuff on LinkedIn an get some likes, you can features post in the Featured section
Try to comment and post stuff time to time so your Activity section looks full and YOU look like a really dynamic person 😎
That's a good way to build trust and authority.
The About Section
If your headline is like the object of your email, The About section is the body.
Here you can detailed who you are, what you've accomplished and what value you bring to people
Put some thoughts into the first two lines because they need the visitors to want to See More of it
Job & Education
Add some details on what you accomplished in your different experiences.
It's better if you have figures or case studies to prove your point
Provide details on every experience
Add a link to websites or PDF documents
Link your experience to right company pages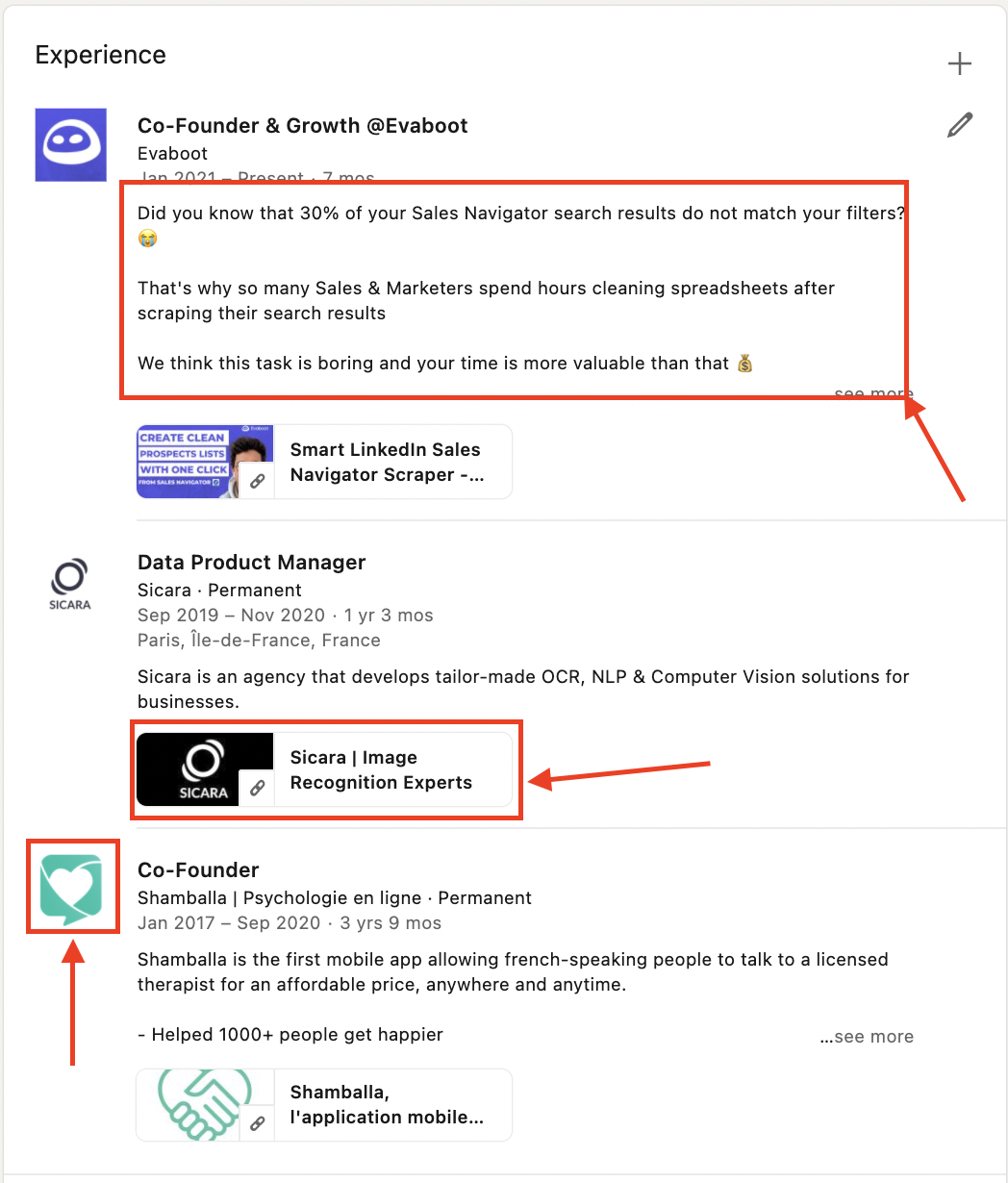 Skills & Recommendations
Ask your network and your clients to leave review on your profile (especially if you are selling services)
This is like the "testimonials" section of your website (again: always thinks of your profile as a landing page)
That's it! Your LinkedIn profile is optimized for conversion 😎
The next question is: Who do you want to see it?
2. Target the right audience
On LinkedIn, you can target people based on two things:
Who they are (the information on their profiles)
What they do (comments, groups)
2.1 Target people based on WHO they ARE
LinkedIn Basic provide a basic set of filters you can search your prospect with, but if you need to be really precise, you must get a LinkedIn Sales Navigator license
(and they don't pay me to say that 😂)
LinkedIn Basic search won't let you be really precise.
LinkedIn has absolutely no interest into transforming the basic search engine into a high performing tool because...
They want to buy the premium ⭐
They got a monopoly on B2B Data, so we don't really have the choice actually...
We explain everything in our complete sales navigator tutorial but basically you target people on:
job title
location
keywords in profile
industry
company size
seniority level
and many more...
Your mission is to recreate your Ideal Customer Profile (ICP) with these filters
2.2. Target people based on WHAT they DO
You don't need a Sales Navigator to target these people (even if it is easier with it)
2.2.1. How to Extract LinkedIn Group Members?
You can extract group members with a tool called Phantom Buster
Look for a group with the LinkedIn search engine
Join the group
Copy paste the URL into Phantom Buster
Launch the extraction
A few minutes later, you get all the group members into a CSV!
Then you can a message to this audience:
Hey,
I saw that you are also a member of <group_name>. I just joined it because I'm also really interested in <group_subject>
...
2.2.2. How to extract people who commented a LinkedIn post?
Commenting a post is a great sign of interest
If you see a post in your niche with a lot of comments, you just need to copy paste the URL and put in Phantom Buster to extract people who commented it.
Then you can a message to this audience:
Hey,
I noticed that you commented the post of <name> about <name. I also follow him I really love his content...
So I guess you're trying to figure out how to <subject_of_the_post> ?
...
2.2.3. How to extract people participating to a LinkedIn Event?
Attending to an event is an explicit sign of interest
You can totally leverage that to break the ice with the attendees!
Look in PhantomBuster for the "LinkedIn Event Guests Exporter", copy-paste your URL and launch the extraction!
PS: You need to click on "Attend" to get access to the list of attendees.
Then you can a message to this audience like:
Hey,
I noticed that you will attend to <event_name> the <event_date>....
3. How to write personalized LinkedIn messages?
We've just seen that you could break the ice with:
Here are some other techniques
1. Insert personalized Images in your LinkedIn messages
I recently discovered a tool called Uclic.co that allow to add personalized messages inside LinkedIn messages
People often react to it in a good way and they appreciate the extra effort put into message.
Plus, they see your face so they know who they are talking to 😎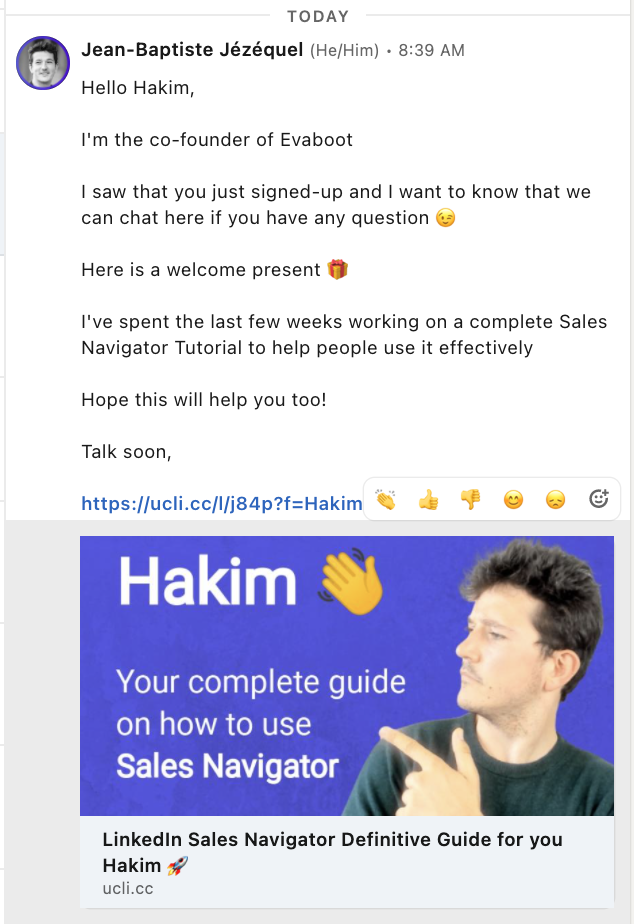 1. Ask a specific question
Send a message (or a voice message) on something you've seen on the news.
For that you can use the Sales Navigator Homepage.
2. React on a achievement
"Just watched your interview on [Podcast]. Great stuff! Particularly enjoyed [relevant personalization]"
3. Leverage a referral
"[Common connection] suggested we should get in touch. She mentioned your fierce battles with email deliverability and spam filters.
4. React on a post
"Just read your post about [Topic], very inspiring. Could you tell me more about X? I'd love to understand a bit more your strategy"
This is really easy with Sales Navigator because you get alerts every time one of your prospect share a post.
5. A referral to a conference
"I've seen we've both attended to the [ConferenceName], what an amazing conference it was! I particularly loved when [your favorite part], I'd be happy to hear your thoughts on this!"
6. A request for feedback to someone who engage on your post
"Thanks for your like on my post about [Topic]. I'd love to hear your thoughts about [Content you published]"
3.What are the best LinkedIn Automation Tool?
Ok so your LinkedIn Profile is optimized
Your audiences are ready.
Now it's time to shoot! 🔫
In an ideal world, every message to your prospects would be ultra-personalized.
In the real world though, we have not enough time.
But there's still a way to reach out to your prospects in a unique way at scale in your LinkedIn prospecting strategy.
And that is: LinkedIn & Email Automation tools
There is plenty of tools out there
I highly recommend LaGrowthMachine.
That's the tool we use at Evaboot and we absolutely love it.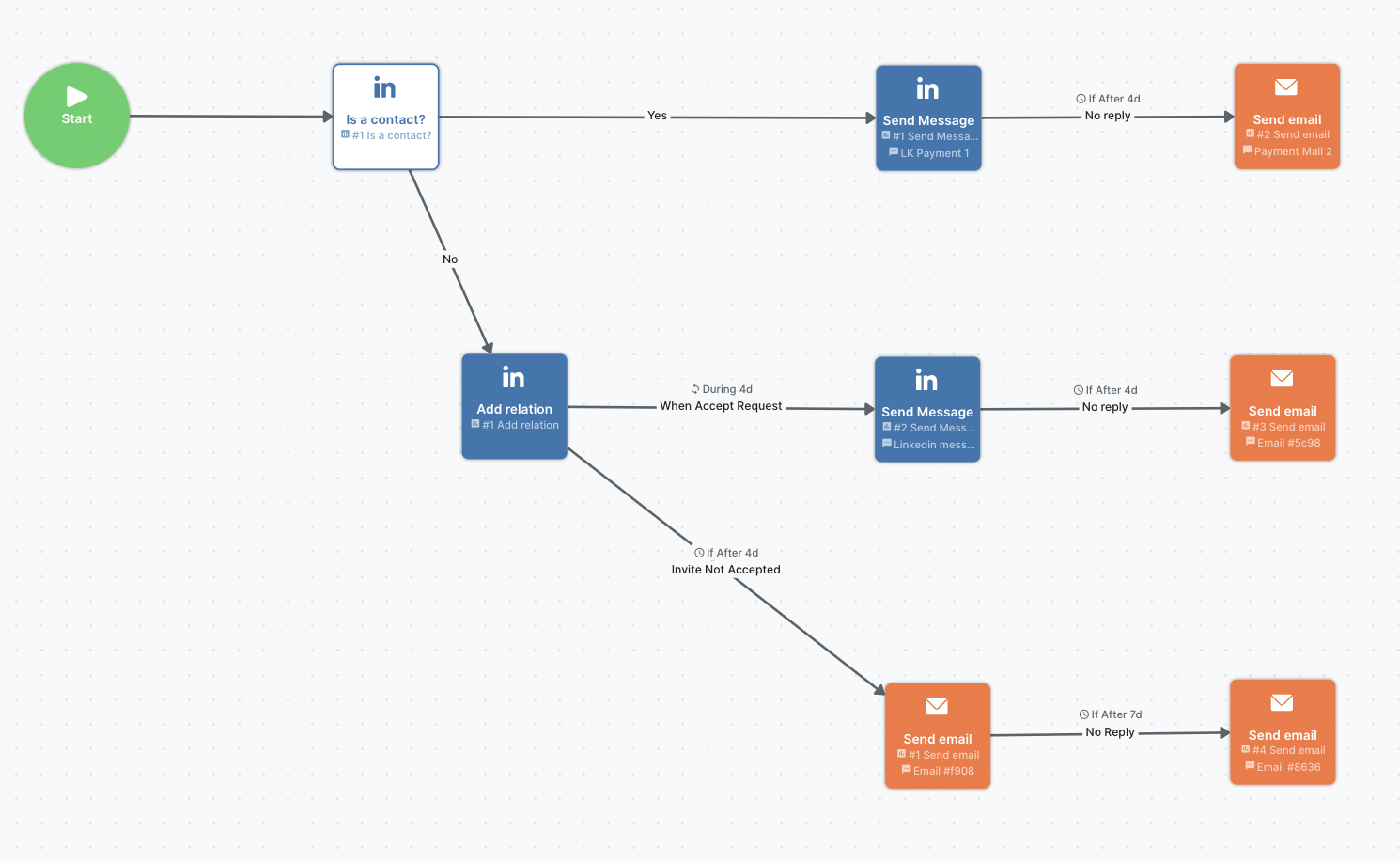 Here why:
The automations run on your computer, not in the cloud. So it is muuuuch less likely to be detected by LinkedIn. This is much safer for your LinkedIn account.
You can run multichannel sequences (LinkedIn, email, twitter) that increase reply rate by 32%
There is an email finder integrated, so you don't have to pay another tool to find emails
The interface is really intuitive and visual
You can obviously personalized your messages with custom variables:
The killer stack we recommend to use to prospect on LinkedIn is this:
LinkedIn Sales Navigator (Raw data): 64,99$
Evaboot (Data extraction, cleaning and filtering): from 19$
LaGrowthMachine (Email Finder + Automation): from 95$
That way you can:
Build your lead list with Sales Navigator
Extract them and clean them with Evaboot
User personalized multichannel sequences to contact them with LGM
4. Publish Contents to increase acceptance Rate
If you already know the person sending you an invitation on Linkedin, you are obviously much more likely to accept
That's why brand & personal awareness can help you increase your acceptance rate on LinkedIn.
For example, every time someone signup to Evaboot, I add them on LinkedIn. Results: 68% acceptance rate
For the outbound campaign, the acceptance rate is at 40%
You can see here the importance of timing and relationship.
So what's the link with LinkedIn posts?
Well, each time you make a post, LinkedIn will show it to:
First, people in your personal network
Your 2nd circle if you had some success
3rd circle if it goes viral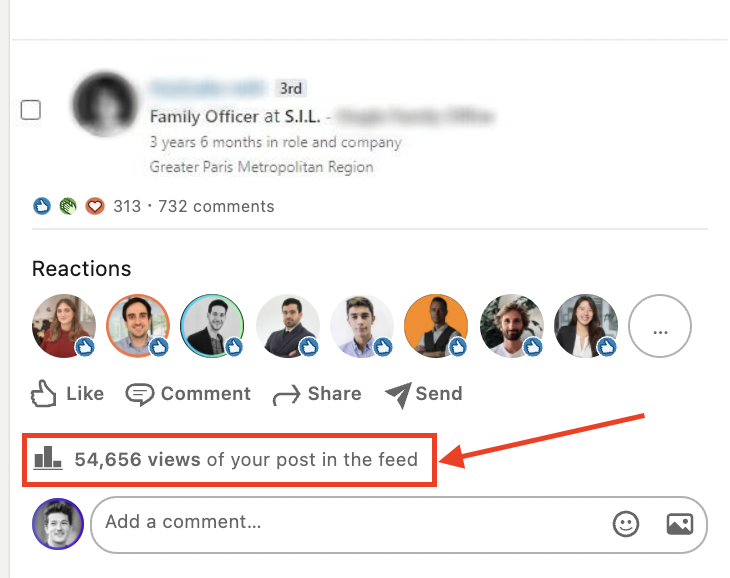 If your LinkedIn post reaches thousands of people every time, you'll be likely to reach the people you will invite in your future outbound campaign.
They may be like : "oh this face looks familiar" and accept your request.
So if you want to transform LinkedIn prospecting into one of your main channel of acquisition, be sure to post great content as well.
That's will help your prospecting efforts!