Multichannel cold outreach is more and more popular among SDRs and sales reps.
Why is that?
We explain everything in this post.

Let's dive right in.
What is multichannel Cold Outreach?
Multichannel outreach is the process of using multiple channels to reach out to your leads. An example of multichannel cold outreach could be to start by sending emails, then linkedin messages and finally try to call your lead on his phone if you get no reply.
Why multichannel approach is better than single-channel approach?
Multichannel campaigns get better than single channel campaigns for 3 reasons:
Multichannel makes makes your approach less pushy
You will never find 80% your prospects' emails
The effort of switching channels is appreciated by prospects
1. Multichannel makes your approach less pushy
When you follow up more than 3 times on the same channels. Your approach start to look a bit pushy to your prospects.
Nobody like to be harrassed by strangers especially if their messages are not personalized.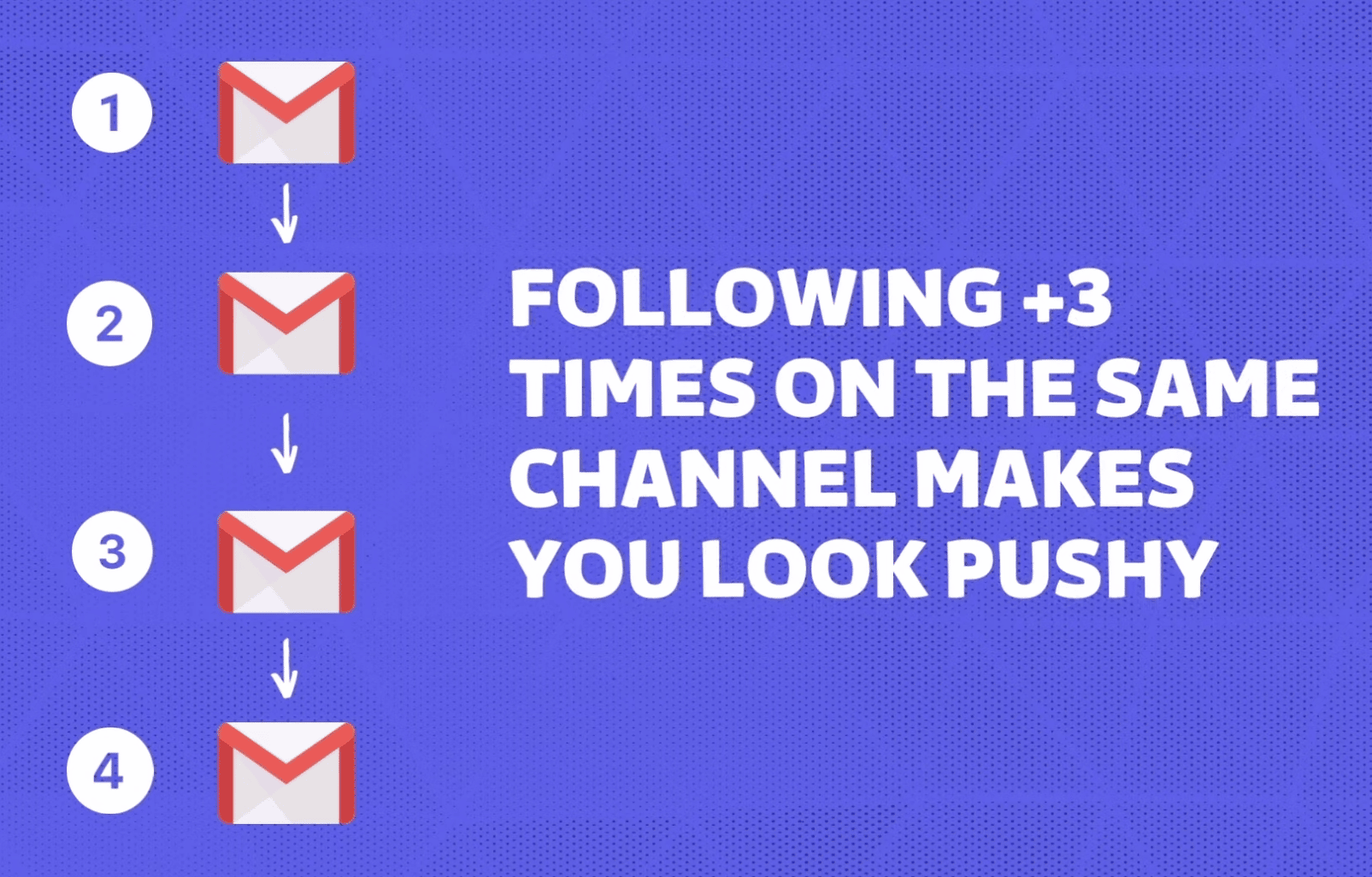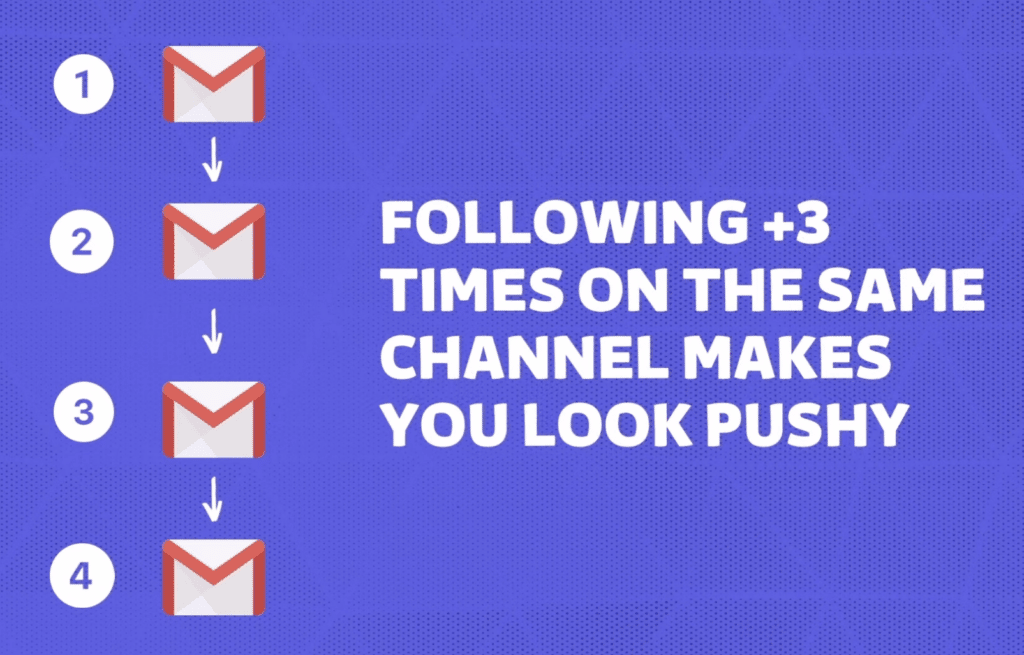 On the contrary if you multiply touchpoints and switch channels while you follow-up, your follow-up messages will look like a brand new conversation.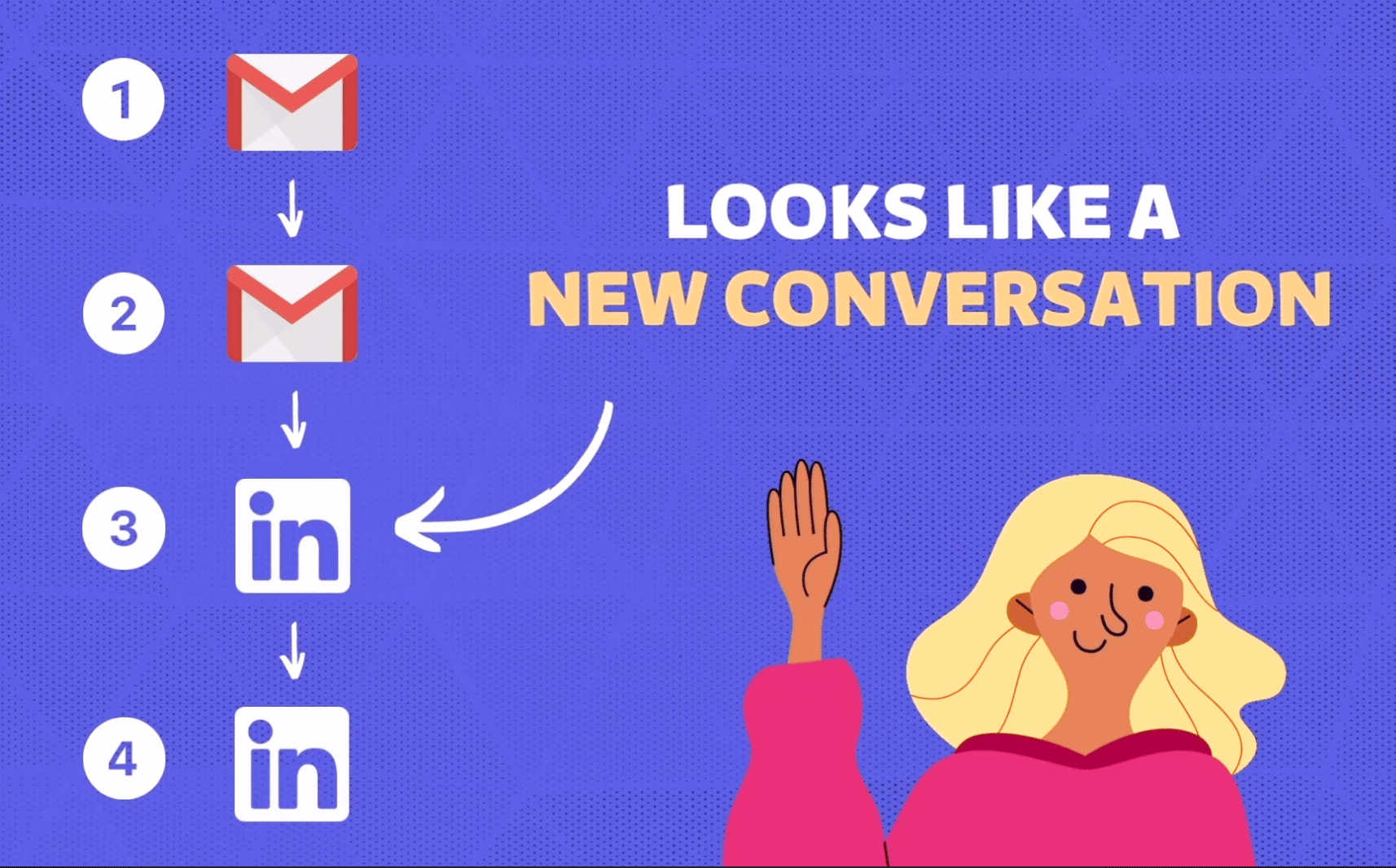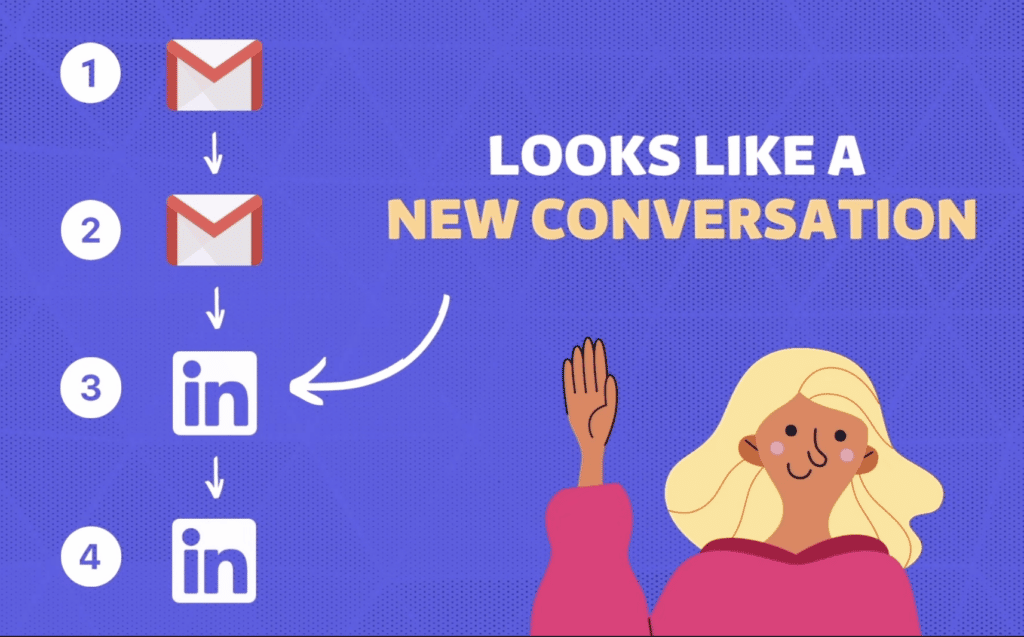 This give a "fresh start" to your approach and make your prospects totally reconsider your offer as he might not even remember you sent hit an email.
2. You will never find 100% of your prospects' emails
If you focus only on cold emails, you will end up abandoning leads without emails. That's a shame because if you put these leads into your list in the first place it's because you thought they were potential customers.
Most email finders will find 70-80% of the emails in your lead list. You can't abandon 20% of your leads time you launch a prospecting campaign.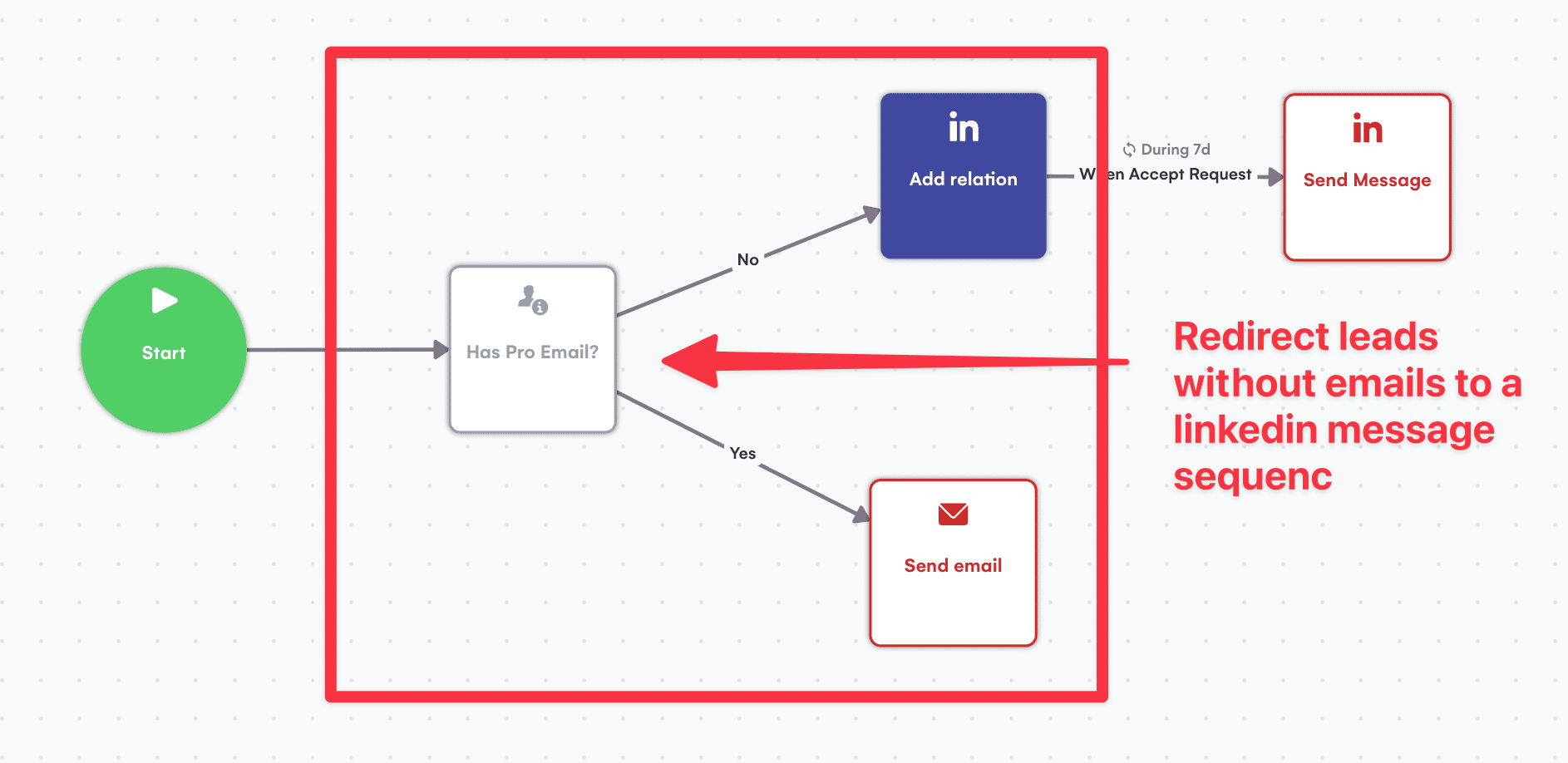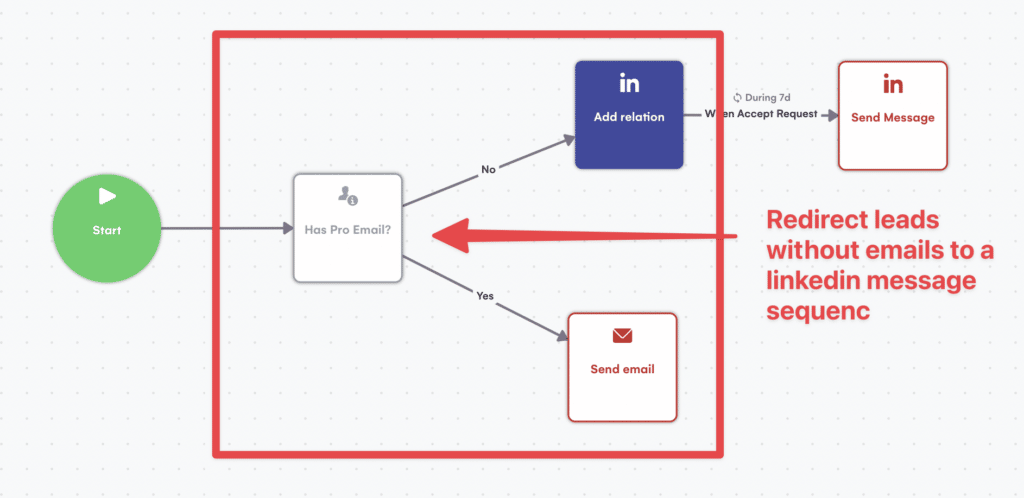 Using email and linkedin automation solve this problem by sending leads without emails into Linkedin message sequences.
Linkedin is a super efficient fallback in case you can't find the emails of your leads.
3. The effort of switching channels is appreciated by prospects
The fact that you make the effort to do some research and switch channel is really appreciated by your prospects.
By doing that, you differentiate yourself from the competition by making an extra effort to reach out to your prospect.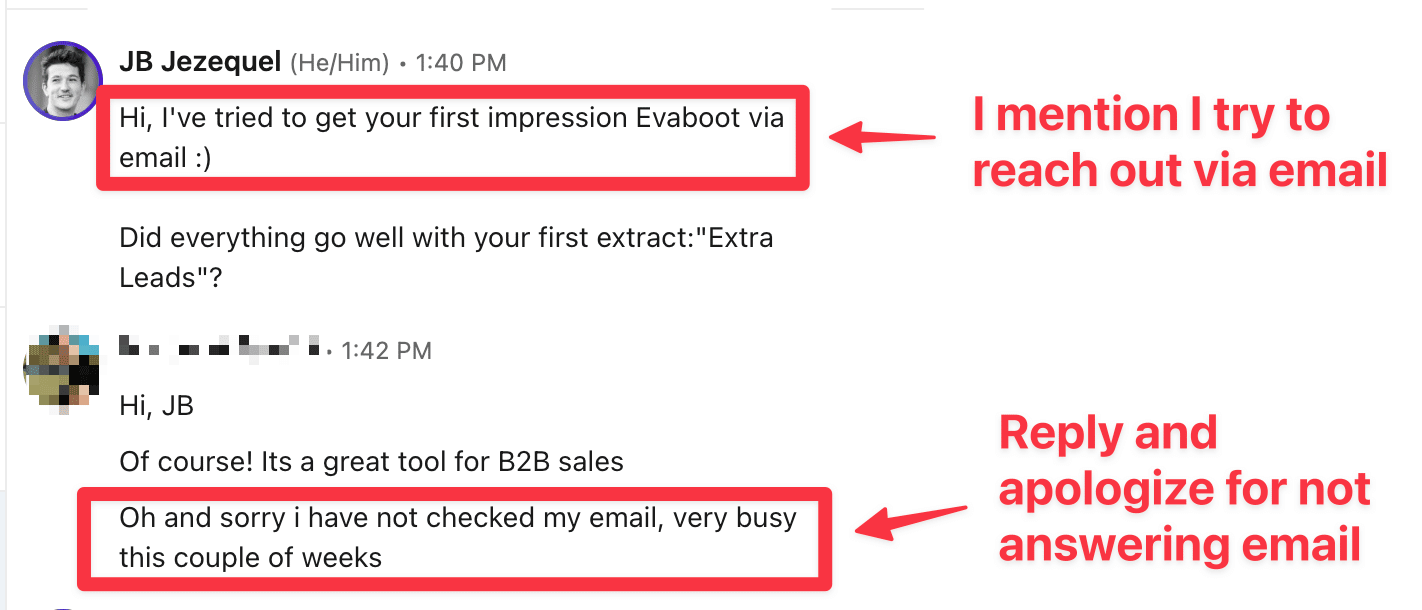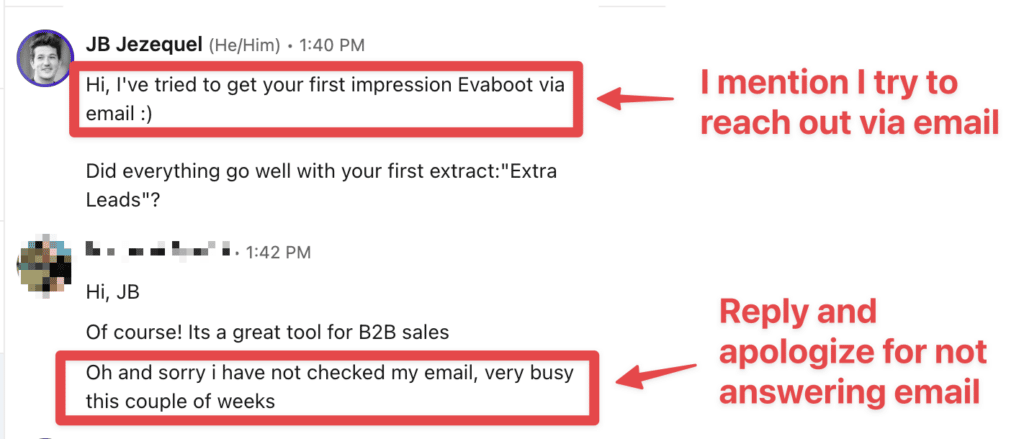 I have noticed that this create a kind of debt in your prospect's mind.
When someone is making a lot of effort to reach out to you, you feel like this effort should be rewarded and deserve a reply.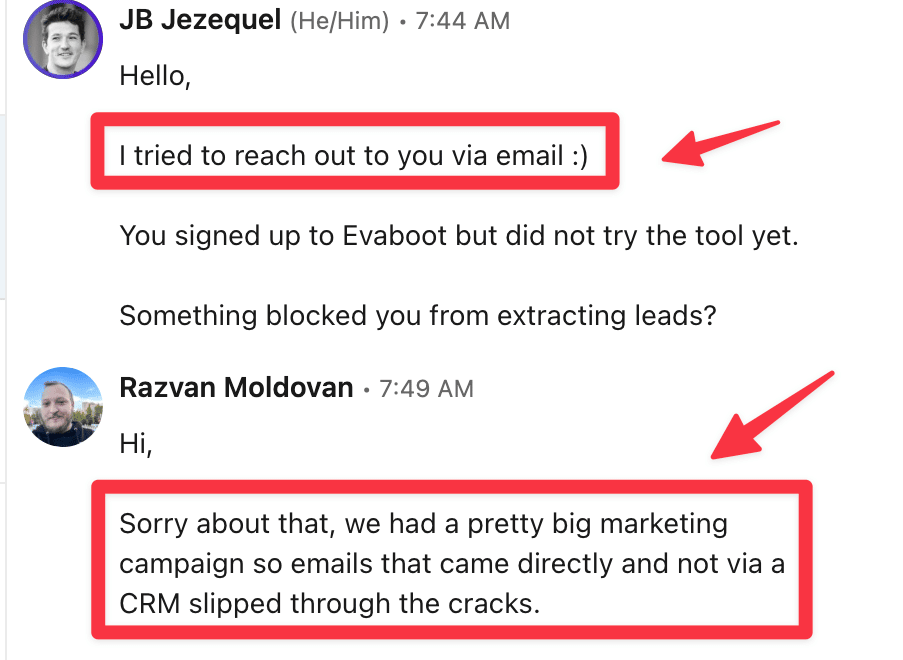 The Different Channels You Can Use For Cold Outreach
There are 4 channels you can use for cold outreach:
Email
Linkedin
Cold Calling
Twitter
1. Email
Email is the most common prospecting channel. It's easy to set up and easy to scale, as you can send up to 200 emails per day per email address.
However, you need to collect the emails of your leads and will never found 100% of them. You also need to take care of your deliverability to avoid spam.
2. LinkedIn
LinkedIn is the 2nd most popular prospecting channel. You can contact people by sending connections request or Inmails.
The huge advantage of LinkedIn is that all LinkedIn profiles are public, so it will be easy to contact your leads there as long as they have a LinkedIn profile.
However, to be able to send messages, you will need your leads to accept your connection request first. This is the only drawback compared to email, where you can land directly in the inbox.
The best way to build a lead list using LinkedIn is to use Sales Navigator. Here is a video explaining how to proceed:
3. Cold Calling
If your target does not reply to your emails and LinkedIn messages, you might want to try to find their phone number and cold call them.
Here is how to find phone numbers from LinkedIn:
What is nice about integrating cold calling into multichannel sequences is that you can mention your email and LinkedIn messages in the call.
That way, you don't appear like a stranger. The fact that the prospect didn't reply to your message also gives you a legitimate reason to call them.
4. Twitter
Twitter is not the most popular B2B prospecting channel, but many people are posting and consuming B2B content there.

The good thing is that Twitter inboxes are way less flooded than email and LinkedIn ones. You might have a good change to stand out and get many replies.

If your potential customers are present on Twitter, it definitely worth a try.
How To Get The Most out of Multichannel Cold Outreach?
Here is how to get the most out of multichannel cold outreach:
Use a solid multichannel cold outreach tool
Extract emails and Linkedin URL's from Linkedin
Personalize your messages
Always start with emails
Warmup your emails and Linkedin account
Keep track of all interactions in your CRM
1. Use a solid multichannel cold outreach tool
There are more and more prospecting tools that allow to build multichannel cold outreach sequences now:
Lemlist
Expandi
Waalaxy
And more…
I personally use LGM as they sequence builder is really visual and the product is really solid. Your prospecting campaigns can quickly become a mess if your outreach tool is not technically solid and LGM never fails.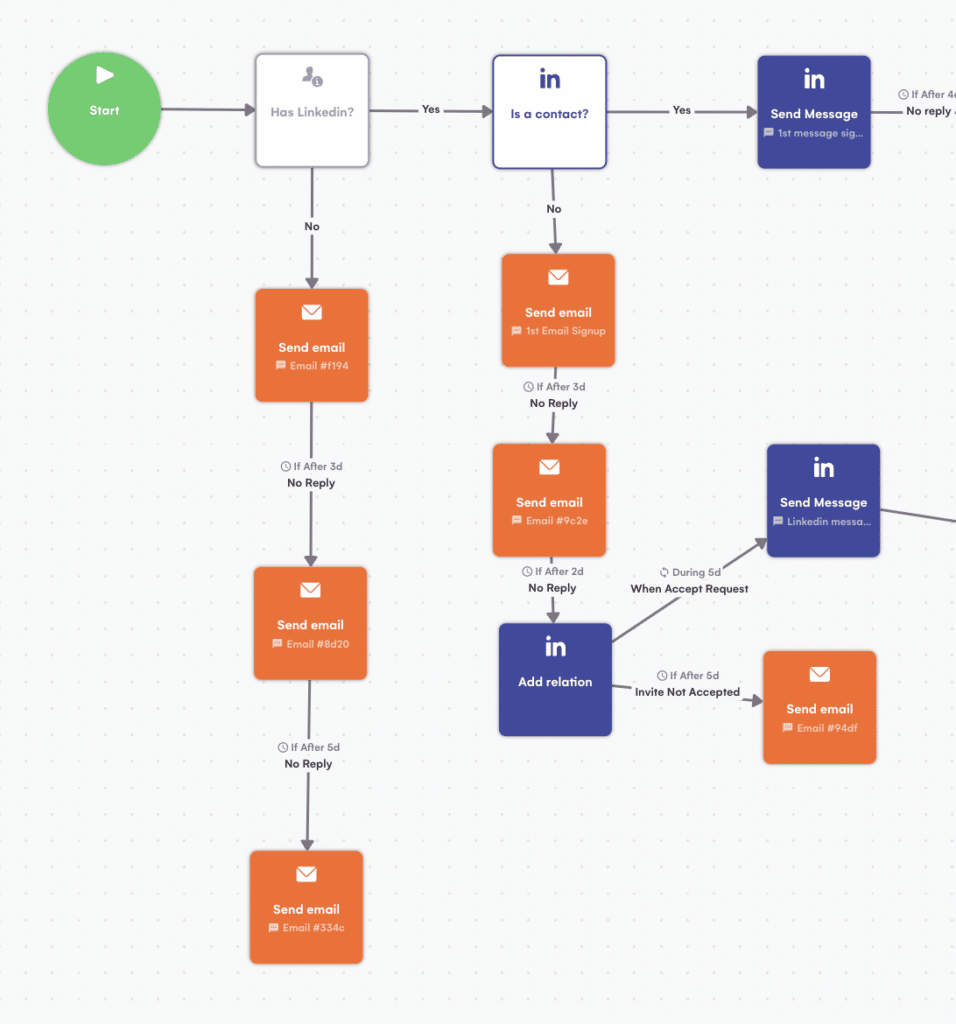 2. Extract emails and Linkedin URLs from Linkedin
To launch your first multichannel outreach campaigns you will need build email lists. To easily do this the best thing is to use Linkedin Sales Navigator + Evaboot.

3 steps:
Build your lead list on Sales Navigator
Extract the data into a CSV with Evaboot (including linkedin URLs)
Find email with Evaboot
Once you have your lead list enriched with professional emails, you can upload it into your favorite outreach tool.
3. Personalize your messages
You can have 1000's of leads and the best outreach tool in the world, you won't generate meetings with qualified leads if you don't work on the copywriting of your linkedin messages and emails.

Your messages should be:
Short
Personalized
With a clear proposition value
Here is a video explaining how to write cold outreach message that get replies
4. Always start with emails
You should always start your multichannel cold outreach sequence as you can send:
As you can see, linkedin connection requests and inmails are a scarce resource. You don't want to waist them.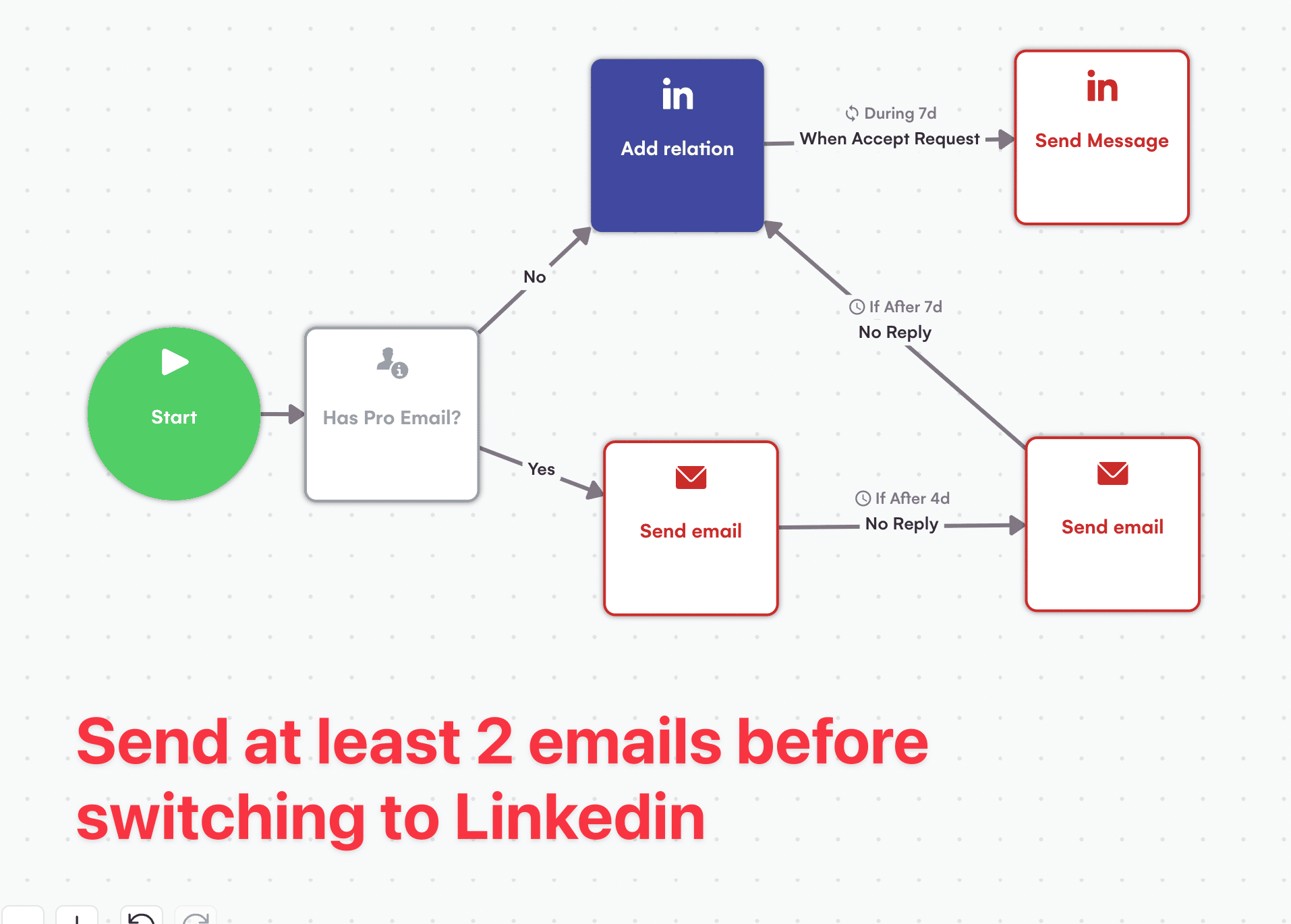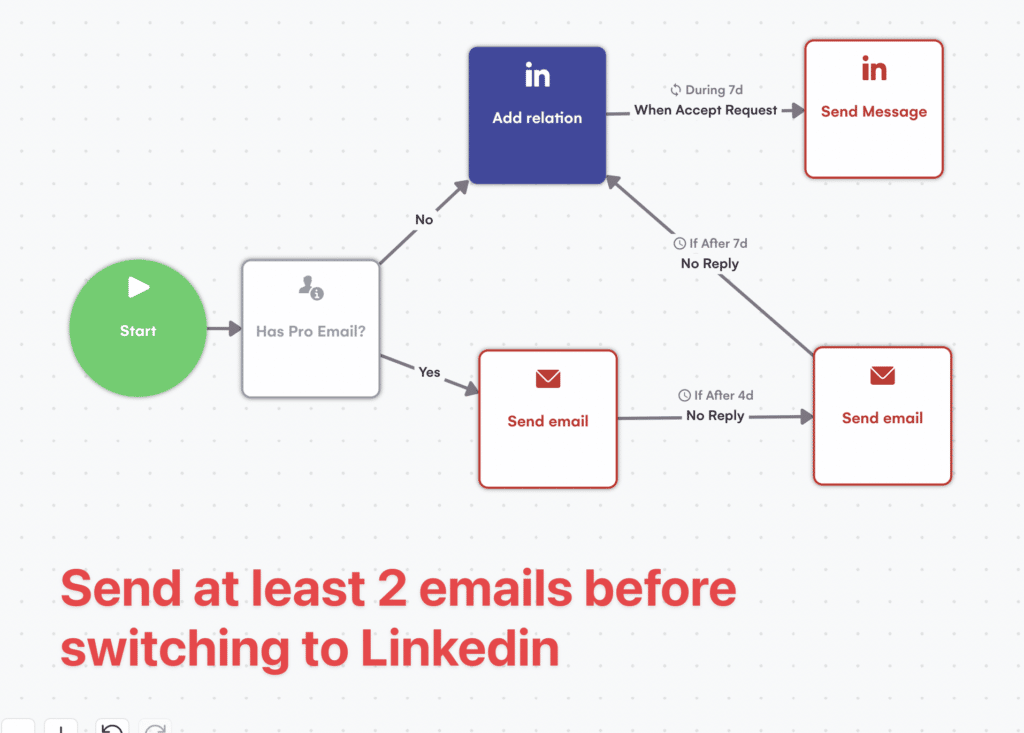 That is why it's better to save them for leads without emails and leads who don't reply to your emails.
5. Warmup emails and Linkedin accounts
If you are just getting started with linkedin outreach, you need to warm up your email and linkedin account.
If you start sending a lot of messages right away, there is a risk for your emails to land in spam and your linkedin account to be restricted.
To warm up your emails, you can use a solution like Mailreach which is really efficient to avoid spam when start sending cold emails with a new domain.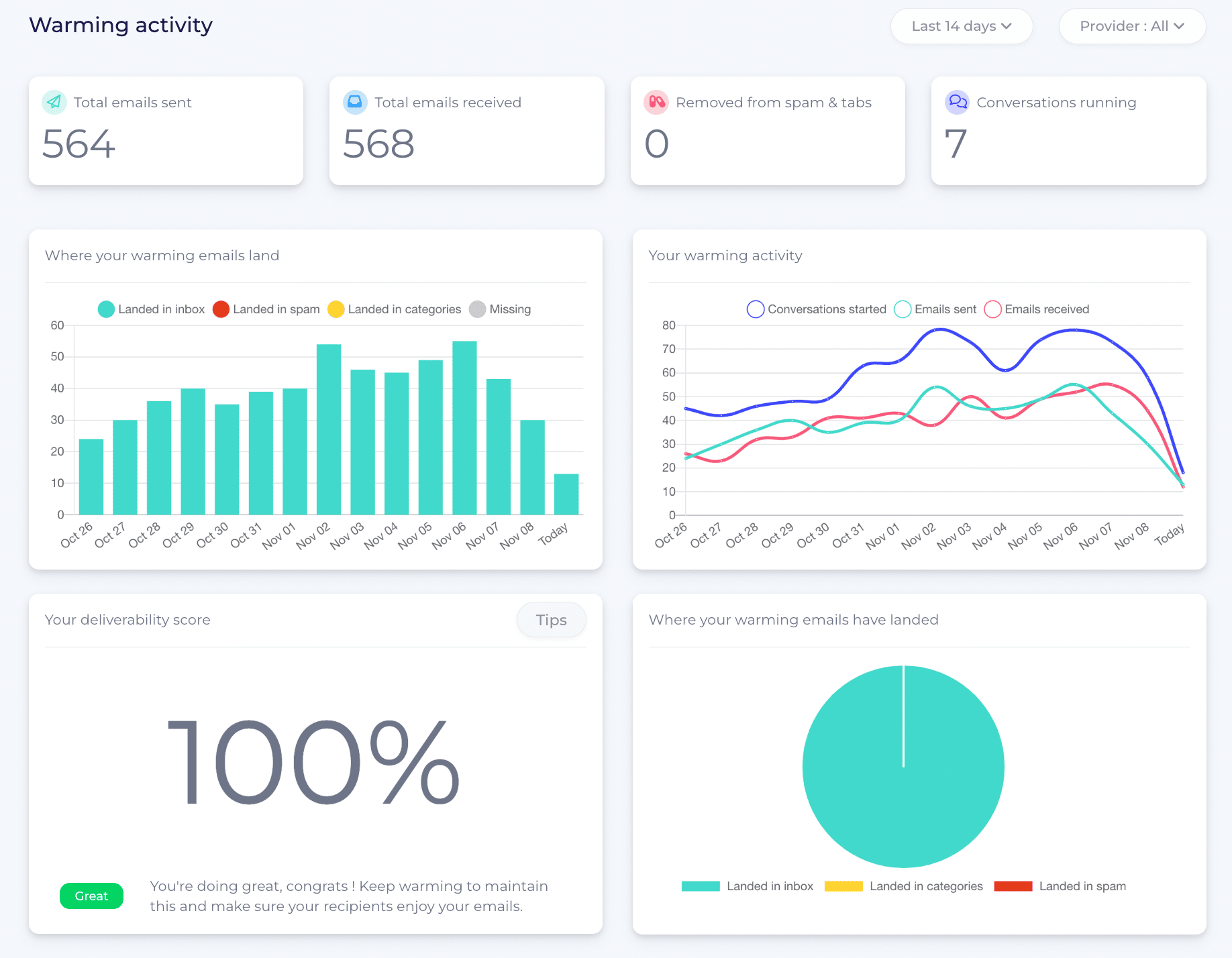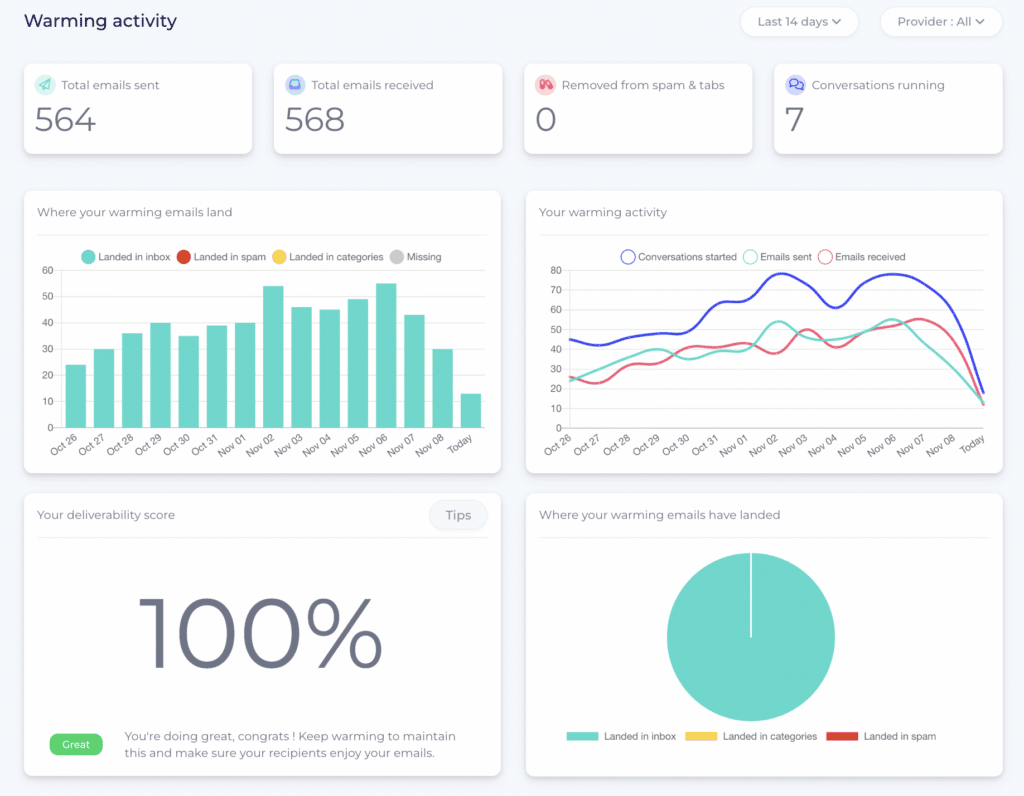 To warm up your linkedin accounts, no need to buy any service. If you Linkedin account is not super active, simply send a few connection request and messages everyday for 2 weeks before starting any automation. You can gradually increase the number of request you send as days progress.
6. Keep track of all interactions in your CRM
If you launch multichannel cold outreach campaigns, you absolutely need a place where you can centralize all your interaction with your prospects.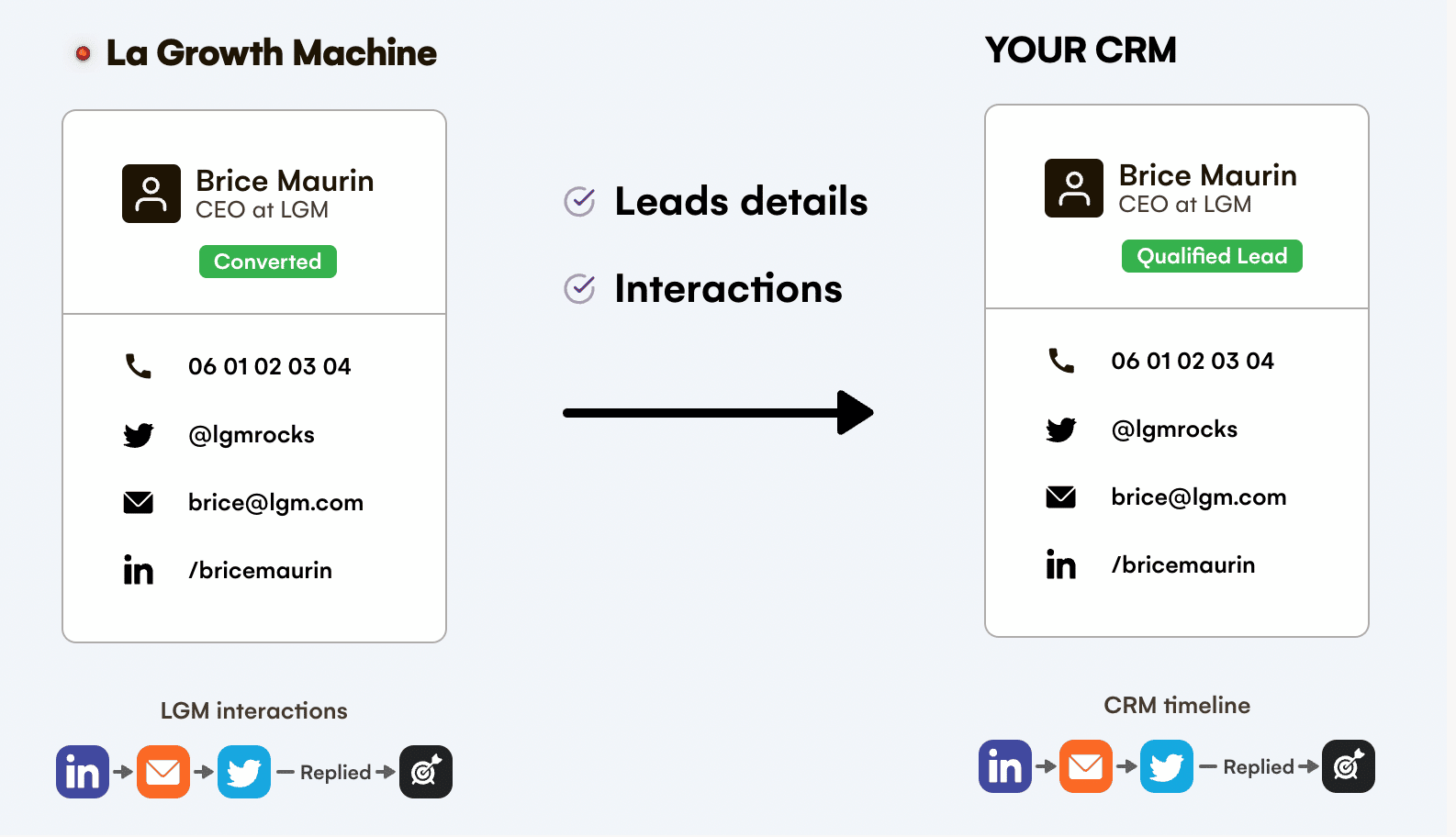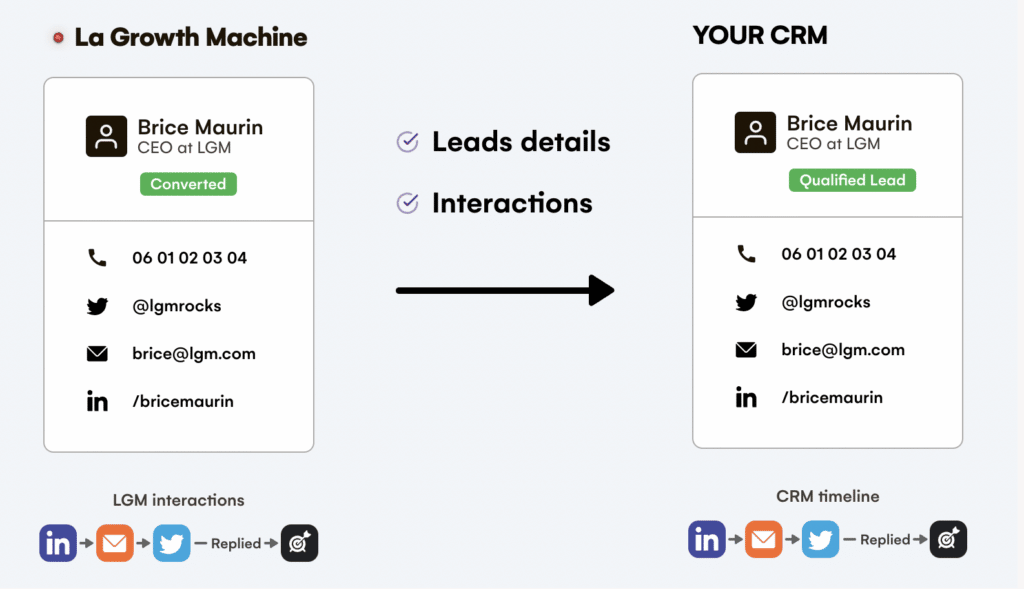 Otherwise it will be really difficult to remember who replied and where. To solve this problem LGM offers the possibility to connect their tool with your CRM.
If you don't have a CRM they also synchronize your email and linkedin inboxes with their tool so you follow all the history of your interaction with your leads.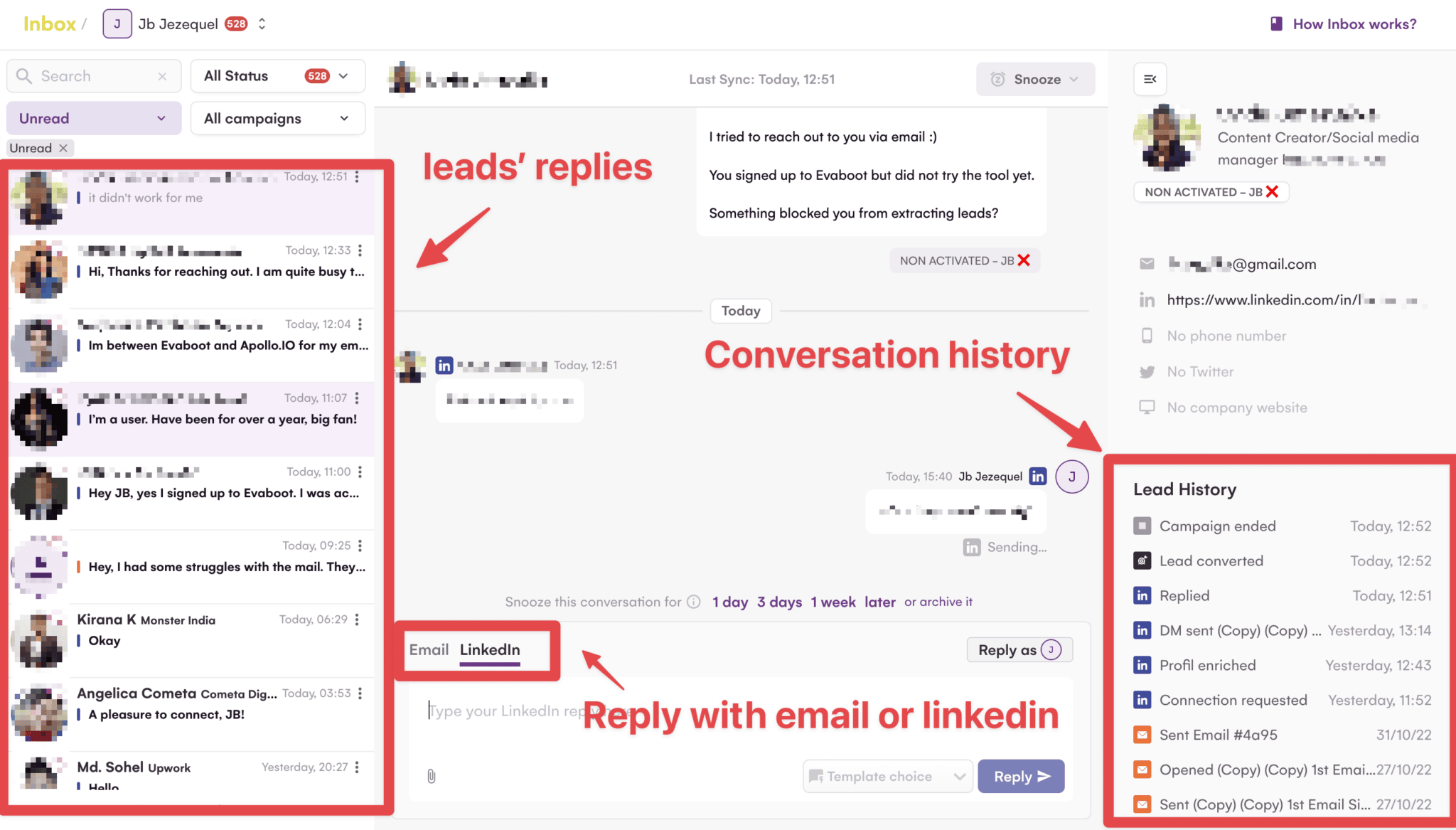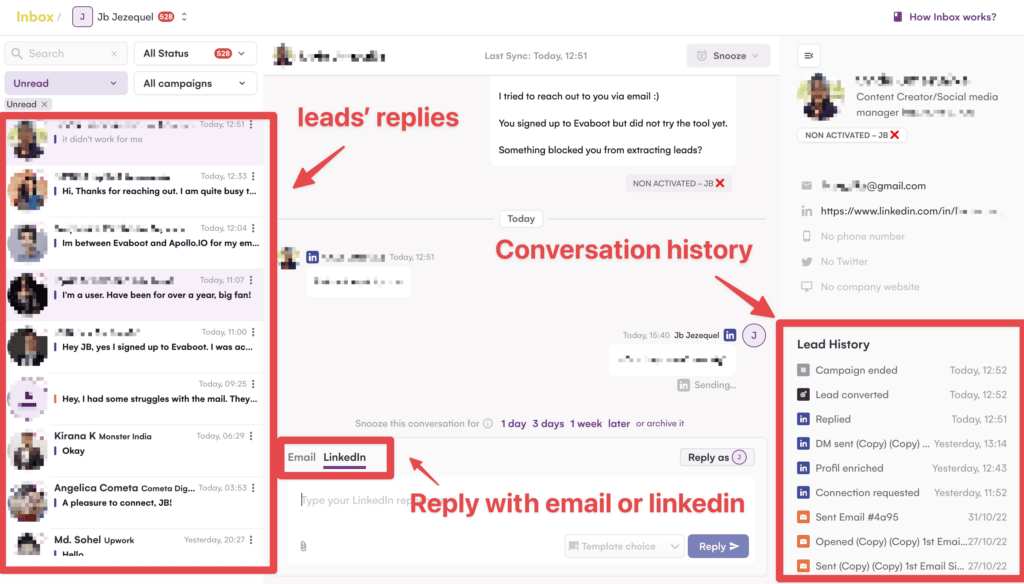 If you have a sales team, LGM also make it effortless to connect all the account of your salespeople and managed all the replies to your campaigns in one place.
You are now ready to get your outbound sales process to the next level using multichannel cold outreach.
PRO TIP: If you know your campaigns are working, and you are sending a lot of emails. It might be a good idea to deactivate your email tracking tools to increase deliverability. Indeed, the tracking codes inside your emails can be detected by email servers and decrease your deliverability.
We are sorry that this post was not useful for you!
Let us improve this post!
Tell us how we can improve this post?