Have you come across the term "LinkedIn Open Profiles" and wondered what it means?
LinkedIn Open Profiles is a feature that allows users to be more accessible on the platform.
But how do you identify these profiles, and what benefits do they offer?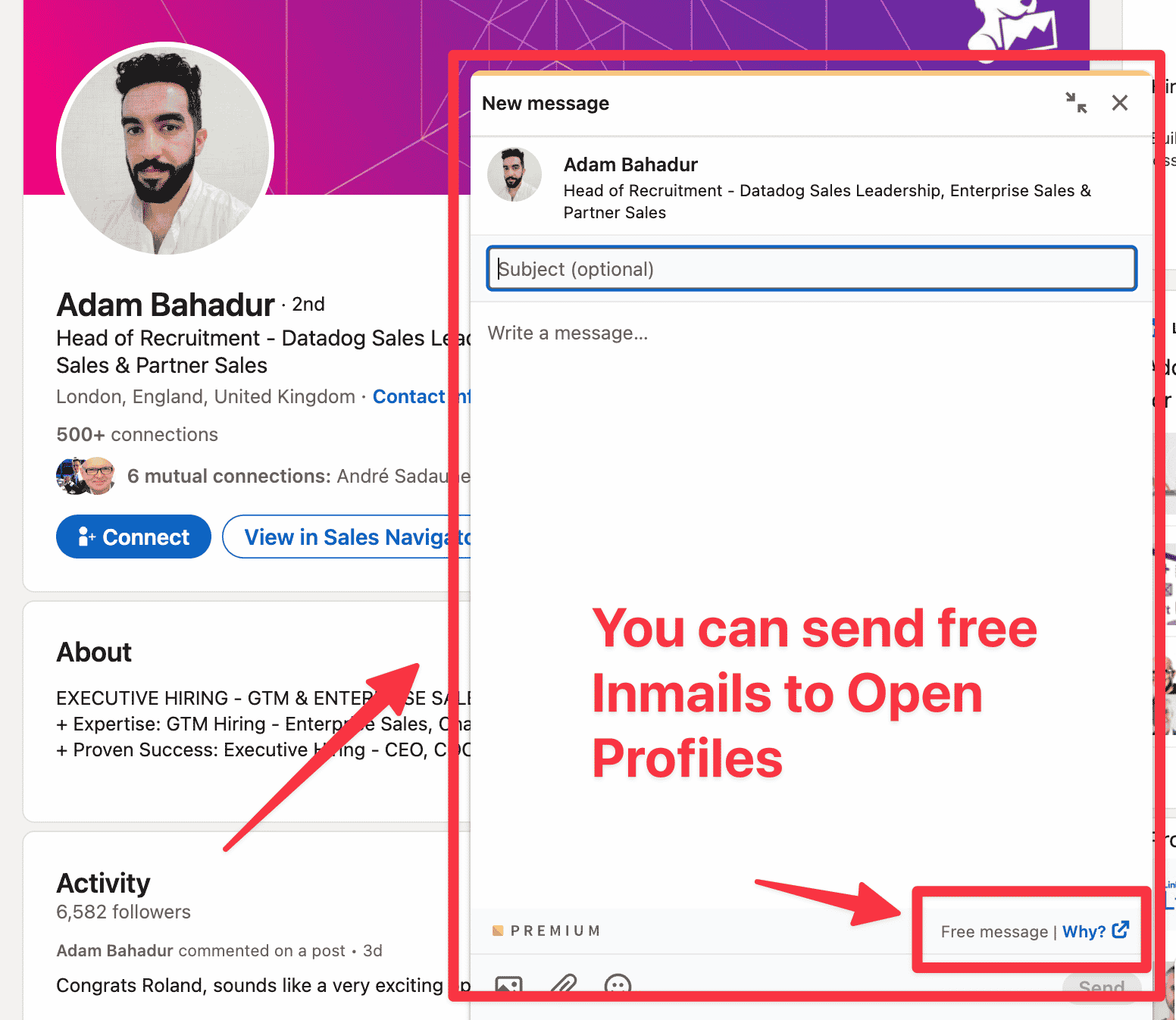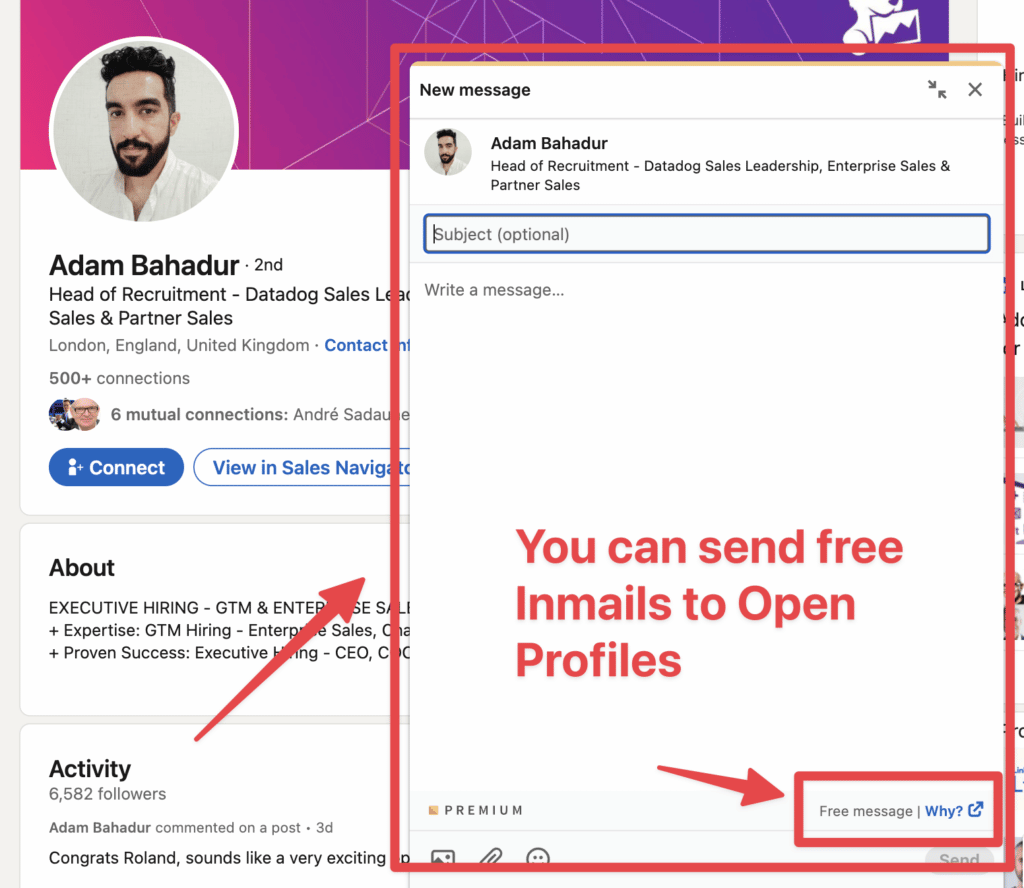 Open Profiles are a great opportunity on Linkedin because you can send them free Inmails.
Unfortunately there isn't any Open Profiles filter on Linkedin search or Sales Navigator.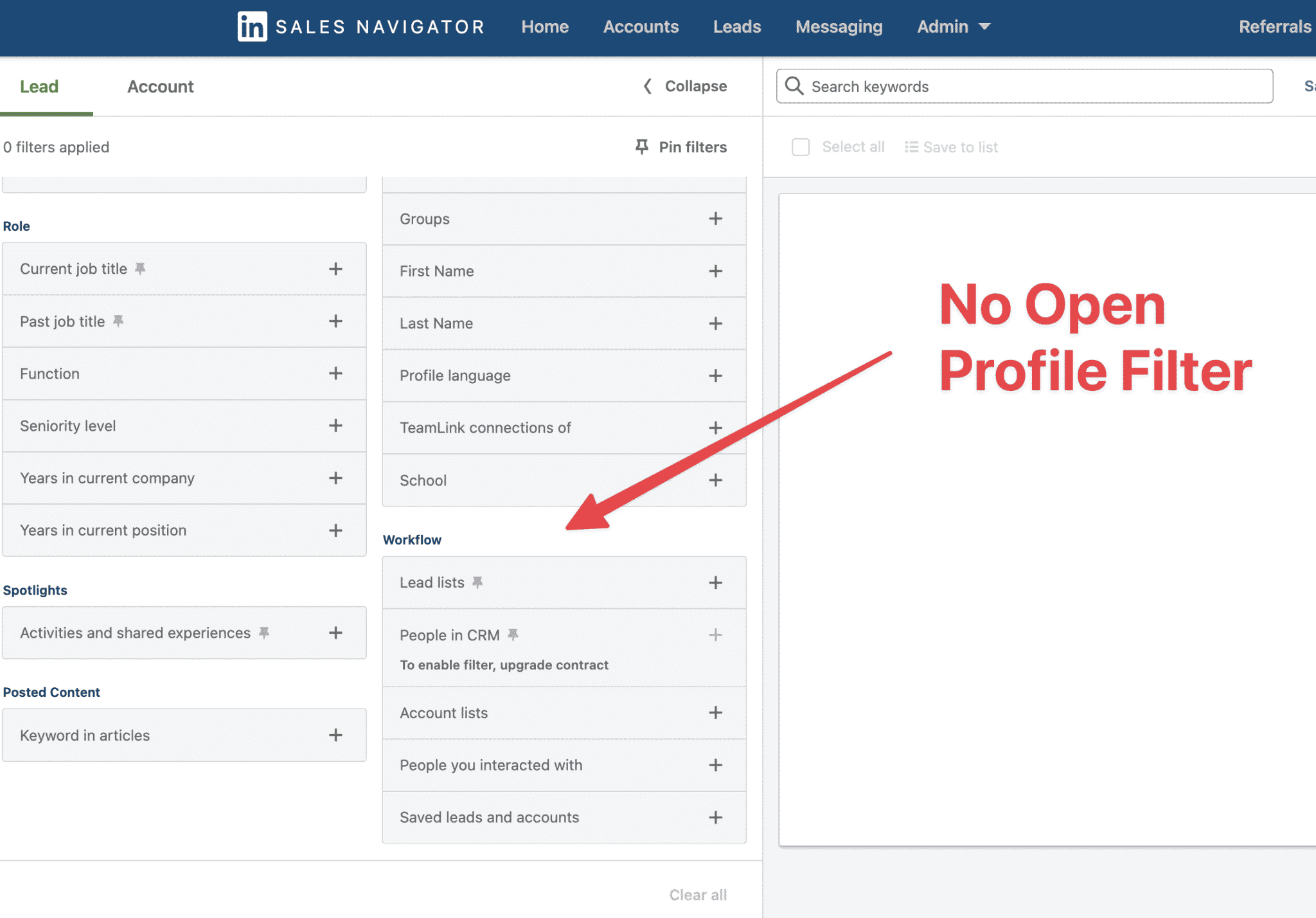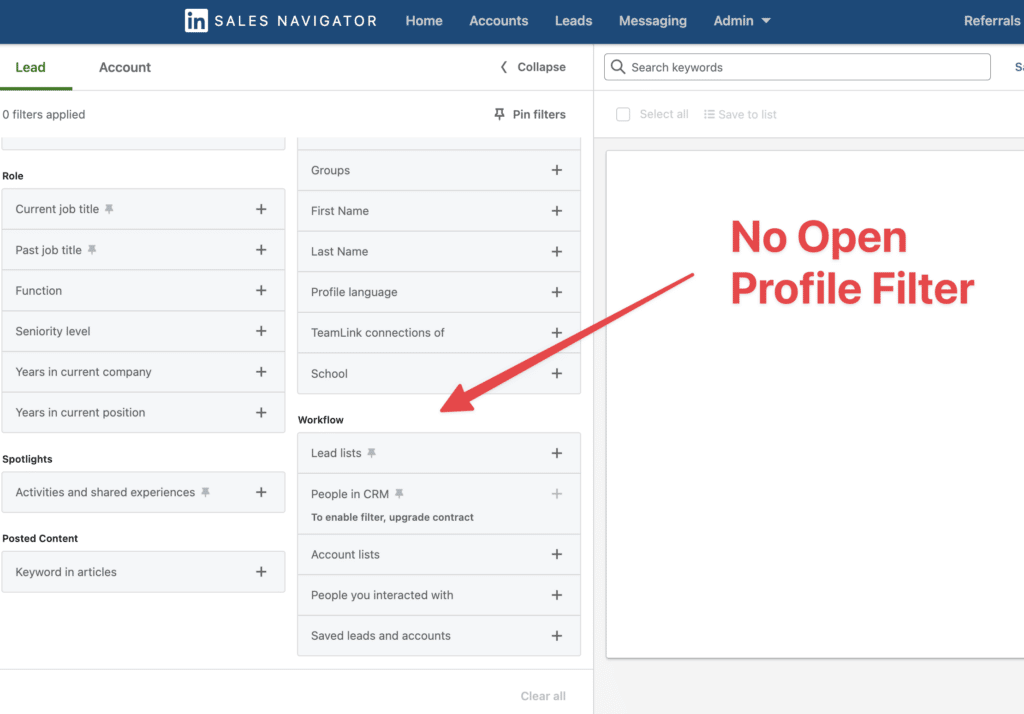 That being said, there are still some techniques you can use to identify Open Profiles among your Linkedin Sales Navigator search results.

Let's dive in.
What Are Linkedin Open Profiles?
LinkedIn's Open Profile is a Premium feature that allows any user to message Premium members without any charges, even if they aren't directly connected.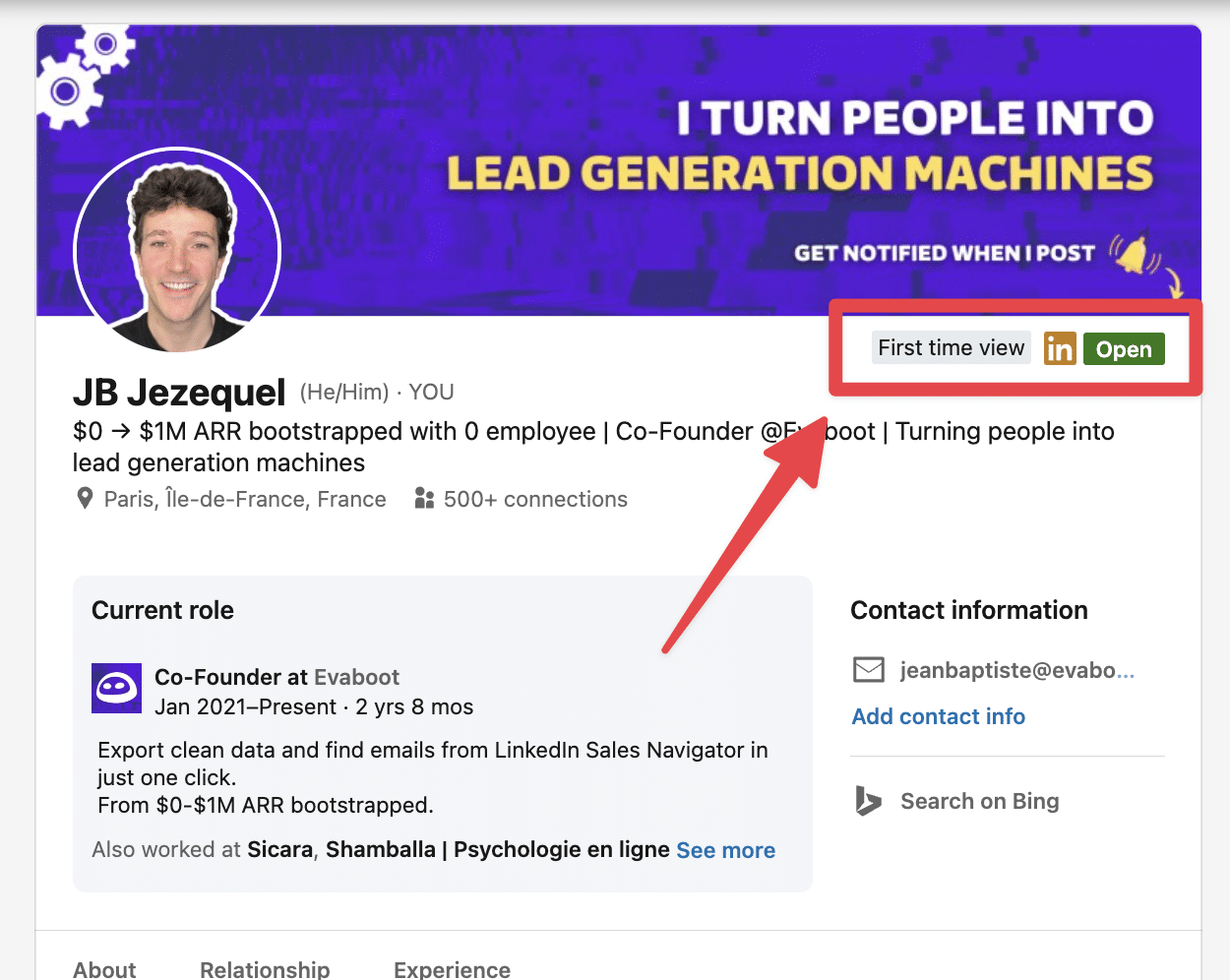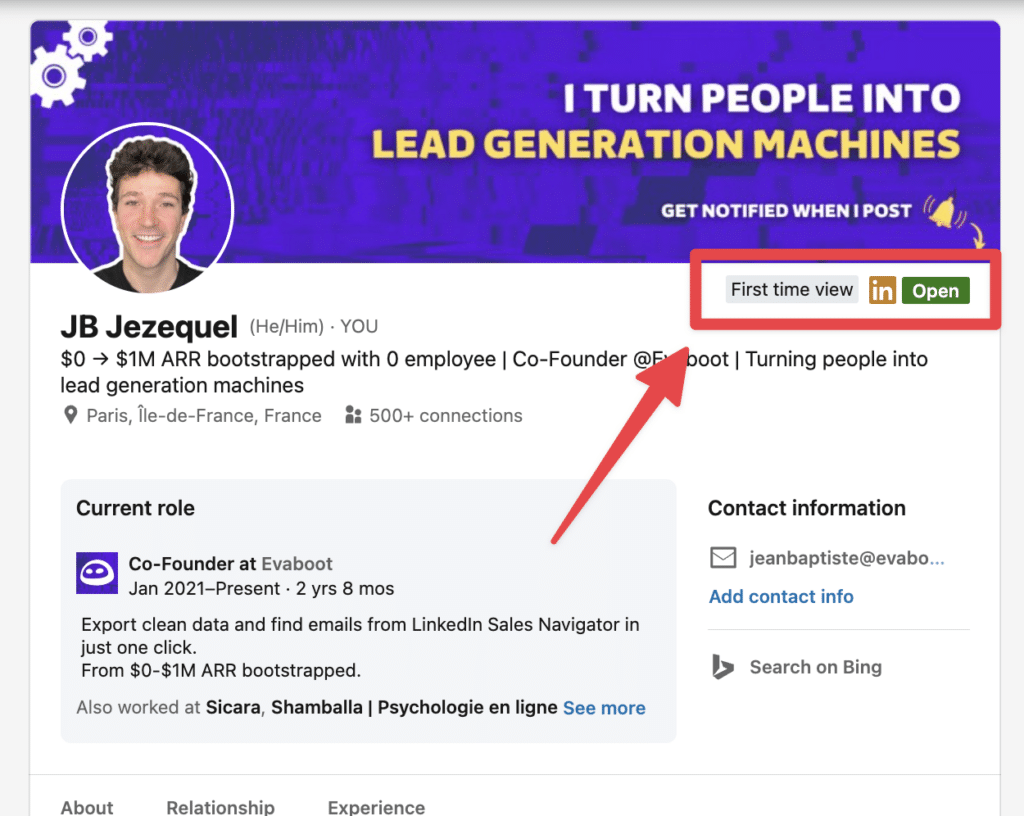 All members can view the complete profiles of those with Open Profile enabled. To use Open Profile, a Premium subscription is necessary.
How to Turn on Open Profile on Linkedin?
You can activate Open Profile on LinkedIn by clicking your profile picture, selecting 'View profile', and then the Edit icon.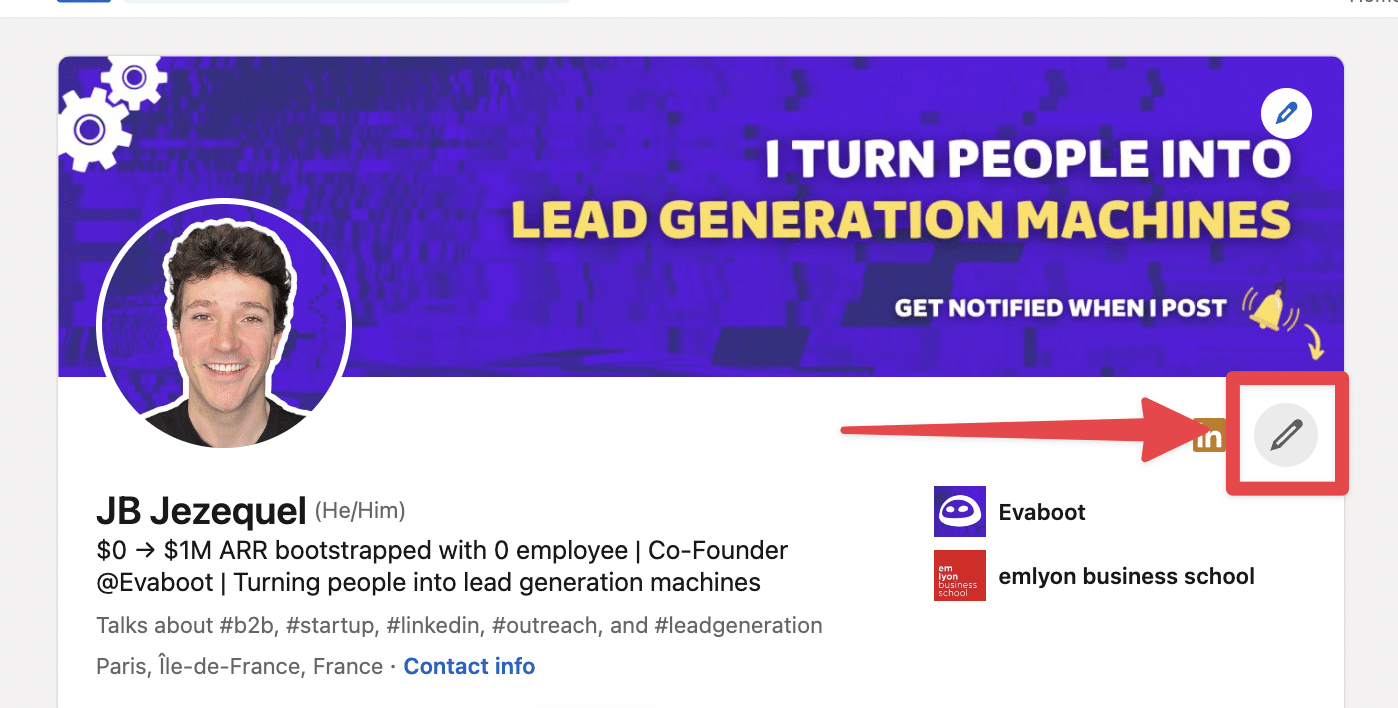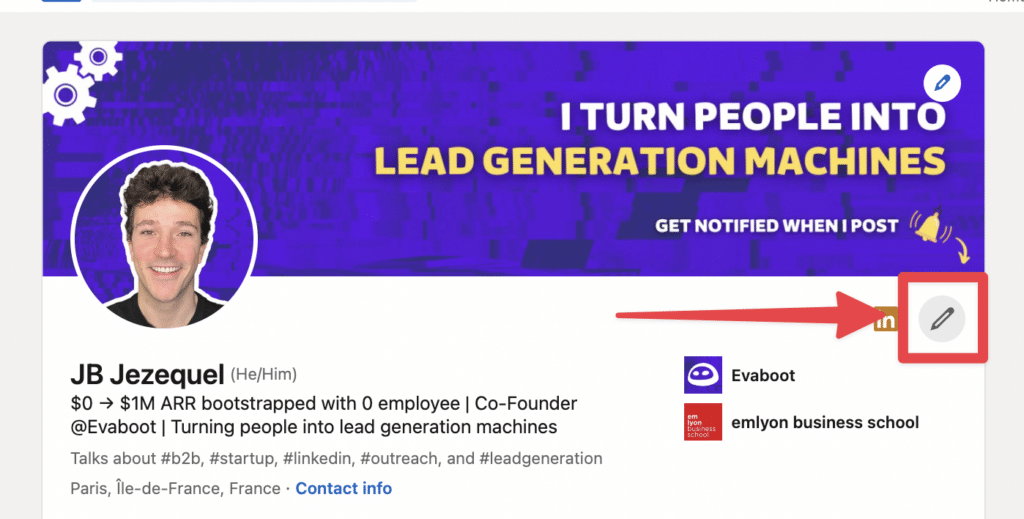 Next, click the Dropdown next to the gold Premium badge.
Finally, turn on the 'Open Profile' toggle, allowing any LinkedIn member to message you freely, regardless of connection status.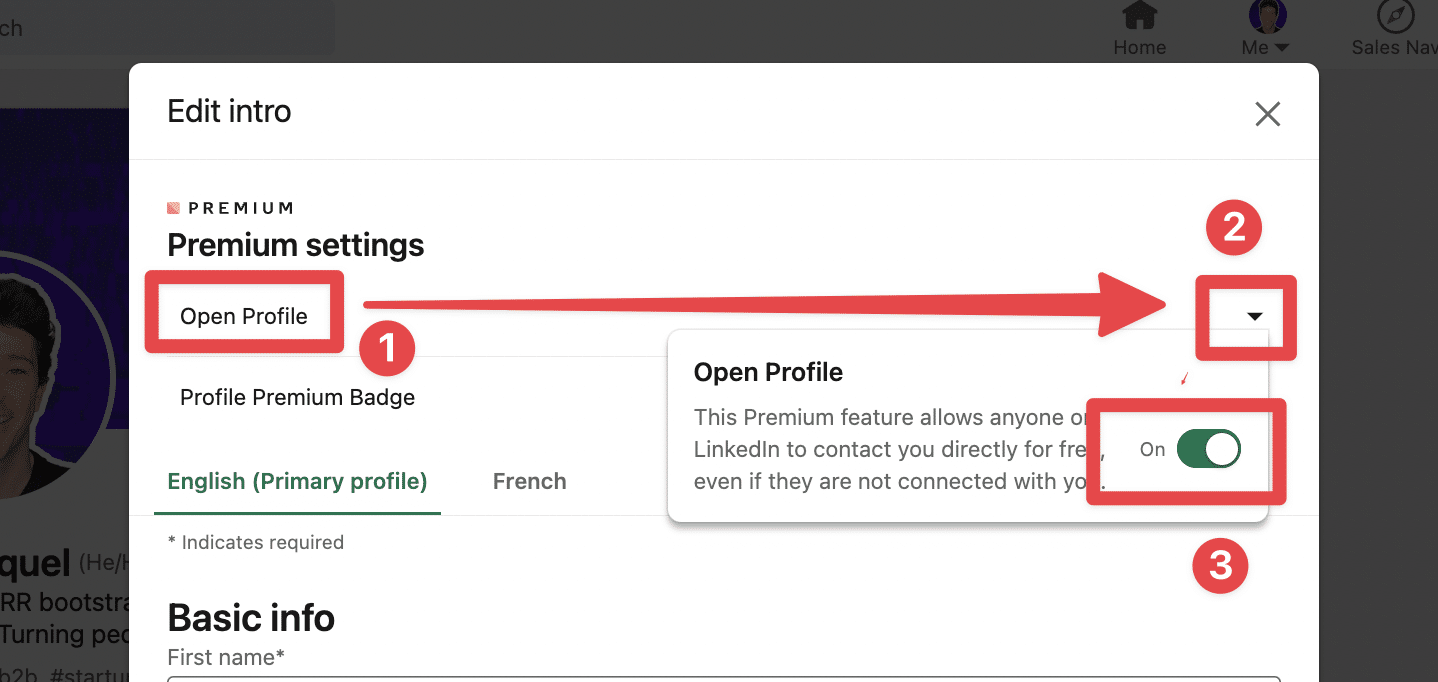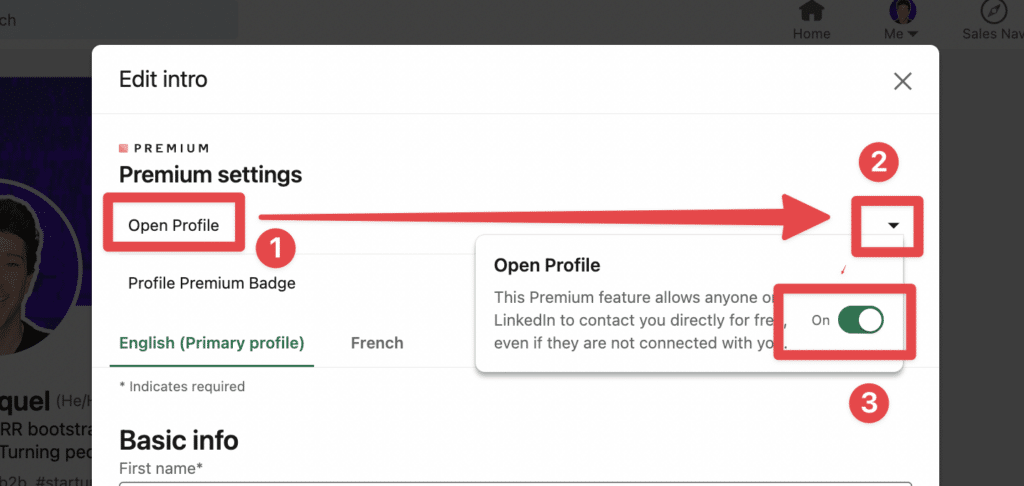 Should You Turn on Open Profile on LinkedIn?
Activating the Open Profile option is a good idea if you want to have more conversations on Linkedin.
Disabling will reduce unsolicited messages, but it might also prevent potential leads, candidates, or partners to easy reach out to you.
Who Can see Your Open Profile on LinkedIn?
Any LinkedIn user can view the full profile of Premium members with the Open Profile feature enabled.
This also lets them contact these Premium members without charges, regardless of connection status.
How to Manually Find Open Profiles on Linkedin?
You can find Open Profiles using a manual technique on Linkedin or Sales Navigator. That is an interesting opportunity to generate leads at a small scale.
1. Find Open Profiles on Linkedin
To find Open Profiles on Linkedin you must visit the profiles, click on More, then Message. If you see the Open Inmail messages box with the mention "Free Messages" then it means you found on Open Profile.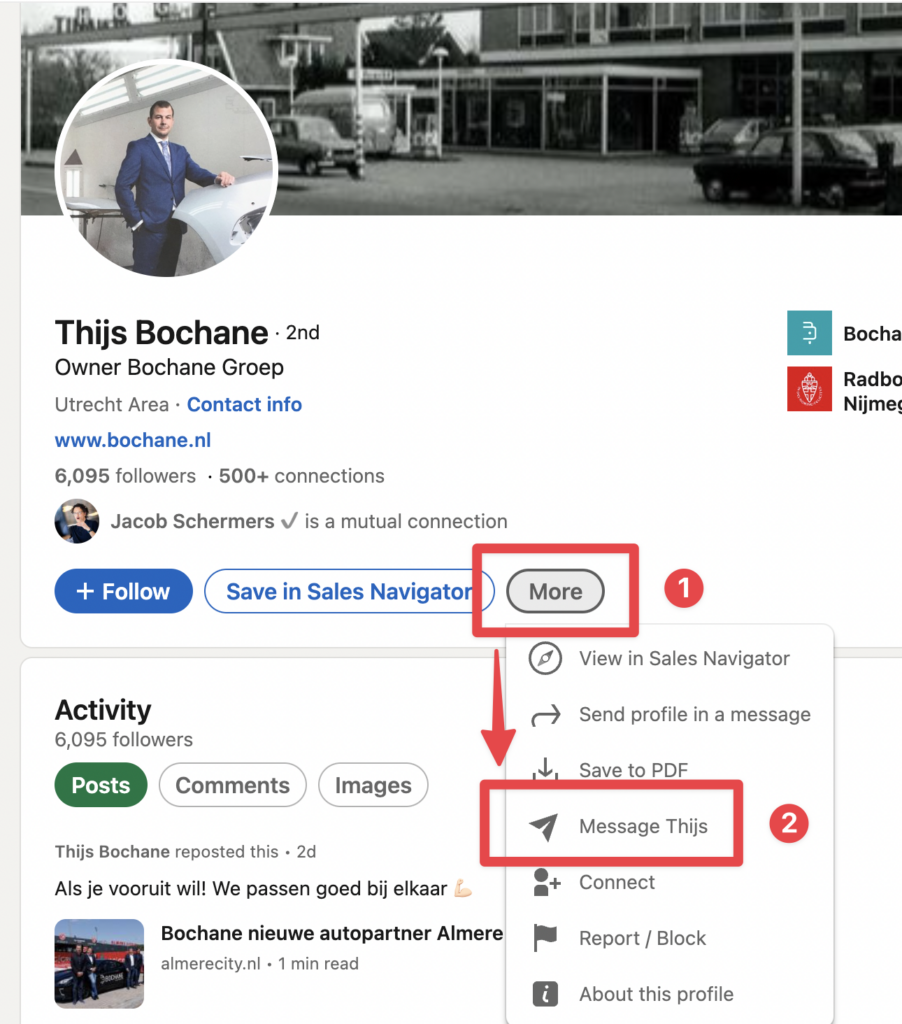 So the first step, is to visit the profile and click on "More".

Then a dropdown will appear, click on "Messages"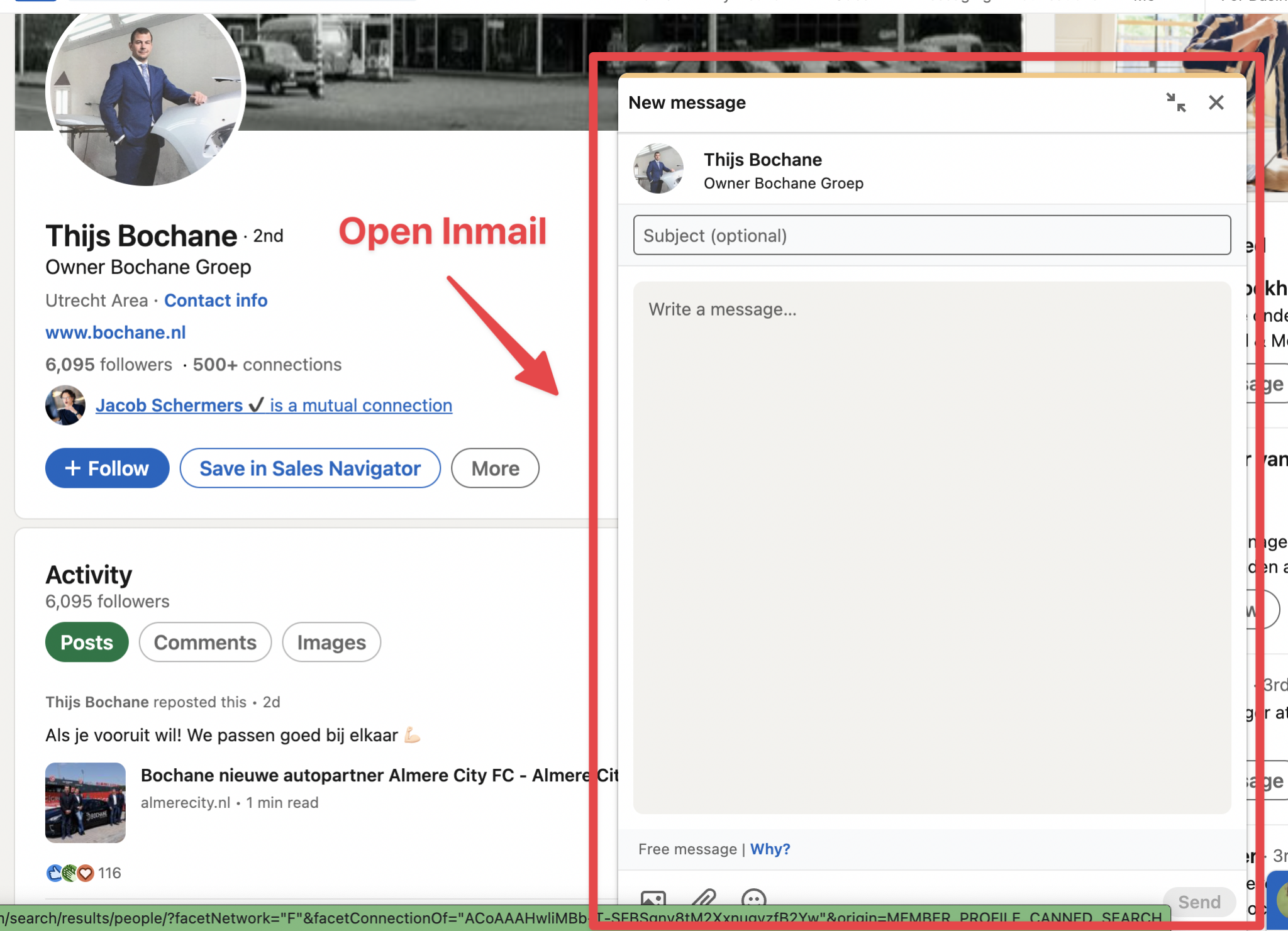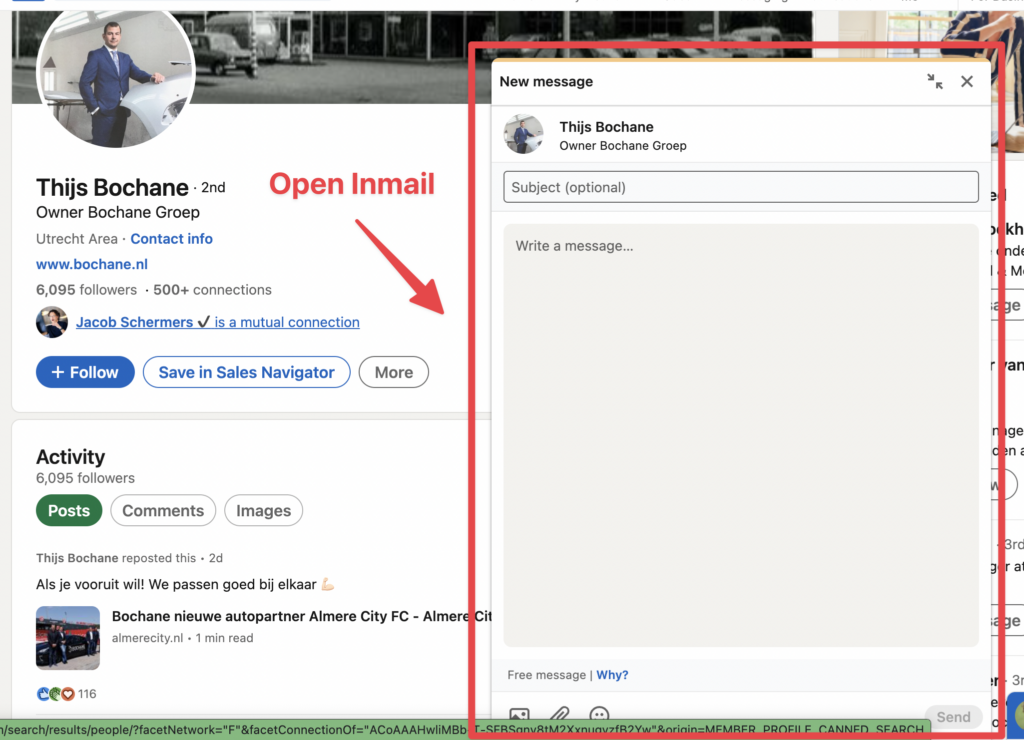 If after clicking on Message you see this message box, it means it's an Open Profile.
3. Find Open Profiles on Sales Navigator
It used to be really easy to identify Open Profiles on Sales Navigator because there was a sign "OPEN" on their profiles in the top right corner.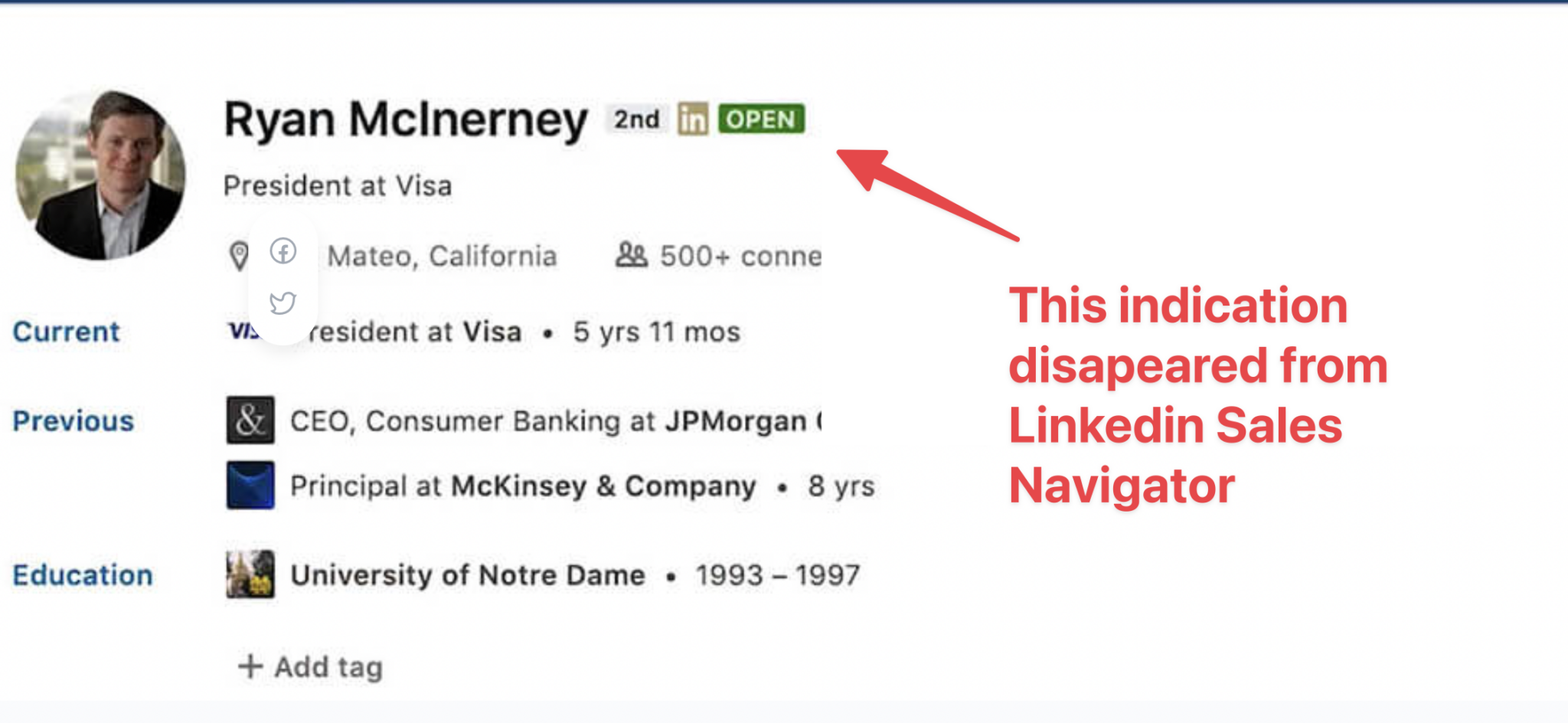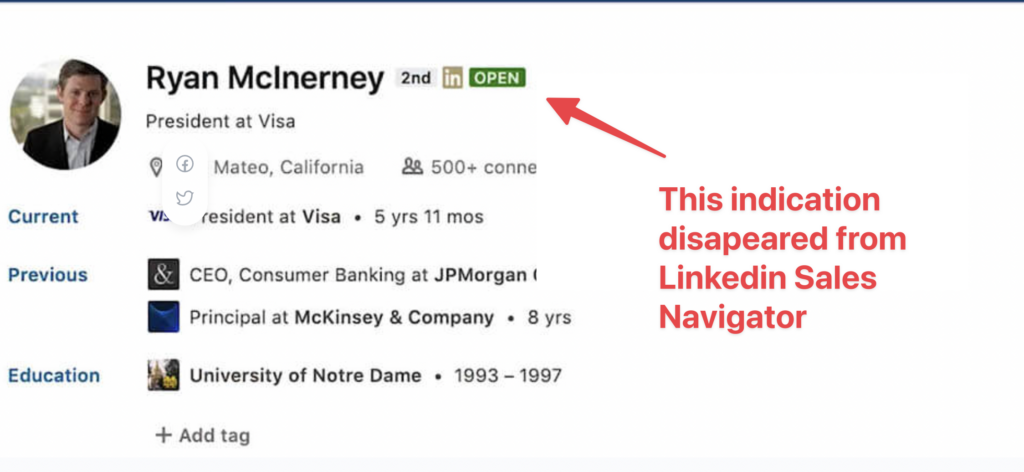 Linkedin deleted that feature.
Now you must click on "Message" and check if the mention "Free to Open Profiles" appears.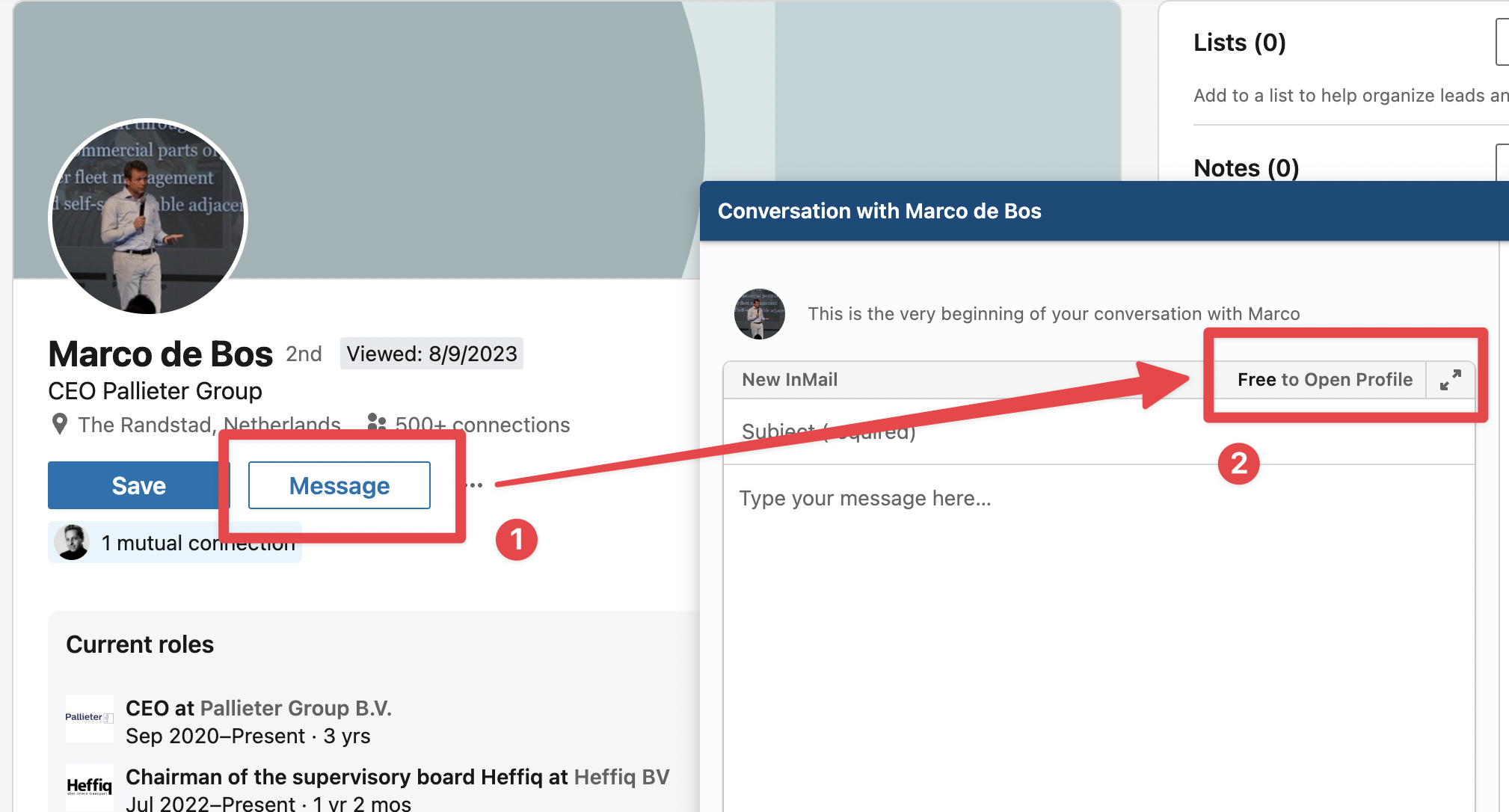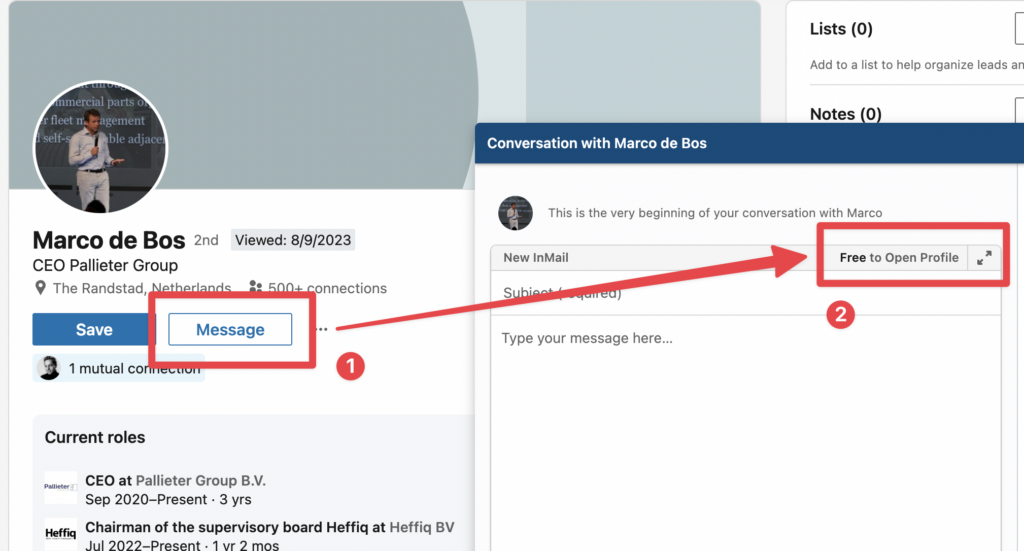 ---
These techniques are efficient if you have a small list of profiles to check.

But how to proceed if you got hundreds or even thousand or profiles to check?
Let me show how to do that.
How To Filter Open Profiles on Linkedin Sales Navigator?
To filter Open Profiles on Linkedin, you can:
Make a search on Linkedin Sales Navigator
Export your search into CSV with Evaboot
Look into the column "Prospect is Open Profile"
1. Make a search on Linkedin Sales Navigator
This technique won't allow filtering Open Profiles using sales navigator search filters but will help you detect if there are Open Profiles among your search results.
Indeed, the linkedin search engines don't have the "Open Profile" in their search options. That would lead Open profiles to be harassed by spammers.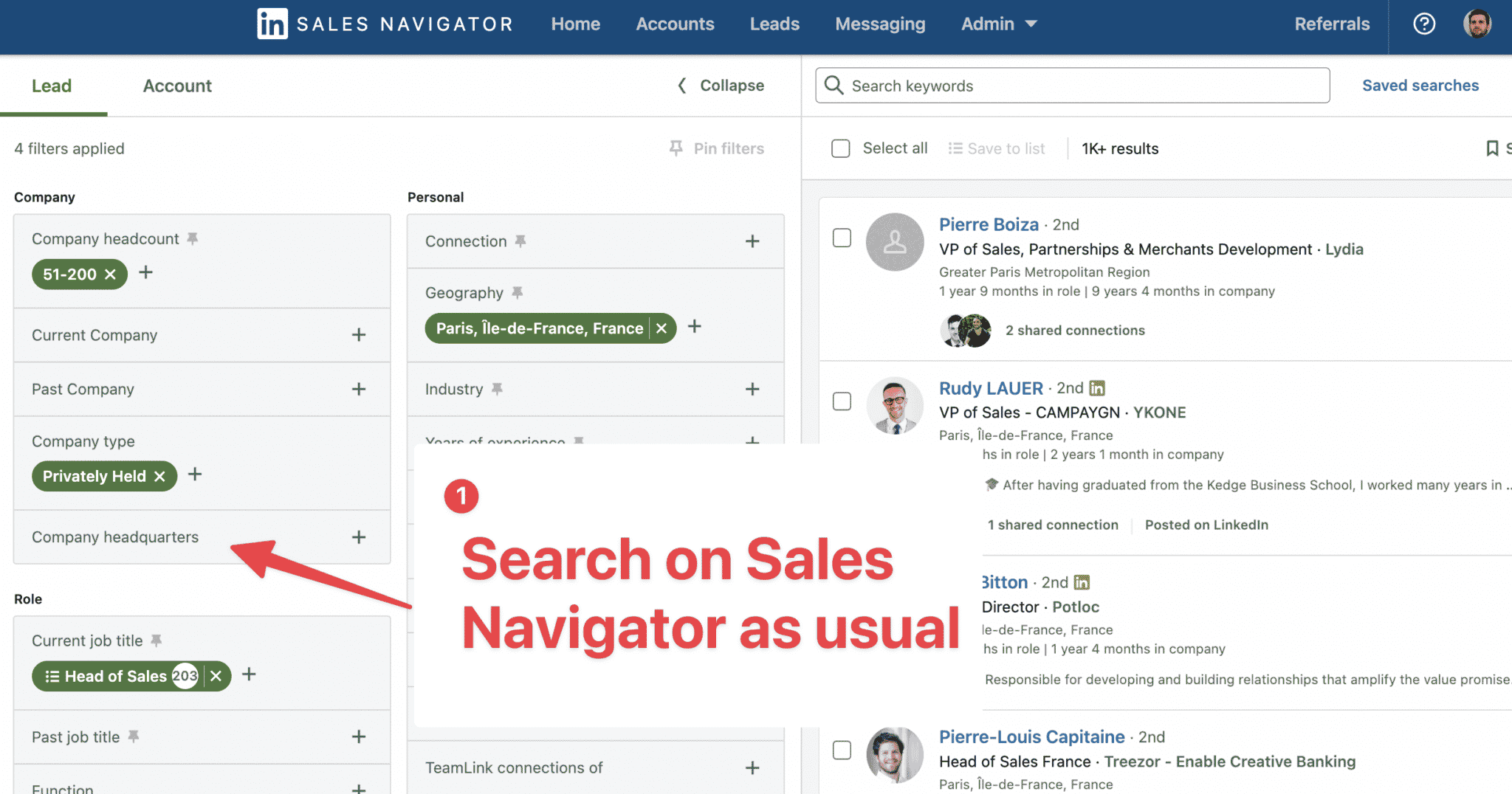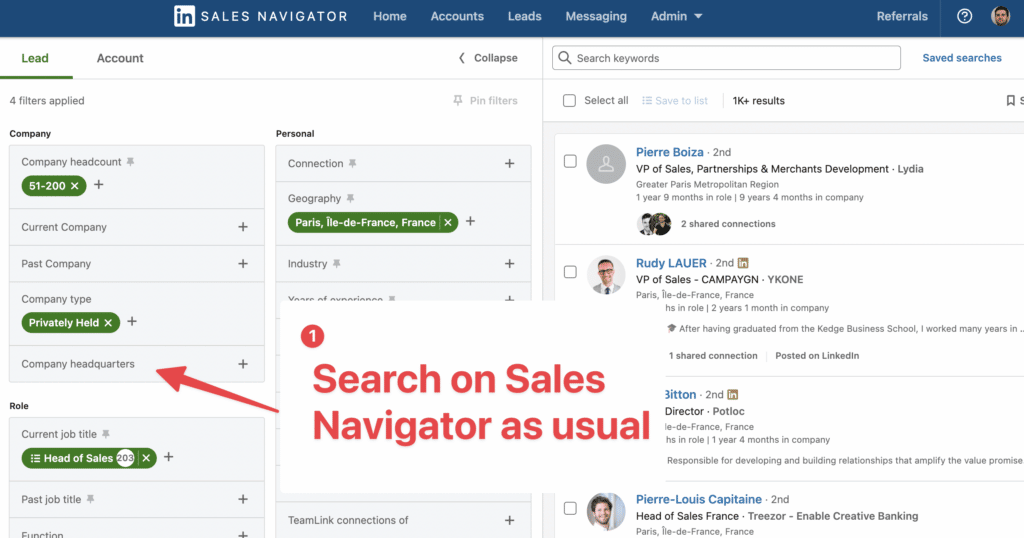 The first step is to search on Sales Navigator as usual using the filters like current job title, company, years of experience etc…
Sales Navigator doesn't give the possibility to filter on Open Profiles because too many people would use it to send messages to them.
Not giving the filter is a way to protect them from spam.
You can use linkedin boolean search to make your results even more accurate.
2. Export your search into CSV with Evaboot
To know whether a linkedin member is an Open Profile or not, you must use a scraper to get the information.
That information is hidden on the linkedin profile code.
Not every linkedin sales navigator scraper get this information, but Evaboot does.
To export your sales navigator lead list into a CSV, simply install the Evaboot Chrome extension and click on the "Extract with Evaboot" button at the top of the Sales Navigator search page.
It will extract a lot of profile page data like experience section, degree connections, profile URL, etc…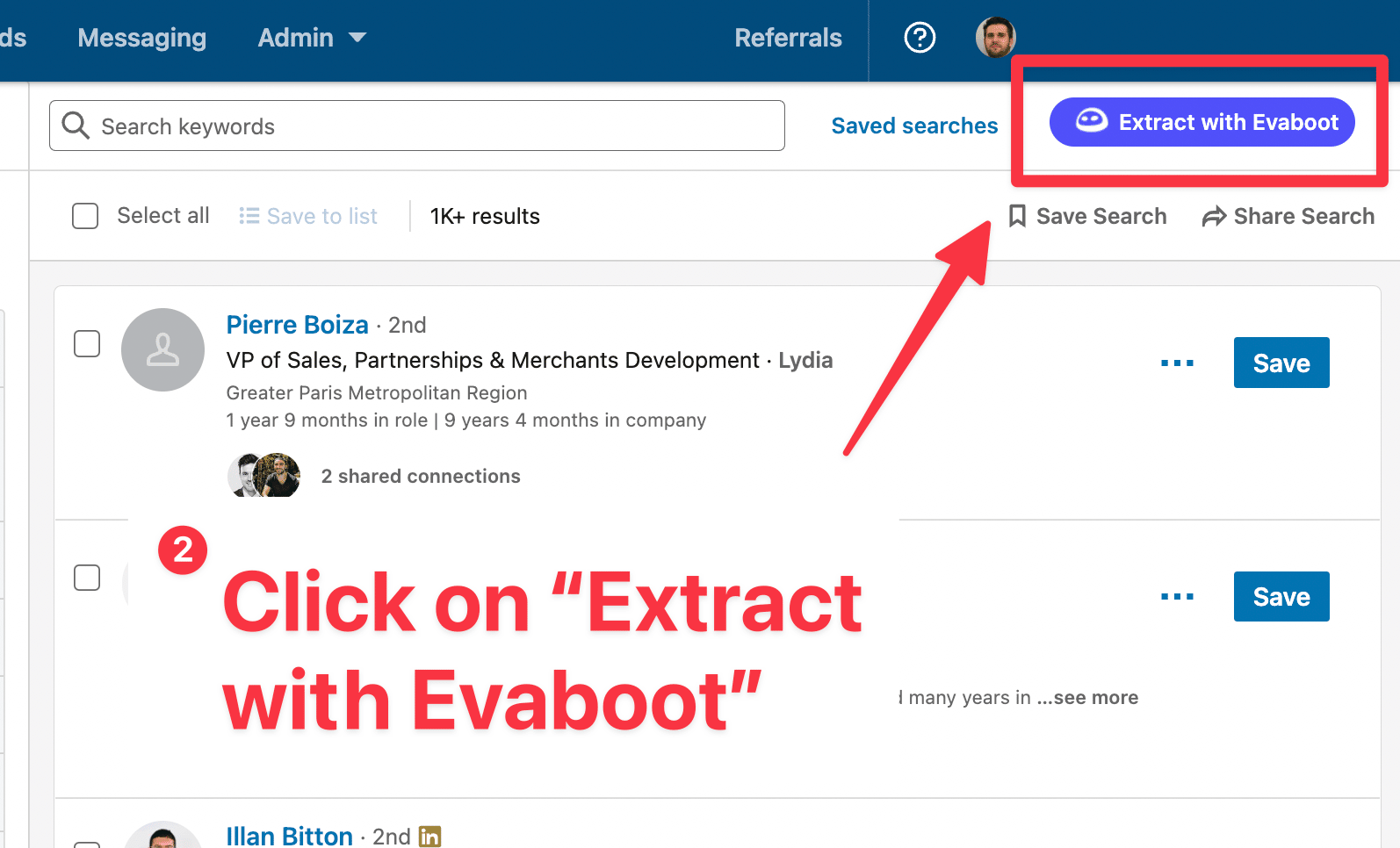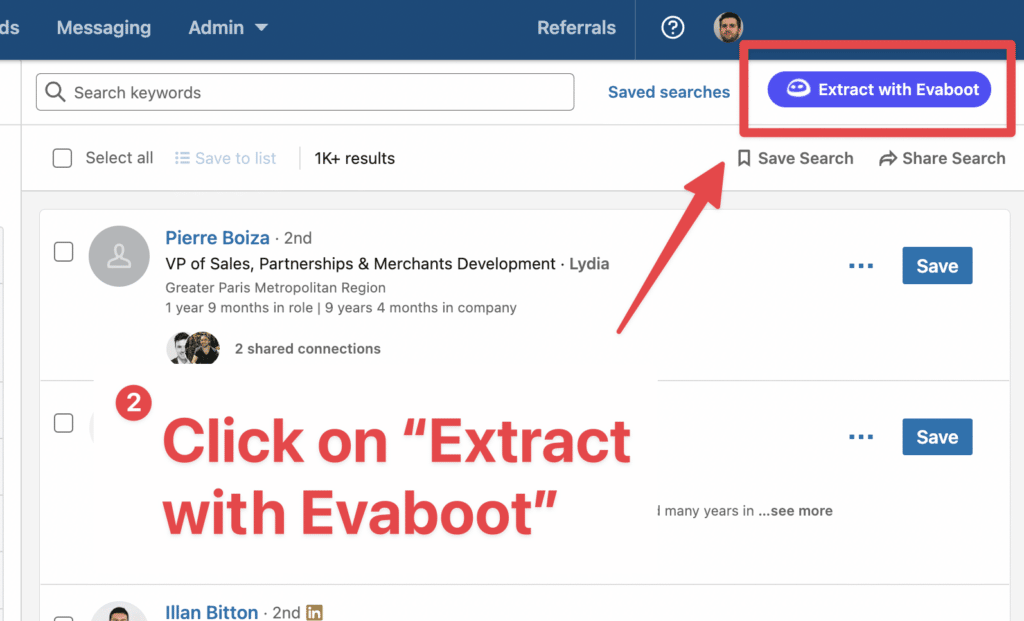 Just wait for the scraper to get the information and then you will be able to identify Open Profiles.
3. Look into the column "Prospect is Open Profile"
Once the extraction of the leads is finished, you can click on the download icon to get the CSV file.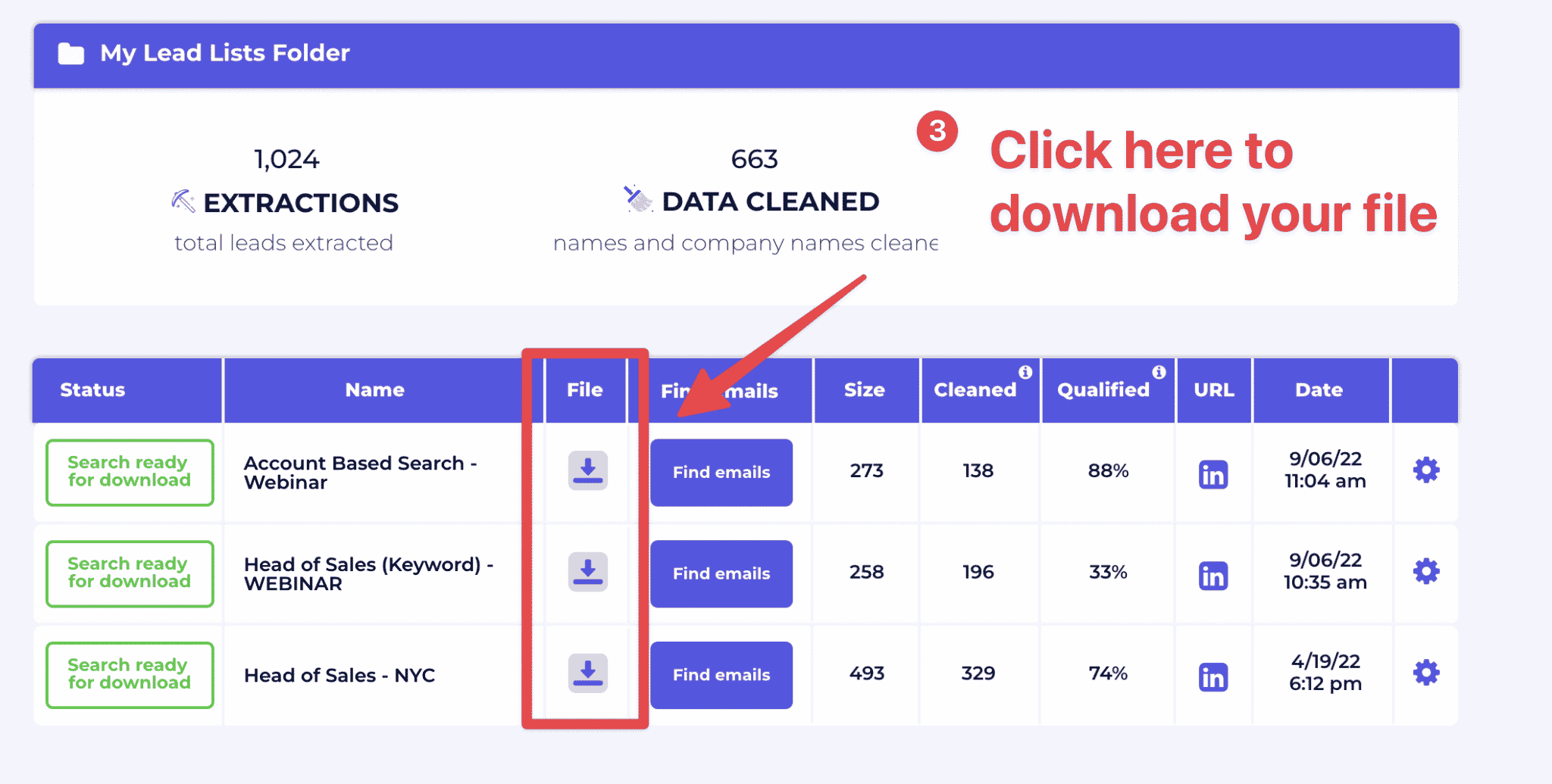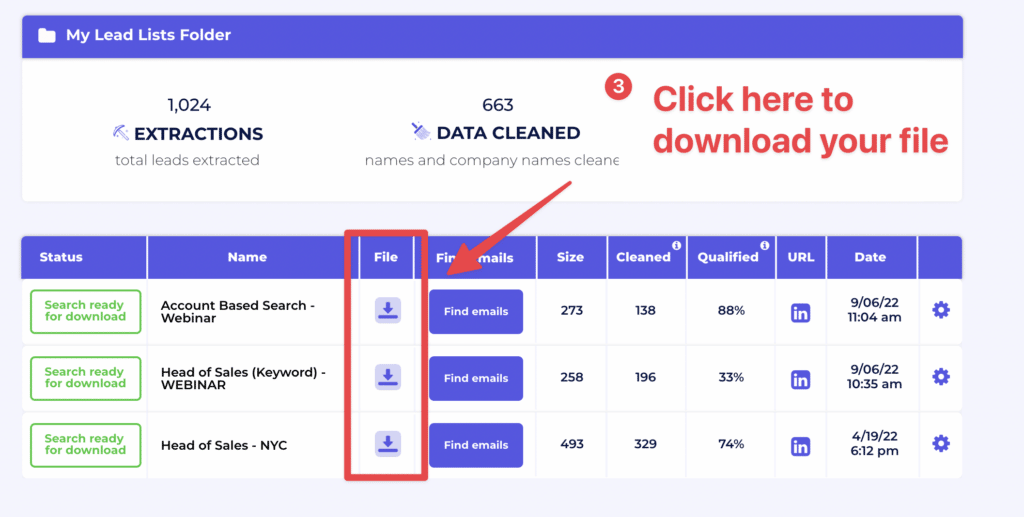 If you see TRUE: the prospect is an Open Profile
If you see FALSE: the prospect isn't an Open Profile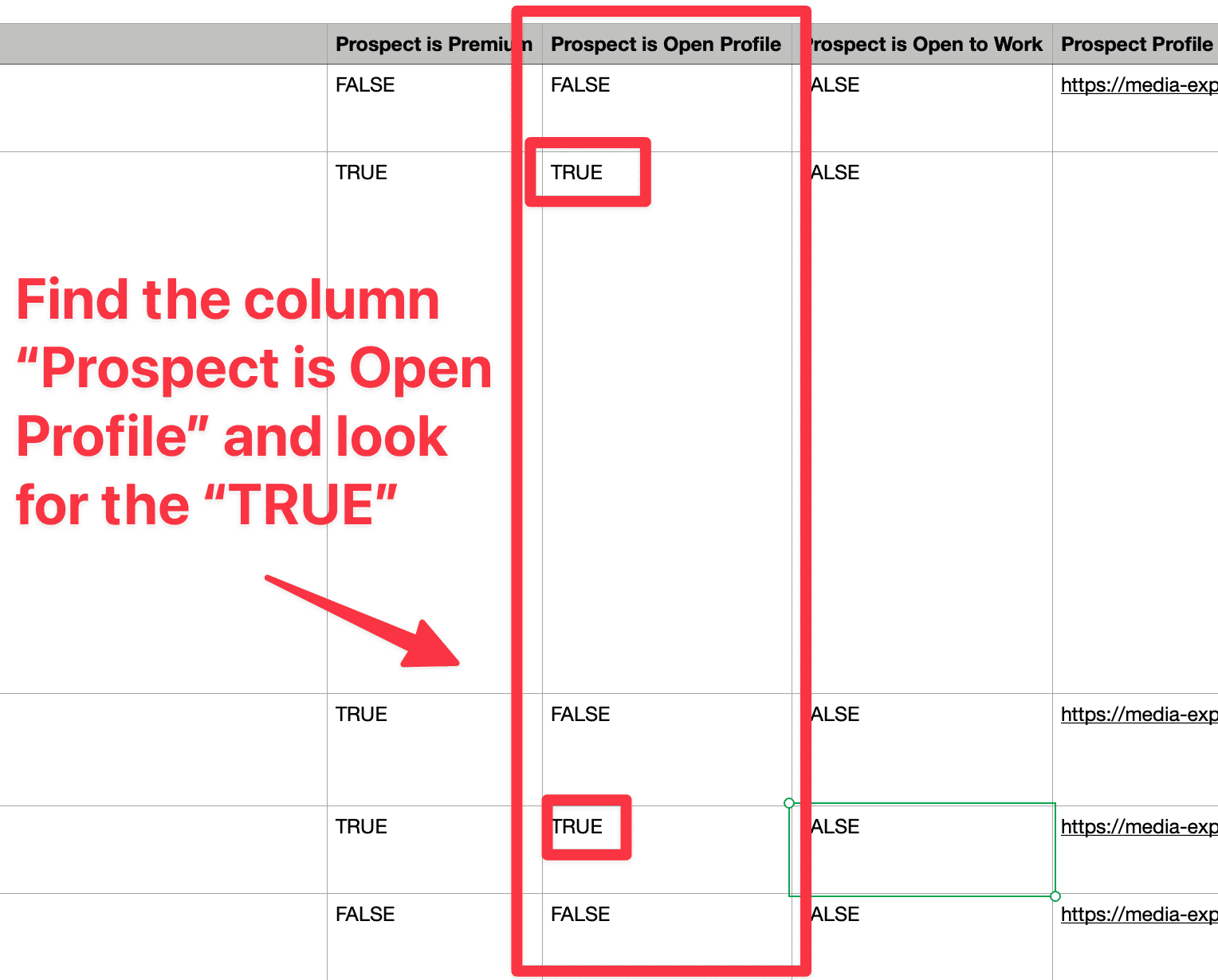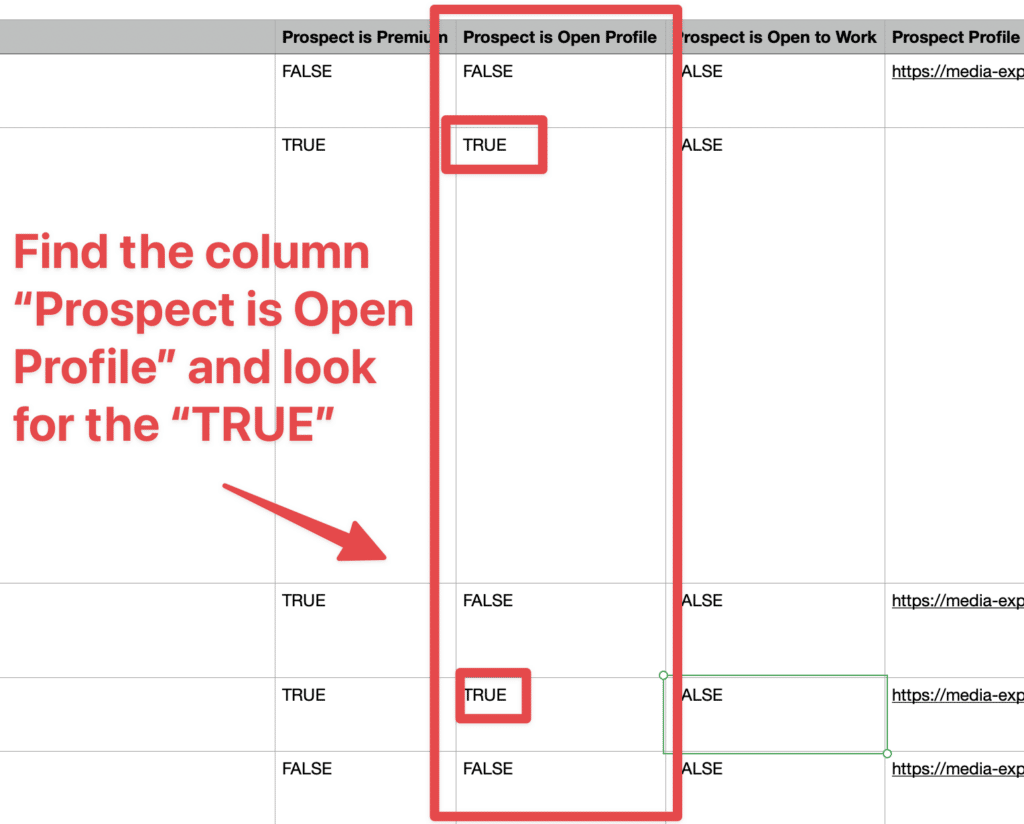 If you are using Google Sheet or excel, you can use filters to get all the open profiles in your list in a few clicks.
Select your headers
Click on the filter icon on the menu tab
Click on the filter icon in the header
Select TRUE only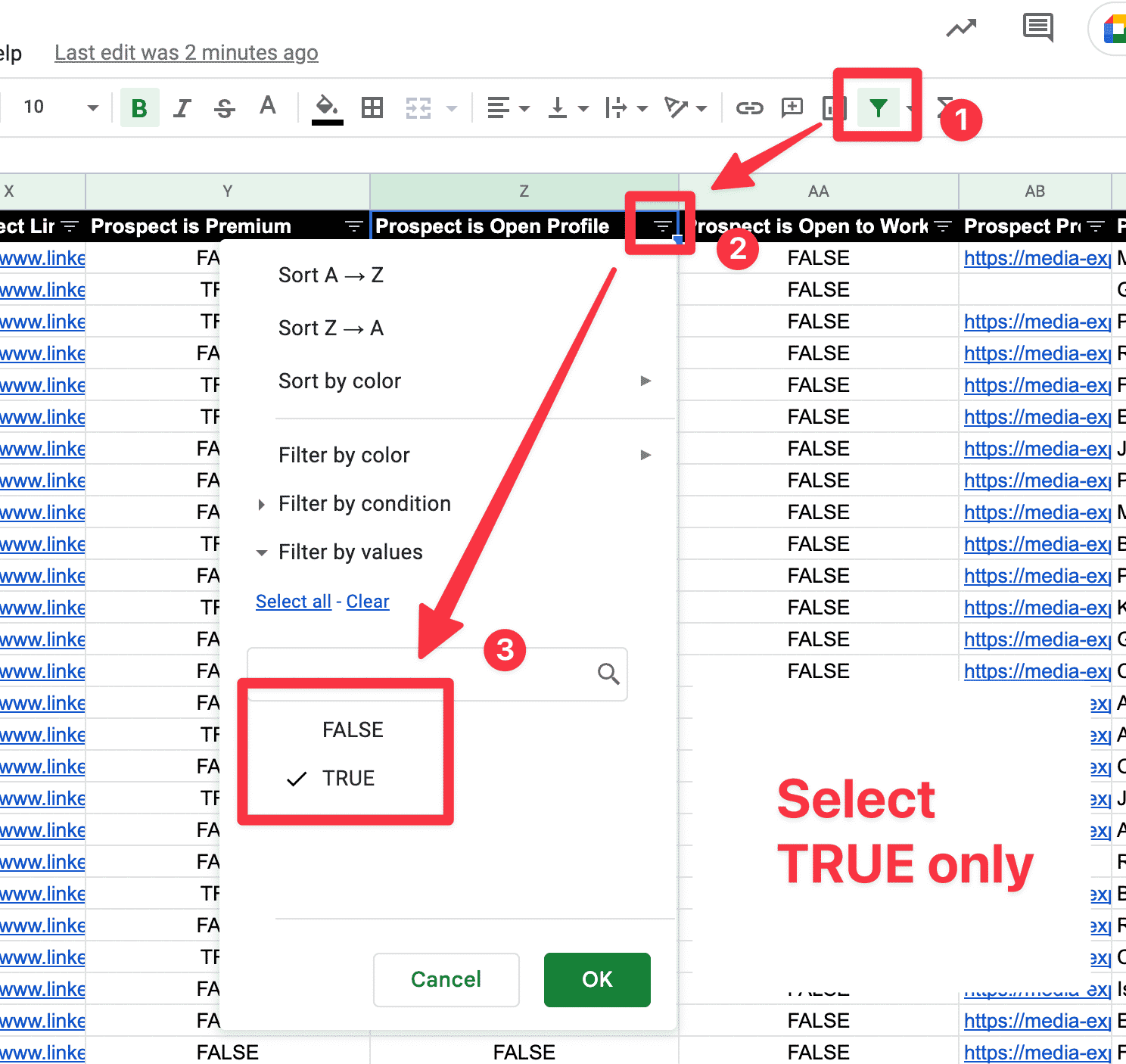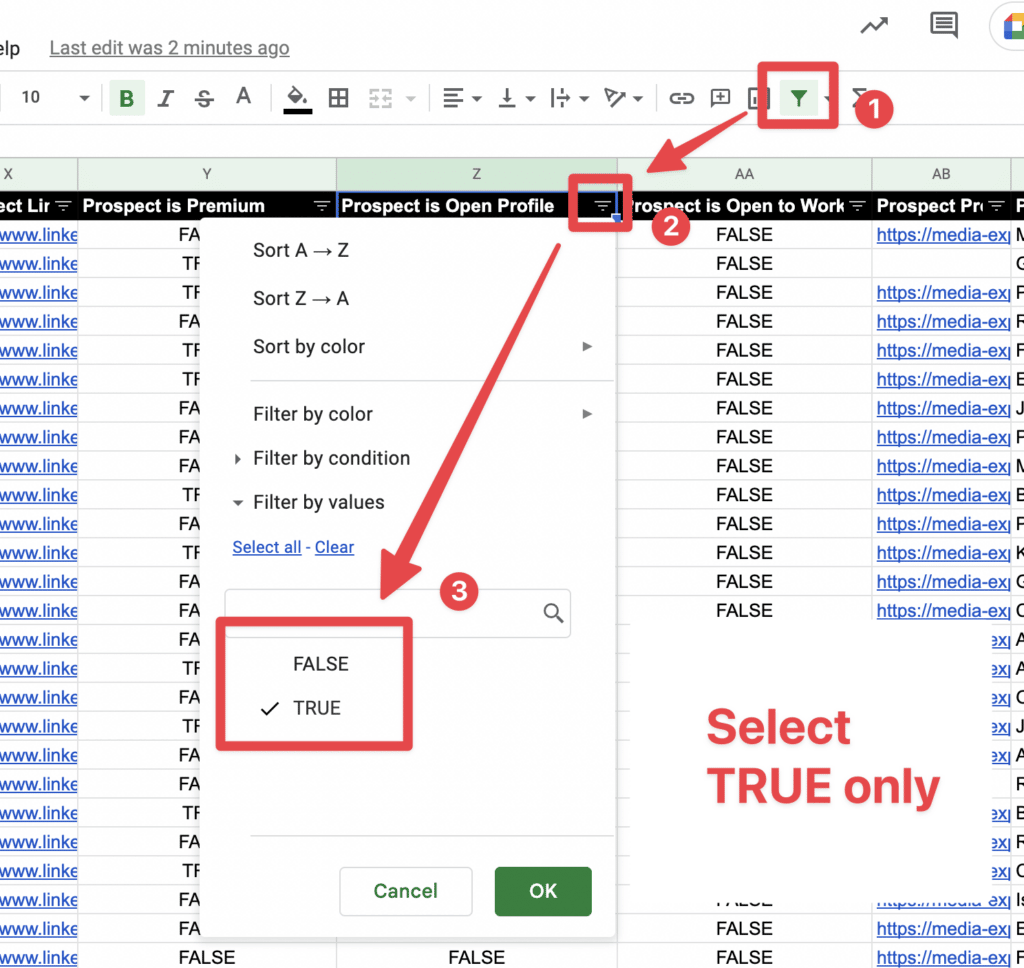 Boom. You now have a list of Open Profiles waiting to be contacted.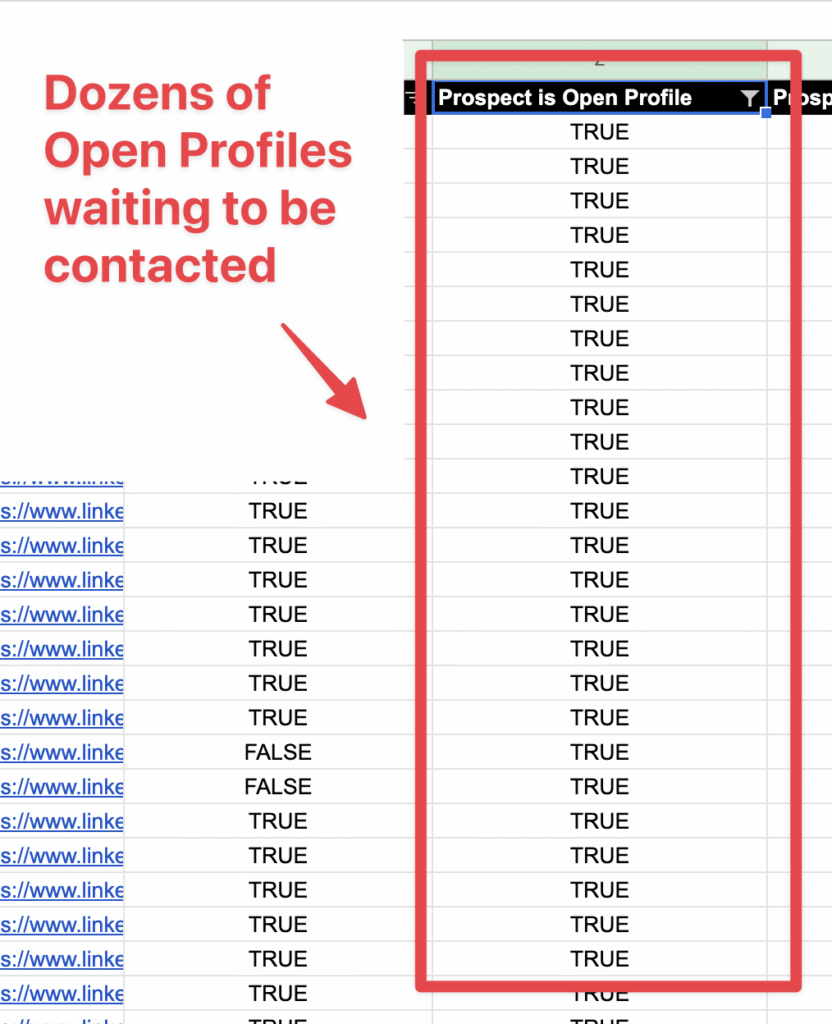 If that is not enough for you and you want to get contact information from your Sales Navigator search, you can also do that with Evaboot.
How To Leverage Linkedin Open Profiles?
Open Profiles can be used to:
Save connection requests credits
Send unlimited inmails
Get contacted by recruiters
1. Save connection request credits
Once you can filter open profiles in your lead list, you can separate your outreach campaigns in 2 lists:
One list of Open Profiles who will be contacted through Inmails
One list of normal profiles who will be contacted through connection request
Given that connection request are limited to 100-200 per week, this technique is a great opportunity to save your "connection request credits".
2. Send unlimited inmails
There are 3 techniques to contact people without being connected to them on Linkedin:
Identify Open Profiles
Contact Linkedin group members
Contact Linkedin event attendees
By identifying open profiles, you can send unlimited amount of inmails to contact 10x more people than your competitors.
If you need to contact a lot of people within a short timeframe, sending inmails to open profiles is the way to go.
Having unlimited inmails credits is not a reason to send spammy messages.
Even if you can leverage the quantity of messages you can send, keep focusing on the quality.
You only have 50 inmails credits per month so it's important to follow inmail best practices.
If you scale bad practices, you will simply scale bad results.
To improve your inmail reply rate you can check these linkedin prospecting messages templates.
3. Get contacted by recruiters
If you are subscribed to Linkedin Premium Career, you can activate the Open Profile setting to help you in your job search.
As a job seeker, having a premium account can be an efficient strategy to allow potential employers to contact you more easily and get a new job.


By activating the Open Profile option on your linkedin account, you send a signal that you are open to job opportunities.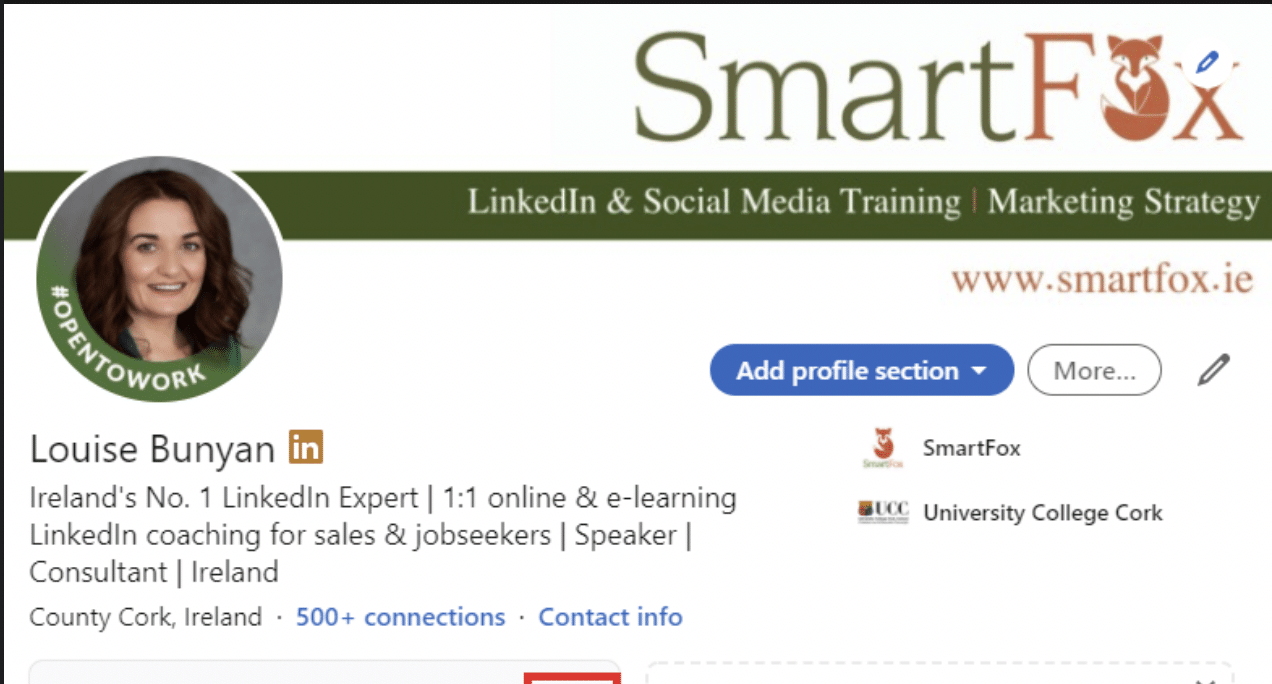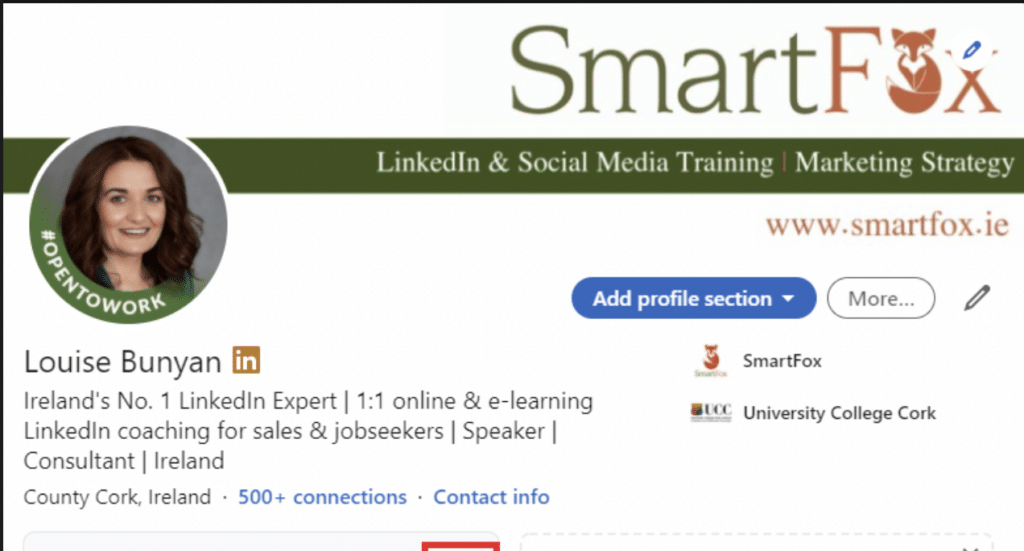 It's much better than displaying the Open To Work badge on your profile photo. That's making you look needy in the eyes of hiring managers. Don't do that.
So if you are looking for your new work experience, getting a Linkedin premium profile is worth it. Linkedin claims that Premium Career subscribers get hired an average of 2X as fast.
Conclusion
You've seen that both activating Open Profiles and learning how to find them on Linkedin can generate a lot of business opportunities.
Receiving and sending more open profile messages is definitely an efficient to move your business or your career forward.
So don't wait a second and start implementing these strategies right now!
We are sorry that this post was not useful for you!
Let us improve this post!
Tell us how we can improve this post?
Build email lists from
Export clean data and get verified emails in 1 click.