LinkedIn Sales Navigator offers salespeople power to discover leads and get relevant information about them to close more deals.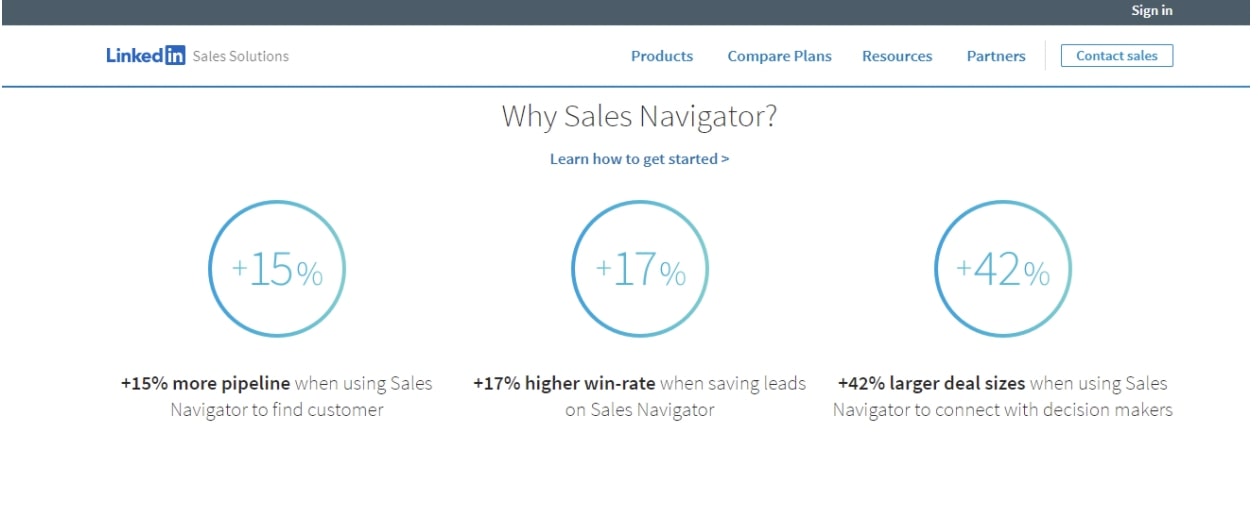 In this article, we cover Linkedin Sales Navigator benefits and case studies for you to determine if LinkedIn Sales Navigator is a good investment:
What is LinkedIn Sales Navigator?
What are the benefits of LinkedIn Sales Navigator?
Linkedin Sales Navigator Case Studies
Is LinkedIn Sales Navigator worth the money?
1.What is Linkedin Sales Navigator?
LinkedIn Sales Navigator is one of the premium products sold by LinkedIn (with LinkedIn Premium and Recruiter).
It is a social selling platform that provides features that focus on helping you find prospects and build relationships.
It comes with 3 offers:
Linkedin Sales Navigator Professional (which is the basic sales navigator)
Linkedin Sales Navigator Team (for small sales teams)
Linkedin Sales Navigator Enterprise (for large sales teams)
2. What are the Benefits of LinkedIn Sales Navigator?
We identified 5 benefits using Linkedin Sales Navigator:
Up to date B2B data
Hyper-targeted lead and account lists
Automated Lead Generation
Automated sales insights generation
CRM Integration
As you learn how to use Sales Navigator more effectively, you'll start to enjoy all these benefits
Here is a video showing you how sales navigator works and how to get the most out of it:
So why use linkedin sales navigator?
1. Up to date B2B Data
LinkedIn Sales Navigator allows you to search for leads in their huge B2B database with advanced search filters.
Basically, it is the best B2B database in the world because :
700 million people are on it
It never gets outdated
people produce high-quality data
The common problem with B2B databases is they get outdated pretty quickly. 30% of B2B databases get outdated each year on average
Linkedin has not this problem because people update their info themselves.
2. Hyper-Targeted Lead & Accounts Lists
The main added value is its advanced search engine for LinkedIn.
It is much more powerful and precise than the "standard" search engine, with more features to find your potential customers.
The Sales Navigator advanced search function gives it users to created hyper-target lead lists. You can choose from a large number of filters including: 
Company name
Company size
Company type (e.g., public, private, non-profit)
Group membership
Keywords
School
Years of experience
Geographic location (by region or state)
Job title
Industry
You can also use boolean search to perform to execute really detailed search inside your leads' profiles.
However, you can limit the value of Linkedin Sales Navigator to Advanced Search.
There are many other features that provide great benefits to your outreach strategy
3. Automated Lead Generation
One of the Linkedin Sales Navigator advantages is that it can automatically generate new leads for your Sales team every week.
Once you made a search, you can save it:
The news leads that are matching with your search filters will appear on the column "New Results" on a Weekly/Monthly/Daily basis depending on the alert frequency you set.
Linkedin Sales Navigator even recommended leads and accounts depending on your sales preferences, search history, profile views, and past saved leads. 
This is feature can help your sales save time and feed their pipeline faster with relevant recommendation. 
4. Automated sales insights generation
The good thing about Sales Navigator is that the more you use it, the more it will give you valuable insights. 
Each time you save a lead or an account, Sales Navigator will send you update on their activity


This provides actionable information and insights that you can use to have a deeper understanding of your leads.

You can then engage with your prospects at a more personal level by offering personalized content and messages bases on their LinkedIn activities.
5. CRM Integration
Sales Navigator Team and Enterprise Edition integrate with several popular sales apps and customer relationship management programs, including Salesforce and HubSpot.
Sales Navigator CRM Embedded Profile: The Sales Navigator embedded profile for allows you to view and leverage LinkedIn information and Sales Navigator insights directly within your CRM, where you're already tracking your other sales and relationship activity.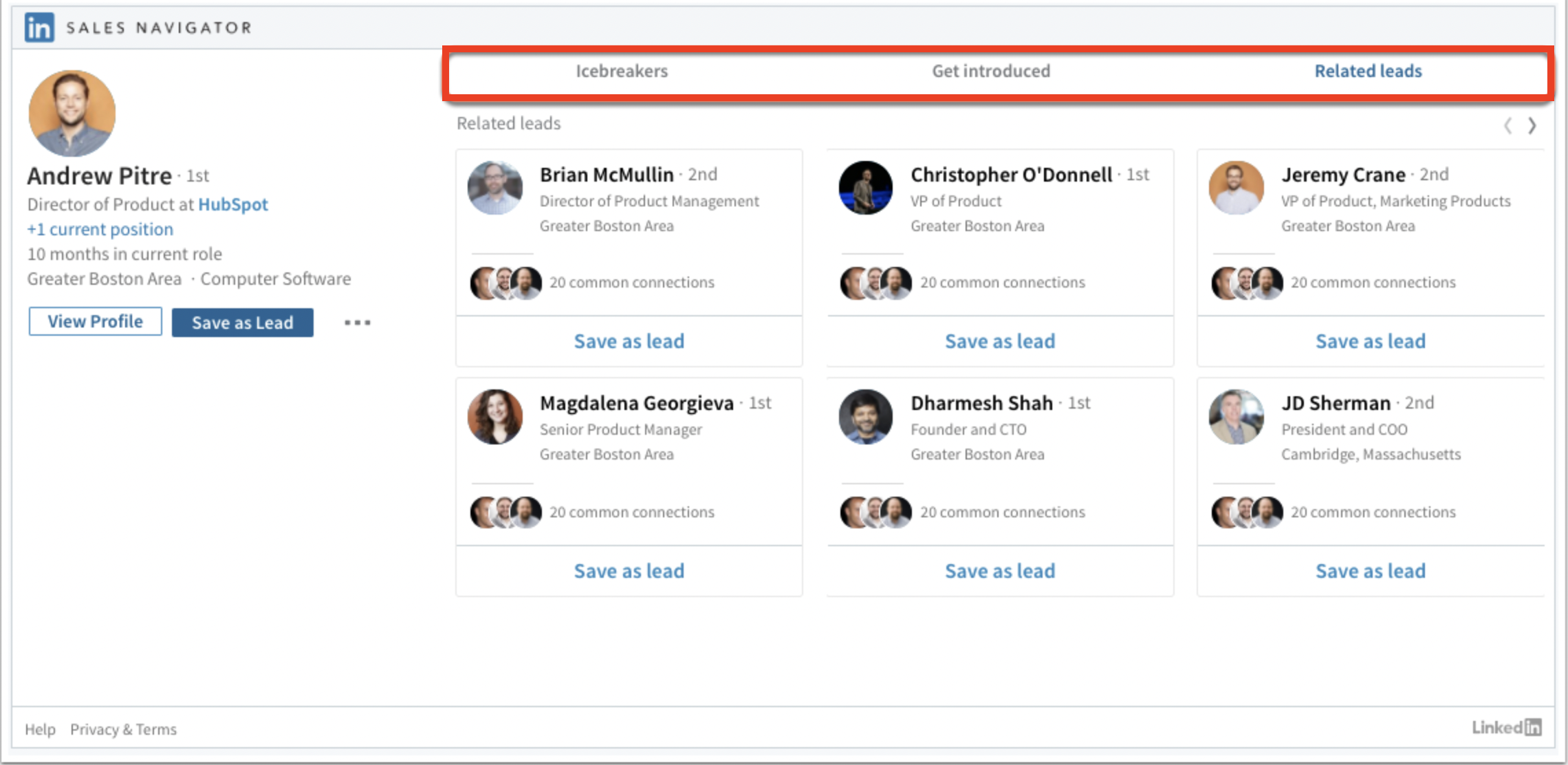 Sales Navigator CRM sync: CRM sync saves time by automatically importing the accounts and contacts that are affiliated to every individual in the CRM. Additionally, you can enable the CRM sync to write-back select data from Sales Navigator to your CRM.
The features can save a lot of data entry work for your sales and help them focus and building great relationships with your clients.
3. Linkedin Sales Navigator Case Studies
You can find dozens of sales navigator case studies on their dedicated use case page.
The describe big enterprises success stories like SAP, EY or Microsoft.
These companies are miles away from using Growth Hacking techniques.
Indeed, most Sales Navigator users are SMB their use case on Sales Navigator is always the same. They want to:
Create list of qualified leads on Sales Navigator
Find the emails of their leads
Start a cold email campaign
That is precisely the use case we describe in this video:
1.4. Is LinkedIn Sales Navigator worth the money?
The worth of LinkedIn Sales Navigator to your eyes will heavily depend on the level of precision you want to achieve in your prospecting.
If you don't need your leads to be really well targeted, maybe you won't perceive the value of Sales Navigator.
On the opposite, if you need to launch hyper-targeted outreach campaigns to generate dozens of opportunities every week, LinkedIn Sales Navigator definitely worth a try.
So if we sum it up...
Linkedin Sales Navigator won't worth the money if...
You are not using LinkedIn to prospect
Your audience is broad, and you don't need so many filters to find your targets
You are broke
Linkedin Sales Navigator will worth the money if...
Create hyper-targeted lists of leads
Provide great icebreakers ideas to connect with your leads