35 Linkedin Statistics You Should Know in 2023
Here are the freshest linkedin statistics you can get on the web. Get these linkedin stats to back up what you are writing on your blog.
Linkedin General Statistics
Here you will find all the statistics about linkedin as company: employee, countries, revenues etc…
LinkedIn has 35 offices and 19,000 employees
LinkedIn has more than 19,000 full-time employees and offices in more than 30 cities around the world.
LinkedIn US offices are located in: Bellevue, Carpinteria, Chicago, Detroit, Mountain View, New York, Omaha, San Francisco, Sunnyvale, and Washington, DC.
International LinkedIn offices are located in: Amsterdam, Bangalore, Beijing, Berlin, Dubai, Dublin, Graz, Gurgaon, Hong Kong, Kuala Lumpur, London, Madrid, Melbourne, Mexico City, Milan, Mumbai, Munich, New Delhi, Paris, São Paulo, Shanghai, Singapore, Stockholm, Sydney, Tokyo, and Toronto.
LinkedIn's revenue was $11.5 billions in 2021
LinkedIn revenue increased by 43% in 2021 to $11.5 billion, a higher percentage increase than the last two years.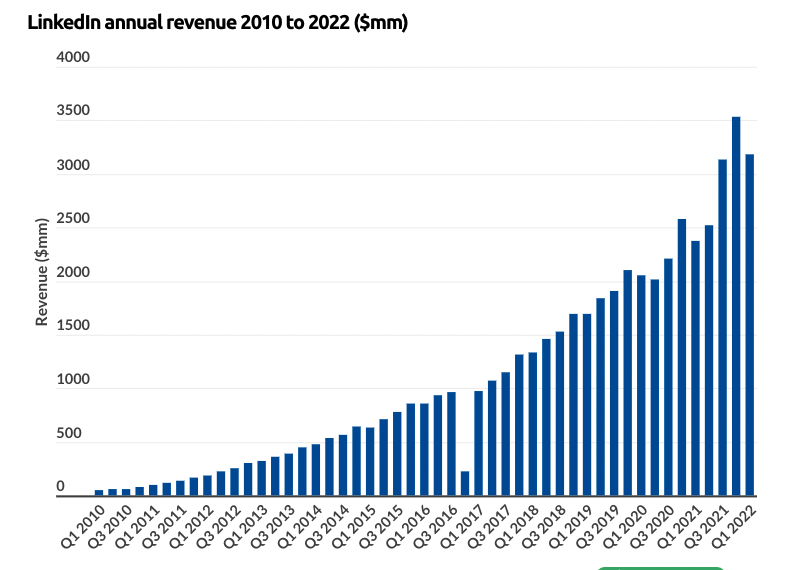 39% of LinkedIn revenue comes form LinkedIn Premium
More than a 3rd of linkedin revenue come from the premium offers that offer advanced features on the platform:
Career: $39.99/month ($26.99/month when billed annually)
Business: $69.99/month ($55.99/month when billed annually)
Sales Navigator Core: $99.99/month ($79.99/month when billed annually)
Recruiter Lite (Hiring): $199.95/month ($169.95/month when billed annually)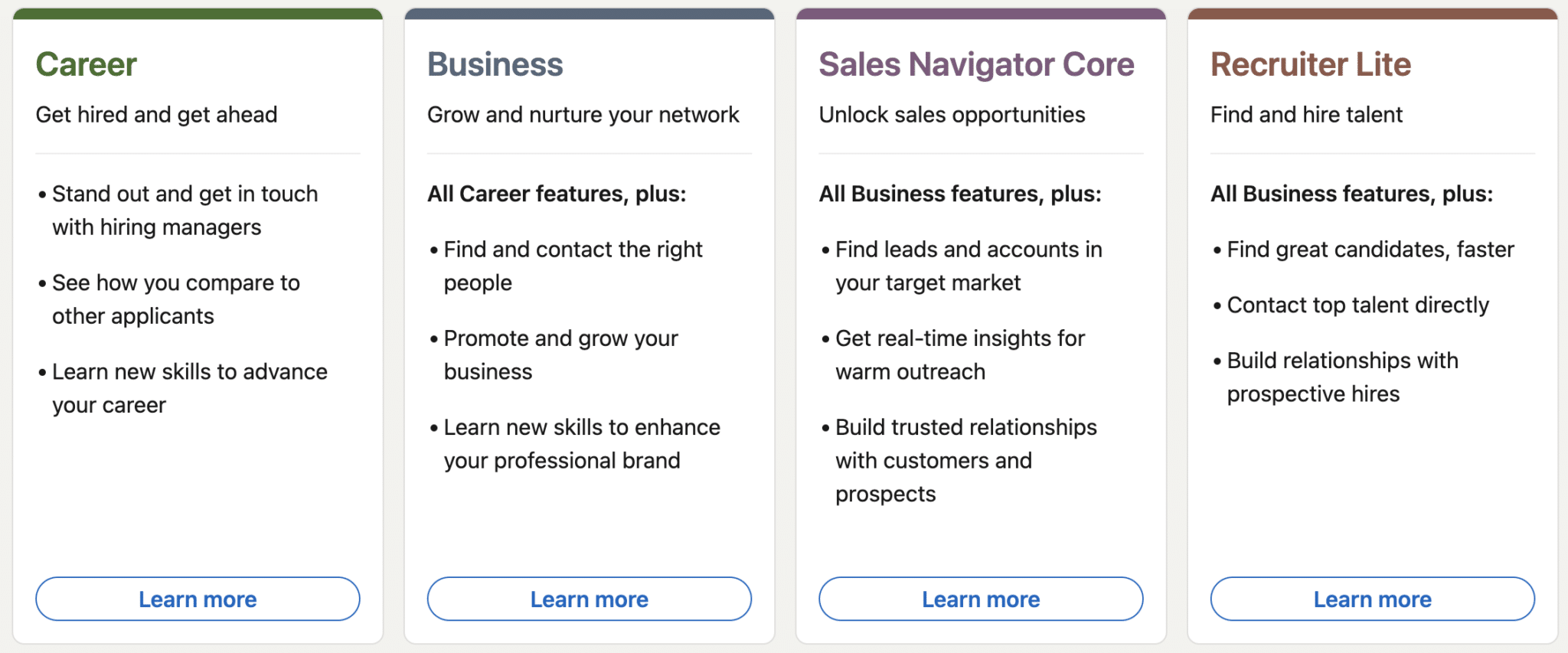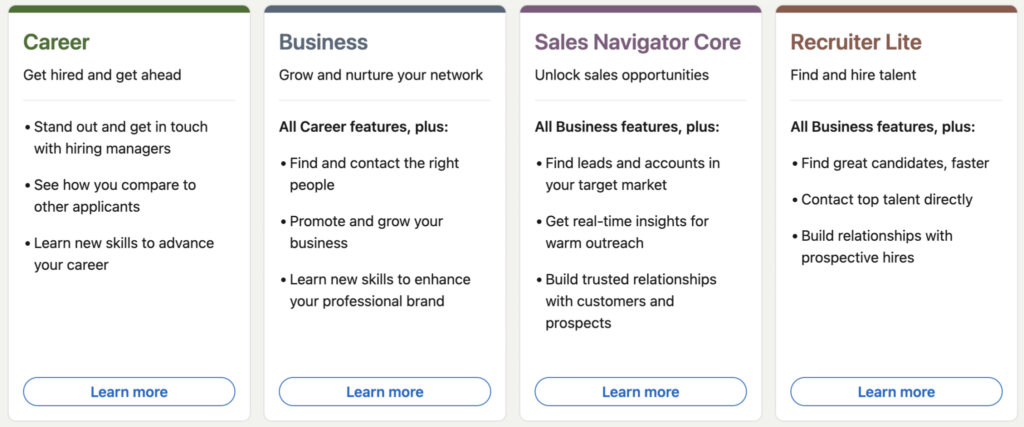 Source: Kinsta
LinkedIn is 19 years old and the oldest major social network
LinkedIn began in co-founder Reid Hoffman's living room in 2002 and was officially launched on May 5, 2003.

Comparatively, Facebook launched 9 months later. That makes LinkedIn is the oldest social networks that is used worldwide.
LinkedIn is available in 26 languages
LinkedIn is currently available in 25 languages: Arabic, English, Simplified Chinese, Traditional Chinese, Czech, Danish, Dutch, French, German, Hindi, Indonesian, Italian, Japanese, Korean, Malay, Norwegian, Polish, Portuguese, Romanian, Russian, Spanish, Swedish, Tagalog, Thai, and Turkish.
This allows many global users to access the network in their native language.
Women represent 42% of Linkedin's leadership
Linkedin is engaged in the inclusion of womens and minorities inside Linkedin leardership.



Linkedin Users Stats
In this section, you will find all you need to know about linkedin users.
LinkedIn has 830 million members
Linkedin is behind Instagram (1.28 billions) and Facebook (2.93 billions)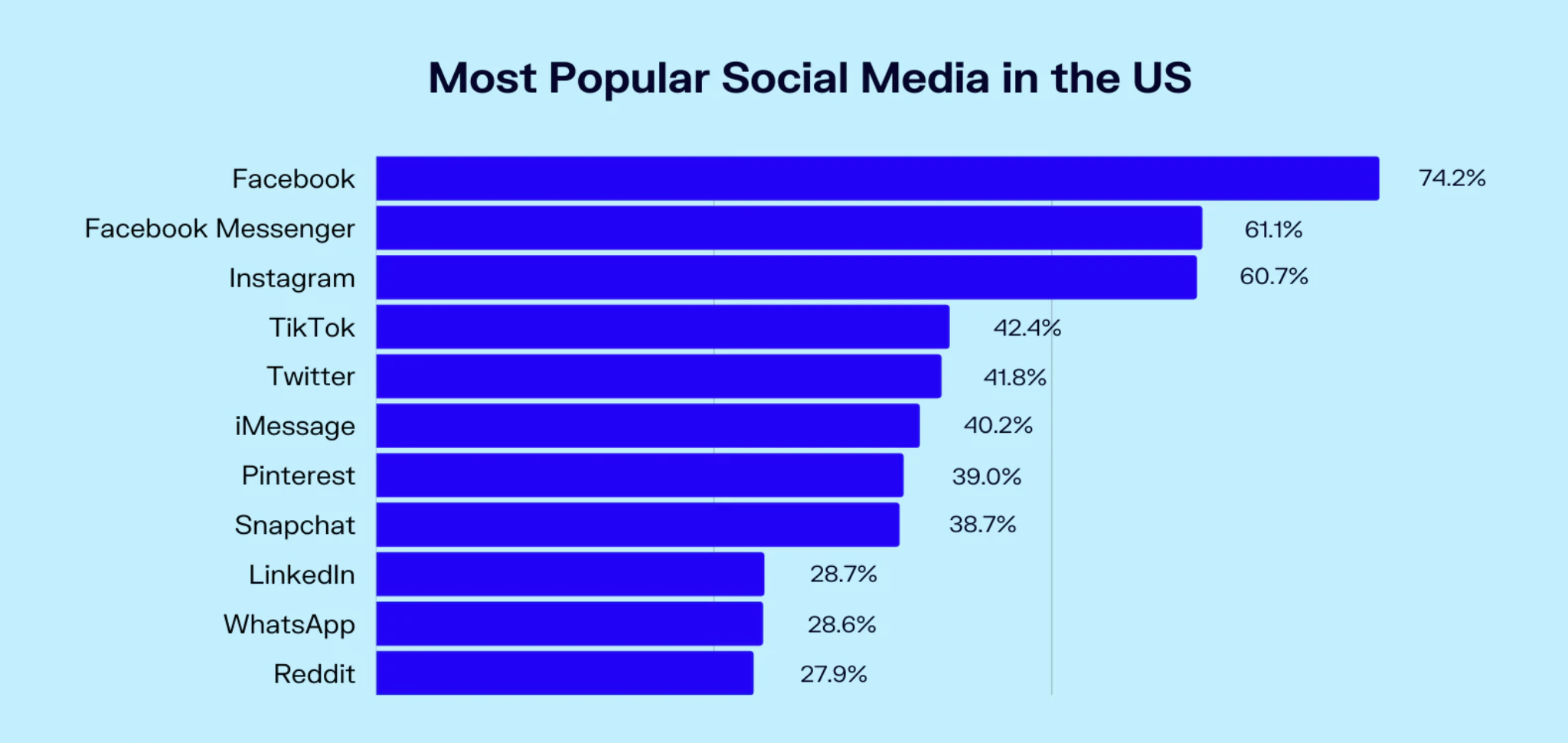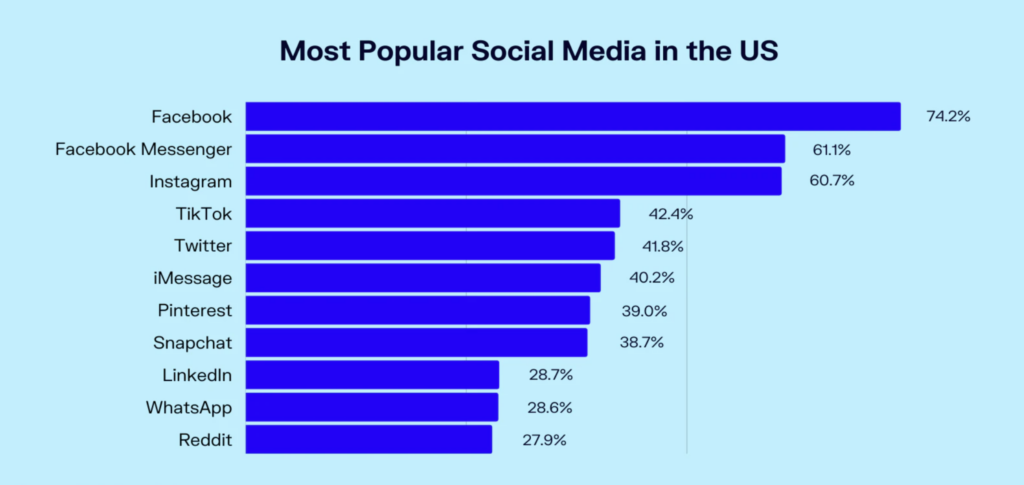 LinkedIn may not be the largest of the social networks, but their focus on business communities make their audience much more qualified for B2B business.
188 million U.S. Workers have LinkedIn profiles
The US is LinkedIn's biggest market with over 188 million users, the network has gained traction around the world.
Linkedin is present in 200 countries worldwide
Linkedin is a worlwide platform present in 200 countries in the world.
Behind the US, the biggest users are:
India (88M)
Brasil (56M)
China (56M)
UK (32M)
France (24M)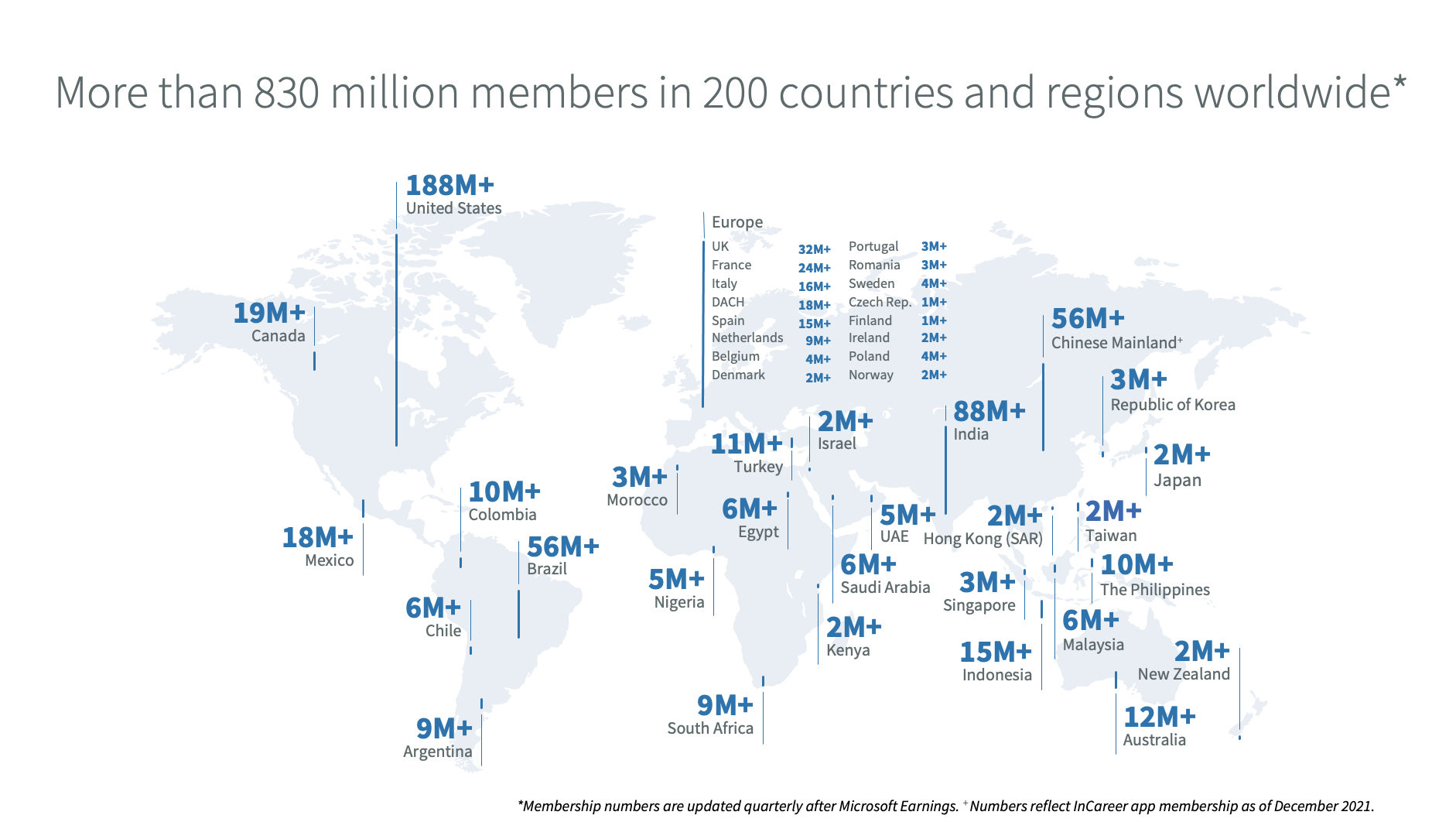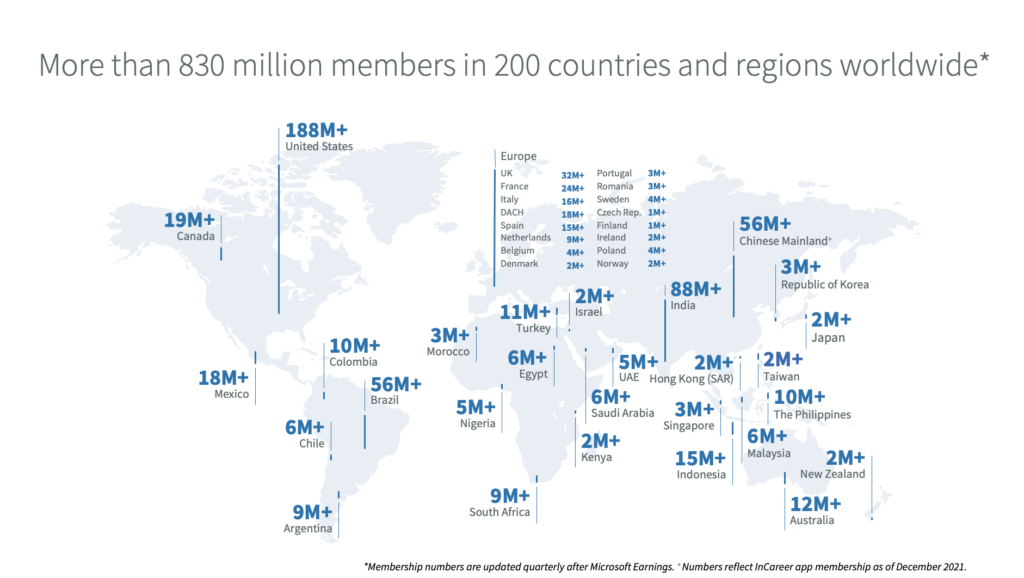 +75% of LinkedIn users are from outside the US
LinkedIn's users live in more than 200 hundred countries and regions around the world. This includes over 211 million in Europe, the Middle East, and Africa, 224 million in the Asia Pacific, and 124 million in Latin America.
NAMER: 208M+
APAC: 230M+
EMEA: 216M+
LATAM: 128M+
MENA: 45M+
Source: Linkedin
58M+ Companies are listed on linkedin
More on more companis are creating company pages on linkedin to communicate with their audience on gather stats about them.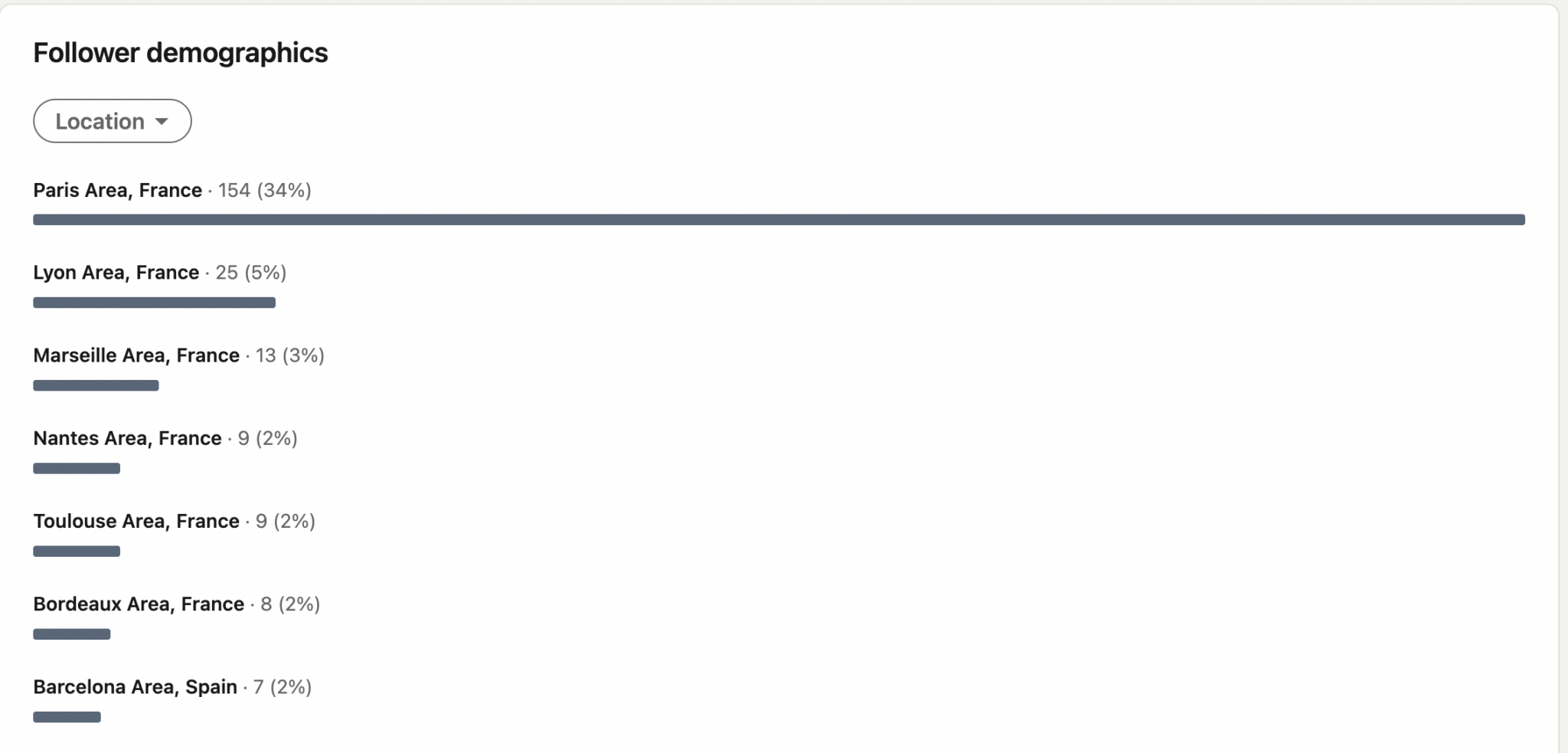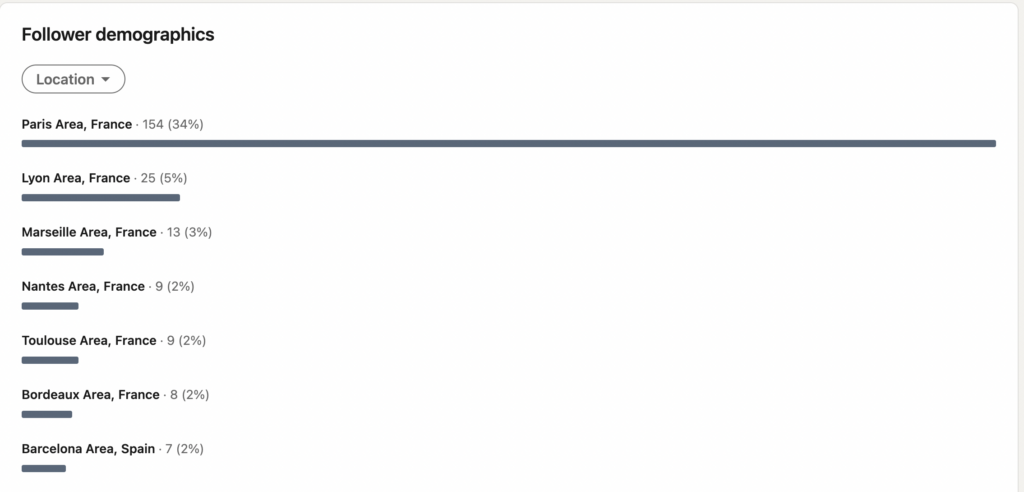 Source: Linkedin
The most followed organization on LinkedIn is Amazon
Above Google, TEDX, and LinkedIn themselves, Amazon is the most followed company account on the platform. Here is the ranking:
Amazon Inc – 27.2M
Google – 25.9M
TED Conferences – 22.9M
LinkedIn – 23.30M
Unilever – 17.8M
Microsoft – 17.6M
IBM – 14.3M
Nestle – 13.8M
Accenture – 9.3M
Meta – 9M
The most followed person on LinkedIn is Bill Gates
The founder of Microsoft is the far ahead Richard Branson with a +15M followers lead.
Here is the ranking:
Bill Gates – 35.8M
Richard Brandson – 19.8M
Jeff Weiner – 10.7M
Ariana Huffington – 10.12M
Satya Nadella – 10M
The most followed hashtag on LinkedIn is #india
Indians are really active on Linkedin and this number of followers on these hashtags is the consequence of this presence. After that come really generic hashtags like #innovation and #management.
Here is the ranking:
#india — 68M
#innovation — 39M
#management — 36.2M
#humanresources — 33.4M
#digitalmarketing — 27.5M
#technology — 26.4M
#creativity — 25M
#future — 24.7M
#futurism — 23.7M
#entrepreneurship — 23M
Linkedin Demographics
Here are the stats regarding user genders, age and revenue.
57.2% of LinkedIn users are men, with 43% are women
Men significantly outnumber women on LinkedIn overall, but you'll need to do some research to understand the makeup of your specific LinkedIn audience. Note that LinkedIn does not report any genders other than male or female.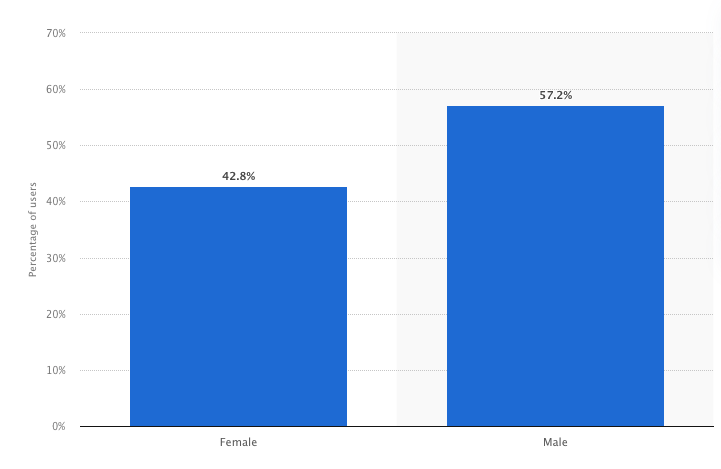 57.6% of Linkedin users are between 25-34 years old
While 44% of those between 25 to 30 and 37% of those aged 30 to 49 say they use LinkedIn.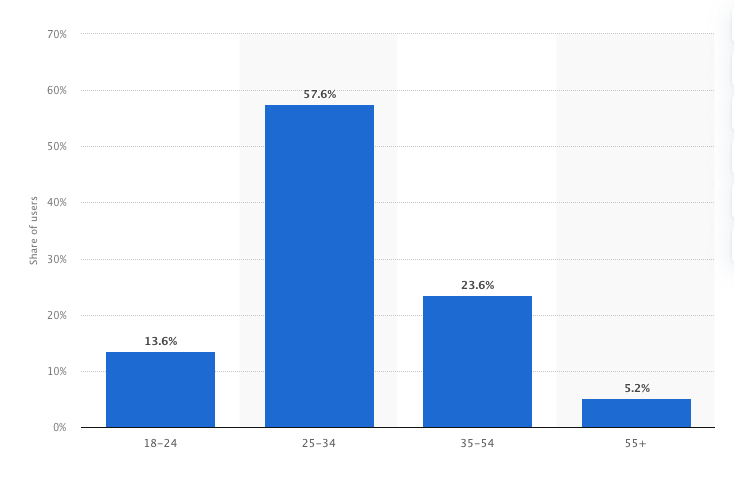 Source: Statista 2022
44% of LinkedIn members earn more than $75,000 per year
The U.S. Census Bureau estimated median annual earnings at $41,535 in 2020 for workers aged 15 and over with earnings and $56,287 in 2020 for those who worked full-time, year round (Source: Wikipedia)
This stat shows the platform is populated by industry professionals and leaders.
50% of Linkedin have a bachelor's or advanced degree
50% of adults who have a bachelor's or advanced degree in the US are LinkedIn users.
At the same time, only 10% of people whose education doesn't surpass high school are on Linkedin.
Seems that Linkedin is mostly populated by people doing long studies.
(Source: Pew Research Center 2021 Social Media Use)
4 out of 5 people on LinkedIn "drive business decisions"
LinkedIn is the number one platform for Inc. 500 companies, according to research by the University of Massachusetts, Dartmouth. They found that 87% of the Inc 500 companies use LinkedIn to tell their stories, recruit, and network. Although this is down from LinkedIn's 2016 peak, it is still higher than any other social network.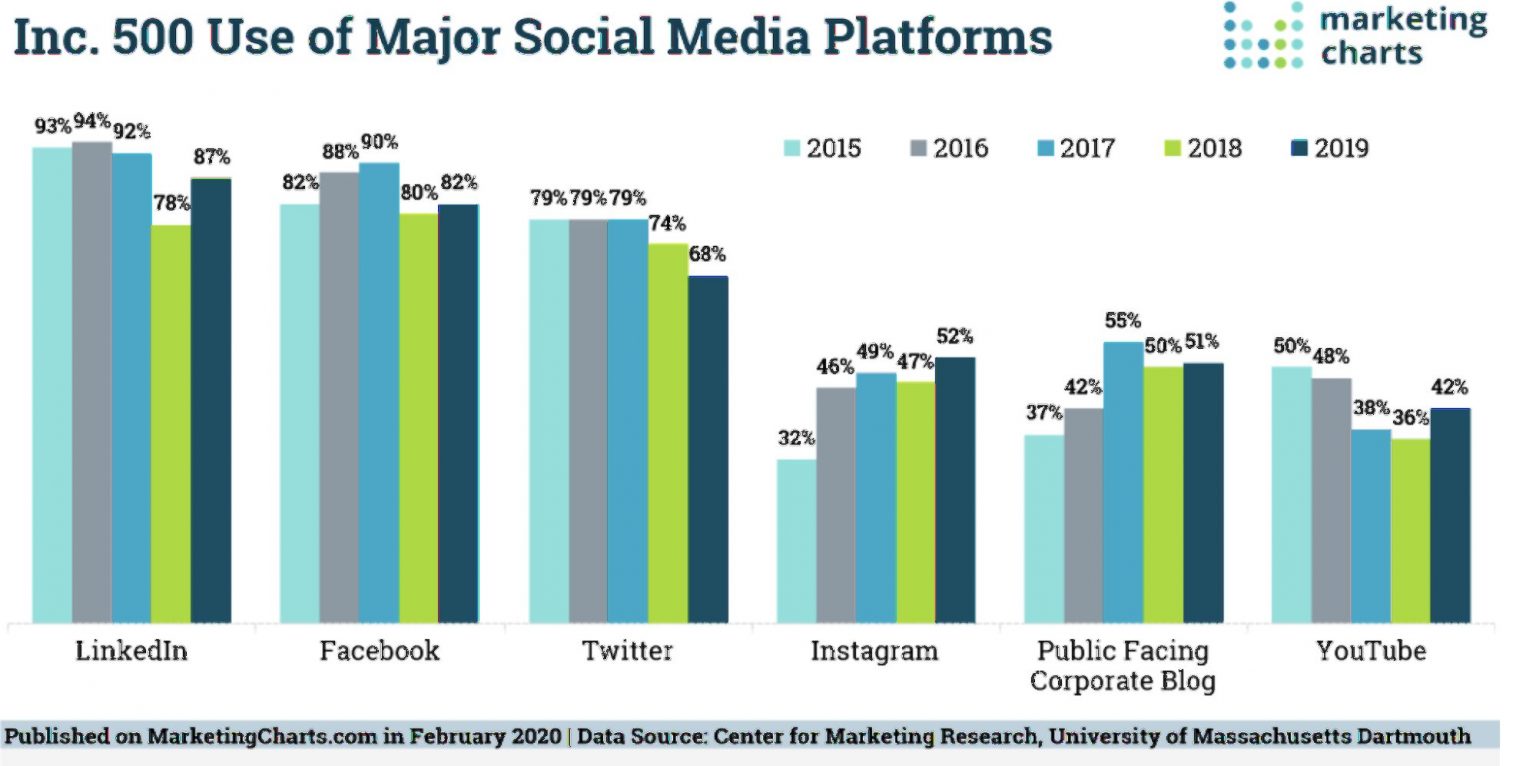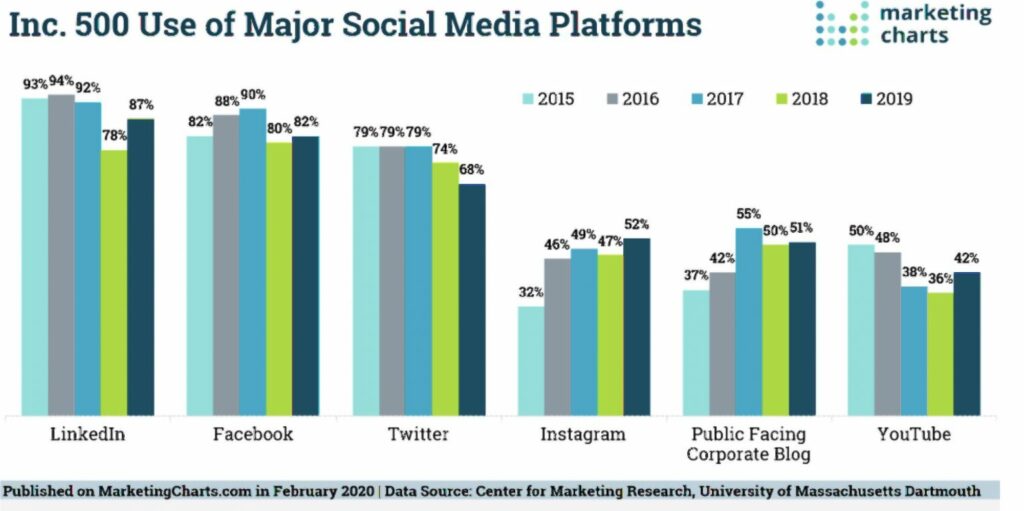 Linkedin Usage Stats
There are 310 million LinkedIn monthly active users.
The most recent and accurate number of LinkedIn MAU is 310 million. An average user spends 7 minutes and 31 seconds on the network every day. Data on LinkedIn daily active users indicates that 48% of the monthly users are logged in to the platform daily.
16.2% of US LinkedIn users log in every day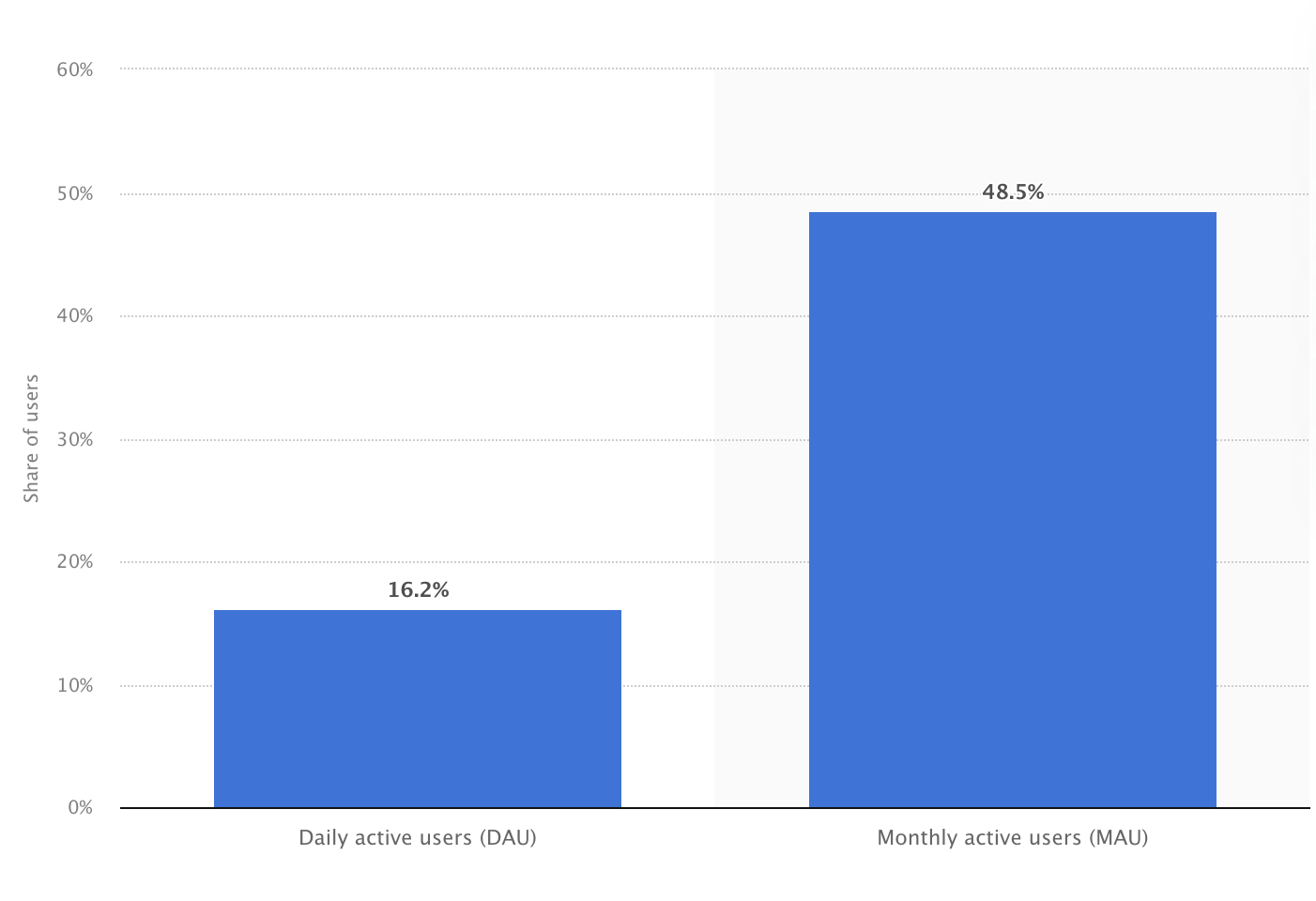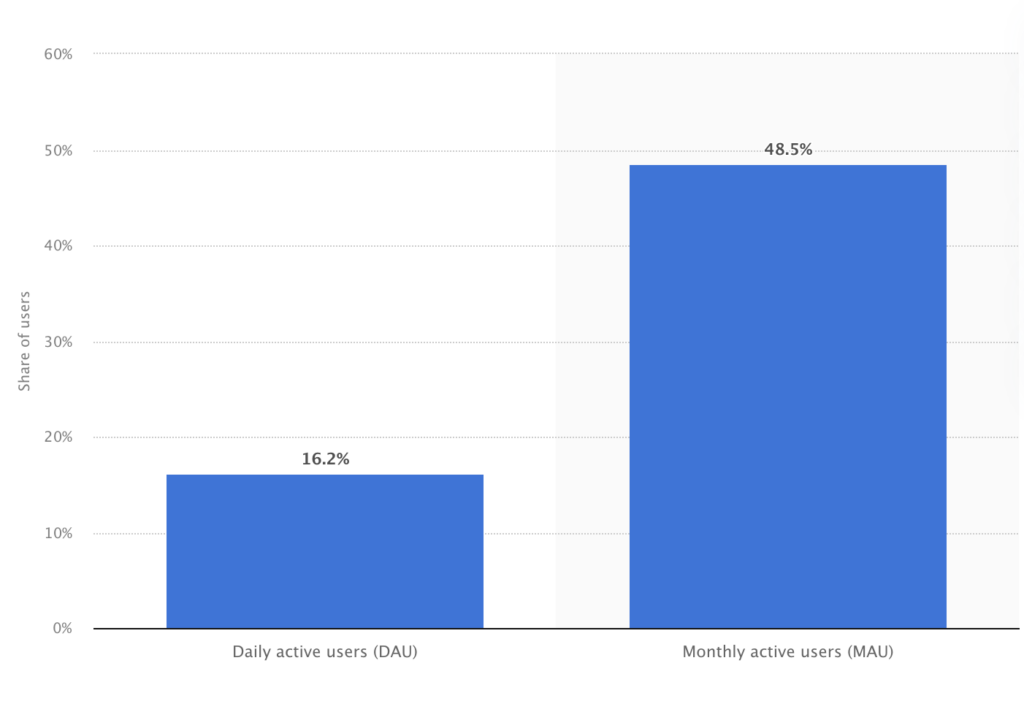 22% Year-over-year increase in platfrom engagement in
Q3 FY22
30% of a company's engagement on LinkedIn comes from employees
This makes a lot of sense: your company's employees are the people who care most about seeing your brand succeed.
Boosting brand reputation via employee advocacy is a winning strategy for companies that develop a comprehensive program.
Employees are 14x more likely to share content from their employers
than other types of content on LinkedIn
This reinforces the LinkedIn stat above. Your employees are an important part of your LinkedIn marketing strategy.
Linkedin Advertising Stats
Here you will find all the linkedin statistics related to linkedin ads. The advertisement service offered by linkedin.
Linkedin Ads generated 3.82B in revenue in 2021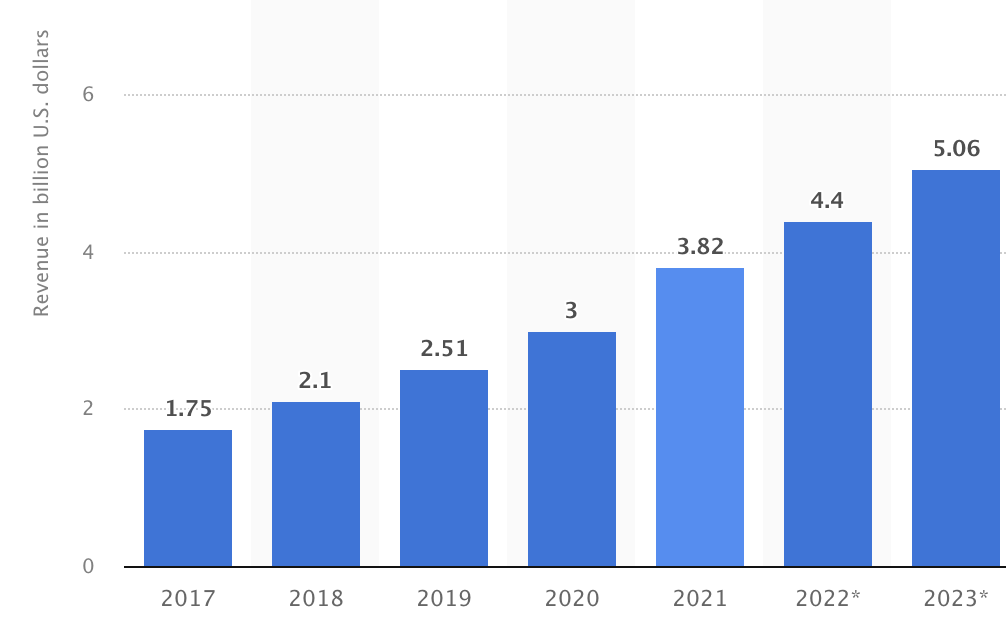 75% of B2B content marketers use LinkedIn ads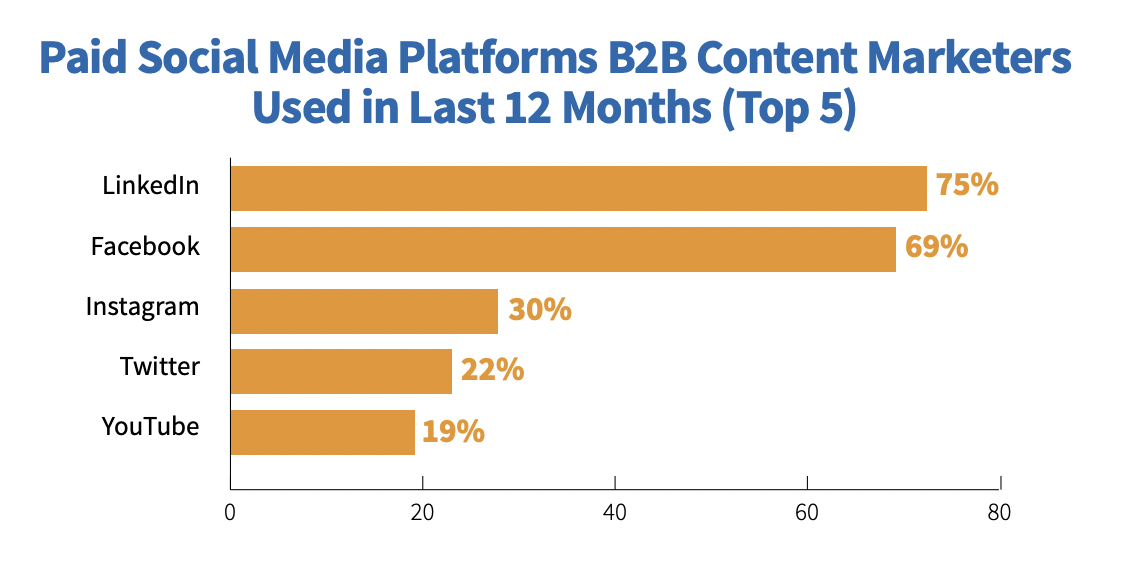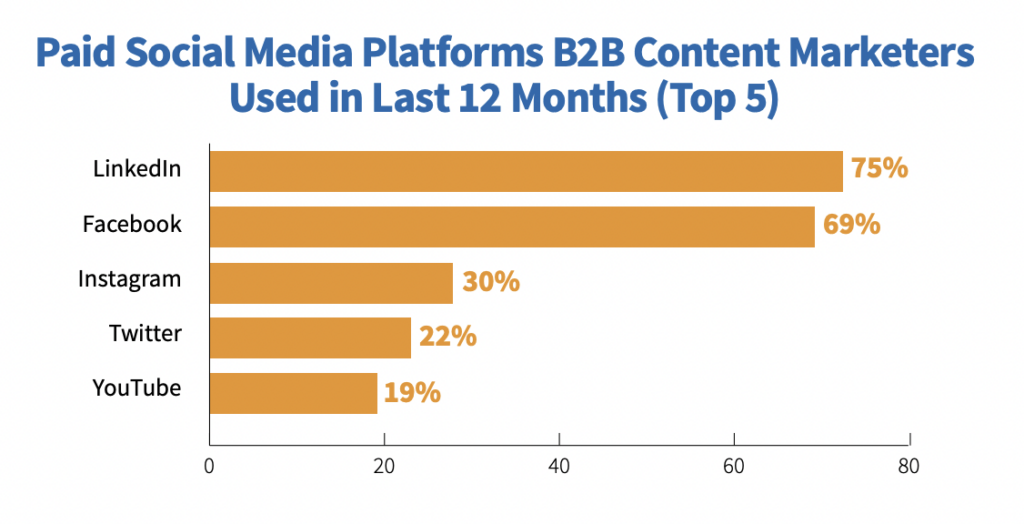 That's a 2.8% increase from Q3.
79% of content marketers say LinkedIn ads produce the best results
Not content with being the strongest social networking platform for organic results, LinkedIn Ads ranks as the best for paid results. Behind LinkedIn came Facebook (54%), YouTube (36%), and Instagram (33%).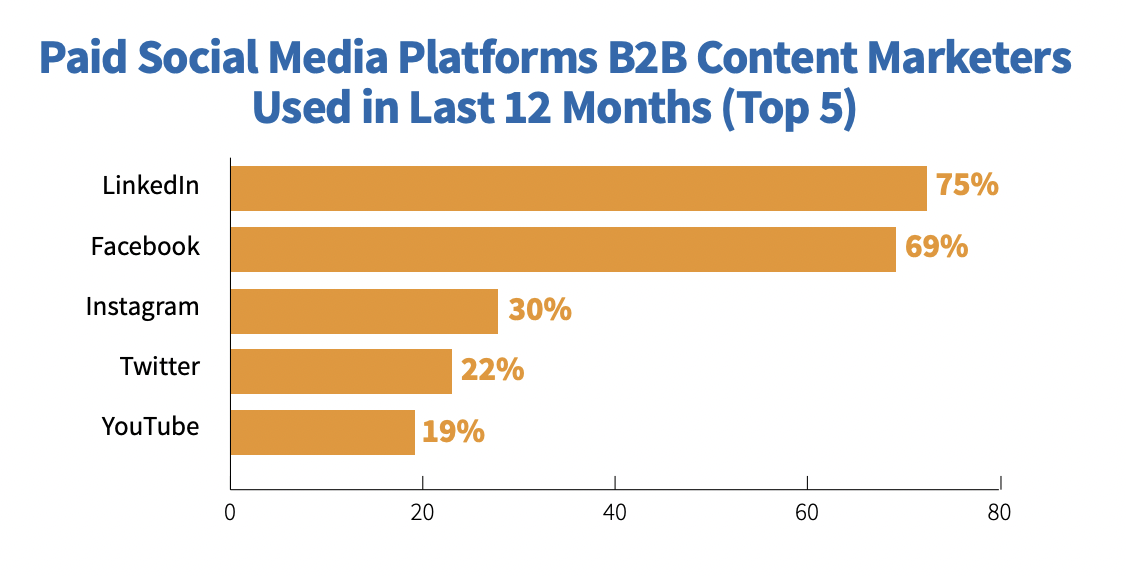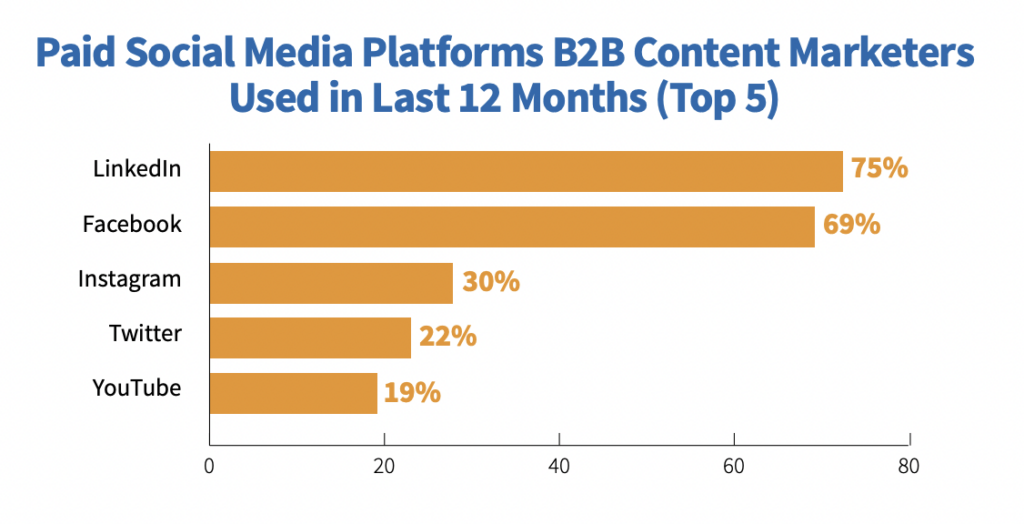 Marketers see up to 2x higher conversion rates on LinkedIn
LinkedIn's range of tools for audience targeting means website visits originating from the platform are more likely to increase conversions on B2B sites.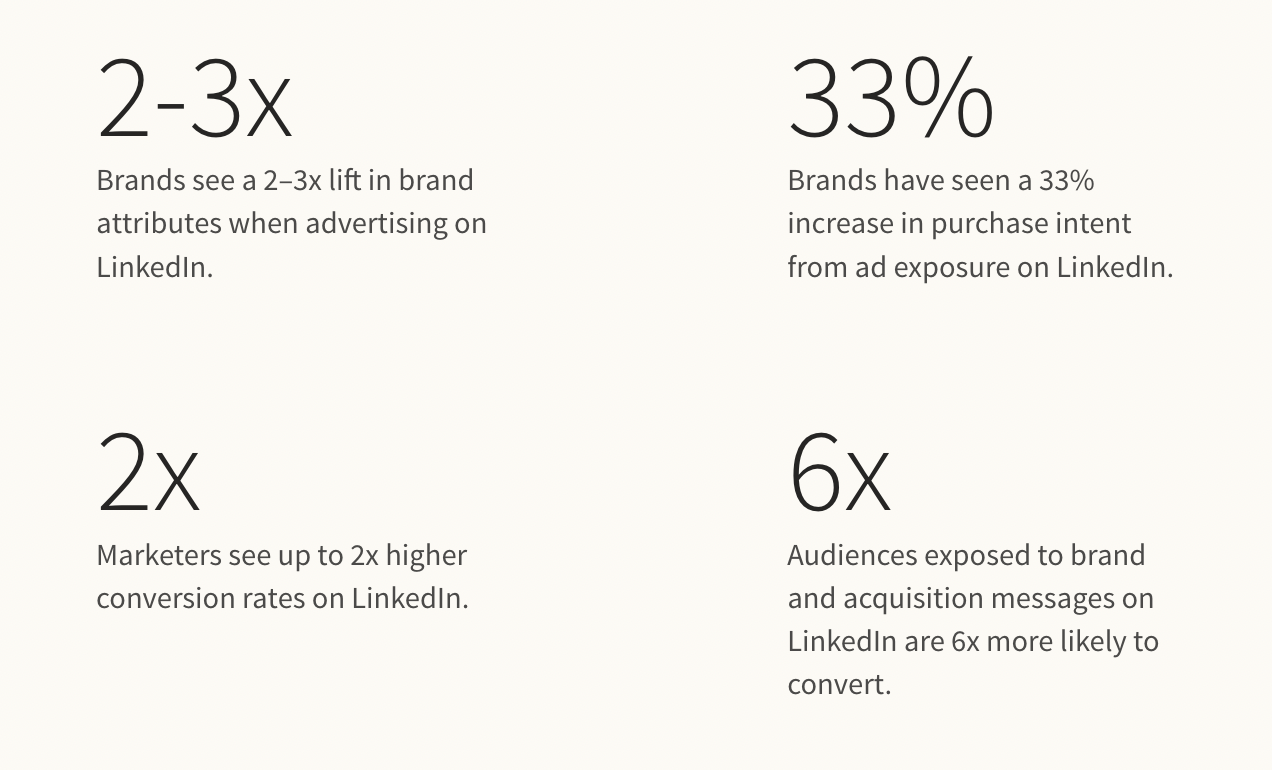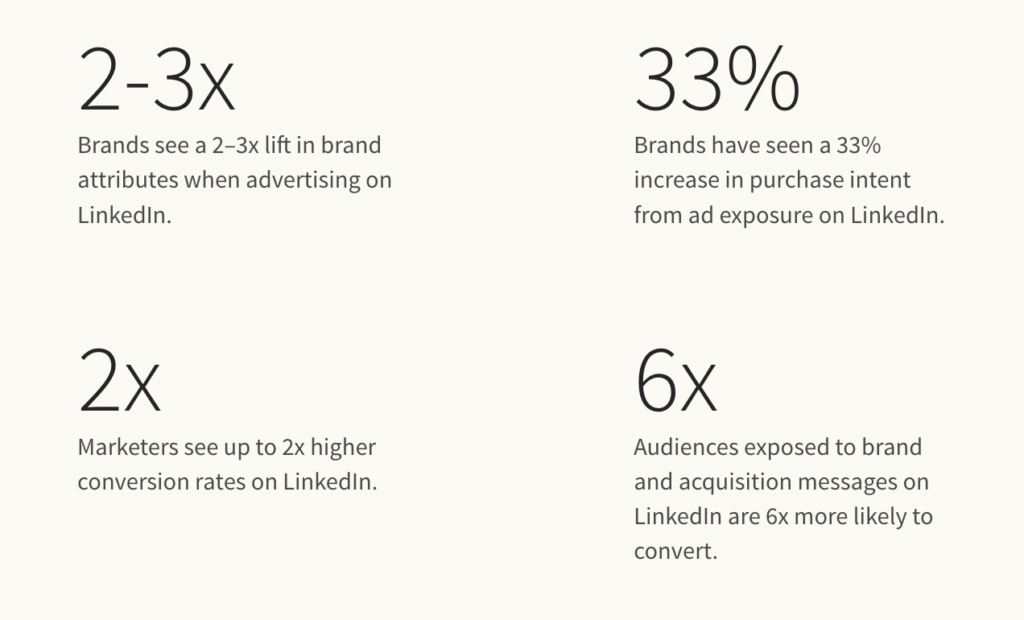 Linkedin Marketing Statistics
In this section, you will see what marketers think about Linkedin and how they use it.
40% of marketers say LinkedIn is the best B2B Lead Generation Channel
LinkedIn users can use professional demographic data to target the right people based on their job title, company, industry, and seniority.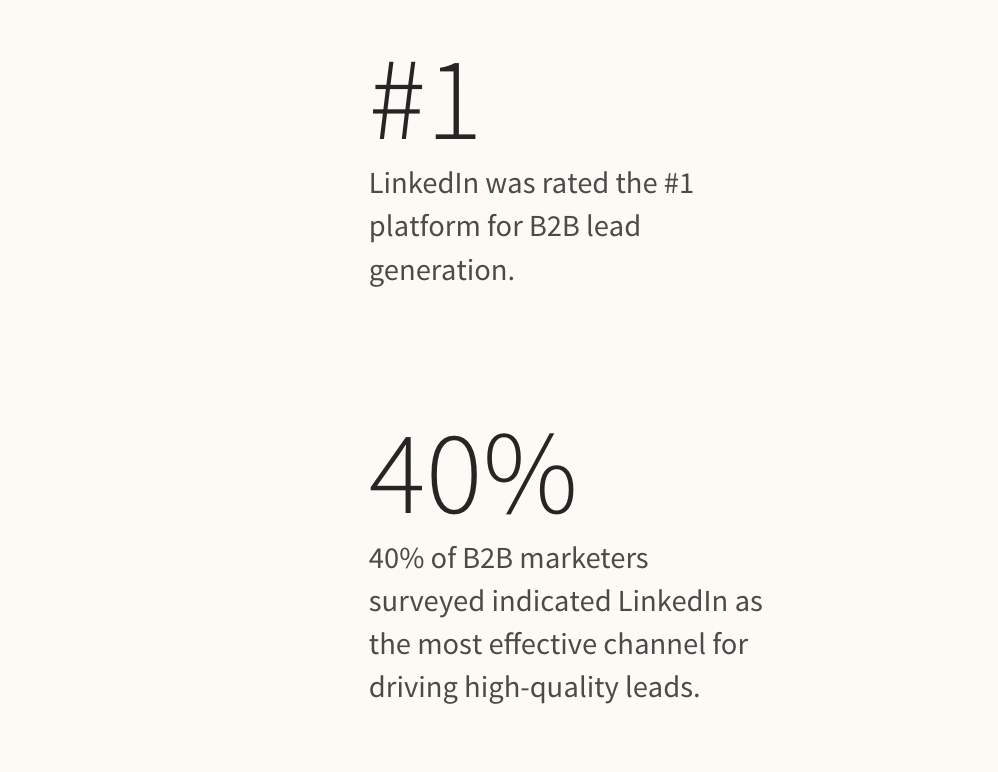 93% of B2B content marketers use LinkedIn for organic social marketing
These stats make LinkedIn the top network for B2B content marketers, followed by Facebook and Twitter (80% and 71%, respectively). This isn't surprising, given that LinkedIn offers a context in which people expect and seek out business-related content.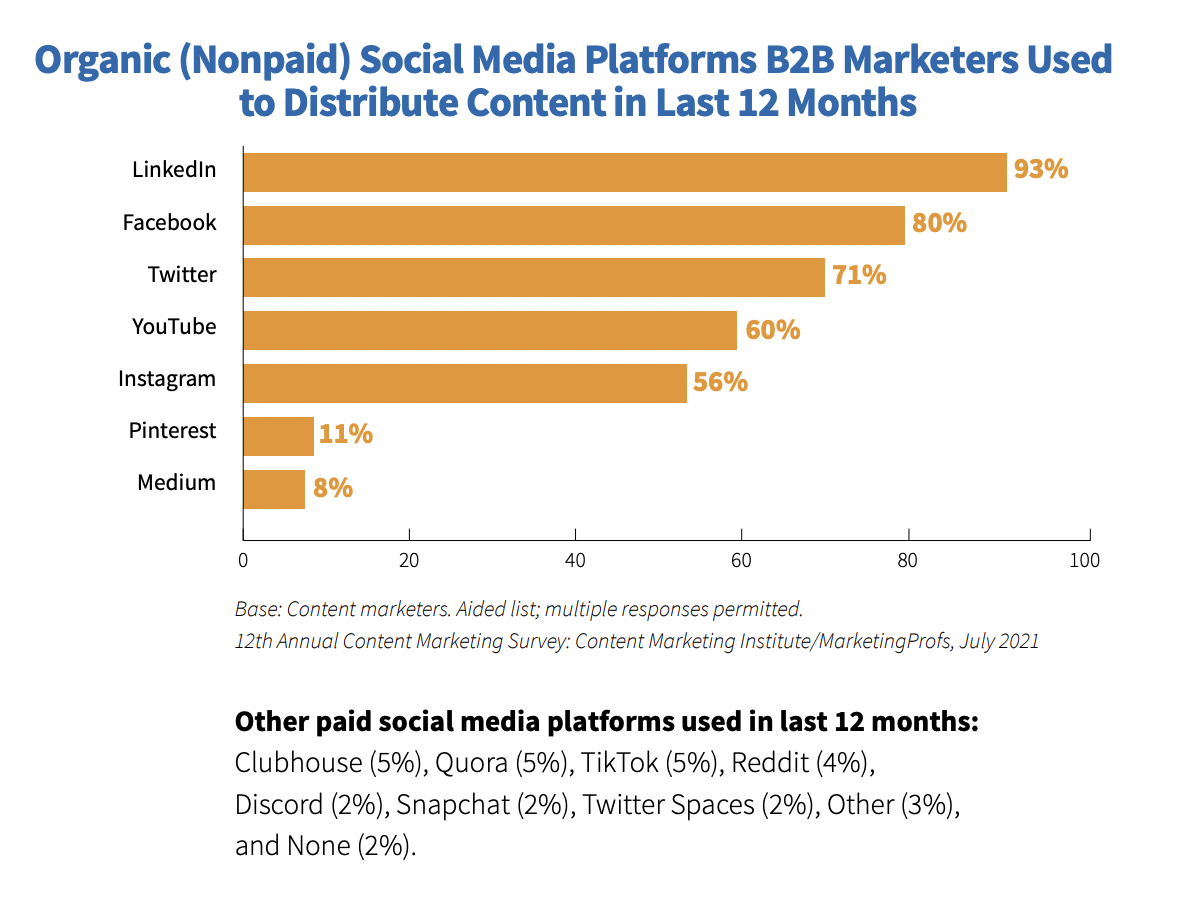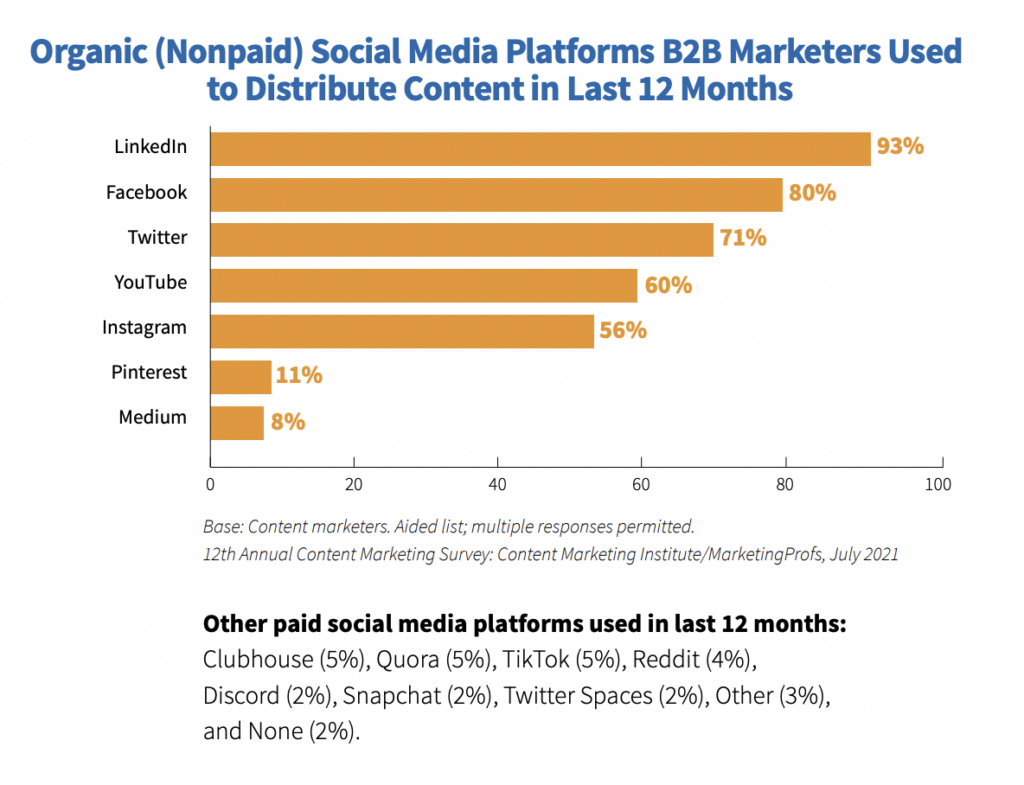 77% of content marketers say LinkedIn produces the best organic results
As well as boasting the most used platform for organic marketers, LinkedIn ranks as the best network for producing organic results.
Some way behind LinkedIn, Facebook comes in at second with 37%, followed by Instagram with 27% and YouTube with 21%.
It's not a shock that the top organic social network for B2B marketers is also the top paid social network. Facebook comes in next at 69%, followed by Twitter at 30%.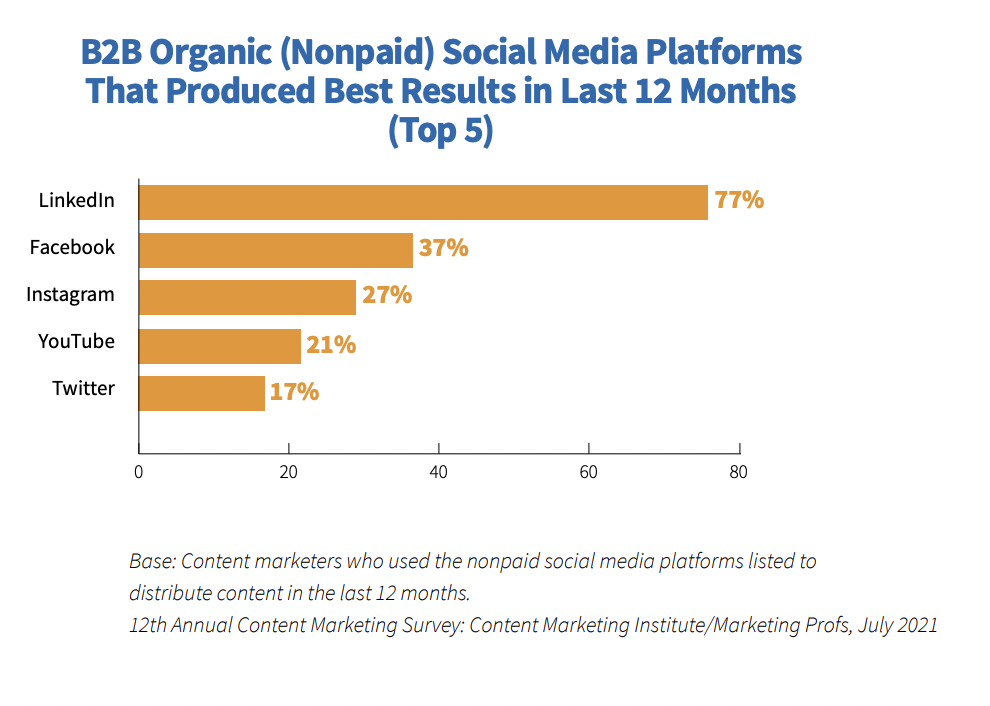 Source: Content Marketing Institute
9M Linkedin Members have turned on Creator Mode since launch
Thurday is the best day to post on Linkedin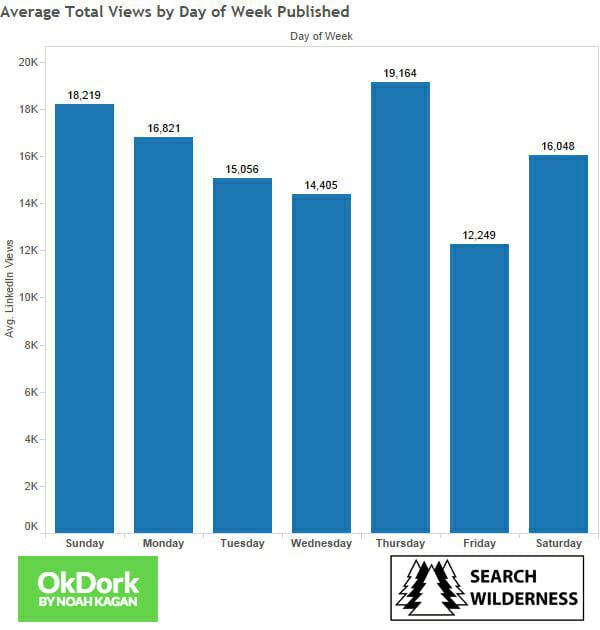 Linkedin Jobs Statistics
Here you will find all the linkedin jobs stats you can add to your blog contents.
87% of recruiters use LinkedIn regularly.
The majority of people choose LinkedIn for their social media-based recruitment efforts. A somewhat lower percentage of recruiters have turned to Facebook (55%). What's interesting is that LinkedIn's popularity among job recruiters has decreased from 2017, when 92% of them used it.
Source: Jobvite
Software Engineer is the most In Demand Job on Linkedin
Sofware Engineerr is the role with the greatest number of LinkedIn job posts in Q1 2022 (January 1 – March 31).

Here is the top 10:
Software Engineer
JavaScript Developer
Salesperson
Registered Nurse
Java Software Engineer
Project Manager
DevOps Engineer
Full Stack Engineer
Driver
Business Analyst
6 people are hired through LinkedIn every minute
Number of job position opened
95 job applications submitted every second on LinkedIn
To put this already remarkable figure in perspective, that's 4,620 applications sent every minute, 277,200 sent every hour, and an incredible 6.65 million job applications sent every day.
50M people are using LinkedIn to search for jobs each week
If that last LinkedIn stat didn't convince you it's worth having a solid presence on this network, this one should. Any company planning to hire new employees in 2022 needs a polished LinkedIn Page to help attract top-tier talent and leverage the channel to recruit candidates.
Searches for remote work on LinkedIn tripled after the coronavirus
The COVID-19 pandemic changed the way people work. Many businesses turned to work from home, making the online connection more important than ever. As a result, many job-seekers searched for remote work to get through the rough times.
(Source: LinkedIn)
We are sorry that this post was not useful for you!
Let us improve this post!
Tell us how we can improve this post?