In this step-by-step tutorial, you are going to learn how to use LinkedIn Sales Navigator to generate leads.
Generating leads with Sales Navigator implies using other tools.
LinkedIn Sales Navigator will be extremely useful to target your prospects, but you will need others to find their contact information and reach them to turn them into leads!
Use LinkedIn Sales Navigator Advanced Search Filters to find your prospects
Extract your prospects into a CSV file
Find your prospects' emails
Launch a cold email campaign (on prospects with emails)
Launch a LinkedIn outreach campaign (on prospects without emails)
Use LinkedIn Sales Navigator to generate leads with these 5 simple steps
1. Use LinkedIn Sales Navigator Advanced Search Filters to find your prospects
Targeting is the most important part when you want to generate leads with LinkedIn Sales Navigator.
You don't waist your time reaching out to people outside your target.
To find your ideal prospects on LinkedIn Sales Navigator, you need to define your "scrapable personae".
This means you must think about how to use the Sales Navigator filters like:
keywords
job title
industry
size
location
etc...
For example, one of Evaboot's target is B2B Growth Marketer in Startup.
Here is a correct search to find them where I target:
the job tittle
the size
I add B2B in the keywords to make sure they mentioned B2B at least one time in their profile.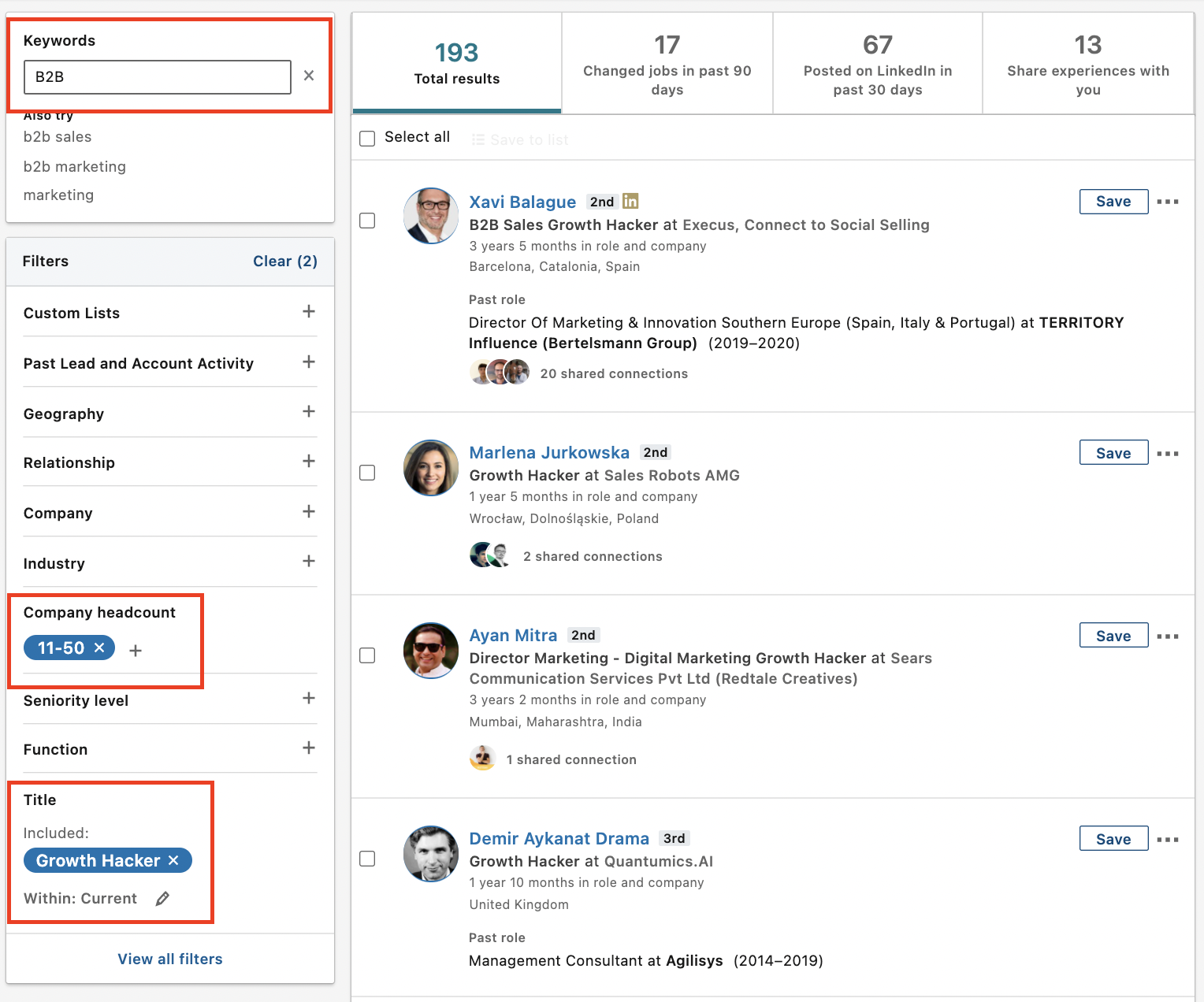 If you want to go much deeper on this subject, you can check our tutorial on how to master the LinkedIn Sales Navigator Search
2. Extract your LinkedIn Sales Navigator search into a CSV
If you want to use your prospects' information, you will need to export your Sales Navigator search into a CSV/spreadsheet/Excel file.
To do that, you can use Evaboot.
Here is a tutorial you can follow.
3. Find the emails of your LinkedIn Sales Navigator search results
Ok great. Now you get a clean CSV with all your prospects.
The next step is to find their emails.
For that you can use Anymail finder.
The great thing about this tool is you only pay for verified emails.
So won't pay if the tool don't find an email or if the email is a catch-all (meaning you're not sure if there is actually someone behind the email).
Let's get down to it.
Download the "Exact Match" CSV file on Evaboot to get your clean list of prospects.
Every email finder need little information to work properly:
first name
last name
website
company name
job title is a plus
With Evaboot, you have all this info in your CSV.
Evaboot also cleaned the data to facilitate the work of the email finder 😇
Having the website of each prospect will also decrease the catch-all rate in your results
(10% less catch-alls with websites on average)
(Sometimes there is emojis or typos that can prevent email finders to work well. We got you covered with that).
Now you just have to tell Anymail where to find the info.
➡️ Only add the prospects for which you have the website.
We'll see how to do with the prospects without websites later in this article ;)
Launch the extraction and wait a few minutes
You get a result like this.
➡️ Note that Anymail will keep your file clean. It seems normal but a good deal of email finder will completely mess up your files.
Not this one :)
You only pay for email that are verified but you can also shoot email there are not verified.
There is a risk the email will bounce but you should give it a try.
A new client worth the risk to bounce.
So now you have two type of prospects:
prospects with emails (verified or not-verified-
prospects without emails (because they have no website or Anymail did not find the email)
Separate this two CSV because we are going to:
Launch a cold email campaign on the first one
Launch a LinkedIn outreach campaign on the second
4. Launch a cold email campaign on prospect with emails
To contact your prospects through email I highly recommend Lemlist.
They have great deliverability and personalization features.
Although I do not recommend to use multi-channels campaigns (LinkedIn+Email) with their Chrome Extension and Dropcontact integration because it's still unstable to my point of view.
The core value of the tool is cold email so keep it simple => only use Lemlist for emails.
Choose the "Upload CSV" option
Your prospects will be imported as "Leads" in your campaigns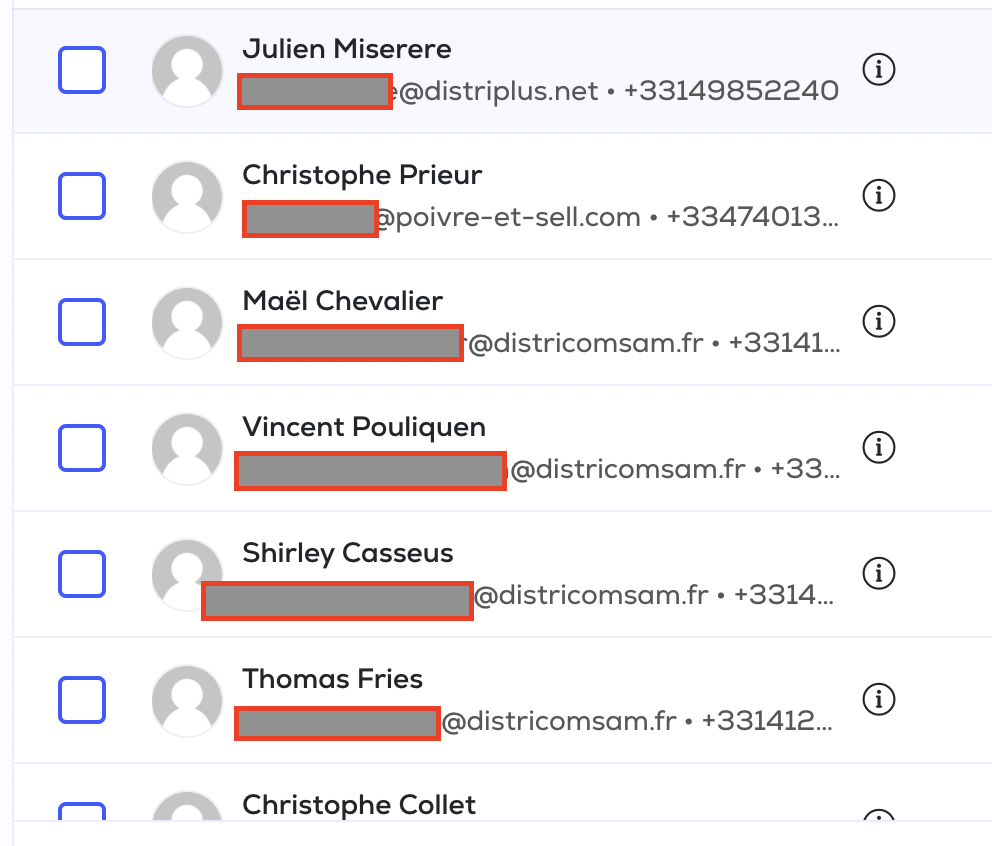 You can now create a cold email sequence to contact these prospects!
5. Launch a LinkedIn campaign on people without email
Never waste an opportunity!
If you did not find your prospects' email, you use LinkedIn to contact them.
We've made a complete tutorial on how to set up Linkedin campaigns with Linkedin Helper.
It will show you how to automate multiple LinkedIn but you can use it to automate prospection on one account only ;)
Hope this will help!
JB