This is a complete guide to master Sales Navigator.
So if you're looking for:
More insights.
More leads.
More sales.
Then you'll love the actionable techniques in this new guide.
1. Why and when get LinkedIn Sales Navigator?
1.1. What is Sales Navigator?
Sales Navigator is a social selling platform by LinkedIn that provides features which focus on helping you find prospects and build relationships.
With LinkedIn Sales Navigator, you can reach the right kind of prospects by using the search and filter features.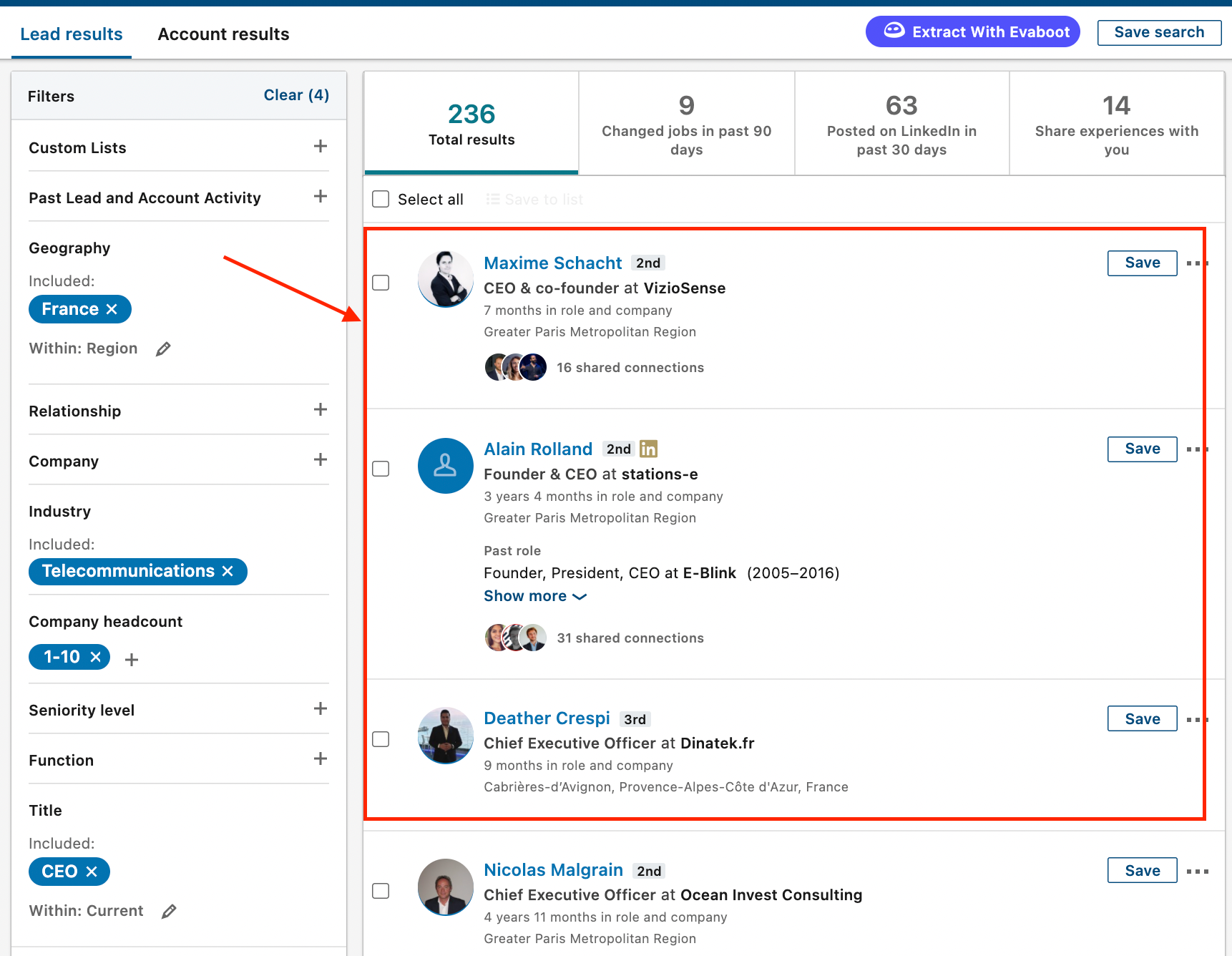 Sales Navigator also provides actionable information and insights that you can use to have a deeper understanding of your leads.
With Sales Navigator, you can engage with your prospects at a more personal level by offering personalized content and messages bases on their LinkedIn activities.
1.2. Why use Sales Navigator?
LinkedIn Sales Navigator allows you to search for leads in their huge B2B database with advanced search filters.
Basically, it is the best B2B database in the world because :
700 millions people are on it
It never gets outdated
people produce high quality data
The common problem with B2B databases is they get outdated pretty quickly. 30% of B2B databases get outdated each year on average
Linked has not this problem because people update their info themselves.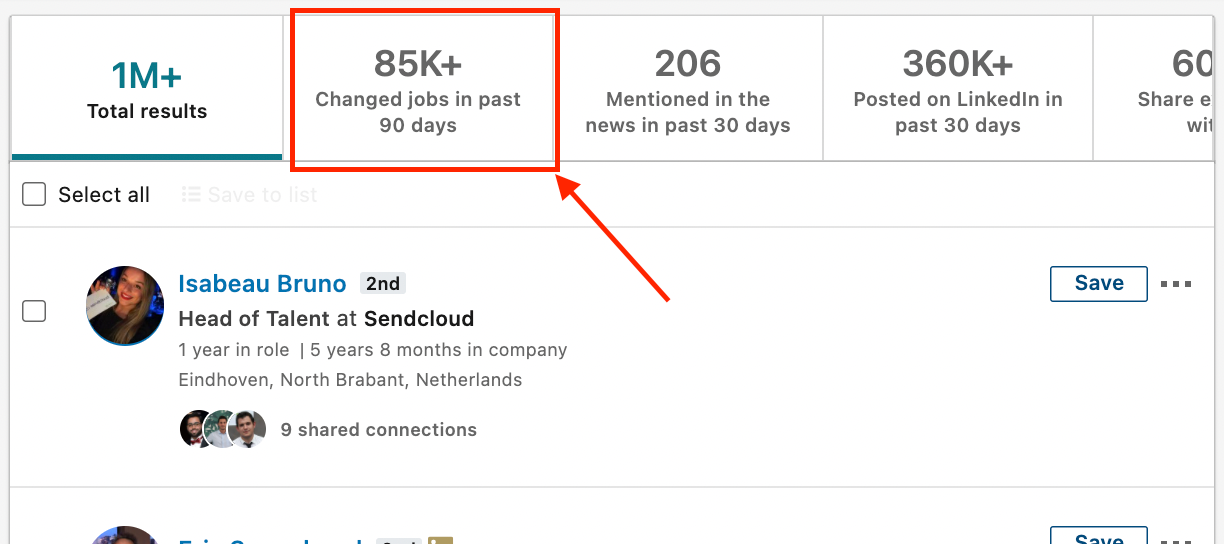 However, Sales Navigator has many flaws.
Especially on the filtering of their search results.
2. How to use Sales Navigator Advanced Search Filters?
2.1 What are Advanced Search Filters?
Sales Navigator Advanced Search helps you build your prospect list and narrow your searches for new leads by company, job title, industry, region, size, keywords and more.
You can search for Leads (people) or Accounts (companies).
There are many filters you can use but don't us all all of them.
The search algorithm is far from perfect.
We did a study on +1000 searches.
On average 31% of your search results don't match with your filters.
Here is a sample of a search results for "Head of Sales", see for yourself...
The LinkedIn search relies on a machine learning algorithm.
It can give really random results.
That is many sales spend hours cleaning lists of prospects.
But still, this is the best B2B database in the world.
So we deal with it.
Evaboot has been created exactly to solve that pain point.
Make Sales Navigator better.
2.2. How to use Advanced Search Filters effectively ?
As we said above, you will a ton of irrelevant results in your Sales Navigator search results.
To minimize them, here are the filters to use and how to use them.
What are the Lead Search filters to focus on ?
Focus on the few efficient filters that really work. The others ones really give random results.
Company size
Title
Industry
Location
Relationship : exclude 1st Degree Connections
Keywords (with caution)
Keyword filter is tricky, because LinkedIn will look for keywords in all your prospect profile.
If I made a marketing internship, and spent all the reste of my carrier in HR, I will appear on searches with the keyword "marketing".
This is a major flaw of Sales Navigator.
To test this feature, I've compare results of the same search using the keyword filter and the title filter.
You can see that the error rate is higher with keywords search
So if you are looking for job titles, you should always use the "Title" filter, forget about the keywords.
Keywords filter will be useful if you are targeting a niche like "offline marketing".
These are keyword that will not appear in job title, but mostly in job description, company description etc...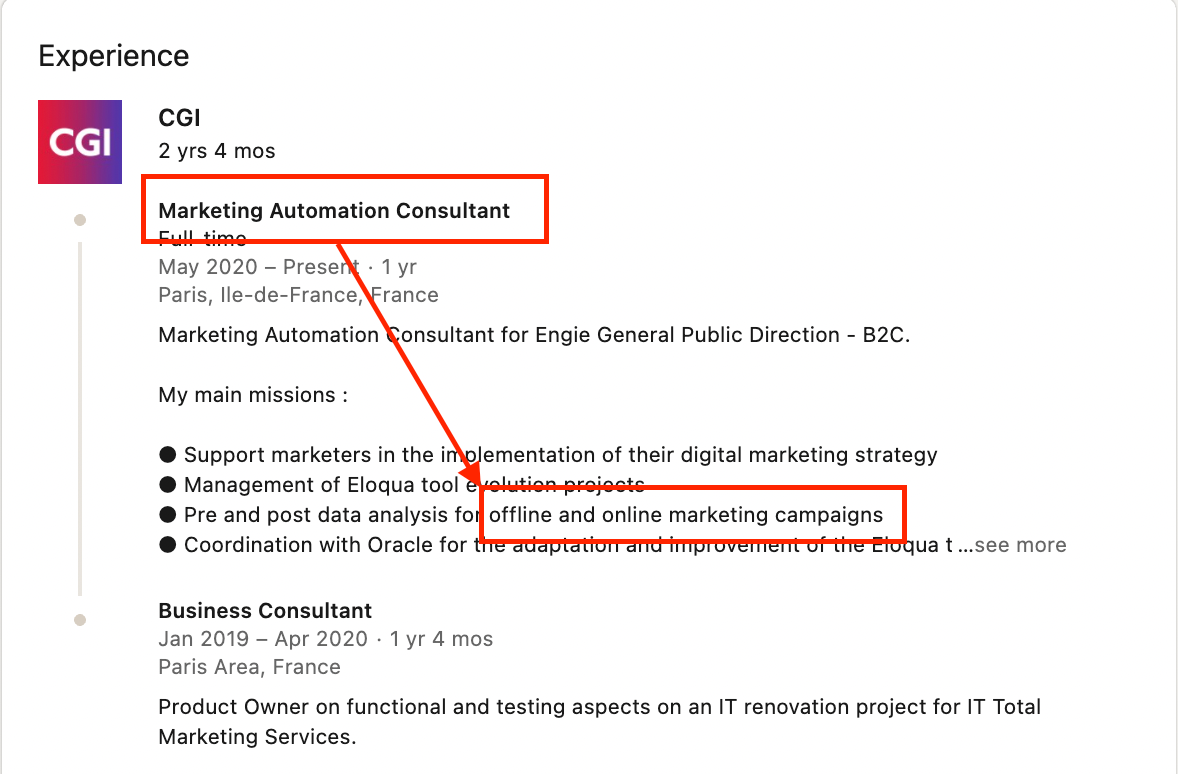 If this is your case, we built a process to allow you to use the keyword search efficiently.
➡️ Check this tutorial if you need keyword filter to target a niche
What are the Account Search filters to focus?
Honestly, many are really inaccurate.
If you want to target companies bases on technology, you should use Wappalyzer, BuiltWith or ProspectWith, but not LinkedIn Sales Navigator.
With Sales Navigator you should focus on :
Industry
Geography
Company Headcount
Once you are satisfied of your search results you can use Evaboot to export you leads search into a spreadsheet or an Excel file.
You can also filter your searches with Leads and Accounts lists. That we going to see in the next section!
2.3. How to use LinkedIn Sales Navigator Saved Searches?
Once you are happy with a search, you can save it to click on this button.
This allows you to get notified when new people match your search results.
It is a great way to identify new opportunities but get in contact with people as soon as they get into position.
If you click on the "New" field, you will get access to the list of leads that recently matched you search filters.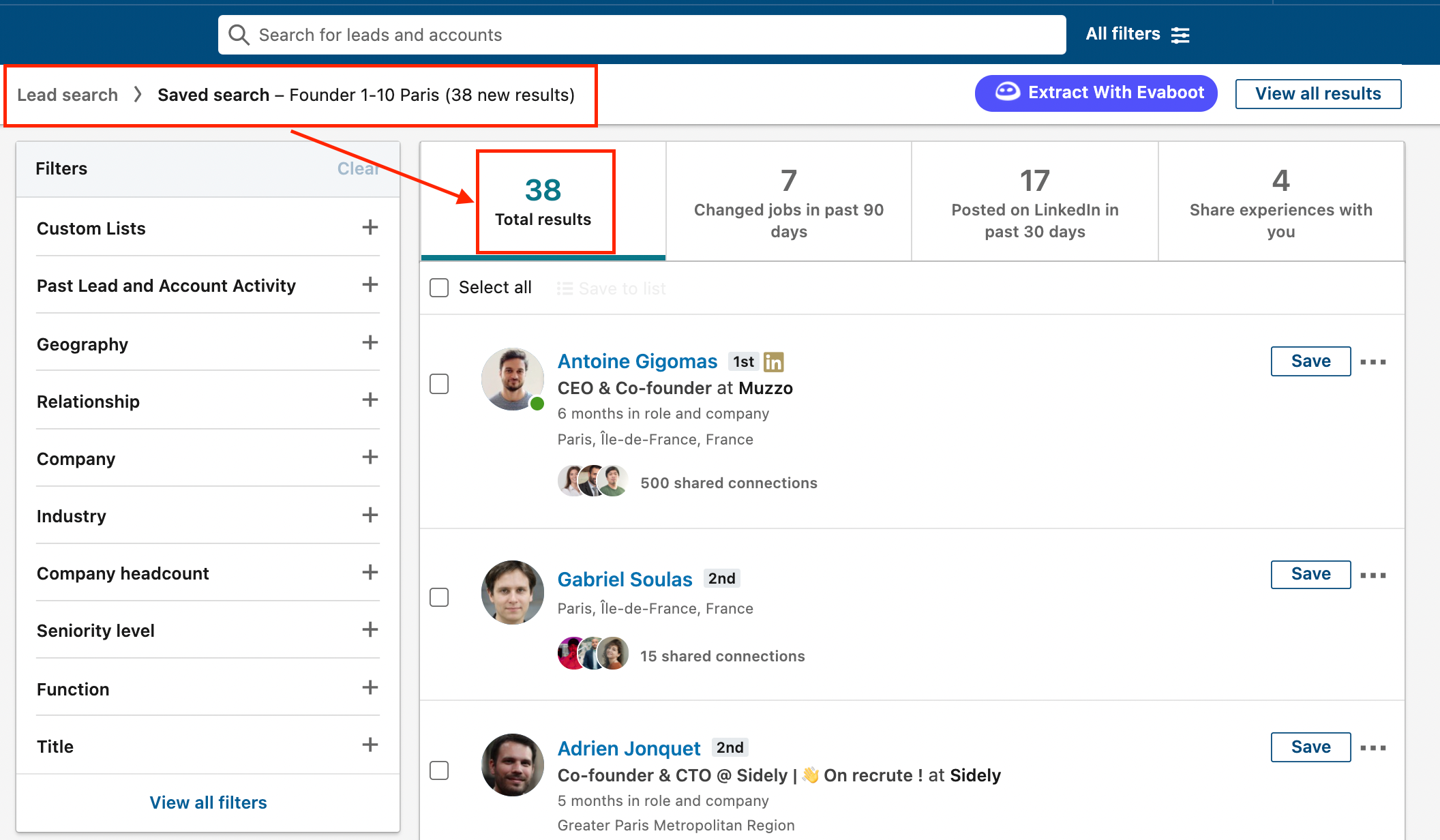 3. How to use Sales Navigator Lead and Account lists ?
3.1. What are Sales Navigator Lead and Account lists?
When you are using the Sales Navigator Search, you can add leads or company to lists.
This allows to handpick some profile in your searches to save them in the shortlist you want to contact.
You can add them one by one:

Or select groups of leads to import in your lists: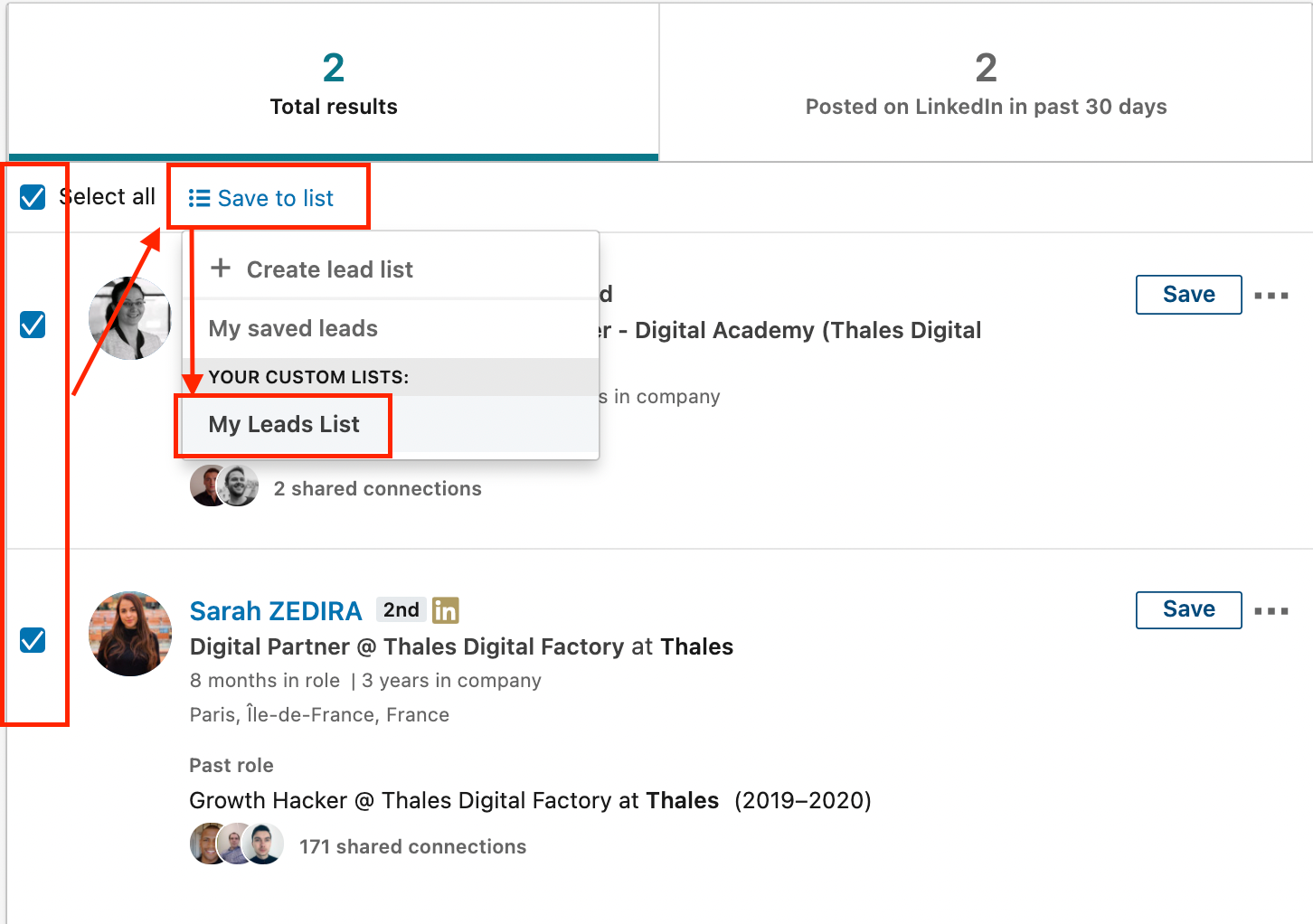 Once a lead or an account is added to a list. You get notifications about their activities in your Sales Navigator feed.
A great way to have an icebreaker for your messages !
3.2. How to use Sales Navigator Lead and Account lists?
As mentioned above, build list is helpful to build shortlists of leads or accounts and get great icebreakers with the newsfeed.
There is much more things to do with lists.
Use Lead list for outreach campaigns
Once you get a good list of qualified prospect you can :
contact them one by one on LinkedIn
Export the list in a spreadsheet to launch an outreach campaign.
Use Accounts list to make better Leads searches
Something smart to do with Account lists is to use them to filter your lead searches.
As I said earlier, 31% of your search results on average does not respect your filters on regulars searches.
With this technique you can reduce this number.
How to proceed?
Start by making an Account search and select companies you want to add into your Account list.
Go to Lead Search and add filter your search with your account list.
You now have a list of every employee in the companies of your Account list.
Add the type of personae you want to target in these companies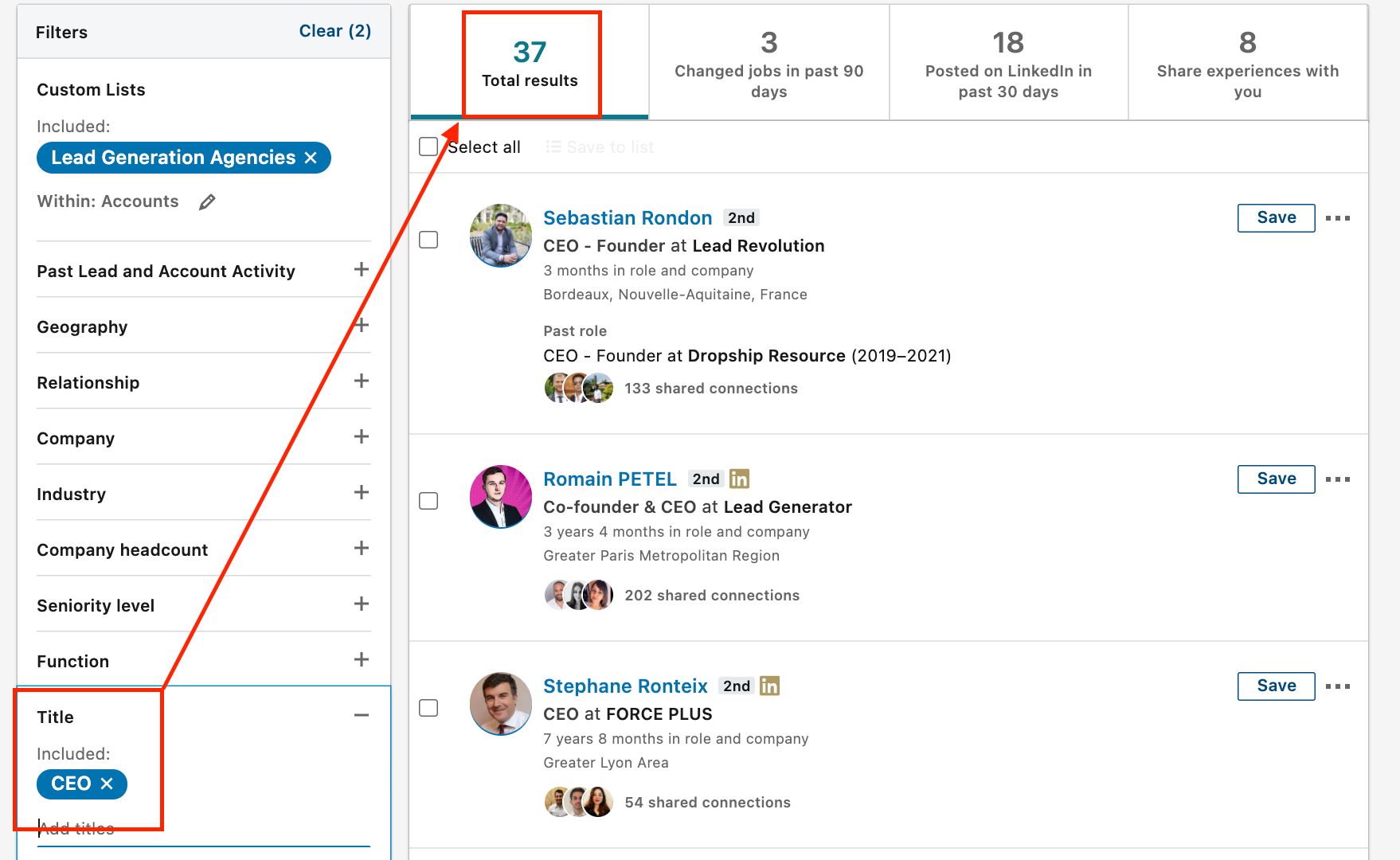 Now you get a list of all your personas in your Account list!
You can either:
Save them in a Lead List
Export the search in a spreadsheet with Evaboot
You now have everything you need to find your prospects!